A Christmas tree which changes into Mickey Mouse and Minnie Mouse can be seen in front of Yurakucho Staion!
Tokyo Disney Resort will hold a special Christmas event until 12,25 (Mon.). This year, you can enjoy some colorful Christmas events such as "Disney Gift of Christmas," a new castle projection (limited time offer). The Christmas tree of Tokyo Disney Resort can be enjoyed it the space in front of JR Yurakucho Station from 11,15 (Wed.) to 12,25 (Mon.)!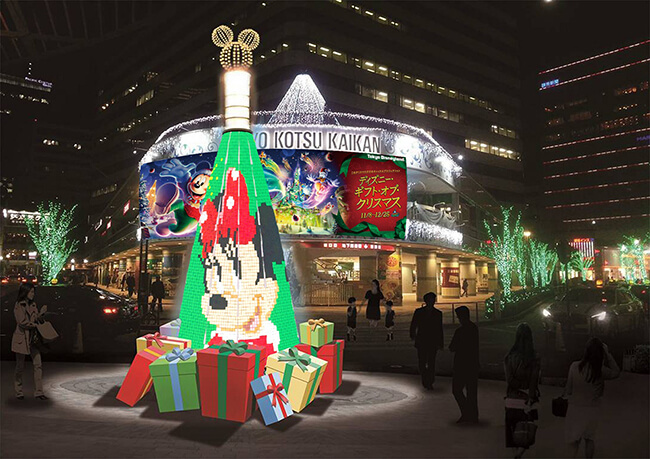 The big Christmas tree in the open space will create a colorful and magical atmosphere and this tree will change into Disney characters such as Mickey Mouse.
 ※The photo is an image (c)Disney
A big poster of the Disney characters enjoying Christmas and Christmas presents prepared by Disney characters will boost the mood of Christmas. This beautiful atmosphere will surely be suitable to be uploaded to your SNS♡
During this Christmas season let's enjoy the bright and beautiful world of Tokyo Disney Resort.
■Information
Venue: The space in front of JR Yurakucho Station
Date: 11,15 (Wed.) to 12,25 (Mon.)
Light up time: 16:30 to 24:00
※The time noted above might be changed.
RELATED ENTRIES
FANCL Ginza Square Opens Onsen Hot Spring That You Can Walk Into Wearing Your Clothes

FANCL has brought the hot spring experience to its flagship site FANCL Ginza Square for a limited time with a variety of content that makes visitors feel like they've come to a Japanese onsen. The experience, named Tabi Suru Square Yu, is running until February 11, 2021.

Café au Lait / Fruit au Lait / Soy Milk Aojiru – ¥300 Each

Reiwa Honzen (FANCL Ginza Square Floor 9F)

Lunch Sana Winter Seafood Bento | ¥3,500

Winter Dinner Seafood Course | From ¥9,000

FANCL BROWN RICE MEALS (FANCL Ginza Square Floor B1F)

Hiroshima Oyster & Spinach Risotto Parmesan Cheese Galette Lunch Set | ¥1,850

Tomato Cream Pasta Lunch Set ¥1,850

Original Hand Towel

FANCL Ginza Square Onsen Essentials Set | ¥3,668

Breathing exercises at SUU-HAKU

At Tabi Suru Square Yu, visitors can enter a room that fully recreates the experience of being in a hot spring. The room is set at the same temperature, is filled with the same aromas, and is decorated in the same way. Visitors sit on one of the relaxation sheets to soak up the experience – effectively getting into a hot spring without having to change their clothes.

A variety of classic drinks and dishes sold at hot springs in Japan will also be sold, and visitors can get involved in the breathing exercises on offer.

Vintage Toy Story Clothing Collection to Drop by Ground Y x Pixar

Yohji Yamamoto's clothing brand Ground Y is teaming up with Disney·Pixar to release a vintage collection inspired by the Toy Story animated film series. It will be released in Japan at Ground Y stores and online at THE SHOP YOHJI YAMAMOTO on January 27, 2021.

Vintage Art Collection_1


Vintage Art Collection_2

The line-up brings together Yohji Yamamoto's iconic monotone colours with Toy Story artwork. It features carefully-selected pieces to capture the beauty of unfinished art, with familiar faces such as Woody, Buzz, Zurg, the Little Green Men, and more, against contrasting black and white hues.

Vintage Art Collection_3


Vintage Art Collection_4

Vintage Art Collection_5


Vintage Art Collection_6

The unisex collection includes a reversible hooded coat made from gabardine, a puffy sleeved sweater woven with high quality silk, hoodies, cut-and-sewns, tote bags, and more.


Vintage Art Collection_7


Vintage Art Collection_13

Modelling the looks are actress Moka Kamishiraishi and actor Eiji Akaso.


A unique and stylish springtime selection by Ground Y and Toy Story.

Japanese food, condiment, and ingredient delivery service Oisix is teaming up with Disney's hit animated feature film Frozen to release a new meal kit as part of their Kit Oisix series. The dish is called "Frozen – World of Ice Snow Stew" and it will hit the company's website for a limited time on January 28.

Frozen – World of Ice Snow Stew | ¥2,149 (Tax Included)

Toothpick for Anna salad

Olaf rice

Recipe instructions

Recipe book and packaging

Lunch mat and toothpicks

In November 2020, Walt Disney Japan signed a contract to start the "Table for Tomorrow" project which looks to serve healthy meals to children. This is the second product in the project line.

The meal kit comes with a recipe book so children can easily follow along with making their Frozen inspired snow stew. It takes just 20 minutes to make and can be served on the Elsa lunch mat that comes with the kit.

Information

Kit Oisix – Frozen – World of Ice Snow Stew

Japanese Name:「アナと雪の女王」氷の世界のスノーシチュー
Running: January 28, 2021 – February 11, 2021
Price: ¥2,149 (Tax Included)

Serves: 2
Official Website: www.oisix.com

Hoshino Resorts BANTA CAFE Releases Video of Magical Beachside Illuminations

The incredible beachside Hoshino Resorts BANTA CAFE, which offers guests a breathtaking ocean view along the Okinawan coast, released a video on the official Hoshino Resorts YouTube page showcasing the cafe's ongoing illumination event, "Illumi Banta," which is running until February 28, 2021. Guests can enjoy some limited-time menu options and then take a romantic stroll along the beach with a warm lantern in hand.

Okinawa is known for its warm climate, rarely dipping below 15°C in the chilly season of winter. There are many celebratory days enjoyed every year around Christmas and New Years, and so BANTA CAFE decided to get in on the action with Illumi Banta, which has been running since December 1 last year—while following the necessary precautions against COVID-19 to ensure everyone stays safe. The spacious cafe is mostly outdoors so visitors can enjoy their time without worry.

A seat at the cafe in on a clear evening guarantees a front row seat to a beautiful orange sunset that sinks into the horizon. Normally, the cafe closes as sunset arrives, but for this event, opening hour have been extended into the night.

BANTA CAFE is located in the village of Yomitan where the beautiful ocean is surrounded by coral reef, enormous rocks, and a rich natural environment. It's a must-visit if travelling to Okinawa.

Information

Illumi Banta
Running: December 1, 2020 – February 28, 2021 (Except February 1st-5th)
Time: 18:00-22:00 (Last Orders 21:00)

BANTA CAFE
Address: 560 Gima, Yomitan, Nakagami District, Okinawa
TEL: 098-921-6810
Opening Hours: 10:00 to one hour after sunset (from 08:00 on weekends and holidays)
Official Website: https://banta-cafe.com/en/

Kyoto's Shinto Shrine Iwashimizu Hachimangu Announces Light-Up Event

Iwashimizu Hachimangu, a Shinto Shrine in Yawata, Kyoto, has announced that a 5-day light-up event will take place from February 10 to 14 at the site's main shrine which is listed as a national treasure of Japan.

Following government guidelines in response to COVID-19, the event will feature LED illuminations, glowing exhibits from craftsmen, lights made by locals from materials such as bamboo, and more, all in the hopes of creating a bit of evening-time sightseeing in the area. The event will also be streamed live online for those unable to attend where viewers can also enjoy watching ceremonial dance by shrine maidens.

Information

Iwashimizu Hachimangu Inori no Tomoshibi ~Wa no Kokoro~

Event Name in Japanese: 国宝・石清水八幡宮 祈りのともしび~和の心~
Running: February 10, 2021 – February 14, 2021
Light-Up Times: 17:00-20:00
Location: Iwashimizu Hachimangu (30 Takabo, Yawata, Kyoto)
Note: Face masks and COVID-19 Contact Confirming Applications required
Event Page: https://ochanokyoto.jp/event/detail.php?eid=569
Official Website: https://newnormaltourism.jp/

discord Yohji Yamamoto x HUNTER Pet Accessories Drop in Tokyo

discord Yohji Yamamoto, a luxury accessory brand spearheaded by Yohji Yamamoto, has launched a collaboration with German pet brand HUNTER to release a collection of dog collars, leads, and other accessories like bags and wallets.

HUNTER was established in 1980 and has gone on to mark its territory across the world as a provider of high quality pet goods, praised for for the design, functionality, and safety of its products.


Black Dog Collar & Lead

The dog collars are fitted with studs as part of the collaboration. Both the collar and lead feature the same colouring as discord Yohji Yamamoto's products, arriving in the brand's signature black as well as beige, the latter of which is often used for its bags and small leather products. They are also clipped with a signature charm which has a design symbolising the collaboration.

Beige Dog Collar & Lead

The accessories are made from elk leather which is soft and made extra durable with double layering. Having the collar and lead the same colours also adds a sophistication to the design when fitted on a dog.

The collection will be released at discord Yohji Yamamoto stores in GINZA SIX, Shibuya PARCO, and Isetain Shinjuku, as well online. More details can be found on the official website here.

discord Yohji Yamamoto Black / Beige Selection


Y BACKPACK Nylon Studs | ¥148,000


ORIGAMI Tote | ¥98,000


Triple Clutch | ¥58,000


Diagonal Bag | ¥45,000

Y SERIES Studs


Y BODYBAG Studs | ¥138,000


Y BACKPACK Studs | ¥158,000

Small Leather Goods

Card Mini Wallet | ¥17,000

Key Wallet | ¥20,000

Tuck Into a Strawberry and Herb Full Fruit Course at Fruits Salon in Ginza

Fruits Salon, a cafe inside Beauty Connection Ginza that serves full courses of fruit, has introduced a new strawberry and herb course to its menu which is being served until February 1, 2021.

Fruits Salon opened in November last year and garnered much attention for its full course fruit dishes. In August, the cafe served up the "Peach Full Course" which proved super popular. Last month, they offered a menu centred on juicy and sweet grapes. For December and January, the course features four items that combine the taste of seasonal strawberries and fragrant herbs.


Strawberry & Herb Full Course | ¥4,400 (Tax Included)

1st Plate: Shortcake

The first plate is a strawberry herb shortcake which contrasts beautiful red strawberries with white cream. It contains a jam made with milk sauce and gin, resulting in a harmonious balance between sweet and sour.

2nd Plate: Soup

The second plate is a hot strawberry and elderflower soup, combined with a mix of creamy yogurt, pistachio salt, and red wine reduction.

3rd Plate: Parfait

The third plate is the main: a milk gelato parfait with sorbet and chamomile. It also contains granita and champagne. The glass is completely stuffed to the brim and overflowing with sweet treat delights.

This extravagant full course is booking-only and lasts 90 minutes. That's 90 minutes of pure indulgence.

Information

Beauty Connection Ginza Fruits Salon
Address: GINZA gCUBE 2F, 7-9-15 Ginza, Chuo-ku, Tokyo
Opening Hours: 11:00-20:00
Closed: Tuesdays
TEL: 03-6263-8392

Official Website:  https://www.beauty-connection.jp/fruits/

2021 New Year's in Japan: 5 Must-Visit Illumination Spots

Illumination and light-up events are a huge part of winter and the holiday season in Japan, but when Christmas ends, many of them are turned off until next year. But there are still some that run through the New Year holidays and into early spring, so we've compiled a list of 5 must-visit illumination and light-up spots to visit over the next couple of months.

Please note that the times and dates of these events are subject to change depending on the COVID-19 situation.

Tochigi: The Garden of Illuminated Flowers ~Flower Fantasy 2020~


Ashikaga Flower Park in Ashikaga, Tochigi, is holding an illumination event for winter called "The Garden of Illuminated Flowers ~Flower Fantasy 2020~" until February 7, 2021. Held for the 19th time this year, the event was ranked among the Top 3 biggest light-up events in Japan in 2017 alongside Sapporo White Illuminations and Huis Ten Bosch Illuminations. It was also ranked top by night view critics in Japan as the best illumination event for four consecutive years.

Full Details: https://www.moshimoshi-nippon.jp/366535 

▼The Garden of Illuminated Flowers ~Flower Fantasy 2020~

Address: 607 Hasamacho, Ashikaga, Tochigi
Running: October 17, 2020 – February 7, 2021
Official Website: https://www.ashikaga.co.jp/flowerfantasy_special2020/en/index.html

▼MIDTOWN WINTER MOMENTS

Tokyo Midtown's winter season event 'MIDTOWN WINTER MOMENTS' is running until February 28, 2021. "ANOTHER WORLD" is the concept for this year's rendition of the annual event, which is enjoying new winter illuminations, Christmas decorations, an ice rink, and plenty of other fun experiences for people to enjoy throughout the entire day, right into the evening. A highlight of the event is the "MIDTOWN WINTER LIGHTS," warm illuminations to light fires in hearts during the cold winter season that will create a dazzling spectacle the likes of which cannot be missed.

Full Details: https://www.moshimoshi-nippon.jp/366420

▼MIDTOWN WINTER MOMENTS
Running: November 19, 2020 – February 28, 2021
Official Website: https://www.tokyo-midtown.com


Kanagawa: SAGAMIKO ILLUMILLION's 'Pokémon Illuminations'

Lake Sagami Pleasure Forest's annual SAGAMIKO ILLUMILLION winter event is taking place until April 4, 2021, and this year, it has brought that a new Pokémon with Pokémon illuminations. Wild Pokémon illuminations roam everywhere and there are plenty of Pokémon photo spots to take your picture with including Pikachu sleeping in the forest, Charmander taking a nap by an open-air, and more.

Full Details: https://www.moshimoshi-nippon.jp/375427

▼SAGAMIKO ILLUMILLION
Address: 1634 Wakayanagi, Midori-ku, Sagamihara, Kanagawa
Running: November 14, 2020 – April 4, 2021
Illumination Times: 16:00-21:00 (Last Entries 20:30)
*Illumination times to begin from 17:00 starting in February
Official Website: https://www.sagamiko-resort.jp/illumillion/


Nagano: Karuizawa Shiraito Falls Midwinter Light Up

Shiraito Highland Way is holding this year's Karuizawa Shiraito Falls Midwinter Light Up until February 14, 2021. Karuizawa Shiraito Falls is a 3-meter tall waterfall that spans 70-meters in length. The lights add a warmth to the cool evening and glow under a starry night sky. The event creates a different atmosphere from the summer light-up, allowing visitors to enjoy the enveloping nature in a way that they normally can't and see beauty they may not have noticed in the area before.

Full Details: https://www.moshimoshi-nippon.jp/379120

▼Karuizawa Shiraito Falls Midwinter Light Up
Location: Karuizawa Shiraito Falls
Running: December 19, 2020 – February 14, 2021
・Christmas Session: December 19th-20th, 24th-27th (17:00-19:00)
・New Year Session: January 2nd-3rd, 8th-11th (17:00-19:00)
・St.Valentine Session: February 11th-14th (17:30-19:30)

Access: https://karuizawa-shw.com/access/

*Please see the website for the latest information
*Entry restrictions may be made depending on the number of visitors

Official Website: https://karuizawa-shw.com/

Shizuoka: Hikari no Sumika Winter Illuminations

Toki no Sumika is hosting its 19th annual winter illumination event "Hikari no Sumika" until March 21, 2021. There are many different illumination areas to enjoy at the event, like the Forest of Trees Illuminations, the 370m-long Tunnel of Lights, and more.

Full Details: https://www.moshimoshi-nippon.jp/359381

▼Hikari no Sumika 2020-2021
Running: September 18, 2020 – March 21, 2021
Address: Gotemba Kogen Toki no Sumika, 719 KōyamaGotemba, Shizuoka
Illumination Times: 17:30-22:00
Car Park Spaces: 2,000
Enquiries: 0550-87-3700 (9:00-20:00)

Official Website: http://www.tokinosumika.com/illuminations2017/renewal/

Disney Store x South Korean Cosmetic Brand peripera Collaborate on Limited-Edition Packaging

South Korean cosmetic brand peripera and Disney Store Japan are teaming up to feature Minnie Mouse and Daisy Duck on the packaging products of peripera's best selling items. The products are now available to buy via shopDisney and at Disney Store branches in Japan.


peripera is perhaps best known for its lip tint which was released in 2015. It was so successful it was dubbed the 'national tint,' and Japan even enjoyed its own exclusive limited-edition collection.


Eight of peripera's products will feature in part of the collaborative line-up, with Minnie Mouse and Daisy Duck decorating their best selling Ink Velvet tint, glittery Sugar Twinkle Liquid Shadow, Ink Color Cara mascara, and more.

As well as the packaging designs, peripera and Disney Store have come together to create some Disney Store-original items which you can see below, all perfect as gifts to yourself or someone special.

©Disney

Ginza's Italian Restaurant FARO Earns Michelin Star

FARO, an innovative Italian restaurant in Ginza, Tokyo, has earned itself a Michelin Star in Michelin Guide Tokyo 2021 which went on sale on December 10, 2020.

Located on the 10th floor of the Tokyo Ginza Shiseido Building, the restaurant offers a taste of contemporary Italy, fusing tradition and innovation with a menu that incorporates Japanese ingredients and culture for an original dining experience.

Chef's Special: Potato spaghetti

The individual credited with the creation of a new food culture is FARO's executive chef Kotaro Noda who is the only Japanese person to own two Michelin-starred restaurants in Italy. He has been at the forefront of the Italian cooking world for the past 20 years.

Vegan Menu: Daikon Mochi [Winter Season Item]


Flower Tart

FARO puts a lot of work into its array of colourful vegan courses. These courses aren't only aimed at vegans either – they are available to anyone wanting to eat delicious and healthy food.

The restaurant is also a display of Japanese craftsmanship, with all cutlery, crockery, table accessories, and more made using traditional Japanese methods, like the lattice work on the doors from Niigata Prefecture, the Tajimi and Arita ware, fabrics from Imabari, Edo kiriko cut glasses, and more.

The decor of FARO is an elegant and stylish fusion of both Japanese and western tastes, with a colour gradation representing the earth, sea, and sky. This colouring offers a completely different dining in both the daytime or during evening hours.

Information

FARO
Address: 8-8-3 Ginza, Chuo-ku, Tokyo

Opening Hours: [Lunch] 12:00-13:30 / [Dinner] 18:00-20:30

Closed: Sundays/Mondays/Mid August/New Year Holidays
TEL: 0120-862-150 / 03-3572-3911
Official Website: https://faro.shiseido.co.jp/ 

Illumination Island Odaiba 2020: Tokyo's Artificial Island Begins Winter Illuminations Up to Christmas

23 facilities including shopping centres, hotels, parks, and more in Odaiba are participating in Illumination Island Odaiba 2020, a large-scale illumination event that opened on Friday and is set to run up to Christmas Day.

This year's event is bigger than the last, with only 10 facilities having taken part in 2019. The main park in Odaiba will also be lit up for the first time this year. The event is taking place to express gratitude towards those facing hardship during the pandemic – to connect everyone via gorgeous lights for a brighter tomorrow.

*Please note that illumination dates and times differ for each facility

Participating Facilities (Excerpt)

DECKS Tokyo Beach

The third-floor seaside deck faces Odaiba Marine Park and offers a gorgeous view of Tokyo Bay. Winter illuminations will serve cosy vibes around the rest area and plants, and serves as the perfect site to gaze at the lit-up Rainbow Bridge against the backdrop of Tokyo's nightscape.

Running: November 14, 2020 – February 14, 2021

DiverCity Tokyo Plaza

The Festival Hiroba's staircase will be colourfully lit up from 16:00 every day until January 31, 2021. After that, it will be lit up from 17:00.

VenusFort


teamLab – "The Tree of Resonating Colors of Life" ©チームラボ

teamLab's towering digital art installation The Tree of Resonating Colors of Life is running at Odaiba until February 7, 2021. The 8-meter tall three-dimensional tree is created from an accumulation of light spheres.

Palette Town Daikanransha


The Daikanransha Ferris wheel is a symbol of Odaiba and offers a panoramic view of famous sights around Tokyo up 115-meters in the sky.

Winter Illuminations: December 1, 2020 – December 25, 2020

Statue of Liberty


Odaiba's Statue of Liberty will be lit up with rainbow colours, changing the atmosphere in the area completely.

Running: December 11, 2020 – December 25, 2020

ARTBAY HOUSE


Japanese artist Takahiro Matsuo is also getting in the the action with the prism art at his PRISM/GLOW exhibition.

Running: November 27, 2020 – December 25, 2020

Tokyo International Cruise Terminal Station


A 5-meter tall Christmas tree is decorating Tokyo International Cruise Terminal Station.

Running: November 27, 2020 – December 25, 2020 (Not running select days)

Tokyo Banana x Disney Sweets Shop to Open in Kobe Hankyu This Holiday Season

Disney SWEETS COLLECTION by Tokyo Banana is a sweets shop by Tokyo Banana in collaboration with Disney. A pop-up version will open in Kobe Hankyu from December 16 to 22 with a selection of sweets including two special treats releasing to commemorate the 80th anniversary of the Disney film Fantasia.

Fantasia 80th Anniversary Sweets

Disney Fantasia/Tokyo Banana

Disney Fantasia/Tokyo Banana (8 Included) | ¥1,300 (Tax Included)

The packaging features Mickey Mouse's iconic look as the Sorcerer's Apprentice.


The chocolate sponge cakes are filled with chocolate banana custard cream and are decorated with a moon, stars, and Mickey's head.


All boxes of these sweets come with a set of two random postcards too.

Disney Fantasia/Chocolate Sandwich


Disney Fantasia/Chocolate Sandwich (28 Included) | ¥3,024 (Tax Included)

This beautiful box of chocolate biscuit sandwiches will be limited to 80 tins per day.

The light and crunchy cookies are banana milkshake and chocolate flavoured and feature memorable scenes and references to the Sorcerer's Apprentice part of Fantasia.

The pop-up shop will be selling a variety of other collaborative treats too as part of the Disney SWEETS COLLECTION by Tokyo Banana.