Sunshine Aquarium's illumination event. They are opening the facility at nighttime too
Sunshine Aquarium located in Ikebukuro, Tokyo is opening an outside area called, "Marine Garden"at nighttime where you can enjoy illuminations and events every Friday/Saturday until the 10th of March 2018.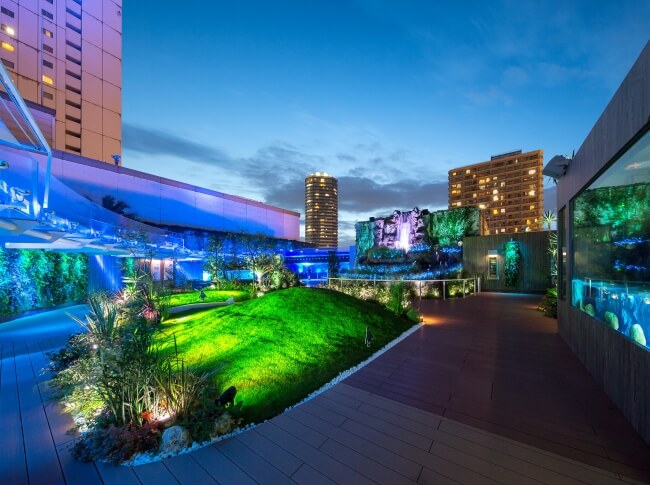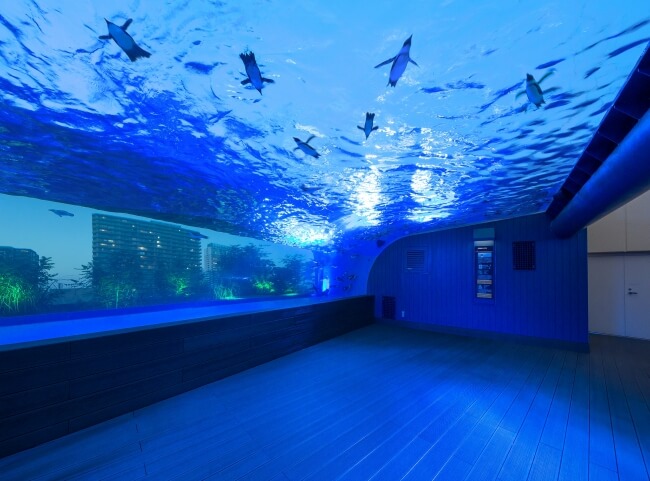 "Marine Garden" is an outside area which was renewed in July 2017. The venue has a popular aquarium called "Tenku no Penguin" and you can watch penguins swimming with the sky as a backdrop.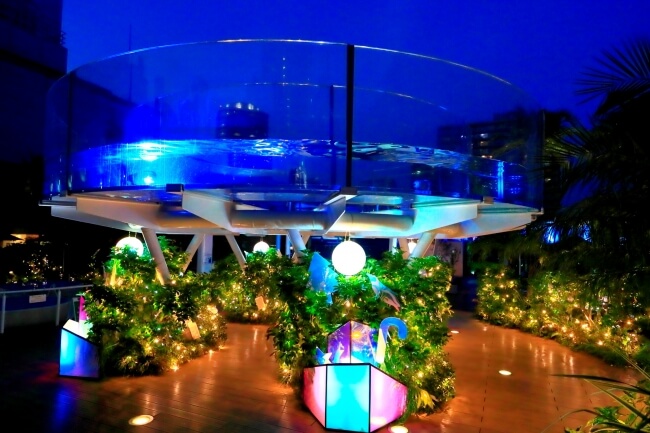 The aquarium is decorated with 6,000 illumination lights and you can enjoy a romantic night aquarium which is different from the aquarium during the daytime.
Moreover, 8 kotatsu (a table with an electric heater attached to the underside of the table) will be placed in the outside space of Canaroa Café.  Many warm menu items like"oden (Japanese traditional winter pot)," "motsuni (Japanese tripe stew)," "jizake (local sake)" and "Sushine Aquarium Original Penguin Dumpling"will be offered.
Plus, a talk event held by the specialist of animals called "Ikimono Campus" will be held.
Why don't you visit this aquarium at nighttime?
■Information
Sunshine Aquarium
Address: 3-1, Higashi Ikebukuro, Toyoshimaku, Tokyo. Sunshine City World in Port Mart Building, rooftop,
Business hours: 10:00 to 21:00 (April to September), 10:00 to 18:00 (October to March) ※Last entrance – one hour before closing time
※The time noted above might be changed
Entrance fee: Adult (older than high school student) 2,200 yen, child (elementary school/Junior high school students) 1,200 yen, Small child (older than four years old) 700 yen
TEL:03-3989-3466
URL:http://www.sunshinecity.co.jp 
Night Marine Garden
Date: until 2018,03,10 (Sat.) / Friday and Saturday 18:00 to 20:00 (last entrance 19:30)
※Except for 12,22 (Fri.) and 23rd (Sat.)
Fee: 600 yen ※400 yen worth of food/drink ticket which you can use at Kanaroa Café will be offered
※For those of you who have an annual pass, you can enter the venue for free. However, please note that the food/drink ticket is not included.
Kanaroa Café
Kotatsu installment: until 2018,03,10 (Sat.) 10:00~18:00(LO.17:30)
※Friday and Saturday while the event is held: 10:00~20:00(LO.19:40)
※12,22 (Fri.), 23 (Sat) – until 21:00 (LO.20:30)
Ikimono Campus
Price: 3,500 yen ※The entrance fee for Marine Garden is included, 400 worth of food/drink ticket which can be used at Canaroa Café will be offered.
Reservation (lottery basis): http://www.sunshinecity.co.jp/campaign/cp/ikimono-campus/
※The fixed number of each session is 50 and the participants will be decided by lottery when the number of reservations exceed the fixed number. ※Fee must be paid initially
【1】2018,1,13 (sat.) 18:30 ~ (about 90 minutes)
Lecturer: Yuho Satonaka (animal writer / field researcher)
Title: "TOKYO WILDLIFE STORY 'Wild animals living inside Tokyo Part.1'"
Many of you might not know that there are many kinds of mammals living inside Tokyo. You can meet with mammals living in the center of Tokyo or animals living in suburban areas. I will introduce to you some mammals that can be found in Tokyo in a fun way.
【2】2018,1,27 (Sat.) 18:30~ (about 90 min)
Lecturer: Etsuro Sawai (Hiroshima University's special researcher who is known as the researcher who announced the classification of the new fish called "Kakure Manbo")
Title: "The only place on the earth where humans and globefish can meet ~an aquarium which helps in the study of the biology of globefish~"
Almost nobody can see these wild globefish since they are swimming in the vast ocean. So, aquariums where you can meet with globefish are very valuable. Many aquariums have been trying many different things to connect globefish and humans. In this lecture, I will introduce to you the activities that many aquariums have done.
【3】2018,2,10 (Sat.) 18:30 ~ (about 90 min)
Lecturer: Asako Numaguchi (shark journalist)
Title: "The mystery of Megamouth Shark and QA corner"
It is said that there are 509 kinds of sharks. Many people think that sharks are firesome creature, but there are a wide variety sharks and they have interesting and mysterious biology. In this lecture, I will introduce to you some sharks that are not included in ordinary pictorial books and mysterious biology.
【4】2018,3,10 (Sat.) 18:30 ~ (about 90 minutes)
Tsukasa Murayama (dolphin researcher)
Title: "Science in aquarium ~studying the world from the viewpoint of dolphins~"
The senses and intelligence of dolphins must be surveyed through behavioral experiments. How they capture the world and how they are smart… Such things can be learned by performing tests by raised dolphins. Let's see what we found out with some tests. 
※The contents of the lectures noted above might be changed according to the situation. ※Images noted above are all images.
RELATED ENTRIES
Mobile Game BanG Dream! Girls Band Party Gets Themed Cafe in Tokyo, Osaka, & Nagoya

LEGS COMPANY is opening three cafes in Tokyo (Ikebukuro), Osaka (Umeda), and Aichi (Nagoya) based on the popular mobile game Game BanG Dream! Girls Band Party for a limited time from July 31, 2020.

Game BanG Dream! Girls Band Party is a rhythm and adventure mobile game that was released in Japan in 2017. It is part of Bushiroad's "BanG Dream!" music media franchise which is centred on all-female bands.

Since summer 2017, LEGS COMPANY has opened themed cafes based around the game every year. 2017 saw the cafes focus on the vocalists of the bands in the game. In 2018, it was the keyboardists and DJs, and last year the drummers. Each theme brought with it illustrations and decorations created specifically for the cafes, as well as a food menu inspired by the characters, original merchandise, and more.

This year marks the 4th run of the annual summer cafe which will hit Tokyo, Nagoya, and Osaka. The theme this time around focuses on the seven main bands from the game. Seven characters from the bands, including one from a new band, will welcome fans in the form of kawaii-packed dishes, drinks, and desserts.

Yamabuki Bakery's Mini Croissant Plate (Poppin'party): ¥1,590 (Before Tax)


Kitazawa Butcher's Stamina Croquette Curry (Hello, happy world!): ¥1,490 (Before Tax)

All of the main dishes on the menu are colourful and vivid, plated with hearty portions of delicious and nutritional goodies.

Strawberry Rock Parfait (Afterglow): ¥1,290 (Before Tax)


Colourful Doughnut Sandwich (Pastel*Palettes): ¥1,290 (Before Tax)

This gourmet dessert is topped with fruit, so gorgeous it seems a waste to eat.

Grape: ¥890


Ramune: ¥890

There are colourful drinks too with each colour representing a different band. Support your favourite band by getting a glass!

Pin Set 2020 ver. (7 Designs): ¥3,100


Canvas Art (7 Designs): ¥3,500 Each


Birthday Pins (4 Designs): ¥650 Each

Fans can get their hands on plenty of exclusive merchandise too, and there's even birthday items and food available too.

Online Birthday Cake (4 Designs): ¥3,850 Each (+¥950 shipping fee)


Cushions (22 Designs): ¥3,800 Each

You can even order your own special birthday cake in Japan from the cafe, and they're not short on exclusive merchandise.

©BanGDream! Project ©Craft Egg Inc. ©bushiroad All Rights Reserved.

Information

Game BanG Dream! Girls Band Party Cafe 2020
Tokyo

IKEBUKURO BOX cafe&space / July 31, 2020 – September 6, 2020
Address: Matsumoto Kiyoshi Ikebukuro Part 2 (Floor 4F), 1-22-8 Higashi-Ikebukuro, Toshima-ku, Tokyo

Osaka

UMEDA BOX cafe&space / July 31, 2020 – September 6, 2020
Address: Umeda LOFT (Floor 1F), 16-7 Chayamachi, Kita-ku, Osaka, Osaka Prefecture

Aichi

NAGOYA BOX cafe&space / July 31, 2020 – August 30, 2020
Address: LACHIC (Floor B1F), 3-6-1 Sakae, Naka-ku, Nagoya, Aichi Prefecture

Booking Price: ¥650 (Before Tax) *Max 4 people per booking, comes with gift

Game BanG Dream! Girls Band Party Cafe 2020 Official Website: https://bang-dream-cafe.jp/

Ikebukuro's Sunshine Aquarium to Open Magical New Jellyfish Area

Sunshine Aquarium in Ikebukuro, Tokyo is set to open its brand new jellyfish area as part of the aquarium's third major renovation on July 9, 2020.

Jellyfish Panorama Tank

Two tanks will grace this area: the magnificent moon jellyfish will dance across the 14-meter wide "Jellyfish Panorama" tank, while sea nettle jellyfish, which are known for their long tentacles, will swim in the "Jellyfish Screen."


The jellyfish exhibit already in Sunshine Aquarium is also being renovated, with gorgeous new flooring and walls being put in place. Six tanks will be housed here, including the 360° "Jellyfish Tunnel," "Jellyfish Loop," "Jellyfish Drop," and "Jellyfish Dream."

A Spectacular Performance of Music, Smells, and Lighting

The new jellyfish area will feature original sounds newly recorded to capture the vibe of the jellyfish's movements. There will also be special fragrances you can smell, as well as beautiful lighting that twinkles like the swaying of the water. All of this serves to make visitors feel calm and relaxed.

Exclusive Tully's Coffee Beverage

T's Splash Nata de Coco in Oasis: Have-In ¥649 / Takeout ¥637

This refreshing carbonated drink is inspired by jellyfish filled with lemon flavoured nata de coco coconut jelly. Exclusive to Sunshine Aquarium, the drink comes with one of four possible special jellyfish straw flags.

Grand Opening Commemoration Products

High Grade Jellyfish Confection: ¥400

Limited in stock, this confection was made in collaboration with Ikebukuro's long-stand confectionery shop Ikebukuro Miharado and also under the guidance of the aquarium's jellyfish staff.

Jellyfish Konjac: ¥972

Konjac shaped just like real jellyfish.

Grand Opening Commemoration Menu

Jellyfish Cold Greens: ¥1,100 / CHUKA SHUNSAI RYOURI・HINABE SHU (Alpa Floor 3F)


Blue Hawaii Tiny Aquarium & Jellyfish Jelly: ¥495 AGIO (Alpa Floor 3F) *15 served per day

Select restaurants in Sunshine City Alpa will also serve up some limited-time jellyfish-inspired dishes and drinks from July 9 to celebrate the opening of Sunshine Aquarium.

Information

Sunshine Aquarium
Address: Sunshine City World Import Mart Bldg. Rooftop, 3-1 Higashiikebukuro, Toshima Ward, Tokyo
Opening Hours: 9:30-21:00 (until September 10) / 10:00-18:00 (from September 11)

Entry Price

General (High School Students and Older) ¥2,200 (¥2,400 from July 9)

Children (Elementary & Junior High School Students) ¥1,200

Infants (Aged 4+ Years): ¥700

Official Website: https://sunshinecity.jp/

*Photos are for illustrative purposes only. All listed prices are tax-inclusive.

Natsume's Book of Friends Exhibition to Take Place at Animate Ikebukuro in Tokyo

The Animate Ikeubkuro Temporary Store has announced a special exhibition for Natsume's Book of Friends which will open on July 10, 2020 and be free to enter.

Natsume's Book of Friends

Natsume's Book of Friends is a manga series by Yuki Midorikawa. It was first published in the shojo manga magazine LaLa DX in 2003 and began serialisation in 2005. It subsequently switched to LaLa in 2008 where it continues to be published. A 74-episode anime adaptation spread across six seasons aired between 2008 and 2017.

There are five illustrations of Nyanko-sensei and keywords scattered around the 2nd floor of Animate Ikebukuro Temporary Store. If you can find them all, you'll receive a free folder as pictured above in the bottom right. The exhibition will also showcase illustrations drawn by Yuki Midorikawa, drafts, sined pictures, and more.

©Yuki Midorikawa/Hakusensha

Information

Natsume's Book of Friends Exhibition (Japanese Name: 「夏目友人帳」緑川ゆき先生複製原画展 & 復刻・ニャンコ先生を探せ!)
Running: July 10, 2020 – July 26, 2020

Location: Animate Ikebukuro Temporary Store (Floor 2F)

Find Nyanko-sensei
*Folders are limited in stock

*Free entry

*Restricted entry during busy times

*A face mask must be worn at all times in the store

*Event subject to change, postponement, or cancellation

Exhibition Website: https://www.animate-onlineshop.jp/contents/fair_event/detail.php?id=104117

Animate Ikebukuro Temporary Store Official Website: https://www.animate.co.jp/special/301734/

Kawasaki Aquarium to Open Inside Kawasaki Le FRONT This Summer

Aqua Live Investment is set to open Kawasaki Aquarium, which will also be known as Kawa Sui for short, on floors 9F and 10F of Kawasaki Le FRONT, a shopping centre in front of Kawasaki Station, on July 17, 2020.


In the lead up to its grand opening, Kawasaki Aquarium launched its own official app, as well as opened purchases of Annual Passports to the aquarium, on June 17.

What is Kawasaki Aquarium all about?

The theme of Kawasaki Aquarium is "The World's Beautiful Waters." It will showcase creatures and living things from around the world—from the waters of Tama River which flows through Kawasaki to Asia, Africa, and the Amazon in South America—using the latest technology combining lighting, sound, and visuals.

Annaul Passports

There are three kinds of Annual Passports to choose from which let you access Kawasaki Aquarium as many times as you want throughout the year. They are valid for an entire year and let you bypass the ticket counter so you don't have to line up. These passports can be bought via the aquarium's official app before its grand opening. After that they can be bought either on the app or directly at the aquarium at the Passport counter.

Those who purchase an Annual Passport between June 17, 2020 and July 16, 2020 will receive an extra free two months on top of their guaranteed 12 months.

3 Annual Passport Types

Dual Passport: Daytime & Nighttime
Allowed Entry Times: [Day] 10:00-17:00 (Last Entries 16:00) / [Night] 18:00-22:00 (Last Entries 21:00)
Prices (Tax Included): Adults ¥6,000 / High School Students ¥4,500 / Elementary & Junior High School Students ¥3,600 / Children (4+ Years) ¥1,800

Daytime Passport: Daytime Only
Allowed Entry Times: [Day] 10:00-17:00 (Last Entries 16:00)
Prices (Tax Included): Adults ¥4,000 / High School Students ¥3,000 / Elementary & Junior High School Students ¥2,400 / Children (4+ Years) ¥1,200

Nighttime Passport: Nighttime Only
Allowed Entry Times: [Night] 18:00-22:00 (Last Entries 21:00)
Prices (Tax Included): Adults ¥4,000 / High School Students ¥3,000 / Elementary & Junior High School Students ¥2,400 / Children (4+ Years) ¥1,200

Experience the aquarium at night

Kawasaki Aquarium is open everyday until 22:00. Visiting the aquarium at this time offers a completely different experience as warm lights set the mood and different sounds play from daytime hours. It's also a chance to see nocturnal creatures that only come out at night. Plus, the aquarium serves alcohol and bar food in the evenings.

Download the app

The Kawasaki Aquarium app is free to download and lets guests enjoy coupons with their Annual Passport, gives them the latest news about upcoming events, lets them access the online shop, and more.

Information

Kawasaki Aquarium (Kawa Sui)

Address: Kawasaki Le FRONT (Floors 9F-10F), 1-11 Nisshinchō, Kawasaki-ku, Kawasaki, Kanagawa

Opening Hours: [Day] 10:00-17:00 (Last Entries 16:00) / [Night] 18:00-22:00 (Last Entries 21:00)

Official Website: https://kawa-sui.com

*No refunds are given on Annual Passports

*Student ID required for students

*Free entry for those aged 3-years and below

*Those aged 12-years and below must be accompanied by a parent or guardian aged 16+

Mr. Osomatsu Themed Cafe to Open at Animate Ikebukuro This Summer

Animate Cafe, a chain of cafes in Japan which collaborates with popular anime, manga and games, has announced that it's set to serve up an Osomatsu-kun themed cafe at Animate Cafe Ikebukuro 4 from July 15, 2020.

Osomatsu-kun is a comedy manga series by Fujio Akatsuka which was rebooted in 2015 with the anime series Mr. Osomatsu (also known as Osomatsu-san). A second season aired between 2017-2018 and an anime film, Osomatsu-san the Movie, was released in 2019.

Choromatsu's Grape Drink: ¥650


Todomatsu's Revenge Strawberry Milk: ¥650


BIG Acrylic Stands (6 Designs): ¥1,600 Each


Acrylic Name Badges (6 Designs): ¥500 Each

"Kindergarten" is the theme of the cafe collaboration, which sees the six Matsuno brothers turned into kindergarteners for the merchandise designs. Fans can tuck into food and drinks themed on brothers as well as get their hands one exclusive merchandise.

Free Coasters (6 Designs)

Customers who order from the collaborative menu will receive a free coaster. Those who spend over ¥2,000 (tax included) will receive two coasters from a different set of 15 coasters.

©Fujio Akatsuka / Osomatsu-san Production Committee

Information

Animate Cafe Ikebukuro 4
Running: July 15, 2020 – August 17, 2020
*Between July 15 and July 19, reservations will be mandatory and customers who sign up will be selected randomly. From July 20 to August 17, reservations are not necessary.
*Dates and times subject to change.

*Photos are for illustrative purposes only.

*Prices listed are tax-inclusive.

Animate Cafe: https://cafe.animate.co.jp/event/osomatsusan2007/

SANRIO CAFE Ikebukuro to Open in Tokyo's Sunshine City On June 5

Sanrio is set to open the new SANRIO CAFE Ikebukuro in on floor B1F of Sunshine City in Ikebukuro, Tokyo on June 5, 2020.

Just a convenient 8-minutes on foot from Ikebukuro Station, SANRIO CAFE Ikebukuro will serve up a menu that captures the kawaii world of Sanrio's roster of characters.

The cafe is divided into two areas: the main cafe space, and then the wagon corner for takeout. Enjoy dining surrounded by adorable Sanrio characters on the walls and ceiling, or take your character-inspired food and drink away with you.

The cafe is putting the health and safety of its customers and staff at the top of its list in response to the novel coronavirus (COVID-19) and so will operate the cafe while taking all necessary safety measures.

If you're in Tokyo, or the next time you're in Tokyo, make sure you don't pass up the chance to dine at SANRIO CAFE Ikebukuro.

Information

SANRIO CAFE Ikebukuro
Grand Opening: June 5, 2020 at 10:00 (JST)
Location: Sunshine City (Floor B1F), 1-28-1 Higashi-Ikebukuro, Toshima Ward, Tokyo
Opening Hours: 10:00-21:00 (Last Orders 20:00)
TEL: 03-5985-5600 (Open from June 5, 2020)

Sanrio Official Website: https://www.sanrio.co.jp/

*Please note that opening hours are subject to change or closure depending on the status of the novel coronavirus (COVID-19). For the latest updates, please visit Sanrio's official website.

Yaoi Manga Dakaretai Otoko 1-i ni Odosarete Imasu Collaborates With Animate Cafe in Ikebukuro

animate cafe—a cafe chain which collaborates with popular anime series, games, and manga—is opening a new store called "DECOTTO by animate cafe" in Ikebukuro on June 24, 2020. For its first collaboration, it will collaborate with Hashigo Sakurabi's popular yaoi manga Dakaretai Otoko 1-i ni Odosarete Imasu from June 24, 2020 to July 27, 2020.

CHOCOTTO DECOTTO Character Doughnuts (Tonyaka/Chunnya): ¥600 Each

animate cafe operates cafes both in Japan and overseas, and has seen countless collaborations with popular series. DECOTTO will open as a new brand of the company which will serve doughnuts inspired by anime, manga, and game characters.

DECOTTO GIFT Souvenir Doughnuts (Tonyaka/Chunnya): ¥400 Each

CHOCOTTO DECOTTO will be served as cute, decorative doughnuts based on characters. They are nothing short of Instagram-worthy.

Seasonal DECOTTO TEA: ¥600 Each (More flavours available)

Bonus Coasters (9 Designs) / Bonus Straw Markets (2 Designs) *Designs chosen randomly

DECOTTO will serve both regular doughnuts as well as seasonal flavours. When you order a doughnut or a drink, you'll also receive a free coaster or straw marker.

Doughnut Squishies (2 Designs): ¥800 Each


Doughnut Shaped Towels (2 Designs): ¥1,000 Each

Get your hands on exclusive doughnut merchandise too.

Hashigo Sakurabi's popular yaoi manga Dakaretai Otoko 1-i ni Odosarete Imasu has sold over 3.5 million copies. A 13-episode anime series aired in 2018.

©Hashigo Sakurabi/libre

Information

"Dakaretai Otoko 1-i ni Odosarete Imasu" x "DECOTTO by animate cafe"

Running: June 24, 2020 to July 27, 2020
Location: DECOTTO by animate café (Animate Annex, 3-2-1 Higashi-Ikebukuro, Toshima Ward, Tokyo)

Access: 8 minutes on foot from Ikebukuro Station

*June 24-28 is reservation only, and reservations will be allotted randomly

*June 29-July 27 will be normal service

Official Instagram: https://www.instagram.com/decotto_donut/

Help Rescue Sumida Aquarium's Spotted Garden Eels by Showing Your Face Online

Something unprecedented is happening over at Sumida Aquarium. The living creatures at the aquarium are starting to forget about humans as a result of the building's closure in response to the COVID-19 outbreak, save for the aquarium staff who are looking after them. In the case of their spotted garden eels, the eels are now hiding in the sand, even when the aquarium staff check in on them.

What exactly is happening with the spotted garden eels?

Spotted garden eels by nature are extremely fragile and alert creatures, and so are prone to diving under the sand to hide themselves. Around 300 of these eels live in a single tank at Sumida Aquarium, and since they are used to people being in the aquarium all the time, they rarely bury themselves even when people get close. However, since the closure of Sumida Aquarium on March 1, 2020, a change has been seen in the spotted garden eels.


Humans not being around is the new norm for the eels. It's as if they have forgotten about the existence of humans, and now hide themselves away when the staff come through. With the eels no longer showing themselves to the staff, it has becoming difficult to run daily checks to see if the eels are unwell, famished, and so on. The change of environment may even lead to stress of the eels fighting. It has become a serious problem for the staff to ensure they are living an adequate quality of life.

That is where Sumida Aquarium's "Spotted Garden Eel Face Reveal Festival" comes into play. The aquarium has called for emergency measures for people to video call in to show their faces to the eels so they don't forget about humans and so they no longer feel afraid of people being around.

Spotted Garden Eel Face Reveal Festival

The festival is a chance for people to meet the spotted garden eels from their own home by using an iPhone, iPad or computer to call in using video chat. As long as you can video call, anyone is free to join. Two sessions will be held per day where people can see the eels pop their heads out of the sand, feed, and so on.

This is the first time Sumida Aquarium has held such a project, and it may or may not work, but they won't know unless they try. Check the dates below and see if you can get involved.

Scheduke
May 3rd @ 10:30-14:00 (JST)
May 4th @ 10:30-14:00 (JST)
May 5th @ 10:30-14:00 (JST)

How to Participate
Use an iPhone or an iPad to FaceTime any of the Gmail addresses below.i
helpchin001@gmail.com
helpchin002@gmail.com
helpchin003@gmail.com
helpchin004@gmail.com
helpchin005@gmail.com

1)Open the FaceTime app and enter any of the Gmail addresses. Select video call.

2)Screens will be placed in front of the water tanks with the spotted garden eels live. Once the call starts, show your face, wave your hand, and call out to them. Please note that talking loudly is strictly prohibited.

3)5 screens was the limit of what could be set up. They ask for you to call for only 5 minutes so that many different people can show their face so it feels like lots of people at a festival.

*The aquarium apologies if the eels don't show themselves

*The aquarium apologies in the case that anything goes wrong with the call

*Only iOS can be used at this time and not Android OS

Beautiful Jellyfish Umbrellas Designed by Kamo Aquarium Will Keep You Dry

YOU+MORE!, a brand of humorous merchandise and accessories developed by Felissimo, has teamed up with the famous Kamo Aquarium to release a series of jellyfish umbrellas.

The intricate umbrella designs were developed in cooperation with the staff at Kamo Aquarium's Jellyfish Dream House. Three different kinds of jellyfish were used as inspiration for the umbrellas.

Moon Jelly Umbrella

YOU+MORE! Moon Jelly Umbrella – ¥1,600

Moon jellyfish are perhaps one of the most popular kinds of jellyfish out there. What may be the most striking part of this umbrella is the colour gradation which gives it a transparent effect. The edges of the umbrella are also curved, giving it a delicate silhouette and making it look even more like the real things.

The umbrella's frames are built strong, and the material of the umbrella itself is a white glass fibre which serves not only to mimic the colour of a moon jelly, but so that you can still see through it too. (As a side note, all three of the umbrella designs are made from glass fibre.)

Northern Sea Nettle Umbrella

YOU+MORE! Northern Sea Nettle Umbrella – ¥1,600

Like the northern sea nettle itself, this umbrella features a dome shape and incorporates a stripe design. A northern sea nettle has 16 stripes, and so that many were added to the umbrella. The jellyfish staff at the aquarium praised this one as the most realistic.

Spotted Jelly

YOU+MORE! Spotted Jelly Umbrella – ¥1,600

Like the northern sea nettle, the spotted jelly too as a cute dome-shaped body. If someone who has never seen one of these jellyfish umbrellas before sees this design, they'll think of it as just having cute spotted design. However, a jellyfish enthusiast is sure to get excited as the sight of this one with its details like its orange colour and the dots around the edges.

Kamo Aquarium will begin selling limited edition versions from the end of June this year which come with an ephyra charmーthat's the name for a baby jellyfish. The aquarium is currently closed until May 6 due to the coronavirus. The latest updates can be found on their official website.

Must-Visit Spots in Kagawa Prefecture in 2020: Cherry Blossoms, Dolphins, Bonsai & More

Appreciation for the Seto Inland Sea in Japan is on the rise: American company Discovery named Shikoku one of its Top 10 must-visit rising locations around the world for 2020, and the city of Setouchi in Okayama has featured as a recommended travel destination in Western media. One particular location, Kagawa Prefecture, has been featured on many international travel sites as a must-visit place, including on Booking.com, Skyscanner, and REMOTE LANDS, with places such as Takamatsu, Teshima, and Shōdo Island being picked up.

Takamatsu is known as the doorstep that brings together the many islands of Seto Inland Sea. It's a port city with great fresh food, highly convenient for travellers wanting to visit lots of different islands, and a popular region that brings together elements of Japanese culture.

Today, we take a look at some must-visit locations around Takamatsu, including a new facility opening, must-visit spots for spring to early summer, food, and more.

Shikoku Aquarium – The largest aquarium in Shikoku

Shikoku Aquarium is set to be the largest across Shikoku when it opens its doors to the public on March 20, 2020. It's located inside Utazu Seaside Park in the town of Utazu where it will exhibit the creatures that live in Shikoku and feature the many different seaside landscapes located there. But the aquarium won't just stop at showcasing animals, it will also be a cultural facility where you can learn about the history, culture, and natural environment of Shikoku, and there'll be artwork perfect for the Setouchi Triennale contemporary art festival which is held around Seto Inland Sea every three years.

Shikoku Aquarium

Address: Utazu Rinkaikoen, 4-1 Utazu, Ayauta District, Kagawa

Opening Hours:

[March 20, 2020 – September 30, 2020] 9:00-18:00

[October 1, 2020 – March 19, 2021] 10:00-18:00

[Golden Week/Summer Break] 9:00-21:00

No Fixed Holidays

Price: General (16+ Years & High School Students) ¥2,200 / Children (Elementary School Students) ¥1,200 / Toddlers (3+ Years) ¥60

Official Website: http://shikoku-aquarium.jp/

Well-Known & Little-Known-Good Cherry Blossom Spots

Kagawa Prefecture is home to many spots that offer beautiful sounds and sights throughout the four seasons. Cherry blossom season is right around the corner in Japan, so let's take a look at some must-visit spots, both popular and little-known good ones.

■Well-Known Spots

Ritsurin Garden (Takamatsu)

One of the most famous historical gardens in Japan, Ritsurin Garden is home to around 320 Yoshino cherry trees, whose pink colour reflects beautifully off the lake together with the 1,000 green pine trees.

Marugame Castle (Marugame)

Marugame Castle is one of only 12 castle in Japan to have an original wooden tenshu, or castle tower, built. From the great height of the castle's stone wall, which is the tallest in Japan, one can gaze down at 1,000 cherry blossom trees in bloom.

■Little-Known-Good Spots

Megijima (Takamatsu)

Around 3,000 cherry trees bloom on t he island, including Yoshino cherries, yama-zakura, and yae-zakura, which roll from the port to the lighthouse.

Asahiyama Forest Park (Mitoyo)

Asahiyama Forest Park is located on the peak of Mt. Asahi, up 238 meters high. There, you can witness 2,000 vibrant cherry blossom trees bloom in spring, including Yoshino cherries. The park's observation deck is popular too, offering a 360° panoramic view.

Experience the world of bonsai in Kagawa, the only place in Japan which produces pine bonsai trees

Interest in bonsai trees continues to grow every year not just in Japan but overseas too. The number of people incorporating them into their lives as interior decoration is on the rise. Kagawa Prefecture is the only place in Japan which produces pine bonsai trees, the largest places being Kinashi and Kokubunji in Takamatsu. There are around 60 bonsai makers in both of these towns, so you are sure to spot some if you walk through them.

Official Website: https://takamatsu-bonsai.com/en/

The new Takamatsu Bonsai no Sato is also set to open on April 17, which will include an information centre providing information on bonsai culture in Takamatsu, and there will be workshops too. Whether you're new to bonsai or a pro, there's something for everyone to enjoy.

Takamatsu Bonsai no Sato

Grand Opening: April 17, 2020

Address: 353-1 Kokubunjichō Kokubu, Takamatsu, Kagawa

Travel to Kagawa this spring to enjoy the cherry blossoms and pay a visit to the new Shikoku Aquarium.

Kyoto Aquarium to House 20 Types of Jellyfish With New 'Jellyfish Wonder' Area

Kyoto Aquarium is currently undergoing a large-scale renovation and is set to reopen on April 29, 2020.

When it reopens, visitors will be able to visit the new jellyfish area, called "Kurage Wonder" (Jellyfish Wonder), which will span 350㎡ in width and 40 meters in length. It will house the largest number of different species in western Japanーup to 20ーwith around 5,000 individual jellyfish to see, like the northern sea nettle and pacific sea nettle.

The area begins at 10 individual water tanks where you can see how moon jellyfish change and grow. It then moves onto the 6.5 meter circumference "GURURI" panorama tank which offers a 360° view of 1,500 moon jellyfish.

This tank is entered through an arch, which once you pass through leads you under the tank where your vision is filled with the sight of countless moon jellyfish.

The new "Kyoto Jellyfish Research Lab" has also been built where guests can observe the staff breeding and researching jellyfish on a day-to-day basis. Enjoy hearing how the jellyfish are cared for behind the scenes while chatting together with the staff. Various other activities you can participate in will be introduced in the future too.

Discover the wonderful world of jellyfish at the newly-renovated Kyoto Aquarium.

Information

Kyoto Aquarium

Address: 35-1 Kankijicho, Shimogyo Ward, Kyoto

Reopening: April 29, 2020

Access: 15-minutes on foot west from Kyoto Station's Central Exit / 7-minutes on foot from Umekōji-Kyōtonishi Station via the JR San'in Main Line

Official Website: https://www.kyoto-aquarium.com/en/

NAKED SAKURA AQUARIUM: Cherry Blossoms and the Sea Come Together at Tokyo's Maxell Aqua Park

Maxell Aqua Park Shinagawa has announced the holding of a new exhibition entitled "NAKED SAKURA AQUARIUM" which will run at the Tokyo-based aquarium from March 1, 2020 to April 19, 2020.

Offering "cutting-edge Tokyo entertainment," the exhibition is combined music, lighting, and visuals with living beings. Using the latest in leading edge tech, visitors will be treated to a visual treat of animals living harmoniously with the season. The exhibition promises you will notice something new with each visit. Enter a world of spring like never before as cherry blossoms and the ocean come together through digital art.

Cherry Blossom Tayori

The entrance to the aquarium will be in full bloom with cherry blossoms. The water tanks in the centre will be perfectly pink and house madai snapper, a type of fish also nicknamed "sakura-dai" around this season.

Spilling Cherry Blossoms

This area will be like an atrium, with water tanks and showcases lined up beautifully next to each other and decorated with cherry blossom art flowers. The water tanks, which bring to mind the image of a "banquet," will house sakura-dai, sea goldie, and other fishes.

Dancing Cherry Blossom Garden

In the immersive Patterns area, you can see the "possibilities" of the four seasons as digital art works to combine a seasonal landscape with the sea creatures on display.

Also in the Dancing Cherry Blossom Garden will be Cape penguins who will put on a performance using their physical abilities. The performance, which is split into two parts, will make use of projection mapping. The first part will see the bloom of yaezakura cherry trees, while the second part will have jacaranda, also called the "purple cherry blossom," a flower that blooms in South Africa where Cape penguins originate.

Dolphin Performance Day Version – Cherry Blossom Dance

The daytime dolphin performance sees visitors gathering in the amphitheatre. This interactive performance is inspired by springtime banquets and Hanami flower-viewing. Enjoy seeing the dolphins dance high-speed to the rhythm of Japanese rock music.

Dolphin Performance Night Version – Cherry Blossom Story

The nighttime dolphin performance uses the water, lighting, visuals, and music to celebrate cherry blossoms in the evening. Enjoy a more delicate, but powerful performance from the dolphins, and see the flowers in all their beauty.

Jewellery Fish Rumble

The ceiling and walls of the spacious Jewellery Fish Rumble area all have reflective mirror surfaces. Countless pink and blue illuminations light up this evening cherry blossom-themed area, where you can enjoy a digital Hanami experience together with the jellyfish.

Katou Flower Lantern

The NAKED SAKURA AQUARIUM cafe and bar is adorned with a cylindrical water tank with illuminated coral. The cafe/bar is inspired by Katou, which is when the evening light feels like it is being lit up by fully bloomed cherry blossom flowers. The menu includes a selection of cherry blossom and matcha drinks, as well as a selection of sweet treats perfect for the Hanami season.

3 Dango & Mini Taiyaki – ¥500 (Red Bean Paste/Cream)

Sakura Mizu-warabi Rice Cake – ¥500

Enjoy a completely different kind of Hanami experience at Maxwell Aqua Park.

*Photos are for illustrative purposes only

Information

NAKED SAKURA AQUARIUM at Maxell Aqua Park Shinagawa

Running: March 1, 2020 – April 19, 2020
Address: Shinagawa Prince Hotel, 4-10-30 Takanawa, Minato Ward, Tokyo
Opening Hours: 10:00-22:00
Prices: General (High School Students and Older) ¥2,300 / Elementary-Middle School Students ¥1,200 / Children (4+ Years) ¥700
Exhibition Page: http://www.aqua-park.jp/special/snowaquarium2019/en_index.html

Maxell Aqua Park Shinagawa Official Website: http://www.aqua-park.jp/aqua/en/