Flying sumo wrestler? The video of indoor skydiving at Koshitani Lake Town was released.
FlyStation is an indoor sky diving facility which was built in April of 2017 in Japan. The attraction can fulfill everybody's dream of flying the sky.
The great gusts of wind produced in a wind tunnel allows the sky diver to float in the air, a truly amazing experience. This indoor skydiving which persons older than four years old can enjoy is a new generation entertainment which about 60 million people mainly in Europe and the U.S. are enjoying.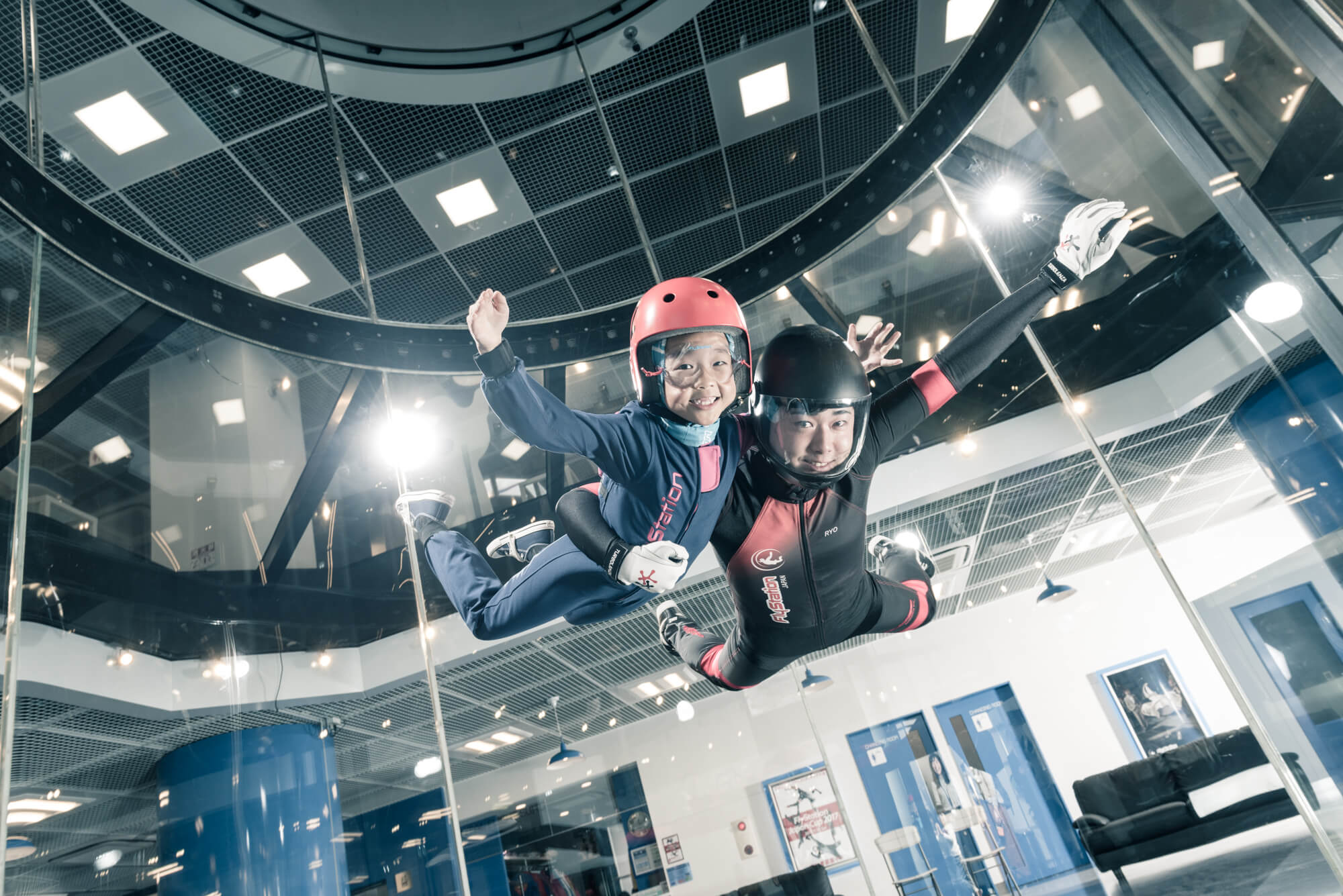 At the base of this attraction there is a trampoline-like net for those of you who are not familiar with this kind of attraction so you can enjoy the flight with no worries. Of course, the attraction is safe to use.
The WEB movie shows the beauty and amusement of indoor sky diving where a wind speed of up to 360 ㎞ can be experienced.
「Love Flying? / Heiwa (Peace)」version
The "Heiwa" version represents the amusement of flying in the sky at the speed of 360km with the flight of a sumo wrestler. The video does not use any CG. Take a look at the wrestler's body, watch his skin dance in this wind.
「Love Flying? / Seimei (life being)」version
The instructors of FlyStation appear on this video. Let's enjoy their brilliant and artistic flight and in the"mystery of life beings."
「Love Flying? / Fuatsu (windpressure)」version
In this version, the furious wind created by a special device called a Wind Tunnel is represented. You will be surprised with the latest technologies used in this device which enables the making of a 360km wind.
Let's check the epic scale of indoor sky diving with these WEB movies.
■Information
FlyStation
Address: 6-19-3, Lake Town, Koshigayashi
TEL: 0120-102-035 (9:00 to 22:00)
03-4530-6100 (9:00〜22:00)
RELATED ENTRIES
Enjoy a Valentine's Day Bath at Ofuro Cafe no Yu Hakuju in Saitama

Ofuro Cafe Hakuju no Yu is holding a special Valentine's Day event for lovers which will run from February 6 to 14.

Though the bath house is split between male and female, couples can write messages of love to their special someone on a heart-shaped plaque made from Japanese cypress wood. The plaques were made in collaboration with the local business Kanezawa.

Choko Sweet Sake Shake | ¥630 (Before Tax)

For the Valentine's event, the bath house is also serving up a special shake beverage made with chocolate and sweet sake. The polyphenol in chocolate is said to be good for health and beauty, making it a perfect choice for a day of luxury at Ofuro Cafe Hakuju no Yu.

Guys who visit the bath house on Valentine's Day itself will also receive free Valentine's chocolate.

Information

Valentine's Bath
Running: February 6, 2021 – February 14, 2021
Venue: Ofuro Cafe Hakuju no Yu
Address: 337-1 Wataruse, Kamikawa, Kodama District, Saitama
TEL: 0274-52-3771
Official Website: https://ofurocafe-hakujyu.com/

■About Ofuro Cafe

Ofuro Cafe is a chain of hot spring brands made for long stay periods. It offers a variety of free services such as coffee, magazines, comics, massage chairs, PC rental, and more. The experience created is like being invited to a friend's house to kick bck and relax. There are three branches in Saitama including Ofuro Cafe Utatane, Ofuro Cafe Hakuju no Yu, and Ofuro Cafe Bivouac, as well as one branch in Mie, Ofuro Cafe Yumoriza. It also has three franchise branches: Ofuro Cafe Bijinyu in Shizuoka, Ofuro Cafe Biwakoza in Shiga, and Ofuro CafeSeiyukan in Hokkaido. "おふろcafe(R)" is a registered trademark of ONSENDOJO INC.

■ONSENDOJO INC.
Founded in March 2011. Manages hot spring facilities including the Ofuro Cafe brand as well as resort facilities, consultation services, and supporting regional businesses.
http://onsendojo.com/

Lanterns to Soar the Night Sky of Saitama at O Park OGOSE

BIO-RESORT HOTEL&SPA O Park OGOSE has announced that it's set to light up the night sky of Saitama with a special evening lantern launching event which will be held on Fridays and weekends from December 6.


Guests can pick from five different sky lanterns which use LED lights and helium gas. The lanterns are safe for small children to use so families can enjoy the enchanting experience together.

O Park OGOSE is a biotope-themed resort facility where guests can stay while surrounded by lush green forests. The sky lantern event is being held in response to the pandemic outbreak so that people can feel refreshed and a coming-together.

Information

SATOYAMA Sky Lantern Night
Running: Fridays and weekends from December 6, 2020 (until lantern stock runs out)
Location: BIO-RESORT HOTEL&SPA O Park OGOSE
Address: 3083-1 Ueno, Ogose, Iruma District, Saitama
Price: ¥2,000 per person
TEL: 049-292-7889
O Park OGOSE Official Website: https://opark.jp/
*The number of participants at the event is being restricted in response to the COVID-19 pandemic

Autumn Illuminations to Light Up the Red and Yellow Trees at Musashi Kyuryo National Government Park

Musashi Kyuryo National Government Park is set to host an autumn illumination event from November 14 to 29 where around 500 individual trees of 20 species will be lit up with beautiful lights. The best time to see the park's autumn colours is dated at November 20.

Musashi Kyuryo National Government Park opened as Japan's first national government park in 1974. This enormous park spans 5km between its north and south entrances. It's home to many fun family activities including trampolines, an athletic course, and more. It also offers gorgeous natural scenery throughout the year.

500 maple trees lit up at night

The park will be open in the evenings for this event when red, yellow, and orange maple trees will be illuminated in breathtaking lights. There will also be art installation illuminations for visitors to enjoy too.

Information

Maple Tree Illuminations
Running: November 14, 2020 – Novmeber 29, 2020

Location: Musashi Kyuryo National Government Park
Time: 16:30-20:30 (Last Entries 20:00)

Musashi Kyuryo National Government Park 
Address: 1920 Yamata, Namegawa, Hiki District, Saitama
Closed: December 31, January 1, and the 3rd and 4th Sunday of January

Official Website: https://www.shinrinkoen.jp/

An Otaku's Dream: The EJ Anime Hotel in Saitama Where You Can Stay in Rooms Themed On Anime Series

Manga publisher KADOKAWA opened the new anime concept hotel EJ Anime Hotel at Tokorozawa Sakura Town in Tokorozawa, Saitama, on October 1, 2020.

Tokorozawa Sakura Town is a new shopping complex set to open on November 6, 2020, where it will serve as a hub for the latest in Japanese pop culture with events, shops, restaurants, a museum, and more. EJ Anime Hotel opened on early Thursday in the run up to the complex's grand opening to welcome guests.

The 'EJ' of EJ Anime Hotel stands for 'Entertainment Japan.' The hotel aims to have guests living inside the stories they love from a wide range of Japanese media from anime to manga, movies, tokusatsu SFX movies, idol culture, and more.

As well as room decorations and the exclusive merch that will be on sale, the hotel is also offering a new kind of accommodation experience by incorporating videos, sounds, lighting, and more. Its restaurant will also offer a selection of food and drink in collaboration with various series including all-out full course dinners.

When using the hotel elevator, you will hear announcements from none other than popular Japanese voice actor Yuki Kaji who has played many big roles in anime including Eren Jaeger in Attack on Titan. "As an anime fan first and foremost, having such a fun concept hotel like this open, not to mention getting to be involved as an announcer, makes me really happy," explains Kaji. "I want guests to make some great memories staying at EJ Anime Hotel."

"Bofuri: I Don't Want to Get Hurt, so I'll Max Out My Defense." Collab Room ©2020 夕蜜柑・狐印/KADOKAWA/防振り製作委員会

"Uzaki-chan Wants to Hang Out!" Collab Room © 2020 丈/KADOKAWA/宇崎ちゃん製作委員会

"KonoSuba: God's Blessing on this Wonderful World!" Collab Room ©2019 暁なつめ・三嶋くろね/KADOKAWA/映画このすば製作委員会

"A Certain Scientific Railgun T" Collab Room ©2018 鎌池和馬/冬川基/KADOKAWA/PROJECT-RAILGUN T




"Yuki Yuna Is a Hero" Collab Room ©2017 Project 2H

Right now, EJ Anime Hotel is collaborating with five different anime series: Bofuri: I Don't Want to Get Hurt, so I'll Max Out My Defense., Uzaki-chan Wants to Hang Out!, KonoSuba: God's Blessing on this Wonderful World!, A Certain Scientific Railgun T, and Yuki Yuna Is a Hero. The hotel is taking bookings on its official website.

If you're thinking of travelling to Japan as an anime fanatic, then look no further and book with EJ Anime Hotel.

Information

EJ Anime Hotel
Grand Opening: October 1, 2020
Location: Tokorozawa Sakura Town Floor 6F
Address: 3-31-3 Higashitokorozawawada, Tokorozawa-shi, Saitama Prefecture
Opening Hours: 24 hours a day
Check In: 4pm / Check Out: 10am
No Fixed Holidays
Official Website: https://tokorozawa-sakuratown.jp/hotel/

Japan's Moominvalley Theme Park Announces 'Harvest Special Week' Autumn Event

Moominvalley Park has announced the special autumn event "Harvest Special Week" which is set to run from September 19 to 27.

Moominvalley Park

Moominvalley Park is a theme park centred on the Moomins. It's located inside Metsä, a bigger Nordic-themed entertainment complex. The theme park is based on the Moomin's home of Moominvalley, where guests can enjoy a variety of activities from enjoying nature to making their own accessories, dining on Northern European food, and more.

Harvest Special Week

The Harvest Special Week is themed on the season of harvest—autumn. Near the entrance to the theme park will be the "Welcome Cove Area" where around 3,600 balloons will be set up, inspired by the berries of Northern Europe during autumn. The design was created by textile designer Masaru Suzuki who has worked with the famous Finnish brand Marimekko.

During the Harvest Special Week event, guests will receive an original pin badge celebrating 75 years of the Moomins. They will be handed out at the Welcome Cove Area (area in Japanese: はじまりの入り江エリア) between 10:00-15:00.

Guests can also take pictures at the Harvest Gate, Berry Road, and Apple Tree photo spots. The shops and restaurants in the park will also sell and serve all things harvest-themed.

teamLab's Acorn Forest Exhibition to Open in Saitama's Higashi-Tokorozawa Park

teamLab's upcoming new digital art exhibition teamLab: Resonating Life in Acorn Forest is set to open in Higashi-Tokorozawa Park in Saitama on August 1, 2020. The interactive display will react to and change from the presence of people.

The Kadokawa Culture Museum calls the collection of oaks and other deciduous broadleaf trees of Musashino the "Musashino Woods." These Musashino Woods transition through the greens of spring and summer, display beautiful autumnal leaves from fall until early winter, and are home to ripe acorns in autumn.

Deciduous broadleaf forests were widespread in Japan during the Jomon Period. These forests were home to acorn-bearing trees, and acorns were a major food source for the Jomon people. During the Jomon Period, many people existed alongside the acorn forests, living easily with this abundant food source.

teamLab's Digitized Nature art project uses non-material digital technology to transform nature into art without having a physical impact on it.

teamLab: Resonating Life in the Acorn Forest will transform the acorn forests of Musashino into an interactive art space which changes due to the presence of people.

Autonomous Resonating Life – Liquified Light Color, Sunrise and Sunset / teamLab, 2020, Interactive Digital Installation, Sound: Hideaki Takahashi

With sunrise, the ovoids begin to reflect the world around them. When pushed down by a person or blown by the wind, the ovoids fall back and then rise releasing a resonating tone. The ovoids around it also respond one after another, continuing to resonate with the same tone.

As the sun sets, the ovoids shine by themselves. When an ovoid is pushed by a person or blown by the wind it falls down and then rises, a sound resonates out, and it emits a light color specific to the sound.

Resonating Trees / teamLab, 2014, Interactive Digitized Nature, Sound: Hideaki Takahashi

The trees shine brightly. The light of each tree is autonomous, slowly blinking.

The light transmitted from Autonomous Resonating Life – Liquified Light Color, Sunrise and Sunset causes the trees' lights to change color, and a tone specific to that color resonates out. The light of a tree is transmitted to the surrounding trees one by one, as the sound is continuously emitted.

When a light resonates from the trees in the distance, it signifies the presence of people. Perhaps people will become more aware of the existence of others in the same space.

Information

teamLab: Resonating Life in the Acorn Forest

Running: August 1, 2020 – Permanent

Address: Musashino Woods Park in Higashi-Tokorozawa Park (3-9, Higashi-Tokorozawa, Tokorozawa, Saitama)

Hours:
12:00 – 22:00
Daytime: 12:00 – 17:00 / Nighttime: 18:00 – 22:00

*Hours of exhibition varies depending on the season

Jan, Feb, Mar: 12:00 – 17:00 / 18:00 – 22:00
Apr, May, Jun: 12:00 – 18:00 / 19:00 – 22:00
Jul, Aug, Sep: 12:00 – 17:00 / 18:00 – 22:00
Oct, Nov, Dec: 12:00 – 16:00 / 17:00 – 22:00
*Last entry at 21:30

Tickets: On sale from July 22, 2020
https://kadcul.com/park

*Also available to buy at the exhibition

Official Website: http://acornforest.teamlab.art

Feel Refreshed at Moominvalley Park With the New Hattifatteners Thunder Splash Event

Moominvalley Park is set to hold a new event this summer called Nyoro Nyoro no Kaminari Splash (Hattifatteners's Thunder Splash). Set to run from July 18 to August 30 as part of Metsa Umbrella Sky Design Project 2020, the event will see guests sprayed with mist to cool themselves down in the summer heat.

A rolling cloud of multicoloured umbrellas will float overhead inside the park. It will begin in the "Moominvalley and Umbrella" area and take you to a special zone where lots of Hattifatteners are. Flashes of lightning and sounds of thunder will trigger after which a shower of mist will rain overhead. When the rain falls, the storm sets in, and the thunder roars, it will feel like the mysterious Hattifatteners are alive.

Children's Water Fountain Spot

Right nearby the Moominvalley and Umbrella zone is a water fountain spot where water spurts from the ground. This is great area for kids to keep cool in the summer heat too.

Information

Nyoro Nyoro no Kaminari Splash!

Running: July 18, 2020 – August 30, 2020

Time: 10:00-17:00

Location: Moominvalley Park

*The mist may not be sprayed on days when the weather is bad

Moomin Official Website: https://www.moomin.co.jp/

Hamtaro Cafe 2020 to Open in Tokyo, Saitama, and Osaka

LEGS COMPANY has announced that it will open three cafes based on the popular Japanese character Hamtaro in Tokyo and Saitama on July 30 and Osaka on July 31.

Hamtaro is a manga and storybook series created and illustrated by Ritsuko Kawai. The series began serialisation in 1997 and an anime adaptation first broadcast back in 2000. More than 20 years later, Hamtaro continues to enjoy much popularity in Japan.

Hamtaro Cafe 2020 will be themed around sunflowers and the sea, and will serve up a fun experience perfect for the hot summer. The Ham-Hams have come out of their Clubhouse to pay a visit to the seaside and enjoy the sun. There will be sunflower and ocean themed food, drinks, and desserts for everyone to munch on.

Yakisoba On Beach Hut Sunflower Bread: ¥1,499

A plate of yakisoba and egg arranged to look like a sunflower, with Hamtaro sat right in the middle.

Cone Cappy Hide and Seek Ice Cream Parfait: ¥1,399

Cappy is wearing a cone on his head and is hiding amongst the ice cream, chocolate banana, and fresh mint.

Ham Ham Glass Drinks: Drink Only – ¥789 Each / With Glass – ¥1,789 Each

There are two drinks to choose from: the orange flavoured Hamtaro and the yogurt flavoured Bijou.

Vinyl Pouch: ¥1,300


Mascot Keyring Hamtaro: ¥1,550

The cafe will also sell a range of exclusive merchandise too, which is scheduled to be available for online purchase as well in Japan.

Ham-Ham Fans (14 Designs)


Original Coasters (15 Designs)

Those who dine at the cafe will receive a free Ham-Ham fan, and if you order a drink you'll get a coaster too.

©Ritsuko Kawai / Shogakukan

Information

Hamtaro Cafe 2020

Booking Price: ¥500 (4 people max per booking) *Comes with free gift

Tokyo: TOKYO BOX cafe&space / July 30, 2020 – September 6, 2020

(Address: Tokyo Solamachi Floor 1F East Yard 8, Tokyo Skytree Town, 1-1-2 Oshiage, Sumida-ku, Tokyo)

Saitama: BOX cafe&space / July 30, 2020 – September 27, 2020
(Address: AEON Laketown kaze Lake Town Gate 1F, 4-2-2 Koshigaya, Saitama)

Osaka: Shinsaibashi contact / July 31, 2020 – August 16, 2020

(Address: 1-6-24 Kitahorie, Nishi-ku, Osaka-shi, Osaka Prefecture)

Official Website: https://hamutarocafe.sho.jp/

O Park OGOSE: Saitama's Hotel Resort Opens New Sauna Suite Cabin

BIO RESORT HOTEL & SPA O Park OGOSE, a hotel resort in Iruma, Saitama, is opening a new accommodation facility on March 12, 2020 called the "Sauna Suite Cabin."

This single-building cabin brings to mind a sauna cabin of Northern Europe. The entire interior is decked out in beautiful warm wood. It's roomy and fully equipped with furniture, a Finnish-style private sauna, jaccuzi, stove, and other bits.

Guests can enjoy a contrast bath experience with the sauna and open-air bath, as well as entertain themselves with a glamping-style dinner in the spacious outdoor dining area.

To make the Sauna Suite Cabin's atmosphere even more enjoyable, O Park OGOSE teamed up with Finland's oldest textile brand, Finlayson, which turned 200-years-old this year, to bring in some of their elephant design furniture and products, including bed linen, towels, and more. Their "ELEFANTTI" line-up is popular even in Japan.



In the bedroom drawers, their are even ELEFANTTI notebooks and letter sets which guests are free to take and use.

If you're looking for a private sauna experience away from the busy city while in Japan, then be sure to check out the new Sauna Suite Cabin at BIO-RESORT HOTEL & SPA O Park OGOSE.

Information

Sauna Suite Cabin

Location: BIO-RESORT HOTEL & SPA O Park OGOSE (3083-1 Ueno, Ogose, Iruma-gun, Saitama Prefecture)

Date: March 12, 2020

Time: 11:00-14:00
Official Website: https://opark.jp/

Sai Sai Jaran Jaran #8: SILENT SIREN's Ainyan Becomes a Wine Connoisseur at Fukagawa Winery Tokyo in Monzennakacho

Sai Sai Jaran Jaran is a featured series here on MOSHI MOSHI NIPPON from the members of the all-female band SILEN SIREN (aka Sai Sai) who visit various hot spots in Japan and experience different things, the Sai Sai way.

Band bassist Ainyan enjoys a beer or cocktail, but she wants to step into the world of wine, so we will join her on her journey today as she goes to learn all about wine from the very basics.

It's a clear sky today. Great weather for going for a drink during the day, am I right?

We visited Fukagawa Winery Tokyo in Monzennakacho, an area located in Shitamachi, Tokyo. We were looking forward to going there because it offers the full wine experience, allowing visitors to see wine brewing up close to learn all about it.

This experience is offered twice a day on weekends and national holidays at 14:00 and 16:00.

Fukagawa Winery Tokyo opened in Tokyo in 2016 as a winery where the ordinary person could go and see wine being made to fully understand its process. It has expanded its circulation in recent years and is now able to take in grapes from across Japan, including Tokyo, to craft many different wines.

On the day we visited we saw the staff bottling up the wine. On average, the winery ships out around 30,000 bottles a year.

The corks have illustrations of "Wine Man" on them, a character created by Fukagawa Winery Tokyo. Ainyan was fairly fond of him!

Time to see how the winery works!

When you step inside, the scent of grapes is the first thing to hit your senses.

The one in charge of Fukagawa Winery Tokyo is Kousuke Ueno, who was kind of enough to show us around. He taught us the process of wine making, as well as what types of grapes and tools they use.

"This machine separates the grapes and stalks using the propellers. This method has been used for 150 years," explained Ueno.

There are periods when visitors can observe this machine being used to separate the grapes. It takes place between mid-August to November, so follow Fukagawa Winery Tokyo's social media for announcements and details.

"Wow! It smells so good!" said Ainyan. We got to see a bucket where Cabernet Sauvignon was being made. They put in whole grapes with the skin on and add natural yeast for the fermentation process. The sweet smell of the grapes fills the air and makes you want to have a glass.

Now for what Ainyan has been waiting for: taste-testing time! She learned everything about the wine making process, so it was time to taste and compare some different wines.

The winery allows taste-testing until 17:00. You can try 3 types for ¥700. And of course, if there's one you tried that you really liked, you can buy it there and then. So sip, scrutinise, and select!

"Please try this one first. It is wine, but it's like a lemon sour," explained Ueno, recommending that Ainyan first try the Yamanashi  Delaware Sparkling.

Soak up all the notes of the drink by having a good smell first before taking a small sip. "Smells really good. This sourness really is like a lemon sour! I wonder why?" said Ainyan.

This wine uses premature grapes which gives the wine a sour taste. The sourness of this wine can play the part of lemons, so it's best paired with fried foods or meals with chicken in them.

The second drink was the Yamagata Delaware Muroka. It's an unfiltered wine made from completely ripened Yamagata Delaware grapes.

Unfiltered means that the filtration process to take out visible solids and such is not used. This gives it a slightly cloudy appearance and an exquisite taste that's somewhere between wine and juice.

Left: Unfiltered Yamagata Delaware / Right: Filtered Yamagata Delaware

For the third glass, Ainyan ordered the filtered Yamagata Delaware to test the difference between it and the unfiltered version.

"The filtered one has a good balance of flavours and is refreshing. The unfiltered one has a smooth juiciness to it. They're both delicious, but I like the unfiltered one more!" said Ainyan.

Her fourth glass was an unfiltered red wine: the East Bay Assemblage Red B.

The grapes used are a combination from Hokkaido, Nagano, and Aomori. It really is an assemblage!

"The red wine has such a different taste and colour depending on the type too! This dark red wine is close to what I usually drink!" said Ainyan with a happy smile.

At the end of the session, Ainyan had tried 10 wines and bought two bottles! She was delighted with her experience, saying: "I was surprised how different each and every one of the wines I tried at Fukagawa Winery Tokyo were. I think I'm getting hooked on the appeal of unfiltered, natural wines."

With Christmas and New Year around the corner, now is the season to indulge in wine. If you're in Tokyo this December, pay a visit to Fukagawa Winery Tokyo for a full wine experience.

Writer:Yuki Yokoo

Photographer:Kayo Sekiguchi

SILENT SIREN

SILENT SIREN is a four-member all-female band consisting of vocalist & guitarist Sumire "Suu" Yoshida, drummer Hinako "Hinanchu" Umemura, bassist Aina "Ainyan" Yamauchi, keyboardist Yukako "Yukarun" Kurosaka.

The band made their major debut in November 2012 with their single Sweet Pop! The band is known to fans by their nickname "Sai Sai." They are especially popular with middle school girls in Harajuku and have over 540,000 follows on their official LINE account.

In 2015, they performed their first solo concert at Nippon Budokan, making them the fastest Japanese all-female band in history to perform there after their major debut. In 2016, they performed a headline show at Yokohama Arena, and embarked on a world tour consisting of 6 shows in 5 countries.

At the end of 2016, they changed label to Universal Music and revamped their band logo and how they write their band name. In 2017, they wrapped up their 5th anniversary tour with their first two-day concert series at Nippon Budokan.

In 2018, they embarked on their biggest Japan tour to date "Tenkaippin presents SILENT SIREN LIVE TOUR 2018 ~"Girls will be Bears" TOUR~ consisting of 33 shows. They also performed at big music festivals and at countless events, as well as performed their annual New Year's solo concert at Yokohama Cultural Gymnasium.

In 2019, they began celebrations of 7 years since their debut and 10 years as a band. They released their final album of the Heisei era and 6th album in total 31313 on March 13 ,2019 and promoted it on their tour SILEN SIREN LIVE TOUR 2019 "31313" ~Sai Sai 10th Anniversary~ supported by Tenkaippin. They also performed at numerous summer festivals and events.

On December 30, 2019, they will performed their annual New Year's concert "SILENT SIREN Nenmatsu Special Live 2019 HERO" at Yokohama Cultural Gymnasium.

In 2020, they will celebrate 10 years since forming the band with a show at Yamanakako Communication Plaza Kirara on September 20, 2020.

SILENT SIREN Official Website: https://silent-siren.com/

Information

Fukagawa Winery Tokyo

TEL: 03-5809-8058

Address: Takahata Bldg. 1F, 1-4-10 Furuishiba, Koto Ward, Tokyo

Opening Hours: Weekdays 15:00-22:00 / Weekends & Public Holidays 12:00-22:00

Closed: Tuesdays

Winery Observations: Weekends & Public Holidays at 14:00 and 16:00 for 20 minutes each. Must book in advance.

Official Website: https://www.fukagawine.tokyo/

WASHOKU: Asakusa's Newest Restaurant For Experiencing Japanese-Style Cuisine

Asakusaーone of the hottest spots in Tokyo for sightseeing, ever-bustling with Japanese and foreign tourists and travellers alike. This ancient district is famous not only for its sights, like Sensō-ji (the oldest temple in Tokyo) and the Nakamise-dōri shopping street leading up to it, but for its bountiful offering of gourmet restaurants.

Today, we're taking a look at Taikenkei Dining -WASHOKU-, a restaurant which opened in Asakusa on November 19 this year. If you're looking for the full package when it comes to experiencing Japanese food culture, WASHOKU has customers covered. Not only do they serve food, like traditional Kyoto obanzai, but they offer cultural experience plans too where you can learn to make sushi or dress up in a kimono and walk the old streets of Asakusa.

WASHOKU's concept when it comes to both lunch and dinner centres around enjoying Japanese-style food that is colourful. And that rings tantalisingly true with their kaleidoscopic obanzai, which is formed of 12 vivid bite-sized delights. Obanzai is a traditional style of Japanese cuisine that comes from Kyoto, made up of mostly seafood and vegetables. The obanzai served at WASHOKU was conceived under the guidance of nutritionists, and so is packed full of healthy nutrients for the body. Not only that, the ingredients selected are all domestic to Japan, and are of a very high quality.


The obanzai I ate included fried beni haruka sweet potato which is sourced from Ishida Farmsーa sweet potato growerーin Katori, Chiba. It had a moist texture and rich sweetness. When I sank my teeth into it, I was flushed with feelings of the fall season.

Other foods in the assortment included sashimi, scallop and yuzu, saikyo-yaki Kyoto-style grilled fish, and more. Each mouthful of the selection offered its own distinct and unique flavours.

The obanzai is served with miso soup too with which you get to choose a miso ball from a variety of flavours to put into your bowl. I went for the sesame seed miso ball.

The miso ball is made from miso paste and various ingredients. Once placed into the hot water, it melts and turns into miso soup. The sweet light-brown miso was perfect for warming up my chilly self.

Dinner also features a dessert menu, as well as courses with an all-you-can-drink option, so I recommend these options for people who want to relax and take their time with their dining experience.

As I mentioned earlier, WASHOKU also offers a variety of experience-based plans. This includes a sushi class where you can learn to make your own hand-rolled sushi.

There are two types of "temari" hand rolled sushi you can make: the regular type, which makes use of tuna, salmon and other classic sushi toppings, and the high quality type, which uses more high-end ingredients like uni sea urchin eggs, caviar, gold leaf, and more. And for foreign customers, the restaurant has prepared a handout detailing the history of Asakusa and recipes, as well as souvenirs for them to take home.

The MMN team of course had to have a go at making our own sushi, but it proved quite difficult. You have to get the right amount of sushi rice to roll, then actually roll it perfectly into a ball before topping with your ingredients. But the sushi I made was actually really delicious! To attend this class you have to book in advance, so if you've never tried making your own sushi before or have an need some guidance, then we can't recommend it enough.

As well as food-related experiences, WASHOKU provides customers with three different plans to experience Japanese culture. The first of these is the rickshaw ride, where you board a rickshaw pulled by a runner and are taken around the various sites of Asakusa. The 'Excursion Around Asakusa Course' takes you to the most popular spots around Kaminarimon, while the 'Sky Tree Course' takes you all the way to the Sumida River, and you also get to see Tokyo Skytree and various other attractions in Asakusa.

The Edo Kiriko plan gives you the opportunity to cut your own Japanese glass to drink from. You can drink from your glass if you reserve the plan with lunch or dinner.

Finally, you can rent a kimono. Select your favourite from the shop and have a professional dresser get you readyーwith both your kimono and your hair. After you're dolled up, you can take a stroll around Asakusa to get a real feel for Japanese culture.

All three of these plans are just ¥3,500 per person, and all require reservations which you can book online.

So, if you're looking for a taste of Japanese food and culture, why not take a trip to WASHOKU when visiting Asakusa for an all-in-one experience?

Information

Taikenkei Dining -WASHOKU-

Address: 2113 Kaminarimon Bldg. Floors 5F-6F, 2 Kaminarimon, Taito Ward, Tokyo

Opening Hours: Lunch 11:00-15:00 / Dinner 15:00-17:00

No Fixed Holidays

Access: 1-minute on foot from Exit 4 of Asakusa Station via the Tokyo Metro Ginza Line / 2-minutes on foot from Exit A3 of Asakusa Station via the Toei Asakusa Line

Official Website (English): https://washoku.site/en/

IOC and Airbnb Announce Global Olympic Partnership & Olympian Experiences

The International Olympic Committee (IOC) and Airbnb have announced a major long-term partnership to support the Olympic Movement which will run from 2020-2028. During this period, Airbnb will offer unique accommodation and experiences, and experience tours hosted by Olympians and athletes will also take place.

The partnership will create hundreds of thousands of new Airbnb hosts over the the nine-year period from July next year, allowing for visitors to enjoy longer stays, accommodating families, and more. This will enable community residents to generate extra income while accommodating overseas visitors and proving them with local experiences. In turn, it means those visiting from overseas will be able to engage more with the local culture and community. Both occupied and vacant homes will be utilised.

The IOC and Airbnb will also launch Airbnb Olympian Experiences which will provide direct earning opportunities for athletes by promoting sports, allowing for people to train together with elite athletes and Olympians.

At the press conference for the announcement of the partnership, gold medalist Saori Yoshida said: "A lot of athletes today devote themselves completely to the games, so a lot of them struggle to find their next career after retiring. These Athlete Experiences will widen the activities of all athletes; not only retired competitors, but those who weren't able to make it as far as the Olympics too. I'm very thankful for that. I believe it will raise the standard of the games for kids, and will serve to brighten and bring excitement to the whole of Japan. I hope that these efforts bring a tremendous boost to the sports world and will have everyone taking an interest in sports."

Tokyo 2020 will officially launch next summer, and with this partnership, people may just be able to enjoy the Olympic Games together with the athletes themselves, allowing for fans to feel closer to the games and the Olympians.

Airbnb's involvement also gives visitors from overseas to enjoy Japan and the Olympics in an unprecedented way. If you're travelling to Japan for Tokyo 2020, be sure to book with Airbnb.