Kaori's easy recipe – Learn how to make " "Soft and Juicy Rilakkuma Buread"
With just a small bit of ingenuity, turn everyday food into something cute using Kaori's recipe series! With a few simple ideas, an ordinary recipe magically transforms into a cute dish.
This time, I will introduce to you "Soft and Juicy Rilakkuma Bun."
It is a rich-tasting heavy bun which has lots of eggs and butter inside.
1: ingredients
Bread flour – 320g
Dry yeast – 2 tea spoons
Sugar – 3 table spoons
Salt – 2/3 tea spoons
Egg – 1 to 2 (100g)
Warm butter – 80cc
Salt-free butter – 80g
Cocoa, pumpkin powder – moderate amount
Chocolate pen
2:
Put the flour, yeast, sugar and salt into a bowl. Place the yeast beside the sugar and place the salt on the opposite side to enhance fermentation.
➁ Mix warm water and the eggs.
Put ➁ into ➂ and ① and mix thoroughly then add butter.
★You can use a beater or mix the ingredients by hand.
Put cocoa and pumpkin powder into a small amount of water and mix it.
Color the ingredients.
The amount of the dough→640g
Pumpkin powder dough (Kiiroi Tori)→80g
Cocoa powder dough→(Rilakkuma and the tree trunk)→320g
Place dough (Kolirakkuma)→240g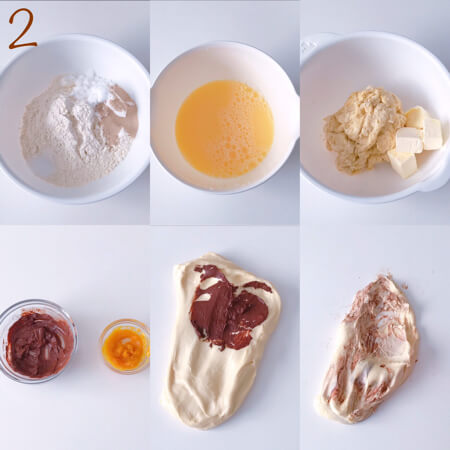 3:
Color each dough and leave them for about 40 minutes (put wet towels on them) to enhance primary fermentation.
★Refer to the recipe of KITTY Chan's Chigiri Pan regarding the method of fermentation.
4:
Separate the doughs after primary fermentation is done.
Kiiroi Tori→80g
Rilakkuma→face 72g / ear 4g ×2
Tree trunk→160g
Korilakkuma→face 72g, ear 4g ×2
★The weights noted above are approximate weights since the dough differs according to the amount of water and the weather conditions.
Place wet towels on the doughs and leave them for about 30 minutes to enhance the second fermentation.
Put the dough inside the oven (180 degrees) after the second fermentation is finished. Lower the oven's temperature to between 140 to 150 degrees and bake the dough for about 20 minutes. Place an aluminum foil on top of the dough if it looks like they are it is getting burnt.
5:
Draw the face after the buns are cooled.
Use the round side of the toothpick to draw the ears, mouth and eyes and use the tip of the toothpick to draw the nose.
Voila! You are finished.
It is now the Christmas season so I decorated it to match the season.
Kaori also invites you into her world of character-themed rice dishes in her recipe series! Please check out her Instagram where she has uploaded many pictures of her character dishes!
■profile
Kaori Kubota (@kaopan27)
I live in Hokkaido and I love to make character-shaped meals, desserts and breads.
I enjoy making character foods because I want to see my family smiling,
The character foods and character bento boxes are introduced in my Instagram page→@kaopan27