Japan announces its "Bread of the Year 2017" – discover the best of Japan's delicious bread
The editorial team of Japan's biggest bread specialist community website Pansta ("Bread Star") have announced the winners of "Bread of the Year 2017". The bread mania returns this year to deliver a careful selection of 7 different breads.
Every year the Pansta editorial team picks the best breads of the past 12 months. The "Bread of the Year" rankings are picked up by TV and magazines, announced on a wide scale. Rankings are compiled by the number of posts, likes and audience reach by pan lovers on the website, as well as breads the editorial team find in their everyday activities. 7 breads have been selected for 2017, each in their own category.
Best Baguette – Gold Prize Signifiant Signifie (Setagaya, Tokyo)
Signifiant Signifie's huge popularity is consistent when it comes to bread. It received much attention for its huge bread overhaul this year. Their signature "Baguette Puratanu" is now fermented for 40 hours as a result of the insatiable curiosity of chefs in Shiga. The baguette has an intense flavour and a light aftertaste. Part of its quality is that the flavour stays just as good even if eaten the next day. The Baguette Puratanu can be bought at the main Signifiant Signifie store in Setagaya as well as the Nihonbashi and Tamagawa branches of Takashiyama and online.
Best Loaf – Gold Prize Ore no Bakery&Cafe (Shibuya, Tokyo)
This immensely popular store is said to have sped up the boom of high-grade bread in Tokyo. Ore no Bakery&Cafe initially opened in Ebisu and had constant long queues of people trying to get in. Another branch opened in Ginza this year. Their "Ore no Seishoku Pan" is so soft that when it's freshly baked it almost seems like it will sink in on itself just by touching it. The loaf is sold unsliced in two sizes. Its high point is the milky fragrance and sweetness brought on by fresh milk from Nakahora Bokujou in Iwate Prefecture. It's enjoyed by people of all ages and despite being high-grade bread, many loafs are sold to lots of people.
Best Croissant – Gold Prize Sawamura Bakery & Restaurant (Kitasaku District, Nagano Prefecture)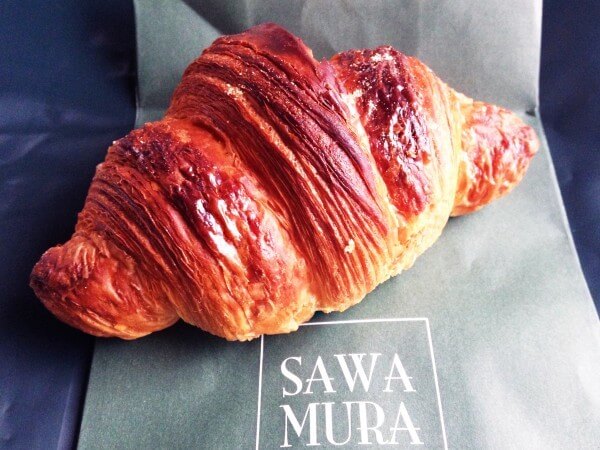 This shop is flooded with customers from the early morning during days off and consecutive holidays who want to get their fingers on the freshly baked croissants sold here. Anyone and everyone can experience personally the goodness of the ingredients when sinking their teeth into one. One bite is enough for your nose to be hit with the sweet fragrance of butter from these flaky croissants. The shop looks just like a Paris bakery, lined with big breads that look like campagne. They also have branches in Karuizawa, Shinjuku and Hiroo, so be sure to check it out.
Best Sandwich – Gold Prize oeuf TAMAKO Sando (Fukuoka-shi, Fukuoka Prefecture)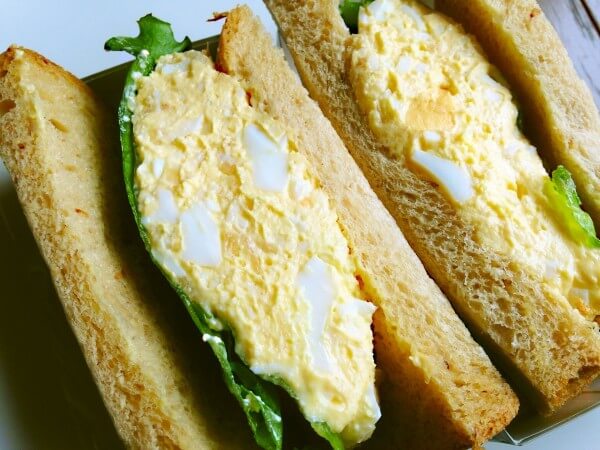 The most popular egg-sandwich chain is TAMAKO. The texture of the rice bread is soft and doughy, filled with egg and pesticide-free fresh lettuce. It may be simple but its delicious flavour is irresistible. They also have a selection of other sandwiches that combine egg with made different ingredients other than egg. The variety there is huge – you'll never grow tired of their sandwiches no matter how many times you go. There are also branches in Tokyo, Chiba, Saitama and Aichi.
Best Curry Bread – Gold Prize Aiwa Pan (Yokohama, Kanagawa Prefecture)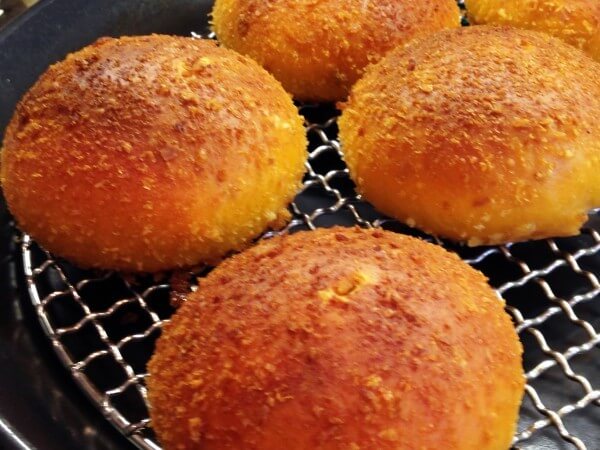 The shopkeeper of Aiwa Pan is confident in the creation of curry breads with background research in the curry of Pakistan. The spices are noticeably packed in there but are condensed into a rich flavour of the curry roux that contains chicken. The tomato based bread has an exquisite balance with the rich curry. The fried bread is crunchy and in fact made with coconut oil making it a healthier option.
Best Anpan – Gold Prize Yoshida Pan (Katsushika, Tokyo)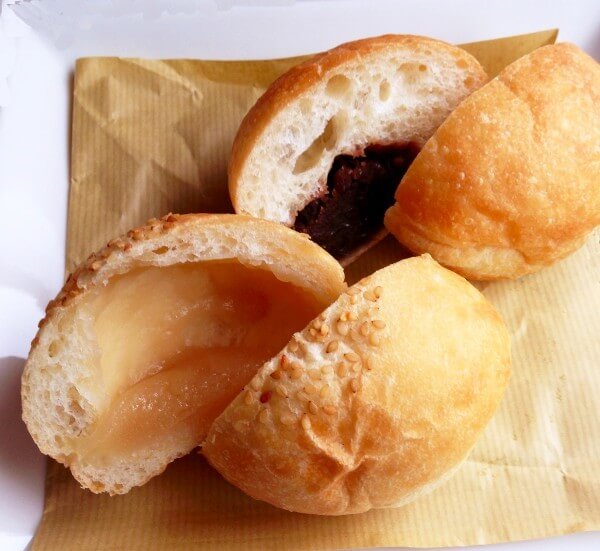 Yoshida Pan's strained white bean paste uses one variety of common bean and ootebou navy bean from Tokachi in Hokkaido, giving it a high-quality, smooth and melt-in-the-mouth taste. The texture of the mashed sweet bean paste can be enjoyed with organic adzuki beans from Tokachi that have been cooked with brown sugar from France. Both bring to mind the high-grade flavours of Japanese wagashi and go perfect with coffee. This revolutionary anpan is a perfect balance of traditional Japanese bread made in a contemporary style. The bread that envelops the red bean is also in its own league with its soft texture and sweet flavour that just melts in your mouth.
Best Bread Roll – Gold Prize Yoshida Pan (Katsushika, Tokyo)
This big bread roll with its gently baked colour will light up your day even if you just catch a glimpse of it. You'll be surprised how heavy it is when you pick it up. You select the ingredients and the shop staff will roll it there for you, allowing you to have fun combining your own flvours.
Find your favourite bread from the unique selection available in Japan!
RELATED ENTRIES
Pastel Easter Sweets and Bakery Items Coming to Grant Hyatt Tokyo

The luxury hotel Grand Hyatt Tokyo will offer Easter sweets and baked goods at the on-site Fiorentina Pastry Boutique from April 1 until Easter, April 17, to celebrate the arrival of spring.

Easter Egg Macaroon

Easter Cookies with Icing

Easter Lollipop

Easter Bunny Brioche

This year, in addition to the new Easter Bunny and Easter egg macaroons, cookies with icing, lollipop chocolates, brioche in the shape of the Easter Bunny, and other sweets and bakery items will be available. Don't miss it!

Kumamon Promotes Strawberry and Whipped Cream Pastry For Pasco Kumamoto Project

The Pasco Kumamoto Prefecture Project is a collaboration between the Japanese pastry company Pasco and Kumamoto Prefecture which has appointed Kumamon, the mascot of Kumamoto, as its head to promote local foods.

The project was started as a reconstruction and restoration effort to help support Kumamoto after the devastating earthquake that struck in 2016 and the 2018 Japan floods. For every select product sold, 0.5 yen is donated to the relief effort to aid victims of the disasters.

The Pasco Kumamoto Prefecture Project is set to run until end end of September this year. It released two items on April 1 as part of the project. It is now releasing two new products: the "Strawberry Jam & Milk Whipped Cream" pastry and "Pancake Omelette Custard & Milk Whipped Cream." The milk, strawberries, and eggs used for these confections are all sourced from Kumamoto

The pastry recipe creates whipped cream from milk and layers it with a strawberry jam made from yuubeni, a popular brand of strawberry grown in Kumamoto, before baking. The pancake omelette is a combination of Jersey milk, eggs, and custard cream to create a fluffy dessert.

Pasco carefully selects ingredients as part of Kumamon's promotional products

The ingredients used in the recipes for these food products are all carefully selected to go deliciously well with Pasco's bread. This includes milk, eggs, and yuubeni strawberries. Pasco plans to used Kumamoto-grown rice for a new product in August.

 

Scan the code on the packaging and meet Kumamon!

A special Kumamon AR service has also been created as part of the project. If you scan the code on the packaging of these products using a smart device, you can take a photo together with Kumamon as pictured above. He has the same design as on the packets.

Information

Pasco Kumamoto Prefecture Project – 2nd Release

Running: June 1, 2021 – July 31, 2021

Available: Supermarkets and shops in Japan

Pasco Official Website: https://www.pasconet.co.jp/

Neko Neko Shokupan x Samansa Mos2 Clothing Collaboration Released

Fashion brand Samansa Mos2 joined paws with the cat-themed bread and pastry store Neko Neko Shokupan to release their first collection together at Samansa Mos2 stores and the online store CAN ONLINE SHOP on May 14.

The Line-Up

Half-Sleeve Photo Print T-Shirts
Colours: Off-White/Unbleached/Beige
Price: ¥3,190 (Tax Included)

Half-Sleeve Monogram Print T-Shirts
Colours: Off-White/Yellow/Brown
Price: ¥3,190 (Tax Included)

Half-Sleeve Back Print T-Shirts
Colours: Off-White/Yellow/Brown
Price: ¥3,190 (Tax Included)

Back print tee design

Shokupan Print Hoodie
Colours: Beige/Khaki
Price: ¥4,290 (Tax Included)


Kid's Line

Photo Print T-Shirt
Colours: Off-White/Yellow
Price: ¥2,530 (Tax Included)

French Flare T-Shirts
Colours: Beige/Khaki
Price: ¥2,530 (Tax Included)

Miscellaneous

Embroidered Canvas Tote Bag
Colours: Unbleached/Beige
Price: ¥3,850 (Tax Included)

Handkerchief
Colours: Beige/Purple
Price: ¥660 (Tax Included)

Reversible Shoulder Pouch
Colours: Beige/Khaki
Price: ¥3,190 (Tax Included)

Bottle Holder
Colours: Beige/Khaki
Price: ¥2,750 (Tax Included)

Mobile Ring Holder
Colours: Beige/Grey
Price: ¥1,650 (Tax Included)

Neko Neko Shokupan are known for their rich and milky cat-shaped bread which uses milk and zero water. They're a hugely popular bakery brand who often find themselves across social media pages including Instagram. This marks their first collaboration with Samansa Mos2 who celebrate their 35th anniversary this year.





The collection features key visuals taken from the Neko Neko Shokupan brand. Items include a variety of tees and hoodies as well as other miscellaneous must-grabs like tote bags, handkerchiefs, bottle holders, and more. There's even a children's line-up as part of Samansa Mos2's kid brand Samansa Mos2 Lagom so parents and their children can coordinate cute matching outfits.





Look felinely-fashionable this summer with the Samana Mos2 x Neko Neko Shokupan collection.

 

Japan's Cafe Chain Bread, Espresso & to Open New Branch in Kamata

Hitobito, the company behind Japan's popular bakery cafe chain Bread, Espresso &, is set to open a new branch inside Makita General Hospital in Kamata on March 1. The cafe opened its doors for pre-openings earlier this month with shortened business hours.

 

Bread, Espresso & has 20 branches across Japan including the popular one located in Omotesando, Tokyo. Its frequented by people of all ages for its deliciously soft bread made from 100% Japanese wheat.

The cafe's picture book-like interior design caters to children featuring bread-shaped tables and cute illustrations.




Customers are welcome to try out the free samples on display. Each sample has a little card detailing various information which customers can take to the register if they want to buy that item. Often in Japanese bakeries there are tongs and trays which customers are free to use, but this new style of service lessens contact with others for a safer trip during the pandemic.

The bakery serves Bread, Espresso & classics like French toast and their mu pastries, as well as alternatives like gluten-free breads, no-sugar treats, and more.

Information

Pan, Espresso & Kamata

Address: 8-19-1 Nishi-Kamata, Ota-ku, Tokyo

Opening Hours:  9:00-21:00 (Until 18:00 during pre-opening)

Holidays: None (Except Sundays during pre-opening, after it will be open 7 days a week)

TEL: 03-6424-7920

Pan, Espresso & Official Website: http://www.bread-espresso.jp/

Sailor Moon Eternal's Second Anime Film Promoted With Luna Shaped Bread

Japanese bakery Neko Neko Shokupan is promoting the release of the second in the two-part anime film series Sailor Moon Eternal by baking up a bread inspired by everyone's favourite feline: Luna. The bread will be sold from February 11 to March 25.

Neko Neko Shokupan Luna Bread w/ Chocolate Pen | ¥1,200 (Before Tax)

The bread is made of pastry laced with black cocoa powder. Luna's ears are strawberry flavoured and she  of course has her iconic crescent moon atop her forehead. She arrives safely packaged in a cube-shaped box decorated in night sky stars and the moon. This box is placed in an eye-catching bag with little Sailor Moon details that are sure to be familiar to any fan, including Luna herself as well as Artemis.

The bread is available in-store at Neko Neko Shokupan branches and via the online store All Hearts Mall in Japan

The first film in the Sailor Moon Eternal series was released on January 8, 2021, and the second on February 11, 2021.

©武内直子・PNP/劇場版「美少女戦士セーラームーンEternal」製作委員会

Cat Shaped Bread Releases at Neko Neko Shokupan For Hinamatsuri Festival

Neko Neko Shokupan is celebrating Japan's annual Hinamatsuri festival, also known as Doll's Day, by releasing a set of three limited-edition flavours of its popular cat-shaped bread. It is now available via their online store until March 3, 2021.

Strawberry / Plain / Matcha – ¥4,600 (Tax & Shipping Included)

Neko Neko Shokupan Hinamatsuri Strawberry

Neko Neko Shokupan Hinamatsuri Plain

Neko Neko Shokupan Hinamatsuri Matcha

Neko Neko House

The cute set includes pink-coloured strawberry, white-coloured plain, and green-coloured matcha breads which are available for delivery at addresses in Japan. They arrive in a cute house-shaped box.

Taiwanese Melon Bread Heads to Harajuku Food Factory

The hugely popular Taiwan Melon Pan bread, which sells 10,000 units a month in Osaka, Kichijoji, and Nishiogikita, is now being served at Harajuku Food Factory until February 20.

Taiwan Melon Pan | ¥380 (Before Tax)

Taiwan Cheese Melon Pan | ¥450 (Before Tax)

The Taiwan Melon Pan bread is a combination of sweetness, rich butter, and salt for an irresistible flavour experience.

Information

Harajuku Food Factory – "Taiwan Melon Pan"
Serving: February 3, 2021 – February 20, 2021
Where: Harajuku Food Factory
Address: THE SHARE Floor 1F, 3-25-18 Jingumae, Shibuya, Tokyo
Opening Hours: 11:00-20:00
TEL: 03-5772-8858
Official Website: http://www.opefac.com/

Japan's Highest Rated Anime and Drama Series of Autumn 2020

Japan's largest movie, drama, and anime review service Filmarks has posted its list of the country's Top 10 Drama and Anime Series for Autumn 2020. The ranking is taken from series broadcast and available for stream between September 1 and November 30 in 2020 and is based on Filmarks own 5★ score system and user reviews.

Top 10 Drama Series for Autumn 2020

1st Place: The Mandalorian Season 2 | ★4.67

©2020 Lucasfilm Ltd.

2nd Place: Julie and the Phantoms | ★4.43

3rd Place: The Queen's Gambit | ★4.34

4th Place: 2gether | ★4.31

5th Place: The Crown Season 4 | ★4.27

6th Place: Start-Up | ★4.26

7th Place: Cherry Magic! Thirty Years of Virginity Can Make You a Wizard?! | ★4.24

8th Place: The Boys Season 2 | ★4.20

9th Place: Baby Season 3 | ★4.16

10th Place: Satsui no Michinori | ★4.14

Top 10 Anime Series for Autumn 2020

1st Place: Golden Kamuy Season 3 | ★4.21

©Satoru Noda / Shueisha・Golden Kamuy Production Committee

2th Place: Jujutsu Kaisen | ★4.19

©Gege Akutami / Shueisha・Jujutsu Kaisen Production Committee

3rd Place: Love Live! Nijigasaki High School Idol Club | ★4.07

©2020 Project Love Live! Nijigasaki High School Idol Club

4th Place: Sleepy Princess in the Demon Castle | ★3.93
5th Place: Dragon Quest: The Adventure of Dai | ★3.89
6th Place: Is the Order a Rabbit? BLOOM | ★3.874
7th Place: With a Dog AND a Cat, Every Day is Fun★3.87
8th Place: Higurashi: When They Cry – Gou | ★3.84
9th Place: Moriarty the Patriot | ★3.809
10th Place: Munou na Nana | ★3.808

Are there any series on this list you have yet to see?

Information

Filmarks Top 10 Drama and Anime Series for Autumn 2020
Official Website: https://filmarks.com

Enjoy Breakfast With a Feline Twist at eXcafe Gion in Kyoto Where They Serve Cat Shaped Toast

eXcafe Gion, a cafe located near Kyoto's popular tourist spot Yasaka Shrine, introduced its Mikeneko breakfast to the menu on Monday. The breakfast was first put on the menu at the Arashiyama branch of eXcafe.

Gion is one of Kyoto's biggest and most famous shopping districts. eXcafe Gion is located along Shinbashi-dori Street, which is listed as one of Japan's Important Preservation Districts of Historic Buildings, making it within walking distance of many traditional places in Kyoto such as Yasaka Shrine, Hanamikoji Street, Shirakawa, Tatsumidaimyojin Shrine, and more.

eXcafe Mikeneko Breakfast | ¥1,380 (Before Tax)

eXcafe's Mikeneko breakfast menu is made with the new thick-cut, three-coloured cat-shaped bread from the popular cafe Kyoto Neko Neko, which is made with three flavours: caramel, black cocoa, and plain. It comes with various toppings to choose from including anko red bean paste, butter, whipped cream, and fruit, so you can arrange your toast how you like it.

The toast is served with mitarashi-dango for dessert which can be cooked on top of the little stove that you get.

Enjoy a super cute breakfast meal at eXcafe and then a stroll around Gion when visiting Kyoto.

Information

eXcafe Mikeneko Breakfast
Serving: 8:00am-11:00am (Last Orders 10:00am) *Day menu available from 10:00am

Location: eXcafe Gion

Address: 57-1 Motoyoshichō, Higashiyama-ku, Kyoto
Opening Hours: 8:00am-6:00pm
TEL: 075-533-6161

Tripadvisor Reveals its Top 20 Most Popular Japanese Castles For Japanese People

The Japanese branch of the world's largest travel platform Tripadvisor® has posted its 2020 list of the Top 20 most popular castles in Japan amongst Japanese people.

This year marks the 8th run of the most popular Japanese castles ranking. Crowning the number one spot for the fourth year in a row in the list is Himeji Castle in Hyogo Prefecture. Kanazawa Castle and Iwakuni Castle have appeared for the first time ever on the list, while Shurijo Castle—which saw the main courtyard structures destroyed last year in a fire—and Kumamoto Castle—which was damaged as a result of the 2016 Kumamoto earthquake—both placed in the Top 10. This shows the greatness of these last two castles, Shurijo Castle and Kumamoto Castle, that despite their damage people still revere them, and their visiting them calls for a quick repairs and rebuilding.

User posts for all the castles in this year's list commended each site's incorporation of measures against the spreading of COVID-19, such as making it mandatory to wear masks, and providing alcohol gel everywhere.

Top 20 Most Popular Japanese Castles Amongst Japanese People | 2020 Edition

1st Place: Himeji Castle (Himeji, Hyogo)

2nd Place: Matsumoto Castle (Matsumoto, Nagano)

3rd Place: Matsuyama Castle (Matsuyama, Ehime

4th Place: Matsue Castle (Matsue, Shimane)

5th Place: Nijo Castle (Kyoto, Kyoto)

6th Place: Katsuren Castle (Uruma, Okinawa)

7th Place: Kochi Castle (Koch, Kochi)

8th Place: Shurijo Castle (Naha, Okinawa)

9th Place: Kumamoto Castle (Kumamoto, Kumamoto)

10th Place: Nakagusuku Castle (Kitanakagusuku, Okinawa)

Full Top 20 List (Japanese): https://www.tripadvisor.jp/Trips/99877580

The Reviews

1st Place: Himeji Castle | Himeji, Hyogo

Himeji Castle has placed on this list four years in a row. The castle also gets the name Hakuro-jo, or "White Egret Castle," due to the structure's white exterior and resemblance to a bird taking flight. Many users on Tripadvisor commented on their multiple visits to the castle, with one saying they have visited over 10 times, and another having visited 10 years after the castle's repair work. Another said that although you have to pay to get in, you can learn much and more about the castle if you just ask the guide. Himeji Castle also has its own app you can download which has videos on different spots around the castle grounds.

16th Place: Kanazawa Castle | Kanazawa, Ishikawa

Kanazawa Castle has a rich history that dates back to being the headquarters of the Kaga Domain, also known as the Kanazawa Domain. Many users praise the beauty of the castle's appearance, often highlighting the bricks various that make it up. The castle is lit up at night, and the scenery during winter is a sight to behold. Numerous events are held there throughout the year.

17th Place: Iwakuni Castle | Iwakuni, Yamaguchi


From the castle keep visitors can enjoy a panoramic view of the city of Iwakuni, Kintai Bridge, the islands of the Seto Inland Sea, Miyajima, and more. This is one of the main highlights commended by users on Tripadvisor. One hiker recommended visiting the castle as a set together with a walk along Kintai Bridge.

If you're planning a trip to Japan, then be sure to use this list as reference so you know which castles are must-visits.

Tokyo Neko Neko: Cat Shaped Desserts and Pastries Served at Ginza's New Bakery

ALL HEARTS COMPANY, a Japanese company that develops bakeries and patisseries across Japan, opened its new bakery and confectionery shop Tokyo Neko Neko in Ginza, Tokyo on July 22, 2020. The shop has replaced Heart Bread ANTIQUE, another bakery also run by ALL HEARTS COMPANY, which was previously at this location.

At Tokyo Neko Neko, they are serving cat-shaped pastries and desserts including Tokyo-exclusive products from their Neko Neko Bread brand and Neko Neko Cheesecake shop. This is the second branch to open following the opening of Kyoto Neko Neko last month.

A stylish bakery


Tokyo Neko Neko's pastries and interior design takes on a completely different look from Kyoto Neko Neko, with the walls acting as a canvas to display their food like an art museum. The bakery's line-up centres on seeing as well as eating, adding an extra level of deliciousness to the products. If you've visiting Tokyo, you don't want to pass up on the opportunity to visit Tokyo Neko Neko.

Tokyo Neko Neko Bread

Tokyo Neko Neko's cat-shaped bread is palm-sized and so is a perfect gift and takeaway snack. The outside is crunchy while the middle is kept nice and moist. The secret behind the bread's tastiness is the use of fermented butter which they get from France. The use of lots of almond cream adds a tasty kick too.

Tokyo Neko Neko Bread – Plain: ¥1,000 (Before Tax)

Made using croissant pastry and loaded with fermented butter.

Tokyo Neko Neko Bread – Caramel Almond: ¥1,200 (Before Tax)

Caramel almonds and almond slices are added to this version, also made with lots of fermented butter.

Tokyo Neko Neko Bread – Praline Rose: ¥1,200 (Before Tax)

This flvour is filled with praline rose, a traditional French confection of caramelised sugar-coated almonds.

Tokyo Neko Neko has lots of other tasty foods to offer too, like their Neko Neko Cheesecake, Neko Neko Butter Sandwiches, and more.

Information

Tokyo Neko Neko Ginza

Address: OPTICA 1F, 3-4-17 Ginza, Chuo-ku, Tokyo

TEL: 03-6228-6806

Opening Hours: 10:00-20:00

No Fixed Holidays (Except New Year)

Official Website: https://nekoshoku.jp

Top 10 Manga Series From the Summer 2020 Anime List Ranked

Japanese "hybrid" bookshop honto, which is co-managed by Junkudo and 2Dfacto, has used its online and physical book sales data to rank the top 10 manga series of the current 2020 summer anime roster. Their ranking was released on July 2.

Ito (PR, honto) | Comment

"The 2020 summer anime roster is about to start. With people staying at home right now, there is more opportunity to watch anime, so there must be a lot of people looking forward to the new series coming. So we are releasing our own ranking of manga and light novels from the anime series that are airing this summer. Let's peruse series that are in the spotlight right now by dividing the ranking and the differences in age of people buying the books."

*Data is based on the sales taken from the first half of 2020

The Top 3 Series

The slapstick love comedy Uzaki-chan Wants to Hang Out! (Volume 4) by Take clocks in at number one. The series has sold over 1 million copies in Japan. The data shows that the series is most popular with people in their 30's, who rate at 41.2% of the sales. Will they be watching the anime adaptation too?

In 2nd place is Fire Force (Volume 22) which is serialised in Weekly Shonen Magazine. This series is most popular with those in their 20's. Season two of the anime series will premiere on July 5.

And in 3rd place is Sword Art Online (Volume 24), a series loved by fans the world over. This hugely popular series has sold over 20 million light novels, and is popular in all age groups, with the biggest percentage of sales going to those in their 40's at 28.2%. The first season of the anime adaptation aired back in 2012. The second half of the War of Underworld will begin on July 11.

Full Top 10 List

1st Place: Uzaki-chan Wants to Hang Out! (Volume 4)
2nd Place: Fire Force (Volume 22)
3rd Place: Sword Art Online (Volume 24)
4th Place: Kanojo, Okarishimasu (Volume 14)
5th Place: Baki Dou (Volume 5)
6th Place: Re:Zero − Starting Life in Another World (Volume 22)
7th Place: Diary of Our Days at the Breakwater (Volume 6)
8th Place: My Youth Romantic Comedy Is Wrong, As I Expected (Volume 14)
9th Place: Super HxEros (Volume 9)
10th Place: A Certain Scientific Railgun (Volume 15)

*According to honto

Information

honto Official Website