Japan announces its "Bread of the Year 2017" – discover the best of Japan's delicious bread
The editorial team of Japan's biggest bread specialist community website Pansta ("Bread Star") have announced the winners of "Bread of the Year 2017". The bread mania returns this year to deliver a careful selection of 7 different breads.
Every year the Pansta editorial team picks the best breads of the past 12 months. The "Bread of the Year" rankings are picked up by TV and magazines, announced on a wide scale. Rankings are compiled by the number of posts, likes and audience reach by pan lovers on the website, as well as breads the editorial team find in their everyday activities. 7 breads have been selected for 2017, each in their own category.
Best Baguette – Gold Prize Signifiant Signifie (Setagaya, Tokyo)
Signifiant Signifie's huge popularity is consistent when it comes to bread. It received much attention for its huge bread overhaul this year. Their signature "Baguette Puratanu" is now fermented for 40 hours as a result of the insatiable curiosity of chefs in Shiga. The baguette has an intense flavour and a light aftertaste. Part of its quality is that the flavour stays just as good even if eaten the next day. The Baguette Puratanu can be bought at the main Signifiant Signifie store in Setagaya as well as the Nihonbashi and Tamagawa branches of Takashiyama and online.
Best Loaf – Gold Prize Ore no Bakery&Cafe (Shibuya, Tokyo)
This immensely popular store is said to have sped up the boom of high-grade bread in Tokyo. Ore no Bakery&Cafe initially opened in Ebisu and had constant long queues of people trying to get in. Another branch opened in Ginza this year. Their "Ore no Seishoku Pan" is so soft that when it's freshly baked it almost seems like it will sink in on itself just by touching it. The loaf is sold unsliced in two sizes. Its high point is the milky fragrance and sweetness brought on by fresh milk from Nakahora Bokujou in Iwate Prefecture. It's enjoyed by people of all ages and despite being high-grade bread, many loafs are sold to lots of people.
Best Croissant – Gold Prize Sawamura Bakery & Restaurant (Kitasaku District, Nagano Prefecture)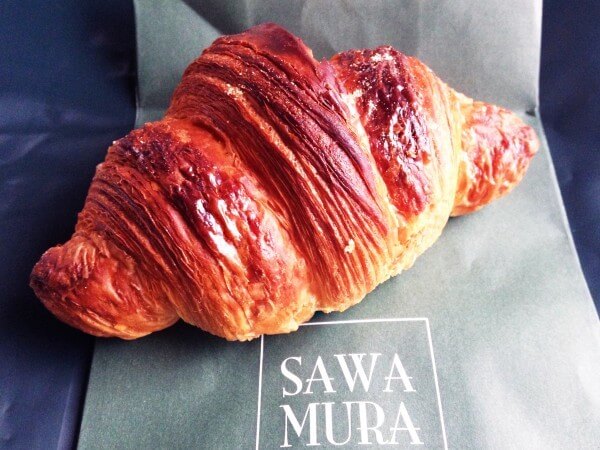 This shop is flooded with customers from the early morning during days off and consecutive holidays who want to get their fingers on the freshly baked croissants sold here. Anyone and everyone can experience personally the goodness of the ingredients when sinking their teeth into one. One bite is enough for your nose to be hit with the sweet fragrance of butter from these flaky croissants. The shop looks just like a Paris bakery, lined with big breads that look like campagne. They also have branches in Karuizawa, Shinjuku and Hiroo, so be sure to check it out.
Best Sandwich – Gold Prize oeuf TAMAKO Sando (Fukuoka-shi, Fukuoka Prefecture)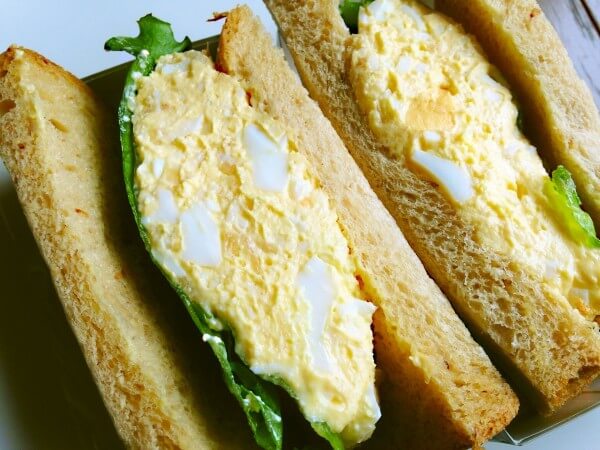 The most popular egg-sandwich chain is TAMAKO. The texture of the rice bread is soft and doughy, filled with egg and pesticide-free fresh lettuce. It may be simple but its delicious flavour is irresistible. They also have a selection of other sandwiches that combine egg with made different ingredients other than egg. The variety there is huge – you'll never grow tired of their sandwiches no matter how many times you go. There are also branches in Tokyo, Chiba, Saitama and Aichi.
Best Curry Bread – Gold Prize Aiwa Pan (Yokohama, Kanagawa Prefecture)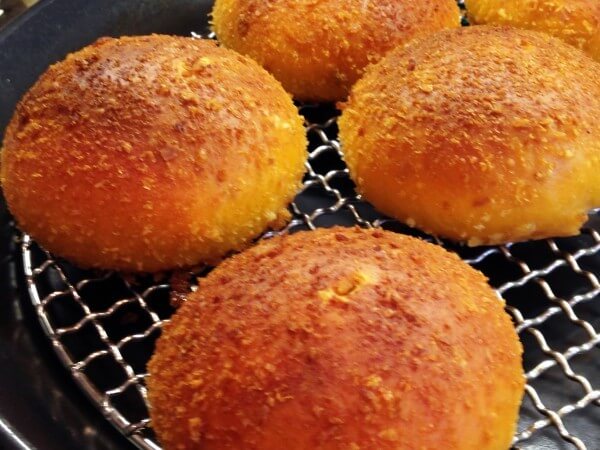 The shopkeeper of Aiwa Pan is confident in the creation of curry breads with background research in the curry of Pakistan. The spices are noticeably packed in there but are condensed into a rich flavour of the curry roux that contains chicken. The tomato based bread has an exquisite balance with the rich curry. The fried bread is crunchy and in fact made with coconut oil making it a healthier option.
Best Anpan – Gold Prize Yoshida Pan (Katsushika, Tokyo)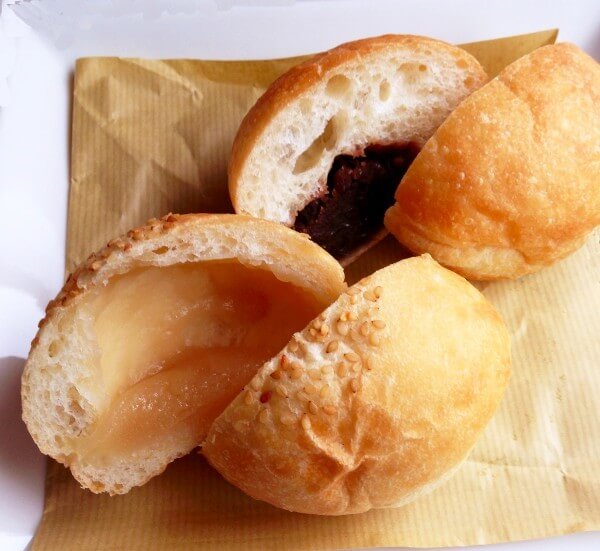 Yoshida Pan's strained white bean paste uses one variety of common bean and ootebou navy bean from Tokachi in Hokkaido, giving it a high-quality, smooth and melt-in-the-mouth taste. The texture of the mashed sweet bean paste can be enjoyed with organic adzuki beans from Tokachi that have been cooked with brown sugar from France. Both bring to mind the high-grade flavours of Japanese wagashi and go perfect with coffee. This revolutionary anpan is a perfect balance of traditional Japanese bread made in a contemporary style. The bread that envelops the red bean is also in its own league with its soft texture and sweet flavour that just melts in your mouth.
Best Bread Roll – Gold Prize Yoshida Pan (Katsushika, Tokyo)
This big bread roll with its gently baked colour will light up your day even if you just catch a glimpse of it. You'll be surprised how heavy it is when you pick it up. You select the ingredients and the shop staff will roll it there for you, allowing you to have fun combining your own flvours.
Find your favourite bread from the unique selection available in Japan!
RELATED ENTRIES
Top 10 Manga Series From the Summer 2020 Anime List Ranked

Japanese "hybrid" bookshop honto, which is co-managed by Junkudo and 2Dfacto, has used its online and physical book sales data to rank the top 10 manga series of the current 2020 summer anime roster. Their ranking was released on July 2.

Ito (PR, honto) | Comment

"The 2020 summer anime roster is about to start. With people staying at home right now, there is more opportunity to watch anime, so there must be a lot of people looking forward to the new series coming. So we are releasing our own ranking of manga and light novels from the anime series that are airing this summer. Let's peruse series that are in the spotlight right now by dividing the ranking and the differences in age of people buying the books."

*Data is based on the sales taken from the first half of 2020

The Top 3 Series

The slapstick love comedy Uzaki-chan Wants to Hang Out! (Volume 4) by Take clocks in at number one. The series has sold over 1 million copies in Japan. The data shows that the series is most popular with people in their 30's, who rate at 41.2% of the sales. Will they be watching the anime adaptation too?

In 2nd place is Fire Force (Volume 22) which is serialised in Weekly Shonen Magazine. This series is most popular with those in their 20's. Season two of the anime series will premiere on July 5.

And in 3rd place is Sword Art Online (Volume 24), a series loved by fans the world over. This hugely popular series has sold over 20 million light novels, and is popular in all age groups, with the biggest percentage of sales going to those in their 40's at 28.2%. The first season of the anime adaptation aired back in 2012. The second half of the War of Underworld will begin on July 11.

Full Top 10 List

1st Place: Uzaki-chan Wants to Hang Out! (Volume 4)
2nd Place: Fire Force (Volume 22)
3rd Place: Sword Art Online (Volume 24)
4th Place: Kanojo, Okarishimasu (Volume 14)
5th Place: Baki Dou (Volume 5)
6th Place: Re:Zero − Starting Life in Another World (Volume 22)
7th Place: Diary of Our Days at the Breakwater (Volume 6)
8th Place: My Youth Romantic Comedy Is Wrong, As I Expected (Volume 14)
9th Place: Super HxEros (Volume 9)
10th Place: A Certain Scientific Railgun (Volume 15)

*According to honto

Information

honto Official Website

Kyoto Neko Neko: Cat Shaped Desserts and Pastries Served at Kyoto's New Bakery

ALL HEARTS COMPANY, a Japanese company that develops bakeries and patisseries across Japan, opened its new bakery and confectionery shop Kyoto Neko Neko in Shijo, Kyoto on June 1, 2020. There, they are serving cat-shaped pastries and desserts including Kyoto-exclusive products from their Neko Neko Bread brand and Neko Neko Cheesecake shop.

Kyoto Neko Neko Danish Bread: ¥1,200 (Before Tax)

This butter-loaded Danish pastry is folded into a braid shape and baked which keeps the pastry moist. It's topped with a sprinkling of sugar, leaving it glistening. It's recommended that you first try the pastry as it is—soft and moist. You can then try lighting toasting it which gives it a crispy texture and brings out the delicious aroma of the butter.

Products are packaged in a cute box making them a great gift idea.


Kyoto Neko Neko Cheesecake (On sale from mid-June 2020)

This cheesecake is made with Brie de Meaux cheese and is laced with black cocoa. The luxurious cheese combined with black soy beans and brown sugar syrup jelly makes for a marriage between Japanese and Western flavours. You get an extra layer of deliciousness too with a dusting of soy flour.

Kyoto Neko Neko Bread (Plain): ¥550 (Before Tax)

This Kyoto version of the Neko Neko Bread is still made without water, but rather than using only milk, Kyoto Neko Neko has added soy milk made using soy beans from a tofu shop in Kyoto, lending a smooth and rich flavour to the bread. And instead of mascarpone cheese, Kyoto Neko Neko uses soybean cream, and instead of dairy butter a soy cream butter.

Kyoto Neko Neko Bread (Houjicha): ¥680 (Before Tax)

Kyoto Neko Neko Bread (Matcha): ¥680 (Before Tax)

There's also a houjicha flavour made with houjicha tea and white chocolate, as well as a matcha flacvour combined with black soybean.

Information

Kyoto Neko Neko Shioji
Address: 578 Obiyamachi, Tachiuri Nakanocho, Shimogyo Ward, Kyoto
Grand Opening: June 1, 2020
Opening Hours: 10:30-18:00
No Fixed Holidays (Closed: New Year's Holidays)
TEL: 075-221-1001

Official Website: https://nekoshoku.jp/

Stay Home: 6 Toast Arrangements to Bring the Cafe Experience to Your Home During the Lockdown

Here at MOSHI MOSHI NIPPON, we post news and information about Japan in six languages. Our aim is to deliver a variety of content related to Japan for those who love and enjoy Japanese culture.

Right now, people across the globe are in self-isolation as a result of the coronavirus pandemic. The same goes for Japan too, so we've taken this opportunity to create a new series on the website to show how we're spending time at home here in Japan. The future is yet uncertain, and we hope for normality to return for all of us soon. We created a new articles series called Stay Home with which we hope to take your mind off the situation, even for just a little bit, to help you feel calmer. It might give you some tips on what you can do while spending time at home.

In this edition of Stay Home, we're taking a look at some cute, easy-to-make toast recipes that were featured with the trending Japanese hashtag #おうちカフェ ("Cafe at Home"). Try making them yourself at home for breakfast, lunch, or as a snack.

Hinako Satou's lemon toast recipe combines sweet sugar with sour lemon for an addictive flavour. The lemon-topped looks cute too♡

Ingredients

・Toast・Sugar Margarine ・Powdered Sugar・Sliced Lemons

Methods

1: Layer the toast with the sugar margarine.

2: Dust with the powdered sugar and then top with sliced lemons.

3: Add another dusting of powdered sugar on top of the lemons to balance the flavours and enjoy!

Sumomolife's strawberry toast uses a thick slice of bread which is topped with a dollop of cream and piled with sliced strawberries. Layer on the fresh cream while the chewy toast is still piping hot and indulge!

Ingredients

・Toast・Fresh Cream・Brandy・Strawberries

Method

1: Cut a thick slice of bread and toast until the outside is nice and crispy and the bread has heated through. The trick is to make sure that the centre is still soft.

2: Put the cream into a bowl or keep in the container and then set this aside in ice water to make smooth, velvety cream. The cream in the photo was set aside for 7 minutes.

3: Add a small amount of brandy to the fresh cream to create a rich flavour.

4: Top your hot toast with the cream and strawberries to finish.

3: Banana Cream Cheese Toast | @yuuki.sweets_1

Yuu's home cafe toast is a mix of banana, cream cheese and walnuts. The banana is fried in coconut oil for added texture and taste.

Ingredients

・Toast・Bananas・Coconut Oil・Walnuts・Cream Cheese・Maple Syrup

Method

1: Chop the banana into slices and lightly fry in coconut oil.

2: Fry both sides of the bread in the frying pan at a heat that can char the surface.

3: Lather the fried bread with cream cheese then top with the sliced bananas and walnuts. Finish with a drizzle of maple syrup.

Kirara's toast arrangement is kimcheeseーthat's a combination of kimchi and cheese! The spiciness of the kimchi and the smoothness of the cheese is a match made in heaven.

Ingredients

・Toast・Kimchi・Egg・Cheese (that you can melt)・Spring Onion・Mayonnaise

Method

1: Layer your toast with kimchi and spread mayonnaise around the edges.

2: Add a fried egg on top.

3: Top with melted cheese and spring onion and you're done!

This curry toast is made using leftover curry from the day before. The flavours from yesterday are transformed by topping with egg and cheese. Add a touch of paprika to taste.

Ingredients

・Toast・Curry・Paprika・Cheese (that you can melt)・Soft Boiled Egg・Parsley

Method

1: Add your toppings to the toast in this order: curry, paprika, and melted cheese.

2: Dollop on your soft boiled egg.

3: Garnish with parsley.

Turn your toast into a pizza with Unagi's recipe. The fun aspect of this arrangement is you can add any toppings of your choice to make your own original filling and nutritious pizza toast.

Ingredients

・Toast・Pizza Sauce・Sausage・Assorted Vegetables (Unagi used spring onion, bell pepper, and mini tomatoes)・Shimeji Mushroom・Black Olives・Cheese (that you can melt)・Dried Parsley・Black Pepper

Method

1: Lather your bread with pizza sauce, then arrange the sausage and vegetables. 

2: Next, add the shimeji mushroom, black olives, and cheese. Toast.

3: Finally, finish with a sprinkle of dried parsley and black pepper.

Bring the cafe experience into your own home by making your own fun toast arrangements.

mūya: Tokyo's New Cafe Opening by 'Bread, Espresso &' Serving Fluffy Mū Bread

Bread, Espresso & is a cafe chain with 17 branches in Japan, including Omotesando. The company is set to open an entirely new cafeーspecialising in Bread, Espresso &'s popular mū breadーcalled mūya on April 17, 2020 in Asakusa Mizumachi.

Bread, Espresso &: https://www.moshimoshi-nippon.jp/254815

Mizumachi is a new shopping centre also opening on April 17, 2020. It's near Solamachi in Tokyo Skytree Town, and sits betwixt Kaminarimon and Tokyo Skytree.

mū

Mū is an original bread recipe baked up by Bread, Espresso & that's made with lots of butter, giving it a rich taste. The word means "soft" in French. When you break a piece off the fluffy loaf, that rich buttery smell fills your nose.

inside the cafe

The mū loaf is a cube shape, and the interior of the shop has cube designs all over it.

Customers sit at tables with chairs that stack up like cubes – a unique and original design.

French toast

Mū is the main dish at mūya, which can be served as it is, as a sandwich, as French toast, or even in a parfait.

When you're passing through Asakusa, be sure to pop into mūya to try the famous mū bread of Bread, Espresso &.

Information

mūya

Address: 1-2-12 Mukojima, Sumida City, Tokyo 131-0033
Opening Hours: 8:00-20:00
No Fixed Holidays

TEL: 03-6240-4880
Homepage: http://www.bread-espresso.jp/

Cat-Shaped Bread Shop Neko Neko Shokupan Re-Releases Neko Neko Packs Due to High Demand

Due to high demand from customersーselling out their previous limited stock in February in this yearーNeko Neko Shokupan re-released its popular "Neko Neko Packs" once more on March 20, again with limited stock.

What's inside the Neko Neko Pack?


Neko Neko Pack A & B – ¥1,000 Each (Before Tax) / Available: From March 20, 2020 while supplies last


Neko Neko Pack is available in two versions, A and B. Both contain one piece of cat-shaped bread, jam, and an original folder.

The texture of the jams differ between both versions: 'A' is smooth sweet bean paste while 'B' is mashed sweet bean paste. The specific bread that is included in the pack is not sold separatelyーyou need to buy yourself a full Neko Neko Pack.

Quality flavour guaranteed at Neko Neko Shokupan


The shop's "shokupan," a style of bread loaf, is made with 100% milk, giving it rich and milky flavour and moist, chewy flavour. No water is used for baking this bread, only milk, which is sourced from Hokkaido. It also contains honey, fresh cream, and butter to give it a sweet, melt-in-the-mouth taste.

Their cute arrangements of the bread are super popular

Kids and adults alike can enjoy eating at Neko Neko Shokupan with the many variations the bread can be served in, like face decorations with a chocolate pen. You can see lots of different original arrangements on Japanese social media like Instagram.

Neko Neko Shokupan's kawaii, high-quality bread is a must-try, so be sure to visit your closest branch when visiting Japan.

Information

Neko Neko Pack

Release Date: March 20, 2020 (while supplies last)

Available: Most Neko Neko Shokupan branches in Japan

Official Website: https://nekoshoku.jp/

Dine in Luxury With Truffle Toast at Patisserie SATSUKI in Hotel New Otani Osaka

If you're looking to indulge yourself during your trip to Japan, and happen to be staying in Osaka, then Hotel New Otani Osaka's pastry shop Patisserie SATSUKI has you covered with their new "Spring Truffle Toast" which is made with Bianchetto truffles. Only 5 servings are served per dayーand 10 on weekends and public holidays.

The arrival of Japan's unprecedented bread boom

In recent years, Japan as a country has seen a boom in the baking and serving of bread. NOGAMI, a bread shop in Osaka, is credited with lighting the fire of the "shokupan" boom, a type of fluffy bread in Japan. This has resulted in many more shops opening selling shokupan. In spring 2017, Hotel New Otani Osaka decided it wanted the people of Kansai to buzz about high quality shokupan too, so it developed its French-inspired "Spring Truffle Toast." Since releasing, the bread has continued to sell out, and if you don't place an order for one you won't be able to get your hands on it. Their tasty truffle toast has returned again this year.

Premium toast with loaded truffle

Spring Truffle Toast With Bianchetto Truffles – ¥1,500 Per Loaf (Before Tax)

The ambrosial Spring Truffle Toast lacks nothing when it comes to taste, texture, and smell. The ingredients used to make ordinary bread like eggs, milk, and butter aren't used for the shop's Spring Truffle Toast. Instead, strong flour, yeast, water, and finely chopped spring truffles are used. To bring out even more flavour, truffle butter, pure olive oil, and shortening is used.


The same goes for the crustーeggs and milk aren't used like in ordinary bread. And to prevent the bread from drying out, more time and labour is put into kneading the dough. A lava pot is used to bake the dough. By using far infrared to heat it, it makes the finished bread nice and chewy.


The shop's head chef wanted to ensure that the bread's fragrant smell is preserved when you take the lid off, and so the entire loaf is lathered in truffle oil, which also gives it a moist taste.

The bread can be toasted and enjoyed on its own, and you're guaranteed great flavour and smell, but you can take it to the next level by topping it with a fried egg or scrambled egg to create an extraordinary and filling meal.

These truffles can only be harvested in spring

Truffles are a delicacy in kitchens around the world. The types used for the Spring Truffle Toast are Bianchetto. They are a very popular traditional truffle of Italy and can only be harvested from mid-March to April. As a result, they are extremely rare in Japan, making the toast that much more special.

Information

Spring Truffle Toast With Bianchetto Truffles

Location: Patisserie SATSUKI – Hotel New Otani Osaka Floor 1F)

Available: Until Mid-April 2020

Opening Hours: 10:00-20:00

Price: ¥1,500 (Before Tax)

Sales: Limited to 5 servings per day (10 on weekends and public holidays)

Reservations: 06-6949-3298 (Patisserie SATSUKI)

Official Website: https://www.newotani.co.jp/osaka/restaurant/p-satsuki/bianchetto-truffle-toast

Top Anime Series of Winter 2020: BOFURI, Somali and the Forest Spirit, & More

NTT Docomo's anime streaming service dAnime Store conducted its latest online survey between February 21-28 this year to ask its users what their favourite anime is for numerous categories, such as the most "moe" series, for winter 2020. Over 71 million users got involved, and here's what they voted for.

Most Moe Anime of Winter 2020

1st Place: BOFURI: I Don't Want to Get Hurt, so I'll Max Out My Defense.

Recommendation Comment: Out of all of the battle-themed anime series set in alternate-worlds and games that I have seen, I believe this one has a new and original character. That of course goes for her defensive power, but she's also the strongest main character for somehow or other finding 'good luck' wherever she goes […] Her comrades find her fun and great, and support her with all they have, and they're always lively too, so the series has given me a lot of smiles.

2nd Place: Asteroid in Love
3rd Place: Nekopara
4rd Place: Toilet-bound Hanako-kun
5th Place: Interspecies Reviewers

Most Fired-Up Anime of Winter 2020

1st Place: Haikyu!! TO THE TOP

Recommendation Comment: "It's really cool to see high school students playing volleyball so earnestly, doing all they can to make sure the ball in front of them doesn't fall. It's an anime that gets to you and make you tear up. The lyrics of the opening and ending themes are great too, they really hit home. It's like when I was doing club activities as a high school student; it's such a great anime, it always makes me cry."


2nd Place: A Certain Scientific Railgun T
3rd Place: Darwin's Game
4th Place: BOFURI: I Don't Want to Get Hurt, so I'll Max Out My Defense.
5th Place: In/Spectre

Most Moving Anime of Winter 2020

1st Place: Somali and the Forest Spirit

Recommendation Comment: "The cheeky and ever curious Somali, and Golem, who doesn't show his emotions. I felt warmth from them coming to understand each other on their trip with their unlikely parent and child relationship. The people they meet during their journey support them too. Somali is surrounded by kindness, so I thin she'll grow into a good adult. I was deeply moved at the scene where Golem lies about his life span to Somali out of good will."


2nd Place: Re:Zero − Starting Life in Another World
3rd Place: Smile Down the Runway
4th Place: Haikyu!! TO THE TOP
5th Place: A Certain Scientific Railgun T

Most Comedic Anime of Winter 2020

1st Place: Interspecies Reviewers

Recommendation Comment: "It's undeniable that this was the funniest anime this season for people. It proved that going off the scale of the outrageous makes for the ultimate comedy. Saying that, it wasn't only just outrageous, and wasn't only hilarious, and that's what I would recommend about this show. I would also highlight how Stunk and company show the differences between each race in his reviews [and] the interactions between him and the characters […]."

2nd Place: BOFURI: I Don't Want to Get Hurt, so I'll Max Out My Defense.
3rd Place: Isekai Quartet 2
4th Place: Haikyu!! TO THE TOP

5th Place: Oda Cinnamon Nobunaga

©2020 夕蜜柑・狐印/KADOKAWA/防振り製作委員会
©古舘春一/集英社・「ハイキュー!!」製作委員会・MBS
©暮石ヤコ/NSP/ソマリと森の神様プロジェクト, mixer
©天原・masha/株式会社KADOKAWA/異種族レビュアーズ製作委員会

Dragon Quest Slime Bread Releasing at Lawson Store 100 in Japan

Convenience store Lawson Store 100 is teaming up with Nintendo in promotion of the upcoming video game Dragon Quest XI S: Echoes of an Elusive Age – Definitive Edition, an enhanced port of Dragon Quest XI: Echoes of an Elusive Age for the Nintendo Switch™ that's set for release on September 27, 2019, by releasing three new breads inspired by the Slime monster from the game at branches around Japan on September 25.

Slime Bread Slime Flavour (Sweet Lime) – ¥108 (Tax Included)

Coming in the classic light blue colour is this "slime flavoured" Slime (which is actually sweet lime flavoured!) It's filled with refreshing sweet lime jelly.

Behemoth Slime Mango Flavour – ¥108 (Tax Included)

The Behemoth Slime is orange coloured and has a tropical mango aroma. It's filled with a rich sweet and sour mango cream with fresh pieces of mango in it.

Metal Slime Black Sesame Flavour – ¥108 (Tax Included)

Made to look like metal, this Slime is black sesame flavoured, and is packed with rich black sesame bean paste.

The developer of these products, who is also a huge fan of Dragon Quest, commented the following: "I created these Slime breads because I wanted to people to feel like they were going on an adventure in the world of Dragon Quest. The Slimes are something that can only be found in that world. I took great care to make it as realistic as possible so it would feel like you had your very own Slime. I referenced the game during the planning of this product so that it both looked fun and tasted delicious."

Elaborating on this final point, they continue: "For example, the [sweet lime] Slime Bread contains lemon [sic] flavoured jelly which is based on the Slime jelly from the game, and when you defeat (or in this case 'eat') the slime you are awarded with a treasure! You obtain Slime jelly, and that's the fun aspect of this product."

When you go to buy one of these Slime breads and the cashier scans it, the till will play the "Level Up" sound from the game. The stores will also have other references to the game in the form of posters and other hidden features, so make it your quest to find them all.

© 2017, 2019 ARMOR PROJECT/BIRD STUDIO/SQUARE ENIX All Rights Reserved.

Information

Slime Bread / Behemoth Slime Bread / Metal Slime Bread

Release Date: September 25, 2019

Available: Lawson Store 100 branches across Japan

Lawson Store 100 Official Website (Japanese): http://store100.lawson.co.jp/

This Week's Breakfast: French Toast at Bread, Espresso & in Omotesando

One thing I do at least once a week without fail is treat myself out to some delicious food or dessert. It's very important time well spent in order to live a happy life.

Today, I went out for breakfast. I got up a little earlier than usual and headed to my favourite cafe, Bread, Espresso & which is located in Omotesando.

It's really easy to get to: it's just a 5-minute walk from the A2 exit of Omotesando Station. Mornings are quiet in Omotesando, you don't see many people walking around, so it feels like a completely different place compared to its busy streets during the day.

When you enter the cafe, the smell of freshly-baked bread is the first thing to hit your senses. I sat down on one of the comfy sofa-seats and ordered myself the French toast breakfast set.

There's plenty of space between tables, so it's an environment that's easy to kick back and relax in.

Inside and outside the cafe are cute signs with that day's recommended menu items written on them. Next time I visit I think I'll try one of the lunchtime desserts. That's what I daydreamed about while waiting for my French toast to arrive.

French Toast Set w/Drink – ¥800

The French toast has a subtly sweet scent. It's made with one of the cafe's popular foods: the butter-loaded bread known as "Muu."

The toast's crusts were nice and crunchy while the middle part was fluffy. The soft bread just melts in your mouth when taking a bite, and your taste buds are treated to the sweet flavour of the egg.

The toast is delicious as it is, and you can totally leave it at that and enjoy your morning breakfast. But if you want to take it to the next level then you can drizzle the accompanying honey over the toast, giving the sweetness an even richer flavour.

I'm usually not good with the characteristic sweet taste that honey has, or the bitterness layered into the overall flavour, but this honey was on the milder side so I really enjoyed it.

After my food, I enjoyed the cappuccino the barista beautifully made for me which comes as part of the set.

My 1-hour morning was spent even more relaxed than usual here. It's much different from lunchtime which is a much busier and hurried time, so I could sink in my chair and really enjoy my drink too.

Waking up early and enjoying a relaxing breakfast. That's all I did, but it helped ease my busy mind and soul. I'm a simple person, and I think I'll be able to face my week and work hard at it after this.

Today's Presents

Futsu Furu Fig Sandwich – ¥420

Futsu Uni Fruits – ¥400

I wanted to share the happiness between friends and family on this fine day where I got to eat a delicious breakfast. These sandwiches are packed full of fruits―seasonal fruits which are best enjoyed right now. If you're wondering what other sandwiches they sell then be sure to visit.

Writer: Sayuri Mizuno (MOSHI MOSHI NIPPON)

Translator: Joshua Kitosi-Isanga

Information

Bread, Espresso &

Address: 3-4-9 Jingumae, Shibuya, Tokyo

Business Hours: 8:00-20:00

No Fixed Holidays

Miffy Sakura Kitchen Opens Second Shop with Bakery in Yufuin

Miffy Sakura Kitchen, Arashiyama, Kyoto will open a forest-themed shop with an adjoined bakery in Yufuin, Oita on October 31, 2019.

As you enter the new shop, you will be immersed in its happy, warm and comforting atmosphere. Miffy Sakura Kitchen is popular for its Japanese-style kitchenware and miscellaneous goods which cannot be found anywhere else in Japan. The shop will also have an adjoining bakery area called Miffy Mori no Bakery, where customers order their favourite treats to take out. This includes the popular anpan bun, which is a bun containing sweet red bean paste. There will also be character-themed baked goods, soft serve ice cream, drinks and much more. 

You can order your delicious baked goods to go so you can explore the beautiful area of Yufuin, or you can choose to eat inside the bakery's beautiful and photogenic eating area. 

Miffy's good pal Boris will also be making an appearance at the brand new shop. His design will decorate some of the Miffy Sakura Kitchen-limited kitchenware and even some of the baked goods in the bakery. 

Information

Yufuin Miffy Mori no Kitchen/ Miffy Mori no Bakery

Address: 1503-8 Kawakami, Yufuin-cho, Yufu-shi, Oita

Opening Hours: 9:30 ー17:30 (subject to change)

Open all year round/

Grand opening: October 10, 2019

Miffy Sakura Kitchen Official Website: http://www.miffy-sakurakitchen.jp

Popular Tokyo Café Bakery BREAD, ESPRESSO & to Open in Fukuoka

Bakery café BREAD, ESPRESSO & has made quite a reputation in Omotesando, Tokyo for its stylish interior and delicious coffee and bread. The bakery café is now opening a new branch in Fukuoka called BREAD, ESPRESSO & HAKATA & on September 25th, 2019.

To commemorate 10 years in business, BREAD, ESPRESSO & will be opening their first ever branch in Hakata, Kyushu. The café bakery will be nestled between Hakata Station and CANAL CITY HAKATA. Whether you are a busy commuter looking for a heartwarming cup of coffee or a traveling tourist, the location is ideal for anyone looking for a quick rest stop. 

The new café bakery is approximately 165 m² in size, making it the largest branch. The shop is decorated with a pure white base theme and has the perfect comfortable environment to enjoy a coffee. 

Mu: ¥330 (after tax)

French Toast: ¥750 (after tax)

BREAD, ESPRESSO &'s popular Mu and French Toast will be on the menu along with Hakata-limited goods. If you are searching for some delicious bread in Hakata, please make your way to BREAD, ESPRESSO &.

Information

BREAD, ESPRESSO & HAKATA & (パンとエスプレッソと博多と)

Address: 101, 2-8-12, Hakata Ekimae, Hakata Ward, Fukuoka 

Opening Hours: 8:00 ー 20:00

No regular holidays. 

TEL:092-292-1190

Website: http://www.bread-espresso.jp/

Try Some Irresistibly Fluffy Flavoured Bread Made With the Finest Ingredients

Delicious Bakery Ippondo has opened up shop at 118 locations across Japan. To celebrate summer, Ippondo is currently selling different varieties of "Shokupan". Shokupan is a fluffy rectangular block of bread that the Japanese just cannot get enough of. This year, Ippondo has released two flavours of Shokupan, namely Hoji tea and Hokkaido Milk. They are also bringing back their Salt Shokupan and Ice Cream Shokupan that are usually released as summer-limited items and are a popular pick every time.

Hoji tea Shokupan: ¥340 (after tax)

In Uji, Kyoto, Japan-sourced wheat and specially selected tea leaves and stems are infrared-roasted and then used to make the Hoji tea for this bread. The bead is baked to perfection, leaving a mix of sweetness and faint bitterness as well as a beautiful aroma that will fill your mouth. It contains no caffeine, so even small children can enjoy this bread without any need for concern.  

Hokkaido Milk Shokupan: ¥320 (after tax) 

Ippondo will release their Hokkaido Milk Shokupan at the same time. This bread is made with 100% Hokkaido milk and no water. This is then combined with Hokkaido condensed milk for a deliciously mild, milky flavour and soft texture. This bread comes in a small size so that you can easily finish it off.

Salt Shokupan: ¥390 (after tax)

The Salt Shokupan is made using wheat sourced from within Japan and generous amount of luxurious calpis butter. This high-quality bread has a mild flavour and a crispy and light texture. You can enjoy it as it is, or toast it to really bring out the flavour of the salt.

Ice Cream Shokupan: ¥390 (after tax)

The Ice Cream Shokupan is made using generous amounts of pure and fresh calpis whipping cream, which does not harden even when cooled and melts in your mouth. To make a delicious sandwich, you could use ham or cheese, vegetables, and other cold ingredients for the perfect flavour combination.

In Japan, everyone looks forward to a slice of their favourite fluffy Shokupan to start off the day. This bakery is committed to making delicious bread that is both safe and made from high quality ingredients that are prepared with lots of care.

You just have to take a bite of Ippondo's freshly-made and delicious Shokupan!