Kaori's easy recipe – Learn how to make "Sanrio Character Temari Sushi" Character Sweets
With just a small bit of ingenuity, turn everyday food into something cute using Kaori's recipe series! With a few simple ideas, an ordinary recipe magically transforms into a cute dish.
Today, you will learn how to make "Sanrio Character Temaru Sushi"!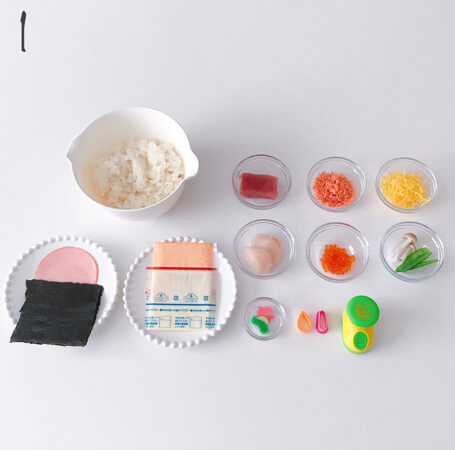 1: Ingredients
Rice
Nori (seaweed)
Ikura (roe)
Nama-fu (wheat starch)
Tuna
Snow peas
☆My Melody (face and ears)
Salmon flakes
Ham
☆Hello Kitty (chubby face)
Scallops
☆Pochacco (ears) / Keroppi (eyes)
Sliced cheese
☆Pompompurin (face, hat)
Shredded omelette
Shimeji mushrooms
☆Keroppi (eyes)
Cucumber
Shape cutters, nori hole punch
2: Prepare sumeshi (vinegared rice) and cook the mushroom, wheat starch and snow peas in shirodashi. Set aside to cool.
3: Slice the scallop, shape a round sphere of rice and place onto the slice (30g rice used in the photo). Wrap into a round shape with cling film.
4: Thinly slice the cucumber with a peeler and put on 30g rice like before. Wrap into a round shape with cling film.
5: Scallop→Hello Kitty & Pochacco
Cucumber→Keroppi
Shredded Omelette→Pompompurin
Put rice onto the shredded omelette that's on the cling film and wrap like in steps 3 and 4.
(The shredded omelette in this recipe was bought from the market.)
Salmon Flakes→My Melody
(Wrap the rice after covering with salmon flakes)
6: For Pochacco's ears, cut the nori into ear shapes and put onto sliced cheese and cut around it with a toothpick.
7: Pochacco→Fix the ears from step 6 with fried pasta.
My Melody→Cut the ham into ear shapes and fix with fried pasta. Cut the sliced cheese into an oval and place onto the rice for the face.
Pompompurin→Fix the sliced cheese ears and cooked with mushroom with fried pasta.
Keroppi→Place on sliced cheese eyes and round ham slices for the cheeks.
Hello Kitty→Place on a sliced cheese nose.
Once you have made it this far, place each one onto a plate and place on eyes and noses with hole punched nori.
(If you put the nori on too early it'll become really flimsy.)
Create some more temari sushi using the same 30g rice and decorate with roe, wheat starch and snow peas.
A perfect bento for New Year's!
Kaori will be making even more character rice dishes for you to try making!
She has lots of character rice dishes over on her Instagram page, so please be sure to check it out.
■Profile
Kaori Kubota(@kaopan27)
I live in Hokkaido and enjoy making dinner, sweet treats and character food using bread♡
I want to see my family smile, so I enjoy transforming food into characters and making cute meals♡
You can see more of my character food and bentos on my Instagram page → @kaopan27