"Frozen Planetarium" Urara Shiraito Illuminations to be held in Karuizawa
Shiraito Highland Way Inc. will hold an event titled Urara Shiraito Illuminations at car park 1 of the famous Karuizawa tourist spot Jōshin'etsu-kōgen National Park. The event, which is a recognised heritage site for Japan's nightscape, will run every Friday, Saturday and Sunday between February 2 and March 11, 2018.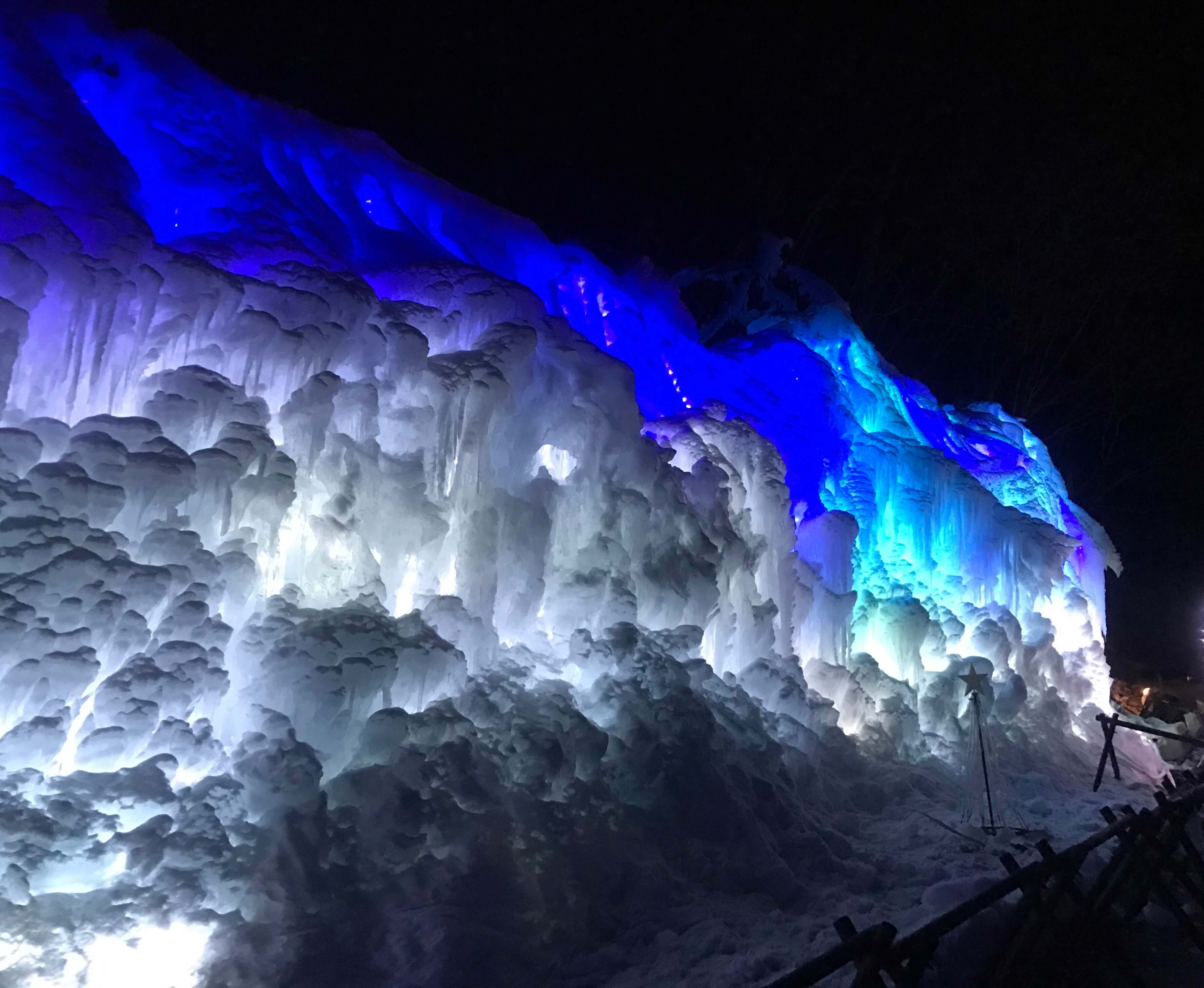 Shiraito Highland Way is a toll road that first opened in 1963 and stretches across 10km. It's a forest path where one can see the true face of Karuizawa and is home to Shiraito Falls and Ryuugaeshi no Taki, two popular tourist spots. The event ties in with Shiraito Falls Illusion that will be held in Karuizawa in July and is a registered heritage sight for Japan's nighttime scenery. In Japan, it's rare for two locations to be recognised as heritage sights for the country's nightscape two years in a row. Because of this, Shiraito Highland Way is strengthening its image as a tourist destination for Japan's night view.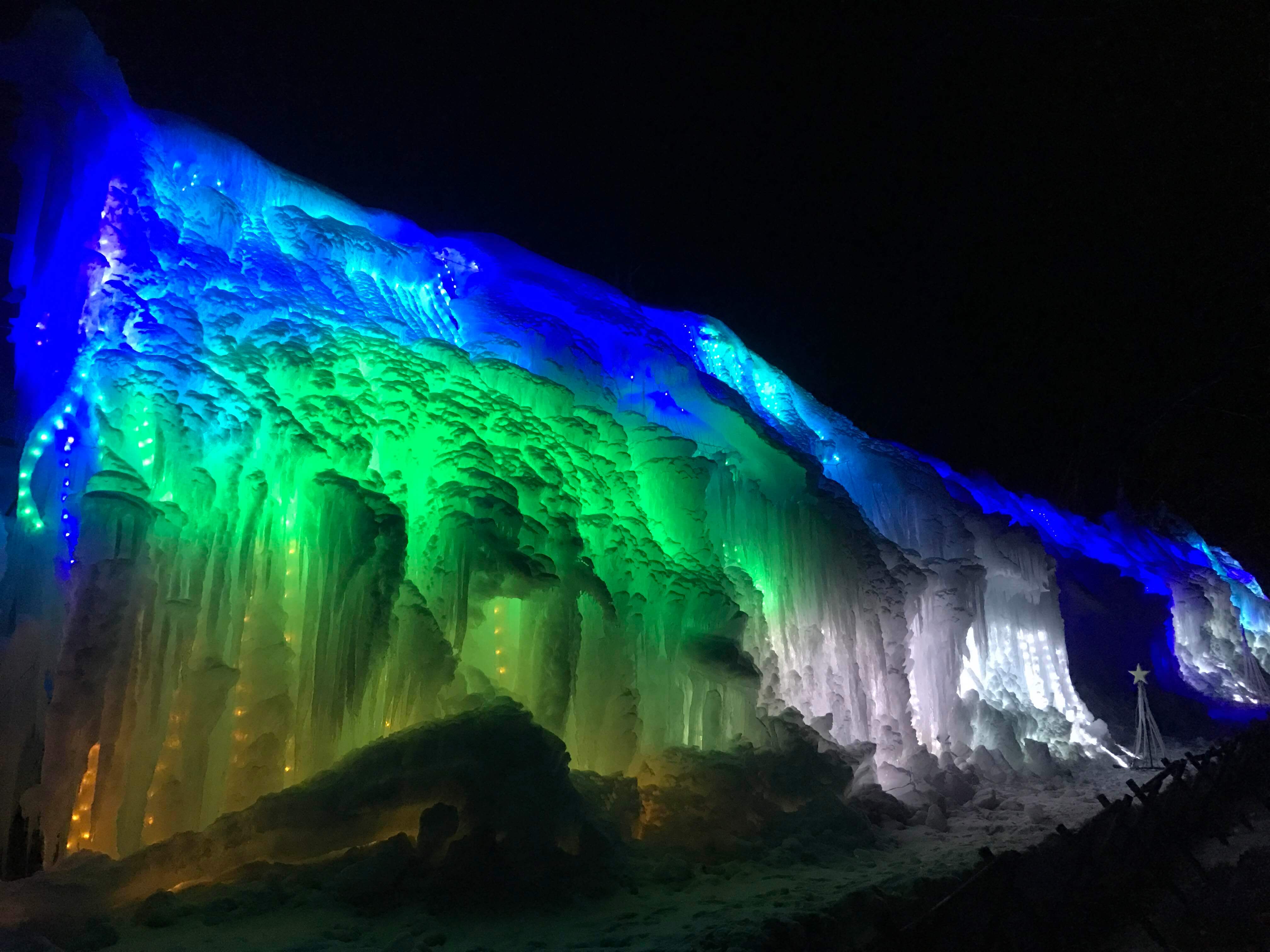 Urara Shiraito Illuminations will have installed a 5m tall and 50m wide screen where enchanting images of the sun, deep green forests, and glowing clouds will be projected against the dark nighttime sky. As well as being an event that can be enjoyed at night, it will also give you the opportunity to appreciate the beauty of nature in a new light and in a way you may not have noticed during the day.
The event will be held in car park 1 of Shiraito Highland Way, which is located in Jōshin'etsu-kōgen National Park. That means the light quantity, tones and production methods will be considered for the illuminations as based on the national park laws highlighted by the Ministry of the Environment.
As a gift to attendees, if you speak the words "Drive & Love" at the toll station, you will receive a disposable hand warmers completely free. On Saturday February 10th, you can also get hot drinks and hot towels, and sweets from Karuizawa Chocolate Factory will be given out to the first 200 people.
Plan a trip to the enchanting Urara Shiraito Illuminations to have yourself a truly extraordinary experience..
■Information
Urara Shiraito Illuminations
Location: Shiraito Highland Way Car Park 1
Running: Every Friday, Saturday & Sunday from February 2 – March 11, 2018
Time: 16:00-19:00 each day
Price: Free – you just need to pay the toll booth fee.
RELATED ENTRIES
Hoshino Resorts BANTA CAFE Releases Video of Magical Beachside Illuminations

The incredible beachside Hoshino Resorts BANTA CAFE, which offers guests a breathtaking ocean view along the Okinawan coast, released a video on the official Hoshino Resorts YouTube page showcasing the cafe's ongoing illumination event, "Illumi Banta," which is running until February 28, 2021. Guests can enjoy some limited-time menu options and then take a romantic stroll along the beach with a warm lantern in hand.

Okinawa is known for its warm climate, rarely dipping below 15°C in the chilly season of winter. There are many celebratory days enjoyed every year around Christmas and New Years, and so BANTA CAFE decided to get in on the action with Illumi Banta, which has been running since December 1 last year—while following the necessary precautions against COVID-19 to ensure everyone stays safe. The spacious cafe is mostly outdoors so visitors can enjoy their time without worry.

A seat at the cafe in on a clear evening guarantees a front row seat to a beautiful orange sunset that sinks into the horizon. Normally, the cafe closes as sunset arrives, but for this event, opening hour have been extended into the night.

BANTA CAFE is located in the village of Yomitan where the beautiful ocean is surrounded by coral reef, enormous rocks, and a rich natural environment. It's a must-visit if travelling to Okinawa.

Information

Illumi Banta
Running: December 1, 2020 – February 28, 2021 (Except February 1st-5th)
Time: 18:00-22:00 (Last Orders 21:00)

BANTA CAFE
Address: 560 Gima, Yomitan, Nakagami District, Okinawa
TEL: 098-921-6810
Opening Hours: 10:00 to one hour after sunset (from 08:00 on weekends and holidays)
Official Website: https://banta-cafe.com/en/

Kyoto's Shinto Shrine Iwashimizu Hachimangu Announces Light-Up Event

Iwashimizu Hachimangu, a Shinto Shrine in Yawata, Kyoto, has announced that a 5-day light-up event will take place from February 10 to 14 at the site's main shrine which is listed as a national treasure of Japan.

Following government guidelines in response to COVID-19, the event will feature LED illuminations, glowing exhibits from craftsmen, lights made by locals from materials such as bamboo, and more, all in the hopes of creating a bit of evening-time sightseeing in the area. The event will also be streamed live online for those unable to attend where viewers can also enjoy watching ceremonial dance by shrine maidens.

Information

Iwashimizu Hachimangu Inori no Tomoshibi ~Wa no Kokoro~

Event Name in Japanese: 国宝・石清水八幡宮 祈りのともしび~和の心~
Running: February 10, 2021 – February 14, 2021
Light-Up Times: 17:00-20:00
Location: Iwashimizu Hachimangu (30 Takabo, Yawata, Kyoto)
Note: Face masks and COVID-19 Contact Confirming Applications required
Event Page: https://ochanokyoto.jp/event/detail.php?eid=569
Official Website: https://newnormaltourism.jp/

2021 New Year's in Japan: 5 Must-Visit Illumination Spots

Illumination and light-up events are a huge part of winter and the holiday season in Japan, but when Christmas ends, many of them are turned off until next year. But there are still some that run through the New Year holidays and into early spring, so we've compiled a list of 5 must-visit illumination and light-up spots to visit over the next couple of months.

Please note that the times and dates of these events are subject to change depending on the COVID-19 situation.

Tochigi: The Garden of Illuminated Flowers ~Flower Fantasy 2020~


Ashikaga Flower Park in Ashikaga, Tochigi, is holding an illumination event for winter called "The Garden of Illuminated Flowers ~Flower Fantasy 2020~" until February 7, 2021. Held for the 19th time this year, the event was ranked among the Top 3 biggest light-up events in Japan in 2017 alongside Sapporo White Illuminations and Huis Ten Bosch Illuminations. It was also ranked top by night view critics in Japan as the best illumination event for four consecutive years.

Full Details: https://www.moshimoshi-nippon.jp/366535 

▼The Garden of Illuminated Flowers ~Flower Fantasy 2020~

Address: 607 Hasamacho, Ashikaga, Tochigi
Running: October 17, 2020 – February 7, 2021
Official Website: https://www.ashikaga.co.jp/flowerfantasy_special2020/en/index.html

▼MIDTOWN WINTER MOMENTS

Tokyo Midtown's winter season event 'MIDTOWN WINTER MOMENTS' is running until February 28, 2021. "ANOTHER WORLD" is the concept for this year's rendition of the annual event, which is enjoying new winter illuminations, Christmas decorations, an ice rink, and plenty of other fun experiences for people to enjoy throughout the entire day, right into the evening. A highlight of the event is the "MIDTOWN WINTER LIGHTS," warm illuminations to light fires in hearts during the cold winter season that will create a dazzling spectacle the likes of which cannot be missed.

Full Details: https://www.moshimoshi-nippon.jp/366420

▼MIDTOWN WINTER MOMENTS
Running: November 19, 2020 – February 28, 2021
Official Website: https://www.tokyo-midtown.com


Kanagawa: SAGAMIKO ILLUMILLION's 'Pokémon Illuminations'

Lake Sagami Pleasure Forest's annual SAGAMIKO ILLUMILLION winter event is taking place until April 4, 2021, and this year, it has brought that a new Pokémon with Pokémon illuminations. Wild Pokémon illuminations roam everywhere and there are plenty of Pokémon photo spots to take your picture with including Pikachu sleeping in the forest, Charmander taking a nap by an open-air, and more.

Full Details: https://www.moshimoshi-nippon.jp/375427

▼SAGAMIKO ILLUMILLION
Address: 1634 Wakayanagi, Midori-ku, Sagamihara, Kanagawa
Running: November 14, 2020 – April 4, 2021
Illumination Times: 16:00-21:00 (Last Entries 20:30)
*Illumination times to begin from 17:00 starting in February
Official Website: https://www.sagamiko-resort.jp/illumillion/


Nagano: Karuizawa Shiraito Falls Midwinter Light Up

Shiraito Highland Way is holding this year's Karuizawa Shiraito Falls Midwinter Light Up until February 14, 2021. Karuizawa Shiraito Falls is a 3-meter tall waterfall that spans 70-meters in length. The lights add a warmth to the cool evening and glow under a starry night sky. The event creates a different atmosphere from the summer light-up, allowing visitors to enjoy the enveloping nature in a way that they normally can't and see beauty they may not have noticed in the area before.

Full Details: https://www.moshimoshi-nippon.jp/379120

▼Karuizawa Shiraito Falls Midwinter Light Up
Location: Karuizawa Shiraito Falls
Running: December 19, 2020 – February 14, 2021
・Christmas Session: December 19th-20th, 24th-27th (17:00-19:00)
・New Year Session: January 2nd-3rd, 8th-11th (17:00-19:00)
・St.Valentine Session: February 11th-14th (17:30-19:30)

Access: https://karuizawa-shw.com/access/

*Please see the website for the latest information
*Entry restrictions may be made depending on the number of visitors

Official Website: https://karuizawa-shw.com/

Shizuoka: Hikari no Sumika Winter Illuminations

Toki no Sumika is hosting its 19th annual winter illumination event "Hikari no Sumika" until March 21, 2021. There are many different illumination areas to enjoy at the event, like the Forest of Trees Illuminations, the 370m-long Tunnel of Lights, and more.

Full Details: https://www.moshimoshi-nippon.jp/359381

▼Hikari no Sumika 2020-2021
Running: September 18, 2020 – March 21, 2021
Address: Gotemba Kogen Toki no Sumika, 719 KōyamaGotemba, Shizuoka
Illumination Times: 17:30-22:00
Car Park Spaces: 2,000
Enquiries: 0550-87-3700 (9:00-20:00)

Official Website: http://www.tokinosumika.com/illuminations2017/renewal/

Illumination Island Odaiba 2020: Tokyo's Artificial Island Begins Winter Illuminations Up to Christmas

23 facilities including shopping centres, hotels, parks, and more in Odaiba are participating in Illumination Island Odaiba 2020, a large-scale illumination event that opened on Friday and is set to run up to Christmas Day.

This year's event is bigger than the last, with only 10 facilities having taken part in 2019. The main park in Odaiba will also be lit up for the first time this year. The event is taking place to express gratitude towards those facing hardship during the pandemic – to connect everyone via gorgeous lights for a brighter tomorrow.

*Please note that illumination dates and times differ for each facility

Participating Facilities (Excerpt)

DECKS Tokyo Beach

The third-floor seaside deck faces Odaiba Marine Park and offers a gorgeous view of Tokyo Bay. Winter illuminations will serve cosy vibes around the rest area and plants, and serves as the perfect site to gaze at the lit-up Rainbow Bridge against the backdrop of Tokyo's nightscape.

Running: November 14, 2020 – February 14, 2021

DiverCity Tokyo Plaza

The Festival Hiroba's staircase will be colourfully lit up from 16:00 every day until January 31, 2021. After that, it will be lit up from 17:00.

VenusFort


teamLab – "The Tree of Resonating Colors of Life" ©チームラボ

teamLab's towering digital art installation The Tree of Resonating Colors of Life is running at Odaiba until February 7, 2021. The 8-meter tall three-dimensional tree is created from an accumulation of light spheres.

Palette Town Daikanransha


The Daikanransha Ferris wheel is a symbol of Odaiba and offers a panoramic view of famous sights around Tokyo up 115-meters in the sky.

Winter Illuminations: December 1, 2020 – December 25, 2020

Statue of Liberty


Odaiba's Statue of Liberty will be lit up with rainbow colours, changing the atmosphere in the area completely.

Running: December 11, 2020 – December 25, 2020

ARTBAY HOUSE


Japanese artist Takahiro Matsuo is also getting in the the action with the prism art at his PRISM/GLOW exhibition.

Running: November 27, 2020 – December 25, 2020

Tokyo International Cruise Terminal Station


A 5-meter tall Christmas tree is decorating Tokyo International Cruise Terminal Station.

Running: November 27, 2020 – December 25, 2020 (Not running select days)

Golden Island Zipang 2020 Illumination Event Lights Up Matsue in Shimane

The splendid Yuushien Garden in Matsue, Shimane, is now hosting a dazzling winter illumination event titled Kogane no Shima Zipang 2020 (Golden Island Zipang 2020) until January 11, 2021.

Golden Island Zipang 2020

Yuushien Garden is located on the eastern side of Matsue on Daikon Island, a volcanic island in Nakaumi. The garden has been called the most beautiful Japanese-style garden in all of Japan, which makes it the perfect setting for the illumination event. 50 projectors at the garden are using projection mapping to create a flurry of flashy illuminations.

It's a full pixel illumination display coupled with music that's sure to dazzle all who visit. this winter.

Information

Golden Island Zipang 2020 (Japanese: 黄金の島 ジパング 2020)
Event Schedule
Autumn Illuminations: November 14, 2020 – November 30, 2020

Christmas Illuminations: December 1, 2020 – December 27, 2020

New Year Illuminations: January 2, 2021 – January 11, 2021
Event Page: https://www.kankou-matsue.jp/rehappy/feature/illumination

Yuushien Garden
Address: 1260-2 Yatsukachō Hanyū, Matsue, Shimane
Opening Hours:9:00-17:00
Closed: December 30-31
TEL: 0852-76-2255
Official Website: https://www.yuushien.com

Sanrio's Little Twin Stars Kiki & Lala Light Up Shinjuku With TWINKLE COLOR CHRISTMAS Illumination Event

Sanrio's beloved character pair Kiki & Lala, also known as the Little Twin Stars, are hosting a special winter event titled "TWINKLE COLOR CHRISTMAS" at Shinjuku Southern Terrace from December 1 to 25, illuminating the area with beautiful Christmas lights, as part of their 45th anniversary.

Kiki & Lala's twinkling Christmas tree magical in the daytime and night time

The towering 4-meter tall Christmas Tree is decorated in countless mirror balls which reflect beautifully both during the day from the sun and at night with Kiki & Lala's illuminations. A special light show is also taking place from 16:30 each day with Christmas songs.


Decorated around the tree are Kiki & Lala neon signs and pastel-coloured adornments.

Those unable to visit Shinjuku this Christmas can access the "TWINKLE COLOR CHRISTMAS AR TREE" digitally This will have Kiki & Lala's Christmas tree appear on your phone when taking photos. You can access it here.

Kiki & Lala treats at the Sanrio Cafe Wagon

Limited time menu

45th Anniversary Items

On weekends, as well as from December 19 up to Christmas Day, a food wagon will make an appearance at the event serving Kiki & Lala food and drink like the pink and fruity Ruby Chocolate Latte and fruit-filled Twinkle Crepe.

©'76,'20 SANRIO 著作(株)サンリオ

Information

Little Twin Stars x Shinjuku Southern Terrace TWINKLE COLOR CHRISTMAS
Running: December 1, 2020 – December 25, 2020
Tree Light-Up Schedule: December 1 = 17:00-24:00 / December 2-24 = 16:30~24:00 / December 25 = 16:30-21:00
Address: 2-2-1 Yoyogi, Shinjuku, Tokyo
Entry: Free
Official Website: https://www.sanrio.co.jp/news/ts-odakyu-twinkle-color-christmas-20201119/

Karuizawa Shiraito Falls Midwinter Light Up Arrives For 2020-2021

Shiraito Highland Way has announced that this year's Karuizawa Shiraito Falls Midwinter Light Up will run from December 19, 2020 to February 14, 2021.

The illumination event will take place at Karuizawa Shiraito Falls, a 3-meter tall waterfall that spans 70-meters in length. The lights will add a warmth to the cool evening and glow under a starry night sky.

The event creates a different atmosphere from the summer light-up, allowing visitors to enjoy the enveloping nature in a way that they normally can't and see beauty they may not have noticed in the area before. The waterfall is located in Jōshin'etsu-kōgen National Park, a protected area which means the lights will be set up in a way that's considerate to the park.

If you're in Japan this winter then don't miss out on this year's Karuizawa Shiraito Falls Midwinter Light Up which will be split into three sessions: the Christmas Session, New Year Session, and St. Valentine Session. More details below.

Information

Karuizawa Shiraito Falls Midwinter Light Up
Location: Karuizawa Shiraito Falls
Running: December 19, 2020 – February 14, 2021
・Christmas Session: December 19th-20th, 24th-27th (17:00-19:00)
・New Year Session: January 2nd-3rd,  8th-11th (17:00-19:00)
・St.Valentine Session: February 11th-14th (17:30-19:30)

Access: https://karuizawa-shw.com/access/
*Please see the website for the latest information

*Entry restrictions may be made depending on the number of visitors

Official Website: https://karuizawa-shw.com/

Pokémon Illuminations to Light Up Lake Sagami Pleasure Forest This Year

Lake Sagami Pleasure Forest's annual SAGAMIKO ILLUMILLION winter event is set to run from November 14, 2020 to April 4, 2021, and this year, it has been announced that a new Pokémon area will be set up at the event with Pokémon illuminations.

About SAGAMIKO ILLUMILLION

SAGAMIKO ILLUMILLION is an annual winter event held at Lake Sagami Pleasure Forest. About an hour from the main city, the event takes place up a high slope with the 6 million lights becoming one with the surrounding natural environment. The event uses the latest in lighting technology and has gotten bigger and better every year. In 2018, it was chosen as one of Kanto's three biggest illumination events.

Pokémon Illuminations

This year marks the 12th run of SAGAMIKO ILLUMILLION, and this time around it's collaborating with the Pokémon franchise with lots of colourful illuminations set to light up forest and trees. Wild Pokémon illuminations roam everywhere and there are plenty of Pokémon photo spots to take your picture with including Pikachu sleeping in the forest, Charmander taking a nap by an open-air, and more.

Eevee Friends Rainbow Lift

The Rainbow Lift this year features nine colours inspired by Eevee and all of its evolutions. Ride up high with a carpet of colourful lights underneath.

Pokémon Gondola

The Pokémon decoration-wrapped gondola will ride visitors up 420m high. There are 36 different Pokémon gondola designs to see.

Pokémon Street

There are plenty of photo opportunities to be had at the event, from a Pikachu 100,000 volt exhibit to Pikachu napping by a fire and more. Take a picture with your favourite Pokémon.

Pikachu's Forest of Light

Visitors will definitely want to check out the forest too which is filled with Pikachu. Deep in the forest stands a giant, towering Pikachu too. Various Pikachu-related events will also take place including a Pikachu light show, a photo meeting, and more.

・Illumination Show: Tickets
・Photo Meet-Up: To attend, visitors can buy a ticket at the Pleasure Station or visit the site's official Twitter

Coaster (For illustrative purposes only)

Visitors who order from the ILLUMILLION menu at the park's Wild Dining restaurant will receive a Pokémon lunch mat, and if they order a drink one of eight possible coasters. They can also receive a Pokémon eco-bag if they spend over ¥3,000 at Pleasure Station.

©2020 Pokémon. ©1995-2020 Nintendo/Creatures Inc. /GAME FREAK inc.

Pokémon, ポケットモンスター, and ポケモン are registered trademarks of Nintendo, Creatures Inc., and GAME FREAK inc.

Information

SAGAMIKO ILLUMILLION
Address: 1634 Wakayanagi, Midori-ku, Sagamihara, Kanagawa
Running: November 14, 2020 – April 4, 2021

Illumination Times: 16:00-21:00 (Last Entries 20:30)

*Illumination times to begin from 17:00 starting in February

Official Website: https://www.sagamiko-resort.jp/illumillion/

Autumn Illuminations to Light Up the Red and Yellow Trees at Musashi Kyuryo National Government Park

Musashi Kyuryo National Government Park is set to host an autumn illumination event from November 14 to 29 where around 500 individual trees of 20 species will be lit up with beautiful lights. The best time to see the park's autumn colours is dated at November 20.

Musashi Kyuryo National Government Park opened as Japan's first national government park in 1974. This enormous park spans 5km between its north and south entrances. It's home to many fun family activities including trampolines, an athletic course, and more. It also offers gorgeous natural scenery throughout the year.

500 maple trees lit up at night

The park will be open in the evenings for this event when red, yellow, and orange maple trees will be illuminated in breathtaking lights. There will also be art installation illuminations for visitors to enjoy too.

Information

Maple Tree Illuminations
Running: November 14, 2020 – Novmeber 29, 2020

Location: Musashi Kyuryo National Government Park
Time: 16:30-20:30 (Last Entries 20:00)

Musashi Kyuryo National Government Park 
Address: 1920 Yamata, Namegawa, Hiki District, Saitama
Closed: December 31, January 1, and the 3rd and 4th Sunday of January

Official Website: https://www.shinrinkoen.jp/

Tokyo Midtown Announces Winter Event 'MIDTOWN WINTER MOMENTS'

Tokyo Midtown has announced that its winter event 'MIDTOWN WINTER MOMENTS' will run from November 19, 2020 to February 28, 2021.

"ANOTHER WORLD" is the concept for this year's rendition of the annual event, which will see new winter illuminations, Christmas decorations, the opening of an ice rink, and plenty of other fun experiences for people to enjoy throughout the entire day, right into the evening.

MIDTOWN WINTER LIGHTS

A highlight of the event will be the "MIDTOWN WINTER LIGHTS," warm illuminations to light fires in hearts during the cold winter season that will create a dazzling spectacle the likes of which cannot be missed.

Path of Light – An Illuminated World

The pedestrian walkway will welcome a strip of gorgeous golden lights affixed to towering trees to guide your way. More golden lights than ever before are being prepared this year to pull visitors into a romantic and dreamy world.

SNOW LIGHT GLOBE – A World of Snow

The SNOW LIGHT GLOBE is a giant 3-meter tall and 4.5-meter wide snow globe inside which glistens sparkling snow, crystals, and aurora. The lights are ever-changing throughout the day, presenting itself differently every time you look at it.

STEP LIGHT – A Colourful World

STEP LIGHT is a fun and interactive illumination display with lights that light up when you step on them, creating a colourful walkway.

Running: November 19, 2020 – February 28, 2021

Time: 17:00-23:00 (Until 24:00 around the plaza)

Location: Midtown Garden

MIDTOWN ICE RINK – A World of Ice

MIDTOWN ICE RINK is something people in Tokyo look forward to every winter. This year, the rink is opening in November. It's one of the biggest ice rinks in Tokyo and provides real ice for people to skate on, welcoming everyone from children and beginners to pros. The rink will be open into the evening too when it will be lit up so people can enjoy a little night skating session.

Running: November 19, 2020 – February 28, 2021
Time: 11:00-21:00 (Last Entries 20:00)

*Opens at 17:00 on November 19 and is closed on January 1

*Opening hours subject to change depending on weather
Location: Tokyo Midtown
Prices:

General (High School Students and older) – Weekdays ¥2,000 / Weekends & Public Holidays ¥2,500

Children (Junior High School Students and younger) Weekdays ¥1,500 / Weekends & Public Holidays ¥2,000

Midtown Christmas Trees

Various Christmas trees will be set up in the Tokyo Midtown garden area, indoors, and elsewhere to set in the holiday season mood.

Running: November 19, 2020 – December 25, 2020

Present Christmas Tree – A World of Fantasy

The Tokyo Midtown garden will welcome a mysterious kind of Christmas tree for the first time every this year—one which sprouts presents. 25 presents will be grown, and in December one will be given out each day.

Time: 17:00-23:00
Location: Midtown Garden

Santa Tree – A Miniature World


Around 1,800 individual Santa Claus ornaments will make up the 4-meter tall Santa Tree inside the Tokyo Midtown Galleria

Time: 11:00-Midtown
Location: Galleria 1F Tree Shower

Choose! Choose! AR Tree – An Original World

Tokyo Midtown also has something for people to enjoy at home. They can use an app that makes use of AR tech so that a Christmas tree can appear when you go to take a photo which you can decorate with an assortment of ornaments. There's over 1,000 possible combinations. More details about this will be posted on the event website in early November.

Ashikaga Flower Park Turns On the Lights For 'The Garden of Illuminated Flowers'

Ashikaga Flower Park in Ashikaga, Tochigi, has announced an illumination event for the autumn and winter seasons called "The Garden of Illuminated Flowers ~Flower Fantasy 2020~" which will run from October 17, 2020 to February 7, 2021.

The annual event is being held a week later than usual in order to implement the necessary precautions against COVID-19 and to ensure visitors are divided from one another so that they can enjoy the event as always safely. Masks will need to be worn and visitors must sanitise their hands as well as have their temperature checked with the on-site thermal camera before entering the park.

Held for the 19th time this year, the event was ranked among the Top 3 biggest light-up events in Japan in 2017 alongside Sapporo White Illuminations and Huis Ten Bosch Illuminations. It was also ranked top by night view critics in Japan as best the illumination event for four consecutive years.

So, why is this event adored so much?


The Miraculous Great Wisteria

Due to COVID-19, people were unable to enjoy the blossoming wisteria during this year's spring season, but now they can be enjoyed in autumn and winter in the form of illuminations.

Illuminated Water Lilies

Water lilies are enjoyed from summer through autumn. These water lily lights by the waterside are like little individual flower spirits.

Illuminated Rose Garden

A panoramic spectacle of vivid red rose lights. A special blue light-up will also take place to give gratitude to frontline workers who will be busy this season.


A Flower Story of Illuminated Wisteria

The multicoloured wisteria that bloom from mid-April to mid-May at the park are also being represented as dazzling illuminations which will reflect off the water surface to create a magical atmosphere.

Snow World

Santa Claus will be at the park from late November to late December to hand out presents to children.

Enter a romantic world of Japanese illuminations at Ashikaga Flower Park.

Pokémon Illuminations to Shine at Lake Sagami in Kanagawa

Lake Sagami Pleasure Forest, an outdoor multi-resort in Sagamihara, Kanagawa, has announced that the Kanto region's biggest illumination event SAGAMIKO ILLUMILLION is set to return for 2020-2021. The event will see 6 million illuminations light up the area from November 14, 2020 to April 4, 2021.

About SAGAMIKO ILLUMILLION

SAGAMIKO ILLUMILLION is an annual winter event held at Lake Sagami Pleasure Forest. About an hour from the main city, the event takes place up a high slope with the 6 million lights becoming one with the surrounding natural environment. The event uses the latest in lighting technology and has gotten bigger and better every year. In 2018, it was chosen as one of Kanto's three main illumination events.

This year marks the 12th run of SAGAMIKO ILLUMILLION, and this time around it's collaborating with the Pokémon franchise with lots of colourful illuminations set to light up the area and plenty of Pokémon photo spots to take your picture with including Pikachu sleeping in the forest, Charmander taking a nap by an open-air, and more.

As well as the Pokémon illuminations, the 40,000㎡ illumination area will be split into 10 different kinds of illuminations, with each individual area having their own colourful lights. There will also be a 250 meter lift people can ride, amongst lots of other exciting things.

SAGAMIKO ILLUMILLION is being held with all the necessary precautions in place against COVID-19.

Information

SAGAMIKO ILLUMILLION
Address: 1634 Wakayanagi, Midori-ku, Sagamihara, Kanagawa
Running: November 14, 2020 – April 4, 2021

Illumination Times: 16:00-21:00 (Last Entries 20:30)

*Illumination times to begin from 17:00 starting in February

Official Website: https://www.sagamiko-resort.jp/illumillion/