Nanavi reports on the latest news in Tohoku and Niigata for your travel plans
Nanavi is a news website that provides information on seven prefectures in Japan: Aomori, Iwate, Akita, Miyagi, Yamagata, Fukushima, and Niigata. New reports for 2018 detailing must-see information for these prefectures is currently spilling forth.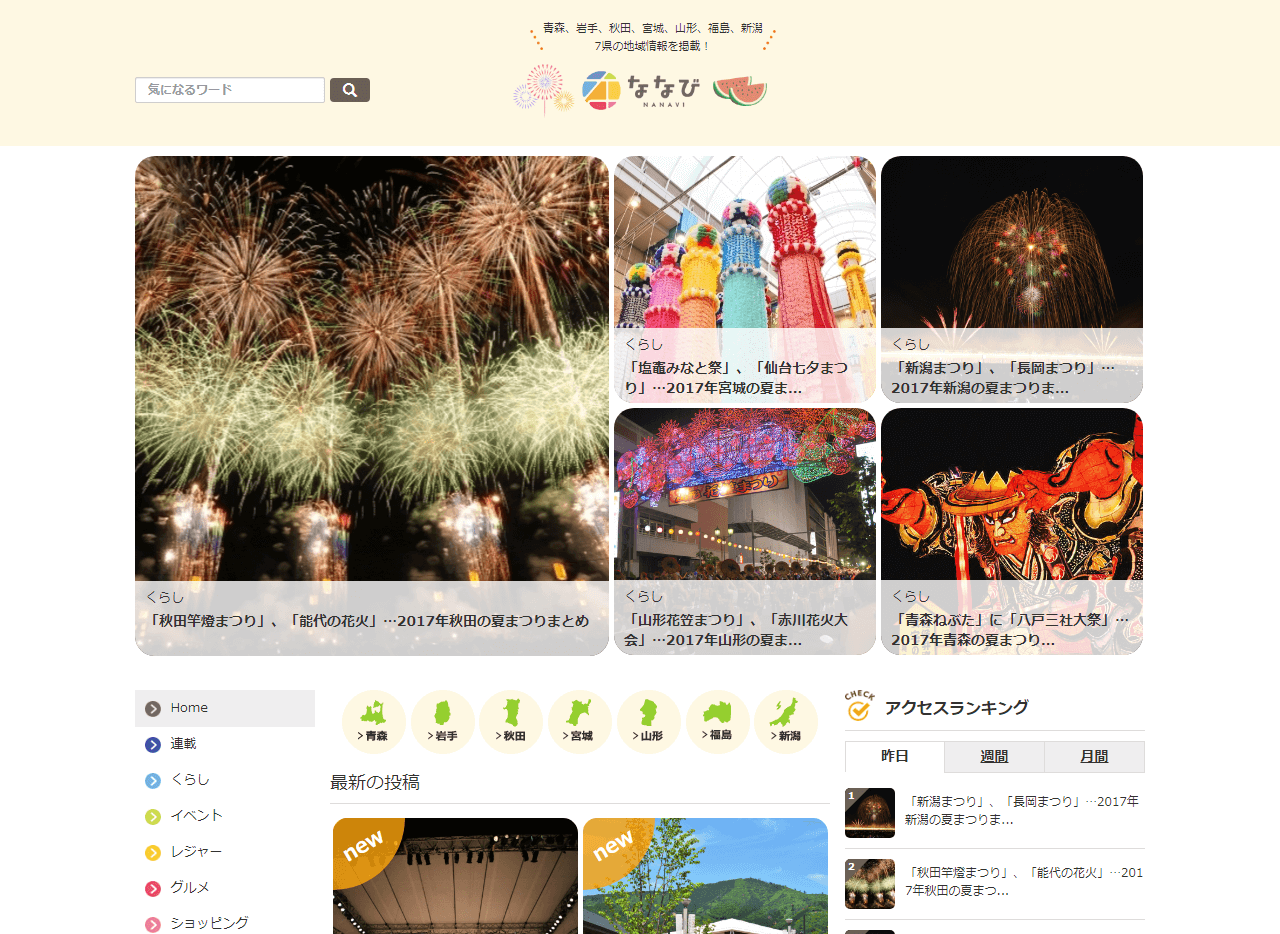 Secret Charms of Yamagata: The Foot of Mount Zaō!
Yamagata-shi, the capital of Yamagata Prefecture, is a place of scenic and natural beauty famous for many reasons, including being home to the Zaō Onsen and being the stage for Matsuo Basho's poems, the most famous Edo period poet. It's a popular tourist with a very unique culture, including a big food culture that centers on imoni simmered potatoes, ramen and more.
Website: https://nanavi.net/series
Aomori Prefecture Latest News: 'Apple Park Winter Festival'
Snow, apples… we're talking wintertime in Aomori! Aomori Prefecture is the leading producer of apples in Japan. Its city of Hirosaki is known as 'apple town' and celebrates winter with the Ringo Kouen Winter Festival (Apple Park Winter Festival) where you can enjoy their famous apples together with the piling snow. There are plenty of fun workshops and activities to enjoy – and you can even try eating a cooked apple.
Aomori-shi, the capital city of Aomori Prefecutre, hosts the Aomori Yuki Akari Matsuri (Aomori Snow Light Festival) where your heart and mind will be healed by the soft, warm lights possible only in winter.
Website: https://nanavi.net/keyword/96
Iwate Prefecture Latest News: Spectacular Ice Sculptures at Iwate's 'Snow Festival'
The 'Iwate Snow Festival' is held in the town of Shizukuishi in Iwate Prefecture. When talking about ice sculptures in Japan, most people will think about those at the annual Sapporo Snow Festival, but the sculptures in Iwate are also a dazzling sight to see. When lit up, they are truly impressive. The festival also holds various exciting events.
The latest reports also highlight 'Iwachu Tekkikan,' a long-standing shop that shelves traditional handicrafts and ironware form the south. They have typical traditional items as well as more colourful and contemporary ones.
Website: https://nanavi.net/keyword/108
Akita Prefecture Latest News: Witness Animals You Can Only See Here
News from Akita Omoriyama Zoo puts spotlight on the "Yuki no Doubutsuen" (Snow Zoo) that is praised every year. During this event, you can examine bears in hibernation, as well as witness how animals live life in the snow. It's a fresh experience indeed, made possible only by this special zoo that is situated in a region that receives heavy snowfall.
In the city of Odate, they will hold an event titled 'Hinai Tori no Shi' where you can try eating Japan's 3 main chickens that have been locally raised, Kiritanpo and lots of other delicious food.
Website: https://nanavi.net/keyword/122
Fukushima Latest News: If you're looking for winter activities, look no further!
Fukushima has a lot of snowfall. 'Urabandai Lake Resort' is a spot where you can enjoy fun winter activities to the fullest. All items in the establishment are free to rent and use. If you're looking to enjoy yourself, then this snow country is the place to be.
Website: https://nanavi.net/keyword/135
The new year has arrived, which means the real winter is here for these prefectures. Although the cold is bitter, the snow country shines even brighter in winter.
If you're thinking of heading to Tohoku or Niigata, be sure to check "Nanavi" first!
RELATED ENTRIES
Hoshino Resorts KAI Tsugaru in Aomori Prefecture to Hold Special Snow and Sake Event

Hoshino Resorts KAI Tsugaru, a hot-spring hotel located in Owani, Aomori Prefecture, will hold a special snow and sake event from February 1 until February 28, 2022. Hotel guests will be invited to enjoy drinks before dinner with a special winter twist–under a kamakura! A kamakura is the Japanese equivalent of an igloo, and local sake will be cooled by the snow as guests enjoy a glass while taking in the gorgeous scenery.

Famed author Osamu Dazai described the seven types of snowfall found in the Tsugaru region in his work Tsugaru. To allow visits to enjoy the many different types of snow in Aomori, seven unique sakes will be prepared and depending on the snowfall each day, the sake guests are served will change. This unique experience is sure to leave an impression. Who would you like to bring along?

Tsugaru Snow Lanterns

Seven lanterns designed by Iemasa Yamahata will be placed on the inside of the kamakura. Each has a different color and pattern and each is based on one of the seven types of snow: powdery snow, large snowflakes, grainy snow, watery snow, granular snow, sleet,  and crusted snow.

Information

Tsugaru Snow Festival

Running: February 1 – February 28, 2023
Price: ¥1,000 per set (Tax Included, 20 sets available per day)
Included: 1 glass of local sake, 2 scallop snacks
Venue: Hoshino Resorts KAI Tsugaru, Water Garden
Hours: 16:30-18:00
*Only available to hotel guests.
https://hoshinoresorts.com/ja/hotels/kaitsugaru/

GeGeGe no Kitaro Inspires New Daruma Doll Collection

Five popular characters from the popular horror fantasy series GeGeGe no Kitaro have been transformed into Daruma dolls! Two Daruma Land locations in Fukushima Prefecture have begun selling these curious items, with sales going live on August 26, 2022. Fans can choose from Kitaro, Neko Musume, Nezumi Otoko, Sunakake Babaa, or Konaki Jijii, and each Daruma doll features an entirely new image of each character's face drawn by popular illustrator and creator Tsumupapa. 

The company producing the dolls, Shirakawa Daruma, has been creating Daruma for over 300 years, and each authentic Japanese piece is produced by a craftsman adhering to traditional techniques. The palm-sized Daruma is around 45mm, perfect for displaying on a desk or shelf. Each comes with a cushion made of Aizu cotton, a well-known craft in Fukushima. These cushions were made to resemble Kitaro's sleeveless kimono jacket from the series!

Information

Hey, Kitaro Daruma

Varieties: Kitaro, Neko Musume, Nezumi Otoko, Sunakake Babaa, Konaki Jijii

Release Date: August 26, 2022

Price: ¥1,760 (Tax Included)

Where to Buy: 

Daruma Land (30 Yokomachi, Shirakawa, Fukushima)

Daruma Land Koriyama, S-PAL 2F (195 Hiuchida, Koriyama, Fukushima)

Online Store: https://shirakawa-daruma.com/

Official Site: https://www.heykitaro.com/

Pokemon GO Holds Special Drone Show in Akagawa, Yamagata Prefecture

To celebrate six years of Pokemon Go, an incredible drone show was held during the Akagawa Fireworks 2022 presentation in Yamagata Prefecture on August 20, 2022. 

The presentation sought to get audiences excited for summer fun, with the phrase "let's go on an adventure this summer" appearing in the air above the huge audience of 40,000. The Pokemon GO logo and popular Pokemon were recreated by around 700 drones.

Music from the mobile game played during the impressive show, as Pikachu and a 100-meter-tall Charizard moved across the sky. Alolan Exeggutor, Gengar, Wailord, and Rayquaza also appeared, creating a night to remember for Pokemon fans in the town of Tsuruoka. 

Pokemon GO Special Drone Show at Otaru Ushio Matsuri

The show itself was a surprise for the audience, with applause and excitement instantly palpable as it began. After the drone presentation concluded, the Akagawa Fireworks display began.

The Pokemon GO Special Drone Show was first held at the 56th Otaru Ushio Matsuri in Otaru, Hokkaido on July 24. Watch it in full above!

©2022 Niantic, Inc.
©2022 Pokémon. ©1995-2022 Nintendo/Creatures Inc. /GAME FREAK inc. ポケモン・Pokémon は任天堂・クリーチャーズ・ゲームフリークの登録商標です。 

Information

Pokemon GO Special Summer Drone Show at Akagawa Fireworks 2022  

Date: August 20, 2022 / 19:05-19:15

Venue: Akagawa Fireworks Presents 2022 / Fireworks Launching Area

Official Site: https://www.pokemongo.jp/

Rilakkuma 20th Anniversary Tour to Visit Aomori, Akita, Miyagi, and Iwate Prefectures

Everyone's favorite lazy bear Rilakkuma is turning 20, and to commemorate the big event, Sanrio is holding a special tour that is traveling around Japan. From September 8 until October 31, events will pop up in four prefectures in the Tohoku region–Aomori, Akita, Miyagi, and Iwate. Starting in July, the event will be visiting Hokkaido.

Tohoku Area Exclusive Art♪

The tour will travel from the northernmost to the southernmost points in Japan over 18 months, and guests visiting each event will be able to find unique prefecture-based environmentally-friendly merchandise. Fans will also be able to participate in SDGs (Sustainable Development Goals) such as beach cleanups and support for local food banks and social programs.

Come take part in this celebration while also giving back to local areas around Japan!

©2022 SAN-X CO., LTD. ALL RIGHTS RESERVED.

Kyary Pamyu Pamyu Collaborates with Ramen Chain Kourakuen in Fukushima

In conjunction with Kyary Pamyu Pamyu's 31-show nationwide tour celebrating her 10th anniversary, the LOCAL POWER JAPAN Project was launched to energize Japan through the appeal of regional towns and cities. At each stop, Kyary collaborates with a local company to help bring more attention to smaller regions and businesses. The details of the artist's collaboration project in Fukushima have been revealed ahead of Kyary's performance there on May 20, 2022.

In Fukushima, Kyary is teaming up with Kourakuen, one of Japan's leading ramen chains dating back to 1954. For this collaboration's logo, Kourakuen's logo has been transformed as an homage to Kyary's 2012 song Fashion Monster. The fan-favorite track has appeared in ad campaigns and is a must-play for the singer at concerts! 

 

Known for its tasty ramen and gyoza, Kourakuen has been a local favorite for almost 70 years. While the menu hasn't changed too much since the early days, the chain is known for releasing some unique offerings, like chocolate Ramen on Valentine's Day and natto miso ramen this spring. 

For this collaboration, fans can grab a branded Ramen Monster Spoon, perfect for slurping up your favorite bowl of ramen.

 

Those who want to grab this item will want to head to the LOCAL POWER JAPAN Project online store by May 29. The spoon will also be sold in limited quantities at the Iwaki Aryan Arts & Culture Exchange Center Lobby in Fukushima on May 20. 

A collaborative T-shirt is also on sale featuring the new logo and the singer's 10th-anniversary logo. It will be available on the LOCAL POWER JAPAN Project online store until May 29!

Information

Kourakuen (Fukushima) x LOCAL POWER JAPAN Project
Ramen Monster Spoon
Price: ¥1,000 (Tax Included)
Available: May 16 – May 29, 2022
Where to Buy:
LOCAL POWER JAPAN Project Online Shop
Available until May 29 at 23:59
https://store-localpowerjapan.com/ 

May 20, 15:30~
Iwaki Aryan Arts & Culture Exchange Center Lobby

Collaboration T-shirt
Price: ¥3,300 (Tax Included)
Where to Buy:
LOCAL POWER JAPAN Project Online Shop

Available until May 29 at 23:59
https://store-localpowerjapan.com/


Kyary Pamyu Pamyu Collaborates with Akita Prefecture's 'a.base' to Create New Form of Agriculture

Celebrating the 10th anniversary of her major-label debut, Kyary Pamyu Pamyu is staying active in 2022. Currently on the second half of her 30-show Japan tour to celebrate her 10th anniversary, the artist will perform a solo concert at Nippon Budokan in October. On May 15, Kyary performed in Akita, and the artist has released details about another collaboration as part of the LOCAL POWER JAPAN Project, launched to energize Japan through the appeal of regional towns and cities.

In Akita, Kyary is teaming up with 'a.base,' founded in 2020 to "create new food based in Akita." The company grows rice and vegetables in the very rich soil of a 30-hectare area in the Asamai district of Hirakamachi in Yokote City, Akita Prefecture, and is also engaged in the development and sales of agricultural products. This unique company was founded by a young man in his 20s–a former bank employee–with a strong desire to revitalize the local agricultural industry, which is currently facing a serious shortage of successors. Aiming to pursue a new form of agriculture, the company reached out to Kyary and the LOCAL POWER JAPAN Project in the hopes that participating would spread their message to more people, inspiring the masses to learn more about agriculture as an essential and creative industry. 

Immediately interested, the LOCAL POWER JAPAN Project started the collaboration with an homage to Kyary's 2013 song Mottai Night Land. In Japanese, mottainai means 'wasteful,' and the message for the new collaboration is that Japanese agriculture and the Akita region will go to waste if not protected. 

Mottainai to Rice (300g/5kg)

Collaboration T-shirt

A collaborative product available in original packaging, Mottainai to Rice is Akitakomachi rice grown in-house in Asamai Hirakamachi, Yokote City, Akita Prefecture. Grown under special cultivation standards, all pesticides and chemical fertilizers are halved compared to conventional growing methods. 

A collaborative T-shirt is also on sale featuring the new logo and the singer's 10th-anniversary logo. Grab it at the LOCAL POWER JAPAN Project website by May 27!

Information

Akita a.base x LOCAL POWER JAPAN PROJECT

Mottainai to Rice

Product Details: Cultivated in-house 'Akitakomachi' rice (Made in 2021)
Price: 300g / ¥500 (Tax Included)    5kg / ¥2,500 (Tax Included)
*Shipping charge not included.
Where to Buy:
a.base Online Shop

Available: May 15 – June 14, 2022
https://shop.a-base.fun/


Collaboration T-shirt
Price: ¥3,300 (Tax Included) 
Where to Buy:
LOCAL POWER JAPAN Project Online Shop

Available until May 27, 23:59
https://store-localpowerjapan.com/

Official Site: https://localpowerjapan.com

Miharu Papier-Mache Ultraman Masks Available in 33rd Fukushima Prefecture x BEAMS Collaboration

Fukushima Mono Mappu, a project run in collaboration with BEAMS JAPAN and Fukushima Prefecture, has revealed the contents of its 33rd installment! To promote the charms of Japan in collaboration with Fukushima Prefecture, BEAMS JAPAN has begun selling four new products, including specially-crafted Miharu Papiere-mache Ultraman masks.


Takashiba Deco Yashiki Daikokuya BEAMS JAPAN Special Products

Takashiba Deco Yashiki Daikokuya

Daruma dolls, self-righting dolls, and Akabeko toys are all known as pieces of Fukushima's local culture. Takashiba Deco Yashiki brings together papier-mache craftsmen to create pieces of Miharu papier-mache, a traditional craft in Fukushima Prefecture for the last 300 years. BEAMS JAPAN has collaborated with a workshop that continues to make these local toys to this day to bring customers four styles of custom-made products. In honor of Fukushima-born Eiji Tsuburaya, the creator of Ultraman, the character's mask has been cast in local Miharu papier-mache. 


The Fukushima Mono Mappu 2022 pop-up shop is now open at the BEAMS JAPAN Shinjuku location! Visitors can buy special kitchenware along with local foods and beverages from Fukushima Prefecture, so be sure to visit!

Information

Fukushima Mono Mappu Vol. 33 – Miharu Papiere-mache

To be Available during Fukushima Mono Mappu 2022 Collaboration

Release Date: March 15, 2022
Available at: 
BEAMS JAPAN Shinjuku 1F
Address: 3-32-6 Shinjuku, Shinjuku-ku, Tokyo
BEAMS Official Online Shop: https://www.beams.co.jp/tag/220315_BJ_01

Official Site: http://www.beams.co.jp/

Hoshino Resort Aomoriya Holds Cherry Blossom Viewing Event Under a Cozy Kotatsu

Hoshino Resort Aomoriya, an inn where visitors are invited to fully enjoy Aomori's culture, will begin its Hanami Kotatsu event from April 1 until May 31, 2022. Guests can enjoy local sake while warming themselves beneath a cozy kotatsu. In the chilly Aomori spring, a kotatsu) will be set up beneath the blooming trees for visitors to comfortably view the cherry blossoms. Hot-water bottles will also be available for rent if guests can a little too cold!

April in Aomori is spring according to the calendar, but it's still quite chilly. Nevertheless, the people of Aomori look forward to flower viewing to overcome the cold winter and enjoy the long-awaited arrival of spring.

Three Fun Additions to Make Cherry Blossom Viewing More Fun

1  A Traditional Umbrella with a Sakura Pattern

Next to each kotatsu is a row of Japanese umbrellas with cherry blossoms painted on them, spreading the pink cherry blossom imagery all around. When opened, the umbrellas are covered with cherry blossoms, making you feel as if you are under the cherry blossoms in full bloom.

2 Choose a Local Sake and Sake Cups for a Flower Viewing Sake Tower

Choose your favorite local sake and three sake cups to make a sake tower! Guests can choose from 10 Aomori sake brands, each with unique aromas and flavors. 

3 Cherry Blossom Patterned Cotton-Filled Hot Water Bottle for Extra Warmth

To keep extra warm beneath the kotatsu, a cotton blanket with a cherry blossom pattern and a hot-water bottle are available for rent. Doesn't it sound heavenly?

Booking.com Reveals 4 Best Lodgings with Outdoor Baths for Snow Viewing

Booking.com Japan has revealed its top four picks for the Japanese accommodations with the best outdoor baths and snow views! 

Zao Kokusai Hotel (Zao Onsen, Yamagata Prefecture)


Located 900 meters above sea level and surrounded by the gorgeous natural beauty of the Zao mountains, this resort has long been renowned for its spectacular view of seasonal scenery. During winter, guests can enjoy a fully spring-fed open-air bath while gazing at the snow-capped mountains. The milky white waters of the Zao Hot Springs have high sulfur content which will improve the texture of your skin. The resort also has a bath large enough to accommodate up to seven people at a time and a private bath for families or lovers. 

Midorinokaze Resort Kitayuzawa (Date, Hokkaido)

The Midorinokaze Resort Kitayuzawa is surrounded by nature and contains one of the largest open-air baths in Japan, along with 20 unique fragrant baths for guests to enjoy. In winter, the surrounding trees seem to glisten with snow, and visitors are sure to find plenty of peace and relaxation while lounging beneath the grey skies. 

Akakura Kanko Hotel (Myoko, Niigata Prefecture)

This highland resort sits on a 1,000-meter peak, offering unmatched views of Niigata Prefecture. The natural hot spring flows from the inside of Mt. Myoko, with healing waters perfect for soaking in during the cold winter months. The large baths are also equipped with a sauna and deck, and those wanting to view the scenery from their room can enjoy guest accommodations with private baths as well!

Satoyama Jujo (Minamiuonuma, Niigata Prefecture)

Winning a design award for its facilities, Satoyama Jujo has a different feel when compared to most hotels and ryokan. Booking.com recommends it for travelers looking for new experiences! In the open-air bath, visitors can relax while enjoying a panoramic view of Mt. Makihata, one of Japan's 100 most famous peaks. Guests can also enjoy the starry skies at night. This is a perfect location for couples!

Each season in Japan offers uniquely beautiful scenery. How would you like to enjoy winter in one of these luxurious baths?

Aomori's Be Easy Brewing and UNITED ARROWS Release Collaborative Craft Beer

UNITED ARROWS has released its first craft beer in collaboration with Be Easy Brewing, located in Hirosaki City, Aomori Prefecture. The brew is available at the UNITED ARROWS BOTTLE SHOP, which sells select alcoholic beverages from both Japan and abroad. 'Apple Pie Ala Mode' went on sale starting January 2 at the UA BAR on the first floor of the UNITED ARROWS Harajuku flagship store, H BEAUTY AND YOUTH, and the California General Store. 

Be Easy Brewing offers a selection of unique and constantly changing beers using ingredients found in Aomori like apples, strawberries and Tsugaru rice. From IPAs to wheat ales, the company is always experimenting with different styles. This strange collaboration was born after UNITED ARROWS expressed a fascination with the high quality and incredible taste of Be Easy Brewing's beers.

'Apple Pie Ala Mode' is a Berliner Weisse with a slightly sour taste combining apple juice, cinnamon, and vanilla. 

Information

Apple Pie Ala Mode
Price: ¥770 (Tax Included)
Size: 350ml
ABV: 5.5%
Where to Buy: UA BAR(UNITED ARROWS Bar Harajuku 1F), H BEAUTY AND YOUTH, California General Store

※The UA BAR will serve the beer on draft for a limited time.
※There will be no lottery for in-store sales. The beer will be available to purchase starting January 2, 2022.
※Available while supplies last.

BEAMS Starts Campaign to Highlight the Charms of Aomori Prefecture

BEAMS Japan has collaborated with 13 businesses to develop nearly 100 unique products to highlight the wonders of Aomori Prefecture. Under the title 'BEAMS EYE on AOMORI,' these products are now available to purchase from the BEAMS Official Online Store. They will be available at the BEAMS Japan shop in Shinjuku starting January 19, 2022. 

BEAMS EYE on AOMORI Products at a Glance

BEAMS Japan travelled to Aomori to search for inspiration and to learn more about the prefecture famous for its blue skies and apple orchards. The areas rich nature and traditions come to life in this new line of merchandise, so why not enjoy some of these products for yourself?

Information

BEAMS EYE on AOMORI

Running: December 20, 2021 – February 22, 2022
Where to Buy: 
BEAMS Japan (3-32-6 Shinjuku, Shinjuku-ku, Tokyo)
January 19 – February 22, 2022
Hours: 11:00-20:00 *Hours are subject to change. 


BEAMS Official Online Shop
December 20, 2021 – February 22, 2022
https://www.beams.co.jp/tag/211220_BJ_01/

BEAMS Japan Taipei Pop-Up Shop
February 8 – February 22, 2022
Address: Taiwan Eslite Life Nanshi Store 1F, 14 Nanjing West Road, Zhongshan, Taipei


Special Website: https://www.beams.co.jp/special/teamjapan/aomori2/

Discover the Art of Snow and Water at the Fifth 'Oirase Ice Falls Tour' in Aomori Prefecture

The 'Inaichō General Towada-Oirase Tourism Organization,' a group striving for regional revitalization, has announced that the Oirase Gorge Ice Falls Tour will be available to tourists between December 17 2021 and March 6 2022. This will be the fifth year of the tour, which was first held in 2017. 

Winter Oirase Waterfall Night Tour© Towada-Oirase Tourism Organization

Winter Oirase Nature Guided Tour© Towada-Oirase Tourism Organization

The Oirase Gorge, which stretches for 14km between Lake Towada and Yakeyama, lies between Aomori and Akita prefecture. The gorge is located in Towada Hachimantai National Park and has been designated a protected area.

During Winter, the mountaintop waterfalls freeze over and become powerful icefalls, decorated with icicles. Time seems to stop as the river stops flowing and the area becomes still. On this bus tour you can enjoy the silvery-white Oirase scenery during the day, or be awed by the illuminated icefall and icicles at night. 

 

During the Night Tour, a dedicated light car runs alongside the bus to light up five spots along the Oirase Gorge, including the gorge icicles and the icefall itself. Each viewing spot has been carefully produced, using changing colors and lighting to set the scene.

 

Why not visit this beautiful icy scene, which can only be enjoyed in Winter? 

Information

Oirase Gorge Ice Falls Tour

Duration:

【Tour 1】

Winter Oirase Waterfall Night Tour: City/Yakeyama Pickup & Drop Off Tour

December 17 2021 ~ March 6 2022 (Thursday ~ Sunday / Holiday Service) 

 

【Tour 2】

Winter Oirase Nature Guided Tour: Shichinohe-Towada Station/City/Yakeyama Pickup & Drop Off Tour

December 18 2021 ~ February 27 2022(Weekend & Holiday Service)

※This is a daytime tour

 

【Tour 3】

Winter Oirase Waterfall Night Tour: Lake Towada Pickup & Drop Off Tour

December 17 2021 ~ February 20 2022 (Friday ~ Monday / Holiday Service)

 

【Tour 4】

Winter Lights Story Bus Daytrip

December 17 2021 ~ February 20 2022 (Friday ~ Monday / Holiday Service)

※This tour does not visit the icefall

 

Tickets & Tour Details: https://www.towada.travel/ja/oirase-ice-falls