Tokyo Bon 2020 (Makudonarudo) video world craze viewed more than 10 million times on YouTube
Namewee is the famous C pop artist produced by Cool Japan TV inc's general planning division. Namewee collaborated with famous YouTubers from all over Asia and Japanese traditional dancers to produce the video "Tokyo Bon 2020" (Tokyo Bon Odori 2020). This video features individuals from a range of nationalities performing the traditional Japanese Bon Odori dance. After just 2 months of its release, the YouTube video was watched over 10 million times.
The video was also uploaded to many other platforms across the world such as Facebook, Instagram, Twitter, Weibo, Miǎo pāi, Měi pāi, Youku, bilibili and 9GAG, causing the views to erupt to over 100 million. One after the other, people from all over the world uploaded videos of themselves attempting the Bon Odori dance, creating a social phenomenon. The video also went viral in Japan. Already over 20,000 covers of the dance have been posted via the app "Tik Tok", which is popular amongst the young generation. High School girls got particularly involved in this.
Tokyo Bon 2020: official version
The video is a catchy pop song featuring a Japanese high school student who says random Japanese words that sound like English words (Japanglish) to introduce tourist sites in Japan and traditional Japanese culture to Namewee the tourist and other foreigners who cannot understand Japanese. The climax of the song was set in a sumo ring where famous YouTubers from all over Asia and traditional Japanese dancers are wearing costumes associated with Japan such as Oiran dancers, Renjishi dancers, a sumo wrestler and ninja. This humorous music video captures the Japanese spirit in the face of the Tokyo 2020 Olympics, raising excitement further.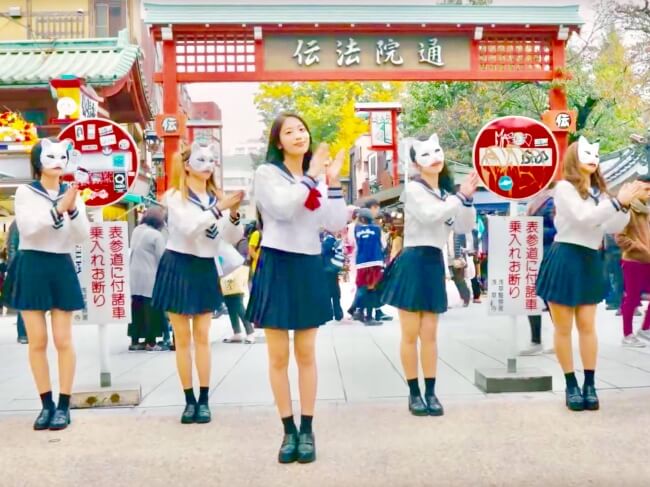 From children to adults, everyone enjoys the sense of language through Japanglish. People from all over the world have been flooding the internet with messages such as "I LOVE JAPAN!" "Tokyo Bon is the follow up to PPAP!" and "I want to go to Japan!"
And here is a comment from Namewee: "I respect all cultures of the earth. Foreigners find the sound of Japanglish particularly charming so I used it in this video. I wanted to make the world dance via Cool Japan TV. Crossing international boarders makes me so happy."
Tokyo Bon 2020: Dance version
Worldwide successful creator UkonTakafuji choreographed the Bon Odori dance. These are his words: "I was surprised to hear a request to create a dance for the whole world, but what made me more surprised was that after a few months I managed to pull it off. The sun and moon, a blue sky and starry sky, and a field of flowers when the moon starts to rise in the evening – the world is beautiful, and it is here that traditional Japanese dancing takes the stage.  Seeing videos of children in schools in foreign countries dancing happily to this video touched my heart. The ring of Bon Odori has even crossed international boarders. I am so moved."
Take a look at the video and try the dance for yourself!
RECOMMENDED ENTRIES
Pikotaro Releases New Album 'I have a PPAP' Worldwide

Singer-songwriter Pikotaro, known for the viral hit song Pen Pineapple Apple Pen, released his first album I have a PPAP digitally across 150 countries on July 13.

The album features a total of 31 tracks including Pikataro's big hits throughout 2017-2018 such as PPAP as well as his newest song Can you see? I'm SUSHI. This record is the ultimate Pikotaro experience.

Pikotaro has the following to say about his new song: "When I went to Belgium and spoke with the Belgian staff about making a song about something Japan is known for, I improvised while singing, and they found it really funny. I'm really happy to have been able to make a song in this way. Although Japan is a sushi country there's not a lot of songs about sushi, so I want both the people of the world and  of Japan to use this opportunity to sing about it!"

Pikotaro may be about to cause a sushi boom across the world, so be sure to check out the music video.

U.S.A. is the first new single from Japanese boy band DA PUMP in three-and-a-half years and the group's first Eurobeat style track. Since the CD cover and music video were posted people have noted the cheesiness of this release. Though it's cheesy, people absolutely cannot stop listening to it.

It's only been a week since U.S.A. dropped on June 6, but the song has taken over the digital music charts in Japan. It has topped iTunes at number one for weekly song top music video, and even taken the top spot on Spotify and Apple Music.

The music video blew up on YouTube. In just 3 days after being posted on May 16 it had already reached 1 million views. As of June 12, the video has 7.1 million views.

The group posted a dance-along video so people can learn the moves themselves.

DA PUMP will perform at a-nation 2018 on August 18. If you're in Japan and want to jump on this trend, then learn the moves yourself and go see them live!

Information

U.S.A.
On Sale: June 6, 2018
Price:
First Press Limited Edition A (CD+DVD – ¥1,944 (Tax Included)
First Press Limited Edition B (CD+DVD – ¥1,944 (Tax Included)
Regular Edition (CD-Only) – ¥1,080 (Tax Included)

DAPUMP / U.S.A. Dance -Mirror ver.-: youtu.be/LPr_UZkmVn8

DA PUMP Official Website: http://dapump.jp/

Osaka Bubble Festival Song 'Once In Your Life In Osaka' Goes Viral on YouTube

Bubble Festival -Osaka Bon 2018- is a huge outdoor festival scheduled for August 25 and 26 that will combine music, dance and traditional culture. To promote the festival, Cool Japan TV released a music video in collaboration with Room39 two weeks ago titled Once In Your Life -Osaka Bon- which has already broken 1 million views on YouTube.

Cool Japan TV released another viral hit titled Tokyo Bon in collaboration with Malaysian hip-hop artist Namewee last year which currently has over 34 million views. The video acted as a bridge between Japan and the rest of the world, prompting people to post videos of themselves performing the traditional bon odori dance themselves.

Bubble Festival -Osaka Bon 2018- is the first collaboration between producers Afro&Co. and Japan's largest influencer marketing company Cool Japan TV. The festival is focused on ensuring foreign tourists can enjoy the event too by offering information and services in multiple languages.

The music video for Once In Your Life In Osaka -Osaka Bon- features popular Thai artist Room39 as well as bon odori choreography by Ukon Takafuji. The colourful video captures the excitement of Osaka tourism and the bubble festival as they sing in English, Japanese, Thai and Chinese.

At the festival you can catch performances from DJ KOO, Ukon Takafuji, CYBERJAPAN DANCERS, SPICY CHOCOLATE, Have a Nice Day! who are known for their exciting live performances, calligrapher Bisen Aoyagi, DJ Afromance, and more.

Check out the video for yourself to witness the charm of Japanese culture.

■Information

Bubble Festival -Osaka Bon 2018-

Location: Osakajo Ongakudo

Date: August 25 (Open 4:30pm / Start 5:00pm) / August 26 (Open 12:30pm / Start 1:00pm)

Price: 1-Day Ticket ¥4,500 (Tax Included)

*¥1,500 for children aged between the ages of 3 and 12.

*Children under the age of 3 not permitted.

Event Website: http://afroand.co/awafes
RELATED ENTRIES
Chihayafuru Anime Gets Escape Game at TOKYO MYSTERY CIRCUS

TOKYO MYSTERY CIRCUS, Japan's first and biggest puzzle-themed theme park, has announced the opening of a new escape game based on the popular manga anime series Chihayafuru which will begin at the site on March 4, 2021.

The immersive story-driven escape game has players take on the role of a member of the Fujiyama High School karuta club. While learning the essential points of competitive karuta from Chigaya Ayase and the gang, they must aim for victory to escape. No prior preparations are necessary – players can book their tickets and just turn up on the day.

This unique escape game takes place in a traditional tatami mat room and combines puzzle-solving skills with competitive karuta in which clues are written on the cards. Fans of the manga and anime series are sure to enjoy this immersive game.

Tickets will go on sale on January 23, 2021 at 12:00 (JST).

©末次由紀/講談社

Kingdom Anime Collaborates With Firsthand On Exclusive Merchandise

Creative and sustainable concept store Firsthand released a collection of items in collaboration on Wednesday (January 20) with the TV anime series Kingdom, which is set to begin airing its third season this April, and Japanese artist Kosuke Kawamura. The items are available to buy both online in Japan and at a pop-up store at OPEN STUDIO inside FREAK'S STORE Shibuya.

Firsthand is a Japanese brand centred on upcycling and sustainable production. Fans of the ongoing anime series can get their hands on a range of clothing items, phone cases, and more. If they head to OPEN STUDIO they'll also find an illustration exhibit, a photo spot, and more. The gallery is also selling posters signed by Kosuke Kawamura.

Will you be watching Season 3 of Kingdom this spring?

Information

Kingdom x Firsthand x Kosuke Kawamura Pop-Up Shop
Running: January 20, 2021 – January 25, 2021
Location: OPEN STUDIO, 1-31-1 Jinnan, Shibuya, Tokyo

Opening Hours: 10:00-20:00
TEL : 03-6415-7728

Where to buy the merchandise collection:
・OPEN STUDIO (Limited time January 20th-25th)
・Firsthand RAYARD MIYASHITA PARK (From January 26th)
・FREAK'S STORE ONLINE (From January 24th) @ http://www.freaksstore.com/
・ZOZOTOWN (From January 28th) @ https://zozo.jp/shop/freaksstore/

Event Details: https://firsthand.jp/news/3609/

FANCL Ginza Square Opens Onsen Hot Spring That You Can Walk Into Wearing Your Clothes

FANCL has brought the hot spring experience to its flagship site FANCL Ginza Square for a limited time with a variety of content that makes visitors feel like they've come to a Japanese onsen. The experience, named Tabi Suru Square Yu, is running until February 11, 2021.

Café au Lait / Fruit au Lait / Soy Milk Aojiru – ¥300 Each

Reiwa Honzen (FANCL Ginza Square Floor 9F)

Lunch Sana Winter Seafood Bento | ¥3,500

Winter Dinner Seafood Course | From ¥9,000

FANCL BROWN RICE MEALS (FANCL Ginza Square Floor B1F)

Hiroshima Oyster & Spinach Risotto Parmesan Cheese Galette Lunch Set | ¥1,850

Tomato Cream Pasta Lunch Set ¥1,850

Original Hand Towel

FANCL Ginza Square Onsen Essentials Set | ¥3,668

Breathing exercises at SUU-HAKU

At Tabi Suru Square Yu, visitors can enter a room that fully recreates the experience of being in a hot spring. The room is set at the same temperature, is filled with the same aromas, and is decorated in the same way. Visitors sit on one of the relaxation sheets to soak up the experience – effectively getting into a hot spring without having to change their clothes.

A variety of classic drinks and dishes sold at hot springs in Japan will also be sold, and visitors can get involved in the breathing exercises on offer.

Valentine's Dessert Sets Served Up at Harajuku's Tea Latte Shop CHAVATY

CHAVATY, a cafe in Harajuku that serves tea lattes made with high quality tea leaves, is getting ready for Valentine's Day early with the release of some tasty new desserts which they began serving up on Thursday (January 14).


Valentine's Set | ¥1,100 (Before Tax)


Valentine's Scone Set (6 Included) | ¥2,480 (Tax Included)


Raspberry Chocolate | ¥970 (Tax Included)

The Valentine's Set comes with a cute scone as well as fondant chocolate made with rich, high-grade chocolate from the French chocolate brand Cacao Barry. It also comes with a tea latte of your choice. There's also a scone set which comes with two each of three different scones for a total of six including the Berry & Cocoa Pink Chocolate, Orange & Chocolate Chip Double Chocolate, and Dried Fruits & Nuts White Chocolate. CHAVATY has also made their own seasonal homemade spread: the Raspberry Chocolate.

Information

CHAVATY Valentine's Set
Running: January 14, 2021 – February 14, 2021

Address: Minami-Harajuku Bldg. 1F, 4-6-9 Jingumae, Shibuya, Tokyo

Official Website: https://chavaty.shop-pro.jp/

YOKOHAMA AIR CABIN: Japan's First Permanent Inner-City Cable Car Opens in April

Japan is set to get its first ever permanent city cable car in Yokohama on April 22 called the YOKOHAMA AIR CABIN.

The YOKOHAMA AIR CABIN is a cable car system that will offer locals and tourists a chance to enjoy Yokohama from a new perspective whether during the hot summers or during the cool evenings when the city lights wake up.

The system will be connected directly to Sakuragichō Station and Shinko Pier for easy, quick access to enjoy Yokohama Minato Mirai from up high.

If you're planning a trip to Yokohama at some point, be sure to take a ride on YOKOHAMA AIR CABIN, officially opening on April 22, 2021.

Information

YOKOHAMA AIR CABIN
Opening: April 22, 2021
Operating Hours: 10:00-22:00
Duration: 5-minutes
Price: General ¥1,000 / Children ¥500

Go Strawberry Picking With Hello Kitty and Friends at Sanrio Puroland

Sanrio Puroland opened a special new event last Friday (January 8) called "Sweets Puro" which is themed on strawberry picking.

Characters greet guests in their strawberry-designed outfits

Guests participate in an augmented reality strawberry stamp rally

New character videos play at the illuminations

A strawberry-packed dessert menu

Limited-edition merch

Tables in the food court receive makeovers

Guests can look forward to seeing sparkly new pink-coloured illuminations, snapping sweet photos at the entrance photo spot, getting involved in the AR strawberry picking stamp rally using their smartphones, and more. They can also pay to spend one minute with the park characters who will be dressed in their strawberry outfits, and if they arrive 30 minutes before the first floor character food court opens, they can get the limited-offer morning breakfast "Strawberry Morning Bread Set." The park will even be serving up seasonal alcoholic drinks like the Sweets Puro Strawberry Peach Sour.

The first day of the event saw the characters come out to greet guests in their adorable strawberry and dessert themed costumes. This was followed by a new illumination show, Puro Sweets Party, which took place at Puro Village, and My Melody sang and danced to the music against the bright and beautiful lights. Guests enjoyed a selection of limited-time food like the Pompompurin's Croissant Doughnut Strawberry Sandwich and Hello Kitty's Sweet Strawberry Milk.

©1976, 2009 SANRIO CO., LTD. ©1975, 1976, 1990, 1996, 2001, 2004, 2005, 2010, 2017, 2021 SANRIO CO., LTD.

Information

Sanrio Puroland – "Sweet Puro"
Running: January 8, 2021 – March 9, 2021
Official Website: https://www.puroland.jp

7 Days of Strawberry Dessert Love at Isetan Shinjuku This January

Isetan Shinjuku has announced a special one-week event titled "7 Days of Loving Strawberries" which is centred around cute and delicious strawberry desserts and will run this month from January 13-19. Ten cafes and restaurants are participating with a sweet and succulent line-up including strawberry daifuku, strawberry shortcake, special parfaits and crepes, and more.

Strawberry Candle Pavlova @ mihopan popcake | Two for ¥972 (Tax Included) *Limited quantities

MIGAKI-ICHIGO Strawberry Parfait @ Ichibiko | ¥1,980 (Tax Included)

Strawberry Shake @ Ichigo-ya Sunsunen | ¥721 (Tax Included)

Crispy Strawberry Mille-Feuille Crepe @ Sorairo Crepe | ¥935 (Tax Included) *Limited quantities

Strawberry Shortcake Parfait @ Shiseido Parlour | ¥1,045 (Tax Included)

Strawberry Daifuku @ Berry UP! | ¥432 (Tax Included)

Ripe Strawberry Milk Pudding @ Kanjyuku Ichigo Kashi Kekyusho | ¥486

Whole Strawberry Sandwich @ Sajisakon | From ¥864 (Tax Included)

MIGAKI-ICHIGO Strawberry Daifuku @ Seigetsudo Hoten | ¥432 (Tax Included)

Information

7 Days of Loving Strawberries (Japanese Name: いちごに恋する七日間)
Running: January 13, 2021 – January 19, 2021
Location: Isetan Shinjuku Floor B1F
Official Website: https://mi-journey.jp/foodie/66251/

discord Yohji Yamamoto x HUNTER Pet Accessories Drop in Tokyo

discord Yohji Yamamoto, a luxury accessory brand spearheaded by Yohji Yamamoto, has launched a collaboration with German pet brand HUNTER to release a collection of dog collars, leads, and other accessories like bags and wallets.

HUNTER was established in 1980 and has gone on to mark its territory across the world as a provider of high quality pet goods, praised for for the design, functionality, and safety of its products.


Black Dog Collar & Lead

The dog collars are fitted with studs as part of the collaboration. Both the collar and lead feature the same colouring as discord Yohji Yamamoto's products, arriving in the brand's signature black as well as beige, the latter of which is often used for its bags and small leather products. They are also clipped with a signature charm which has a design symbolising the collaboration.

Beige Dog Collar & Lead

The accessories are made from elk leather which is soft and made extra durable with double layering. Having the collar and lead the same colours also adds a sophistication to the design when fitted on a dog.

The collection will be released at discord Yohji Yamamoto stores in GINZA SIX, Shibuya PARCO, and Isetain Shinjuku, as well online. More details can be found on the official website here.

discord Yohji Yamamoto Black / Beige Selection


Y BACKPACK Nylon Studs | ¥148,000


ORIGAMI Tote | ¥98,000


Triple Clutch | ¥58,000


Diagonal Bag | ¥45,000

Y SERIES Studs


Y BODYBAG Studs | ¥138,000


Y BACKPACK Studs | ¥158,000

Small Leather Goods

Card Mini Wallet | ¥17,000

Key Wallet | ¥20,000

Harajuku's BOTANIST Tokyo Reveals its Spring 2021 Menu

BOTANIST's flagship shop BOTANIST Tokyo is set to begin serving up its spring season menu for the new year at its second floor BOTANIST Cafe from January 8 to March 31.

Quinoa Teapot Salad & Potage (Vegan-Friendly) | ¥1,500 (Tax Included)

A sophisticated salad of quinoa, crunchy carrot and red onion, tomato, and more, all served in a cute teapot.

Salmon Salad & Waffles | ¥1,500 (Tax Included)

Naturally sweet vegan waffles with lime-drizzled vegetables and served with slightly salted salmon and cream cheese. Pour over the maple syrup to make the cream cheese even richer and enjoy a completely different flavour.

Cherry Blossom Jelly & Fromage Mousse (Vegan-Friendly) | ¥50 (Tax Included)

Refreshing cherry blossom flavoured jelly made with rich and velvety soy cream. The cherry blossom petal topping and sparkly appearance of the jelly makes this a luxurious looking dessert.

Cherry Blossom Chiffon Cake | ¥800 (Tax Included)

A fluffy cherry blossom chiffon cake dusted with cherry blossom powder. It's a sweet and subtly salty mix topped with fresh cream.

Left: Three Berry Smoothie, Right: Strawberry & Raspberry Sweet Sake Smoothie (Vegan-Friendly) | ¥850 Each (Before Tax)

The Three Berry Smoothie incorporates the chunky texture of strawberries, sweetness of blueberries, and tangy taste of raspberries, creating a rich but not overly-sweet beverage. The Strawberry & Raspberry Sweet Sake Smoothie is one to go for if you love amazake.

Strawberry Decoration Hot Chocolate (Collaboration Drink) | ¥800 (Tax Included)

This luxurious strawberry hot chocolate is made in collaboration with Dari K, a craft chocolate maker who uses high quality cacao beans from Indonesia.

Select items on the spring menu are available for takeout as well as via Uber Eats in Japan, perfect for enjoy an indoor hanami this year.

BOTANIST Tokyo's first floor shop will also release its spring series of products, such as the limited edition Botanical Spring Hair Perfume.

Information

BOTANIST Tokyo
Address: 6-29-2 Jingumae, Shibuya, Tokyo
TEL: Floor 1F Shop: 03-5766-3777 / Floor 2F Cafe: 03-5766-3778
Opening Hours: 11:00-19:30 (Currently operating on decreased hours)
Official Website: https://shop.botanistofficial.com/ 

Tokyo Welcomes New KISS,TOKYO Bench at Shibuya River Street

What is being dubbed as a new sightseeing spot in Shibuya, "KISS,TOKYO," an artistic bench, appeared at Shibuya River Street on Christmas Day. The street runs from SHIBUYA STREAM towards Daikanyama.

About KISS,TOKYO

"KISS,TOKYO" is a project and nod towards those who love Tokyo, taking inspiration from the "I♡NY" slogan and logo. Japan isn't a country where kisses are used as greetings like other places around the world, but the bold notion of "KISS,TOKYO" expresses the feeling of love wards the people and city. It's a mark to welcome visitors to the capital of Japan.

The bench was made in cooperation with the Shibuya City Tourism Association and Tokyu and under a crowdfunder.

Pop-Up Store

A pop-up shop is now open at WIRED SHIBUYA selling merchandise with the KISS,TOKYO logo on it. It will run until January 31, 2021.

If you're planning a trip to Shibuya, make sure you get a photo with the city's new sightseeing and tourist spot.

Information

KISS,TOKYO Bench

Location: Shibuya River Street (3-22 Shibuya, Shibuya-ku, Tokyo)

Pop-Up Store
Running: December 25, 2020 – January 31, 2021
Location: WIRED SHIBUYA (3-27-1 Shibuya, Shibuya-ku, Tokyo)

KISS,TOKYO Official Homepage: https://kiss.tokyo/

Tuck Into a Strawberry and Herb Full Fruit Course at Fruits Salon in Ginza

Fruits Salon, a cafe inside Beauty Connection Ginza that serves full courses of fruit, has introduced a new strawberry and herb course to its menu which is being served until February 1, 2021.

Fruits Salon opened in November last year and garnered much attention for its full course fruit dishes. In August, the cafe served up the "Peach Full Course" which proved super popular. Last month, they offered a menu centred on juicy and sweet grapes. For December and January, the course features four items that combine the taste of seasonal strawberries and fragrant herbs.


Strawberry & Herb Full Course | ¥4,400 (Tax Included)

1st Plate: Shortcake

The first plate is a strawberry herb shortcake which contrasts beautiful red strawberries with white cream. It contains a jam made with milk sauce and gin, resulting in a harmonious balance between sweet and sour.

2nd Plate: Soup

The second plate is a hot strawberry and elderflower soup, combined with a mix of creamy yogurt, pistachio salt, and red wine reduction.

3rd Plate: Parfait

The third plate is the main: a milk gelato parfait with sorbet and chamomile. It also contains granita and champagne. The glass is completely stuffed to the brim and overflowing with sweet treat delights.

This extravagant full course is booking-only and lasts 90 minutes. That's 90 minutes of pure indulgence.

Information

Beauty Connection Ginza Fruits Salon
Address: GINZA gCUBE 2F, 7-9-15 Ginza, Chuo-ku, Tokyo
Opening Hours: 11:00-20:00
Closed: Tuesdays
TEL: 03-6263-8392

Official Website:  https://www.beauty-connection.jp/fruits/

Roppongi Readies For 2021 New Year Celebrations at Tokyo Midtown

Tokyo Midtown in Roppongi is set to celebrate the New Year with a festival that will run from January 2 to 11 in 2021.

New Year's Feast


From Left: Miyagawacho Suiren / SILIN Fuan Long Yuen / UNION SQUARE TOKYO/Kisentei

Restaurants in Tokyo Midtown will be serving up a feast for the New Year from Japanese wagyu beef to seafood and more, all to prepare everyone for a luck-filled and positive 2021.

Running: January 2, 2021 – January 11, 2021
Participating Restaurants: Miyagawacho Suiren / SILIN Fuan Long Yuen / UNION SQUARE TOKYO/Kisentei SILIN / Philippe Mille Tokyo / Le Pain Quotidien / RIO BREWING & CO. BISTRO AND GARDEN / Pizzeria-Trattoria Napule / HAL YAMASHITA Tokyo / NIRVANA New York / Maruya / THE COUNTER Roppongi

New Year's Greeting Souvenirs

SAKE SHOP Fukumitsuya / Toraya

There will be no shortage of New Year's greetings souvenirs at Tokyo Midtown, whether it be a set of sake with a special 2021 Year of the Ox label from SAKE SHOP Fukumitsuya or a fruity and colourful confection from Toraya. The pictured confection is made up of colourful layers to represent building up the fruits of one's labour to achieve your dreams.

Shishimai Lion Dance

The traditional shishimai lion dance is an annual New Year's-must in Japan. This year's performance will see the return of taiko drumming and the fue flute, all carried out with proper social distancing measures.

Running: January 2, 2021 – January 3, 2021

Time: 4 times per day

Location: Tokyo Midtown Galleria

Information

Tokyo Midtown New Year 2021
Address: 9-7-1 Akasaka, Minato-ku, Tokyo

Running: January 2, 2021 – January 11, 2021

Official Website: https://www.tokyo-midtown.com/jp/index.html
*Opening hours different on January 2 and 3

*Opening hours subject to change or full closure – check the official website for the latest information