A winter-season limited menu item, "Toridashi" was released from "ON THE UMAMI."
A lifestyle brand which is introducing the lifestyles based on "UMAMI," "ON THE UMAMI" has started offering their winter-limited menu item, "Toridashi 'Tori no UMAMI'" as a second stage of the campaign to promote Japan's first hand-dripped dashi (broth) from the 27th of January in Shinjuku Marui Honten.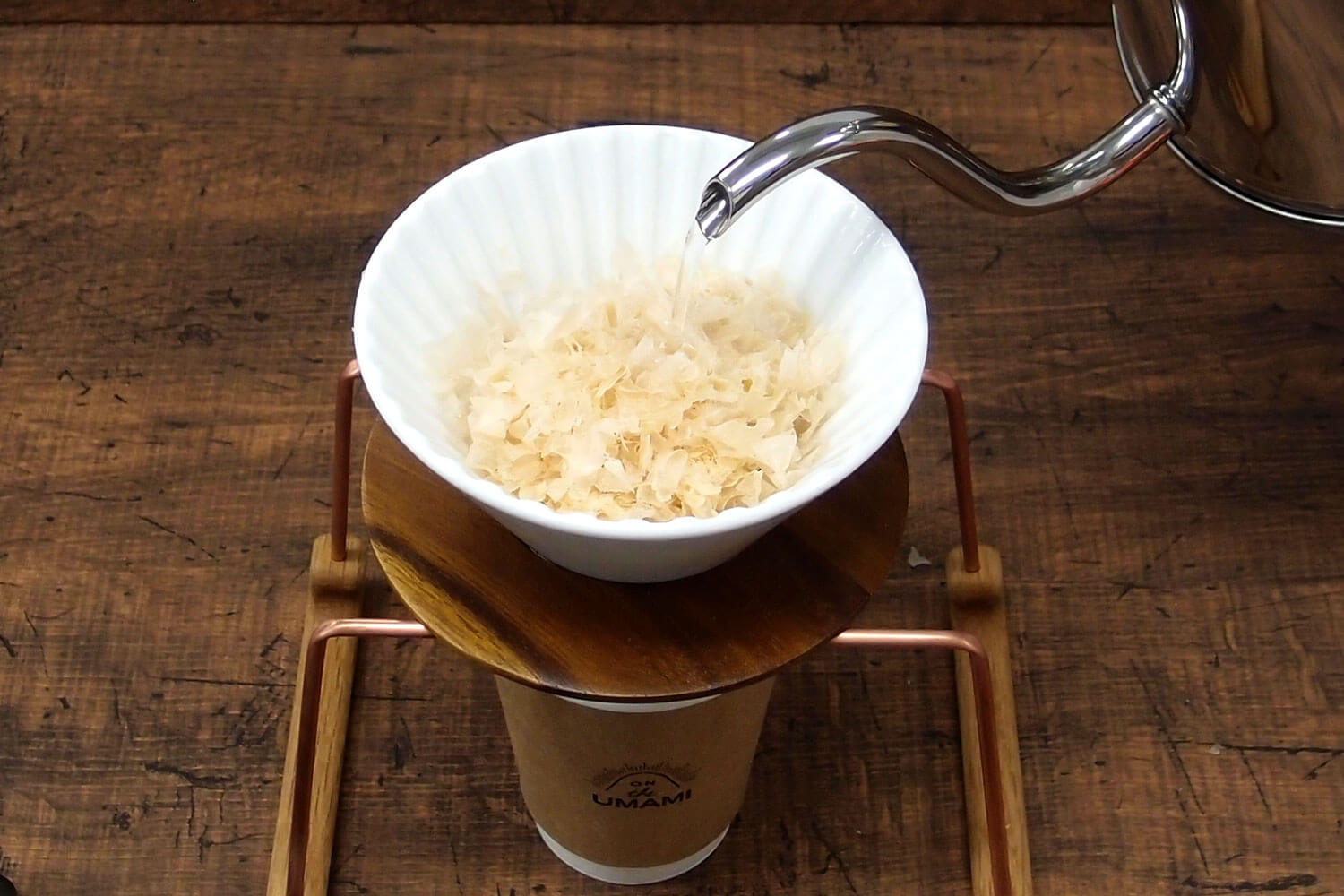 ON THE UMAMI is gathering much attention as the first broth shop that offers Japan's first hand-dripped dashi. They offer hand-dripped dashis after they received orders which include 0.08mm thick national chicken and the chicken powder. The full-fledged scent of chicken soup can be enjoyed since they add chicken powder to their broth created by their "hand-dripped" procedure.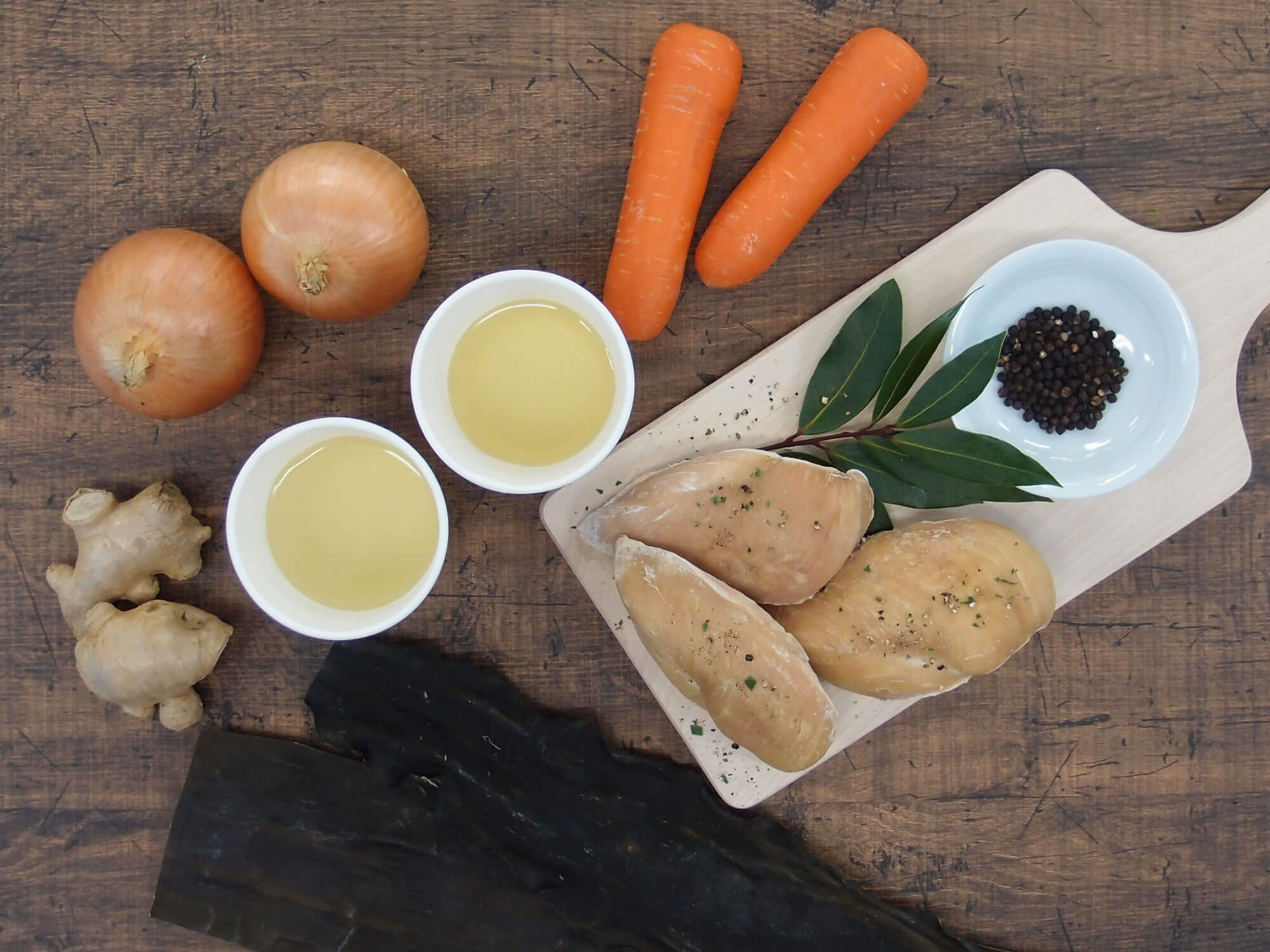 The ingredients of the broth which is chicken breast (produced in Japan) seasoned with onion, carrots, bay leaves and black pepper. Also, the umami of the broth is boosted with the synergetic effect of chicken's inosine and glutamine created with a kelp dashi.
Of course, this broth does not include any chemical additives, aroma chemicals, coloring and caffeine.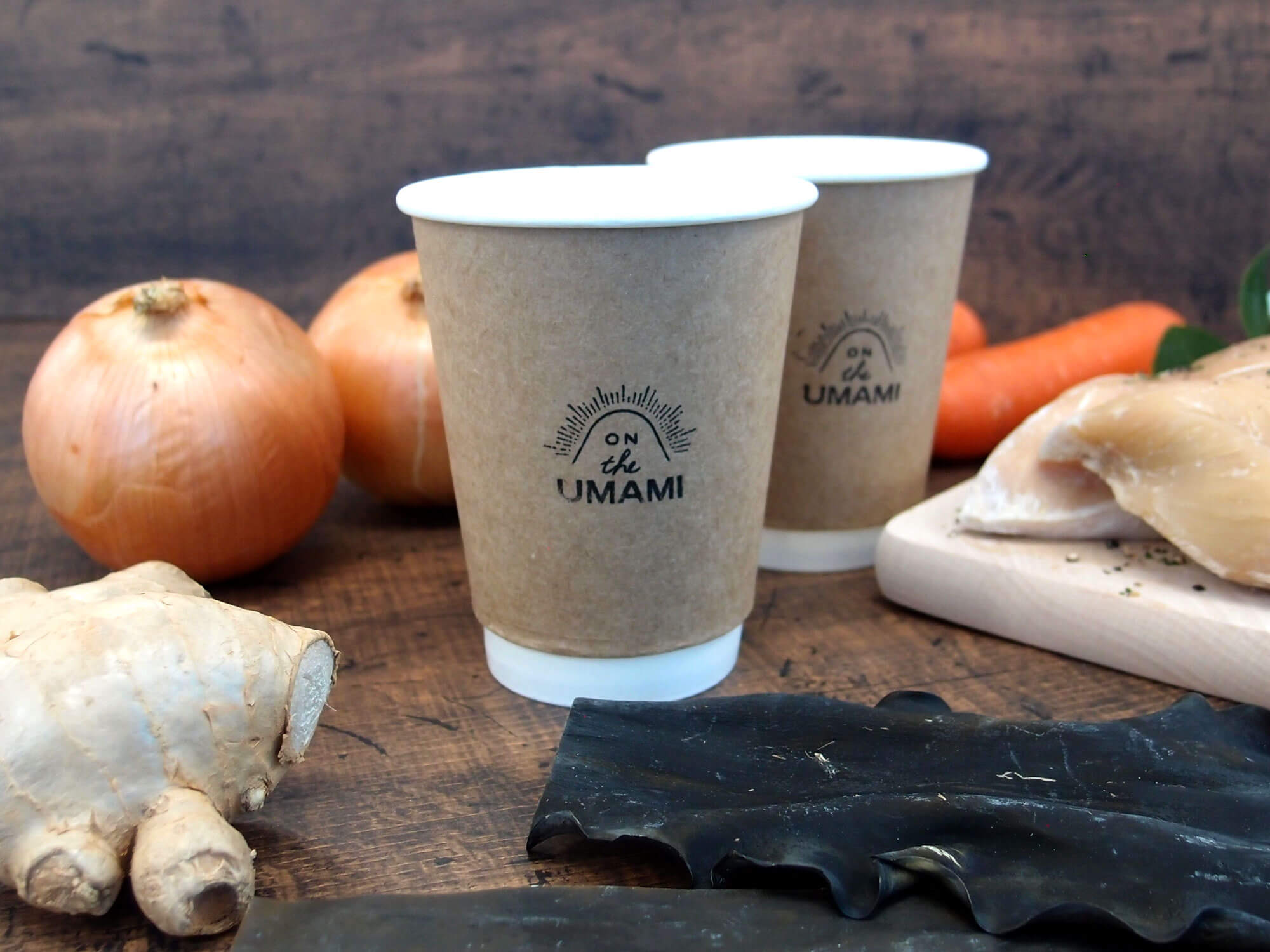 The chicken dashi has an effect of healing exhaustion since it includes a substance called carnosine. Moreover, the chicken dashi includes glycin which supports sound sleep and tryptophan which relaxes one's body.
The product is recommended for those of you who want warm their body or take a rest for a short period of time. The product will surely heal your body and relieve your stress.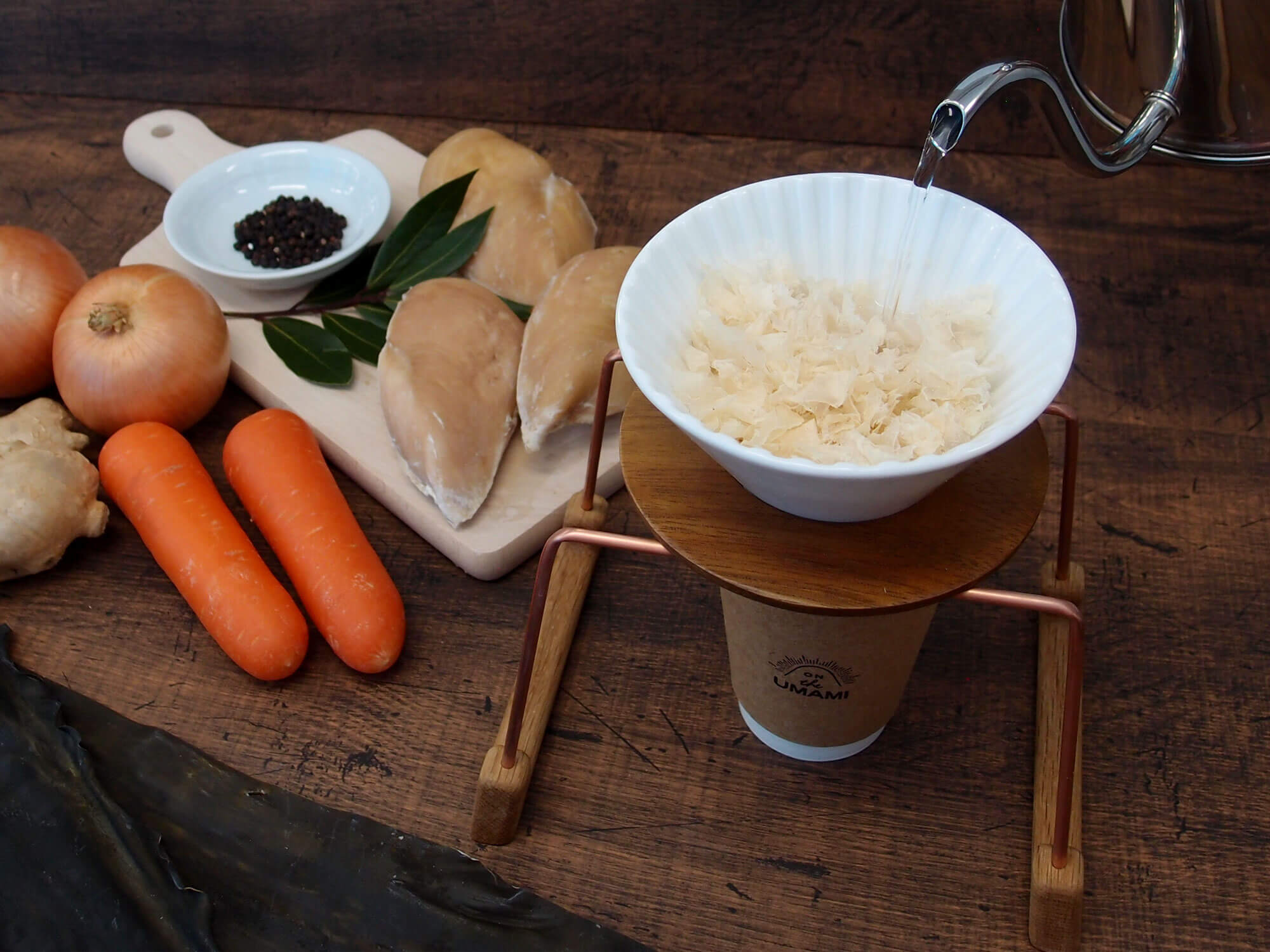 Let's enjoy this "hand-dripped" dashi at the up-and-coming store, "ON THE UMAMI Shinjuku Marui Honkanten."
■Information
Hand Drip Dashi Tori no UMAMI
Price: 200 yen per cup (tax not included)
ON THE UMAMI Shinjuku Marui Hotenkan
Address: Shinjuku Marui Honkan 5F, 3-30-13, Shinjuku, Shinjuku-ku, Tokyo
Business hours: 11:00 to 21:00 (Sunday, holidays ~20:30)
RELATED ENTRIES
Chawanmushi Recipe: Savoury Dessert Made With Carrots, Cream Cheese & Mirin

Together with soy sauce and miso, mirin is a fundamental condiment in the Japanese kitchen and for many recipes for Japanese food. It's a sweet rice wine that has lower alcohol content and higher sugar content when compared to sake, adding a sweet flavour to dishes.

Today, we're taking a look at a recipe that uses "Mikawa Mirin," a brand of mirin made from high quality rice, to make carrot and cream cheese chawanmushi. Chawanmushi is a savoury egg custard dessert eaten in Japan.

Carrot & Cream Cheese Chawanmushi

Chawanmushi is made using mirin and has a smooth texture to it as well as a subtly sweet flavour. It's the perfect accompaniment to a hot summer's day.

Ingredients (Serves 1)


●Chawanmushi
60g carrots
240ml dashi
20ml soy sauce
120ml Mikawa Mirin
8g sugar
18g cream cheese
1 egg

●Okra-an
Okra
30ml dashi
0.5g salt
3ml Mikawa Mirin

Method

We will start by making the chawanmushi.

1. Slice the carrots and boil them until they become soft.

2. Add the soy sauce, sugar, and lots of mirin and cook through the dashi.

3. Cook for approximately 20 minutes on a medium heat, then cool with ice. Add the cooled carrots, cream cheese, and 20ml of the dashi into a blender and bend.

4. Add the egg to the mix and steam the mix for 12 minutes on a medium heat.

While the chawanmushi is cooling, we'll make the okra-an.

5. Mix together the okra-an dashi, mirin, and salt together. Add watered potato starch and thinly sliced okra. Leave to cool in the refrigerator.

6. Add the okra-an to the cooled chawanmushi and tuck into your cute two-layered dessert.

Carrot & Cream Cheese Chawanmushi

The dessert is an enjoyable mix of the sticky texture from the okra-an and smooth chawanmushi. It's great to have not only at lunch or dinner, but at home parties with friends too.

–How's the taste?


Misa Kimura: "It works really well with the mirin. The chawanmushi is like a sweet treat. It's super easy to make too, so I think I'll be making it at home!"

Mirin is indispensable to any Japanese cupboard and can be used in many ways, whether it be a classic Japanese dish or a dessert like this one.

Mikawa Mirin 700ml: ¥1,122 (Tax Included)

This authentic brand of mirin is made using a traditional method of Japanese brewing which blends in the delicious taste of rice. It's so delicious that you just want to drink the whole bottle. A high quality mirin, it has a distinct sweetness, colour, and texture. It has a rich flavour, and the taste of the rice elevates the flavours of its ingredients.

Mikawa Mirin Official Website: http://www.mikawamirin.jp/
Official Online Store: http://mikawamirin.jp/product/product_step1.php?m=n
Official Facebook: https://www.facebook.com/mikawamirin

Recipe


This recipe was conceived by ITEMAE, a famous restaurant serving Japanese cuisine that is listed in the Michelin Guide.

Model: Misa Kimura
Photographer: Haruka Yamamoto

Information

ITEMAE
Address: 10-14 Kamiyamachō, Shibuya, Tokyo
Opening Hours: Lunch 11:30-15:00 (Weekdays Only) / Dinner 18:00-23:30
Closed: Sundays / New Year's Holiday
TEL: 050-5595-4795

Inari Sushi Restaurant Tsurigitsune to Open in Osaka International Airport's North Terminal

Japanese food and confectionery company Bijuu is opening a new restaurant called Tsurigitsune inside Osaka International Airport's North Terminal on August 5, 2020. The restaurant will specialise in inari sushi, a type of sushi packed into pouches of deep-fried tofu.

Bijuu is known for producing and selling such products as Kyoto's famous coarse sweet red bean paste-filled yatsuhashi otabe crackers.

Tsurigitsune will serve "Kyo Dashi Oinari," a type of inari sushi made with fried tofu Saga Tofu Morioka—a long-standing tofu shop in Sagano, Kyoto—soaked in lots of sumptuous Kyoto-style dashi. The restaurant will also serve a special type of sweet otabe cracker which cannot be eaten anywhere else.


Kyo Dashi Oinari (Includes 15) | ¥3,240 (Tax Included)

The dashi that the Kyo Dashi Oinari are soaked in take up all the delicious flavour of kombu, sababushi smoked mackerel, iwashibushi pilchard, and katsuobushi dried bonito, all of which serve to add that authentic Kyoto flavour.


Tanto Otabeyasu | ¥930 (Tax Included) *Served 6:30-10:00

As well as Kyo Dashi Oinari, Tsurigitsune's menu includes a line-up of dishes that celebrate the flavour of dashi, including soba, dashimaki tamago omelette, and more.

If you're travelling to Osaka, why not get an authentic Kyoto experience too by dining at Tsurigitsune?

Information

Tsurigitsune
Grand Opening: August 5, 2020
Address: Osaka International Airport North Terminal 2F Boarding Area, 3-555 Hotarugaike NishimachiToyonaka, Osaka
Opening Hours: 6:30-20:20 (Last Orders 19:50)
TEL: 06-6836-9217

Official Website: http://www.bijuu.co.jp/tsurigitsune/

Minnie Mouse Design Merchandise to be Sold at Lumine EST Shinjuku's 'Positively Minnie' Event

Lumine EST Shinjuku is set to hold a campaign from July 21 to August 31 this year as part of Walt Disney Japan's "Positively Minnie" promotion.

Disney "Positively MINNIE"

Minnie Mouse is known as an independent, charming spirit as well as a fashion icon. Positively Minnie is a promotional campaign launched by Disney for the global market which has Minnie inspiring all with her positive personality. She intends to teach us to live our best lives how we want to.

No shortage of Kawaii merchandise

29 shops inside Lumine EST Shinjuku are participating in the event by stocking their own range of Minnie Mouse merchandise. Let's take a look at some of them.

Minnie Mouse Ringer Telephone T-Shirts: ¥5,490 Each (Tax Included)

Shop: GYDA (Floor B1F) *Lumine EST exclusive, limited edition

Minnie Mouse Fleece Lined Tight Skirt: ¥8,800 (Tax Included)

Shop: Merry Jenny (Floor 2F)

Minnie Socks: ¥2,750 (Tax Included)

Shop: Tabio (Floor 3F) *Limited edition item

Minnie Mouse Mobile Cases: ¥4,180 Each (Tax Included)

Shop: Lycka (Floor 4F) *Lumine EST exclusive, limited-edition

Large Rollbahn Notebooks With Pocket: ¥850 Each (Tax Included)

Shop: Smith (Floor 6F) *Lumine EST exclusive

There will also be a pop-up shop by PONEYCOMB on the first floor of Lumine EST Shinjuku where you can get your hands on limited-edition merchandise with original art. It will be open from July 31 to August 13, and the items will also be available on Lumine's online shop until August 31.

When customers buy select items from the pop-up shop, they'll receive one of the three top stickers pictured above. When they order online, they'll receive one of the bottom three.

Luminest EST Shinjuku will be decorated in all things Minnie Mouse for the event, so that fashionista Minnie can serve her positive vibes to all who visit this summer.

©DISNEY

Information

Lumine EST Shinjuku Positively Minnie Campaign
Running: July 21, 2020 – August 31, 2020

Location: Lumine EST Shinjuku (Connected to JR Shinjuku Station's East Exit) / Lumine Online Shop

Campaign Website: https://www.lumine.ne.jp/est/positivelyminnie/ *Accessible from July 14 at 18:00 (JST)

Lumine Online Shop: https://i.lumine.jp/

Tokyo's New Shaved Ice Cafe 'Kakigoori Parlor Floche' Opens in LUMINE EST Shinjuku

A new shaved ice shop by the name of Kakigoori Parlor Floche is now open on the 8th floor food arena "The PARK SHINJUKU" inside LUMINE EST Shinjuku for a limited time until August 31, 2020.

Kakigoori Parlor Floche is inspired by floche, a cake served at a Japanese cafe in the 70s and 80s which they have turned into shaved ice. Its luxurious taste is similar to a cake, with an appearance that's sure to have you smiling when it arrives at the table. It's topped generously with cream, creating a cake x shaved ice fusion.

"Floche" is a French word meaning fluffy, a fitting name for a shop specialising in serving sweet and fluffy shaved ice. They have prepared three different flavours: Tiramisu, Shortcake, and Japone.

Shortcake: ¥980 (Before Tax)

Tiramisu: ¥830 (Before Tax)

Japone: ¥880 (Before Tax)

If you're in Tokyo this summer, don't miss out on this delicious and refreshing line-up.

Information

Kakigoori Parlor Floche
Opening Hours: 11:00-21:00 (Last Orders 20:00)
Address: LUMINE EST Shinjuku 8F, 3-38-1 Shinjuku, Shinjuku-ku, Tokyo
TEL: 03-6457-4566
No Fixed Holidays

Official Website: https://www.potomak.co.jp/shop/6392/

New Japanese Haori Brand NOBLE SAVAGE to Arrive in Shinjuku Isetan

When talking about traditional Japanese clothes, the first to come to mind is undoubtedly the kimono, something adored the world over. But another type of traditional attire from Japan that's gaining attention for adapting more to today's modern lifestyle is the haori. NOBLE SAVAGE is a new brand by 10th generation owner of Kondaya Genbei set to be sold inside Shinjuku Isetan for a limited time.

NOBLE SAVAGE is redefining tradition by taking the ancient dyeing and weaving techniques forged in Japan and adding new value to them by adapting them to today's lifestyle.

The haori is incorporated into a diverse number of outfits in Europe and America, from everyday clothes to streetwear. Kondaya Genbei has a history spanning over 280 years. Using their enormous inventory is materials from around the world, they are using Japanese techniques to weave new haori.

NOBLE SAVAGE Haori: ¥63,800

This design is known as the yabure-kouji, an iconic design by the 10th generation owner. It's a revival of a pattern worn by people working in kabuki theatre around 250 years ago and holds the meaning of "breaking down order."

NOBLE SAVAGE Haori: ¥418,000

This muga silk is handwoven with wild silkworm and dyed with vegetables. The pockets are arranged with a special silver leaf that has been used by Kondaya Genbei for 100 years.

NOBLE SAVAGE Haori: ¥69,300

Made from deadstock Laos fabric and dyed with catechu, something which has been used since the Nara Period, the haori gets a distinct earth colour.

NOBLE SAVAGE is also collaborating with Pascal marie desmarais to release washable face masks online at Isetan on June 16 at 10:00 (JST).

NOBLE SAVAGE will showcase their products at a showrooming in Isetan Shinjuku from June 17 to 23 and sell them from June 24 to 30.​

Modern Japonisme Beauty Products and Fragrances Arrive at SABON's Shinjuku Pop-Up Store

Japanese beauty company SABON opened its first ever pop-up shop on Wednesday on the first floor of Isetan Shinjuku in the makeup and promotion section. The shop will run until June 23, 2020.


Items on show include classic SABON products as well as their "TOKYO CELEBRATION" line-up, a collection of "modern Japonisme" items made in collaboration with millennial generation Japanese calligrapher MAMI. The fragrance of this special collection is "Clear Citrus Green" which combines notes of sparkling lemon, fresh verdure, transparent jasmine, and dreay orange blossom.

The collection is first on pre-sale at the Isetan Shinjuku pop-up store until June 23. After that, it will go on limited sales at SABON stores across Japan and SABON's online store on June 25.

Additionally, customers who spend over ¥8,000 (tax included) on the TOKYO CELEBRATION collection have the chance to receive the above-pictured fan. These are available while supplies last.

Information

Pop-Up Shop
Location: Isetan Shinjuku (1st Floor Makeup/Promotion)
Running: June 10, 2020 – June 23, 2020

Line-Up: SABON Products / TOKYO CELEBRATION Collection

Prices: ¥1,300-¥18,500 (Before Tax)

Official Website: https://www.sabon.co.jp

TOKYO MYSTERY CIRCUS Releases More Snoopy Merchandise as Part of SCRAP x SNOOPY Puzzle Game Project

As part of the second SCRAP x SNOOPY Puzzle Game Project taking place at TOKYO MYSTERY CIRCUSーthe world's first puzzle-themed theme parkーthe Shinjuku-based theme indoor theme park has its third batch of original and exclusive merchandise which is comprised of 8 new pieces.

This will be the final batch of merchandise made for the project, featuring illustrations of Snoopy, Charlie Brown, and other characters from Peanuts and themed around the puzzle game.

Puzzle Origami: ¥1,000

7 of the 8 origami designs come with their own puzzle. When you make your own Snoopy and Charlie Brown, the puzzle is completed too.

Puzzle Mirror: ¥1,000

Puzzle Folders: ¥900 Each

Puzzle Handkerchief: ¥1,200

The merchandise line-up sold at TOKYO MYSTERY CIRCUS is available to people not participating in the event too. The first two batches of merchandise are also available via the online SCRAP GOODS SHOP.

An English version of the second puzzle game, officially titled "Snoopy and the Secret Recipe," was released at TOKYO MYSTERY CIRCUS on June 11 so that English speakers can enjoy the event too.

© 2020 Peanuts Worldwide LLC

Information

SCRAP x SNOOPY Puzzle Game Project

Event Page: https://mysterycircus.jp/snoopy/en/

TOKYO MYSTERY CIRCUS

Address: APM Bldg., 1-27-5 Kabukicho, Shinjuku, Tokyo, 160-0021

Opening Hours: Weekdays 11:30-23:00 / Weekends & Holidays 09:30-23:00

No Fixed Holidays.

Price: Free Entry (*Separate tickets required for games)

TOKYO MYSTERY CIRCUS x Snoopy Official Website: https://mysterycircus.jp/snoopy/en/

PEANUTS TRAILER SHOP: Official Men's Snoopy Shop to Open in Shinjuku

Sony Creative Products Inc., an agent of the Peanuts franchise in Japan, has announced that it will open an official men's shop called "PEANUTS TRAILER SHOP" in Yaraicho, Shinjuku on June 6, 2020.

Yaraicho is an ancient and historical area just a 3-minute walk from Kagurazaka Station via the Tokyo Metro Tōzai Line. PEANUTS TRAILER SHOP will open in a part of Yaraicho called "Oku Kagurazaka" which is home to a variety of stylish restaurants, galleries, and more. The shop is in fact inspired by American-style trailers.

The shop will sell cabinets and lockers from British furniture company Bisley; foldable chairs from US chair makers Clarin whose chairs have been used at Madison Square Garden, stadiums, schools, and elsewhere; clothes from Brittany, France-based company Le Minor; bags and wallets from Joe Porter; glasses from French tempered glass tableware and kitchenware manufacturer Duralex; and more.

So that everyone can enjoy a relaxing shopping experience, customers must book a slot in advance to shop at PEANUTS TRAILER SHOP which can be done via their official website.

©2020 Peanuts Worldwide

Information

PEANUTS TRAILER SHOP
Address: 41 Yuraicho, Shinjuku, Tokyo
TEL: 03-6280-8576
Opening Hours: 11:00-19:00
Closed: Wednesdays

Official Website: https://peanutstrailershop.jp

Stock Your Kitchen With Japanese Kitchenware Tools by SALON adam et rope'

SALON adam et rope' has launched its new "Nihon no Daidokoro Dougu" (Japanese Kitchen Tools) collection which features a curated selection of Made In Japan kitchenware and cookware items from high quality Japanese brands.

Kasane

Top: ¥12,000 / Middle: ¥12,000 / Bottom: ¥9,000 (Before Tax)

Traditionally, Japanese knives were made by men with men in mind, but these Kasane knives are made by women to fit with the modern age. They are made in such a way to feel comfortable in smaller hands. The handles are made from rare natural wood from the cerasus jamasakura trees of Gifu Prefecture which give them a texture that changes as you continue to use the knives. The blades themselves are made from high-carbon stainless steel which gives them superior sharpness and durability. The blade edge is the result of a new technology developed by Sumikama called "Zero Edge" which makes them thin and sharp.

Kaji Donya

 
Left: ¥1,300 / Middle: ¥2,000 / Right: ¥2,800 (Before Tax)

Left: ¥1,000 / Middle: ¥1,200 / Right: ¥2,000 (Before Tax)

These handy stackable containers are made by Kaji Donya, a company based in Tsubame, Niigata. The height of each one is the same which makes them super convenient when stacking inside fridges.

Ceramic Grill: ¥1,400 (Before Tax)

The ceramic grill is a longtime seller at SALON. If you're grilling bread on it, it leaves the outside crispy and the inside nice and soft. It uses far-infrared rays which means the water content of the ingredients grilled on it is not lost, allowing for the full tasty flavour to stay locked in and the food plump and juicy.

Father's Day: Otokomae Tofu Celebrates Dad's Around the World With New Tofu Product

Japanese tofu company Otokomae Tofu is celebrating Father's Day this year by releasing its new "Chichi no Hi Tofu" (Father's Day Tofu) at supermarkets around Japan for a limited time between June 15 and June 21.

When you pour soy sauce over the Father's Day Tofu, a message of gratitude appears on the tofu's surface in Japanese. This is a unique, one-of-a-kind tofu experience. There are four messages in total which translate to: "Manly," "Thanks always, dad. I love you, live a long life," "You work so hard papa, I love you," and "Dad."

Giving your dad some Father's Day Tofu is sure to make for a Father's Day to remember!

Information

Chichi no Hi Tofu (Father's Day Tofu)

Running: June 15, 2020 – June 21, 2020

Price: ¥158 (Before Tax)

Available: Supermarkets in Japan (Except Hokkaido and Okinawa)

Otokomae Tofu Official Website: http://otokomae.com

McDonald's Japan: Chicken Tatsuta Mentai Cheese & Other Japanese Flavoured Foods Coming to the Menu

McDonald's Japan is introducing some mouth-watering new foods to its menu including two which incorporates chicken tatsuta: the "Chicken Tatsuta Mentai Cheese" which is made with walleye pollack roe, and the bite-sized "Hitokuchi Tatsuta"ーthe latter of which is arriving to the side menu.

It is also introducing the "Rice Chicken Tatsuta" burger following the success of the "Rice Burger" which was released at stores for the first time earlier back in February of this year.


These new menu items will be released on May 13, 2020 at all McDonald's branches in Japan for a limited time.

Chicken Tatsuta Mentai Cheese

Chicken tatsuta is a popular Japanese dish which combines a soft, soy ginger-soaked chicken patty with spicy sauce and stuffs it inside a bun. McDonald's new "Chicken Tatsuta Mentai Cheese" adds spicy walleye pollack roe mayo and smooth white cheddar cheese to the equation. It will be available all day round, including for the morning menu.

Hitokuchi Tatsuta

Rice Chicken Tatsuta

The "Rice Chicken Burger" will be available in the evenings only.

Japanese actor Toshiyuki Nishida is appearing in the TV commercials to promote the "Hitokuchi Tatsuta" while comedian Nobuyuki Hanawa and actor Katsumi Takahashi appear in the "Rice Chicken Tatsuta" commercials which feature a re-recording of the song SWEET MEMORIES ~Amai Kioku~ by Seiko Matsuda.

Popular Yakiniku Restaurant Futago to Open New Branch at THE JUNEI HOTEL in Kyoto

FTG Company, which operates 74 restaurants inside and outside Japan, is set to open its new restaurant Nikukappou Futago at THE JUNEI HOTEL Kyoto in Higashiyama, Kyoto on March 27, 2020 where it will serve authentic Japanese wagyu beef and full courses.

THE JUNEI HOTEL Kyoto is a small luxury tourist hotel housing eleven rooms in total, including its Bamboo Suite. Bamboo can be found throughout all the rooms as part of the hotel's concept: "A sojourn embraced by bamboo in a moonlit space." The rooms, as well as the hotel interior overall, showcases beautiful traditional handiwork using bamboo.

Inside Nikukappou Futago

Nikukappou Futago fuses traditional Japanese elements with modern ones. It features half-size eating areas as well as private areas. Customers can expect their private dining experience to include freshly-cooked full courses with high quality Japanese wagyu and seasonal ingredients.

Menu in Japanese *Menu will change monthly

Nikukappou Futago's concept is "A relaxed adult's Iki." The word iki here refers to a range of different meanings in Japanese, like "sophistication," "breath," "spirit," and "life." The restaurant will work to serve a hospitable service that enables each and every person to enjoy that iki that lives inside them.

Foie Gras & Wagyu Filet Mouthful Bowl

Wagyu Loin & Kyoto Vegetable Shabu-shabu

The course is made with seasonal ingredients and vegetables. Plus, in using a range of cooking methods, the original flavour meat of the meat is intensified.

Wagyu Sirloin Sumiyaki

Enjoy a selection of high-quality rare wagyu cuts like sirloin, filet, loin, and more. You can also enjoy a selection of classic Japanese dishes like yakiniku, shabu-shabu, and sukiyaki, all in one course.

Like the changing seasons in Kyoto, the menu will be altered every month to bring something new. Discover your iki and enjoy a great meal at Nikukappou Futago.

Information

Nikukappou Futago THE JUNEI HOTEL KYOTO

Address: THE JUNEI HOTEL KYOTO Floor 1F, 4-139 Honmachi, Higashiyama Ward, Kyoto
Grand Opening: March 27, 2020
Opening Hours: 17:00-23:00  (Last Orders 22:00)
No Fixed Holidays

Seats: 32 (6 Half-Size Rooms / 2 Private Rooms
TEL: 075-525-0052

Course Price: ¥11,000 (Tax and service charge not included) *Course menu to change each month

Official Website: https://nikutei25.com/