RYUBO has started exhibiting/selling Japan's quality products in Hong Kong
RYUBO Industry is now exhibiting/selling 135 "Japan's quality products" at Hongkong's K11 Design Mole (Hongkong/Chimusachoi) from the 27th of January 2018 to the 20th of February 2018.
Department store, RYUBO agreed to tie-up with Nihon Hyakkaten on July 2017. In addition to products produced in Okinawa, RYUBO is now selling quality products of Japan with Nihonhyakka targeting foreign tourists whose numbers have been increasing in recent years.
In addition to selling "Japan's quality products," they have gathered artisans from Japan to offer experience-based events showing the making-process of Japanese traditional arts such as "Tokyo Momengatazome," "Aichi Erosoku," and "Aichi Fragrance Dukuri."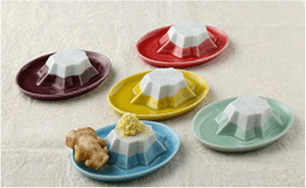 In addition to popular items such as "Fujisan Oroshi Jiki" and "Utagawa Kuniyoshi Ukiyoe no Tenugui," they selected many kinds of quality products such as Japanese desserts using glit and beauty products.
Japan is known as a country which produces quality products. Japanese everyday products are fun to use and are created in a delicate manner. Such products will help you enjoy the changing of the season, wrapping small products and enjoying alcoholic drinks. This is an event where you can enjoy the culture of Japan.
Don't miss this chance to enjoy the culture of Japan in Hong Kong.
■Information
Nippon Standard Market by.RYUBO × Nihon Hyakkaten
Date: 2018,01,27 (Sat.) to 2018,02,20 (Tue.)
Venue: K11 Design Store Event Space
18 Hanoi Road, Tsim Sha Tsui, Kowloon,Hong Kong
Event: 1/27,28 Tokyo, Asakusa, Ponpindo, dying demonstration
2/10,11 Aichi Prefecture, Matsui Honwa Rosoku, coloring demonstration
2/17, 18 Aichi Prefecture, Fragrance making workshop
RELATED ENTRIES
Japanese Artists Associated With The TEA-ROOM Launch Art Production and Management Company

Mucha Kucha is announced the launch of a new art production and management project that aims to create a space and opportunities for people to discover the Japanese spirit and value through performances and products created by artists associated with the The TEA-ROOM.

The project brings together seven diverse artists from different backgrounds whose mission is to "Respect and Go Beyond."

Art Production & Management Project

Participating artists will showcase their experience and personalities in a variety of ways as part of the project in an effort to create new possibilities within Japanese culture while seeking to elevate cultural value.

The TEA-ROOM productions

Exhibits

Performances

Collaborations

Art and products

Participating Artists

Souryou Matsumura (Tea Ceremony Instructor)

Shiho Sakamoto (Confectioner)

Fumihiko Sano (Artitect/Artist)

Gentaro Yokoyama (Potter)

MAMI (Calligrapher)

RYOTA HAGIWARA (Flower Arranger)

Masahiro Inoue (Paperer)

The TEA-ROOM (Art Collective)

Hoshino Resorts BANTA CAFE Announces Art Festival by the Beachside

The incredible Hoshino Resorts BANTA CAFE, a beachside cafe which offers guests a breathtaking ocean view along the Okinawan coast, has announced the upcoming Beachside Art Festival which will take place from April 10 to May 9. The festival will bring together artwork from a range of artists born and raised in Okinawa and leading the island's youth culture. There will be a range of events from live painting to workshops, exhibits, and more.

The participating artists have all taken part in personal art exhibits, art events, showcased their work at concerts, and more both inside and outside Japan, but due to COVID-19, many events have of course been cancelled. Beachside Art Festival will serve as a way to display their wonderful works while supporting them at the same time.

The Artist Line-Up

DENPA

nami

HAYATO MACHIDA

Chibana Yukinaga

MACHIDA visiting BANTA CAFE to check the feel of the ocean and their artwork

Vibrant artwork with the ocean as the backdrop

Visitors will be greeted by artwork dotted across various locations around BANTA CAFE. If they follow the top of the cliff down to the beach they will find sofas to sit on which have also been decorated with the artists' artwork. Then there's the Goro Goro Lounge with its enormous window that stretches an entire wall and offers a panoramic view of the sea. Here, visitors can look out at the artwork which will look like it's floating above the horizon. All drinks ordered also come with a free sticker featuring artwork by the four participating artists.

Experience art-in-the-making with live painting

DENPA and MACHIDA will host their own live painting sessions where they will take inspiration from the surrounding environment.


HAYATO MACHIDA @ April 10, 2021 / April 11, 2021

DENPA @ April 18, 2021

Times: 11:00-13:00 / 14:00-17:00

Where: In front of BANTA CAFE on the beach

Price: Free

Have a go at traditional Okinawan bingata dyeing

Visitors can have a go at making their very own coasters from nine different colours using a traditional Okinawan stencilled dyeing technique known as bingata.


Running: April 24, 2021 / May 1, 2021 / May 2, 2021 / May 5, 2021

Times: 10:00 / 12:00 / 14:00 / 16:00 (Each slot lasts approx. one hour)

Capacity: 4

Where: Iwaba Terrace

Price: ¥2,000 (Tax Included)

Note: Online booking required

Take home a souvenir at the beachside museum shop

A museum shop will be open for the event on weekends and holidays where you can pick up art prints, stickers, postcards, and other mementos.


Opening Days: Weekends & Public Holidays

Opening Hours: 10:00-18:00

Where: Beachside Terrace

Information

Hoshino Resorts BANTA CAFE – Beachside Art Festival

Running: April 10, 2021 – May 9, 2021

Where: Hoshino Resorts BANTA CAFE, Okinawa

Official Website: https://banta-cafe.com/en/

Experience Okinawa From Tokyo Station to Shin-Osaka Station at Tokai Kiosk's Fair

Tokai Kiosk Company has announced a Kyushu and Okinawa themed fair which will run at all branches of Tokai Kiosk from Tokyo Station to Shin-Osaka Station starting on March 2. Customers will be able to enjoy a range of local foods and products from Kyushu and Okinawa.

Kyushu Okinawa Fair Poster

A Look at Some of the Available Products

Salted Shiroi Tabekko Doubutsu

Sugar Butter Sand Tree – Amaou Strawberry Butter

Okinawa Bireley's Ishigaki Island Pineapple

Sausage & Egg Yuzu Kosho Sandwich

This is just a peek of what will be available to try from Kyushu and Okinawa this spring. If you're travelling in Japan this March, then don't miss out.

Information

Kyushu Okinawa Fair

Japanese Event Title: 旅行気分で「うまい!」を楽しもう!九州・沖縄フェア

Running: March 2, 2021 – March 22, 2021

Where: Bellmart Kiosks, Grand Kiosks, Gift Kiosks, and Kiosks from Tokyo Station to Shin-Osaka Station

Official Website: https://www.kiosk.co.jp

Hoshino Resorts BANTA CAFE Releases Video of Magical Beachside Illuminations

The incredible beachside Hoshino Resorts BANTA CAFE, which offers guests a breathtaking ocean view along the Okinawan coast, released a video on the official Hoshino Resorts YouTube page showcasing the cafe's ongoing illumination event, "Illumi Banta," which is running until February 28, 2021. Guests can enjoy some limited-time menu options and then take a romantic stroll along the beach with a warm lantern in hand.

Okinawa is known for its warm climate, rarely dipping below 15°C in the chilly season of winter. There are many celebratory days enjoyed every year around Christmas and New Years, and so BANTA CAFE decided to get in on the action with Illumi Banta, which has been running since December 1 last year—while following the necessary precautions against COVID-19 to ensure everyone stays safe. The spacious cafe is mostly outdoors so visitors can enjoy their time without worry.

A seat at the cafe in on a clear evening guarantees a front row seat to a beautiful orange sunset that sinks into the horizon. Normally, the cafe closes as sunset arrives, but for this event, opening hour have been extended into the night.

BANTA CAFE is located in the village of Yomitan where the beautiful ocean is surrounded by coral reef, enormous rocks, and a rich natural environment. It's a must-visit if travelling to Okinawa.

Information

Illumi Banta
Running: December 1, 2020 – February 28, 2021 (Except February 1st-5th)
Time: 18:00-22:00 (Last Orders 21:00)

BANTA CAFE
Address: 560 Gima, Yomitan, Nakagami District, Okinawa
TEL: 098-921-6810
Opening Hours: 10:00 to one hour after sunset (from 08:00 on weekends and holidays)
Official Website: https://banta-cafe.com/en/

Gaze at the Starry Sky in a Hot Swimming Pool This Winter at HOSHINOYA Okinawa

HOSHINOYA Okinawa has announced its new "Hoshizora Hot Pool" experience where guests will be able to stay warm in the hotel's warmed-up swimming pool while gazing up at the winter night sky. It will run from December 1, 2020 to February 28, 2020.

Okinawa enjoys a mild winter each year; it's uncommon for the temperature to dip below 15℃. Winter is a time where all of us enjoy being in the warmth of indoors, but in Okinawa you can enjoy being outside even during the cold season. And that's where Hoshizora Hot Pool comes in as the end of the year approaches, a time when there are many events and celebrations to be had.

The outdoor pool at HOSHINOYA Okinawa can be heated and so is perfect during the winter season. Guests are invited to soak in the infinity pool, where you can hear the sounds of the waves, and where it looks like the sea and sky become one. Almost all 88 of the constellations can be seen in Okinawa, and since the sky is clear during the winter nights, it's the opportune time to be turning your gaze skyward.

Glowing lanterns make for a romantic atmosphere

When the sun sets, lanterns are lit by the poolside and breathe a warmth light to the cool evenings. The lights sway back and forth, reflecting off the water to create a magical atmosphere.

Hot cocktails by the pool

Guests will also be able to order from the bar once the lanterns are lit from the evening with a selection of refreshing drinks made with fresh fruits to hot cocktails to warm the body.

Float beneath the starry sky to the sounds of the waves

Guests can enjoy floating in the pool as an endless tapestry of stars unravels itself overhead. The Hoshino Resorts Banta Cafe will be open for business in the evening too. Guests can order some fruity desserts, rent lanterns, and more.

Information

Hoshizora Hot Pool
Address: 474 Gima, Yomitan, Nakagami District, Okinawa
Running: December 1, 2020 – February 28, 2021
Price: Free (Drinks from the bar however must be paid for)

Time: Open 24 hours (But only adults can use the pool after sunset)

Bar Opening Hours: Sunset until 22:00

*Available to HOSHINOYA Okinawa guests only

Irumi Banta
Opening Hours: 19:00-22:00 (Last Orders 21:00

Price: Dessert Set for Two = ¥2,728 (Before Tax)

*Available to guests and non-guests

Official Website: https://hoshinoya.com

Bandai Namco Opens Sportainment and Games Store in Hong Kong's Telford Plaza

NAMCO ENTERPRISES ASIA LTD. opened the new "namco Telford Plaza" store inside the Telford Plaza shopping mall in Hong Kong on September 11, 2020.

Located on the 5th floor, the shop has a variety of crane and arcade games, and introduces Hong Kong's first sports entertainment facility: the "SPORTAINMENT ARENA," which combines sports and digital entertainment.

The sports activities are for all people, both beginners and pros, and staff are on hand to help support players.

Information

namco Telford Plaza / SPORTAINMENT ARENA
Grand Opening: September 11, 2020
Address: 香港九龍湾德福広場2期5階501A
Opening Hours: 10:00-22:00 (SPORTAINMENT ARENA open until 21:00 with last entries at 20:00)

Okinawa: Summer BBQ Plan Opens at Southern Beach Hotel & Resort Okinawa With Swimming Pool

Southern Beach Hotel & Resort Okinawa has opened a new plan that includes an evening meal, BBQ, and accommodation at the beach hotel and resort.

Southern Beach Hotel & Resort Okinawa is in a favourable location—just a 20-minute drive from Naha Airport in the city of Itoman. It's a 3-minute drive from Roadside Station Itoman, the largest farmers and fish market in Okinawa, and within 10-minutes drive of the new 'iias' shopping complex that opened in June this year, DMM Kariyushi Aquarium, and Okinawa Outlet Mall Ashibinaa.

The hotel's impressive garden pool is 70 meters wide and is shaped in a unique way with five different levels of water spanning the entire length. Families flock to the pool in the summertime as the sun shines down and sparkles on the water.

The new plan includes access to the pool in the evenings right up to 9:00pm, allowing guests to cool down in the pool without having to worry about getting sunburned, as well as a delicious dinner to be enjoyed after fun in the pool.

The open air garden BBQ includes 90 minutes of all-you-can-eat meat, fish, and other delights to tuck into as the sea breeze caresses you.

Guests can also choose a buffet option instead which makes use of local Okinawan ingredients.

If you're in Japan this summer, and are looking for the beach resort experience, then hit up Southern Beach Hotel & Resort Okinawa.

Information

Southern Beach Hotel & Resort Okinawa – BBQ Plan

Running: August 15, 2020 – September 30, 2020

Includes: Dinner (BBQ or Buffet)

*Guess access to the pool is free

*Please choose your dinner time in advance

Official Website: https://www.southernbeach-okinawa.com/

A Cafe With a View: Okinawa's New Seaside Cafe 'Hoshino Resorts Banta Cafe' Opens This July

Hoshino Resorts's new cafe Hoshino Resorts Banta Cafe will open in the village of Yomitan in Okinawa on July 1, 2020, offering a spectacular view.

The cafe is split into four distinct areas which overlook the the beach from atop a cliff. Customers are invited to take in the breathtaking scenery with a delicious dessert made from ingredients like mangoes, pineapple, and sugar—or a tasty meal.

An incredible beach cafe overlooking the sea

Banta Cafe runs along the western coast of Yomitan, a village in central Okinawa which is about an hour's drive from Naha Airport. The cafe gets its name from iyumibanta which in Okinawan dialect refers to the cliffs you climb to spot the shadows of fish in the water, and is also the name they give to enormous rocks. The cafe is located atop one of these iyumibanta, or cliffs, making Banta Cafe a fitting name. From the cliff, customers can enjoy a panoramic view of the horizon which stretches across infinity. According to Hoshino Resorts, Banta Cafe sits as the largest beach cafe in Japan, spanning 1600㎡.

4 Unique Areas to Pick From

Having four distinct areas to choose from means you can select where you want to go depending on your mood on the day. Let's take a look at each of them.

Rooftop Deck: A panoramic view welcomes you

Beyond the entrance is the Rooftop Deck which offers an unbroken view of the horizon. With the comfortable shadow cast by the eaves of the roof, and the sound of the rolling waves and wind, it feels like you're sitting on the deck of a boat.

Beach Terrace: Kick back and enjoy the sea breeze

The Beach Terrace is located along a footpath that leads from the top of the cliff down to the beach. This spacious area sits nice and close to the sea. The Okinawan Ryukyu-tatami flooring has cushions for you to sit on as well as cabanas, so you can sit and chat with people while enjoying the view of the ocean, offering the real Okinawan experience.

Rocky Terrace: Lose yourself in the green wild of nature

The Rocky Terrace is enveloped in plants and vegetation that has grown naturally—it's like a hideaway created by nature. The area has a wooden deck and rocking chairs for people to kick back and relax in, and there are tables with towering rocks that offer shade too.

Goro Goro Lounge: Lay down on a sofa and look out to the sea

The final area is the Goro Goro Lounge where an entire wall is made up of open windows. Here, you can relax and lay down nice and comfy on the sofas. There are long tables by the sofas too, perfect for pulling out a map or guidebook and planning the rest of your trip.

A true Okinawan cafe experience


Bubbly Jelly Soda

The cafe's "Bully Jelly Soda" is inspired from a traditional bubbly Okinawan tea called bukubuku cha. It's flavoured with lemongrass and mint and contains different jellies like mango and hibiscus.

Chulato

This gelato ice cream gets its name from the Okinawan word for delicious which is chura. Choose from a variety of classic Okinawan flavours like pineapple and guava and top your ice cream with purple yam and bitter melon chips, chinsuko, and more.

Food Menu


The food lineup is to die for, with tasty bites like pizza toast topped with bitter melon, pork and egg rice ball which is a soul food of Okinawa, hot dogs filled with juicy sausages, shrimp fritters served with mango sauce, fried chicken, and plenty of other finger food.

Witness the magnificent sunset during business hours


Banta Cafe is home to a gorgeous beach with coral. The sea is cobalt blue as far as the eyes can see, there are strangely shaped rocks worn by the waves, and in the evenings is an incredible view of the sunset which can be enjoyed with a cocktail in hand.

Hoshino Resorts Olu Grill


Banta Cafe will also have its own separate grilled food restaurant called Olu Grill. Olu is another Okinawan word which means "blue," in this case referring to the blue ocean. From fried steak served with an original sauce made from Okinawan awamori liquor and kurozu black vinegar to seafood and juicy burgers, there's plenty to fill you up.

Information

Hoshino Resorts Banta Cafe / Olu Grill
Grand Opening: July 1, 2020
Address: 560 Gima, Yomitan, Nakagami District, Okinawa Prefecture
Access: 60-minutes by car from Naha Airport / 90-minutes by limousine bus from Naha Airport

Hoshino Resorts Banta Cafe
Opening Hours: 10:00 until sunset
TEL: 098-921-6810
Official Website: https://banta-cafe.com/
*Breakfast service available from mid-July 2020. Serving hours will be 7:00-9:30

Hoshino ResortsOlu Grill
Opening Hours: [Dinner] 17:00-21:00 (Last Orders 20:30)
TEL: 098-921-6811
Official Website: https://banta-cafe.com/olu-grill/
*Reservations required. Lunch service available from mid-July 2020. Serving hours will be 11:00-15:00.

Japan's Discount Chain Store Don Quijote Opens New Branch in Hong Kong's Pearl City

Pan Pacific Retail Management of Pan Pacific International Holdings Group, the latter of which manages the discount chain store Don Quijote, has announced that it is opening a new branch of Don Quijote called DON DON DONKI Pearl City inside the Pearl City shopping centre in Hong Kong on July 7, 2020.

DON DON DONKI is a chain of Don Quijote stores located in Singapore, Thailand, and Hong Kong which specialises in discount Japanese brand products and products made for the Japanese marketplace. The first Hong Kong branch opened in Tsim Sha Tsui last year in July, followed by another in December of the same year at OP Mall, stocked with high quality Japanese products including food.

Pearl City welcomes the third branch to open in Hong Kong where it will open in Causeway Bay, a retail area home to many high-end stores and bustling with young people.

Customers can get their hands on Japanese seafood products, fruits, and many other foods as well as cosmetics, lifestyle goods, and much more, all at a discounted price. There will also be a gift corner packed with plenty of souvenir ideas and all of which can be packed in gift bags and wrapping.

Information

DON DON DONKI Pearl City
Grand Opening: July 7, 2020 @ 10:00am (Local time)
Address: 1st Floor to 4th Floor, 22-36 Paterson Street, Causeway Bay, Hong Kong.
Opening Hours: 24 hours a day

Official Website: https://www.donki.com/

THIRD ishigakijima: Okinawa's New Island Hopping Hotel to Open in July

Due to concerns surrounding the novel coronavirus (COVID-19), Star Resort had to postpone the opening of THIRD ishigakijima, a new hotel in Okinawa originally scheduled to open in April 2020. However, it has been confirmed that the hotel's new grand opening date is July 31, 2020.

Ishigaki is an island in Okinawa which faces Ishigaki Port Ritoh Terminal, a port that connects Okinawa to remote islands like Taketomi Island and Iriomote Island. Many tourists and sightseers flock to Ishigaki to hop to all the different islands it connects to.

The new THIRD ishigakijima hotel is a perfect choices for groups of travellers, with its room that can accommodate over 3 guests. As well as hotel food, drinks and alcohol, THIRD ishigakijima also offers various activities to guests like shisha, fitness, and more. The hotel is all-inclusive, something which isn't offered that much on Ishigaki.

The hotel also benefits from a self check-in system accessed using a QR code. Rooms are also accessed using a facial recognition system, making THIRD ishigakijima a tech-savvy experience.

The hotel is adopting guidelines from the government on operating hotels during the novel coronavirus (COVID-19) pandemic to protect its staff, guests, and local islanders.

Information

THIRD ishigakijima
Address: 4-7 Misakicho, Ishigaki, Okinawa
Guest Rooms: 28 (21 Loft Rooms/3 Suite Rooms/3 Twin Rooms)
Facilities: Cafe & Lounge, Book Lounge, Rooftop, Fitness
No Car Park
Access: 30-minutes on foot from Ritoh Terminal / 30-minutes by car or bus from Painushima Ishigaki Airport

Official Website: https://hotelthird.com/

COVID-19: https://hotelthird.com/antivirus/

Experience Japanese Culture at Home With Live Streams From Japanese Artists and Monks

Japan Culture and Technology, a company which offers Japanese experiences taught by professionals in their respective industries, has launched an online service on WABUNKA EXPERIENCE which lets you experience traditional Japanese culture from the comfort of your home.

WABUNKA EXPERIENCE is led by leading artists and offers memorable experiences of Japanese traditional culture, such as calligraphy, tea ceremony, flower arrangement, and so on, at impressive sites in Tokyo or Kyoto.

Now people can learn about Japanese art, culture, and ways of thinking from home with the launch of their new online service. Expert Japanese artists and monks will be streaming workshops live from temples and cultural facilities in Kyoto and Tokyo. Since travel is strictly limited right now, this is the perfect opportunity for foreigners to learn more about Japan and Japanese culture.

The commemorate the launch of the online service, it will be offered at a special price. Check out the website below and learn about the programs currently on offer, from online meditation to flower arrangement, tea ceremony, and more.

Kanucha Resort in Okinawa Announces Spring and Summer Activity Program for 2020

Located in the city of Nago in Okinawa lies Kanucha Resort, a hotel resort which boasts 2.6 million square meters of land. The resort has revealed its spring and summer program which invites guests to enjoy everything Okinawa has to offerーnot just its breathtaking oceans.

What is Kanucha Resort?

Kanucha Resort sits on the east coast of Nago on the northern part of the Okinawa mainland. It's surrounded by the vast rolling sea and mother nature, and also faces Oura Bay, which is known for its coral reefs, which includes blue coral. Guest rooms come in nine styles, all of which incorporate gorgeous wooden decor. The resort has a bounty of restaurants, its own golf course, the beach, and over 70 activities to choose from, all of which makes Kanucha Resort a little town of its own. In the past winter months just gone, it also celebrate the 20th anniversary of Okinawa's largest illumination event, Stardust Fantasia.

Buggy Ride Tours & Buggy Adventure Tours

Experience a different side of Okinawa away from the beaches with an off-road ride through Yanbaru no Mori Forest on a quad bike.


Running: All Year

Time: 9:00-17:00

Meeting Locations: Buggy Ride Tour @ Dokidoki Yambarunture / Buggy Adventure Tour @ Matayoshi Coffee Farm

Ages: 4 years and older

Coral Snorkeling Tour in Banana Boats

Witness the tropical fish swimming around you, and gaze upon the gorgeous coral reefs, as you explore the waters below when you climb off the banana boat.

Running: July 23, 2020 – August 31, 2020

Time: 60 minutes

Ages: 5 to 65 years

Mangrove Kayak Tour Along the Kesaji River

The Okinawan mainland is home to many mangroves. See them together with the expand of Yanbaru's nature with a kayak ride along the Kesaji River.

Running: All Year

Time: Subject to change each day depending on how busy it is – please enquire directly

Courses: 150 Minutes (5 years and older) / 90 Minutes (3 years and older)

Star Sommelier to Space Walk

Hear about the moon and space with talks from Hoshi no Somurie® ("Star Sommeliers") and use a telescope to observe the stars at the planetarium.

Running: Monday-Thursday

Time: 20:00-20:50

Meeting Point: Leisure Counter

Oura Mangrove Kayak

Enjoy a round trip kayak ride around the Oura Mangrove which has been designated as an Important Cultural Property of Nago.

 

Running: All Year Round

Time: Please enquire directly

Ages: 3 years old and above (*For guests only)

Meeting Point: Wansaka Oura Park

For more details on the activities available at Kanucha Resort, visit their website here.

Information

Kanucha Resort

Address: 156-2 AbuNago, Okinawa

TEL: 0980-55-8880

FAX: 0980-55-8693
Reservations: 0980-55-8484 (9:00-18:00)

Access: 1 and a half hours by car from Naha Airport

Official Website: https://www.kanucha.jp/en/