Indulge in Japanese Wagashi Sweets at Mahorodou Sougetsu by Gōtoku-ji
Have you had the opportunity to try eating Japanese-style sweets? They're called wagashi, and if you haven't eaten them before, then you absolutely have to visit Mahorodou Sougetsu, a wagashi shop at Gōtoku-ji in Setagaya. The shop has a bright atmosphere and at-home vibe, its good humoured owner is waiting to greet you with a smile.
The owner is from Sangenjaya, an area located in Setagaya. They decided to open Mahorodou Sougetsu because they wanted to open a wagashi shop in Setagaya Ward. This area was of particular interest to open the shop in as it maintains the mood of the town, and you can also watch the Setagaya Line from t he window.
The shop's name originates from the Japanese word sougetsu, which indicates a blue moon which is said to bring happiness if you look at it, and mahoroba, and old fashioned way of describing a beautiful place.
You can eat in at the shop either at the counter or at one of the two tables. These eat-in spaces were designed with the elderly in mind who drop in to buy some wagashi so they can sit and rest for a little while.
"I love simplicity," says the owner. The main colour of the shop interior is white and the flooring is made with soil. Each seat in the shop is surrounded by items made with old trees, which bring a warmth and cleanliness to the shop's atmosphere.
In addition to wagashi, the shop also sell small accessories such as hand towels. The hand towels are from Kamawanu, a shop in Daikanyama that specializes in hand towels. You can also use them for wrapping up any wagashi you purchase in-store.
The pride of Mahorodou Sougetsu falls to their homemade anko (red bean paste). The majority of wagashi shops in Japan purchase their anko from anko shops, but Mahorodou Sougetsu make theirs carefully over a period of half a month to a month. It's made with the utmost care and attention to create an absolute gem product that you'll never tire of. On their menu you will find Aomame Daifuku (¥170) as well as Nekodora (¥190), which is a dorayaki (red bean pancake) with a waving cat on the front. This sweet was made in collaboration with Gōtoku-ji, a temple that is said to be the origin of the "Maneki Neko" (beckoning cat)!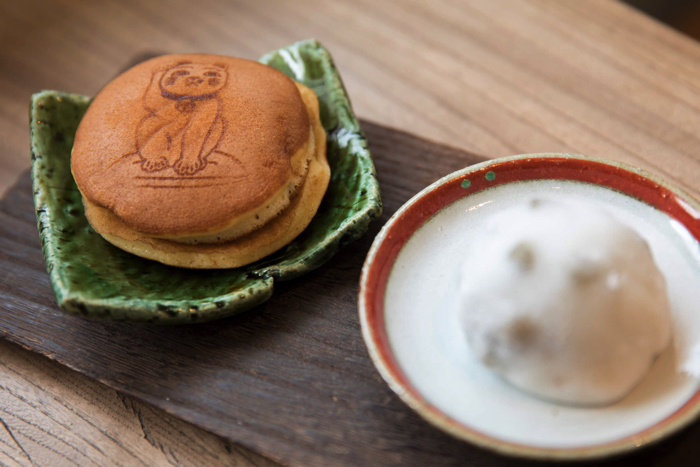 Mahorodou Sougetsu also moves with the seasons, releasing limited edition seasonal menus throughout the year. This season's recommendation is the Ichigo Daifuku (¥240). It contains a blend of sweet white bean paste and strained bean paste which go together perfectly with the strawberry! For drinks, you can sip on sencha and houjicha made using tea leaves from Suiseien in Fukuoka, matcha that uses tea from Kyoto, and coffee.
There aren't many tramways in the city, but Setagaya has them. You can enjoy eating wagashi that you'll never get tired of and while gazing at the Setagaya Line. If you're looking to spend a luxuriously relaxing time, then please be sure to try visiting Mahorodou Sougetsu.
◼︎Information
Mahorodou Sougetsu
Address: 103 Windsor Palace, 1-38-19 Miyasaka, Setagaya-ku, Tokyo
Opening Hours: 9:00-19:00
Closed: Mondays (or Tuesdays if a national holiday falls on Monday)
TEL: 03-6320-4898
Website:  http://www.mahorodou-sougetsu.com
Photo:Kayo Sekiguchi
Edit:Namiko Azuma
Text:Ryoichi Komaba
RELATED ENTRIES
Colourful New Agar & Mango Jelly Drink Released at Kyo Yakasa Pudding in Kyoto

Kyo Yakasa Pudding opened its doors to the world back in April, and since then they have whipped up many different kinds of Japanese custard pudding, known as purin. Earlier this month they released their all new "Yasaka Cider," a jelly-like drink which became a hit on Japanese Instagram (search with #京八坂プリン).

The shop's most popular product since launching is the Kyo Yasaka Pudding―named just like the shop. It has a honey and lemon flavoured jelly which is full of agar and mango jelly balls, giving it a cute appearance and very refreshing flavour and completely new kind of texture.

Now, the shop has released its new Yasaka Cider. The word "Cider" in Japanese doesn't actually refer to the alcoholic drink, but instead is usually a carbonated mixture of lemon and/or lime.

Available this summer only, the Yasaka Cider is the perfect accompaniment for cooling yourself down while strolling the streets of Kyoto, filled with Kyo Yasaka Pudding jelly, agar balls, mango jelly balls, and an in-house made lemon slice and honey mix. The beverage is made fresh to order and comes in a cute bag which you can carry around easily with you.

There are lots of great photo opportunities for Instagram in the store too! If you're in or travelling to Kyoto this summer then be sure to stop.

Information

Kyo Yakasa Pudding

Address: 87-4 Hoshinocho, Higashiyama, Kyoto, Kyoto Prefecture

Opening Hours: 10:00-17:30

No Fixed Holidays

Website: http://www.kyo-yasaka-pudding.co.jp

Spooky Halloween Doughnuts Float Into Krispy Kreme Japan

Krispy Kreme Doughnuts Japan (KKDJ) is carving its jack-o-lanterns out early this year in time for Halloween as it reveals its new series of holiday-themed doughnuts titled "MONSTER HARVEST in Monster DINER."

This pumpkin, chestnut and apple flavoured selection will be available at most Krispy Kreme branches across Japan from September 11 to October 31.

Pumpkin Custard Jack

Price: ¥230

The jack-o-lantern is the centrepiece of Halloween, and now you can much on one in doughnut form! Its face is coated in dark chocolate and filled with a velvety pumpkin custard cream. It also contains some pumpkin seeds for a crunch.

Black Cat Chestnut

Price: ¥250

The black cat's dark chocolate covered face includes crunchy cracker ears, giant white chocolate button eyes, and caramel chocolate nose and whiskers. Inside it's filled with a rich chestnut cream made from domestic chestnuts. The bottom part of the face is also sprinkled with tasty poppy seeds.

Apple Caramel Monster

Price: ¥230

This cute apple monster is a new addition to the KKDJ Halloween range. It's made from a juicy, sweet and sour apple nappage made from the juice of apples grown in Aomori Prefecture. The single eyeball is made from a mix of white and dark chocolate and is what makes this doughnut so cute. The single pumpkin seed at the top completes the monster's apple disguise.

Halloween Sprinkle

Price: ¥190

Covered in rainbow sprinkles, this custard pudding (purin) flavoured doughnut is subtly sweet and satisfyingly crunchy.

Halloween Dozen (Box of 12)

Price: ¥2,000

If you're having a Halloween party with family or friends then this box of dozen doughnuts is the perfect treat, containing all of the above doughnuts as well as some of KKDJ's classic doughnuts. You save ¥440 by picking up this box.

Don't miss this year's seasonal delights from Krispy Kreme.

Information

MONSTER HARVEST in Monster DINER

Running: September 11, 2019 – October 31, 2019
Krispy Kreme Doughnuts Japan Website: https://krispykreme.jp/

4 Must-Try Kawaii Aesthetic Tapioca Drinks in Aichi Prefecture

Japan is a haven for bubble tea and tapioca-based beverages. Here on MOSHI MOSHI NIPPON we have covered many stores selling these tasty drinks in Harajuku―the town which started the tapioca boom in Japan―but today we will be heading southwest of Tokyo to Aichi Prefecture, located in central Honshu Island, to look at 4 must-drink tapioca drinks.

We are joined by meme whose Instagram page is packed full of drinks and desserts from cafes across Japan.

The Flower Table in Sakae

Located inside the MITSUKOSHI shopping complex in Nagoya's retail and entertainment district Sakae is The Flower Table. I absolutely recommend this store for those who aren't good with sweet drinks as you can choose between having sugar or no sugar.

Your taste buds are hit by the flavour of the milk tea on the first sip which has a bite to it. The tea leaves used by the shop in this drink are from Kusumi Tea, a Paris-based premium tea brand.

If you're someone who likes chai then this taste is sure to tempt your palate. Not only does the milk tea taste exquisite, the tapioca pearls are sweet and satisfyingly chewy too. And let's not forget to mention their adorable takeout cup designs!

▼The Flower Table

Address: MITSUKOSHI Nagoya Sakae Store Floor 3F, 3-5-1 Sakae, Naka Ward, Nagoya, Aichi Prefecture

Opening Hours: 10:00-19:30 (Food Last Orders 19:30)
*Food not served until 11am, only drinks between 10-11am
*Afternoon tea sets, parfaits and other teatime menu options served from 2pm

Official Website: https://theflowertable.owst.jp/en/

BON CAFÉ in Sakae

BON CAFÉ can also be found in Sakae. I had heard lots of praise about this place before my first visit so I was eager to get in there. I ordered two drinks: the mango cream cheese tea (with cream and tapioca pearls) and the brown sugar milk tea (with tapioca pearls). It's hard to tell by the photos but both drinks are packed with tapioca pearls aplenty.

I'd heard before that the mango cream cheese tea was like a "dessert that you can drink," and I can confirm that it's true. It's topped with fresh cream and pearls so it's just as satisfying as a mango parfait.

▼BON CAFÉ

Address: Apa Hotel Nagoya Nishiki Floor 2F, Nishiki 3-15-30, Naka Ward, Nagoya, Aichi Prefecture

Opening Hours: 11:00-23:00 (Last Orders 22:00)

No Fixed Holidays

Official Website: https://bon-cafe.jp/tapioca/

Peripatos in Kita-Okazaki

Drinks at Peripatos are takeout-only. Their bottle designs are cute and simple with just a kitty illustration on them. The three drinks in the photo are Very Berry, Tropical, and Hazelnut & Caramel Sauce with coffee jelly.

The tropical drink has pieces of fresh mango in it while the Very Berry has fresh strawberry and chewy strawberry flavoured tapioca pearls in it. My friend ordered the Hazelnut & Caramel one which has coffee flavoured jelly in it instead of tapioca pearls. You sip it while crushing the jelly.

The shop interior is really cute too!

▼Peripatos

Address: 4-4 Ida Nishimachi, Okazaki, Aichi Prefecture

Opening Hours: [Mon-Tues & Fri-Sat] 11:00-21:30 / [Thurs & Sun] 11:00-18:00

Closed: Wednesdays

Official Instagram Page: https://www.instagram.com/c.peripatos/

Watashi to Cafe in Kariya

At Watashi to Cafe I ordered the strawberry milk tapioca drink. The pearls in this drink are strawberry flavoured too, and there's a lot of them making is super tasty. The glasses they come in are cute too.

They also sell beautiful herbarium-like drinks. These don't have tapioca pearls in them but I recommend these too!

▼Watashi to Cafe

Address: 2-20 Minamisakuramachi, Kariya, Aichi Prefecture

Opening Hours: Lunch 11:00-15:00 / Dinner 15:00-Midnight

Closed: Tuesdays

Official Website: https://watashitocafe.gorp.jp/

Did you enjoy this list? meme has lots of other tempting recommendations of drinks and desserts on their Instagram page too, so if you're looking for something to try while in the Tokai region of Japan be sure to give them a follow.

Translation: Joshua Kitosi-Isanga

Häagen-Dazs Releases Purple Sweet Potato Tartelette & Rich Pumpkin Ice Cream

Häagen-Dazs just released their new Purple Sweet Potato Tartelettes and Rich Pumpkin mini ice cream cups in Japan. They will be available for a limited time only.

Purple Sweet Potato Tartelette

Concealed inside a crispy coating laced with purple sweet potato powder is a rich custard ice cream seeping in a subtly sweet purple sweet potato sauce. A tried and tested treat for autumntime, these crispy ice cream sandwiches not only taste like the sweet purple root vegetable, but they also take on their vibrant colour too.

Through much trial and error, Häagen-Dazs have been able to create the perfect harmony of flavours between the sweet potato and ice cream. The custard ice cream brings the richness of the egg and lifts the notes of the sweet potato to even greater heavenly heights.

Rich Pumpkin Mini Cup Ice Cream

The new pumpkin ice cream is drizzled in a pumpkin sauce packed full of plump pumpkin perfection. And by cooking fresh pumpkin, the flavour is condensed and made even richer, filling your mouth with the gentle sweetness of pumpkin.

Both the ice cream and the sauce are made with Ebisu pumpkins from Hokkaido. And like the tartelettes, these mini ice cream cups retain that bright original flavour of the squash plant.

Taste the flavours of all with these two new delicious desserts from Häagen-Dazs.

Information

Häagen-Dazs Crispy Sandwich Murasaki Imo (Purple Sweet Potato) Tartelette (Limited Edition)

Release Date: August 20, 2019

Price: ¥319 (Tax Included)

Available: At supermarkets, convenience stores and department stores in Japan

Product Page: https://www.haagen-dazs.co.jp/murasaki_imo_tart/

Häagen-Dazs Mini Cup Rich Pumpkin (Limited Edition)

Release Date: August 20, 2019

Price: ¥319 (Tax Included)

Available: At supermarkets, convenience stores and department stores in Japan

Product Page: https://www.haagen-dazs.co.jp/rich_pumpkin/

7 Best Peach Desserts to Enjoy This Season in Hokkaido – MOSHI MOSHI NIPPON

Hokkaido is a popular tourist destination for Japanese people as well as foreigners. During the winter, it is the perfect place to go skiing and during the summer, you will not suffer under sweltering heat like the rest of Japan. Hokkaido not only flourishes with wonderful tourist locations and delicious gourmet seafood, but also beautiful and stylish cafés.

In this feature, we are joined by Instagrammer Kei whose page is centred around cafes in Sapporo, Hokkaido. They have provided us with photos of desserts made with peaches which can be enjoyed right now before summertime ends.

Initial Sapporo in Susukino

Parfait Pêche – ¥1,700

Sapporo cafe Initial was ahead of the parfait game before the boom in Japan. Right now they are selling two new parfaits: one made with melon and the other with peach. They are being served until the end of August.

The parfait is topped with sweet sliced peaches underneath which sits refreshing milk flavoured soft serve ice cream for a heavenly combination. The yogurt mousse elevates the sweetness of the peaches and goes well with the sprinkle of black pepper. There's even Parmesan cheese which tastes gorgeous with everything. No matter where you stick your spoon in this parfait your taste buds will be treated with delight.

▼Initial

Address: DRESS 2F, 5-Chome-36 Minami 3 Jonishi, Chuo Ward, Sapporo, Hokkaido
Opening Hours: [Weekdays] 17:00-Midnight / [Weekends & Public Holidays] 14:00-Midnight (Last Orders 23:30)
No Fixed Holidays
Access: 5-minutes on foot from Susukino Station and Ōdōri Station
Official Facebook Page: https://www.facebook.com/INITIAL.sapporo/

Gohanya Cafe Miyabi in Kita 24 Jo


Whole Peach & Royal Milk Tea – ¥1,380

The seasonal parfait at Gohanya Cafe Miyabi right now is the Whole Peach & Royal Milk Tea. It's served with an entire plump peach on top which is best enjoyed by cutting and eating bit by bit until it drops into the glass. The peaches they use are refreshing and really delicious♡

Tea is the main component of this parfait and that too was super refreshing. It also includes a framboise sorbet which add satisfying sour notes, and the cookies and other hidden treats add a multitude of tasty textures.

▼Gohanya Cafe Miyabi

Address: E-COUR24 1F, 3-Chome-1-1 Kita 24 Jonishi, Kita Ward, Sapporo, Hokkaido
Opening Hours: Lunch 11:00-15:00 / Cafe Time 15:00-17:30 / Dinner 17:30-21:00 (Last Orders 20:00)
Closed: Thursdays
Access: 150 meters from Kita-Nijūyo-Jō Station
Official Website: https://miyabi-sapporo.shopinfo.jp/

TSURU CAFE in Miyanomori


Flavour Soft Peach – ¥830

TSURU CAFE is a stylish and popular little cafe that is selling its new Flavour Soft Peach for a limited time. The syrup is this parfait is in fact made from red shiso leaf. Inside you will find a tower of peach compote, soft serve ice cream, meringue, and the syrup.

The milky ice cream is a a magical mix together with the peach compote. The crunchy meringue is simply melt-in-your-mouth too♡

The syrup has that distinct red shiso fragrance but it tastes sweet and so makes an amazing flavour. The shiso will no longer be served once sales of this dessert finish, so you'll want to get in there ASAP!

▼TSURU CAFE

Address: 5-Chome-2-8 Miyanomori 2 Jo, Chuo Ward, Sapporo, Hokkaido
Opening Hours: [Mon-Sat] 10:00-20:00 / [Sun & Holidays] 10:00-19:00
Closed: Wednesdays
Access: 500 meters from Nishi-Nijūhatchōme Station
Official Blog: http://tsurucafe.jugem.jp/

KAJITSU_CLUB in Tanukikoji Shopping Street


Peach & Hokkaido Soft Cream – ¥600

KAJITSU_CLUB is located in the Beats Eats are on the basement floor of PARCO. You can order the ice cream of this peachy parfait as vanilla, yogurt or mixed. I went with mixed.

The fresh peaches are so good! The soft serve ice cream is nice and sweet and there's also a sour yogurt flavour. The flavours might be simple but the quality is high.

▼KAJITSU_CLUB

Address: PARCO B2F, 3-Chome-3 Minami 1 Jonishi, Chuo Ward, Sapporo, Hokkaido
Opening Hours: 10:00-20:00
No Fixed Holidays
Access: Directly connected to the Ōdōri Station subway
Official Instagram: https://www.instagram.com/kajitsu_club/

SHIRAYUKI in Tanukikoji Shopping Street


Momomo – ¥600

Available this August only, SHIRAYUKI's new bottled drink is made of half frozen peach smoothie and half jelly and Hokkaido milk. This combination is match made in heaven! They come with a bag if you want to order for takeout too.

SHIRAYUKI

Address: Sapporo Aiseikan Bldg., 5-Chome Minami 1 Jonishi, Chuo Ward, Sapporo, Hokkaido
Opening Hours: 12:30-19:00
No Fixed Holidays
Access: 5-minutes on foot from Ōdōri Station
Official Instagram: https://www.instagram.com/shirayuki.hokkaido/

Pâtisserie LEEMO in Shinkotonicho

Whole Peach Parfait – ¥1,350 (*Only 20 available per day)

Pâtisserie LEEMO is known for its cute cakes and baked sweets, but right now they are selling this Whole Peach Parfait until the end of August.

You only need to feast your eyes on this dessert to know how refreshing the flavour is going to be. It even contains a jelly made from rosé wine, but the alcohol taste isn't strong so can be enjoyed by anyone.

Depending on the stock of the bakery's peaches sales of this dessert may end earlier. You can also make a reservation for one which I recommend, so don't miss out!

▼Pâtisserie LEEMO

Address: 6-Chome-2-21 Shinkotoni 2 Jo, Kita Ward, Sapporo, Hokkaido
Opening Hours: 10:00-19:00 (Parfait served at 12:00-18:00)
No Fixed Holidays
Access: Approximately 1km from Shinkawa Station
Official Website: http://patisserieleemo.jp/

Cake and bake HACHI CAFE in Hachiken


Whole Peach – ¥720

This luxurious-looking dessert is a whole peach filled with framboise jelly and custard making for an irresistible sour and sweet combination. The tart underneath is incredible too! Due to limited stock and the time it takes for the peaches to ripen there are days when the dessert isn't serve. You can check the cafe's official Instagram to find out if it's on the menu that day or not.

▼Cake and bake HACHI CAFE

Address: Hachiken 3 Johigashi, Nishi Ward, Sapporo, Hokkaido
Opening Hours: 11:00-17:00
Closed: Wednesdays & Thursdays
Access: 550m from Hachiken Station
Official Instagram: https://www.instagram.com/hachicafe8/

Did you enjoy this list? Make sure to wolf down all of the tempting peach desserts you can in Japan before summer ends.

Kei's Instagram page is a wealth of recommendations for meals and desserts in Hokkaido, so be sure to check out their page if you're planning to travel there.

Photo & Text: Kei (@607keih)

Translation: Joshua Kitosi-Isanga

Cute Halloween Sweets Spook Their Way Into Tokyo's The Capitol Hotel Tokyu

For this year's Halloween season, The Capitol Hotel Tokyu in Tokyo has announced that it will serve up its Halloween Sweets Selection again this year at the hotel's pastry boutique ORIGAMI located on floor B2F. The confectionery chefs have spun some spooky fun into this collection of 10 cute treats.

Frankenstein – ¥1,760 / Phantom – ¥1,760 / Cyclops – ¥1,760

The Phantom is a popular confection every year at the hotel, but this year he's had two new freaky friends carved out for him: Frankenstein's monster and a Cyclops. These white chocolate monsters are filled with chocolate-covered almonds, macadamia nuts and other hidden delights.

Witch Hat – ¥715

Dressed in a milk chocolate mousse is ganache and a rich and bitter crème brûlée made with bitter orange. It also contains a mandarin orange liqueur for deeper flavours. The mix of orange notes is refreshing on the palate.

Cross – ¥715

The orange and black Cross is a mousse cake made from pumpkin puree beneath which lies a cinnamon flavoured crème brûlée and coffee flavoured ganache. The bitter coffee elevates the exquisite sweetness of the pumpkin for a delicious combination.

Evil Eye – ¥715

Enter at your own risk with the grotesque-looking (but delicious tasting) Evil Eye mousse cake. It's made with fragrant biscuit and caramel as well as blonde chocolate from France and inside is a smooth pear jelly.

There are lots of other Halloween treats besides these coming to the hotel too, so if you're in Tokyo this October then be sure to stop by for a Happy Halloween.

*All listed prices include tax

Top 13 Cream Sodas in Tokyo: Cool Yourself Down This Summer with Classic Drinks & Modern Beverages

Hey, MOSHI MOSHI NIPPON readers! I'm Banako of MOSHI MOSHI FRIENDS.

It's safe to say that most long-standing, older cafés in Japan serve cream soda. It's a drink that bellows with nostalgia, topped cutely with a dollop of ice cream and sparkling bright with vivid colour like some rare jewel.

It's a rather simple drink, but the number of people intrigued by its unique appearance are evidently on the rise. And I'm one of those people! I've had times where if it's available on the menu I want to order it-and further still I've gone out of my way to a café solely because I've wanted some cream soda.

Depending on the vibe and atmosphere of a café, the appearance of the cream soda will be different, which also means a different flavour. This is all part of the enjoyment of cream soda: it's fun to compare the different tastes.

I have made a long list of my most recommended cream sodas in Tokyo, all of which I have actually tried!

To make it easier to picture each drink I have also given a rating out of 5☆ stars for the strength of the fizziness, the sweetness of the soda, and sweetness of the ice cream. Use this as reference when picking your drink of choice. Enjoy this specially curated selection of drinks in cafés that you're going to want to snap lots of pictures of♡

①CAMPUS TOY cafe&bar

CAMPUS TOY is located in the Jinbocho district of Tokyo. This exciting little place has gone for an American pop vibe. They sell toys too.

The extra goodies they put in the cream soda here is influenced by the US too. The owner is a really interesting person, so much so that you end up losing track of the time as you get lost in conversation with them.

Fizziness:★★★★☆

Soda Sweetness:★★☆☆☆

Ice Cream Sweetness:★★★☆☆

CAMPUS TOY cafe&bar

Address: 2-10 Kanda-Jinbocho, Chiyoda Ward, Tokyo

Opening Hours: [Mon-Fri] 18:00-22:00

Closed: Weekends & Public Holidays

Access: 2-minutes on foot from Jinbocho Station's A2 Exit

TEL: 03-3261-7383

Instagram: https://www.instagram.com/campustoy_matz/?hl=ja

②Café Negura

This little-known-good-spot can be found in Shimokitazawa. The café interior has relaxed and retro décor. Their cream soda is served with two stacks of ice cream and a crown of whipped cream topped off with a cherry. What a cute-looking drink!

Fizziness:★★★☆☆

Soda Sweetness:★☆☆☆☆

Ice Cream Sweetness:★★★★☆

▶︎ Café Negura

Address: PACKAGE ONE Floor 1F (North Side), 2-26-13 Kitazawa, Setagaya Ward, Tokyo

Opening Hours: 11:30 ー 20:00

Closed: Mondays & Tuesdays

Access:152m walk from Shimokitazawa Station

Twitter:https://twitter.com/neguracafe_mi

③Sepia

Another retro-style café, except this one is specifically influenced by the Showa period . Situated in Shibamata, everything about this café, from the outside to the interior, breathes retro-Showa. On the second floor is the Candy Candy Museum.

Their cream soda is the quintessential classic cream soda…but with a twist. It has mikan in it, a type of orange, which is very rare with cream sodas. That gives off a retro-ness too. Another cute beverage!

Fizziness:★★★☆☆

Soda Sweetness:★★☆☆☆

Ice Cream Sweetness:★★★☆☆

▶︎ Sepia

Address: 7-4-11 Shibamata, Katsushika Ward, Tokyo

Opening Hours: 10:00-18:30 (Last Orders 18:00

Closed: Tuesdays & Wednesdays

Access: 2-minutes on foot from Shibamata Station (Accessed via the Keisei Line)

Instagram: https://instagram.com/sepiamama?igshid=1urnwdix23qbx

④ALL C'S CAFE

ALL C'S CAFE is in Koenji, the retro hub of Tokyo. Decorations of cute bears are what this café is all about. There are enormous life-sized bears everywhere, so you can get ready to snap some seriously kawaii pictures.

The café itself, as well as the adorable smiley bear on your cream soda, is sure to elicit some high-pitched "Aww's."

Fizziness:★★★☆☆

Soda Sweetness:★★☆☆☆

Ice Cream Sweetness:★★★★☆

▶︎ALL C'S CAFE

Address: Miyake Bldg. 2F, 3-25-24 Koenji, Suginami Ward, Tokyo

Opening Hours: 12:00-22:00

Closed: No Fixed Holidays (except Obon and New Year's Holidays)

Access: 5-minutes on foot from the north exit of Koenji Station (Accessed via the JR Chuo Line)

Website: http://www.allcscafe.com

⑤Café Hosekibako

Hosekibako, which means 'jewelry box' in Japanese, is right next to Chitose-Karasuyama Station. Retro vibes waft their way throughout this cozy little hideaway with the littering of Showa manga and other miscellaneous odds and ends.

This café too has the signature classic cream soda. It has a transparent appearance in its truly beautiful colour.

Fizziness:★★★☆☆

Soda Sweetness:★★★☆☆

Ice Cream Sweetness:★★★☆☆

▶︎ Café Hosekibako

Address: Koyama Mansion 102, 4-18-18 Minamikarasuyama, Setagaya Ward, Tokyo

Opening Hours: 12:00-18:30 (Last Orders 18:00)

Closed: Wednesdays

Access: 5-minutes on foot from the east exit of Chitose-Karasuyama Station (Accessed via the Keio Line)


Website: https://housekibako.wixsite.com/2009

⑥THE GREAT BURGER STAND

This hamburger shop sells an American-style cream soda, topped with swirly ice cream rather than cream soda's classic dollop. That, together with the huge glass it's served in, is enough to get you excited before you even take a sip. The café can be found in Shibuya Stream, meaning you can stop by for a breather after shopping.

Fizziness:★★★★☆

Soda Sweetness:★★☆☆☆

Ice Cream Sweetness:★★★★☆

▶︎THE GREAT BURGER STAND

Address: Shibuya Stream 1F, 3-21-3 Shibuya, Shibuya Ward, Tokyo

Access: 1-minute on foot from Shibuya Station via the JR Yamanote Line 

Opening Hours: 11:00 ー 23:00 (Last orders:  22:30)

Closed when Shibuya Stream is closed.

Access: Approx. 1-minute walk from Shibuya Station (JR Yamanote Line)

Instagram: https://www.instagram.com/the_great_burger/

⑦Coffee Shop Galant

Right beside Ueno Station you'll find Galant, a coffee shop also with an air of retro-Showa to it during the bubble economy period. You'll feel like you've been transported back in time when you see the dazzling décor and the staff uniforms. Peeking through the see-through liquid is a cute red cherry♡

Fizziness:★★★★☆

Soda Sweetness:★★☆☆☆

Ice Cream Sweetness:★★★☆☆

▶︎ Coffee Shop Galant

Address: 6-14-4 Ueno, Taito Ward, Tokyo

Opening Hours: 8:00-23:00

No Fixed Holidays

Access: Directly behind the toy store Yamashiroya (山城屋), just a two minute walk from JR Ueno Station. Also 1-minute on foot from exit 5b of Ueno Station (accessed via the Tokyo Metro Line and Hibiya Line)

Tabelog: https://www.google.co.jp/amp/s/s.tabelog.com/tokyo/A1311/A131101/13039759/top_amp/

⑧bio ojiyan cafe Harajuku

Ojiya, also known as zosui, is a type of Japanese rice-based vegetable soup. In my opinion, the ojiya served here is the tastiest in the world! Their cream soda comes in a large round cup and is a nice refreshment after a spot of ojiya.

Fizziness:★★★★☆

Soda Sweetness:★★☆☆☆

Ice Cream Sweetness:★★★★☆

▶︎bio ojiyan café

Location: 4-26-28 Jingumae, Shibuya, Tokyo

Opening Hours: 11:00-20:00

No Fixed Holidays

Access: 10-minutes on foot from JR Harajuku Station / 3-minutes on foot from the Jingumae Crossing ticket gate elevator exit of Meiji-Jingumae Station (Accessed via the Tokyo Metro Fukutoshin Line)

Website: http://mfs11.com/brand/bio-ojiyan-cafe-harajuku/

⑨PEPPERS DRIVE IN

The main dish at this Kanagawa-based restaurant is curry. Every single thing about PEPPERS DRIVE IN is influenced by retro US elements, from the car park to the nooks and crannies inside and even the trays. You can take some really cute photos literally anywhere in the restaurant. The cream soda portion stays true to the American taste too with a generous serving.


Fizziness:★★★☆☆

Soda Sweetness:★★☆☆☆

Ice Cream Sweetness:★★★☆☆

▶︎PEPPERS DRIVE IN 

Address: 1129-1 Kidokoro, Hiratsuka, Kanagawa

Opening Hours: Lunch 11:30-15:00 (Last Orders 14:45) / Dinner 18:00-22:00 (Last Orders 21:30)

Closed: Wednesdays (Except on public holidays, in which case closed the following day)

Access: 6-minutes by taxi from south exit of Isehara Station (Accessed via the Odakyu Odawara Line) / 16-minutes by taxi from the north exit of Hiratsuka Station (Accessed via the JR Tokaido Main Line)

Official Website: http://www.peppers.co.jp

⑩BRIDGE

I reviewed the melon bread pancakes at this Ginza-based café earlier this year. It's located inside a long-standing department store meaning the cream soda here has been around for a long time too, offering a more traditional taste. They are served on coasters which you can take home with you. It's a great place to stop off for a break when strolling around Ginza.

Fizziness:★★☆☆☆

Soda Sweetness:★★★★☆

Ice Cream Sweetness:★★★☆☆

▶︎BRIDGE

Address: NISHIGINZA Floor B1F, 4-1 Ginza, Chuo Ward, Tokyo

Business Hours: [Monday-Saturday] 11:00-20:30 (Last Orders 20:00) / [Sunday & Holidays] 11:00-20:00 (Last Orders 19:30)

Closed: When NISHIGINZA Department Store is closed.

Website: http://www.nishiginza.co.jp/page/shopguide/detail/?id=33

⑪HIROMAN'S COFFEE

Another snug hideout, situated in the backstreets and surrounded by trees, is HIROMAN'S COFFEE. This cute café has lots of antique picture frames, rabbit ornaments, and other tidbits. Their melon soda arrives in a cute round and plump glass. They plenty of other Instagrammable drinks too including one topped with cotton candy. This one is one to keep coming back to!

Fizziness:★★★★☆

Soda Sweetness:★★☆☆☆

Ice Cream Sweetness:★★★☆☆

▶︎ HIROMAN'S COFFEE

Address: 3-18-12 Jingumae, Shibuya, Tokyo

Opening Hours: 11:00-19:00 (Last Orders 18:30)

No Fixed Holidays

Access: 10-minutes on foot from Meiji-Jingumae Station

Instagram: https://instagram.com/hiromans_coffee?igshid=oumb3g7aergo

⑫ blikje button

⑫blikje button

blikje button in Shimokitazawa, which offers both a café and dining experience, has a vintage vibe to it with decorations that have a handcrafted feel to them.  The glasses the cream sodas come in match that aesthetic. The stroking colours of the sodas are something beautiful to behold!

Fizziness:★★★★☆

Soda Sweetness:★★☆☆☆

Ice Cream Sweetness:★★★☆☆

▶︎blikje button

Address: Shimokitazawa Central Bldg. 2F, 2-14-7 Kitazawa, Setagaya Ward, Tokyo

Opening Hours: 12:00-23:00 (Lunch 12:00-16:00/Café 12:00-18:00/Dinner 17:00-23:00) *Food last orders 22:00, drink last orders 22:30

No Fixed Holidays

Access: 2-minutes on foot from Shimokita Station via the Odakyu Line / 2-minutes on foot from the south-west exit of Shimokitazawa Station via the Keio Inokashira Line

Website: http://www.blikje-button.com/

⑬CAROLINE DINER

CAROLINE DINER is a famous café in Harajuku inspired by American diners. The cream sodas sold here are striking and nothing short of Instagram-worthy! They go perfectly with the stylish interior of the café that you'll no doubt find yourself taking photos.

Fizziness:★★★☆☆

Soda Sweetness:★★★☆☆

Ice Cream Sweetness:★★★☆☆

▶︎CAROLINE

Address: 2-14-11 Jingumae, Shibuya, Tokyo

Opening Hours: 12:00-18:30 (Last Orders 18:00)

Closed: Thursdays

Access: 10-minutes on foot from Meiji-Jingumae Station / 10-minutes on foot from Kita-Sando Station / 10-minutes on foot from Setagaya Station

Website: http://caroline1.theshop.jp/

And that's all from me Banako and my must-try recommendations for Tokyo cream soda. Do you have a favourite from this list?

Tokyo's summer is nowhere near over yet. How about treating to yourself to a nice refreshing cream soda to cool yourself down from the scorching heat?

Tokyo Stroll: The Café That You Want to Visit to See Someone #11 – 'Hatoya' in Asakusa

In this edition of The Café That You Want to Visit to See Someone, I visited Hatoya which is located in Asakusa Shin-Nakamise Arcade.

The streets of Tokyo's historical district of Asakusa are packed to end with cafés. You can be spoiled for choice, but Hatoya stood out to me in particular as it's an especially old café. Business there began back in 1927 but the actual building was built back in the Taisho period, meaning its history spans more than 90 years ago!

The outside appearance of the shop is smart and chic so it's very easy to spot. I couldn't tell by looking from the outside, but the inside is full of old decorations and odds and ends which make you feel the history of the café.

One reason why I wanted to visit this place so much is because I was drawn to their logo. It's really retro-kawaii so I just couldn't resist!

You should take some photos too if you visit.

It was time to head inside. It's really comfy and cozy in there; the atmosphere was nice and relaxed.

Framed on the wall is a map of the Asakusa area during the Taisho era. Hatoya became famous back then because people could buy coffee for a mere 5 sen (a single sen is one-hundredth of a yen).

When business first began at Hatoya, because the café was opposite the stage door of a theatre, all of the famous actors and actresses would pop in. Some include famous Japanese comedian Roppa Furukawa and film actor Kiyoshi Atsumi who played Tora-san in the film series Otoko wa Tsurai yo.

I ordered the café's popular hotcakes which cost ¥600. They have been making these same hotcakes since before the war.

They were nice and fluffy and had a deliciously gorgeous brown colour. The flavour was out of this world when the butter melted from the heat of the hotcakes and mixed together with the syrup.

The portion might look like a lot but they are fluffy and have a light flavour so can be finished with no problem.

And is the café's signature milkshake (¥500).

It's so refreshing that you can knock it back all in one go. It has a simple flavour but it tasted so good!

I also ordered the ¥600 cream soda, my favourite beverage.

I've been to many cafés, and have covered many in this series, but this is the first I have dined at with such a deep history. I found myself enthralled by the stories of the owner who has continued to treasure the café and maintained it all the same since it opened. I feel like I have learned about a world I never knew about. The next time I go to Hatoya with a friend I'll be sure to let them in on its history. I encourage you to visit too!

Writer/Model: Ema Tanioku
Photographer: Haruka Yamamoto
Design: Yuko Abe (ASOBISYSTEM)

TALENT PROFILE

Ema Tanioku

"Emaeri" is the nickname for models Ema and Eri Tanioku, who are Aomoji fashion model twins. Ema and Eri Tanioku specialise in twin fashion coordination. Over the years their fanbase has increased due to their cute looks. Ema Tanioku spreads Harajuku culture within Japan as well as overseas and works as a Harajuku Tourism Ambassador. Starting off as a model, Ema has broadened her talent range from fashion magazines to TV, and from playing the lead role in dramas to movies.

Mango Drinks Cafe CAFE MANGOSIX Opens First Japan Branch in Okinawa

MANGOSIX Japan opened its first ever CAFE MANGOSIX branch in Naha, the capital of Okinawa, on August 10.

CAFE MANGOSIX is a hugely popular cafe in South Korea which serves healthy drinks and desserts themed on its 6 S's concept: Sensual, Slim, Sweet, Social, Sexy, and Style.

Their must-try beverage is the Mango & Coconut Juice which combines rich mango with sweet coconut milk. The cafe even has some drinks exclusive to Japan so you won't find them anywhere else!

The popular Blue Lemonade from South Korea is also being sold.

Cool yourself off after sunbathing on the beaches of Okinawa by grabbing a drink from the new CAFE MANGOSIX!

Information

CAFE MANGOSIX

Address: 1-16-6 Matsuo, Naha, Okinawa

Opening Hours: 8:00-22:00

Access: 10-minutes by car from Naha Airport / 4-minutes on foot from Prefectural Office Station (via Yui Rail, aka Okinawa Monorail) / 2-minutes on foot from Okinawa Prefecture Government Building

Official Website: http://www.mangosix.co.jp/

STRAWBERRY MANIA: Harajuku's Cutest & Tastiest Strawberry Ice Cream | Food Review

Hey, readers. It's Midori again, from MMN's editorial team.

Summertime in Harajuku means the cafes and ice cream shops start serving up some seriously kawaii and tasty ice creams. It's always nice to grab a cone to enjoy while walking around shopping, but relaxing in a cafe to enjoy it is fun too♡

If the latter sounds like your kind of thing, then I've got a new recommendation for you. I visited STRAWBERRY MANIA recently, cafe located along Takeshita Street in Harajuku that specialises in strawberry desserts.

You'll find it right above the 7-Eleven on Takeshita Street. Look for the strawberries!

There's also a sign outside showing a few of the desserts. Go up the staircase right next to it and you'll come to the cafe entrance.

No matter where you turn while you're here, your eyes will be met with strawberries. It looks so cute♡

The shopfront showcase is shelved with lots of succulent strawberry treats. The chef whips up other desserts to order besides these too. Everything's almost too cute to eat!

For the strawberry soft serve ice cream you can pick between three flavours: milk, strawberry or mixed. I couldn't pick between them so I went for mixed.

The combination of the bright red strawberry ice cream and pure white milk ice cream makes for a beautiful colour contrast.

It's also topped with a huge fresh strawberry.

I took no time at all in taking a spoonful. The strawberry ice cream has a really rich flavour. It's sweet but has that sour kick too, like you're eating a real strawberry. The milk ice cream has a milder sweetness and a real milky taste, the kind you'd imagine if it was sold at a farm with cows.

Everything is packed snug into the cone right down to the bottom, making it a filling treat. It can be ordered for takeout if you like, and if you do that you can get your ice cream straight away so you don't have to wait for seats.

They serve other things besides soft serve too, like shaved ice and parfaits. There's so much to choose from, I think you'll be spoiled for choice! Be sure to visit if you're in Harajuku.

Kaori's Easy Recipe: Learn to Make Steamed Minnie Mouse Cocoa Cakes

With just a small bit of ingenuity, turn everyday food into something cute using Kaori's easy recipe! With a few simple ideas, an ordinary recipe magically transforms into a cute dish.

Today, I will show you the perfect recipe for making chocolate Minnie Mouse cakes using the Mickey Mouse Tezukuri Okazu Maker kit which you can buy on Belle Maison.

1. Ingredients

About 3-4 prep bowls

1 large egg

40g sugar

Oil or 10g melted unsalted butter

15ml milk

50g weak flour (sifted)

10g cocoa

5g baking powder

2.

①Crack the egg into a mixing bowl, add the sugar and whisk well.

②Add a drizzle of oil or melted butter and milk and whisk again.

③Add the sifted flour and stir in gently with a rubber spatula.

3.

Oil the silicone cake moulds and spoon in your mix.

4.

Steam on a high heat for about 10 minutes.

5.

Now it's time to make Minnie's ribbon. I got this ribbon mould from Daiso. Place it onto some baking paper and outline the shape with a pen. Fill the outline with red-coloured chocolate and leave to set in the fridge. Once it has completely set, add the polkadots.

6.

Once the cake has finished steaming, stick her onto a lollipop stick so it the cake be eaten like a lollipop, and fix the ribbon onto the top of Minnie's head.

And she's finished! It looks cute when you put a Mickey and Minnie one together side by side. You can make a lot of cute recipes using the Okazu Maker, so get your hands on one and try making your own!

Kaori invites you into her world of character-themed food dishes in her recipe series. Be sure to check out her Instagram where she has uploaded many pictures of her character dishes!

©️Disney

Profile

Kaori Kubota (@kaopan27)
I live in Hokkaido and I love to make character themed foods, desserts and pastries♡

I want to see my family smile, so I enjoy putting in a bit of effort to make character foods and changing food into something cute♡

You can see more of my character foods and character bento boxes on my Instagram page→@kaopan27

Sold Out On Day One―Itohkyuemon's Matcha Parfait Bars Release at Gion Shijo Store

Kyoto-based Uji tea store Itohkyuemon released its new Matcha Parfait Bars at its new branch in Gion Shijo on August 7.

The bars proved so popular that all 1,500 in stock sold out on the first day. The store is currently being piled with orders for future sales. There are five flavours to enjoy: the classic matcha parfait flavour as well as cherry blossom, tropical, mont blanc, and strawberry.

Matcha Parfait Bar – Matcha

The matcha flavoured bar retains the original rich flavour of the Uji matcha, which has been passed down since the Muromachi period, and combines it with a delicious assortment of parfait toppings including raw matcha chocolate, mini daifuku, coarse sweet red bean paste, and more.

Matcha Parfait Bar – Sakura (Cherry Blossom)

For another traditional Japanese twist there is the springtime sakura parfait bar which is made with cherry blossom pink rice flour dumplings and ice cream. It's also topped with cherry blossom cream and salted cherry blossom petals for a cute finish.

Matcha Parfait Bar – Tropical

Tropical flavours like pineapple and mango blend together in this bar which is drizzled in a sweet, sour and refreshing tropical sauce. Topped with fresh tropical fruits, this is the ultimate summertime luxury.

Matcha Parfait Bar – Mont Blanc

This bar incorporates a sense of autumn with its mix of candied chestnut, astringent chestnut skin, and melt-in-the-mouth mont blanc cream.

Matcha Parfait Bar – Strawberry

Strawberry lovers will delight in the handmade strawberry sauce and strawberry meringue of this bar. The meringue elevates the sumptuous flavours of the parfait even more, including the fresh strawberry, raspberry and blueberry toppings which provide a sweet and sour kick.

Which of these Matcha Parfait Bars do you want to try the most?

Information

Matcha Parfait Bars

Released: July 10, 2019 (On August 7, 2019 at the Gion Shijo branch)

Prices

Matcha Parfait Bar – Matcha: ¥540 (Tax Included)

Matcha Parfait Bar – Sakura (Cherry Blossom): ¥590 (Tax Included)

Matcha Parfait Bar – Tropical: ¥590 (Tax Included)

Matcha Parfait Bar – Mont Blanc: ¥590 (Tax Included)

Matcha Parfait Bar – Strawberry: ¥640 (Tax Included)

Participating Branches: Uji Honten, JR Uji Station, Gion Shijo, Byodoin, Kyoto Station, and online shop

Online Shop Product Page: https://www.itohkyuemon.co.jp/site/parfait-bar/index.html