Aimer will release her new single, Ref:rain / Mabui Bakari on February 21st.
The music video for Ref:rain, which is used as the ending theme for the Fuji TV's Noitamina anime series Koi wa Ame Agari no You ni, has just been released.
Aimer – "Ref:rain" (Short Version) Music Video
Movie director Yuki Yamato (Drowning Love) was in charge of directing Aimer's new music video. The video features 15-year-old actress Hiyori Sakurada who is gaining much attention right now, and Uyu, who won the grand prix award at Miss iD 2018.
The music video is set in a school and emits a nostalgic atmosphere. The two actresses play the roles of school girls to the transient and emotional ring of Ref:rain, innocently and impulsively showing us different sides to them.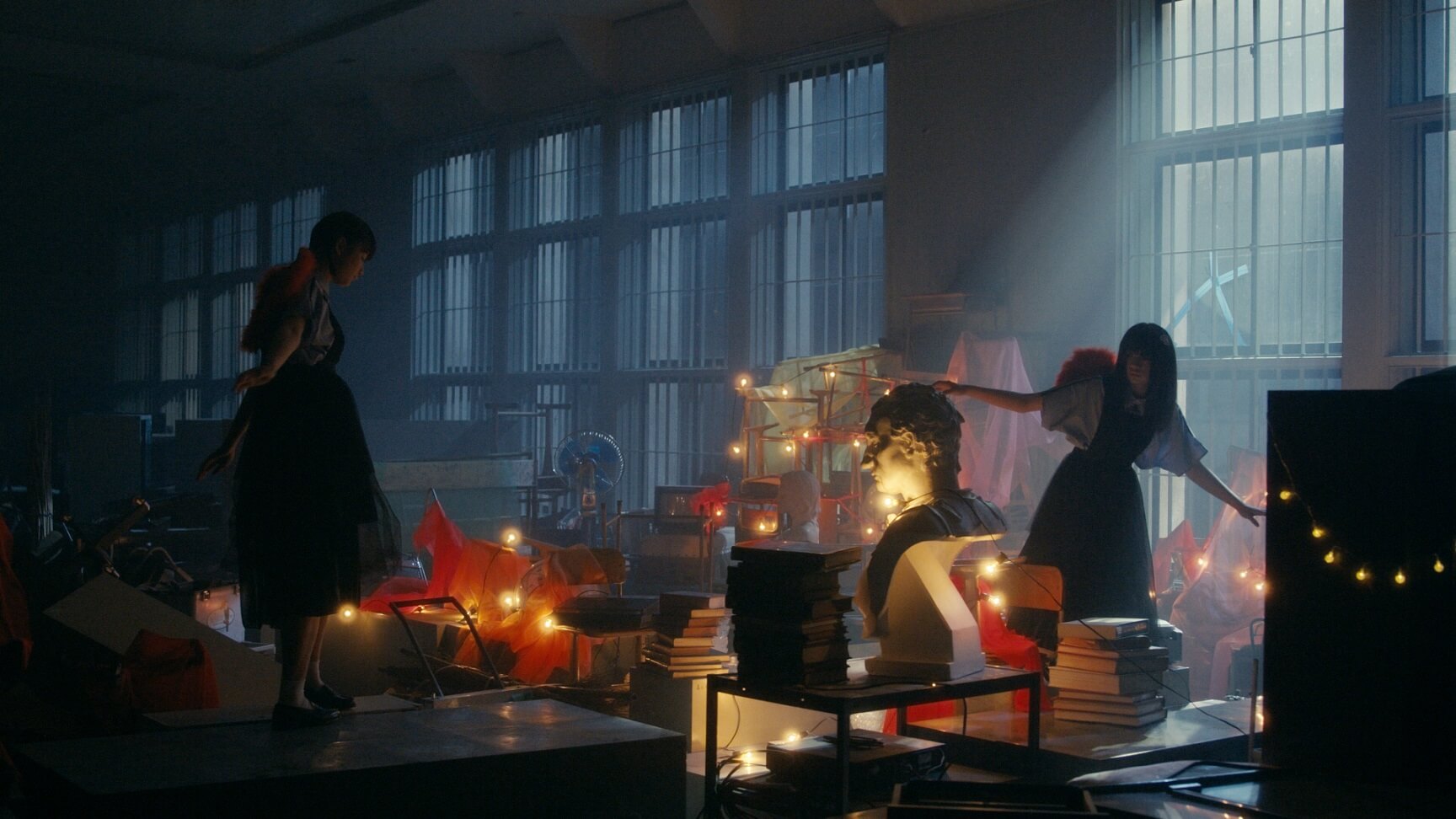 Be sure to check out this beautiful music video and see Sakurada and Uyu frolic around the school like angels.
■Information
Aimer 14th Single – "Ref:rain / Mabui Bakari"
On Sale: February 21, 2018
First Press Limited Edition (CD+DVD) – ¥1,500
Regular Edition (CD) – ¥1,250
Limited Pressing Edition – ¥1,500 *comes in special anime packaging for Koi wa Ameagari no You ni
*all prices listed exclude tax
Aimer Official Website:
http://www.aimer-web.jp
Cocco Official Website:
http://www.cocco.co.jp/
RELATED ENTRIES
Aimer's New Song 'marie' to be Used as Theme Song For the Japan x Austria Habsburg Exhibition

Japanese singer-songwriter Aimer, who is known for her iconic husky voice, released two albums simultaneously back in April―Sun Dance and Penny Rain―which served as the first albums she had released in two and a half years. Without time to even catch her breath, she immediately dropped a brand new track the following month entitled STAND-ALONE, which was used for the Japanese drama Anata no Ban Desu, and reached No. 1 across Japanese music charts.

Her 17th single Torches was released last month, and served as the ending theme for the ongoing TV anime series Vinland Saga which began airing in July.

Marie Antoinette in Court Dress by Élisabeth Vigée Le Brun, 1778 (Kunsthistorisches Museum Wien)

"The Habsburg Dynasty 600 Years of Imperial Collections" is an upcoming exhibition set to take place at the National Museum of Western Art in Tokyo from October 19, 2019 to January 26, 2020 in commemoration of Japan and Austria's 150 years of friendship. The exhibition was taking requests for musicians to create a theme song based on someone from the House of Habsburg for the event. Aimer wrote her new song marie based on Marie Antoinette, and it has been selected for the exhibition.

It has yet to be announced when marie will be released, but a TV ad for the exhibition has been posted on TBS's official YouTube channel and contains a snippet of the track.

Speaking on the occasion, Aimer commented: "The stories of the live of those in the House of Habsburg are filled with conflicting emotions of joy and sadness, privilege and downfall. I received a request to write a song based on any one of theme, and I was immediately reminded of Marie Antoinette."

She continues: "I drew on her life in my own way in the song marie, from her getting married in France at the age of 14 to the grand final moments of her life. I hope people like the fusion of my voice with the sublime sound of the strings, and I hope it adds something to the Habsburg exhibition for those who are going."

Information

marie

Release Date: TBA

Aimer Official Website: http://www.aimer-web.jp/

The Habsburg Dynasty 600 Years of Imperial Collections

Running: October 19, 2019 – January 26, 2020

Venue: National Museum of Western Art (Ueno, Tokyo)

Exhibition Website: https://habsburg2019.jp/

Having just released her 17th single Torches today (August 14)―which serves as the ending theme for the ongoing anime series Vinland Saga―Japanese singer Aimer has just announced an all new tour. Titled Aimer LIVE TOUR 19/20 "rouge de bleu", the tour will begin this fall from October 31 and take her to 17 cities across Japan for 24 shows.

The theme of the tour is red and blue as evident in the tour title's use of French for the colours. This contrasts with her first-ever performance at Nippon Budokan back on August 29, 2017 which was themed on black and white ("blanc et noir"). We look forward to seeing how she uses these new colours on the new tour.

Those who pick up a copy of Aimer's new single Torches can access pre-sale tickets for the tour.

Speaking about the tour, Aimer commented: "24 shows in total. The theme this time is red and blue. I will sing at you with everything I have on each of those days the songs I find myself able to sing because of the time we're in right now. I intend to make this my most amazing tour ever. I'm looking forward to seeing you all from the bottom of my heart. See you out there."

Information

Torches

Release Date: August 14, 2019

First Press Limited Edition (CD+DVD): ¥1,700 (Before Tax) [SECL-2480]

Regular Edition (CD Only): ¥1,300 (Before Tax) [SECL-2482]

Limited Pressing Edition (CD+DVD): ¥1,500 (Before Tax) [SECL-2483] *Comes in special anime packaging

Aimer LIVE TOUR 19/20 "rouge de bleu" Schedule

2019/10/31 @ Ichikawa City Cultural Hall, Chiba

2019/11/03 @ Uenogakuen Hall, Hiroshima

2019/11/04 @ Sunport Takamatsu, Kagawa

2019/11/09 @ Kobe International House, Hyogo

2019/11/10 @ Kobe International House, Hyogo

2019/11/16 @ Sapporo Cultural Arts Theater hitaru, Hokkaido

2019/11/23 @ Niigata Prefectural Civic Center, Niigata

2019/12/01 @ Shizuoka City Community Hall, Shizuoka

2019/12/06 @ Fukuoka Sun Palace Hotel & Hall, Fukuoka

2019/12/07 @ Fukuoka Sun Palace Hotel & Hall, Fukuoka

2019/12/14 @ Sendai Sun Plaza, Miyagi

2019/12/15 @ Sendai Sun Plaza, Miyagi

2019/12/22 @ Matsumoto Performing Arts Centre, Nagano

2020/01/04 @ ROHM Theatre Kyoto, Kyoto

2020/01/05 @ Okayama City Hall, Okayama

2020/01/11 @ SONIC CITY, Saitama

2020/01/12 @ SONIC CITY, Saitama

2020/02/02 @ Morioka Shimin Bunka Hall, Iwate

2020/02/08 @ Nagoya Congress Center Century Hall, Aichi

2020/02/09 @ Nagoya Congress Center Century Hall, Aichi

2020/02/14 @ Festival Hall, Osaka

2020/02/15 @ Festival Hall, Osaka

2020/02/22 @ Tokyo International Forum – Hall A, Tokyo

2020/02/23 @ Tokyo International Forum – Hall A, Tokyo

Ticket Information

Price: All Reserved Seating ¥7,200 (Tax Included) *Those aged 6+ years must hold a ticket, preschool children not permitted entry

Ticket Release Date: [2019 Concerts] September 21, 2019 / [2020 Concerts] November 2, 2019

Pre-sale Tickets: Available by purchasing a copy of Aimer's new single Torches. Window for purchasing pre-sale tickets ends on August 21 at 23:59 (JST). Sign up using the serial ID included with the CD.

Aimer Official Website: http://www.aimer-web.jp/

Aimer Releases Vinland Saga Ending Theme 'Torches' Music Video

Aimer will release her 17th single Torches on August 14. While we wait for the CD to hit shelves, us fans have been treated to shortened version of the music video in a track-by-track preview.

The title track is used as the ending theme to the ongoing 24-episode anime series Vinland Saga which began airing on July 7. The music video paints grand imagery with fire and water along to the tribal-like sound of Torches.

The video also teases us with a sneak peek at the other songs on the single including Blind to you and Daisy.

Blind to you is reminiscent of Aimer's earlier ballads while Daisy is a jaunty, foot-tapping love song.

The title track Torches will receive an independent digital release on August 5 prior to the CD's release.

Information

Torches

Release Date: August 14, 2019

First Press Limited Edition (CD+DVD): ¥1,700 (Before Tax) [SECL-2480]

Regular Edition (CD Only): ¥1,300 (Before Tax) [SECL-2482]

Limited Pressing Edition (CD+DVD): ¥1,500 (Before Tax) [SECL-2483] *Comes in special anime packaging

*Limited Edition DVD comes with Torches, Stand By You, We Two and 3min music videos. Limited Pressing Edition DVD comes with creditless Vinland Saga ending theme video.

Aimer Official Website: http://www.aimer-web.jp/

Vinland Saga

Premiere Date: July 7, 2019

Available on Amazon Prime Video in Japan and overseas.

Official Website: vinlandsaga.jp

Aimer began her "soleil et pluie" Asia Tour on June 8 which has taken her to five cities around Asia, concluding at Tokyo Dome City Hall today in Japan.

Every venue on the tour was sold out. Her performance in Shanghai at the National Exhibition and Convention Center in front of 6,000 fans in particular was a spectacular success.

In her hometown of Tokyo, her set list included a performance of several new songs including STAND-ALONE which is the main theme for the Japanese drama Anata no Ban Desu.

At the end of the show, Aimer announced that she will head on a 24-date hall tour across Japan which will run from October this year into February 2020. Official fan club pre-sale tickets went on sale today. Full details can be found on her official website.

Aimer will release her new song Torches on August 14. The song will be used as the ending theme for the TV anime series Vinland Saga.

Information

Torches

Release Date: August 14, 2019

First Press Limited Edition (CD+DVD): ¥1,700 (Before Tax) [SECL-2480]

Regular Edition (CD Only): ¥1,300 (Before Tax) [SECL-2482]

Limited Pressing Edition (CD+DVD): ¥1,500 (Before Tax) [SECL-2483] *Comes in special anime packaging

Aimer Official Website: http://www.aimer-web.jp/

Vinland Saga

Premiere Date: July 7, 2019

Official Website: vinlandsaga.jp

TV Anime Vinland Saga's New Trailer Shows ED Theme 'Torches' by Aimer

Aimer will release her new single Torches on August 14. The song will be used as the ending theme for the forthcoming TV anime series Vinland Saga which is set to premiere on July 7.

A new trailer was just released in which you can hear the track.

Aimer's emotional voice and the tribal sound of the chorus perfectly match the grand world of of Vinland Saga which is set in the seas of Iceland and Northern Europe.

The cover artwork for Torches was also posted on Aimer's official website. The artwork matches the title of the song with Aimer wielding a torch while shrouded in darkness, suggesting a glimmer of hope.

Information

Torches

Release Date: August 14, 2019

First Press Limited Edition (CD+DVD): ¥1,700 (Before Tax) [SECL-2480]

Regular Edition (CD Only): ¥1,300 (Before Tax) [SECL-2482]

Limited Pressing Edition (CD+DVD): ¥1,500 (Before Tax) [SECL-2483] *Comes in special anime packaging

Aimer Official Website: http://www.aimer-web.jp/

Vinland Saga

Premiere Date: July 7, 2019

Official Website: vinlandsaga.jp

TV Anime Vinland Saga Ending Theme 'Torches' to be Performed by Aimer

Aimer will release her new single Torches on August 14. The song will be used as the ending theme for the forthcoming TV anime series Vinland Saga which is set to premiere on July 7.

The song pictures a torch-lit ocean in the evening and reminds one of setting off on a new trip at night as with Aimer's digital single STAND-ALONE.

Speaking about the collaboration, Aimer commented: "While reading the manga, I pictured the evening sea lit by torchlight. When writing the song I thought about life and death, and [series characters] Thorfinn and Thors's feelings towards them. I put into the song the inspiration I got from these things. This has also been an opportunity to challenge myself to something new on the sound side of things. I would be overjoyed if people look forward to hearing it alongside the anime."

Information

Torches

Release Date: August 14, 2019

First Press Limited Edition (CD+DVD): ¥1,700 (Before Tax) [SECL-2480]

Regular Edition (CD Only): ¥1,300 (Before Tax) [SECL-2482]

Limited Pressing Edition (CD+DVD): ¥1,500 (Before Tax) [SECL-2483] *Comes in special anime packaging

Aimer Official Website: http://www.aimer-web.jp/

Vinland Saga

Premiere Date: July 7, 2019

Official Website: vinlandsaga.jp

Aimer's new song STAND-ALONE is being used as the main theme for the ongoing NTV Japanese drama Anata no Ban Desu which began airing on April 14.

The song claimed the No. 1 spot on nine separate digital music services on May 5 including iTunes, Amazon, Recochoku, mora, d Music, mu-mo, Hikari TV Music, HAPPY Uta Furu, and TSUTAYA Music.

Aimer「STAND-ALONE」MUSIC VIDEO

The song's music video features appearances from Kei Tanaka and Nao Honda who play the main characters in the television drama.

Aimer's New Song 'STAND-ALONE' Used as Main Theme for Japanese Drama 'Anata no Ban Desu'

Aimer just released her two new albums Sun Dance and Penny Rain simultaneously on April 10. Both records have reached at No. 1 and No. 2 on popular music streaming services including iTunes, mora and Recochoku. Penny Rain also made it to No. 1 on Oricon's Daily Album Chart while Sun Dance peaked at No. 2.

With two new albums out of the bag almost two and a half years since her last, Aimer has already released a brand new track.

Titled STAND-ALONE, the single was released yesterday (April 11), and it has been revealed that it will be used as the main theme for the upcoming Japanese drama Anata no Ban Desu.

The murder mystery stars Tomoyo Harada and  Kei Tanaka as the leads. STAND-ALONE will be released digitally on May 5, 2019.

Aimer released the following statement regarding her involvement: "I am so happy to be in charge of the main theme song for another drama series. I've only just released my 5th studio albums Sun Dance and Penny Rain, but I decided to set off on another new adventure and so I made STAND-ALONE which I poured my recollections and yearnings into. The song is about a premonition that something is about to happen. I hope that it goes well with the world of Anata no Ban Desu every week."

Information

STAND-ALONE

Release Date: May 5, 2019

*To be released simultaneously across digital music services including iTunes.

Sun Dance / Penny Rain

Release Date: April 10, 2019

Regular Edition (CD): ¥2,000 Each (Before Tax)

First Press Limited Edition A (Both Albums+Blu-ray): ¥4,800 (Before Tax)

First Press Limited Edition B (Both Albums+DVD): ¥4,400 (Before Tax)

*Limited Edition Blu-ray and DVD feature 10 music videos

Limited Pressing Edition (Both Albums+2 Blu-rays): ¥9,000 (Before Tax)

*Limited pressing edition Blu-rays feature 10 music videos and live footage from Aimer's 2018-2019 tour. Comes in a special box and Sun Dance jigsaw puzzle.

Aimer Official Website: http://www.aimer-web.jp/

Anata no Ban Desu

Initial Broadcast: April 14, 2019

Official Website:  https://www.ntv.co.jp/anaban/

Aimer Releases Music Video For 'Stand By You' Written by TK

Aimer finally dropped her highly-anticipated two new albums Sun Dance and Penny Rain simultaneously on April 10.

On April 8 it was announced that the singer would release three music videos from the new records on her official YouTube channel three days in a row. The final video to be released is for Stand By You from the album Penny Rain.

The song was written and produced by TK from Ling Tosite Sigure. This is TK's third collaboration with Aimer following us and Kowairo in 2016. The video was directed by Japanese film director Kyotaro Hayashi. The powerful visuals perfectly match the emotional music written by TK.

Be sure to check out the new video alongside the already-released We Two and Monochrome Syndrome.

Information

Sun Dance / Penny Rain

Release Date: April 10, 2019

Regular Edition (CD): ¥2,000 Each (Before Tax)

First Press Limited Edition A (Both Albums+Blu-ray): ¥4,800 (Before Tax)

First Press Limited Edition B (Both Albums+DVD): ¥4,400 (Before Tax)

*Limited Edition Blu-ray and DVD feature 10 music videos

Limited Pressing Edition (Both Albums+2 Blu-rays): ¥9,000 (Before Tax)

*Limited pressing edition Blu-rays feature 10 music videos and live footage from Aimer's 2018-2019 tour. Comes in a special box and Sun Dance jigsaw puzzle.

Aimer Official Website: http://www.aimer-web.jp/

Aimer to Release 3 New Music Videos in a Row

Japanese singer Aimer―known for her iconic husky voice―will release two new albums simultaneously on April 10: Sun Dance and Penny Rain.

Several songs from the albums have already gained much attention before the official release including April Showers which was used in an earth music&ecology commercial starring Suzu Hirose and Koiwazurai which is used as the main theme song for the romantic reality show Shirayuki to Ookami-kun ni wa Damasarenai❤.

Now, it has been announced that Aimer will release three new music videos three days in a row for songs off the new records starting today.

Aimer – "We Two" Music Video

The first music video to be released is for We Two from the album Sun Dance. The song is a dance tune just like her already-released tracks ONE and 3min. The cute video features a dancing high school girl.

The next two videos will be released tomorrow and the day after respectively both at 6:00pm (JST).

Information

Sun Dance / Penny Rain

Release Date: April 10, 2019

Regular Edition (CD): ¥2,000 Each (Before Tax)

First Press Limited Edition A (Both Albums+Blu-ray): ¥4,800 (Before Tax)

First Press Limited Edition B (Both Albums+DVD): ¥4,400 (Before Tax)

*Limited Edition Blu-ray and DVD feature 10 music videos

Limited Pressing Edition (Both Albums+2 Blu-rays): ¥9,000 (Before Tax)

*Limited pressing edition blu-rays feature 10 music videos and live footage from Aimer's 2018-2019 tour. Comes in a special box and Sun Dance jigsaw puzzle.

Aimer Official Website: http://www.aimer-web.jp/

Japanese singer Aimer―known for her iconic husky voice―will release two new albums simultaneously on April 10: Sun Dance and Penny Rain.

The music video for her new song 3min taken from Sun Dance has been posted onto her official YouTube channel.

The music video takes on the theme of travelling around the world in three minutes. As the title suggest, Aimer journeys to Tokyo, Taipei, Shanghai, Singapore, London, Liverpool, New York and Los Angeles in just three minutes.

The video was shot across Aimer's various live shows including during her Asia tour and trip to NYC and LA. You could called it a documentary tracing her steps through 2018. The video also features the locations where the album covers for both new records were shot.

Speaking about the new song and video, Aimer comments: "The idea for this song, which is about going around the world in three minutes, came about around February last year when we were planning the album. It's been a year since then during which me and the team have accumulate footage to make into a music video. I want everybody to join me on this three-minute journey and the world I have walked across, from countries where it rains to others where the sun shines."

Information

Sun Dance / Penny Rain

Release Date: April 10, 2019

Regular Edition (CD): ¥2,000 Each (Before Tax)

First Press Limited Edition A (Both Albums+Blu-ray): ¥4,800 (Before Tax)

First Press Limited Edition B (Both Albums+DVD): ¥4,400 (Before Tax)

*Limited Edition Blu-ray and DVD feature 10 music videos

Limited Pressing Edition (Both Albums+2 Blu-rays): ¥9,000 (Before Tax)

*Limited pressing edition blu-rays feature 10 music videos and live footage from Aimer's 2018-2019 tour. Comes in a special box and Sun Dance jigsaw puzzle.

Aimer Official Website: http://www.aimer-web.jp/

Aimer's New Album to Feature Song Produced by TK from Ling Tosite Sigure

Aimer will release two new albums simultaneously on April 10: Sun Dance and Penny Rain. These will be the newest albums from the artist since daydream which dropped back in September 2019. The full-track list had already been unveiled except for one song, but details on that song have now been released.

It is titled Stand By You and was written and produced by TK from Ling Tosite Sigure. This is his third song written for Aimer following us and Kowairo from 2016.

A video was posted on Aimer's official YouTube channel which plays a track-by-track preview of each song on both albums including Stand By You.

Information

Sun Dance / Penny Rain

Release Date: April 10, 2019

Regular Edition (CD): ¥2,000 Each (Before Tax)

First Press Limited Edition A (Both Albums+Blu-ray): ¥4,800 (Before Tax)

First Press Limited Edition B (Both Albums+DVD): ¥4,400 (Before Tax)

*Limited Edition Blu-ray and DVD feature 10 music videos

Limited Pressing Edition (Both Albums+2 Blu-rays): ¥9,000 (Before Tax)

*Limited pressing edition blu-rays feature 10 music videos and live footage from Aimer's 2018-2019 tour. Comes in a special box and Sun Dance jigsaw puzzle.

Aimer Official Website: http://www.aimer-web.jp/