【Tokyo Stroll】Experiencing the Finest Quality Gateau au Chocolat at "Ken's Cafe Tokyo"—Reservations Required
Shinjuku—Situated in the heart of Tokyo, the most populated metropolitan area in the world, and absolutely packed with travelers and tourists. It's a pivotal ward in Tokyo connected via many transportation services including the JR Line, subway, private railways, rapid bus lines and more. Shinjuku is an absolute must-visit when sightseeing in Tokyo.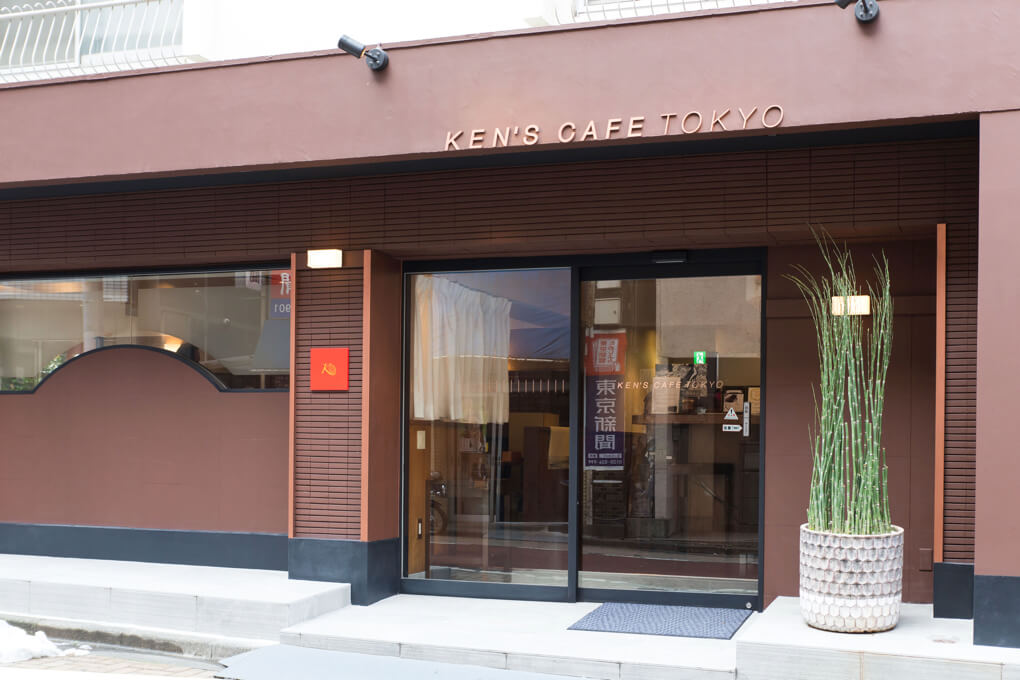 In today's entry to "Tokyo Stroll," Rinko Murata stopped by Ken's Cafe Tokyo in Shinjuku, a shop specializing in Gateau au Chocolat that's made with the best quality ingredients.
Ken's Cafe Tokyo is very easy to get to, located just 3-minutes on foot from Exit 2 of Shinjuku-Gyoemmae Station via the Tokyo Metro Marunouchi Line.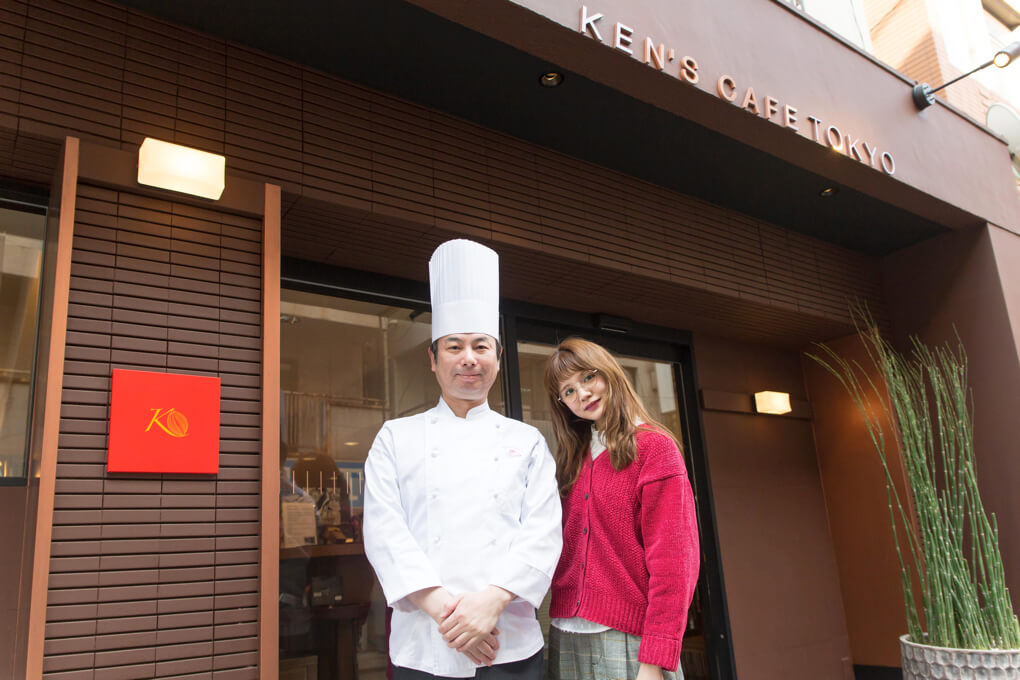 The Special Gateau au Chocolat is one of the desserts served by the shop's owner, Kenji Ujiie. Full sales of this dessert began due to strong demand from customers for it being so delicious. The word got out and immediately led to high praise that spread far and wide, and this year, the shop is celebrating its 20th anniversary!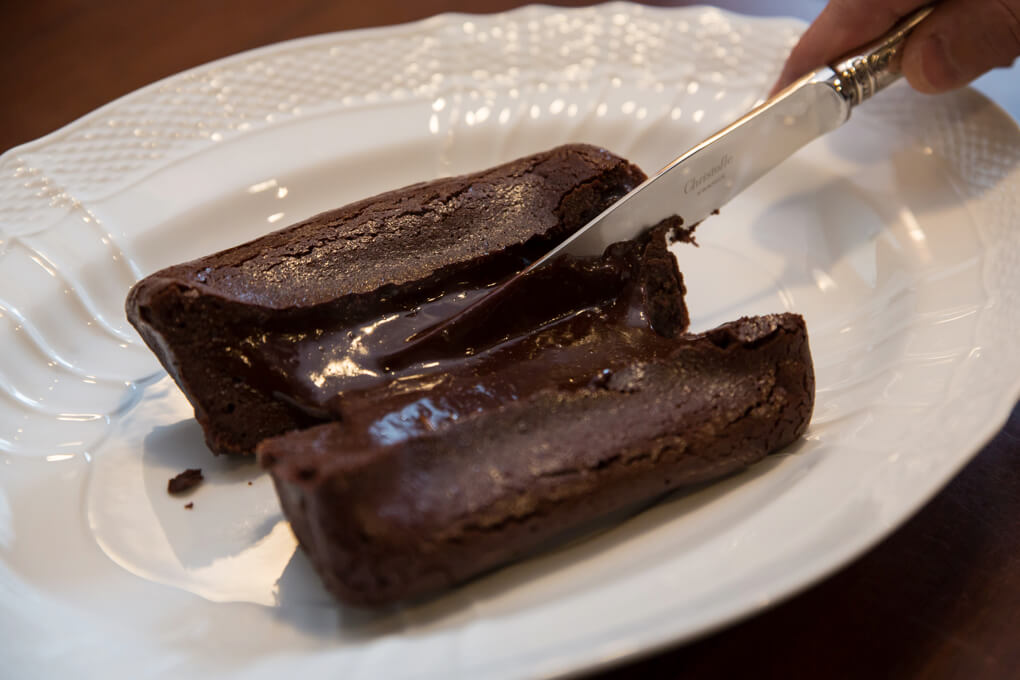 The Special Gateau au Chocolat comes in at ¥3,000 (tax included), with reservations in abundance up to a month. When it's freshly cooked, the outside is crispy, and the outside is creamy like fondue chocolate, making a perfect melt-in-the-mouth combined texture!
The secret to its deliciousness is in the thoroughness to use only the best ingredients. The chocolate used in the photo is from an Italian brand called "Domori." The founder of Domori, Gianluca Franzoni, was deeply impressed with the quality taste of the Special Gateau au Chocolat, and so personally created his first and only chocolate mix called "KEN'S" to be used at the shop.
To draw out the good flavour of the chocolate, it's made with gluten-free chocolate. Although the flavour is rich and full-bodied, the result of the taste is that makes it simple to eat.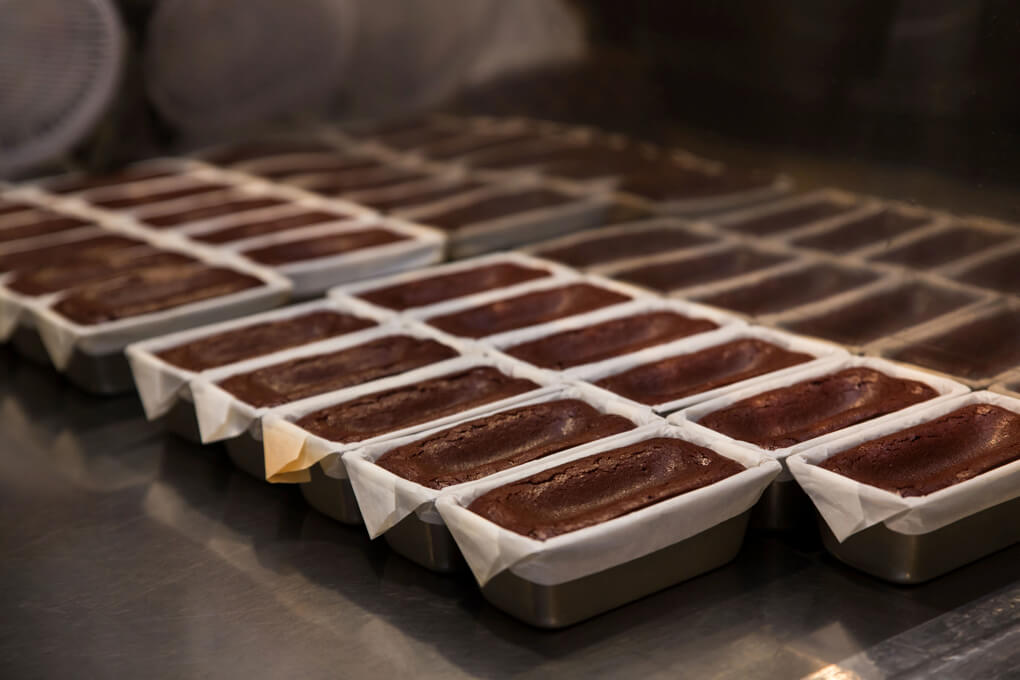 300 gateau chocolates are made in a single day! And because each and every one of them are handmade with the utmost care and detail, it's difficult to make any more than this, so there's always an abundance of reservations. But if you can't wait and need to try one straight away, limited quantities are being specially sold at Matsuya Ginza and Tobu Department Store in Ikebukuro, so be sure to check those places out.
Rinko couldn't control her excitement at the sweet smell of the chocolate. She took no time at all to begin tasting the Special Gateau au Chocolat.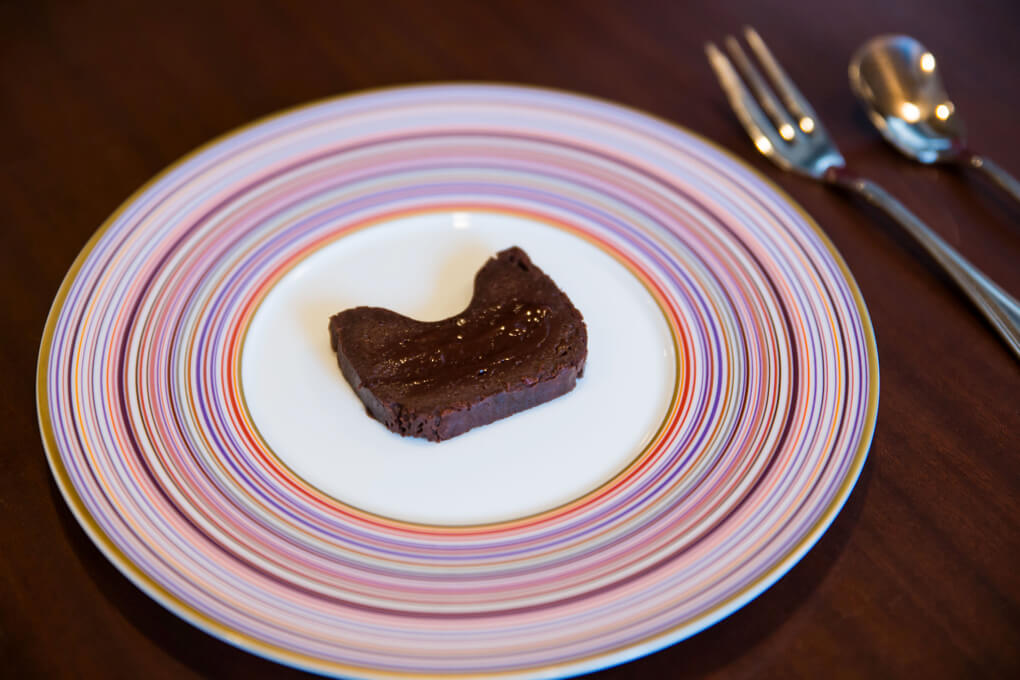 When eaten at room temperature, it tastes like terrine chocolate. Depending on what temperature you eat it at, the taste and texture will change, so with one gateau chocolate you can enjoy trying three completely different flavours. Also, the balance between the sweetness and bitterness is fine-tuned every time. If you buy one now, the bitterness of the cocoa has increased every so slightly compared to 10 years ago.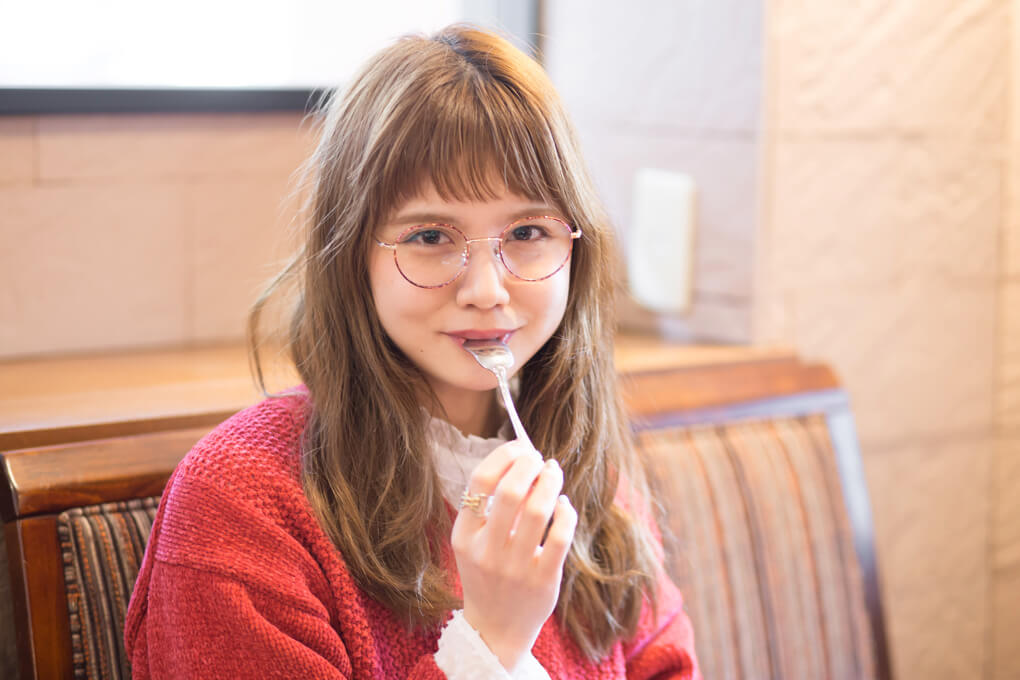 Rinko gave it her seal of approval. "The moment I took a bite, the aroma of the cocoa hit me, and the soft texture just melted inside my mouth! The balance between the bitterness and sweetness is exquisite. This delicious chocolate hit me in the head right away. Happiness is running around inside my brain. I can't get enough of how it feels!"
You can go back via Shinjuku-Gyoemmae Station, but you should take a stroll towards Shinjuku Station instead – it's just a 17-minute walk. Plus, Shinjuku Gyoen – Shinjuku's imperial garden – is close by Ken's Cafe Tokyo, so you might enjoy getting lost in your own thoughts while taking a walk through nature.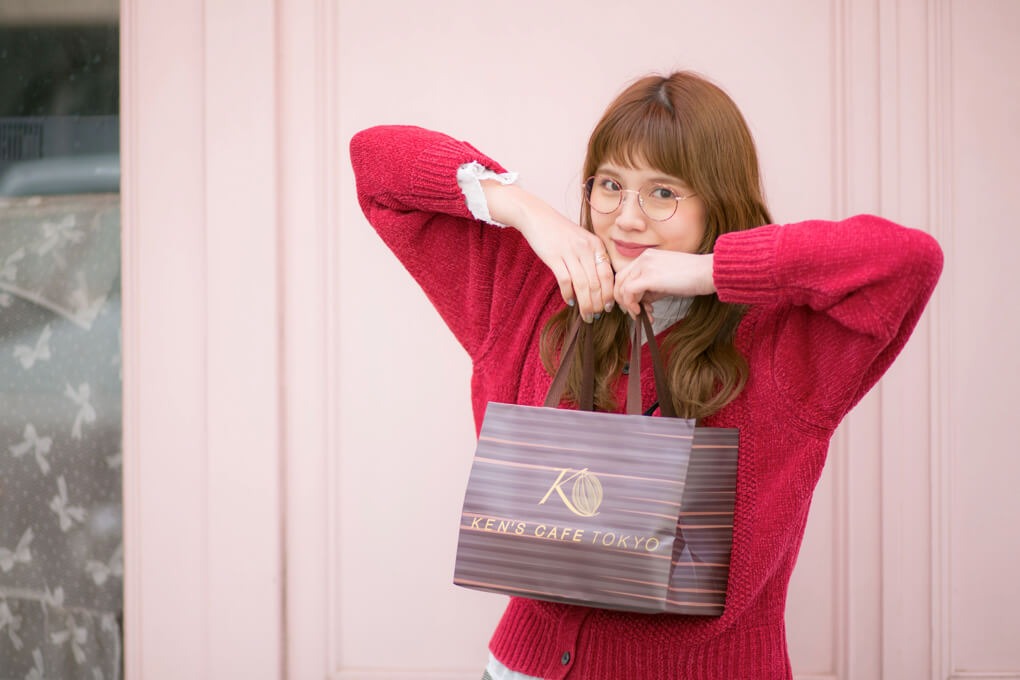 The Special Gateau au Chocolat is a perfect present for yourself or someone special. They are always waiting on orders, so if you're interest, check out the shop's website below and make a reservation.
■Information
Ken's Cafe Tokyo
Address: 1-23-3 Shinjuku, Shinjuku-ku, Tokyo
Access: 3-minutes on foot from Exit 2 of "Shinjuku-Gyoemmae Station" via the Tokyo Metro Marunouchi Line
Opening Hours: 10:00-19:00
Closed: Weekends & Holidays
Website: http://www.kenscafe.jp
Model: Rinko Murata @rink0_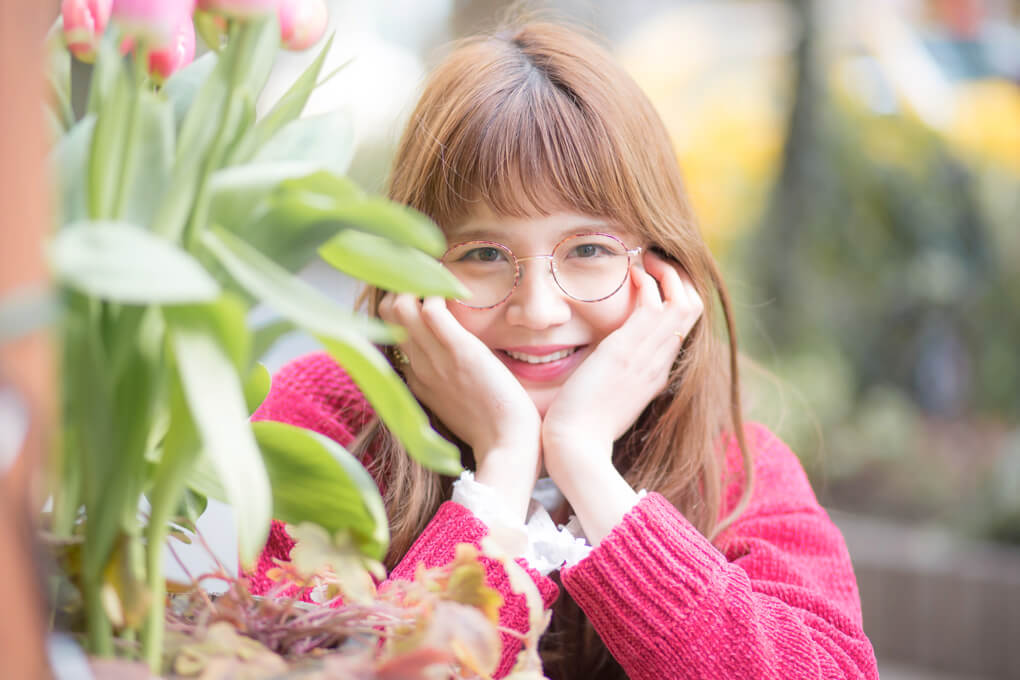 Rinko Murata appears in fashion magazines and is active on radio and TV. Sales of her first style book were so successful that it required extra printing during its first week. She also has a rapidly growing following across her social media profiles. As well as modelling at big fashion events, she also has her own column online at "She magazine," and receives much attention for her work in the areas of culture and lifestyle.
Photo & Writer: Haruka Yamamoto
Editor: Sayuri Mizuno(ASOBI SYSTEM)
Translator: Joshua Kitosi-Isanga
RECOMMENDED ENTRIES
【Tokyo Stroll 】Stroll in Kagurazaka, the fusion of Japanese culture and exoticism.

Kagurazaka is a busy district in Shinjuku ward that has been gaining more and more visitors recently. The focus of Kagurazaka is the long and continuous sloping street that runs from Iidabashi Station to Kagurazaka Station. It has a long history that begins in the Edo period and boasts a fusion of the Japanese spirit and an exotic mood. Today, we take a stroll to Kagurazaka with Rinko Murata who absolutely loves the atmosphere of the lively district.

Akagi Shrine is Tokyo's foremost power spot. It is located just outside the first exit of Kagurazaka Station, so it might be a good idea to begin the stroll with a shrine visit.

The Must-Visit Location in Kagurazaka for Walking & Eating

When coming to Kagurazaka, the nikuman at Gojūban are a must, no ifs, ands, or buts. Look out for the red and green entrance! This place has been running since 1957, when it was established during the Showa period.

They have all kinds of delicious nikuman in their showcase to choose from, including their "Ganso Nikuman" or original nikuman, a longtime flavour that has continued to be sold there for 60 years.

You'll have a hard time deciding what to go for. They sell a special shark fin nikuman. Only 30 are sold every day. They also have delectably addictive piri nikuman which are made using Chinese spices, as well as limited edition curry nikuman, spicy mapo flavoured nikuman, shiitake mushroom nikuman, mozzarella nikuman, and more.

Tear open the smooth and fluffy nikuman and out pours the meat juice! The best way to eat this original nikuman is definitely eating it while walking as soon as you buy it. There's no other luxury like it – purchasing Kagurazaka's most famous food and ambling the street.

Sitting diagonally opposite to Gojūban is Bishamonten Zenkoku Temple, the symbol of Kagurazaka, with a large red archway out front. It's a great location to take a photo.

<Gojūban>

Address: 1F Oomiya Bldg, 4 Chome-3-2, Kagurazaka, Shinjuku-ku

Access: 7-minutes' walk from Kagurazaka Station via Tokyo Metro Tōzai Line / 5-minutes' walk from West Exit of JR Iidabashi Station

Business Hours: [Mon-Thurs, Sun, National Holidays] 10:00-22:00 / [Fri-Sat] 10:00-23:00

Closed: New Year's holiday only

Telephone: 03-3260-0066

>>next page

【Tokyo Stroll】Visiting "Coci la elle" in Daikanyama to get our hands on a colourful umbrella!

Daikanyama is a popular little place located in a quiet residential area filled with stylish cafés and shops. It's surrounded by big tourist areas including Shibuya, Ebisu, Nakameguro and Ikejiri-Ōhashi, so is very easily accessible. Today we head to Daikanyama with Rinko Murata-chan, a place where you can have all kinds of fun shopping, eating or simply strolling around, to visit "Coci la elle Swan," a shop specializing in umbrellas.

"Coci la elle" – Umbrella Specialists

Coci la elle started originally stocked only one type of umbrella when it opened, a type made for protecting you from the sun. They now own a second shop in Daikanyama which opened in April this year in addition to the main shop and studio in Kiyosumi-shirakawa.

Today, we are visiting the newly-opened shop in Daikanyama, "Coci la elle2," which goes by the name of the "swan" shop. It received this name as the number "2" looks like a swan. The closest station is Daikanyama Station via the Tōkyū Tōyoko Line.  The station is only 1 stop from Shibuya and so is conveniently accessible, with Coci la elle only an 8-minute walk away from the front entrance.

Seize yourself a handmade umbrella

Coci la elle offers vibrant umbrellas in all types of colours and designs to brighten your day when those rainy days get you down. They also have umbrellas that will protect you from the blistering sun on those scorching days while also making you feel elegant at the same time.

The sun protection umbrellas are all made by hand, one by one, with their own individual designs and embroidery. The rain umbrellas are printed designs, but these are also all made by the head of the brand Chika Higashi, who makes collages out of photos and her own illustrations.

>>next page

【Tokyo Stroll】Strolling around in Harajuku which has a lot of unique spots such as popular graffiti and artistic miscellaneous stores.

Harajuku is a source of the latest unique cultures for young people in Japan. It is always full of people coming not only from Japan, but also from outside of the country throughout the year. Japanese model Rinko Murata visited the latest popular spots such as unique street art work and the curry restaurant that is known to those in the know.

To the Harajuku Tourist Center "MOSHI MOSHI BOX"

Today, we started strolling from the Harajuku Tourist Center called "MOSHI MOSHI BOX." It is located in the cross road that is connect to Takeshita street, Meiji street, and Ura-Harajuku in Harajuku.

We asked where the popular sightseeing spots in Harajuku are to the staff in "MOSHI MOSHI BOX," they said that the latest trend is the "street art." It is popular among young people who post the colorful and unique pictures on social media.

Actually, the building of "MOSHI MOSHI BOX" is a great photo spot as well. It is cute and colorful monument themed a world clock designed by Sebastian Masuda.

This "MOSHI MOSHI BOX" facility is not only will tell you the recommended sightseeing spots, but it also has a Japanese souvenir store which is good for choosing a small gift for someone. They also have free Wi-Fi, electric charger, and money exchange. Check it out when you are in Harajuku.

▼Information

MOSHI MOSHI BOX Harajuku Information Center

Address:3-23-5 1F Jingumae, Shibuya-ku, Tokyo

Hours:10:00AM to 6:00PM

Holiday:Open 7 days a week

The art work at the back street of Cat street

The graffiti on the wall at the back street of Cat street says "NOW IS FOREVER." It is the public art work created by Stephen Powers from the United States, and it is a very popular spot among the instagramer outside of the country.

It is also cute taking selfies with this graffiti using a wide-angle lens or a smartphone. This wall art can make you take some good pictures that definitely will standout on your social media.

▼ information

Public art「NOW IS FOREVER」

Address:4-24 Jingumae, Shibuya-ku, Tokyo

>>next page

【Tokyo Stroll】 The café that you want to visit to see someone #4 Cats working at Shinjuku-sanchome's Café Arles

"Good service, a jolly owner and cute cats – this café is sure to heal you!"

I'm Ema Tanioku and today I'll be introducing you to yet another café in Tokyo as the fourth edition of my series "The café that you want to visit to see someone". Today I'll be reporting about my visit to Café Arles which can be found at Shinjuku-sanchome. Ever since hearing that there were cats at this café, I've been set on going 〜♪♪

The café is very easy to access. To get to there, you can take the Toei Shinjuku line to Shinjuku-sanchome. From here, you can get to the café within a five-minute walk. Walking around the Shinjuku Suehirote theatre, the café soon came into sight. Somehow, I could sense the presence of cats just from the atmosphere…

There it was! The entrance to the café was decorated with many ornaments of cats and dogs. I don' know why but I was filled with excitement before even having entered.

As soon as I entered, I immediately spotted a cat.

I was then greeted by the cat's master who had a sweeping grin across his face and was wearing a hat with a cat broach. I could really feel his love for cats ♪♪

I took a sweeping glance over the café – cats, cats and more cats – there were so many cat-themed goods everywhere! Apart from cats goods, the master also collects clown goods and displayed everything all huddled together to decorate the café.

Although this was my first time at Café Arles, I immediately felt right at home as a warm feeling grew within me. I asked the master what got him into the café business and I was surprised by his response. It all started when the master was working at a mahjong parlour, where a person they knew asked them to start up a café.

The master then thought about the numerous paintings he had collected and how he was in search of a place to display them. The idea of choosing his own music, menu and decorating a café interior to his own taste really struck a chord with him.

There are many paintings displayed in the café. Amongst these are some by modern artist Tomomi Kondo, who made the paintings "please your master" and "cool your thighs", which feature the kaban neko (café cats) Ishimatsu and Jirocho, who are "working hard" by lazing around.

Café Arles is fun and draws in even more fun. The atmosphere is filled with the love and enjoyment of the customers. That's why I immediately felt so at home as soon as I entered. You can easily spend a long time here.

I asked the master what he recommends from his menu. His response? "My recommendation is what you want to eat the most!" he said wisely. I felt like eating Napolitan spaghetti and so that is what I ordered! (Price: ¥720 including tax)

It came with banana and giant corn ❤ – this excellent service made me so happy!

The gentle flavour of this homemade dish was delicious and I could really taste the Showa-retro Napolitan flavour to it. The drink, soup and salad services available gives this meal a perfect score for portion size satisfaction!

The master allowed me to take his café cat Jirocho-kun out for a walk. This was the first time I'd ever walked a cat – a new, fresh experience!

Jirocho-kun is a very calm and obedient cat, so we had a lovely stroll together. Speaking of which, Jirocho-kun loves his owner so much that he runs to meet him whenever he hears his car pull up at the shop.

This year marks the 40th anniversary of the café. "I enjoyed every minute of it" explained the master happily. The master created a place where everyone can be happy and in return everyone supports him. Perhaps this cycle is the motivational force that has kept and will continue to push this café to live and thrive.

I'm glad I came to this café today and met such a special person.

I want to come here again and have another chat with the master!

■Information

Cafe Arles

Address:1st floor, 5-10-8, Shinjuku, Tokyo

Opening h0urs: 11:30 〜 22:00

Regular holidays days: Sundays, New Year's period holiday period

Access:398 metres from Shinjuku Sanchome station (reach via Toei-Shinjuku line/ Tokyo Metro Marunouchi line

URL:https://tabelog.com/en/tokyo/A1304/A130401/13087540/

Model & Writer: Ema Tanioku

Profile: "Emaeri" is the nickname for models Ema and Eri Tanioku, who are Aomoji fashion model twins. Ema and Eri Tanioku specialise in twin fashion coordination. Over the years their fanbase has increased due to their cute looks. Ema Tanioku spreads Harajuku culture within Japan as well as overseas and works as a Harajuku Tourism Ambassador. Starting off as a model, Ema has broadened her talent range from fashion magazines to TV, and from playing the lead role in dramas to movies.

Instagram:@ematanioku

Photographer:Haruka Yamamoto

Editor:Ryoichi Komaba

Design:Yuko Abe (ASOBISYSTEM)

Translated by: Samantha Fernandes

【Tokyo Stroll】The cafe that you want to visit to see someone #1 The popular cafe in Jinbo-cho called "Sabouru" that has retro interior and nostalgic food.

"Although there are many great things about chain stores, the café has their own dream."

The café that reminds me of Showa era is somehow nostalgic and comfy inside.

I, Emma Tanioku, who love to visit the new café restaurants is going to introduce the café that will make you want to see particular person in their café.

Today, I came to Jinbo-cho that is good access from middle of Tokyo, and you don't have to change the train line from Shibuya station.

Jinbo-cho is socially known as the town which has many secondhand bookstores, it is actually the town for gourmets as well.There are many hidden old-established restaurants in this great town.

I want to introduce this café that I was especially curious about.

"Sabouru" which you can say its representative retro cafe. It locates right there from the exit A7 in Jinbo-cho train station.This 62 years historical café has established in 1955.

In front of this café which appears to look like small mountain hut, there is a red public telephones surrounded by some flowers, plants and a totem pole.This makes me want to take a picture in front of there.This public phone is actually functional, so I heard some people are still using it.

There are floor first, semi basement and mezzanine inside. It is little dark inside, but you can still enjoy reading books.Either if you come here alone or with your friends, you can spend the relaxed time.

The miscellaneous goods that decorated inside the café were donated by customers.

Even though they are all different kinds of souvenirs from all over the world, they look like it's coordinated perfectly.I bet the customers who are big fan of this café decide to buy the good souvenirs which are going to match with this store's atmosphere. For your information, you can decorate your souvenirs inside the cafe even if you are not regular customer.

>>next page

【Tokyo Stroll】A Day Out At: Kyu Shiba Rikyu Garden—An Oasis In The Middle Of Tokyo!

Kyu Shiba Rikyu Garden is a former Daimyo Garden, or imperial garden, of the early Edo period, along with the Koishikawa Kōrakuen Garden. Part of the charm of the garden is the large pond in the middle which people can walk around to appreciate the serene surroundings. The garden is a diamond in the rough as it is situated in a part of Tokyo where offices are dotted everywhere. The garden itself feels cemented in history and is a popular spot visited by company workers on their break, as well as tourists. There is a quiet stillness to the garden, a place where you can even experience feeling the changing seasons. Today, we take a stroll through the Kyu Shiba Rikyu Garden with Saki Shibata.

A Daimyo Garden with a history deep-rooted in early Edo

The garden is a 1-minute walk from the north exit of the JR Hamamatsuchō Station, and a 3-minute walk from the B2 Exit of Daimon Station via either the Toei Asakusa Line or Toei Ōedo Line. Hamamatsuchō Station is just 17-minutes from Shibuya Station on the inner loop of the Yamamote Line, so it's easy to get to.

General Admission to the garden is just ¥150, and ¥70 for Over-65s. Entry is free for those below elementary school grade, people residing in the city, and middle school students enrolled in the area. The scenery you will witness as you enter the garden is unique to that of such a city—a beautiful contrast between the greenery and the pond water against a backdrop of towering buildings.

A garden where you can feel nature against your skin

You can experience the true essence of Japan by seeing pine trees up close and personal. The bright green laws in summertime are fresh; the faint scent of grass will leave you feeling tranquil. You get to see the flowers dotted around Kyu Shiba Rikyu Garden change with the seasons, meaning you can enjoy hanami, or flower-viewing in Spring, Summer, Autumn and Winter.

It's a place where you can spend a relaxing time and dedicate some graceful reading time. Although it's in the middle of Tokyo, the garden is far away from all the ruckus, so you can get nice and comfortable.

>>next page
RELATED ENTRIES
MOUSSY Announces Third Installment of Art and Fashion Venture PROJECT U

High-casual brand MOUSSY launched a new art and fashion venture in March 2021 titled PROJECT U. The third installment of the project is launching on September 10, and has been made in collaboration with artist JUN INAGAWA.

 

PROJECT U was created to bring MOUSSY together with a variety of talented creators and artists, and to see what possibilities could open up from different collaborations. MOUSSY has fused fashion and culture together countless times in the past along with popular characters from Disney and other brands. PROJECT U focuses exclusively on art!

The third installment of PROJECT U will feature plenty of apparel, from T-shirts and hoodies to tote bags and skateboards. JUN INAGAWA helped design these limited-edition items, with some featuring imagery from his 'Otaku x Street' collection, as well as a theme he works with often: destruction and rebirth. Apparel will be available in two unisex sizes.

The SHEL'TTER TOKYO and MOUSSY FLAGSHIP SHOP will also be holding JUN INAGAWA's solo exhibition and accompanying workshop. For more info on the apparel or exhibition, head to the PROJECT U special site!

Information

PROJECT U Third Installment

 

Release Date & Location:

September 10, 2021

MOUSSY Lumine EST Shinjuku, SHEL'TTER WEB STORE

September 17, 2021

The SHEL'TTER TOKYO / MOUSSY FLAGSHIP SHOP, MOUSSY Stores

PROJECT U: https://www.moussy.ne.jp/project_u/

Official Site: http://www.moussy.ne.jp

My Teen Romantic Comedy SNAFU Pop-up Shop to Open in Shinjuku

Romantic comedy anime series My Teen Romantic Comedy SNAFU (shortened to OreGairu in Japanese), is getting a Pop-up shop at the AMNIBUS STORE inside Shinjuku Marui Annex from September 3 until September 19. 

All merchandise sold at the Pop-up shop will feature newly-drawn original illustrations of Yukino Yukinoshita, Yui Yuigahama, and Iroha Isshiki in maid attire. 

Event Pre-sale Merchandise

Pins (Random, 9 designs): ¥440 each (Tax Included) / Box of Pins: ¥3,960 (Tax Included)
*Box contains randomly selected pins.

Acrylic Keychain (Random, 9 designs): ¥715 each (Tax Included) / Box of Keychains: ¥6,435 (Tax Included) *Box contains randomly selected keychains.

1/7 scale BIG Acrylic Stand (3 designs): ¥3,300 each (Tax Included)

Mug (3 designs): ¥1,650 each (Tax Included)

Clear Folder (4 designs): ¥440 each (Tax Included)

Life-size Tapestry (3 designs): ¥10,780 each (Tax Included)

Yui Yuigahama Mug: ¥1,650 (Tax Included)

Event Box Purchase Bonus


Those who buy 1 box of Pins will receive a holographic pin as a special gift!

Those who buy 1 box of Acrylic Keychains will receive a holographic Acrylic Keychain as a special gift!

Limited-edition Event Photos (7 varieties)

For every ¥2,200 spent on event-related merchandise (including tax), customers will receive a random Limited-edition Event Photo.

©Wataru Watari、Shogakukan/My Teen Romantic Comedy SNAFU Production Committee

©渡 航、小学館/やはりこの製作委員会はまちがっている。完

Information

My Teen Romantic Comedy SNAFU Pop-up Shop

Running: September 3 – September 19, 2021

Location: Shinjuku Marui Annex 6F / AMNIBUS STORE (3-1-26 Shinjuku-ku, Tokyo)

Hours: 11:00-20:00

Admission by Lottery: To reduce the risk of transmitting COVID-19 and ease congestion in the store, guests will receive a numbered ticket and will be admitted by lottery. Tickets will be available from 10:40-10:50 from September 3-5. 

AMNIBUS STORE Twitter: https://twitter.com/AMNIBUS_STORE

Details: https://store.amnibus.com/oregairu-shinjuku0101annex/

Official Site: https://www.0101.co.jp/005/

Japanese Snack Company Meiji Announces Collaboration to Celebrate 5th Anniversary of Pop Group SutoPuri

Snack company Meiji has announced a collaboration between the popular six-member pop group Strawberry Prince (shortened to SutoPuri) and their newest sweets, Strawberry & Chocolate Kinoko no Yama and Strawberry & Chocolate Takenoko no Sato! While these sweets are celebrating their one-year anniversary, Strawberry Prince has already been putting out catchy songs for five years! Can you believe it? 

The Kinoko no Yama/Takenoko no Sato Super Strawberry Festival is happening for a limited-time, from August 3, 2021 to October 2, 2021. 

Strawberry & Chocolate Kinoko no Yama

Strawberry & Chocolate Takenoko no Sato

How to Play

 Campaign Prize: Kinoko Takenoko Super Strawberry Festival Set

How to Enter the Photo Campaign

Special Collaboration Video

 

A popular name on streaming sites, SutoPuri currently has more than 1.48 million followers on their official YouTube channel, with over 4 million views between its six members. Their third full-length album 'Strawberry Prince' was released in November 2020, and reached #1 on the Oricon Weekly Album Ranking chart on November 23, 2020. They also hit the top of the Yahoo Kids People's Search Ranking in 2020! It seems that their popularity won't end any time soon. 

A special AR Fireworks Display will also be held, where you can celebrate these two exciting anniversaries from the comfort of your own home! Just hold your smartphone over the package of your favorite participating Meiji sweets, and SutoPuri will appear in front of your eyes, with fireworks launching to the tune of 'Strawberry Color Summer Fireworks!' Not enough? You'll also be able to take pictures of SutoPuri while you chat with the members! Using just one of the participating products will summon a member of SutoPuri at random, but using two will invite all six to enjoy the event together with you! Depending on the product, the fireworks will change, so be sure to experience them all!

Be sure to follow Kinoyama-san (@kinoko_meiji), the Takesato Brothers (@takenoko_meiji), and Apollo (@meiji_apollo_pr) on Twitter! During the event, post your favorite AR fireworks photos on Twitter with the tag #KinokoTakenokoSuperStrawberryFestival (#きのこたけのこ超いちご祭り), and 450 people will be selected at random to receive the original goods set! 

With many fireworks displays cancelled this year due to the Coronavirus pandemic, this is a way to still create some happy summer memories at home with SutoPuri!

Japanese Michelin Star Chef to Open New Restaurant Kimura Don in Shinjuku

A new restaurant by the name of Kimura Don is set to open inside Shinjuku Takashimaya's Restaurant Square on July 20, 2021.

Kimura Don is a new donburi restaurant produced by Koji Kimura, a chef whose popular sushi bar Sushi Kimura, located in Futakotamagawa, has held two Michelin stars since 2013. His new eatery continues the traditions and techniques honed at Sushi Kimura while spinning innovation into new donburi rice bowl dishes conceived from the many ideas Kimura has conceived over the years.

The donburi to be served recreates that perfect balance between vinegared rice and toppings which Kimura mastered at his sushi bar. Customers can enjoy a range of additions including donburi classics such as meat and fish as well as seasonal ingredients. The restaurant also uses locally grown and reared produce and ingredients that's also environmentally-friendly from Tokyo such as Kinuhari rice from Hachiojo and Akigawagyu beef. This will help to foster a relationship between local farmers and consumers. 

Lunchtime Dishes | ¥3,500 Each | Serving Times: 11:00-17:00 (Last Orders 16:00)

Pick from five different donburi bowls such as tuna, pilchard, and roast beef. Each season will also has its own exclusive dish made with seasonal ingredients. There's also a special option to order a set of two smaller versions of the dishes too for ¥3,800. 

Evening Courses | From ¥12,000 | Serving Times: 17:00-23:00 (Last Orders 22:00)

The evening course line-up is also made up of five different bowls as well as seven seasonal snacks.

Koji Kimura | Comment

"I've been set up in Futakotamagawa for 16 years. I studied how to prepare sushi rice for many years, since it serves as the foundation, so that I could create unique sushi. I have made sushi rice that's unique and draws a line under other restaurants, rice which when combined with toppings explodes with umami flavour. I use this same sushi rice as the basis for lots of innovative donburi dishes, and I'd love for people to enjoy a taste at the first place in Japan to do this."

Life Lessons with Uramichi Oniisan Anime Series Collaborates With Rascal the Raccoon

In promotion of the anime adaptation of Gaku Kuze's manga series Life Lessons with Uramichi Oniisan, a merchandise collection was released in collaboration with Nippon Animation's series Rascal the Raccoon on July 9 at Shinjuku Marui Annex. The items will also be released at Nanba Marui and Hakata Marui on July 24 and August 7 respectively.

A little look at some of the items

Name Badges | 5 Designs | ¥660 Each (Tax Included)

Pins | 8 Designs | ¥440 (Tax Included)

Keyrings | 8 Designs | ¥770 (Tax Included)

Keyrings | 6 Designs | ¥1,100 Each (Tax Included)

Keyrings | 8 Designs | ¥880 (Tax Included)

Acrylic Stands | 8 Designs | ¥880 (Tax Included)

Wooden Reversible Keyrings | ¥660 (Tax Included)

Hand Towel | ¥1,100 (Tax Included)

Onigiri Case | ¥1,320 (Tax Included)

Pass Case | ¥2,970 (Tax Included)

Tote Bag | ¥1,650 (Tax Included)

T-Shirts | Sizes: M, L, XL | ¥3,850 Each (Tax Included)

Exclusive artwork was illustrated for the collection featuring the characters Uramichi Omota, Tobikichi Usahara, Iketeru Daga, Utano Tadano, Kotori-san, and Rascal. The designs are featured on the merchandise sold at the pop-up shops.

©久世岳・一迅社/「うらみちお兄さん」製作委員会 © NIPPON ANIMATION CO., LTD.

Lotte's Craft Sake Chocolate brand YOIYO Releases Yakushima Flavour

YOIYO is a chocolate brand created by confectionery company that fuses chocolate with sake. Online pre-orders for its second release opened on June 6, and it's scheduled to release on June 13. This chocolate is made with Single Malt Komagatake Yakushima Aging, a whisky made at the Shinshu Mars Distillery in Miyada, Nagano.

YOIYO YAKUSHIMA NEW

YOIYO KOMAGATAKE 

限定TASING SET KOMAGATAKE×YAKUSHIMA


YOIYO uses specially-selected sake from across Japan and infuses it with the brand's own smooth and tasty milk chocolate. One bites makes it feel as if you have visited the region in which the sake is produced thanks to the combination of pure water, ingredients rooted in the land, and the use of traditional techniques. The brand's name YOIYO is Japanese for 'good evening' as Lotte wants people to enjoy indulging in the chocolate at dusk or after dinner.

Single Malt Komagatake Yakushima Aging is a whisky that is aged for 5+ years, and Lotte picks only from the best barrels. A bite into the chocolate first invites the full flavour of the whisky before the sweet and rich beckon of the chocolate arrives.


Lotte is also releasing a limited-edition tasting set which includes a bar of their first YOIYO release so chocoholic and sake-lovers out there can enjoy taste testing both.

Hokusai and Hiroshige Japan Blue Ukiyo-e Exhibition Opens in Shinjuku

The Adachi Foundation for the Preservation of Woodcut Printing is currently holding an exhibition centred on the Japanese ukiyo-e artists Hokusai and Hiroshige at their permanent exhibition in Shinjuku.

Shibusawa Eiichi (1840-1931) was a Japanese industrialist who is often known as the 'father of Japanese capitalism.' In Japan, people have a strong image of him as being a great man of modern history, but in actual fact one third of his life was lived during the same era as when esteemed ukiyo-e artists Hokusai and Hiroshige were alive. The Adachi Foundation's exhibition focuses on the colour blue, one which has roots during that era and has gone on to become a prominent colour in present day Japanese companies.

The immense popularity of bright blue ukiyo-e

Aizuri-e is a type of woodblock print that is printed predominanetly in blue. They were extremely popular in Edo and used Prussian blue, also nicknamed 'Japan blue.' Hokusai used this same colour when creating his famous Thirty-six Views of Mount Fuji, as did Hiroshige, bringing life to the backgrounds and environment.

Japan Blue: Ukiyo-e From Japan to Paris

Hiroshige showcased his work at the second Exposition Universelle in 1867, making it the first time for ukiyo-e to be properly shown to the world, allowing for the spread of Japonisme. Taken aback by how he used the Prussian blue, the people of Europe praised Hiroshige's work and named the colour 'Hiroshige Blue.' It was a turning point for Japan as the country began opening up to the world, enabling them to witness the skills of Japanese craft.

The Adachi Foundation is also hosting the exhibition online in VR for free which is available in both English and Japanese. Visitors can enjoy Hokusai and Hiroshige's work up close.

Information

Japan Blue in Hokusai & Hiroshige's Ukiyo-e: The Period in Which Shibusawa Eiichi Lived

Japanese Exhibition Title:「北斎・広重の浮世絵に見るジャパンブルー _~渋沢栄一の生きた時代~」

Running: June 22, 2021 — August 21, 2021

Address: 3-13-17 Shimoochiai, Shinjuku, Tokyo 161-0033, Japan

Opening Hours: [Tue-Fri] 10:00-18:00 / [Sat] 10:00-17:00

Closed: Sundays / Mondays / Public Holidays

Entry: Free

Exhibition Online(JP): https://my.matterport.com/show/?m=WJVeiudxTHg

Exhibition Online(EN):https://my.matterport.com/show/?m=4qQFG4CDSQU

Promare x Little Twin Stars Merchandise Releases in Collaboration With THE CHARA SHOP

The anime film Promare, Sanrio's Little Twin Stars, and THE CHARA SHOP teamed up to release a collaborative merchandise collection at Shinjuku Marui on July 1.

Wire Keyring Illustrated by Shigeto Koyama | 2 Designs | ¥880 Each (Tax Included)

Mirror Illustrated by Shigeto Koyama |  ¥880 Each (Tax Included)

Mini Towels Illustrated by Shigeto Koyama | 2 Designs | ¥990 Each (Tax Included)

Pin Set Illustrated by Shigeto Koyama | ¥1,320 (Tax Included)

Acrylic Stand Illustrated by Shigeto Koyama | 2 Designs | ¥1,430 Each (Tax Included)

Mug Illustrated by Shigeto Koyama | ¥1,650 (Tax Included)

Tote Bag | ¥2,200 (Tax Included)

Freebies for every ¥3,000 spent on merchandsie

The merchandise collection features adorable designs illustrated by Shigeto Koyama in the style of Sanrio's Little Twin Stars.

©TRIGGER・中島かずき/XFLAG © '21 SANRIO CO., LTD. APPR. NO. S620339

Information

Promare x Little Twin Stars x THE CHARA SHOP
Running: July 1, 2021 – July 13, 2021

Location: Shinjuku Marui Annex (Floor 6F)

Address: 3-1-26 Shinjuku, Shinjuku-ku, Tokyo, 160-0022, Japan
*Opening hours subject to change depending on COVID-19

Cute Little Bird Themed Event Opens at Odakyu Department Store in Shinjuku

The Shinjuku Bird Festival opened on the 11th floor of Odakyu Department Store in Shinjuku, Tokyo on June 30 where it's running until July 6.

Some of the cute bird products to get your beaks on

Piyo Piyo Gao Poncho-chan: ¥8,250 / Piyo Piyo Gao Goggle-chan: ¥5,500

Ikimono Cookie kurimaro collection Cookies: ¥432 Each

Kisuke Paper: Large ¥3,850 / Small ¥2,750 (Available July 3-4 only)

Hoholala Kobo Oven Glove | ¥2,200

m-pool Glass Necklace | ¥4,950

Wild Bird Paintings | ¥1,980 Each

Hoholala Kobo x Oiue-dou Pouches: ¥2,200
 

Free fan for buyers

Free postcard for buyers

Bird lovers will be able to get their talons on everything from accessories to desserts and more. Many of the items are exclusive to the event, and there's also some freebies: the first 100 people to spend over ¥3,000 each day will receive an original fan, and the first 300 people to arrive at the festival each day will get a postcard.

Information

Shinjuku Bird Festival
Running: June 30, 2021 – July 6, 2021

Opening Hours: 10:00-20:00
Location: Odakyu Department Store Shinjuku (Floor 11F)

Address: 1-1-1 Nishi-Shinjuku, Shinjuku-ku, Tokyo

Access: Outside Shinjuku Station's west exit
TEL: 0570-025-888
Official Website: http://www.odakyu-dept.co.jp/


Sanrio Character Themed Afternoon Tea and Cafe Items Arrive at EGG & SPUMA

The Shinjuku branch of EGG & SPUMA is now hosting "Sanrio Characters CAFE," a menu of food and drink themed on Sanrio's beloved characters. Running until August 31, the cafe has also been decorated in colourful and cute Sanrio designs.

Receive a free coaster with your order

The menu line-up features lots of fruits, including the Cinnamoroll crème brûlée which is served on weekdays only, fruit sandwiches which will include My Melody themed ones this month and June, Hello Kitty and Keroppi ones in July, and Little Twin Stars in August. There's also fruity jelly and more.

If you're a Sanrio fan look to indulge a little more, then there is also a two-tiered afternoon tea set. The upper plate includes Kiki & Lala sandwiches, a Keroppi tart, the Cinnamoroll crème brûlée, and more. On the bottom plate there is Hello Kitty apple jelly, My Melody strawberry caprese salad, Kuromi canapé, and so on. There will also be special pancakes and a jelly dessert arriving in June which must be booked in advance.

Which of these Instagram-worthy delights do you want to tuck into?

Information

Sanrio Characters CAFE
Address: EGG & SPUMA Shinjuku Lumine EST (Floor 8F), 3-38-1 Shinjuku, Shinjuku-ku, Tokyo,  160-0022
Running: May 15, 2021 – August 31, 2021

Opening Hours: 11:00-20:00 (Last Orders 19:00)
TEL: 03-6273-0255
Official Website: http://www.salt-inc.co.jp/egg-and-spuma/

Idol Group Tsubaki Factory Features on Tower Records Shinjuku's NO MUSIC, NO IDOL? Poster

In promotion of their upcoming album 2nd STEP, which will hit shelves on May 26, Japanese idol group Tsubaki Factory was featured in Vol.242 of Tower Record Shinjuku's idol project NO MUSIC, NO IDOL?.

Tsubaki Factory in NO MUSIC, NO IDOL Vol.242

Tsubaki Factory formed in 2015 as members of Hello Project, an all-female idol group project managed by UP-FRONT AGENCY. The eight-member group made their debut with the release of their first single Hatsukoi Sunrise/Just Try!/Uruwashi no Camellia in 2017. In the same year, they receive the Newcomer Award from the 50th Japan Cable Awards.

Their forthcoming 15-track album 2nd STEP will include six singles from their fifth to their current as well as three additional tracks and six brand new ones. Tower Records is handing out posters and postcards to fans who pre-order or buy the record at select stores.

Receive a free NO MUSIC, NO IDOL? poster and postcard

Posters and postcards will be given to fans who purchase any of the three editions of 2nd STEP at the select Tower Records branches below. Available in limited stock on a first-come, first-served basis, those who pre-order the album will be given priority of posters and postcards over those who purchase it after its release.

Participating Branches: Sapporo PIVOT/Sendai PARCO/Shinjuku/Yokohama Vivre/Niigata/Shizuoka/Nagoya PARCO/Umeda NU Chayamachi/Hiroshima/Takamatsu Marugamemachi/Fukuoka PARCO/Naha

2nd STEP will be released in 3 editions

First Press Limited-Edition A (CD+Blu-ray+48 Page Booklet) | ¥8,800 (Tax Included)

First Press Limited-Edition A includes the album, all versions of the music videos from the group's 5th single to their current release, a Blu-ray featuring a behind-the-scenes shoot of the album cover photos, and an 48-page A4-size photo book.

First Press Limited-Edition B (CD+DVD) | ¥5,500 (Tax Included)

First Press Limited-Edition B  includes a DVD featuring the footage taken from a drama event hosted by the group.

Regular Edition (CD) | ¥3,300 (Tax Included)

Get a freebie with your purchase at Tower Records 

Purchasing the new album at Tower Records, TOWERmini, or the Tower Records online store will earn fans the below-pictured A4 folder. Available in limited stock on a first-come, first-served basis, those who pre-order the album will be given priority of folders over those who purchase it after its release.

Information

Tsubaki Factory – "2nd STEP"

Release Date: May 26, 2021

Tower Records Official Website: https://tower.jp

These Shaman King Chocolates Are Filled With Adzuki Bean Paste and Marshmallows

TIROL-CHOCO is collaborating with the Shaman King anime series this spring with a special bag of chocolates releasing in Japan on May 17.

Shaman King (Fukuro) | ¥130

The Shaman King manga series written and illustrated by Hiroyuki Takei has over 38 million copies in circulation. This marks TIROL-CHOCO's second collaboration with its anime adaptation.

Inside each bag are individually wrapped chocolates each with a different character on the packets. There are eight designs in total, but one bag contains just seven. The chocolates are stuffed with adzuki bean paste, adzuki bean chocolate, and marshmallows.

©武井宏之・講談社/SHAMAN KING Project.・テレビ東京

Information

Shaman King (Fukuro)

Japanese Product Name: シャーマンキング〈袋〉

Release Date: May 17, 2021

TIROL-CHOCO Official Website: http://www.tirol-choco.com/