【Tokyo Stroll】Experiencing the Finest Quality Gateau au Chocolat at "Ken's Cafe Tokyo"—Reservations Required
Shinjuku—Situated in the heart of Tokyo, the most populated metropolitan area in the world, and absolutely packed with travelers and tourists. It's a pivotal ward in Tokyo connected via many transportation services including the JR Line, subway, private railways, rapid bus lines and more. Shinjuku is an absolute must-visit when sightseeing in Tokyo.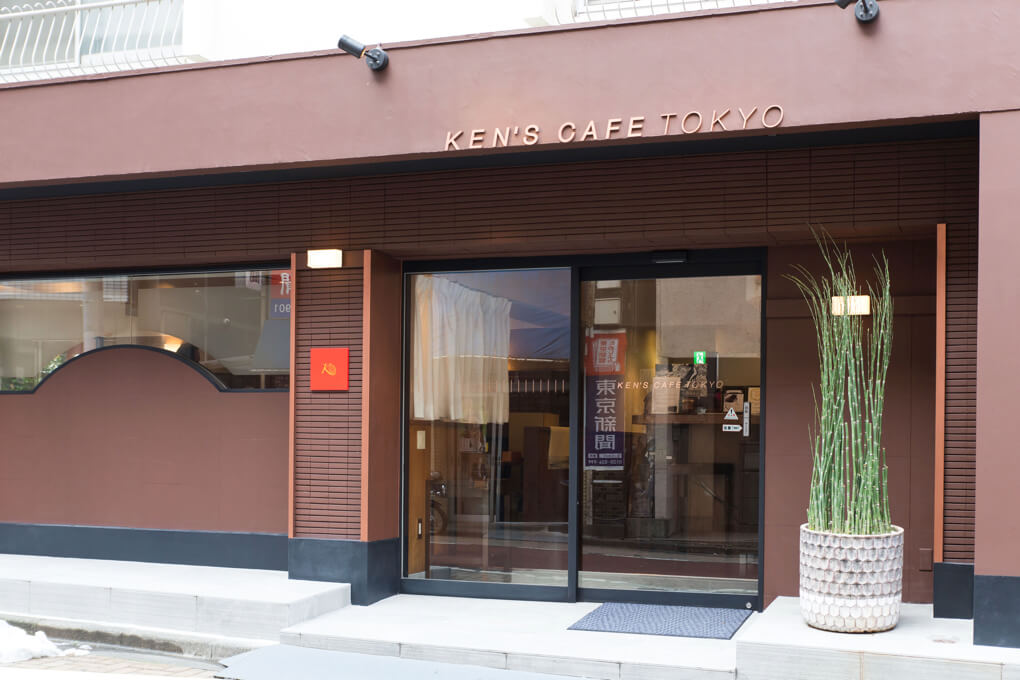 In today's entry to "Tokyo Stroll," Rinko Murata stopped by Ken's Cafe Tokyo in Shinjuku, a shop specializing in Gateau au Chocolat that's made with the best quality ingredients.
Ken's Cafe Tokyo is very easy to get to, located just 3-minutes on foot from Exit 2 of Shinjuku-Gyoemmae Station via the Tokyo Metro Marunouchi Line.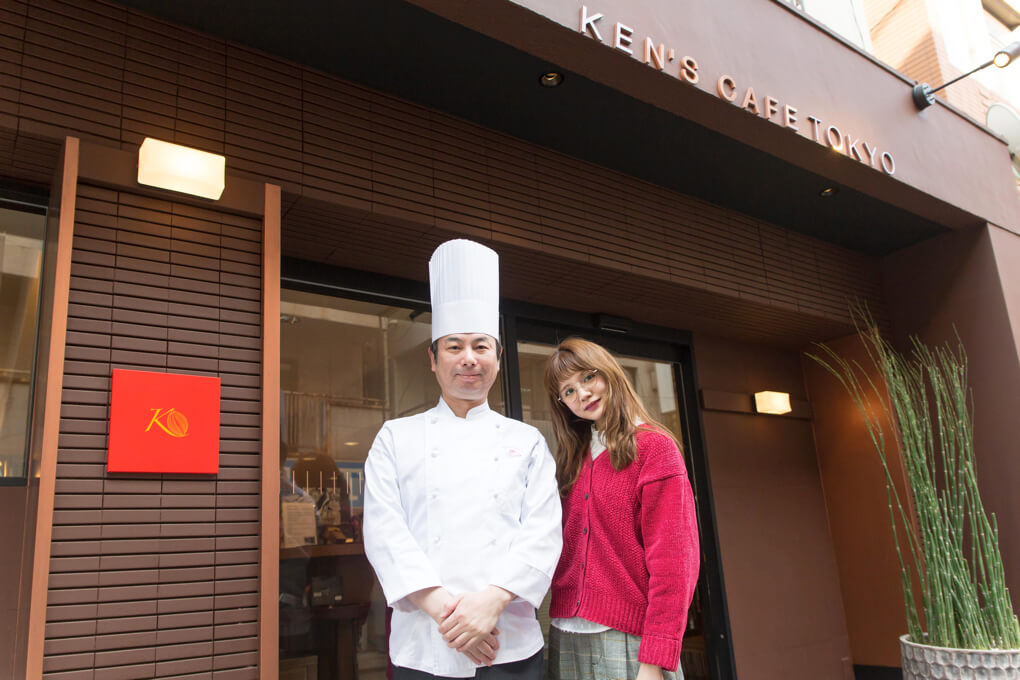 The Special Gateau au Chocolat is one of the desserts served by the shop's owner, Kenji Ujiie. Full sales of this dessert began due to strong demand from customers for it being so delicious. The word got out and immediately led to high praise that spread far and wide, and this year, the shop is celebrating its 20th anniversary!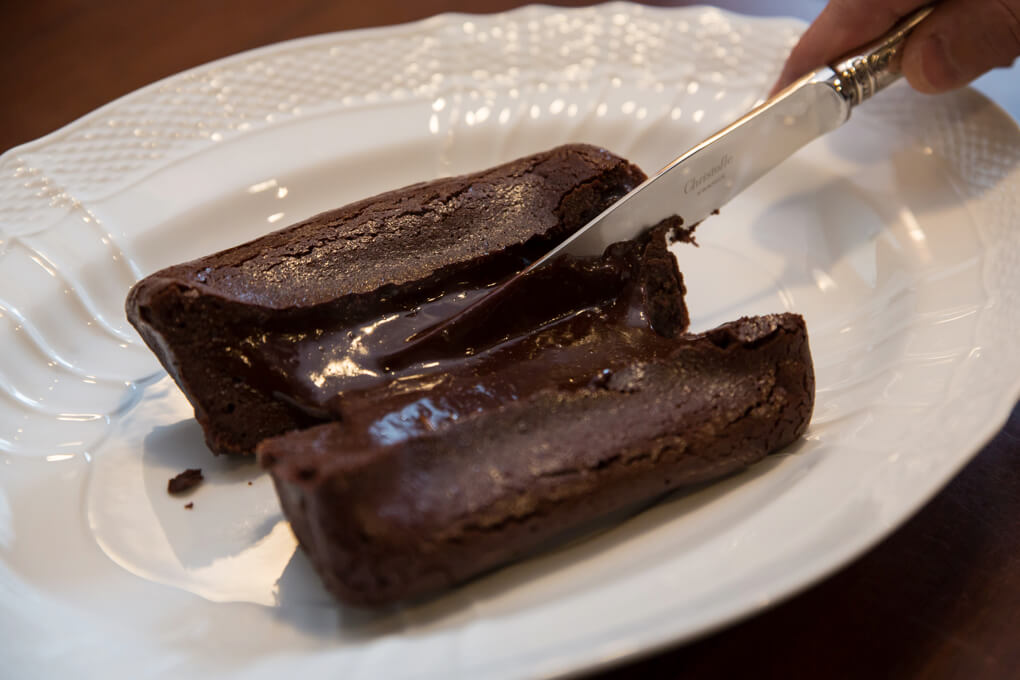 The Special Gateau au Chocolat comes in at ¥3,000 (tax included), with reservations in abundance up to a month. When it's freshly cooked, the outside is crispy, and the outside is creamy like fondue chocolate, making a perfect melt-in-the-mouth combined texture!
The secret to its deliciousness is in the thoroughness to use only the best ingredients. The chocolate used in the photo is from an Italian brand called "Domori." The founder of Domori, Gianluca Franzoni, was deeply impressed with the quality taste of the Special Gateau au Chocolat, and so personally created his first and only chocolate mix called "KEN'S" to be used at the shop.
To draw out the good flavour of the chocolate, it's made with gluten-free chocolate. Although the flavour is rich and full-bodied, the result of the taste is that makes it simple to eat.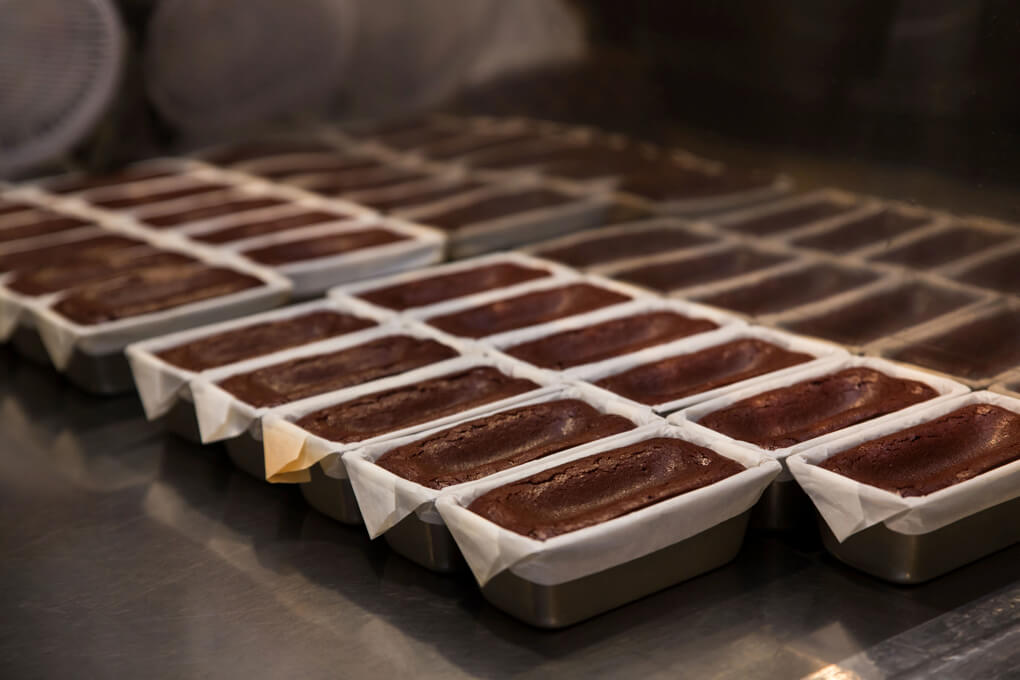 300 gateau chocolates are made in a single day! And because each and every one of them are handmade with the utmost care and detail, it's difficult to make any more than this, so there's always an abundance of reservations. But if you can't wait and need to try one straight away, limited quantities are being specially sold at Matsuya Ginza and Tobu Department Store in Ikebukuro, so be sure to check those places out.
Rinko couldn't control her excitement at the sweet smell of the chocolate. She took no time at all to begin tasting the Special Gateau au Chocolat.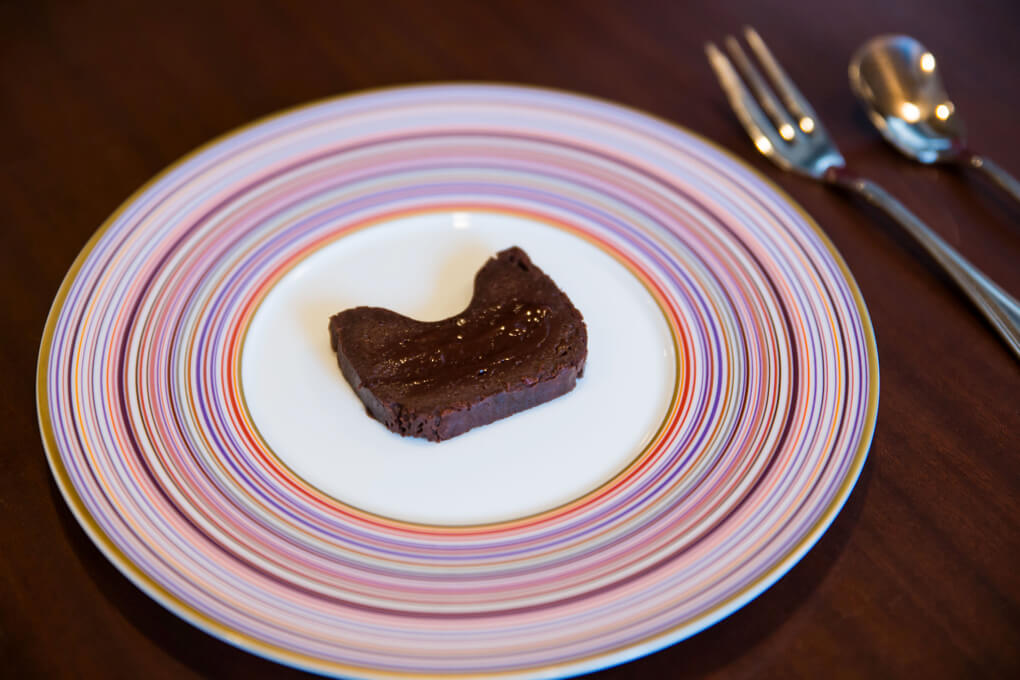 When eaten at room temperature, it tastes like terrine chocolate. Depending on what temperature you eat it at, the taste and texture will change, so with one gateau chocolate you can enjoy trying three completely different flavours. Also, the balance between the sweetness and bitterness is fine-tuned every time. If you buy one now, the bitterness of the cocoa has increased every so slightly compared to 10 years ago.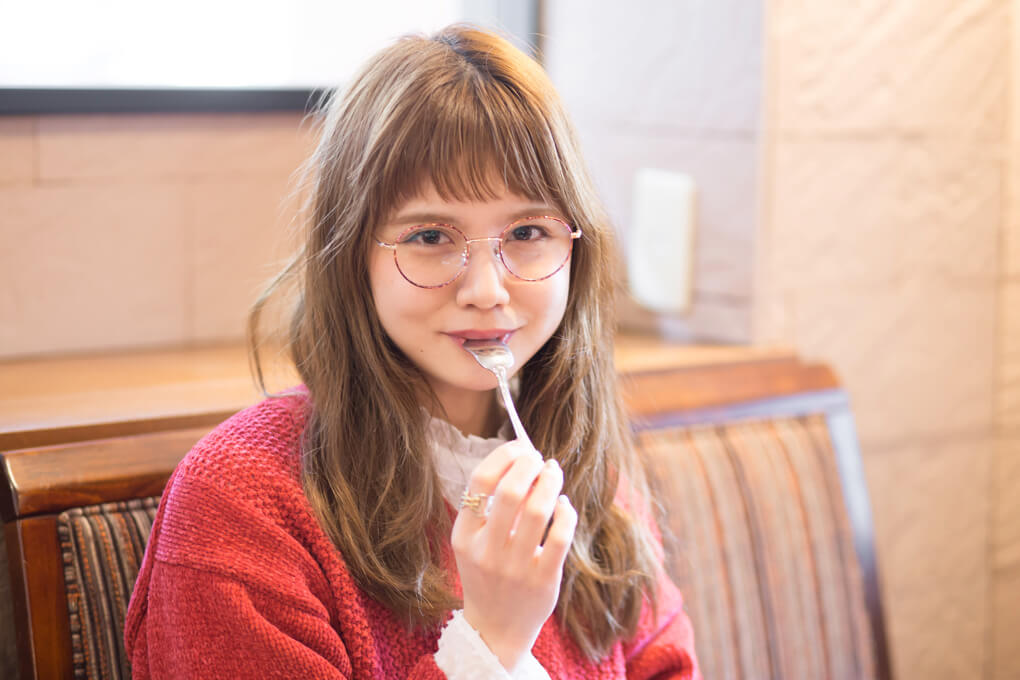 Rinko gave it her seal of approval. "The moment I took a bite, the aroma of the cocoa hit me, and the soft texture just melted inside my mouth! The balance between the bitterness and sweetness is exquisite. This delicious chocolate hit me in the head right away. Happiness is running around inside my brain. I can't get enough of how it feels!"
You can go back via Shinjuku-Gyoemmae Station, but you should take a stroll towards Shinjuku Station instead – it's just a 17-minute walk. Plus, Shinjuku Gyoen – Shinjuku's imperial garden – is close by Ken's Cafe Tokyo, so you might enjoy getting lost in your own thoughts while taking a walk through nature.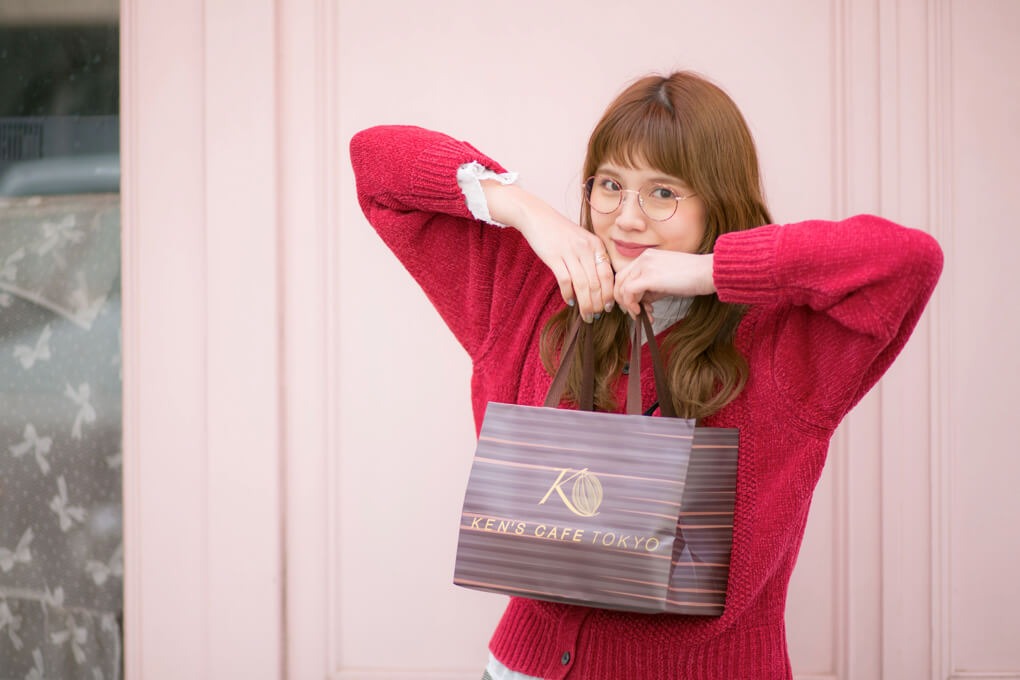 The Special Gateau au Chocolat is a perfect present for yourself or someone special. They are always waiting on orders, so if you're interest, check out the shop's website below and make a reservation.
■Information
Ken's Cafe Tokyo
Address: 1-23-3 Shinjuku, Shinjuku-ku, Tokyo
Access: 3-minutes on foot from Exit 2 of "Shinjuku-Gyoemmae Station" via the Tokyo Metro Marunouchi Line
Opening Hours: 10:00-19:00
Closed: Weekends & Holidays
Website: http://www.kenscafe.jp
Model: Rinko Murata @rink0_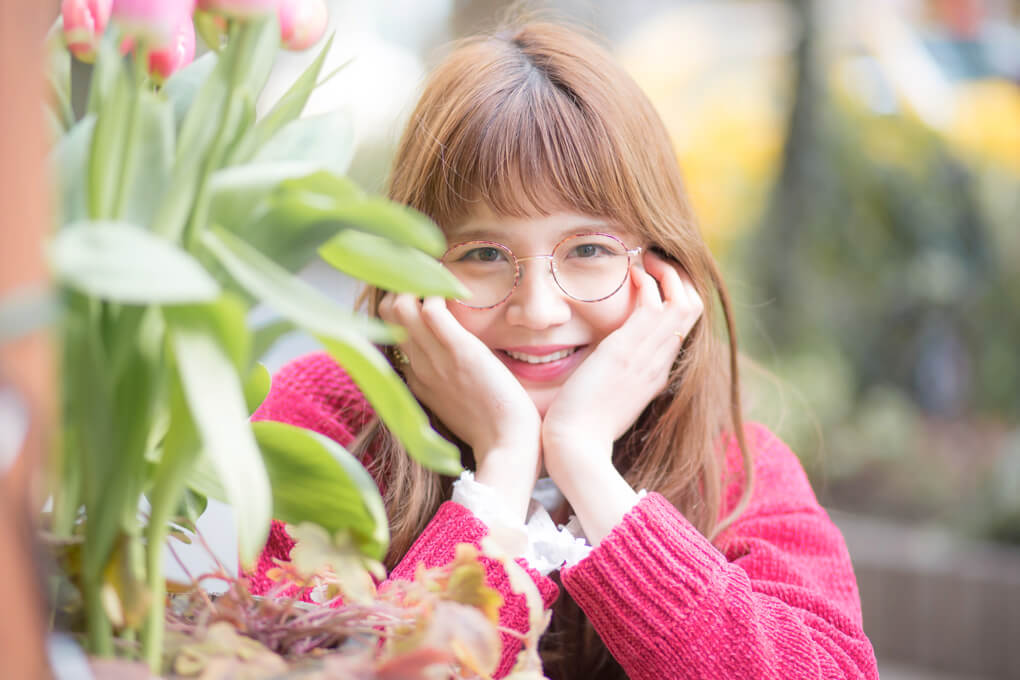 Rinko Murata appears in fashion magazines and is active on radio and TV. Sales of her first style book were so successful that it required extra printing during its first week. She also has a rapidly growing following across her social media profiles. As well as modelling at big fashion events, she also has her own column online at "She magazine," and receives much attention for her work in the areas of culture and lifestyle.
Photo & Writer: Haruka Yamamoto
Editor: Sayuri Mizuno(ASOBI SYSTEM)
Translator: Joshua Kitosi-Isanga
RECOMMENDED ENTRIES
【Tokyo Stroll 】Stroll in Kagurazaka, the fusion of Japanese culture and exoticism.

Kagurazaka is a busy district in Shinjuku ward that has been gaining more and more visitors recently. The focus of Kagurazaka is the long and continuous sloping street that runs from Iidabashi Station to Kagurazaka Station. It has a long history that begins in the Edo period and boasts a fusion of the Japanese spirit and an exotic mood. Today, we take a stroll to Kagurazaka with Rinko Murata who absolutely loves the atmosphere of the lively district.

Akagi Shrine is Tokyo's foremost power spot. It is located just outside the first exit of Kagurazaka Station, so it might be a good idea to begin the stroll with a shrine visit.

The Must-Visit Location in Kagurazaka for Walking & Eating

When coming to Kagurazaka, the nikuman at Gojūban are a must, no ifs, ands, or buts. Look out for the red and green entrance! This place has been running since 1957, when it was established during the Showa period.

They have all kinds of delicious nikuman in their showcase to choose from, including their "Ganso Nikuman" or original nikuman, a longtime flavour that has continued to be sold there for 60 years.

You'll have a hard time deciding what to go for. They sell a special shark fin nikuman. Only 30 are sold every day. They also have delectably addictive piri nikuman which are made using Chinese spices, as well as limited edition curry nikuman, spicy mapo flavoured nikuman, shiitake mushroom nikuman, mozzarella nikuman, and more.

Tear open the smooth and fluffy nikuman and out pours the meat juice! The best way to eat this original nikuman is definitely eating it while walking as soon as you buy it. There's no other luxury like it – purchasing Kagurazaka's most famous food and ambling the street.

Sitting diagonally opposite to Gojūban is Bishamonten Zenkoku Temple, the symbol of Kagurazaka, with a large red archway out front. It's a great location to take a photo.

<Gojūban>

Address: 1F Oomiya Bldg, 4 Chome-3-2, Kagurazaka, Shinjuku-ku

Access: 7-minutes' walk from Kagurazaka Station via Tokyo Metro Tōzai Line / 5-minutes' walk from West Exit of JR Iidabashi Station

Business Hours: [Mon-Thurs, Sun, National Holidays] 10:00-22:00 / [Fri-Sat] 10:00-23:00

Closed: New Year's holiday only

Telephone: 03-3260-0066

>>next page

【Tokyo Stroll】Visiting "Coci la elle" in Daikanyama to get our hands on a colourful umbrella!

Daikanyama is a popular little place located in a quiet residential area filled with stylish cafés and shops. It's surrounded by big tourist areas including Shibuya, Ebisu, Nakameguro and Ikejiri-Ōhashi, so is very easily accessible. Today we head to Daikanyama with Rinko Murata-chan, a place where you can have all kinds of fun shopping, eating or simply strolling around, to visit "Coci la elle Swan," a shop specializing in umbrellas.

"Coci la elle" – Umbrella Specialists

Coci la elle started originally stocked only one type of umbrella when it opened, a type made for protecting you from the sun. They now own a second shop in Daikanyama which opened in April this year in addition to the main shop and studio in Kiyosumi-shirakawa.

Today, we are visiting the newly-opened shop in Daikanyama, "Coci la elle2," which goes by the name of the "swan" shop. It received this name as the number "2" looks like a swan. The closest station is Daikanyama Station via the Tōkyū Tōyoko Line.  The station is only 1 stop from Shibuya and so is conveniently accessible, with Coci la elle only an 8-minute walk away from the front entrance.

Seize yourself a handmade umbrella

Coci la elle offers vibrant umbrellas in all types of colours and designs to brighten your day when those rainy days get you down. They also have umbrellas that will protect you from the blistering sun on those scorching days while also making you feel elegant at the same time.

The sun protection umbrellas are all made by hand, one by one, with their own individual designs and embroidery. The rain umbrellas are printed designs, but these are also all made by the head of the brand Chika Higashi, who makes collages out of photos and her own illustrations.

>>next page

【Tokyo Stroll】Strolling around in Harajuku which has a lot of unique spots such as popular graffiti and artistic miscellaneous stores.

Harajuku is a source of the latest unique cultures for young people in Japan. It is always full of people coming not only from Japan, but also from outside of the country throughout the year. Japanese model Rinko Murata visited the latest popular spots such as unique street art work and the curry restaurant that is known to those in the know.

To the Harajuku Tourist Center "MOSHI MOSHI BOX"

Today, we started strolling from the Harajuku Tourist Center called "MOSHI MOSHI BOX." It is located in the cross road that is connect to Takeshita street, Meiji street, and Ura-Harajuku in Harajuku.

We asked where the popular sightseeing spots in Harajuku are to the staff in "MOSHI MOSHI BOX," they said that the latest trend is the "street art." It is popular among young people who post the colorful and unique pictures on social media.

Actually, the building of "MOSHI MOSHI BOX" is a great photo spot as well. It is cute and colorful monument themed a world clock designed by Sebastian Masuda.

This "MOSHI MOSHI BOX" facility is not only will tell you the recommended sightseeing spots, but it also has a Japanese souvenir store which is good for choosing a small gift for someone. They also have free Wi-Fi, electric charger, and money exchange. Check it out when you are in Harajuku.

▼Information

MOSHI MOSHI BOX Harajuku Information Center

Address:3-23-5 1F Jingumae, Shibuya-ku, Tokyo

Hours:10:00AM to 6:00PM

Holiday:Open 7 days a week

The art work at the back street of Cat street

The graffiti on the wall at the back street of Cat street says "NOW IS FOREVER." It is the public art work created by Stephen Powers from the United States, and it is a very popular spot among the instagramer outside of the country.

It is also cute taking selfies with this graffiti using a wide-angle lens or a smartphone. This wall art can make you take some good pictures that definitely will standout on your social media.

▼ information

Public art「NOW IS FOREVER」

Address:4-24 Jingumae, Shibuya-ku, Tokyo

>>next page

【Tokyo Stroll】 The café that you want to visit to see someone #4 Cats working at Shinjuku-sanchome's Café Arles

"Good service, a jolly owner and cute cats – this café is sure to heal you!"

I'm Ema Tanioku and today I'll be introducing you to yet another café in Tokyo as the fourth edition of my series "The café that you want to visit to see someone". Today I'll be reporting about my visit to Café Arles which can be found at Shinjuku-sanchome. Ever since hearing that there were cats at this café, I've been set on going 〜♪♪

The café is very easy to access. To get to there, you can take the Toei Shinjuku line to Shinjuku-sanchome. From here, you can get to the café within a five-minute walk. Walking around the Shinjuku Suehirote theatre, the café soon came into sight. Somehow, I could sense the presence of cats just from the atmosphere…

There it was! The entrance to the café was decorated with many ornaments of cats and dogs. I don' know why but I was filled with excitement before even having entered.

As soon as I entered, I immediately spotted a cat.

I was then greeted by the cat's master who had a sweeping grin across his face and was wearing a hat with a cat broach. I could really feel his love for cats ♪♪

I took a sweeping glance over the café – cats, cats and more cats – there were so many cat-themed goods everywhere! Apart from cats goods, the master also collects clown goods and displayed everything all huddled together to decorate the café.

Although this was my first time at Café Arles, I immediately felt right at home as a warm feeling grew within me. I asked the master what got him into the café business and I was surprised by his response. It all started when the master was working at a mahjong parlour, where a person they knew asked them to start up a café.

The master then thought about the numerous paintings he had collected and how he was in search of a place to display them. The idea of choosing his own music, menu and decorating a café interior to his own taste really struck a chord with him.

There are many paintings displayed in the café. Amongst these are some by modern artist Tomomi Kondo, who made the paintings "please your master" and "cool your thighs", which feature the kaban neko (café cats) Ishimatsu and Jirocho, who are "working hard" by lazing around.

Café Arles is fun and draws in even more fun. The atmosphere is filled with the love and enjoyment of the customers. That's why I immediately felt so at home as soon as I entered. You can easily spend a long time here.

I asked the master what he recommends from his menu. His response? "My recommendation is what you want to eat the most!" he said wisely. I felt like eating Napolitan spaghetti and so that is what I ordered! (Price: ¥720 including tax)

It came with banana and giant corn ❤ – this excellent service made me so happy!

The gentle flavour of this homemade dish was delicious and I could really taste the Showa-retro Napolitan flavour to it. The drink, soup and salad services available gives this meal a perfect score for portion size satisfaction!

The master allowed me to take his café cat Jirocho-kun out for a walk. This was the first time I'd ever walked a cat – a new, fresh experience!

Jirocho-kun is a very calm and obedient cat, so we had a lovely stroll together. Speaking of which, Jirocho-kun loves his owner so much that he runs to meet him whenever he hears his car pull up at the shop.

This year marks the 40th anniversary of the café. "I enjoyed every minute of it" explained the master happily. The master created a place where everyone can be happy and in return everyone supports him. Perhaps this cycle is the motivational force that has kept and will continue to push this café to live and thrive.

I'm glad I came to this café today and met such a special person.

I want to come here again and have another chat with the master!

■Information

Cafe Arles

Address:1st floor, 5-10-8, Shinjuku, Tokyo

Opening h0urs: 11:30 〜 22:00

Regular holidays days: Sundays, New Year's period holiday period

Access:398 metres from Shinjuku Sanchome station (reach via Toei-Shinjuku line/ Tokyo Metro Marunouchi line

URL:https://tabelog.com/en/tokyo/A1304/A130401/13087540/

Model & Writer: Ema Tanioku

Profile: "Emaeri" is the nickname for models Ema and Eri Tanioku, who are Aomoji fashion model twins. Ema and Eri Tanioku specialise in twin fashion coordination. Over the years their fanbase has increased due to their cute looks. Ema Tanioku spreads Harajuku culture within Japan as well as overseas and works as a Harajuku Tourism Ambassador. Starting off as a model, Ema has broadened her talent range from fashion magazines to TV, and from playing the lead role in dramas to movies.

Instagram:@ematanioku

Photographer:Haruka Yamamoto

Editor:Ryoichi Komaba

Design:Yuko Abe (ASOBISYSTEM)

Translated by: Samantha Fernandes

【Tokyo Stroll】The cafe that you want to visit to see someone #1 The popular cafe in Jinbo-cho called "Sabouru" that has retro interior and nostalgic food.

"Although there are many great things about chain stores, the café has their own dream."

The café that reminds me of Showa era is somehow nostalgic and comfy inside.

I, Emma Tanioku, who love to visit the new café restaurants is going to introduce the café that will make you want to see particular person in their café.

Today, I came to Jinbo-cho that is good access from middle of Tokyo, and you don't have to change the train line from Shibuya station.

Jinbo-cho is socially known as the town which has many secondhand bookstores, it is actually the town for gourmets as well.There are many hidden old-established restaurants in this great town.

I want to introduce this café that I was especially curious about.

"Sabouru" which you can say its representative retro cafe. It locates right there from the exit A7 in Jinbo-cho train station.This 62 years historical café has established in 1955.

In front of this café which appears to look like small mountain hut, there is a red public telephones surrounded by some flowers, plants and a totem pole.This makes me want to take a picture in front of there.This public phone is actually functional, so I heard some people are still using it.

There are floor first, semi basement and mezzanine inside. It is little dark inside, but you can still enjoy reading books.Either if you come here alone or with your friends, you can spend the relaxed time.

The miscellaneous goods that decorated inside the café were donated by customers.

Even though they are all different kinds of souvenirs from all over the world, they look like it's coordinated perfectly.I bet the customers who are big fan of this café decide to buy the good souvenirs which are going to match with this store's atmosphere. For your information, you can decorate your souvenirs inside the cafe even if you are not regular customer.

>>next page

【Tokyo Stroll】A Day Out At: Kyu Shiba Rikyu Garden—An Oasis In The Middle Of Tokyo!

Kyu Shiba Rikyu Garden is a former Daimyo Garden, or imperial garden, of the early Edo period, along with the Koishikawa Kōrakuen Garden. Part of the charm of the garden is the large pond in the middle which people can walk around to appreciate the serene surroundings. The garden is a diamond in the rough as it is situated in a part of Tokyo where offices are dotted everywhere. The garden itself feels cemented in history and is a popular spot visited by company workers on their break, as well as tourists. There is a quiet stillness to the garden, a place where you can even experience feeling the changing seasons. Today, we take a stroll through the Kyu Shiba Rikyu Garden with Saki Shibata.

A Daimyo Garden with a history deep-rooted in early Edo

The garden is a 1-minute walk from the north exit of the JR Hamamatsuchō Station, and a 3-minute walk from the B2 Exit of Daimon Station via either the Toei Asakusa Line or Toei Ōedo Line. Hamamatsuchō Station is just 17-minutes from Shibuya Station on the inner loop of the Yamamote Line, so it's easy to get to.

General Admission to the garden is just ¥150, and ¥70 for Over-65s. Entry is free for those below elementary school grade, people residing in the city, and middle school students enrolled in the area. The scenery you will witness as you enter the garden is unique to that of such a city—a beautiful contrast between the greenery and the pond water against a backdrop of towering buildings.

A garden where you can feel nature against your skin

You can experience the true essence of Japan by seeing pine trees up close and personal. The bright green laws in summertime are fresh; the faint scent of grass will leave you feeling tranquil. You get to see the flowers dotted around Kyu Shiba Rikyu Garden change with the seasons, meaning you can enjoy hanami, or flower-viewing in Spring, Summer, Autumn and Winter.

It's a place where you can spend a relaxing time and dedicate some graceful reading time. Although it's in the middle of Tokyo, the garden is far away from all the ruckus, so you can get nice and comfortable.

>>next page
RELATED ENTRIES
Top 6 Desserts Made With Luxurious Pink Ruby Chocolate

Ruby chocolate is a variety of chocolate that was introduced in 2017 as the 4th main type of chocolate alongside milk, white and dark. It didn't hit Japan until October 2018, but since then, the luxury pink delight has been getting much love with the release of many new products. The ruby colour of the cocoa beans is completely natural.

I attended a product conference held by Barry Callebaut, the Belgian-Swiss chocolate company which introduced ruby chocolate to the world. I got to try out various confections made using this chocolate.

When talking about ruby chocolate, you're inclined to highlight its striking pink colour. But the looks are just part of the story. Compared to dark, white and milk chocolate, ruby chocolate is said to have the strongest cacao fruit flavour. Though it's chocolate, it has a sour, fruity kind of taste.

Until last year, I was more about the eye-catching pink colour of the chocolate, so I ended up overlooking that ruby chocolate is often paired with berry-type fruits when it comes to confections. I get it nowーso it has a sour taste? Well then, this year I really want to go all out and appreciate the unique flavour of this ruby chocolate.

Today, I'm going to showcase six new products made with Callebaut® Ruby Chocolate. I've tried them all, so I can properly break down the flavours and how delicious they are for you!

Ruby Chocolate Otabe – ¥660 (Before Tax)

This Japanese confection is a combination of ruby chocolate and "Otabe," which is a confection known as "yatsuhashi," a popular souvenir sweet from Kyoto. Much time is put into making the ganache to ensure the fruitiness of the ruby chocolate remains intact. The ganache is wrapped in chewy yatsuhashi which is made with domestic koshihikari, which is a type of rice, and carefully selected water. There's no way this could be anything short of delicious!

At the taste-testing session, I got to see the ruby chocolate Otabe being made right in front of me. It was done by a kimono-clad Nara who normally makes confections in the factory.

The rich and sour ganache combined with the chewy yatsuhashi is a match made in heaven! The pink colour really is cute after all, isn't it? By wrapping the fruity chocolate in mochi, it creates even deeper flavours in your mouth.

This product will be sold at Kyoto Station and various tourist sites around Kyoto, so if you ever visit the city, make sure you're on the lookout.

Ruby Chocolate Otabe

Running: October 11, 2019 – Early May 2020

Available: At Kyoto Station and tourist spots around Kyoto

Official Website: http://www.otabe.kyoto.jp/

 

 

Ruby Mille-feuille – ¥600 (Before Tax)

From Juchheim comes these ruby chocolate-coated mille-feuille fingers, laced with butter from Hokkaido and strawberry and raspberry mixed cream layered into a crunchy sandwich.

The puff pastry is of course tasty, and the sour flavour of the ruby chocolate mixed with the sourness of the berry cream packs a seriously fruity punch. It's an overall crunchy and rich dessert, but it also has a refreshing taste to it, so one person is sure to be tempted by more than one.

Ruby Mille-feuille

Released: October 1, 2019 (Online orders from October 8, 2019 )

Available: At all 272 branches of Juchheim in Japan / Juchheim Premium Online Shop

Online Shop: https://e-shop.juchheim.co.jp/

Pretzel Cookie – ¥480 Each (Before Tax)

Food company Rosenheim have taken their crunchy butter pretzel cookies and coated them in various chocolate flavours, including ruby, sweet, milk, and white.

The ruby pretzels have that distinct vivid pink colour and of course taste fruity. There's six in a pack, so you can share them with friends.

Pretzel Cookie

Released: September 20, 2019

Available: At mass retailers across Japan

Christmas Wreath Ruby Framboise – ¥5,000 (Before Tax)

Callebaut's new ruby chocolate iced cake will be released from Maison Givrée. It's topped with a ruby chocolate and raspberry ice cream and is adorned with cool and refreshing lychee sorbet.

The best way to eat this cake is when the ice cream has melted a little bit. You can enjoy the sweet fragrance of the ruby chocolate and the marriage between its sour flavour and the raspberry. Try savouring the melted sorbet and ruby chocolate ice cream by leaving it in your mouth.

Christmas Wreath Ruby Framboise

Running: October 11, 2019 – December 13, 2019

Delivery Window: December 20, 2019 – December 25, 2019 (subject to change)

Stock: 50

Available: At Maison Givrée and its online store

Official Website: https://givreetokyo.shop-pro.jp/

Ruby Chocolate Corn Puffs – One Box ¥1,450 (Tax Included)

You can pick up a box of these ruby chocolate corn puffs at Pierre Gagnaire Pains et Gateaux on the 2nd floor of InterContinental ANA Hotel Tokyo. They have a shiny pink pearl-like appearance. The crunchy corn puffs are thick-cut which goes well with that fruity ruby chocolate taste.

Ruby Chocolate Pear Tart – ¥650 (Tax Included)

These cocoa-laced and ruby chocolate powdered baked tarts are also sold at Pierre Gagnaire Pains et Gateaux. They're topped with almond cream and a pear compote. They're also topped with a ganache made from ruby chocolate and a redcurrant puree. Their design is made so that it looks like a flower, crowned with extra redcurrants.

Ruby Chocolate Corn Puffs

Running: All year round

Ruby Chocolate Pear Tart

Running: October 1, 2019 – January 14, 2020

Available: Pierre Gagnaire Pains et Gateaux (InterContinental ANA Hotel Tokyo – Floor 2F)

Hotel Official Website: https://anaintercontinental-tokyo.jp/en/

I'm all about ruby chocolate's deep flavour now. If you've yet to try it then you've got to get your hands on some, to enjoy both its striking pink appearance and that sour cacao fruit flavour.

Writer: Sayuri Mizuno (MOSHI MOSHI NIPPON)

Translator: Joshua Kitosi-Isanga

BEAMS fennica to Release Gorgeous Collection in Collaboration With Ainu Crafts

fennica is a fashion label associated with BEAMS that combines traditional Japanese handicraft with new and old designs collected from Northern Europe. The label has announced that it will collaborate with the Akan Tourism Association (法人阿寒観光協会まちづくり推進機構) non-profit organisation to release an all-new collection that incorporates traditional Ainu crafts.

Terry Ellisーthe London-based director of fennicaーand Keiko Kitamura observed Ainu culture in the Lake Akan area in Kushiro, Hokkaido, and have used the creative beauty of young craftsmen and craftswomen who are in charge of next-generation Ainu culture. Overtime they have worked together with the artisans to create an original collection entitled "Ainu Crafts from Lake Akan: Tradition and Innovation" which will be sold on the fifth floor of the Shinjuku branch of BEAMS Japan in the fennica studio and B Gallery from October 12.

The collection incorporates silver jewellery with Ainu patterns, wood-carved cutlery, hamper bags made with traditional materials, and many other lifestyle items familiar to Ainu culture. During the showcasing, there will be other exhibitions related to Ainu in the gallery, as well as talks, live performances, and more.

A special webpage went live on October 1 talking about this collaboration.

The collection's director Terry Ellis commented: "When I was walking around Takiguchi's store Ichigen No Mise, my attention focused on this cutlery. I felt the folklore in its simplicity. Though it's an item to be used, the craftsmanship is incredible. You can't just stop at one, you want to collect more and decorate with them." *Translated from Japanese

Keiko Kitamura, also a director for the collection, commented: "Akan is a rare kind of place, with mountains, rivers, lakes and forests. It has its own shapes and colours because of the light, colours and sounds which change intensely with time and soak into your body. And Ainu art is distinct from the traditional craftsmanship of other countries and regions because in almost all categories you can still produce it even today. There are [Ainu] people who are still continuing to make art for their family to this day. Their still being here is something valuable."

She continues: "Japan's handiwork is in danger of vanishing across all areas of the country. Even if there are no successors, there are people who have been beside them watching, and people who were once involved in the past. So we may barely just make it. Because if this handiwork comes to a stop, it will be no more. We feel a sense of duty to protect this wonderful work."

Information

Ainu Crafts from Lake Akan: Tradition and Innovation

Location: BEAMS Japan – Floor 5F (3-32-6 Shinjuku, Shinjuku Ward, Tokyo)

Running:

<fennica Studio> Product Sales: October 12, 2019 – October 20, 2019 (*AINU CRAFTS products, specially-made fennica select Lake Akan items, and more)

<B Gallery> Lake Akan Exhibitions: October 12, 2019 – October 27, 2019

①Live Event: October 13, 2019 @ 18:00-18:30

Guests: Sister music unit "kapiw & apappo" (Fukuko Gōukon/Emi Shimokura)

②Talk Show: October 20, 2019 @ 18:00-19:30

Guests: Kengo Takiguchi, Hiroyuki Shimokura, Erika Katsuya, Keiko Kitamura, Terry Ellis

*The live event and talk shows are booking-only. Please check the B Gallery website for more details and how to book.

Visit the following website for more details on the participating artisans: https://www.akanainu.jp/karpekuru

New York-Style Cafe & Restaurant Sarabeth's Celebrates 7 Years in Japan With Special Event in Shinjuku

It has been seven years since Sarabeth Levine took her New York-based cafe and restaurant Sarabeth's to Japan back in 2012. To celebrate, the establishment will hold a special one-night event with a commemorative menu.

"Fermented Foods" is the theme of the event, which will see an incredible line-up of premium dishes. There will also be a talk by Sarabeth Levine herself who will be in attendance.

The menu line-up features a range of healthy fermented foods, like pancakes and Eggs Benedict, while drinks options include lemonade with fermented syrup, goishicha tea from Aichi Prefecture, and more. There will also be Sarabeth cookies which you can take home with you.

Information

Sarabeth's Japan 7th Anniversary Special Event

Date: November 5, 2019

Time: Reception 18:30 / Open 19:30-20:45 (subject to change)

Price: ¥3,800 (Tax Included)

Capacity: 50 (Reservation-Only)

Location: Sarabeth's Lumine Shinjuku (Lumine 2 Floor 2F, 3-38-2 Shinjuku, Shinjuku Ward, Tokyo)

TEL:03-5357-7535

Reservations:  https://sarabeths7th.peatix.com

The Luxurious KitKat Chocolatory is Revamping Its Chocolate Line-Up

Nestlé has announced that it is revamping its 16 products* at the KitKat Chocolatory which will be released on October 11, 2019.

*One of these products will be released in late November

The KitKat Chocolatory is a direct-to-consumer chain, serving premium, handcrafted KitKats made with top quality ingredients and production methods under full direction by Takagi Yasumasa―the owner and chef of LE PATISSIER TAKAGI. Its luxurious line is endless, with products ranging from the elusive ruby chocolate, whose cocoa beans give the finish product its pink colour, to volcanic chocolate made from rare cocoa beans sourced from volcanic islands, and beyond.

The Chocolatory takes regular KitKats and the brand to a whole new level while still having that sense of familiarity, making their products great gifts and personal treats.

The new line-up of 16 products is considered by four categories: 1) the chocolate type, 2) where the cocoa beans are produced, 3) the production process from bean to bar, and 4) the combination between chocolate and other ingredients. Each and every bar has been given equal attention to create chocolates with different flavours, enabling consumers to discover not only which tickle their taste buds, but the story behind each unique bar.

There is a rapidly growing interest amongst consumers who want to know where their food comes from and how it's made. When it comes to specialist chocolate products, a lot of information isn't widely known. That's the reason behind KitKat Chocolatory's revamp, as well as to create chocolate that nobody has experience before.

Let's take a look at four of the new KitKats you can get your fingers on.

Enjoy the Chocolate Varieties

KitKat Chocolatory Sublime Bitter – ¥300 Each (Before Tax)

A hallmark product since KitKat Chocolatory opened, the Sublime Bitter is couverture chocolate made with 66% cocoa. The bar is a blend of three different cocoa beans from Ghana, Madagascar, and the Dominican Republic. This addictive delight reserves the original bitterness of the cocoa while having a fruity tinge to it.

Enjoy the Difference Between Cocoa Production Areas

KitKat Chocolatory Sublime Volcanic Malakula Island – ¥400 Each (Before Tax)

This mysterious 'volcanic chocolate' is made from extremely rare cocoa beans sourced from the volcanic Malakula Island which was voted one of the happiest places on earth. It has a distinct bitterness and very fragrant scent reminiscent of the ground.

Enjoy the Chocolate Making Process

KitKat Chocolatory Sublime Raw – ¥300 Each (Before Tax)

The cocoa beans of this "raw" chocolate are cooked at a lower temperature than usual to draw out a more natural flavour of the original bean, like it's been plucked right out of a cocoa bean farm and placed into your hands.

Enjoy the Combination Of Ingredients

KitKat Chocolatory Moleson – ¥500 Each (Before Tax)

Finally, here is the world's first ingredient-topped KitKat. It uses the smooth, melt-in-the-mouth KitKat Chocolatory Sublime Milk bar as the base, and is topped with sweet and sour dried cranberries and fragrant crushed almonds, creating a flavourful and textural ensemble.

Discover a whole new world of KitKat and chocolate when the new products drop at KitKat Chocolatory on October 11.

Two Snoopy Chocolate Shops to Open in Kyoto on October 9

Two chocolate shops themed on American cartoonist Charles M. Schulz's Peanuts character Snoopy are set to open simultaneously in Arashiyama and Kiyomizu-zaka in Kyoto on October 9, 2019.

Tablet Chocolat – From ¥1,200

Named SNOOPY Chocolat, the shops have many delicious treats lined up for fans of Snoopy, including these tablet-shaped chocolates. There are 8 in total, each telling a story of love, friendship and family that serve to give you courage.

Tablet Chocolat Japan – From ¥500

These cute heart-shaped tablet chocolates are made with Japanese ingredients like wasabi, yuzu, shiso, sesame, matcha, adzuki, shichimi, houjicha and more.

BonBon Chocolat – From ¥800

Made with rich, fragrant cocoa and Japanese flavours like yuzu, wasabi, roasted soy flour, matcha, houjicha and Japanese sake, these luxurious chocolates are like little pieces of art featuring Snoopy in his many different looks.

Both shops will feature an interior design reminiscent of Japanese-style houses. The Kiyomizu-zaka branch will have a luxury white chocolate colour tone while the Arashiyama branch will have a brown-coloured milk chocolate tone.

Tablet Chocolat (Arashiyama Exclusive)

Tablet Chocolat (Kiyomizu-zaka Exclusive)

Both shops will also have their own individual exclusive items too like the ones above, all original to SNOOPY Chocolat.

There will of course be plenty of original merchandise to get your paws on too, like plush toys, takeout cups, mugs, tote bags, freezer bags, and more, all perfect for use at home or as gifts to a friend.

Information

SNOOPY Chocolat (Kiyomizu-zaka Branch)

Address: 2-252 Kiyomizu, Higashiyama Ward, Kyoto, Kyoto Prefecture

Business Hours: 9:30-18:30 (Open from 10:00 on October 9 only)

No Fixed Holidays

Access: 20-minutes on foot from Kiyomizu-Gojō Station via Keihan Electric Railway

SNOOPY Chocolat (Arashiyama Branch)

Address: 22 Sagatenryūji Susukinobabachō, Ukyo Ward, Kyoto, Kyoto Prefecture

Business Hours: 10:00-18:00

No Fixed Holidays

Access: 5-minutes on foot from Arashiyama Station via Keihan Electric Railway / 15-minutes on foot from Saga-Arashiyama Station via JR Line / 20-minutes on foot from Arashiyama Station via Hankyu

SNOOPY Chocolat Official Website:  http://www.snoopy-chocolat.jp

TOKYO CACAO: 20,000 Bars Of Tokyo-Made Chocolate to be Released

Hiratsuka Confectionery Co., Ltd. began the Tokyo Cacao Project in 2003, where it began planting cacao beans on the island of Hahajima, the second largest of the Ogasawara Islands in Tokyo. The project's aim was to produce chocolate made in Tokyo.

That chocolate is finally ready for consumption, as the first-ever batch of chocolate using the beans will be released on November 1. The chocolate is called "TOKYO CACAO," and a limited stock of just 20,000 will be sold.

These plentiful domestic cacao beans are described as having a gentle flavour. The harvested raw cacao beans are fermented and then dried, creating a rich aroma and mild taste. A bite of this chocolate promises the deep, original taste of the cacao beans.

The chocolate design takes on an Edo Kiriko glass style so it can be a chocolate that symbolises Tokyo. Its carefully-crafted shapely design elevates the delicate flavour of the cacao beans and the chocolate's smooth texture. Hiratsuka Confectionery's facility has its own "TOKYO CACAO LAB" so that the chocolate is made "from bean to bar" within Tokyo. This is where the fermentation and drying process takes place and subsequent bar production. It has taken over 10 years to create this authentic Tokyo-made chocolate.

To ensure this chocolate can be treasured and enjoyed, it is carefully packaged and sleeved in a tin like a jewel. This exclusive, limited-edition chocolate from Tokyo is sure to be a welcomed gift to someone special.

Hiratsuka Confectionery is planning to release some TOKYO CACAO at select stores ahead of the November release. If you're in Tokyo this November, make sure you get your hands on some of this very special chocolate.

Information

TOKYO CACAO

Contains: 2 Chocolates (70% Cocoa)

Price: ¥3,000 (Before Tax)

Stock: 20,000

Release Date: November 1, 2019 (*Orders now being taken on the online store)

Available At: The TOKYO CACAO website and a planned list of select stores which is yet to be announced (as of September 19, 2019)

Official Website: http://www.tokyo-cacao.com/

New Food Truck Taiyaki Tainoya to Open in Shinjuku Serving Fish-Shaped Cakes

Taiyaki Tainoya is a food truck set to open in front of the first floor entrance of Flags on September 20 which is connected directly to Shinjuku Station's south-east exit.

  

Taiyaki – ¥200 (Tax Included)

The truck will sell taiyaki, a classic Japanese confection which comes in the form of a crispy fish-shaped cake filled with bean paste. The cakes sold here will be made using Tokachi beans from Hokkaido which have a distinct luxurious sweetness to them.

The taiyaki here are made with takeout and gift-giving in mind, so they have been made nice and crunchy so they don't fall apart or become mushy.

The bean paste isn't overly sweet so is easy to enjoy. The beans, which have a strong aroma, are cooked in sugar beet from Hokkaido, and contain a hint of moshio, which is salt you get from burning seaweed.

The sweet bean paste has such a smooth texture that you wouldn't believe that's what it is. If you're a lover of adzuki bean paste or aren't good with sweet things, then this is a bean paste you're going to love.

For an extra ¥30, you can have the taiyaki packed in a cute gift box if you're thinking of giving it to someone. There are six colours to choose from for all occasions, be it a home party or for clients. They are also wrapped with noshi paper and contain message cards. There are seven of these to pick, so you can write your own words to the person.

If a simple taiyaki isn't enough for you, you can also top it with a rich soft-serve ice cream. Pick between Hokkaido Vanilla or Uji Matcha flavours.

If you're getting off at Shinjuku Station, be sure to head out the south-east exit of the JR Line section to find Taiyaku Tainoya.

Information

Taiyaku Tainoya

Address: 3-37-1 Shinjuku, Shinjuku Ward, Tokyo (1st floor entrance of Flags at Shinjuku Station's south-east exit)

Grand Opening: September 20, 2019

TEL: 080-4179-2365

Opening Hours: 11:00-3:00

No Fixed Holidays

Escape From Godzilla at TOKYO MYSTERY CIRCUS Escape Game Theme Park

TOKYO MYSTERY CIRCUS's catalogue of games just keeps on growing. The puzzle and escape game theme park has just announced the return of its escape game Escape From Shin Godzilla which is being held in collaboration with the 2016 film Shin Godzilla.

The event was previously held last April where it ran until October, enjoying huge popularity with over 40,000 escape game-goers. Players took the role of a member of the Kyosaitai―the anti-Godzilla task force―based in Kabukicho, Shinjuku where you will be tasked with solving puzzles to defeat the colossal giant.

The thrilling event returns once more with original visuals created to make it look like Godzilla has really invaded Kabukicho. Tickets are now on sale, and you can pick up exclusive merchandise and themed food at the venue too. Can you defeat Godzilla?

TM&©TOHO CO., LTD. ©SCRAP

Information

Escape From Shin Godzilla

Location: Himitsu Kichi Lab, TOKYO MYSTERY CIRCUS (Floor B1F)

Running: October 4, 2019 – November 10, 2019

Times

Weekdays: 13:20 / 16:20 / 19:20
Weekends & Holidays: 10:10 / 12:40 / 15:10 / 17:40 / 20:10
*The event will end 100 minutes after each starting time

Price
Advance: Single ¥3,300 / Group ¥12,000 / Repeater Group Ticket ¥12,000
Same-Day: Single ¥3,800 / Group ¥14,000 / Repeater Group Ticket ¥14,000
*Same-day tickets will not be available if all advance tickets sell out

 

TOKYO MYSTERY CIRCUS

Address: APM Bldg., 1-27-5 Kabukicho, Shinjuku, Tokyo, 160-0021

Opening Hours: Weekdays 11:30-23:00 / Weekends & Holidays 09:30-23:00

No Fixed Holidays.

Price: Free Entry (*Separate tickets required for games)

Official Homepage (English): https://mysterycircus.jp/en/

Event Page (Japanese): https://mysterycircus.jp/shin-godzilla/

Scorch your Senses at the Spicy as Hell and Tasty as Well 2019 Food Festival Round 2 in Shinjuku

Spicy as Hell and Tasty as Well 2019 will be holding round 2 on August 16, 2019 at Okubo Park, Kabukicho in Shinjuku. This will be the event's biggest gekikara gourmet saiten (super spicy festival) Japan has ever seen. 

Food services that represent the spicy foods of the world have all joined forces at Kabukicho in Shinjuku; Asia's largest entertainment district to tinge it with a luminescent spicy red colour. So far, around 0.7 million people with a burning passion for spice have made their way to the spice central to test their tolerance to the range of gourmet spicy dishes. From beginner to mania, the event caters to all levels of spice-lovers. From a tiny touch of spice to spicy as hell, there is a wide range of spice levels to choose from. The dishes served and participating shops are changed each week, so you can enjoy a new spicy experience each week. 

At the 1st Round, spice fans had their fill of Ciao em Cafe's Bún bò Huế. This café, which originates from the outskirts of Tokyo in Hana-Koganei, took part in the event for the first time. One of their signature dishes is the Vietnamese soup, which captured the hearts of many women for its perfectly balanced sweet yet spicy flavour.  Despite being Menya Mazeharu's first time serving at the event, their queues stretched out into the sunset from morning to evening each day .

Round 2 will see Cheese to Gibier Curry Naru Ichizoku and Tokyo spice curry Aka to Kuro spicing up the event for the first time. This is the perfect opportunity to experience Awajishima Curry made with the world's most sense-scorching spices including ghost pepper, trinidad scorpion pepper, and the carolina reaper. Tokyo spice curry serves up red curry dishes made with ingredients traditionally used in natural Chinese food therapy. Their black curries are Kashmiri curries that will leave you feeling satisfied. 

These are just a selection of the vast number of noteworthy spicy dishes. You are bound to find the perfect curry to spice up your life at this event, so please check it out.

Information

Spicy as Hell and Tasty as Well 2019 (激辛グルメ祭り2019)

Venue: Okubo Park, Kabukicho, Shinjuku 

Address: 2-43, Kabukicho, Shinjuku, Tokyo

Access: 3-min walk from Seibu-Shinjuku Station or an 8-min walk from Shinjuku station (JR/ Odakyu/ Keio lines)

Entry: Free to enter, pay for your food and drinks. 

Schedule:

2nd round: Aug 16 ー 21

3rd round:  Aug 23 ー 28

4th round: Aug 30 ー Sept 4 

5th round: Sept 6 ー 11

6th round: Sept 13 ー 18 

* Closed on Aug 15, 22, 29 and Sept 5, 12 to change the shops.

* Open on rainy days (closed during stormy weather).

* Spicy as Hell and Tasty as Well is open for a total of 38 days this year, the longest it has ever run in history.  

Website: https://www.gekikara-gourmet.com/

A Date With Yutaro: Soaking Up the Japanese Summer Sun & Visiting the Art Aquarium | Tokyo Stroll

It's been a while since our last date with Yutaro. He's been very busy with film shoots. He had some spare time today so we paid a visit to Nihonbashi for our next date. "ECO EDO Nihonbashi: Enjoy Cool Edo With All Five Senses" is an event held every year in the Nihonbashi area which takes the Edo period cultural idea of "coolness"―an in, to enjoy being cool during the summer-and puts a modern spin on it. There are many exciting things to look forward to, including the art aquarium which proves massively popular every year.

We gave ourselves more time to arrive at the meeting place to be in the safe side, but it seems Yutaro-kun was already there waiting for us!

Nihonbashi Information Center | IPPIN CAFÉ "Sparkling Herb Tea" – ¥518 (Tax Included)

"Here, you must be boiling." Yutaro-kun kindly offers a cup of IPPIN CAFE's limited-edition sparkling herb tea. It's a delicious mix of fizzy soda and lemon, a perfect refreshment for the summer. Since he ordered takeout the drink came with a goldfish straw. Goldfish are a staple sight during Japanese summer festivals so it's very fitting for the occasion! 

With our drinks in hand, it's time to head to Nihonbashi for our Edo summer date!

Wind-Chime Forest Path

Lining the path between Fukutoku Shrine and Fukutoku Garden is the Wind-Chime Forest Path where around 200 Edo-style wind chimes dangled. This year, during the evenings, the path is illuminated with beautiful lighting. 

When the breeze rolls past the wind chimes ring one by one-a cool and refreshing sound.

"I hear each one of these Edo wind chimes are individually handmade by craftsmen."

When you hear the sound of the wind chimes it makes you feel cool like a gentle breeze of the wind.

After strolling along the Wind-Chime Forest Path we make our way towards this year's ECO EDO Art Aquarium event.

The moment we step instead Yutaro is already dazzled by all the goldfish: "Wow! I knew about this place from what I'd seen online, but this my first time here! This art aquarium really is something!"

The full title of the event is "ECO EDO Nihonbashi ART AQUARIUM 2019 ~Edo, Coolness of Kingyo~ & Night Aquarium."  Goldfish were a huge part of the common culture in Nihonbashi during the Edo period. This event recreates that and brings that "coolness" aspect while combining it with contemporary art by having people observe the fish in lots of different artistic environments.

Super Oiran

"This is the biggest fish tank, apparently it has 3,000 fish swimming inside!"

"Seeing the light reflect on the water from the illuminations lets you see the fish in a different light, doesn't it?"

Looks like Yutaro-kun is having a lot of fun taking photos.

He's equally interested in just about every fish tank!

These other fish tanks have a different aesthetic to them. Their Japanese-style designs make for great photos.

Kaleidorium 3D

"This one's beautiful, it's like a kaleidoscope."

It really does look like one. When you take a peek instead you can glimpse all kinds of colourful fish gently swimming around.

Ceiling Kingyo

"There're goldfish swimming on the ceiling too. So cool! This aquarium is incredible. It brings together the great culture of Edo and contemporary art."

The Art Aquarium bustles every single year with visitors, but this year will mark its last run. It's being held at Nihonbashi Mitsui Hall, so if you have the chance to go then please do.

We of course checked out some local Nihonbashi treats too! We stopped by morozoff for some cheesecake after the aquarium.

morozoff Kamadashi Cheesecake (Goldfish) – ¥270 Each (Tax Included)

These cute cheesecakes with their goldfish designs are available for a limited time only. They're filled with sweet red bean paste. They perfect with iced tea.

"Got some! Let's eat them while we head back."

Goldfish Lantern Walkway

Our first date in Nihonbashi was so much fun. While on the date Yutaro-kun spoke about the new live-action film he's in, Kaguya-sama: Love Is War.

"It's a romance film with mind games to try and make the other person confess their love. I play the character Tsubasa. His number one highlight scene is the kabedon scene. That was my first day shooting, so I was super nervous, but I got along well with the other actors, and the atmosphere on set was harmonious, so I was able to relax for the shoots. Tsubasa is a genuine guy who will believe things that have been said to him in earnest. You've definitely gotta check out all his scenes throughout the film!"

"A lot of the cast are the same age as me, so we were all energetic together in the waiting room. There's a scene at the end where all the cast get together. It took 3 days to shoot so we ended up getting along really well."

"This film has made me realise that love comes in many shapes, and that mind games happen in a variety of ways between guys and girls. There's cute scenes that express that small bit of pride that teenagers have, the embarassment they feel, when they get butterflies, scenes that will warm your heart. The film has various elements to it so I thoroughly enjoyed watching it myself. I hope that couples in love in their teens and twenties watch it, and I also hope that married couples watch it and crack up laughing too."

"In the film it's summer break, and they go and see fireworks and stuff. It's definitely one to watch durnig the summer. You're gonna come watch it too, right? Shall we go?"

An offer we cannot refuse! We'll definitely go and see it with you, Yutaro-kun! 

Model: Yutaro

Writer: Yuki Yokoo

Photographer: Kayo Sekiguchi

Information

ECO EDO Nihonbashi 2019 ~Enjoy Cool Edo With All Five Senses~

Running: July 5, 2019 – September 23, 2019

Location: Nihonbashi Area

TEL: 03-3242-0010 (Nihonbashi Information Center)

Event Page: https://www.nihonbashi-tokyo.jp/en/ecoedo2019/

ECO EDO Nihonbashi ART AQUARIUM 2019 ~Edo, Coolness of Kingyo~ & Night Aquarium

Running: July 5, 2019 – September 23, 2019

Location: Nihonbashi Mitsui Hall Floor 5F (Entrance at 4F),  COREDO Muromachi 1, 2-2-1 Nihonbashimuromachi, Chuo Ward, Tokyo

Opening Hours: Art Aquarium 11:00-19:00 / Night Aquarium From 19:00

[Sun-Fri] 11:00-22:00 (Last Entries 22:00) [Sat & days prior to public hoiday] 11:00-23:30 (Last Entries 23:00)

Access: Directly connected to Exit A6 of Mitsukoshimae Station, accessible on the Tokyo Metro Ginza Line and Hanzomon Line / Directly connected to Shin-Nihombashi Station / 8-minutes on foot from East Exit of Kanda Station JR 8-minutes on foot from Nihonbashi Exit of Tokyo Station

TEL: 03-3270-2590

Event Page: https://www.nihonbashi-tokyo.jp/en/ecoedo2019/contents/005.html

Kaguya-sama: Love Is War Film

Release Date: September 6, 2019

Adapted from the manga of the same name by Aka Akasaka (Shueisha/Weekly Young Jump)

Cast: Sho Hirano (King & Prince), Kanna Hashimoto, Hayato Sano, Natsumi Ikema, Nana Asakawa, Mayu Hotta, YUTARO, Takashima Masahiro, Jiro Sato

Official Website: https://kaguyasama-movie.com/

TALENT PROFILE

Yutaro

Yutaro was born in Hiroshima on June 3rd 1998. His modeling career has earned him lots of attention as a fashion icon of the new generation. The famous model also works as a "charisma" shop assistant. Yutaro has gained his reputation as a "mysterious and handsome guy" from his appearance on Japanese variety shows. His debut was made on the show "Gyoretsu no Dekiru Horitsu Sodanjo" and has since then appeared on numerous different TV shows. He challenged himself to appear on stage for the very first time in March this year and is gaining popularity by the day for his diverse work.

Japan's Long Reigning Chocolate Brand Releases Limited Edition Flavour to Celebrate 40th Anniversary

Takenoko No Sato is a popular type of chocolate-covered small biscuit snack sold in Japan. This year, the mini bamboo shoot-shaped biscuit brand has been busy celebrating its 40th anniversary with the Anniversary Dessert Series. Lucky for us, that means the release of a second irresistible limited edition flavour. The new flavour, which is called Takenoko No Sato Strawberry Shortcake, will be released countrywide for a limited time only starting on August 20, 2019. 

Takenoko No Sato was born in August 1979 as the younger brother of Kinoko No Yama; a miniature mushroom snack made of a crunchy biscuit stalk and chunky chocolate mushroom head which was released in September 1975. These long-selling chocolate brands have been a popular hit since the day they hit the shops and have won the hearts of everyone from children to adults. 

Takenoko No Sato Strawberry Shortcake consists of a crunchy biscuit covered in a layer of tangy strawberry chocolate that tastes like fresh cream and sweet yet sour strawberries. 

If you have never tried this iconic Japanese brand of chocolate before, you definitely need to try it to see what all the hype is about. Don't forget to try the Strawberry Shortcake flavour which is only available for a limited time only.

Information

Takenoko No Sato Strawberry Shortcake (たけのこの里いちごのショートケーキ味)

RRP: ¥200 (before tax) /¥216 (after tax) 

Release Date: August 20, 2019

To be released countrywide.

Meiji Co., Ltd. Official Website: https://www.meiji.co.jp/

Tokyo Stroll: The Café That You Want to Visit to See Someone #11 – 'Hatoya' in Asakusa

In this edition of The Café That You Want to Visit to See Someone, I visited Hatoya which is located in Asakusa Shin-Nakamise Arcade.

The streets of Tokyo's historical district of Asakusa are packed to end with cafés. You can be spoiled for choice, but Hatoya stood out to me in particular as it's an especially old café. Business there began back in 1927 but the actual building was built back in the Taisho period, meaning its history spans more than 90 years ago!

The outside appearance of the shop is smart and chic so it's very easy to spot. I couldn't tell by looking from the outside, but the inside is full of old decorations and odds and ends which make you feel the history of the café.

One reason why I wanted to visit this place so much is because I was drawn to their logo. It's really retro-kawaii so I just couldn't resist!

You should take some photos too if you visit.

It was time to head inside. It's really comfy and cozy in there; the atmosphere was nice and relaxed.

Framed on the wall is a map of the Asakusa area during the Taisho era. Hatoya became famous back then because people could buy coffee for a mere 5 sen (a single sen is one-hundredth of a yen).

When business first began at Hatoya, because the café was opposite the stage door of a theatre, all of the famous actors and actresses would pop in. Some include famous Japanese comedian Roppa Furukawa and film actor Kiyoshi Atsumi who played Tora-san in the film series Otoko wa Tsurai yo.

I ordered the café's popular hotcakes which cost ¥600. They have been making these same hotcakes since before the war.

They were nice and fluffy and had a deliciously gorgeous brown colour. The flavour was out of this world when the butter melted from the heat of the hotcakes and mixed together with the syrup.

The portion might look like a lot but they are fluffy and have a light flavour so can be finished with no problem.

And is the café's signature milkshake (¥500).

It's so refreshing that you can knock it back all in one go. It has a simple flavour but it tasted so good!

I also ordered the ¥600 cream soda, my favourite beverage.

I've been to many cafés, and have covered many in this series, but this is the first I have dined at with such a deep history. I found myself enthralled by the stories of the owner who has continued to treasure the café and maintained it all the same since it opened. I feel like I have learned about a world I never knew about. The next time I go to Hatoya with a friend I'll be sure to let them in on its history. I encourage you to visit too!

Writer/Model: Ema Tanioku
Photographer: Haruka Yamamoto
Design: Yuko Abe (ASOBISYSTEM)

TALENT PROFILE

Ema Tanioku

"Emaeri" is the nickname for models Ema and Eri Tanioku, who are Aomoji fashion model twins. Ema and Eri Tanioku specialise in twin fashion coordination. Over the years their fanbase has increased due to their cute looks. Ema Tanioku spreads Harajuku culture within Japan as well as overseas and works as a Harajuku Tourism Ambassador. Starting off as a model, Ema has broadened her talent range from fashion magazines to TV, and from playing the lead role in dramas to movies.