【Tokyo Stroll】Experiencing the Finest Quality Gateau au Chocolat at "Ken's Cafe Tokyo"—Reservations Required
Shinjuku—Situated in the heart of Tokyo, the most populated metropolitan area in the world, and absolutely packed with travelers and tourists. It's a pivotal ward in Tokyo connected via many transportation services including the JR Line, subway, private railways, rapid bus lines and more. Shinjuku is an absolute must-visit when sightseeing in Tokyo.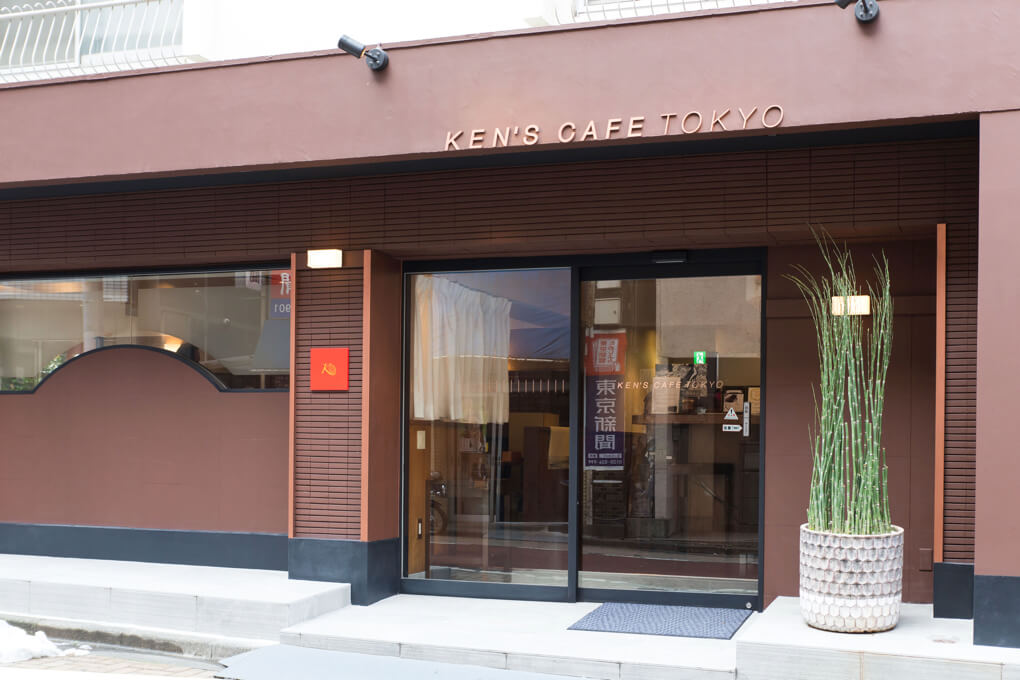 In today's entry to "Tokyo Stroll," Rinko Murata stopped by Ken's Cafe Tokyo in Shinjuku, a shop specializing in Gateau au Chocolat that's made with the best quality ingredients.
Ken's Cafe Tokyo is very easy to get to, located just 3-minutes on foot from Exit 2 of Shinjuku-Gyoemmae Station via the Tokyo Metro Marunouchi Line.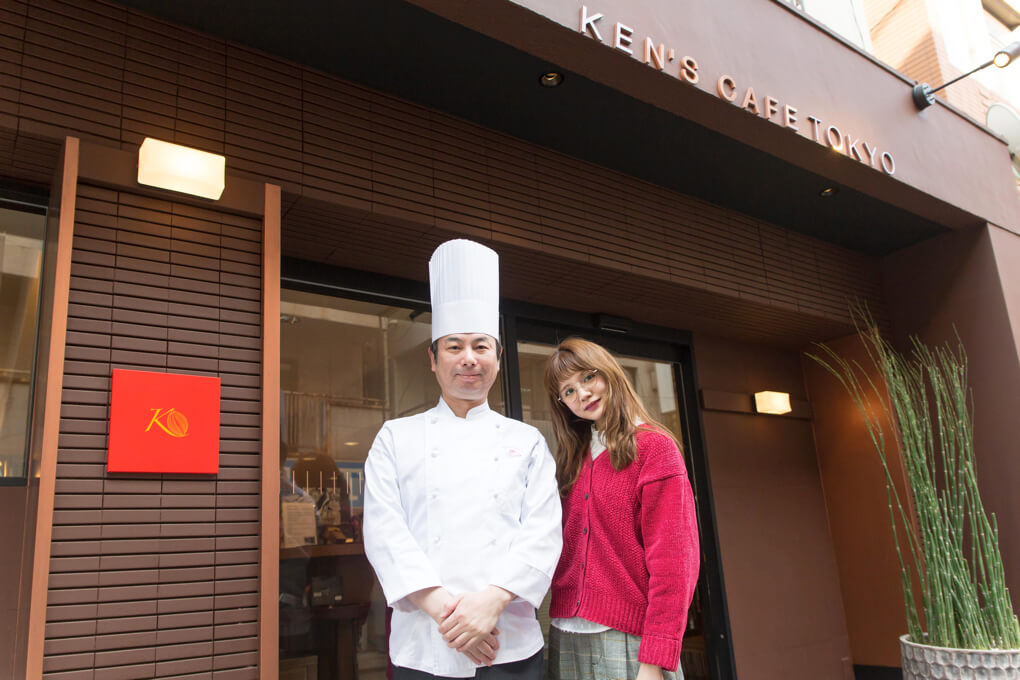 The Special Gateau au Chocolat is one of the desserts served by the shop's owner, Kenji Ujiie. Full sales of this dessert began due to strong demand from customers for it being so delicious. The word got out and immediately led to high praise that spread far and wide, and this year, the shop is celebrating its 20th anniversary!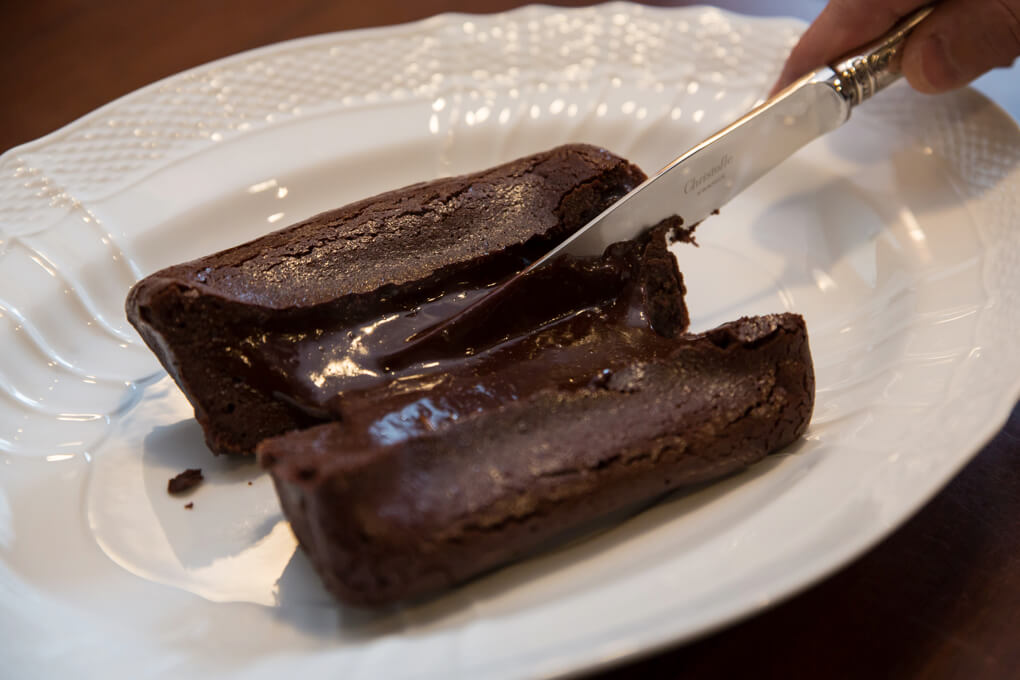 The Special Gateau au Chocolat comes in at ¥3,000 (tax included), with reservations in abundance up to a month. When it's freshly cooked, the outside is crispy, and the outside is creamy like fondue chocolate, making a perfect melt-in-the-mouth combined texture!
The secret to its deliciousness is in the thoroughness to use only the best ingredients. The chocolate used in the photo is from an Italian brand called "Domori." The founder of Domori, Gianluca Franzoni, was deeply impressed with the quality taste of the Special Gateau au Chocolat, and so personally created his first and only chocolate mix called "KEN'S" to be used at the shop.
To draw out the good flavour of the chocolate, it's made with gluten-free chocolate. Although the flavour is rich and full-bodied, the result of the taste is that makes it simple to eat.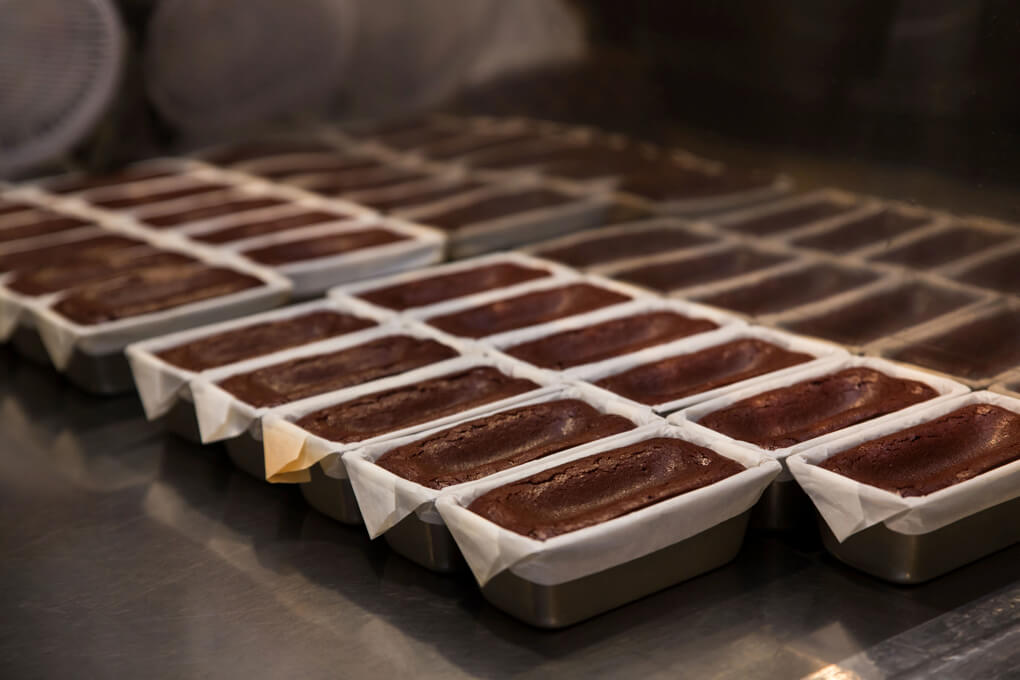 300 gateau chocolates are made in a single day! And because each and every one of them are handmade with the utmost care and detail, it's difficult to make any more than this, so there's always an abundance of reservations. But if you can't wait and need to try one straight away, limited quantities are being specially sold at Matsuya Ginza and Tobu Department Store in Ikebukuro, so be sure to check those places out.
Rinko couldn't control her excitement at the sweet smell of the chocolate. She took no time at all to begin tasting the Special Gateau au Chocolat.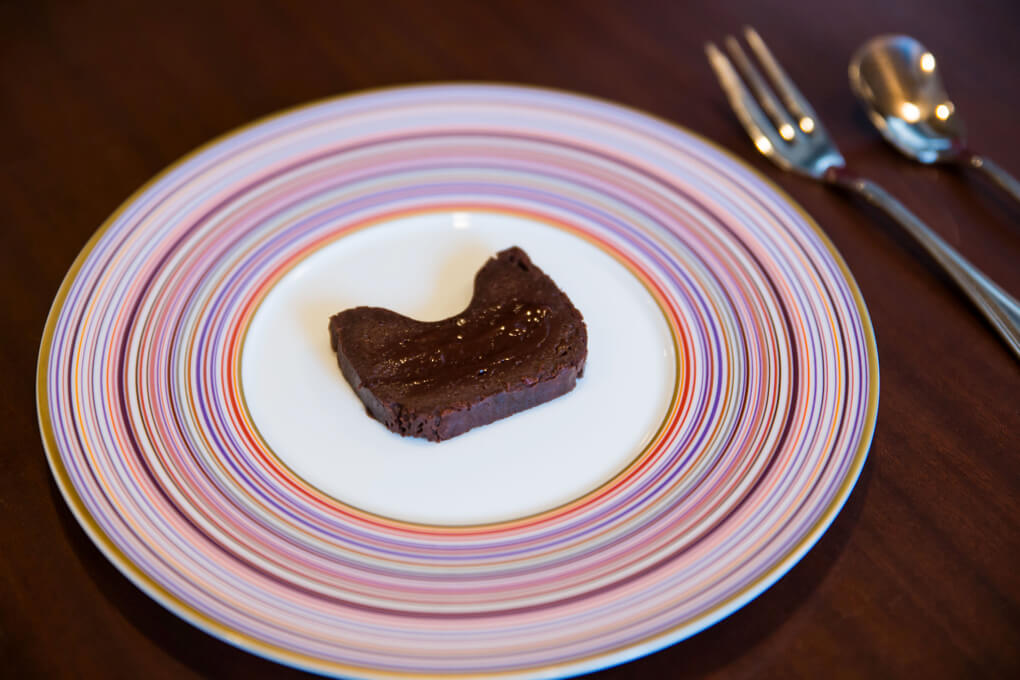 When eaten at room temperature, it tastes like terrine chocolate. Depending on what temperature you eat it at, the taste and texture will change, so with one gateau chocolate you can enjoy trying three completely different flavours. Also, the balance between the sweetness and bitterness is fine-tuned every time. If you buy one now, the bitterness of the cocoa has increased every so slightly compared to 10 years ago.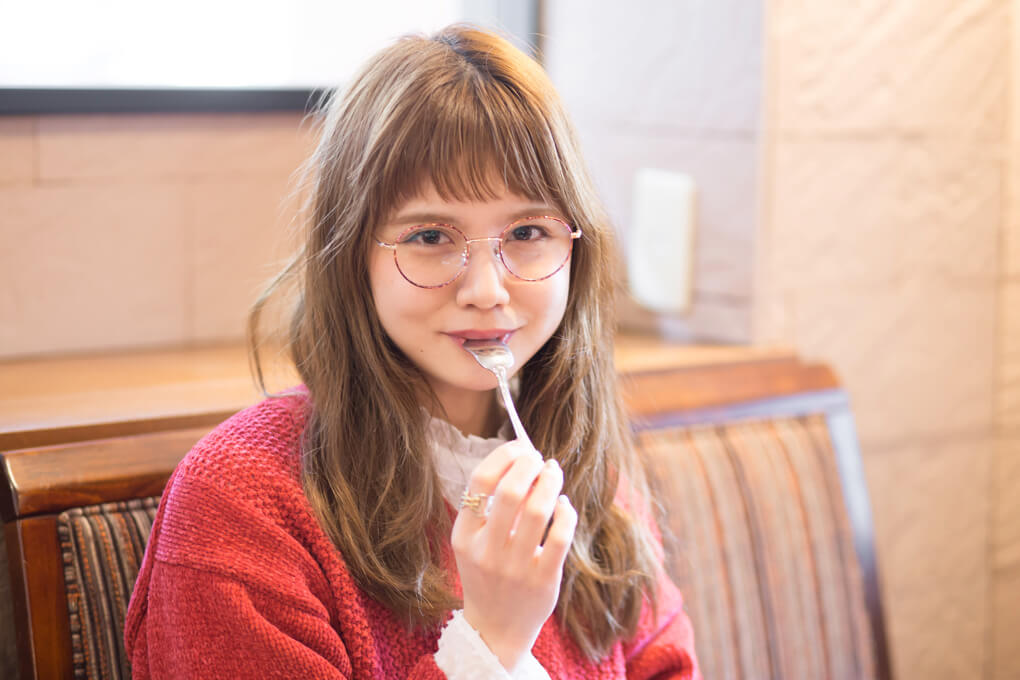 Rinko gave it her seal of approval. "The moment I took a bite, the aroma of the cocoa hit me, and the soft texture just melted inside my mouth! The balance between the bitterness and sweetness is exquisite. This delicious chocolate hit me in the head right away. Happiness is running around inside my brain. I can't get enough of how it feels!"
You can go back via Shinjuku-Gyoemmae Station, but you should take a stroll towards Shinjuku Station instead – it's just a 17-minute walk. Plus, Shinjuku Gyoen – Shinjuku's imperial garden – is close by Ken's Cafe Tokyo, so you might enjoy getting lost in your own thoughts while taking a walk through nature.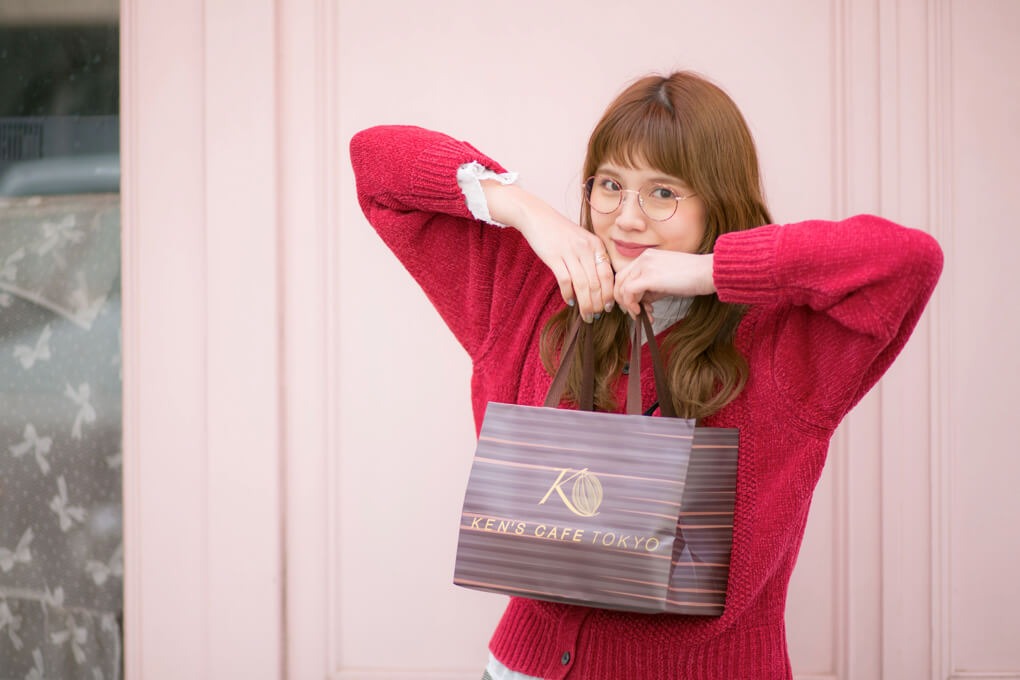 The Special Gateau au Chocolat is a perfect present for yourself or someone special. They are always waiting on orders, so if you're interest, check out the shop's website below and make a reservation.
■Information
Ken's Cafe Tokyo
Address: 1-23-3 Shinjuku, Shinjuku-ku, Tokyo
Access: 3-minutes on foot from Exit 2 of "Shinjuku-Gyoemmae Station" via the Tokyo Metro Marunouchi Line
Opening Hours: 10:00-19:00
Closed: Weekends & Holidays
Website: http://www.kenscafe.jp
Model: Rinko Murata @rink0_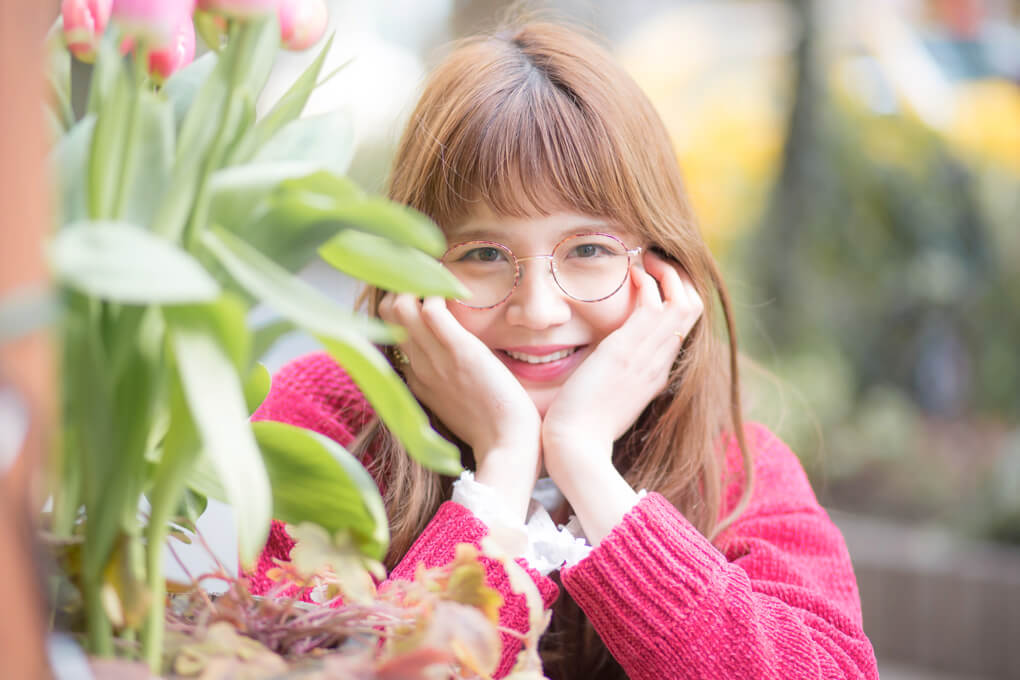 Rinko Murata appears in fashion magazines and is active on radio and TV. Sales of her first style book were so successful that it required extra printing during its first week. She also has a rapidly growing following across her social media profiles. As well as modelling at big fashion events, she also has her own column online at "She magazine," and receives much attention for her work in the areas of culture and lifestyle.
Photo & Writer: Haruka Yamamoto
Editor: Sayuri Mizuno(ASOBI SYSTEM)
Translator: Joshua Kitosi-Isanga
RECOMMENDED ENTRIES
【Tokyo Stroll 】Stroll in Kagurazaka, the fusion of Japanese culture and exoticism.

Kagurazaka is a busy district in Shinjuku ward that has been gaining more and more visitors recently. The focus of Kagurazaka is the long and continuous sloping street that runs from Iidabashi Station to Kagurazaka Station. It has a long history that begins in the Edo period and boasts a fusion of the Japanese spirit and an exotic mood. Today, we take a stroll to Kagurazaka with Rinko Murata who absolutely loves the atmosphere of the lively district.

Akagi Shrine is Tokyo's foremost power spot. It is located just outside the first exit of Kagurazaka Station, so it might be a good idea to begin the stroll with a shrine visit.

The Must-Visit Location in Kagurazaka for Walking & Eating

When coming to Kagurazaka, the nikuman at Gojūban are a must, no ifs, ands, or buts. Look out for the red and green entrance! This place has been running since 1957, when it was established during the Showa period.

They have all kinds of delicious nikuman in their showcase to choose from, including their "Ganso Nikuman" or original nikuman, a longtime flavour that has continued to be sold there for 60 years.

You'll have a hard time deciding what to go for. They sell a special shark fin nikuman. Only 30 are sold every day. They also have delectably addictive piri nikuman which are made using Chinese spices, as well as limited edition curry nikuman, spicy mapo flavoured nikuman, shiitake mushroom nikuman, mozzarella nikuman, and more.

Tear open the smooth and fluffy nikuman and out pours the meat juice! The best way to eat this original nikuman is definitely eating it while walking as soon as you buy it. There's no other luxury like it – purchasing Kagurazaka's most famous food and ambling the street.

Sitting diagonally opposite to Gojūban is Bishamonten Zenkoku Temple, the symbol of Kagurazaka, with a large red archway out front. It's a great location to take a photo.

<Gojūban>

Address: 1F Oomiya Bldg, 4 Chome-3-2, Kagurazaka, Shinjuku-ku

Access: 7-minutes' walk from Kagurazaka Station via Tokyo Metro Tōzai Line / 5-minutes' walk from West Exit of JR Iidabashi Station

Business Hours: [Mon-Thurs, Sun, National Holidays] 10:00-22:00 / [Fri-Sat] 10:00-23:00

Closed: New Year's holiday only

Telephone: 03-3260-0066

>>next page

【Tokyo Stroll】Visiting "Coci la elle" in Daikanyama to get our hands on a colourful umbrella!

Daikanyama is a popular little place located in a quiet residential area filled with stylish cafés and shops. It's surrounded by big tourist areas including Shibuya, Ebisu, Nakameguro and Ikejiri-Ōhashi, so is very easily accessible. Today we head to Daikanyama with Rinko Murata-chan, a place where you can have all kinds of fun shopping, eating or simply strolling around, to visit "Coci la elle Swan," a shop specializing in umbrellas.

"Coci la elle" – Umbrella Specialists

Coci la elle started originally stocked only one type of umbrella when it opened, a type made for protecting you from the sun. They now own a second shop in Daikanyama which opened in April this year in addition to the main shop and studio in Kiyosumi-shirakawa.

Today, we are visiting the newly-opened shop in Daikanyama, "Coci la elle2," which goes by the name of the "swan" shop. It received this name as the number "2" looks like a swan. The closest station is Daikanyama Station via the Tōkyū Tōyoko Line.  The station is only 1 stop from Shibuya and so is conveniently accessible, with Coci la elle only an 8-minute walk away from the front entrance.

Seize yourself a handmade umbrella

Coci la elle offers vibrant umbrellas in all types of colours and designs to brighten your day when those rainy days get you down. They also have umbrellas that will protect you from the blistering sun on those scorching days while also making you feel elegant at the same time.

The sun protection umbrellas are all made by hand, one by one, with their own individual designs and embroidery. The rain umbrellas are printed designs, but these are also all made by the head of the brand Chika Higashi, who makes collages out of photos and her own illustrations.

>>next page

【Tokyo Stroll】Strolling around in Harajuku which has a lot of unique spots such as popular graffiti and artistic miscellaneous stores.

Harajuku is a source of the latest unique cultures for young people in Japan. It is always full of people coming not only from Japan, but also from outside of the country throughout the year. Japanese model Rinko Murata visited the latest popular spots such as unique street art work and the curry restaurant that is known to those in the know.

To the Harajuku Tourist Center "MOSHI MOSHI BOX"

Today, we started strolling from the Harajuku Tourist Center called "MOSHI MOSHI BOX." It is located in the cross road that is connect to Takeshita street, Meiji street, and Ura-Harajuku in Harajuku.

We asked where the popular sightseeing spots in Harajuku are to the staff in "MOSHI MOSHI BOX," they said that the latest trend is the "street art." It is popular among young people who post the colorful and unique pictures on social media.

Actually, the building of "MOSHI MOSHI BOX" is a great photo spot as well. It is cute and colorful monument themed a world clock designed by Sebastian Masuda.

This "MOSHI MOSHI BOX" facility is not only will tell you the recommended sightseeing spots, but it also has a Japanese souvenir store which is good for choosing a small gift for someone. They also have free Wi-Fi, electric charger, and money exchange. Check it out when you are in Harajuku.

▼Information

MOSHI MOSHI BOX Harajuku Information Center

Address:3-23-5 1F Jingumae, Shibuya-ku, Tokyo

Hours:10:00AM to 6:00PM

Holiday:Open 7 days a week

The art work at the back street of Cat street

The graffiti on the wall at the back street of Cat street says "NOW IS FOREVER." It is the public art work created by Stephen Powers from the United States, and it is a very popular spot among the instagramer outside of the country.

It is also cute taking selfies with this graffiti using a wide-angle lens or a smartphone. This wall art can make you take some good pictures that definitely will standout on your social media.

▼ information

Public art「NOW IS FOREVER」

Address:4-24 Jingumae, Shibuya-ku, Tokyo

>>next page

【Tokyo Stroll】 The café that you want to visit to see someone #4 Cats working at Shinjuku-sanchome's Café Arles

"Good service, a jolly owner and cute cats – this café is sure to heal you!"

I'm Ema Tanioku and today I'll be introducing you to yet another café in Tokyo as the fourth edition of my series "The café that you want to visit to see someone". Today I'll be reporting about my visit to Café Arles which can be found at Shinjuku-sanchome. Ever since hearing that there were cats at this café, I've been set on going 〜♪♪

The café is very easy to access. To get to there, you can take the Toei Shinjuku line to Shinjuku-sanchome. From here, you can get to the café within a five-minute walk. Walking around the Shinjuku Suehirote theatre, the café soon came into sight. Somehow, I could sense the presence of cats just from the atmosphere…

There it was! The entrance to the café was decorated with many ornaments of cats and dogs. I don' know why but I was filled with excitement before even having entered.

As soon as I entered, I immediately spotted a cat.

I was then greeted by the cat's master who had a sweeping grin across his face and was wearing a hat with a cat broach. I could really feel his love for cats ♪♪

I took a sweeping glance over the café – cats, cats and more cats – there were so many cat-themed goods everywhere! Apart from cats goods, the master also collects clown goods and displayed everything all huddled together to decorate the café.

Although this was my first time at Café Arles, I immediately felt right at home as a warm feeling grew within me. I asked the master what got him into the café business and I was surprised by his response. It all started when the master was working at a mahjong parlour, where a person they knew asked them to start up a café.

The master then thought about the numerous paintings he had collected and how he was in search of a place to display them. The idea of choosing his own music, menu and decorating a café interior to his own taste really struck a chord with him.

There are many paintings displayed in the café. Amongst these are some by modern artist Tomomi Kondo, who made the paintings "please your master" and "cool your thighs", which feature the kaban neko (café cats) Ishimatsu and Jirocho, who are "working hard" by lazing around.

Café Arles is fun and draws in even more fun. The atmosphere is filled with the love and enjoyment of the customers. That's why I immediately felt so at home as soon as I entered. You can easily spend a long time here.

I asked the master what he recommends from his menu. His response? "My recommendation is what you want to eat the most!" he said wisely. I felt like eating Napolitan spaghetti and so that is what I ordered! (Price: ¥720 including tax)

It came with banana and giant corn ❤ – this excellent service made me so happy!

The gentle flavour of this homemade dish was delicious and I could really taste the Showa-retro Napolitan flavour to it. The drink, soup and salad services available gives this meal a perfect score for portion size satisfaction!

The master allowed me to take his café cat Jirocho-kun out for a walk. This was the first time I'd ever walked a cat – a new, fresh experience!

Jirocho-kun is a very calm and obedient cat, so we had a lovely stroll together. Speaking of which, Jirocho-kun loves his owner so much that he runs to meet him whenever he hears his car pull up at the shop.

This year marks the 40th anniversary of the café. "I enjoyed every minute of it" explained the master happily. The master created a place where everyone can be happy and in return everyone supports him. Perhaps this cycle is the motivational force that has kept and will continue to push this café to live and thrive.

I'm glad I came to this café today and met such a special person.

I want to come here again and have another chat with the master!

■Information

Cafe Arles

Address:1st floor, 5-10-8, Shinjuku, Tokyo

Opening h0urs: 11:30 〜 22:00

Regular holidays days: Sundays, New Year's period holiday period

Access:398 metres from Shinjuku Sanchome station (reach via Toei-Shinjuku line/ Tokyo Metro Marunouchi line

URL:https://tabelog.com/en/tokyo/A1304/A130401/13087540/

Model & Writer: Ema Tanioku

Profile: "Emaeri" is the nickname for models Ema and Eri Tanioku, who are Aomoji fashion model twins. Ema and Eri Tanioku specialise in twin fashion coordination. Over the years their fanbase has increased due to their cute looks. Ema Tanioku spreads Harajuku culture within Japan as well as overseas and works as a Harajuku Tourism Ambassador. Starting off as a model, Ema has broadened her talent range from fashion magazines to TV, and from playing the lead role in dramas to movies.

Instagram:@ematanioku

Photographer:Haruka Yamamoto

Editor:Ryoichi Komaba

Design:Yuko Abe (ASOBISYSTEM)

Translated by: Samantha Fernandes

【Tokyo Stroll】The cafe that you want to visit to see someone #1 The popular cafe in Jinbo-cho called "Sabouru" that has retro interior and nostalgic food.

"Although there are many great things about chain stores, the café has their own dream."

The café that reminds me of Showa era is somehow nostalgic and comfy inside.

I, Emma Tanioku, who love to visit the new café restaurants is going to introduce the café that will make you want to see particular person in their café.

Today, I came to Jinbo-cho that is good access from middle of Tokyo, and you don't have to change the train line from Shibuya station.

Jinbo-cho is socially known as the town which has many secondhand bookstores, it is actually the town for gourmets as well.There are many hidden old-established restaurants in this great town.

I want to introduce this café that I was especially curious about.

"Sabouru" which you can say its representative retro cafe. It locates right there from the exit A7 in Jinbo-cho train station.This 62 years historical café has established in 1955.

In front of this café which appears to look like small mountain hut, there is a red public telephones surrounded by some flowers, plants and a totem pole.This makes me want to take a picture in front of there.This public phone is actually functional, so I heard some people are still using it.

There are floor first, semi basement and mezzanine inside. It is little dark inside, but you can still enjoy reading books.Either if you come here alone or with your friends, you can spend the relaxed time.

The miscellaneous goods that decorated inside the café were donated by customers.

Even though they are all different kinds of souvenirs from all over the world, they look like it's coordinated perfectly.I bet the customers who are big fan of this café decide to buy the good souvenirs which are going to match with this store's atmosphere. For your information, you can decorate your souvenirs inside the cafe even if you are not regular customer.

>>next page

【Tokyo Stroll】A Day Out At: Kyu Shiba Rikyu Garden—An Oasis In The Middle Of Tokyo!

Kyu Shiba Rikyu Garden is a former Daimyo Garden, or imperial garden, of the early Edo period, along with the Koishikawa Kōrakuen Garden. Part of the charm of the garden is the large pond in the middle which people can walk around to appreciate the serene surroundings. The garden is a diamond in the rough as it is situated in a part of Tokyo where offices are dotted everywhere. The garden itself feels cemented in history and is a popular spot visited by company workers on their break, as well as tourists. There is a quiet stillness to the garden, a place where you can even experience feeling the changing seasons. Today, we take a stroll through the Kyu Shiba Rikyu Garden with Saki Shibata.

A Daimyo Garden with a history deep-rooted in early Edo

The garden is a 1-minute walk from the north exit of the JR Hamamatsuchō Station, and a 3-minute walk from the B2 Exit of Daimon Station via either the Toei Asakusa Line or Toei Ōedo Line. Hamamatsuchō Station is just 17-minutes from Shibuya Station on the inner loop of the Yamamote Line, so it's easy to get to.

General Admission to the garden is just ¥150, and ¥70 for Over-65s. Entry is free for those below elementary school grade, people residing in the city, and middle school students enrolled in the area. The scenery you will witness as you enter the garden is unique to that of such a city—a beautiful contrast between the greenery and the pond water against a backdrop of towering buildings.

A garden where you can feel nature against your skin

You can experience the true essence of Japan by seeing pine trees up close and personal. The bright green laws in summertime are fresh; the faint scent of grass will leave you feeling tranquil. You get to see the flowers dotted around Kyu Shiba Rikyu Garden change with the seasons, meaning you can enjoy hanami, or flower-viewing in Spring, Summer, Autumn and Winter.

It's a place where you can spend a relaxing time and dedicate some graceful reading time. Although it's in the middle of Tokyo, the garden is far away from all the ruckus, so you can get nice and comfortable.

>>next page
RELATED ENTRIES
Cafe 'Junkissa Bread & Espresso' to Start Chocolate Fair

Specialty cafe chain 'Bread, Espresso &' will begin selling special items as a part of its chocolate fair at the Harajuku location, 'Junkissa Bread, Espresso &' starting June 1!

Many of the existing items on the shop's menu will be available in chocolate versions. The Chocolate Mint French Toast is chilled and perfect for summer, drizzled with chocolate cream and mint sauce. Additional mint can be added to your heart's content!

The mint cocoa (pictured top right) features blended mint cream on top with cocoa on the bottom. The two halves blend effortlessly as the top warms and the bottom cools.

Come enjoy these chocolate treats during the warm summer months!

Information

Bread, Espresso &

Address: 6-25-5 Jingumae, Shibuya-ku, Tokyo
Hours: 8:00-18:00 (Last order at 7:30)
Open Every Day
Homepage: http://www.bread-espresso.jp/

Stuffed Animal Pickles the Frog Inspires Limited Time Collaboration Cafe in Shinjuku

Have you ever heard of Pickles the Frog? The adorable plush has become popular enough to inspire his own collaboration cafe in Shinjuku from May 25 until June 6! A special menu will be available at Brilliant Cafe located on the 11th floor of the Odakyu Department Store.

Green Curry Plate

Birthday Cake Plate

Fruit Tea Soda Float

As part of Pickle the Frog's birthday celebration, the cafe will feature a limited menu of three delectable items. Why not come celebrate Pickle's special day on June 1? 

A pop-up shop will also be opened soon, so keep an eye out!

Information

Pickles the Frog x Brilliant Cafe

Running: May 25 – June 6, 2022
Venue: Odakyu Department Store Shinjuku 11F (1-1-3 Nishishinjuku, Shinjuku, Tokyo)

Cat Illustration Series mofusand Inspires Themed Cafes in Tokyo and Osaka

Popular on LINE and other texting apps and illustrated by Jyuuno, mofusand is a curious collection of cute and slightly surreal cats. As with most things that go viral in Japan, these adorable characters will be featured in a themed cafe for a limited time! The Tokyo location will open on May 19 and the Osaka location will welcome visitors starting May 26, 2022.

Cafe Visitor Bonus: Sticker (6 varieties)

Drink Order Bonus: Coaster (6 varieties)

Menu

Fried Shrimp Sandwich Plate

Grilled Vegetable Curry

Nyanko Burger

Salmon Mentaiko Cream Pasta

Taiyaki

Nyanko Parfait

Black Cat Pancake

Nyan Lime Nata de Coco

Green Nyanko Float / Yello Nyanko Float / Blue Nyanko Float

Nyanko Cafe Latte / Nyanko Milk Tea

Merchandise

Sticker

Clear Folder

 

All menu items draw inspiration from the many mofusand characters and are perfect for posting on social media! Special bonuses will be given to those visiting the cafe and making select purchases, and a merchandise corner will be selling limited-edition goods featuring new artwork!

©mofusand

Information

mofusand cafe

Venue/Dates: 
Tokyo

BOX cafe&space Shinjuku Mylord #2

May 19 – July 10, 2022
Shinjuku Mylord 7F (1-1-3 Nishishinjuku, Shinjuku-ku, Tokyo)

Osaka

kawara CAFE&DINING Shinsaibashi

May 26 – June 19, 2022
Shinsaibashi Opa 9F (1-4-3 Nishishinsaibashi, Chuo-ku, Osaka) 

Reservations / Official Site: https://mofusand-cafe.jp
mofusand cafe Official Twitter: @mofusand_cafe

Pixar Fest Pop-Up Store by Small Planet to Open at Shinjuku Odakyu for the First Time

From April 13 until April 25, fans of Disney Pixar will want to visit the first floor of the Odakyu Department store in Shinjuku! The Pixar Fest Pop-Up Store by Small Planet will be selling a large collection of items featuring popular characters from Toy Story, Monsters, Inc., Cars, and more!

A wide variety of PIXAR goods such as bags, towels, mugs, stationery, and apparel will be available, and the Disney Friend of Nature Pop-Up Store by Small Planet will be held simultaneously, featuring sustainable and eco-friendly Disney items.

PIXAR FEST POP UP STORE by Small Planet Goods at a Glance

[Exclusive Event Item] IC Card Case: ¥2,310 

[Event Exclusive Item] Drawstring Bag: ¥660 *On sale April 16

[Event Exclusive Item] Random Pin Collection (12 varieties): ¥440 each

Purchase Bonus: Tote Bag

Purchase Bonus: Acrylic Coaster

Starting April 13, guests spending ¥6,600 (including tax) or more at the venue will receive one special tote bag while supplies last! Starting April 23, guests spending ¥2,750 (including tax) will receive a Toy Story acrylic coaster.

Disney FRIEND OF NATURE POP UP STORE by Small Planet Goods at a Glance

[Event Exclusive Item] Mug Made from Recycled Goods "Green Vibes Only!": ¥2,310

[Event Exclusive Item] Eco Bag "Green Vibes Only!": ¥3,190 *On sale April 15

Be sure to visit the pop-up shop to grab some exclusive merch while you can!

©Disney/Pixar
©Disney

Information

Pixar Fest Pop-Up Store by Small Planet

Disney Friend of Nature Pop-Up Store by Small Planet
Running: April 13 – April 25, 2022
Hours: 10:00-20:30 *Closes at 20:00 on April 17 and April 24
Venue: Odakyu Department Store Shinjuku Main Building 1F, Special Venue (In front of the Central Entrance)
Address: 1-1-3 Nishishinjuku, Shinjuku-ku, Tokyo
Access: In front of the Shinjuku Station West Entrance
Official Site: https://www.odakyu-dept.co.jp/

Odakyu Department Store Shinjuku to Open MOOMIN POPUP STORE by Small Planet

From March 30 until April 12, fans of Moomin will want to visit the Odakyu Department Store in Shinjuku for a special pop-up store!

Lineup

Odakyu Preorder Items 


Toto Bag

Synthetic Leather Coaster

Masking Tape

Event Exclusives

T-Shirt

Acrylic Keychain

Stainless Steel Tumbler

Purchase Bonuses

(March 30 ~) Bonus for purchases of ¥6,600 or more

Pocket Thermos Bottle, Joxter Cloud Design (Not for Sale)

(April 2 ~) Bonus for purchases of ¥3,300 or more

Sea Orchestra Acrylic Keychain (Not for Sale)


(April 9 ~) Bonus for purchases of ¥5,500 or more

Snufkin & Joxter Acrylic Stand Set (Not for Sale)

The pop-up store, which was very well-received last year, focuses on Snufkin, one of the most popular Moomin characters. This year, Snufkin's father, Joxter, will also be making an appearance. The venue will be decorated with original artwork, and a wide variety of Moomin merch will be available, including plush toys, sundries, apparel, and much more.

Information

MOOMIN POPUP STORE by Small Planet

Running: March 30 – April 12, 2022
Address: Odakyu Department Store Shinjuku Main Building 1F (1-1-3 Nishi-Shinjuku, Shinjuku-ku, Tokyo)
Access: Shinjuku Station West Exit
Official Site: https://www.odakyu-dept.co.jp/

Meiji Milk Chocolate Celebrates 95th Anniversary with Laforet Harajuku Collaboration Project

From March 12 until April 3, chocolate lovers will want to visit Laforet Harajuku! 30 different stores are celebrating the 95th anniversary of Meiji Milk Chocolate with over 80 new pieces of collaborative apparel, toys, and snacks.

Collaboration Items at a Glance

Laforet Staff in Unique Collaboration Outfits

Wind and Sea Pop-up Shop

Laforet Harajuku continues to be a place to discover local fashion and culture. Meiji spearheaded this collaboration after realizing the potential to create new and exciting pieces for fashionable chocolate lovers to enjoy! A wide range of products from clothing to chocolate block-shaped home goods are available now, along with Meiji White Chocolate and Meiji Black Chocolate items!





A Wind and Sea pop-up shop will open for the first time at Laforet Harajuku during the event and will also be selling chocolate-themed items. Fashion model and YouTuber Noah Sato will also be featured in event ads as a Meiji Chocolate ambassador! Those purchasing collaboration items will receive a special Meiji Chocolate bar in unique packaging while supplies last.

Gelato Pique Cafe Now Serving Valentine's Day Chocolate Sweets

From January 19 until February 15, gelato pique cafe is selling four chocolate-based treats for Valentine's Day! The theme of this new menu is 'Melt,' and guests are asked to enjoy the richness of melting chocolate during this sweet season.

 Fondant Chocolat Crepe (Dine-in: ¥980 / Take-out: ¥970)

This crepe is topped with chocolate fondant that melts into a warm chocolate sauce inside. The chocolate whipped cream is combined with Royal Bourbon gelato, accented with blackberry and black currant sauce, and a bit of crunchiness from the cookie bits.

Chocolate Crepe (Dine-in: ¥980 / Take-out: ¥970)

This mouth-watering crepe includes plenty of whipped cream and a luxurious fresh chocolate sauce topping. Inside, dark chocolate gelato is mixed with cocoa-flavored chocolate whipped cream. 

Hot Chocolate Chai (Dine-in: ¥640 / Take-out: ¥630)

This hot chocolate is a variation of the popular chai beverage. White chocolate is combined with Assam tea leaves, cinnamon, cardamom, ginger, and cloves for that perfect chai flavor. The sweetness of the hot chocolate is enhanced by the rich spices, giving it a more mature flavor!

Hot Dark Chocolate (Dine-in: ¥640 / Take-out: ¥630)

Extra dark chocolate is only enhanced with a roasted flavor creating a less sweet hot chocolate beverage. Available toppings are less sweet whipped cream, milk chocolate, and chocolate sauce.

Pokemon Valentine's Day Sweets on Sale for a Limited Time from Meine Rollen

Western confectionery brand Meine Rollen has begun selling a collection of Pokemon-themed Valentine's day goods for 2022! Although some of these chocolates look too cute to eat, they'll certainly earn top marks with your crush.

Chocolate Set L (Pokemon)

Sleeping Pikachu Pack (Pokemon)

Eevee & Friends Pack (Pokemon)

Last year's designs focused on characters from Pokemon Red, Green, Blue, Gold, and Silver, released between 1996 and 1999. This year's imagery was inspired by all games in the series, appealing to an even larger audience. Which design do you like the most?

Godiva to Sell Valentine's Day Chocolixir for a Limited Time

Godiva Japan has begun selling two special Chocolixir beverages for Valentine's Day! The Chocolixir Valentine Limited Edition Strawberry White Chocolate drink will be available either hot or cold and sweets lovers will feel indulged by their decadent flavors.

Regular Size (270ml): ¥700 (Tax Included) / Large Size (350ml): ¥790 (Tax Included) / Hot (220ml): ¥700 (Tax Included)

These magical elixirs are perfect for the Valentine's season. The gentle sweetness of the white chocolate and the elegant sourness of the strawberry sauce are perfectly balanced, and the whipped cream is topped with adorable pink hearts. Be sure to find a participating location near you to pick up one of these tasty treats while you can!

Information

Chocolixir Valentine Limited Edition Strawberry White Chocolate

Hot Chocolixir Valentine Limited Edition Strawberry White Chocolate

Available: January 12, 2021 – February 15, 2022 *While Supplies Last

Participating Stores: https://www.godiva.co.jp/boutique/storelist/

*Sales period subject to change. Store hours may change. 

The Westin Sendai Launches Fashionable Valentine's Day Chocolate 2022 Sweets Collection

The Westin Sendai is now offering four fashionable chocolates perfect for Valentine's Day. These will be available at the Symphony Restaurant on the 26th floor until February 14, 2022. 

Charming Rose (8 pieces)

Colore Label (8 pieces / 4 pieces)

Parfume (6 pieces)

Tablet Chocolate (2 varieties)

It wouldn't be Valentine's Day without chocolate, and the Charming Rose takes things to a new level. The handbag, which looks good enough to carry through town, is edible down to the handle and decorations. Inside the bag are eight lip-shaped chocolates in colorful cosmetic shades. Some are milk chocolate, others white, and others include fruits and nuts. Parfume offers a superb smoothness, while the Tablet Chocolate is topped with lavish nuts and dried fruits. 

Information

Valentine Chocolate 2022

Available: January 25 – February 14, 2022

Location: Symphony Restaurant (26F)

Hours: 11:30-21:00

*Hours and menu items are subject to change.

*All prices include tax. 

*Reservations are required by 20:00 at least three days in advance for the Charming Rose. Spots are limited.

Official Hotel Website: https://www.the-westin-sendai.com/

Takashimaya Announces 'Amour du Chocolat' Valentine's Day Event

Takashimaya's yearly 'Amour du Chocolat' Valentine's Day event is known as the 'Festival of Chocolates.'

Bringing together chocolates from around the world, this event is a way to highlight brands being introduced to Japan for the first time along with established favorites. This year's lineup will also feature sustainable chocolates and more luxurious sweets to make 2022 feel more uplifting.

The First Chocolate Brand to Land in Japan

Luna Creation Paris Marble Collection

Yvan Chevalier Chocolate Assortment

Chocolatine Yoann Debray Snowflake & Edelweiss Assortment

Sustainable Chocolate

Toshi Yoroizuka Truffle Banane 

Sils Maria Banana & Chocolate

Bvlgari Il Cioccolato Takashimaya Original Chocolate for Sustainability

MAAHA Flower Chocolate

Ma Priere Giandujas Selection

Message de Rose TOKYO Cone Fleury 2022 

International Chocolates

Charbonnel et Walker Assortment Box for Takashimaya – England

Recchiuti Peanut Butter Confections  / Sepia Box – United States

Vincent Vallee Chocolat Amour / Valentine Selection – France

Bubo Barcelona Chocolate Heart Sculpture – Barcelona

Takashimaya Specials

Takashimaya Limited Edition Jacques Genin Valentine's Heart / Classic Selection

Takashimaya Limited Edition Julien Dechenaud Praline Etoile / Praline Nouveau

Luxury Chocolates

divan Valentine Box


The Peninsula Boutique & Cafe Bear Chocolate

Maison Mont Nord Assortment Box

Valentine's Day at Home

Cacao Sampaka / Cacao Esplette

Tokyu Hands to Hold Confection-Filled Valentine's Day Project

Starting January 8, Tokyu Hands stores in Tokyo are holding a special Valentine's Day event called Chocolino Chocoliya featuring a variety of sweets! These aren't just for giving to your sweetheart, but are perfect for friends and family too.

Products at a Glance

Tokyo Zoological Gardens Association / Ueno Zoo
Panda Set with Petit Gaufre & Chocolate Crunch: ¥1,188 (Tax Included) / Panda Baked Cookies: ¥997 (Tax Included)

Urusei Yatsura
Tote Bag: ¥1,760 (Tax Included) / Mug: ¥1,760 (Tax Included) / Star Chocolate: ¥486 (Tax Included)
Chocolate Assortment (5 pieces): ¥756 (Tax Included) / Chocolate Assortment (15 pieces): ¥1,620 (Tax Included)

Merry Chocolate Company
Merry Candy Chocolate Box: ¥378 each (Tax Included) / Assortment: ¥1,944 (Tax Included) 

 Mint Style

30-piece Handmade Kit Series: ¥1,620 each (Tax Included)

Mint Style

Make-at-Home Kit Series: ¥697 (Tax Included) 

Sumikko Gurashi

Silicon Mold Series: ¥935 (Tax Included)


This year's project includes confections that can only be purchased at the Ueno Zoo, where twin baby pandas were recently born. Chocolates with retro-style packaging and those with motifs from popular anime series will also be available, so be sure to swing by and have a look!