Hoshino Resort Kai Kaga will offer two new experience-based events "Kashikiribune de Kawakudari Hanami Taiken" and "Sakura Monaka Zukuri."
"Hoshino Resort Kai Kaga" will offer a new series of experience-based events called "Hanagoyomi" using the motifs of local culture and cherry blossoms. "Hanagoyomi" is a calendar where you can learn about flowers, plants and trees of each season.
Cherry blossom viewing party can be enjoyed while riding on a boat. "Daishojigawa no Kawakudari"
Daishoji is a castle town which is one of the most famous cherry blossom-viewing spots in Kaga Prefecture. You can ride on a traditional boat called "Yakatabune" and enjoy the splendid view of cherry blossoms. Charter boats will be rented to the lodgers of Kai Kaga this coming spring season. You can enjoy the views of beautiful/historical streetscapes and cherry blossoms while riding on a boat and enjoying Japanese desserts and traditional tea of Saga.
Perido: 2018/04/05 to the 15th
Time: 14:00~ (everyday) (30 minutes)
Venue: Daijoji Hakkando Boat Riding Area (15 minutes on car from Kai Kaga)
Fixed number: 8 persons per boat
Price: 2,000 yen per person (service fee and tax are included) ※accommodation fee is not included
Reservation must be made 4 days in advance. ※ the number of the lodgers must be more than 2.
Sakura Monaka Zukuri to Haru no Ochakai
Kanazawa is known as on of the 3 main dessert-producing areas in Japan along with Kyoto and Matsue. This castle town has been loved by many people as a tea/dessert producing area. This coming spring season, they are going to offer a cooking class where you can make crunchy monaka (wafer-cake filled with red bean jam) using dough made by a monaka specialized store and bean jam made by the established dessert maker, Yamashiro Onsen. Why not enjoy a cherry blossom monaka and tasty matcha while relaxing on the Chaniwa no Terrace where Kaga Yuzen's umbrellas are installed.
Period: 2018/03/11 to 05/31
Time: 15:00 to 18:00
Venue: tea room, Chaniwa no Terrace
Price: free
Reservation: not necessary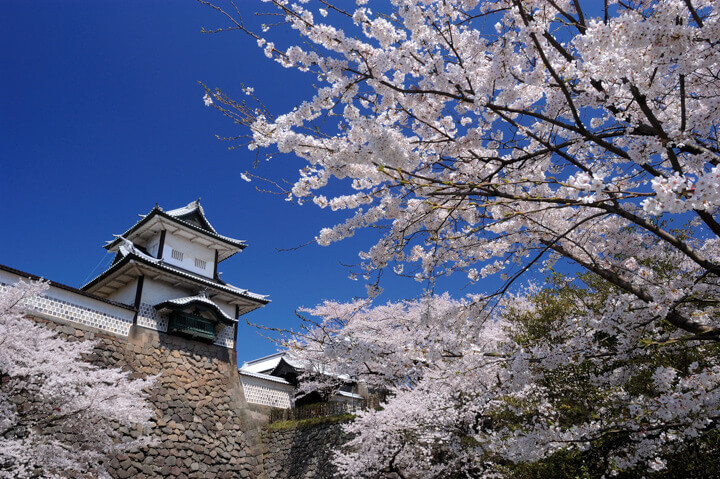 There is a free bus service from Kai Kaga and Kanazawa Station (one bus per day).
A free transfer bus will run from Kanazawa Station to Kai Kaga for a limited time offer. It takes about 60 minutes to get to the station. Why not enjoy touring around Kanazawa and Onsens using this transfer bus.
Period: lodgers – 2018/03/11 to 07/31 ※Except 2018/04/17, 04/28 to 05/05.
Time: 14:00 (departing from Kanazawa Station), 10:30 (departing from Kai Saga).
Price: free
Reservation must be made 4 days in advance.
Let's enjoy the beautiful views and desserts of spring.
■Information
Hoshino Resort Kai Saga
Address: 18-47, Tamashiro Onsen, Kagashi, Ishikawa Prefecture
TEL:0570-073-011
Kai Saga