MOSHI MOSHI NIPPON (MMN) is set to hold the biggest event for promoting Japanese pop culture to the world, MOSHI MOSHI NIPPON FESTIVAL 2018 in SHIBUYA, across the areas of Shibuya and Harajuku on March 24th and 25th.
Today, we are announcing the main performers as well as some of what you can expect to see at the festival. This year's MMN FESTIVAL is free entry! But you'll need to register in advance to attend, so don't forget!
Advance Registration: https://mmnf2018.peatix.com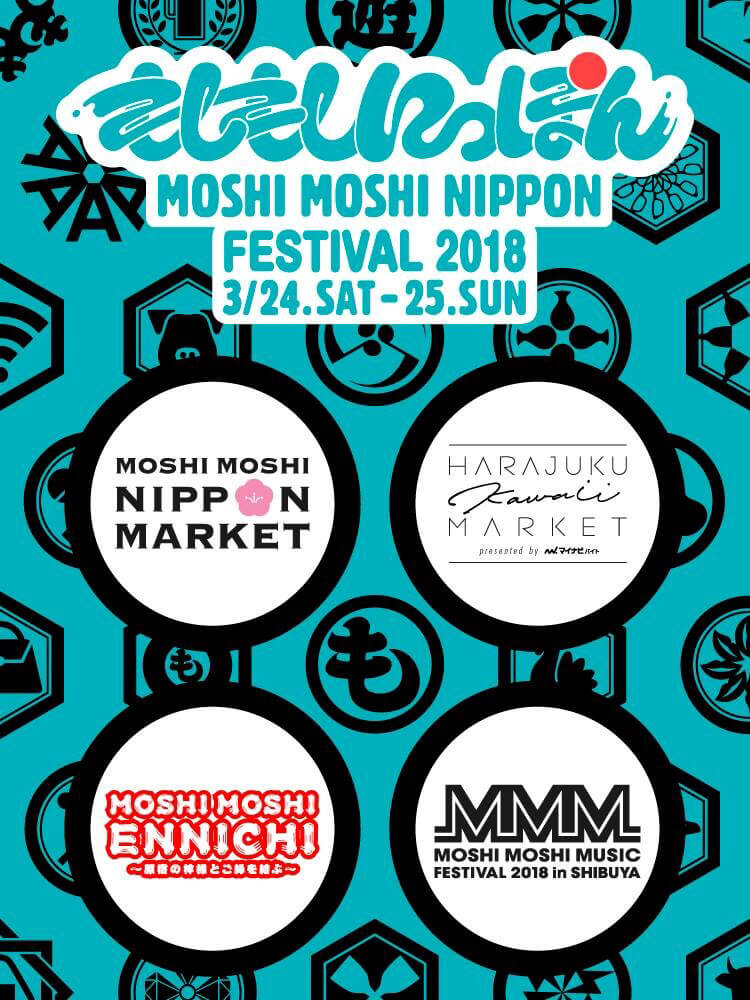 There are 4 main areas where the MMN Festival will take place that you need to know about!
A multitude of popular models including Natsume Mito and Yutaro will grace the stage, as well as young artists MAGiC BOYZ. A host of talented personalities will also take to performing including the fortune teller Chamereon Takeda, who has appeared on TV and in magazines, comedian Rei Maruyama, Youtuber Megane and more. Music media company Spincoaster, music website Natalie and hip-hop musician & activist Zeebra will come together to curate a special live performance made up exclusively of must-see acts. Ukon Takafuji, who choreographed the internet-famous "Tokyo Bon 2020" video that blew up online across the globe, will perform a traditional Japanese dance show and 'Bon Odori' performance. There will also be a selection of must-try original foods and popular sweets that you can only get at this festival.
Area 1: Laforet Museum Harajuku
<Harajuku Kawaii Market presented by Mynavi Baito>
Laforet Harajuku will take on the theme of "Find Japan's Kawaii♡" for the Harajuku Kawaii Market.
You will turn into a kawaii girl in this area simply by turning up. Get involved with fashion, beauty, fortune-telling, DIY and more.
Japanese model Natsume Mito will hold her very own fashion show for the first time. The show's theme is based on a picture book chosen by Natsume Mito herself, Bulldog Tantei to Kieta Hoshi (Tomonori Taniguchi, BUNKEIDO). She will read the book aloud while models dress up to bring the world of the book to life!
Be electrified by a performance from hip-hop group MAGiC BOYZ too. Having collaborated with recognized Japanese rappers as well as up-and-coming artists, they have truly made a name for themselves. Their show is a must-see, so don't miss out.
Popular fortune-teller Chamereon Takeda will take to the stage. Japanese model Hikari Shibata will have her fortune told by the expert through horoscopes. Turn up and find out your horoscope for April too. Those wanting to experience fortune telling with the real life Chamereon Takeda should head over to Laforet!
Mynavi Baito will hold their "Big Challenge of the Youth" project for which young people must create their own kawaii part-time work outfits which will be worn by a line-up of models on stage! See Yuri Suganuma, Mei Nagasawa and Anna Yano dress up in clothes made by actual school students.
Look out for 2 jam-packed days of girly events with popular models, Youtubers and artists!
Area 2: Tower Records Shibuya B1F CUTUP STUDIO / Tower Records Shibuya Rooftop Stage
<Featuring Japanese new music: "MOSHI MOSHI MUSIC FESTIVAL">
Down in Tower Records Shibuya's CUTUP STUDIO on B1F, influential artists in the music scene and music media companies that have hooked up with many promising artists and new talent will become official curators for a special stage event together with MMN.
MMN will also take to the roof to hold our own stage event. If you love kawaii and you love idols, then you won't want to miss out on our very special idol stage where you can see performances from a huge list of idol groups!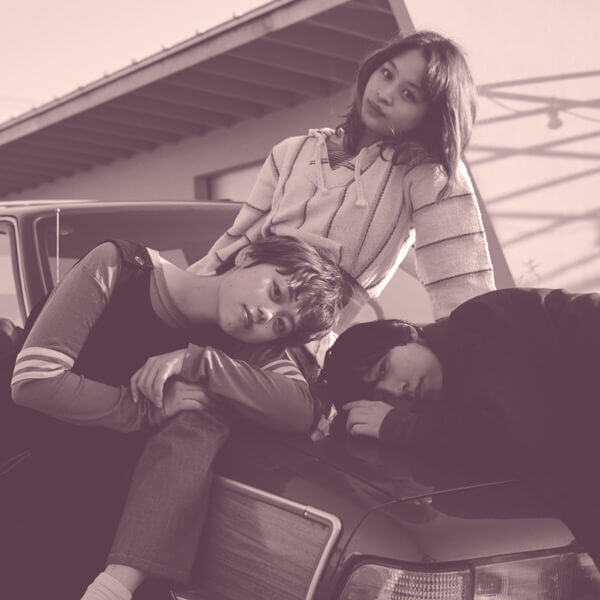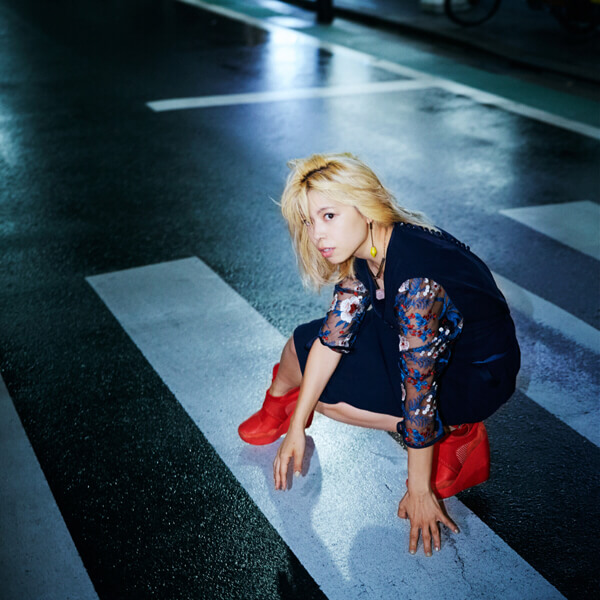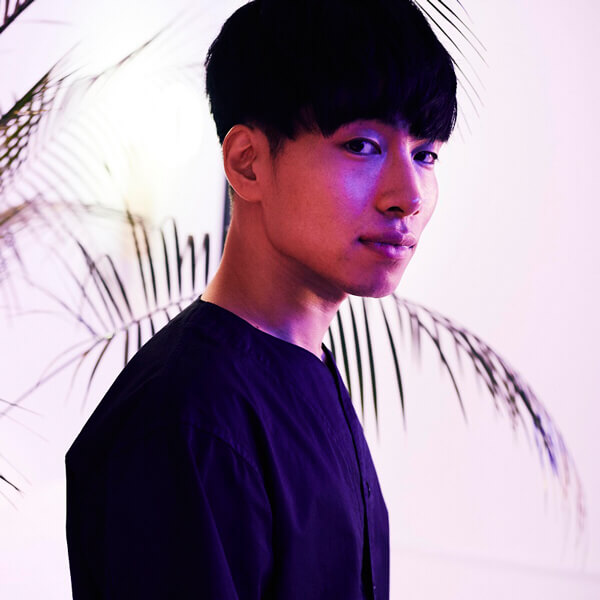 Music media company "Spincoaster" will also host a stage of 3 artists making the headlines right now as recommended by the company themselves – The Wisely Brothers, Mizuki Ohira, and SIRUP.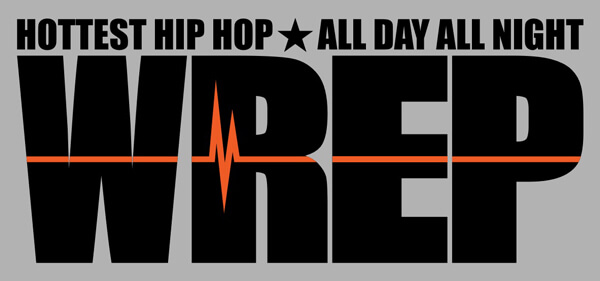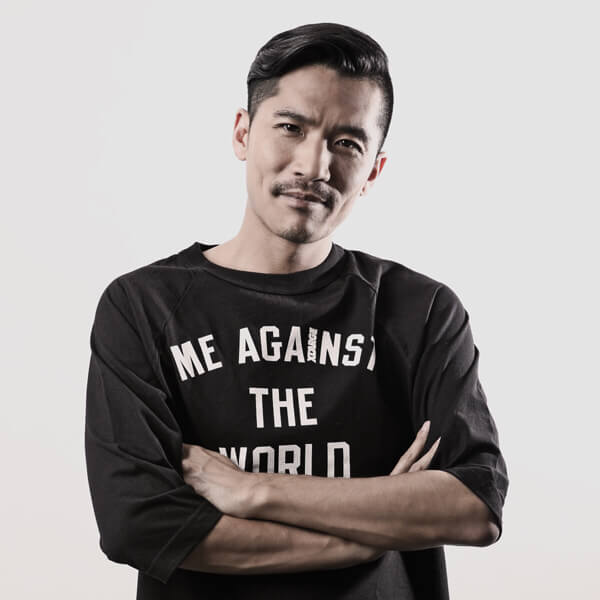 Zeebra, a hip-hop artist and activist representing the city of Tokyo, is bringing the heated MC battle segment from his hip-hop radio channel "WREP" to the festival. See Zeebra and audience representatives battle it out in a 3-on-3 MC battle before your very eyes.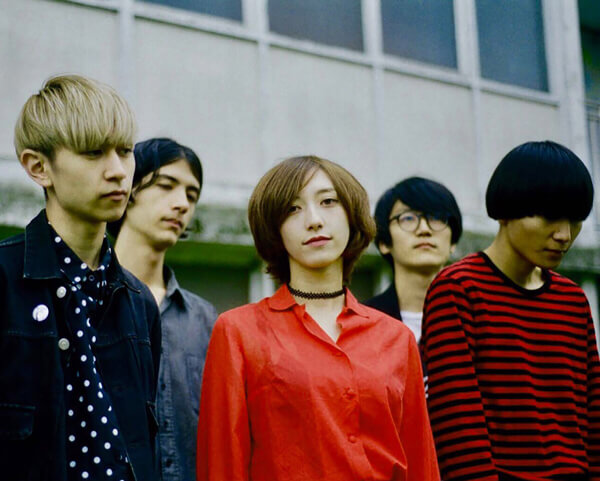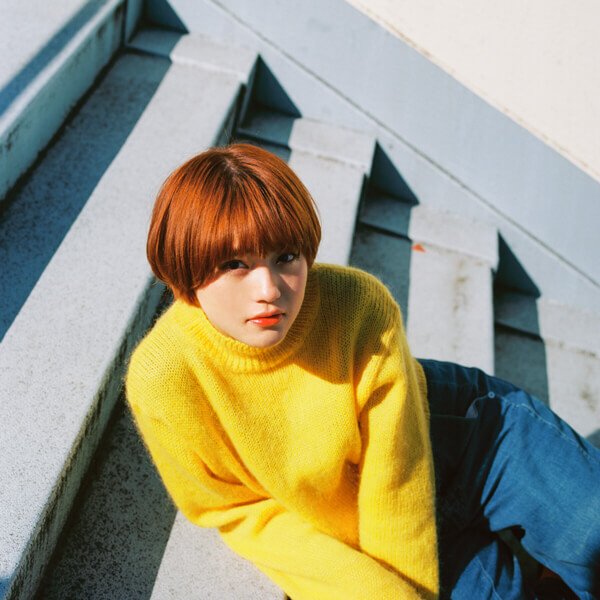 Natalie, Japan's number one source of information for music news, has selected a line-up that best represents our "MOSHI MOSHI NIPPON Project" – those who best deliver the charm of Japanese pop culture. The line-up includes Atarashii Gakkou no Leaders, MISMOPE, Luby Sparks, SHE IS SUMMER and more.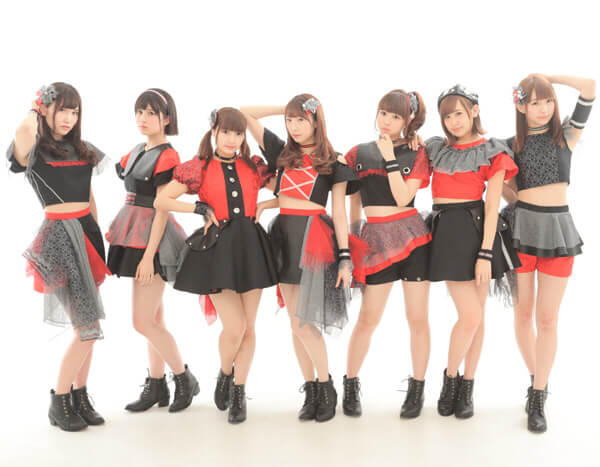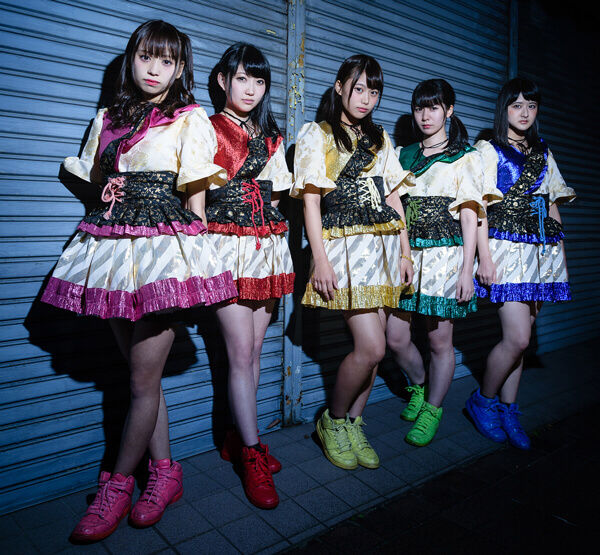 MMN are set to showcase idol groups we want to introduce to international audiences. Our line-up includes Lovely Doll, Yamakatsu, Sakadori Hasshinkyoku, sora tob sakana, APPARE! Harajuku, Jewel☆Neige, NEO JAPONISM, CY8ER, and more. Don't miss out on this chance to see performances from real idols!
Area 3: Shibuya Cast
<Enjoy Hanami Early in Shibuya: "MOSHI MOSHI NIPPON Market">
The MMN Market will let people experience Japan's flower-viewing season early in Shibuya. Gaze at cherry blossoms while indulging in traditional Japanese food, matcha sweets, sake and plenty of other goodies. It will be a cuisine and culture experience only possible in Japan, with stalls selling fresh vegetables and more.
Japanese male idol group Amato Danshi will open their own café offering a selection of sweets recommended by the guys themselves. The No.1 maid café group Maidreamin will also be there to serve you. Get your hands on original merchandise, cast a spell on your drink to make it even more delicious, dress up and have your photo taken chekki-style with a maid, and more!
A lottery draw will also be held to win unique souvenirs and items from Kyoto. This will be your chance to taste the hugely popular "Tabe Aruki Kyo Baum" from Kyoto's famous sweet shop "Kyo Baum Shop."
Area 4: Onden Shrine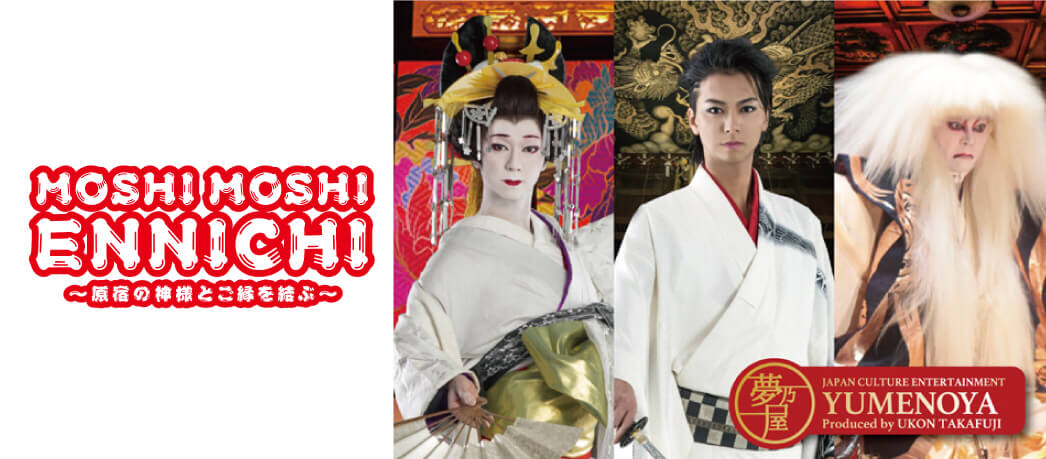 <Tie Links With the Gods of Harajuku: "MOSHI MOSHI ENNICHI">
This "Ennichi" event will use cutting-edge technology at the traditional Onden Shrine. There will be traditional Japanese performances as well as DJs dressed up as characters who will put on a fantastic DJ show. There's plenty to get directly involved with including a big karaoke party and 'Bon Odori' session.
A must-see in this area will be the traditional Japanese dance show put on by Ukon Takafuji, the producer and chairman of "JAPAN CULTURE ENTERTAINMENT -YUMENOYA-" and the second generation of the company "Takafuji Dance Company," a pioneer of traditional Japanese dance that boasts a history of 100 years. Not only will there be classic Bon Odori hits playing, but also a performance of Tokyo Bon 2020 choreographed by Ukon Takafuji himself, a song co-produced with "COOL JAPAN TV" that has taken the world by storm. Whether you're young, old or from overseas, everybody is invited to join in the dance!
<Experience-Based Tours For Foreign Attendees>
An official event tour will be held for the very first time in collaboration with Airbnb. Not only will you be taken around the event venues but introduced to recommended spots around them too. There will also be tours with popular models who will take you little-known good places in Harajuku. A tour for foreigners will also be held in co-operation with "Jnnovations," a unique and high-quality tour service aimed at foreign travelers.
*Airbnb, エアビーアンドビー(エアビー) and their logos are registered trademarks of Airbnb Inc.
<Original Bag Present>
Those that register for the event in advance will receive an original bag as thanks. There are 1,500 bags available on a first-come, first-served basis. You will find in them one of either popular products from KitKat Chocolatory: the "KitKat Chocolatory Moleson" (¥500) or the "KitKat Chocolatory Moleson Matcha" (¥500).
■Information
Summary: MOSHI MOSHI NIPPON FESTIVAL 2018 in SHIBUYA
<Festival Date>
24 March 2018 – 25 March 2018
<Festival Time>
11:00-21:00 (Subject to Change)
<Organizer>
MOSHI MOSHI NIPPON Executive Committee
<Support>
Shibuya City / Shibuya City Tourism Association
<Co-Operation>
TOKYU CORPORATION / SHIBUYA CAST. / Tower Records Japan Inc. / Laforet HARAJUKU / Religious Corportation Onden Shrine / Jnnovations, Inc.
<Sponsors>
Mynavi Baito / NIPPON PAINT HOLDINGS CO.,LTD / Bijuu co.,ltd. / KitKat Chocolatory Amato Danshi / Maidreamin / Don Quijote Co., Ltd.
<Content Partners>
Gurunavi, Inc. / Airbnb Inc. /Natalie / Spincoaster / WREP
<Festival Locations>
Shibuya & Harajuku Area (Shibuya-ku, Tokyo)
<Main Locations>
Laforet Museum Harajuku / SHIBUYA CAST. / MOSHI MOSHI BOX Harajuku Tourist Information Center / Onden Shrine / Tower Records Shibuya
<Festival Contents>
Experienced-Based Content / Live Performances / Fashion / Participative Content / Tour Services / Inbound Services / …and more
<Performers>
■Harajuku Kawaii Market presented by Mynavi @ Laforet Museum Harajuku
・MC: Yuri Suganuma / Rei Maruyama
・Fashion & Talk Stage (Alphabetical Order):
Akari Abe / Ellie / Rikako Oya (Babyraids Japan) / Chamereon Takeda / Aino Kuribayashi / Ren Koseki / Saki Shibata / Hikari Shibata / Ayaka Segawa / Ema Tanioku / Eri Tanitoku / Chie Tsuji / Mei Nagasawa / Fusedy / Natsume Mito / Rinko Murata / Megane / Anna Yano / Yuna Yabe / Yutaro / …and more
・Live: Amato Danshi / MAGiC BOYZ
・Booth Contents: Ayumi Seto / …and more
■MOSHI MOSHI MUSIC FESTIVAL @Tower Records Shibuya (B1/Rooftop)
・Spincoaster Stage @ B1・CUTUP STUDIO
Mizuki Ohira / SIRUP / The Wisely Brothers
・WREP BATTLEFIELD presents Batotsuku @B1・CUTUP STUDIO
MC: Zeebra / Hachi Moji
DJ: YANATAKE
Battle MCs:
SAM / Nill Nico / TKdakurobuchi/ SHO GEN / 8×8=49 / Kizal / Datemegiri / FRANKEN / Yuma / MC Seishain / MC MIRI / (+one more artist)
・Live Natalie Meets MOSHI MOSHI NIPPON @B1・CUTUP STUDIO
Atarashii Gakkou no Leaders / SHE IS SUMMER / MISMOPE / Luby Sparks / …and more
・MOSHI MOSHI IDOL SPECIAL @Rooftop・SKYGARDEN
APPARE! Harajuku / CY8ER / Sakadori Hasshinkyoku / Jewel☆Neige / sora tob sakana / NEO JAPONISM / Lucky Doll / Yamakatau / …and more
<Festival Price>
Free (*Some festival contents will charge a fee)
Those who wish to participate in the festival must register in advance (https://mmnf2018.peatix.com). Select content does not require registration.
<Official Event Website>
http://fes18.moshimoshi-nippon.jp
<Social Media>
Twitter: https://twitter.com/moshi_fes
<Related Websites>
MOSHI MOSHI NIPPON
http://www.moshimoshi-nippon.jp (Available in English, Japanese and Chinese)