Koriyama is located in the center of Fukushima Prefecture which is the most southernly prefecture of the Tohoku area. The city of Koriyama is known as an economically developed city since the Tohoku Shinkansen stops here. It takes about 80 minutes (7,680 yen – non-reserved seat) from Tokyo on the bullet train.
It is a suitable spot to feel the four seasons of Japan and during spring (early April to late April), cherry blossoms bloom in many places. There are places where you can veiw 400-year old "Shidarezakura (weeping cherry tree)" and along Kaiseizan Park's cherry tree-lined road you can view about 1,300 cherry trees in bloom including the oldest "Someiyoshino" (Yoshino cheery tree) in Japan.
Koriyama is a historical city and it was designated as a "national heritage" in 2016.
In this article, I will introduce to you 4 of the best places where cherry blossoms can be viewed.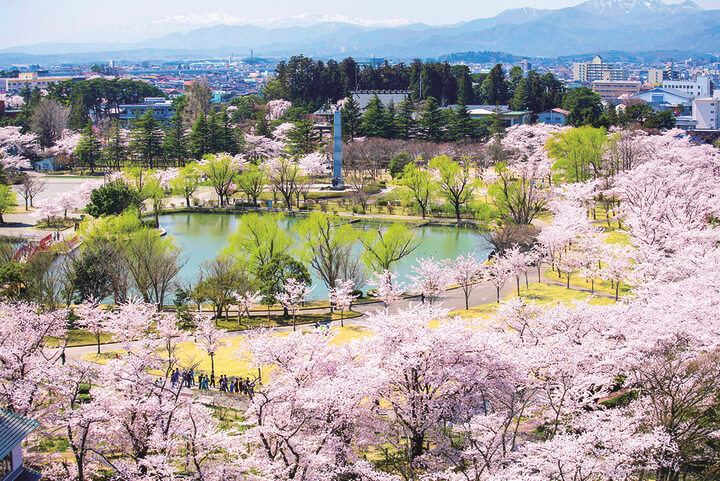 ♦︎Kaiseizan Park's cherry trees (center of Koriyam) – early April to mid-April
In this park, you can enjoy the viewing about 1,300 cherry trees including the oldest "Someiyoshino" in Japan. The cherry blossom lined road was used as a filming location for the movie "Toki wo Kakeru Shojo" and many food stalls are opened during the cherry-blossom viewing season.
♦︎Benishidare Jizozakura (Koriyamashi Nakatacho) mid-April
Benishidare Jizozakura in Nakata-cho, Koriyama, is a national treasure and it is considered to be one of the three biggest cherry trees in Japan. A "jizo" (image of Khitigarbha-bodhisattva) is set up right beside the tree and people used to pray for this jizo to avoid their infants dying at a young age.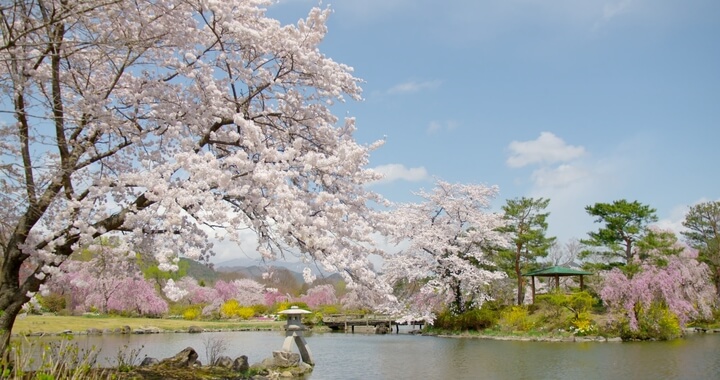 ♦︎Shikinosato Ryokusuien (Koriyamashi Kikutacho) mid-April
The flower garden and Shiki no Ryokusuien of Chisen Kaiyushiki can be enjoyed. At this location, you can also enjoy walking in the woods, watching birds and barbequing. Various cherry trees such as Kawazuzakura, Someiyoshino, and Shidarezakuro and seasonal flowers such as 300 thousand iris flowers, azaleas, roses and hydrangeas can be enjoyed at this area.
♦︎Funatsugawa no Sakuranamiki (Koriyamashi Konancho) late April to early May
Funatsugawa is a river in Konan-cho, Koriyamashi which is connected to Inowashiro Lake. You can enjoy the 120 cherry trees including Someiyoshino and field mustard planted on the embankment of the river.
Let's go to Fukushima Prefecture to see cherry blossoms this spring!