Onitsuka Tiger × Mickey & Minnie Mouse Collaborative Shoes Now on Sale
ASICS Japan have announced a line of limited edition shoes in collaboration with popular Disney characters Mickey Mouse and Minnie Mouse. The shoes will be released under their "Onitsuka Tiger" brand.
The first in a line of upcoming releases, the "Mexico Delegation" design, a representative shoe series from Onitsuka Tiger, was released on March 2nd. The "Mexico 66" design is on sale from March 10th.
The new footwear is centred on Mickey and Minnie and incorporates their iconic colours and details.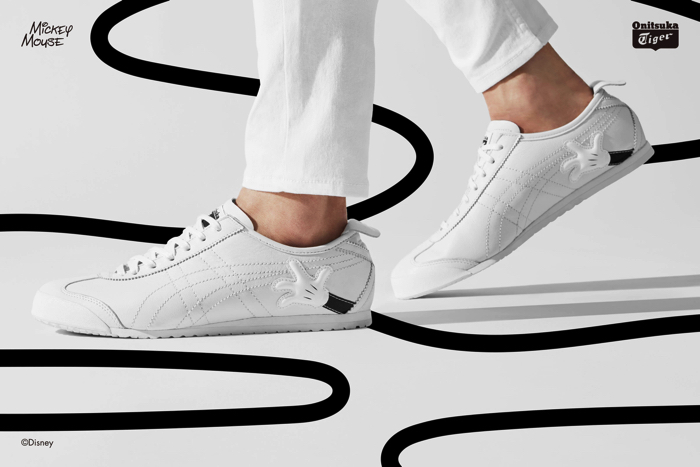 The "Mexico Delegation" design is inspired by the frills on the hem of Minnie Mouse's skirt and wraps around the laces. Her name is also embroidered on the side of the shoes.
For the "Mexico 66" design, Mickey's hand is featured on the heel of the shoe's upper as well as inside. The base colours of each design are reminiscent of Mickey and Minnie – black, white and red. They have a classic Disneyland vibe to them.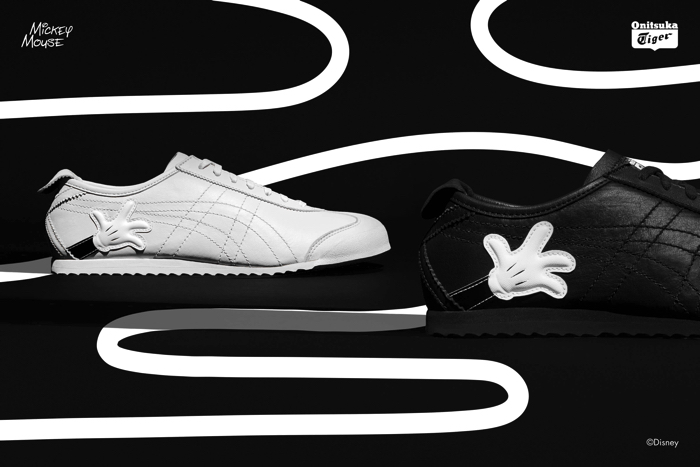 Get your hands (or feet!) on this stylish limited-edition shoe series from Onitsuka Tiger!
■Information
MEXICO 66 (Stock Number: D8G4L)
MEXICO DELEGATION (Stock Number: D8H0L)
Release Date: MEXICO 66 – March 10th / MEXICO DELEGATION – March 2nd
Price: ¥15,000 (+tax)
Available Stores
MEXICO DELEGATION:
Onitsuka Tiger branches – Omotesando, Lumine EST, NU Chayamachi, Fukuoka PARCO, Onitsuka Tiger Magazine Online Store
MEXICO 66:
Onitsuka Tiger company stores, Onitsuka Tiger Magazine Online Store
Onitsuka Tiger Official Website: https://www.onitsukatiger.com/jp/ja-jp
WEB MAGAZINE: http://www.onitsukatigermagazine.com/
RELATED ENTRIES
Tokyo Disneyland and Tokyo DisneySea Release Their Own Spotify Music Playlist

Tokyo Disneyland and Tokyo DisneySea launched their first ever music playlists on all major streaming websites on Friday, including on Spotify and Apple Music.

Music from Tokyo Disneyland features everything from famous ballads and show music from the park to Tokyo Disneyland's nostalgic anniversary theme song, a "Ride Through Mix" that has you feeling like you're on the park's attractions, and more. It's a magic-filled Tokyo Disneyland musical fantasy.

Music from Tokyo DisneySea follows the same course as the Tokyo Disneyland playlist, except it also has the theme songs of the park's seven ports. It's packed full of imagination the likes of which you can only experience at Tokyo DisneySea.

New songs are set to be added from both parks each season, so you can feel like you're at Tokyo Disneyland and Tokyo DisneySea from your own home all year round!

Teeny Tiny Disney Cupcakes to be Baked Up by Ginza Cozy Corner in Japan

Ginza Cozy Corner is introducing nine new Disney "sports festival" themed cupcakes to cake shops through Japan on May 11, 2020.

Cute mini cupcakes with a sports theme

Nine cupcakes make up the collection which feature motifs from popular Mickey Mouse & Friends characters including Mickey, Minnie, Donald, Daisy, and Goofy. One look at the picture below is enough to have you thinking what a waste these nearly seem to eat because of how adorable they are.

Disney Sports Festival Cupcakes (Box of 9) – ¥2,500 / Available: May 11, 2020 – June 21, 2020

The designs take inspiration from different sports like tennis, rugby, skateboarding, and more. All nine come in a box so it's going to be difficult picking which one to start with!

Disney sports design box

Box Line-Up

Top Row From Left
Daisy Duck Rhythmic Gymnastics: Cheese Cream Roll Cake
Mickey & Friends Basketball: Chocolate & Vanilla Cream Roll Cake
Pluto Running: Chocolate Cream Cake

Middle Row From Left
Mickey & Friends Rugby: Sweet Adzuki Bean Paste Cream Matcha Cake
Mickey & Friends Cheerleader: Strawberry Cream Tart
Goofy Soccer: Orange & Chocolate Cream Tart

Bottom Row From Left
Minnie Mouse Tennis: Lemon Cream & Strawberry Cream Tart
Donald Duck Swimming: White Peach & Lychee Cream Shortcake
Mickey Mouse Skateboard: White Chocolate Cream & Raspberry Puree Tart

Onitsuka Tiger x Shu Uemura Announce Unisex Sneaker and Cosmetic Collaborations

Japanese fashion brand Onitsuka Tiger and professional makeup artist brand Shu Uemura have joined up to release a new pair of collaborative sneakers and line of cosmetic products.

Since their individual establishments, both Onitsuka Tiger and Shu Uemura have hailed as pioneering brands from Japan, cementing their names across the globe. Together, Onitsuka Tigerーa brand which fuses heritage and innovation around fashion and sports in their contemporary collectionsーand Shu Uemuraーa company which inspires the millennials to bring out their unique and inner beautyーhave collaborated to release a pair of sneakers as well as 11 cosmetic items.


The new sneakers by Onitsuka Tiger are a new model that take inspiration from the company's DELEGATION EX™ pair which released back in 1964 and were worn by Japanese sports players back then. Glossy enamel has been added to bring to mind cosmetics, and matte has been used to create smooth calves. Tokyo Red is used for the colouring. The mid soles have volume and are made with spongy FLYTEFOAM™ Propel, ensuring comfort. Both ends of the spare laces, which are also Tokyo Red, bear the brand logos. The overall design screams active and urban sporty.


Unisex Shoes – ¥17,000 (Before Tax)

Shu Uemura's new collection of 11 items is made up of five different cosmetic products which come in Onitsuka Tiger's iconic key colours: Tokyo Red, Energy Orange, Indigo Blue, and others. They also bear Onitsuka Tiger's stripes. The cosmetics elicit stylishness and an energetic mood.

The new Onitsuka Tiger shoes were released on May 1, 2020 at select stores and online shops both inside and outside Japan.

Kaori's Easy Recipe: Learn to Make a Toy Story's Little Green Men Japanese Parfait

With just a small bit of ingenuity, turn everyday food into something cute using Kaori's easy recipe! With a few simple ideas, an ordinary recipe magically transforms into a cute dish.

We're all locked up at home right now as a result of the coronavirus pandemic, and so I want to show you a fun character ice cream recipe that can be made with things you have at home! In this recipe, we'll learn how to make a Japanese parfait made in the image of the Little Green Men from Toy Story. This recipe is taken from the recipe book Disney Tsum Tsum Sweets Recipes.

Ingredients

Matcha Ice Cream

Chocolate Pens

Fruit

Toppings of your choice, such as red bean paste or soy flour

1.

Draw the eyes, ears, and antennae of your little green men onto a baking sheet using a chocolate pen. Place into the freezer to chill.

2.

Let the ice cream come to room temperature so it's easier to scoop, then scoop out with a round ice cream scoop.

You can get an ice cream scoop from a dollar store. If you don't have one, place the softened ice cream into something round, and then let it harden again in the freezer. Afterwards, remove and place it into some cling film to shape it roundーthe same method you use for making onigiri rice balls in Japan. Then let it solidify in the freezer once more.

3.

Before letting your ice cream from Step ② fully solidify, first place on the face parts from Step ①. If your ice cream is completely solidified and not soft enough, the parts will break when you try to fix them on, so make sure to take note. Once the parts are on, place into the freezer to harden. By doing this, the eyes, ears, and antennae will affix to the head.

4.

In the recipe book, they top their parfait with rice flour dumplings, but I'm using the outer part of a large daifuku for my toppings. It's something I saw on the TV recently.

Add a tablespoon of granulated sugar and two tablespoons of potato starch into a bowl and slowly add hot water until it becomes transparent. This is a super easy way to make gyuhi, a type of soft Japanese confectionery like mochi and daifuku.

5.

Add the gyuhi on top of the red bean paste and top with soy flour.

6.

Add your Little Green Man and fruit of your choice, then tuck int!

Kaori invites you into her world of character-themed food dishes in her recipe series. Be sure to check out her Instagram where she has uploaded many pictures of her character dishes!

©Disney

Kaori Kubota (@kaopan27)
I live in Hokkaido and I love to make character themed foods, desserts and pastries♡

I want to see my family smile, so I enjoy putting in a bit of effort to make character foods and changing food into something cute♡

You can see more of my character foods and character bento boxes on my Instagram page→@kaopan27

Information

ディズニーツムツムのスイーツレシピ

価格:¥1,000(税込)

販売先:amazon、楽天サイト他

Baymax Themed Food Flies Into Tokyo Disneyland Ahead Of New Big Hero 6 Attraction

The world is about to get its first Big Hero 6 themed park attraction, "The Happy Ride with Baymax," at Tokyo Disneyland when it opens on April 15, 2020.

In promotion of the exciting new ride, Tokyo Disneyland has announced it will serve six different Baymax inspired menu items starting from April 8ーa week before The Happy Ride with Baymax's grand opening.

Baymax Curry – ¥1,480 @ Center Street Coffeehouse

When you think of Baymax, you think of his white, chubby round face and body. Well, that image has been brought to life in this curry dish, with Baymax's cute appearance recreated in the form of white rice. The dish takes inspiration from the spicy chicken wings made by Hiro's auntie, Cass.

Special Pancake Set – ¥1,080 @ Center Street Coffeehouse / Time Served: 13:00-18:00 (Not serving June 1, 2020 – September 2, 2020)

Like the curry, this pancake set is also sold at Center Street Coffeehouse. It comes with two thick pancakes topped with Baymax's faceーwhich is a Japanese 'manju' steamed cakeーassorted berries, strawberry sauce, and other delicious delights, mixing together Japanese and western flavours.

Sparkling Tapioca Tea (Cheese Cream & Berries) – ¥600 @ Tomorrowland Terrace / Time Served: 14:00-17:00

BB Popcorn w/Basket – ¥2,600 @ The Big Pop

There's also a dessert-style drink at Tomorrowland Terrace which is a berry flavoured ice tea packed with dollops of cheese cream, as well as popcorn which comes with a popcorn basket of Baymax riding. This will be sold at the new popcorn shop, The Big Pop, which is opening on April 15.

Tuck into some cute and delicious Baymax food at Tokyo Disneyland before The Happy Ride with Baymax opens for business.

©Disney

Disney Princess Inspired Cupcakes Released at Ginza Cozy Corner in Japan

Disney princesses around the world won't be able to resist the nine new cupcakes released at Ginza Cozy Corner last week in Japan.

The cupcake collection is being released to celebrate Hinamatsuri, a festival held annually in Japan on March 3, which prays for the well-being and healthy maturity of girls. The line-up can be enjoyed by child and adult Disney fans alike, and includes not only Disney princesses, but other female characters in the Disney cast. This includes Minnie Mouse, Belle, Snow White, Cinderella, Aurora, Ariel, Jasmine, and more.

Disney Girl's Collection (Contains 9) – ¥2,700 (Tax Included)

These cute cupcakes look like they have come straight out of a Disney character toy box. They not only look pretty, but sound delicious too, like the raspberry Minnie cupcake, lemon-flavoured Belle cake, cheesecake Cinderella, and more.

Celebrate Hinamatsuri in Disney-style by picking up a box of these cupcakes at Ginza Cozy Corner.

Tokyo Disneyland® Celebrates Opening Of New Park Area With Special Menu Line-Up

Tokyo Disneyland's new biggest area is set to open on April 15, 2020, which will house four new exciting facilities: the new Beauty and the Beast attraction, the Fantasyland Forest Theatre, the Baymax's Happy Ride attraction, and the Minnie's Style Studio.

To celebrate the new area's opening, several restaurants and eateries in Tokyo Disneyland will serve up some special menu items. Participating restaurants are calling this special menu line-up "New Dreams, More Fun!" Let's take a look.

Sparkling Drink (Mixed Fruits) – ¥450 @ Boiler Room Bites and elsewhere

Boiler Room Bites and other eateries in the park are serving these colourful sparkling drinks packed full of fresh fruit pieces. The cups have special designs of Disney characters like Mickey mouse, Minnie  Mouse, and Baymax.

Special Set – ¥990 @ Refreshment Corner

The special set being served at Refreshment Corner is inspired by Beauty and the Beast. It includes an apple cinnamon hot dog (contains nuts), a unique combination of juicy sausage, cinnamon, caramel, and nuts.

Blue Bayou Course – ¥5,200 @ Blue Bayou Restaurant

Another Beauty and the Beast-inspired dish is this special full course served at the Blue Bayou Restaurant. Buffet-style eatery Crystal Palace Restaurant will also serve up new dishes themed on each of the four new facilities of the new area starting on June 1, with a new one being introduced with each season.

©Disney

Yellow Coloured Minnie Mouse Cafes to Open in Tokyo, Osaka, Nagoya & Fukuoka

A new line of Minnie Mouse cafes are set to open in Tokyo and Osaka from February 28, 2020 and Nagoya and Fukuoka from February 29, 2020 for a limited time. Named "OH MY! MINNIE MOUSE," the cafes are an official collaboration between Disney and the Japanese cafe chain OH MY CAFÉ.

The cafe takes on the theme of Minnie Mouse being a living, breathing icon of today with a positive lifestyle. This is represented through the yellow colouring of the cafe, which features her iconic polka dots as well as ribbon taking on a yellow colour. Tuck into a cute menu line-up and get your hands on some cafe-exclusive Minnie Mouse merchandise.

Original Menu

Cheerful Burger – ¥1,990

This healthy burger is packed full of vegetables with a black bun made in the image of Minnie's silhouette. Feel as energised as Minnie with one bite of this tasty burger.

Beef Hash Ribbon Rice – ¥1,390

Inspired by Minnie Mouse's iconic ribbon, this hearty dish is a beef stroganoff plated with rice and veg. The ribbon is so cute it almost seems a waste to eat!

Fruit Sandwich – Single ¥990/ With Plate ¥2,790

An absolute must-order if you're wanting a dessert. This sandwich is piled with fresh fruits creamy yoghurt, sprinkled with poppy seeds, and doused in lemon juice.

Fizzy Lemon Squash – Single ¥690 / With Coaster ¥1,390

Charge yourself up with this fizzy lemonade and its refreshing aftertaste.

Relaxing Chamomile Tea – Single ¥490 / With Mug ¥2,090

Kick back and relax after your meal with a cup of chamomile tea♡

Original Merchandise

Heart Badge (8 Designs/Chosen Randomly) – ¥500

Folder – ¥350

Lunch Mat (6 Designs/Chosen Randomly) – ¥650 (*Table reservation required)

Those who book a table in advance will be given one of six possible lunch mats chosen randomly.

If you're in Japan for the spring, then why not stop by the OH MY! MINNIE MOUSE cafe for a Disney treat?

©Disney

Information

OH MY!MINNIE MOUSE

Locations/Dates

Tokyo: OH MY CAFE TOKYO (Tokyu Plaza Omotesando Harajuku Floor 3F, 4-30-3 Jingumae, Shibuya, Tokyo)

Running: February 28, 2020 – April 12, 2020

Osaka: kawara CAFE&DINER Shinsaibashi (Shinsaibashi OPA Floor 9F, 1-4-3 Nishi-Shinsaibashi, Chuo Ward, Osaka, Osaka Prefecture)

Running: February 28, 2020 – April 19, 2020

Nagoya: kawara CAFE&KITCHEN Nagoya PARCO (Nagoya PARCO South Building Floor 5F, 3-29-1 Sakae, Naka Ward, Nagoya, Aichi Prefecture)

Running: February 29, 2020 – April 26, 2020

Fukuoka: Kawara CAFE & KITCHEN KITTE Hakata (KITTE Hakata Floor 9F, 9-1 Hakataekichuogai, Hakata Ward, Fukuoka)

Running: February 29, 2020 – March 28, 2020

"OH MY! MINNIE MOUSE" OH MY CAFE Booking Website: https://mm.ohmycafe.jp/

Disney Easter 2020: Usapiyo Returns to Tokyo DisneySea® With Cute Food & Drink Line-Up

Tokyo DisneySea's special springtime "Disney Easter" event will begin on March 27, and this year will once again see the arrival of the adorable yellow chick with rabbit ears Usapiyo to deliver a cute and fun Easter to guests in 2020. 

Lots of newborn Usapiyo will stumble their way out of eggs again this year. Since they have just been born, they follow people, copy them, and try their hardest. These cute bunny-chicks will show just how charming they are in the "Tip-Top Easter" entertainment show, where they will captivate the Disney cast.

In line with the arrival of the newborn Usapiyo chicks, a line-up of 19 menu items will be served from March 20, 2020, all of which are Easter themed with motifs like Usapiyo and eggs.

Special Set – ¥1,980 @ Horizon Bay Restaurant

Sparkling Orange Jelly Drink w/Souvenir Cup – ¥950 @ Sebastian's Calypso Kitchen

Head to Horizon Bay Restaurant at Tokyo DisneySea to order the special hamburger set, which has an Usapiyo cheese topping. Feeling thirsty? Then pay a visit to Sebastian's Calypso Kitchen for a refreshing orange jelly drinkーyou even get to keep the cup! The Usapiyo food and beverages available this Disney Easter are almost too cute to eat or drink.

Special Set – ¥1,070 @ Mamma Biscotti's Bakery

Strawberry Mont Blanc w/Souvenir Plate – ¥800 @ Mamma Biscotti's Bakery

If you're wanting something lighter, then order the egg, cheese and roast pork sandwich at Mamma Biscotti's Bakery. You get to take the plate home too.

There's lots of other Usapiyo and Easter treats to discover at this year's Disney Easter at Tokyo DisneySea.

*Please note that this menu line-up is subject to change without notice, and stock is available while supplies last for certain orders

©Disney

Kaori's Easy Recipe: Learn to Make Mickey & Minnie Mouse Cookie Cupcakes

With just a small bit of ingenuity, turn everyday food into something cute using Kaori's easy recipe! With a few simple ideas, an ordinary recipe magically transforms into a cute dish.

For this edition of Kaori's Easy Recipe, I used a recipe from the Disney dessert cookbook Oishii Disney Sweets Recipes to make "Mickey & Minnie Cookie Cupcakes" which make for the perfect Valentine's Day treat. It's a super easy recipe to follow – I even made the cookies and ribbon using ingredients readily available at the supermarket. So don't hesitate, give this easy recipe a go for yourself.

1: Ingredients (Makes 6 cupcakes measured 7cm)

2 medium eggs (40g egg yolk/60g egg white)

60g granulated sugar

2tsp vegetable oil

1-2tsp lemon juice

45g weak flour

2:

①Put the egg yolk, vegetable oil, and lemon juice into a bowl and mix well.

②In a separate bowl, whisk the egg white and gradually add in the granulated sugar. When adding the sugar, I recommend doing it in four portions. So add one quarter of the sugar, mix, repeat.

③Once you've added all the sugar, mix well to incorporate into the egg white.

④Gradually add the weak flour. Do this in three portions like in step ②. Please be careful as to not mix too vigorously when adding the flour as it will result in the dough losing its loose texture and becoming firm.

3: Pour the mix into the cups so that 70-80% of the cups are full. Bake at 190℃ for 12 minutes, then bring the heat down to 170℃ and cook for a further 3 minutes.

4: Now it's time to make Mickey Mouse. I used one big Oreo cookie and two little ones, the latter of which don't have filling. Like in the photo below, half the bigger cookie, place the smaller ones inside, and place the bigger half back on. If you don't have anything to stick the cookie back on, you can use the filling of the Oreo.

5: I used melted to chocolate to fix my Mickey Mouse together. If you add red M&M's like I did in the photo below, Mickey transforms into Minnie.

6: Once the cupcakes are done baking, make an incision in the top to place the Mickey and Minnie cookies into.

7: Add some fresh cream to decorate, and your Valentine's Day Disney cupcakes are complete!

Kaori invites you into her world of character-themed food dishes in her recipe series. Be sure to check out her Instagram where she has uploaded many pictures of her character dishes!

There are many other cute Disney recipes available in the book that Kaori used too, so if you're in Japan or have access to Japanese books, then why not pick up a copy?

©️Disney

Kaori Kubota (@kaopan27)
I live in Hokkaido and I love to make character themed foods, desserts and pastries♡

I want to see my family smile, so I enjoy putting in a bit of effort to make character foods and changing food into something cute♡

You can see more of my character foods and character bento boxes on my Instagram page→@kaopan27

Information

Oishii Disney Sweets Recipes (Japanese Title: おいしい ディズニー スイーツ レシピ)

Price: ¥1,200 (Tax Included)

Available: Amazon Japan, Rakuten, and elsewhere

Tokyo Disney Resort® Celebrates Toy Story's Hamm With Pig Pink Merchandise

Tokyo Disney Resort is set to show some love to Hamm, everybody's favourite piggy bank from the Disney/Pixar animated film series Toy Story, from February 28 with the arrival of some exclusive Hamm merchandise. This includes fashion items with pink woven into it amongst other accessories and miscellaneous pig picks.

*All Hamm merchandise will be sold from March 2 with the exception of sling bags, which will be sold from March 23.

Dress up with Hamm

Short Sleeve T-Shirt: ¥3,900

T-Shirt: ¥3,900

The unisex t-shirts include one design with a print of Hamm's adorable face, and another more stylish t-shirt with a retro design.

Cap: ¥2,900

Body Bag: ¥2,900

Coins aren't the only thing Hamm can carry for you – with the new body bag, you can entrust your personal belongings to him, like your phone, card, coins, and so on, all while looking stylishly pink.

Pass Case: ¥1,900

Headband: ¥1,700

Other items include a pass case of Hamm's face, as well as a cute pig ear headband. There are lots of other items in the collection too.

Pink life dining

Tumbler: ¥1,100

Plate: ¥1,100

Fill the piggy bank that is your belly with food together with the pink tumbler and plate featuring designs that are actually used at restaurants throughout Tokyo Disneyland and Tokyo DisneySea.

Mini Towel: ¥680

Hand Cream & Lip Balm: ¥2,200

The mini towel, hand cream and lip balm set, and other items are all pocket-size, so you can take them anywhere with you.

This is just a small look at the pink range that's set to beckon spring early. Don't miss out on these exclusive items.

*Product designs and designs are subject to change without notice

*Available while supplies last

*Photos are for illustrative purposes only

©Disney©Disney/Pixar 

Tokyo Disneyland's Very Very Minnie! Event is a Must-Experience For Minnie Mouse Fans

Fans of Minnie Mouse won't want to miss her special "Very Very Minnie!" event that she is hosting at Tokyo Disneyland right now until March 19. Expect to see plenty of cute decorations, experience eating cute food, and getting your hands on some cute merchandise♡

Hand washing area

You're sure to have never experienced hand washing like this before. Keep your hands clean at the park with this special soap which when dispensed is shaped like Minnie Mouse wearing her iconic ribbon. This is available for the duration of the event only, so head to Tomorrowland or Critter Country to try it out.

Exclusive Minnie merchandise

Around 80 pieces of limited edition Very Very Minnie! merchandise are being sold for the event.

Parkers – Medium ¥4,900, Large ¥5,200 / Cap – ¥3,000 / Scarf Towel – ¥1,500

Dress up like Minnie Mouse with one of the two parkers, one featuring white and black polka dots of different sizes, and the other with red and white ones. There's also a cute cap, and scarf towel, so you can enjoy the event even more.

Cushion – ¥2,300

Hand Cream Set – ¥1,600

Wall Pocket – ¥2,900 (*Items in pockets sold separately)

There's also  a cushion which you can put your hands in to keep warm this winter, a set of hand creams, a useful wall pocket which you can store various items inーand many more items, up to 80 of them!

Themed menu

When looking for something to eat, make sure you try out one of the many Minnie-themed food and drink items.

Cranberry Vanilla Mouse Cake with Souvenir Plate – ¥800 / Yoghurt & Raspberry Mouse with Souvenir Cup – ¥800 / Served at: Sweetheart Cafe

At the Sweetheart Cafe, you can get your hands on one of two of these desserts which come with their own free souvenirs which you can take to use at home. You won't be able to resist the addictive sweet and sour flavour of the berries.

Special Set – ¥1,980 / Served at: The Plaza Inn

The Plaza Inn has a very special set prepared: a hearty meal featuring two hamburgers, ice cream for dessert with a white chocolate mousse adorned with Minnie's ribbon, and more.

Popcorn with Buckets – ¥2,300

You'll find this bucket sold at the popcorn wagon next to The Gazebo. It features a design of Minnie looking good in various outfits. If you're wanting popcorn at Very Very Minnie! then look no further.

Minnie Mouse's influence can be felt all over Tokyo Disneyland right now, so make sure you see everything when visiting for Very Very Minnie!

©️Disney