Tokyo Stroll: Learn the Manners & Etiquette of Worshipping at Onden Shrine – The Site of Marriage & Beauty Blessings
In this featured series, we introduce you to 'power spots' and goshuin at shrines on the outskirts of Tokyo. Today, we'll take a look at Onden Shrine, one of the locations where "MOSHI MOSHI NIPPON FESTIVAL 2018 in SHIBUYA" will take place, Japan's biggest inbound event set to hit Shibuya and Harajuku on March 24th and 25th. Ellie visited the shrine to learn about the manners and etiquette behind praying at shrines in Japan.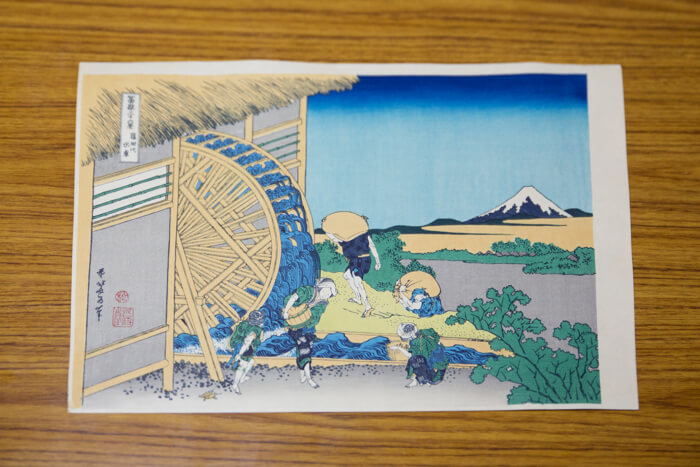 The Waterwheel at Onden (Katsushika Hokusai, Thirty-Six Views of Mount Fuji, Reproduction)
Onden Shrine is located just a 10-minute walk from both Shibuya Station and Harajuku Station via the JR Yamanote Line or 7-minutes from Meiji-Jingumae Station via the Tokyo Metro Chiyoda Line. It has been enshrined in Harajuku for more than 400 years where it has watched over the area. The area around Onden has a long history. In the Edo Period, the flowing Onden River was used for rice cultivation. This historical background is depicted together with Mount Fuji in Katsushika Hokusai's Thirty-Six Views of Mount Fuji.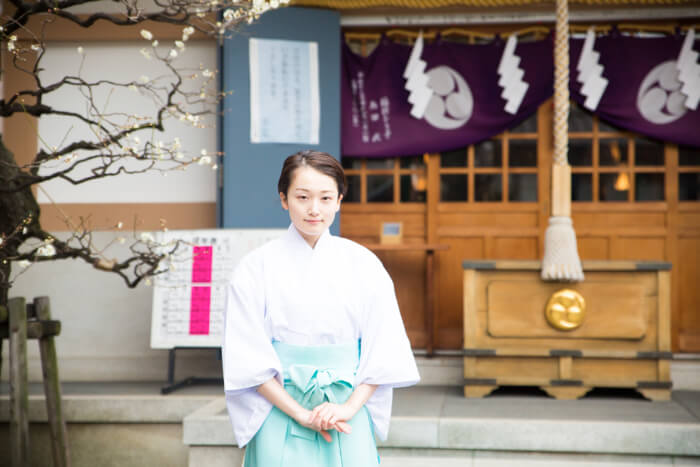 Deities enshrined at Onden Shrine include Omodaru no Kami and Ayakashikone no Kami. These deities give blessings for marriage ties between husband and wife, as well as in blessing and improved skill in art. The picture above is of Mutsuko Funada who lectured Ellie on the manners and etiquette of worship. You too can use this opportunity to learn together with Ellie.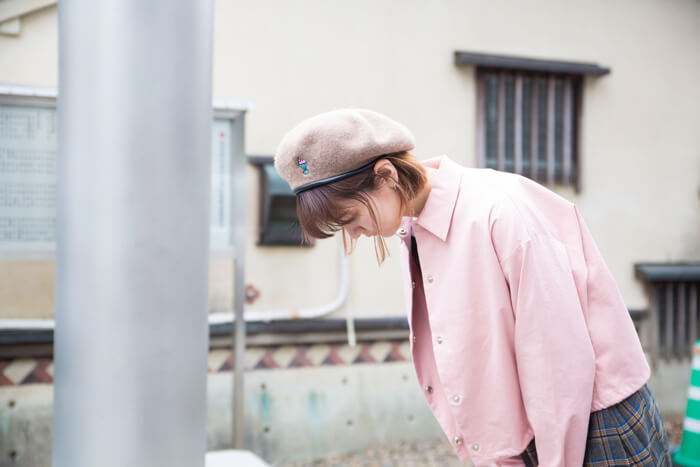 Shrines are sacred places. Upon visiting one, be sure to bow once at the torii gate. Keep in mind that the center of the path up to a shrine is where the gods walk, so it's  best to walk at the edge of the path rather than directly down the middle.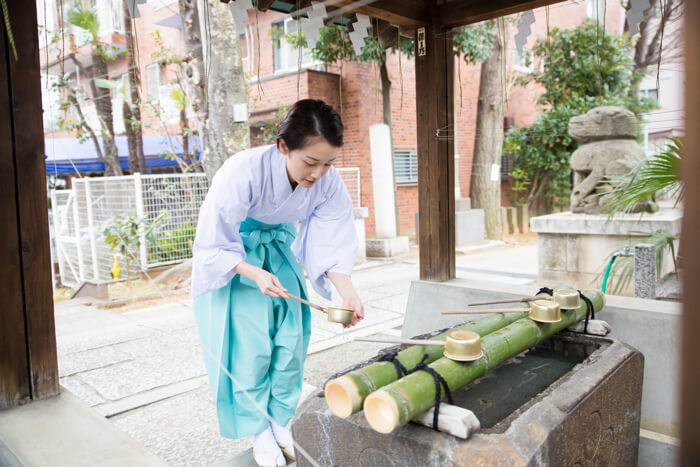 Next, you must cleanse yourself at the temizuya, or "water purification basin." Take the ladle with your right hand, scoop up some water, and rinse your left hand.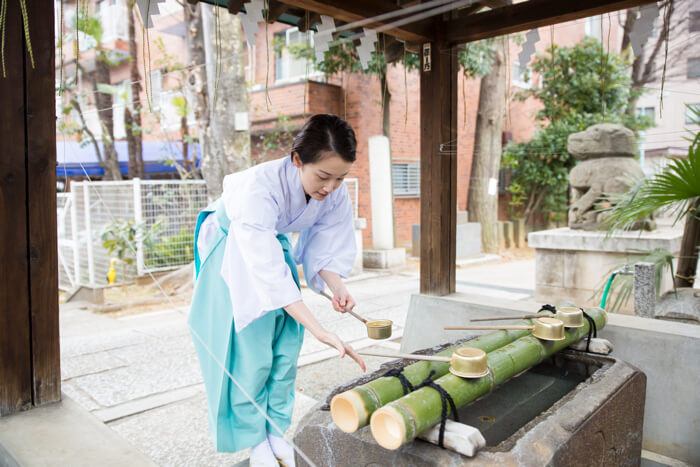 Do the same again but this time switch hands – hold the ladle with your left and rinse your right hand.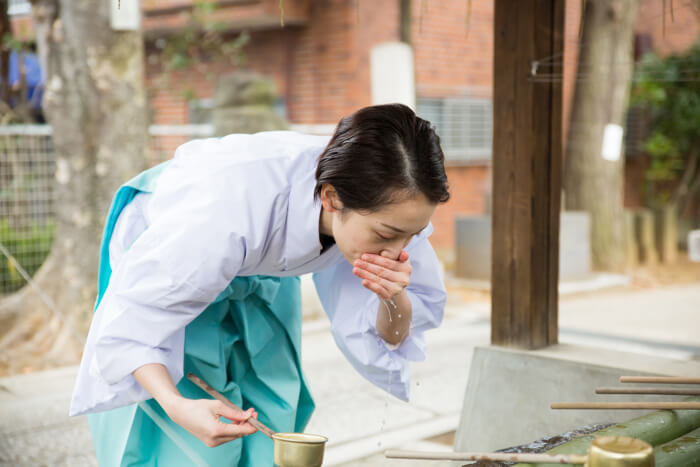 Take the ladle again in your right hand, pour some water in your left hand and rinse your mouth. It's best not to show your mouth as you do this.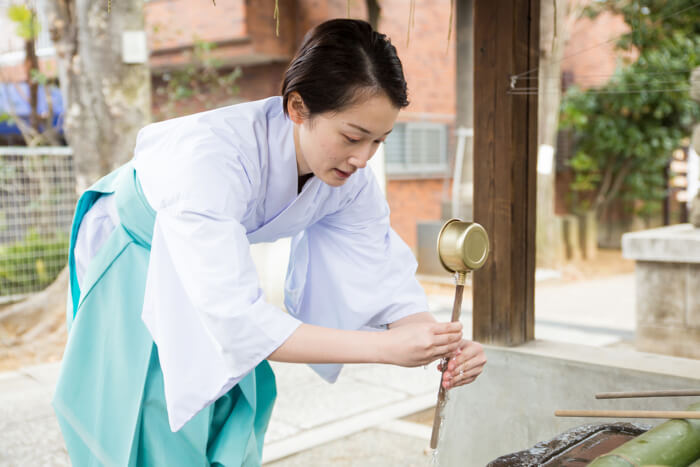 Lastly, tip the ladle to drain the water. Don't scoop water from the basin multiple times – use just one scoop of water for the entire cleansing.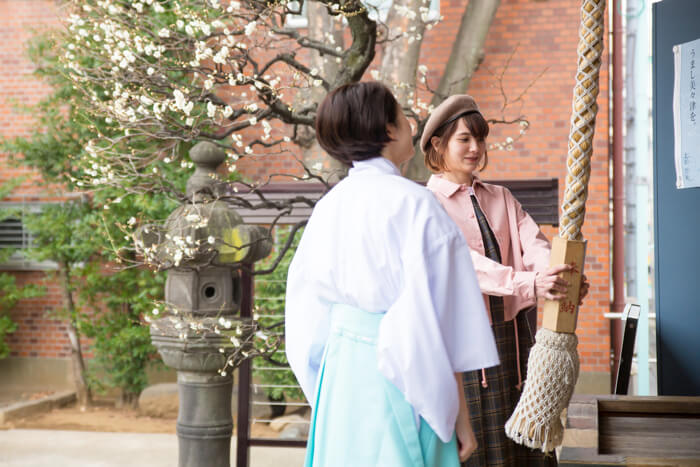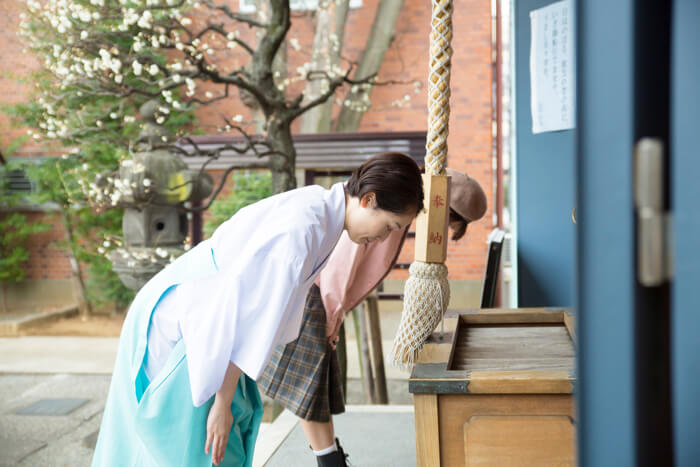 手水舎で身を清めたら、いよいよ参拝です。社殿の前で軽く一礼しましょう。お賽銭を入れて鈴を鳴らして、神様にお参りに来たことをご奉告します。そして、社殿に向かって二礼、二拍手、一礼をします。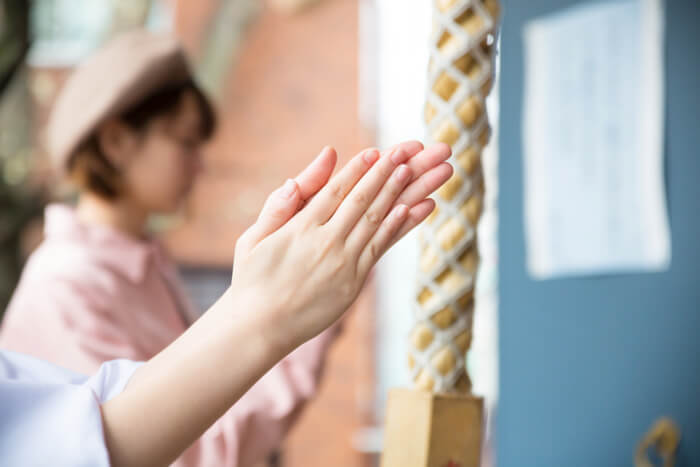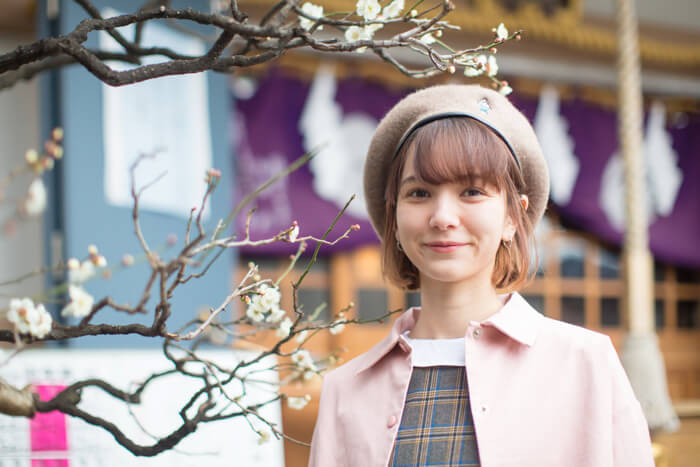 Red and white plum blossoms dotted the surroundings of the shrine. We recommend taking photos in a photogenic area like this for your social media.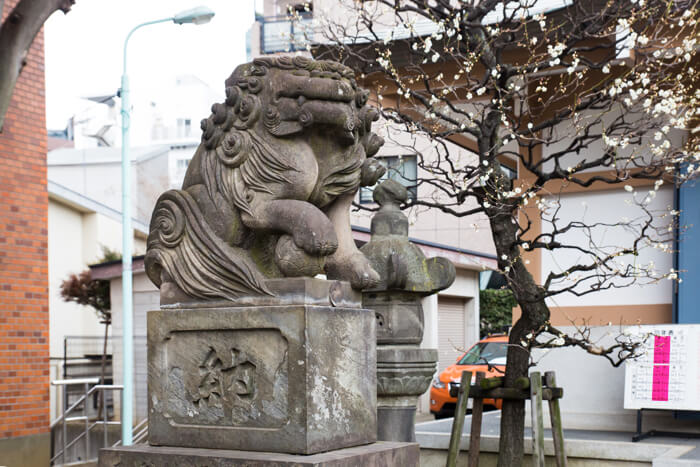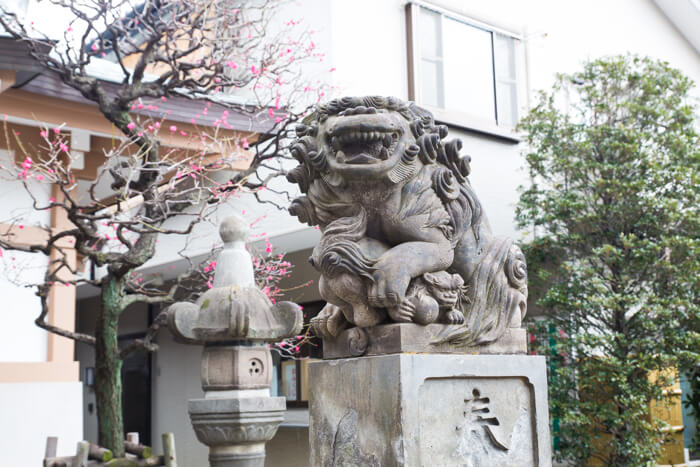 It's common at shrines to see komainu. They take on the form of an imaginary lion-dog-like animal, and it's said that the shape of their mouth makes express the sacred 'om' sound. The one with its mouth opened is called Agyou and the one with its mouth closed is called Ungyou. Be sure to check them out when you visit a shrine.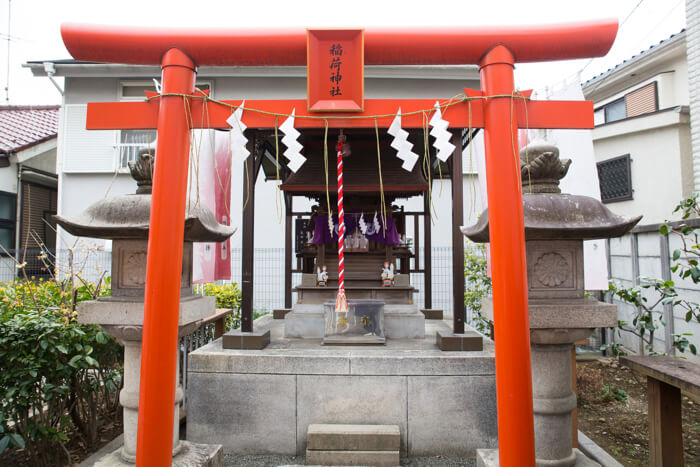 There is also an Inari shrine at the grounds which is home to the deity of agriculture, industrial manufacturing and commerce, so be sure to pray to them all collectively.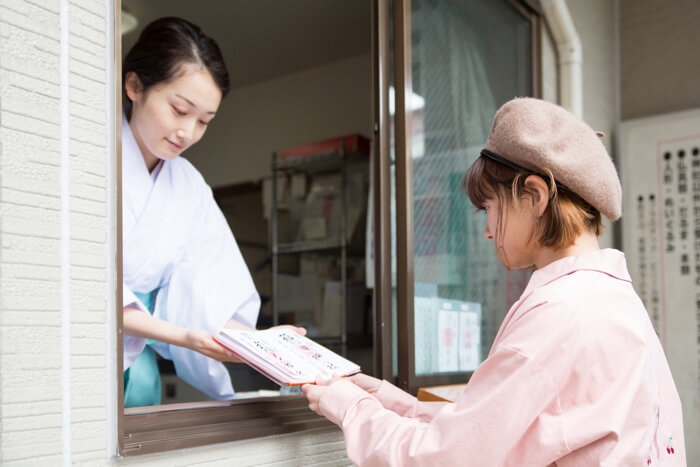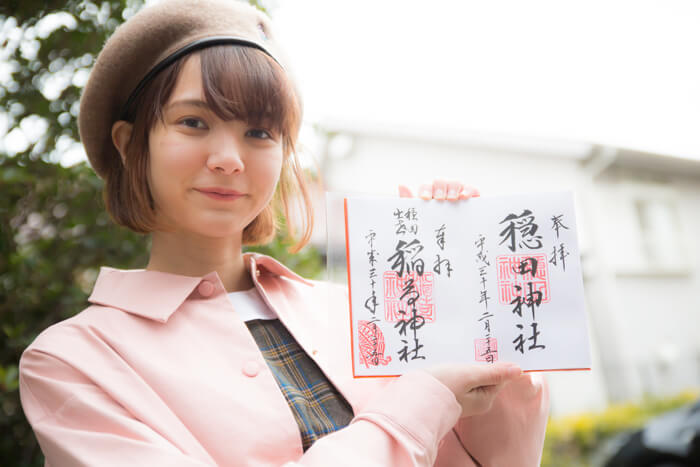 Today's main mission was also a success – Ellie managed to collect her 'goshuin' shrine stamps! She received one for each shrine – the Inari shrine stamp is on the left and the Onden Shrine stamp is on the right. Both cost \300.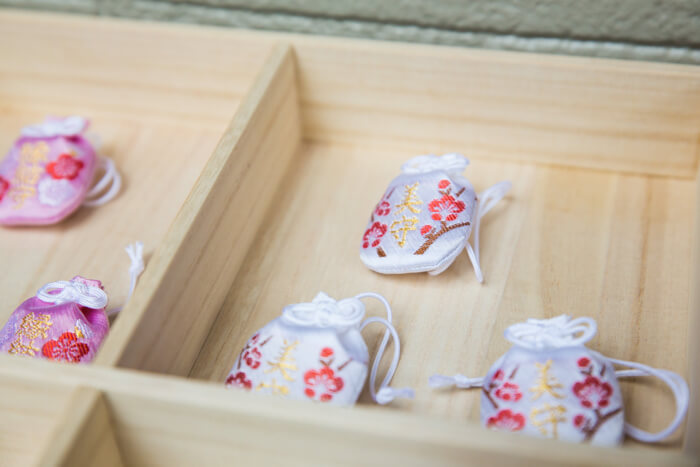 Onden Shrine is a site for blessings in things like marriage and beauty. It offers a lot of keywords particularly favoured by girls, so it's definitely one to visit. There's a range of good-luck charms for sale at the shrine, including one for marriage that's inspired by the blooming plum blossoms in the shrine grounds, one for beauty and more, so if you're interested you should definitely check them out. We will be holding an event called "MOSHI MOSHI ENNICHI" at "MOSHI MOSHI NIPPON FESTIVAL 2018 in SHIBUYA." You can look forward all sorts of stalls like you'd see at a Japanese festival lined with lots of food, activities like yo-yo fishing and more! There will also be a stage where you can witness a Japanese 'taiko' drum performance, and there will also be a character DJ festival where DJs will dress up and perform. The bustling atmosphere of a Japanese festival is perfect to enjoy on dates, please be sure to drop by.
■Information
Onden Shrine
Address: 5-26-6 Jingumae, Shibuya, Tokyo
TEL: 03-3407-7036
Access: 10-minutes on foot from "Shibuya Station" or "Harajuku Station" via the JR Yamanote Line / 7-minutes on foot from "Meiji-Jingumae Station" via the Tokyo Metro Chiyoda Line
Outfit: Aymmy in the batty girls
RECOMMENDED ENTRIES
【Tokyo Stroll】Collecting a Goshuin Stamp at Ōmiya Hachiman Shrine – Tokyo's Foremost Hachiman Shrine

In this regular article series, we introduce you to 'power spots' and goshuin at shrines on the outskirts of Tokyo. This time, our navigator Ellie visited Ōmiya Hachiman Shrine which you can reach from Shibuya Station via the Keio Line and Inokashira Line. Take the train to "Nishi-Eifuku Station" and it's a 7-minute walk from there. The shrine is the third largest in Tokyo after Meiji Shrine and Yasukuni Shrine.

Ōmiya Hachiman Shrine has a long history – this year marks 955 years since it was established. There are numerous Kami (gods) enshrined here, including Emperor Ōjin, who also goes by the name Emperor Taichu which translates to 'center of the womb.' He is a Kami of household harmony, marriage, conception after a shrine visit, easy childbirth, and child rearing. The shrine gets the nickname "Tokyo's Belly Button" for being located in the center of the city. It's famous as a 'power spot' where one can return to the womb.

This sacred tree is called Kyosei no Ki, or "Tree of Symbiosis." A nutmeg tree, it gets its name from the parasitic inuzakura flowering cherry that grows from it, living in a symbiotic relationship. Because the two trees have continued to live together mutually as one, many people visit the tree to pray for family happiness.

This is another power spot at the shrine: the chikaraishi, or "power stones." During the Edo period, these stones were offered to compare the strength of the divine. There are 14 stones of varying weights and sizes, from 101kg to 187kg.

Another popular power spot is the "Happy Gaeru" – large stone frogs placed which, if you stroke, are said to bring happiness.

Before praying at a shrine, it's customary to cleanse yourself at the temizuya (water basin) before heading in. First, pick up the ladle and hold it with your right hand and rinse your left hand.

Do the same thing but this time hold it with your left hand and rinse your right.

Afterwards, take the ladle in your right hand once more, pour some water into your left hand and rinse your mouth with it. Make sure not to bring the ladle to your mouth and don't swallow the water. Spit the water next to the fountain – never directly into it. Rinse your left hand one more time.

Lastly, take the ladle with both your hands and pour out the remaining water from it next to the fountain. Once your 'temizu' session is complete, return the ladle neatly to its original upside-down position so it's ready for the next person to use. Let your wet hands dry naturally, don't use a handkerchief or hand towel.

You can't receive your goshuin stamp straight away, so it's best to wait on the goshuin reception before you make your way to the main shrine. (Make sure you get your stamp after you have prayed!)

It's time to pray. Firstly, perform two deep bows at a 90°angle. Bring both hands to your chest and open them up shoulder-width apart. Clap twice. Keep your hands together and pray. Once you have finished praying, bring your hands down and perform one last deep bow.

We successfully received another goshuin stamp in our book. It costs just ¥300 to receive one.

Did you enjoy this Tokyo Stroll? Ōmiya Hachiman Shrine is also known as one of the three big shrines of Musashi Province. It brings good fortune to childbirth, child rearing and marriage, so it was a shrine we wanted to recommend for women. The power spots in the spacious shrine grounds are perfect for refreshing your mind.

■Information

Ōmiya Hachiman Shrine

Address: 2-3-1 Omiya, Suginamu-ku, Tokyo

TEL: 03-3311-0105

Access: 7-minutes on foot from "Nishi-Eifuku Station" and 10-minutes on foot from "Eifukucho Station" via the Keio Line and Inokashira Line

Website: http://www.ohmiya-hachimangu.or.jp/

Model: Ellie

Writer: Ryoichi Komaba

Photographer: Haruka Yamamoto

Translator: Joshua Kitosi-Isanga

Outfit: Aymmy in the batty girls

【Tokyo Stroll】Getting a 'Goshuin' at Tokyo Daijingu—Japan's shrine for successful marriages

In this edition of Tokyo Stroll we head to a Japanese shrine, often dubbed a 'power spot' where one can uplift their energy and spirit. It's also a place where you can get a 'goshuin,' a special type of stamp obtainable at many temples and shrines around Japan. Today, Ellie takes us to Tokyo Daijingu, a 19th century shrine hugely popular with women as a power spot for love & relationships. Let's go!

Tokyo Daijingu is easily accessible from all parts of the city by train. The closest station is Iidabashi Station which is linked to the JR Chuo-Sobu Line, the Tokyo Metro Yurakucho, Namboku and Tozai Lines, and the Toei Ōedo Line. If you're up for a longer stroll, then you'll be happy to know that this area is a popular tourist spot complete with Tokyo Dome City, Koishikawa-Kōrakuen and more, so be sure to have a walk around and check out the area.

Tokyo Daijingu was originally constructed in Hibiya and was popularly known by the name Hibiya Daijingu. After the Great Kantō Earthquake struck in 1923, it was moved to where it sits now and was renamed Tokyo Daijingu after the Second World War. Enshrined at Tokyo Daijingu are the deities Amaterasu-Sume-Okami and Toyouke-no-Okami, as well as 3 deities responsible for the creation and growth of all things, which has brought Tokyo Daijingu great value as a shrine for love, relationships and weddings.

A frequently asked question when visiting shrines is how to maintain proper etiquette when it comes to 'temizu,' a process of cleansing one's hands and mouth before entering a shrine. There are people who tend to ignore the process, but cleansing your mind and body the 'temizuya' (water basin) is key etiquette in Japan before worshipping at a shrine.

Firstly, hold the ladle in your right hand, scoop up some water and rinse your left hand.

 

Then do the same swapping both hands – hold with your left and rinse your right.

Afterwards, take the ladle in your right hand once more, pour some water into your left hand and rinse your mouth with it. Make sure not to bring the ladle to your mouth and don't swallow the water.

Spit the water next to the fountain – never directly into it. Rinse your left hand one more time.

Lastly, take the ladle with both your hands and pour out the remaining water from it next to the fountain. Once your 'temizu' session is complete, return the ladle neatly to its original upside-down position so it's ready for the next person to use. The origins of temizu note that people would cleanse themselves at the surrounding rivers and spring waters before entering the shrine precincts. Today, however, there are concerns about the quality of the water in rivers as well as the guarantee of true spring water. The 'temizuya' was introduced to replace them.

Tokyo Daijingu is famous for being the first shrine to establish the Shinto wedding ceremony in Japan. In 1900, the Crown Prince Yoshihito, who later went on to become Emperor Taishō, married at Tokyo Daijingu in front of the imperial sanctuary gods. Since then, it has come to be a location where the common people hold Shinto weddings.

The time has finally come – let's go get our goshuin at the reception located to the left of the shrine! The first stamp costs ¥300.

By the reception are lots of cute 'omikuji' (fortune slips) lined up, so be sure to get your hands on one when you visit to have your fortune told. They are also famous for their marriage blessings. And if you're coming from overseas, then do not fear as the omikuji are also written in English.

The omikuji are self-service, so pay your donation into the box and take out a slip while thinking about what fortune you want.

Ellie also prayed for marriage and chose a 'love' omikuji. She received a 'chu-kichi' blessing! Omikuji are ranked by blessings: there's dai-kichi (great blessing), kichi (blessing), chu-kichi (middle blessing), sho-kichi (small blessing), sue-kichi (ending blessing), kyo (curse) and so on. No matter what blessing you receive they are words from god, so make note of their contents and work with them in your daily activities.

 

Tokyo Daijingu is a power spot and that is especially so at the sacred tree. Mini waterfalls murmur here, making it a relaxing place to heal yourself.

While we're here, let's also take a look at the proper etiquette for praying at a shrine! When there's an offertory box at a shrine you must first offer a donation. Then, once you're relaxed, you can begin with the bowing.

Firstly, perform two deep bows at a 90°angle.

Bring both hands to your chest and open them up shoulder-width apart. Clap twice.

Keep your hands together and pray. Be sure to give gratitude for the everyday things in your prayer.

Once you have finished praying, bring your hands down and perform one last deep bow. Be sure you don't forget that final bow. This is the most common form of etiquette for praying at a Japanese shrine. It's easy, just remember: 2 bows, 2 claps, 1 bow. It's the most common form of prayer at any shrine so be sure to have it memorized before you go to pray.

Tokyo Daijingu can be accessed from also anywhere in the heart of Tokyo. The shrine grounds have a peaceful atmosphere and are a perfect breather after praying. Make it your first shrine visit of the year and make a wish for you and your loved one.

■Information

Tokyo Daijingu

Address: 2-4-1 Fujimi, Chiyoda, Tokyo

Opening Hours: 6:00-21:00

Contact: 03-3262-3566

Access: 5-minutes by foot from "Iidabashi Station" via the JR Chuo-Sobu Line, Tokyo Metro Yurakucho, Namboku and Tozai Lines, and the Toei Ōedo Line

URL:http://www.tokyodaijingu.or.jp

Outfit
L/S Tshirt:¥4,320 / MA-1:¥13,651 /  Corduroy trousers:¥12,787

※All taxes included(Aymmy in the batty girls)

Model: Ellie

Writer:Ryoichi Komaba

Photograph:Haruka Yamamoto

Tokyo Stroll: Atago Shrine—worship the fire god at Ninuri Gate and receive a goshuin

Shrines in Japan are considered a 'power spot' which means they are overflowing with energy and healing properties. They're also a place where you can receive a very special stamp known as a goshuin. Today, Ellie will take us on a stroll to Atago Shrine, a fantastic tourist destination that is easily accessible from Roppongi.

Atago Shrine is a great place for people to stop by during their work break due to its easy accessibility. You can reach the shrine in 5 minutes by foot from Kamiyacho Station via the Hibiya Line or 8 minutes by foot from either  Toranomon Station via the Ginza Line or Onarimon Station via the Toei Mita Line. If you're up for a real stroll then you can reach Atago Shrine in 20 minutes by walking from JR Shimbashi Station.

The first thing you will see upon arriving at Atago Shrine is the towering set of stone steps which go by the name Shusse no Ishidan. A samurai called Magaki Heikuro is known for having gallantly ascended the flight of steps on horseback during the Edo period. It's quite a challenge to climb the stairs quickly, but it's a good idea to try as the stairs are symbolic of climbing the ladder to success in life, so be sure to give it a go! But do not fear as there is an elevator for anybody unable to ascend the steps.

Atago Shrine is located atop Mount Atago, the highest mountain of Tokyo's 23 wards at an altitude of 25.7m. It was formerly a place where many people would gather to look out over the mountain where one can see Tokyo Bay and even the Bōsō Peninsula.

The red gate at Atago Shrine (pictured above) is known as Ninuri no Mon, or "red painted gate." Arranged on various sections of the gate is the aoi-mon crest, a familiar symbol with Mito Kōmon. The Atago Shrine was built on the order of Tokugawa Ieyasu in 1603 to enshrine a deity of fire protection.

Before praying at the shrine, you must first purify yourself by washing your hands and mouth at the water basin. Initial cleansing of yourself is the proper etiquette to praying at a shrine.

In front of the shrine is a maneki-ishi (beckoning stone). It is said that if you stroke the stone you will be blessed with good fortune. So many people have touched the stone that the surface has become smooth!

The fire god Homusubi no Mikoto is the main deity enshrined at Atago Shrine who not only offers protection against fire and fire-related disasters, but brings good fortune to businesses and marriages too.

Another hidden wonder of Atago Shrine are the many cute animals that roam around. Photographed above is Tina-chan, a dog based at the shrine offers who watches over visitors to the shrine. They also offer omamori, or 'charms' for your pet, so if you're an animal lover then make sure to drop by the shrine office.

There are many other animal guests besides Tina. There are 3 cats that used to be lost who now roam around various places at the shrine grounds during the day. Those who encounter them might be a lucky few. If you can't find them then you should wait for feeding time at 9am and 5pm – you'll meet them much easier this way.

There's also a huge healing pond home to lots of koi carp looked after by the shrine staff that are sure to raise your spirits!

Here we are at last, the main event—receiving a goshuin (shrine/temple stamp) in our goshuincho (stamp book). It costs a ¥300 donation to receive one here (this is the common price).

You can receive special inscriptions in your goshuincho at Atago Shrine during certain events such as the Nanakusa Hotaki Matsuri in January and Sennichi Mairi Hoozuki Ennichi at the end of June.

This is an Inari shrine where Uganomitamanokami is enshrined. People worship this guardian deity for the protection of the necessities of daily life and agriculture.

There's also a Benzaiten shrine to worship Ikichishihime-no-Mikoto, a god that brings luck of economic fortune, so can be prayed to for either a thriving business or a successful career.

Atop the apex of the highest mountain in Tokyo's 23 wards you will find healing nature in lavish abundance, so much so that you will completely forget you are even in the city! The NHK Museum of Broadcasting is also close by, another recommended tourist spot to consider after visiting Atago Shrine. The shrine is associated with good fortune when it comes to success in life and business, so if you're an adult and working full time, why not stop by for a visit?

■Information

Atago Shrine

Address: 1-5-3 Atago, Minato, Tokyo

TEL: 03-3431-0327

Access: 5 minutes by foot from Kamiyacho Station via the Hibiya Line / 8 minutes by foot from either  Toranomon Station via the Ginza Line or Onarimon Station via the Toei Mita Line / 20 minutes by foot from JR Shimbashi Station

Homepage: http://www.atago-jinja.com

Outfit

Frill Blouse – ¥13,824 / Sailor Melton Coat – ¥32,184 / NIGHT SCHOOL Pleated Skirt – ¥18,144 / LILLY Beret – ¥6,264

*all prices include tax (Aymmy in the batty girls)

Model:  Ellie

Writer: Ryoichi Komaba

Photograph: Haruka Yamamoto

Translator: Joshua Kitosi-Isanga

MMN Festival: Traditional Japanese Performance Art, Omatsuri Experience & More at Onden Shrine!

The MOSHI MOSHI NIPPON Executive Committee will hold the country's biggest inbound event for promoting Japanese pop culture to the world, "MOSHI MOSHI NIPPON FESTIVAL 2018 in SHIBUYA," across the areas of Shibuya and Harajuku on Saturday March 24 and Sunday March 25. New artists have been added to the event line-up as well as their performing dates. Registration for the event is also now open. Those who register for the festival will receive an original bag as thanks.

Register Here: https://mmnf2018.peatix.com

This year's MOSHI MOSHI NIPPON FESTIVAL will take place in four main locations. Here are the artists set to the perform as well as the content and activities to be held at each location.

In this article, we'll take a detailed look at the stage performances and booths you can expect to see at Onden Shrine.

The theme at Onden Shrine is "Tying Links with the Gods of Harajuku." "Ennichi" is held at the traditional Onden Shrine. Stalls are a must-have at Japanese festivals, so you can expect to see plenty of them for the MMN Festival lined with food, offering classic activities such as yo-yo fishing, and more. A stage will also be set up at the shrine where you can look forward to seeing a traditional Japanese 'taiko' drum performance and more, as well as getting involved with the mizuhiki workshop where you'll learn how to make your own decorative cord to tie envelopes with! Onden Shrine will be packed with content that can be enjoyed by kids and adults alike.

STAGE CONTENT: YUMENOYA Ukon Takafuji Japanese Dance Show & Bon Odori

The "Takafuji Dance Company" is a pioneer of traditional Japanese dance that boasts a history of 100 years. Ukon Takafuji is the second generation of the company as well as the producer and chairman of "JAPAN CULTURE ENTERTAINMENT -YUMENOYA-" who is set to put on a traditional Japanese dance show. It is an "experienced-based" show meaning you yourself can join in to dance Bon Odori.

Not only will there be classic Bon Odori hits playing such as Tokyo Ondo, but also a performance of Tokyo Bon 2020 choreographed by Ukon Takafuji, a song co-produced with "COOL JAPAN TV" that has taken the world by storm online with a collective 100 million plays across video streaming platforms.

STAGE CONTENT: Satsumasendai Odoridaiko

A Japanese drum (taiko) group made up of girls in their teens and 20s. Besides Japanese drums, their stage performance also captivates fans around the world with other traditional Japanese instruments such as the shinobue, as well as traditional Japanese dance.

STAGE CONTENT: Awa Odori Dance TAKARABUNE

TAKARABUNE is a creative dance group of Awa Odori, a traditional type of Japanese dance that boasts a 400-year history, who challenge themselves to creating new possibilities for this traditional Japanese artform. You must not miss this stage performance by Japan's sole professional Awa Odori dance group!

BOOTH CONTENT: Learn Shrine Etiquette!

Staff will co-ordinate and teach you the manners and etiquette associated with shrines. It's a great chance for newcomers to Japanese shrines and maybe even an opportunity for those in-the-know to learn about them again.

EXPERIENCE: Amezaiku Tsuruhuji

Last year's amezaiku workshop was hugely well-received, so we're bringing it back this year! You will learn how to sculpt rabbits, bears and other animals from candy, so be sure to try challenging yourself♪

EXPERIENCE: Kimusubi Mizuhiki Workshop

Mizuhiki are special cords that tie envelopes used for monetary gifts. Did you know that there are a lot of kawaii ones around recently? Mizuhiki artist Kaori Hunaki will hold a workshop at the booth where you can learn how to make your own kawaii mizuhiki!

 

Register for Free Entry into MMN Festival!

Those that register for the event in advance will receive an original bag as thanks. There are 1,500 bags available on a first-come, first-served basis. You will find in them one of either popular products from KitKat Chocolatory: the "KitKat Chocolatory Moleson" (¥500) or the "KitKat Chocolatory Moleson Matcha" (¥500). Bear in mind that stocks are limited, so don't forget to sign up early!

How to Register

To access MMN Festival, you must register in advance. (Admission is free of charge. Select festival contents however will charge a fee.)

To register, place visit the Peatix website below and follow the instructions. Upon completing your registration, you will receive a QR Code from Peatix that you must take with you on the day of the event.

Click here to register.

Please display your QR Code at each location on the day of the event.

*Upon registering, you will be signed up as a MOSHI MOSHI NIPPON Member where you will receive newsletters and other information. You will also be signed up to Omotenashi Platform.

Tokyo Stroll: Anna Yano Visits Famous Sites From "Penguindrum" Anime Series

Anna loves anime, and so she is bringing a new series to our "Tokyo Stroll" feature where she takes us on a pilgrimage to visit real life anime locations! The theme chosen by Anna for this first entry is a solo trip to Okigubo which appears in the anime series Penguindrum (which she is a huge fan of!) Just what kind of encounters will be waiting for her there?

Anna puts on the same hat as the anime's protagonist Himari Takakura (from her own collection) and meets at the station. You can tell she is in high-spirits from behind. The train station too is exactly the same as in the anime!

The first location on the list was Ogikubo Second Children's Park. Anna did get a little lost on the way there, but she managed to find the giraffe and pig park installations. In the anime, the Takakura brothers live in the house right next to this park.

Anna said solemnly "I think the colourful house is a symbol of happiness for the brothers" while confirming that this was the location the house should be if it was the anime. Upon basking in the afterglow, one of the staff members that was with Anna cried out as if to cling onto something!

"Survival strategy! I'll tell it to you lowlifes who will never amount to anything.* Time to go to the shopping district and get my hands on the Penguin Drum!"

[*Translator's Note: This is a quote from the anime series Penguindrum.]

Anna was taken aback by this remark.

"I wanted to go there because that appears in the anime too!"

And with that, off they went. But just what is the Penguin Drum…?

Here's the shopping street archway that you see in the anime! It's pretty exciting. Ogikubo is a kidn and friendly place. While strolling the streets, Anna was asking people "Where's the Penguin Drum?!" to passers-by. Along the way, there was a shop that caught her eye! It was a kebab shop that had a deliciously inviting smell.

"I'm glad because I was reaaally hungry."

The man's Japanese was very good. Anna went in for the kill, asking, "Please show me your artefact that's associated with your fate!" He kindly showed her his charm from Turkey that's preciously decorated in the shop. Does fate relate to the Penguin Drum?! Maybe the Penguin Drum something that each person possesses… Our trip isn't over yet!

The next location can be found on the roof of Town Seven, a shopping center at the north entrance of Ogikubo Station. It's a wide and open space where a lot of children were playing.

This is the scene when the older of the Takakura siblings, Kanba, is talking to his ex-girlfriend, when a memory-erasing red ball comes flying and hits her on the forehead.

The playground equipment that appears in the background was very impressive to look at.

The children became interested in Anna's hat. She was completely surrounded!

The next place Anna headed to was the shrine where the heated fight between the brothers unfolds. The younger brother, Shoma, becomes aware of the events surrounding his older brother, so presses him with questions. Kanba declares that he was playing parent. Anna prayed by herself in the grounds.

And don't forget to take a commemorative photo.

Next is the scene with the pedestrian bridge where Kanba blows up a car. We took the photo at the same angle as in the anime.

Anna told a story with a serious expression.

"He [Kanba] wasn't always a bad guy. The fact that he did something like that. That scene shocked me."

Anna also passed under the arch to Hakusan Towns shopping district. It seems like it has changed a little since the anime aired, but you can tell it's the place immediately!

Anna tottered over and shouted, "Survival strategy!" again to a lady passing through. She then made her way to a ramen shop as the lady had also mentioned which is famous among fans.

"Sanchan Ramen" is a restaurant with a 60-year history that has continued to be loved by locals in Ogikubo.

This is the place used as a location for handing over money between Kanba and the evil organisation. There's a lot of fans that imitate the anime and slide envelopes with money inside on the tabe.

Of course, Anna had a bowl of ramen too.

And gyoza!

And beer!!

By the way, why do you like this anime, Anna?

"Penguindrum is a very deep series, it makes you think about things like love and fate. The art is cute and the music and presentation are gorgeous. I really want everyone else to watch it."

Today's article will be broadcast on "Kawaii JAPAN-da!!" on MBS (Kansai Local). It will go on air on March 13th! Don't miss out on Anna's solo travel!

■Information

MBS (Kansai Local) – "Kawaii JAPAN-da!!"
Broadcast Date: March 13th at 1:59am
*There will also be a repeat streamed on MBS Dizm (https://dizm.mbs.jp/title/?program=kawaiijapanda)

Blu-ray BOX edition of "Penguindrum" now on sale in Japan!

Artist / Model:Anna Yano

Photographer:LOVEGRAPH

Tokyo Stroll: A Kimono Date With Yutaro to Climb Mount Fuji in Tokyo at Hatonomori Hachiman Shrine

The first date of 2018 with Yutaro was to visit a 'power spot' so we can have a wonderful year this year too. That being said, we went to "Hatonomori Hachiman Shrine" in Sendagaya which is next to Harajuku. This was our hatsumou, the first shrine visit of the New Year, and we went wearing kimono.

Hatonomori Hachiman Shrine is a 5-minute walk from Kita-Sando Station via the Tokyo Metro Fukukoshin Line, just one stop from Meiji-Jingumae Station in Harajuku. It's super easy to get there from Harajuku or Shibuya. You can also walk there in 5-minutes from Sendagaya Station if you take the JR Sobu Line.

Hatonomori Hachiman Shrine has a long history, even going as far as to be recorded in the Edo meisho zue, an illustrated guide to famous Edo places that was published at the end of the Edo period. The shrine grounds features the shogidou, where a huge Shogi (like chess) piece is enshrined; the Koga Inarisha shrine where the Koga-Gumi, a group of ninja serving the Tokugawa Shogunate, would pay reverence; a Noh stage; the main building that was completed in 1993, and more.

According to the Shinto chief priest Hirano, the oldest things in the shrine grounds are the 3 ginkgo trees planted there. If you visit the shrine, be on the lookout.

We finally arrived. After bowing, we headed through the torii gate and onward towards the shrine. We cleanse our hands and mouth before praying. I wonder what could he be praying for? He has an unusually serious expression.

After praying, we climbed the fuji-zuka, a manmade mound made to imitate Mount Fuji. It has received much attention as a 'power spot,' a place believed to heal visitors through special energy. The Edo period was a time when it was difficult for people to climb Mount Fuji, so common folk would look to fuji-zuka as Mount Fuji for their worshipping.

It is said that Hatonomori Hachiman Shrine was constructed in 1789, and the fuji-zuka, the oldest still standing in the city, was designated a Tangible Folk Cultural Property.

Yutaro-kun hasn't climbed Mount Fuji before, so this will be his first!

Mount Fuji has 5 stations you can stop off at leading up. Climbing fuji-zuka was tougher than we thought, so we agreed to wear sneakers next time. While being cautious we continued our climb without falling.

Writing from the Kansei era is written on the komitake sekison daigogen at the 5th station. You can't help but feel the length of the fuki-zuka's history at Hatonomori Hachiman Shrine!

The view from the top is amazing! When you see the tree-wrapped shrine grounds, your heart feels gentle and calm.

"It's a dream come true that we can climb Mount Fuji in Tokyo."

We took a different route going down. This route is steep too!

After we safely reached the bottom, we receive a goshuin shrine stamp to commemorate today's Mount Fuji worship. The ceremony fee is ¥300. Be sure you get one too after reaching the top!

Finally, we drew one of Hatonomori Hachiman Shrine's unique "Hato Mikuji." The omikuji blessing was "small blessing" (sho-kichi). After reading the omikuji carefully, we tied it to tie a link with the gods. Before we knew it, the date had come to an end.

How was this first kimono date? If you're thinking you want to walk around Harajuku in a kimono like Yutaro, then we recommend checking out a rental kimono store. The kimono worn today was rented at the Moshi Moshi Kimono Salon in Harajuku. Please enjoy yourself by going out in a kimono with your friends or on a kimono date with that special someone.

Model:Yutaro

Yutaro was born in Hiroshima on June 3rd 1998. His modeling career has earned him lots of attention as a fashion icon of the new generation. The famous model also works as a "charisma" shop assistant. Yutaro has gained his reputation as a "mysterious and handsome guy" from his appearance on Japanese variety shows. His debut was made on the show "Gyoretsu no Dekiru Horitsu Sodanjo" and has since then appeared on numerous different TV shows. He challenged himself to appear on stage for the very first time in March this year and is gaining popularity by the day for his diverse work.

Photographer: Kayo Sekiguchi

Writer: Sayuri Mizuno(ASOBISYSTEM)

Translator: Joshua Kitosi-Isanga
RELATED ENTRIES
Official Chiikawa Shops in Harajuku and Osaka to Hold 1st Anniversary Fair

Last year, Chiikawa Land, the first official Chiikawa shop, opened at the Harajuku and Osaka Umeda branches of KIDDYLAND. Both locations will celebrate the 1st anniversary of the shop's opening with a special fair on August 5, 2022.

Chiikawa is a popular character first revealed by Japanese illustrator Nagano on Twitter. In December 2020, the official online store Chiikawa Market opened, and Nagano released a book compiling the manga panels they drew and posted on Twitter. The characters have become massively popular, with the artist's social media accounts racking up over 1.1 million followers. From collaboration cafes and exhibitions to a recent anime series, the sky's the limit for these adorable characters!

Purchase Bonus

「Holographic Sticker (Not for Sale) *Designs will differ between the Harajuku and Osaka Umeda locations.

Holographic Pin (Not for Sale) / For guests spending ¥3,300 or more (including tax)

Picnic Blanket (Not for Sale) / For guests spending ¥5,500 or more (including tax)

Mug (Not for Sale) / For guests spending ¥8,800 or more (including tax)

Limited Edition Chiikawa Land Harajuku x Marion Crepes Collab

Limited Edition Chiikawa Land Harajuku x Marion Crepes Goods

Chiikawa Land Osaka Umeda Limited Edition Goods


Both the Harajuku and Osaka Chiikawa Land locations are visited by fans each day, and each store has developed unique products to celebrate the first anniversary.

 

The Chiikawa Land Harajuku location will offer products in collaboration with Marion Crepes, while the Osaka Umeda location will sell limited edition products featuring the characters in cute traditional costumes. Special bonuses will also be handed out to guests spending particular amounts, so why not come out and grab some new goods?

©nagano / chiikawa committee

Manga Series 'Eren the Southpaw' Hijacks Reebok Harajuku and Shibuya Stores

Reebok has appointed a number of popular artists in Japan and abroad to take part in their new campaign titled 'Life is Not a Spectator Sport -Move, Move!-' This collaboration started in March 2022.

 

As a part of this collaboration, Reebok is teaming up with the manga series Eren the Southpaw. Kappa's popular ensemble drama highlights a number of creators, and has a very poignant tagline: "To all those who couldn't become geniuses." Reebok's brand message matches this and is meant to be a manifesto for life, telling people to never give up, act on their own convictions, and find their own path. 

Reebok Classic Store – Harajuku Interior

Stickers / Pins

Original Scene from Eren the Southpaw 

To commemorate the release of Reebok's flagship model INSTAPUMP FURY 95 in Sax Blue, a huge piece of window art was redrawn by Kappi. The artist also provided an original manga featuring an entirely new story. Fans can find this at the Reebok Classic Store Harajuku and on the official Reebok Twitter page. The Reebok stores in Harajuku and Shibuya have also been completely taken over by Eren the Southpaw, completely decorated from top to bottom in images from the series. 

KAWAII LAB. Report #1: IDOLATER Welcomes Two New Members

KAWAII LAB. is a project spearheaded by ASOBISYSTEM with the aim of introducing the world to popular Japanese idol culture. The idol group IDOLATER was born from this idea, and in April, the girls welcomed two new members, transforming it into a fresh new 5-member group. Announced at the group's solo concert 'New IDOLATER' on April 24, Fuuka Oishi and Ririka Satsuki joined the lineup consisting of Ayu Okuda, Kurumi Tsukishiro, and Yukino Fushiki.

A typical idol group is peppy and filled with energy, but IDOLATER is doing things a little differently. What is their appeal? How do they want to shake things up? 

A Group Formed by Finalists from ASOBISYSTEM's First National Audition

IDOLATER debuted in April 2019. In the spring of 2018, ASOBISYSTEM, the management company behind Kyary Pamyu Pamyu and a number of other popular talents, announced its first large-scale nationwide audition, ASOBISYSTEM THE AUDITION 2018. IDOLATER's history began with five audition finalists–Fushiki, Okuda, Tsukishiro, and two others. The catchphrase for the audition was fitting for the group: "Seeking the next generation of talents to shape Japanese pop culture and share it with the world."

IDOLATER Welcomes Solo Singer Ririka Satsuki & Model Fuuka Oishi

Following the departure of two members and intense restrictions imposed on the group's activities due to the pandemic, IDOLATER continued to operate with only three members. Although they didn't manage to get a ton of media coverage or appeal in large-scale events, the group continued to pull in new fans and gain recognition in the idol community. After a while, Fuuka Oishi and Ririka Satsuki joined the group, giving a much-needed boost to IDOLATER's activities and energy.

Ririka Satsuki is a solo artist based in Fukuoka with an incredible husky voice. Fuuka Oishi has previously worked as a model and is popular with creators for her sweet yet listless atmosphere. Despite their incredible confidence, this is the first time either has worked as an idol!

IDOLATER and the Concept of 'Idols' 

The word 'idol' can conjure plenty of images to mind, but what does the word mean to the members of IDOLATER?

The group's music blends together elements of city pop, future funk, and house, while still keeping true to traditional J-pop roots. The familiarity of their music makes it easy to approach, and Yukino Fushiki's powerful voice alongside Ririka Satsuki's melodies shower fans with some of the best vocals in the idol world. 

The group's choreography is provided by YU-KA, formerly of TEMPURA KIDZ. Her experience as both a dancer and an idol makes her an asset, and her refreshing moves are a highlight of each IDOLATER show.

A former pattern maker for a Japanese fashion brand designed the group's costumes. 

If this sounds like the idol group for you, come and check out an IDOLATER event to see the girl's incredible appeal for yourself.

On June 19, IDOLATER will hold their second regular performance, 'Camel,' at Ebisu CreATO. (The title of the show was chosen because it sounded fun, not for any other specific reason.)

Stay tuned for the next report, where we'll delve a little deeper into the life of each member of IDOLATER!

Experience Japanese Culture from Anywhere with Kanda Myojin Shrine's Virtual Space

Kanda Myojin Shrine dates back over 1,270 years, making it one of the most well-known religious sites in Tokyo. Dai Nippon Printing is now making it possible for interested visitors to experience the site from anywhere in the world, unveiling the Kanda Myojin CG Space this week. Developed with approval from the shrine, the virtual space faithfully reproduces the structure and design of the location using 3D laser measurement technology and CG techniques developed by DNP over many years. The space will be open online to all audiences.

 

A portion of the work from the Masayuki Kojo 10th Anniversary Exhibition currently behind held on-site at Kanda Myojin from June 4 until July 10 will also be available to view in the CG space. The space will also be linked to 'Virtual Akihabara,' developed by DNP in conjunction with the AKIBA Tourism Council. Using XR (Extended Reality), the company hopes to develop a wide variety of new communication styles.

The Kanda Myojin CG Space was created by using DNP's laser measurement technology to recreate three-dimensional objects. By using high-definition photography and photogrammetry technology, images of objects are taken from many angles, creating a realistic 3DCG space to explore. The structure of the shrine, which was rebuilt in 1934 after being damaged in the Great Kanto Earthquake, has been faithfully reproduced in every way.

In conjunction with events held at the Kanda Myojin Museum, the Kanda Myojin CG Space will make the history of Kanda Myojin and its collection of materials, including rare ukiyo-e prints, available online for anyone to access. Through these exhibits, people both in Japan and abroad can experience Edo culture through their web browsers!

From Harajuku to the world! Chasing the bright future of a rising star, FRUITS ZIPPER

FRUITS ZIPPER is a group quickly rising to stardom, debuted from "KAWAII LAB." KAWAII LAB is a new project to introduce Japanese idol culture from "Harajuku", a fashion town where various cultures and personalities gather, to the world. Members of the group include Amane Tsukihashi, Suzuka Chinzei, Yui Sakurai, Runa Nakagawa, Manaka Mana, Karen Matsumoto, and Noel Hayase.

Even before their debut, the group garnered attention for their breathtaking visuals. Their performances are so powerful, you would never expect such refined skill from such an adorable aesthetic, which is known to captivate the hearts of their fans. The group is produced by Misa Kimura, a model and TV personality who is also the general producer of "KAWAII LAB. She will utilize her experience and creativity as the leader of the idol group "Musubizm" to introduce idol culture to the world.

Expressing FRUITS ZIPPER's world through collaborations with creators

Furthermore, even before their debut, the group drew a lot of attention because of their collaborations with many different renowned creators. Among the collaborations includes the artist photos created by video director/art director/3DCG artist YUKARI. She uses a cutting-edge trend of CG-moving techniques, in addition to still-images. The mysterious colors of bright light that embraces the girls are definitely eye-catching.

Catchy and cute choreography of FRUITS ZIPPER

Followed by the debut song "Kimino Akaruimiraiwo Oikakete," a song with a positive message for the future, "Watashino Ichiban Kawaiitokoro," with its cute choreography and lyrics, won the hearts of people and was selected as one of the "TikTok Hot Songs in Japan" and charted on the Billboard. More than 13,000 videos using "Watashino Ichiban Kawaiitokoro" have been posted on TikTok with the hashtag "#わたしの一番かわいいところ (Watashino Ichiban Kawaiitokoro)." The long-awaited third single "Kanpeki Syugide☆", which was released on May 20, is an energetic tune created by music producer Manaka Suzuki.

Performances that reach into people's hearts and minds

A pop-culture event presented by Asobisystem "ASOBE!!," was held at Spotify O-EAST on May 26th. In addition to FRUITS ZIPPER, fellow Asobisystem members Atarashii Gakko! and IDOLATER, who is also a member of "KAWAII LAB.", performed at the event. Many other remarkable idol groups also took part in the event, enlivening the venue.
Alongside their regular performances, they are scheduled to participate in a number of events, including the "LEADING PALETTE! and "HYPE IDOL! vol. 20" at Nihonbashi Mitsui Hall both June 12th. Make sure to come and see their live performance, it's sure to steal your heart!

Additionally, KAWAII LAB. will be serialized on "Moshi Moshi Nippon," a website that provides the latest news of Japan to the world. The articles will be published in hopes of sharing the charm of IDOLATER and FRUITS ZIPPER with people not only in Japan, but also around the world. Details will be announced soon. Stay tuned for more from KAWAII LAB.!

Ryusenji Temple Offering Gorgeous Paper-Cut Summer Goshuin Shrine Seals with a Wish for Peace

Ryusenji Temple in Saitama is offering some exclusive summer goshuin! Goshuin are stamps or seals given to worshippers at shrines and temples around Japan, where somebody will stamp your goshuin-cho (stamp book) with the site's unique seal along with the temple's name and the day you visited handwritten in ink.

The two new goshuin feature summer fireworks and a cooling fan design. These will be available from June 1 until August. They might sell out, though, so be quick!

Summer Exclusive Paper-Cut Overlaid Goshuin: Fireworks and a Wish for Peace


The Fireworks and a Wish for Peace goshuin use five kinds of paper to depict fireworks in the summer night sky.


Fireworks are a popular summer tradition in Japan. It's said that fireworks were born following the discovery of gunpowder and its use in guns when some decided to use the substance to make something beautiful rather than use it as a weapon. 


Because of this, many see fireworks as a symbol of peace. The current war between Russia and Ukraine has seen gunpowder used as a horrific weapon used to end the lives of many innocent people, and this special goshuin was made in the hopes that the war will come to an end as soon as possible. Gunpowder should be used in fireworks to bring people happiness instead.

Summer Exclusive Paper-Cut Overlaid Goshuin: Refreshing Good Luck Charm

The Refreshing Good Luck Charm shows a traditional Japanese summer scene with a fan and goldfish swimming in clear blue water.

Fans are used by many Japanese to keep cool during the summer months, and some are even said to have the power to ward off illness and evil spirits. Goldfish are often seen during summer festivals, where visitors try to scoop them up using an easily-breakable net in a fun game with family and friends.

 

Goldfish became popular during the Edo period and were considered to be lucky creatures capable of bringing happiness into one's home and bringing financial fortune. 

If you're heading to Saitama, why not add these intricate goshuin to your book?

HARAJUKU App Launches Collaboration with Love Live! Super Star!! at Famous Takeshita-dori

From May 20 until June 5, 2022, AppBank is bringing fans of Love Live! Superstar!! a special treat in collaboration with the HARAJUKU app! By launching the app at a check-in spot in Harajuku, users can win a limited-edition Love Live! toy at random, such as acrylic keychains or pins.

App Splash Page

HARAJUKU Map

Random Toy Screen

For those winning a toy, the item can be picked up in front of the CUTE CUBE HARAJUKU Love Live! Superstar!! Wall Panel or at YURINAN Harajuku Takeshita-dori Yu-rin An. In celebration of the event, CUTE CUBE HARAJUKU will be featuring Love Live wall panels during this period, so be sure to go get some great pictures!

Fendi and Harajuku Omotesando Keyaki-kai Collaborate on #FendiTsunaguOmotesando Art Project

Italian luxury fashion brand Fendi has teamed up with Harajuku Omotesando Keyaki-kai on a new street art project! 'TSUNAGU – Omotesando Street Art Project' was unveiled on April 29, 2022.

 

The project, which aims to improve the city's scenery and share positive messages, is on display in Omotesando, a popular area with young people. The canvas is the formal site of the Oriental Bazaar, an iconic part of Omotesando for over four decades. Under the theme of 'hope,' three young artists will be displaying their artwork in a massive temporary enclosure on the site. Hopefully, Japan really will open tourism soon so that guests from around the world can enjoy these inspiring pieces!

The first piece of art was unveiled on April 29 and was drawn by Dai Tamura, a young Japanese artist who has attracted worldwide attention after becoming an illustrator for the NBA. The dynamic and powerful compositions vividly depict endangered animals and plants alongside delicate flowers to symbolize hope for the futures of these beautiful creatures. 



Be sure to keep an eye out for the next installation coming soon!

Information

TSUNAGU – Omotesando Street Art Project

Location: Oriental Bazaar Former Site

Address: 5-9-13 Jingumae, Shibuya-ku, Tokyo

Official Site: http://www.fendi.com

MOSHI MOSHI ROOMS HARAJUKU Announces 'My Ty Rooms Harajuku' Collaboration

ASOBISYSTEM, a company aiming to broadcast Japanese pop culture from Harajuku to the rest of the world, has teamed up with Rokuyon Corporation for a special collaboration! Rokuyon manages unique private accommodations throughout Shibuya in Tokyo, and with help from Meteor APAC, the Japanese distributor of Ty's beloved Beanie Baby stuffed animals, a new collaboration room will be available to book for a limited time only.

MOSHI MOSHI ROOMS HARAJUKU, a home-sharing facility produced by ASOBISYSTEM, is offering a Ty-inspired room from April 23 until May 22, 2022. The room looks more like an art gallery than a guest house and was designed by Ty's content director Harris.

Children can enjoy a number of Ty amenities, while adults will enjoy taking home a Ty A3-sized tote bag to remember their unique visit. Those taking the tote bag will be able to fill it with all the Ty stuffed animals they want for only ¥1,650 (Tax Included)!

A social networking campaign exclusively for guests will also be underway soon! Those posting with the hashtag #moshimoshirooms and #ty will receive one free Ty plush toy!

Information

My Ty Rooms HARAJUKU

Available: April 23 – May 22, 2022

Address: MOSHI MOSHI ROOMS HARAJUKU (2-18-7 Jingumae, Shibuya-ku, Tokyo)

Access: 8-minute walk from Meijijingu-mae Harajuku Station on the Tokyo Metro Chiyoda Line/Fukutoshin Line

Reservations: https://www.airbnb.com/rooms/47207073 

xxxHOLiC Exhibition Opens at WITH HARAJUKU HALL to Mark Upcoming Live-action Film

A special xxxHOLiC exhibition will open at WITH HARAJUKU HALL in Shibuya on April 29, 2022! The event is being held to celebrate the release of the live-action xxxHOLiC film on the same day. 

Written and illustrated by the manga group CLAMP, xxxHOLiC ran from 2003 until 2017 in Weekly Young Magazine and Bessatsu Shonen Magazine. The series has been a best-seller, with over 14 million copies in circulation, and has been adapted into an anime series, anime film, and live-action television series. An all-male stage play aired in Tokyo in September 2021. The upcoming xxxHOLiC film is the first live-action film adaptation by photographer Mika Ninagawa. This exhibit will include behind-the-scenes footage and images along with a puzzle-solving game!

Exhibition

©2022映画「ホリック」製作委員会 ©CLAMP・ShigatsuTsuitachi CO.,LTD./講談社

Exhibition Hall 

©2022映画「ホリック」表裏世界没入展実行委員会©CLAMP・ShigatsuTsuitachi CO.,LTD./講談社 Photo by Mika Ninagawa

Guests will be able to see stills, costumes, props, and artwork from the upcoming film, as well as a 'visit to the wish-granting shop!' Take some pictures at an incredibly detailed photo spot, and check out images of the film's incredible cast. xxxHOLiC will star Ryunosuke Kamiki, Kou Shibasaki, Tina Tamashiro, Daoko, Serena Motola, and many more beloved stars.

*Hokuto Matsumura, who plays Shizuka Doumeki, will not be featured in the exhibition.

xxxHOLiC Puzzle Solving Game 'The Mysterious and Curious Tale' 

Get ready for a completely original new mystery game! Players will transform into the characters of xxxHOLiC to solve a mystery assigned to Yuko Ichihara and Kimihiro Watanuki. What's the real cost of making a wish? 

©2022映画「ホリック」製作委員会 ©CLAMP・ShigatsuTsuitachi CO.,LTD./講談社

Information

xxxHOLiC Behind the Scenes Exhibition Supported by WITH HARAJUKU

Address: WITH HARAJUKU HALL (1-14-30 Jingumae, Shinjuku-ku, Tokyo)
Access: 1-minute walk from Harajuku Station on the JR Yamanote Line, a 1-minute walk from Meijijingumae Station on the Tokyo Metro Chiyoda Line/Fukutoshin Line

Running: April 29 – May 15, 2022

Hours: 10:00-16:30 (Last entry at 16:00) *Open 10:00-19:00 from May 9 – May 13 (Last entry at 18:30)

xxxHOLiC Puzzle Solving Game 'The Mysterious and Curious Tale': 17:30-19:30 (Area closes at 20:00) *Open 20:00-22:00 from May 9 – May 13

Official Site: https://xxxholic-movie-event.com

Legendary Street Fashion Magazine FRUITS Launches Collaborative Issue with atmos pink

FRUiTS, a magazine capturing the essence of Harajuku culture through fashion, will release a special issue in collaboration with women's sneaker store atmos pink and SNKRGIRL, the first and only sneaker news site for women in Japan.

SNKRGIRL, Japan's first and only sneaker media for women by women, is participating in this special collab with FRUiTS, the legendary street photo magazine that introduced Harajuku culture to the world, and atmos pink, the popular Tokyo-based sneaker select store for women.

Bikkuriman Sticker

FRUiTS editor-in-chief shot the images for the special issue. Female sneaker lovers are becoming more common in the Japanese fashion scene, with #SneakerGirls often trending on social media.

 

The new issue will feature popular influencers who attended SNKRGIRL's recent Harajuku Snap Party, as well as models, dancers, and women from many other walks of life. The magazine will be a way to see what Harajuku fashion looks like in 2022, and each issue will include a special Bikkuriman sticker!

The cover features influential model YURINO, a big name in the fashion and sneaker scene. Readers can enjoy an interview between Harajuku fashion expert Kaoru Takami and FRUiTS editor-in-chief too, so don't miss it!

Harajuku Girls Magazine Zipper to Return to Quarterly Release Schedule After 5 Years

Popular Harajuku-based fashion magazine Zipper, which ceased publication in 2017, will return in March 2022! The rebirth of the magazine is being spearheaded as a joint venture between DONUTS Inc. and ASOBISYSTEM.

Zipper was first published in 1993 as a way to say "NO!" to traditional style. It continued to inspire creative minds for 24 years until it ceased publication in 2017, and many Harajuku-based celebrities and influencers cite the magazine as a major source of inspiration over the years. Now, this beacon of individuality and fashion is making a triumphant comeback right when the world needs it most.


In addition to the magazine, Zipper will also be available on YouTube, TikTok, Instagram, and Twitter, opening up the brand to fans of Japanese fashion around the world. More details will be announced in the future.


Information

Zipper

Resuming Publication in March 2022