ONE OK ROCK's Taiwan Concert to Broadcast on Space Shower TV!
ONE OK ROCK are getting ready for the Japan leg of their world tour with their latest album Ambitions underwing. They began the Asia leg of the tour in January, one show of which was performed in Taipei on January 27. It has been announced that a special 60-minute compiled broadcast of the concert will be aired on Space Shower TV. The concert was the band's first ever overseas outdoor solo concert where they played to 20,000 fans.
The show marks ONE OK ROCK's first performance in Taiwan in 6 years. Taipei was one of the first places the guys played during their early days when they first began performing overseas. Since there's no indoor venues that can hold 20,000 people, a special stage was set up outside, marking the band's first outdoor solo gig overseas.
However, the day before the concert, despite the band getting in the mood to perform on the specially made outdoor stage that was placed in huge car park, the rain continued to pour, and they had no choice but to end rehearsal just an hour in. What exactly become of the concert in the end?
The program set to air on Space Shower TV will follow the band upon arrival to the location as well as show the live performance itself, behind-the-scenes rehearsal and the members off-stage.
In addition, the first broadcast on March 24 will compile a special 5-hour collection of ONE OK ROCK, including their hugely well-received TV show encore they did in the past.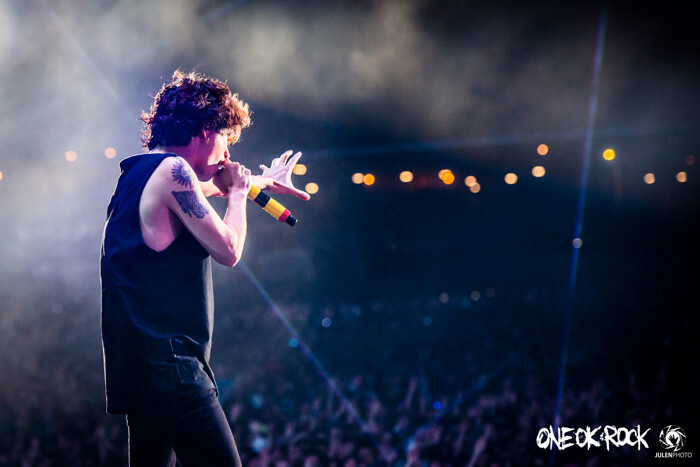 March marks the much-anticipated triumphal return of ONE OK ROCK to Japan for a four-dome tour. Catch the special broadcast of their performance in Taipei on Space Shower TV.
■Information
ONE OK ROCK LIVE & DOCUMENTARY "AMBITIONS ASIA TOUR 2018" in TAIWAN
First Broadcast: March 24 at 21:00-22:00
Repeat Broadcasts: March 27 at 22:00, April 7 at 20:00, April 27 at 00:30.
ONE OK ROCK MUSIC VIDEO SPECIAL
March 24 at 17:00-18:00, March 27 at 21:00
V.I.P. ―ONE OK ROCK―
March 24 at 20:00-21:00
*TV program encore that aired in January 2017.
*Footage of music video shot in Manchester, UK and Los Angeles, US.
Monster Rock Monthly Special: ONE OK ROCK
March 24 at 18:00-20:00
*TV program encore that aired in June 2017.
*Special compilation of ONE OK ROCK on "Monster Rock" which aired when Ambitions was released.
Website: http://www.oneokrock.com/jp/
RELATED ENTRIES
BiSH Releases Highly-Anticipated Music Video for 'Sayonara Saraba'

On August 6, BiSH, known as a 'punk rock band without instruments,' released the music video for their song Sayonara Saraba! The 8th single released across 12 consecutive months will drop on August 31. 

Sayonara Saraba – BiSH (Official Music Video)

Sayonara Saraba was created in collaboration with Taka from ONE OK ROCK and MEG from MEGMETAL and features lyrics written by KENTA from WANIMA. This is the first time BiSH has collaborated with an outside producer for a series of releases, and this electrifying rock number shows a different side of the group. 

The coupling song, A long way to go, was composed by Taka and MEG from MEGMETAL and written by JxSxK. 

The music video was directed by Kento Yamada, who has produced a number of other videos for the group.

The teaser trailer, released previously, shows a stylish video with an eye-catching red and black color scheme.

Sayonara Saraba – BiSH (Teaser)

More information regarding the 9th and 10th consecutive single has been released! The 9th song will be released on September 21, while the 10th will be released on October 26. Be sure to give them both a listen!

Information

Sayonara Saraba

Release Date: August 31, 2022

 

・First Run Limited Edition (Single CD+Blu-ray+Live CD+Photobook)

Price: ¥11,000 (Tax Included)

・DVD Version (Single CD+DVD)

Price: ¥4,950 (Tax Included)

・CD Version (CD only)

Price: ¥1,100 (Tax Included)

BiSH iS OVER! Special Site: https://www.bish.tokyo/BiSH_iS_OVER/

Taka from ONE OK ROCK and KENTA from WANIMA Create New Track for BiSH

BiSH, known as a 'punk rock band without instruments,' has released a teaser video of the making of their newest song! Sayonara Saraba was performed in collaboration with Taka from ONE OK ROCK with lyrics written by KENTA from WANIMA. The video was uploaded on July 31 on BiSH's official Twitter and YouTube pages. 

This is the first time that BiSH has collaborated with an outside producer for a series of releases, and this electrifying rock number shows a different side of the group. The coupling song A long way to go was composed by Taka and MEG from MEGMETAL and written by JxSxK. 

The 8th single released across 12 consecutive months will drop on August 31. It can be preloaded now.

The full-length making-of video is now available on the BiSH official YouTube channel, so give it a watch!

Sayonara Saraba Documentary

New artwork for Sayonara Saraba has also been unveiled. The visuals have a dark and cool feel, matching the track's rock image.

BiSH has announced that it will disband in 2023. As new information is released prior to the group's dissolution, we'll be sure to cover it. 

One OK ROCK and Monster Energy Open Limited-Time Pop-up in Shibuya

Japanese rock band ONE OK ROCK has become massively popular worldwide, leading them to an exciting new partnership with Monster Energy. For one week only starting June 28, the ONE OK ROCK x Monster Energy pop-up shop is open in Shibuya. 

At the venue, guests can follow the official Monster Energy Twitter account (@MonsterEnergyJP) to get an exclusive collab sticker and a Monster Energy drink or Monster Pipeline Punch, a tropical fruit juice version. 

A campaign to win some amazing collaboration goods is also underway. By taking a picture of the pop-up space and posting it on Twitter with the hashtag #MonsterOOR, 10 lucky winners will receive a collab poster signed by the members of ONE OK ROCK.

Fans of the band or the energy drink won't want to miss visiting this shop! The band's new song Save Yourself will be playing at the venue, so be sure to head over to Shibuya for a listen. 

Information

ONE OK ROCK x Monster Energy

Running: June 28 – July 4, 2022

Venue: ZeroBase Jingumae

Address: 6-4-1 Jingumae, Shibuya-ku, Tokyo

Official Site: http://www.monsterenergy.com

Rock Band ONE OK ROCK Announces North American Tour This Fall

Japanese rock band ONE OK ROCK has steadily been expanding its activities around the world, and fans in North America are in for a treat. The band will embark on its first North American tour in three years starting on September 19, 2022, with many shows featuring You Me At Six and Fame On Fire as starting acts.

ONE OK ROCK will also release its first single of 2022, Save Yourself, on June 24. Keep an eye out for when the band comes to your town!

Tour Schedule

09/19/2022 Austin, TX – Emo's

09/20/2022 Houston, TX – House of Blues

09/21/2022 Dallas, TX – House of Blues

09/23/2022 Orlando, FL – House of Blues

09/24/2022 Atlanta, GA – Tabernacle*

09/25/2022 Charlotte, NC – The Underground

09/27/2022 Philadelphia, PA – Franklin Music Hall

09/28/2022 Silver Spring, MD – The Fillmore

09/30/2022 New York, NY – Hammerstein Ballroom

10/01/2022 Boston, MA – House of Blues

10/02/2022 Montreal, QC – Club Soda

10/04/2022 Toronto, ON – Rebel

10/05/2022 Detroit, MI – Saint Andrews Hall*

10/07/2022 Cleveland, OH – House of Blues

10/08/2022 Chicago, IL – Concord Music Hall

10/09/2022 Minneapolis, MN – The Fillmore

10/11/2022 Denver, CO – Ogden Theatre

10/12/2022 Salt Lake City, UT – The Complex

10/14/2022 Portland, OR – Roseland Theater

10/15/2022 Vancouver, BC – Harbour Event Centre

10/16/2022 Seattle, WA – Showbox SoDo

10/19/2022 Oakland, CA – Fox Theater

10/20/2022 Los Angeles, CA – Hollywood Palladium

*Fame On Fire will not appear at these shows.

ONE OK ROCK Begins Sponsorship with Monster Energy

Japanese rock band ONE OK ROCK has become massively popular worldwide, and that popularity has led them to an exciting new partnership with Monster Energy!

Monster Energy has teamed up with a number of artists and athletes in the past and is excited to add ONE OK ROCK to the Monster family. "I'm excited to participate in big events with Monster in the future," said lead vocalist Taka.

Keep an eye on ONE OK ROCK to see how this new collaboration will come to fruition!

ONE OK ROCK Releases DVD & Live Video from First Acoustic Concert in 2021

Rock band ONE OK ROCK has released a DVD and Blu-ray of their first acoustic live concert 'Day to Night Acoustic Sessions,' originally performed from July 22 to July 25, 2021. The band performed at Kawaguchiko Stellar Theater at the foot of Mt. Fuji and the show was applauded globally across social media last year. 

 
The band previously uploaded a series of teaser trailers and behind-the-scenes videos on YouTube to tease the new release. On April 20, the full live video of the band performing Mighty Long Fall appeared for a limited time on the video-sharing site.

 

Mighty Long Fall – Live Version

 

The limited-edition version includes a CD of the concert, a first for the band, which many fans have praised online. These special editions will be discontinued as soon as they sell out, so fans won't want to hesitate. The included booklet also includes interviews with the members and crew, as well as more information about the group's next album and upcoming projects. This is the first release for ONE OK ROCK in 2022, and there's no telling how they'll surprise the fans next!

Information

ONE OK ROCK 2021 Day to Night Acoustic Sessions

Release Date: April 20, 2022

First Limited Edition (Blu-ray + Concert CD): ¥8,800 (Tax Included)

First Limited Edition (DVD + Concert CD): ¥7,700 (Tax Included)

Standard Edition (Blu-ray): ¥7,150 (Tax Included)

Standard Edition (DVD): ¥6,050 (Tax Included)

Preorders: https://OOR.lnk.to/2021DtNASPu

ONE OK ROCK Releases Blu-ray and DVD of Acoustic Concert from 2021

Rock band ONE OK ROCK will release a DVD and Blu-ray of their acoustic live concert 'Day to Night Acoustic Sessions,' originally performed from July 22 to July 25, 2021. The band performed at the foot of Mt. Fuji and the show was applauded across social media last year. The DVD and Blu-ray will be available on April 20, 2022.

 

All songs performed during the concert were rearranged specifically to be played acoustically. Bringing together strings, keyboards, chorus, and percussion, the venue was enveloped in a unique acoustic sound not typical for ONE OK ROCK. This was the first time in a year and a half that the band had performed in front of a live audience due to the pandemic, and the number of fans allowed at the venue was extremely small. Since so many fans weren't able to attend, this release has been highly anticipated! The limited-edition versions include a CD of the concert, a first for the band. 

Teaser Video

Information

ONE OK ROCK 2021 Day to Night Acoustic Sessions

Release Date: April 20, 2022
First Limited Edition (Blu-ray + Concert CD): ¥8,800 (Tax Included)
First Limited Edition (DVD + Concert CD): ¥7,700 (Tax Included)
Standard Edition (Blu-ray): ¥7,150 (Tax Included)
Standard Edition (DVD): ¥6,050 (Tax Included)

Preorders: https://OOR.lnk.to/2021DtNASPu

ONE OK ROCK Announce Winners Of Fan Song Playlist Campaign

ONE OK ROCK released their new DVD and Blu-ray ONE OK ROCK "EYE OF THE STORM" JAPAN TOUR on October 28, 2020 which features their entire Yokohama Arena set held in Japan last year as part of their nationwide arena tour.

To promote the release, the band asked fans to create a playlist of their dreams—what songs they'd want to see ONE OK ROCK perform at a full live concert. The winners were announced today via the campaign website.

Three fan playlists were selected for Spotify, Apple Music, and LINE MUSIC. The three winners will each receive a signed posted from the band.

Be sure to check out the three playlists on the campaign site.

ONE OK ROCK Release AR Filter On Instagram in Promotion Of 'EYE OF THE STORM DVD & Blu-ray

To promote the release of their live DVD and Blu-ray ONE OK ROCK "EYE OF THE STORM" JAPAN TOUR, ONE OK ROCK has released an AR filter for fans to use on their Instagram stories.

Available on mobile only, the AR filter features a CG rendition of Taka's face from their performance of Eye of the Storm during their 'Eye of the Storm' tour.

The live DVD and Blu-ray, which released in Japan on October 28, 2020, features ONE OK ROCK's performance at Yokohama Arena in January of this year as part of their 'Eye of the Storm tour.' The tour kicked off on September 22, 2019 in promotion of their Eye of the Storm. The release includes a 100-page photo book, commentary, live report, and more.

Be sure to check out ONE OK ROCK's GIPHY campaign too.

ONE OK ROCK Ask Fans to Create a Playlist of Their Dream Set List They Want to See Performed Live

ONE OK ROCK are set to release their new DVD and Blu-ray ONE OK ROCK "EYE OF THE STORM" JAPAN TOUR on October 28, 2020 features their entire Yokohama Arena set held in Japan last year as part of their nationwide arena tour.

The band launched a special website today (October 15) in promotion of the release where they also announced a playlist campaign and GIPHY campaign.

Playlist Campaign

For the playlist campaign, ONE OK ROCK are reaching out to fans to ask them to create the set list of their dreams—what songs they'd want to see ONE OK ROCK perform at a full live concert. Fans will create their playlists on Apple Music, Spotify, and LINE MUSIC and share a link to them on Twitter with the hashtag #oor_dream. One winner will be chosen for each of these three music streaming services for a total of three winners. Their playlist will be posted on the promotional site for the DVD and Blu-ray and they'll also receive a signed poster.

GIPHY Campaign

Fans can now get access to a selection of exclusive ONE OK ROCK gifs via the promotional site which can be used on social media. They are free for everyone to use.

ONE OK ROCK's "Eye of the Storm" tour originally kicked off on September 22, 2019. The show that will feature on the DVD and Blu-ray will be their one at Yokohama Arena which was held in January this year. The release will include a 100-page booklet along with photos, commentary, a live report, and more

Information

ONE OK ROCK "EYE OF THE STORM" JAPAN TOUR DVD/Blu-ray
Release Date: October 28, 2020
DVD: ¥6,050 (Tax Included) [AZBS-1059]
Blu-ray: ¥7,150 (Tax Included) [AZXS-1033]
Official Website: https://www.oneokrock.com/en/

ONE OK ROCK Plays For 110,000 Fans Simultaneously During Live Stream

ONE OK ROCK held their first ever online live stream, ONE OK ROCK 2020 "Field of Wonder" at Stadium Live Streaming supported by au 5G LIVE, on October 11, 2020. The band performed at ZOZO Marine Stadium in Chiba.

The stream was originally to be archived temporarily until October 13 but it has been extended to October 15 at 11:59 (JST), so if you missed the stream there's still time to catch it before it's gone.

ONE OK ROCK also announced a DVD and Blu-ray release of their Japan arena tour from last year, ONE OK ROCK "EYE OF THE STORM" JAPAN TOUR, which will hit shelves in Japan on October 28, 2020.

The long tour originally kicked off on September 22, 2019. The show that will feature on the DVD and Blu-ray will be their one at Yokohama Arena which was held in January this year. The release will include a 100-page booklet along with photos, commentary, a live report, and more.

Information

ONE OK ROCK 2020 "Field of Wonder" at Stadium Live Streaming supported by au 5G LIVE
Archive: October 12, 2020 at 12:00 (JST) to October 15, 2020 at 11:59 (JST)
Watch Here: https://20201011.oneokrock.com

ONE OK ROCK "EYE OF THE STORM" JAPAN TOUR DVD/Blu-ray
Release Date: October 28, 2020
DVD: ¥6,050 (Tax Included) [AZBS-1059]
Blu-ray: ¥7,150 (Tax Included) [AZXS-1033]
Official Website: https://www.oneokrock.com/en/

ONE OK ROCK To Release "EYE OF THE STORM" JAPAN TOUR Video

08.September.2020 | MUSIC

ONE OK ROCK is set to release the video of the ONE OK ROCK "EYE OF THE STORM" JAPAN TOUR on October 28, 2020. The tour celebrated the release of their album Eye of the Storm and kicked off on September 22, 2019.

Alongside the DVD, which includes the performance at Yokohama Arena in January 2020, fans can enjoy a booklet of over 100 pages containing illustrations of the band members, commentaries, reports from the live performance and much more exciting contents. 

For the first time in their career, ONE OK ROCK will be performing live online. The ONE OK ROCK 2020 "Field of Wonder" at Stadium Live Streaming will take place on October 11, 2020 at ZOZO Marine Stadium without a live audience. The stream will go live worldwide simultaneously, providing a whole new experience for fans.

From the wild excitement of a national arena tour to an online stadium live performance without an audience, ONE OK ROCK has so much exciting contents for you to check out.

Information

LIVE DVD&Blu-ray
ONE OK ROCK "EYE OF THE STORM" JAPAN TOUR
Release Date: October 28, 2020

Product code: (DVD) AZBS-1059/  (Blu-ray) AZXS-1033
価格 : (DVD) ¥6,050 (After Tax)/ (Blu-ray) ¥7,150 (After Tax)

ONE OK ROCK 2020 "Field of Wonder" at Stadium Live Streaming
Date: October 11, 2020

Stream Start: 17:00 / Performance Start: 18:00 (JST)

ONE OK ROCK Official Live Streaming Website: https://20201011.oneokrock.com

Official Website: http://www.oneokrock.com/jp/