Eight hotels around Kyoto Station are participating in the 75th Chef's Banquet in KYOTO (Chef no Kyouen in KYOTO vol.75) starting April 1st, 2018.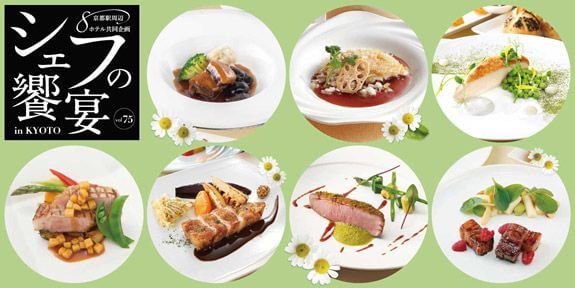 The project was set up to revitalize the area surrounding Kyoto Station. A restaurant fair that began in 1999, this marks the 75th run of the long-standing event. There will be a variety of teas served to offer "calmness" in addition to other drinks to complement meals and options.
A stamp rally will also be held where you can win prizes. Rack up points by ordering from select menus to win.

Get involved with this historical food event.
■Information
Participating Hotels:
Kyoto Tokyu Hotel, New Miyako Hotel, Hotel Granvia Kyoto, Hotel Keihan Kyoto Grande, Rihga Royal Hotel Kyoto, Hotel New Hankyu Kyoto, Kyoto Tower Hotel
*Due to construction work, Kyoto Century Hotel will not be participating.
Running: April 1, 2018 ― June 30, 2018
Price: Lunch ¥2,500-¥3,500 / Dinner ¥4,500-¥7,500
Omotenashi Menu: ¥500 (Meal upgrade or additional item)
Optional Drinks: Glass Wine ¥700-¥1,100 / Bottled Wine ¥3,500-¥6,000 / Non Alcoholic Cocktail ¥650 (Cooperation: Kinoshita International Corporation, Suntory Foods Limited)
Stamp Rally:
When you order select food at each hotel, you will receive a stamp on your stamp rally card. ¥500 = 1 point. Prizes will be given depending on the number of points acquired.
*All prices listed above include service fee and tax.
*The Omotenashi Menu is served at different times at each hotel.
*The Omotenashi Menu and Optional Drinks don't count towards stamp rally points.
*In cooperation with Kyoto Municipal Transportation Bureau, when you present select train tickets to each restaurant you can receive 10% off your meal course at Chef's Banquet.
Website: http://www.kyoto-chef.com