Discover the Beauty of Saga Prefecture with "Finding Hidden Gems in SAGA, Japan" Video
The Saga City Tourism Information Center have released a promotional video on how to use the Saga sightseeing app DOGAN SHI・TA・TO which details information on scenery, cuisine and hot springs in Saga Prefecture.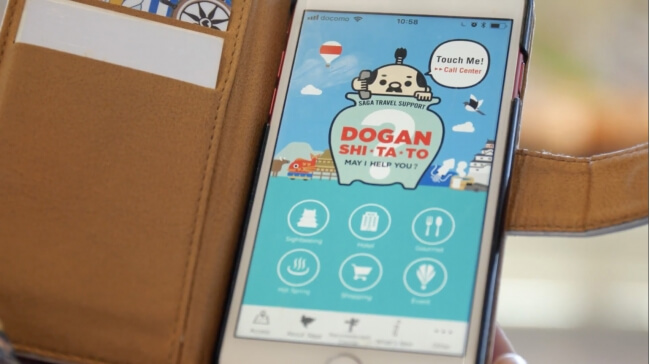 The official Saga Prefecture tourism app has lots of information regarding sightseeing, hotels and restaurants in Saga. It's available in Japanese, English, Korean, Chinese (Simple & Traditional) and Thai and offers a wealth of useful information for traveling there. There's also a 24-hour call center open 365 days a year that offers services in 15 languages for foreign tourists both before they travel and if they get stuck with something while in Saga, so if there's something the app doesn't mention, you can always call.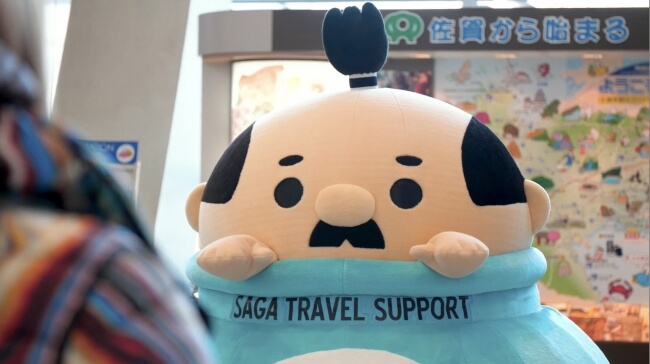 The promotional video features Canadian Youtuber Micaela Braithwaite. Saga Prefecture faces both the Genkai Sea and Ariake Sea. It's littered with many scenic spots such as the beautiful coastline as well as being home to Japan's only mudflat. Micaela begins by meeting the app character Tsubozamurai at Saga Airport before heading to Ureshino, which is the place of one of Japan's three best hot-springs for beautiful skin. She also has a hand at creating pottery in the town of Arita, which is famous for its ceramics and porcelain, prepares squid in Yabuko, and more.
SAGA TRAVEL SUPPORT [Official]
Download the app yourself and enjoy Saga Prefecture to the fullest!
RELATED ENTRIES
teamLab's 'A Forest Where Gods Live' Exhibition in Saga Introduces Autumn Inspired Digital Art

teamLab's annual A Forest Where Gods Live exhibition is currently taking place at Mifuneyama Rakuen Park in Saga Prefecture until November 8, 2020. For autumn this year, the digital art team has introduced a seasonal piece entitled Forest and Spiral of Resonating Lamps in the Forest – One Stroke, Autumn Mountain.

Forest and Spiral of Resonating Lamps in the Forest – One Stroke, Autumn Mountain
teamLab, 2018, Interactive Installation, Murano Glass, LED, Endless, Sound: Hideaki Takahashi

Available to see for this autumn season only, ​Forest and Spiral of Resonating Lamps in the Forest – One Stroke, Autumn Mountain showcases Kasane no Irome, which are nuances of layered colours that were seasonal colours created in silk before Japan's modern era, in the form of lit lamps.

The lamps in the exhibition shine brightly and then fade. In the light, one can see the eight autumn Kasane no Irome colours: Budding Leaves, Green Leaves, Fallen Green Leaves, Yellow Leaves, Fallen Yellow Leaves, Fallen Leaves, Fallen Red Leaves, and Autumn Leaves.

Flowers Bloom in an Infinite Universe inside a Teacup
teamLab, 2016, Interactive Digital Installation, Endless, Sound: Hideaki Takahashi

Make tea in the tea house at the exhibition. Flowers will bloom inside the teacup, which if you pick up, sends the flowers scattering and spreading to the outside of the cup. Flowers will bloom infinitely as long as there is tea. For September, there are safflowers, dianthus, and Chinese asters, while next month will introduce cosmos, osmanthus, and chrysanthemums.

Ever Blossoming Life Rock
teamLab, 2017, Digitized Nature, Sound: Hideaki Takahashi

Megaliths in the Bath House Ruins
teamLab, 2019, Interactive Digital Installation

You can also see autumn flowers in the Ever Blossoming Life Rock and Megaliths in the Bath House Ruins exhibits too.

Visitors can also get set tickers which includes entry to the exhibition as well as a dip in the Rakan no Yu hot springs of Mifuneyama Rakuen Hotel. These tickets are limited to 40 people per day.

Information

teamLab: A Forest Where Gods Live

Running: July 22, 2020 – November 8, 2020
Address: Mifuneyama Rakuen, 4100 Takeo, Takeo-cho, Takeo City, Saga, Japan

Hours

Jul 22 – Sep 13, 2020 19:00 – 22:30
Sep 14 – Oct 11, 2020 18:00 – 22:30
Oct 12 – Nov 8, 2020 17:00 – 22:30

*Enter from Entrance 1. Entrance 2 is only available 60 min after the opening.
*Last entry is 22:00.

Official site:http://mifuneyamarakuen.teamlab.art/

Japan's New High Speed Bus Travels From Kyoto to Mount Koya

Keihan Bus and Nankai Rinkan Bus are bringing back their high-speed bus service this year which will run from September 18 to November 30. The service will incorporate a mandatory booking system, making it even more convenient than last year.

Mount Kōya is the name of the temple settlement found in Wakayama which first settled in 819. It is the centre for the Kōyasan Shingon sect of Japanese Buddhism and is designated as a World Heritage Site, one of many found in Kyoto alongside Kinkaku-ji, Kiyomizu-dera, and Shimogamo Shrine.

The new Kyoto Koya-san buses offer a smooth, direct ride to the World Heritage Site, arriving there from Kyoto in just 2 hours and 40 minutes.

Information

Kyoto Koya-san Bus (Japanese Name: 京都高野山線)
Running: September 18, 2020 – November 30, 2020

Keihan Bus Official Website: https://www.keihanbus.jp/

teamLab's Interactive Digital Art Exhibition to Open at Takeo Hot Springs in Kyushu This July

teamLab's annual digital art exhibition teamLab: A Forest Where Gods Live, which is held every year from summer to autumn at Mifuneyama Rakuen's Takeo Hot Springs, is collaborating with Rakan no Yu, a new sauna facility which opened at the Kyushu-based hot spring facility and won first place in Sauna Chelan 2019.

The exhibition will open in the 500,000 square meter Mifuneyama Rakuen Park on July 22, 2020 to both guests and non-guests of Mifuneyama Rakuen Hotel, Onyado Chikurintei, and other surrounding accommodations. Set tickets to enjoy both Rakan no Yu and the teamLab exhibition went on sale on July 20 and are limited to 40 people per day.


Drawing on the Water Surface Created by the Dance of Koi and Boats – Mifuneyama Rakuen Pond​
teamLab, 2015, Interactive Digitized Nature, 13min 24sec, Sound: Hideaki Takahashi

The water of Rakan no Yu is pure, low-alkali hot spring water with no colour, smell, or taste. It's known for its superior moisturising effect, leaving the skin nice and smooth. Rakan no Yu won first place in Sauna Chelan 2019. Sauna Chelan is considered the "Michelin" ranker of the sauna world.


In June 2020, a dry sauna and new baths were added to Rakan no Yu's women's open air baths. Guests can enjoy the meditation sauna, indoor and outdoor baths, hot springs, and more in both the men's and women's sections.

Ever Blossoming Life Rock
teamLab, 2017, Digitized Nature, Sound: Hideaki Takahashi

Universe of Water Particles on a Sacred Rock
teamLab, 2017, Digitized Nature

This year marks teamLab's sixth collaboration with Mifuneyama Rakuen. Their teamLab: A Forest Where Gods Live is held every year at the site, and this year they have 22 art pieces to showcase. Takeo Hot Springs opened in 1845 and is registered as a national monument.

Life is Continuous Light – Azalea Valley

teamLab, 2017, Interactive Digitized Nature, Sound: Hideaki Takahashi


Floating Resonating Lamps – One Stroke, Fire
teamLab, 2019, Interactive Installation, Murano Glass, LED, Endless, Sound: Hideaki Takahashi

teamLab's incredible interactive digital art will react to people's presence and movement throughout the 500,000 square meter space.

Information

teamLab: A Forest Where Gods Live

Running: Jul 22 – Nov 08, 2020

Hours
Jul 22 – Sep 13, 2020 19:00 – 22:30
Sep 14 – Oct 11, 2020 18:00 – 22:30
Oct 12 – Nov 8, 2020 17:00 – 22:30

*Enter from Entrance 1. Entrance 2 is only available 60 min after the opening.
* Last entry is 22:00.

Official Website: https://www.teamlab.art/e/mifuneyamarakuen/

MAXPLAN AZABU10: The New Landmark of Tokyo's Azabu Juban District

MAXPLAN Co. is set to open MAXPLAN AZABU10 on October 22, 2020 which is set to become the new symbol and a landmark of Tokyo's Azabu Juban District. The building will offer many unique and extraordinary experiences.

Nakamura Suzuko (CEO, MAXPLAN Co.) | Comment

"This project borrows the strength of internationally-active architect Kengo Kuma. I am overjoyed to have the opportunity to be a driving force together with him once again. This building, which is the 'Azabu Juban Development Project,' will be a place that creates and discovers new collective value between companies and individuals. A place of creative symbiosis. It aims to offer well being for companies that brings about a sense of cultural values. It will be a creative space for companies and individuals to resonate, bounce ideas off, and flow with one another. I pray from the bottom of my heart that these things will serve as a connection to how we want to live in the future."

Kengo Kuma (Architect) | Comment

"Azabu Juban is Tokyo's intersection between tradition and the future. I wanted to create a symbol for this district of 'fluctuations' around its crossroads. Combining panels of varying sizes with different heights, thicknesses, and textures expresses the district's diversity and energy. I wanted the building to blend in as part of the 'fluctuations,' as well as create a small 3D city which itself has 'fluctuations' […]"

We look forward to seeing how this new landmark and symbol of Azabu Juban brings together the traditional and the futuristic.

Information

MAXPLAN AZABU10
Building Site: 4-1-1 Azabu Juban, Minato Ward, Tokyo
Access: 1-minute on foot from Azabu Juban Station (via Tokyo Metro Namboku Line and Toei Oedo Line)
Grand Opening: October 2020 (subject to change)

The Arita Chamber of Commerce and Industry has announced that the online Arita ware website "Arita Toukichi" has been extended until May 5, 2020 where it will close at 5:00pm (JST).

Arita Toukichi is a marketplace in the town of Arita in Saga Prefecture which bustles every year with people all year round who flock there to buy the town's famous Arita porcelain wares. However, due to the outbreak of COVID-19, the market has been postponed and instead has temporarily moved online.

Around 130 makers of Arita ware have close to 10,000 pieces of ceramics and pottery on display. Until now, you had to actually make the trip to visit Arita to get your hands on such goods, but now people all around Japan can purchase the latest items online.

If you spend more than ¥2,000 from one seller shipping (within Japan) is free.

If you've never seen the beautiful wares from Arita then make sure you check out the website before it closes.

Kyoto Brighton Hotel Offers 5 New Hotel Plans For Springtime, Cherry Blossom & Temple Experiences

Kyoto Brighton Hotel is now selling reservations for its new "Haru no Asobi Plan" (Springtime Fun Plan) which is taking place between March and May this year and offers guests the opportunity to enjoy Kyoto in the spring and its cherry blossoms.

Spring in Kyoto is the most popular season for tourists and travellers who flock from not only across Japan but from around the world. The Haru no Asobi Plan is made up of 5 exciting plans to see the ancient capital's breathtaking cherry blossoms, vibrant green maples, and other offerings.

"Asakatsu" – An early morning temple visit and stroll

Get away from the crowded streets and enjoy the rare opportunity to experience incredible early morning sights you don't normally get to see. Spend a quiet morning in a gorgeous environment in this plan. Several temples and gardens are in place for the experience: Kōdaiji Temple, Bishamon-do Temple, Taizō-in, Haradanien, and Tenryū-ji.

Kiyomizu-dera Temple special night viewing

One of the must-visit spots when travelling to Kyoto is Kiyomizu-dera, officially a World Heritage Site. This plan rents out the temple for you to experience it at nighttime. The main building is currently undergoing large-scale renovation to secure the roof as well as the inner construction of the temple. Seeing the temple is truly a sight to behold.

You are guaranteed a view of the famous "Stage of Kiyomizu," an enormous veranda attached to the main hall. The surrounding trees will be lit with enchanting lights, and you'll be able to gaze at the distant city nightscape. Experience Kyoto like never before as the warm lights illuminate the Niōmon (Deva Gate), 3-storey pagoda, and purified water which runs from the Otowa Waterfall.

Discover the world of Kyoto embroidery

The traditional practice of Kyounui, or Kyoto-style embroidery, has continued since the Heian Period and is even garnering attention overseas. It's a delicate and refined style of embroidery unique to Kyoto.

After your embroidery session which will take place in a Kyoto town house nearby the cherry blossom-filled Hirano Shrine, you'll look at kimono and yukata so beautiful they'll look like they should be in an art museum, before heading to eat together with the creator.

See the green maple trees of Hōgon-in on a private train

Board the private 1-2 carriage Randen train on the Keifuku Electric Railroad, which runs from Shijō-Ōmiya to Arashiyama. This cute retro train will take you Arashiyama where the green maples are breathtakingly beautiful.

You'll also get to stroll through the quaint gardens of Hōgon-in Temple, view artwork painted by Noriko Tamura, and more.

Sky Bus

Enjoy a panoramic view on a private ride of the Sky Bus, a double-decker bus which is gaining huge popularity right now. You will ride through the city of Kyoto and see the rows of pink cherry blossoms. In April, they will also do an evening tour of the cherry blossoms so you can see them at night, and in May they'll do a green maple tree tour.

Discover the beauty of Kyoto in this very special hotel plan at Kyoto Brighton Hotel.

Bunjee Jump From the Top of Kyoto Tower With Their New VR Experience

Have you ever wondered what the thrill of bungee jumping would be like, but are too afraid of heights to even consider putting it on your bucket list? Have no fear, because Kyoto Tower is bringing a new VR bungee jumping experience to the top of the building which will be available to experience from February 1 for a limited time.

This VR experience was first brought to the tower in the fall of 2018, and this year it is making its grand return. After the event originally ended, there was huge demand for it to be held again.

Those brave enough to have a go at this VR bungee jump (or bungy, depending where you are from), will go above and beyond the 100 meter observation deck to the highest accessible point of Kyoto Towerーup 120.9 metersーwhich is normally closed off to the public, to the special VR deck which has been prepared.

The experience will offer you not only the thrill of jumping from Kyoto's tallest structure, but the chance to gaze upon a panoramic view of the beautiful city too.

Information

Kyoto Tower VR Bungy Jump

Running: February 1, 2020 – March 31, 2020

Time: 12:00-21:00 (Last Entries 20:45)

Location: Kyoto Tower Observation Deck – Floor 1F (the 11th floor of Kyoto Tower)

Price:

・VR Bungy Ticket: ¥800 (Tax Included)

・Observation Deck & Bungy Set Ticket (Tax Included): Adults: ¥1,400 (Individual Purchase: ¥1,600)/High School Students: ¥1,300 (Individual Purchase: ¥1,450)/Elementary & Junior High Students: ¥1,100 (Individual Purchase: ¥1,350)

*Ages 7+ only

*Set tickets are available to purchase on floor 1F of Kyoto Tower

*Run times subject to change

*Ticket charges applied for ages 7+; those aged below 7-years-old are not permitted to use the VR system

*An entry ticket to the Kyoto Tower observation deck is not necessary to experience the VR system

Official Website: https://vr-bungee.com/

Tour Tokyo, Pick Strawberries and Enjoy Afternoon Tea On The ichigosan bus

From their popular AWAPA Foam Party event where you can dance in a club filled with foam to their BATHTUB CINEMA event where you can watch a movie with your friends in a bathtub, Afro&Co. never fails to bring us new and creative ways to have fun. They are now collaborating with Saga prefecture to run the 'ichigosan bus': a sightseeing bus which will introduce you to wonderful spots in Tokyo with an unexpected strawberry twist to celebrate the first anniversary of Saga prefecture's strawberry farm 'ichigosan'. Enjoy strawberry picking inside the bus and then tuck into a strawberry-tastic afternoon tea set and much more. The bus will be running for a five day period from January 1 to 19, 2020.

ichigosan Afternoon Tea

ichigosan Panna Cotta

The ichigosan bus commemorates one-year since Saga Prefecture launched their new brand of delicious succulent strawberries called 'ichigosan'. The collaboration hopes to spread the delicious flavour of ichigosan strawberries to as many people as possible with the five-day-limited strawberry-tastic bus tour. Hop on the red double-decker bus, which looks just like a London tour bus, to enjoy strawberry picking on floor one and an original strawberry afternoon tea set prepared by a chef from Royal Garden Cafe Aoyama on floor two.

ichigosan Crêpe

ichigosan Tart

This three-experience-in-one tour bus introduces you to the newest famous spots in the city, offers you a fun strawberry picking experience and even comes with a delicious strawberry afternoon tea set. You can book tickets in advance online and there are two kinds of tickets available for on-the-day purchases. As this is the best season to enjoy ichigosan strawberries in Japan, make the most of it on this tour and you will be berry pleased.

Information

ichigosan bus

Running: January 15 – 19, 2020

Operating Times: 11:00 – 18:30

Arrival and Departure Point: Royal Garden Cafe Aoyama

(2 Chome-1-19 Kitaaoyama, Minato City, Tokyo)

Bus Tour Time: 55 Minutes

5 Tours per Day

Price: Tickets are sold in pairs, ¥3,800 Per Person

Tickets: Reserve online or purchase on the day. There are two kinds of same-day tickets. (Subject to change)

Official Website: https://www.saga-ichigosan.jp/ichigosanbus2020/

Japan Shopping Festival: Hello Kitty Supports Huge Shopping Event Aimed at Foreigners

一The Japan Shopping Tourism Organization (JSTO) has announced that it will hold an event titled "Japan Shopping Festival" aimed at foreign tourists in Japan from December 1, 2019 to February 29, 2020.

①Questionnaire Campaign

A questionnaire will be carried out for non-Japanese travellers to win round-trip tickets to Japan. Travellers will be selected randomly from a lucky draw.

②Instagram Photo Contest

Follow Japan Shopping Festival on Instagram and post photos related to the designated themes with the hashtag #jsfphoto. The themes are: ①Memories of what you bought and experienced in Japan, ②Your favourite fruits in Japan, and ③Good things about Japan you want to boast.

③Coupons, Goods & Experiences

Japan Shopping Now is one of Japan's biggest online shopping portal sites, and they are now promoting information on Japanese shopping overseas in English, Traditional Chinese, Simplified Chinese, and Korean. This includes coupons, sales, and more at almost 1,000 participating stores.

④Special Events

・Japan Shopping Festival Tohoku (December 1, 2019 – February 29, 2020)

This shopping festival will take place at 6 prefectures across Tohoku. Discover Japanese confectioneries, fashion, sake, fruit and more, including a tie-up with JR EAST PASS.

Official Website:  http://tohoku.japanshopping.org/

・Matsuyama Shopping Festival (December 1, 2019 – March 31, 2020)

From Okaido Shopping Street to Matsuyama Gintengai Shopping Arcade, Matsuchika Town, and more, look forward to end-of-year lucky draws, food events, shopping, and so on.

Official Website:  http://matsuyama.japanshopping.org/

Discover the wonders of shopping in Japan and learn more about the country with the Japan Shopping Festival.

Top 4 Places to Visit in Kyoto This Winter: Snow, Gourmet Food, Hot Springs & More

Kyoto is known as the ancient capital of Japan. It is said to be the place where quintessential Japanese culture started, and has charmed the world over with its incredibly rich 1,200-year history. Today, we take a look at some of the best places to visit in Kyoto this winter as covered by the November 2019 issue of Japanese magazine Mou Hitotsu no Kyoto ("The Other Kyoto").

From gourmet food to sightseeing spots, the arts and moreーif you're in Kyoto this year, you have plenty of reasons to leave your hotel room or house.

Yuki Tourou: See the snowy thatched-roof huts

Miyama Kayabuki no Sato is located in Miyamachokita, Nantan. It is home to 39 houses with thatched roofs and is a popular sightseeing spot due to its gorgeous natural scenery throughout the entire year. It was listed in Japan's Groups of Traditional Buildings in 1993.

In the New Year, snow falls on the huts, which looks beautiful when they light up the "Yuki Tourou"ーor snow lanternsーin late January every year. There are stalls that serve hot food in this little town, and they also host an event where you can make your own snow lantern.

Running: January 25, 2020 – February 1, 2020

Official Website: http://www.yukitouro.jp/

Amanohashidate: One of Japan's "Three Scenic Views"

Amanohashidate is a sandbank located in Miyazu Bay that separates the north and south inlet of the Asoumi Sea. It formed as a result of pebbles being carried by the ocean current for thousands of years. Its name comes from the way it looks like a bridge spanning across the sky. It is known as one of Japan's "Three Scenic Views"

Amanohashidate is a sight to behold at any point throughout the year, but if you can travel there in the winter, you're in for a surprise, as the entire sandbank is littered with pure white snow. On very cold days in the morning the snow even covers the tops of the pine trees, but when the sun rises and the temperature warms up the snow on the frost-tipped trees melts. This has led to it being called an "illusionary sight" due to its rarity. Make a point of getting up super early so you don't miss it!

Address: Tango-Amanohashidate-Ōeyama Quasi-National Park, Miyazu, Kyoto

Official Website: https://www.amanohashidate.jp/lang/en/

Fukuchiyama Castle: The magnificent castle of snow

Fukuchiyama Castle sits atop a tall hill in the city of Fukuchiyama. The castle was established as the new Tanba province by Akechi Mitsuhide in 1579 following the province's capture in 1576. The castle was demolished once during the Meiji Period but was restored again in 1986. It is now the only castle that remains today built by Mitsuhide.

The castle architecture has a lot of personality, and during the winter months takes on a gorgeous white as a result of the snow. Gazing across the castle land from the watchtower is an absolute must when visiting. Also, if you're visiting next year, the new Fukuchiyama Mitsuhide Museum is set to open on January 11, so be sure to check that out too.

Address: 5 Chome Naiki, Fukuchiyama, Kyoto

Opening Hours: 9:00-17:00 (Last Entries 16:30)

Closed: December 28-31, 2019 / January 4-6, 2020

Entry Price: General ¥330 / Elementary & Junior High School Students ¥110
Official Website: https://dokkoise.com/en/temple_shrine/index.html

Monjusou Shourotei: Feast on crab fondue while gazing at Amanohashidate

Monjusou Shourotei is a ryokanーa Japanese-style innーlocated along Amanohashidate, one of Japan's Three Scenic Views which we mentioned earlier on this list. All guests staying at the inn are given a window view of Amanohashidate from their rooms.

The inn offers an original salted snow crab fondue. Snow crab is particularly enjoyed for its degree of freshness. It's served with vegetables and the boiled crab itself, making for a delicious combination of flavours.

The hot springs at Amanohashidate are famous and praised as "the baths of the gods." They are also said to leave your skin looking beautiful after a dip. The inn also offers open-air baths lined with stones from Shikoku and wild grass from the mountains, offering a truly indulging experience.

Address: Amanohashidate Monjudomisaki, Miyazu, Kyoto

Official Website: https://shourotei.com/

These are just some of the incredible places you can enjoy in wintertime Kyoto. You can find more information on Kyoto Side or from one of our many articles on Kyoto.

TOTOCO Odawara: Kanagawa's Sea Food Theme Park Opens November 22

Gyoko no Eki TOTOCO Odawara is a new "fish theme park" set to have its grand opening on November 22, 2019 at 10:00am (JST).

The facility was established to promote further exchanges with Odawara Fishing Port which is said to be the biggest fish market in western Kanagawa Prefecture. It is the first "Fishing Port" (Gyoko no Eki*) and will sell seafood sourced locally, fishery products and more, as well as hold events to help promote Odawara.

The building has three flours. The first floor is like a marketplace where fish, fishery products, produce, and more will be sold. The second and third floors house seafood restaurants and offer a panoramic view of Sagami Bay. This view is best observed from the terrace while you enjoy your delicious meal.

*Fishing Port (in Japanese: Gyoko no Eki, or 漁港の駅) is a registered trademark of Odawara City to highlight facilities that promote exchange with Odawara Fishing Port. (Registered Trademark No.: 6163121).

Odawara Fishing Port sells fresh fish sourced from the waters of Sagami Bay, which houses a variety of fish species, as well as fish and processed marine products from around Japan. TOTOCO Odawara will sell these very same products, all delivered directly from the port, to help spread the fishing culture and economy of Odawara.

Let's take a look at some of the delicious gourmet seafood meals you can expect to tuck into at TOTOCO Odawara!

Totomaru Summit Bowl – ¥2,480

A hearty and towering dish so high that it looks like it might topple over.

Greedy Sea Urchin Eggs & Salmon Roe Bowl – ¥4,280

A dream combination you've been waiting for your entire life. Savour the richness and sweetness of both of these mouth-watering delights.

Oyster Egg Donburi Set – ¥1,680

You can't even see the rice any more for the pile of tasty oyster eggs, with their exquisitely soft texture.

Osashimi Tengoku – Odawara Kaisen GO GO

The third floor of the building is home to Osashimi Tengoku – Odawara Kaisen GO GO, a restaurant that calls itself "Sashimi Heaven" and offers a 59 minute all-you-can-eat buffet of fish, sides, desserts and more.

59 Minute All-You-Can-Eat
Adults – ¥2,590 / Children (Elementary School & Younger) – ¥1,390 / 3-Years & Younger – Free (All Prices Before Tax)

Gyoko no Eki TOTOCO Odawara is easily reachable from Tokyo and right next to the local station. If you've come to Japan looking to try the country's famous seafood, then make sure to put this place on your list.

Information

Gyoko no Eki TOTOCO Odawara

Address: 1-28 Hayakawa, Odawara, Kanagawa Prefecture (West side of of Odawara Fishing Port)
Opening Hours: 9:00-17:00 (Subject to change depending on the season)
Access: By train – 10 minutes on foot from JR Hayakawa Station / By car – 2 minutes from Seishō Bypass Hayakawa Interchange or 4 minutes from Odawara-Atsugi Road Odawara-Nishi Interchange
Official Website: https://www.totoco-odawara.com

Instagram Launches #MY TOKYO IS Campaign With Tokyo Metropolitan Government

Instagram launched a campaign with the Tokyo Metropolitan Government entitled "#MY TOKYO IS" on November 11 together with three limited-time stamps that can be used on people's Instagram stories.

The campaign is a global initiative to have people capture their favourite moments in Tokyo in the form of photos, videos and stories on Instagram. Shared posts will be used to curate places and scenery in Tokyo that the Tokyo Metropolitan Government want to showcase to the people of the world. This curation will take the form of an exhibitionーwhich will take place at GINZA ATRIUM on floor 6F of GINZA SIX and GINZA TSUTAYA BOOKS in late March 2020ーas well as a website and a book.

Statistics have shown that Instagram has a significant influence on the Japanese economy in terms of tourism, and so the Tokyo Metropolitan Government hopes that this interactive campaign will help to promote the city to tourists and travellers worldwide.

The stamps created as part of the campaign only appear in the tray when you're in the city of Tokyo. When you click the stamp, the #MYTOKYOIS search result page will be displayed, allowing you to see the other photos and videos posted by the people who have used the campaign hashtag.

If you're in Tokyo, then be sure to get involved in the campaign and show the world your favourite things about the city!

Information

Enter via Feed Posts

・Follow the official Tokyo Tokyo Instagram account @tokyotokyooldmeetsnew

・Add hashtags #MYTOKYOIS and #TokyoTokyo to your post

・Add spot or location info to the photo or video you took, and post

Enter via Stories

・Follow the official Tokyo Tokyo Instagram account @tokyotokyooldmeetsnew

・Use the #MYTOKYOIS sticker or add the hashtag #MYTOKYOIS using the text tool / hashtag sticker

・Add spot or location sticker of the photo or video you took, and post

#MY TOKYO IS Campaign Website