Para celebrar el lanzamiento del Detective Conan: The Fist of Blue Sapphire el 12 de abril de 2019, se abrirán una serie de cafés temáticos en todo Japón, comenzando con Tokio y Osaka el 26 de marzo, antes de dirigirse a Hokkaido, Sendai, Saitama, Chiba. , Nagoya, Hiroshima y Fukuoka.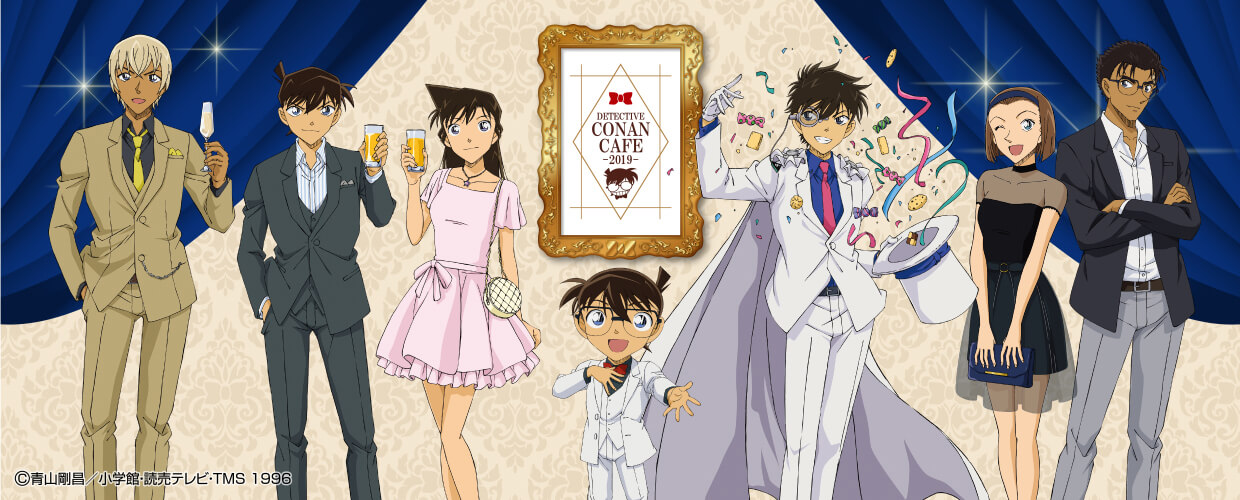 "Fiesta" es el tema de la cafetería este año, que se inspirará en Singapur, el escenario de la película.
Echa un vistazo a algunos de los platos exclusivos que los fans podrán disfrutar en el menú.
Pasta ilusoria de Kaito Kid: ¥1,590
Especial de Amuro Tooru – Estofado de tomate con leche de col y albóndigas: ¥1,590
Parfait ilusorio de Kaito Kid: ¥1,390
Cream Soda pajarita Conan Edogawa: ¥890
Aquellos que pidan comida podrán conseguir una de las dos posibles alfombrillas que se muestran en la imagen de arriba, ambas originales.
Los fans podrán conseguir uno de los 24 posavasos posibles pidiendo una bebida.
Pero el merchandise gratuito no para allí: los clientes que reserven una mesa con anticipación recibirán una de las 24 pegatinas originales al llegar.
También puedes añadir a tu colección una amplia gama de otros productos.
Llavero ficha de casino (7 diseños, elegidos al azar): ¥500 cada uno

Cojín: (Conan Edogawa / Kaito Kid): ¥2,500 cada uno

Los cafés comenzarán a abrir en marzo y se prolongarán hasta junio. Mira a continuación para más detalles.
Information
Café Detective Conan 2019
Las pre-reservas para usuarios de la aplicación Detective Conan están abiertas hasta el 19 de febrero. Las reservas generales se abren el 27 de febrero a las 10:00 AM (JST).
* Las reservas se cerrarán una vez que se hayan ocupado todos los asientos.
Ubicaciones
Tokio ①: 26 de marzo de 2019 – 2 de junio de 2019 @ SHIBUYA BOX CAFE & SPACE (Shibuya BOX/Shibuya LOFT)
Tokio ②: 4 de abril de 2019 – 2 de junio de 2019 @ THE GUEST Cafe & Diner Ikebukuro PARCO
Osaka ①: 26 de marzo de 2019 – 2 de junio de 2019 @ Abeno Contact (Abeno Q's Mall Floor 4F)
Osaka ②: 28 de marzo de 2019 – 2 de junio de 2019 @ DEL SOLE (Osaka Station City)
Nagoya: 30 de marzo de 2019 – 2 de junio de 2019 @ NAGOYA BOX CAFE&SPACE (LACHIC Floor B1F)
Fukuoka: 2 de abril de 2019 – 2 de junio de 2019 @ 4TOWER RECORDS CAFE Fukuoka Tenjin (Solaria Stage)
Hiroshima: 4 de abril de 2019 – 2 de junio de 2019 @ TRATTORIA CACCiNU (SOGO Hiroshima Floor 10F)
Sendai: 6 de abril de 2019 – 2 de junio de 2019 @ SENDAI BOX CAFE&SPACE (Sendai BOX/Sendai LOFT)
Chiba: 6 de abril de 2019 – 2 de junio de 2019 @ Character Cafe SOGO Chiba
Hokkaido: 9 de abril de 2019 – 2 de junio de 2019 @ Cafe Interlude, Coach and Four Shinkawa
Saitama: 9 de abril de 2019 – 2 de junio de 2019 @ BOX CAFE&SPACE (Aeon Lake Town)
Página Web del café Detective Conan: https://conan-cafe.jp/