Cherry Blossom Flavoured Shaved Ice Released at Kakigori Atelier Sekka in Sugamo
Kakigori Atelier Sekka is a shaved ice shop in Sugamo ― a neighbourhood in Toshima, Tokyo ― that has been using natural ice from Mount Fuji since this year. The shop is now selling limited edition cherry blossom flavoured shaved ice for spring only.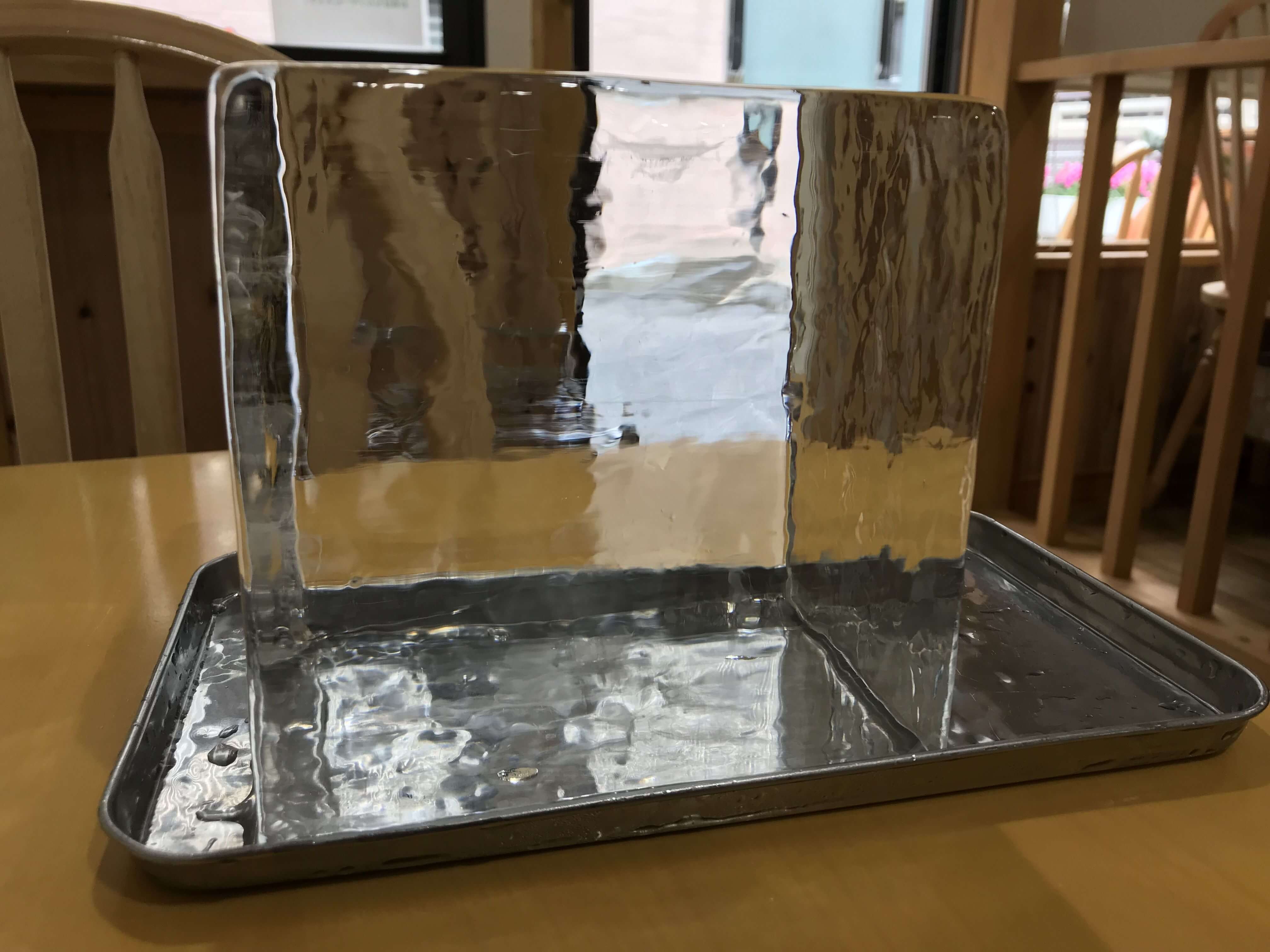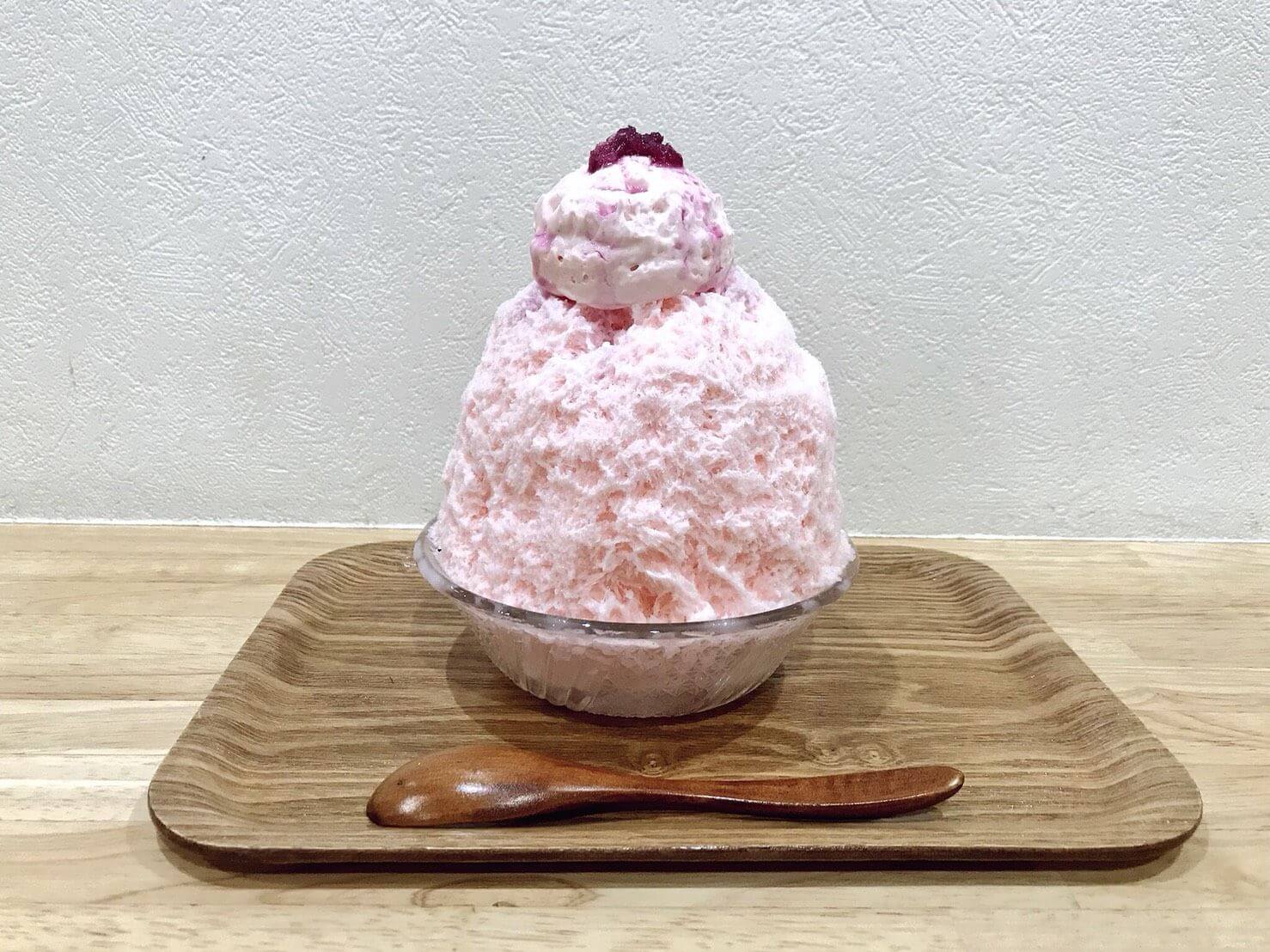 The shaved ice has no-bake cheesecake syrup poured all over it and the inside is filled with cherry blossom flavoured condensed milk. It is topped with cherry blossom petals and cherry blossom fromage blanc.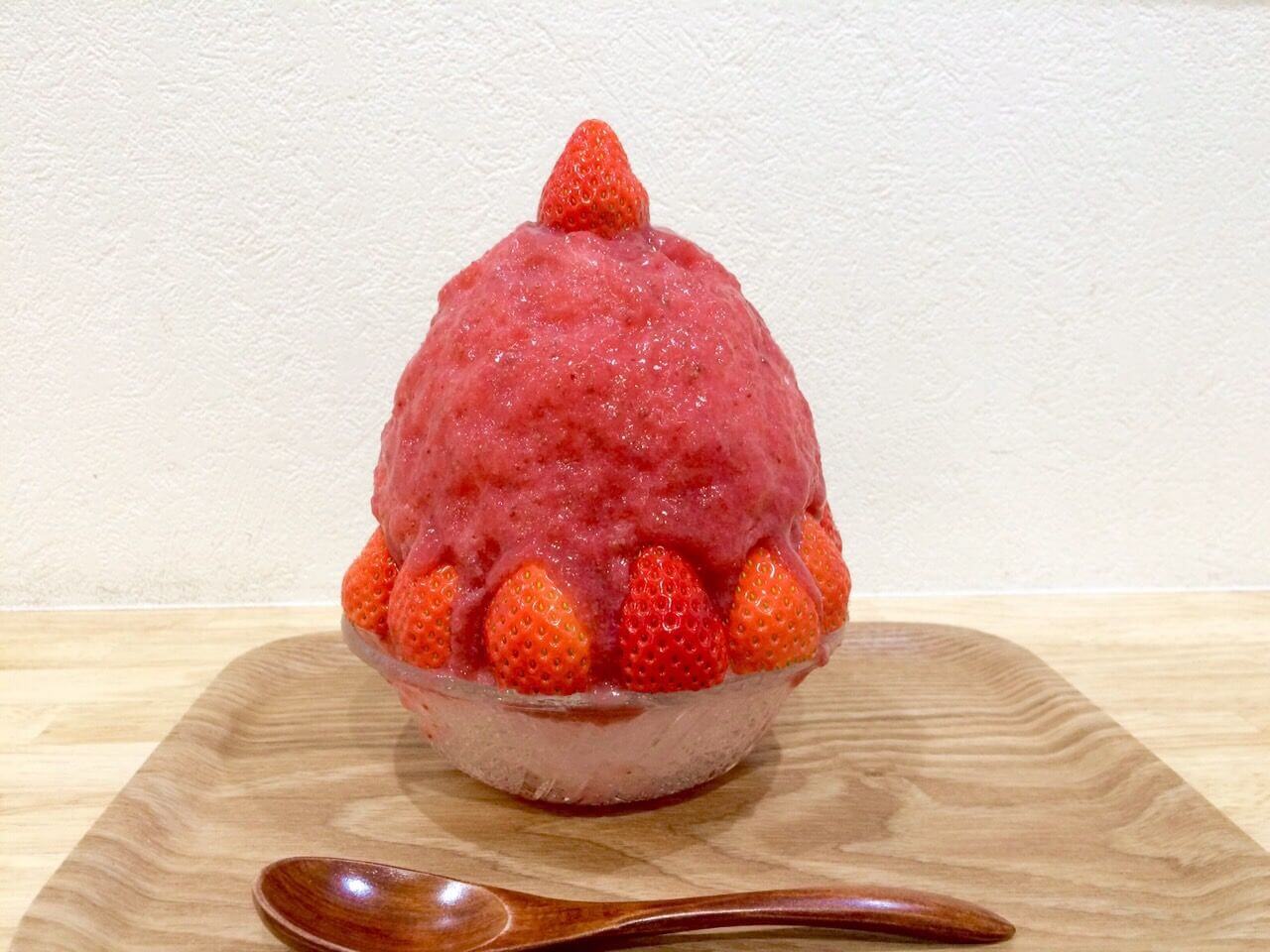 The shop is also selling their Ichigo Mamire strawberry shaved ice again which is a hit every year. This popular flavour is stuffed with so many strawberries you won't know if you're eating strawberries or shaved ice. Be sure to check this one out too.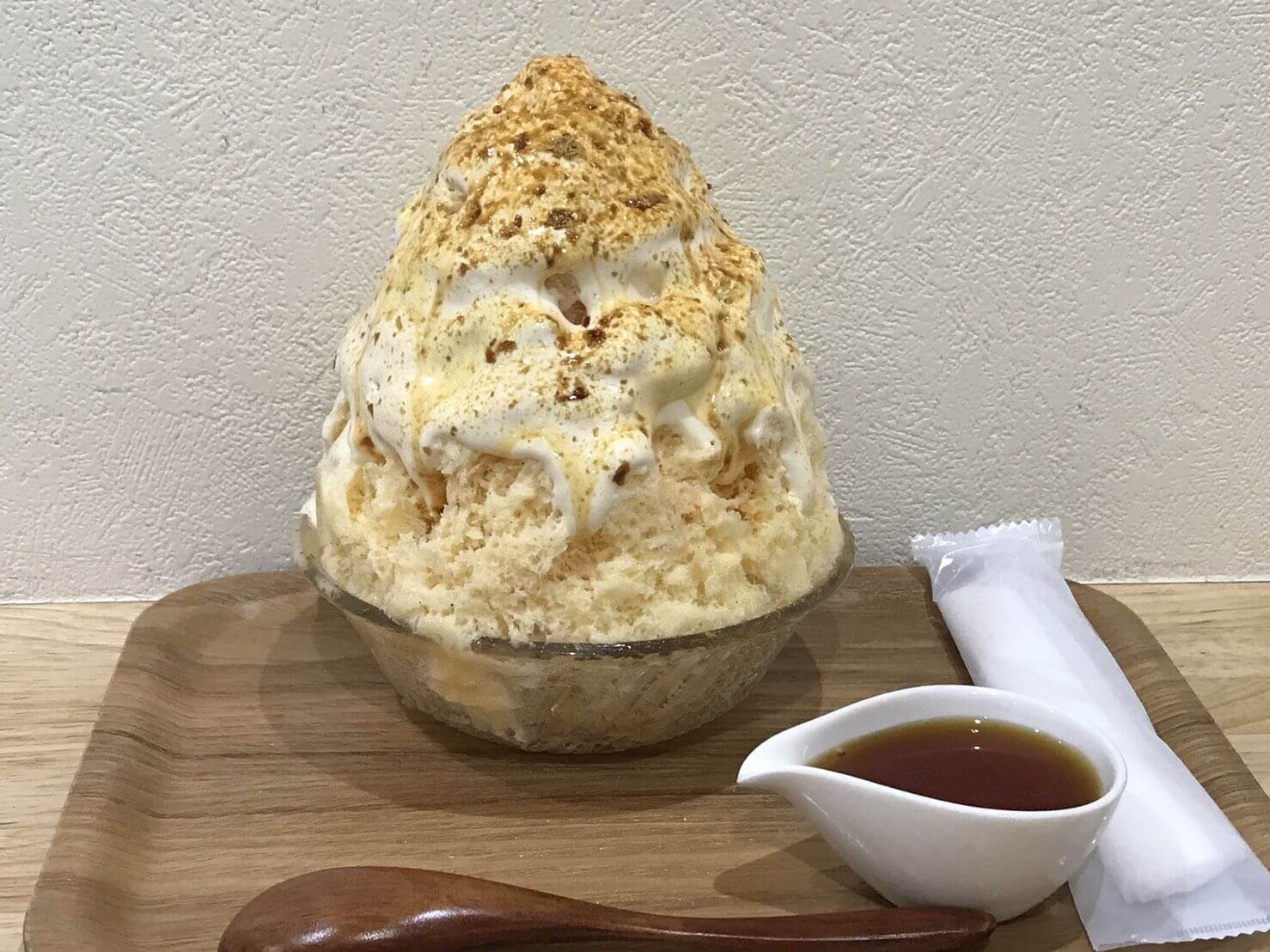 If you're in Tokyo, then make sure to stop by Kakigori Atelier Sekka this spring and cool yourself off with one of their limited seasonal flavours.
■Information
Kakigori Atelier Sekka
Address: 3-37-6 Sugamo, Toshima-ku, Tokyo
Opening Hours: 11:00-17:00
*Opening hours will change in the summer season.
Closed: Mondays
Access: 5-minutes on foot from Sugamo Station via the Yamanote Line / 3-minutes on foot from Sugamo Station via the Toei Mita Line
TEL:  03-5980-9891
Website: http://www.atelier-sekka.com/
RECOMMENDED ENTRIES
6 Recommended Shaved Ice Desserts in Japan for Summer 2018

Shaved ice is one of the most popular desserts during summertime in Japan. It's made with ice shaved from an ice block and drizzled in different kinds of syrups.

Here's a list of 6 shaved ice desserts you should try in Japan this summer.

Strawberry Shaved Ice & Melon Shaved Ice

Fruit Parlor Odawara is located in the city of Hachinohe in Aomori Prefecture and sells desserts mixed with fresh fruits. Their strawberry shaved ice is made with around 25 sachinoka strawberries farmed locally, while their melon shaved ice uses carefully selected ripe melons and is served inside a melon. Only 10 of each flavour are available to purchase each day. They're being sold until the end of August, so be sure to visit quick!

Kazuri Chocolate Mint

Mario Gelateria is selling a range of chocolate mint shaved ice desserts for a limited period at three of its branches. Enjoy the fluffy Kezuri Chocolate Mint at the Shibuya Hikari branch, Chocolate Mint which turns pink at the Yokohama Bayside and Minato Mirai branches, and more. The Kezuri Chocolate Mint is most recommended, made with frozen mint milk and chocolate sauce. Enjoy topped with salted chocolate mint with salt from Uyuni Salt Lake.

Peanut & Homemade Condensed Milk Shaved Ice

Taiyaki Tomoean is selling a shaved ice dessert that includes a paste made in-house with crushed peanuts and a homemade syrup made with condensed milk. It's also topped with extra peanuts, giving layers of different flavours and texture with the full-bodied taste of the peanuts and sweetness of the syrup. You won't have eaten shaved ice like this before.

 

Wicked Snow – Watermelon & Melon Shaved Ice

Wicked Snow is a desserts cafe who are bringing back their three popular summer-only shaved ice flavours – pick from watermelon, melon, or a combination of both. The shaved ice is Wicked Snow's own unique blend, made to look like powdered snow that melts in your mouth. Topped with plenty of watermelon and melon, this is the kind of dessert you'd expect to see on Instagram.

Full Details: https://www.moshimoshi-nippon.jp/113471

Yondaime Tokujiro Natural Ice

In the Karuizawa Lakeside Shop of Hotel Green Plaza Karuizawa they are selling shaved ice made with natural ice from Nikko Yondaime Tokujiro, a brewery of which there are only a few located in Japan. Located in Nikko in Tochigi Prefecture, this natural ice warehouse has passed down traditional methods and techniques for 4 generations since the Meiji Period. The shaved ice is topped with tochiotome strawberry sauce, original plum sauce, matcha adzuki and more.

Tamba Spring Water Shaved Ice

Nakajima Taishodo are selling shaved ice made with large-grained adzuki beans and spring water both from the city of Tamba. The high quality beans give the dessert a sweetness, while the shaved ice, made with famous spring water from the company's breweries, give a fluffy texture. People from Kyoto, Osaka and Kobe come all the way to see this shaved ice which stands 18cm tall!

Looking to cool yourself off while in Japan this summer? Then how about some refreshing shaved ice?

Tokyo Stroll: The Café That You Want to Visit to See Someone #7 – Garden Café & Bar 'Urara' in Daikanyama

The place I am showcasing today is 'Urara,' a garden café and bar located in Daikanyama. Their shaved ice is super popular in summer. It's somewhere I love and often go to in my private time.

It's an old Japanese-style house so it has a much different atmosphere to that of stylish Daikanyama. The outside of it has a warm and welcoming feel to it that will have you wanting to see what kind of place it is.

Upon entering through the shop sign curtain, you arrive in the courtyard which is surrounded by trees. You can hear the sounds of birds from somewhere, and when the wind blows you also hear the rustling of tree leaves. You completely forget you're in Tokyo as you feel like you've come to a grandma's house in the countryside. It's very relaxing.

Hm? What's this odd looking thing?

These unique ornaments were scattered all around the courtyard ready to greet us!

This sign makes for a great photo spot. It says 'Urara' just like the name of the café. Its nostalgic design is so cute!

When you really look, it says tissue paper on it! There's lots to be discovered on the posters and signs that make up the interior, it's a lot of fun!

I ordered the Uji adzuki bean shaved ice topped with condensed milk! It cost ¥600 for the shaved ice and ¥100 for the topping. The matcha used is from Uji in Kyoto. Such a big portion of shaved ice is enough to cool you down by just looking at it.

Let's eat!

Where have I tasted this before…

The matcha seeped all the way to the middle of the shaved ice. The refreshing sweetness was so tasty. The adzuki beans are from Tokachi in Hokkaido. They were a perfect combination with the condensed milk. The ice used is natural ice from Nikko. It's fluffy, tastes great, and doesn't give you brain freeze!

Natural ice is different from regular ice. It's frozen slowly so the crystals have high density, and it takes longer for it to melt. The cool part was how it didn't crumple instantly when I poured the syrup on it!

This is blueberry syrup (¥600). The blueberries used are from Nagano. They make it from jam in the café. Isn't the colour just beautiful?

It has that sour flavour that blueberries have and a refreshing, lip-smacking sweetness.

I normally don't drink alcohol, but since Urara is a café and a bar I will show you a mojito (¥600). The mint is so refreshing!

On a hot summer's day it seems like there are people who order both shaved ice and beer together. They're seasonal items so will satisfy and cool you down.

I also got to meet Tama-chan, the cat who comes to play at Urara. One time when I came before Tama was out walking so I didn't get to meet him.

Lastly, I snapped a photo with Arai who's in charge of promoting Urara!

We're roughly the same height and have a similar interest in clothes so I grew an affinity with her.

Coffee shops and cafés in old style Japanese houses tell you something about the people associated with them.

Urara feels natural thanks to SELIN & Co., an apparel maker who make things that feel one with nature. The staff at Urara all love living things, so the big hearted atmosphere there was really wonderful.

If I was to set up a shop I wonder what it would be like…

I think I'd want to put out something warm like Urara.

■Information

Urara

Address: 20-10 Sarugakucho, Shibuya, Tokyo

Opening Hours: Weekdays 11:30am-7:00pm / Weekends & Holidays 11:30am-7:30pm

*Closed during rainy weather.

Access: 4-minutes on foot from Daikanyama Station via the Tokyu Tokoyo Line

Website: http://www.hrm.co.jp/news/2016/04/garden-cafe-bar-urara

Photographer:Haruka Yamamoto

Editor:Ai Watanabe

Design:Yuko Abe(ASOBISYSTEM)

Translater:Joshua Kitosi-Isanga

TALENT PROFILE

Ema Tanioku

"Emaeri" is the nickname for models Ema and Eri Tanioku, who are Aomoji fashion model twins. Ema and Eri Tanioku specialise in twin fashion coordination. Over the years their fanbase has increased due to their cute looks. Ema Tanioku spreads Harajuku culture within Japan as well as overseas and works as a Harajuku Tourism Ambassador. Starting off as a model, Ema has broadened her talent range from fashion magazines to TV, and from playing the lead role in dramas to movies.

Woodstock Shaved Ice Now Being Sold at the PEANUTS Cafe in Nakameguro

The PEANUTS Cafe in Nakameguro is themed on the popular American comic strip Peanuts featuring Charlie Brown and Snoopy. The cafe is now selling a limited edition shaved ice inspired by the character Woodstock, a yellow bird and Snoopy's best friend.

EAT-IN Woodstock Shaved Ice – ¥850 (Pre-Tax)

The cool and refreshing eat-in Woodstock Shaved Ice is made with frozen mango, pineapple and orange and drizzled in a lemon syrup. The whipped cream is topped with lemon flavoured cotton candy made in the image of Woodstock's iconic tuft. Enjoy a unique texture by pouring the passion fruit sauce over the fluffy cotton candy♡

TAKEOUT Woodstock Shaved Iced – ¥650 (Pre-Tax)

The takeout version includes passion fruit sauce, lemon flavoured espuma cream and lemon syrup. Underneath the shaved ice are delicious pieces of frozen mango, pineapple and orange.

Cool down from the sunshine with Woodstock's refreshing sweet and sour yellow coloured shaved ice.

■Information

Woodstock Shaved Ice

Location: PEANUTS Cafe Nakameguro (2-16-7 Aobadai, Meguro-ku, Tokyo)

Available: August 10, 2018 – September 18, 2018

Official Website: http://www.peanutscafe.jp/

© 2018 Peanuts Worldwide LLC
RELATED ENTRIES
Tokyo's Craft Chocolate Shop nel Releases Cacao Kintoki Shaved Ice Desserts

nel craft chocolate tokyo, a craft chocolate shop located in Nihonbashihamacho, Tokyo, released two chocolate shaved ice desserts last Wednesday for the hot summer season. The desserts are also being sold at Saryo Tsukikage, a restaurant inside the hot spring ryokan Yuen Bettei Daita in Setagaya.


Left: Cacao Kintoki | Right: White Cacao Kintoki

Cacao kintoki is a type of shaved ice made with specially-selected cacao beans from Vietnam. It uses a 'bean to bar' method where the shaved ice is made from scratch, roasting the beans fresh to create the dessert.

The two new treats at nel use a chocolate base and add cacao pulp to the mix, adding a natural fruity flavour derived from the bean. Each is also served with a special cacao sauce for extra flavour. The white cacao version is made by combining with in-house white chocolate. It also comes with an Okinawan passion fruit and cacao pulp sauce, resulting in a sour kick and refreshing taste.

Saryo Tsukikage

The open-air baths at Yuen Bettei Daita

A special matcha version of this shaved ice can also be enjoyed while bathing in the open-air baths at Yuen Bettei Daita. It's made with nel's homemade white chocolate as well as dark chocolate, cacao pulp, and specially-selected yame matcha from Shimokita Chaen Ōyama, a cafe in Setagaya.

Tokyo's New Strawberry Dessert Shop ICHIBIKO Opens at Shibuya's Tokyu Food Show

ICHIBIKO is a new strawberry dessert-themed cafe that opened at Tokyu Food Show in Shibuya, Tokyo, on June 1. The shop's concept is centred on letting people enjoy strawberries all year round served in a variety of sweet and succulent ways.

Migaki-Ichigo Pudding | 3 Flavours

The Migaki-Ichigo Pudding is a Japanese-style custard pudding made with a layer of custard and strawberry jam. The jam, which contains fresh juicy pieces of strawberry left over, is made from a type of high quality strawberry called Migaki-Ichigo. These puddings are available in three flavours.

Migaki-Ichigo Pudding – Strawberry Custard | ¥432 (Tax Included)

Made with fresh cream and vanilla custard and combined with strawberry jam. Rich and full of fruity flavour.

Migaki-Ichigo Pudding – Condensed Strawberry Milk | ¥486 (Tax Included)

Layered with condensed milk instead of custard, lending a refreshing milky flavour to the sweet strawberry and giving a velvety texture.

Migaki-Ichigo Pudding – Strawberry Milk Yogurt | ¥432 (Tax Included)

Made with strawberry sauce-infused yogurt and Migaki-Ichigo jam giving a cool, refreshing flavour.

  

The new ICHIBIKO store also sells the brand's most popular beverage, ICHIBIKO Milk, as well as baked confections, and fresh Migaki-Ichigo strawberries sourced directly from farmers.

Information

ICHIBIKO Shibuya Tokyu Food Show

Grand Opening: June 1, 2021

Address: SHIBUYA MARK CITY East Mall Floor 1F, 1-12-1 Dogenzaka, Shibuya, Tokyo

Opening Hours: 11:00-20:00

Access: Connected directly to the Keio-Inokashira Line at Shibuya Station

TEL: 03-3477-4676

ICHIBIKO Official Website: https://ichibiko.jp/

Disney's Mickey & Friends Teams Up With Tokyo's Souvenir Sweet Tokyo Banana

Disney SWEETS COLLECTION by Tokyo Banana, a joint confectionery shop between GRAPESTONE and Tokyo Banana, released its new Mickey & Friends collection on Thursday.

Tokyo Banana Mickey & Friends Collection | ¥1,300 (Tax Included)

Mickey, Minnie, Donald, Daisy, Goofy, and Pluto join hands in a heart-warming new collection of Tokyo Banana, a cream-filled sponge cake and the official souvenir sweet of Tokyo's official souvenir sweet: Tokyo Banana.

 

Mickey & Friends arrive in all the colours of the rainbow

The colourful packaging features the Disney group of best friends including Mickey, who loves his friends, his girlfriend Minnie, the anger-prone Donald, stylish Daisy, silly Goofy, and trusty Pluto.

Six cute patterns decorate the sponge cakes

There are six super cute Mickey & Friends designs you could get in your Tokyo Banana, and each one is random. They are filled with chocolate banana-flavoured custard cream.

Collect all the postcards

All boxes of these treats come with two of eight possible postcard designs which you can use for sending to someone or even as room decoration.

 © Disney

Disney's The Little Mermaid Gets Cute Cupcake Release by Ginza Cozy Corner

Ginza Cozy Corner is releasing a new collection of cupcakes and confections at its stores on June 11 in collaboration with the Disney classic The Little Mermaid. The cupcakes feature designs that will be familiar to any fan of the animated film, from Ariel to Flounder, King Triton's Trident, and others that capture the wonderful underwater world of Atlantica.

Some of the Disney delights include the Mermaid Ariel Apple & Strawberry Whipped Cream Tart, Princess Ariel Raspberry Jam & Strawberry Mousse Cake, Ursula Blueberry Jam & Blueberry Whipped Cream Cocoa Tart, Eric's Cheese Mousse & Berry Jam Cake, and more.

The Little Mermaid Collection | Includes 9 | ¥2,700 (Tax Included)

The cakes come in a gorgeous box

Information

The Little Mermaid Collection

Running: June 11, 2021 – July 29, 2021

Order Start Dates

[In-Store] June 1, 2021 until all sell out

[Online] June 7, 2021 – July 24, 2021

Pick-Up Dates

June 12, 2021 – July 29, 2021 (Except June 18-20)

Ginza Cozy Corner Official Website: http://www.cozycorner.jp/

gelato pique café Begins Serving Desserts Made With American Cherries

gelato pique café is now serving up a selection of three desserts topped with seasonal American cherries. The items are available on the menu until July 15.

American Cherry Crepe: Have In ¥980 / Takeout ¥970

American Cherry Soft Cream: Have In ¥580 / Takeout ¥570

American Cherry Soda: Have In ¥580 / Takeout ¥570 (Photo for illustrative purposes only – served in a takeout cup)

American Cherry Crepe & Soda Set: Have In ¥1,380 / Takeout ¥1,370

Plain Crepe & American Cherry Soda Set: Have In ¥980 / Takeout ¥970

The American Cherry Crepe is filled with sweet and velvety royal milk gelato and seasonal American cherries. The sweetness of the gelato, sour kick of the cherries, and rich chocolate ganache cream make for a tasty combination, complemented by the range of textures including the soft fruit and crunchy granola.

The American Cherry Soft Cream contains a cherry sauce made with fresh cherries – and the whole thing is topped off with a cute cherry.

The beautifully red American Cherry Soda is made completely out of sweet cherries. The cherry syrup adds a gorgeous gradation to the drink as well as a refreshing after taste. There are two ways to enjoy this special drink: as it is, which offers a feeling of refreshment, or mixing the milk-flavoured gelato in for sweetness and creaminess.

Information

AMERICAN CHERRY SPECIAL

Serving: May 25, 2021 – July 17, 2021

Where: gelato pique café (Participating Branches: Atre Ebisu, Lumine Ikebukuro, Mitsui Outlet Park Makuhari, Mitsui Outlet Park Kisarazu, Mitsui Outlet Park Jazz Dream Nagashima, Gotemba Premium Outlets, Mozo Wonder City, Namba Marui, Mitsui Outlet Park Hokuriku Oyabe, Kanazawa Forus, Tamagawa Takashimaya S.C)

*Tamagawa Takashimaya S.C is now serving the soft cream

*Opening hours subject to shortening depending on COVID-19

Official Website: https://pique-cafe.com/

Cute Cat-Shaped Mango Cheesecake Arrives at Neko Neko Cheesecake

Neko Neko Cheesecake released its new seasonal 'Neko Neko W Cheesecake Mango' on Tuesday. Neko Neko Cheesecake is a sister brand of Neko Neko Shokupan by the same company, ALL HEARTS COMPANY, which serves cat-shaped bread.

Neko Neko W Cheesecake Mango | ¥2,430 (Tax Included)


The cute cheesecake is packed full of seasonal mango in the form of a mango and passion fruit sauce layered on top of the biscuit base. The cake is topped with fresh mango, lending a juicy and refreshing flavour to the sweet and tangy cake.

This tropical mango delight is one of many delicious cakes by Neko Neko Cheesecake. Be sure to check out our other coverages on the shop.

Enjoy a Japanese Summer Afternoon Tea Set From Home

InterContinental Tokyo Bay will begin selling its new fruit-loaded 'Summer Afternoon Tea Set' at its hotel restaurant The Shop N.Y.LOUNGE BOUTIQUE on June 1. Available until August 31, the afternoon tea set is one to be enjoyed at home.

Summer Afternoon Tea Set | ¥3,780 (Tax Included)

This marks the third Summer Afternoon Tea to be sold by the restaurant which began its takeout and delivery service for the set last summer. The line-up is packed with a range of seasonal summer fruits, including the Mango Coconut which is a coconut mousse topped with mango sauce along with fresh mango and passion fruit, the Peach Mousse which combines peach mousse with peach jelly, refreshing Lemon Macarons, the cream, mango, and passion fruit-filled Mango Passion Cream Puff, and more. An afternoon tea set isn't complete without scones either – this one has separate chocolate and raisin ones which go nicely with the pistachio whipped butter and raspberry jam.

On the savoury side of things are mini hamburgers with a pineapple and BBQ sauce, caprese salad with ham, peach, mozzarella, and more.

Petit Fours Set | ¥2,700 (Tax Included)

Treat yourself to an indulging afternoon tea at home this summer.

Koala's March Cookies x Police × Heroine Lovepatrina! Collaboration Launches

In promotion of the tokusatsu film Police x Heroine Lovepatrina! ~Challenge from a Phantom Thief! Let's Arrest with Love and a Pat!~, which was released in Japan on May 21, Japanese snack company Lotte released a special version of its popular Koala's March cookies on Friday.

Lovepatrina's March | ¥3,240 (10 Boxes)

Police x Heroine Lovepatrina! ~Challenge from a Phantom Thief! Let's Arrest with Love and a Pat!~

 

Police × Heroine Lovepatrina! is a Japanese tokusatsu TC drama series which first aired in July last year. Its fourth and latest entry is Girls × Heroine.

Lotte's collaboration launched in promotion of the new film which hit Japanese theatres on May 21.

Check out the cute packaging for the popular cookies!

© TOMY・OLM/劇場版ラブパトリーナ製作委員会

Colourful Dessert Buffet 'OWNER OF A COLORFUL HEART' to be Served at Conrad Osaka

Conrad Osaka is set to serve a very special rainbow-coloured dessert buffet called 'OWNER OF A COLORFUL HEART' at its Atmos Dining restaurant in collaboration with Japanese artist Sebastian Masuda, who is known for his iconic work in Japan's culture of 'kawaii,' from June 4 to August 31.

OWNER OF A COLORFUL HEART Peach Dessert Buffet

The colourful line-up aims to bring light and strength to people during these dark times. It says that if we were to shine a light on our hearts, the hidden colours of our hearts would illuminate for all to see. We are all owners of a colourful heart. The beautiful and mouth-watering dessert table conceived by Masuda was made after he had discussions with Jimmy Boulay, executive chef at Atmos Dining, who helped bring this peach-filled sweet treat bounty to life.

The picturesque buffet is made so colourful thanks to a range of natural ingredients such as paprika, turmeric, coconut, rose, and more. The 'Colourful Heart Tarts,' which look like baby peaches, are fluffy and made sweet with peach and vanilla. The 'Sunshine in the Dark' is bright yellow like sunshine and contains peach and vanilla caramel cream. The 'Peach Prism Cupcakes' glisten vividly, and the 'Daisy Celebration' is a wonderful mix of almonds, rose mousse, and peach compote. Below is a small peek at just some of the goodies on this summertime feast.

Menu Sneak Peek


Marble Marble Mousse

Colourful Heart Tarts

Sunshine in the Dark

Peach Prism Cupcakes

Spring Garden

Daisy Celebration

Playful Macarons

The restaurant also has a photo booth where you can take photos together with some of Sebastian Masuda's most iconic works. There's also merchandise from the artist's own brand Sebastian Masuda ART. And that's not all – a special hotel plan at Conrad Osaka is also available where guests can stay in rooms decorated in Masuda's art. The plan comes with the dessert buffet attached. There are just three rooms a night with this plan for the duration of the buffet.

Bonus Item

Win a free glass of sparkling wine by posting a photo of yourself with a heart in the picture at the buffet with the hashtag #ownerofacolorfulheart.

If you're in Osaka this summer, show that you're also the owner of a colourful heart at this very special dessert buffet.

Information

OWNER OF A COLORFUL HEART Peach Dessert Buffet

Running: June 4, 2021 – August 31, 2021

Times: [Mon-Thur] 15:00-17:00 / [Fri-Sun & Holidays] 14:30-18:00

Price: Adults ¥6,200 / Children ¥3,100

*Prices will change to ¥6,800 and ¥3,400 respectively for Obon from August 7 to 16

Venue: Atmos Dining (Conrad Osaka Floor 40F)

Address: 3-2-4 Nakanoshima, Kita-ku, Osaka-shi, Osaka

Reservations: Online / Telephone (06-6222-0111 )

Official Website: https://conrad-osaka.hiltonjapan.co.jp/restaurants/conrad-sweets/summer2021

Kawaii Strawberry Milk by ICHIBIKO Now Stocked at 7-ELEVEN Convenience Stores

Japan's strawberry dessert specialists ICHIBIKO released their ICHIBIKO Strawberry Milk and ICHIBIKO Strawberry Milk Pudding at all 7-ELEVEN convenience stores in Japan (excluding Okinawa) on May 18.

 

ICHIBIKO's Strawberry Milk which they serve at their own cafe is made by putting sliced strawberries into a specially-made strawberry milk that has sugar in it and then finishing with frozen strawberries and a topping up of raw milk. Since its addition to the menu in 2018, ICHIBIKO has served over 150,000 cups of the sweet stuff, making it their most popular drink.

The strawberry milk and pudding now available at 7-ELEVEN is based on the flavour of this beverage. Both feature cute strawberry pink designs.

 

ICHIBIKO Strawberry Milk | ¥267 (Tax Included)


The ICHIBIKO Strawberry Milk recreates the same tasty flavour of their cafe beverage. It's made with 27% strawberry juice and fresh strawberry, and also contains raw milk, making it taste nice and fresh without being too sweet.

 

ICHIBIKO Strawberry Milk Pudding | ¥181 (Tax Included)


Like its name suggests, the ICHIBIKO Strawberry Milk Pudding is a Japanese-style pudding (purin) made with the same strawberry milk. Additions include a layer of fresh strawberry sauce and vanilla for a rich and tasty combination.

 

If you're in Japan for the spring or summer, stop by your closest 7-ELEVEN and grab yourself some of ICHIBIKO's strawberry goodness.

Information

ICHIBIKO x 7-ELEVEN

Released: May 18, 2021

Where: 7-ELEVEN (Japan, excluding Okinawa)

ICHIBIKO Official Website: https://ichibiko.jp/

Cream Puff Cheesecake Burger Released at Japan's Lawson Convenience Stores

Lawson Store 100 released a new dessert to its shelves on May 19: the 'Garatto! BASCHEESE Burger,' a burger-like cheesecake cream puff.

Garatto! BASCHEESE Burger | ¥214 (Tax Included)

The plump and generous dessert is an original that's exclusive to Lawson Store 100.

It's made with cream cheese all the way from Australia. The cheese and egg make for a tasty combination, and the entire thing is topped with cheese whipped cream. Although it's a big dessert, it's light and fluffy just like a cream puff. There's even cheese whipped cream underneath the cheesecake itself.

The dessert is actually a combination of a cream puff and the BASCHEESE dessert, meaning the best of both worlds. Perfect as a little at-home treat.

If you're in Japan then be sure to look up where your closest Lawson Store 100 is so you can tuck in and enjoy!

Information

Garatto! BASCHEESE Burger

Released: May 19, 2021

Where: Lawson Store 100 (Japan)

Lawson Store 100 Official Website: https://store100.lawson.co.jp/

Hilton Tokyo's Dessert Fair 'Crystal Mermaid in White Lagoon' is Luxuriously Mouth-Watering

Hilton Tokyo is serving up a special dessert buffet this summer which it's calling ''Crystal Mermaid in White Lagoon.' It will be available at the hotel's Marble Lounge on the first floor from June 4.

'Crystal Mermaid in White Lagoon | Weekdays: ¥5,000 – Weekends: ¥5,400

As the name suggests, the delicious line-up imagines a mermaid princess who resides in the emerald green ocean with the sun beating down and reflecting off the water's surface. This picturesque scene comes to life in the form of 30 colourful desserts, 5 light foods, a selection of high-quality teas, 20 non-alcoholic cocktails, and more. All of this can be enjoyed as a projection mapping show takes place in the restaurant to the relaxing sounds of the ocean.

On the menu is the 'Rosy Shell Gem,' a rose-flavoured shortcake with a fluffy sponge stuffed with white peach and mixed berries. There's also the 'Blue Lagoon' cake with a white wine mousse and honey-roasted blueberries and blackcurrants, as well as the 'Pearl Bracelet' made with white sesame seed bavarian cream and refreshing passion fruit and pineapple.

The 'Deep Sea Sinking Emerald' creates the image of a mermaid finding a treasure that has sunk deep in the ocean. It's made with a chocolate ganache that's topped with a deep-green alcoholic Mojito jelly. The 'Mermaid's Treasure Box' is a meringue decorated with summer fruits like mango and apricot which are the jewels of the treasure box. The 'Love Letter in a Bottle' is inspired by a love letter in a glass bottle not reaching its destination. It has a plum and grape mousse with mascarpone cheese.

Other items on the menu include the vanilla custard jelly dessert 'Mermaid's Tears Religieuse,' the hermit crab-like acai and blueberry jelly yogurt mousse 'Mermaid's Attendant,' the 'Loving Mermaid' galette bretonne which looks like a mermaid's tale, 'Sunset Jelly,' and more.

For drinks, there's high brand teas like Earl grey from Ronnefeldt as well as Mango Dream, Soft Peach, a variety of mermaid-inspired non-alcoholic cocktails, coffee, and so on.

Feast upon the treasures of the ocean at the Crystal Mermaid in White Lagoon buffet.