Matcha Dessert Buffet "MATCHA Sweet Garden" in Kyoto Uses Uji Matcha From Gion Tsujiri
Every Sunday from May 20th leading up to August 26th Kyoto Century Hotel will hold a matcha sweets buffet titled MATCHA Sweet Garden at the hotel's All Day Dining La Jyho. The buffet will use Uji matcha from Gion Tsujiri, Kyoto's defining Uji matcha store.
The theme of the buffet is "a matcha sweet garden that unfolds outside a heart-shaped window." It's the establishment's first collaboration with Shojuin, a Buddhist temple in the town of Ujitawara in Tsuzuki District, which is known as the place where Japanese green tea originates. The inomemado is a heart-shaped window particularly popular with women which is known to 'call on happiness.' Together with this, the matcha buffet will be lavish with sweets and the interior brilliantly decorated.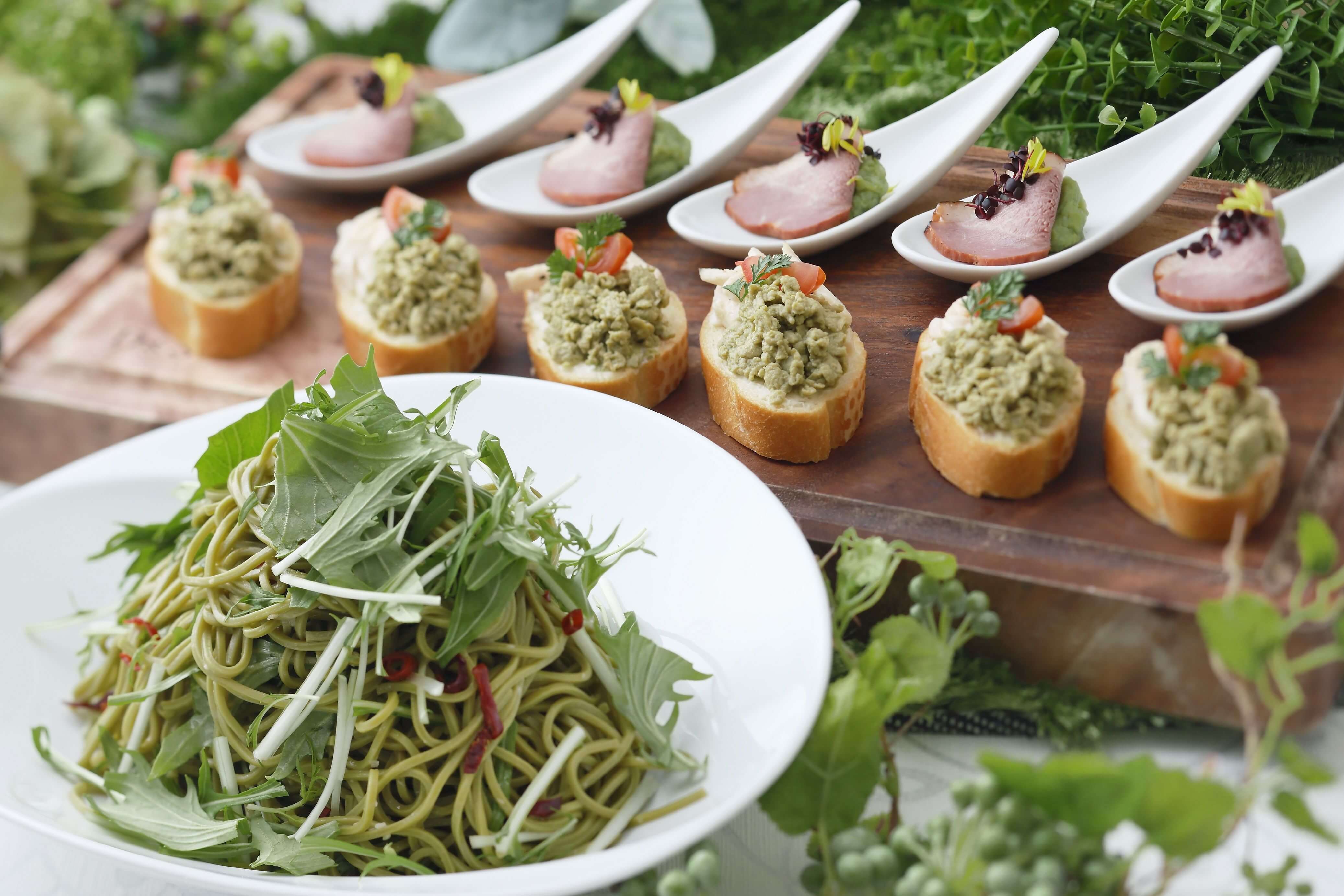 The matcha sweets use Uji matcha from Gion Tsujiri, a long-standing shop in Kyoto that specialises in Ujicha and matcha. As well as a sumptuous line-up of around 30 different matcha sweets, there are 15 or so food and fruit items, a variety of ice creams and more for a total of close to 60 delectable delights to choose from.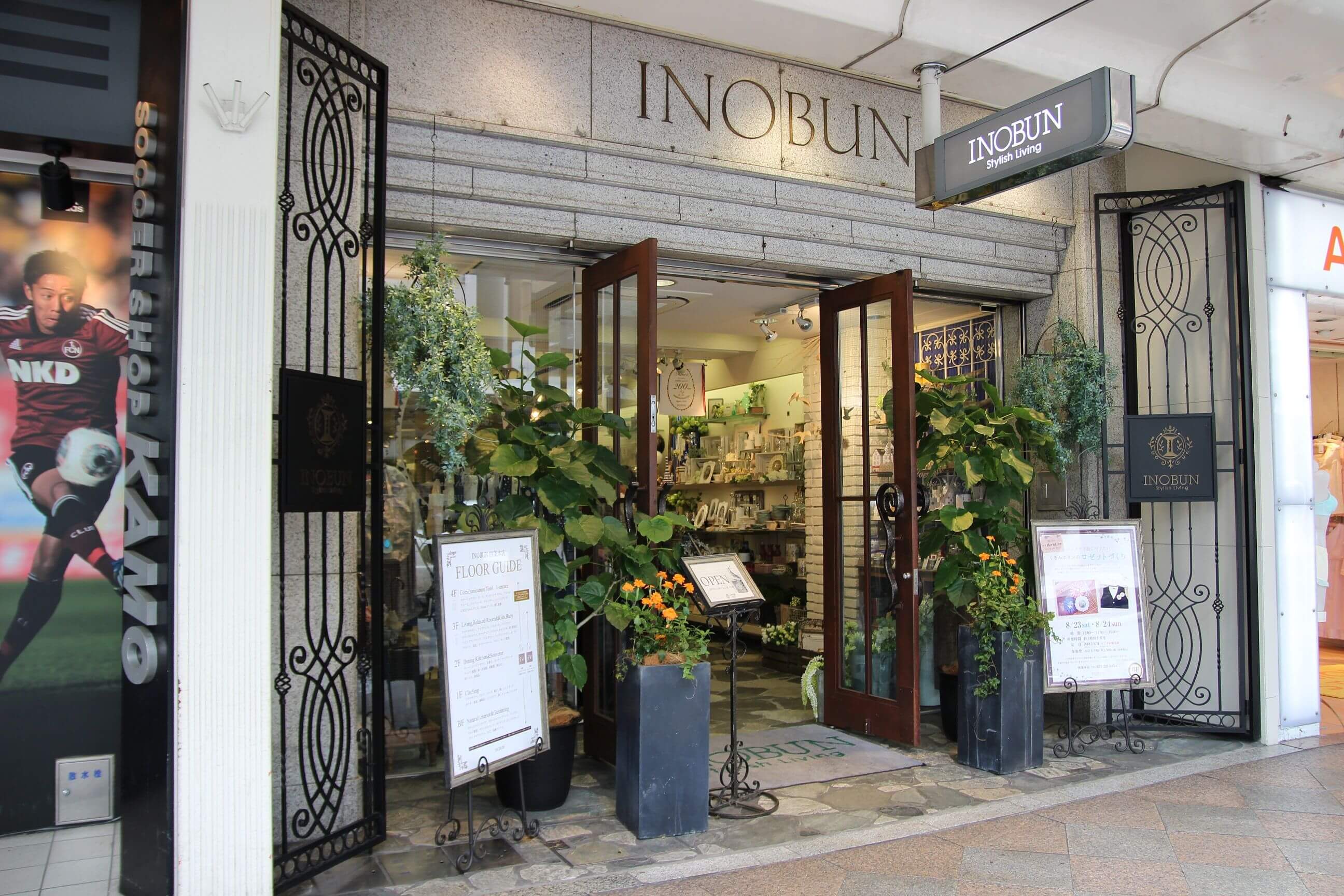 The buffet line is co-ordinated by INOBUN, a life-style shop popular with females in Japan that originates in Kyoto. An inomemado will be displayed where you can glimpse at a rich green summer garden.
There's a gorgeous line-up of matcha sweets to tuck into. As well as the hospitable INOMEMADO, there are refreshing sweets in glasses designed to look like decorative ceiling paintings and wind chimes, a food menu packed with matcha products, the non-alcoholic KANANEIRO cocktails also inspired by wind chimes, and more. Each day one lucky customer will also be gifted the seasonal fruit compote Wonder Fruits Garden, and customers can look forward to the décor courtesy of lifestyle shop INOBUN who will incorporate interior designs from Shojuin.
Treat yourself to a seriously special matcha buffer!
■Information
MATCHA Sweet Garden 2018
Running: May 20, 2018―August 26, 2018 (*Sundays only)
Location: All Day Dining La Jyho (Kyoto Century Hotel 2F)
Address: 680 Higashishiokojicho, Shimogyo-ku, Kyoto-shi, Kyoto Prefecture
Opening Hours: [Slot 1] 13:30-15:00 / [Slot 2] 15:30-17:00 (*90 Mins. max)
Price: Adults ¥4,500 / 7-12 Years Old ¥2,500 / 4-6 Years Old ¥1,200 (*Includes tax & service charge)
No Fixed Holidays.
Access: 2-minutes on foot from central ticket gates from JR Kyoto Station
TEL: 075-351-0085 (Restaurant reception 10:00-20:00)
Website:
https://www.keihanhotels-resorts.co.jp/kyotocenturyhotel/restaurant/lajyho/matcha2018.php
RELATED ENTRIES
Experience Kyoto Culture in Arashiyama With HOSHINOYA Kyoto's New Hotel Plan

HOSHINOYA Kyoto has introduced a new hotel plan in an attempt to bring a little luxury into people's lives and lift their spirit during this stressful time. The plan will have people going to Arashiyama to experience a bit of Kyoto culture and hospitality to lift their mood.

You will board a small boat located at the port near the hotel entrance and be taken to your private room. During your sail, you will be able to soak in the gorgeous sights of nature all around. Check-in is being carried out in guest rooms, meaning you won't have to come into contact with other guests.

You have arrived at your room. HOSHINOYA Kyoto is located in Arashiyama which was formerly a holiday home destination for the Heian aristocrats. There are 25 rooms inside the garden, all of which look out onto the Ōi River. When you slide the window open, you can feel the gentle wind sweep through the valleys. Guest room walls are plastered with beautiful traditional kyokarakami wallpaper and fitted with HOSHINOYA Kyoto-original tatami sofas. Each and every part of the rooms are imbued with Kyoto culture. The rooms are not only comfortable and provide you with everything you need, but also offer a luxurious stay.

Inside your room, there are sutras which can be used for sutra copying, known as sakyou in Japanese, as well as equipment for making matcha to enjoy your own private tea ceremony without having to worry about the tradition's strict rooms. It's your very own private Kyoto cultural experience without having to worry about other people.

Dinner can be enjoyed in the main dining hall or in your room. The dining hall is fitted with semi-private booths where you can enjoy a seasonal Arashiyama 9 course kaiseki-ryori dinner with rice, vegetables, a special bento assortment, and more. For breakfast you can enjoy a morning hot pot which uses a special dashi stock packed full of seasonal veggies.

There are also activities to enjoy Kyoto's breathtaking green outdoors. Mosquito nets made from Japanese red cedar are provided under which you can take part in a stretch routine which uses breathing techniques and meditation.

Outdoor activities are severely restricted right now as a result of COVID-19, but HOSHINOYA Kyoto has made it so you don't have to do much moving around at all while still enjoying the fruits of nature.

Information

Kyoto Culture in Arashiyama (Japanese Hotel Plan Name: 奥嵐山で京文化に触れる久しぶりの優雅な一日)

Prices

From ¥50,100 per night (Includes dinner/2 people 1 room/service charge and tax not included)
From ¥50,100 per night (Includes dinner and breakfast in dining hall/2 people 1 room/service charge and tax not included)

Booking: https://hoshinoya.com/kyoto/

McDonald's Japan to Release Ramune Flavoured McShake

McDonald's Japan is teaming up with confectionery company Morinaga & Company to release the "McShake® Morinaga Ramune" at all McDonald's branches in Japan. This is the first time McDonald's Japan has collaborated with the product.

Morinaga Ramune is a candy soda, and the perfect match to McDonald's sweet and creamy to cool down during spring and early summer.

The mixed beverage maintains the same refreshing taste as the original McShake® while drawing out the full flavour of the Ramune. It's available in a small size only while supplies last and is the same light blue colour as Morinaga Ramune. It's also served in an original cup.

Kaori's Easy Recipe: Learn to Make Pompompurin Cheese Tarts

With just a small bit of ingenuity, turn everyday food into something cute using Kaori's Easy Recipe! With a few simple ideas, an ordinary recipe magically transforms into a cute dish.

In today's recipe, I'll be showing you how I made a batch of Pompompurin cheese tarts made using store-bought tart cups.

Ingredients (Makes 9-10)

9-10 store bought tart cups
200g cream cheese (brought to room temperature)
20-30g sugar
1 egg yolk
50ml fresh cream
8g potato starch (katakuriko)
Vanilla beans to taste (can be substituted for vanilla extract)
1 tbsp lemon juice

Step 1


Pour the following ingredients into a bowl in this order: cream cheese→sugar→egg yolk→vanilla beans→fresh cream→potato starch. Mix well. Make sure when you put the potato starch in last that you sprinkle it thinly.

Step 2
Bake the tart cups in an oven at 180℃ for 15-20 minutes. If you don't have store-bought cups, you can use small cocotte dishes.

Step 3

Leave to cool. Now you can start drawing the face.

For the hat I used sliced chocolate, for the ears sliced cheese, and for the facial features a chocolate pen.

Once you've drawn the face, it's time to tuck in!

Kaori invites you into her world of character-themed food dishes in her recipe series. Be sure to check out her Instagram where she has uploaded many pictures of her character dishes!

Kaori Kubota (@kaopan27)

I live in Hokkaido and I love to make character themed foods, desserts and pastries♡
I want to see my family smile, so I enjoy putting in a bit of effort to make character foods and changing food into something cute♡
You can see more of my character foods and character bento boxes on my Instagram page → @kaopan72

HOSHINOYA Kyoto Introduces New Rainy Season Themed Kaiseki Dinner Course

HOSHINOYA Kyotoーthe Arashiyama-based hotel where every room offers a river viewーis launching a new kaiseki multi-course dinner this summer which offers the chance to enjoy the early summer breeze together with the spectacular views of the rainy season. Served with nine dishes, the kaiseki meal will be available between June 1 to July 31 this year.

The days of June in Japan are hot that the month itself also goes by the name minazuki which translates to "the month without water." However, the evenings are enjoyed for their cool and refreshing air, and so June is also known as suzukurezuki, or "the month of cool dusk." Not only will guests be able to enjoy the refreshing feeling of the season, but their kaiseki meal will be inspired by the sights of the rainy season, as well as the verdant smells of early summer, too, adding an extra level of freshness.

HOSHINOYA Kyoto's dining concept goes by the name Gomi Jizai, which has people enjoying all five different tastes: sweet, salty, spicy, sour, and bitter. Ichiro Kubota, the Executive Chef at HOSHINOYA Kyoto, has truly honed his cooking abilities over the course of his career. His father was the head chef at one of the most famous restaurants in Kyoto's Gion district. It was there that Kubota really began to learn his craft, and he went on to work at first-class and Michelin star restaurants in both Japan and abroad. He has set the standard for Japanese cuisine for the next generation.

Suzukurezuki Appetisers: See and taste early summer with a Hassun dish

A hassun is a kind of dish or tray often used in kaiseki course meals to serve numerous different foods. This hassun is inspired by Nagoshi no Harae, an ancient and traditional summer purification ritual that takes place at temples and shrines in Kyoto in June. It includes goma-dofu, a food similar to tofu made with crushed sesame seeds that's eaten as a confection during Nagoshi no Harae to cool yourself down during the hot month of June.

It also comes with sweetfish dashi and watershield for that added feeling of coolness, as well as hotarukan which looks like fireflies gathered in the bamboo grass, and a texture-laden bamboo shoot and smoked salmon wrap.

Cool Kamo-nasu Eggplant Assortment: Sweet early summer vegetable appetisers

For appetisers, guests can look forward to some refreshing early summer vegetables, including kamo-nasu eggplant that's been mixed in lots of dashi, fried, and seasoned with eggplant to elevate the sweetness and combined with ice cream. There's also red sea urchin which is rich in sweetness, ginger foam, and new lotus root for bite. The bowl it's all served is made by Nobuyoshi Sasaki and features a lace design. The use of glass serves to enhance that level of freshness from the food.

Conger Eel Hanami: Recreating a hydrangea Hanami in a bowl

The bowl includes fatty conger eel which is topped with more conger eel that has been minced as well as arrowroot daffodils to make it look like blossoming hydrangeas. It is said that conger eels that drink the water at the end of the rainy season become more delicious. Gion Matsuri, a festival held in Kyoto in July, is also called Hamo (conger eel) Matsuri. The dish also includes bonito, tuna, and kombu.

Young Fried & Salted Sweetfish: Smell the verdant fragrances with fried food

Sweetfish is a popular ingredients during early summer in Japan, and this one has been salted and fried. Sweetfish (ayu in Japanese) is also known as kougyo in Japan which means "fragrant fish." It's known for its fresh smell which is likened to that of greenery. It's fried on a charcoal fire for some time which makes the head and tail smell incredible.焼

Cherry Mille-Feuille: A dessert gift from the early summertime

The crowning cherry of this dessert is smothered in acacia honey and then roasted, locking in all of that sweetness. The dessert is made with fresh cream, almond biscuit, and custard cream, all of which is layered to create a multi-textured pie. It's served with a tonka bean ice cream. Tonka beans come from the same rose family as cherries, meaning they work wonders together.

Information

Gomi Jizai Kaiseki
Running: June 1, 2020 – July 31, 2020
Serving: 17:30-20:30
Price: ¥20,000 per person (does not include tax or service charge – hotel fee charged separately)
Available: To both guests and non-guests
Reservations: https://hoshinoya.com/kyoto/en/

Tokyo's New Cat Shaped Cheesecake Shop 'Neko Neko Cheesecake' Opening in May 2020

ALL HEARTS COMPANY, a Japanese company that develops bakeries and patisseries across Japan, is launching an all-new cheesecake shop called Neko Neko Cheesecake which will open in Jiyugaoka, Tokyo on May 20, 2020. Serving cat-shaped cheesecakes, the shop will also take online orders.

Neko Neko Cheesecake is a sister brand of Neko Neko Kuu Pan from the same company which serves cat-shaped bread. Online deliveries will make for the perfect opportunity to bring that cafe experience to your own home.

Neko Neko Cheesecake – ¥1,800 (Before Tax) / Size: 11cm, 475g

The cake is made from the luxurious French brie cheese Brie de Meaux which is mixed with a homemade apricot jam to create rich, deep flavour. This means the cheesecake not only looks cute, but is the real deal too.

Their secret to bringing about amazing flavour and not just adorable looks can be broken down into four simple steps.

①They use the king of cheeses, Brie de Meaux.
②Although baked, the cheesecake is so soft it has a similar texture to a no-bake cheesecake.
③The sweet and sour homemade apricot jam elevates the overall flavour.
④The combination of mature cheese and the apricot jam changes the flavour to create a completely new kind of cheesecake.

The cheesecakes are boxed in box that has a simple yet chic design with two cats sat side by side.

The store will open on May 20, and online orders will launch on ALL HEARTS MALL on the same day.

Information

Neko Neko Cheesecake
Address: 1-16-14 Jiyugaoka, Meguro Ward, Tokyo 〒152-0035 (Connected to baguette rabbit's Jiyugaoka branch)
Opening Hours: 9:00-20:00
No Fixed Holidays (Except New Year's)
TEL: 03-6421-1208 (Line to baguette rabbit Jiyugaoka)
*Opening hours reduced due to COVID-19. Check the shop's official Twitter page below for updates.

Neko Neko Cheesecake Twitter: https://twitter.com/neko_cheese_
ALL HEARTS MALL Online Store: https://hbantique.official.ec/

Mister Donut Japan Launches Another New Matcha Doughnut Series

Mister Donut Japan is set to release yet another new limited line of matcha doughnuts in collaboration with Gion Tsujiri and Toshi Yoroizuka at all branches in Japan from May 15, 2020.

Last month, Mister Donut collaborated with Gion Tsujiri and Toshi Yoroizuka to release the "Matcha Itadaki Series." This time around, they're joining their sticky baking hands to bring the "Matcha Odoroki Series." The triple team's matcha creations are the fitting way to celebrate Mister Donut's 50th anniversary as Gion Tsujiri brings the best Uji matcha from Kyoto and Uji-born pastry chef Toshihiko Yoroizuka brings his creative ideas.

There are four treats in the line-up: the "Crisp Double Uji Matcha" and "Crisp Uji Match Chocolate" feature cookie and bagel dough bases, creating a crunchy and chewy mix, while the "Pon de Pie Uji Matcha" and "Pon de Pie Chocolate" feature Mister Donut's classic chewy Pon de Rings combined with a crunchy pie texture.

Crisp Double Uji Matcha – ¥230 (Before Tax)

A chewy and crunchy base laced with Uji matcha and topped with Uji matcha whipped cream and chocolate.

Crisp Uji Match Chocolate – ¥230 (Before Tax)

A chewy and crunchy base laced with Uji matcha and topped with Uji matcha chocolate and chocolate chips.

Pon de Pie Uji Matcha – ¥200 (Before Tax)

Enjoy both a chewy base and crunchy pie mix at the same time, topped with Uji matcha whipped cream.

Pon de Pie Chocolate – ¥200 (Before Tax)

Enjoy both a chewy base and crunchy pie mix at the same time, decorated with chocolate whipped cream.

The Matcha Odoroki Series sees the chefs' ideas shine through to create desserts that not only taste amazing but look gorgeous too, as well as taking into the account texture.

Information

Matcha Odoroki Series
Serving: May 15, 2020 until Early July 2020
Available: Most Mister Donut branches in Japan
Official Website: https://www.misterdonut.jp

Teeny Tiny Disney Cupcakes to be Baked Up by Ginza Cozy Corner in Japan

Ginza Cozy Corner is introducing nine new Disney "sports festival" themed cupcakes to cake shops through Japan on May 11, 2020.

Cute mini cupcakes with a sports theme

Nine cupcakes make up the collection which feature motifs from popular Mickey Mouse & Friends characters including Mickey, Minnie, Donald, Daisy, and Goofy. One look at the picture below is enough to have you thinking what a waste these nearly seem to eat because of how adorable they are.

Disney Sports Festival Cupcakes (Box of 9) – ¥2,500 / Available: May 11, 2020 – June 21, 2020

The designs take inspiration from different sports like tennis, rugby, skateboarding, and more. All nine come in a box so it's going to be difficult picking which one to start with!

Disney sports design box

Box Line-Up

Top Row From Left
Daisy Duck Rhythmic Gymnastics: Cheese Cream Roll Cake
Mickey & Friends Basketball: Chocolate & Vanilla Cream Roll Cake
Pluto Running: Chocolate Cream Cake

Middle Row From Left
Mickey & Friends Rugby: Sweet Adzuki Bean Paste Cream Matcha Cake
Mickey & Friends Cheerleader: Strawberry Cream Tart
Goofy Soccer: Orange & Chocolate Cream Tart

Bottom Row From Left
Minnie Mouse Tennis: Lemon Cream & Strawberry Cream Tart
Donald Duck Swimming: White Peach & Lychee Cream Shortcake
Mickey Mouse Skateboard: White Chocolate Cream & Raspberry Puree Tart

Top 10 Instagrammable Drinks and Desserts to Try Making While You #StayHome

Japan's biggest social media photo aggregator Snaplace has curated a Top 10 menu list of the most popular drinks and desserts people have been posting on Instagram Japan with the hashtag #おうちカフェ ("Cafe at Home") with which people are making their own tasty treats to bring the cafe experience indoors during the lockdown.

The line-up features coffee, ice cream, cream soda and lots of other delights which have ranked due to how little preparation is needed and how easy the recipes are to follow. Let's take a look.

1sr Place: Dalgona Coffee

Dalgona coffee has taken the internet by storm for its beautiful two-layered appearance. Popular in South Korea, the drink has also garnered much attention in Japan. And you can substitute the coffee part to create a completely different beverage like a matcha, strawberry latte, chocolate, and so on.

How to make Dalgona Coffee: https://www.moshimoshi-nippon.jp/312230

2nd Place: Candy Strawberries

Candy strawberries have taken over candy apples in terms of popularity this year. And you can have fun trying it out with other fruits too while at home during the lockdown like grapes, fruitsーwhichever fruit is your favouriteーand skewer them.

3rd Place: Toast Arrangements

Top your toast with ingredients like fresh cream, Greek yoghurt, cream cheese, sliced cheese, fruits, vegetables, and so on to change up your morning breakfast. There are so many different recipe inspirations for toast arrangements to find on social media.

Related Article: Stay Home: 6 Toast Arrangements to Bring the Cafe Experience to Your Home During the Lockdown

Related Article: Stay Home: 6 More Toast Arrangements to Bring the Cafe Experience to Your Home During the Lockdown

4th Place: Marshmallow Cookies
5th Place: Fruit Sandwiches (Check out recipes here)
6th Place: Cream Soda
7th Place: Eggs Benedict
8th Place: Snoopy Gyoza
9th Place: Candy Marshmallows
10th Place: Deko ("Giant") Ice Cream

Try making your own Instagram-worthy menu at home.

Hello Kitty Inspired Doughnuts Released by Floresta Nature Doughnuts

Healthy doughnut makers Floresta Nature Doughnuts released two doughnuts in collaboration with Hello Kitty on Tuesday which are available to purchase on their website and in-store at select branches.

 

The adorable Hello Kitty and her twin sister Mimmy arrive at Floresta for the very first time. Both doughnuts are great gifts to treat yourself to, for Mother's Day, or to send a friend you can't meet right now due to the lockdown.

 

Hello Kitty Doughnut Collaboration – ¥450 Each (Before Tax)

Both ring doughnuts are topped with freeze dried strawberries and seat the cute Hello Kitty and Mimmy.

Floresta is also selling sets of these doughnuts on their websiteーyou can get four in total, that's two each, in the set.

Select branches are selling these doughnuts, but due to emergency measures many branches are closed or now have reduced opening hours. If you're in Japan and thinking of visiting one of the stores, make sure to check the company's social media and take all necessary precautions when going out.

Information

Hello Kitty Doughnut Collaboration

Released: April 28, 2020

Floresta Online Store: https://floresta-ec.jp

*Available while supplies last

*Online orders are being prioritised

*You can select a delivery time once you have made your order

Stay Home: 5 Simple and Kawaii Drinks to Try Making During the Lockdown

Here at MOSHI MOSHI NIPPON, we post news and information about Japan in six languages. Our aim is to deliver a variety of content related to Japan for those who love and enjoy Japanese culture.

Right now, people across the globe are in self-isolation as a result of the coronavirus pandemic. The same goes for Japan too, so we've taken this opportunity to create a new series on the website to show how we're spending time at home here in Japan. The future is yet uncertain, and we hope for normality to return for all of us soon. We created a new articles series called Stay Home with which we hope to take your mind off the situation, even for just a little bit, to help you feel calmer. It might give you some tips on what you can do while spending time at home.

In this edition of Stay Home, we're taking a look at five simple and kawaii drinks that were featured with the trending Japanese hashtag #おうちカフェ ("Cafe at Home"). Try making one of these drinks yourself to bring the cafe experience into your home.

Related Article: Stay Home: 5 Simple and Delicious Drinks to Try Making During the Lockdown

This is a strawberry version of the dalgona coffee which is hugely popular right now. It's a super simple recipe that you can make in just 3 minutes, so give it a go yourself.

Ingredients
・3 packs of Milmake powder (strawberry flavoured) ・4-5 tbsp fresh cream ・Milk

*If you can't get your hands on Milmake, use another strawberry flavoured powder as a substitute 

Method
1: Add the Milkmake and fresh cream to a bottle.
2: Shake the bottle until the mix becomes thick.
3: Pour the mix over milk, top with a strawberry, and enjoy!

2: Colourful Cream Soda @miki__718

Miki's made a serving of several colour and cute cream soda drinks. This is another easy recipe where she added coloured syrup to soda poured into cute glasses.

Ingredients

・Soda ・MONIN syrup ・Ice cream ・1 strawberry

Method

1: I recommend using MONIN syrup to make your colourful soda.

2: Mix together the soda and MONIN syrup, then add a dollop of ice cream and finish with a strawberry!

3: Strawberry Cream Cider @onew_tc72

Chihiro's beverage is a cream soda with fresh fruit inside. If you're looking for a fruity drink then this one's for you.

Ingredients

・Strawberries ・Vanilla Ice Cream ・Soda ・Thyme (for decorating)

Method

1: Slice the strawberries into small pieces.

2: Add the cut strawberries into the soda and spoon in a large dollop of ice cream.

3: Adorn with the thyme and a whole strawberry and enjoy!

chii's mango soda is made using a homemade jam. The orange drink looks super stylish with the giant ice cube inside. A cool and refreshing pick for those hot days.

Ingredients
・100g mango ・15 sugar ・A squirt of lemon juice ・1 tsp rum

Method
1: Boil all of the ingredients together.
2: Mix in soda and jam.
3: Top with rosemary and drink up.

HITOMI's choice is the popular mikan latte! You can use sliced orange for the topping too if you can't get your hands on mikan.

Ingredients
・200ml milk ・Sugar to taste ・Yoghurt ti taste ・1 mikan ・Sliced mikan (for topping)

Method
1: Blend all of the ingredients together in a blender.
2. Once smooth, add to a cup a finish with a slice of mikan or orange.

Make Authentic Matcha at Home With the New Ippukubox Set

TAKAHASHI KOGEI has launched a new matcha making set called the Ippukubox which comes with everything you need to make authentic Japanese matcha.

For many of us, our time indoors has increased. When taking a break from remote work we head to the kitchen to make ourselves a drink. We've all had those moments when we're torn between making coffee, black tea, herbal tea, and so on. In those undecided moments, why not try making a cup of matcha instead?

The Ippukubox is a 15cm box which comes with all the necessary gear for making mathca: a chawan cup, chasen tea whisk, chashaku teaspoon, and a natsume tea caddy for preserving your matcha.

The inside of the box is lined with Echizen paper from Fukui Prefecture which not only makes it look beautiful, but protects your matcha tools from becoming damaged as a result of rubbing together.

Generally in Japan, when you think about making matcha, the traditional tea ceremony springs to mind which follows strict rules when it comes to making the drink. But the Ippukubox is made for personal use, and so you can add as much or as little matcha or hot water as you like, and practice making it even if you don't know the proper techniques. You can even add hot milk to make a matcha latte and enjoy a tasty treat with it.

The chawan teacup is Echizen ware from Fukui and was made specially for the Ippukubox. Its cute size makes it fit perfectly in the palm of your hand, but it's also spacious enough for using the whisk.

The outside design of the box is also made in such a way that it fits seamlessly into modern living and dining spaces. Each wooden box is handcrafted individually and is layered in a matte coating to protect the wood.

*This chawan teacup is different to the one included in the set

The lid of the box can even be used as a tray as pictured above to fit your drink and snack.

Information

Ippukubox
Release Date: May 15, 2020

Price: ¥13,000 (Before Tax)

Official Website: https://o-takahashikogei.com
*Please note that the Ippukubox does not come with matcha or snacks.

nana's green tea Releases Luxurious Gyokuro Tea Drink and Parfait You Can Take Out

Modern tea hosue nana's green tea has 81 branches across Japan. Alongside café-style food, their specialty is traditional desserts and drinks made from traditional teas such as matcha and hojicha. They are now selling a new parfait and chilled drink made from fresh gyokuro green tea for a limited time.

As the days grow gradually closer to summer, the menu blooms to life with the season's fresh green colours. The desserts at nana's green tea never fail to boast their own unique and unbeatable flavours. The new parfait and drink are made with a generous serving of  gyokuro, which is a fine and luxurious type of green tea recognised by its signature bright green appearance. The rich green tea is sourced from the long-established Kyoto tea-producer YAMAMASA KOYAMAEN.

YAMAMASA KOYAMAEN: Kyoto's Long-Established Uji Matcha Tea Producers

YAMAMASA KOYAMAEN are the owners of a tea plantation in Kyoto's renowned matcha region called Uji. With their passion for selling only the best flavour of tea above all else, they have contributed to the growth of Uji-grown tea since the end of the Edo period.

Gyokuro tea is produced with the same careful attention and care as matcha but with a different procedure. nana's green tea grind the leaves to a fine powder to fully extract its refined essence. From the flavour to the aroma, gyokuro tea provides a completely different experience to matcha. If you love Japanese tea, this is the perfect opportunity for you to explore the wonderful flavours of Uji tea.

Gyokuro Warabimochi Parfait

Gyokuro jelly made from 100% gyokuro Uji tea and white bean paste dusted in gyokuro powder dress this parfait in rich flavours. The warabimochi is also dusted in gyokuro powder to balance its sweetness. The sweetness of the warabimochi and the gentle and refined flavour of gyokuro tea will spread through your mouth. Finally, the parfait is laced in black sugar syrup for a refined accent. 

Gyokuro Jelly Frozen

Gyokuro tea and milk are mixed together to create an aromatic and vivid drink mixture. Chunks of soft gyokuro jelly can be seen at the bottom of the drink. Suck them up through your straw for a refreshing and fun texture. As the process of roasting gyokuro leaves is very difficult, it is a flavour that can be difficult to come across. This is the perfect way to enjoy a refined flavour in a casual way.

You can also order the parfait and drink to take out, making it the perfect luxurious treat to enjoy at home. If you love exploring tea, this is an unmissable opportunity.

Information

nana's green tea

Shop Locator: http://www.nanasgreentea.com/shop/

*Takeout availability varies from shop to shop and may be unavailable in certain regions. Please confirm this with the shop staff.