Mother's Day is a celebration of expressing gratitude to mothers who work so hard every day. The date on which Mother's Day falls differs from country to country, but in Japan it falls on the second Sunday of May; this year it's May 13th.
Have you decided on a present for Mother's Day yet?
Let's take a look at some perfect gifts you can get in Japan for this special day, from confectioneries to flowers.
Flower Miffy
Flower Miffy is a flower shop inspired by the popular picture book series Miffy. The store is introducing some original gift sets just for Mother's Day!
The cute planser can be utilized in many ways – you can even use the pot for bits 'n' bobs and the tray for accessories. The set comes with the classic choice of carnations, and there's another set of pink preserved flowers too. This is a great choice for changing up your flower gift.

RIHGA Royal Hotel – "Mother's Bouquet"
The "Mother's Bouquet" looks just like a florid bunch of flowers, but it's in fact a delicately designed delectable cake. The bottom of the bouquet, which is made of chocolate, contains hidden fresh strawberries. Together with the bite-size "Merci Maman" confectioneries, this special offer is available for Mother's Day only. It might be fun to surprise your mother with this 'bouquet' as a present.

"Petit Bisou" – Decoration Cupcakes
Petit Bisou in Ashiya sells cupcakes and baked sweets. Over on their online shop, they're selling close to 100 different varieties of sweets and desserts. Among them – cupcakes decorated with flowers, a hugely popular gift item with female customers. For Mother's Day, they are also selling cookie sets with "Thank You, Mother" written in Japanese!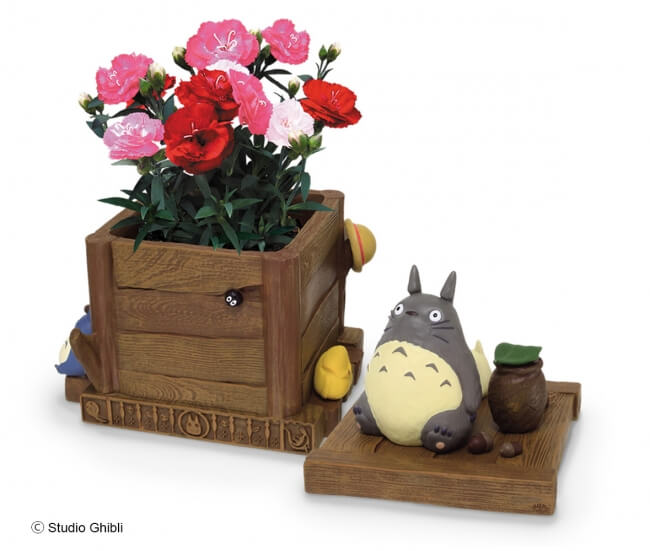 "Donguri Kyowakoku" – Studio Ghibli Character Flower Gifts
Flowers delivered directly to homes is a popular gift every year on Mother's Day, and Donguri Kyowakoku, a store that sells Studio Ghibli character merchandise, are doing just both instore and via their online shop "Sora no Ue." Popular Ghibli characters such as Totoro, Cat Bus, Jiji from Kiki's Delivery Service will be made into cute planters. As well as flower gifts, the store is also selling two different tea sets this year that come with tea and a glass mug.

"PSYCHE&" × "SABON" – Mother's Day Gifts
An arrangement of carnations co-ordinated in natural and gentle colours by PSYCHE& and a rose and lavender hand cream by SABON are being released as a set for Mother's Day. This special gift invigorates through "sight, smell and touch." This sincere gift is great for busy, hardworking mothers.
Be sure to send your mother a wonderful present full of love this Mother's Day.