Japanese Style Beer Garden Takes on the Theme of a Japanese 'Natsumatsuri' Summer Festival
Omiya Rikyu will host a special beer garden event later this year from July through August combining music with lights.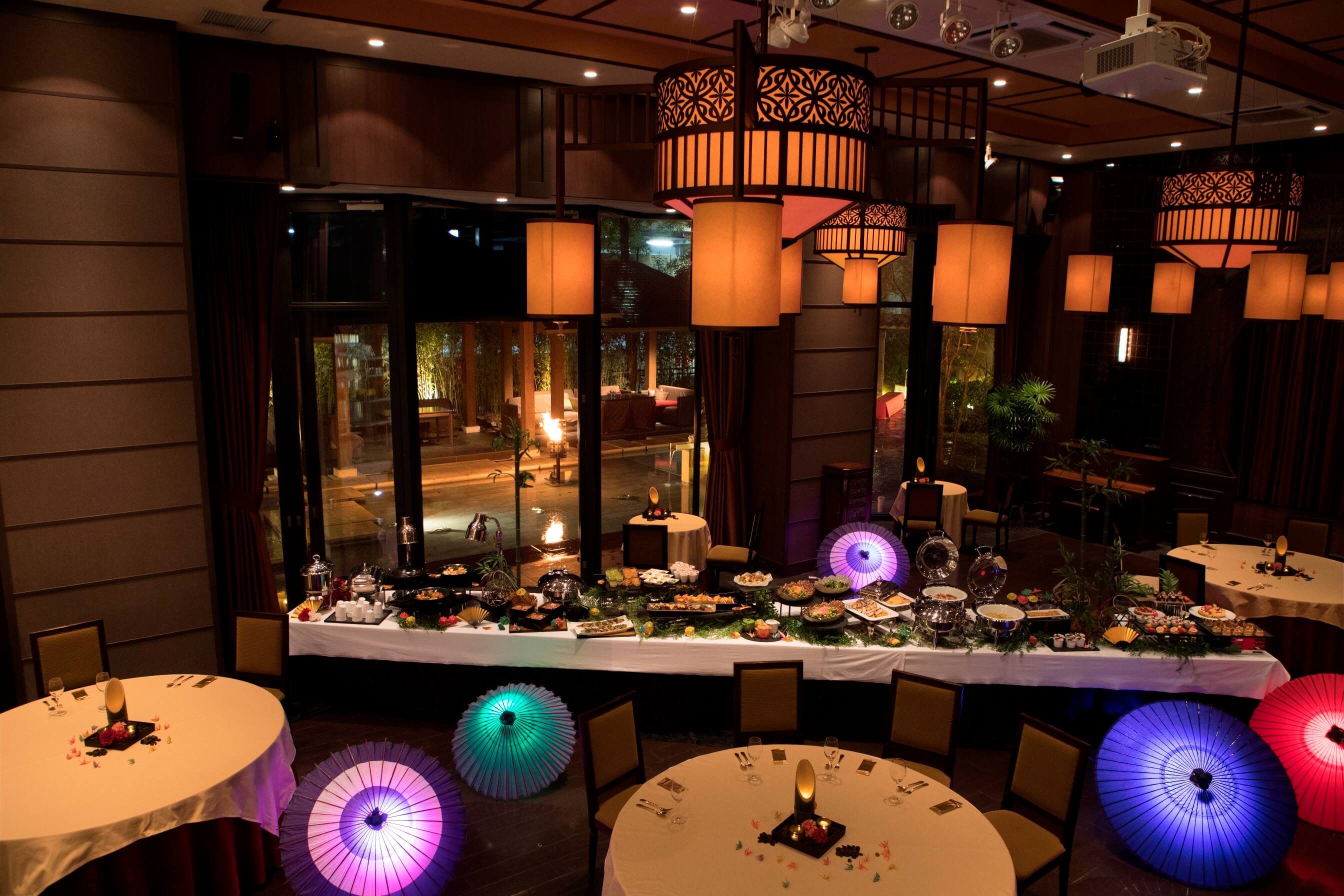 The theme of the event is a 'Japanese summer festival' (Natsumatsuri) and will take place in a traditional Japanese style beer garden. As  you come through the bamboo lantern lit entrance, you will be engulfed by soft light in a wide, open green space.
Ordering the special offer Roast Beef Sushi (1 person 3 pieces) gives you the chance to see the expert chef put on a fiery flambe show. There's also a buffet with a mix of around 20 Japanese and Western foods such as skewered and grilled food, savoury egg custard, sushi wrapped in fried tofu, juicy sausages and more, as well as a line-up of close to 15 drinks served free flow style including beer and Japanese cocktails.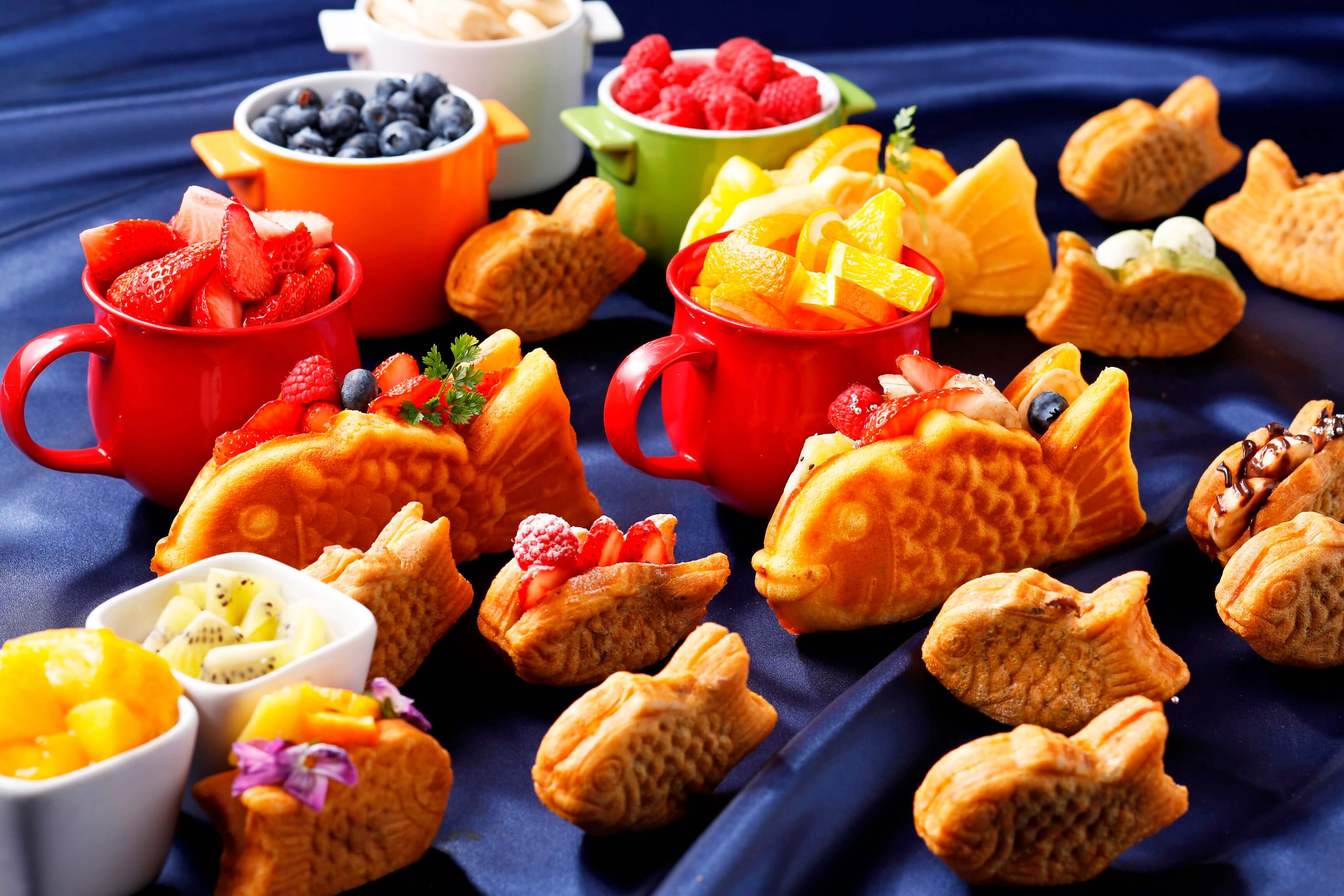 After filling yourself up with a hearty meal, it's time for the dessert buffet. There's summer festival classics like Yakitate Taiyaki, which is available in August and lets you top your fish shaped cake with whatever fruits you like, as well as shaved ice. You can also choose from warabimochi ice cream, mini cakes, colourful cotton candy, and plenty of other Instagrammable delights.
Customers can also get a discount if they arrive in yukata or in a group of 5 or more females. The beer garden will have a great photo spot too, so you can take some stylish pictures together.
Omiya Rikyu comes with plenty of family fun services too. In addition to a children's menu, which is filled with things like karaage, fries and non-alcoholic drinks, there's even going to be a yo-yo fishing and target practice corner on weekends and holidays. Those in elementary school or below will receive sparklers as a gift which they can go out into the garden to play with.
The beer garden can be enjoyed by kids and adults alike. Why not make some memories with the whole family?
■Information
Light & Music Beer Garden (Japanese: 光と音のビアガーデン~彩涼夏舞~)
Running: July 6, 2018―August 31, 2018 (*Reservations to be made 3 days in advance)
Time: 1st Slot 17:00-19:00 / 2nd Slot 19:00-21:00
Price: ¥6,000 (Price includes consumption tax and service charge)
Location: Omiya Rikyu Guest House
Address: 1-816-7 Uetakechō, Kita-ku, Saitama-shi, Saitama Prefecture
Access: 9-minutes walk from Toro Station via the JR Line.
TEL: 048-614-0811
Website: http://www.bestbridal.co.jp/guestparty/saitama/rikyu_omiya/beer-9/
RELATED ENTRIES
Popular Swimming Anime Free! to Hold 10th Anniversary Event at Saitama Super Arena in Summer 2023

The popular anime series Free! will celebrate its 10th anniversary with a special event at Saitama Super Arena on August 13, 2023. Cast members from the series, including Nobunaga Shimazaki, Tatsuhisa Suzuki, Mamoru Miyano, Tsubasa Yonaga, and Daisuke Hirakawa, will be in attendance. Free! -the Final Stroke- The Second Volume will be released on Blu-ray and DVD on April 5, 2023, and will include a priority purchase application ticket for the special event. Check out the official website for details!

 


The Free! anime franchise, which is loosely based on the High Speed! light novels by Kouji Ooji, began in 2013 and includes three TV series and multiple films produced by Kyoto Animation. The three anime series–Free!, Free! Eternal Summer, and Free! Dive to the Future–have been incredibly popular around the world. The first part of Free! The Final Stroke was released in theaters last year, with the second part hitting theaters in April 2022. Fans won't want to miss out on the exciting 10th-anniversary activities in 2023!

©おおじこうじ・京都アニメーション/岩鳶町後援会2021

Information

Free! 10th Anniversary Special Event

Date: August 13, 2023
Venue: Saitama Super Arena (8 Shintoshin, Chuo-ku, Saitama)
Cast: Nobunaga Shimazaki, Tatsuhisa Suzuki, Mamoru Miyano, Tsubasa Yonaga, Daisuke Hirakawa, more

Free! -the Final Stroke- The Second Volume Blu-ray&DVD
Release Date: April 5, 2023
Price: ¥11,000 (Tax Included)
Official Site: http://fs.iwatobi-sc.com/


Fruit-Filled Afternoon Tea Inspired by Japanese Folktale Momotaro Announced

Kawagoe Prince Hotel, located in an Edo-period castle town in northwest Tokyo, will begin offering a special afternoon tea set starting July 1, 2022. Inspired by the Japanese folktale Momotaro, the summer fruit-filled tower of treats will be available until August 31, 2022.

Top Plate

Middle Plate

Bottom Plate

Savory

 

The top plate of the three-tiered set features tasty peach and cheese mousse, peach meringue, macadamia nut chocolate, and Kibi Dango put together to resemble the hero of the story, Momotaro. On the middle tier, visitors will find sweets inspired by the many animals found in the story, from the monkey and dog to the pheasants. Guests can enjoy many summer fruits including mango and kiwi. 

Those who come to the store in a yukata (summer kimono) and follow the official Kawagoe Prince Hotel Instagram will receive a special fruit platter.

Come enjoy the world of Momotaro as you wander around this historical Japanese town!

Ryusenji Temple Offering Gorgeous Paper-Cut Summer Goshuin Shrine Seals with a Wish for Peace

Ryusenji Temple in Saitama is offering some exclusive summer goshuin! Goshuin are stamps or seals given to worshippers at shrines and temples around Japan, where somebody will stamp your goshuin-cho (stamp book) with the site's unique seal along with the temple's name and the day you visited handwritten in ink.

The two new goshuin feature summer fireworks and a cooling fan design. These will be available from June 1 until August. They might sell out, though, so be quick!

Summer Exclusive Paper-Cut Overlaid Goshuin: Fireworks and a Wish for Peace


The Fireworks and a Wish for Peace goshuin use five kinds of paper to depict fireworks in the summer night sky.


Fireworks are a popular summer tradition in Japan. It's said that fireworks were born following the discovery of gunpowder and its use in guns when some decided to use the substance to make something beautiful rather than use it as a weapon. 


Because of this, many see fireworks as a symbol of peace. The current war between Russia and Ukraine has seen gunpowder used as a horrific weapon used to end the lives of many innocent people, and this special goshuin was made in the hopes that the war will come to an end as soon as possible. Gunpowder should be used in fireworks to bring people happiness instead.

Summer Exclusive Paper-Cut Overlaid Goshuin: Refreshing Good Luck Charm

The Refreshing Good Luck Charm shows a traditional Japanese summer scene with a fan and goldfish swimming in clear blue water.

Fans are used by many Japanese to keep cool during the summer months, and some are even said to have the power to ward off illness and evil spirits. Goldfish are often seen during summer festivals, where visitors try to scoop them up using an easily-breakable net in a fun game with family and friends.

 

Goldfish became popular during the Edo period and were considered to be lucky creatures capable of bringing happiness into one's home and bringing financial fortune. 

If you're heading to Saitama, why not add these intricate goshuin to your book?

'Shirokuma Cafe' Collaboration at EJ Anime Hotel Extended

Since January 2022, EJ Anime Hotel, an experimental hotel offering rooms in collaboration with various works of anime, comics, and games, has offered a Shirokuma Cafe room at participating Hotel Monterey locations around Japan. The collab is to celebrate the anime series' 10th anniversary and is also available at Kurumayama Kogen Skypark Hotel in Nagano Prefecture. Due to popularity, the room will be available to book until May 31, 2022. This is the first collaboration room produced by EJ Anime Hotel to be developed for a resort hotel.

Guest Room (Hotel Monterey Sapporo)

Exclusive Take-home Goods – Shironuma Cafe Luncheon Towel

Original Picnic Basket Dinner (Hotel Monterey Only)

Bonus: Original Pin

In the collaboration room, guests can enjoy newly-drawn character panels, special voiceover messages for guests only, and collaboration goods that they can be taken home. Hotel Monterey locations will offer an optional picnic-themed dinner that can be brought to the room!

During the collaboration period, Hotel Monterey Ginza, Hotel Monterey Osaka, and Hotel Monterey La Soeur Osaka will be holding a giveaway event to celebrate the 10th-anniversary of Shirokuma Cafe, so don't miss it!

©ヒガアロハ/しろくまカフェ製作委員会 2012
*Actual products may differ from the above images.


Information

Shorokuma Cafe Collaboration Room produced by EJ Anime Hotel

Participating Hotels:

・Hotel Monterey

Hotel Monterey Sapporo / Sendai / Ginza / Osaka / Kobe
Hotel Monterey La Soeur Osaka / Hotel Monte Hermana Fukuoka

・Kurumayama Kogen Skypark Hotel

Available: April 1 – May 31, 2022

Reservations: 

Hotel Monterey
https://www.hotelmonterey.co.jp/stay/shirokumacafe/
Kurumayama Kogen Skypark Hotel
https://hotel.kurumayama-skypark.com/

Anime Series 'Fushigi Dagashiya Zenitendo' Inspires New Attraction at Seibuen Amusement Park

Seibuen Amusement Park in Saitama Prefecture is ready to open an attraction based on the popular anime and novel series Fushigi Dagashiya Zenitendo! The incredible experience will open on April 27, 2022. 

Fushigi Dagashiya Zenitendo is a children's novel series written by Reiko Hiroshima and illustrated by Jyajya. With 16 volumes currently in circulation, an anime series was adapted by Toei Animation in 2020. The story centers on the mysterious candy shop Zenitendo, which only lucky people can find. The shop's owner is an old woman named Beniko who can recommend the perfect candy for each person's troubles. But things might turn out as hoped if people eat the sweets in the wrong way…whether Beniko's sweets bring fortune or misfortune is up to the people who receive them. 

Guests visiting the park will be able to visit Zenitendo, which is located somewhere on Sunset Hill Shopping Street–but the exact location will not be revealed. Only lucky guests will be able to find its location, but once you do, it will feel as though you've been transported into the story!

Beniko will be handing out mysterious candy that has never appeared at the park before, so don't miss out on this unique experience!

Mysterious Candy 'Possibly Lucky Cookie'

Baku Baku Wafer / Dou-dou Donut

Along with this new attraction, visitors will be able to experience Zenitendo in plenty of other ways! Plenty of merchandise inspired by the series will be on sale, including apparel and sweets.

*The attraction is currently under development. The final product may differ from the above images.

Information

Fushigi Dagashiya Zenitendo: The Real

Opening Date: April 27, 2022

Location: Seibuen Amusement Park, Sunset Hill Shopping Street
Ride Admission: ¥110
*A separate one-day admission ticket is required to enter the amusement park.

Where to Buy: Online, on-site ticket booth

Official Site: https://www.seibu-leisure.co.jp/

Rilakkuma & Sumikko Gurashi Festival to Open at Tokorozawa Sakura Town in Saitama

Popular Rilakkuma and Sumikko Gurashi characters will be taking over Tokorozawa Sakura Town in Saitama from April 16 until May 22 during the Rilakkuma & Sumikko Gurashi Festival! Guests will be greeted by the characters themselves, and will be able to participate in tons of fun activities, photo spots, and more!

The festival will have a full lineup of exclusive merchandise only available at Tokorozawa Sakura Town, from cute and useful items like clear folders to fans to use during the summer heat.

A limited collaboration menu with Kadokawa Shokudou will also be available during the event. The 'Rilakkuma & Sumikko Gurashi Festival Picnic Plate' is full of fun finger foods that are easy for both adults and children to eat and includes a special lunch mat. Guests can also participate in a commemorative photo session with the characters dressed in new costumes!

©2022 San-X Co., Ltd. All Rights Reserved.

Two Capcom Cafe Locations Offer Limited-Time Haikyu!! Collaboration Menu

From January 7 until February 24, 2022, two Capcom Cafe locations will hold a special collaboration event featuring menu items and goods from the popular anime and manga series Haikyu!! The menu items have been announced, and the Capcom Cafe Aeon Lake Town in Saitama and the Capcom Cafe Ikebukuro locations will be posting more information on their official sites, so fans should be sure to check them out!

Collaboration Menu

① Hinata's Tamago Kake Gohan-Style Fruit Daifuku Parfait: ¥1,408 (Tax Included) 

Sprinkle this dish with brown sugar syrup to give it a sweet kick!

② Kageyama's Stamina Up! Indian Curry: ¥1,738 (Tax Included)
This Indian curry with banana chutney and yogurt sauce was inspired by Tobio Kageyama's favorite dish, Poached Egg Curry.

③ Bokuto's Owl Cake: ¥1,738 (Tax Included)
Baked with the image of Koutarou Bokuto in mind, this dome-shaped cheesecake is almost too adorable to eat. 

④ Akaashi's Original Galette: ¥1,738 (Tax Included)

This galette is covered in buckwheat flour dough and goes perfectly with a side salad. 

⑤ Kuroo's Strawberry Coke: ¥880 (Tax Included)
A drink made in Kuroo's image. It was inspired by his school colors!

⑥ Kenma's Pudding Parfait:  ¥1,408 (Tax Included)
Inspired by the character's hair color, this parfait is served with apple pie topping and cat cookies.

⑦ Atsumu's Hot Caramel Cafe Latte: ¥880 (Tax Included)

This piping hot beverage was made with caramel sauce the color of Atsumu's hair.



⑧ Atsumu's Black Sugar Syrup and Black Sesame Seed Iced Latte: ¥880 (Tax Included)

This rich drink is perfect for those wanting something a little stronger!

Menu Order Bonus: 1 Original Placemat

Original Drink Order Bonus Coaster (1 selected randomly, 10 varieties) 

For every ¥3,000 yen spent on the cafe menu (including tax), guests will receive one randomly-selected bromide-style postcard. (13 varieties)

©古舘春一/集英社・「ハイキュー!!」製作委員会・MBS
©CAPCOM CO., LTD. ALL RIGHTS RESERVED.

Pokemon Manhole Cover Project Comes to Saitama for the First Time

On November 5, 2021, Tokorozawa in Saitama prefecture received three Pokemon-themed manhole covers as part of the ongoing Poke Lids project. 

The new installations feature Dragonite, Dratini, Corviknight, Dragonair, and Skarmory. Each cover was designed to highlight Tokorozawa's scenery, and these three are the first to be installed inside Saitama prefecture. 

The Poke Lids project features completely original art, and each serves as a PokeStop in the mobile game Pokemon GO. Many are located in smaller towns and areas, and this has brought more tourism and attention to some of Japan's more charming hidden gems. 

The next time you're in Japan, try to find 'em all!

Poke Lid Locations in Tokorozawa

Dragonite Poke Lid: 1-13 Namiki, Tokorozawa, Saitama

Dratini and Corviknight Poke Lid: 143-3 Matsugo, Tokorozawa, Saitama

Dragonair and Skarmory Poke Lid: 1 Hiyoshicho, Tokorozawa, Saitama

©Pokémon. ©Nintendo/Creatures Inc./GAME FREAK inc.
ポケットモンスター・ポケモン・Pokémonは任天堂・クリーチャーズ・ゲームフリークの登録商標です。

Sengoku Basara Takes Over Capcom Cafe in Saitama for a Limited Time

From November 19 until December 23, 2021, the AEON Lake Town Capcom Cafe in Saitama will be taken over by the Sengoku Basara series!

The main visual for the collaboration shows life-size characters from the series rather than the chibi versions that have appeared at previous Capcom Cafe events. Six famous generals from the Sengoku period are featured: Date Masamune, Sanada Yukimura, Tokugawa Ieyasu, Ishida Mitsunari, Chosokabe Motochika, and Mori Motonari. More details about the menu and merchandise will be released soon, so stay tuned!

© CAPCOM CO., LTD. ALL RIGHTS RESERVED.

Villain-Themed Halloween Sweets Buffet Opens for One Day Only in Saitama

The Omiya ART GRACE Wedding Chateau in Saitama will hold an all-you-can-eat Halloween buffet on October 31, 2021. Guests can enjoy as many villain-themed treats as they like, all prepared and decorated by the skilled on-site wedding patissier.

In addition to sweets–like the sorcerer's macaroon, pirate pudding, and cold-hearted chocolate mint ice cream–guests can also treat themselves to all-you-can-eat savory meals, including pirate's seafood pizza and devil black curry. A photo spot will also be available in the main dining room, which will be entirely decorated for the occasion. This is the perfect event for a girl's night out or for families with children, so be sure to make your reservation now!

Information

Mischievous Villains Dessert Time ~Art Grace of Terror~

Open: October 31, 2021, *Reservations required. 

First Seating: 11:00-12:30   Second Seating: 13:15-14:45

Address: Omiya ART GRACE Wedding Chateau/Guest House (1-816-7 Uetake-cho, Kita-ku, Saitama)

Access: 9-minute walk from JR Toro Station

Phone: 048-614-0811

Reservations: https://www.bestbridal.co.jp/guestparty/saitama/artgrace_chateaux_omiya/2021event-73/

Ace Attorney Celebrates 20th Anniversary with CAPCOM CAFE Collaboration, Releases Main Visual 

Saitama Ion Laketown kaze's CAPCOM CAFE will be holding an Ace Attorney collaboration cafe between October 8 and November 18 to commemorate the series' 20th anniversary.

The never-seen-before main visual is themed around the 20th anniversary and features the Ace Attorney and Great Ace Attorney characters in their fanciest clothes! Look forward to the new collaboration menu and limited goods which will feature the new artwork.


The Great Ace Attorney Chronicles is now on sale.


© CAPCOM CO., LTD. ALL RIGHTS RESERVED.

Information

CAPCOM CAFE x Ace Attorney Series Collaboration

Duration: October 8 ~ November 18, 2021

Location: CAPCOM CAFE Ion Laketown

Address: Ion Laketown Kaze 3F, 4-2-2 Laketown, Koshigaya City, Saitama

Contact: 048-967-5163

Official Site: http://www.capcom.co.jp/amusement/capcomcafe/ 

Kumagaya City, Saitama Bath Cafe Hareniwa no Yu Opens After Rebranding

Cafe BIVOUAC, located in Kumagaya, Saitama Prefecture, will reopen Bath Cafe Hareniwa no Yu on September 18, 21, after a full rebranding.

The space aims to be 'a garden that clears a guest's body and mind.' Visitors can enjoy a full bath and sauna, freshly-picked vegetables at the Haruniwa Dining Room, and a lush green lounge in which to relax and unwind.

The Haruniwa Dining Room, run by The Farm, a resort in Chiba Prefecture, offers healthy dishes filled with fresh local vegetables from Kumagaya with carefully-selected main ingredients.

In addition, a collaboration with fashion brand 'niko and…' will also begin upon reopening, offering the perfect comfy clothes to wear while enjoying the property.  The lineup  includes an original bath bag and sauna hat, each sold exclusively at Hareniwa no Yu.

Information

Bath Cafe Hareniwa no Yu (Cafe BIVOUAC)

Open: September 18, 2021

Address: 939 Kubojima, Kumagaya-shi, Saitama

Phone: 048-533-2614

Official Site: https://ofurocafe-bivouac.com/