LiSA released her first greatest hits albums, LiSA BEST -Day- and LiSA BEST -Way-, simultaneously on May 9. To celebrate, Japan's rock heroine took a full live band with her to Seven Park Ario Kashiwa Smile Park and performed her first ever free live show LiVE in Smilepark Allfree!!
The two albums reached first and second place on the Oricon Daily Album Rankings and also placed top in the digital charts across 16 digital streaming platforms. The albums received overwhelming praise online too, and the fire doesn't seem it will be dying out any time soon.
3,000 fans turned up to LiVE in Smilepark Allfree!! The singer performed a host of hit songs such as Catch the Moment and Rising Hope as well as Believe in ourselves for the very first time which is featured on her greatest hits albums. The entire set-list was formed of 7 tracks. The show was a free live event meaning anybody could turn up to enjoy it. Men and women of all ages stood under the blazing heat of the sun and the bright blue sky to watch LiSA's performance.
At the end of the concert, there was a surprise performance for LiSA from the 3,000 people in the crowd and the band members. As LiSA went to take a photo with the crowd, the band suddenly began playing Catch the Moment, and the 3,000 people gathered at the show all sang the chorus in unison. The surprise was done for everybody to celebrate the release of her first ever greatest hits albums – and a present from the fans and band to LiSA. The sudden event brought her to tears and for her to open up her heart to say, "I really love this sight I'm seeing, everybody singing this song together for me. It made me think once more that there are still so many more sights I want to see with all of you in the future too. I'm honestly so happy that you sang this song for me. Thank you so much."
LiSA's work is not done yet as she is set to embark on her tour LiVE is Smile Always~ASiA TOUR 2018~[eN], beginning with two dates at the Nippon Budokan on June 14 and 15.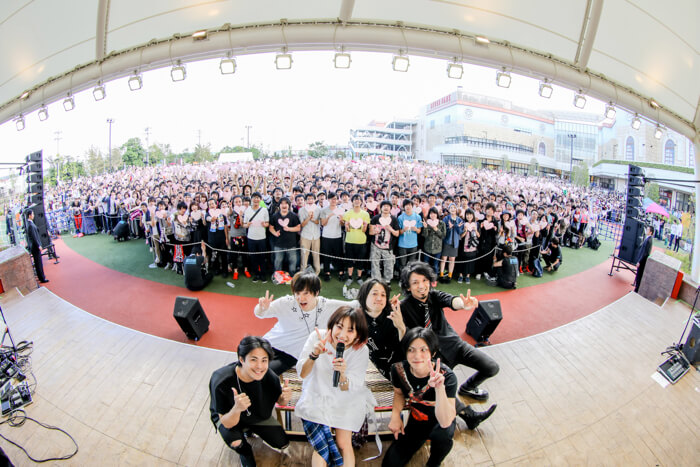 Over on the special website that was set up for her greatest hits album, you can read comments from people to LiSA including from other artists who are friends with her, as well as host of other prominent figures. Fans can also send their own celebratory comments to LiSA on the website.
Be sure to check out the full track-list preview for LiSA BEST -Day-&-Way- too.