Dragon Ball, Naruto & One Piece T-Shirts Arriving to UNIQLO Stores in Japan
UNIQLO is currently developing a 2018 spring and summer collection under it's illustrative t-shirt brand UT themed on 'wearing the things you love.' One part of that collection is taking place in collaboration with Shonen Jump which is celebrating its 50th anniversary this year. The collection is gaining much attention, featuring some of the most memorable characters from their series'.
A line of UT t-shirts will be released on June 11 in the run up to father's day based on the Shonen Jump fathers that defined the 1990s and 2000s.

Jump 50th Graphic T (Dragon Ball・Short Sleeve) – ¥990 (+Tax)
The Dragon Ball t-shirt features a Super Saiyan Vegeta. Vegeta was willing to sacrifice himself to protect his family which revealed to everyone his human side. He displays his stance as a father when he makes his resolve during the fight with Majin Buu, the final antagonist of Dragon Ball. He has his son Trunks escape so he can use all of his power to self-destruct and obliterate Buu. It wouldn't be an exaggeration to say that this famous scene is where Vegeta truly showcases his fatherhood.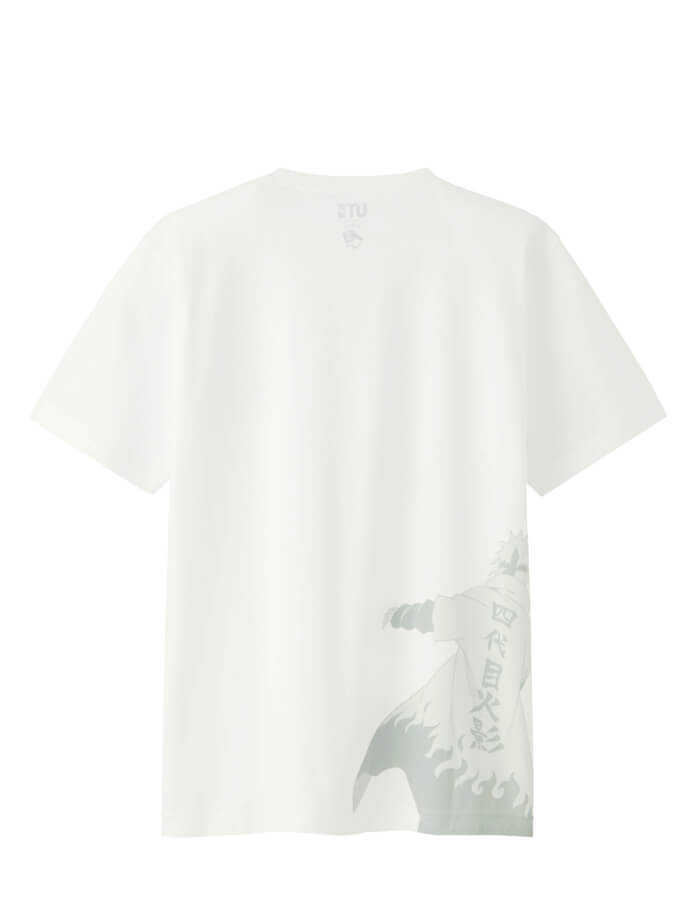 Jump 50th Graphic T (Naruto・Short Sleeve) – ¥990 (+Tax)
©Masashi Kishimoto Scott / SHUEISHA
The Naruto t-shirt displays the symbol of the Leaf Village where the series' protagonist, Naruto Uzumaki, is born and raised. The front is simple bearing just the Leaf Village symbol, a familiar mark from the series crafted onto Naruto's headband that he always wears. On the back we see his father, Minato Namikaze, the Fourth Hokage. Minato, along with Naruto's mother Kushina Uzumaki, sacrificed themselves to save Naurto during the defence from the Nine-Tailed Fox.

Jump 50th Graphic T (One Piece・Short Sleeve) – ¥990 (+Tax)
There are 2 different designs for the One Piece t-shirts. One of them has quote from Edward Newgate, also known as Whitebeard and the captain of the Whitebeard Pirates, who tells Squardo, "Though you're a fool, I still love you, my son." The t-shirt comes in a navy colour and the scene of Whitebeard hugging Squardo when he says the line. The other t-shirt features Zeff, Sanji's cooking mentor and father figure. The t-shirt makes reference to Zeff's former position as captain of the Cook Pirates where he was known as 'Red-Leg.'
Those aren't the only series either – there's also t-shirts based on Hunter×Hunter, Yu Yu Hakusho and more. Relive memorable scenes from your favourite anime series by getting your hands on a t-shirt!
RELATED ENTRIES
Naruto Themed Hotel Room Opens at GRAND CHARIOT Hokutoshichisei 135° in Japan

GRAND CHARIOT Hokutoshichisei 135°, a hotel and glamping facility located in Awaji, Hyogo, opened its new Naruto-themed room on June 1, 2020.

The room, called "Hokage no Bessou" (Hokage's Villa), is renovated from one of the resort's buildings, and aims to plunge guests into the world of ninjas.

The room takes inspiration from the Hidden Leaf Village and its characters, with references to the series and recreated scenes littered throughout. It also offers exclusive amenities for guests to enjoy.

Guests who stay in the Naruto room will receive a free ticket to the popular "Naruto & Boruto Shinobi Zato" attraction at the anime theme park Nijigen no Mori on Awaji Island where the hotel is located.

ⒸMasashi Kishimoto Scott / Shuiehsa・TV Tokyo・Pierrot

Information

Naruto Collaboration Room "Hokage no Bessou"

Grand Opening: June 1, 2020

Time: Check In 15:00-18:30 / Check Out 11:00

Capacity: 5 people

Price: From ¥93,000 (Before Tax/Service Charge Charged Separately)

Official Website: https://awaji-grandchariot.com/

One Piece Clothing Collection to Drop in Collaboration With Italian Sportswear Brand Kappa

Italian sports brand Kappa is teaming up with the internationally-celebrated manga series One Piece to release a new clothing collection in Japan on March 19, 2020.

Inspired by the One Piece story, the collection includes two hoodies and four T-shirts. The series's popular characters, including the protagonist Luffy, will feature with original illustrations, such as the Kappa brand's "Omini" logo which features a man and woman sat back-to-back.

The collection will be sold at Kappa's directly-managed stores, including PHENIX CREATIVE SELECT STORE in Harajuku, as well as at their official online store and ONE PIECE Mugiwara stores across Japan.

OMINI LOGO HOODIE  (Luffy x Shanks): ¥8,500 (Before Tax) / Colours: White, Black, Red

OMINI LOGO HOODIE  (Luffy x Ace): ¥8,900 (Before Tax) / Colours: White, Black, Red

OMINI LOGO TEE (Luffy x Zoro): ¥5,400 (Before Tax) / Colours: White, Black, Green

OMINI LOGO TEE (Luffy x Nami): ¥5,400 (Before Tax) / Colours: White, Black, Orange

OMINI LOGO TEE (Luffy x Sanji): ¥5,400 (Before Tax) / Colours: White, Black, Yellow

Original tag for each item

The line-up is a must-have for any One Piece fans wishing to express their love for their favourite series outdoors.

Information

Kappa x ONE PIECE 

Release Date: March 19, 2020

Sold at:

PENIX CREATIVE SELECT STORE

Kappa Marui Kinshicho
LA STRADA KAPPA AEON LakeTown
Kappa Kanazawa Forus
Kappa Nagoya PARCO
Kappa Hiroshima PARCO
Kappa Sapporo Factory
Kappa Daimaru Umeda
Phenix Online Store (https://www.phenix.co.jp/kappa/)
ONE PIECE Mugiwara Store Shibuya
ONE PIECE Mugiwara Store Ikebukuro
ONE PIECE Mugiwara Store Osaka
ONE PIECE Mugiwara Store Nagoya
ONE PIECE Mugiwara Store Fukuoka

More Details: https://www.phenix.co.jp/kappa/features/2610/

One Piece Goshuin Shrine Stamp Books Get Luffy and Trafalgar Law Designs

Movic has collaborated to release two special goshuincho books at Animate stores in Japan as well as the Animate and Movic online stores and select Mugiwara shops.

A Goshuincho is a book for collecting goshuin, which are stamps or seals given at shrines and temples across Japan. Every shrine and temple has its own unique goshuin which are stamped alongside calligraphy handwritten by the staff there and then who write the date and the name of the temple or shrine. We have covered goshuin here on MOSHI MOSHI NIPPON many times – click for more details.

Goshuincho – Luffy

Goshuincho – Trafalgar Law

The designs feature Luffy and Trafalgar Law made from gold leaf stood against backgrounds with traditional Japanese designs. Both books also feature their respective pirate logos. They are the perfect gift for any fan of One Piece heading to Japan to see the temples and shrinesーor to just add to their collection at home!


The order window for these books will run from March 16, 2020 to April 15, 2020 at Animate, Animate online, Movic online, at select Mugiwara storesーthe latter being the official One Piece merchandise shop. You won't be able to order them after April 15, so be sure to get your order in quick.

*Photos are of the product still in development. Actual product is subject to alterations.

*Product sales subject to change, extensions, or cancellations.

©Eiichiro Oda / Shueisha・Fuji TV・Toei Animation

Information

Goshuincho (2 Designs)
Price: ¥3,300 each (Tax Included)
Size: Approx. 16cm x 11cm
Product: Front Cover – Cloth with gold leaf / Inside: 24 folds
Order Window: March 16, 2020 – April 15, 2020

Release Date: June 19, 2020

Order here: https://www.movic.jp

Animate's Shonen Jump Fair 2020: My Hero Academia, Demon Slayer, One Piece & More

The series of Shonen Jump are set to fall on the Japanese anime merchandise chain Animate as "Jump Fair in Animate 2020" begins on March 19 and will run until April 12.

Fans can expect exclusive merchandise from various Shonen Jump series, as well as original bonus items when they purchase items from Animate stores across Japan. More on these below.

Bonus Items – Batch ①: Jump Fair Selection (Select Items)

Those who purchase or pre-order any piece of designated merchandise at Jump Fair in Animate will receive one of the pictured cards or other item. You can also get your hands on some of the original Shonen Jump items sold at Jump Festa last year, a popular Shonen Jump festival held every year.

The bonus items will be split into two batches sold at different dates and comprised of 58 items in total. Batch 1 items will drop from March 19 to April 2 and will include merchandise from My Hero Academia, The Promised Neverlandーfor which a live-action film has been green-litーand more. Batch 2 will available commencing April 3 and will include series like One Piece, Demon Slayer: Kimetsu no Yaiba, and more.

If you're a Shonen Jump fan, and are headed to Japan this spring, then don't miss out on Animate's Shonen Jump fair.

©SHUEISHA Inc. All rights reserved.

Tokyo Tower's One Piece Themed Live Show "MARIONETTE" Returns For 2020

Tokyo Tower's indoor theme park "Tokyo One Piece Tower" is set to bring back its popular live show "MARIONETTE" in an all-new form when it opens this month on March 18.

What is Tokyo One Piece Tower?
Tokyo One Piece Tower is an indoor theme park located at Tokyo Tower Foot Town, an entertainment facility nestled under Tokyo Tower, where visitors can join the Luffy, the Straw Hat Pirates, and other characters from the titular hit series. It's home to a range of exciting attractions and thrilling live shows, and guests can even get a photo with the characters. There's also a restaurant and cafe which serves One Piece themed food and drink, and you can of course pick up some exclusive merchandise from the park's One Piece store too.

ONE PIECE LIVE ATTRACTION "MARIONETTE"

ONE PIECE LIVE ATTRACTION "MARIONETTE," as it is officially named, is a live entertainment show which makes full use of projection mapping and and lighting tech to take spectators on a journey with Luffy and his fellow pirates. The website describes the plot as follows: "The biggest pinch in the history of the series comes to Luffy by the evil scientist Caesar's development of a venomous gas. In addition to the Straw Hat Pirates, the fierce battle scenes, in which the Revolutionary Sabo and another enemy Charlotte Cracker sing in a complex mix, are a moment to keep an eye on. What was Luffy's decision when he faced his friends who were manipulated?"


Experience One Piece like never before during your visit to Japan's capital at Tokyo One Piece Tower.

*Please note that due to the ongoing situation surrounding the Coronavirus (COVID-19) in Japan, Tokyo One Piece Tower will be temporarily closed from February 28, 2020 to March 17, 2020. Please be aware that this date is subject to change depending on the subsequent state of the virus. You can get the latest information from Tokyo One Piece Tower's official website and social media pages.

Information

ONE PIECE LIVE ATTRACTION – "MARIONETTE"

Address: Tokyo Tower Foot Town, 4-2-8 Shibakoen, Minato Ward, Tokyo

Opening Hours: 10:00-22:00 (Last Entries 21:00)

*Closed February 28, 2020 – March 17, 2020

Official Website: https://onepiecetower.tokyo/ticket/

Dragon Ball Z Desk Tool Collection Releasing in Collaboration With DyDo Drinks

To celebrate the release of their two new drinks, DyDo DRINCO, Inc. is collaborating with Dragon Ball Z to release a unique collection of convenient tools for computer desks. They will be released together with the drinks in limited quantities from March 9, 2020 at convenience stores and volume sellers across Japan.

*Pete Licata, 14th World Barista Championship Champion

①Super Saiyan Goku – Card Stand / ②Great Ape Vegeta – Cotton Swab Holder / ③4th Form Frieza – Eye Drop Stand / ④Raditz – Pen Stand / ⑤Captain Ginyu – Mechanical Pen Refill Stand / ⑥1st Form Cell – Clip Holder / ⑦Majin Buu – Phone Stand

Seven different tools will be sold, each a model of popular characters from Dragon Ball Z. They not only decorate your desk space, but also tidy it up and make things more convenient.

These are the perfect gift to all Dragon Ball Z fans as well as anime fans who like to nerd-up their desks!

©Bird Studio/Shueisha・Toei Animation


Information

Information

Dragon Ball Z Desktop Tool Collection

Release Date: March 9, 2020 (While supplies last)

Target Products:

①DyDo Blend Low Sugar Sekaiichi no Barista Kanshu (260ml) – ¥130 (Before Tax)

②DyDo Blend Black Sekaiichi no Barista Kanshu (275ml) – ¥124 (Before Tax)

Available: At convenience stores and volume sellers in Japan

One Piece's Luffy, Ace and Whitebeard Appear in Anime's Final Commercial Collaboration With Nissin Cup Noodles

Instant noodle brand Nissin Foods released their final animated commercial in collaboration with the One Piece anime series on February 7. The commercial is part of the company's "HUNGRY DAYS" series of ads.

The commercial comes as the sequel to their first collaboration with the anime series which featured the character Zoro back in May. The video gained huge attention across social media with a combined view count of over 22 million views across Twitter, Facebook and YouTube, making it Nissin's most watched online video. Together with the trailer announcing the start of the series and the second collaboration, the series as a whole has amassed over 44 million views across their social media platforms.

In the final video, which translates to "Cavalry Battle," we see a shift in one from all the commercials up to now. It portrays the original story's Battle of Marineford as a massive, heated cavalry battle as seen in the series' sports episodes.

Keep an eye out for a number of different characters, such as Luffy, Ace, Whitebeard, Blackbeard, and more. The characters are voiced by the original cast, and there is also narration by popular Japanese voice actress Megumi Hayashibara who voices Rebecca in the One Piece anime. The character design is by Eisaku Kubonouchi, and the music used to portray the hot-blooded battle is Maximum the Hormone's song Hungry Pride.

See the epic conclusion to this series below.

Information

HUNGRY DAYS One Piece Cavalry Battle (Japanese Title: ワンピース頂上騎馬戦篇)

Released: February 7, 2020 (Airing in Japan until May 16, 2020)

Nissin Brand Website: https://www.cupnoodle.jp/

One Piece's Vivi Appears in Anime's Third Commercial Collaboration With Nissin Cup Noodles

Instant noodle brand Nissin Foods just dropped the third animated commercial in collaboration with the One Piece anime series on December 6. The commercial is part of the company's "HUNGRY DAYS" series of ads.

The commercial comes as the sequel to their first collaboration with the anime series which featured the character Zoro back in May. The video gained huge attention across social media with a combined view count of over 22 million views across Twitter, Facebook and YouTube, making it Nissin's most watched online video. Together with the trailer announcing the start of the series and the second collaboration, the series as a whole has amassed over 35 million views.

The new commercial sees Vivi taking the spotlight. Like the previous commercials, it re-imagines the characters as ordinary high school students. This edition sees Vivi announcing to the rest of the characters that she is transferring schools, and we see just how much she cherishes them as friends.

The video features over 50 characters in various scenes.

The video even features actual voice actors from the anime series reprising their roles for the commercial, including Misa Watanabe who voices Vivi, Mayumi Tanaka (Luffy), Akemi Okamura (Nami), Masako Nozawa (Doctor Kureha), and others. The character designs were designed by Eisaku Kubonouchi and the music is by BUMP OF CHICKEN.

We look forward to seeing who will play the main role of the next commercial. Stay tuned for the next edition.

miwa's Boruto Anime Opening Theme 'Teenage Dream' Music Video Released

The short version of miwa's music video for her new song has been released. Entitled Teenage Dream, the song serves as the new opening theme for the ongoing TV anime series Boruto: Naruto Next Generations.

As the song title suggests, Teenage Dream touches on teenage-hood with its positive forward-facing outlook. Written specifically for Boruto, the melodic rock track features lead guitar from former Megadeth guitarist Marty Friedman.

miwa – "Teenage Dream" Music Video (Short Ver.)

The video was directed by Matajiro Kazeno who also worked on the music video for miwa's song about a broken heart Yozora feat. hazzie. It stars 16-year-old up-and-coming actress Nanoka Hara and was shot in Fukushi, which looks out onto the Seto Inland Sea, and Takehara, two cities in in Hiroshima Prefecture.

The staff acquired cooperation from the locals to shoot in the beautiful location. The video's theme touches on the bittersweet-ness of youth and dreams. At the video's climax, we see a live scene shot at Mirokunosato, a theme park in the foothills of Fujiecho. The winter illuminations of the park are an annual celebration, and were set up for the shooting of the video. Nanoka Hara plays the part of miwa and captures the time when miwa had her long hair when she debuted. miwa herself doesn't actually appear in the video.

Teenage Dream is part of the upcoming double A-side single Storyteller/Teenage Dream which is set to hit shelves on December 25, 2019. First press copies are coupled with a DVD featuring the music video, as well as a bonus live track. The single is now available on major music download and streaming services ahead of the physical CD's release.

Speaking about the music video, director Matajiro Kazeno commented: "The dreams and straight-forward emotions of your teens are about moving forward while wrapped in friendships and love and experiencing both happy and sad things. That's the kind of music video we made, which was shot at Mirokunosato in Tadanoumicho at the Seto Inland Sea of Hiroshima Prefecture. Please enjoy Nanoka Hara's refreshing and lively acting, which is like the rolling winds, together with miwa's singing."

FlowBack to Perform the Next Boruto: Naruto Next Generations Anime Ending Theme

It has been revealed that FlowBack has been put in charge of the ending theme song for the January season of Boruto: Naruto Next Generations.

So far Boruto's themes songs have been created by artists such as Little Glee Monster and miwa. FlowBack's new song has not been released yet; in fact, they've only just revealed the name of the song to be "Fireworks". More information about the song will be released over time.  The new season of BORUTO with Fireworks as its ending theme will be aired from January 12. 

FlowBack will also release a mini concept album called "WINTER TRIP" on Christmas day this year and hold album release commemoration events all over Japan to celebrate. They will even hold a small live performance which is free to attend and a special meeting event. 

A Statement by FlowBack:

We've been watching Naruto since we were children. Seeing Naruto never give up and hearing the anime's theme songs written by other bands has been our source of strength to make this song. Even now as adults, seeing BORUTO never throw away his strong will is a constant reminder to us. Like Boruto, we at FlowBack promise ourselves to shape our own lives with our own hands. We want our song to also become one that stays with people forever, so we're going to deliver it to the world with everything we've got.

Information

Mini Concept Album: WINTER TRIP:

Release in Stores across Japan: December 25, 2019

■ First-Run Limited Edition Version A(CD+PHOTO BOOK)

KSCL- 3230~3231 ¥3,273 + Tax

■First-Run Limited Edition Version B(CD+Blu-ray)

KSCL-3232~3233 ¥3,273 + Tax

■ Regular Edition Version (CD Only)

KSCL-3234 ¥1,727 + Tax

More information on WINTER TRIP album release commemoration events can be found on FlowBack's Official Website: http://www.flowback05.com  (Japanese Only)

One Piece x New Era® Collaborate On Limited Edition Rucksacks

Headwear and apparel brand New Era® is collaborating with the internationally-beloved hit anime series One Piece, which turned 20-years-old on Sunday (October 20), to release a stylish new rucksack from the PREMICO webstore.

The rucksack takes inspiration from the Straw Hat Pirates and fuses it with New Era's iconic street fashion style.

The bag's outer pocket features delicate embroidery of the crew's skull logo as well the name "STRAW HAT" in all-caps.

The interior design of the rucksack features a print of an old-fashioned map and bears a cushioned pocket with plenty of room for stashing your tablet, notebook laptop or other items.

There's also a side pocket for carrying a bottle. The charm dangling from the outside pocket features a ship anchor for that extra pirate aesthetic.

The bag comes in a black colour with a standard unisex silhouette, meaning it can easily be incorporates in a wide variety of styles.

Each bag also comes with a cap clip with the One Piece logo on one side and the New Era logo on the other.

This is a limited edition rucksack with only 2,000 being made, making this a must-grab for all fans!

©️Eiichiro Oda / Shueisha・Fuji TV・Toei Animation

Information

NEW ERA x ONE PIECE Official Rucksack Collaboration

Release Date: October 21, 2019

Delivery: Mid January 2020

Price: ¥19,800 (Does not include tax or shipping fee)

Quantity: 2000

Official Website: https://iei.jp/op48pr/

Dragon Ball T-Shirts Designed by Collage Artist Kosuke Kawamura Releasing at UNIQLO

UNIQLO's graphic t-shirt brand UT is collaborating with Dragon Ball Z once more to release a new line of t-shirts designed by Japanese collage artist Kosuke Kawamura. The clothing items will be released in late November.

The line-up features men's and kid's t-shirts and sweaters.

Men's T-Shirts

★

★

The collection features a line-up of 28 t-shirts and sweaters in both men's and kid's sizes.

Men's Sweaters

★

Designs feature Kawamura's iconic collage style, with character illustrations, names, the title logo, Goku's famous Kamehameha, and more.

Kid's T-Shirts

The collection also features two UT originals not designed by Kawamura, with illustrations of Goten and Trunks.

Kid's Sweaters

If you're a fan of the DBZ universe then you won't want to miss out on this latest collection from UT. Check out the full collection here.

*Items marked with ★ are those designed by Kosuke Kawamura

©️@Bird Studio/Shueisha, Toei Animation

©️BIRD STUDIO/SHUEISHA ©️2018 DRAGON BALL SUPER the Movie Production Committee

©︎Kosuke Kawamura

Information

Dragon Ball UT

Release Date: Late November 2019 (subject to change)

Men's T-Shirts (12 Designs) – ¥1,500 (Before Tax)

Men's Sweaters (6 Designs) – ¥2,900 (Before Tax)

Kid's T-Shirts (6 Designs) – ¥990 (Before Tax)

Kid's Sweaters (4 Designs) – ¥1,500 (Before Tax)

Available: At UNIQLO Japan stores and online site

*Select items available at select stores and online onl

Full Collection: https://www.uniqlo.com/jp/store/feature/uq/ut/dragonball/