i+Land Nagasaki: The New Entertainment Resort Opening on Iojima in Nagasaki
i+Land Nagasaki is a new entertainment resort that will host its grand opening on July 18.
A former leisure facility, the establishment underwent a huge renewal and changed its name to i+Land Nagasaki on April 1, 2018. The new resort will host a huge line-up of activities including Island Lumina, which hails as Japan's first interactive and immersive night walk, as well as yoga, SUP yoga, sea kayaking, and more. Select parts of the resort's accommodation and restaurants have been revamped too.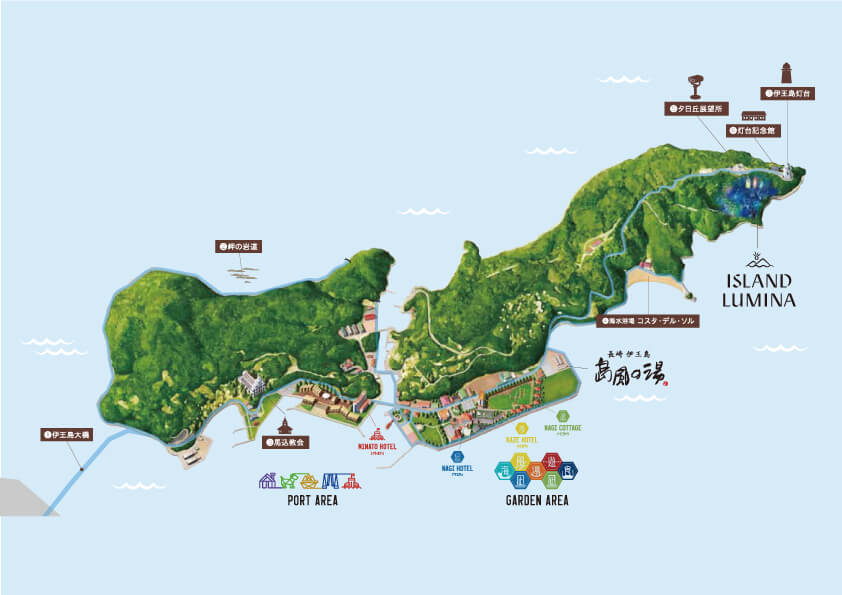 Iojima is an easy location to being just 30 minutes by car from the city of Nagasaki (or 20 minutes from Nagasaki Port via boat).
i+Land Nagasaki covers a wide area and faces the sea. It's split into four areas: the Port Area, Garden Area, Shimakaze Area and Lumina Area.
In the run up to the grand opening, the new seaside BBQ facility will open in the garden area on July 1 smack bang in the middle of the island and facing the sea. Food and amenities will already be prepared for guests so you can turn up empty-handed. There's even outdoor tents meaning you can enjoy yourself even if it rains.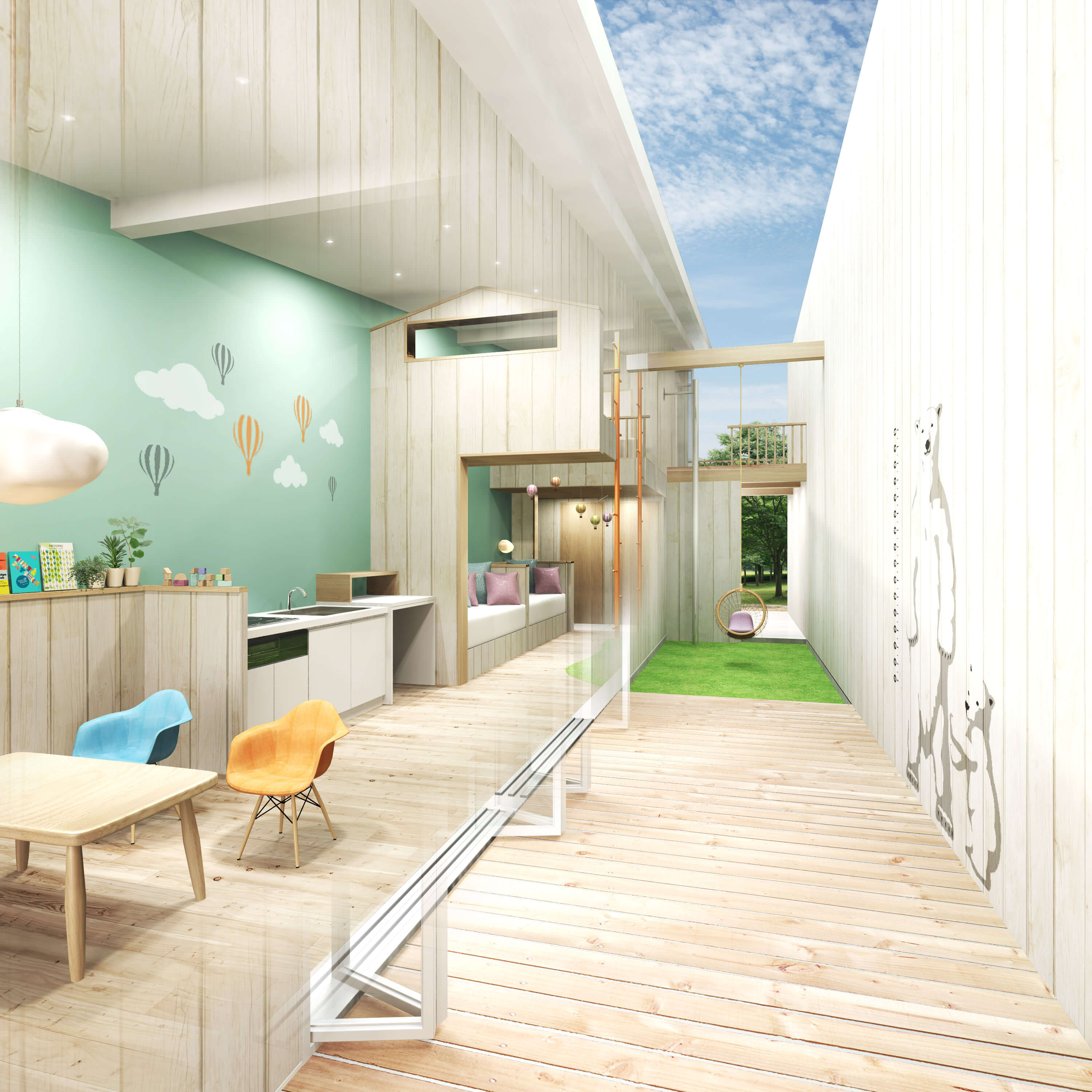 As well as each area having their own accommodation facilities, there's also a restaurant, hot springs, a kid's play area and more, all of which can be used by non-guests of the resort too. An array of activities are also scheduled to take place around the resort.
The huge recommendation at i+Land Nagasaki is Island Lumina which opened on April as Japan's first ever experienced-based multimedia night walk. You'll be transported into a mystical and romantic world that will pleasure all five of your senses.
Island Lumina was created by Moment Factory, a world-leading digital art group from Canada. It uses cutting-edge technology that combines light and music in a twilight forest environment. Those who enter the forest will be absorbed into an immersive story of a girl looking for a magical jewel.
You can take part in a bicycle excursion tour of Iojima―which stretches across 2.26km² of the island―that'll around 1 hour. There's also optional tours to go and see Hashima Island, now an abandoned island and World Heritage site, as well as Oura Church, another World Heritage Site, and more.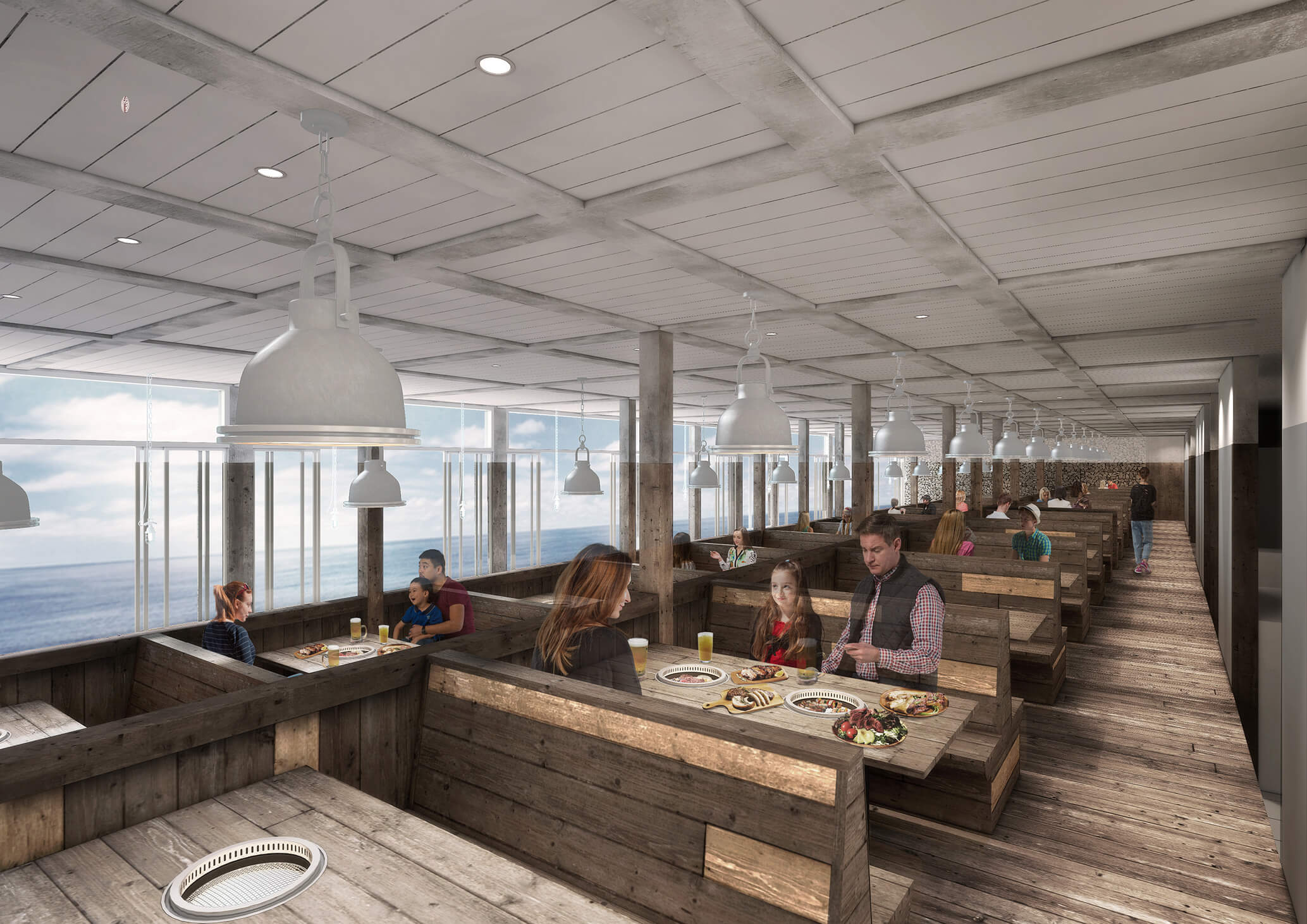 Take a strip to the new i+Land Nagasaki this summer and immerse yourself in nature.
■Information
i+Land Nagasaki
Address: 1-3277-7 Iojimamachi, Nagasaki-shi, Nagasaki PrefectureGrand Opening: July 18, 2018Price: From ¥13,800 (Pre-Tax) – Includes 1 night and 2 meals for up to 2 people
TEL: 095-898-2202
Official Website:
https://www.islandnagasaki.jp/
Seaside BBQ
Times: Lunch 11am-3:30pm (Last Orders 2:30pm) / Dinner 5pm-9:30pm (Last Orders 9pm)
Price:
Lunch – Adults ¥2,800, Children ¥1,200, Toddlers (4-6 years) ¥300
Dinner – Adults ¥3,800, Children ¥1,200, Toddlers (4-6 years) ¥300
Area: i+Land Nagasaki Garden Area
Seats: 340
Island Lumina
Time: Sunset-11pm (Last Entries 10:30pm) *Time will change depending on the season
Price: Adults ¥2,400, Middle Schoolers to High Schoolers ¥1,800, Children (4-years to Elementary School) ¥1,500
*Free for those aged 3 and below.
Official Website: https://www.islandlumina.jp/
RELATED ENTRIES
Fall Into Autumn With an Enchanting Boat Ride Through Arashiyama in Kyoto

HOSHINOYA Kyoto has announced a special new serving for one group a day that lets them bask in the autumn colours of Arashiyama. The service, entitled "Asa no Momiji Bune" (Morning Autumn Colours Boat), will run from November 20 to December 6 this year.

A cosy autumn morning boat ride all to yourself

Sail down the tranquil Oi River, which runs right beside HOSHINOYA Kyoto, and bask in the surrounding sights of Arashiyama and Ogurayama as they burn aflame with autumnal colours. Wrapped in reds and yellows in every direction, this morning experience is a rare opportunity witness Japan's fall season like never before as you gaze at the crisp leaves of the trees and their reflection from the water's surface.

Sweet wagashi treats just for you

While on the boat, guests are treated to a cup of matcha and some seasonal Japanese wagashi confections, like hard candies shaped like HOSHINOYA Kyoto's logo and other colourful sweets made to look like maple leaves, ginkgo leaves, and more. These confections are made exclusively for the boat ride by Kameya Yoshinaga, a Japanese sweets shop that has been around since 1803, while the matcha is provided by Rishouen Chasho, a tea shop in Uji, Kyoto who have picked out specially selected leaves just for HOSHINOYA Kyoto.

The roofed Kingfisher boat

The boat guests will ride is owned by HOSHINOYA Kyoto and is called "Hisui" (Kingfisher). A switch can change the rooftop colour from white to transparent so you can look up and see the gorgeous blue sky.

If you're in Japan this autumn, and still need to find a hotel, why not treat yourself to a luxurious morning boat ride at HOSHINOYA Kyoto?

Information

Asa no Momiji Bune / 朝のもみじ舟 (Morning Autumn Colours Boat)
Running: November 20, 2020 – December 5, 2020

Time: 8:30-9:10

Boarding/Return: HOSHINOYA Kyoto

Price: ¥31,000 per group (tax, service charge, and hotel fee not included in price)

Includes: Boat ride, Japanese confections, matcha

Participation: Exclusive to HOSHINOYA Kyoto guests

Capacity: 1 group of 1-4 people per day

Reservations Required: Book at https://hoshinoya.com/kyoto/

Note: The boat ride will be cancelled during stormy weather

Premium Hotel MGallery to Open New Kyoto Yura Hotel Nijo Castle This November

MGallery, a collection of over 5,000 luxury boutique hotels in 110 countries worldwide, landed in Japan for the first time last year with the opening of the 5-star KYOTO YURA HOTEL MGallery in Kyoto. Now, the brand has announced the opening of the new "Kyoto Yura Hotel Nijo Castle MGallery" (Kyoto Yura Hotel Nijo-jo Bettei) which will open on November 28, 2020.

Situated just a short 1-minute stroll from Njio Castle Station, this small, 25 room hotel, aims to offer luxury at the highest level.

Kyoto Yura Hotel Nijo Castle MGallery was designed by Yukio Hashimoto, who has worked on countless hotels and facilities around the world. The hotel lobby and all guest rooms face a gorgeous Japanese-style garden where guests can enjoy its beautiful sights through all four seasons.

The hotel takes inspiration from Nijo Castle, a structure which has seen both the end of the shogun as well as the start of modern Japan. As you enter the hotel, from the front door through and through the main entrance, guests will find themselves in their own private domain before they reach the breathtaking Japanese garden in front of them. All 25 of the guest rooms are crafted with high quality, sophisticated interiors.

On the first floor of the hotel, guests will find a restaurant and bar. The restaurant cooks up creative French dishes made delicately with seasonal ingredients while the bar serves up MGallery's iconic "mixology" cocktails.

Kyoto Yura Hotel Nijo Castle MGallery also offers a range of activities which can't be experienced anywhere else, including private trips to local shrines and temples that the hotel has connections with.

Information

Kyoto Yura Hotel Nijo Castle MGallery (Japanese: 京都悠洛ホテル⼆条城別邸)

Grand Opening: November 28, 2020

Address: 180 Ichinochō, Nakagyō-ku, Kyoto

Hotel New Otani Osaka released introduced its new "NIGHT POOL & RESTAURANT PLAN ~SWEET or BITTER~" plan on July 18 which is set to run until September 13. The plan is a set that combines the hotel's night pool with a dining experience at its restaurant.

The pool, named "The Water Terrace," remains open into the night every summer at Hotel New Otani Osaka and has done so since 2015. This year, the number of people allowed in the pool is being limited as part of measures against the spread of the COVID-19 pandemic.

SWEET PLAN: Tuck into specially-made pancakes

Hotel New Otani Osaka's all-day dining restaurant "SATSUKI" are serving up their famous fluffy pancakes for the "SWEET PLAN." These fluffy delights are served with ricotta and are made with cascara powder, which is known as a superfood. Enjoy a 'sweet' night with a serving of pancakes and a dip in the night pool.

BITTER PLAN: Grown-up nighttime fun

For the "BITTER PLAN," guests can head up to the rooftop sky lounge where they can order a drink from the bar, whether it be one of the 18 different kinds of beers, cocktails, high-balls, and more. They also serve food like roast pork and appetisers. Gaze out across and spot Osaka Castle sat beneath the starry night sky as you enjoy your meal.

The hotel's poolside restaurant "LAGOON" will be joining the fun too, serving soy meat burgers, a soy chocolate parfait that can be shared amongst friends, and more.

Information

NIGHT POOL & RESTAURANT PLAN ~SWEET or BITTER~
Running: July 18, 2020 – September 13, 2020
SWEET PLAN: 14:00~18:00
BITTER PLAN: 17:00~23:00
Price: ¥7,000
Enquiries: 06-6949-3229 (Direct to restaurant)

Official Website: https://www.newotani.co.jp/group/pools/osaka/

Shibuya's New Hotel sequence MIYASHITA PARK Connects the People to the City

sequence MIYASHITA PARK is a new mixed-use hotel set to open inside MIYASHITA PARK on August 1, 2020.

sequence's concept is to connect the people with the city. It offers a space for everyone whether they want a quiet time alone, whether they are sightseeing, having a work-do, celebrating a party or festival, and more. This is centred around the hotel's three notions: "SMART," "OPEN," and "CULTURE."

The hotel is inspired by the local concept of "PARK MIND" which offers guests a place to relax after a long, busy day, like in a park. It has collaborated with Tokyo-based designers and creators to bring this to life in room designs. Furniture and fittings are simple while still being of high quality.

The fourth floor entrance connects seamlessly to Miyashita Park and is home to a lobby lounge as well as the new VALLEY PARK STAND cafe and bar. Up on the fifth floor is the breakfast dining restaurant Dōngxī Restaurant & Sakaba. Up on the 18th floor, guests can enjoy a panoramic view of Shibuya, as well as dine at the entertainment restaurant SOAK whose design and concept mixes together history and the future, the West and the East. There is also art from artists coordinated by The Chain Museum.

Ginza's Luxury New Hotel Aloft Tokyo Ginza's Opening Date Announced

Information

Aloft Tokyo Ginza
Address: 6-14-3 Ginza, Chuo-ku, Tokyo
TEL: 03-6278-8122

Access

4-minutes on foot from Ginza Station via the Tokyo Metro Marunouchi Line

2-minutes on foot from Higashi-Ginza Station via the Tokyo Metro Hibiya Line

Details: https://www.marriott.co.jp/tyoal

Shizuoka's City of Izu to Open New Glamping Hotel 'ANDAPING'

HOTEL ANDAPING is a new glamping hotel set to open in Izu, Shizuoka on July 18, 2020. This glamping hotel experience offers guests individual rooms, great food, a terrace that gives a panoramic view of the ocean and peninsula, and a lush and gorgeous natural environment home to the "yanmonoki," a tree registered as a natural monument. The hotel price is all-inclusive, and guests can enjoy all the entertainment benefits of a glamping experience such as alcohol, karaoke, darts, billiards, and more.

Enjoy elegance on the forest terrace

When you step out of the hotel onto the terrace, your gaze is met with the expanse of the rolling blue ocean and the peninsula. And if you look to the side, you'll spot the natural monument that is the Yanmonoki tree. Once you've checked into the hotel, you're served tea, coffee, and desserts at either the Open Terrace or Yanmo Terrace. At night, warm up by the bonfire and toast some marshmallows in the middle of the forest atop the terrace.

Indulge in the hot spring of one of 7 open-air baths

From inside the hot springs and baths, guests can look out across the Izu Peninsula ocean and beautiful verdure. The water contains sodium-calcium and chloride which is kind to and feels nice on the skin. There large public baths as well as 7 rental open-air baths and 3 rental indoor baths. Guests can feel close to nature as they bathe.

An exciting glamping food experience

Food can be enjoyed both in guest rooms as well as on the terrace. On the terrace, guests can enjoy feasting on local food while watching the sky and sea.

Relaxing guest rooms give that camping vibe

Everything in the hotel is made with camping in mind, so that even indoors, guests can enjoy that outdoor vibe. Guest room ceilings are fitted with tarp, and guests can make their own drip coffee for an 'indoor outdoor' experience.

All-inclusive hotel service

The hotel is all-inclusive, where guests can enjoy cafe and bar drinks, play darts, billiards, go boldering and more all for free. There are also workshops, like making your own lanterns, as well as going stargazing, and much more.

Wine and Dine at Four Seasons Hotel Kyoto's Luxurious New 'Champagne Garden'

Four Seasons Hotel Kyoto opened its limited-time "Champagne Garden" on July 3 at its first floor outdoor terrace restaurant Brasserie. Running until September 6, customers can enjoy free-flow French Bollinger champagne and cocktails.

Four Seasons Hotel Kyoto opened back in October 2016 as a luxury hotel, home to the famous Sekisuien Gardens which have a history spanning back 800 years and are mentioned in the The Tale of the Heike epic. The hotel's first floor restaurant Brasserie has towering 9-meter tall windows that look out onto these gardens, while inside customers can enjoy dining in a stylish environment.

The champagne served in the Champagne Garden is produced by the French Champagne house Bolligner, a company that started by Jacques Bollinger in 1829. Fermented in oak barrels, the champagne has sophisticated and complex flavours. In 1884, Bolligner received a Royal Warrant from Queen Victoria.

At the Champagne Garden, guests can enjoy four different types of canapé made by the restaurant's head chef Koga together with a glass of Bolligner. They can also order rosé wine, cocktails, or soft drinks too, all of which are free-flow. And since the restaurant faces the garden, guests can enjoy the view of the greenery throughout all four seasons, in central Kyoto.

Four Seasons Hotel Kyoto reopened on July 1 after closing temporarily due to COVID-19. The hotel has launched its "Lead With Care" program which ensures guests and staff are at the top of the priority list for safety against the coronavirus.

Information

Four Seasons Hotel Kyoto – Champagne Garden
Running: July 3, 2020 – September 6, 2020

Location: Brasserie, Four Seasons Hotel Kyoto Floor 1F

Address: 445-3 Myōhōin Maekawachō, Higashiyama-ku, Kyoto
Time: 11:00-20:30
Price: ¥8,800 per person (90 minute window)
*15% service charge and 10% consumption tax charged separately

*Booking in advance recommended

TEL:  075-541-8288

Official Website: https://www.fourseasons.com/jp/kyoto/

Hoshinoya Tokyo Ranks Number One On 'World's Best Awards 2020 Top Hotels in Tokyo'

Travel + Leisure published their "World's Best Awards 2020 Top Hotels in Tokyo" list on July 8, 2020 on which Hoshinoya Tokyo, managed by Hoshino Resorts, placed No. 1.

"World's Best Awards" is a list of the top hotels as ranked by travel magazine Travel + Leisure's user ratings. The hotel category takes into account the facilities, location, service, food, and more offered at each hotel.

Established in Otemachi, Tokyo in July 2016, Hoshinoya Tokyo is a ryokan-style hotel which has two basement floors and 17 upper floors. It has a traditional Japanese ryokan vibe to it with its tatami mats, sliding doors, bamboo materials, and more, plus guests must take their shoes off at the entrance. And while it has traditional elements, it caters to the modern lifestyle, combining the best of both worlds. It offers guests a chance to easily experience Japanese culture and what it's like to stay in a ryokan.

Information

Hoshinoya Tokyo
Address: 1-9-1 Otemachi, Chiyoda-ku, Tokyo

TEL: 0570-073-066

Rooms: 84

Check In @ 15:00 / Check Out @ 12:00

Access: 10-minutes on foot from Tokyo Station's Marunouchi North Exit / 2-minutes on foot from Otemachi Station's A1 and C2 exits (via Tokyo Metro)

Official Website: https://hoshinoya.com/en/

THE AOYAMA GRAND HOTEL to Open on the Former Aoyama Bell Commons Grounds This Summer

THE AOYAMA GRAND HOTEL in Aoyama, Tokyo will officially open on August 5, 2020. Set to be a new landmark of Tokyo as "a hotel where you have fun," the establishment will house 42 rooms and a restaurant which serves everything from food around the world to authentic Japanese cuisine. Table bookings for the restaurant opened on July 1, 2020.

THE AOYAMA GRAND HOTEL is opening on the former Aoyama Bells Commons building which is just a 3-minute walk from Gaiemmae Station. The hotel is managed by Plan・Do・See who also manage 6th by ORIENTAL HOTEL (Yurakucho), ORIENTAL HOTEL (Kobe)< WITH THE STYLE (Fukuoka), THE LUIGANS (Fukuoka), and more.

Gaiemmae in Aoyama is a hub for fashion and culture in Japan which is visited by people all over the world. THE AOYAMA GRAND HOTEL will slot nicely into place in the area, serving a timeless experience with its polished and relaxing atmosphere and incredible restaurant.

ROOM

All guest rooms are fitted with a unique mid-century modern style design that maintains both the welcoming vibe of the region and brings a contemporary feel. Rooms are made to offer an experience akin to living there, where guests can look forward to indulging all their senses.

The bathroom amenities offered are provided by Oltana, making this the first hotel in Japan to stock the company's products. The items were developed specially for THE AOYAMA GRAND HOTEL and blend essential oils with Japanese fermentation methods. Everything from the raw materials to the finish product is made in Japan, and all are made sustainably and ethically.

RESTAURANT

Welcoming guests at the hotel entrance is THE BELCOMO on the fourth floor which offers a delicious casual dining experience whether it be for lunch, dinner, coffee, or an evening drink.

On the same floor is SHIKAKU, a counter-style restaurant serving authentic and seasonal Japanese food that is prepared before guests' eyes with fresh ingredients.

And hidden on the 19th floor where the guest rooms are located is Aoyama Sushi Kanesaka, a sushi bar that serves exquisite sushi courses made with artisanal care and the utmost care.

Opening on the hotel's top floor this autumn too is TRATTORIA ANDREA ROSSI, a classic Italian restaurant which will serve simple yet delicious dishes, wines, and desserts prepared in front of customers. On the same floor, a rooftop bar called THE TOP will also open where you can enjoy seasonal original cocktails, specially-selected wines, champagnes, and more.

Information

THE AOYAMA GRAND HOTEL

Address: 2-14-4 Kita-Aoyama, Minato-ku, Tokyo

Rooms: 42

Price: ¥60,000-¥120,000 (2 people for 1 room)

Check In From 15:00 / Check Out By 13:00

Official Website: https://aoyamagrand.com/en/

NIPPONIA HOTEL Ozu Castle Stay: Ehime Prefecture's New Tenshu Hotel

Value Management, a company in Japan which carries out work in bringing new life to historical Japanese buildings, hotels, restaurants, and more, is opening a new hotel in Ehime Prefecutre called NIPPONIA HOTEL Ozu Castle Stay on July 23, 2020. The hotel will be the first in Japan where guests can stay inside wooden tenshu, which are traditionally the highest towers in a Japanese castle.

The city of Ozu is home to many examples of historical architecture, from its central castle town to Ozu Castle itself and more. It has become a location for tourism which focuses on historical houses and buildings. That's where NIPPONIA HOTEL Ozu Castle Stay comes in. The surrounding townhouses have been renovated so that both the town and castle make up the entirety of the hotel complex.

Ozu Castle is a symbol of Ozu and was built by Tōdō Takatora and Wakisaka Yasuharu. It is officially recognised as an Important Cultural Property of Japan. Its tenshu were demolished during the Meiji Period, but thanks to the existence of pictures and models, they were rebuilt for the first time ever after the war in 2004. NIPPONIA HOTEL Ozu Castle Stay is the first facility in Japan to offer a castle stay experience like this, so it's a must-include on anyone's bucket list when visiting Japan.

Information

NIPPONIA HOTEL Ozu Castle Stay

Address: 382 Ozu, Ozu-shi, Ehime Prefecture

Price: From ¥1 million per night. One group per night. 30 groups per year (subject to change).

Official Website: https://www.vmg.co.jp/

Hotel New Otani Tokyo to Open Night Pool & Stay Plan

Hotel New Otani Tokyo is launching its "Night Pool & Stay" hotel plan on July 1, 2020 which gives guests exclusive access to the night pool during their stay.

Hotel New Otani Tokyo's night pool was first opened in 1998 with the concept of building a luxury pool that you won't get sunburned in. Over 20 years on, the pool continues to beckon people during summertime for its unique pool experience under the moonlight and hotel lights and music produced by Japanese DJs who are popular in the country's club scene. This year's "Night Pool & Stay" plan will open with all of the necessary measures in place against COVID-19, with thorough cleaning and bacteria elimination at the top of the hotel's list to ensure safety for its guests.

Check-in to the hotel's "Night Pool & Stay" plan opens at 17:00. Guests don't have to worry about using the locker room – they can get ready in their rooms before heading to the Garden Pool. After a luxurious dip in the pool, guests can retire to their sophisticated rooms, whether standard or suite, for some relaxation time. Check-out is 10:00, so they can enjoy their rooms throughout the early morning.

Located next to the Garden Pool is OUTRIGGER, a poolside restaurant open during the summer only that you can enter in your swimsuit. The restaurant serves popular dishes served at Hotel New Otani as well as Garden Pool exclusives. Tuck into a soybean hamburger, fresh green salad, nutritional smoothies, and more.

Information

Night Pool & Stay
Running: July 18, 2020 – September 5, 2020 (Not open Sundays except August 9 and 16)

Hotel Otani Club Members: Open June 30, 2020 at 10:00am

General Guests: Open July 1, 2020 from 10:00am

Bookings/Enquiries: 03-3234-5678 (10:00-18:00)

Official Website: https://www.newotani.co.jp/tokyo/stay/plan/night-poolstay/

Yukai Resort Premium Toba Saichoraku: The New Hot Spring Resort Hotel in Mie Prefecture

Yukai Resort, a company in Japan which manages lots of famous hot spring resorts across the country, opened Yukai Resort Premium Toba Saichoraku in Toba, Mie on June 5, 2020.

Yukai Resort manages 29 well-established hot spring resort hotels and ryokan throughout Japan, including hotels where you can get one night with dinner and breakfast from just ¥7,500 (before tax) to ryokan where you can enjoy kaiseki meal courses, and more. All their luxury establishments feature hot springs surrounded in lush environments.

Yukai Resort Premium Toba Saichoraku opened on June 5, 2020 and is taking all of the necessary precautions against COVID-19 to protect guests and so that guests can enjoy a comfortable stay.

Yukai Resort Premium Toba Saichoraku is 10 minutes by car from Toba Aquarium and 30 minutes from Ise Grand Shrine, making it a great location to enjoy the sightseeing spots of Ise and Shima. The hotel's concept is centred on being an "active resort" where you can get the full Toba experience with history, the sea, and activities.

The large open-air communal baths look out onto Toba Bay. The baths are designed like infinity pools, giving the effect that they are connected to the sea. Guests can enjoy a dip in the day or evening so they can enjoy both a blue sky or starry sky. There are also saunas.

There is also an indoor swimming pool with warm water, as well as foot baths, a kids play park, karaoke room, and many more fun features.

Yukai Resort Premium Toba Saichoraku also houses Yukai Resort's first ever indoor glamping guest rooms with large tents decked with beds, sofa, carpet, cushions, and other amenities for a glamorous camping experience. There are glamping rooms with their own open-air baths that look out onto Toba Bay too, as well as both Japanese-style and Western-style rooms.

As a precaution against COVID-19, the restaurant is serving its food for takeout only until August 31, 2020. Guests can enjoy their meal in their rooms or in one of the many communal spaces. There's plenty of health Japanese food to enjoy including sushi, Matsuzaka roast beef, eel, tuna, and more.