Normally, Yutaro-kun takes us on a date to hot spots around town, but in this special edition we're staying indoors. He's planned a laid-back morning where he'll wake up early and make us breakfast, and afterwards take us on a stroll around the area close to the house.
Since this is a special edition, there'll be an interview with Yutaro-kun too. We spoke with him about his role in 3D Kanojo Real Girl and other things.
Today is a date at home. We made sure to arrive at the arranged time, but…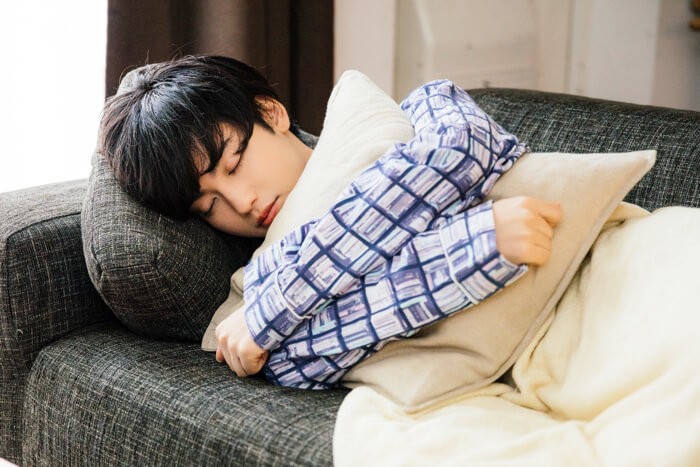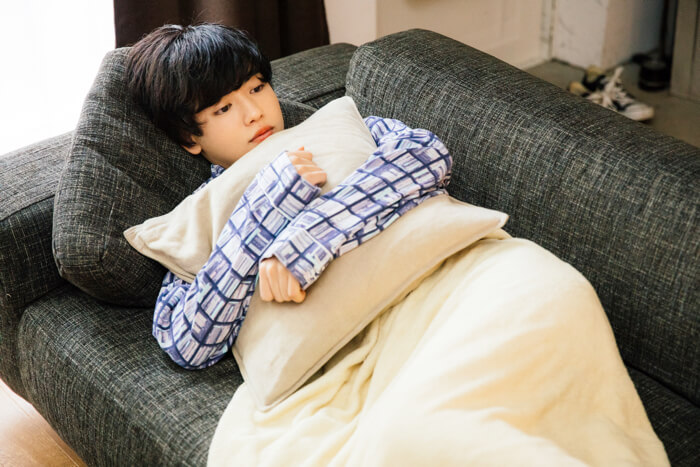 Are you still asleep? Are you awake?
It's hard to tell, he still seems dozy.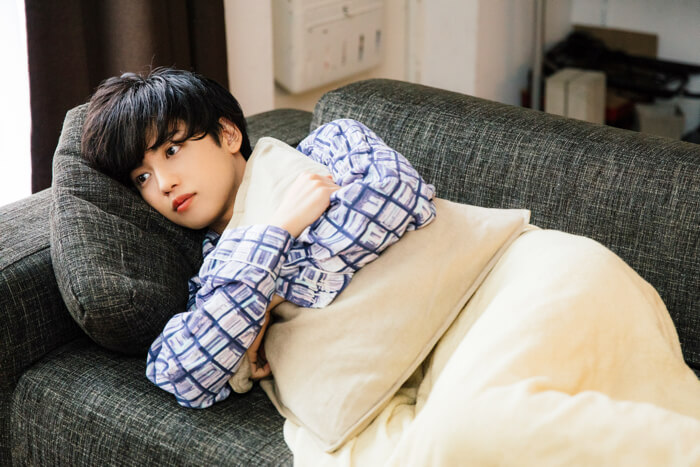 First thing's first, checking today's weather on TV. Seems the weather will be nice today.
What kind of day will we have…?
After sleeping in until noon, it's time for lunch. Yutaro-kun is making us Gaprao from scratch!
He changes out of his pajamas, puts on an apron and gets straight to cooking.
He slices up the vegetables and fries them. His technique shows that he's definitely done this before. It's nice to have a boyfriend that can cook♡
ーーDo you cook regularly, Yutaro-kun?
I cook when my older sister or friends come over. I made gyoza with my sister recently!
ーーWhat's your speciality?
I'm not sure if you can call it a 'speciality' (laughs), but curry.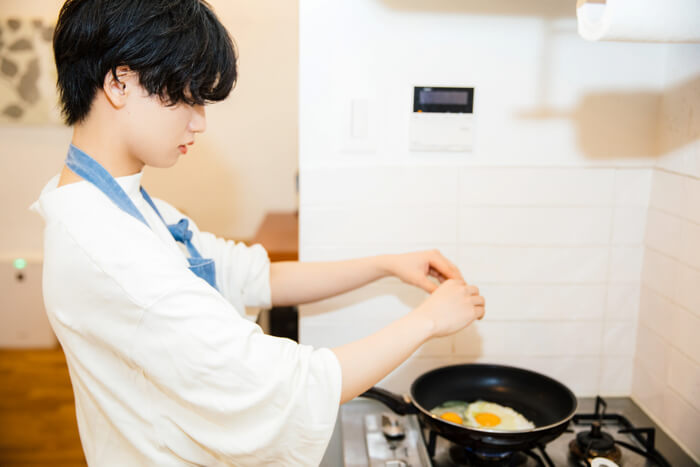 ーーWhat's a dish you'd want your girlfriend to make you?
I like curry, so curry like this again!
Yutaro's specially made Japanese style Gaprao is seasoned with mirin, shoyu and sauce!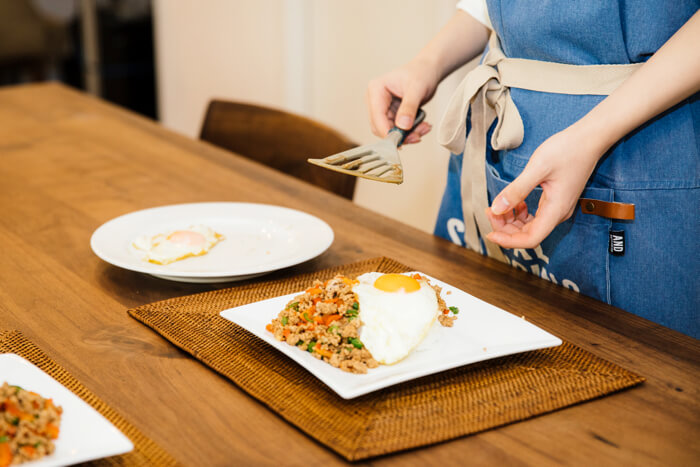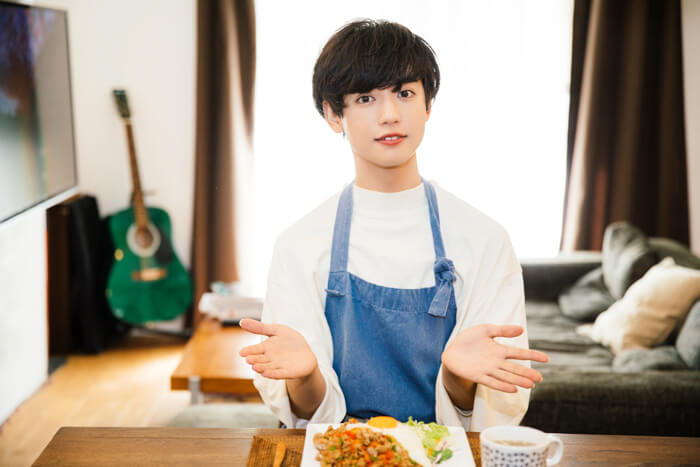 Lunch is served! The dish has rice, minced meat and vegetables, all of which is topped with a sunny-side-up fried egg.
Itadakimasu!
The seasoning is extremely delicious and was made short work of.
The fact that Yutaro is so good at cooking… does this make him the most perfect guy around?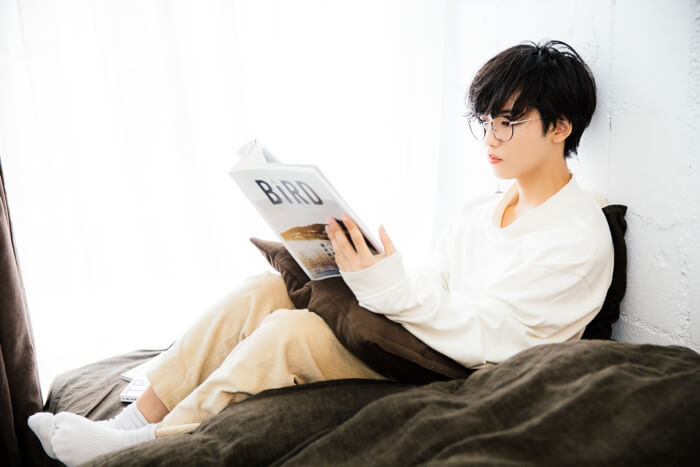 After finishing food it's time to laze around and read a magazine.
We check out lots of different magazines, ones on foreign culture, Japanese culture, and so on.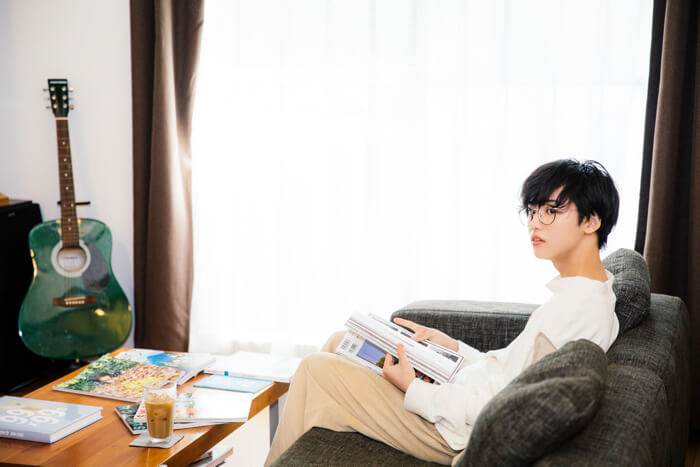 ーーWhat's a place you want to visit most right now?
I like cold places, so if we're talking Japan then Hokkaido. If overseas, then perhaps Finland.
ーーDo you have a recommended sightseeing spot?
Ura-Harajuku in Harajuku has a bunch of shops and there's not that many people around so I go there a lot.
ーーWhat do you do most often on your days off?
I don't really like staying at home so I might invite my friend to see a movie or go eat. I go and meet up with people I want to see.
We've lounged around at home plenty now, so it's time to take a walk around the neighbourhood.
We take just a handbag with us and walk along at a steady pace. Going on a date just strolling around without any plans is absolute bliss.
We stopped by a nearby café and basked in the sun.
ーー3D Kanojo Real Girl comes out in September. How was filming for it?
It was very hot that day (laughs). But I got along really well with the cast and staff. For the first time in my life I really felt I experienced my adolescence.
ーーWhat role do you play?
A frank guy with cat ears. I appear from the start to the end and move around a lot, so I'd be happy if everyone looked out for me when they watch.
ーーFinally, what's the highlight of the movie for you?
Each character is interesting. The characters are all unique in their own way, but somehow it all really comes together. The cast get along really well in this movie. I hope everybody looks forward to it.
That's it for today's date. It was fun going outside, but having an indoor date with Yutaro-kun and chatting was a fun time too.
You can find the details of the movie that Yutaro-kun will be in here. Be sure to check it out!
Photographer:Kayo Sekiguchi