Tokyo Stroll Special: A cozy lunch date at home with Yutaro
Normally, Yutaro-kun takes us on a date to hot spots around town, but in this special edition we're staying indoors. He's planned a laid-back morning where he'll wake up early and make us breakfast, and afterwards take us on a stroll around the area close to the house.
Since this is a special edition, there'll be an interview with Yutaro-kun too. We spoke with him about his role in 3D Kanojo Real Girl and other things.
Today is a date at home. We made sure to arrive at the arranged time, but…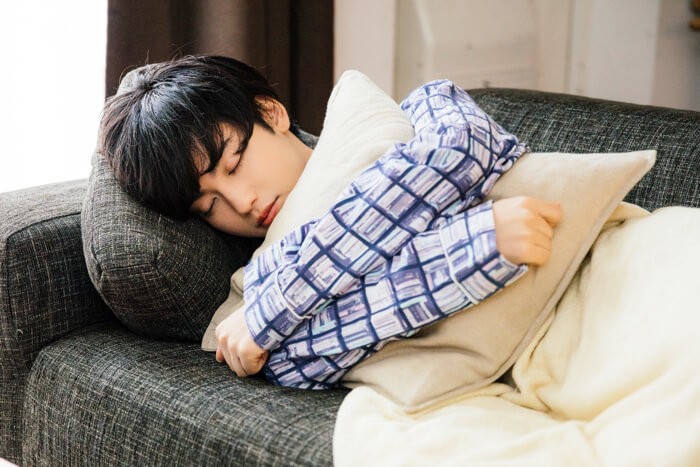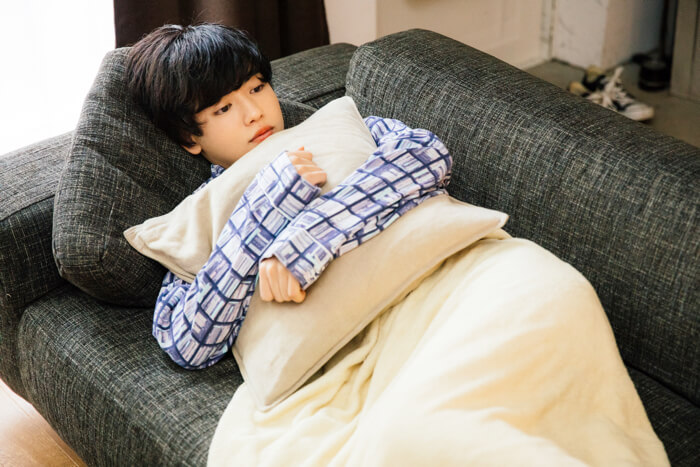 Are you still asleep? Are you awake?
It's hard to tell, he still seems dozy.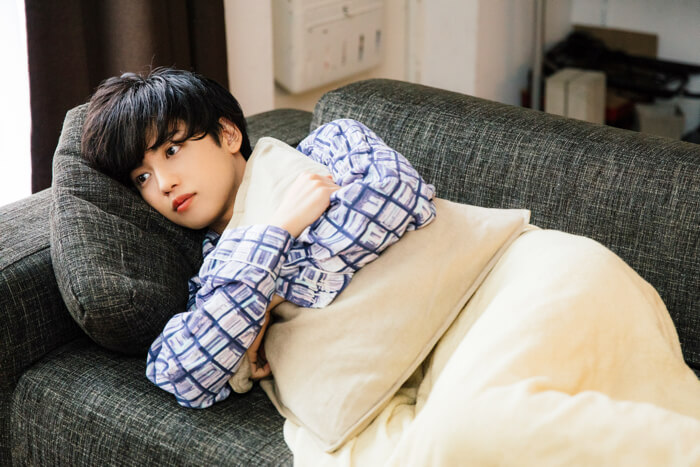 First thing's first, checking today's weather on TV. Seems the weather will be nice today.
What kind of day will we have…?
After sleeping in until noon, it's time for lunch. Yutaro-kun is making us Gaprao from scratch!
He changes out of his pajamas, puts on an apron and gets straight to cooking.
He slices up the vegetables and fries them. His technique shows that he's definitely done this before. It's nice to have a boyfriend that can cook♡
ーーDo you cook regularly, Yutaro-kun?
I cook when my older sister or friends come over. I made gyoza with my sister recently!
ーーWhat's your speciality?
I'm not sure if you can call it a 'speciality' (laughs), but curry.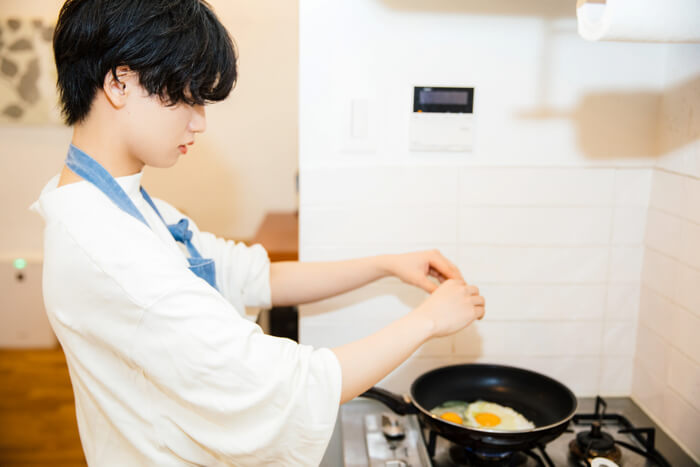 ーーWhat's a dish you'd want your girlfriend to make you?
I like curry, so curry like this again!
Yutaro's specially made Japanese style Gaprao is seasoned with mirin, shoyu and sauce!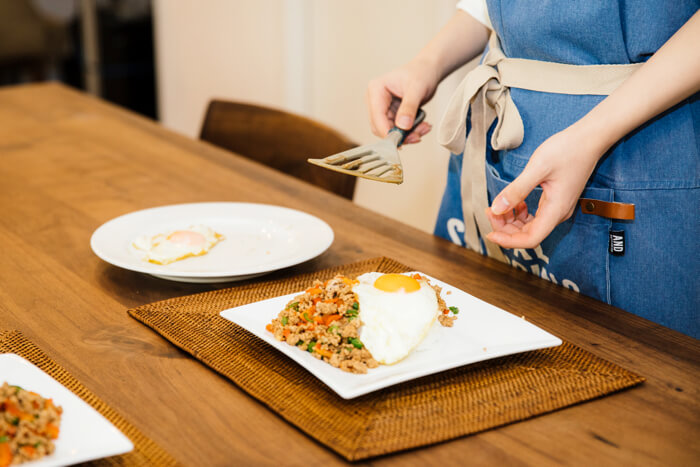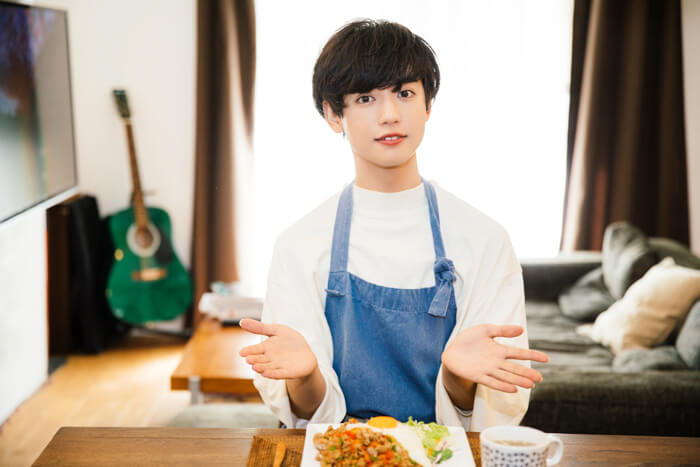 Lunch is served! The dish has rice, minced meat and vegetables, all of which is topped with a sunny-side-up fried egg.
Itadakimasu!
The seasoning is extremely delicious and was made short work of.
The fact that Yutaro is so good at cooking… does this make him the most perfect guy around?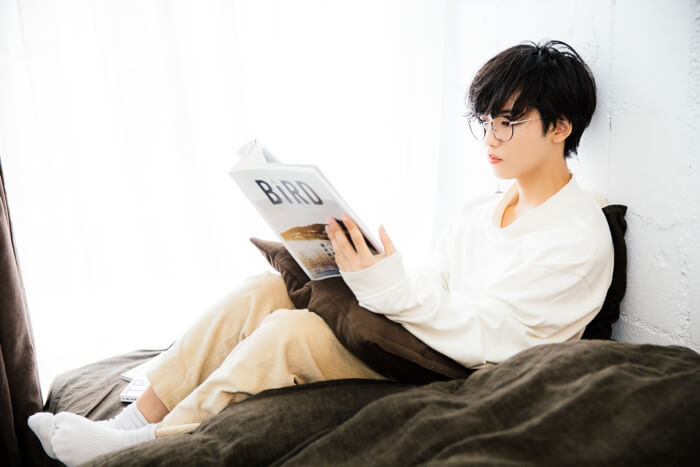 After finishing food it's time to laze around and read a magazine.
We check out lots of different magazines, ones on foreign culture, Japanese culture, and so on.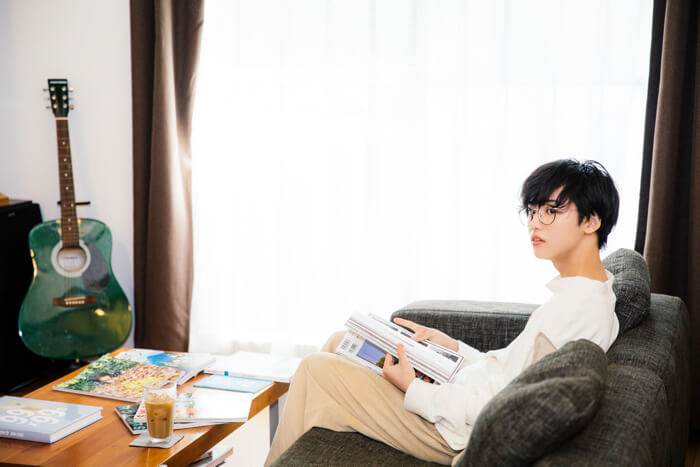 ーーWhat's a place you want to visit most right now?
I like cold places, so if we're talking Japan then Hokkaido. If overseas, then perhaps Finland.
ーーDo you have a recommended sightseeing spot?
Ura-Harajuku in Harajuku has a bunch of shops and there's not that many people around so I go there a lot.
ーーWhat do you do most often on your days off?
I don't really like staying at home so I might invite my friend to see a movie or go eat. I go and meet up with people I want to see.
We've lounged around at home plenty now, so it's time to take a walk around the neighbourhood.
We take just a handbag with us and walk along at a steady pace. Going on a date just strolling around without any plans is absolute bliss.
We stopped by a nearby café and basked in the sun.
ーー3D Kanojo Real Girl comes out in September. How was filming for it?
It was very hot that day (laughs). But I got along really well with the cast and staff. For the first time in my life I really felt I experienced my adolescence.
ーーWhat role do you play?
A frank guy with cat ears. I appear from the start to the end and move around a lot, so I'd be happy if everyone looked out for me when they watch.
ーーFinally, what's the highlight of the movie for you?
Each character is interesting. The characters are all unique in their own way, but somehow it all really comes together. The cast get along really well in this movie. I hope everybody looks forward to it.
That's it for today's date. It was fun going outside, but having an indoor date with Yutaro-kun and chatting was a fun time too.
You can find the details of the movie that Yutaro-kun will be in here. Be sure to check it out!
Photographer:Kayo Sekiguchi
RECOMMENDED ENTRIES
Tokyo Stroll: A Kimono Date With Yutaro to Climb Mount Fuji in Tokyo at Hatonomori Hachiman Shrine

The first date of 2018 with Yutaro was to visit a 'power spot' so we can have a wonderful year this year too. That being said, we went to "Hatonomori Hachiman Shrine" in Sendagaya which is next to Harajuku. This was our hatsumou, the first shrine visit of the New Year, and we went wearing kimono.

Hatonomori Hachiman Shrine is a 5-minute walk from Kita-Sando Station via the Tokyo Metro Fukukoshin Line, just one stop from Meiji-Jingumae Station in Harajuku. It's super easy to get there from Harajuku or Shibuya. You can also walk there in 5-minutes from Sendagaya Station if you take the JR Sobu Line.

Hatonomori Hachiman Shrine has a long history, even going as far as to be recorded in the Edo meisho zue, an illustrated guide to famous Edo places that was published at the end of the Edo period. The shrine grounds features the shogidou, where a huge Shogi (like chess) piece is enshrined; the Koga Inarisha shrine where the Koga-Gumi, a group of ninja serving the Tokugawa Shogunate, would pay reverence; a Noh stage; the main building that was completed in 1993, and more.

According to the Shinto chief priest Hirano, the oldest things in the shrine grounds are the 3 ginkgo trees planted there. If you visit the shrine, be on the lookout.

We finally arrived. After bowing, we headed through the torii gate and onward towards the shrine. We cleanse our hands and mouth before praying. I wonder what could he be praying for? He has an unusually serious expression.

After praying, we climbed the fuji-zuka, a manmade mound made to imitate Mount Fuji. It has received much attention as a 'power spot,' a place believed to heal visitors through special energy. The Edo period was a time when it was difficult for people to climb Mount Fuji, so common folk would look to fuji-zuka as Mount Fuji for their worshipping.

It is said that Hatonomori Hachiman Shrine was constructed in 1789, and the fuji-zuka, the oldest still standing in the city, was designated a Tangible Folk Cultural Property.

Yutaro-kun hasn't climbed Mount Fuji before, so this will be his first!

Mount Fuji has 5 stations you can stop off at leading up. Climbing fuji-zuka was tougher than we thought, so we agreed to wear sneakers next time. While being cautious we continued our climb without falling.

Writing from the Kansei era is written on the komitake sekison daigogen at the 5th station. You can't help but feel the length of the fuki-zuka's history at Hatonomori Hachiman Shrine!

The view from the top is amazing! When you see the tree-wrapped shrine grounds, your heart feels gentle and calm.

"It's a dream come true that we can climb Mount Fuji in Tokyo."

We took a different route going down. This route is steep too!

After we safely reached the bottom, we receive a goshuin shrine stamp to commemorate today's Mount Fuji worship. The ceremony fee is ¥300. Be sure you get one too after reaching the top!

Finally, we drew one of Hatonomori Hachiman Shrine's unique "Hato Mikuji." The omikuji blessing was "small blessing" (sho-kichi). After reading the omikuji carefully, we tied it to tie a link with the gods. Before we knew it, the date had come to an end.

How was this first kimono date? If you're thinking you want to walk around Harajuku in a kimono like Yutaro, then we recommend checking out a rental kimono store. The kimono worn today was rented at the Moshi Moshi Kimono Salon in Harajuku. Please enjoy yourself by going out in a kimono with your friends or on a kimono date with that special someone.

Model:Yutaro

Yutaro was born in Hiroshima on June 3rd 1998. His modeling career has earned him lots of attention as a fashion icon of the new generation. The famous model also works as a "charisma" shop assistant. Yutaro has gained his reputation as a "mysterious and handsome guy" from his appearance on Japanese variety shows. His debut was made on the show "Gyoretsu no Dekiru Horitsu Sodanjo" and has since then appeared on numerous different TV shows. He challenged himself to appear on stage for the very first time in March this year and is gaining popularity by the day for his diverse work.

Photographer: Kayo Sekiguchi

Writer: Sayuri Mizuno(ASOBISYSTEM)

Translator: Joshua Kitosi-Isanga

Tokyo Stroll: A Christmas date with Yutaro at Tokyo Tower wrapped in sparkly illuminations

A late-night date is nice once in a while, am I right? Well, for the first time since the initiation of this series, that's where we're headed.

We went to Tokyo Tower where one can gaze at the bright and sparkly nightscape of the city.

Our meeting place was the entrance to Tokyo Tower. Yutaro-kun had arrived early. Maybe because we're meeting at night? It has a slightly more mature vibe to it than usual.

"Geez, it's cold!!"

Yutaro-kun is always in good health.

At the entrance of Tokyo Tower is the city's biggest Christmas tree – one that's 60 years old. Its 60,000 or so decorative lights are so entrancingly beautiful they make you forget about the cold!

These illuminations will be up until February 28th. They are on between 16:00-22:00, with a special light show running every 30 minutes. These colourful and sparkling lights are a must-see. Yutaro-kun was spellbound by all the different colours of the illuminations too.

There's lots of other great places to take photos around the entrance too besides next to the tree. Taking an interposed photo with the lit-up mini Tokyo Tower or heart-enveloped Tokyo tower will most certainly be a memorable occasion.

■Information

Tokyo Tower Winter Fantasy 〜Orange Illumination〜

Running: November 2, 2017 – February 28, 2018
Time: 16:00-23:00
Location: Tokyo Tower front entrance
The "Orange Garden Lighting Show" runs every 30 minutes between 16:00-22:00 every day. The final show is at 22:00.

After getting our fill of illuminations, we made our way to the Main Observatory of Tokyo Tower. The elevator made a steady climb up 150m.

When we arrived at the Main Observatory, there it was. Tokyo's night skyline. It was a most spectacular view and looked like an entirely different place from the Tokyo we spend our time in.

"This is my second time in Tokyo Tower. It might be my first time to come at night."

The Main Observatory is currently holding a projection mapping event called "CITY LIGHT FANTASIA." They use the windows and floor of the observatory to make it look like Tokyo Tower is snowing.

There's a photo spot in conjunction with the event too. The lights are turned on at this spot, so you can take beautiful photos even with your phone. Look out for the snow crystals changing colour as time passes too!

"It really looks like it's snowing!"

Snow was falling everywhere we walked around the observation deck. This was also part of the "CITY LIGHT FANTASIA" performance. Snow was emulated by lasers which sparkled as it fell. The highlight of the event was experiencing this snowy environment with the Tokyo nightscape as the backdrop. The snowfall "Diamond Dust" experience runs for 15 minutes.

■Information

CITY LIGHT FANTASIA

Running: November 15, 2017 – January 31, 2018

Time: 18:00-22:50

Location: Tokyo Tower 2F Main Observation

Price: Costs only the observation deck fee all the way to the Main Observation

After being satisfied with seeing the nightscape, we went to the official shop where they sell souvenirs. They have Tokyo Tower merchandise you can't get anywhere else, so be sure to find your favourite that captures your memory of heading up to the Main Observation.

Straight ahead after leaving the shop is the Tokyo Tower Love Power Spot "Another Diamond Veil" made by Swaroviski. It's famous as a 'power spot' radiating with loving energy, so don't forget to check this out if you want to increase your chances of love.

Both of us were tired after so much fun, so we took a breather at "Cafe La Tour" located in one corner of the Main Observation. Yutaro-kun ordered his favourite match drink without hesitation: the "Koi Uji Matcha Late Float" which costs ¥520 (tax included).

Yutaro-kun, thank you for always sharing with me!

This café has window seats, so you can enjoy your food and beverages while gazing over Tokyo. It's a great spot for viewing the city scenery while kicking back and relaxing.

■Information

Cafe La Tour

Open: 9:30-22:30

TEL:03-3433-1850

After unwinding at the café, our Tokyo Tower date came to an end!

My end-of-year was spent with Yutaro-kun who vibe was a little different from usual. I wonder what kind of Yutaro-kun I'll get to meet next year? I  pray that I can have another fun date with him next year too!

■Information

Tokyo Tower

Address: 4-2-8 Shiba Park, Minato, Tokyo

Price: Adults ¥900 / Elementary & Middle School Students ¥500 / Children over 4-years ¥400

Main Observation (150m): 9:00-23:00 (last entries 22:30)

*Last entries may be carried out earlier during busy periods.

Tokyo Tower Official Website: https://www.tokyotower.co.jp/

Model:Yutaro  @aaaoe__

Yutaro was born in Hiroshima on June 3rd 1998. His modeling career has earned him lots of attention as a fashion icon of the new generation. The famous model also works as a "charisma" shop assistant. Yutaro has gained his reputation as a "mysterious and handsome guy" from his appearance on Japanese variety shows. His debut was made on the show "Gyoretsu no Dekiru Horitsu Sodanjo" and has since then appeared on numerous different TV shows. He challenged himself to appear on stage for the very first time in March this year and is gaining popularity by the day for his diverse work.

Photographer: Kayo Sekiguchi

Writer: Sayuri Mizuno(ASOBISYSTEM)

Translator: Joshua Kitosi-Isanga

Tokyo Stroll: A relaxing date with Yutaro at Shibuya's Cat Cafe MoCHA!

Our cute model Yutaro finally found some time in his busy schedule to go on a date with me! Today we're heading to a spot where you can cure your fatigue after a long day at work. Our destination for today is a cat café! Today Yutaro took me out to Café MoCHA in Shibuya. This cat café is filled with many sofa seats, from which you can gaze at the scenery of Shibuya at nighttime.

This was my first time at this cat café, but Yutaro's second time. Yutaro quickly proceeded as if he was very familiar with it. We ended up on the second floor of Cat Café MoCHA Shibuya. First, we spent time on the upper floor to meet the cats.

Cats, cats and more cats in so many different places – they were here, there and everywhere! Some stayed sprawled out on the swinging seats whilst some came to cosy up with the humans. This was a great opportunity to get to know them.

All of a sudden…

…When did Yutaro get those cat ears?! Did he do this to get into the cat café mood? With a bushy cat toy in one hand, he got closer to the cats. Notice Yutaro is wearing a sweater with a cat character on it in this photo! I wonder if he decided to wear this because of the cat café… anyhow, it's so cute!

"Caaaaaaats!"

"I've got them all!"

I wonder if it's Yutaro's cat ears that attracted all the cats to gather around him? Yutaro waved the bushy cat toy about with one hand, triggering the playful cats. The sight of it healed my tired heart. ♡

Afterwards, we chilled with some cats on a sofa, purring. The sofa was a great spot to look over the beautiful nighttime scenery of Shibuya. It was very…romantic…

After our break, we went straight back to play mode! It was time to play with the cats!

The cats seemed to gradually get tired after all that playing and then it was back to relaxation mode. Why does this cat choose to sit right behind Yutaro?!

And here's one sitting just like Yutaro!

Little by little, Yutaro and the cats became better friends.

>>next page

【Tokyo Stroll】A romantic aquarium date with Yutaro at "Aqua Park Shinagawa" ♡

Shinagawa Station is an easy place to get to as it's connected to many other stations and is accessible from numerous other locations. It's a familiar place to many tourists inside and outside Japan as not only does the Tōkaidō Shinkansen run through it, but the Keikyu Line does too which goes all the way through Haneda Airport and Narita Airport.

Today, we'll be heading to a special little place at Shinagawa Station for a date with Yutaro♡

You may think your eyes are deceiving you and be surprised to find that there's an aquarium amongst all the big buildings and commercial facilities around this area. Located 2-minutes' walk away from the Takanawa Exit of Shinagawa Station, upon a hill, is "Aqua Park Shinagawa".

It's an aquatic paradise that offers a unique show of enchanting illuminations, sounds and an incredible use of technology. The moment we stepped foot inside, we were immediately greeted by fish and water tanks aplenty, lit up in a faint light.

As we went further in, the first thing to come into sight was the "Dolphin Party" merry-go-round (¥500) which had all kinds of aquatic animals that you could ride on. Sea otters, sea lions, shellfish and more—it really makes you feel like you're under the sea.

"I want the dolphin!"

"It's been a while since I've ridden on a merry-go-round"

We got off the Dolphin Party and headed to the next zone, past the twinkling, lit-up wall, over to the "Interactive Live Area".

This place has interactive touch panel fish tanks!

There are real fish displayed inside, but when you press your finger to the screen digital fish appear and begin to swim in unison. You can also see the real fishes' habitats. But we didn't just watch the fish. The touch panels actually teach you a lot about the fish while you play on them.

Each display is different for each touch panel, so make sure to press them all♪

"This tank is amazing!!"

The next area was called "Colors".

It's filled with gorgeous displays of fish and flowers, both decorations and projections. When we went, they were having their first summer event (running until July 2nd). It's a collaboration between the creative company "NAKED," and the theme was "flowers".

We heard that the next one will begin on July 8th when they will display digital art of fireworks. I wonder if Yutaro will come with me again…

>>next page

【Tokyo Stroll】A café date with Yutaro at Jugetsudo, Ginza – eating a rich parfait and Mont Blanc made with matcha and love♡

While shopping complexes such as Tokyu Plaza and GINZA SIX are on the rise, Ginza itself is a city that has been bustling with energy for a long time. It's packed full of traditional and new shops and brings in people from all ages, young and old, and prides itself as the place to go during everyone's days off.

<Related article:【Tokyo Stroll】Strolling around in Harajuku which has a lot of unique spots such as popular graffiti and artistic miscellaneous stores.>

Today is one of those days, so we'll be heading on a date with model Yutaro.

Jugetsudo is a café managed by Maruyamanori that serves tea and nori (seaweed). It's located only a 1-minute walk from Higashi-Ginza. Jugetsudo positions itself as a deliverer of Japanese culture, as not only does it have a shop in Japan, but in Paris too.

Located on the 5th floor of Kabukiza Tower in Ginza, the stylish interior design of Jugetsudo was created by Kengo Kuma. The décor features bamboo throughout the entire café, giving it that Japanese authenticity.

The parks were visible from our seats, making it a suitable location for a relaxing and comfortable date. There were so many great things on the menu so it was difficult to choose what to order, but we went for a matcha parfait and matcha Mont Blanc since they are popular items at Jugetsudo.

"Matcha is my favourite kind of sweet"

The first order to arrive was the matcha parfait which is made using farming methods found in Nakajima. It came with Hōjicha and totaled ¥1,480. The luxurious soft cream uses matcha that is made from mineral-rich soil in Nakajima. Underneath, the parfait is complete with granola, matcha syrup, and matcha kanten. The entire parfait is lavished with matcha, and the soft cream even has matcha powder sprinkled on top. The sweet matcha ice cream and slightly bitter taste of the matcha syrup make for a perfect combination! This is a sweet that anyone can get down with, even people who aren't too good with sweet stuff.

"The powdered matcha on top of the soft cream is subtly bitter and delicious!"

"Wanna try?"

Of course, the Hōjicha that comes with the parfait is great too. The Hōjicha you will normally find being sold is made with second and third buds, but the Hōjicha in Jugetsudo boasts first buds. It's a sweet and satisfying taste.

"Whew!"

The second order to arrive was the matcha Mont Blanc and cold-brew tea set which came to ¥1,450. The Mont Blanc is made with a matcha cream that has a slight bitter taste to it, and chestnut paste, to bring out a rich flavour. You eat the cake with chestnut on top, and as you approach the center you'll find a big chestnut inside. The chestnuts used as Japanese chestnuts. The sponge has cream on top of it and liquid matcha mixed inside, making this a sophisticated dessert indeed.

What goes perfectly with the Mont Blanc is the cold-brew tea that comes in the set, called "Matsuri Mecha." The sweet tea brings out a refreshing flavour in the aftertaste of the cake. It's the perfect thing for the upcoming hot summer days.

To celebrate having gone out this day, we bought souvenirs and puddings, before saying goodbye.

The date with the matcha-loving Yutaro went by so quickly, but when I eat my pudding I will most definitely remember the happy day I spent today. Let's plan our next date while eating our puddings ♡

■Information

Jugetsudo in Kabukiza, Ginza

Address: Kabukiza Tower 5F, 4 Chome-12-15, Ginza, Chuo-ku, Tokyo

Telephone: 03-6278-7626

model:Yutaro

Born in Hiroshima-ken on June 3rd, 1998. Yutaro is a model that has received attention as a new-generation fashion icon and who currently works as a charisma shop assistant ('karisuma'). He gained attention on Japanese variety shows as a "mysterious and handsome guy" and made his debut on "Gyorestu no Dekiru Horitsu Sodanjo." Since then, he has appeared on lots of different TV shows. He challenged himself to appearing on stage for the very first time this year in March and is growing ever more popular every day for his diverse work.

Photograph:Kayo Sekiguchi

Writer & Editor:Sayuri Mizuno(ASOBI SYSTEM)

Translation: Joshua Kitosi-Isanga

Related article:The big models (including Yutaro) of Harajuku fashion give their New Year's Resolutions!

Related article:【Tokyo Stroll】Strolling around in Harajuku which has a lot of unique spots such as popular graffiti and artistic miscellaneous stores.
RELATED ENTRIES
Drama Series Zenra Meshi, Starring Yutaro, to Get Official Photo Book in June

The Kansai Television drama Zenra Meshi, starring Yutaro, is getting an official photobook release on June 23, 2023 titled Zenra Meshi Official Photobook -Our Recipes Start Here-.

The unusual romantic comedy follows an elite businessman hiding an incredible secret–he loves to eat naked to relieve his stress. One day, this habit is revealed, and Ichijo finds himself quickly falling in love.

The official photobook will include over 30 pages of gravure photos of Yutaro (Miki Mahiro) and Shori Kondo (Futa Ichijo). Set as an epilogue taking place after the main story shown in the series, Futa and Miki can be seen enjoying a picnic date with a handmade bento and spending cozy time together in PJs at home.

Also included are 20 pages of solo photos of Futa wearing a suit and posing in front of a beautiful night scene and Miki wearing a hoodie in a restaurant that smells of spices. Both shoots were intended to look as though a lover snapped the images. The photobook also includes Mizuchi's Recipe Notebook, highlighting recipes from around the world with comments by popular cookbook author Yummy. Fans can also look forward to plenty of interviews with the cast and crew along with behind-the-scenes filming and production details.

Information

Zenra Meshi Official Photobook -Our Recipes Start Here-
Release Date: June 23, 2023
Price: ¥3,850
Publisher: Tokyo News
*The book may be released on a different date depending on the area.

■Purchase Bonus
Amazon: Limited Edition Cover
We! Premium Limited Store: Photo (Shori Kondo)
Seven Net Shopping: Autographed Photobook (Shori Kondo or Yutaro)

<Notes>
*The start date and time for orders may vary depending on the store. Check each company's website for details.
*Purchase bonuses and limited-edition copies are available while supplies last.
*Additional retailers and special offers may be added in the future.
*Availability will vary by store. Please check with each location for details.

Official Photobook Release Event
Date: June 24, 2023
Venue: Tokyo
More details will be released later in TOKYO NEWS magazine&mook (https://zasshi.tv/)

Licaxxx, Yutaro Appear in Ad for Mandom's 'Gatsby' Brand

Licaxxx and Yutaro are currently appearing in a new ad for Meta Rubber, a new series of products from Mandom's 'Gatsby' hair styling brand.

A total of nine cast members from all areas of the entertainment world appear in the ad, from voice actors and video creators to idols and DJs. The video features the song Kororon by the popular artist Eve.

Be sure to check out the ad for a glimpse into the Meta Rubber lineup, which aims to transcend standard hair styling techniques.

Information

Cast:
kemio (Video Creator)
Mizuho Habu (Artist, Sakurazaka46)
Keito Kimura (Performer, FANTASTICS)
Subaru Kimura (Voice Actor)
Yamato Inoue (Model/DJ)
Shuichiro (Video Creator)
Licaxxx (DJ)
Yutaro (Actor)
Tensei Saito (Model/Younger Song Director)

Official Site
https://www.gatsby.jp/product/hairstyling/meta-rubber/

Yutaro to Appear in Original Drama During the Recitation Play 'Shitaitoka, Shitakunaitoka no Hanashi Janai'

The recitation play Shitaitoka, Shitakunaitoka no Hanashi Janai (It's Not About Whether or Not I Want To) will be performed at the Haiyuza Theater in Tokyo starting on April 20. Yutaro will appear in the drama that will be shown as part of the production.

The recitation tells the story of a sexless couple and raises pertinent questions about the state of married couples and child-rearing today. AOI Pro., which has produced many theatrical films and TV dramas including the film Shoplifters and the drama series silent, planned and produced this performance.

For the stage production, the recitation will be staged with full-scale video footage from the play. It tells the story of Takashi, an unsuccessful screenwriter and husband, who was dumped by his lover. After his wife, Kyoko wins an award for excellence in a screenwriting contest she entered without her husband's knowledge, she tries to break free from her conventional life of housework and childcare into a new world. The original drama shown during the performance will detail Takashi and Kyoko's life when they were young and their first meeting before later becoming husband and wife.

The drama was produced exclusively for the performance by Izuru Kumasaka, the director of Pretenders and other popular films. Yutaro will play the role of Takashi.

<Comment from Yutaro>
"This story is both sweet and bittersweet. It tells the tale of two young people who, I think, should be adults by now, but they can't seem to grow up.
I had never met Seira Hayakawa before this, but I've gotten to know her so well through this role. I hope you'll enjoy the realistic struggles of two people through this reading!"

<Comment from Director Izuru Kumasaka>
"There's a specific shot used in the play that Yutaro filmed with his smartphone. He managed to get a lot of great expressions out of Ms. Hayakawa, saying things like "the camera's rolling," and "the mic was in the shot, so is it okay if I resize the footage a bit?" It was a really novel experience. The last shot of the last day of filming was also done by him. The two of them really gave it their all until the end. There's a scene where Hayakawa has to confess that she's carrying her husband's child, and it was so incredibly convincing despite how young she is. I was shaken. Please come to the theater to see their performance."

<Comment from Producer Yusuke Kurozawa>
"Since we're a video production company, we had to look at this theatrical performance in a unique way. We incorporated a lot of visual effects even though it's largely a recitation. On stage, you see a fast-paced conversation between a couple on the verge of separation, but on the screen, you see them when they first met–when they were in love. You see how happy they were, and you wonder how their relationship became so incredibly warped. I was thrilled to work with Izuru Kumasaka on location in Chigasaki, since I'm a huge fan of Southern All Stars and Chigasaki Story – My Little Hometown, which he directed. I hope you'll come to the theater to experience this blend of recitation and drama!

Information

Shitaitoka, Shitakunaitoka no Hanashi Janai (It's Not About Whether or Not I Want To)
Venue: Haiyuza Theater (Tokyo)
Original Work/Screenwriter: Shin Adachi (Shitakunaitoka no Hanashi Janai) (Futabasha Publishing)

Performance Date/Time/Cast:
4/20, 19:00 / Ryoko Shinohara x Hirofumi Araki
4/21, 19:00 / Ryoko Shinohara x Hirofumi Araki
4/22, 15:00 / Hitomi Sato x Shigenori Yamazaki
4/22, 19:00 / Hitomi Sato x Shigenori Yamazaki
4/23, 15:00 / Ryoko Shinohara x Shigenori Yamazaki

Drama Cast during the play:
Seira Hayakawa (Nogizaka46), Yutaro

<Tickets>
Admission: ¥8,500 (Tax Included, all seats reserved)
General Sales: April 8, 10:00~
・Ticket pia
・Lawson Ticket (L-Code: 32329)
・e+

<Summary>
It's spring 2020, and the pandemic is the talk of the town. Once a successful film director, Takashi has since had bomb after bomb. His wife Kyoko finally gives him the boot after entering and winning a screenwriting contest without his knowledge, eager to break free from housework and childcare for a new life. One night, while Kyoko is busy revising a script that has been chosen to be dramatized, she receives a LINE message from Takashi, who has gone to pick up their child from preschool. "I wanna do it tonight. It's been a while…" Though the message is brief, it starts something in their marriage, which is filled with compromises and self-restraint. A husband who wants to do it and a wife who doesn't–is sex essential for a couple to have a good relationship? As they mercilessly confront each other, they realize their true feelings for the first time…This is a story of a clumsy couple who rethink their lives and the state of their marriage in the wake of their sexless relationship.

Official Site: https://aoistage.com/shitaitoka/

©AOI Pro.

Yutaro will appear in the new Kansai TV drama series Zenra Meshi. The series is scheduled to begin airing this April during the EDGE time slot.

The romantic comedy follows the protagonist Ichijo, a professional man hiding an incredible secret–he loves to eat naked. One day, this habit is revealed, and Ichijo finds himself quickly falling in love. Yutaro will play the role of Miki Mahiro, a young man who runs a fruit and vegetable store in Ichijo's hometown.

One highlight of the show is the number of tasty-looking dishes supervised by Yummy, a cooking expert who has gained incredible popularity for sharing simple recipes that anyone can make. The dishes that Ichijo and Mahiro prepare using foreign spices are especially noteworthy, and viewers will definitely want to recreate them at home.

<Comment from Yutaro>

"My name is Yutaro and I play the role of Miki Mahiro.

When I first heard the name of the series, I was so confused. I'd be naked? And eating? I thought I'd need to strip, but I was told that my character didn't need to. I was so relieved…

My character is a young man who runs a fruit and vegetable store and likes to cook, so I tried to cook for myself as much as I could after being cast. Be sure to look forward to the cooking scenes–I did all of it myself!

I've previously worked with Shori Kondo, who plays Ichijo, so we already had a good relationship. So, there were some scenes where we get pretty close to each other, but it wasn't stressful at all. Everything went smoothly from day one. The staff has been amazing–everyone has been fun to work with, and even during darker scenes, everyone starts laughing as soon as the director yells "cut!"

Even though this is a romantic comedy, there are sad scenes scattered throughout that will make your heart ache, and I think it will touch a lot of people's hearts. Please look forward to it!"

Information

Zenra Meshi (Drama Series)
Premieres April 13, 2023
Airing Thursdays during the EDGE slot from 0:25~0:55 (Kansai Local)
*Episode 1 will air from 0:40~1:10
Streaming on Kantele Douga・TVer

Starring: Shori Kondo, Yutaro, etc.
Script: Tomomi Ookubo, Ryo Kawasaki, Yoriko Kodama
Directors: Misato Kato, Ayaka Kato, Ryo Kawasaki
Producers: Yoko Toyofuku, Keiko Nakayama
Made in Collaboration with FCC
Written in Collaboration with Kansai Telecasting Corporation

<Episode 1 Synopsis>
Futa Ichijo (Shori Kondo) is an elite salaryman working for the Financial Services Agency. A "perfect" man both in appearance and work performance, he has a secret hobby that he can't tell anyone about…

After an exhausting day at work, he comes home to his empty apartment, taking off his suit and his underwear, and eats a meal in the nude. Ah, what freedom! These stress-relieving nude meals would always be his secret.

One day, Ichijo receives a letter from his deceased grandmother–the letter had been sent before her death. Enclosed was the key to her house, and one day, after working overtime until the early morning hours, Ichijo is led to his grandmother's house. After falling asleep, an unfamiliar man comes in through the front door! Fighting back against the intruder, sure it was a thief, it turns out to be Miki Mahiro, a friend of Ichijo's grandmother. Mahiro owns a produce stand and spent time teaching the woman how to cook before she passed away.

Unique foreign spices and recipe notes were left in the house, and feeling hungry, Ichijo attempts to cook one of the dishes. Stripping naked before digging in, his secret is revealed as Mahiro appears!

Official Pages
HP: https://www.ktv.jp/zenrameshi/
Twitter: @lalala_meshi
Instagram: @lalala_meshi

Yutaro will appear in the upcoming stage production of How Many Sins are There, written, directed, and performed by Shigeyuki Totsugi. The play will begin in April 2023.

5D2-FIVE DIMENSIONS is a solo project by members of TEAM NACS, giving each member space to express themselves. This play will be Shigeyuki Totsugi's first new work in nearly four years.

Yutaro will play the role of Raido Beppu, a transgender inmate on death row who is interviewed by the reporter protagonist.

<Comment from Shigeyuki Totsugi>
"Four whole years have passed since my last solo project, MONSTER MATES. I'm incredibly happy to finally be able to return to my professional solo career in this big way.

Moreover, as with previous performances, I've assembled the best possible cast. We're all grateful for this opportunity and we're determined to bring audiences the best possible performance. Please look forward to it!"

Information

TEAM NACS Solo Project 5D2 -FIVE DIMENSIONS II-
Ikutsu no Daizai ~How many sins are there?~

Starring:
Kenta Suga, Fumika Baba
Tomoya Maeno, Yutaro, Noritaka Hamao, Tsukasa Kuroiwa, Kazuki Namioka
Shigeyuki Totsugi

Created and Directed by Shigeyuki Totsugi

■Tokyo Performance
Venue: EX THEATER ROPPONGI
Running: April 15 – April 23, 2023

■Osaka Performance
Venue: Morinomiya Piloti Hall
Running: April 28 – April 30, 2023

■Sapporo Performance
Venue: Kanamoto Hall
Running: May 5 – May 7, 2023

<Tickets>
Admission: ¥8,500 (Tax Included, all seats reserved)
General Sales: Lawson Ticket, March 18, 2023 at 10:00~
*General tickets for these performances will only be available for purchase at the Lawson Ticket website.

Details here
https://www.teamnacs.com/

<Summary>
Gossip magazine reporter Karasumi Ootani (Kenta Suga) is assigned a feature-length piece on death row inmates by his editor-in-chief Hitomi Kanzaki (Fumika Baba).

The content of the piece is simple and terrifying: "Convicted Killers Brainstorming the Perfect Murder."

The death row inmates to be interviewed include the dancer Tony Ogura (Tomoya Maeno), transgender inmate Raido Beppu (Yutaro), fisherman and gambling addict Idoharu Donguri (Noritaka Hamao), entertainment manager Rousuke Arisu (Tsukasa Kuroiwa), self-proclaimed musician Ichirou Enbi (Kazuki Namioka), and college professor Tobiemon Urasu (Shigeyuki Totsugi).

During the lengthy–and sometimes bumpy–interview process, the prisoners begin to mysteriously die one by one.

As the condemned prisoners become increasingly troubled as they face execution, they finally discover why they were brought together. An unpredictable ending awaits…

Yutaro to Appear in NHK E Special Drama Series 'Tokyo no Yukiotoko'

Yutaro will appear in the upcoming drama series Tokyo no Yukiotoko airing on NHK E starting February 4, 2023.

The family-centered series is packed with both humor and sorrow and tells the story of humanity living alongside a mysterious other species–the Snow People. Kouichi Yajima, known for his work on Kazeyo Arashiyo, Kounodori, and Busujima Yuriko no Sekirara Nikki, penned the screenplay.

Information

Tokyo no Yukiotoko (Special Drama Series)
Starting: February 4, 2023 on NHK Educational TV
Airing every Saturday, 21:00-21:30 (5 episodes)
Script: Kouichi Yajima
Starring: Hayato Isomura, Kana Kita, Shingo Mizusawa, Miwako Shishido, Akari Takaishi, Tamae Ando, Manabu Hamada, Yutaro, Naoto Eguchi, Eri Tokunaga, Saori, Yasuhi Nakamura, Ron Mizuma, Kaito Yoshimura, Yui Kitamura, Shuntaro Miyao, Tamaki Ogawa, Shiro Sano, Yorie Yamashita

Yutaro to Appear in TV Tokyo Drama Series 'Nani ka Okashii 2' with Theme Song by Atarashii Gakko!

The sequel to the May 2022 suspense drama series Nani ka Okashii (Something's Strange) is now streaming on the Paravi streaming service. It has been announced that Atarashii Gakko! will provide the theme song titled Suki Lie.

The original series featured a mysterious radio program and a murder mystery. The story was first written by occult horror writer Uketsu, whose bestseller Strange House sold over 300,000 copies.

<Comment from Atarashii Gakko!>
"We're honored that our song Suki Lie will be used as the theme song for Nani ka Okashii 2! Thank you so much!
The song is a strange pop tune, and that strangeness makes it perfect for this show. We're looking forward to the show's ending, where Uketsu will dance to our choreography! We also get to appear as radio guests in the drama in Episode 12, so keep an eye out!"

Atarashii Gakko!

<Comment from Yutaro>
"I'm Yutaro and I'll be starring in the series as a listener. I've been watching Uketsu's YouTube channel last year, so I was so happy to hear this new story. I really hope you'll enjoy this unique drama series."

Yutaro

<Comment from Director and Screenwriter Yu Ota (TV Tokyo)>
"Nani ka Okashii 2 is complete. In every episode, someone gets badly hurt, but a bad ending is rarely seen in Japanese dramas. The show sees someone hurt, and the malice born from that action splashes up and hurts someone else, and so on.
The cast for this series is incredible and extremely varied. The people on the radio booth side–who will be playing themselves–were asked to be calm with no connection or interest in horror or drama. On the other hand, those on the other side needed to have stronger personalities.
I'm also so happy to hear the theme song by Atarashii Gakko! Many people on the staff are fans of their music, and we thought it would be incredible to have Uketsu dance to their bizarre choreography as part of the series."

©テレビ東京

Information

Nani ka Okashii 2 (TV Tokyo Drama)
Airing on TV Tokyo in 2023
Episodes: 12
Starring: Yosuke Asari, Shogo Hama, Kanji Tsuda, Satoru Matsuo, Gaku Hosokawa, Saikou no Ningen (Yoichi Okano, Yoshizumi), Kenta Hamano, Hajime Syacho, LiLiCo, Glover, Yuuchami, Suzu Yamanouchi, Hina Higuchi, Atarashii Gakko!, Maju Ozawa, Nao Yumiki (Nogizaka46), Wakana Sakai, Yutaro, Yurina Yanagi
Original Story: Uketsu

Theme Song:
・Advanced stream & terrestrial TV & webcasts (Airing 2023)
intersolid – Toko Miura
・Terrestrial TV & Webcasts (Airing 2023)
Suki Lie – Atarashii Gakko!

*Honorifics omitted

Streaming Dates:

■Paravi Streaming Service
December 23, 2022 – Episodes 9 and 10 streaming at 9:00
January 20, 2023 – Episodes 11 and 12 streaming at 9:00
Nani ka Okashii 2 – Episodes 1-8 now streaming

■Odd-numbered episodes available for free on TV Tokyo's YouTube drama channel
Nani ka Okashii 2 – Episodes 1, 3, 5, and 7 now available
Nani ka Okashii – Episodes 1-3 now available

【Paravi】https://www.paravi.jp/title/98313
【YouTube】https://www.youtube.com/c/tvtokyodrama

Official Site
https://www.tv-tokyo.co.jp/nanikaokashii2/

Yutaro will star in the TV Tokyo Paravi original drama series Raise de wa Chanto Shimasu (I Will Do It in the Next Life).

The series is based on the manga of the same name written by Itsuma-chan and serialized in Shueisha's Grand Jump. Characters in the series live their lives without boundaries, from sex addicts and BL otaku to virgins and idol addicts. The erotic comedy blends risqué topics with tender and sometimes sad storytelling, giving hope to those facing troubles in their love and sex lives.

Prior to the start of the broadcast, the series will pre-stream on the Paravi video service starting December 28, 2022.

<Comment from Yutaro (Nagi Kuriyama)>
"This series began in 2020.
I'm so happy to play Nagi-chan in Season 2, the New Year's Special, and now again. I'm also honored to start 2023 by starring in this series that I have such a strong attachment to. I've started feeling the pressure of everyone's rising expectations for Nagi, and before filming started, I enhanced my sense of beauty, going on a diet to create an even better version of the character. The same incredible director has led me for three years, and I think I'll be lonely when this is all over.
I'm sure plenty of viewers are wondering if Nagi will have a happy ending after so much bitterness and sadness emerged from him last time. Will he become more powerful in Season 3? After all, a new character is about to appear. Be sure to tune in!"

(C)いつまちゃん/集英社

(C)「来世ではちゃんとします 3」製作委員会

Information

Drama Paravi – Raise de wa Chanto Shimasu (I Will Do It in the Next Life)
Where to Watch: TV Tokyo, TV Osaka, TV Aichi, TV Setouchi, TV Hokkaido, KVQ Kyushu Broadcasting
*Scheduled to air on BS TV Tokyo in the future
Airing January 4, 2023 at 0:30
Streaming: Available to watch on Paravi starting on December 28, 2022 at 9:00
Based on Itsuma-chan's manga series in Shueisha's Grand Jump

Lead Actress: Rio Uchida
Starring: Rina Ota, Yuta Koseki, Takenori Goto, Tsubasa Tobinaga, Yutaro, Chika Nakagawa, Akihisa Shiono, Yuya Hirata, Kentaro Tomita, Obata no Onisan, Miwako Kakei, Sakurako Konishi, Misaki Akari, Ryouya Ihara (Daw 90000)

Official Site: https://www.tv-tokyo.co.jp/raisechan3/

Drama Series Nani ka Okashii 2 Starring Yutaro to Feature Theme Song by Atarashii Gakko!

The sequel to the May 2022 suspense drama series Nani ka Okashii (Something's Strange) is now streaming on the Paravi streaming service. Atarashii Gakko! will provide the theme song titled Suki Lie. The show will air on TV Tokyo in 2023. In addition, actor Yutaro stars in episodes 9-12. 

The original series featured a mysterious radio program and a murder mystery. The story was first written by occult horror writer Uketsu, whose bestseller Strange House sold over 300,000 copies.

<Comment from Atarashii Gakko!>

"We're honored that our song Suki Lie will be used as the theme song for Nani ka Okashii 2! Thank you so much!

The song is a strange pop tune, and that strangeness makes it perfect for this show. We're looking forward to the show's ending, where Uketsu will dance to our choreography! We also get to appear as radio guests in the drama in Episode 12, so keep an eye out!"

<Comment from Yutaro>

"I'm Yutaro and I'll be starring in the series as a listener. I've been watching Uketsu's YouTube channel last year, so I was so happy to hear this new story. I really hope you'll enjoy this unique drama series."

<Comment from Director and Screenwriter Yu Ota (TV Tokyo)>

"Nani ka Okashii 2 is complete. In every episode, someone gets badly hurt, but a bad ending is rarely seen in Japanese dramas. The show sees someone hurt, and the malice born from that action splashes up and hurts someone else, and so on. 

The cast for this series is incredible and extremely varied. The people on the radio booth side–who will be playing themselves–were asked to be calm with no connection or interest in horror or drama. On the other hand, those on the other side needed to have stronger personalities.

I'm also so happy to hear the theme song by Atarashii Gakko! Many people on the staff are fans of their music, and we thought it would be incredible to have Uketsu dance to their bizarre choreography as part of the series."

©テレビ東京

Information

Nani ka Okashii 2 (TV Tokyo Drama)

Airing on TV Tokyo in 2023

Episodes: 12

Theme Song: Suki Lie – Atarashii Gakko!

Streaming Dates:

■Paravi Streaming Service

December 23, 2022 – Episodes 9 and 10 streaming at 9:00

January 20, 2023 – Episodes 11 and 12 streaming at 9:00

Nani ka Okashii 2 – Episodes 1-8 now streaming

■Odd-numbered episodes available for free on TV Tokyo's YouTube drama channel

Nani ka Okashii 2 – Episodes 1, 3, 5, and 7 now available

Nani ka Okashii – Episodes 1-3 now available

Paravi: https://www.paravi.jp/title/98313

Upcoming Film 'We Are Not Alone,' Starring Yutaro, to Release in December

The popular actor Yutaro will star in the upcoming film We Are Not Alone, scheduled to release in theaters in December 2022.

The film promises to be a unique take on the world of today, focusing heavily on justice, greed, and egoism. It will be directed by Tomoaki Kaneko and produced by yucca. 


The film will ruthlessly depict the contrast between the darkness of adults and today's youth. It will take place in a desolate shopping district and follow the main character, Shun Miyata (Yutaro), who is not good at interacting with others, and who works part-time at a bento shop. More information will be announced on the official film website soon, so keep an eye out!

Comment from Tomoaki Kaneko (Director)


"What are we living for? Everyone has their own story,  their own reasons, and their own justifications. It may seem easy to distinguish between right and wrong, but everyone has their own beliefs, and some of those thoughts may be distorted. Rather than immediately labeling someone as 'evil,' the world might be made a little better if we can imagine why people do what they do. 

This film is set in Tokyo, but the story doesn't depict the standard 'positive, glamorous, fun' version of Tokyo, instead telling a more somber and lonely story. The actors expressed themselves in such a powerful way, and I was impressed by the way they took on these challenging roles. 

This story may not be upbeat, but it can be perceived in so many different ways depending on the viewer. I hope that the positivity in the film will come through and inspire everyone to see things from a different angle."


Comment from Yutaro

"I'm Yutaro, and I play Shun Miyata.

I didn't expect to be cast in the lead role after the audition, so the pressure was immediately on! But when I read the script, I was told by the director and staff that I was the only person who could play the part of Shun. I was immediately determined to do my best. 

The film tells the story of a young man who is slowly moving towards the future and searching for his own right answer. Is love what he imagined it to be, and are the righteous words he's been saying really righteous at all? I hope you'll come to see the film in theaters and connect with it in some way. We are not alone."

Summary

Shun Miyata isn't good at interacting with people. Submitting his work to tons of publishers to fulfill his dream of becoming a novelist, the response isn't great. Needing a change of pace, he moves to Tokyo and starts working part-time at a bento shop. The friendly and beautiful shopkeeper Yuriko Kodama and another part-time worker Yuka Kosaka welcome him to the city, and his new life in Tokyo seems to be off to a good start.


But happiness doesn't always last.



One day, Shun and Yuka discover Yuriko's secret–a brutal plan involving the entire shopping district and the local chairman Saiki.  Agonizing over their inability to take any action, Shun and Yuka begin to grow closer.

What are these two young people feeling? An ordinary landscape can hold unexpected darkness, and this work will bring those fears to light. 

YUTARO Collaborates With Korean Brand DOMINANT at 60%

Japanese actor and model Yutaro is collaborating with South Korean street brand DOMINANT with a special collection that's now available worldwide online at 60% – SIXTYPERCENT until July 7.

YUTARO x DOMINANT Collaboration T-Shirts

Red/Blue: ¥6,400 Each (Tax & Shipping Included)

YUTARO × DOMINANT Collaboration T-Shirts & Half Pants Setup

Red/Blue: ¥14,100 Each (Tax & Shipping Included)

YUTARO has always been a huge fan of South Korean fashion, and this is his first time collaborating with a brand from the country, creating a collection entirely from scratch. The items use a hippopotamus motif, which is YUTARO's favourite animal, wearing his trademark glasses. The t-shirts come with either red or blue neck and sleeve edges, and the half pants are made of a high quality material with an emphasis on the silhouette.

Tokyo Stroll: The Café That You Want to Visit to See Someone #14 – 'Kayaba Coffee' in Yanaka

In this edition of The Café That You Want to Visit to See Someone, I visited Kayaba Coffee, a coffee shop in Yanaka, Tokyo, which is a perfect example of the old and traditional shitamachi neighbourhoods.

Kayaba Coffee is just a 10-minute walk from both Nezu Station and Nippori Station.


This is a place I've visited in my private time out of work and I'm always excited to go. Kayaba Coffee was established in 1938, and actually closed in 2006. But due to public demand, the cafe reopened just two years later in 2008. It's a popular coffee shop loved by people of all generations.

Time to head on in.

The first floor houses the counter and table seats, while the seating on the second floor is traditional zashiki style on tatami flooring. Although it's a cafe, you I feel so relaxed in there that it's like I'm visiting my grandma's house. The sun shines through the big windows, making you all warm and want to take a nap.

I ordered their super popular egg sandwich! The menu was changed in May this year, and a new and improved version of their egg sandwich was put on there. It's made using sourdough bread from VANER, a local bakery in Uenosakuragi not far from the cafe.


Breakfast Menu – Egg Sandwich | ¥1,000

The chewy, sour bread is the perfect combination with the fluffy eggs.

Lemon Squash | ¥600

The lemon squash has a cinnamon aftertaste. Everything on the menu is made with love and perfection; before I realised it, I was hooked on going there.

Strawberry Shaved Ice | ¥800

This was my first shaved ice of the year! I went with the classic strawberry flavour. The syrup is super juicy and nearly collapsed the fluffy shaved ice the moment I put it on. It has a syrupy texture and the strawberry juice has a sweet and sour kick that's just simply delightful♡

And you can make it even sweeter by pouring over your desired amount of condensed milk. It was really tasty.


Kayaba Coffee is the same as it was back in the day, and continues to be loved dearly. I think even people who visit it for the first time will feel a sense of nostalgia. If you have a place you can go to relax on bad days or when you're feeling down, it's sure to give you the strength to work hard again. This cafe is a wonderful place that's close to people's hearts.

I want to visit there again already.

Writer/Model: Ema Tanioku
Photographer: Haruka Yamamoto
Design: Yuko Takayama (ASOBISYSTEM)

Translator: Joshua Kitosi-Isanga

Information

Kabaya Coffee
Address: 6-1-29 Yanaka, Taito-ku, Tokyo

Opening Hours: [Tue-Fri] 8:00-18:00 (Last Orders 17:30) / [Weekends] 8:00-19:00 (Last Orders 18:30)

Closed: Mondays