Cafe Hohokam – A Hamburger Shop Recommended by the Harajuku Tourist Information Center Staff
Hi, everyone! I'm Midori Blackmore and I work at MOSHI MOSHI BOX, the Harajuku Tourist Information Center.
Today, I went to Cafe Hohokam with fellow MOSHI MOSHI BOX colleague Ellie, so I wanted to share my experience with you all.
Hohokam is located behind MOSHI MOSHI BOX and can be found up the staircase past FABIUS Cafe.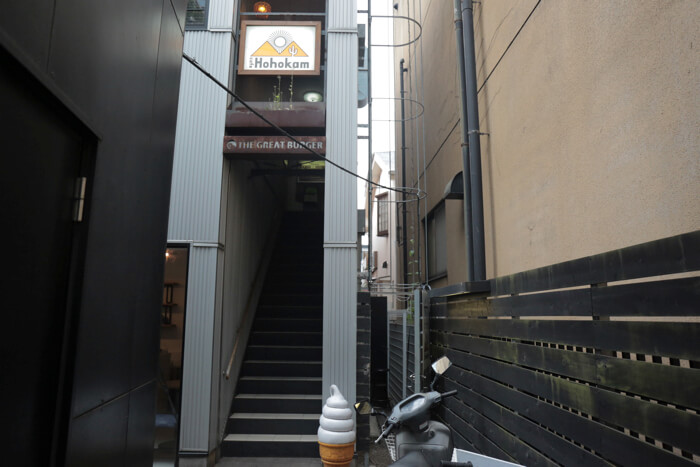 Head up these stairs to find the entrance.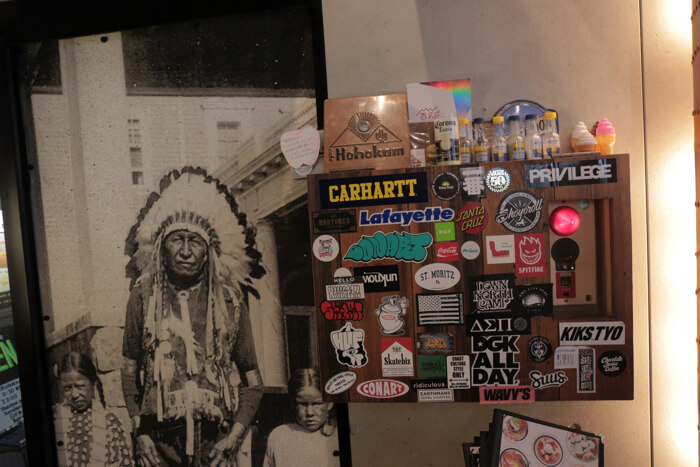 Hohokam is decorated to look like a motel you would see in Arizona. I've never been outside Japan before so I had to look up what exactly they're like. Arizona is a state in the southwestern region of the US. It's bordered by Mexico to the south, is very hot, and is home to the Grand Canyon. It also has the largest Native American population.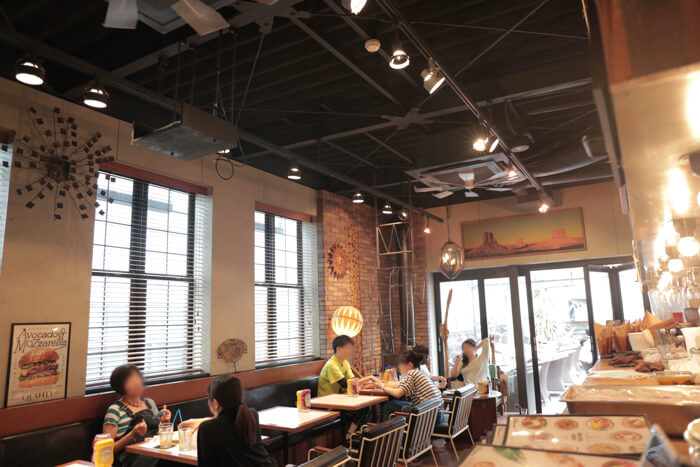 *We have blurred the faces of the people inside to protect their identities.
'I see,' I said to myself and looked around. So that's the atmosphere they're going for. It's very stylish but also feels incomparable to anything else.
We both ordered an orange cream soda with a Hohokam burger and French toast that comes topped with Nutella, bananas and whipped cream.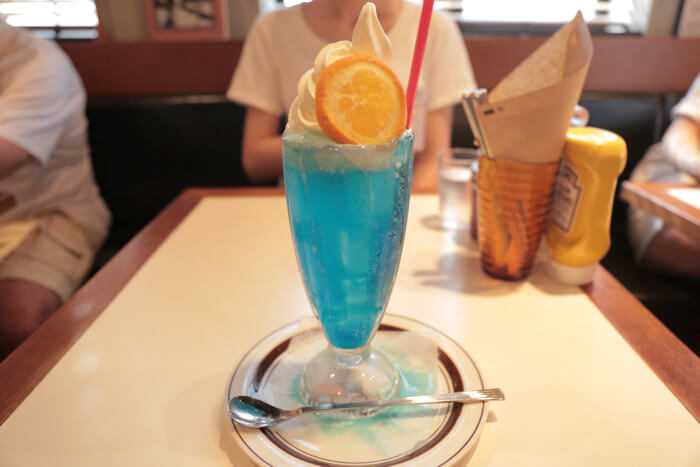 How amazing does this look? It looks like the cream soda you only see in manga. I was really surprised. It's tall and the colour is gorgeous. Really just the best. This must be the proper way to make it in the cream soda industry. When you drink your cream soda, don't you think to yourself, 'Summer has arrived,' too?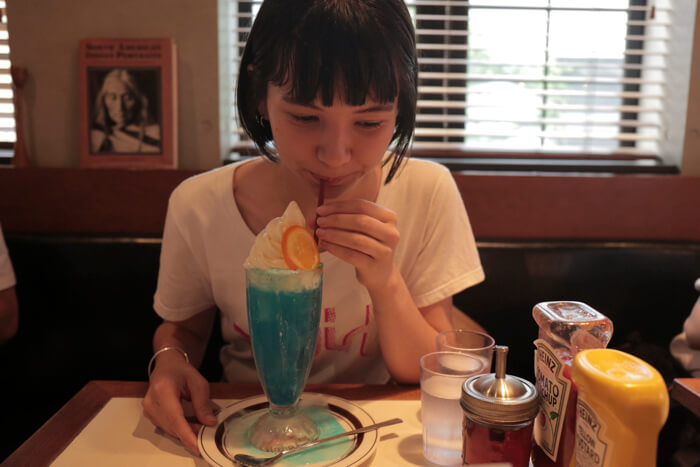 It's strange when you first take a sip because although it's blue it has an orange flavour. The soft serve cream on top is also sweet and really delicious!
There's four cream soda flavours to choose from: melon, raspberry, lemon and orange, and they're all supposed to be colourful and taste good. It might be a fun idea to order different coloured drinks with your friends.
Next up is the Hohokam burger! The menu said it has chili beans, cheese and a jalapeno patty.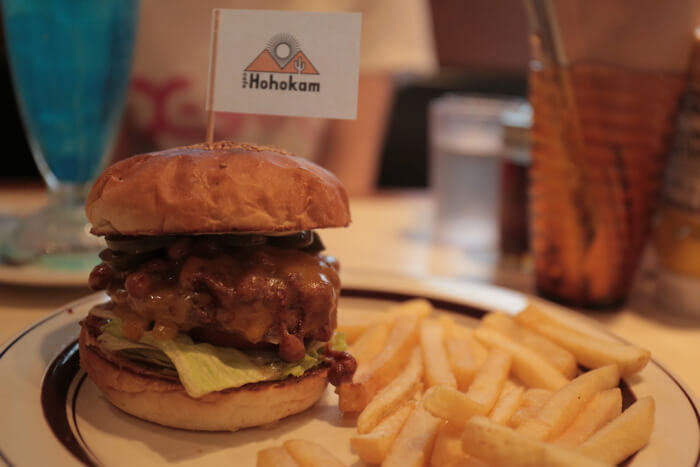 Tada!
The flag on top is cute, isn't it? You can wrap the burger with the napkins provided on the table before biting into it, but we both shared it.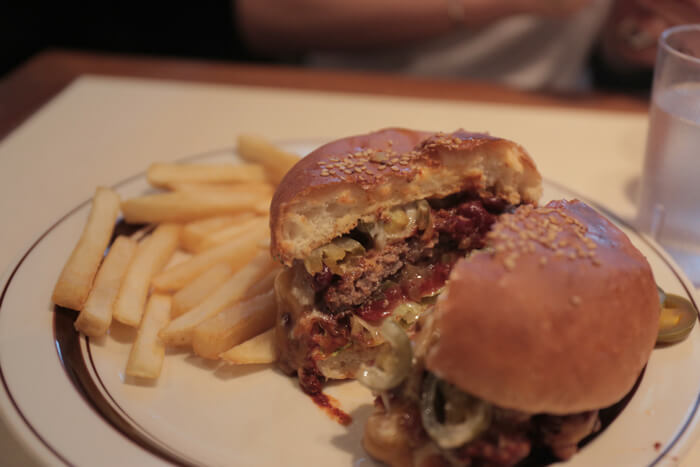 This is how it looks cut in half. The red part is the chili beans. It's spicy when you take a bite, but it's not overly spicy at all! For me I thought it was a refreshing kind of spiciness like that of Mexican cuisine. I'm no good with spice and even I could eat it.
The meat inside was made very well. It was just the kind of hamburger you'd expect at a hamburger shop.
There's a bunch of other burgers to choose from too, like the mozzarella burger, barbeque burger, cheeseburger and more.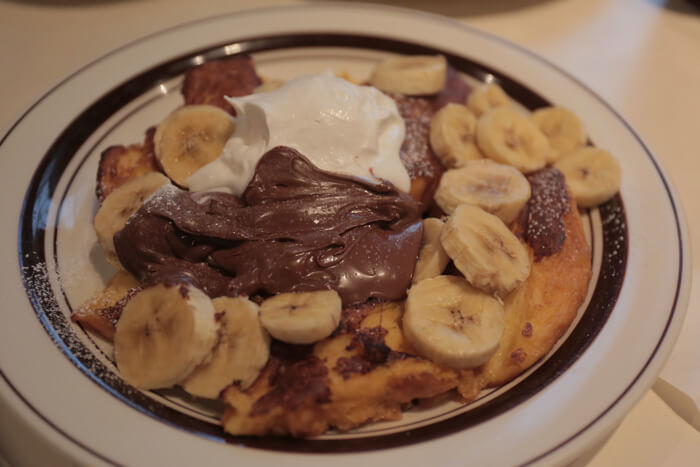 Last up is the French toast with Nutella & Banana & Whip cream!
Something looking like this has got to be delicious.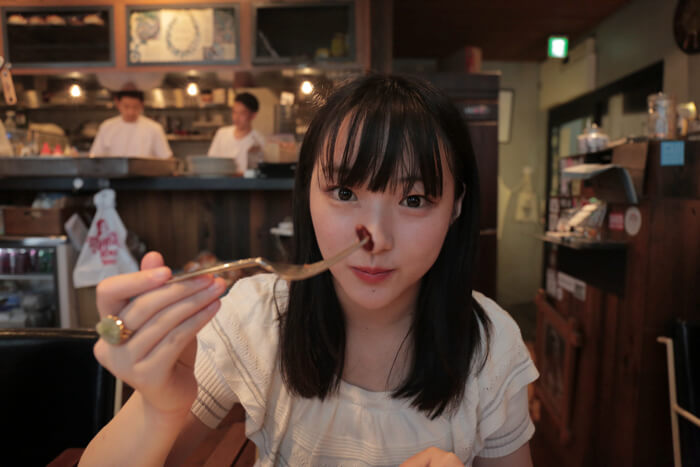 The burgers at Hohokam are of course delicious, but I personally want to give the nod to their desserts. They're seriously something else!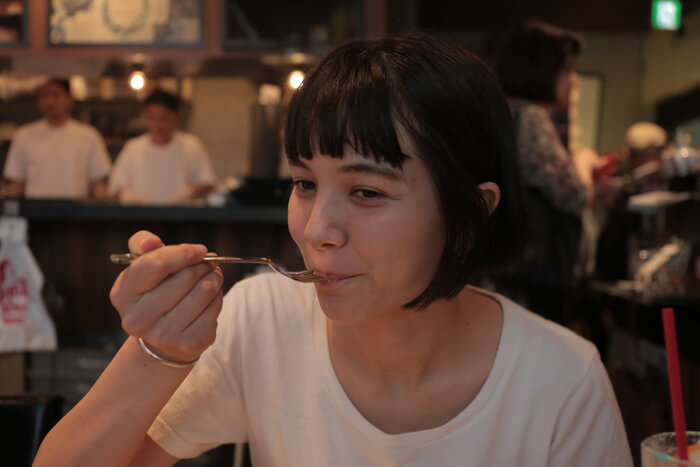 The fluffy French toast is topped with sweet Nutella and whipped cream, but it's not heavy at all. We were already quite full but we were able to lap it up easily.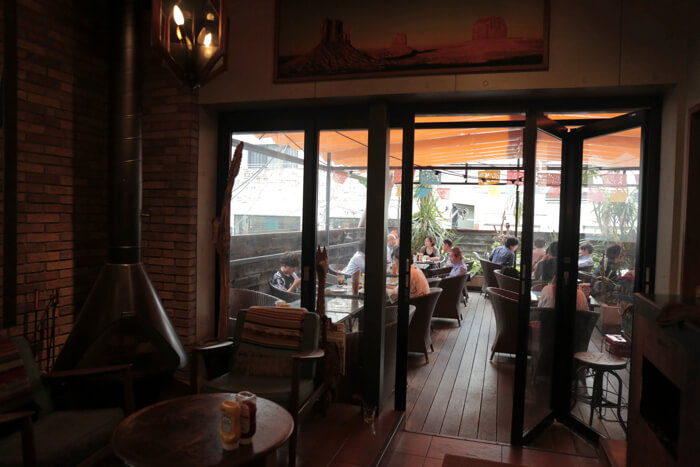 They also have a terrace smoking area. The atmosphere there was fairly nice too! Dining outside can make eating your food taste good too, can't it?
Another great thing is that everything at Hohokam can be ordered for takeout! We recommend getting a delicious burger and having a picnic in Yoyogi Park!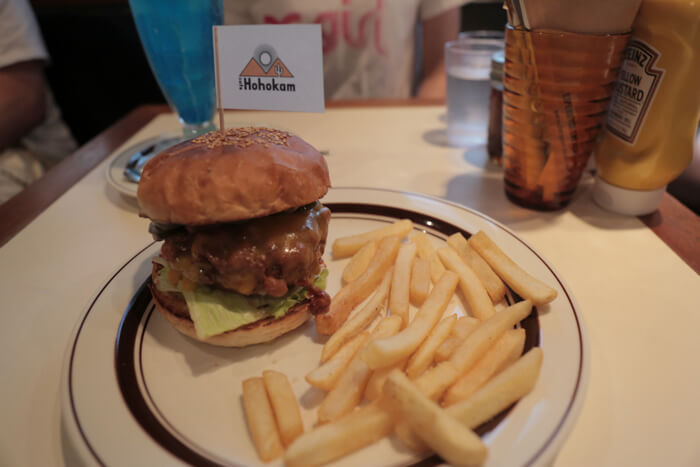 So, do you like the sound of Cafe Hohokam? It's great for lunch or dinner, and we also recommend using it as a café to stop by when you're out shopping.
If you're in Harajuku and have an empty stomach, or you're in need of a dessert, then please try Cafe Hohokam for yourself.
■Information
Café Hohokam
Address: 2F, 3-22-14 Jingumae, Shibuya, Tokyo
Opening Hours: 11:30-23:00(L.O. 22:30)
TEL: 03-5755-5708
Website: http://www.cafe-hohokam.com/
RECOMMENDED ENTRIES
The Korean shaved ice shop,"SULBING HARAJUKU" –a report by MOSHI MOSHI BOX, staff person, Midori

Hello, everyone. My name is Midori Blackmore and I am a staff person of MOSHI MOSHI BOX Harajuku Tourist Information Center.

Do you like strawberries? I love strawberries so, I feel happy during this spring season because many desserts using strawberries are released every year.

This time, I visited the very popular shaved ice specialized shop, "SULBING HARAJUKU" from Korea.

The shop is always crowded in summer, but you don't have to wait to get into the shop during the winter season.

It might sound weird to eat ice cream during winter, but I think it is nice to eat something cold inside a warm room, for some reason.

Eating a shaved ice inside a warm shop is the same!


The shop is located on the 2nd floor of the building where the sports store, SKECHERS is located, near the Takeshita Exit of Harajuku Station (make a right turn after getting out of the exit). The sign of the shop is small so be careful not to miss it.

The inside of the shop is spacious and warm. Many of the customers are women but I saw some groups of men as well. A wide generation of people visit the shop.

Secure a table first before making an order at the counter. The product I ordered was a winter-limited, "Nama Ichigo SULBIN"(fresh strawberry shaved ice)!

After ordering, take a buzzer and wait at your seat.

When the buzzer rings, go to the counter and receive your shaved ice.

"Nama Ichigo SULBIN"(fresh strawberry shaved ice) 1,400 yen (tax included)

Boom!

The product was bigger than I thought. Look at the size of it!

You will realize that it is not a normal shaved ice as soon as you put it into your mouth.

The ice is very fine and has a soft texture. Even when it is cold out, the ice will not result in a "rush to the head"and you will be able enjoy the fresh ice texture.

Also, the shaved ice of this shop has the flavor of milk! The combination of the milk-flavored shaved ice and lots of strawberries goes very well.

Red bean jam paste is inside the shaved ice so you will never get tired of eating this sweets item.

SULBIN HARAJUKU sells many kinds of menu items.

One popular menu item is"Mango Cheese SULBIN" 1,500 yen (tax included)


A popular item that is not a sweets is  (food menu)"Mozzarella Toppogi Toast" 1,100 (tax included)

For those of you who do not have "a sweet tooth,"I recommend that you share an ice shaving dish with your friends or with your boyfriend.


"Nama Ichigo SULBIN" will be sold until February for sure but it might not be sold in March. Let's go to the shop as soon as possible!!

◼︎Information

SULBING HARAJUKU

Address: 2F, Green Oak Harajuku, 1-14-34, Jingumae, Shibuyaku, Tokyo

Business hours: 10:30 – 20:00(LAST ORDER 19:30)

Fixed holiday: undecided

Access: 58m from the Takeshita exit of JR Yamanote Line – Harajuku Station

1 minute on foot from the 2nd exit of Tokyo Metro Chiyoda Line – Meiji Jingu Station
TEL:03-6721-0404

■MOSHI MOSHI BOX Harajuku Tourist Information Center

MOSHI MOSHI BOX is a tourist information center located at the cross road of Takeshita Street, Meiji Street, and Harajuku Street. The staff there are experts on the Harajuku area. You can get the most up-to-date news of Harajuku from the site.

Services:

Service list

・free wi-fi

・free water

・free PC & charge

・baggage room

・gift shop

・currency exchange

Opening Hours: 10:00-18:00

Closed: The year-end and New Year holidays

Contact: 03-2225-6447

Twitter・Instagram @mmb_harajuku

Introducing AFURI—Harajuku's Michelin-Starred Ramen Restaurant

Hi, everyone. I'm Shiota, the Director of the MOSHI MOSHI BOX Harajuku Tourist Information Center.

Foreigners coming to Japan love ramen, as shown in our questionnaire where it ranked 2nd place. I'm sure there's a lot of you reading those who like it too.

Did you know, there's actually a famous ramen place in Harajuku listed by Michelin? Today, I'll introduce you to AFURI Harajuku, a ramen shop recognised worldwide.

It's easy to get to. Just take the JR Yamanote Line to Harajuku Station and it's a 3-minute walk from there. Head left out of Takeshita Exit and make a right when you come to Nescafe Harajuku. You'll be able to see it on your left.

The restaurant itself has a very stylish and modern exterior. You'll actually wonder whether it's really a ramen shop when you see it. It has a welcoming atmosphere even if you go by yourself. When we went, despite it being 3pm on a weekday, most of the seats were taken up. And half of the customers were non-Japanese! As expected of such a popular restaurant.

The smell of citrus hits your nose upon entering the restaurant, something you wouldn't expect in a place that sells ramen.

The inner section of the U-shaped counter is in fact an open kitchen, giving the whole restaurant a feeling of openness, and the background music that plays is calm. It feels like you're in a fancy café.

I ordered the Yuzu Salt Ramen (¥980).

The toppings are simple. It comes with juicy mizuna, a boiled egg, bamboo shoots, char siu chicken fillet, and refreshing yuzu skin. You can choose from a boiled char siu packed with the chicken's good flavour or a light and healthy chicken char siu.

The noodles are thin and a healthy mix of wholewheat flour from Hokkaido and rye. The soup is made with carefully selected ingredients such as roast chicken,  seafood and potherbs that have been carefully cooked in natural spring water from Mount Afuri. The flavour is both full-bodied and light and will have anybody who's tasted it addicted.

There's also a vegan ramen (¥1,350) option too made with seasonal vegetables for vegans, vegetarians and healthy eaters. It's made with freshly-harvested Kamakura vegetables. No animal products are used in the dish, whether that's in the noodles, soup or toppings. The salted soup goes perfectly with the vegetables. This option is also recommended for people who aren't good with thick ramen.

AFURI in Harajuku is celebrated not only by worldwide fans of ramen, but healthy eaters and vegetarians too. There's no doubt you'll become hooked once you give their food a try.

◼︎Information

AFURI Harajuku

Address: Grande Foresta 1F, 3-63-1 Sendagaya, Shibuya, Tokyo

Opening Hours: 10am-3am (following day)

No Fixed Holidays.

3-minutes on foot from Takeshita Exit for Harajuku Station

TEL: 03-6438-1910

Website: http://afuri.com/

■MOSHI MOSHI BOX Harajuku Tourist Information Center

MOSHI MOSHI BOX is a tourist information center located at the cross road of Takeshita Street, Meiji Street, and Harajuku Street. The staff there are experts on the Harajuku area. You can get the most up-to-date news of Harajuku from the site.

Services:

Service list

・free wi-fi

・free water

・free PC & charge

・baggage room

・gift shop

・currency exchange

Opening Hours: 10:00-18:00

Closed: The year-end and New Year holidays

Contact: 03-2225-6447

MOSHI MOSHI BOX recommends 4 second-hand fashion shops located in the fashion capital Harajuku

Hi everyone! I'm Midori Blackmore from MOSHI MOSHI BOX Tourist Information Centre. As you all know, second-hand clothing has quickly become the new fashion. I have never worn a matching second-hand clothing outfit with a friend before. My friends are very different from me. They can effortlessly coordinate second-hand fashion whereas I can't. I love second-hand clothes so much that they make up half the clothes I own in my closet.

…Despite this, I still feel a scared to enter second-hand shops, don't you?

Whenever I see a new collection of second-hand fashion items making their debut appearance in a shop, I always think to myself, "only fashionable people can buy this stuff!" Running out of courage, there are times that I stop right before the entrance of the shop. That's why I'm dedicating this article to all the second-hand fashion newbies out there. Today I'm going to introduce you to some second-hand clothing shops that are not scary to enter!

KINJI

What is scary about second-hand clothing shops you ask? Sometimes they can look kind of dark. After all, dark clothing is fashionable. The dark atmosphere can be quite intimidating and can even put you off checking out the new arrivals of second-hand clothing. However, KENJI is a large shop with a bright interior. The atmosphere is comparable to that of a supermarket. Of course, the items inside are also super cute!

I recommend KENJI's remade goods! If you own one of these, you will find yourself often being asked by people where you got that from.

flamingo

Flamingo is the mecca of second-hand shops. This famous shop also has a branch in Shimokitazawa. We are often asked about this shop at MOSHI MOSHI BOX. Compared to shopping malls, not only are there less customers in second-hand clothing shops, but the staff at second-hand shops approach you more, so there are times that I get put off from entering at all.

I recommend flamingo because unlike other second-hand shops, it is always busy with customers. The atmosphere of "no unfashionable people allowed" might play on your mind in some second-hand shops but not here! At flamingo, everyone is too busy daydreaming about clothes to even notice you so there is no need to overthink!

Flamingo has a reputation of selling lots of shoes. Although brand new shoes are cute, worn out shoes also have their charm. You can wear them down yourself but this can be quite difficult to achieve, so it might be worth just buying some from a second-hand shop.

WEGO Harajuku main shop

WEGO is popular with middle school students because it is cheap, affordable and sells second-hand clothes! There used to be a second-hand shop next to H&M but now there is a special second-hand clothing floor inside WEGO Harajuku main shop. The shop is filled with friendly staff and the kindest of people, so this is definitely a place you could challenge yourself to!

Second-hand clothing plus new accessories… It's fun to think about creating an outfit at WEGO. The prices here are fairly cheap, so you'll probably end up buying lots of things. Sometimes there are limited sales events where you can stuff your bag with as many clothes as you like for a fixed price, so make sure to keep checking their SNS feeds!

MARTE

Have you ever made the effort to buy specifically from a second-hand shop but then the clothes you have and the atmosphere in which you try the clothes on have changed so much that you cannot coordinate anything? When you buy basic items, patterned shirts and large jackets from a second-hand shop, you sometimes think your new purchases are cute when you see them in the shop but then when you go home you lose the confidence to wear them…what a waste, right?

For those of you out there who have experienced this, I recommend MARTE.

I definitely recommend the dresses from here. Just put one on and you will transform into a vintage girl. You can always coordinate these dresses with a jacket and trainers. Consult the fashionable shop assistants and make sure to get your hands on some clothes that are easy to mix and match!

MARTE's original items are also really cute!

I have so many more recommendations for you in mind but the more I write the more likely I am to expose just how nervous I am about entering shops so I'm going to stop here!

If you are ever lost, please come see us at MOSHI MOSHI BOX!

Harajuku's artistic okonomiyaki restaurant: Reporting from Sakura Tei!

Hi! I'm Ellie from MOSHI MOSHI BOX Tourist Information Centre. At MOSHI MOSHI BOX, we get a lot of people asking us to recommend a place where they can eat authentic Japanese food in Harajuku. That's why I've decided to take a trip to "Sakura Tei". Sakura Tei is a restaurant not far from MOSHI MOSI BOX that serves a typical Japanese dish – onokomiyaki. Half of Sakura Tei's customers are tourists from outside of Japan, so I would really recommend this place to foreigners.

What exactly is okonomiyaki? Its basic form is a savoury pancake made from water, wheat flour, shredded cabbage and fried batter pieces. The name okonomiyaki means grilled (yaki) as you like it (onkonomi). Therefore, it can be customised with seafood or meat. The ingredients are mixed together and then grilled in a cast iron pan. This is one of the most popular dishes in Japan.

Look out for the artistic exterior and bamboo

Walk down Meiji-dori in the direction of Murasaki Sports (ムラサキスポーツ) . Meiji-dori is the street on which MOSHI MOSHI BOX is also located. Once you are at Murasaki Sports, walk down the street between Murasaki Sports and New Balance (NB) and then turn left at the Family Mart. You will immediately notice that the road splits off into two directions. From this point, take the thin pathway on your left. You will see a white building on your left called "DESIGN FESTA GALLERY". The restaurant Sakura Tei is on the left of this building. Look out for the vivid wall art and bamboo exterior – this is a sign you are in the right place. If you get lost and don't know the way, don't hesitate to ask us for help at MOSHI MOSHI BOX.

The interior is also photogenic! Each wall is painted with beautiful artwork. A new design is painted on the walls every half year, so you might see something different if you come back later in the year! Some paintings were offered by a solo exhibition artist from the "DESIGN FESTA GALLERY" next door. Other designs were even painted by the restaurant staff! The restaurant seats more than 200 people, making it perfect for even large parties.

Being hit by a wave of beauty, it was fun to take pictures of the interior even before having entered.

What caught my attention the most were the trees that are growing inside the restaurant. I was told that they were growing here before this place became a restaurant, and rather than cutting them down, the owner nurtured them, incorporating them into part of the restaurant. From this dynamic and unique idea, an atmosphere of freedom formed. You wouldn't even believe you are still in Harajuku. The atmosphere is so relaxing.

Order an original Okonomiyaki at Sakura Tei!

Besides okonomiyaki, the menu includes an abundant range of dishes such as monjayaki (similar to okonomiyaki), yakisoba (fried noodle dish) gyoza (dumplings) and teppanyaki (grilled food served on an iron plate). There is also an English menu available and many foreigners belong to the team of staff. They can speak many languages including English and Korean. You can order vegetarian and vegan food too so if you have any questions, feel free to talk to the staff!

I ordered Sakura Tei's most popular item off the menu – the "Sakura yaki" (¥1,400). All the prices on the menu are the prices including tax. Pork, squid, shrimp, matsutake mushrooms, welsh onions, pork belly slices and egg are the eight ingredients mixed into the batter of this okonomiyaki. Each table has a hot teppanyaki plate fitted into it so you can make your own okonomiyaki yourself.

It's ok even if you've never made one before! Easy instructions on how to make it are provided on each table.

I immediately took up the challenge of making one. First, you have to mix the ingredients with the batter with all your might – that's the key to making it so delicious. After mixing well, place the batter onto the grill plate and form it into a round shape. Then, place the pork belly slices on top and cook until golden brown (Approx. 6-8 minutes).

Once the underside is golden brown, it's time to flip it over! It's heavier than I thought… I wasn't sure if I could do it…

I drew up all my courage and went for it!!

I did it! Whenever customers flip their okonomiyaki particularly well, there is always a mini celebration. It's all about celebrating the process of making okonomiyaki and having fun here. A staff member even mentioned: "I love seeing the customers having fun while making okonomiyaki".

After flipping, cook for another 6 minutes.

When your okonomiyaki is cooked, place your egg on top (that you lightly cooked on the teppanyaki grill) and then add the original sauce and mayonnaise. Sprinkle on some katsuobushi (dried skipjack tuna flakes), some more mayonnaise and you are done!

I immediately took my first bite while it was still piping hot. Normally, okonomiyaki is slightly thinner than this one…but what about the flavour..?

…Super delicious!!! The batter is packed with ingredients that taste great with the seafood stock. The slightly sweet sauce makes it into a delicious specialty that can only be experienced at Sakura Tei! Normal okonomiyaki uses wheat flour that makes you full very quickly, however Sakura Tei's okonomiyaki is soft and thick – you will hungrily eat it all up! ♡

A fried parfait?! My first dessert experience here

After having okonomiyaki, you always want something sweet in your mouth! Skimming the menu, the one thing that caught my eye was the "ama-imonja yaki banayan" (¥550). Monjayaki uses wheat flour that is lightly mixed with water amongst a range of ingredients and then fried on the pan. It resembles okonomiyaki but is thicker. I quickly gobbled up the ama-imonja yaki.

It was easy to make! Just mix all the parfait ingredients together and then cook it. Just looking at this dessert made feel like an excited child. I had never tasted anything like this before!

It tasted a bit like a banana muffin and the caramelised golden-brown areas were sweet – I just couldn't stop! You should try making this one too!

There is one more thing I would like to recommend you to have after your meal. The homemade "Sakura Lemonade" (¥500 ). Their lemonade includes a Sakura-salted flavor that is popular among foreigners. The fresh flavor and taste of sakura brings back memories of spring. You can enjoy this drink at any time of year, so please check it out!

That was my first visit to Sakura Tei. It wasn't just the okonomiyaki, dessert and drink that I enjoyed, but also the way the restaurant makes the customers laugh and smile. If you're ever in Harajuku, make sure to check this place out!

Model & Writer Ellie

■Information

Sakura Tei (さくら亭)

Address:3-20-1, Jingumae, Shibuya, Tokyo

Opening hours:11:00 — 23:00 Lunch: 11:00 — 15:00

No regular closing days

TEL:03-3479-0039

■MOSHI MOSHI BOX Harajuku Tourist Information Center

MOSHI MOSHI BOX is a tourist information center located at the cross road of Takeshita Street, Meiji Street, and Harajuku Street. The staff there are experts on the Harajuku area. You can get the most up-to-date news of Harajuku from the site.

Services:

Service list

・free wi-fi

・free water

・free PC & charge

・baggage room

・gift shop

・currency exchange

Opening Hours: 10:00-18:00

Closed: The year-end and New Year holidays

Contact: 03-2225-6447

Twitter・Instagram @mmb_harajuku

Eat Takeout Parfaits at THE PARFAIT STAND While Strolling Through Harajuku

Hi, everyone! I'm Banako and I work at the MOSHI MOSHI BOX Harajuku Tourist Information Center.

THE PARFAIT STAND is a newly opened store in Harajuku that specialises in takeout parfaits. I dropped by to see what they're all about. Here's the report.

To get there, head out of Takeshita Exit at Harajuku Station and you'll find it immediately to your left.

Originally there was a collection of train ticket machines there, but they renovated the space to open the new store. It's literally outside the station!

The staff all welcomed me with gleaming smiles.

THE PARFAIT STAND is the popular sister store to BAKE CHEESE TART which, as the name suggests, sells freshly baked cheese tarts. Deliciousness is guaranteed.

There are two items on the menu! You have the Parfait Chocolate Blanc (¥756 w/tax) made with rich chocolate and bitter coffee, and the Strawberry White Parfait (¥972) which is a limited-edition item available until May 31st. They're both amazing in their own way – you'll be spoilt for choice.

After a lot of thought, I decided to go with the limited edition Strawberry White Parfait!

I thought it was fresh cream that crowned the top of the parfait, but contrary to my expectations it was meringue! It has a crunchy and crumbly texture and its mellow sweetness fills your mouth.

The parfait contains a milk pudding made with vanilla ice cream and Hokkaido milk. It's also filled with thick strawberry jelly and mousse. The texture is irresistible from top to bottom – you won't grow tired of it at any section.

You can get yourself an authentic, cute takeout parfait too at THE PARFAIT STAND. Just holding it is kawaii and something new to take onto the streets of Harajuku with you♡

How about it?

■Information

THE PARFAIT STAND Harajuku

Address: JR Harajuku Station Takeshita Exit Ticket Gates, 1-18-20 Jingumae, Shibuya, Tokyo

Opening Hours: 10:00-21:00

TEL: 03-5413-3763

Website: https://theparfaitstand.com

 

■MOSHI MOSHI BOX Harajuku Tourist Information Center

MOSHI MOSHI BOX is a tourist information center located at the cross road of Takeshita Street, Meiji Street, and Harajuku Street. The staff there are experts on the Harajuku area. You can get the most up-to-date news of Harajuku from the site.

Services:

Service list

・free wi-fi

・free water

・free PC & charge

・baggage room

・gift shop

・currency exchange

Opening Hours: 10:00-18:00

Closed: The year-end and New Year holidays

Contact: 03-2225-6447

Twitter・Instagram @mmb_harajuku

Writer:Banako(MOSHI MOSHI BOX)  Twitter・Instagram(@banakooooo)

Introducing a new sweets item gaining popularity in Takeshita Street, Harajuku –"Rainbow Soft Cream!"

Hello, everyone! My name is Banako and I am a staff person of MOSHI MOSHI BOX Harajuku Tourist Information Center!

Have you heard of "Rainbow Soft Cream?" It is a sweets item sold in Harajuku that is gathering much attention on SNS nowadays. Harajuku is a place where many ice cream stores are located.

"LE SHINER" which sells this item is often featured in TV programs as a shop that is offering Instagrammable sweets items.

To get to the store, exit JR Yamanote Line – Harajuku Station / Takeshita Exit and walk straight down Takeshita Street. Then, make a right turn at the intersection where CROQUANTCHOU ZAKUZAKU is located. You can't miss it, and the pink-colored bear sitting outside the shop will be there to greet you.

Rainbow Soft Cream (810 yen – tax included)

This is their popular sweets item –"Rainbow Soft Cream." Rainbow colored fresh cream is placed around the pink-colored ice cream.

I love desserts, so I love this item. The look of this item and the store is so gorgeous and cute, so I took many photos.

 "LE SHINER" sells many popular items such as "Light Bulb Soda" and "Cheese Dog" in addition to "Rainbow Soft Cream."

Why not visit this shop when you visit Harajuku.

◼︎Information

LE SHINER

〒150-0001

Address: COXY 176 Building 1F, 1-7-10, Jingumae, Shibuyaku, Tokyo

Business hours: weekdays 11:00 to 18:00 / Saturday, Sunday and holiday 10:30 to 19:00

Access: 3 minutes on foot from JR Yamanote Line – Harajuku Station / Takeshita Entrance/Exit

4 minutes on foot from Tokyo Metro Chiyoda Line – Meiji Jingumae Station 5th Exit

TEL:070-1361-8686

■MOSHI MOSHI BOX Harajuku Tourist Information Center

MOSHI MOSHI BOX is a tourist information center located at the cross road of Takeshita Street, Meiji Street, and Harajuku Street. The staff there are experts on the Harajuku area. You can get the most up-to-date news of Harajuku from the site.

Services:

Service list

・free wi-fi

・free water

・free PC & charge

・baggage room

・gift shop

・currency exchange

Opening Hours: 10:00-18:00

Closed: The year-end and New Year holidays

Contact: 03-2225-6447

Twitter・Instagram @mmb_harajuku

Writer:Banako(MOSHI MOSHI BOX)  Twitter・Instagram(@banakooooo)
RELATED ENTRIES
Banana Fish Anime Series Gets Themed Cafe in Ikebukuro This Winter

Japanese company LEGS is opening up 'BANANA FISH Cafe and Bar – galleries -' in Ikebukuro, Tokyo for a limited time from December 17, 2020 to January 24, 2021. The cafe will serve up food, drink, desserts, and merchandise based on New York, which is the setting of the Banana Fish series, and the series characters.

Banana Fish is a manga series written and illustrated by Akimi Yoshida. It was serialised in Bessatsu Shojo Comic from 1985 to 1994. An anime series aired in 2018 on Fuji TV's Noitamina programming block and other channels which garnered the series many fans of all ages.

The cafe comes as a follow up to the 2018 and 2019 limited-time Banana Fish cafes which were also opened by LEGS. This year takes on an 'art gallery' theme, in which diners can immerse themselves in with a line-up of artwork to decorate the cafe.

The Menu (Excerpt/Pre-Tax Prices)

Food

Ohashinokuni Breakfast | ¥1,399

A stylish assortment of individual foods such as natto garnished with olives and salt, zakkoku millet, fried mackerel, and more.

N.Y. HOTDOG STAND | ¥1,499

A hot dog set menu with two different hot dogs to choose from, served with a choice of a side such as fries and a drink. Comes with one of two Banana Fish paper napkins.

Desserts

N.Y. Style Pancakes | ¥1,299

Classic New York-style buttermilk pancakes loaded with ice cream and banana, finished with a squirt of whipped cream, and drizzled in maple syrup.

N.Y. Style Doughnut Set | ¥999

Choose from three different doughnuts topped with pistachios and nuts together with a drink such as coffee for a classic American cafe-stop break. Comes with one of two Banana Fish paper napkins.

nori² Christmas Set ¥1,099 | nori² New Year Set ¥1,099

The nori² Christmas Set is a parfait made like a Christmas cake with sponge and strawberries. Available December 17, 2020-December 25, 2020 only.

The nori² New Year Set is a Japanese-style parfait filled with anko red bean paste, rice flour dumplings, and peach. Drizzling the mitarashi sauce over the parfait is a must! Available January 5, 2021-January 11, 2021 only.

Drinks


From Left: Ash / Eiji / Shorter / Shin / Lee | ¥799 Each


Fruity and colourful drinks inspired by four characters from Banana Fish.

Bonus Items


Customers who book a visit to the cafe in advance (¥650 per person before tax) will receive one of six possible face mask cases. Visitors will also get one of 15 replica tickets.

Additionally, for every drink ordered, they can get a free coaster from 7 possible designs.

Original Merchandise (Pre-Tax Prices)

Character Acrylic Badge (7 Designs) ¥650 Each / Memory Acrylic Badge (10 Designs) ¥650 Each



Clear Multi Case (3 Designs) ¥1,000 Each / Towel Handkerchief Set (Contains 2) ¥1,550 Each


The cafe will sell a range of original and exclusive merchandise both at the cafe and via their online shop too, so don't miss out.

Availability Period: December 17, 2020 at 10:00 – January 24, 2021 at 23:59
Early Bird Bonus Item: One replica ticket (15 designs) *Available until December 31, 2020

Lose yourself in the world of Banana Fish at this very special limited-time cafe.

©Akimi Yoshida・Shogakukan / Project BANANA FISH


Information

BANANA FISH Cafe and Bar – galleries –
Running: December 17, 2020 – January 24, 2021
Location: IKEBUKURO BOX cafe&space
Address: Matsumotokiyoshi Ikebukuro Part2 Floor 4F, 1-22-8 Higashi-Ikebukuro, Toshima-ku, Tokyo
Closed: December 30, 2020 – January 4, 2021
Bookings: Open from November 30, 2020 at 18:00 (JST)
Booking Price: ¥650 (Before Tax) *Comes with free novelty
Cafe Official Website: https://bananafish-cafebar.jp/

Stylish Japanese Zipper Bag Brand Pake® Opens Pop-Up Shop in Laforet Harajuku

Laforet Harajuku is always first in line when it comes to the latest brand trends. This week, from December 1 to 7, Japanese zipper bag brand Pake® is running a pop-up shop at the Harajuku-based shopping centre.

Pake® launched its brand in October 2019 and became incredibly popular on Japanese social media for its simple yet stylish designs. The brand has gone on to collaborated with various artists like Yumi Matsutoya as well as cosmetic and fashion brands such as ADDICTION BEAUTY.

The Quantum Tone Dark Cyan | ¥400 (Tax Included)

The Filler Tone Olive Drab | ¥600 (Tax Included)


The zipper bags come in a variety of colours and sizes. They are made with a barrier film that cuts 80% UV which protects the items inside from sunlight. They are also waterproof, dust-proof, and odour-resistant. Making the product as strong and resistant as possible means the zipper bags are reusable, not only for storing at-home bits, but for camping, water sports, and more.


HUMANMADE®︎×Pake®︎ Set 1 | ¥2,500

UNDERCOVER×Pake®︎Set 2 ¥2,200

The pop-up shop will also sell two sets made in collaboration with fashion brand UNDERCOVER (pre-sales) and NIGO® brand HUMAN MADE®.

Get the best and most stylish zipper bags around with Pake®.

Information

Pake® Pop-Up Shop
Running: December 1, 2020 – December 7, 2020
Location: Laforet Harajuku
Address: 1-11-6 Jingumae, Shibuya, Tokyo
Laforet Harajuku Official Website: https://www.laforet.ne.jp/

Sarutahiko Coffee Releases Pistachio and Mixed Berry Coffee Beverage For Christmas

Sarutahiko Coffee released a Christmas-exclusive seasonal flavour of its popular Jellatte dessert drink on Tuesday (December 1) which it's calling the "Maroron Merry Pudding Jellatte."

Maroron Merry Pudding Jellatte | ¥750 (Before Tax)

The beverage is the second in this year's Christmas themed drinks to be released by Sarutahiko Coffee. It uses a coffee jelly base made from Ethiopian coffee beans and contains layers of mascarpone cheese from Italy, a chocolate sauce made from Cacao Hunters chocolate, milk pudding, four kinds of mixed berry jellies, pistachio milk pudding, milk foam, and to top it all off, chocolate pieces and pistachios.

The pistachio and mascarpone bring a richness to the dessert drink which blends deliciously with the freshness of the berries and full-bodied coffee for a combination that's like a warm and cosy Christmas hug.

Information

Maroron Merry Pudding Jellatte
Serving: December 1, 2020 – December 25, 2020
Available: Sarutahiko Coffee in Japan
Official Website: https://sarutahiko.co

Japan's Moomin Cafe Releases Christmas Takeout Food For the 2020 Holiday Season

Moomin Cafe branches around Japan, which are themed on the Swedish fairy-tale Moomin books, released their Christmas menu on November 20.


Moomin Cafe Winter Season Menu | ¥4,800 (Before Tax) *Photo is a portion for 2


The seasonal menu is a very special set containing a burger, chicken, salmon milk soup, raspberry juice (which is adored by the Moomin family), and more, so you can eat heartily like the Moomins this winter.

Souvenir Cup (2 Designs)

Visitors can also order a dessert and choose from two different mugs. Takeout is available at each of the cafes so you enjoy a Moomin Christmas at home.

Table reservations are available via the Moomin Cafe website so customers can ensure they can get booked in during the busy holiday season.

If you're in Japan for Christmas then don't miss out on a visit to the Moomin cafe.

©Moomin Characters TM

KINGDOM HEARTS Melody of Memory Themed Cafes to Open in Japan This Holiday Season

Japanese company LEGS has announced the opening of two limited-time cafes themed on the video game KINGDOM HEARTS Melody of Memory which will run from December 11, 2020 to January 31, 2021.

KINGDOM HEARTS Melody of Memory is a rhythm action game developed by Square Enix. Released on November 11 in Japan and November 13 everyone else, it is the latest instalment to Square Enix and Disney's video game series Kingdom Hearts.

The cafe menu features a line-up of dishes, drinks, and desserts inspired by characters and worlds found throughout the internationally-beloved video game series. The items all adhere to Disney's nutrient guidelines and so are low in salt and sugar, offering fans a healthier option. The cafe will also sell a range of original merchandise.

The Menu

Food (Excerpt)

<Sora> Power of Waking Tomato Pasta | ¥1,599

A red tomato pasta inspired by Sora that comes with a potato salad shaped like King Mickey.


<Riku> Daybreak Chicken Burger | ¥1,599

A black chicken burger based on Riku becoming enveloped by the Power of Darkness. This dish also comes with a potato salad shaped like King Mickey.


<King Mickey> King's Tuna Sandwich | ¥1,399, with plate +¥2,000

A tuna sandwich branded with a King Mickey symbol that comes with a side of fruit.


<Neverland> Island Seafood Curry | ¥1,699

A squid and shrimp seafood curry inspired by Peter Pan's Neverland which you can travel to in Kingdom Hearts.

Drinks (Excerpt)


<Sora, Riku & Kairi> Fate's Pineapple Herb Soda | ¥899, with acrylic coaster +¥1,000

A pineapple herb soda based on the Paopu Fruit from the series.


<Roxas, Xion, Axel> Sea Salt Ice Cream & Milk | ¥1,199, with acrylic coaster +¥1,000

Based on the sea salt ice cream that Roxas, Xion, and Axel all eat together. It's served with hot milk that can be poured over the ice cream for a tasty treat.


<Hundred Acre Wood> Honey Latte | ¥799, with mug +¥1,650

A latte sweetened with Winnie the Pooh's favourite thing in the world: honey.

Merchandise (Excerpt)

Folder ¥500 / Acrylic Magnet ¥700


Tote Bags (3 Designs) | ¥3,500 Each (Timeless River/Keyblade A/Keyblade B)

Bonus Items

Customers who book a table in advance (¥650 before tax) and order from the menu will receive one of two folders, and if they order a drink, one of four coasters. Available while supplies last.

© Disney. © Disney/Pixar.

*All prices listed are pre-tax

Information

KINGDOM HEARTS Melody of Memory Cafe
・Tokyo (Shibuya): SHIBUYA BOX cafe&space
Running: December 11, 2020 – January 31, 2021
Address: LOFT (Floor 2F), 21-1 Udagawacho, Shibuya, Tokyo

・Osaka (Umeda): UMEDA BOX cafe&space
Running: December 11, 2020 – January 31, 2021
Address: Umeda LOFT (Floor 1F), 16-7 Chayamachi, Kita-ku, Osaka-shi, Osaka

KINGDOM HEARTS Melody of Memory Cafe Official Website: https://khmom.ohmycafe.jp/

Sanrio's Little Twin Stars Get Themed Cafe in Osaka This Holiday Season

Sanrio's popular characters Kiki & Lala, also known as the Little Twin Stars, are getting their own themed cafe which will open for a limited time at the Fruits Parlor & Bakery Season & Co. in LINKS UMEDA in Osaka From December 3, 2020 to January 24, 2021.

The cafe will serve up a variety of menu items inspired by the Little Twin Stars as well as sell related merchandise. There will also be a photo spot for taking cute pictures, and a special dessert assortment made in collaboration with the popular artist Dream Ami which includes a parfait made up of their favourite sweet treats.

Cafe Menu (Prices Listed Before Tax)

Menu ①: December 3, 2020 – December 25, 2020


Little Twin Stars Shortcake (X'mas Ver.) | ¥1,900


Kiki's Shooting Star Sweets Parfait | ¥1,600

Menu ②: December 26, 2020 – January 24, 2021


Little Twin Stars Tart | ¥1,700


Lala's Shooting Stat Sweets Parfait | ¥1,700

Drinks Menu (Excerpt) (Available Throughout Collaboration)

Little Twin Stars Strawberry Tea Latte | ¥1,000

Dream Ami's Special Collaborative Menu (Available Throughout Collaboration)

Dream Ami×Little Twin Stars Star Sweets 2020 2,100円

Customers who spend more than ¥1,000 (before tax) on merchandise at the cafe will also receive a free A4 folder. These are available while supplies last.

Dream Ami's collaborative dessert looks both cute and delicious and definitely worthy of being on a Little Twin Stars menu!

Information

Little Twin Stars Collaborative Cafe
Running: December 3, 2020 – January 24, 2021
Location: Fruits Parlor & Bakery Season & Co.
Address: LINKS UMEDA (Floor 1F), 1-1 Ofukacho, Kita-ku, Osaka-shi, Osaka
Opening Hours: 9:30-22:00 (Last Orders 21:30)
TEL: 06-6743-4212

Official Website: https://season-co.shop

Snoopy's PEANUTS Cafe in Japan Collaborates With Pake On Leopard Print Zipper Bags

Four branches of the Snoopy-themed PEANUTS Cafe, as well as its online shop, launched a collaboration with the Japanese zipper bag brand Pake® on Friday (November 27) to release a collection of leopard print zipper bags.

PEANUTS Cafe Nagoya Gets New Interior Design Artwork

As part of the collaboration, PEANUTS Cafe Nagoya has put up a colourful piece of framed artwork on the first floor. At first glance, it looks like simple leopard print, but if you look closely, you can see Snoopy floating around in that colourful world.

PEANUTS Cafe x Pake Zipper Bag "The Clandestine" | ¥1,100 (Before Tax)

PEANUTS Cafe and Pake's collaborative zipper bags come in blue and pink, both with leopard print backgrounds visible thanks to the clear bag allowing you to also see the items you put inside.

Snoopy art from an old-time Peanuts comic

The artwork used on the zipper bag is taken from a Peppermint Patty story published in January 1975 over several days. It's the scene when Patty's dad is late arriving home and can't sleep so is invited to Snoopy's room. She jumps onto his waterbed and he goes flying up and down.

© 2020 Peanuts Worldwide LLC

Information

PEANUTS Cafe x Pake
Participating Branches: PEANUTS Cafe Nakameguro / PEANUTS DINER Yokohama / PEANUTS Cafe Kobe / PEANUTS Cafe Snoopy Museum / PEANUTS Cafe Nagoya
PEANUTS Cafe Online Shop: https://www.peanutscafe.jp/online/

McDonald's Japan's Gurakoro Burger Gets New Beef Stew Flavour

The Gurakoro Burger is a seasonal item added to McDonald's Japan's winter menu every year. This year, they are releasing a new rich beef stew flavour on December 2 for a limited period.

"Gurakoro" is a portmanteau of the Japanese words for "gratin" and "korokke," the latter being the Japanese version of a French croquette. The Gurakoro burgers are crunchy on the outside and melty on the inside. They first appeared at McDonald's Japan in 1993 and have returned every winter since, popular for its combination of the Gurakoro patty which is filled with creamy ebi, cabbage, a special korokke sauce, and an egg sauce, all squished between a toasted bun.

Gurakoro Burger | ¥340

The burger was created with a new recipe in 2019 that makes the flavour richer. The number of egg yolks used for the egg sauce was also increased, as was the spiciness of the korokke sauce.

Beef Stew Gurakoro | ¥390

This year, McDonald's Japan is adding a beef stew sauce made with a combination of red wine and demiglace sauce. Added to this is mustard, creating a delicious flavour that goes hand in hand with the creamy gratin korokke.

Attack on Titan The Final Season Themed Cafe to Open in Ikebukuro

Two branches of Animate Cafe, Animate Cafe Ikebukuro 3 and Animated Cafe Nagoya 2, are set to collaborate with Attack on Titan from November 25 in promotion of the anime's upcoming final season which will begin airing on December 7. This marks Animate Cafe's fourth collaboration with the anime.

Menu

Animate Cafe held a poll amongst customers who dined at the previous Attack on Titan collaboration cafes to find out what the most popular dishes were. These have been chosen to go on the menu for this collaboration.

5 Years Colossal Hamburger & Mother's Handmade Stew | ¥1,000


Eren Meringue & Bertholdt Tart | ¥750


Hange's Experiment Drink | ¥600


Eren's Death Wish Drink | ¥600

New additions to the menu include Hange's Experiment Drink and Eren's Death Wish Drink.


The Final Season Special Rose Cake | ¥750


Gorgeous Champagne Jelly | ¥600

Original merchandise


Big Acrylic Stands (4 Designs) | ¥1,600


Trading Pins (A Group: 6 Designs/B Group: 7 Designs/C Group: 4 Designs) | ¥400 Each


Print Cookies | ¥1,000 Each (Comes with 1 illustration card)

©️Hajime Isayama・Kodansha / Attack on Titan The Final Season Production Committee

Information

Animate Cafe x Attack on Titan The Final Season
Running: November 25, 2020 – December 14, 2020

Locations: Animate Cafe Ikebukuro 3 / Animated Cafe Nagoya

*On November 25, November 27, and weekends, customers must sign up to dine at the cafes – those who sign up will be selected randomly. On all other days, it's free-entry where you don't have to book, but keep in mind that the cafe may still be busy on these days.
Official Website:  https://cafe.animate.co.jp/event/shingeki2011/

Sai Sai Jaran Jaran #10: SILENT SIREN's Hinanchu Visits Tokyo's New Hotel sequence MIYASHITA PARK

Sai Sai Jaran Jaran is a featured series here on MOSHI MOSHI NIPPON from the members of the all-female band SILEN SIREN (aka Sai Sai) who visit various hot spots in Japan and experience different things, the Sai Sai way.

In Episode #10, SILENT SIREN drummer Hinanchu wanted to go and stay at a hotel in Tokyo, so she decided to take a trip to sequence MIYASHITA PARK, a new hotel inside Shibuya's new landmark shopping complex MIYASHITA PARK which itself opened in August 2020.

The newly-reborn MIYASHITA PARK is a four-storey shopping complex with stores located on the first three floors and the top floor being home to the park. The park houses a range of exercise and sports sites like a skate park and bouldering wall as well as the green area and even a Starbucks. This park is so spacious that it's easy to forget it's right next to busy Shibuya Station. It has been open for three months now and is already adored by the community.


sequence MIYASHITA PARK is an 18-storey hotel that stands on the north side of MIYASHITA PARK. It can even be accessed from the complex's fourth floor park which leads visitors to the lobby lounge. The park side of the hotel is also home to a cafe called VALLEY PARK STAND.


VALLEY PARK STAND can be used by non-guests at the hotel too and is open from morning to night time. The windows tower from the floor to the ceiling, allowing plenty of natural light into the cafe. There's plenty of seating areas with table seats, sofas, and benches.


MIYA PITA CHICKEN SHAWARMA ¥900 | FRENCH FRIES & COCKTAIL COMBO ¥800 (Tax Included)

VALLEY PARK STAND is a cafe themed on a fictitious valley park, acting as one big park situated in the middle of bustling Shibuya. Adventuring through the valley park is best done with one of the cafe's signature "MIYA PITA" pita sandwiches in hand.


The cafe offers a selection of coffees, pastries, and pitas for lunch and breakfast. In the evenings, customers can switch to the bar to enjoy something alcoholic. Their original craft cocktails are very popular and are made by a bartender who honed their craft while working in New York.

Hinanchu ordered the "Park & Pomegranate Bellini." Normally hotel cocktails are small, but the ones served at VALLEY PARK STAND are much more generous.


The cafe even sell their own merchandise, from mugs to tumblers and even picnic blankets so you can have a picnic in MIYASHITA PARK if the weather calls for it!

For more information about VALLEY PARK STAND, check out our full breakdown here.

VALLEY PARK STAND
Address: sequence MIYASHITA PARK 4F, 6-20-10 Jingumae, Shibuya, Tokyo
Opening Hours: 7:30-23:00 (Last Orders 22:30)
TEL: 03-6712-5442

Instagram: https://www.instagram.com/valleyparkstand/

The hotel check-in lounge can be found on fourth floor, the same as VALLEY PARK STAND. Check-in uses a new unmanned self-service system so all you need to do is follow the instructions.


Guest rooms are simple but the furniture and fixtures are of high quality. Hinanchu stayed in the 4-person "BUNK BED 4" room. Prices vary depending on the season, but it can cost less than ¥5,000 for one person to stay in a 4-person room which is a bargain!


The wide windows in guest rooms look out across MIYASHITA PARK. Depending on the hotel room you're in, you'll also be able to see landmarks like Tokyo Tower and Tokyo Skytree. The windows also read "Hi, TOKYO!" on them which makes for the perfect photo opportunity.


All rooms are also fitted with reading material by young authors. If you scan the QR code next to their piece, you can learn more about them and even make a donation.


Check-in is at 17:00 and check-out is 14:00 so guests can enjoy their stay leading into the early afternoon of the next day. The MIYASHITA PARK shops open at 11:00, so after checking-out, guests can go straight to shopping or lunch.

So, how did you find MIYASHITA PARK, Hinanchu?

"I've always lived in Tokyo, so I never imagined I'd stay in Shibuya, but you can really feel like a queen staying here! Despite it being smack bang in the middle of Tokyo, it's right next to the park which feels good. I definitely recommend it to those who live in rural areas that want to come and play in Tokyo since places like Shibuya and Harajuku are close by. The hotel is littered with art and stylish design, so it's not simply a stay but a creative experience too which I think will be popular with foreigners. I want to come here again on my own for a relaxing time!"


On the fifth floor of the hotel is the restaurant and bar Dōngxī Restaurant & Sakaba which offers both breakfast, and dinner. The new entertainment restaurant and bar SOAK is also opening on November 13.

If you're thinking of staying in Tokyo or Shibuya, be sure to look up sequence MIYASHITA PARK.

Photo: Kayo Sekiguchi
Text: Sayoko Ishii

Translation: Joshua Kitosi-Isanga

 

SILENT SIREN


SILENT SIREN is a four-member all-female band consisting of vocalist & guitarist Sumire "Suu" Yoshida, drummer Hinako "Hinanchu" Umemura, bassist Aina "Ainyan" Yamauchi, keyboardist Yukako "Yukarun" Kurosaka. In 2015, they performed their first solo concert at Nippon Budokan, making them the fastest Japanese all-female band in history to perform there since making their major debut. In April this year, they launched their own YouTube channel called "Sai Sai Channel." They released their 7th album mix10th on September 2, 2020. The band celebrated their 10th anniversary with a special live performance at Yamanakako Communication Plaza Kirara on September 20, 2020. For the latest information on SILENT SIREN, visit their official website here: http://silent-siren.com/

Jurassic World Café by PARCO Opens in Singapore

PARCO Pte Ltd, the Singaporean division of Japanese department store chain PARCO, opened the new Jurassic World Café at ION Sky on the 56th floor of the ION Orchard shopping centre in Singapore on November 6, 2020. The café comes as the first Jurassic World Café to open in South East Asia and serves an original line-up of food and drink, an exhibit of everybody's favourite Velociraptor Blue from Jurassic World, a selection of exclusive merchandise, and more.

Jurassic World Café Singapore


The Jurassic World film series is hugely popular in Singapore, and so it's only fitting that the country gets its own themed cafe. The menu is diverse, consisting of a special selection created by PARCO's own The Guest Cafe & Diner as well as local food like Nasi Lemak, unique picks like the Brachiosaurus Mint Pandan beverage, and much more. There will even be a merchandise shop for fans to pick up a souvenir on their way home.

PARCO Singapore has collaborated with The Guest Cafe & Diner, a cafe which collaborates with franchises and of which there are five branches in Japan, on five separate occasions up and down South East Asia, including the Minions Cafe which opened for a limited time in Singapore in 2017. PARCO Singapore is continuing to expand its reach outside of Singapore with other collaborative cafes and exhibitions.

 

The Menu


Danger lurks at every corner in Jurassic World, and that fact is captured in the menu line-up.

Cafe Bonus Items


There will also be special gifts given to customers.

To see the full line-up, be sure to check out the official website below and pay a visit to Jurassic World Café Singapore.

Information

Jurassic World Café Singapore – A concept by PARCO
Location: ION Sky, ION Orchard Floor 56F, MRT Orchard, 2 Orchard Turn, Singapore 238801
Running: November 6, 2020 – January 3, 2021 (Closed November 13)
Opening Hours: 11:00-22:00
Official Website: www.jurassicworldcafe.sg

Tokyo and Fukuoka's Kirby Café Reveal Menu For Winter 2020

The chilly winter season is on the horizon, but Kirby Café Tokyo and Kirby Café Hakata will keep customers warm with their new winter menu which will be served from November 11, 2020 to February 28, 2021.

Kirby Café Winter Menu

Food

Winter Kirby Burger & Clam Chowder Pasta | ¥2,680 (Before Tax) *Comes with souvenir plate

Mogu Mogu Kirby's Poka Poka Pie Stew | ¥2,680 (Before Tax) *Comes with souvenir cup

Kirby is staying warm and cosy with his scarf on the burger and clam chowder pasta dish. For the stew, Kirby's entire face is made from pie.

Kirby's Hot Crumble Bowl | ¥1,980 (Before Tax)

This hot crumble is served in a cute Kirby bento box which you can take away with you.ス

Desserts & Drinks

Ice Dragon☆Pastel Cream Anmitsu | ¥880 (Before Tax)

Kirby Café's Authentic Oven Baked Pizza ~Berries and White Chocolate~ | ¥1,480 (Before Tax)

The Ice Dragon☆Pastel Cream Anmitsu is a Japanese-style dessert while the pizza is a dessert pizza perfect for wintertime.

Kirby Fighters 2 Menu

Wrestler Kirby Burger | ¥1,580 (Before Tax)

King Dedede & Meta Knight's Tag Dessert | ¥1,480 (Before Tax)

The cafe is also serving up a meal and dessert in collaboration with the new Nintendo Switch title Kirby Fighters 2.

Kirby Café Original Merchandise

Postcards | ¥150 Each (Before Tax)

Winter Blanket | ¥2,700 (Before Tax)

A selection of exclusive and seasonal Kirby Café merchandise.

Information

Kirby Café Winter

Running: November 11, 2020 – February 28, 2021

KIRBY CAFÉ TOKYO

Grand Opening: December 12, 2019

Address: Tokyo Skytree Town Solamachi Floor 4F (1-1-2 Oshiage, Sumida, Tokyo)

Opening Hours: 10:00-22:00 (Last Orders 21:00)

*No fixed holidays except where Tokyo Solamachi is closed

Reservations & Website: https://kirbycafe.jp/tokyo/

Kirby Café HAKATA

Grand Opening: March 12, 2020

Address: Canal City Hakata North Bldg. B1F, 1-2-1 Sumiyoshi, Hakata, Fukuoka, Fukuoka Prefecture

Opening Hours: 11:00-23:00 (Last Orders 22:00)

Reservations & Website: https://kirbycafe.jp/hakata/