Kaori's Easy Recipe: Learn How to Make a Pompompurin Parfait
With just a small bit of ingenuity, turn everyday food into something cute using Kaori's recipe series! With a few simple ideas, an ordinary recipe magically transforms into a cute dish.
In this recipe you'll learn how to make a cute Pompompurin Parfait♡
It's something you can make at home and is topped with a Pompompurin made out of sweet potato.
1. Ingredients
Store bought roll cake
Fruits of your choice (fresh or canned)
Fresh cream
Sweet potato powder
Milk
Butter
2. First things first, sorting out the sweet potato.
①Dissolve the sweet potato powder into the milk, add the butter ans mix
②Form Pompompurin's face.
③The size will depend on the size of the parfait glass you are using.
④Mix in part cocoa to make the hat, and roll hands into little balls.
⑤Add a little bit of water to some egg yolk then brush onto the surface. Making sure not to brown your mix, cook at 140-150℃ for around 10 minutes.
⑥Leave to fully cool down then drawn on the face with a chocolate pen or melted cocoa.
3. Cut fruits of your choice into bite-size chunks. Add a touch of kawaii by cutting banana or kiwi into flower shapes.
4. Arrange the fruits neatly around the side of the glass and add alternating layers of any leftover fruit, roll cake and fresh cream.
5. Cap everything off with a slice of roll cake so that the sweet potato Pompompurin sits nicely on top.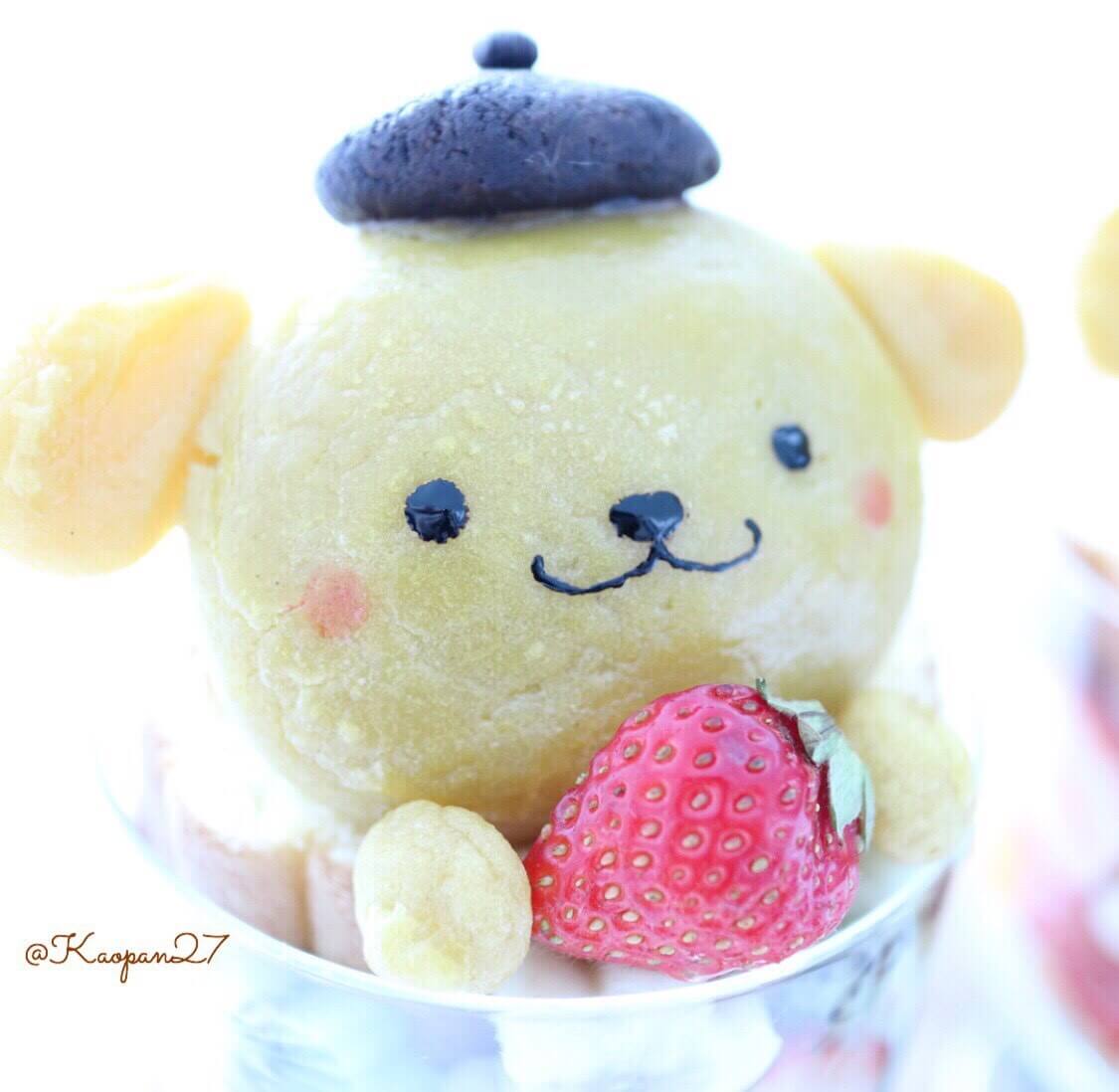 Place him on top and you're all done♡
Kaori invites you into her world of character-themed food dishes in her recipe series!
Please check out her Instagram where she has uploaded many pictures of her character dishes!
■Profile
Kaori Kubota (@kaopan27)
I live in Hokkaido and I love to make character-shaped meals, desserts and breads.
I enjoy making character foods because I want to see my family smiling.
My character foods and character bento boxes are introduced on my Instagram page→@kaopan27
RELATED ENTRIES
Mini Pixar Cakes by Ginza Cozy Corner Includes Toy Story, The Incredibles, Finding Nemo, and More

Japan's confectionery shop Ginza Cozy Corner are releasing a new collection of petite Pixar cakes at all branches on April 23.

The cakes comes in time for celebrating Children's Day in Japan, as well as making a perfect snack for Golden Week and for kids and parents to enjoy together. Pixar fans have nine to enjoy in the collection such as the Little Green Men from Toy Story, Nemo and Dory from Finding Nemo and Finding Dory, Sully from Monster's Inc., the Pixar Ball, and more.

Pixar Collection (9 Included) | ¥2,700 (Tax Included)

Flavours include the strawberry mousse Lightning McQueen, the Jack Jack raspberry jelly and mango cream, the Buzz Lightyear blueberry jam and cheese mousse, and more.

Pixar Cake Assortment (6 Included) | ¥540 (Tax Included)

The packaging also features cute artwork of everyone's favourite Pixar characters. Choose between the whole nine cake box collection or this assortment of six white chocolate and strawberry cookies.

Pixar Sweets Box (10 Included) | ¥918 (Tax Included)

There's also a 10-piece box of six cookies and four madeleines.

KitKat Japan Releases New Mini Maple Chocolate Bars For Earth Day

In accordance with Earth Day, which is set for April 22, Nestlé released its limited-time KitKat Mini Maple on Monday to raise awareness of environmental issues and the future of the planet.

KitKat Mini Maple (3 Included)

KitKat Mini Maple (12 Included)

9 packaging designs with different messages related to the environment

'KitKat Always For Earth Day' online talk event to take place on April 30

In September 2019, Nestlé began packaging five of its major large-sized KitKat bags in paper bags rather than plastic, and since autumn 2020, most of their large sized bags are now made from paper. This has helped reduce 450 tonnes of plastic per year.

Now, Nestlé is releasing a new collection of packages for Earth Day featuring original designs by up-an-coming young artist SUGI. Each features messages from members of MIMO, a group managed by Japanese model Mila Aina, stating messages about helping to protect the environment and the future of planet earth.

Alice in Wonderland Themed Afternoon Tea Buffet 'Lost in Europe' Heads to Nagoya

This spring, Hilton Nagoya is set to serve up a special afternoon tea set and buffet plan at its first floor all-dining restaurant IN PLACE 3-3. The theme of the afternoon tea line-up, which will be served either as a set-only plan or the set plus a buffet, is 'Lost in Europe.' Fans of Lewis Carroll's beloved novel Alice's Adventures in Wonderland can look forward to jumping in the rabbit hole as they indulge in a colourful and delicious line-up that sends them straight to wonderland.

The plans will run for three months during which three different menu line-ups will be served, each with a European feel to them as Alice finds her curiosity tending away from Japanese cuisine to the delectable assortments of overseas.

Spain will serve as the first menu. Travelling to Spain, Alice finds the country one overflowing with creativity in the arts, so says the story of this fun afternoon tea. Dishes will be plated with desserts fusing together Spain's food culture with that of Wonderland, traditional Spanish desserts, sweet treats inspired by Spanish art, and more. Many of the irresistible items will also be made with almonds – Spain being the second largest producer of almonds in the world.

Inside the restaurant, diners will feel like they have travelled to a Spanish rendition of Wonderland with a mix of styles from both locations, such as Spanish sunflowers, mosaic tiles, stained glass windows, and more.

A little look at the menu (some of it)

1. Afternoon Tea Set Menu: ¥4,600 (Tax Included)

Cubism Cheshire Cat Arroz Con Leche

A coconut-flavoured Spanish rice pudding made with coconut lavender jelly. Its design, from the stripes to the grinning teeth, are references to the Cheshire Cat.

Blue Caterpillar Siesta Cake

A cake covered in striking blue chocolate, made with pistachio mousse, and filled with a mixed berry jelly.

Butterfly Windmills Mousse

An artistic delight made with smooth chestnut mousse and colourful butterfly wings attached.

Plate Menu

Pistachio Crema Catalana in Berry Sauce

A traditional dessert of Catalonia, this crema catalana features a rich pistachio-flavoured custard cream and is served with a berry sauce.

Savoury Items

Salted churros that are crunchy on the outside and fluffy in the inside, and a checked bocadillo filled with Spanish omelette.

Lost in Europe Afternoon Tea Set Summary

10 desserts, two savoury items, and a choice of a soft drink, coffee, or tea.

2. Afternoon Tea Set & Dessert Buffet: Adults ¥5,000 / Children ¥2,500

Mischievous Crazy Clock Cake 

A warped, melted clock made with passion fruit cream and orange and mango mousse.

Mosaic Tile Sangria Jelly (Non-Alcoholic)

A refreshing beverage made with non-alcoholic white wine and grape, strawberry, and grapefruit jelly, all made to look like mosaic tiles.

Savoury Items

Pick from nine different savoury items like paella, sopa de ajo garlic soup, patatas bravas, tapas, and more.

There are also a range of other desserts like a coffee jelly ice cream, a melon cake, and more, as well as fruity iced candies.

Afternoon Takeout Box

Customers can also get their afternoon tea set to go with a mix of desserts and savouries.

Neko Neko Cheesecake Releases New Cat-Shaped Mikan Orange Flavoured Cake

Neko Neko Cheesecake is set to open pre-sales for its new Nyan Cheese Mikan cheesecake at Pastel branches of Neko Neko Cheesecake on April 22 before rolling it out at all Neko Neko Cheesecake branches.

Neko Neko Cheesecake is a sister brand of Neko Neko Kuu Pan from the same company which serves cat-shaped bread.

Nyan Cheese Mikan | Single Slice: ¥237 (Tax Included)

Nyan Cheese Mikan | Box of 4: ¥1,080 (Tax Included)

The cheesecake is made with Brie de Meaux, aka the king of cheeses, and cooked at a high temperature to add a gorgeous browned surface. They contain rich juice from mandarin oranges to give them a refreshing kick perfect for the spring season. A perfect snack or post-dinner dessert.

Pompompurin Celebrates 25th Anniversary With Cute Pudding Confection at Lawson

Bandai released a new chewy and delicious custard pudding-flavoured confection at Lawson convenience stores in Japan on Tuesday in celebration of Pompompurin's 25th anniversary, the popular character by Sanrio.

Mochi Mochi Pompompurin Yaki Pudding Flavour | ¥158 (Tax Included)

The cute confection is made to look like Pompompurin laying down. The chewy delight is filled with Japanese custard pudding-flavoured cream.

The packaging also features limited-edition artwork for Purin's 25th year milestone where he is joined by his cute furry friends.

©2021 SANRIO CO.,LTD. 著作(株)サンリオ

TETRIS® Gummy Candy Releases in Japan

Japanese candy company UHA Mikakuto has collaborated with the video game TETRIS® to launch pre-sales on their new Tsumu Gummy TETRIS® which hit shelves on Monday (April 12) in Japan.

Tsumu Gummy TETRIS® | ¥370 (Before Tax)

The colourful gummies arrive in seven different forms, shaped and coloured like the blocks in TETRIS®, meaning you can stack them as well as eat them. They are an assortment of green grape, red grape, orange, and strawberry flavours, and one pack weighs in at 180g.

Tetris ® & © 1985~2021 Tetris Holding.

Kaori's Easy Recipe: Learn to Make Baymax Mushi-Pan Steamed Bread

With just a small bit of ingenuity, turn everyday food into something cute using Kaori's Easy Recipe! With a few simple ideas, an ordinary recipe magically transforms into a cute dish.

Today, I'll teach you how to make Baymax mushi-pan steamed bread.

Ingredients

This recipe makes 5 portions

140g strong flour

20g granulated sugar

Pinch of salt

3g dry yeast

3g baking powder

5g vegetable oil

85ml-90ml milk (room temperature)

1

Mix everything together in a food processor. If you don't have a food processor, you can also knead the ingredients well by hand.

2

Ferment at 40℃ for 40 minutes. If you don't have a fermentation machine, leave in a warm environment.

3

Once the dough has doubled in size, divide into five portions and put into separate cups. If using paper cups, rub a little bit of oil inside.

4

Bake in the oven at 40℃ for 20-25 minutes.

5

After baking, steam in a steamer for 12-13 minutes. If you don't have a steamer, put into a frying pan or large pot with a little bit of water and cover.

6

Once cooled, use some nori seaweed to make Baymax's face and you're done!

Kaori Kubota (@kaopan27)

I live in Hokkaido and I love to make character themed foods, desserts and pastries♡

I want to see my family smile, so I enjoy putting in a bit of effort to make character foods and changing food into something cute♡

You can see more of my character foods and character bento boxes on my Instagram page → @kaopan72

French chocolatier Pierre Hermè Represents Products Of Kochi Prefecture

Pierre Hermè, the French pastry chef and chocolatier, has founded a brand called "Made in Pierre Hermè" in 2018 where he represents the wonderful products of Japan that he specially selected to share with the world.

The producers and farmers of Kochi prefecture, Japan collaborated with "Made in Pierre Hermè"

Line ups of Kochi Fair organised by "Made in Pierre Hermè"

 

The Tokyo branches of "Made in Pierre Hermè" launched in 2020 followed by their Fukuoka Airport branch opening in Spring 2021. The new branches openig soon. From 2021, which marks the 3rd Anniversary of the brand, they will hold a fair every 3 months to introduce and celebrates excellent producers and products in each region in collaboration with local governments across Japan in order to deliver brand's concept more starting with Kochi prefecture where is surrounded by abundant nature and food culture. The Kochi fair is set to open from April 16 to July 31 at all branches of "Made in Pierre Hermè".  A kick-off event of the fair is happening on April 15 at COMMUNE Omotesando in Tokyo. 





The fair will be featuring the hidden gems of Kochi such as Kochi Yuzu citrus macarons, salad dressings made of vegetables locally produced, Hachi-kin, the produced poultry, canned Tuna, Tosayama ginger ale, matcha and Kochi yuzu citrus brownies, yuzu peel cookies and more. In addition, collaboration products with Kochi producers such as sun-dried salt gelato, tomato ketchup, and green tea will be on sale. Don't miss the chance to taste the flavour of Kochi proudly represents by Pierre Hermè! 

Information

Made in Pierre Hermè 

Made in Pierre Hermè Kochi Marche
Kick-off Event: April 15, 2021 from 11:00 to 18:00

Where: COMMUNE Omotesando

Made in Pierre Hermè Kochi Fair

Running:  April 16, 2021- July 31, 2021
Where: All Made in Pierre Hermè branches
Official Site:https://www.pierreherme.co.jp/ph/

Harajuku's Pompompurin Maid Café to Open on April 14

Akihabara's premiere maid café chain "@home café" announced last month the opening of a permanent maid café themed on Sanrio's popular character Pompompurin. The café is set to open along Harajuku's famous Takeshita Street on April 14, 2021.

 © 2021 SANRIO CO., LTD.  APPROVAL NO. S620028

@home café has collaborated with many of Sanrio's popular characters in the past at its Akihabara-based café branches such as Hello Kitty, My Melody, Cinnamoroll, and of course Pompompurin, but this time the collaboration is flying out of Akiba and straight into the heart of Japanese pop culture: Harajuku.

This new Pompompurin Café is themed on Pompompurin throwing a party for everyone—that's you and your friends. It's a place for Purin to deliver happiness to all who visit in the form of cute and tasty food.

Of course, the @home café maids will also be present, and all wearing original maid uniforms coloured like Pompompurin.

A little look at some things on the menu

The Food

Soufflé Omurice | ¥1,450

Butter Chicken Curry | ¥1,300

The Desserts

Pompompurin Pudding | ¥700

Chocolate Banana Mountain Waffle | ¥1,200

The Drinks

Custard Pudding Latte | ¥850

Muffin's Caffe Mocha | ¥850

Take a commemorative photo

For just ¥550, you can take a chekki photo at the café. It comes with café-original stickers and paper. For an extra ¥300, you can take a photo with one of the maids.

Pompompurin Birthday Party

 

April 16 is Pompompurin's birthday, so on that day the café will have a special dessert prepared (which you can see below) along with novelties for customers, new decorations, and more.

Pompompurin's Birthday Dessert

Special Birthday Parfait | ¥1,700 | Serving: April 14, 2021 – April 30, 2021

Birthday Novelty

To commemorate Pompompurin's birthday and the opening of the café, all visitors will receive the pin below for free.

Pompompurin will visit the café

On the evening on April 16, Pompompurin will visit the cafe for his birthday to celebrate with everyone. Details and bookings can be found here in Japanese.

Information

Pompompurin Cafe x @home cafe

Grand Opening: April 14, 2021

Where: CUTE CUBE HARAJUKU Floor 3F, 1-7-1 Jingumae, Shibuya, Tokyo

Opening Hours: [Weekdays] 11:00-22:00 / [Weekends] 10:00-22:00

No Fixed Holidays

Pompompurin Cafe Official Website: https://pompompurincafe.com/

@home Official Website: http://www.cafe-athome.com/

Mister Donut Japan Releases 2nd limited- edition Gion Tsujiri Matcha Doughnuts

Mister Donut Japan released its new tasty collection of limited-edition doughnuts in collaboration with Gion Tsujiri, the famous tea shop in Kyoto from April 9. 

The Line Up

Fluffy Uji Matcha Mochi with Black Honey 

Fluffy Uji Matcha Mochi with Soybean Whipped Cream 

Fluffy Uji Matcha with Azuki Red Beans Mochi 

Pon de Double Uji Matcha

Pon de Double Uji Matcha with Black Honey Mochi

Pon de Double Uji Matcha with Soybean Whipped Cream and Azuki Red Beans 

Uji Matcha Chocolate, Azuki Red Beans and Rice Cake Balls Pie

Special Edition: Mister Donut Voucher Card with Masaki Sudaミ

The 1st edition of collection released on March 12 with the theme of colouration 

that enhances the colour of matcha. The new edition launching this time was developed with the theme of Japanese ingredients such as black honey that brings harmony with matcha.  "Fluffy Uji Matcha" series consist of 3 flavours made of luxurious Kyoto Uji Matcha with fluffy donut which marks its first appearance of this year. "Fluffy Uji Matcha with Black Honey" is a glossy doughnut coated with matcha chocolate with black honey filling. A wide variety of doughnut featuring 7 combinations of matcha and Japanese ingredients are unbearably delicious and unmissable. 

Mister Donut holds a promotional campaign in collaboration with the Japanese movie God of Kinema starring Masaki Suda, current image model of the brand. 

During the campaign, follow Mister Donut's official Twitter account and upload pictures of the collection with hashtag  "#ミスドでつや抹茶" and 428 lucky customers can win a voucher worth ¥500 with exclusive design features Masaki Suda.  Additionally, 67 lucky customers who have also participated in the 1st edition of Mister Donut ×Gion Tsujiri collection campaign previously can receive a voucher worth ¥2,000. 

Enjoy popular limited-edition doughnuts with Gion Tsujiri until your heart's content. 

Ham and Cheese Dorayaki and Other Delicious Foods Release at Old-Time Japanese Dessert Shop Eitaro

Japan's 203-year-old confectionery shop Eitaro Sohonpo is rolling out a new series of delicious delights over the next three weeks at Nihonbashi E-Chaya.

Week One: From April 7, 2021 all year round

Nihonbashi Dorayaki: Ham & Cheese/Egg Salad/Anko Mochi – ¥303 Each (Tax Included)

Week Two: April 14, 2021 – April 28, 2021

Assorted Sweets Set | ¥1,000 (Tax Included)

Week Three: April 21, 2021 – April 28, 2021 (and the same dates every month from May)

Mangetsu Mochi Omusubi | ¥270 (Tax Included)

Exclusive to Nihonbashi E-Chaya, the new release includes two different deli-style dorayaki as well as an anko red bean paste version, a plate of assorted Japanese sweets, and a red rice ball made with black-eyed peas instead of sesame seeds. Red rice was often consumed on joyous occasions during the Edo period.

Information

Nihonbashi E-Chaya 

Address: 1-2-5 Nipponbashi, Chuo-ku, Tokyo

Opening Hours: [Weekdays] 08:00-16:30 / [Saturdays] 10:00-16:30

Closed: Sundays & Public Holidays

Official Website: https://www.eitaro.com/

Peanuts Comic Launches 70th Anniversary Birthday Campaign in Japan

Japan's five Peanuts comic-themed cafes are now holding a birthday plan campaign in celebration of the series' 70th anniversary.

Each cafe branch is offering something different

PEANUTS Cafe Nakameguro x WHYTROPHY With Birthday Rosette

PEANUTS DINER Yokohama With Embroidered Striped Pin

PEANUTS DINER Kobe With Embroidered Striped Pin

PEANUTS Cafe Snoopy Museum With Tote Bag

PEANUTS Cafe Nagoya With Tote Bag

Campaign Art

Customers at the cafes will also be randomly selected to stay at the PEANUTS HOTEL and will receive a free sticker as pictured above. All who order the birthday plan and their group will even receive a free present.

(C) 2021 Peanuts Worldwide LLC (短縮形 (C) 2021 Peanuts)