3 Ways Super Smash Bros. Ultimate Differs from the Other Titles – MOSHI MOSHI NIPPON Report
Nintendo attended this year's Japan Expo in Paris, which ran from July 4 to 8. They were set up in a 1,300m² space where fans had the opportunity to try out the highly-anticipated next entry to the Smash series, Super Smash Bros. Ultimate, which is set for release on December 7, 2018.
MOSHI MOSHI NIPPON had the opportunity to play the game at the event. Here's our report.
Nintendo's behemoth play space
Nintendo's huge area stood out from the other booths at the event. People could try playing Splatoon 2 and Nintendo Labo, and there was a stage area that could fit around 1,000 people. They really had it all.
Fans could even take a photo with their favourite characters.
Onto the main event – the Super Smash Bros. Ultimate booth. Despite it being 9:00am the line was huge!
Here it is, the new Smash game. As a side note, did you know the title of the game is different in Japan? In Japan it's called Super Smash Bros. Special.
The GameCube controller is compatible again just like with Super Smash Bros. Brawl. It feels great to hold and the L, R, A and B buttons are nice and easy to press.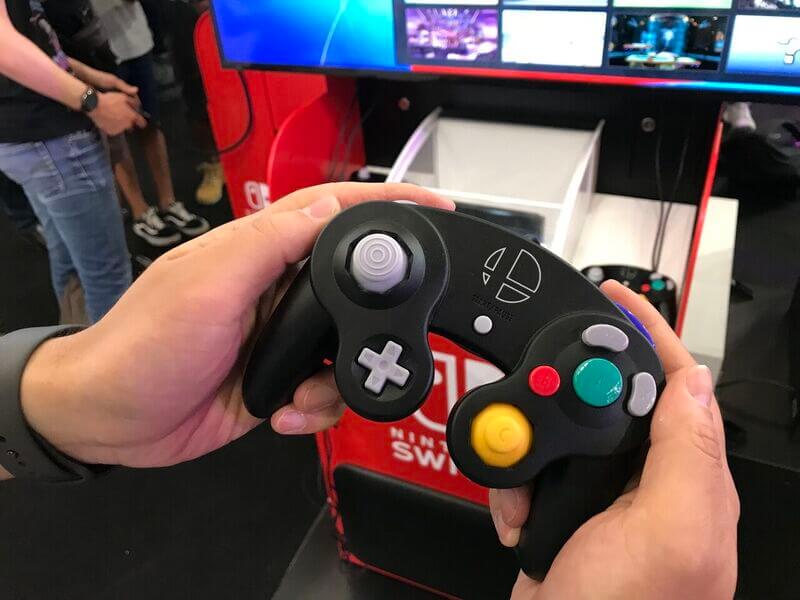 The middle of the controller is decorated with the iconic Smash symbol.
His fingers were itching to play as Kirby first. The opponent was chosen randomly and ended up being the Pokémon Trainer.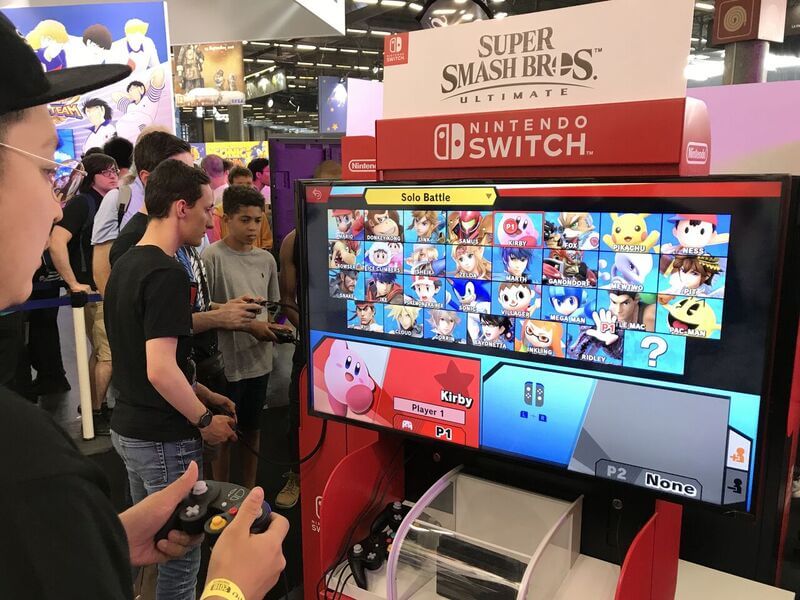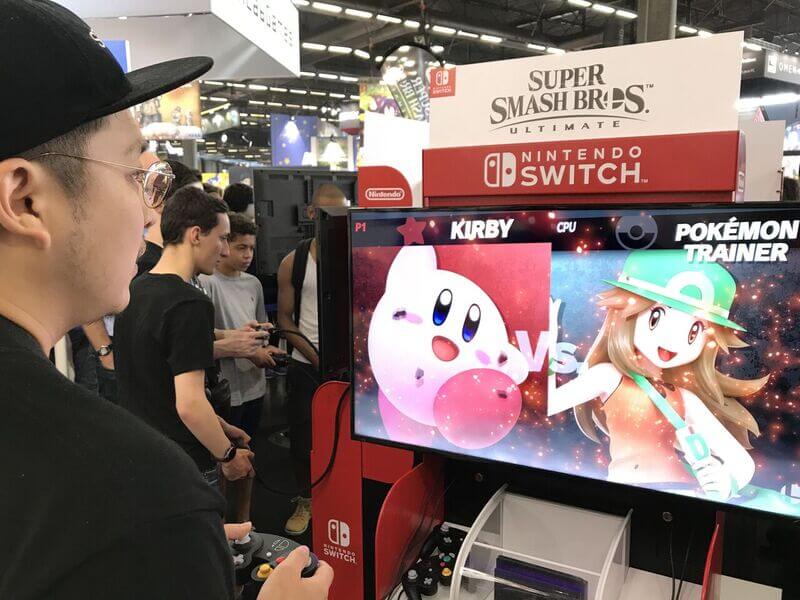 ■Point 1: Smoother & Speedier Gameplay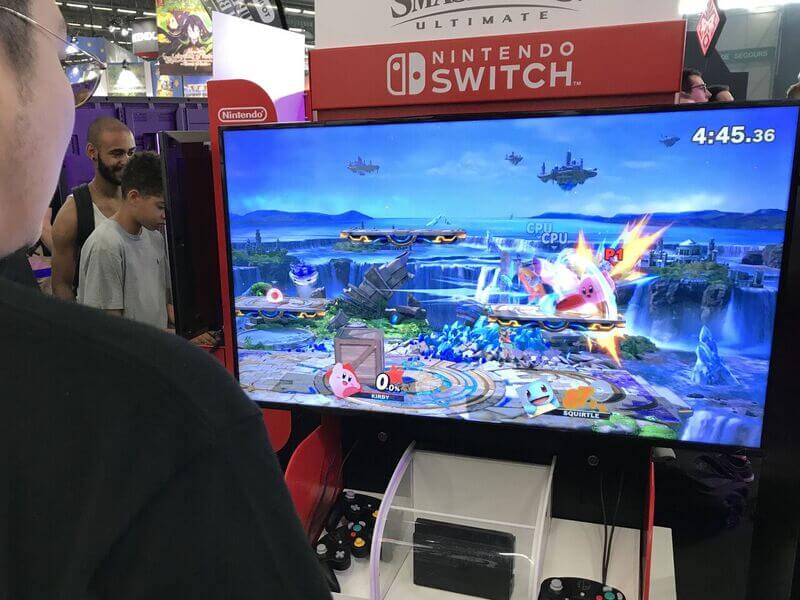 The in-game movement feels smoother than previous titles in the series and the response is much quicker.
Also, in the other games you were never able to freely move and attack while in mid-air, but in Ultimate you can move up, down, left and right after jumping.
■Point 2: Special Moves Changed
Bomberman is assisting us with his bomb explosion
The characters' special moves, including Kirby, have changed. We wanted to try out some of the other characters too, but we ran out of time. We're definitely excited to see the rest of the special moves once the game comes out.
Let's check out some of the new characters that have been added to the franchise. There's Daisy from the Mario series, Inkling from the Splatoon, and Ridley from Metroid.
First up we saw Inkling and Ridley. We also chose the new stage Moray Towers which is from Splatoon.
You have to move up and down on Moray Towers which can be a little difficult if you're not used to it.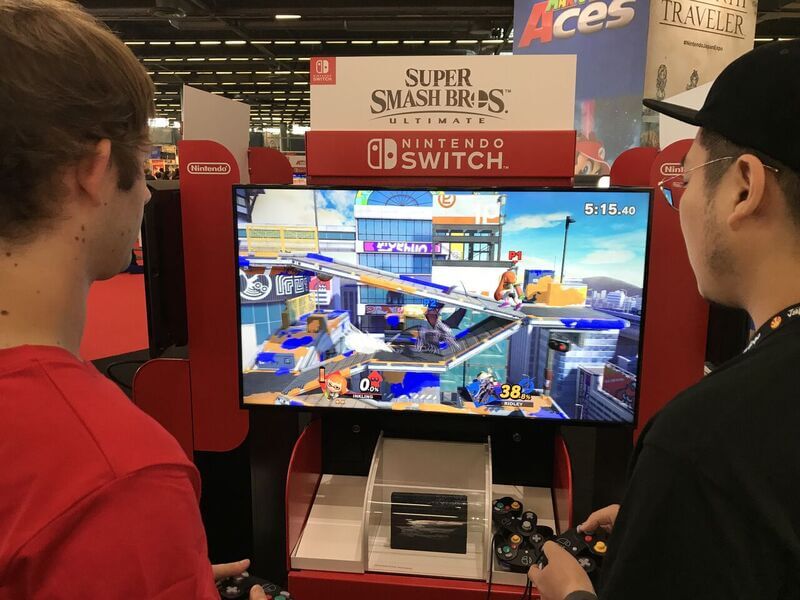 This is Inkling's special move, it's pretty strong.
Inkling uses paint and ink tanks for her moves just like in Splatoon.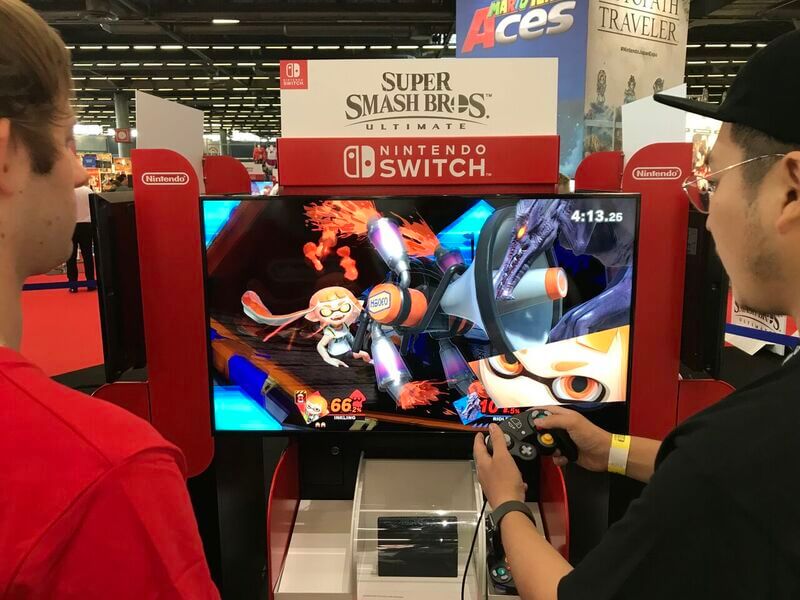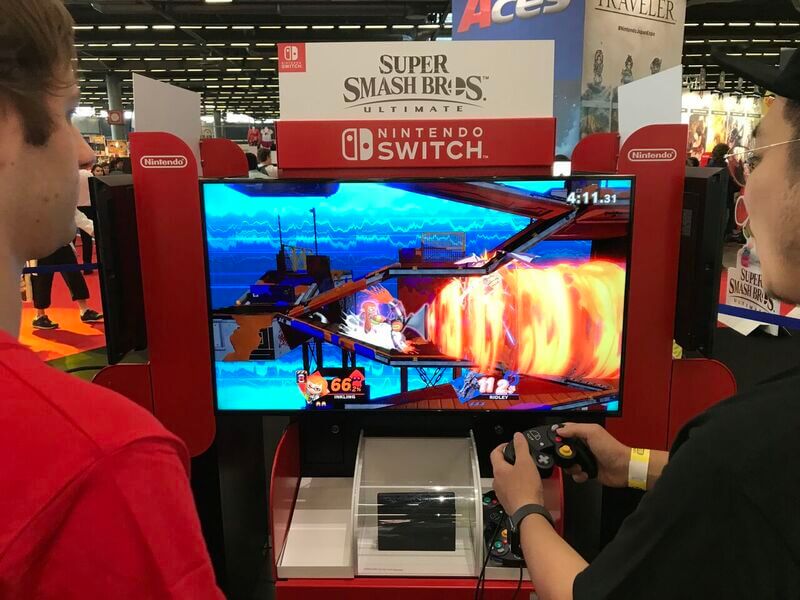 And Ridley's move set works kind of like Charizard.
■Point 3: Several Characters Have Unique Abilities
We heard from a member of staff that characters who used similar moves up to now have been given their own original abilities.
For example, Fox, Captain Falcon and Wolf have all had similar abilities up to now, but in the new game they are decked out with their own skill sets, so they all play differently.
Having gotten our fill of the game, this ends the report.
All the characters from the first title up to now will feature in Ultimate. The game is perfect for anyone who hasn't gamed much recently and were crazy for Smash when they were younger.
Look out for Super Smash Bros. Ultimate coming to Nintendo Switch on December 7.
Point Overview
①Smoother and speedier gameplay
②Special moves changed
③Several characters now decked out with their own unique abilities
RELATED ENTRIES
Chawanmushi Recipe: Savoury Dessert Made With Carrots, Cream Cheese & Mirin

Together with soy sauce and miso, mirin is a fundamental condiment in the Japanese kitchen and for many recipes for Japanese food. It's a sweet rice wine that has lower alcohol content and higher sugar content when compared to sake, adding a sweet flavour to dishes.

Today, we're taking a look at a recipe that uses "Mikawa Mirin," a brand of mirin made from high quality rice, to make carrot and cream cheese chawanmushi. Chawanmushi is a savoury egg custard dessert eaten in Japan.

Carrot & Cream Cheese Chawanmushi

Chawanmushi is made using mirin and has a smooth texture to it as well as a subtly sweet flavour. It's the perfect accompaniment to a hot summer's day.

Ingredients (Serves 1)


●Chawanmushi
60g carrots
240ml dashi
20ml soy sauce
120ml Mikawa Mirin
8g sugar
18g cream cheese
1 egg

●Okra-an
Okra
30ml dashi
0.5g salt
3ml Mikawa Mirin

Method

We will start by making the chawanmushi.

1. Slice the carrots and boil them until they become soft.

2. Add the soy sauce, sugar, and lots of mirin and cook through the dashi.

3. Cook for approximately 20 minutes on a medium heat, then cool with ice. Add the cooled carrots, cream cheese, and 20ml of the dashi into a blender and bend.

4. Add the egg to the mix and steam the mix for 12 minutes on a medium heat.

While the chawanmushi is cooling, we'll make the okra-an.

5. Mix together the okra-an dashi, mirin, and salt together. Add watered potato starch and thinly sliced okra. Leave to cool in the refrigerator.

6. Add the okra-an to the cooled chawanmushi and tuck into your cute two-layered dessert.

Carrot & Cream Cheese Chawanmushi

The dessert is an enjoyable mix of the sticky texture from the okra-an and smooth chawanmushi. It's great to have not only at lunch or dinner, but at home parties with friends too.

–How's the taste?


Misa Kimura: "It works really well with the mirin. The chawanmushi is like a sweet treat. It's super easy to make too, so I think I'll be making it at home!"

Mirin is indispensable to any Japanese cupboard and can be used in many ways, whether it be a classic Japanese dish or a dessert like this one.

Mikawa Mirin 700ml: ¥1,122 (Tax Included)

This authentic brand of mirin is made using a traditional method of Japanese brewing which blends in the delicious taste of rice. It's so delicious that you just want to drink the whole bottle. A high quality mirin, it has a distinct sweetness, colour, and texture. It has a rich flavour, and the taste of the rice elevates the flavours of its ingredients.

Mikawa Mirin Official Website: http://www.mikawamirin.jp/
Official Online Store: http://mikawamirin.jp/product/product_step1.php?m=n
Official Facebook: https://www.facebook.com/mikawamirin

Recipe


This recipe was conceived by ITEMAE, a famous restaurant serving Japanese cuisine that is listed in the Michelin Guide.

Model: Misa Kimura
Photographer: Haruka Yamamoto

Information

ITEMAE
Address: 10-14 Kamiyamachō, Shibuya, Tokyo
Opening Hours: Lunch 11:30-15:00 (Weekdays Only) / Dinner 18:00-23:30
Closed: Sundays / New Year's Holiday
TEL: 050-5595-4795

My Film Recommendation | 5 Nostalgic Japanese Movies

ASOBINEXT is a new project launched by event management and talent agency ASOBISYSTEM, which is known for managing artists like Kyary Pamyu Pamyu. The project aims to create next generation icons who will promote their unique personalities and outlooks to the world using social media and in turn bring about new forms of culture.

As part of ASOBINEXT, MOSHI MOSHI NIPPON will be publishing content from each talent that is tied to ASOBINEXT in the form of their favourite and recommended things. Today, we take a look at 5 recommended nostalgic Japanese films from ASOBINEXT's Mirai who makes sure to watch at least one film a week.

Our Little Sister

©2015 吉田秋生・小学館/フジテレビジョン 小学館 東宝 ギャガ

・Film Summary
The film follows three sisters: Sachi, Yoshino, and Chika who all live in the house of their grandparents in Kamakura where they all grew up together. One day, they receive news of the death of their father. At his funeral, they meet their 14-year-old half-sister Suzu for the first time, whose mother is already dead. She had been living with their father and her stepmom after he remarried. When the eldest daughter Sachi looks at Suzu as the sisters are saying goodbye to her, she invites Suzu to go and live with them in Asakusa. Suzu agrees to go, and thus begins the sisters' journey together to deepen their relationship with Suzu. Its a very 'Japanese' film in many ways, and has a nostalgic Asakusa feel to it from the scenery and how people interact with one another.

・Why I Chose This Film
The story really gripped my heart. It's heartwarming, sad, and has a kind of nostalgia I can't quite put my finger on which makes me want to go back home. I love Asakusa, the setting of the movie, and go there every year to have fun with my family. We're also four siblings, brothers and sisters, so this film felt more relatable to me as I watched it. If you're someone who feels like they want to return to their hometown, or see someone you treasure, or want to feel something Japanese, then I recommend giving this film a go!

My Neighbor Totoro


・Film Summary
In the early summer, Satsuki and her younger sister Mei move into the countryside with their father to be closer to their mother who is hospitalised. They meet a mysterious creature who Mei gives the name "Totoro," a being which cannot be seen by adults. Satsuki and Mei get whisked into a fantastical world as we see them grow.

・Why I Chose This Film
I've loved it since I was a kid. It's one of Ghibli's films I've always watched. The film is set to be set in 1952 during the Showa Period. I was born in the Heisei Period so I wasn't even born yet when the film was released. Even so, this is a film that continues to receive love, so much so that it wouldn't be an exaggeration to say that it's known to all in Japan, and all have seen it. I believe there are still lots of kids who are watching Totoro even now. This film is an emotion that continues to live in our hearts as a memory, one that's like a dream we had when we were young. I want the people of the world to watch this regardless of their age or gender!

Always: Sunset on Third Street

・Film Summary
Mutsuko Hoshino arrives in Tokyo from Aomori Prefecture to begin her employment at the auto repair shop Suzuki Auto. Captivated by the prospect of living and working in the sparkling city of Tokyo, Mutsuku is disappointed to find that Suzuki Auto is actually a rundown shop in Tokyo's lower districts. Despite this, she goes into her job with will-power and positivity, and finds herself becoming a member of the Suzuki family. There is also the struggling writer Ryunosuke Chagawa, who accepts the custody of Junnosuke from Hiromi. Junnosuke is the orphaned offspring of the previous tenant of the building where Hiromi opens a bar. All of the cast members convey love, courage, and warmth in this story about being human.

・Why I Chose This Film
The moment I saw this film, it felt like I had been transported back in time to 1926, even though I was born in the Heisei Period and not the Showa Period. Despite that, it still fills me with a sense of nostalgia, and it makes me well up with a feeling of courage. The film is set in a time where smartphones, PCs, and TVs aren't a thing yet, so it really made me realise the importance of our connection to others. I want to recommend this film to anyone who wants to know about old time Japan, or is looking for a film with heart!

Kimi ni Todoke

©2010映画「君に届け」製作委員会 ©椎名軽穂 / 集英社

・Film Summary
Sawako is avoided by her classmates in elementary school because of her appearance which leads them to name-call her "Sadako," the main character from the film The Ring. They also call her a zashiki-warashi, a child spirit. But her father teachers her that a zashiki-warashi is a spirit that actually makes people happy. This makes her happy, since her motto is to "do one good thing a day." When she becomes a high school stduent, she meets a certain boy, which marks the start of this cute and pure love story.

・Why I Chose This Film
This is my favourite of Japan's love stories. It makes you feel that pure, butterfly stomach kind of youthful love. The music and the backgrounds in the film serve to add another layer to their relationship too. The film makes you want to cheer the two of them on from the shadows as they come to face complicated emotions they have never felt before. Everyone should check this out, regardless of age or gender, if they're wanting a heart-throb story or feel like returning to their youthful days!

Korede iinoda! Eiga Akatsuka Fujio

・Film Summary
This film covers the life of manga artist Fujio Akatsuka—known for such popular series as Tensai Bakabon—and his 35 year relationship with his editor Toshiki Takei. You get to learn about the unique life of the manga artist, who has been called a genius.

・Why I Chose This Film
This comedy film is set in the 1970s and shows how the popular weekly manga magazine Weekly Shonen Sunday came about, a magazine which it wouldn't be an exaggeration to call the start of Japanese manga. Of course, if you love Japanese manga, you should watch this, but I want all of the people of the world who are interested in the history of Japanese anime to see it!

Mirai

A 19-year-old affiliated with ASOBINEXT and known for her trademark black bob hair. Her hobby is watching movies—she watches one a week. Her goal for the future is to become an idol that stands out from the crowd and can work not just in Japan but around the world. She wants to work in many areas and endeavours to become a person that people look up to.

My Anime Recommendation | Darling in the Franxx: Children Paving the Way For Their Future

ASOBINEXT is a new project launched by event management and talent agency ASOBISYSTEM, which is known for managing artists like Kyary Pamyu Pamyu. The project aims to create next generation icons who will promote their unique personalities and outlooks to the world using social media and in turn bring about new forms of culture.

As part of ASOBINEXT, MOSHI MOSHI NIPPON will be publishing content from each talent that is tied to ASOBINEXT in the form of their favourite and recommended things. Today, we take a look at a recommended anime series by ASOBINEXT's Yuka Koyama who always watches anime on the weekend without fail and is always on the lookout for new series.

©Darling in the Franxx Production Committee

Darling in the Franxx's Story

The story is centred on children who are deprived of individuality and are raised solely for piloting Franxx, giant robot mecha, in boy-girl pairs. These children fight against strange creatures known as Klaxosaurs and various other kinds of enemies.

What led you to watch Darling in the Franxx?

I decided to watch it after seeing the character Zero Two in the recommendations column of the app I always use when I'm watching anime. Her pink hair really left an impression on me.

Why do you want to recommend the series?

The children in the series face many different emotions and conflicts. It's a wonderful story about their growth. The art style an animation is really beautiful too, so if you're stuck on what anime to watch next, I recommend trying this one out.

Who is your favourite character?

The pink-haired Zero Two. She's a cute and mischievous girl, and I find myself really drawn to her merciless side which she shows on occasion. In this anime, where we see the kids experience numerous conflicts while growing as individuals, Zero Two, who used to be a loner, experiences what it's like to treasure friends and enjoy being around people, as well as at times feel the bitterness of losing friends. She's a very human character, and really like that.

What's your favourite scene?

The scene where Zero Two and Hiro run away from the adults when they're young kids. The adults restrict their freedom, but the two of them frantically escape the facility when they are young to find their freedom. It moved me in a big way, since I'm one to normally hesitate when it comes to something big.

Who do you want to watch it?

I definitely want anyone who is challenging themselves to something new, or anyone who is going through something right now, to watch it. The kids really go through a lot but carve out their own path in the process. Seeing that really gives you courage.

Any final comments?

You end up empathising with the characters in Darling in the Franxx without even realising. It's a story of war with romance and friendship built into it. You always want to know what happens next, so I really recommend it. A second season is coming too, so be sure to check it out.

Yuka Koyama

16-years-old and a second-year high school student. Affiliated with ASOBINEXT. Currently taking lessons with the goal of becoming a model. Her hobby is discovering anime she hasn't seen yet. She's part anime otaku, never failing to watch anime on the weekends. In the future, she aims to become a regular model of a magazine that people admire and feature on the front cover. She also wants to expand her talent not only to magazines but TV too.

LEGO Super Mario Unveils Full Collection

LEGO and Nintendo have teamed up, creating a new line of new Super Mario-themed LEGO.

The LEGO Super Mario collection offers a completely new way to interact with Super Mario. Build your playground, search for coins with the aid of your trusty mushroom-headed friend Toad, and smash into the Koopas who dare to stand in your way.

Three LEGO Super Mario sets will be released on July 10 with the release of the entire collection to follow on August 1, 2020. The starter set is available for preorder from a number of LEGO retailers across Japan and online*.
*May not be available at some retailers.

The new expansion set introduces a number of unique components and characters. Enjoy playing by yourself or compete with friends and family. The character pack comes with one of ten enemy characters to spice things up. Will it be grumpy Goombas or the killer Bullet Bill? You'll only find out once you open the packet!


From Cat Mario to Builder Mario, the Power-Up Pack revealed in May includes four kinds of Mario. While wearing a new costume, Mario will obtain new powers and skills to further enhance your adventures.There is also a free LEGO Super Mario app you can download to level up your games even more. You can keep track of your score via Bluetooth®, discover and share ideas to improve your courses, and much more.

If you're a LEGO or Mario fan, you'll lose yourself in this exciting new world in no time.

Super Mario Bros. Merchandise Collection Up For Grabs in Japan

A new Super Mario Bros. merch line-up is up for grabs in the form of a lottery set to take place at 7-Eleven and Ito-Yokado stores, as well as Nintendo TOKYO, in Japan from June 27, 2020.

There are 7 different items in the collection and 19 designs in total that they come in, from a talking Mario plush to a giant Bowser bath towel, Boo hand soap dispenser set, and more.

A-Tier Prize: It's a-me, Mario! Talking Plush (30cm)


This cute talking Mario plush speaks five of the princess-saving plumber's classic lines when you press his belly.

B-Tier Prize: Fanfare Melody Alarm Clock (20cm)


The alarm clock face features a historical look at the many designs of the Super Mario Bros. games. The alarm sounds that play are those of when you clear a level in each of the games, so you can try and guess which game each sound is from when you hear it.

C-Tier Prize: Big Bowser Towel (200cm)


This 2-meter long towel features Mario's eternal enemy, Bowser—known simply as Koopa in Japan. Its convenient size means it can function as a bath towel or a blanket.

D-Tier Prize: Glow-in-the-Dark Boo Soap Dispenser Set (15cm)


Boo loves to hide in the dark and surprise the player then they least expect it. These handy soap dispensers glow in the dark, and are perfect for storing your shampoo, conditioner, or soap. You get both in the set!

E-Tier Prize: Clear Pouches (3 Designs) (12cm-18cm)


These three cute pouches vary in size and can be used for storing all your little things.

F-Prize: Brick Block Mamezara Plates (4 Designs) (8.5cm)

When you stack all four of these plates on top of each other the outer part makes it look like the iconic Brick Blocks from the video games. They are a great addition to any tabletop meal.

G-Prize: Packaged Towel Collection (8 Designs) (25cm)

The packaging designs of these mini towels are based on their respective video game cases. The packaging itself zips up so you can store whichever of the 8 towels you choose from away safely.

Last One Prize: Invincible Super Star Handy Fan (20cm)


This Super Star fan is holdable and can also be placed down thanks to the Question Block. This special "Last One" prize will be given out as the very last prize to people who draw the final lot.

Which of these items do you want the most?

©Nintendo

Information

Super Mario Bros. Lottery Collection (Japanese Title: 一番くじ スーパーマリオブラザーズ いつでもマリオ! コレクション)
Price: ¥650 per turn (Tax Included)
Official Website: https://bpnavi.jp/t/itsudemo_mario

*Select branches not participating

*You must book in advance to enter Nintendo TOKYO – most info can be found on their Twitter page
*Displayed photos are for illustrative purposes only

*The information featured in this article is subject to change without notice

TOKYO MYSTERY CIRCUS Releases More Snoopy Merchandise as Part of SCRAP x SNOOPY Puzzle Game Project

As part of the second SCRAP x SNOOPY Puzzle Game Project taking place at TOKYO MYSTERY CIRCUSーthe world's first puzzle-themed theme parkーthe Shinjuku-based theme indoor theme park has its third batch of original and exclusive merchandise which is comprised of 8 new pieces.

This will be the final batch of merchandise made for the project, featuring illustrations of Snoopy, Charlie Brown, and other characters from Peanuts and themed around the puzzle game.

Puzzle Origami: ¥1,000

7 of the 8 origami designs come with their own puzzle. When you make your own Snoopy and Charlie Brown, the puzzle is completed too.

Puzzle Mirror: ¥1,000

Puzzle Folders: ¥900 Each

Puzzle Handkerchief: ¥1,200

The merchandise line-up sold at TOKYO MYSTERY CIRCUS is available to people not participating in the event too. The first two batches of merchandise are also available via the online SCRAP GOODS SHOP.

An English version of the second puzzle game, officially titled "Snoopy and the Secret Recipe," was released at TOKYO MYSTERY CIRCUS on June 11 so that English speakers can enjoy the event too.

© 2020 Peanuts Worldwide LLC

Information

SCRAP x SNOOPY Puzzle Game Project

Event Page: https://mysterycircus.jp/snoopy/en/

TOKYO MYSTERY CIRCUS

Address: APM Bldg., 1-27-5 Kabukicho, Shinjuku, Tokyo, 160-0021

Opening Hours: Weekdays 11:30-23:00 / Weekends & Holidays 09:30-23:00

No Fixed Holidays.

Price: Free Entry (*Separate tickets required for games)

TOKYO MYSTERY CIRCUS x Snoopy Official Website: https://mysterycircus.jp/snoopy/en/

Hot Wheels Mario Kart Skids Into Action This June

American toy company Mattel has revealed its new "Hot Wheels Mario Kart" collection which it is releasing from the Japanese branch of Mattel International in the first half of this month.

Hot Wheels is a die-cast toy car brand that first launched in 1968 and celebrated its 50th anniversary in 2018. To date, it has manufactured over 6 billion products for children around the world. It has gone on to become a collector's item adored by kids and adults alike.


Mario Kart Bullet Bill Play Set: ¥2,900 (Before Tax)

The "Mario Kart Bullet Bill Play Set" comes with a Bullet Bill which the cars on the track can go inside for a boost when the red button is pressed.

Mario Kart Assortment: ¥700 Each (Before Tax)

The assorted Mario Kart set comes with Mario, Luigi, Donkey Kong, and other familiar faces from the Mario Kart games. The Peach P-Wing is the newest addition to the line-up.

Experience the fun of Mario Kart in an all-new way with the Hot Wheels Mario Kart collection.

Information

Hot Wheels Mario Kart Bullet Bill Play Set
Release Date: Early June 2020
Size (cm): W38.1×D12.4×H25.4
Ages: 5+
*Comes with 1 kart (Mario)

*Batteries not required

Hot Wheels Mario Kart Assortment
Release Date: Early June 2020

Size (cm): W13.9×D3.5×H16.5
Ages: 3+

Official Website: https://play.hotwheels.com/en-us/index.html

Official Super Mario LEGO Series Reveals Starter Course and Bowser's Castle Expansion Set

The LEGO Group and Nintendo are teaming up to release a new line of Super Mario themed LEGO. The new "Adventures with Mario Starter Course" and first expansions have finally been revealed. The Start Course release globally on August 1, 2020, but pre-orders are now open.

The LEGO Super Mario collection lets you build your own Mario courses from LEGO bricks. It comes with an interactive LEGO Mario figure you can use while collecting coins. Now you can build levels like in Super Mario Maker in your very own home. The series is set to bring a whole new experience to LEGO play.

TM & © 2020 Nintendo. ©2020 The LEGO Group.

TM & © 2020 Nintendo. ©2020 The LEGO Group.

The Adventures with Mario Starter Course, which was revealed by Jonathan Bennink, Lead Designer at LEGO Group, comes with a LEGO Mario and seven different "Action Blocks" which react in different ways. The starter set serves as the entry point into the LEGO Mario theme, and so showcases the many possibilities one has at their disposal with this entirely new and unique LEGO experience.


TM & © 2020 Nintendo. ©2020 The LEGO Group.

TM & © 2020 Nintendo. ©2020 The LEGO Group.

Two expansion sets were also revealed, including the "Bowser's Castle Boss Battle Expansion Set" and "Piranha Plant Power Slide Expansion Set" which allow for plays to freely expand on their original courses.



TM & © 2020 Nintendo. ©2020 The LEGO Group.

The LEGO Super Mario Start Course will launch globally on August 1, 2020. Pre-orders opened on Wednesday.

TM & © 2020 Nintendo. ©2020 The LEGO Group.

LEGO Super Mario himself has built-in screens on his eyes and mouth to display his reactions, and there's also one on his stomach. He reacts to movement and the action blocks, and is also equipped with speakers to play music and his voice.

TM & © 2020 Nintendo. ©2020 The LEGO Group.

LEGO Mario will pass through the course collection virtual coins, jumping on blocks, fighting Goombas and Bowser Junior, to reach the goal.

An official LEGO Super Mario app is also available which serves as a support function to players' experience. The app connects to LEGO Mario via Bluetooth® and keeps a record of your score, offers a digital guide on assembling the set, and more.

Information

Adventures with Mario Starter Course

・Pieces: 231
・Includes: LEGO Mario / 7 Action Blocks
・LEGO Mario: Colour Sensor / Motion Sensor / Screen Display / Bluetooth® / 2 x AAA batteries (Not Included)

Bowser's Castle Boss Battle Expansion Set

・Pieces: 1010
・Includes: Koopa, Dry Bones, Boo, and Podoboo figures for LEGO Mario to fight / P Switch & Question Blocks
・Expansion set to assemble for LEGO Mario to fight Bowser

Piranha Plant Power Slide Expansion Set

・Pieces: 217
・Includes: Goomba & Koopa Trooper figures which give coins when defeated / P Switch for extending time to reach the goal
・Seesaw expansion set for LEGO Mario to avoid Piranha Plants while collecting coins

LEGO Group Official Twitter: https://twitter.com/LEGO_Group

Levi's® Releases Super Mario Collection in Collaboration With Nintendo

Levi's® has teamed up with Nintendo to release the "LEVI'S® × SUPER MARIO™" collection which dropped on April 1, 2020.


   

The colourful streetwear collection is a must for all fans of Mario, with embroidered appearances from popular characters such as the titular plumber, Luigi, Yoshi, and Princess Peach.

Each clothing item is a nod to the game's iconic make-up, from mushrooms and coins to Super Stars and event the game's logo.


Like Levi's®, Super Mario™ is a cultural icon, having appeared in over 200 games since the first video game was released in 1985. Shigeru Miyamoto, the game's creator, is perhaps the most respected designer in the video game industry's history.

Information

LEVI'S® × SUPER MARIO™
Release Date: April 1, 2020
Available: Levi's® stores in Japan & Levi's® online store

Collection:
Men's
'93 501® Selvage – ¥16,000
'93 501® Shorts – ¥8,000
Overalls – ¥16,000
Tracker Jacket – ¥14,000
Crew Neck T-Shirt – ¥4,000
Hoodie – ¥9,000
Polo Shirt – ¥6,000


Women's
501® Crop – ¥15,000
501® Shorts – ¥7,000
Short Overalls – ¥10,000
DAD Tracker Jacket – ¥14,000
Crew Neck T-Shirt – ¥4,000
Hoodie – ¥9,000

Accessories (Bandana, Bag, Hat & more) – ¥2,500 to ¥4,500
 

Levi's® Japan Official Website: https://www.levi.jp/

Official Mario Themed LEGO to be Released in Collaboration With Nintendo

The LEGO Group and Nintendo are teaming up to release a new line of Super Mario themed LEGO in the second half of 2020.

The LEGO Super Mario collection lets you build your own Mario courses from LEGO bricks. It comes with an interactive LEGO Mario figure you can use while collecting coins. Now you can built levels like in Super Mario Maker in your very own home.

LEGO Super Mario brings LEGO to a whole new level, allowing you to create your own original courses using the many different blocks provided while incorporating your own coin-collecting system. Check out the collection's official trailer below.

More details are to be announced, but expect LEGO Super Mario to drop sometime in the second half of 2020.

Winners Announced For The 7th Washoku World Challenge Competition

The final round for the 7th Washoku World Challenge Competition was held in Tokyo on February 20 and 21, which saw WANG Wei Ping of China, and chef at SUN with AQUA JAPANESE DINING SUNTORY, as the winner.

The two-day event brought together five chefs from Hong Kong, Singapore, Paris, Donostia-San Sebastian, and New York come together to compete and show their skills create dishes based on the competition's main theme of "Umami" and this year's theme of "Texture and Mouthfeel."

The judges said: "This 7th edition demonstrates that the finalists' technical level keeps improving every year. Creating Japanese dishes that incorporate the characteristics and unique ideas of other countries' culinary cultures, while respecting the fundamentals of Japanese cuisine built on the concept of umami, expands the potential of Japanese cuisine. The creations of each one of the finalists embodied this notion."

Middle Contender: WANG Wei Ping, 1st Place Winner

WANG Wei Ping's Dish

On the first day, the chefs used the same ingredients to create a "nimonowan." On the second day, they forged their own original dishes using five or more ingredients which they arranged on a Japanese "hangetsubon" tray.

When reacting to his victory, Wang Wei Ping said: "I thank the owner and other members of my restaurant. After returning to Shanghai, I would like to continue conveying the excellence of Japanese cuisine, which is both healthy and tasty."

Finalists

Hong Kong

First Place: WANG Wei Ping (China, SUN with AQUA JAPANESE DINING SUNTORY)

USA

Second Place: Yael PEET (USA, Fury's) *The restaurant will be open this summer.

Singapore

Third Place: Loh Man HONG (Singapore, FAT COW)

Paris

Wojciech POPOW (Poland, Beaverbrook)

Judges

– Head Judge: Mr. Yoshihiro MURATA

(Chairman of Japanese Culinary Academy, Owner and chef of Kikunoi, Japanese Cuisine Goodwill ambassador)

– Deputy Head Judge: Mr. Masahiro NAKATA

(Director of Taiwa Gakuen Education Inc. President of Kyoto Culinary Art College)
– Judge: Mr. Hideaki MATSUO

(Owner of Japanese Cuisine KASHIWAYA, Japanese Cuisine Goodwill ambassador)
– Special Judge: Yoshio KOJIMA

(Comedian)

Mario Question Blocks Appear in New York to Win a Trip to SUPER NINTENDO WORLD

SUPER NINTENDO WORLD is set to open at Universal Studios Japan (USJ) in 2020ーthe year of the Tokyo Olympicsーas the world's first theme park area centred on the world, games and video game characters from Nintendo. A whopping 60 billion yen has been injected to make the park a reality.

In promotion of the park, the "SUPER NINTENDO WORLD CHALLENGE" was held in New York, US on February 19.

Fans dashed to Grand Central Terminalーa tourist hot spotーwhere the event was held to play a game involving the iconic Question Blocks from the Mario video game franchise. The set-up, which brought to mind a Bonus Stage from the game, had people hitting the question blocks just like Marioーsomething which we all must have imagined doing before.

1,000 people participated in the event which they signed up to prior. It was a day of fun for not only players but onlookers too. Grand prize winners won trips to SUPER NINTENDO WORLD, which is set to open before the Tokyo Olympic Games start, while all other participants got their hands on some exclusive SUPER NINTENDO WORLD merch early.

One participant said: "I love everything about Mario, so I knew I'd definitely be taking part today! I've loved Mario since I was a kid, I even had a plush toy of him. Mario really is exciting. I've always wanted to be Mario, so I'm really happy with how today turned out. I want to go to SUPER NINTENDO WORLD with my best friend and try out all the attractions. I'm sure it's gonna be a lot of fun!" (Male, 20 / Staten Island, New York) *Translated from Japanese

One of the grand prize winners said: "I've been a huge fan of Nintendo's games since I was 3-years-old. I was lucky to get to take part in the SUPER NINTENDO WORLD CHALLENGE today, but to go and win the grand prize is an amazing feeling! I'll be going to Japan with my girlfriend who I love so much! I'm always paying attention to news about SUPER NINTENDO WORLD. The Mario Kart attraction will definitely be a ride, I'm looking forward to it so much I just can't wait! I always thought it would be great if they made a Mario theme park, so the fact they're doing it in both Japan and even the US is amazing!" (Male, 20 / The Bronx, US) *Translated from Japanese

The Question Blocks also made an appearance in Times Square. The event was covered on the morning news in the US with fans visible at the event, Rockefeller Plaza, and elsewhere.

If you're a Mario and Nintendo fan planning a trip to Japan then be sure you get to experience SUPER NINTENDO WORLD when it opens this year.