Dragon Ball, Naruto & One Piece Feature in Jump x UT's Last T-Shirt Collection
UNIQLO has been developing a spring and summer collection this year under its illustrative t-shirt brand UT themed on 'wearing the things you love.' The collection is being made in collaboration with Shonen Jump which is celebrating its 50th anniversary this year. The collection is gaining much attention, featuring some of the most memorable characters from Jump franchises.
©BIRD STUDIO / SHUEISHA
©Masashi Kishimoto Scott / SHUEISHA 
©Eiichiro Oda / SHUEISHA
This last collection will hit UNIQLO stores and online on July 27, with t-shirts from Dragon Ball, Naruto and One Piece.
©BIRD STUDIO / SHUEISHA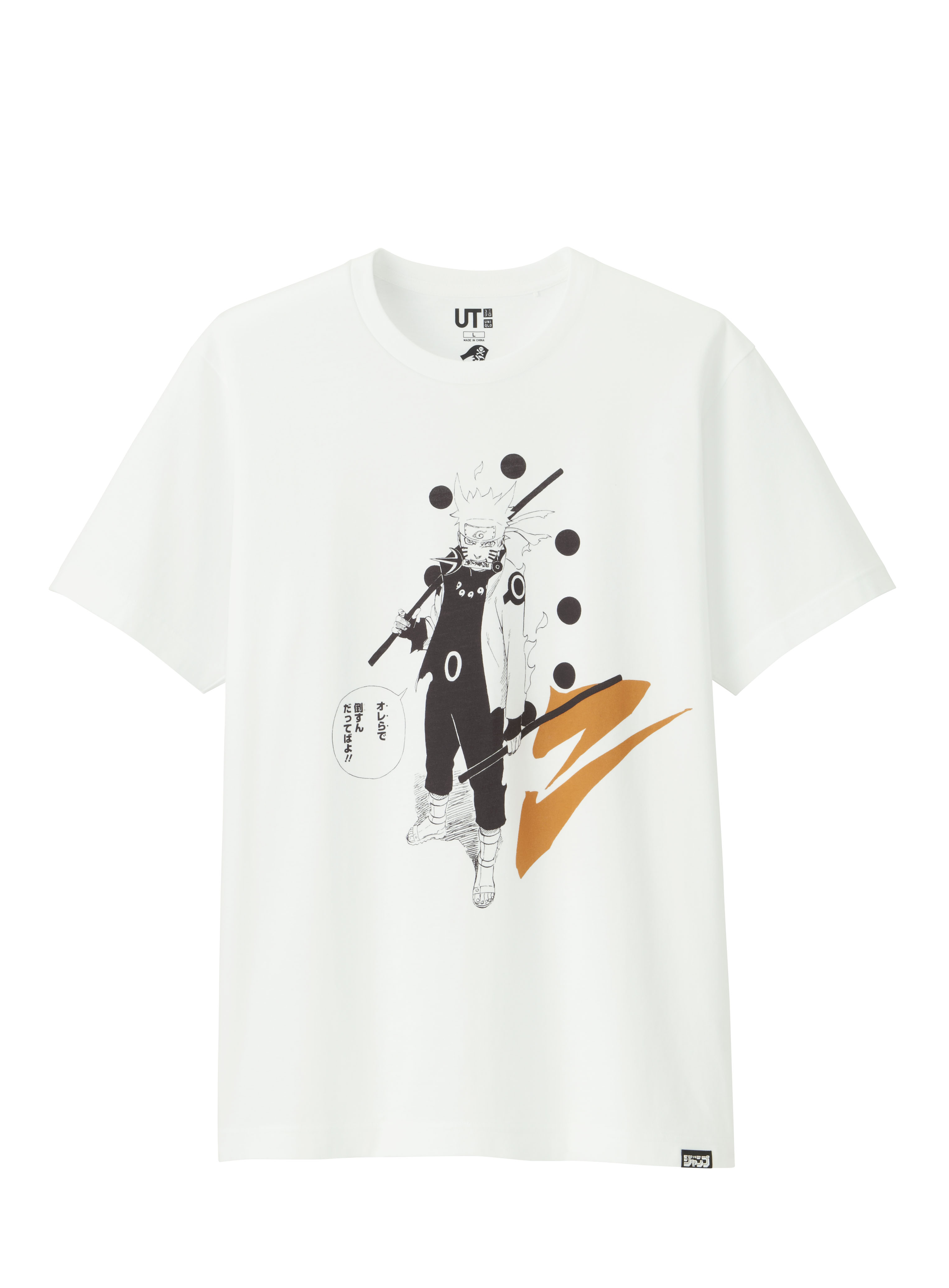 ©Masashi Kishimoto Scott / SHUEISHA 
©Eiichiro Oda / SHUEISHA
The collection features a range of different illustrations, including Jump magazine front covers in the early days of series' serialisations, as well as Goku vs. Cell, Sasuke and Naruto vs. Madara, the scene where Luffy and Ace part ways, and more.
If you're a fan of any of the series, these t-shirts are sure to strike a chord with you! Don't miss out on this final collection.
■Information
Weekly Shonen Jump 50th Anniversary UT Collection
RELATED ENTRIES
RADWIMPS Release Music Video for 'TWILIGHT' From Band's New Album

FOREVER DAZE, the new album from the hugely popular band RADWIMPS, is right around the corner, set to release on November 23. The group's track TWILIGHT was used to commemorate the 1,000th episode of the One Piece anime series and the 100th volume of the manga series, and the music video for the song has just been released. 

TWILIGHT – RADWIMPS Music Video 

RADWIMPS FOREVER DAZE Trailer

The group has explained that FOREVER DAZE is filled with musical challenges and unique collaborations. RADWIMPS will start a new six-city 12-show Japan tour in January 2022. 

UNIQLO Kids' Holiday Loungewear Collection to Feature Demon Slayer Designs

Demon Slayer continues to be massively popular, and kids will be happy to know that a new collection featuring their favorite characters is coming! UNIQLO locations across Japan will release the Kids' Holiday Loungewear Collection on November 26, 2021. 

The new season of Demon Slayer is coming soon, and this new collection features many popular patterns worn by the series' characters. A special tote bag also features an illustration drawn by ufotable exclusively for this new collection. 

A limited-edition UNIQLO gift card design will also be available during the holiday season. Don't miss out on this collection that kids will love!

©吾峠呼世晴/集英社・アニプレックス・ufotable

One Piece Netflix Live-Action Series Announces Main Cast

The highly-anticipated One Piece live-action series is coming to Netflix, and the main cast has finally been announced!

Eiichiro Oda's manga series has become one of the best-selling manga series in history. Originally published in Weekly Shonen Jump in 1997, the series recently celebrated its 100th volume and will celebrate 1,000 anime episodes in the coming weeks. With over 490 million copies in circulation, Luffy's adventure is beloved by manga fans around the world. 

The story follows the many adventures of Monkey D. Luffy, a boy whose body gained the ability to stretch like rubber after eating a Devil Fruit. Along with his faithful crew of Straw Hat Pirates, Luffy explores the famed Grand Line in search of the ultimate pirate treasure, known as 'One Piece.' Gaining this will make him the King of the Pirates. 

Monkey D. Luffy will be played by Iñaki Godoy, Zoro will be played by Mackenyu, Nami will be portrayed by Emily Rudd, Usopp by Jacob Romero Gibson, and Sanji by Taz Skylar. To promote the announcement, the popular wanted posters seen in the series were updated featuring the actor's faces. Original manga author Eiichiro Oda also issued a statement: "The face, the size of the mouth and hands, the atmosphere, the gestures, the voices, the acting ability, the height, the friendship…! These cast members were chosen after much discussion with staff from around the world, and these are the ones who will become the Straw Hat Pirates!" 

A One Piece live-action project had been kicked around before but has finally come to fruition after Oda and other members of Shonen Jump staff were convinced that it could be done well. Godoy, who will portray Luffy, has attracted attention for his skills in the popular drama series "Who Killed Sara?" Japanese actor Mackenyu, who will portray the sword-wielding Zoro, is one of the leading young stars in Japan. Emily Ladd has received accolades for her work in Fear Street and Hunters. Jacob Romero Gibson has appeared in a number of high-profile foreign dramas and is known for his ability to adapt to different roles. Taz Skylar has the perfect cool-guy look to play chef Sanji. This project is sure to attract attention from all over the world, and people are holding their breath, hoping that Luffy's story can be brought to life in the best possible way. 

Full Comment from Eiichiro Oda (Original Author and Executive Producer): 

"We've been working with Netflix and Tomorrow Studios on the massive project that is the Hollywood live-action series adaptation of 'One Piece!' How many years has it been since it was announced, right? I know, I know! But rest assured we've been making steady progress all along. It's not easy when you're working with people from different cultures! But it's precisely that process that can yield something special! For now, we're able to announce the main cast! Rather, we need to hurry and announce it, or else it'll be leaked, apparently! Hilarious, lol. Their face, the size of their mouths and hands, their aura, the way they carry themselves, their voice, their acting skills, their height, the balance amongst the Straw Hat Crew, etc…! We decided on this cast after numerous discussions involving people around the world! These are the people who will be our Straw Hat Pirates! It'll take a bit more time to get this show done, but we'll continue to do our best to deliver a show that we're confident will be enjoyed by everyone around the world! Look forward to more updates in the future!"

Comment From Co-writer, Showrunner, and Executive Producer Steven Maeda and Co-writer and Executive Producer Matt Owens: 

"We are so excited to set sail with this amazing and talented cast. Finding the right people to pull off the looks, emotions, and actions of the iconic Straw Hats was a long and challenging (and fun!) process. Much like the search for the One Piece itself. But we have finally found the perfect fits! They have already begun working very hard to bring these characters to life. You will come to know and love them just as much as their manga counterparts. All of us can't wait to show you what we've come up with! Onward to adventure!"

(C)尾田栄一郎/集英社

FujiQ Highland Holds Limited Time "Uzumaki Naruto Birthday Celebration 2021"

FujiQ Highland's 'NARUTO x BORUTO Fuji Konohagakure Hidden Village,' will be holding the 'Uzumaki Naruto Birthday Celebration 2021' birthday event to commemorate NARUTO protagonist Uzumaki Naruto's birthday, held between October 10 and November 7 2021. 

 

Happy Birthday, NARUTO! Miso Tonkotsu with Extra Char Siu Special

Yakitori Set

Arcade Game Corner 'Game Area – Ninjutsu Carnival'

"Uzumaki Naruto Birthday Celebration 2021" Specially Designed Sweets

NARUTO Birthday Commemorative Big Sticker


Stamp Rally with Impressive Prizes

During the event period, Satouchi's 'Ramen Ichiraku' will be offering ramen based on Naruto's beloved Miso Tonkotsu with Extra Char Siu, topped with six pieces of Char Siu (available Sat. and Sun. only, 30 portions a day). Meanwhile, YakitoriQ will be reducing the cost of their ultra popular 'Family Pack' yakitori from ¥1,200 down to ¥1,010 to mark the date on October 10. Plus, if you say "NARUTO HAPPY BIRTHDAY" at the Game Area Ninjutsu Carnival game, the staff will offer you an extra round, boosting your chance of winning the prize.

The Fuji-Q Official Highland Resort Hotel & Spa's restaurant "Makaroni Club" is also hosting a series of fun events to liven up the celebration, including event-exclusive latte art, macaroons, and themed cakes!

In addition, customers who purchase event merchandise or use the facilities will receive a free 10cm 'NARUTO Commemorative Big Sticker' which will be sure to leave an impact. The stickers are available in limited quantities.

If you collect three stamps on your rally card then you will be eligible to enter a lottery, with the chance to win a variety of impressive prizes, such as FujiQ Highland Free Passes or NARUTO or BORUTO dolls, so why not give it a shot?

If you're a NARUTO fan then be sure to celebrate his birthday at FujiQ Land!

 

Information

Uzumaki Naruto Birthday Celebration 2021

Duration: October 10 ~ November 7 2021

Location: NARUTO x BORUTO Fuji Konohagakure Hidden Village

Address: 5-6-1 Shinnishihara, Fujiyoshida, Yamamashi 

Official Site: https://www.fujiq.jp/ 

Nijigen no Mori Amusement Park Starts Naruto Birthday Event

The anime-themed amusement park Nijigen no Mori in Hyogo Prefecture will hold a special Naruto event from October 2 until November 28, 2021. The Naruto Shippuden x Real Puzzle Solving Game will feature popular characters from the Shikamaru Hiden arc!

NARUTO&BORUTO Ninja Village

This marks the second version of the event to date, with the first taking place in 2020. Naruto's birthday is October 10, and to celebrate, this event will open with new visuals of the titular ninja along with popular character Shikamaru!

Flower Petal Stickers

Fans of Naruto won't want to miss their chance to leave a congratulatory message for the birthday boy! Just write your message on one of these stickers, and stick them to the character panel of your choice. 

Event Contents

Gameplay

Players will solve a number of riddles placed all over the Naruto & Boruto Ninja Village, with certain keywords related to each character playing a role. 

Wooden Phone Straps (4 varieties) featuring new illustrations

The event will take around 30 minutes, even for beginners. Those buying a ticket will receive a wooden phone strap. 

©岸本斉史 スコット/集英社・テレビ東京・ぴえろ

Information

Naruto Shippuden x Real Puzzle Solving Game – Ninja Village Special Mission #010: Naruto/Shikamaru Arc

Running: October 2, 2021 – November 28, 2021

Address: Nijigen no Mori Naruto & Boruto Ninja Village (Awaji, Hyogo Prefecture)

Hours: 10:00-20:00

*Please check the official website for hours. 

Logo Unveiled for Netflix's "ONE PIECE" Adaptation

Netflix, the world's largest online entertainment service, has announced an original adaptation of 'ONE PIECE' which is scheduled to be broadcast internationally. 'ONE PIECE', written by Eiichiro Oda, is an extremely popular manga  that represents Japan globally. Worldwide, over 490 million copies have been sold, beloved by fans of all ages across the world for many years.

The series was serialized in Weekly Shonen Jump in 1997, starting with the protagonist Monkey D. Luffy going on a journey with the Straw Hat Pirates to find the One Piece, a treasure that was left behind by the legendary "Pirate King" Gol D. Roger.

Now the logo of the live-action drama series 'ONE PIECE' has been unveiled, along with the title of the first episode, which matches the manga – "ROMANCE DAWN – Dawn of Adventure-." Author Eiichiro Oda has taken the role of executive producer for the new series.

There have been many offers to transform 'ONE PIECE' into a live action series in the past, but the very first 'ONE PIECE' live-action drama will be coming to life through Netflix after Eiichiro Oda and the Weekly Shonen Jump editorial department became convinced that the many difficulties of a 3D 'ONE PIECE' could be overcome.

The newly unveiled logo was based on the original logo, with the Straw Hat Pirates emblem featured above the letter O and if you look closely, you can see that the skull has a scar under its left eye just like Luffy. It also seems that a tiny Luffy is hidden inside the skulls nose! The final E also pays homage to the original logo with its anchor shape, raising the expectations even higher.

The first episode title is 'ROMANCE DAWN – Dawn of Adventure -,' matching those of the first manga chapter and anime episode. How will Luffy's iconic story begin? A great number of people are curious to find out.

The famous story of pirates and upheaval is being produced with original author Eiichiro Oda as executive producer, in partnership with Netflix and Tomorrow Studios. In charge of the script and executive production is Matt Owens, who worked on 'Agents of Shield' following his time working for the JJ Abrams' production company Bad Robot. Steven Maeda, best known for 'LOST', will also be joining as scriptwriter, showrunner, and executive producer.

The 100th volume of the manga was released on September 3, while the 1000th episode of the anime is scheduled to air on November 21. There have been many commemorative projects in order to "connect the world" during this special occasion, and the live-action adaptation is sure to grab the attention of fans around the globe – It could even be considered the project of the century! The casting is still yet to be confirmed, so stay tuned for more information.

ONE PIECE x Ninagawa Mika x RADWIMPS Release Stunning Clips for 'WE ARE ONE.'

ONE PIECE, a manga running in the Weekly Shōnen Jump magazine for 24 years, will be releasing its 100th volume on September 3 2021.l, while the 1000th episode of the anime will be aired on November 21. To commemorate this major milestone, the franchise will be starting a number of grand projects to 'connect' with the world.

 

One of those grand projects is the 'WE ARE ONE.'  mini series, with five videos co-produced by Toei Animation and Shueisha to be released starting on August 30, counting down until the release of  the 100th volume on September 3. 

The videos are directed by Ninagawa Mika, who has won a selection of awards within Japan and overseas for her vivid and colorful videos. Accepting the challenge to take charge of this unprecedented video project, the live action shots featuring known actors were directed by Ninagawa while the anime shots were produced by Toei Animation. The videos show off a new side to the wonderful world of ONE PIECE. RADWIMPS new song TWILIGHT will be used as the theme song as four protagonists step into the future in this short drama collection.

Scene1 is an animation featuring Zoro and Sanji of the Straw Hats. The pair usually bicker, but when they're faced with losing their companions during the Davy Black Fight, the two join together to protect their gang. One the pair have decided to help make Luffy's dream of becoming the pirate king come true, nobody can stop them!

Director Ninagawa Mika Comment


I feel like there are people who have read the series deeply, as well as those who happened to discover it, and those who are yet to read but are still able to sympathize with the story. I will be happy if everybody can enjoy the videos.

RADWIMPS Comment

There are so many adults like us who grew up reading ONE PIECE, as well as students and parents, with all of us just trying to achieve our goals and targets each day. I feel that during those days, the ONE PIECE characters have always helped us to keep on pushing forward. It is my hope that this project will help people feel a little stronger when facing the future. 

 

Photos
©Oda Eiichiro / Shueisha/
©Oda Eiichiro / Shueisha, Fuji TV, Toei Animation

Anime
©Oda Eiichiro / Shueisha, Fuji TV, Toei Animation

UNIQLO U Future Forward Fall/Winter Collection Coming to Stores in September

Created by Artistic Director Christophe Lemaire and his team in Paris, Uniqlo U will soon be releasing its Fall/Winter 2021 collection. The inspiration for the new collection lies in both the present and the future, with simple silhouettes and practical details perfect for daily life. The men's, women's, and children's pieces are made with soft materials and can be layered easily, meant for both relaxing at home and exploring the outdoors. 

Future Forward: An Essential Wardrobe for the Future


The women's styles are elegant while remaining simple and practical, with light knitwear and denim perfect for layering during cooler months. 

Men's fashions are based on classic designs, which have now been made more refined and practical. The outerwear is easy to move in, making it a great fit for those commuting to work. 

Children will love Uniqlo U's new pieces, with loose-fitting designs allowing kids to focus on being free and spontaneous. Each item can be comfortably worn for long periods of time, and won't irritate or constrict even the most active of youngsters. 

Combining the more neutral pieces with the more colorful items will liven up the season! Will you be grabbing any of these new releases? 

Information

2021 Fall/Winter Collection

Release Date: September 17, 2021

*Some products are now on sale in advance.

Where to Buy: Full lineup to be available at 227 UNIQLO stores and online. 

*Some products will be available at all UNIQLO locations in Japan. 

UNIQLO U Special Site: http://www.uniqlo.com/UniqloU

Anime Theme Park Nijigen no Mori to Hold Second Kakashi & Obito-themed Escape Game

A special event is coming to the Naruto-themed area of Nijigen no Mori, an anime theme park located on Awaji Island in Hyogo prefecture! The Naruto Shippuden x Escape Game: #009 Kakashi & Obito event is taking place from August 21 to October 10!

A look at NARUTO & BORUTO Shinobizato

A look at the game

Participation bonus: 4 special wooden phone straps with new illustrations

The first escape game in the series was held in 2020 to positive feedback. It was first held to celebrate Kakashi's birthday, which is September 15, and all visuals of both him and Obito are completely new and made for the event. 

Guests can also write their celebratory messages on special 'petal stickers' and place them on the character panel of their choice!

Would you like to come celebrate Kakashi's birthday? 

©Masashi Kishimoto /Shueisha・TV Tokyo・Pierrot

Information

Naruto Shippuden x Escape Game: #009 Kakashi & Obito

Running: August 21-October 10, 2021

Opening Hours: 10:00-20:00

Estimated Play Time: 30 minutes

Nijigen no Mori

Address: 2425-2 Kusumoto, Awaji, Hyogo

Official Website: https://nijigennomori.com/

Naruto and Boruto Summer Event Begins at Nijigen no Mori

Nijigen no Mori, an amusement park located on Awaji Island in Hyogo, began a summer event at its Naruto and Boruto-themed zone on July 22 which is set to run until September 30.

Event-exclusive stickers

The event includes a huge water gun event where 25 litres of water will be sprayed to cool down guests during the hot summer event. With themed character panels displayed around the park, join Naruto and the gang, including Zabuza and Haku, for some summer fun. All guests receive a free original sticker too.

© 岸本斉史 スコット/集英社・テレビ東京・ぴえろ

Information

NARUTO&BORUTO SHINOBI-ZATO
Running: July 22, 2021 – September 30, 2021

Location: Nijigen no Mori

Opening Hours: 10:00-18:00
Price: Free (But park entry payment required)
Official Website: https://nijigennomori.com/naruto_shinobizato/

UNIQLO's Global Design Competition UT GRAND PRIX 2022 is Themed on the Peanuts Comics

The UT GRAND PRIX (UTGP) is a design competition that started in 2005. The contest uses the T-shirt as a creative medium and invites everyone to freely express their creativity. This year, the competition is themed on the Peanuts comic strips by Charles M. Schulz which first hit the scene in the US back in 1950, over a hundred years ago.


Create your own Peanuts tee design


Artists are invited to unleash their imagination and bring their own Peanuts creations to life using UNIQLO's UT brand as their canvas. Designs will be judged by the Charles M. Schulz Museum and a team of Charles M. Schulz creative associates.

An internship at the Peanuts studio


The Grand Prize is $20,000 and all winning designs will become products sold in UNIQLO stores worldwide in the summer of 2022. The winners of the top two prizes will be invited to the USA. There will also be an internship opportunity to be a member of the Charles M. Schulz creative associates team.

Sign up to the competition and submit your entry for the chance of your artwork being featured worldwide.

UNIQLO x Tate Modern Launch UNIQLO Tate Play

UNIQLO and British art gallery Tate Modern have signed a three-year global partnership. The two first came together for the UNIQLO Tate Lates event series which began in 2016. This new partnership brings about new free programme of playful activities for families of all ages. This summer, people are invited to transform the floor of the Turbine Hall at Tate Modern into a giant collaborative work of art at UNIQLO Tate Play: Mega Please Draw Freely. Tate will also release a t-shirt collection in collaboration with UNIQLO's UT brand in 2022.




Tadashi Yanai (Fast Retailing Chairman, President and CEO, UNIQLO) | Comment


"UNIQLO is proud to be partnering once again with the world-renowned Tate Modern especially this year, as 2021 is the year we are celebrating the 20th anniversary since launching UNIQLO in the United Kingdom. Our renewed collaboration with Tate Modern is based on a shared philosophy of Made for All, a concept echoed in LifeWear, clothing designed to help make everyone's daily life better, and in giving everyone the opportunity to enjoy art. My hope is for many families to get involved in the UNIQLO Tate Play program."

UNIQLO Tate Play invites everyone of all ages to scribble, doodle, sketch and become part of an unforgettable experience.


UT is UNIQLO's graphic print t-shirt brand which first launched in 2007. 'Wear Your World' is the brand's philosophy. It has collaborated with anime, manga, bands, films, and more, and next year, it is teaming up with Tate Modern in an exclusive collection.