Limited Edition Shaved Ice Made with Natural Ice from Nikko – No Brain Freeze!
New Otani Hotels is now selling Satsuki Edo Shaved Ice at KATO'S DINING & BAR until September 30, 2018. The shaved ice is made with natural ice from Nikko and the hotel's own shaved ice recipe made with carefully selected ingredients.
Nikko natural ice is made using a traditional method that has been passed down for generations. It involves taking spring water from ravines and freezing it in an ice room. It's also preserved carefully in sawdust. It's made with great effort by artisans in Nikko. The shaved ice that's made with this natural ice has a fluffy soft texture like cotton candy. It feels extremely smooth when eaten. It also doesn't give you brain freeze like a lot of shaved ice can do, and once you've finished, your body is left feeling refreshed.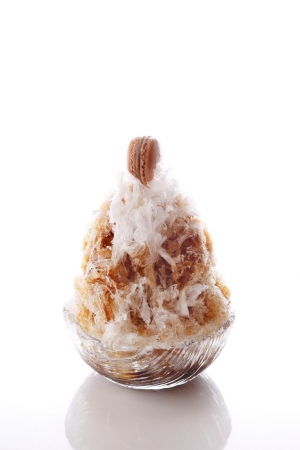 Wasabon: This shaved ice is made with sweet refined Japanese sugar and homemade brown sugar syrup. The natural ice is topped with Japanese ingredients such as rice flour dumplings, sweet bean jelly, and brown sugar syrup anko. The secret ingredient is moshio, or salt made from burning seaweed, which helps bring out the exquisite sweetness of the refined sugar. The flavour of each ingredient stands out while keeping an exquisite balance. It's simple but rich with flavour.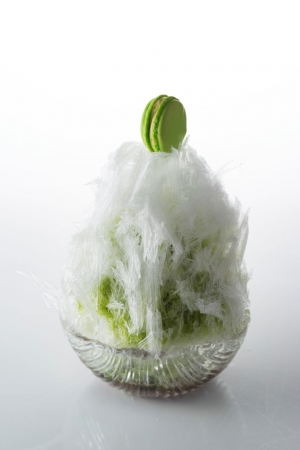 Matcha: This shaved ice is drizzled in a rich green matcha syrup and refreshing sweet bean jelly. This is coupled perfectly with brown sugar syrup anko which is made with black soy bean from Tamba to draw out the texture.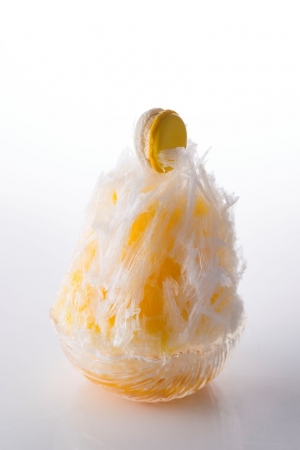 Mango: This shaved ice is made with fresh summertime mango, a jelly konjac, and Japanese arrowroot and mango sauce.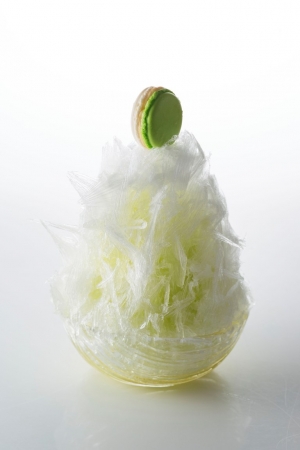 Melon: Served with fresh and juicy melon, a jelly konjac, and sauce made with 100% melon.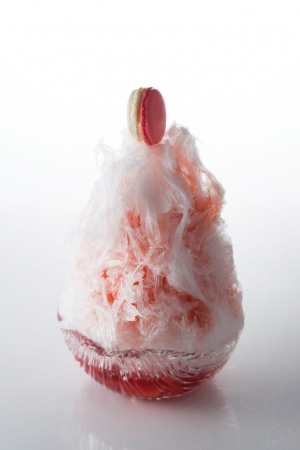 Strawberry: The jelly and 100% of the sauce with this shaved ice is made with a special type of strawberry from Fukuoka called Hakata Amaou®. This is the ultimate strawberry shaved ice.
■Information
Satsuki Edo Shaved Ice
Available: Until September 30, 2018
Time: 2:00pm-4:30pm
Prices
Mango / Melon / Strawberry – ¥1,800
Matcha / Wasabon – ¥2,000
*Prices do not list tax or service charge.
Location: KATO'S DINING BAR (Garden Court Lobby Floor)
Reservations & Enquiries: 03-3221-2857 (KATO'S DINING & BAR)
RELATED ENTRIES
Tokyo's Craft Chocolate Shop nel Releases Cacao Kintoki Shaved Ice Desserts

nel craft chocolate tokyo, a craft chocolate shop located in Nihonbashihamacho, Tokyo, released two chocolate shaved ice desserts last Wednesday for the hot summer season. The desserts are also being sold at Saryo Tsukikage, a restaurant inside the hot spring ryokan Yuen Bettei Daita in Setagaya.


Left: Cacao Kintoki | Right: White Cacao Kintoki

Cacao kintoki is a type of shaved ice made with specially-selected cacao beans from Vietnam. It uses a 'bean to bar' method where the shaved ice is made from scratch, roasting the beans fresh to create the dessert.

The two new treats at nel use a chocolate base and add cacao pulp to the mix, adding a natural fruity flavour derived from the bean. Each is also served with a special cacao sauce for extra flavour. The white cacao version is made by combining with in-house white chocolate. It also comes with an Okinawan passion fruit and cacao pulp sauce, resulting in a sour kick and refreshing taste.

Saryo Tsukikage

The open-air baths at Yuen Bettei Daita

A special matcha version of this shaved ice can also be enjoyed while bathing in the open-air baths at Yuen Bettei Daita. It's made with nel's homemade white chocolate as well as dark chocolate, cacao pulp, and specially-selected yame matcha from Shimokita Chaen Ōyama, a cafe in Setagaya.

Deliciously Luxurious Matcha Shaved Ice to be Served in Shinjuku This Summer

This summer, Southern Tower Dining and Lounge South Court—both of which are located inside Odakyu Hotel Century Southern Tower—are serving up a fluffy matcha shaved ice dessert called Wa -Nagomi- from June 1 to September 30.

Southern Tower's Famous Fluffy Light Snowfall Wa -Nagomi- Shaved Ice | Eat In ¥1,470, Takeout ¥700

The matcha-flavoured shaved ice has a texture as light and fluffy as snow. As you spoon through the dessert your taste buds are met with a range of delicious tastes and textures like the Japanese rice flour confection known as gyuhi, winter melon syrup, black soybean flour ice cream, and cream.

The dessert can also be ordered for takeout. The black soy bean flour ice cream adds a crunchy cereal-like texture to the soft shaved ice, and with the takeout option, there's also chocolate-coated wheat bran and brown sugar syrup.

Information

Wa -Nagomi-

Japanese Name: 和 -なごみ-

Serving: June 1, 2021 – September 30, 2021

Where: Southern Tower Dining / Lounge South Court (Odakyu Hotel Century Southern Tower Floor 20F)

Address: 2-2-1 Yoyogi, Shibuya, Tokyo

Opening Hours:

[Southern Tower Dining] 11:30-16:00 (Last Orders 15:00) / 17:30-22:00 (Last Orders 21:00)

[Lounge South Court] 10:00-23:30 (Last Orders 22:30)

Southern Dining Official Website: https://www.southerntower.co.jp/restaurant_lounge/st_dining/bar_lunch/

Red Bean Paste Shaved Ice & Seasonal Products at Ginza Sony Park This Summer

Ginza Sony Park has announced a range of seasonal items and food for Summer 2020.

Toraya Cafe・An Stand

Red Bean Paste Shaved Ice with Matcha & Rice Flour Dumplings | Small ¥841, Regular ¥901 (Tax Included) | Ginza Park Floor B3F | Available: Until September 29, 2020

Loaded with red bean paste and in-house made honey, this limited edition shaved ice is served with matcha sweet bean jelly made with Uji matcha.

Red Bean Paste Shaved Ice with Cointreau & Coffee | ¥540 (Tax Included) | Ginza Park Floor B3F | Available: Until September 17, 2020

This one's for the grown-ups, served with Cointreau and Hawaiian coffee.

An (Red Bean) Paste – Raspberry | ¥864 (Tax Included) | Ginza Park Floor B3F | Available: Until Late August 2020

Enjoy a raspberry version of the bean paste for yourself which has been mixed with brown cane sugar.

THE CONVENI

CHECKER SHOPPER BAG | ¥7,700 (Tac Included) | Ginza Park Floor B1F

THE CONVENI is selling a checked shopper  bag made from thin PVC so that it does not get dirty easily and also makes it waterproof. The bag, which bears the name of the store, also has pockets inside the bag.

Ginza Sony Park Art Walk

SHUN SUDO – "ART IN THE PARK"

Left: NAIJEL GRAPH | Right: SP. by yuko mohri (Available until August 26)

Ginza Sony Park will also display a range of large-scale art including SHUN SUDO's wall art ART IN THE PARK, work from NAIJEL GRAPHIC, and more.

BOTTEGA VENETA 'THE CHAIN' Exhibition Image | August 16, 2020 – August 30, 2020

A huge installation art piece called THE CHAIN by BOTTEGA VENETA will be displayed on the rooftop for a limited time. This installation piece has been taken around the world, and serves as a message of strength and connection to people during the COVID-19 pandemic.

Ginza Sony Park 2nd Anniversary


Free stickers will be handed out until August 16, 2020 to celebrate the 2nd anniversary of Ginza Sony Park, which has delivered unique forms of entertainment to Tokyo's district of Ginza.

Information

Ginza Sony Park
Address: 5-3-1 Ginza, Chuo-ku, Tokyo
Opening Hours: 11:00-19:00

*Reduce hours. Usual hours are 10:00-20:00.

Official Website: https://www.ginzasonypark.jp/

bibbaR Osaka's Colourful New Shaved Ice is Inspired by a Picture Book

bibbaR, a cafe in Osaka, is currently celebrating the launch of children's author Tomonori Taniguchi's new picture book Kamereon no Kakigooriya (The Chameleon's Shaved Ice Shop) with a special line-up of shaved ice recipes inspired by the book which are currently being served until August 31, 2020.

The colourful and fruity collection is the number one way to cool down this summer in Japan.


The shaved ice line-up is based on the colourful chameleon's shaved ice that he sells at his shop. It's a full realisation of the character's shaved ice creation come to life which can be topped with various sauces and fruits.

Rainbow Shaved Ice (5 Sauces): ¥1,500 (Before Tax)

Ordering this gets you all five of the sauces: soda, honey & lemon, strawberry, kyoho grape, and melon. Create your own rainbow of flavours.

Sun – Honey & Lemon Sauce With Mixed Juice Foam: ¥1,200 (Before Tax)

Sea Breeze – Soda & Salted Vanilla Cream and Foam: ¥1,100 (Before Tax)

The "Sun" shaved ice is a combination of everybody's favourite honey and lemon as well as mixed juice, while the "Sea Breeze" mixes salt with vanilla and soda.

Sunset – Apple Sauce & Strawberry Foam: ¥1,300 (Before Tax)

 

Dawn – Fresh Kyoho Grape Sauce & Blueberry Sauce: ¥1,500 (Before Tax)

Forest – Fresh Melon Sauce & Lime Mint: ¥1,500 (Before Tax)

Order the red "Evening" for a refreshing and sour mix of apple and strawberry, the "Dawn" which is topped with lots of grape sauce, or "Forest" for a summertime blend of ripe melon, lime, and mint.

Beat the summer heat this season with one of Chameleon's shaved ice recipes.

Information

bibbaR
Address: Grand Front Osaka Shop & Restaurant South Bldg. 1F, 4-20 Ōfukachō, Kita-ku, Osaka
TEL: 06-6359-1389
Opening Hours: 11:00-21:00 (currently operating with reduced hours)

Official Website: http://www.cporganizing.com/bibbar/

Japanese Tea Flavoured Shaved Ice For Takeout at Susumu Chaya in Tokyo and Kagoshima

Japanese tea shop Susumu Chaya started up a takeout service for shaved ice on Tuesday (July 7) at all of its branches including in Kagoshima as well as Jiyugaoka and Shibuya's DESCENTE TOKYO in Tokyo.

The shaved iced takeout service was originally only available at the two Tokyo branches, but now customers in Kagoshima can enjoy the tea-flavoured desserts.

Matcha Shaved Ice: ¥750 (Before Tax)

Made using Susumu Chaya's "koicha," a rich and full-bodied matcha variety.

Houjicha Shaved Ice: ¥750 (Before Tax)

The houjicha shaved ice is made using only first-grade tea leaves picked by Susumu Chaya. It has a refreshing taste.

The shaved ice can be ordered for takeout or eaten inside the cafes. Enjoy the full flavour of Japanese tea coupled with a refreshing portion of shaved ice.

Information

Susumu Chaya Kagoshima
Address: 27-13 Uenosonochō, Kagoshima-shi, Kagoshima Prefecture
Opening Hours: 10:00-18:00
Closed: Wednesdays
TEL: 099-251-4141
Access: 8-minutes on foot from Kagoshima-Chūō Station

Susumu Chaya Tokyo Jiyugaoka
Address: 1-25-5 Jiyugaoka, Meguro-ku, Tokyo
Opening Hours: 10:00-19:00
Closed: Every 1st and 3rd Wednesday of the month
TEL: 03-6421-4142
Access: 3-minutes on foot from Jiyugaoka Station's front entrance via the Ōimachi Line

Susumu Chaya DESCENTE TOKYO Shibuya Meiji Dori
Address: 6-19-21 Jingumae, Shibuya, Shibuya-ku, Tokyo
Opening Hours: 10:00-20:00
No Fixed Holidays
TEL: 03-6804-6332
Access: 4-minutes on foot from Exit 16 of Shibuya Station

Official Website: https://susumuya.com/

Chocolate-Piled Shaved Ice & Other Summer Season Delights at BEL AMER Kyoto Villa

Kyoto-based chocolate bar BEL AMER Kyoto Villa is serving up the perfect line of new chocolatey bites for summer 2020.


The entire line-up is a delight to look at, from a mountain of chocolate piled on top of shaved ice, a summertime mango and melon dessert, and more.

Chocolate Noir Shaved Ice x Matcha: ¥1,540 (Tax Included)

Shaved ice is the quintessential summertime dessert in Japan, and since this one is being served at a shop specialising in chocolate, what better way to serve it than drizzled in a mountain of the stuff? The shaved ice is covered in rich chocolate cream and chocolate sauce and is topped with chocolate nibs. It's also served with a side of matcha sauce which you can pour over yourself, creating a delicious harmony of flavours.


Mille-Feuille au Chocolat Exotic With 196℃ Chocolate Ice Cream: ¥1,650 (Tax Included)

This summertime dessert is made with lots of mango and melon. In the centre of it all is even more mango, as well as pineapple and coconuts, for a flavourful layered experience. Served on the side is ice cream made from BEL AMER Kyoto Villa's own original couverture chocolate.

Summer Pavlova: ¥1,320 (Tax Included)

This piece of art of a dessert is a must for lovers of matcha and melon. It's made from fluffy meringue topped with white chocolate, matcha mousse, and chocolate cream, which itself is then topped with refreshing melon and grapes for a refreshing kick.


Chocolate Croquette Sandwich: ¥990 (Tax Included)

BEL AMER Kyoto Villa is also serving up a very unique dish indeed which mixes together chocolate and croquette—a flavour that actually works, combining sweetness and bitterness. The croquette is made from potatoes. The brioche sandwich also contains cheese and bacon.

These are just some of the delights on show at BEL AMER Kyoto Villa this summer. If ever you're in Kyoto, be sure to stop by, especially in the summer.

Information

BEL AMER Kyoto Villa Bettei Sanjo

Address: 66 Sanjodori Sakaimachi Higashi Iru Kitagawa Masuyacho, Nakagyo-Ku, Kyoto

TEL: 075-221-7025

Official Website: https://www.belamer-kyoto.jp

Gourmet Shaved Ice Served Up at the New VERMICULAR PREMIUM SHAVED ICE SALON in Nagoya

For this summer only, a limited-time gourmet shaved ice shop called "VERMICULAR PREMIUM SHAVED ICE SALON" is opening up inside VERMICULAR VILLAGE in Nagoya from July 2 to September 13.

The exquisite shaved ice options are topped with fruit confitures which are made without any water involved, allowing for the original flavour of the fruits to come through, as well as adzuki beans cooked with Vermicular cookware, and more. The shaved ice is served inside Vermicular's high quality mini pots, which have been kept cool, meaning the ice doesn't melt when it's put inside, meaning it stays nice and fluffy until the end.

There are three to pick from, and underneath each the shaved ice is a blancmange which goes hand in hand with the shaved ice flavours.

Strawberry, Pistachio, & Condensed Milk: ¥1,300 (Before Tax)

This ice pot is topped with a strawberry jam which was made using no water, and pistachios—which go really well with the fruity confiture. At the very bottom is a condensed milk blancmange, making it delicious down to the last spoonful.

Nishio Matcha, Adzuki Beans, Brown Cane Sugar Warabimochi, & Houjicha: ¥1,500 (Before Tax)

Next is a matcha flavoured shaved ice pot made with adzuki beans and matcha grown in Nishio, Aichi. Sat at the bottom of the pile is a houjicha tea blancmange and brown cane sugar warabimochi.

Mango, Passion Fruit, & Coconut: ¥1,300 (Before Tax)

Lastly is a mango and passion fruit sauce covered shaved ice with coconut milk and a topping of fresh mango. At the bottom is a coconut blancmange.

Information

VERMICULAR VILLAGE
Address: 2-4 Funatocho, Nakagawa Ward, Nagoya, Aichi

Bookings: https://www.tablecheck.com/shops/the-foundry/reserve

Enquiries: VERMICULAR RESTAURANT THE FOUNDRY (052-355-6800)

Dining: 50 minutes max

*Photos are for illustrative purposes only

Brown Bear & Other Tasty Shaved Ice Recipes Arrive at Tokyo's Terrace Dining TANGO for Summer

For this year's summer season only, Tokyo-based Italian restaurant Terrace Dining TANGO is serving three original shaved ice desserts from July 1 to August 31.

Terrace Dining TANGO is a restaurant located in The Place of Tokyo, a wedding venue that faces Tokyo Tower. Every summer, the restaurant serves special limited-time shaved ice. They use water with absolutely no impurities that is frozen slowly over a period of 48 hours. This is turned into fluffy shaved ice which the restaurant's patissiers drizzle in specially-made sauces. This year includes their popular brown sugar syrup-drizzled brown bear shaved ice which is always well received for its cute appearance, as well as their regular strawberry milk flavour, and a new apricot kernel and mango sauce shaved ice.

Brown Bear w/Brown Sugar Syrup: ¥950 (Before Tax/Service Charge)

An original shaved ice conceived by Terrace Dining TANGO which never fails to put smiles of the faces of its customers every year. This year they are adding a Japanese taste to it with a houjicha tea syrup sauce. Inside the fluffy shaved ice is condensed milk and chewy tapioca. If you let the shaved ice melt it becomes like bubble tea with the tapioca pearls.

Strawberry Milk: ¥850 (Before Tax/Service Charge)

A classic serving of TANGO's strawberry milk shaved ice, doused in a specially-made strawberry syrup and rich condensed milk. Hidden in the centre is a condensed milk cream, strawberry jelly, and fresh strawberries.

Apricot Kernel Milk w/Mango Sauce: ¥850 (Before Tax/Service Charge)

This shaved ice is topped with melt-in-the-mouth apricot kernel cream and lots of fruity mango sauce for a sweet and sour punch.

Terrace Dining TANGO is a great place to visit after going to Tokyo Tower, so if you're in Tokyo this summer then cool yourself off with some refreshing shaved ice.

Information

Terrace Dining TANGO

Address: 1F, 3-5-4 Shibakoen, Minato Ward, Tokyo

Opening Hours:

[Weekdays] 11:30-15:00 (Last Orders 14:00), 17:00-23:30 (Last Orders 22:30)

[Saturdays] 11:30-16:00 (Last Orders 15:00), 17:00-23:30 (Last Orders 22:30)

[Sundays/Holidays] 11:30-16:00 (Last Orders 15:00), 17:00-22:30 (Last Orders 21:30)

No Fixed Holidays
TEL: 03-5733-6866

Official Website:  https://tabelog.com/tokyo/A1307/A130704/13144857/

4 Refreshing Matcha Shaved Ice Flavours Released at Itohkyuemon in Kyoto

Kyoto's famous tea shop Itohkyuemon began serving four new Uji matcha and shaved ice mixed desserts on its menu yesterday (June 29). Itohkyuemon was founded in 1832 in the latter period of Edo. Ujitawara, the place in Kyoto where the shop is located, is famous for the tea served by Itohkyuemon which has been harvested by the Ito family for years.

Uji Matcha Parfait Ice: ¥1,490 (Tax Included) | Serving: Until Late September 2020 | Avaialble: Itohkyuemon JR Uji Station/Itohkyuemon Gionshijo

The Uji Matcha Parfait Ice uses a blend of matcha and milk-infused ice as its base. It's then topped with sweet treats like rice flour dumplings, red bean paste, ice cream, matcha jelly, and more to turn it into a parfait.

Uji Matcha Daifuku Ice: ¥1,290 (Tax Included) | Serving: Until Late September 2020 | Avaialble: Itohkyuemon JR Uji Station/Itohkyuemon Gionshijo

This Uji Matcha Daifuku Ice is an upgrade of the one Itohkyuemon served last year. It has a creamy custard base with matcha daifuku hidden in the shaved ice.

Fluffy Uji Kindokei Vanilla Ice Cream: ¥990, Matcha Ice Cream ¥1,090 (Tax Included) | Serving: Until Late September 2020 | Avaialble: Itohkyuemon JR Uji Station/Itohkyuemon Gionshijo


Fluffy Uji Kindokei Rice Flour Dumpling: ¥850, Rice Flour Dumpling & Vanilla Ice Cream ¥970, Rice Flour Dumpling Matcha Ice Cream ¥1,090 Serving: Until Late September 2020 | Avaialble: Itohkyuemon Uji Main Branch

These two "Kindokei" (Gold Watch) servings use more ice. At the main branch of Itohkyuemon they're more crunchy, while at the JR Uji Station and Gionshijo branches they're more fluffy.

Local Shaved Ice Recipes Whipped Up at Hoshino Resorts KAI This Summer

Hoshino Resorts has brought back its annual local shaved ice festival for the summer which will be served at branches of Hoshino Resorts KAI, a hot spring ryokan brand. It has been held every year since 2017 and gives people the chance to enjoy shaved ice with a variety of syrups and toppings inspired by local regions in which branches of KAI are dotted around.

Strawberry Shaved Ice | Hoshino Resorts KAI Nikko (Chuzenji Onsen, Tochigi Prefecture)

Tochigi Prefecture has enjoy est the largest harvest of strawberries in Japan for the last 50 years. This shaved ice is doused in a sweet strawberry syrup and a bitter matcha sauce. It can be enjoyed while gazing out to Nikko's beautiful scenery where you can see Chuzenji Lake and Mount Nantai from 1,300 meters above sea level in Hoshino Resorts KAI Nikko.

Hydrangea Shaved Ice | Hoshino Resorts KAI Hakone (Hakone Yumoto Onsen, Kanagawa Prefecture)

The Hakone area enjoys long blooming periods of hydrangeas. During their full bloom, the Hakone Tozan Line mountain railway gets nicknamed the "Hydrangea Line" and becomes a popular route for sightseeing. This refreshing shaved ice has hydrangea flavoured jelly and syrup.

Art Shaved Ice | Hoshino Resorts KAI Sengokuhara (Sengokuhara Onsen, Kanagawa Prefecture)

Hoshino Resorts KAI Sengokuhara is surrounded by many art museums, so what better way to keep with the them than with an art-inspired shaved ice dessert? Show your art skills by using strawberry red, orange-flavoured orange, and other colourful syrups to create your own unique design on your fluffy white canvas of shaved ice.

Apple Shaved Ice | Hoshino Resorts KAI Alps (Omachi Onsen, Nagano Prefecture)

Nagano Prefecture is famous in Japan for its apples. There are two types of syrup poured over this shaved ice, including one that tastes like mashed apples, and another made from Bramley apples.

Ginger Shaved Ice | Hoshino Resorts KAI Izumo (Tamatsukuri Onsen, Shimane Prefecture)

The ginger adds a sharp bite to the sweetness of this refreshing shaved ice and is perfect for overcoming the summer heat.

Tomato Shaved Ice | Hoshino Resorts KAI Aso (Sen no Moto Onsen, Oita Prefecture)

Made from tomatoes harvested in summertime, this sweet and sour shaved ice takes on a gorgeous red colour. Tomatoes are low in calories and have many nutritional ingredients, and are a good source of vitamin C and D, making this a healthier option.

And there are lots of other flavours to come from Hoshino Resorts KAI this summer too.

Information

Hoshino Resorts KAI Local Shaved Ice 2020 (Japanese Name: 界のご当地かき氷 2020)
Running: July 11, 2020 – August 31, 2020

Price: Free

Available: At 15 Hoshino Resorts KAI branches
Official Website: https://kai-ryokan.jp/features/kakigori/
Notes: Reservations not required

Hoshino Resorts KAI Official Website: https://kai-ryokan.jp/

10 Refreshing Shaved Ice Flavours Arrive at i-ZA Kamakura

Japanese cafe Komachi Chaya and bakery, cafe and restaurant Dear Bread Kamakura have collaborated to release 10 cool shaved ice flavours at i-ZA Kamakura, a shopping centre that's just a 1-minute walk from Komachi Street in Kamakura.

10 Tasty Shaved Ice Recipes Combining Japanese & Western Flavours

Komachi Chaya, which is located on the 2nd floor of i-ZA Kamakura, has a diverse line-up including a hydrangea-inspired shaved ice. All of their options are made using in-house made syrup. Dear Bread Kamakura, which is located on the 1st floor of i-ZA Kamakura, is introducing a rich new shaved ice made using specially-made foam.

Hydrangea: ¥1,420 / With Rice Flour Dumpling Ice Cream ¥1,630 (Tax Included)

This vivid blue shaved ice is inspired by Kamakura's famous hydrangea flowers. It comes with lemon syrup which changes the shaved ice into a beautiful purple. You can pick two syrups from six to combine and create new and tasty flavours.

Whole Strawberry Sagahonoka: ¥1,100 / With Rice Flour Dumpling Ice Cream ¥1,310 (Tax Included)

The Sagahonoka has a super sweet taste and is made with an unheated strawberry syrup. It's topped with fat and juicy strawberries and served with condensed milk.

Komachi Chaya is serving a total of 7 flavours. As well as the ones above, there's an Uji matcha flavour, a plum pick made from two types of plums, and more.

Strawberry Milk Foam: ¥1,200 (Before Tax)

Dear Bread Kamakura's shaved ices are made using foam. The strawberry one is made using in-house strawberry syrup and is topped with milk foam, giving it a cute appearance like light snowfall. The combination of strawberry and cream also gives it a taste similar to shortcake.


Brown Sugar Syrup Matcha: ¥1,200 (Before Tax)

Doused in a rich and sweet brown sugar syrup and covered in a matcha flavoured foam made with Uji matcha from Kyoto, this fluffy shaved ice has a slight bitter bite from the matcha which is balanced against the sweet syrup and red bean paste.

Dear Bread Kamakura will also serve a mango flavour made with two different homemade syrups instead of foam.

i-ZA Kamakura is maintaining social distancing measures as a precaution against COVID-19. The shopping complex has expanded its wooden deck terrace seating area as well as its eating-in space so customers can feel at ease.

Information

i-ZA Kamakura
Address: i-ZA Kamakura 1F, 1-6-15 Komachi, Kamakura, Kanagawa
Access: 1-minute on foot from Kamakura Station via the JR Line and Enoshima Electric Railway

Official Website: https://i-za-kamakura.com/

Tokyo's New Shaved Ice Cafe 'Kakigoori Parlor Floche' Opens in LUMINE EST Shinjuku

A new shaved ice shop by the name of Kakigoori Parlor Floche is now open on the 8th floor food arena "The PARK SHINJUKU" inside LUMINE EST Shinjuku for a limited time until August 31, 2020.

Kakigoori Parlor Floche is inspired by floche, a cake served at a Japanese cafe in the 70s and 80s which they have turned into shaved ice. Its luxurious taste is similar to a cake, with an appearance that's sure to have you smiling when it arrives at the table. It's topped generously with cream, creating a cake x shaved ice fusion.

"Floche" is a French word meaning fluffy, a fitting name for a shop specialising in serving sweet and fluffy shaved ice. They have prepared three different flavours: Tiramisu, Shortcake, and Japone.

Shortcake: ¥980 (Before Tax)

Tiramisu: ¥830 (Before Tax)

Japone: ¥880 (Before Tax)

If you're in Tokyo this summer, don't miss out on this delicious and refreshing line-up.

Information

Kakigoori Parlor Floche
Opening Hours: 11:00-21:00 (Last Orders 20:00)
Address: LUMINE EST Shinjuku 8F, 3-38-1 Shinjuku, Shinjuku-ku, Tokyo
TEL: 03-6457-4566
No Fixed Holidays

Official Website: https://www.potomak.co.jp/shop/6392/