Canadian Sushi Chain KINKA IZAKAYA to Open Branch in Roppongi
The Japanese branch of Canadian restaurant group KINKA FAMILY has announced that Kinka Sushi Bar Izakaya is heading to Roppongi and will hold its grand opening on September 15.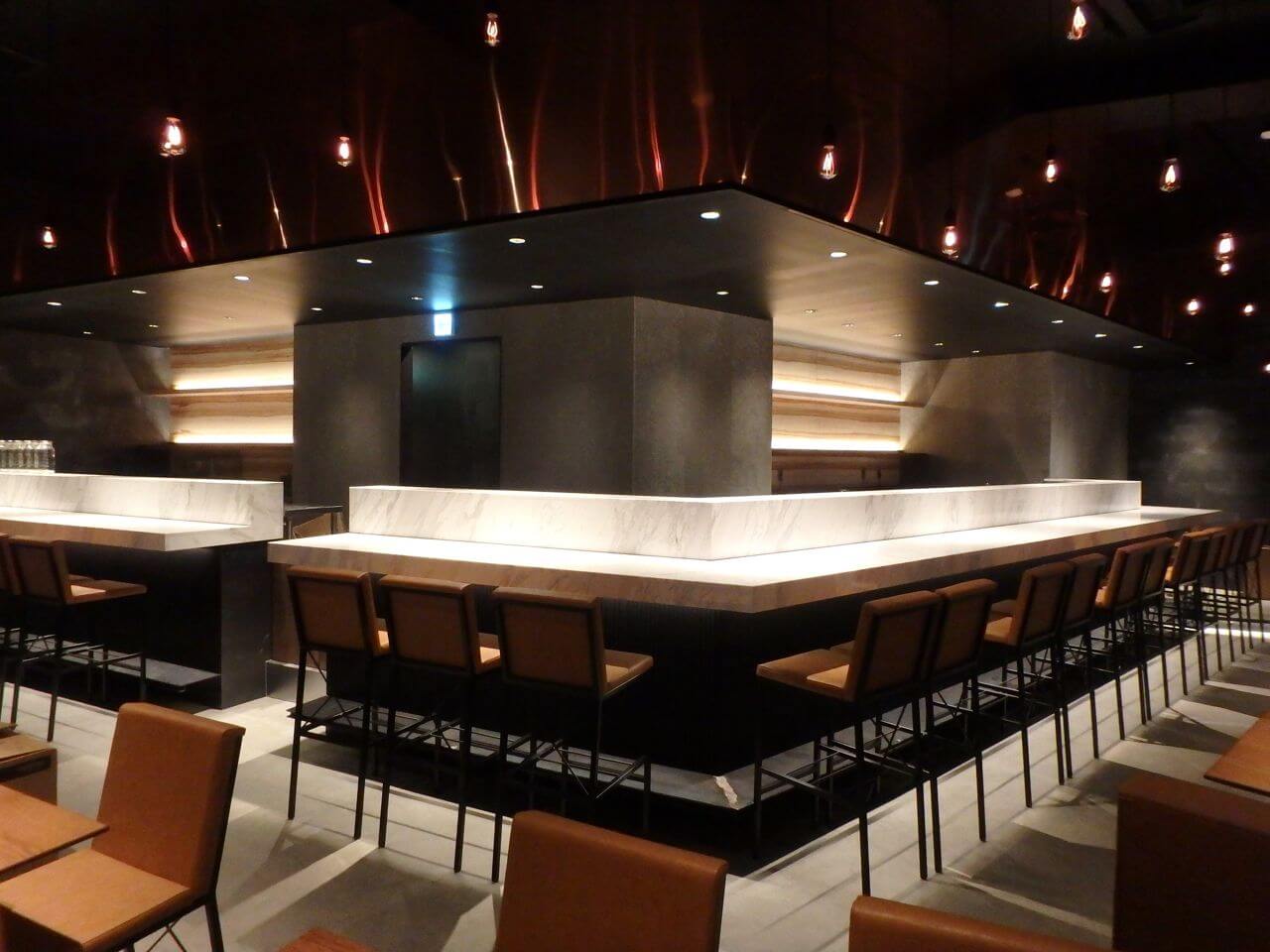 The new branch is located near The National Art Center, about a 4-minute walk from Roppongi Station. Their food and drinks garner huge praise from customers The stylish sushi bar hailing from Canada offers up an unconventional range of sushi that's rare even in Japan like lobster sushi, as well as pressed sushi and sashimi. Wash it down with one of their original cocktails imbued with the essence of Japan.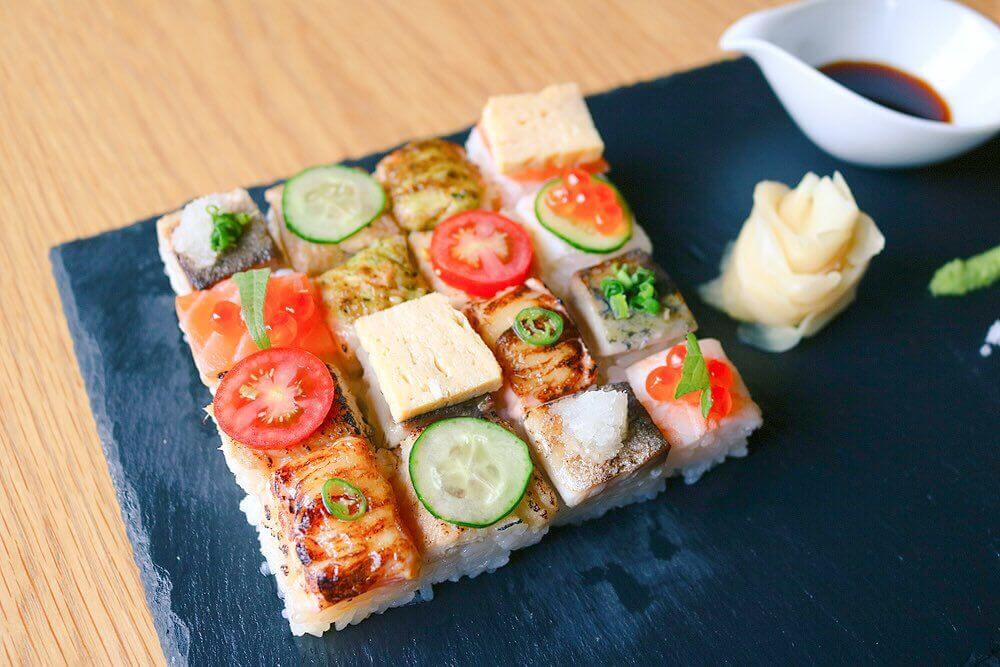 Aburi Mosaic Sushi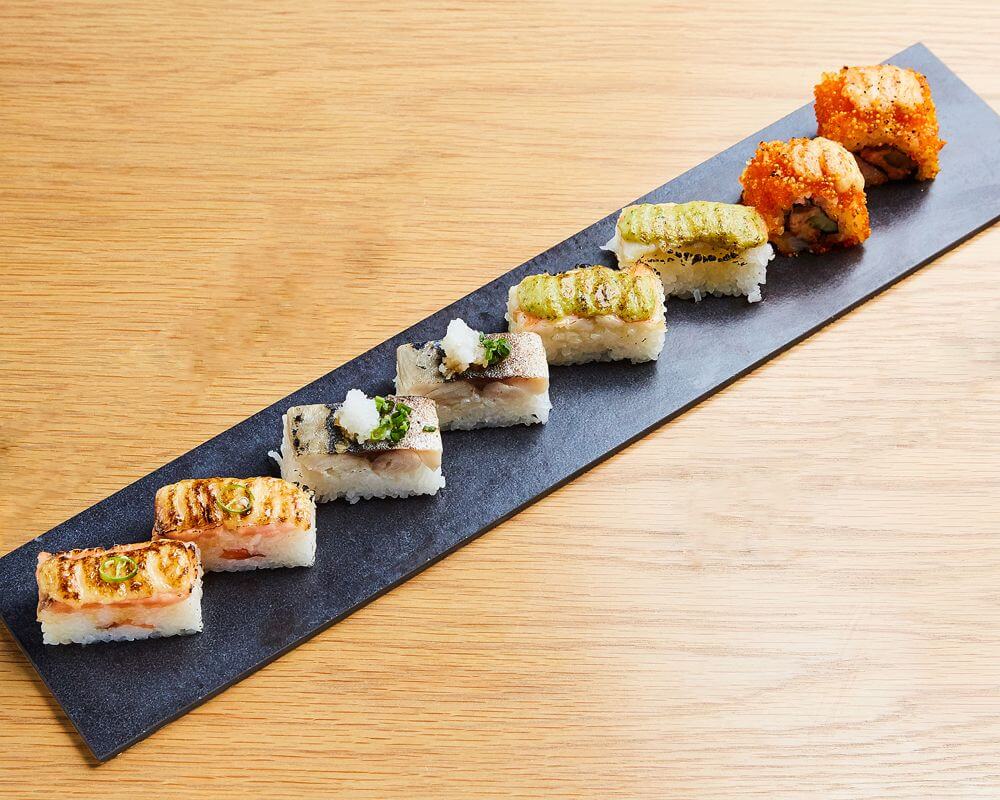 Aburishasu Set of 8
The grand opening of the new Roppongi branch marks 2 years since the one in Shibuya opened. To celebrate, both branches will hold an Aburi Festival. They will serve their Aburi Mosaic Sushi and Aburishasu at the discounted price of ¥500 down from ¥1,490 for a limited time. In addition, on September 15 only, you can enjoy a new Aburi Mosaic Sushi with 16 flavours, and from September 14 to 16 you can order their set of 8 aburishasu for just ¥500 down from ¥1,690.
Experience sushi in a new way at Kinka Sushi Bar Izakaya.
■Information
Kinka Sushi Bar Izakaya – Roppongi
Address: 2F, 7-6-20 Roppongi, Minato Ward, Tokyo
Grand Opening: September 15, 2018
Opening Hours
Lunch:
[Weekdays] 11:30am-4:00pm (Last Orders 3:30pm)
[Weekends & Holidays] 11:30am-5:00pm
Dinner:
[Monday-Thursday] 5:00pm-11:30pm (Last Orders 11:00pm)
[Friday-Saturday] 5:00pm-4:00pm (Last Orders 3:00pm)
[Sunday & Holidays] 5:00pm-10:00pm (Last Orders 9:30pm)
Access: 4-minutes on foot from Roppongi Station
Closed: Obon and New Year's Holiday
Website: http://www.kinka.com/japan
Kinka Sushi Bar Izakaya – Shibuya
Address: 2F Ichigo Fiesta, 3-10 Udagawacho, Shibuya, Tokyo
Opening Hours
Lunch:
[Weekdays] 11:30am-4:00pm (Last Orders 3:30pm)
[Weekends & Holidays] 11:30am-5:00pm
Dinner:
[Monday-Saturday] 5:00pm-12:00am (Last Orders 11:30am)
[Sunday & Holidays] 5:00pm-11:00pm (Last Orders 10:30am)
Access: 5-minutes on foot from Shibuya Station
Closed: Obon and New Year's Holiday
Website: http://www.kinka.com/japan
RECOMMENDED ENTRIES
Seaweed Temaki Sushi Restaurant 'Gonpachi Nori-Temaki' Opening in Harajuku

Traditional Japanese restaurant cuisine chain Gonpachi is opening its twelfth store, Gonpachi Nori-Temaki, in Harajuku on May 30. The restaurant is just a 2-minute walk from Harajuku Station along Omotesando and specialises in hand-rolled seaweed bites.

The restaurant aims to fuse modern designs with Japanese culture. In the centre of the restaurant is a 360° counter where they serve customers freshly rolled seaweed temaki. The price range starts from ¥200 for one temaki. There are also sets available on the menu.

The name 'Gonpachi' originates from Shirai Gonpachi, the protagonist of a famous kabuki play.

The seaweed at Gonpachi is kontobi seaweed from Maruyama Nori, a 160-year-old company who own a sushi shop with three Michelin stars. It has a fresh and natural taste as well as a light texture.

As well as regular vinegared sushi rice, you can also order 'cauliflower rice' which has reduced sugar. It's exceptionally nutritious and popular for its vitamin C and calcium content. The rice is an original Gonpachi creation.

There's a wide range of fillings to choose from, including Nagaimo Pollock Roe (Regular: ¥200 / Large: ¥350), Salmon Avocado (R: ¥300 / L: ¥480), Salmon Roe Soy Sauce Zuke (R: ¥450 / L: ¥600), Sea Urchin (R: ¥650 / L: ¥1,000), and more. The level of freshness in the line-up is exceptional across the board.

*All prices above are pre-tax.

Enjoy some delicious temaki sushi in Harajuku with friends and family!

■Information

Gonpachi Nori-Temaki Harajuku

Address: Co-op Olympia 1F, 6-35-3 Jingumae, Shibuya, Tokyo

Opening: May 30, 2018

Opening Hours: 11:00-22:00 (subject to change)

Access: 2-minutes on foot from Harajuku Station via JR Yamanote Line

Website: http://gonpachi.jp/

Sushi represents Japanese food! 5 recommended sushi restaurants in Tokyo

Sushi is the probably the most famous Japanese food! Below are 5 sushi restaurants we highly recommend.

Roppongi "atelier Morimoto XEX"

"atelier Morimoto XEZ" is a combined restaurant produced by Masaharu Morimoto who works in foreign countries centering around the U.S. You can make an order until 3:00 AM and enjoy many kinds of dishes which are a mixture of Japanese style and Western style. "Edomaezushi" is the recommended dish. Why don't you enjoy the dishes created by this top chef who is loved by people all over the world?

Detailed information:http://www.moshimoshi-nippon.jp/58797

■Information

atelier Morimoto XEX

Address: Roppongi Building, 7-21-19, Roppongi, Minatoku, Tokyo

Holiday: New Year's Day

TEL:03-3479-0065

URL:http://www.xexgroup.jp/morimoto

※The counter with cast iron-pan can be used until 24:00 and the isolated room can be used by paying 20,000 yen.

Shinjuku "Sushizanmai"

"Sushizanmai" is a sushi chain restaurant. The price of one of the lunch menus "Maguroduke Donburi" is only 477 yen (tax not included)! Moreover, you can drink as much coffee as you like. The lunch menu noted previously is offered from 11:00 to 17:00 at Shinjuku Higashiguchi Store (only on weekdays.) The helping of rice can be chosen at will and the menu comes with miso soup. The menu is recommended for those of you who want to enjoy seafood at a low price!

Detailed information:http://www.moshimoshi-nippon.jp/34111

■Information

Sushizanmai Shinjuku Higashiguchi Store

Address: 3F Seno Building, 3rd street, 18-4, Shinjuku, Shinjukuku, Tokyo

Business hours: 24 hours, lunch time – 11:00 to 17:00

Holiday: no holiday

TEL:03-5357-7737

Shinjuku "Hokkaido Sushi Unimaru"

The branch store of "Hokkaido Unimaru" where you can enjoy sushi and dishes of sea urchin opened inside of "Odakyu Ace" at Shinjuku Station's West Exit. The set "Uni Tabekurabe" (1,800 yen) offers three kinds of sea urchins; Murasaki Uni, Bafun Uni and Ensui Uni. Accordingly, you can compare the taste of these different sea urchins. This set menu is highly recommended. You can choose either "Shiro Shari (white rice)" using rice vinegar or "Aka Shari (red rice) using red vinegar.

Detailed information:http://www.moshimoshi-nippon.jp/40869

■Information

 "Hokkaido Sushi Unimaru"

Address: 〒160-0023, West Exit Basement #1, Nishishinjuku, Shinjuku, Tokyo (Odakyu Ace North Department)

Business hours: 8:00 to 23:00

Holiday: no holiday

TEL:0362790148

>>next page

The entertaining sushi restaurant that you can feel like being in Edo.

Everyone would say Sushi if you think of what is the popular food in Tokyo. There are roughly three business categories of sushi restaurants: revolving sushi restaurants, residential district's sushi restaurants, and high-priced sushi restaurants. Revolving sushi restaurants are a cheap and entertaining place which everyone can enjoy. At residential districts restaurants, you can enjoy sushi for about five thousand yen, but there are a lot of exclusive customers, and they are kind of not a friendly place for first-timers. Some high priced sushi restaurants such as the ones in Ginza which has been called the "Sushi Mecca" recently cost twenty to thirty thousand yen for only course menus, and yet those restaurants are most likely to have full reservations for next few months. There is not so much chance to visit those places.

Meanwhile, the new restaurant in Akasaka-mitsuke called "Itamae Sushi Edo" draws many people's attention.  This restaurant is a very entertaining place known as "theater type restaurant where you can feel like you're traveling back in Edo period." Inside of this restaurant is amazing. You sit on the table facing down to the kitchen on stage.

Counter table around the stage is unusual for normal Sushi restaurants that you can look up and see sushi chefs cooking and handling knives. The interior looks exactly like the image of EDO which most foreigners would picture in their mind. This is because this place is Hong-Kong capital sushi restaurant. There are also varieties of food menus such as "Kobo rainbow sushi" as one of the specialty foods. If you want the chef's recommendation, the cost starts from seven thousand yen. There are services which you can take pictures wearing kimono in the entrance, and can buy sushi figures for souvenirs as well.

It is also getting popular among Japanese customers that are filled with fun, hospitality and interiors taking a 'so-what' attitude toward Japanese authentic cultures. They were expecting to have almost all foreigner customers at first, but it is getting half and half ratio recently.  I bet you will love to share this experience with somebody after visiting this restaurant.

■Information

Itamae Sushi Edo

Address: No. R Akasakamitsuke 1F, 3-9-2 Akasaka, Minato-ku, Tokyo

Atsuo Ohki("Tokyo the Best Restaurant" Editor in Chief)

—

■Related article:What we all needed but never realised it: a kotatsu restaurant! Experience the true charm of a Japanese winter

■Related article:Pop into the colourful pop world of KAWAII MONSTER CAFE HARAJUKU ー now upping its game for Christmas!
RELATED ENTRIES
Following up from the opening of their Shinjuku branch back in 2016, BEAMS JAPAN has announced that it will open a second branch in Shibuya on December 5, 2019. It will be found inside the new Shibuya FUKURAS which is also set to open beside Shibuya Station to this December.

Shibuya-Exclusive Field Watch – ¥15,000 (Before Tax)

BEAMS JAPAN Shibuya is set to be the second hub for BEAMS "TEAM JAPAN," a project which aims to build a community around the brand and promotes products made in Japan. Opening with a completely original line focused on "super basic" clothing, it is sure to be a welcome addition to the streets of Shibuya―one of Japan's leading districts when it comes to Japanese fashion and culture.

BEAMS JAPAN Hachiko Logo Long T-Shirt – ¥7,800 (Before Tax)

Scramble Crossing/Traffic Safety Caps – ¥5,800 Each (Before Tax)

The new store will stock a whole range of different clothing items, including attire exclusive to the branch such as the above-pictured caps and watch inspired by Shibuya;s tourist sites like the Scramble Crossing and Hachiko statue.

Information

BEAMS JAPAN SHIBUYA

Grand Opening: December 5, 2019

Address: Tokyu Plaza Shibuya 2F, 1-2-3 Dogenzaka, Shibuya, Tokyo
Opening Hours: 10:00-21:00
Stocked Labels: Men's <BEAMS> / Women's <Ray BEAMS> <BEAMS BOY> / Other <BEAMS JAPAN> <TOKYO CULTUART by BEAMS>

BEAMS JAPAN Official Website: https://www.beams.co.jp/beams_japan/

Experience Art and the Japanese Tea Ceremony Come Together at hotel koe tokyo's Private Lounge

"hotel koe tokyo" isn't your everyday normal hotel. Developed and produced by "koe," the hotel brings together fashion, music, cuisine, and a luxury accommodation experience. In line with DESIGNART TOKYO 2019, the hotel has announced it will hold a reservation-only event entitled "DESIGNART TOKYO 2019: Tea ceremony by artless+asahiyaki" at its third-floor private lounge on October 19 and 20.

Asahi ware is a type of Japanese pottery originating in Uji, Kyoto almost 400 years ago. Hosai Matsubayashi is the 16th generation master of this long-running workshop, known as Asahiyaki, and he's set to collaborate with Shun Kawakami, an artist and art director of global branding agency artless Inc. The collaboration is being held to promote Japanese culture not only to the people of Japan but those overseas too, and "hotel koe tokyo" is the perfect place to do it due to the huge number of foreign visitors that stay at the hotel.

The two of them have taken the traditional Japanese tearoom and have put a modern spin on it. Normally, this private lounge of the hotel is only usable by guests staying there, but this reservation-only event will grant exclusive access to all. It brings together Japanese tea and art in the form of a special tea-making course. Attendees will follow Hosai Matsubayashi's instructions and prepare their own tea. During the session, both Matsubayashi and Kawakami will give talks on their work while you enjoy your tea.

Take advantage of this special occasion to learn about the beauty of Japanese tea.

Information

Tea ceremony by artless + asahiyaki
Dates: Saturday October 19, 2019 / Sunday October 20, 2019
Time: 4 Slots – ①12:00 / ②13:30 / ③15:00 / ④16:30 (60 minutes each)
Capacity: 10 per slot
Location: hotel koe tokyo ("koe lounge" on Floor 3F)
Content: Tea Making + Tea Art
Price: ¥3,000 (Before Tax)
Reservations:  https://www.tablecheck.com/ja/shops/hotelkoe-tokyo-privatelounge/reserve
*This event is reservation-only

Wear Plain Clothes This Halloween at Shibuya's Jimi Halloween 2019 Event

Worried about what to wear for Halloween this year? No need to panic. If you're spending your Halloween in Shibuya this year, which is known the world over for its incredible Halloween festivities, then head to Tokyo Culture Culture on October 27 where a very unique event is taking place.

Jimi Halloween is an event that takes out the stress of having to go all out for Halloween as people go dressed as ordinary people. It has been held annually since 2014, with the number of attendees growing each year. Over 800 people took part last year, all clad in their plain clothes.

This year's event will be split into three slots, with a capacity of 200 people per slot. Sign-ups begin on October 15 at 12:00pm (JST).

Past Examples

①Situational attire

Beauty salon client

Dressing up as someone doing something has been a popular choice at the event recently. You can come up with some creative ideas that'll make people say, "You came as that?!"

②"I've seen people like that!" attire

Flea market woman

There's always certain types of people that everyone sees, and in Japan this is one of them!

③"I get it, but I don't get it" attire

Hawaii vibe  uncle

You've heard all about them, but have you seen them?

④Work attire

Handing out tissues with pachinko ads on them

Work attire is a go-to at the plain clothes event. It wouldn't be an exaggeration to say that this is the one that started the entire movement.

⑤Miscellaneous attire

Maslow's hierarchy of needs

The final entry is those which are hard to categorise. They serve whatever vibes they are feeling.

Attend this year's event and show off your own unique ideas!

Information

Jimi Halloween

Date: October 27, 2019 (3 Slots / 200 People Per Slot)

 Slot ①: 11:00-14:00 

 Slot ②: 15:00-18:00 

 Slot ③: 19:00-22:00 

★Places are available on a first-come, first-served basis at the website below

Venue: Tokyo Culture Culture (cocoti SHIBUYA 4F, 1-23-16 Shibuya, Tokyo)

Entry: Free (Apply at the link below)

6 Sailor Moon Cafes Opening Across Japan Including Tokyo and Osaka

LEGS COMPANY, LTD. has announced that it will open six Sailor Moon cafes for its Sailor Moon Cafe 2019 event across Japan this year. The opening dates differ from branch to branch, but the first two will open in Tokyo and Osaka on October 3. See all the opening dates in the Information section below.

LEGS held the Sailor Moon Cafe 2017 event back in September 2017 to celebrate the 25th anniversary of Sailor Moon. The event's theme focused around adulthood imbued with a hint of cuteness. The cafes were so popular that they had a second "encore" run in December of the same year.

This year, LEGS has created an entirely new concept.

The theme this year is "Girls Night Out," and the menu line-up stays true to it, featuring food and drinks all ladies are sure to enjoy on a night out.

5 Sailor Tortilla Wrap Sandwiches – ¥1,590 (Not available at the Saitama cafe)

Pretty Girl's Brunch Pancakes – ¥1,590 (Available at lunchtime only)

Girls Night Out (Chicken Steak Plate) – ¥1,990 (Available at dinnertime only)

Cosmic Heart Berry Sandwich – ¥1,690

Moon Night Parfait – ¥1,490 (Available at dinnertime only)

Girls Night Out Drinks (10 Flavours) – ¥890 Each (Usagi Tsukino/Ami Mizuno/Rei Hono/Makoto Kino/Minako Aino/Chibiusa/Haruka Tennou/Michiru Kaiou/Setsuna Meiou/Hotaru Tomoe)

This is just a select look at what's on the menu―there are many other themed foods and desserts too!

Acrylic Key Ring (12 Designs Chosen Randomly) – ¥650

Clear Bag (1 Design) – ¥1,800

Plate (1 Design) – ¥2,200

The artwork for select cafe-exclusive merchandise was done by popular creator Etoile et Griotte who makes items for girls who love cute things, and Japanese illustrator Jenny Kaori, who creates cute, fashionable and alternative works.

Every person who books a seat in advance (¥650 before tax) at the cafe will receive one of the 5 above-pictured ticket holders chosen randomly.

If you dine at the cafe, you'll get one of the 4 above-pictured lunch mats chosen randomly.

And if you order a drink, you'll get one of the 10 above-pictured coasters chosen randomly.

*All prices are pre-tax prices. Photos are for illustrative purposes only.

©Naoko Takeuchi・PNP・Toei Animation

Information

Sailor Moon Cafe 2019

Dates/Locations

▶︎Tokyo・Shibuya: SHIBUYA BOX CAFE&SPACE SHIBUYA 109

Running: October 3, 2019 – November 17, 2019

▶︎Osaka・Abeno: Abeno contact

Running: October 3, 2019 – November 17, 2019

▶︎Aichi・Nagoya: NAGOYA BOX CAFE&SPACE

Running: October 10, 2019 – November 24, 2019

▶︎Hokkaido・Sapporo: Coach & Four Shinkawa-Dori (Hokkaido Branch)

Running: October 18, 2019 – November 17, 2019

▶︎Kyushu・Fukuoka: kawara CAFE & DINNING KITTE (Hakata Branch)

Running: October 26, 2019 – December 1, 2019

▶︎Saitama・Koshigaya: BOX CAFE&SPACE

Running: November 14, 2019 – January 13, 2019

Reservations: Opened September 26, 2019

*¥650 per reservation. Up to 4 people per reservation. Includes bonus item.

Sailor Moon Cafe 2019 Official Website: https://sailor-moon-cafe2019.jp/

Shibuya PARCO: Vegan Food, Bistros, Cafes & More Coming to Shibuya's New Shopping Complex

Shibuya PARCO is a new shopping complex that will have its grand opening on November 22, 2019. The site will have two restaurant floors: the CHAOS KITCHEN on B1F and RESTAURANT SEVEN on 7F, each with their own concepts. Collectively, both areas will house 37 different restaurants. We have listed some of the most interesting looking ones.

CHAOS KITCHEN (B1F)

The CHAOS KITCHEN restaurant floor is inspired by "Food, Music & Culture," with restaurants and shops based around this concept. Check out some of this floor's restaurants below.

Äta's

Managed by the popular bistro Ata in Daikanyama, Äta's aims to be a "Shibuya-style bistro." Pizzas are cooked fresh before you in deck ovens, and the restaurant also offers takeout options too like boiled gyoza, shrimp noodles and more. The restaurant brings together Shibuya's diverse culture into an all-new bistro.

Udon Oniyamma

The main branch of Udon Oniyamma is located in Gotanda, an eatery which enjoys long lines of customers every day. This will be its first branch inside a shopping complex. The restaurant takes Japan's main fast food ingredient―udon noodles―and serves them as both cheap and delicious as possible. They will serve their regular menu as well as some menu items exclusive to this branch.

Kome to Circus

Kome to Circus is a popular sake bar, serving a range of unique foods from a variety of game to insects, the latter of which are high in nutritional value. The Shibuya PARCO branch will also have desserts made with insects as well as a cafe "Bugs Cafe" cafe menu.

RESTAURANT SEVEN (7F)

Upstairs in Shibuya PARCO is the RESTAURANT SEVEN restaurant floor, featuring a line-up of establishments that will be enjoyed by both Japanese people and the increasing number of overseas visitors alike.

Matsuo Jingisukan

Matsuo Jingisukan has become a much-loved place to eat out amongst the people of Hokkaido, as it serves a very particular Hokkaido soul food: jingisukan, a grilled mutton dish. This new restaurant branch will serve the dish in an entirely new style. They will prepare classic jingisukan, their famous jingisukan rice bowl, as well as original tea blends made with fresh herbs, and more. Experience the real pleasure of the Hokkaido palate.

goo ITALIANO

The concept of goo ITALIANO's menu is to serve up real local Italian cuisine. The staff themselves have travelled to Italy and will serve authentic Italian flavours, which aren't well known to Japanese people, at an affordable price. The Paccheri Pomodoro, which has the delicious flavour of Naples in it, and the Focaccia di Recco, which is loved in Genoa, are representative of this. You might even find Italian dishes you've never had before!

FALAFEL BROTHERS

FALAFEL BROTHERS is a vegan restaurant with a menu full of healthy, hearts, and vegetable-packed dishes. Their menu is centred around falafels, but they also serve cakes and drinks too. They also have limited-time sweets as well as a takeout option.

This is just a small glimpse of what's to come when Shibuya PARCO opens on November 22. Make sure to put it on your must-visit list when travelling to Tokyo.

Information

Shibuya PARCO

Grand Opening: November 22, 2019

Address: 15-1 Udagawacho, Shibuya, Tokyo

Opening Hours: Shops & Services 10:00-21:00 / Restaurants 11:00-23:30 (*Times differ between shops)

No Fixed Holidays

Official Website: https://shibuya.parco.jp/teaser/

ROPPONGI HILLS HAPPY HALLOWEEN 2019: Monster Desserts, Horror Film Parade & More

Roppongi Hills has announced this year's Halloween festival. Titled "ROPPONGI HILLS HAPPY HALLOWEEN 2019," it will take place from October 1 to 31, packed full of spooky fun from a Halloween costume parade to a ghoulish gourmet menu line-up, featuring an always-unique array of food and drink.

Halloween Cupcakes – ¥638 Each @ LOLA'S Cupcakes Tokyo (Available from October 5)

LOLA'S Cupcakes has baked up an assortment of cute monster motif cupcakes, with flavours including pumpkin, purple sweet potato and more. Whichever one you pick, it's sure to give you a smile and delight your taste buds.

Halloween Mixed Berry Cake – ¥530 @ Roasted coffee laboratory

Creepy eyeballs adorn this cake, which is topped with blackberries and blueberries while drizzled in bloody blackcurrant jam. The cake is layered with sponge, fresh cream and a sweet and sour strawberry jelly.

Happy Monster – ¥980 @ Cafe Crepe

Delight in this cute pumpkin and fresh cream crepe, filled with pumpkin ice cream and snug in an orange crepe wrap. Housed inside is an adorable purple sweet potato mont blanc monster wearing a witch's hat.

A movie-themed parade will take place on Saturday October 26 at the event in line with the 2019 Tokyo International Film Festival. Children and adults can take part in the parade if they dress up. The 1km parade will last 25 minutes.

Gift bags will be given to all kids who get involved!

▼Halloween Parade

Date: October 26, 2019

Time: 10:30-13:30 (subject to change)

Location: Roppongi Hills Arena

Participation Conditions: Anybody who dressed up can join (the theme is "Movies")

Participation: Free

Enquiries: 03-6406-6000 (Roppongi Hills Information)

Halloween will hit Roppongi Hills for the entire month of October. Be sure to visit if you're in Japan next month!

Food Review: Shibuya's Stylish Sandwich Shop BUY ME STAND

Hello, readers of MMN! I'm Banako of the MOSHI MOSHI FRIENDS program.

Today, I'm here to show you a unique and stylish sandwich shop I visited in Shibuya called BUY ME STAND. Shibuya is home to countless restaurants and cafes, but if it's sandwiches you're looking for, this place is the one people are going to recommend. That's how famous it is!

You can reach it in just a brisk 5-minute stroll from the New South Exit of Shibuya Station's JR Line building. You'll know it by the big windows and green and white stripes.

The store is managed by apparel brand SON OF THE CHEESE. The entire interior is coloured in mint green, and it has a vintage American vibe to it. Both the outside and inside are nothing short of stylish-looking. It has a second floor too which has table seats.

I ordered the shop's most popular menu item: "Apple Cheeks." The sandwiches are cooked to order in an open kitchen in full view of the customers.

BUY ME STAND typically serves hot sandwiches. Most of them are filled with cheese which is grilled until melted and oozing.

This is the Apple Cheeks, which costs ¥1,200. Take a look inside, what do you see?

That's right. Just as the name of the sandwich suggests, is stuffed with apple slices. As well as apple, it also contains pork belly, onions, and Camembert cheese.

Apples and sandwiches are seemingly an unlikely combination, but by my first bite into the crunchy toast I was already hooked. The melted cheese coils itself delicious around the pork belly and onions while the apple adds a favourable sweetness to the combination of flavours. It was like happiness in my mouth.

It's quite a hearty sandwich, but it comes with a crunchy coleslaw salad which is a great palate cleanser and changes up the flavour party on your tongue, so you can get through it all no problem

Since there's a lot of ingredients packed inside their sandwiches, they are also served with a burger bag like when you eat a hamburger, so you can wrap it up to ensure nothing falls out.

Sandwiches are generally seen as a quick and light meal, but BUY ME STAND has redefined their image by making their sandwiches fat and filling.

BUY ME STAND is open from 8am, and breakfast is sold until 11am where they serve a range of food options in addition to sandwiches. I wanted to try everything.

The menus differ slightly for breakfast, lunch and dinner.

BUY ME STAND is in fact a chain sandwich shop and has branches not only in Shibuya, but Yokohama, Fukuoka, and even Okinawa too, and all of them are just as fancy as one another.

Pay a visit to BUY ME STAND yourself and find your sandwich of choice!

Beasty Coffee by amadana Opens Flagship Store Beasty Coffee [ cafe laboratory ] in Shibuya

Coffee brand Beasty Coffee by amadana, which uses the same coffee-making equipment and by the the top baristas in the country, as well as has delivered high quality coffee beans like them, is opening its new flagship store Beasty Coffee [ cafe laboratory ] in Shibuya on September 27.

Beasty Coffee [ cafe laboratory ] boasts inventory of stock developed by the company themselves, including its own hand-drip coffee tools, as well as original coffee bean blends, an espresso machine, and coffee roaster. The coffee house will also host workshops and other experimental activities, creating a new way to enjoy your cafe experience.

The cafe itself is renovated from a buckwheat noodle restaurant which was deep-rooted in the local area. It has a Japanese-style aesthetic with a modern approach, using mortar as its main decoration.

The furniture is walnut wood, which looks gorgeous in both Japanese and western-style decor, while the entrance has a stylish sliding door with a black frame. There is also a partition inside the cafe. All of this makes for a calm and relaxed atmosphere.

Drip Coffee

Lemonade

If you're interested in ordering the hand drip coffee, there are three types to choose from. They also sell an in-house original lemonade, is a mix of lemon, which uses no preservatives, and herb tea.

The espresso machine comes in a navy colour, which is the brand's main colour, with which the baristas can make customers coffees like cappuccino using original blends.

Behind the partitions sits two coffee roasting tester machines where the cafe will research making original blend coffees day to day to create coffee that people will love.

When you heard about a cafe that is set on creating delicious coffee every time, you want to become a repeat customer. If you're a coffee lover then make sure you pop into Beasty Coffee [ cafe laboratory ] when it opens in Shibuya, Tokyo on September 27.

Information

Beasty Coffee [ cafe laboratory ]

Address: 1-19-3 Tomigaya, Shibuya, Tokyo

Grand Opening: September 27, 2019

TEL: 03−6804−8101

Business Hours: 9:00-19:00

Closed: Mondays

Official Website: http://beastycoffee.com/

Katsuhiro Otomo's Masterpiece AKIRA Gets Collage Art Wall Display in Shibuya

The new Shibuya PARCO shopping complex is set to open on November 22, 2019. It will house the new PARCO MUSEUM TOKYO and GALLERY X, both of which aim to promote art and culture to the people of Tokyo.

The opening exhibition is titled "AKIRA ART OF WALL Katsuhiro Otomo × Kosuke Kawamura AKIRA ART EXHIBITION" which will see an entire wall decorated in a collage of art by manga author and film director Katsuhiro Otomo and his legendary series AKIRA. It is a collaboration with collage artist Kosuke Kawamura.

The art wall is in fact a relocation of the AKIRA art wall that has existed at the infrastructure building site in Shibuya for almost two years. Parts of it have been damaged over time, and so it will resurface at PARCO MUSEUM TOKYO on the 4th floor of the new Shibuya PARCO. That's not all: there will also be valuable original works displayed as well as posters, 3D model recreations of things seen in AKIRA, the series soundtrack by Geinoh Yamashirogumi playing, and more.

Down in GALLERY X on floor B1F there will be various life-sized installations. There will be a graphic design zone with exhibits from YAR spearheaded by Japanese graphic artist YOSHIROTTEN who has teamed up with numerous projects both inside and outside Japan.

Fans of AKIRA can also look forward to getting their hands on a selection of exclusive merchandise, including t-shrits made in collaboration with apparel brands.

*Product pictures are for illustrative purposes only; actual designs are subject to change without notice. Prices TBA.

Shibuya is a popular tourist spot for overseas visitors, so if you're an AKIRA fan planning a trip there this November or December, be sure to hit up the exhibition.

©MASH・ROOM/KODANSHA ©Kosuke Kawamura ©︎AKIRA ART OF WALL EXHIBITION

Information

AKIRA ART OF WALL Otomo Katsuhiro × Kosuke Kawamura AKIRA ART EXHIBITION

Locations/Times

PARCO MUSEUM TOKYO (Shibuya PARCO 4F): November 22, 2019 – December 16, 2019 @ 10:00-21:00

GALLERY X (Shibuya PARCO B1F) November 22, 2019 – December 18, 2019 @ 10:00-21:00

*Exhibitions at both sites will end at 18:00 on their final dates. Last entries to PARCO MUSEUM TOKYO are 30-minutes before closing times.

Entry Price: General ¥1,000 / High School Students and Below ¥800 / Preschoolers – Free

Shibuya PARCO

Grand Opening: November 22, 2019

Address: 15-1 Udagawacho, Shibuya, Tokyo

Opening Hours: Shops & Services 10:00-21:00 / Restaurants 11:00-23:30 (*Select store times may differ)

No Fixed Holidays

Official Website: https://shibuya.parco.jp/

Shibuya's New Tourist Information Center is Open For Business at Night & Offers Airport Bus Service

Tokyu Land Corporation has announced that Shibuya's all-new tourist information center will be named "shibuya-san." Located on the first floor of Shibuya FUKURAS, the tourist information and are center is set to open its doors to the public this December.

Tourist Information: Where you can become a Shibuya local

The tourist information section of the center is staffed by people from countries around the world, from Europe to Asia, most of which are non-Japanese students studying abroad. They are able to offer detailed tourist and sightseeing information for Shibuya from the perspective of a "foreigner in Japan."

The center also does away with the ordinary set-up of most tourist information centers in which you speak to someone over the counter. Instead, tourists entering shibuya-san will be greeted directly by staff and talk to them side by side.

They also offer English guide books with a map produced by Time Out Tokyo. Time Out is a city guide service published in 108 countries around the world in 39 languages.

Art Center: Where art brings Shibuya and the world together

shibuya-san will be the first tourist information center in Japan to have its own art gallery. Being located right in front of Shibuya Station means that people visiting from around the world will be exposed to Shibuya's culture through art. Focused on "Travel, City & People," the art gallery will offer not only exhibitions and performances, but also events in which tourists can participate, as well as opportunities to talk directly with artists.

Open Late: Shibuya's nightlife propelled with the center's night hours

Almost all tourist information centers close in the late afternoon/early evening, but not shibuya-san. Shibuya's nightlife is a huge part of the city's culture, and so to make it more accessible to tourists, shibuya-san will be open until 11:00pm, offering helpful information and suggestions for getting around and enjoying yourself after-hours.

shibuya-san even has its own drinks counter where alcohol is served in the evenings. Events will be held there periodically where you can meet and talk with people.

Limousine Buses: Haneda Airport and Narita Airport

The bus terminal in front of the tourist center offers regular buses and will soon offer airport limousine buses from Haneda and Narita Airport. They will serve to create a new doorstep to Shibuya at Shibuya Station's west exit for tourists visiting Shibuya. They will begin running in early December.

Whether you're visiting Shibuya for the first time or are a returning guest, find out all there is to know about the area when shibuya-san opens this December.

Information

shibuya-san tourist information & art center

Address: 1-2-3 Dogenzaka, Shibuya, Tokyo

Services: Tourist Information Center / Baggage Storage & Delivery / Airport Limousine Bus Tickets & Service / Foreign Money Exchange / Shibuya Experience Program / Drinks Bar / Art Center / Events

Business Hours: 10:00-23:00 (*Select services will run at varying times)

Grand Opening: December 2019 (subject to change)

Official Website: https://shibuyasan.jp

*The website is currently a teaser site which opened on August 28, 2019. The full website will go live in the coming months.

BT21 Cafe Serves World Food in Shibuya, Umeda, Nagoya and Sapporo

LEGS COMPANY is opening four BT21 themed cafe called "BT21 CAFE 2019 WORLD"over the next couple of weeks. The Tokyo and Osaka branches opened on August 22. The Nagoya branch will open on September 4 and the Sapporo branch will open on September 5.

BT21 are the LINE messenger app characters created by K-pop group BTS. The cafe will serve up many different dishes of food from around the world, all with motifs of the various BT21 character line-up. Pictured below is just a select portion of the menu and merchandise you can look forward to.

Cafe Menu

 

Japanese Food Plate: Temari Sushi (Salmon, Duck, Minced Tuna, Fried Tofu, Shrimp Avocado) & Meat Udon – ¥1,490

American Food Plate: Slider Burgers (Macaroni Cheese, Egg Salad, Grilled Chicken), Potatoes & Carrot Salad – ¥1,490

South Korean Food Plate: Tteok-bokki, Japchae, Yangnyeom Chicken & South Korean-Style Rice Ball  – ¥1,490

Brazilian Food Plate: Churrasco, Mashed Potato & Feijoada – ¥1,490

Japanese Dessert (Left): Custard Taiyaki, Strawberry Daifuku, Berry Bean Paste Dango, Matcha Ice Cream – ¥1,290 / American Dessert (Right): American Waffles – ¥1,290

RJ (Left): Peach Calpis – ¥990 / CHIMMY (Right): Pineapple Soda – ¥990

COOKY (Left): Guava Soda – ¥990 / TATA (Right): Pineapple Soda – ¥990

Exclusive Merchandise

Japan Acrylic Key Rings (Left) – ¥750 / South Korea Acrylic Key Rings (Right) – ¥750

Folders (Left) – ¥400 Each / Hologram Stickers (Right) – ¥500 Each

Bonus Items

 

Every person who books a table in advance (¥650) will receive one of 7 possible mini fans pictured above on the left. Those who order a drink will receive one of 12 possible coasters pictured on the right.

There are lots of other cute pieces of merchandise and menu items to look forward to too. Full details can be found on the cafe's official website below.

*All listed prices are pre-tax. Photos are for illustrative purposes only.

©BT21

Information

BT21 Cafe 2019 WORLD

Locations/Dates:

SHIBUYA BOX CAFE&SPACE SHIBUYA 109 (August 22, 2019 – September 29, 2019)
UMEDA BOX CAFE&SPACE (August 22, 2019 – September 23, 2019)
NAGOYA BOX CAFE&SPACE (September 4, 2019 – October 6, 2019)
TOWER RECORDS CAFE at Sapporo PIVOT (September 5, 2019 – October 20, 2019)

*Cafes closed on September 30, 2019

Reservations

・Price: ¥650 (Before Tax)

Official Website: http://box-cafe.jp/

The BT21 Cafe is reservation-only

Roppongi Hills Renovates Food Court Revealing Mouthwatering Michelin Guide Restaurants

Looking for a delicious Michelin-approved food experience? You surely cannot go wrong with heading to Roppongi Hills; a large-scale development project located in Tokyo, which is known for its nightlife and and shopping. Roppongi Hills is also home to the shopping mall Metro Hat, which is currently renovating its food court on basement floor 2. The foodcourt will have its grand opening on October 29th. 

The renovation will introduce seven new restaurants to the food court. Some of these include ramen shops and Yakitori restaurants which are bringing brand new rare dishes and flavours to the table.

Let's look at our recommendations:

Ginza Kagari (銀座 篝)

Chicken Soba: ¥900 (before tax)

Ginza Kagari is known for their notorious never-ending queues. In 2016 and 2017, it earned a place in the Michelin Guide Tokyo and even became popular overseas. One of their specilaties is their chicken soba. The broth is packed with the goodness and flavour of the entire chicken and even the bones. The flavour of the broth is exquisite and rich. The salt kaeshi sauce which is made from a mix of soy sauce, mirin and sugar goes perfectly with the soup. The salt mixture in the sauce consists of a range of natural salts which contain the natural goodness of the sea and perfectly enhance the flavours of the soup.

Location: Metro Hat Hollywood Plaza Floor B2

Opening Hours: 11:00 ー 23:00 (L.O: 22:00)
Website: https://www.roppongihills.com/en/  (The website is scheduled to open during mid October)

Yakitori Kokorikoan (焼鳥 ここりこ庵)

Yakitori (chicken skewer): ¥200 (before tax)

You must not miss out on Kokorikoan's Chicken Skin Hotpot ー a dish that is rare even to Tokyo. This dish is the perfect opportunity to discover a new kind of flavour and a new way to enjoy food. This restaurant prepares their dishes using special and rare cuts of chicken and chicken that is freshly ground in the morning. The chicken is flavored using traditional flavorings such as tare sauce and salt as well as flavorings that are not so conventional in Japan such as balsamic vinegar, herb vinegar, madeira wine, brandy and much more. Each cut of meat is prepared with the most careful methods and best seasonings to fully bring out the flavours. 

Location: Metro Hat/ Hollywood Plaza Floor B2
Opening Hours: Lunch: 11:00 ー 15:30 (L.O.15:00)  Dinner: 17:00 ー 23:00 (L.O.22:00)

Website: https://www.roppongihills.com/en/ (The website is scheduled to open during mid October) 

 Pintokona (ぴんとこな)

As a cheap place to enjoy authentic sushi, Pintokona has become a very popular restaurant. Now, it is having a fresh renewal. This sushi is made by using seasonal ingredients from around Japan. From November 1 to 30, there will be an exciting new menu that includes fresh fish from Miyazaki and authentic shochu (Japanese spirit). There will also be a fair that you also should not miss out on. 

Location: Metro Hat/ Hollywood Plaza Floor B2
Opening Hours: Lunch: 11:00 ー 15:30 (L.O: 15:00) Dinner: 17:00 ー 23:00 (L.O: 22:00)

Website: https://www.roppongihills.com/en/ (The website is scheduled to open during mid October) 

AFURI(アフリ)

Yuzu Orange and Salt Ramen: ¥1000 (before tax) 

Popular ramen shop AFURI sells a ramen with a translucent gold-coloured soup made using the natural spring water that gushes from the foot of Mount Afuri (Mount Oyama) located in the Tanzawa Mountain Range of the Kanto Region. Carefully selected chicken bones, pot herbs, kombu (kelp) and katsuobushi (fermented and smoked fish) is boiled in the water to add to the flavour. The whole wheat flour used to make the noodles creates a wonderfully fresh, chewy texture. The chashu roast pork pieces are freshly barbecued upon each order, creating a fresh and delicious flavour. AFURI also sells vegan ramen which is particularly popular among foreigners.

We have a full report on our heavenly trip to AFURI so if you are curious to find out more, please check out our this article: Introducing AFURI—Harajuku's Michelin-Starred Ramen Restaurant

Location: Metro Hat/ Hollywood Plaza Floor B2
Opening Hours: 11:00 ー 23:00 (L.O:22:00)
Website: https://www.roppongihills.com/shops_restaurants/restaurants/00100.html

There are just so many popular shops and restaurants at Metro Hat that you will be spoilt for choice. We hope you enjoy exploring the rich culture of Roppongi.