Pop into the colourful pop world of KAWAII MONSTER CAFE HARAJUKU ー now upping its game for Christmas!
KAWAII MONSTER CAFÉ HARAJUKU is getting festive on Thursday 1st December! Since opening, this will be the first time the KAWAII MONSTER CAFÉ transforms its interior design to a "Colourful Melty Christmas" themed interior as part of their new campaign! Walk through the doors of the KAWAII MONSTER CAFÉ and enter an entirely new world ー the iconic SWEETS GO ROUND will transform into a Christmas tree, and snow will be piled up and dusted everwhere to spread the festive feeling! You won't be able to stop yourself from taking a picture with the pop-themed and very colourful Christmas tree!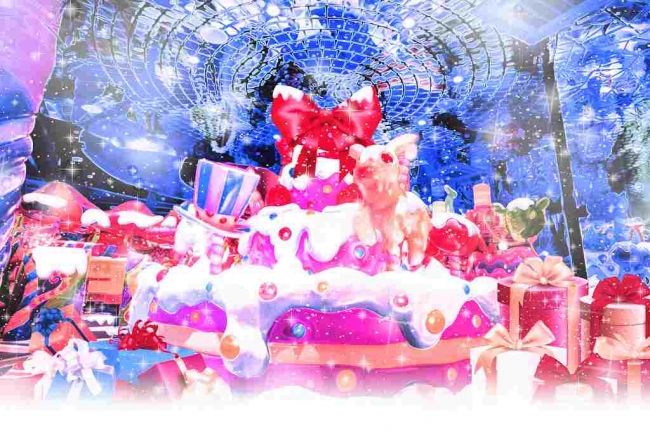 And what's Christmas at the KAWAII MONSTER CAFÉ without a limited edition Christmas addition to the menu? This includes the "Xmas Tree Pancake Parfait" ー ¥1,790 yen and arguably more photogenic than you! The foundation of the Christmas tree parfait consists of layers of strawberry sauce, matcha cream, cream cheese mouse and colourful cereal. This is stacked with large pancake pieces to take on the appearance of a Christmas tree, snuggling close to a vanilla icecream snowman! This is the perfect KAWAII MONSTER CAFÉ original parfait, so dig in!
—
■Information
KAWAII MONSTER CAFE
Address: YM Square Building 4th floor, Shibuya, Tokyo
Opening times:
Weekdays & Saturdays:   Lunch: 11:30~16:00
                                         Dinner: 18:00~22:30
Sundays & National holidays:       11:00~20:30
RELATED ENTRIES
Harajuku Summer Festival 2019 to Take Place at Togo Shrine

GLOBAL PRODUCE, a Japanese event organiser, is set to sponsor Harajuku Summer Festival 2019 which will be held at Togo Shrine in Harajuku, Tokyo on August 23. Bringing together professional event producers, the festival will combine elements of traditional Japanese culture with the latest trends.

Food trucks and stalls will open in the dozens, including appearances from the shaved ice shop Kooriya bebe which makes its fluffy shaved ice from the natural spring waters of Mount Fuji―perfect for the hot weather―as well as Ichika, a cafe known for its tapioca Japanese tea lattes made with high quality tea leaves from Kagoshima. Current popular restaurants will also serve up delicious summertime food. There will even be the Harajuku Bon Odori 2019 dance event, and the marchers for the Tokyo 2020 Olympics will also be present.

Tokyo Bijin Project will make their first ever live appearance, a group of shining Japanese women with "wisdom, dignity and compassion" who are set to speak out for other strong women. They will talk leadership, interpretation, attending to people, the spread of Japanese culture, and more.

If you are in Japan for the summer then make sure you attend all of the different summer festivals you can.

Information

GLOBAL PRODUCE presents Harajuku Summer Festival 2019 at Togo Shrine

Date: August 23, 2019

Time: 19:00-21:00 (Reception open from 18:30)

Location: Togo Shrine (1-5-3 Jingumae, Shibuya, Tokyo)

Togo Shrine Official Website: http://www.togojinja.jp/

STRAWBERRY MANIA: Harajuku's Cutest & Tastiest Strawberry Ice Cream | Food Review

Hey, readers. It's Midori again, from MMN's editorial team.

Summertime in Harajuku means the cafes and ice cream shops start serving up some seriously kawaii and tasty ice creams. It's always nice to grab a cone to enjoy while walking around shopping, but relaxing in a cafe to enjoy it is fun too♡

If the latter sounds like your kind of thing, then I've got a new recommendation for you. I visited STRAWBERRY MANIA recently, cafe located along Takeshita Street in Harajuku that specialises in strawberry desserts.

You'll find it right above the 7-Eleven on Takeshita Street. Look for the strawberries!

There's also a sign outside showing a few of the desserts. Go up the staircase right next to it and you'll come to the cafe entrance.

No matter where you turn while you're here, your eyes will be met with strawberries. It looks so cute♡

The shopfront showcase is shelved with lots of succulent strawberry treats. The chef whips up other desserts to order besides these too. Everything's almost too cute to eat!

For the strawberry soft serve ice cream you can pick between three flavours: milk, strawberry or mixed. I couldn't pick between them so I went for mixed.

The combination of the bright red strawberry ice cream and pure white milk ice cream makes for a beautiful colour contrast.

It's also topped with a huge fresh strawberry.

I took no time at all in taking a spoonful. The strawberry ice cream has a really rich flavour. It's sweet but has that sour kick too, like you're eating a real strawberry. The milk ice cream has a milder sweetness and a real milky taste, the kind you'd imagine if it was sold at a farm with cows.

Everything is packed snug into the cone right down to the bottom, making it a filling treat. It can be ordered for takeout if you like, and if you do that you can get your ice cream straight away so you don't have to wait for seats.

They serve other things besides soft serve too, like shaved ice and parfaits. There's so much to choose from, I think you'll be spoiled for choice! Be sure to visit if you're in Harajuku.

Introducing the Kawaii Girls of the World | Kawaii Fashion Snap #4: Pink Paradise

Welcome to Episode 4 of Kawaii Fashion Snap where we get to know all about the kawaii girls of the world and their fashion. Each girl in this series has incorporated Japanese-like fashion into their wardrobe and turned it into something of their own.

Today, we'll be taking a look at outfits that make use of the colour pink♡

Currently residing in Tokyo, Molly leaves a huge impression with her T-shirt that reads "ANTI WAR" in both English and Japanese. Her stylish use of cute pastel colours throughout accentuates this fashionable look, and her pink and purple hair combined with the thick sole trainers is a match made in heaven.

Molly is a big fan of the Japanese idol group CY8ER and has even gotten a photo with the group―as well as several chekki photos with Rinahamu, one of the members. Be sure to check out her Instagram @pink_morii

The Pinkmilkteahime has us wanting to dye our own hair blue because hers looks so cute. This co-ord may look simple at first with the single big pink t-shirt, but in fact the rest of her outfit and all of her accessories are uniformly blue, which makes her hair look even more beautiful. Even the blue and pink artwork in the background is in tune with her look.

On her Instagram, she posts not only more beautiful looks, but pictures of her latest purchases too―from snacks to stationery. Follow her on Instagram @pinkmilkteahime

Brodie's baby pink jumper skirt co-ord is kawaii supreme. She is serving us regalia princess with her frilly blouse and jumper skirt which has sweet patterns on it. And if you look closely, her white phone case has a cute flower pattern design♡

If you're look for some girly styles then we highly recommend following Brodie @vanillabwunny

Everything about the composition of this shot of Mimi Usagi can be described as cute. She has a cute character t-shirt on, and everything from her innerwear to her skirt is perfectly pink.

Her pink cheek makeup adds a glimmering allure and helps flaunt her clearly innate kawaii. We want to try shooting a look like she has in this photo too! Be sure to follow her @usagimimichu

Alexandra has gone for a sexy style here: her simple pink one piece is stunning and laces together flatteringly with those glittery shoes. And all of the items and accessories she has with her are pink, from the chekki camera in her hand to her shoulder bag♡

Alexandra's Instagram feed is a treasure trove of exquisite and artistic looks. If fantasy takes your fancy, then make sure you follow her @sasha786x

If you'd like to feature in the next Kawaii Fashion Snap or know somebody that would, then follow us on Instagram and post at us with the hashtag #moshimoshiphoto. We hope you look forward to the next entry!

Night Party at Harajuku's Conveyor-Belt Dessert Cafe Ron Ron for 20 Year Olds Only

MAISON ABLE Cafe Ron Ron is a popular conveyor-belt dessert cafe in Harajuku. We visited the cafe last year when it had just dropped, so be sure to check out our cover story if you want more information.

The cafe has just announced a night party that is exclusive to those in their 20's. Titled "Cafe Ron Ron 20ty's Night Party -PINK FRIDAY- supported by MAISON ABLE," the event began yesterday and will run every night up to September 27.

Customers can enjoy all-you-can-eat unlimited snacks for just ¥500 with no time restrictions. For an additional fee, you can also pick from the food menu which features 5 dishes and order from the drinks menu which includes alcohol.

Everything on the food and drinks menu is ¥500 too, making it a delicious bargain!

Desserts are served at varying time slots from 19:00. Depending on what time you arrive or decide to start eating the menu will change which is all part of the fun!

The cafe has also teamed up with the fashion rental shop airCloset next door so customers can enjoy dining at Cafe Ron Ron while wearing a yukata.

You can even continue wearing the kimono after you've eaten so you can stroll the streets of Harajuku, go to nearby festivals and more for an exciting day out in Japan's youth and culture hub. The yukata can be rented by people of all ages – full details on the websites below.

Information

Cafe Ron Ron 20ty's Night Party -PINK FRIDAY- supported by MAISON ABLE

Location: MAISON ABLE Cafe Ron Ron (6-7-15 Jingumae, Shibuya, Tokyo)

Running: August 2, 2019 – September 27, 2019

Conditions: Restricted to those aged 20-29 years (*photo ID required upon entry)

Opening Hours: 19:00-22:00 (Last Entries 21:30)

Official Website: http://cafe-ronron.com/pinkfriday/

airCloset x ABLE

Address: 6-7-15 Jingumae, Shibuya, Tokyo

Running: July 27, 2019 – September 30, 2019

Opening Hours: Weekdays 11:00-21:00 / Weekends 11:00-19:00 (Last fittings at 17:00)

Return Periods: By 21:00 on weekdays / By 19:00 on weekends)

Closed: Tuesdays

Cautions:

・Please take a camisole or tank top that can be worn under your yukata

・Foreigners are asked to take a copy of their passport when renting

・There is a luggage storage service for those who are returning on the same day

Official Website: http://cafe-ronron.com/yukataderonron/

Shop in Harajuku & Omotesando With a Takeout Dessert From Q-pot CAFE

The real summer is here now, and what better way to cool yourself off during your shopping spree in Harajuku and Omotesando than with a cool and refreshing takeout dessert from Q-pot CAFE?

Melty Mousse (Peach x Apricot Seed) – ¥500 (Tax Included)

Q-pot CAFE's Melty Mousses are encased in an adorable jar. This one is a heavenly mix of fruity peach mousse and a smooth apricot kernel milk mousse. Laced in the peach mousse is a divine blend of raspberries and lychees. The subtle sweetness of the peach coupled with the sourness of the raspberries and refreshing taste of the lychees make this dessert a perfect summer pickup. Also hidden within the delicious mix are pieces of fresh and juicy peach.

Melty Mousse (Mint x Chocolate) – ¥500 (Tax Included)

This summer sees the return of Q-pot CAFE's popular mint chocolate mousse. Chocolate and mint are always an exquisite combination, and this mousse mix proves it, fusing rich chocolate with a cool mint kick. The cute melty-looking mint chocolate at the top also gives it an appetising appearance.

Cat Ice Creams – ¥600 Each (Tax Included)

Also returning once more this summer are Q-pot CAFE's adorable cat ice creams, a mix of ice cream and various toppings. Choose from strawberry, vanilla or chocolate.

All of these desserts will be available to buy from August 5. They are all super cheap and are perfect for getting for takeout and walking around Harajuku and Omotesando. Be sure to stop by if you're planning a shopping trip there this summer break.

Information

Melty Mousse

Release Date: August 5, 2019

Price: ¥500 (Tax Included)

Available: Q-pot CAFE Omotesando (3-4-8 Jingumae, Shibuya, Tokyo)

Cat Ice Creams

Release Date: August 5, 2019

Price: ¥600 (Tax Included)

Available: Q-pot CAFE Omotesando (3-4-8 Jingumae, Shibuya, Tokyo)

Q-pot CAFE Official Website: https://www.q-pot.jp/shop/cafe/

Wrap Yourself in Harajuku Fashion With These New Stores Opening at Laforet Harajuku

Laforest Harajuku is getting a revamp towards the end of August with new stores as well as renewals of current stores. The revamp aims to "promote Harajuku's uniqueness and creativity."

August 24th – RENEWAL OPEN

<Floor 1F> Vivienne Westwood RED LABEL Concept Store

Vivienne Westwood is fusing the Japanese branches of its prêt-à-porter Red Label and Anglomania collections to serve up the all-new Vivienne Westwood RED LABEL branding. Japan will get its very first Red Label concept shop at Laforet Harajuku on August 24 which will act as the flagship store where they will sew to perfection a very special capsule collection that will offer a unique and exciting clothing consumption experience.

August 23rd – NEW OPEN

<Floor 4F> Charles Chaton

After the success of its first ever pop-up shop in March 2019, girly brand Charles Chaton is setting up a permanent store in Laforet. The brand's concept is "Girl, Forever!" which caters to girl culture and offers up items which it hopes that will catch the attention of girls in 50 years to come. The store's slogan at Laforet Harajuku is "My Sweet Home" with which it will sell cute, comfortable and casual everyday clothing.

August 23rd – NEW OPEN

<Floor 2F> starblinc

starblinc are set to showcase "cute pop age of the 1960's" with bright colours and flashy silhouettes, combining nostalgia and futurism to create an entirely new style. Look forward to diving into the unique future retro world of starblinc on August 23.

There are plenty more shops opening at Laforet Harajuku in addition to these ones, so if you're in Tokyo this summer, get ready to stock up your wardrobe.

Vegan Bubble Tea Arrives at Harajuku's BOTANIST Tokyo Tea Stand

For the whole month of August, the BOTANIST Tokyo tea stand in Harajuku is serving two different tapioca bubble tea beverages. Just 100 of each will be sold each day.

The two delicious drink flavours include "Butterfly Pea Soy Milk Tea" and "Matcha Milk Tea." Both beverages are made with high quality tapioca pearls from bubble tea store Bull Pulu who serve up Taiwanese pop culture with their tasty menu.

Vegans shopping in Tokyo's Harajuku and Omotesando areas will be excited to try the vegan-friendly Butterfly Pea Soy Milk Tea. Both of the drinks are also sold in eco cups and come with paper straws.

Tapioca Butterfly Pea Soy Milk Tea – ¥600 (Tax Included)

The vegan-friendly option is a combination of bright and colourful butterfly pea tea and soy milk. It's laced with a tropical coconut syrup for enhanced flavour.

Tapioca Matcha Milk Tea – ¥600 (Tax Included)

The matcha milk tea is a combination of rich and smooth matcha foam and milk. It's mixed with a fragrant hazelnut syrup.

Both drinks are takeout only and are available to buy on the first floor. If you fancy a little refreshing drink while strolling through Harajuku then be sure to visit BOTANIST Tokyo.

Information

BOTANIST Tokyo

Address: 6-29-2 Jingumae, Shibuya, Tokyo (Shop – Floor 1F / Cafe – Floor 2F)
Business Hours: 11:00-20:00
Official Website: https://botanistofficial.com/shop/

Office Lady Higashi's Nonchalant Shibuya Diary #2: "BE A GOOD NEIGHBOR COFFEE KIOSK" – Harajuku

Hey. I'm Higashi.

When I was at university I worked a salon model job which started early in the morning. Everyday after my photo shoots at the salon, I enjoyed walking back from Omotesando to Shinjuku. On that route there was a coffee stand called "BE A GOOD NEIGHBOR COFFEE KIOSK."

The friendly staff working there would call out to me with a smile: "Good morning! Where are you returning from today?" My usual course home would be to go there, order a takeout coffee, and walk back to Shinjuku while cheerfully listening to music.

But one day I became a working adult and full-fledged member of society. My new workplace was faraway from the coffee shop and so I could no longer visit it. But I would casually wonder to myself what the guys and girls who worked there and would always chat to me cheerfully and friendly were up to now.

So, yeah. I went to visit them.

BE A GOOD NEIGHBOR COFFEE KIOSK is about a 7-minute walk from Harajuku Station's Takeshita Exit.

Follow Meiji Dori street.

Make a turn at the corner of The DECK COFFEE and PIE, and you'll see the sign.

THERE IT IS!

I was greeted by a stylish looking guy who looked great with facial hair. He was so cool!

I took no time at all ordering a coffee.

I found myself remembering how much I loved the gentle atmosphere brought about by the staff here and the smell of the coffee that flows in the air.

Latte art is his forte!

Time to try it.

Oh… this was just pure bliss!!

The coffee had slight acidic notes to it which permeated my body. It was really tasty and warmed by body to the core that day because it was raining!

"Was this shop built in 2010?" I asked him.

"To be precise, a furniture company called Landscape Products was set up here in 1997. It was converted into a corporation in 2000 and made a furniture shop called Playmountain over in Jingumae. The company then moved to Sendagaya in 2002."

"Oh, so it started as a furniture shop."

"That's right. When making the company, our representative wrote a summary of all the projects that the company wishes to fulfill. Some of the projects on the list are coffee shops, publication and event planning. Based on that list, we opened a cafe called TAS YARD in Sendagaya in 2004."

"The company office and the cafe were close to each other. They were in Sendagaya along the road I would take everyday. We'd have lunch and meetings in the cafe and then work at the company office. There used to be a tobacco shop smack in the middle of the road I would come and go along. Lots of people would stand at this postbox just in front of the shop. They used it almost like a resting spot from their busy [working] days. Seeing that, our representative thought, 'Wouldn't it be good if there was a coffee shop here?' A while later the owner of the tobacco shop left that place and we immediately went to rent the building."

He carried on explaining that they researched opening the shop, but at first it wasn't a hit with the locals. They continued to explore for a solution and eventually the locals came to love the place. I never knew that this coffee shop was so earnestly in tune with the people of the town.

He continue: "I hope this becomes a place where people can take a bread, whether it's sitting on the benches outside the shop or putting their coffee on the postbox when they come to make an invoice. Our shop's name BE A GOOD NEIGHBOR comes from us wanting to become good neighbours with the locals and for us to make a comfortable and relaxing place together."

If you're looking for something new in your everyday life then please be sure to pay a visit here.

You're sure to be warmed by the delicious coffee and the face of the handsome shop owner!

Information

BE A GOOD NEIGHBOR

Address: 3-51-6, Sendagaya, Shibuya, Tokyo

Opening Hours: Monday ー Friday: 8:30 ー17:00, Weekends/ national holidays: 11:30 ー 17:00

Open all year round except for the New Year's Period

Come Witness The Hello Kitty X KAWAII MONSTER CAFÉ HARAJUKU Collaboration

Sanrio and Harajuku's KAWAII MONSTER CAFÉ have set out on a two-month collaboration which will run until September 1. Sitting at the heart of Harajuku, which is the home of kawaii culture, the KAWAII MONSTER CAFÉ is topping up its kawaii powers with the release of Hello Kitty collaboration meals and merchandise that you cannot obtain from anywhere else.

For the collaboration, Hello Kitty has transformed her look, turning into a kawaii Harajuku girl. 

Once you enter the café, you will immediately notice the giant cake-shaped merry-go-round called the SWEETS GO ROUND. This time, you will notice that Hello Kitty's head garnishes the top of the cake.

Make your way through the cafe and you will eventually come across the Mel-Tea Hello Kitty Room, which is a special room that must be reserved in order to experience. On pink tatami flooring sits multiple low tea tables, representing the traditional culture of Japan in a colouful pop style. Foreigners would  just love to spend some time in this room. Looking around the room, the macarons and strawberries remain in their usual places. 

You will notice Hello Kitty's ribbon and even many Hello Kitty stuffed toys also decorating the room. This entire new kawaii world locked in this room was created by Sebastian Masuda. Surrounded by a world of pastel colours and kawaii decorations, you just have to take photos. 

Reservations

If you wish to book the Mel-Tea Hello Kitty Room, please talk to a member of staff. 

Tel: 03−5413−6142

Reservation Times

Weekdays: 11:00, 13:00, 15:00

Sundays/ Weekends: 11:00, 13:00, 15:00, 17:00, 19:00

※ Two-hour time slots ※ Number of seats is limited

This is a unique opportunity to taste only the most kawaii of menus as Hello Kitty teams up with the KAWAII MONSTER CAFÉ. Let's check out the menu!

Colourful Pop Hello Kitty Burger: ¥1,680 (before tax) 

Hello Kitty Harajuku Rainbow Curry: ¥1,580 (before tax)

Harajuku X KAWAII X Hello Kitty SWEETS GO ROUND Cake: ¥1,480 (before tax)

Harajuku KAWAII 原宿 KAWAII Poison Parfait: ¥2,480 (before tax )

There are also many Harajuku-style Hello Kitty goods that you should check out. The biscuits and stickers would make the perfect souvenirs.

Not only has the food been given a Hello Kitty upgrade, but the MONSTER CAFÉ's iconic Monster Girls have also transformed their look for the Hello Kitty collaboration. If you are a fan of Hello Kitty or kawaii culture, you absolutely must check this out. 

If you ever find yourself in Harajuku, please consider stopping by the KAWAII MONSTER CAFÉ to witness the Hello Kitty collaboration project. 

Information

Harajuku × KAWAII × Hello Kitty

Running: July 12 ー September 1, 2019 

Access: 5-minute walk from JR Harajuku Station/1-minute walk from Meiji Jingumae Station, Chiyoda Line

TEL: 03−5413−6142

Opening Hours:

Weekdays/ Saturdays: 

Lunch: 11:30 ー 16:30 (Last entries: 15:30, last orders: 16:00,  90-minute time slots)

Dinner: 18:00 ー 22:30 (Last orders: 22:00)

Sundays/ National Holidays: 11:00 ー 20:00 (Last orders: 19:30)

※ 2-hour time slot restriction applies during peak times

No regular holidays

Official Website: http://kawaiimonster.jp/day/pc/

Hello Kitty & KAWAII MONSTER CAFE Collaboration Begins July 12

The KAWAII MONSTER CAFE in Harajuku is teaming up with Sanrio bring Hello Kitty, Harajuku culture and kawaii culture to the restaurant in a collaborative event that will run from July 12 to September 1. This year marks Hello Kitty's 45th anniversary and KAWAII MONSTER CAFE's 4th anniversary making this an event not to be missed.

"Harajuku x Kawaii x Hello Kitty" Themed Menu

Eight dishes will make up the colourful menu arriving at the KAWAII MONSTER CAFE on July 12 inspired by Harajuku, kawaii culture and Hello Kitty.




Dishes include the Hello Kitty Burger packed with colourful melted cheese sauce, the Hello Kitty Harajuku Rainbow Curry which imagines Hello Kitty looking up to a rainbow after the rain lets up, and more.

Don't forget the beautiful desserts either from a vibrant pop cake to a gorgeously layered parfait, all imbued with kawaii♡


During the event, customers who order from the collaborative menu will receive one of these original coasters featuring Hello Kitty and the restaurant's popular character Mr. Choppy.

Mel-Tea Hello Kitty Room: A Special Reservation-Only Room

Also running at the restaurant during the event will be a special reservation only "room" which can be found at the KAWAII MONSTER CAFE's popular Mel-Tea-Room area. This room will see Hello Kitty take on the theme of a Harajuku girl and be decorated in pastel colours, ribbons, strawberry cake and more. You'll wish this room was your own!

Mel-Tea Hello Kitty Room

Running: July 12, 2019 – September 1, 2019

Reservations: Once reserved please speak to the Mel-Tea Hello Kitty Room staff

Slots: [Weekdays] 11:00/13:00/15:00 [Sundays & Holidays] 11:00/13:00/15:00/17:00/19:00

*2 hours per slot, limited availability

Original merchandise and novelties will also be available to purchase and pick up at the restaurant.

The collaboration is running until the end of Japan's summer break, so if you're here this summer then be sure to plan a trip to Harajuku to eat at the KAWAII MONSTER CAFE.

Information

Harajuku x KAWAII x Hello Kitty

Location: KAWAII MONSTER CAFE HARAJUKU

Running: July 12, 2019 – September 1, 20192019年7月12日(金)から9月1日(日)

Address: YM Square Bldg. 4F, 4-31-10 Jingumae, Shibuya, Tokyo
Access: 5-minutes on foot Harajuku Station via JR / 1-minutes on foot from Meiji-Jigumae Station via Chiyoda Line and Fukutoshin Line
TEL/FAX: 03-5413-6142/03-5413-6143

Business Hours
Weekdays & Saturday:
[Lunch] 11:30-16:30 (last entry 15:30 / last orders 16:00 – 90 min stay max)
[Dinner] 18:00-22:30 (last orders 22:00)

Sundays & Holidays:
11:00-20:00 (last orders 19:30)

*During busy times, a max stay time of 2 hours may be implemented.

Official Website: http://kawaiimonster.jp

Come Enjoy These Fresh Fruity Drinks at Sour Harajuku

In 2016, fresh fruit juice shop Sour opened in Uraderacho, Kyoto. Now, they will soon open up shop down Cat Street in Harajuku.

Upon your order at Sour, fresh fruit will be squeezed for your drink in a juicer. After adding some sourness to your drink, not only will it taste divine but also look fun.

Like Sour in Kyoto, Sour Harajuku also uses fresh fruit and vinegar cordial. The interior was decorated by the Kyoto clothes shop and gallery VOU/Bou. CRT televisions, fluorescent lamps and other such decorations created by artists from Kyoto also decorate the interior. The colourful fruits of Sour contribute to the pop design atmosphere. 

Drink example: Watermelon Sour/ Lemon Sour: ¥500 (after tax) ー (Appearance changes due to ingredients ) 

Sour offers seasonal menus that makes use of seasonal fruits as well as 20 varieties of vinegar cordial sour drinks. This summer, Sour is selling their standard Lemon Sour, as well as a range of other sour flavours including Watermelon, Passionfruit, Kiwi, Brand Orange, Pineapple, and much more. 

Enjoy a wonderfully refreshing cup of a fruity drink this summer!

Information

Sour Harajuku

Address: MOE Building Floor 2, 5-25-1, Jingumae, Shibuya Ward, Tokyo

Access: 7-minute walk from exit 13 of Shibuya Station (Tokyo Metro line)/ 7-minute walk from exit 7 of Meiji Jingumae Station (Tokyo Metro line)

Opening Hours: 12:00 ー 21:00 (Last Orders: 20:30)

TEL: 03-6805-0199

Instagram: @sour.jp(https://www.instagram.com/sour.jp/?hl=ja)

Galaxy Harajuku Opens 4 New Attractions

Galaxy Harajuku is a facility in Harajuku, Tokyo centred around the latest smartphones, VR technology and more from Galaxy. The facility reopened on June 20 with four all-new "movie-genic" interactive attractions.

Galaxy Harajuku offers a showcase of cutting-edge technology and interactive activities which can all be experienced for free. Customers can get the latest information on the company's newest products, get involved in a range of events, or relax at the on-site cafe.

Galaxy Orbit (Floor 4F)
In the Galaxy Orbit, you stand in the centre of a roller coaster-like rail. As you dance to the music, the Galaxy S10+ will move around the rail, allowing you to create a 360° dance video using the phone's super slow motion and super camera stabilisation functions.

Galaxy Lightwave (Floor 4F)
Thirteen Galaxy S10 phones will record you in a dark room where you use LED lights to create a colourful and beautiful 3D light painting.

Body Canvas (Floor 5F)
Create a unique art movie with your silhouette using the Galaxy S10's ultra-wide-angle lens. Choose from six styles including music and visuals and start dancing.

Beat Challenge (Floor 6F)
Take part in a beat game with up to three people on a large display that links with the bezel-less Galaxy S10. The displays are made up of twelve individual Galaxy S10 devices that are fitted together seamlessly. After you finish your game you can create a customisable sticker displayed with the sound waves.