Pop into the colourful pop world of KAWAII MONSTER CAFE HARAJUKU ー now upping its game for Christmas!
KAWAII MONSTER CAFÉ HARAJUKU is getting festive on Thursday 1st December! Since opening, this will be the first time the KAWAII MONSTER CAFÉ transforms its interior design to a "Colourful Melty Christmas" themed interior as part of their new campaign! Walk through the doors of the KAWAII MONSTER CAFÉ and enter an entirely new world ー the iconic SWEETS GO ROUND will transform into a Christmas tree, and snow will be piled up and dusted everwhere to spread the festive feeling! You won't be able to stop yourself from taking a picture with the pop-themed and very colourful Christmas tree!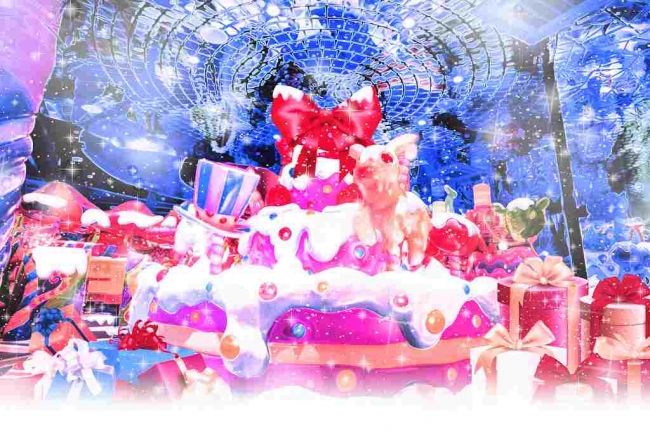 And what's Christmas at the KAWAII MONSTER CAFÉ without a limited edition Christmas addition to the menu? This includes the "Xmas Tree Pancake Parfait" ー ¥1,790 yen and arguably more photogenic than you! The foundation of the Christmas tree parfait consists of layers of strawberry sauce, matcha cream, cream cheese mouse and colourful cereal. This is stacked with large pancake pieces to take on the appearance of a Christmas tree, snuggling close to a vanilla icecream snowman! This is the perfect KAWAII MONSTER CAFÉ original parfait, so dig in!
—
■Information
KAWAII MONSTER CAFE
Address: YM Square Building 4th floor, Shibuya, Tokyo
Opening times:
Weekdays & Saturdays:   Lunch: 11:30~16:00
                                         Dinner: 18:00~22:30
Sundays & National holidays:       11:00~20:30
RELATED ENTRIES
【KAWAII LAB.】IDOLATER Releases New Single 'Before the endroll'

IDOLATER, the idol group from KAWAII LAB., released their new single, Before the endroll.

IDOLATER is celebrating their 4th anniversary since their debut as a group. 

The group has been active as a five-member group consisting of Yukino Fushiki, Ayu Okuda, and Kurumi Tsukishiro, with the addition of Ririka Satsuki and Fuka Oishi, since April 2022.

This song is a powerful declaration of their determination to continue advancing towards the future, expressing the various emotions they have accumulated so far as their driving force, including the loneliness and frustration that they have shouldered while running as idols, as well as their gratitude towards those who have supported them.

City Pop TOKYO Collaborates with Idol Group FRUITS ZIPPER to Produce Member-Inspired Legendary NFTs

The NFT project City Pop TOKYO is inspired, fittingly, by City Pop, a music genre from Japan that is immensely popular worldwide, particularly among Gen Z. Now, the project is collaborating with the incredibly popular idol group FRUITS ZIPPER!

Starting at the end of April, Legendary NFTs inspired by the members of FRUITS ZIPPER will be released sequentially as part of the City Pop TOKYO NFT collection. These collaborative NFTs feature rare designs that are unique among the other characters in the City Pop TOKYO NFT collection and were drawn by Natsumi Sato, the illustrator who oversaw character design for the collection.

This collaboration will commemorate the release of City Pop TOKYO's main collection, which will be available starting at the end of April. City Pop TOKYO will allow both NFT holders and non-holders to participate in new character development through a series of Twitter posts after the main NFT collection is sold. Characters will level up by earning training points when they post on Twitter, which will also be reflected in their NFT properties. The final ranking will be based on level, and a subsequent audition will be held, with winners being invited to join ASOBISYSTEM as new talents.

For this collaboration, the wildly popular FRUITS ZIPPER is sure to bring some new excitement to this incredible project.

Information

<Collaboration Details>
●Seven FRUITS ZIPPER NFTs inspired by the group's members will be added to the City Pop TOKYO collection as Legendary NFTs.
● Legendary NFTs were created by Natsumi Sato, the illustrator behind City Pop Tokyo. Each special edition release has its own unique parts.
● Unlike standard collections, Legendary NFTs will be sold via auction.

Available: April 19 at 21:00 ~ April 20 at 21:00
Amount Available: 7
Price: To be determined at auction

Below are the NFT designs. Illustrations will be sent to auction winners as NFTs.

<Special Benefits for Legendary NFT Holders>
● One NFT airdrop from City Pop TOKYO's main NFT collection
● Easier to accumulate XP points when developing characters on Twitter
● A 3D model from the Gemie Metaverse (Design to be selected from airdrops from the main collection)
●NFT airdrops of future collections (details to be announced as soon as the collections are available)
*Legendary NFTs cannot participate in the promotional game or audition.
*The images and designs of the characters may be used by the FRUITS ZIPPER and its members during their activities.

About City Pop TOKYO
City Pop TOKYO plans to release 1984 original NFTs based on City Pop, a music genre from Japan that is immensely popular worldwide, particularly among Gen Z. The project's characters are featured in trendy outfits and makeup representing symbolic fashion styles in Japan, such as GAL, SHOWA, and REIWA. After the NFTs are sold out, they can be registered as talents with ASOBISYSTEM and entered into the METAVERSE'S GOT TALENT NFT talent audition using Twitter! Successful entries will be invited to have full-fledged virtual careers, appearing in ads and releasing music. Community members can participate in surveys and vote on songs and other releases, coming together to help develop new talent.

Through this project, City Pop TOKYO will work to reaffirm the usefulness of Web 3.0 technology and NFT and further promote Japanese culture to people worldwide.

・Website: https://www.city-pop.tokyo/
・Twitter: @CityPopTokyoNFT
・Discord: https://www.city-pop.tokyo/

<Participating Businesses>

Kingdom Labs
Kingdom Labs is a venture studio that aims to support and invest in projects in the gaming and toC areas within the Web 3.0 domain. The company provides consistent support to entrepreneurs building innovative business models across various industries, from planning to execution. One of the company's key strategies is to partner with large companies that are expanding their business to Web 3.0 or that exist in a different area but hope to create Web 3.0 services. Kingdom Labs takes a unique, multi-disciplinary approach to maximize the interests of investors and partners, leverage its global team, and to grow its global portfolio and investment experience. The company also operates the world-renowned NFT collection Monkey Kingdom.

Representative: CSO Maurice Ng
URL: https://www.kingdomlabs.com/

UPBOND Inc.
UPBOND offers Wallet, which easily allows customers to manage their assets and connect to many Web 3.0 services. Its non-custodial wallet enables general consumers to easily engage with Web 3.0 marketplaces and allows enterprises to obtain customer information with its decentralized identity solution. UPBOND works with top-notch Japanese corporates to bring their business into this new frontier while also updating customer relationships.

Representative: Director Takashi Mizuoka
Head Office: 6-31-15 Jingumae, Shibuya-ku, Tokyo (8F)
URL: https://www.upbond.io

GEMIE
GEMIE is an Asian entertainment-focused metaverse platform inspired by fan culture. The company aims to help artists achieve their full potential by providing them with the tools, resources, and opportunities they need to reach their goals and allowing them to interact with fans from all over the world without limitations.
Comment: "Instead of holding a talent show by region or country, why don't we do it in the metaverse so there won't be any geographical locations – you will be surprised how many talented artists who are worth a shot are scattered in our everyday life!"

Representative: Co-founder John Fung

FRUITS ZIPPER to Embark on First National Tour in September

Idol group FRUITS ZIPPER will embark on its first nationwide tour, FRUITS ZIPPER JAPAN TOUR 2023 -AUTUMN-, this September.

FRUITS ZIPPER has been climbing to the top of the idol scene at a breakneck pace. Their first overseas solo performance in Taiwan was recently a huge success, and tickets for their first anniversary live shows at Toyosu PIT in Tokyo and Namba Hatch in Osaka in May sold out immediately after going on sale.

The tour will begin with a concert in Osaka on September 3, followed by performances in Aichi, Fukuoka, Hiroshima, Hokkaido, and Kanagawa. Tickets for the presale lottery are now on sale for members of the KAWAII LAB fan club.

FRUITS ZIPPER's single Watashino Ichiban Kawaiitokoro, released last year, has inspired over 700 million related videos on TikTok, while the music video has been viewed over 10 million times. Keep an eye on their activities in the near future!

Information

FRUITS ZIPPER JAPAN TOUR 2023 -AUTUMN-

Date: September 3, 2023
Venue: Zepp Namba / Osaka
Time: Doors open at 16:00 / Show starts at 17:00
Contact: Kyodo Information – 0570-200-888

Date: September 5, 2023
Venue: Zepp Nagoya / Aichi
Time: Doors open at 17:30 / Show starts at 18:30
Contact: Sunday Folk Promotion – 052-320-9100 (12:00~18:00)

Date: September 8, 2023
Venue: Zepp Fukuoka / Fukuoka
Time: Doors open at 17:30 / Show starts at 18:30
Contact: Kyodo West Japan – 0570-09-2424 (11:00~15:00 / Closed on Sundays and Holidays)

Date: September 10, 2023
Venue: BLUE LIVE HIROSHIMA / Hiroshima
Time: Doors open at 16:00 / Show starts at 17:00
Contact: YUMEBANCHI (Hiroshima) – 082-249-3571 (Weekdays 12:00~17:00)

Date: September 13, 2023
Venue: PENNY LANE24 / Hokkaido
Time: Doors open at 17:30 / Show starts at 18:30
Contact: Mount Alive – 011-623-6555

Date: September 16, 2023
Venue: KT Zepp Yokohama / Kanagawa
Time: Doors open at 16:00 / Show starts at 17:00
Contact: HOT STUFF PROMOTION – 050-5211-6077 (Weekdays 12:00~18:00)

[Tickets]
VIP Standing: ¥16,500 (Including Tax, excluding drinks)
miniVIP Standing: ¥7,700 (Including Tax, excluding drinks)
General Standing: ¥5,500 (Including Tax, excluding drinks)
2F Reserved Seat: ¥5,500 (Including Tax, excluding drinks)
*Available tickets for Hiroshima and Hokkaido are VIP and General Standing only

KAWAII LAB. Fan Club Presale Tickets (Lottery)
Entry Period: April 10 at 21:00 ~ April 17 at 23:59
URL: https://kawaiilab.asobisystem.com/
*Up to 2 tickets available per person per show

New information will be announced on the official FRUITS ZIPPER social media pages when available.

[Event Report] CANDY TUNE, the Newest Idol Group from KAWAII LAB, Holds Debut Performance, FRUITS ZIPPER and IDOLATER Also Take the Stage

On March 14, ASOBISYSTEM's idol project KAWAII LAB. held a live event at Spotify O-EAST. The event, titled KAWAII LAB. SESSION ~CANDY TUNE~, saw the first-ever performance from CANDY TUNE, the newest idol group from KAWAII LAB, also known for creating the popular groups FRUITS ZIPPER and IDOLATER.

KAWAII LAB. is a new project by ASOBISYSTEM created to introduce Japan's growing idol culture to the world.

FRUITS ZIPPER is one of the most talked-about idol groups in recent memory, with their solo concert shows selling out instantly and their song Watashi no Ichiban Kawaiitokoro pulling in over 690 million views on TikTok. KAWAII LAB also produces IDOLATER, a group known for exploring the boundary of music, fashion, and other unique aspects of culture through an idol perspective.

In March, the seven-member idol group CANDY TUNE was announced. Its members include Rino Fukuyama, Mizuki Kirihara, Natsu Minami, Nanako Ogawa, Bibian Murakawa, Shizuka Miyano, and Kotomi Tachibana.

Tickets for this show were completely sold out in advance. The packed venue was filled with excitement, with fans looking forward to the live performance far before the show started.

To start, Misa Kimura, a model and talent who serves as the general producer of KAWAII LAB., appeared with FRUITS ZIPPER members Suzuka Chinzei and Runa Nakagawa. Despite the project only being active for one year, she seemed to be filled with incredible emotion at the addition of CANDY TUNE to the lineup, bringing the total number of idols signed to KAWAII LAB to 19.

IDOLATER was the first to take the stage, called out by Misa Kimura herself. Dressed in fashionable light blue outfits, the girls immediately grabbed the fan's hearts with their cool performance of Kesenai…before moving into Endless Summer, Vapor City, Kimi ni MuCHU♡XX, and Mahou no Kagi wo Te ni Iretara in quick succession. The girl's potential was on full display as they played hit after hit.

IDOLATER's stylish and clean live performance ended with DIAMOND and Endroll wo Mukaeru Mae ni.

When Misa reappeared on stage, she announced that IDOLATER would be holding its anniversary solo concert on April 22 at Spotify O-WEST. Member Fuka Oishi was delighted to be performing at the largest venue in IDOLATER's history. "I'm so thrilled," she said.

FRUITS ZIPPER took to the stage next, and the venue was immediately illuminated with colorful penlights. The members were greeted with loud applause as the starting track began to play.

The group performed RADIO GALAXY first, and the audience's enthusiasm was palpable as the songs jumped between various genres like a roller coaster ride, from EDM and hip-hop to idol pop and mellow tunes. Continuing into Sekai wa Kimikara Hajimaru, the sweet love song made the audience swoon as they heard the girl's incredible vocals.

Suzuka Chinzei also congratulated CANDY TUNE on its debut during the MC portion of the performance. FRUITS ZIPPER also promised to keep the stage lively until it was their turn to perform at their own debut show.

The group then performed Happy Chocolate, a popular song currently trending on TikTok. Their comical and cute choreography spread into the audience where fans mimicked their moves, making it a truly sweet and memorable moment.

As the girls began performing the fast-paced song Kanpeki Shugide☆, the mood in the venue took a turn, and things became much more lively. As expected, the group performed the massively-popular track Watashino Ichiban Kawaiitokoro as the finale, and just as Suzuka promised, the audience was all warmed up for CANDY TUNE to finally take the stage!

Just as was the case with IDOLATER, another major announcement was made during the MC portion. The first KAWAII LAB Official Fan Club event for FRUITS ZIPPER was announced to take place on April 10 at Shirokane Takanawa SELENE b2. The group's first live show was originally scheduled to take place at this venue on April 10 last year, but it was postponed due to the pandemic.

Finally, it was time for the new group CANDY TUNE to appear. Misa Kimura took to the stage first "I'm so nervous," she said to the audience. "Can we get some cheers?"

The fans erupted with loud applause, and soon after, the seven members of the group–Rino Fukuyama, Mizuki Kirihara, Natsu Minami, Nanako Ogawa, Bibian Murakawa, Shizuka Miyano, and Kotomi Tachibana–took their first steps onto the stage, ready to share the wonders of Harajuku with the world.

Dressed in colorful outfits, they first performed hanamaru, a song written to cheer up anyone who listens to it. The girls were clearly a little nervous, but they danced as hard as they could, obviously doing their very best. As the song blended into Kiss Me Patissier, the audience erupted–it was hard to believe that this was the first time that the song had ever been performed live. The song is one of the most popular tracks from the group's first album, and its flirty lyrics immediately melted fans' hearts.

During the MC, Murakawa, a former HKT48 member and veteran idol, spoke to the fans. "Isn't this venue too full," she said with a laugh. Each girl introduced herself, offering some insight into why they had become idols and what they hoped to achieve going forward. It seemed that their time chatting had cut through the tension, and they performed Nanairo Prologue in high spirits. As if in sync with the members, the fans' voltage also rose to a fever pitch, and following the performance of Mikan na Seishun, the audience exploded with thunderous applause.
After all four songs from the group's first album had been performed, it was revealed that, like the senior groups in KAWAII LAB, CANDY TUNE also had a surprise to reveal. On the big screen, it was announced that CANDY TUNE's first solo live performance would be held at Spotify O-WEST on June 27. The members immediately shouted with joy.

"Aren't you full yet," Murakawa asked the audience, before announcing one more song.

CANDY TUNE performed hanamaru again, but unlike the first time, a music video produced in secret for the occasion played on the screen. Sounds of surprise and excitement immediately erupted from those in the audience.

The audience's voltage was at its highest during this performance, which was synchronized with the music video featuring the members in cute cheerleader outfits and a picnic scene that their friendship with one other. Although it was their first time on stage together, the seven members showed as much poise and dignity as their seniors.

At the end, each member shared a message with their fans. "I have a bad habit of second-guessing my own happiness. There have been so many times in my life when I wonder if I should be as happy as I am–but right now, I'm so incredibly overjoyed," said Fukuyama.

"I was so nervous before we got here," said Kirihara. "But when I saw all of your faces, I knew from the bottom of my heart that I had made the right choice to become an idol!"

"Even if I'm reborn, I hope to stand on this same stage again," said Minami while crying.

"I didn't really feel like an idol until today, and I was so afraid to stand up here in front of a packed audience," said Ogawa. "I never thought I'd be an idol," echoed Tachibana. Both showed intense appreciation for the countless fans that had gathered at the venue.

"I will always cherish this moment," said Miyano. "I hope to make many more memories in the future!"

"I never thought I could care for people so quickly after meeting them," said Murakawa, shedding a few tears. "I have so much love and affection for everyone, and I want the seven of us to keep working hard to share Harajuku with the world. Standing here now, I know that we can become an idol group loved around the globe!"

After each group had finished their performances, all 19 idols from all three KAWAII LAB groups stood on the same stage together.

As a final surprise, Misa Kimura announced that KAWAII LAB. SESSION would be held on June 12 at Zepp Shinjuku, a venue scheduled to open in April. "I'm so excited that we get to perform at Zepp," said FRUITS ZIPPER member Yui Sakurai.

With excitement in the venue still building, the final performance and the long-awaited collaboration began. All 19 members formed a circle and began to perform FRUITS ZIPPER's breakout hit Watashino Ichiban Kawaiitokoro. Fans in the audience were permitted to record during this part of the concert, and after the show concluded, countless videos were posted to social media sites.

A project to shoot a TikTok video of Happy Chocolate with the audience also took place at the end of the event. FRUITS ZIPPER member Mana Manaka gave a brief explanation of the choreography before taking a video of the fans gathered at the venue. The night ended as the idols and fans danced together.

KAWAII LAB is continuing to produce cutting-edge idols ready to be shared with the world. With the addition of CANDY TUNE, the future is looking bright, and fans will want to watch out for what's coming next.

Text: Masatoshi Mayuzumi
Photo: Shinsuke Hayashi / Miki Higashi

■Setlist

[IDOLATER]
Kesenai…(short ver.)
Endless Summer
Vapor City
Kimi ni MuCHU♡XX
Mahouno Kagiwo Teniiretara
DIAMOND
Endrollwo Mukaeru Maeni

[FRUITS ZIPPER]
RADIO GALAXY
Sekaiwa Kimikara Hajimaru
Happy Chocolate
Kanpeki Shugide☆
Watashino Ichiban Kawaiitokoro

[CANDY TUNE]
hanamaru
Kiss Me Patissier
Nanairo Prologue
Mikanna Seishun
hanamaru (MV.ver)

[KAWAII LAB.]
Watashi no Ichiban Kawaiitokoro

Information

<FRUITS ZIPPER Fan Club Exclusive Concert 'FIRST CONTACT'>

Date: April 10, 2023

Venue: Shirokane Takanawa SELENE b2
Time: Doors open 17:30 / Show starts 18:30
General Admission Presale Tickets: ¥4,500 (Standing, Tax Included)
*Excluding drinks
*This event is for members of the KAWAII LAB. Official Fan Club only.
*Accompanying guests must also be Fan Club members. We will confirm if you are a fan club member upon entrance to the venue.

Details: https://kawaiilab.asobisystem.com/news/detail/10284

<IDOLATER Anniversary LIVE>

Date: April 22, 2023

Venue: Spotify O-WEST

Time: Doors open 17:30 / Show starts 18:30
VIP Admission: ¥10,000 (Tax Included)

VIP Bonuses:
・Access to the front area of the venue
・Commemorative goods

General Admission: ¥1,500 (Standing, Tax Included)
*Excluding drinks

Details: https://kawaiilab.asobisystem.com/news/detail/10283

<KAWAII LAB. SESSION>

Date: June 12,

Venue: Zepp Shinjuku (Tokyo)

Time: Doors open 17:30 / Show starts 18:30
Starring: IDOLATER, FRUITS ZIPPER, CANDY TUNE
Admission: ¥5,000 (Priority Standing, Tax Included) / ¥3,000 (General Standing, Tax Included)
*Excluding drinks

Details: https://kawaiilab.asobisystem.com/news/detail/10281

<CANDY TUNE First Solo Concert>

Date: June 27, 2023

Venue: Spotify O-WEST

Time: Doors open 17:30 / Show starts 18:30
Admission: ¥5,000 (Priority Standing, Tax Included) / ¥2,000 (General Standing, Tax Included)
*Excluding drinks

Details: https://kawaiilab.asobisystem.com/news/detail/10285

HARAJUKU COLLECTIVE, a Collaboration Between Hot Topic & Studio Ghibli, Gets Pop-Up Store at Shinsaibashi PARCO

Last year, the HARAJUKU COLLECTIVE collaboration appeared at AF Gallery in Harajuku from August 10 until August 28, garnering massive acclaim from fans. The collection is now being sold at Shinsaibashi PARCO until March 12, 2023.

HARAJUKU COLLECTIVE is a Studio Ghibli-inspired apparel collection by the popular American counterculture chain Hot Topic. Bringing more Japanese culture to the ongoing Studio Ghibli collaboration launched in 2014, Hot Topic stores began selling original items produced by nine Japanese creators and brands, as well as some original American items produced by Hot Topic's executive designers.

The lineup of Japan-original items includes T-shirts, tote bags, and other items featuring exclusive artwork by up-and-coming creators. These items depict beloved characters from Studio Ghibli's works, as well as logos created for the collaboration. Fans won't want to miss grabbing these unique items!

 

Details on the Previous HARAJUKU COLLECTIVE Pop-Up Store: https://www.moshimoshi-nippon.jp/ja/625747

CANDY TUNE Releases First Album 'CANDY TUNE'

CANDY TUNE, the newest group from KAWAII LAB, released their first album on March 7. KAWAII LAB is continuing to introduce Japanese idol culture to fans around the world.

The seven-member group is comprised of members Rino Fukuyama, Mizuki Kirihara, Natsu Minami, Nanako Ogawa, Bibian Murakawa, Shizuka Miyano, and Kotomi Tachibana. Just like candy, which comes in tons of different flavors and shapes, the members will bring their own unique personalities and quirks to their pop tunes as they carry on KAWAII LAB's mission of sharing Harajuku style with the world.

Two songs on the group's first album CANDY TUNE were produced by Naoki Kubo and Suu, former members of SILENT SIREN–the sweet and playful Kiss Me Patissier and the inspiring song hanamaru. Hirotaka Hayakawa, who has produced hit songs for countless artists, also contributed. Nanairo Prologue tells the story of the seven members moving forward across a rainbow-colored bridge, andMikan na Seishun (Unfinished Youth) has a fast-paced sound sure to be a hit with new fans. The group's artist photo and the jacket art for the album were provided by Yuko Takayama (yenter).

CANDY TUNE will hold its debut concert titled KAWAII LAB. SESSION ~CANDY TUNE~ on March 14 at Spotify O-EAST. To commemorate the special occasion, IDOLATER and FRUITS ZIPPER will also perform. The three groups will perform the FRUITS ZIPPER hit track Watashi no Ichiban Kawaiitokoro together during the event, and tickets are now on sale.

Additionally, new interviews with the members and behind-the-scenes footage have been uploaded to CANDY TUNE's official YouTube channel.

Information

CANDY TUNE – CANDY TUNE (1st Digital Album)
Streaming: March 7, 2023
Streaming URL: https://kawaiilab.lnk.to/CANDYTUNE
Available to stream on all major subscription music streaming services

Tracklist:
M1 Kiss Me Patissier
M2 hanamaru
M3 Nanairo Prologue
M4 Mikan na Seishun
M5 Kiss Me Patissier -Instrumental-
M6 hanamaru -Instrumental-
M7 Nanairo Prologue -Instrumental-
M8 Mikan na Seishun -Instrumental-

[Debut Concert Details]
Event Title: KAWAII LAB. SESSION ~CANDY TUNE~
Venue: Spotify O-EAST
Date: March 14, 2023
Time: Doors open 17:30 / Show starts 18:30 / VIP Event Ends 22:30
Performers: IDOLATER / FRUITS ZIPPER / CANDY TUNE

[Tickets]
Admission: VIP ¥5,000 / General ¥3,000 / Day-of ¥3,500
Tickets: https://w.pia.jp/t/candy-tune/

<Profile>
The idol group CANDY TUNE consists of seven members: Rino Fukuyama, Mizuki Kirihara, Natsu Minami, Nanako Ogawa, Bibian Murakawa, Shizuka Miyano, and Kotomi Tachibana.

The group was formed by the KAWAII LAB project, started by ASOBISYSTEM to promote Japanese idol culture around the world. CANDY TUNE will make its debut in March 2023.

Just like candy, which comes in tons of different flavors and shapes, the members will bring their own unique personalities and quirks to their pop tunes as they carry on KAWAII LAB's mission of sharing Harajuku style with the world.

Twitter: https://twitter.com/candy_tune_
Instagram: https://instagram.com/candy__tune
TikTok: https://www.tiktok.com/@CANDY_TUNE
YouTube: https://www.youtube.com/channel/UCU0PgOXf0lxzVxN2TLzMJkw
note(Live Schedule):https://note.com/candy_tune

<What is KAWAII LAB?>

KAWAII LAB is a new project by ASOBISYSTEM aiming to promote Japanese idol culture to the world. The company works to discover, train, and produce idols with the potential to be active on the world stage.

KAWAII LAB is produced by Misa Kimura, a model and TV personality. A fan of idols for many years, Kimura was formerly the leader of the idol group Musubizm.

Other KAWAII LAB. groups include IDOLATER, a culture-holic idol group consisting of finalists from ASOBISYSTEM's first national audition in 2018, and FRUITS ZIPPER, a group transmitting NEW KAWAII from Harajuku to the world debuting in April 2022.

In March 2023, the project launched a new idol group.
KAWAII LAB. will continue to promote Japanese idol culture to the world, launching and developing new idol groups, not only in Tokyo but in other cities as well!

Twitter: https://twitter.com/kawaii__lab
YouTube: https://youtube.com/channel/UCW8Q9LBGGBgK6a-u0C0h95A
Fan Club: https://kawaiilab.asobisystem.com/

【KAWAII LAB.】New Idol Group「CANDY TUNE」Debut Concert Planned for March 14 at Spotify O-EAST

A new idol group is coming in March 2023 from KAWAII LAB. , to promote Japan's growing idol culture to the world.

So far, four members have been announced ahead of the group's debut concert. The group name and details of their debut concert have just been revealed!

Following IDOLATER and FRUITS ZIPPER, the third idol group born from KAWAII LAB. has been announced as CANDY TUNE. The name is meant to evoke the image of both kindhearted girls and catchy melodies and harmonies.KAWAII LAB. will continue to focus on its concept of promoting Harajuku culture to the world.

The four members announced so far are Mizuki Kirihara, Rino Fukuyama, Natsu Minami, and Nanako Ogawa. More members will be announced in the near future.

Clockwise from top: Mizuki Kirihara, Nanako Ogawa, Rino Fukuyama, Natsu Minami

CANDY TUNE's debut concert titled KAWAII LAB. SESSION ~CANDY TUNE~ will be held on March 14 at Spotify O-EAST! IDOLATER and FRUITS ZIPPER, both created by KAWAII LAB., will also perform, with the members of CANDY TUNE performing on the same stage as their seniors for the first time.

Information

KAWAII LAB. SESSION ~CANDY TUNE~
Venue: Spotify O-EAST
Date: March 14, 2023
Time: Doors open 17:30 / Show starts 18:30 / VIP Event Ends 22:30
Performers: IDOLATER / FRUITS ZIPPER / CANDY TUNE
https://w.pia.jp/t/candy-tune/

[Tickets]
Admission: VIP ¥5,000 / General ¥3,000 / Day-of ¥3,500
Tickets: https://w.pia.jp/t/candy-tune/
VIP Admission Lottery: February 2 at 21:00 – February 15 at 23:59
General Sales: February 18, 12:00~

■CANDY TUNE Official Social Media
Twitter:@candy_tune_
Instagram:@candy__tune
TikTok:@CANDY_TUNE

FRUITS ZIPPER Valentine Pop-Up Shop to Open at Laforet Harajuku

Laforet Harajuku will host a pop-up shop inspired by the up-and-coming idol group FRUITS ZIPPER from February 1 until February 14! The FRUITS ZIPPER Valentine Pop-Up Shop will be found on the 5th floor MAKE THE STAGE area.

FRUITS ZIPPER debuted in April 2022 and embodies a simple concept: "From Harajuku to the World." The group's second single Watashino Ichiban Kawaiitokoro exploded in popularity on TikTok, pulling in over 600 million views. In February, the girls will embark on their first solo concert tour in Tokyo, Nagoya, and Osaka. This is the first FRUITS ZIPPER-inspired limited-time shop, and during the event, visuals of the group's members will be displayed in the show windows found on the first floor of Laforet Harajuku.

◆About the FRUITS ZIPPER Valentine Pop-Up Shop

When entering the venue, fans will be greeted by a 5-meter-wide board where visitors can write and attach their messages to the FRUITS ZIPPER members on heart-shaped cards. Costumes that the members have worn on stage will also be on display, allowing fans to see each stitch up close.

Exclusive items featuring new photos of the members will be on sale at the pop-up shop. Fans can enjoy seeing the girls in their own personal style, and these items will only be available during the event! Starting February 4, tour merch for the group's upcoming solo concert series will also be available for purchase.

◆Collaboration with Fruit Sandwich Specialty Store 'Fruits Box Daikanyama'

Last year's popular collaboration with Fruit Box Daikanyama, a well-known fruit sandwich shop, is happening again in 2023! Fans can find the Collaboration Gift Box for sale, including seven baked meringue goods each featuring one of the member's colors. The box also comes with snapshots of the members, and for a few lucky fans, these snaps might be signed! The idol group and sandwich shop have also teamed up to create the Collaborative Lucky Grab Bag Lottery, including popular FRUITS ZIPPER goods and original items from Fruits Box Daikanyama. The lucky first-prize winner will receive a special set of all available February tour merchandise in all sizes.

◆Member Appearance Planned on Valentine's Day

On February 14, the final day of the pop-up shop, the members of FRUITS ZIPPER will make an appearance! Guests will be able to participate in the first-ever hands-on event with the members, so keep an eye out for more details!

Stay up to date with the latest FRUITS ZIPPER news at the official Twitter page (@FRUITS_ZIPPER).

FRUITS ZIPPER Pop-Up Shop Exclusive Goods


Random Photo – Valentine pop-up ver. (21 varieties): ¥330 (Tax Included)


Random Pin – Valentine pop-up ver. (7 varieties): ¥500 (Tax Included)


Random Purikura Stickers – Valentine pop-up ver. (14 varieties): ¥600 (Tax Included)

Information

FRUITS ZIPPER Valentine POP-UP SHOP
Running: February 1 – February 14, 2023
Venue: Laforet Harajuku 5F MAKE THE STAGE
*Closed on February 7 and February 8

[Fruits Box Daikanyama Collaboration Goods]
Collaboration Gift Box: ¥3,500 (Tax Included)
Collaborative Lucky Grab Bag Lottery: ¥1,500 per try (Tax Included)

Check out more details about the pop-up below!
https://www.laforet.ne.jp/pop_up_shop/fruitszipper_2301/

Stay up to date:
FRUITS ZIPPER Official Twitter
https://twitter.com/FRUITS_ZIPPER/

<Tour Information>
FRUITS ZIPPER 1st LIVE TOUR 2023 WINTER

Date: February 3, 2023
Venue: ReNY limited
Time: Doors open 17:30 / Show starts 18:30
Contact: Sunday Folk Promotion (052-320-9100) *Open daily 12:00-18:00

Date: February 5, 2023
Venue: Nanba Hatch
Time: Doors open 16:30 / Show starts 17:30
Contact: Kyodo Information (0570-200-888)

FRUITS ZIPPER 1st LIVE TOUR 2023 WINTER 〜FRUITS DAY〜
Date: February 9, 2023
Venue: Shibuya WWW X
Time: Doors open 18:00 / Show starts 19:00
Contact: HOT STUFF PROMOTION (03-5720-9999) *Open weekdays 11:00-19:00

FRUITS ZIPPER 1st LIVE TOUR 2023 WINTER 〜ZIPPER DAY〜
Date: February 10, 2023
Venue: Shibuya WWW X
Time: Doors open 17:30 / Show starts 18:30
Contact: HOT STUFF PROMOTION (03-5720-9999) *Open weekdays 11:00-19:00

FRUITS ZIPPER 1st LIVE TOUR 2023 WINTER -TOUR FINAL –
Date: February 12, 2023
Venue: LINE CUBE SHIBUYA
Time: Doors open 17:00 / Show starts 18:00
Contact: Sunrise Promotion Tokyo (0570-00-3777) *Open weekdays 12:00-15:00

Buy tickets for all shows here: https://l-tike.com/artist/000000000899959/

Zipper Magazine's 2022-2023 Winter Issue on Sale Now

The Winter 2022-2023 issue of the revived fashion creator magazine Zipper went on sale on December 23.

This issue focuses on this winter's must-know trends and is packed with coordination tips, outfit plans through spring, snapshots, hair and makeup tips, and much more.

Zipper ended its 24-year history in December 2017. In March 2022, ASOBISYSTEM teamed up with DONUTS Inc. to revive the magazine as a quarterly release. The fashion magazine, popular with Gen Z, is known for sharing details aspects of Harajuku culture and will continue to share more from the creative center of Tokyo for years to come.

Standard Edition (Cover: Nagisa Saito)

Another Edition (Cover: FRUITS ZIPPER)

Information

Zipper 2022-2023 Winter Issue
Release Date: December 23, 2022
Price: ¥700
Publisher: DONUTS
Publishing Company: Shodensha

Available at bookstores nationwide and online

Amazon
・通常版
・anotehr edition

Official Site
https://www.zipper.jp/

Interview: MIOCHIN's Kawaii Girl's Guide to Tokyo

Many visiting Tokyo in the future will want to find the most kawaii spots imaginable, and we know just the girl to serve as a guide! In today's special interview, we chatted with MIOCHIN to share her recommendations. If you haven't seen her colorful pop pics on TikTok and Instagram, you'll want to jump into the MIONOSEKAI!

Q. MIOCHIN, what store is a must-visit in Harajuku?

"That would be SUGAR HIGH at Harajuku Alta! You can find colorful sweets and cute goods from all over the world. I always stop by when I have time because they have popular snacks I've seen on TikTok, tons of jewelry, and things I can use every day♪

It's also a really good spot for buying small souvenirs and gifts for people!★"

Q. What store in Tokyo really embodies your personal worldview?

"The minacute CONCEPT STORE at Ikebukuro Sunshine City. I'm actually the store's producer!★

Not only did I design this shop, but I'm also selling cute accessories in collaboration with minacute!!"

"The store feels like a big toy box and it's filled with so many items that kids would love. Not only that–you can find popular brands from around the world and tons of sparkle too★

We also hold workshops and events on weekends, so please come visit!♪★"

Q. What's your go-to Kawaii Spot?

(The HARAJUKU Room)

"If you're looking to surround yourself with everything cute, it's all about MOSHI MOSHI ROOMS! Each room is perfect for snapping photos–I've visited so many times for parties and photo shoots★

There are four rooms: DOSKOI, HARAJUKU, ORIGAMI, and SAKURA, and each has a uniquely cute interior♪ If you're planning on staying the night in Harajuku, be sure to check it out!"

Q. Where can the readers find cute clothes like the ones found in your wardrobe?

(Skirt, Jacket: grapefruitmoon)

"Check out grapefruitmoon, a vintage clothing store. They have so many neat items from the 60s to the 80s, and the designs and shapes are so unique. I'd recommend browsing their retro dresses and funky bottoms★Whether you're into more monotone fashion or something more flashy and bright, you'll find it!♪"

Q. Where do you buy your makeup?

"ANNA SUI. I just can't get enough of the brand's vision, and the cosmetics are really one-of-a-kind. Honestly, I buy most of them–I especially love the perfumes. I love the scents and the designs are just too damn cute! It's my favorite collection."

Q. To wrap things up, do you have a message to readers coming to Japan in the future?

"I'm so glad that so many people are interested in Japan. I post so many colorful things on social media and always want to share Japanese culture with the world!♪

There are so many interesting places that you can only find here, and fascinating activities that you have to visit to enjoy!

I hope you'll come enjoy our food, fashion, and sightseeing spots. And don't forget to shop for some kawaii goods!★

And I hope that once you do, you'll love Japan even more!"

PROFILE: MIOCHIN

Active as an illustrator, TikToker, and streamer, MIOCHIN is known for her colorful pop world MIONOSEKAI. She has fans young and old from around the world and often broadcasts on YouTube and TikTok, recently attracting attention for her duet videos on the latter. Her original videos focus on everything from makeup and art to impressions. 

Instagram: https://www.instagram.com/dtdq2828/

TikTok: https://www.tiktok.com/@mionosekai

YouTube: https://www.youtube.com/channel/UCnyOak5Hd4WG0oLECz6L0Og

Twitter: https://twitter.com/dtdq2828

Interview Series Vol.3: What Does 'Kawaii' Mean to You?

"Japan is such an interesting country, where so many cultures blend and evolve."

Moshi Moshi Nippon is dedicated to sharing Japanese pop culture with audiences around the world. Recently, we launched a new interview series with foreign influencers active in Japan, and for the third edition, we're chatting with Zhu Zhu! A popular influencer with over 2 million followers on Weibo, Zhu Zhu claims that since coming to Japan, her fashion has become 'softer.' We sat down to ask her what kind of Kawaii she's found in Japan.

Q. Why did you first come to Japan?

"In 2013, I moved to Japan with my family because Beijing's air pollution had become really bad. It's already been nine years!"

Zhu Zhu when she first came to Japan

Q. When you first arrived in Japan, what surprised you?

"When I first came to Japan, what really surprised me was the wide use of the word 'kawaii.' It's so interesting that literally anything can be called kawaii. Sure, it makes sense to call girls, animals, or clothes cute, but in Japan, people call things cute that people in other countries would never refer to in that way. I mean, I think calling things 'cute' when you mean 'good' is something really commonplace here. (laugh)" 

Q. Tell us what you find the most Kawaii in Japan!

"There are so many cute things in Japan, but I think that the sweets take the cake. I was surprised by how small they are unlike in other countries. And there are so many kinds! Cakes, baked goods, wagashi, they're all so incredibly kawaii!"

Q. How did your encounter with Kawaii culture in Japan change you?

"Since I first came into contact with the Japanese version of kawaii, I think my style has become softer. When I was overseas, I typically just worse really simple outfits and makeup, but now, I'm always conscious of looking girly and cute."

Q.In Japan, what are you interested in right now? Where do you want to visit in the future?

"I recently read an article about Yufuin Floral Village, which is England-inspired. It looks so cute and I really want to go!"

Q. Do you have anything to say to our readers who want to visit Japan in the future?

"Japan is such an interesting country, where so many cultures blend and evolve. No matter how many times you visit, you can always find something new. Please visit!"

Zhu Zhu Profile

An influencer from China with 2 million followers on Weibo. Nicknamed "Big Cousin" on social media, she has been a favorite of many Japanese brands for years. Since moving to Japan, Zhu Zhu has actively shared fashion, beauty, travel, and food posts on social media. In addition to appearing on TV and in magazines, she has collaborated with a number of major Japanese apparel and cosmetics companies. 

Popular EC Brand SHEIN Opens First Permanent Brick and Mortar Store in Harajuku

The global online fashion brand SHEIN has become wildly popular, shipping goods to over 150 countries. The world's first permanent brick-and-mortar SHEIN store will open in Harajuku, Tokyo on November 13, 2022, displaying popular styles and items perfect for the Japanese market. All items on display will be available for purchase on the official SHEIN app simply by scanning the QR code on the tag. While items won't be available to purchase in-store, the location will be a place where curious customers can try things on and explore new trends. The store has two floors and carries women's and men's wear, as well as kids' wear, pet goods, and accessories. In addition to standard fitting rooms, there will also be a photo booth and SHEIN gacha machine!

This summer, the brand held its first pop-up event in Japan, traveling to five cities over two days. In October 2022, the three-month-long SHEIN POPUP OSAKA event invited customers could try on clothes and discover new styles.

 "SHEIN TOKYO is planning to hold a number of events to make the SHEIN brand more familiar to new customers. Please visit us and enjoy perusing our reasonably priced but high-quality items," an official comment reads. 

Information

SHEIN TOKYO

Open: November 13, 2022

Address: b-town Building C, 1, 2F (4-25-9 Jingumae, Shibuya-ku, Tokyo)

Hours: 11:00-19:00 (Closed during New Year's holiday)

Official Website: https://jp.shein.com