Tokyo Ghoul:re 2nd Season Ending Theme 'Rakuen no Kimi' to be Performed by österreich
The second season of Tokyo Ghoul:re is scheduled to begin airing in October 2018. It has been announced that österreich will perform the ending theme song entitled Rakuen no Kimi.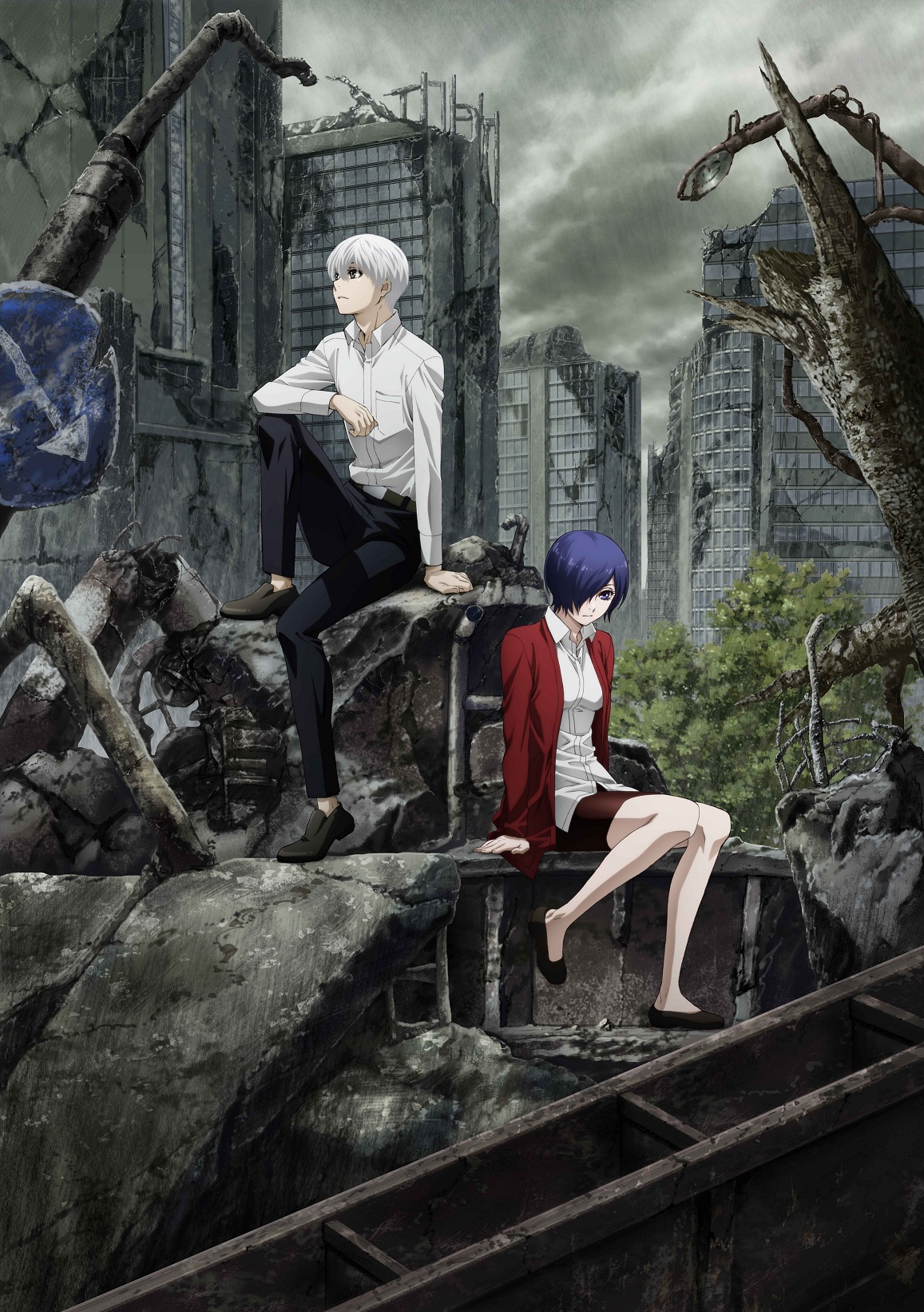 Cö shu Nie provided the opening theme song Asphyxia for the first season while Ziyoou-Vachi performed the ending theme song HALF. österreich, who will sing the ending theme for the second season, is the solo project of ex-guitarist for the cabs, Kunimitsu Takahashi. österreich originally performed Tokyo Ghoul √A's opening theme song Munou as well as the main theme for the PS Vita game Tokyo Ghoul: Jail, making this the artist's third collaboration with the series.
Kunimitsu Takahashi left a comment on the official Tokyo Ghoul:re website which you can read translated below.
österreich's Comment
I'm back here once again again.
The music I became involved with for the second time three years ago was for Tokyo Ghoul. After that I wrote music which not everybody could necessarily listen to while leading a reckless life as ever, but one day when I came to I was surrounded by a scene similar to that time three years ago. What was different was that after Tokyo Ghoul finished airing I became friend with Ishida [the manga's author].
I don't really remember how I wrote the song 'Munou,' but I think I probably wrote it on my own wherever my feelings led me. Time has passed, and I thought I wasn't skillful enough to be able to manage doing things perfectly that way again, and I never thought I would want to.
I have come to see that some things change and some don't. I've found myself in empty places. If we're talking about how I've become, speaking honestly, I'm still a hopeless person, but I feel like I've been able to think about someone and create music, even just a little.
I've live being saved by lots of people. I was saved by lots of people and wrote the song Rakuen no Kimi. Thank you to Ishida for giving me this opportunity.
It's still hot outside, so please all look after yourselves.
ーKunimitsu Takahashi (österreich)
RELATED ENTRIES
Giant 1/6 Scale Tokyo Ghoul Figure to be Sold at Tokyo Otaku Mode TOKYO in Shibuya PARCO

Tokyo Otaku Mode Inc. is set to display and start taking orders for a new 1/6 scale figure by Figurama from Sui Ishida's hit manga and anime series Tokyo Ghoul. Available in Japan only, it will be sold at the new Tokyo Otaku Mode TOKYO store from November 22 at 10:00am at the new Shibuya PARCO shopping complex.

Figurama is a Hong Kong-based figurine maker which has crafted many figures from popular titles such as Attack on Titan, Hellsing, Devilman, and Trigun, to name a few. The standout characteristic of their work is the size of their figures, the composition, and how detailed the figures are despite being so large.

The Tokyo Ghoul figure set to appear at Tokyo Otaku Mode TOKYO stands 63cm high, 44cm wide, and 35cm deep. It features series protagonist Ken Kaneki versus Yamori, who made Kaneki's hair turn white.

Only 800 of these figures have been made, of which Tokyo Otaku Mode TOKYO will sell 40, making them an extremely rare and limited edition collectors items. Perfect for any fan of the hit series!

©Sui Ishida/Shueisha・Tokyo Ghoul Production Committee

Information

TOKYO GHOUL: KANEKI VS YAMORI 

Maker: Figurama
Series: Elite Fandom
Scale: 1/6 

Materials: Ecofriendly Polystone, Translucent Resin, PU, LED 

Size: 63cm x 44cm x 35cm
Price: ¥100,000 (Tax excluded, shipping charge included)

Figurama Official Website: https://figurama-collectors.com/ 

Concert Review: TK from Ling Tosite Sigure Performs New Song 'melt' in Tokyo

TK from Ling Tosite Sigure has embarked on a new tour entitled Bi-Phase Brain "L side". His first show took place at Shinkiba STUDIO COAST in Tokyo. He was joined by guest act österreich who, like TK, has performed music for the Tokyo Ghoul anime series. österreich is the solo project by Japanese musician Kunimitsu Takahashi and this marked his first live performance since his band "the cabs" broke up in 2013.

österreich was supported on stage by Mizuki Iida (cinema staff) and Ai Kamano on vocals, Katsuaki Sato (Gecko&Tokage Parade) on piano, Sohei Mishima (cinema staff/peelingwards) on bass, GOTO (DALLJUB STEP CLUBのGOTO) on drums, and Anzu Suhara on violin.

All the members stepped onto stage, with Takahashi at the front who began the set on guitar with Zeitaku no Hone. The members displayed their instrumental mastery to flurries of applause. Takahashi himself was most into it of all, and his moved his whole body to song.  They followed this up with Munou, the opening theme for season two of the anime series Tokyo Ghoul by österreich. At the end of every song, Takahashi expressed his gratitude to fans with a heartfelt, "Thank you."

Iida joined the fray once more in the second half of the performance, announcing the debut of a new song. He sang it together with Kamano. It was an upbeat, complex track, with the latter half of the song having a more straightforward rhythm and rising melody. It was different from anything we've heard from Takahashi in recent years.

Takahashi said: "Thank you to TK for inviting us here today. And thank you to Ishida, who has given us all of these opportunities." The Ishida he refers to is Sui Ishida, the author of the Tokyo Ghoul manga. It was only fitting, then, that he perform Rakuen no Kimi, the ending theme to the last series of the Tokyo Ghoul anime. Thus marked the conclusion of österreich's first ever live performance.

It was then time for TK from Ling Tosite Sigure's set. He opened with kalei de scope, with a powerful ensemble beside him formed of BOBO on drums, Ichiro Yoshida on bass, Oko Haruna on piano, and Honoka Sato on violin. This was followed by an acoustic performance of haze, the ballad memento, Fantastic Magic which garnered huge cries and applause when they started playing it, the chaotic Shandy with its incredible piano loop, and more.

"This is my first time performing this one. I can't do it alone, so I'm going to borrow some help," TK announced, and was joined by Ai Kamano who also performed with österreich earlier that night. Kamano performed the vocal section which is normally sung by salyu. She accelerated the high tones of the chorus which was laced with TK's iconic trance-like musical performance.

Kamano also joined him for his new song melt, which was released digitally last Tuesday, taking the place of suis from Yorushika who is the original singer on this track. The music was hard-hitting apart from the beautiful lull of the guitar. It was a dramatic performance, coupled with the CG and live-action-combined music video.

The last song of the set was a complete turnaround from melt. TK performed his early progressive hit film a moment.

TK expressed his thanks to the crowd, and performed unravel for the encore, the iconic season one opening theme for Tokyo Ghoul, sending the crowd into the stratosphere. This was followed by P.S. RED I, another climactic hit with the crowd and a fitting end to the night.

TK has two more shows left on this tour: DIAMOND HALL in Nagoya tomorrow, and Namba Hatch in Osaka the following day. Cö shu Nie will join him as the guest act.

Photography Credits:

TK from Ling Tosite Sigure→ Takayuki Okada

österreich→ Kana Tarumi

Information

TK from Ling Tosite Sigure – Digital Single "melt (with suis from Yorushika)"

Released: October 2, 2019

Download/Stream: https://smar.lnk.to/M3b-aWN

TK from Ling Tosite Sigure Bi-Phase Brain "L side"

Tour Details: http://tkofficial.jp/

Special Tokyo Ghoul S Compilation Showcases Kaneki & Tsukiyama's Relationship

A special compilation video for the recent live-action film Tokyo Ghoul S, which hit Japanese theatres on July 19, was recently released.

Before the film's release, it premiered in Tokyo, Osaka and Paris to rave reviews. At the premiere events, Shota Matsuda, who plays Tsukiyama, proclaimed the movie as "a romance film between Tsukiyama and Kaneki."

The compilation video reveals Kaneki's many encounters with Tsukiyama, from their first encounter to their aggressive battles, as well as the iconic scene from the original manga series when Tsukiyama sniffs a handkerchief with Kaneki's blood on it in pure ecstasy. The video includes the film's theme song Introduction by QUEEN BEE which was written and composed by band vocalist Avu-chan.

The films directors, Hiramaki Kazuhiko and Takuya Kawasaki, also explained how much they focused on making sure Tsukiyama, who is popular amongst Tokyo Ghoul fans, was a strongly written character. They described in particular the climactic battle scene which isn't just a simple fight and instead is an opportunity for Kaneki to not only express himself to Kaneki but also eat him as he sees Kaneki as an ingredient. Kaneki is drowned in Tsukiyama's adoration for himself. Speaking about the role, Masataka Kubota, who plays Kaneki, said he made sure to play more of a passive role.

©Sui Ishida / Shueisha   ©2019 "Tokyo Ghoul S" Production Committee

Information

Tokyo Ghoul S

Based On: Tokyo Ghoul (Young Jump Comics, Shueisha) by Sui Ishida

Directors: Hiramaki Kazuhiko / Takuya Kawasaki

Screenwriter: Chūji Mikasano

Distributed by: Shochiku

Release Date: July 19, 2019 (Japan)

Official Website: http://tokyoghoul.jp/

QUEEN BEE Release Music Video For Tokyo Ghoul S Main Theme 'Introduction'

QUEEN BEE just dropped their new music video for Introduction on YouTube.

The song is taken from their latest album Ju which hit shelves back in May. The song will feature as the main theme for the forthcoming film Tokyo Ghoul S, the sequel to the live-action adaptation of the popular manga and anime series Tokyo Ghoul.

The music video was directed by Nakane Sayaka who has worked on QUEEN BEE's most recent videos including HALF, Hypnotize, and Holy War.

©Sui Ishida / Shueisha   ©2019 "Tokyo Ghoul S" Production Committee

Information

Ju

Released: May 22, 2019

First Press Limited Edition (CD+DVD): ¥4,500 (Before Tax) [AICL-3700〜3701] *Includes 84-page booklet & sticker sheet

Regular Edition (CD-Only): ¥3,000 (Before Tax) [AICL-3702]

QUEEN BEE Official Website: http://www.ziyoou-vachi.com/

Tokyo Ghoul S

Based On: Tokyo Ghoul (Young Jump Comics, Shueisha) by Sui Ishida

Directors:Hiramaki Kazuhiko / Takuya Kawasaki

Screenwriter: Chūji Mikasano

Distributed by: Shochiku

Release Date: July 19, 2019 (Japan)

Official Website: http://tokyoghoul.jp/

Tokyo Ghoul S Live-Action Film Shown & Cast Give Q&A at Japan Expo in France

The sequel to the live-action film Tokyo Ghoul, entitled Tokyo Ghoul S, will be released on July 19, 2019. The first film dropped in 29 countries around the world in July 2017 and went on to become a huge hit. The sequel features a whole new staff team with returning cast members.

Tokyo Ghoul S was shown at the 20th Japan Expo event in Paris, France on July 7, the first pre-release screening since its premiere in Tokyo. Several cast members including Masataka Kubota (Ken Kaneki), Shota Matsuda (Shū Tsukiyama) and Maika Yamamoto (Touka Kirishima) as well as the film producer Tomohiro Nagae appeared at the event for a Q&A session with fans.

The French fans welcomed the staff on stage with a round of applause as Kubota and Matsuda greeted them with a "Bonjour!" They got straight into the Q&A, with Kubota, who plays the half-ghoul Kaneki, explaining to the crowd, "All of you eat meat and vegetables, but ghouls are only able to eat people."

He continues, "People go mad when it's them who are to be eaten. But I think that's part of the appeal of this movie."

The producer Nagae elaborated on the film's deep theme: "One thing about this film is how universal its theme is. No matter where you go in the world, it's mutual. Humans and ghouls experience much drama throughout the franchise, but this also applies to those close to you. When you're watching the film, try thinking what would happen if you yourself became a ghoul."

When asked about their favourite characters in the films, Kubota answered Juzo Suzuya, Matsuda answered Kaneki, and Yamamoto said her own character Touka.

Matusda also earned huge cheers from the crowd with his Tsukiyama-like answer, saying: "In this film Tsukiyama says for the first time since meeting Kaneki that he wants to eat him, so now I can't think of anything else but him."

When asked what fans should look forward to in this film, Kubota simply said "Shota Matsuda!" Matsuda followed this up saying, "I believe this is a romance film between Tsukiyama and Kaneki. Look forward to that aspect of it too."

©Sui Ishida / Shueisha   ©2019 "Tokyo Ghoul S" Production Committee

Information

Tokyo Ghoul S

Based On: Tokyo Ghoul (Young Jump Comics, Shueisha) by Sui Ishida

Directors:Hiramaki Kazuhiko / Takuya Kawasaki

Screenwriter: Chūji Mikasano

Distributed by: Shochiku

Release Date: July 19, 2019 (Japan)

Official Website: http://tokyoghoul.jp/

Ginza's Hidden Tokyo Ghoul Restaurant Receives Extended Opening Period

To celebrate the upcoming July 19 release of Tokyo Ghoul S, Japanese movie studio and production company Shochiku opened its 'immersive' blood-themed Tokyo Ghoul restaurant on July 5. The location of the restaurant has been kept a secret, but it is somewhere in Ginza, wrapped in 40,000 beautiful roses.

The restaurant was originally set to stay open until August 4, but due to all tickets for its 31-day run selling out in just three days, it has been extended until August 18. Tickets for these extra two weeks will go on sale on the restaurant's official website on July 12 at noon (JST).

Tokyo Ghoul Restaurant Details: The Location of This Bloody Rose Tokyo Ghoul Restaurant in Ginza is a Secret

Die-hand fans of Tokyo Ghoul aren't going to want to miss out on this exclusive ghoulish gourmet experience.

Information

Ghoul Restaurant

Running: July 5, 2019 – August 18, 2019 (*extended by two weeks)

Opening Hours: Two Slots – Slot ① Meeting 17:00 / Dining 17:30-19:30, Slot ② Meeting 20:00 / Dining 20:30-22:30

Location: Somewhere in Ginza (*Those who purchase a ticket will be told the exact location)

Official Website: http://afroand.co/ghoulrestaurant/

Tokyo Ghoul:re Cafes in Ikebukuro & Nagoya Receive Opening Extension

The Tokyo Ghoul:re cafes based on the popular manga series, which are running at the Ikebukuro and Nagoya branches of THE GUEST Café & Diner: they will now run until July 28 and 29 respectively. The Fukuoka and Sapporo cafes will continue to run until June 30.

The cafes are serving up a menu of food, drinks and desserts inspired by the series as well as decor and decorations.

Kaneki's Mask Curry: ¥1,490 (Before Tax)

When you order Kaneki's Mask Curry it comes with a drink or sparkling non-alcoholic beverage of your choice served in a vessel inspired by Kaneki's mask. You'll look like Kaneki too when drinking out of it.

Tsukiyama's Gourmet Roast Beef: ¥1,590 (Before Tax)

This roast beef dish is inspired by Tsukiyama, also known as the "Gourmet" in the series. The dish includes cheese that looks like an eyeball, pasta made to look like ears, and of course the meat.

Quinque Rice Flour Dumpling Sweet Red Bean Soup: ¥1,390 (Before Tax)

The name of this dish says it all―dango made in the image of characters' Quinques. It also comeos with a bowl of strawberries, chestnuts and rice flour dumplings.

Torso's Milk Tea: ¥790 (Before Tax)

Fans of the series will recall Karao Saeki a.k.a "Torso." He gets his name from being a ghoul serial killer as he decapitates and dismembers his victims, leaving only the torso. This beverage includes bloody red berry sauce which is best enjoyed when mixed into the milk tea

Customers at the cafe will receive the above-pictured lunch mat exclusive to the cafe. Those who order a drink will also receive one of 12 possible coasters chosen randomly.

Several pieces of merchandise are also being sold.

Tokyo Ghoul:re Slider Pouches: ¥900 Each (Before Tax)

Tokyo Ghoul:re Tapestries: ¥2,500 Each (Before Tax)

If you're in Japan this summer, don't miss this opportunity to visit the Tokyo Ghoul:re Cafe.

©️Sui Ishida / Shueisha

Information

Tokyo Ghoul:re Café List

THE GUEST Café & Diner (Ikebukuro PARCO Main Building Floor 7F)

Address: 1-28-2 Minami-Ikebukuro, Toshima Ward, Tokyo

Running: June 6, 2019 – July 28, 2019

Opening Hours: 10:00-22:00 (Food Last Orders 21:00 / Drinks 21:30)

*Merchandise shop open 10:00-21:00

THE GUEST Café & Diner (Nagoya PARCO West Building Floor 8F)

Address: 3-29-1 Sakae, Naka Ward, Nagoya, Aichi Prefecture

Running: May 17, 2019 – July 29, 2019

Opening Hours: 10:00-21:30 (Food Last Orders 20:30 / Drinks 21:00)

*Merchandise shop open 10:00-21:00

THE GUEST Café & Diner (Fukuoka PARCO Main Building Floor 5F)

Address: 2-11-1 Tenjin, Chuo Ward, Fukuoka, Fukuoka Prefecture

Running: May 31, 2019 – June 30, 2019

Opening Hours: 10:00-20:30 (Food & Drink Last Orders 20:00)

THE GUEST Café & Diner (Sapporo PARCO Floor 4F)

Address: Minami 1 Jonishi, Chuo Ward, Sapporo, Hokkaido

Running: May 24, 2019 – June 30, 2019

Opening Hours:

[Weekdays & Sunday] 10:00-20:00 (Food Last Orders 19:00 / Drinks 19:30)

[Saturday] 10:00-20:30 (Food Last Orders 19:30 / Drinks 20:00)

Café Website: http://the-guest.com/

New Tokyo Ghoul S Trailer Narrated by Tsukiyama's Anime Voice Actor Mamoru Miyano

A premiere event was held in Tokyo on June 11 for the forthcoming release of Tokyo Ghoul S―the sequel to the live-action film Tokyo Ghoul―which is set for release on July 19. It was revealed at the event that QUEEN BEE will perform the main theme Introduction and a new trailer was shown showcasing the track.

Now, an all-new trailer has been released and it features narration by Mamoru Miyano, the voice actor for Shuu Tsukiyama in the Tokyo Ghoul anime adaptation. Tsukiyama is played by Shota Matsuda in the upcoming film.

Speaking about the narration, voice actor Mamoru Miyano commented: "Tokyo Ghouland Shuu Tsukiyama are both irreplaceable things for me, so I feel honoured to be involved once again like this. I was really overjoyed that the staff were excited about my narration [laughs]. But what's more is that Shota Matsuda's Shuu Tsukiyama is simply amazing. I really was thrilled! Just watching the trailer my heart skipped a beat at his sexiness, so I want to see the whole movie already! Please look forward to its release!"

©Sui Ishida / Shueisha   ©2019 "Tokyo Ghoul S" Production Committee

Information

Tokyo Ghoul S

Based On: Tokyo Ghoul (Young Jump Comics, Shueisha) by Sui Ishida

Directors:Hiramaki Kazuhiko / Takuya Kawasaki

Screenwriter: Chūji Mikasano

Distributed by: Shochiku

Release Date: July 19, 2019 (Japan)

Official Website: http://tokyoghoul.jp/

Tokyo Ghoul S Cast Members Speak at Tokyo Premiere Event

A premiere event was held in Ebisu, Tokyo on June 11 for the upcoming live-action film Tokyo Ghoul S which is set to hit Japanese cinemas on July 19. Members of the cast attended the event, including Masataka Kubota who is reprising his role as Ken Kaneki in the sequel movie.

The event began outdoors on a specially-built stage. The guests were welcomed by a flurry of applause as they stepped onto stage dressed in chic outfits. Kubota began by calling, "This summer is…" to which fans responded "Tokyo Ghoul!" He stood before the fully-packed crowd and expressed his enthusiasm for the film: "Tokyo Ghoul S is the sequel to the last film. It has a sense of realism, but in places it's also gentle, and in others it's eerie. I can say with confidence that we have been able to create an incredible movie."

Masataka Kubota will play Ken Kaneki

The event then moved into The Golden Hall where guests greeted the crowd and talked about the upcoming movie. Kubota said: "The cast, including the new character Tsukiyama (Matsuda) as well as Touka (Yamamoto), have all stirred [their characters] in a new way. Because of that, I believe even those who didn't watch the first movie will be able to enjoy this one."

Kubota, Matsuda and Touka shot many scenes together and mentioned how the three of them kept in close contact even after the shooting had finished.

Shota Matsuda will play Shuu Tsukiyama

Maika Yamamoto will play Touka Kirishima

At the end of the event, Kubota announced that QUEEN BEE's song Introduction will be used as the film's main theme. A new trailer was then shown which includes a sneak peek at the song. You can watch it below.

Tokyo Ghoul S 90-Second Trailer

Kubota praised the song for being simultaneously uptempo and wild which he said was a perfect match for the movie. He also expressed his hope for people to be glued to their seats and fully immersed in the film.

Matsuda explained how he tried to think of Tokyo Ghoul S as a romance during the shooting of the film and challenged himself to really think that he wanted to eat Kaneki. Kubota responded to this, saying that the film is packed full of loved from Matsuda.

©Sui Ishida / Shueisha   ©2019 "Tokyo Ghoul S" Production Committee

Information

Tokyo Ghoul S

Based On: Tokyo Ghoul (Young Jump Comics, Shueisha) by Sui Ishida

Directors:Hiramaki Kazuhiko / Takuya Kawasaki

Screenwriter: Chūji Mikasano

Distributed by: Shochiku

Release Date: July 19, 2019 (Japan)

Official Website: http://tokyoghoul.jp/

QUEEN BEE to Perform Tokyo Ghoul S Live-Action Film's Main Theme

Masataka Kubota, who is reprising his role as Ken Kaneki in the upcoming live-action film Tokyo Ghoul S, announced at the film's premiere at The Golden Hall in Ebisu that QUEEN BEE will perform the movie's main theme song.

The song is titled Introduction and is taken from QUEEN BEE's new album Ju which hit shelves in May. The band also previously performed the song HALF as the ending theme for the TV anime series Tokyo Ghoul:re.

QUEEN BEE released a new artist photo to promote the new collaboration.

Speaking about their return to the franchise once again, QUEEN BEE's vocalist Avu-chan commented: "Talks began on the day when we had finished everything on our album Ju―the music, the photos, and the music videos […] Introduction is the last song on the album. It's a song that follows the road down ten years of QUEEN BEE, and we are honoured that it will begin as the theme song for Tokyo Ghoul S. Please look forward to it."

©Sui Ishida / Shueisha   ©2019 "Tokyo Ghoul S" Production Committee

Information

Ju

Released: May 22, 2019

First Press Limited Edition (CD+DVD): ¥4,500 (Before Tax) [AICL-3700〜3701] *Includes 84-page booklet & sticker sheet

Regular Edition (CD-Only): ¥3,000 (Before Tax) [AICL-3702]

QUEEN BEE Official Website: http://www.ziyoou-vachi.com/

Tokyo Ghoul S

Based On: Tokyo Ghoul (Young Jump Comics, Shueisha) by Sui Ishida

Directors:Hiramaki Kazuhiko / Takuya Kawasaki

Screenwriter: Chūji Mikasano

Distributed by: Shochiku

Release Date: July 19, 2019 (Japan)

Official Website: http://tokyoghoul.jp/

Tokyo Ghoul S Live-Action Film Scene Teasers Showcase Kaneki, Touka, Tsukiyama & Others

New photos have been unveiled showcasing the cast in various scenes from the upcoming sequel to the live-action Tokyo Ghoul film, entitled Tokyo Ghoul S.

We see protagonist Kaneki (Masataka Kubota) donning his Anteiku work attire as well as a shot of his Kakugan, or "red eye"―a state ghouls go in when they are hungry or when they use their Kagune, a predatory organ which is used as a ghoul's weapon.

We also see Touka (Maika Yamamoto) pulling a fighting pose as she stands off against Tsukiyama, her and Kaneki's arch-enemy.

Other cuts include those of Kaneki-obsessed gourmet Shuu Tsukiyama (Shota Matsuda) where he encounters Kaneki at Anteiku, and another where he is facing off against Kaneki while smirking an evil smile.

We also see Kaneki's best friend Hideyoshi Nagachika (Kai Ogasawara) chatting with Kaneki as well as the ghoul Nishiki Nishio (Shunya Shiraishi) and his human lover Kimi Nishino (Mai Kiryu).

Finally, we see Itori (Jiyoung) whispering something into Kaneki's ear.

Tokyo Ghoul S will be released in Japan on July 19, 2019.

©Sui Ishida / Shueisha   ©2019 "Tokyo Ghoul S" Production Committee

Information

Tokyo Ghoul S

Based On: Tokyo Ghoul (Young Jump Comics, Shueisha) by Sui Ishida

Directors:Hiramaki Kazuhiko / Takuya Kawasaki

Screenwriter: Chūji Mikasano

Distributed by: Shochiku

Release Date: July 19, 2019 (Japan)

Official Website: http://tokyoghoul.jp/

The Location of This Bloody Rose Tokyo Ghoul Restaurant in Ginza is a Secret

To celebrate the upcoming July 19 release of Tokyo Ghoul S, Japanese movie studio and production company Shochiku is opening an 'immersive' blood-themed Tokyo Ghoul restaurant from July 5 to August 4. The location of the restaurant is being kept a secret, but it is somewhere in Ginza, and is wrapped in 40,000 roses.

The Ghoul Restaurant makes an appearance in the film itself as a secret eatery where ghouls go to dine. This immersive recreation is a combination of interactivity, gourmet food, and performance and display put on by professionals.

Much of the interactive content that can be found in the restaurant was produced by AFROMANCE, such as the "SAKURA CHILL BAR by Saga," an indoor hanami experience with a littering of 1.2 million rose petals.

The entire restaurant will be steeped in an overwhelming deep crimson.

The gourmet ghoul menu was conceived by Hideo Yamamoto, a chef at the famous modern French restaurant Restaurant Air.

The creative menu brings together taste and beauty by using luxurious and high quality ingredients such as foie gras.

Performances will be carried out by live entertainment company Out Of Theater, film director and producer Issei Shibata, and video game and and visual effects company Polygon Magic. From the moment you enter to when you are dining to when you leave, you will be thrown into the world of the Ghoul Restaurants as a string of actors do the unpredictable.

Fans of Tokyo Ghoul aren't going to want to miss out on this once-in-a-lifetime opportunity. Details on what you need to do next can be found below.

Information

Ghoul Restaurant

Running: July 5, 2019 – August 4, 2019

Opening Hours: Two Slots – Slot ① Meeting 17:00 / Dining 17:30-19:30, Slot ② Meeting 20:00 / Dining 20:30-22:30

Location: Ginza (*Those who purchase a ticket will be told the exact location)

Menu: Blood & Rose Gourmet Dinner Course – ¥10,000 (Before Tax)

*Tickets will be released on June 14, 2019 at 12:00 (JST) at the official website below

Official Website: http://afroand.co/ghoulrestaurant/

Tokyo Ghoul S

Based On: Tokyo Ghoul (Young Jump Comics, Shueisha) by Sui Ishida

Directors:Hiramaki Kazuhiko / Takuya Kawasaki

Screenwriter: Chūji Mikasano

Distributed by: Shochiku

Release Date: July 19, 2019 (Japan)

Official Website: http://tokyoghoul.jp/