Fashion brand jóuetie have styled 20 models for their famous 20 It GIRLS in COLOR HOOD DOWN photo collection, featuring "it girls" Ai Takahashi, Dream Ami, Nicole Fujita.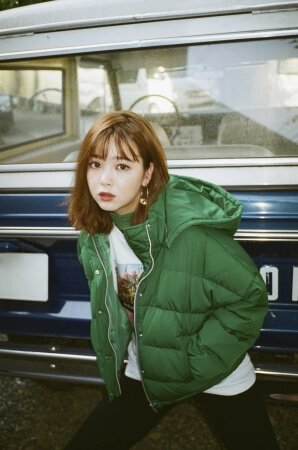 Having sold 8,000 last year, jóuetie's "COLOR HOOD DOWN" just kept selling, and this year, it's even having a complete upgrade! The big silhouette, large hood-style is still continuing. Now with the addition of sleeves, it's getting hotter!
On each day of the "20 It GIRLS in COLOR HOOD DOWN" season, an image of a model in a colourful, hood-down outfit will be posted on jóuetie's official Instagram website. A specific street spot that compliments the girls' chosen colours and style is carefully chosen for the photo. With street-style as the base of the photos, jóuetie offers a range of styles for fans to enjoy from rock to trendy to girly.
This year, two trendy colours: green and purple, have been added to the collection, making a total of five colours! The most popular item is the 70% down, 30% phaser jacket, which is warm and light. This item is so popular that it's been pre-ordered more than 5,000 times!
Enjoy a new level of fashion brought to you by your favourite models!
■Information
20 It GIRLS in COLOR HOOD DOWN limited periods:
Monday 3rd – Friday 7th September
Monday 17th September – Friday 21st September
Monday 1st October Friday 5th October
Monday 15th October – Friday 19th October
jóuetie Instagram:https://www.instagram.com/jouetie_official/ ※ On 07/09,  21/09, 05/10,  and 19/10, the styles of the 5 models will be summarised on the RUNWAY channel special edition website.
RUNWAY channel special edition website: http://s.runway-ch.jp/jt_down0907
Models:
Nico Ando, Arisa Ushimaru (yonige), Rinka Kumada, Kurumi, Ai Takahashi, Mei Tanaka,, Dream Ami,Risa Nakamura, 、Tomoco Nozaki, Rina Fukushi, Emily Fujita, Nicole Fujita, PORIN (Awesome City Club), MAMI(SCANDAL), miu, Ayana Miyamoto, Serena Motola, 、Chisato Yoshiki, Mayū Yokota, Ruka Xing.
Official site:https://jouetie.com/