Help Name the Giant Panda Cub at Adventure World in Wakayama
The giant panda cub born at Adventure World on August 14, 2018 has now turned 28 days old.

She is the smallest panda cub to be born at the wildlife park. Staff are monitoring her and her mother Rauhin 24 hours a day. The cub cannot walk yet but she's now able to crawl around in her incubator.
The staff have noted they often see the mother is helping her baby to excrete and also lick her body clean while hugging her. Thanks to her mother's love, the cub's fur has turned a faint pink. She grows bigger and cuter by the day.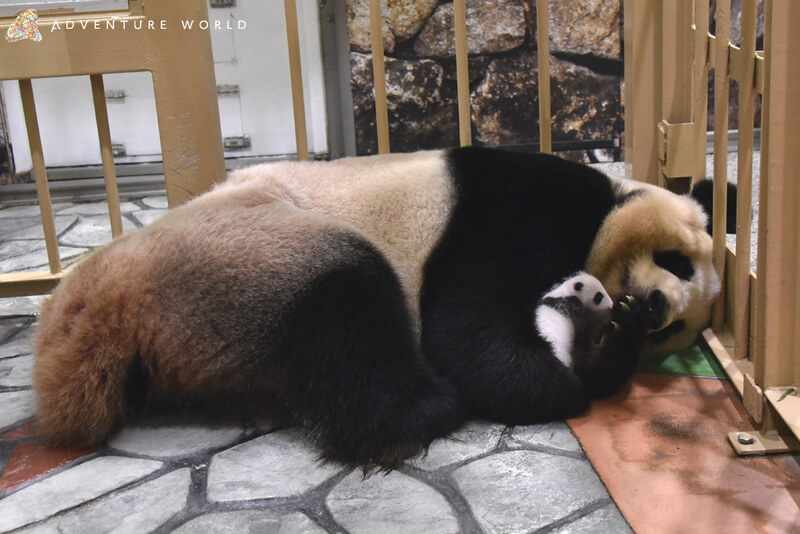 Adventure World has announced that it will open the panda to the public and take applications for possible names on September 13. The website for name applications is available in English and Chinese so more people can submit their ideas.
Will you be the one to name her?
■Information
Adventure World
Address: 2399 Katata, Shirahama-cho, Nishimuro-gun, Wakayama Prefecture
Adventure World Official Website: http://www.aws-s.com/
Giant Panda Cub Public Viewing
Location: Breeding Centre (The cub will be with her mother during the viewing so you can see them interacting)
Opening Date: September 13, 2018
Viewing Times: 10:15am-10:35am / 2:40pm-3:00pm
*Viewing times are subject to change depending on the baby's growth. Viewings may also be changed or cancelled depending on her condition.
Giant Panda Cub Naming Applications
Application Window: September 13, 2018 – November 16, 2018
Ways to Apply
①Application paper given at Adventure World
②Application webpage: https://contact-aws.com (Available in English, Japanese and Chinese)
*Names will be selected by Adventure World's Baby Panda Christening Committee.
*The chosen name will be announced at Adventure World and on the park's official homepage.
"Giant Panda Family Site" (Updated Everyday)
You can see the growth record, photos and video footage of the baby panda on the Giant Panda Family Site. Be sure to check it out below.
RECOMMENDED ENTRIES
Matcha Flavoured 'Panda Poop' Sold at Ueno Land

Panda no Unko ('Panda Poop') is a matcha flavoured wheat gluten snack created b veteran fu (wheat gluten) makers Matsuo, and it's now available at Ueno Station.

Located opposite the ticket barriers of Ecute Ueno is the souvenir shop Ueno Land who have been selling the Panda no Unko matcha snack since March. The popular confectionery is associated with Xiang Xiang, the giant panda that was born inside Ueno Zoo in June last year. Oozu received a request to create a fun product to be sold at Ueno Land that can't be found anywhere else, and so teamed up with Matsuo, a producer of what gluten products based in the city of Hirosaki in Aomori Prefecture.

Just as the name suggests, Panda no Unko looks just like baby panda poop. It's bite-sized at 5-6cm and sprinkled with Kyoto matcha. Bags (80g) were sold for ¥594 each in March, and the 300 or so bags in stock sold out in 300 days. They are now sold as an official product and when it comes to the weekend will sell 200 a day.

They are all handmade so not a lot can be prepared. Because of that, there's a chance they may sell out. If you manage to get some, then consider yourself lucky!

Get your hands on some lucky panda poop.

■Information

Panda no Unko

Price: ¥594
Weight: 80g
Made in Japan.

Ueno Land PRODUCED by Kenelephant
Address: 7-1-1 Ueno, Taito-ku, Tokyo (JR East Ueno Station 3F)
Opening Hours: 08:00-22:00 (Sundays & Holidays until 21:30)

TEL: 03-6231-7780
Website: https://www.pandanounko.com/

Giant Panda Cub at Adventure World in Wakayama Turns 8 Days Old

A female giant panda was born at Adventure World, a wildlife park with a panda exhibition in Shirahama, Wakayama, on August 14, 2018. She turned 8 days old on August 22.

She is the smallest giant panda cub ever to have been born at Adventure World and the first to be born in two years. She is well fed by her mother Rauhin, drinking from her six to seven times a day. Her weight has increased from 75.0g when she was born to 96.0g, and her height from 15.5cm to 18cm. Details as to when she can be viewed by the public will be released at a later date. For now, the mother and child are being observed by the park.

The new cub marks the 16th panda looked after by Adventure World. Rauhin was first born at the park on September 6, 2000. Eleven of the pandas born and raised there have traveled to China. Four of them are used for breeding and have raised twelve children as of November 2017.

There are said to be just 1,800 giant pandas in the wild. To ensure their protection and increase their survival, important research is being carried out to breed them. Adventure World opened in 1994 as the Japanese subdivision of the Chengdu Research Base of Giant Panda Breeding. Both country's worked together and started the world's first breeding lawn for the natural breeding of giant pandas.

The same facility also runs the 'Shiawase Keikaku' (Happiness Plan) which ensures the happiness of the giant pandas and all of the people involved with them.

Let's look forward to the public unveling of the new addition of the Adventure World panda family.

■Information

Adventure World

Address: 2399 Katata, Shirahama-cho, Nishimuro-gun, Wakayama Prefecture

Adventure World Official Website: http://www.aws-s.com/

Ride the Xiang Xiang Panda Bus for Free in Ueno

In accordance with Ueno Museum Week which is running from May 5 to May 20, the new Panda Bus is being introduced at Ueno no Renkai, Ueno Marui and Matsuzakaya Ueno and can be ridden for free.

Since the birth of Xiang Xiang, the giant panda living at Ueno Zoo, there has been panda fever in Ueno. Keeping with the excitement, the new panda bus will now ride around the town.

Sitting inside the bus will be plushies of Daimaru and Matsuzakaya's original character Sakura Panda along with black and white panda plushies.

The seat covers also have panda ears on them. If you're a panda lover then be sure to look out for the Panda Bus and climb aboard!

■Information

Panda Bus – Departure Times
9:00-12:00 / 13:00-18:00

*Not running at 12:00-13:00

Departure Points & Timetable
Matsuzakaya Ueno: Every 30 minutes on the hour (xx:00) and half past (xx:30)
Tokyo National Museum: Every 30 minutes at quarter-past (xx:15) and quarter-to (xx:45)
Ueno Marui: Every 30 minutes at twenty-five-past (xx:25) and five-to (xx:55)

*Depending on unpredictable circumstances the bus may arrive late.

*The bus seats 23 passengers, so there may be a chance you cannot board.

Website: http://www.pandabus.net
RELATED ENTRIES
Shirahama Marriott in Wakayama to Offer Panda-Themed Getaway

Adventure World, a zoo and theme park in Shirahama, Wakayama prefecture, is teaming up with the Nanki-Shirahama Marriott Hotel to celebrate the first birthday of baby panda Fuhin. This room plan will only be available from November 1, 2021, until March 31, 2022, and will include a fully themed room, an original mini-photo book of the panda's growth to date, and plenty of other Fuhin amenities and goods!

Fuhin 1st Anniversary Room

Collaboration Burger 'Marriott Panda Burger' 

The Fuhin 1st Anniversary Room is a mixed Japanese-Western style room with an ocean view. The walls, blankets, and tatami are all covered in panda imagery, while portions of the room's lighting are made from bamboo as a part of Adventure World's quest to create more sustainable products. The special 'COCOAR' app will also allow guests to enjoy a moving photo frame featuring Guhin by holding their smartphone over the word 'Fuhin' on the wall. 

The limited-time Marriott Panda Burger uses the same recipe as the normal burger, but with a panda-shaped bun created along with Adventure World staff. How would you like to come and celebrate Fuhin's birthday beside the sea? 

Your Favorite Panda Instagram Campaign

By taking a picture of one of the seven giant pandas at Adventure World (Eimei, Rauhin, Ouhin, Touhin, Yuhin, Saihin, Fuuhin) and posting it to Instagram with the two campaign hashtags (#推しパンダマリオット and #InsertFavoritePandasNameHere), 20 winners will be selected to receive special Adventure World goods!

Information

Kaedehama 1st Anniversary Room Stay

Address: Nanki-Shirahama Marriott Hotel

Reservations Open October 6, 2021

Running: November 1, 2021 – March 31, 2022

Details: https://www.shirahama-marriott.com/special/panda/

Official Site: www.MarriottHotels.com

Marriott Panda Burger

Available Starting November 1, 2021

Price: ¥3,270

Where: Nanki-Shirahama Marriott Hotel Lounge

Your Favorite Panda Instagram Campaign

Running: November 1, 2021 – January 31, 2022

How to Enter: 

① Install the Instagram App.

② Follow Adventure World (@adventureworld_official) and Nanki Shirahama Marriott Hotel (@nankishirahamamarriott).

③ Post a picture of your favorite panda along with the hashtag MyFavoritePandaMarriott (#推しパンダマリオット) and the second hashtag including your favorite's name along with a picture of your favorite panda!

The winners will be announced on the official Nanki-Shirahama Marriott Hotel Instagram page in February 2022. 

"Katanukiya" opens in Fukuoka, Selling Kumamon Katanuki Baum for Limited Time Only

Ginza-based Katanukiya, a store that specializes in shaped Baum, will be opening a limited-time shop in Daimaru Fukuoka Tenjin between October 1 and October 31. The store will stock both the 'Panda Series' and panda sable. 

Kumamoto Panda Baum: ¥594 (Tax Incl.)

Kumamon Shaped Katanuki Baum: ¥540 (Tax Incl.)

Ghost Panda Baum: ¥540 (Tax Incl.)

Panda Baum: ¥540 (Tax Incl.)

Amabie Baum: ¥540 (Tax Incl.)

 

The new 'Kumamoto Panda Baum' will be debuting at the Daimaru Fukuoka Tenjin store, along with the 'Kumamon Shape Katanuki Baum.' A new baum featuring the Amabie, a creature which is said to have appeared in Kumamoto during the Edo period and represents a bright, hopeful future, will also be available. Why not enjoy some cute character Baum this Autumn?

 

Information

Katanukiya Limited-time Shop

Shop Duration: October 1 ~ October 31 2021

Location: Daimaru Fukuoka Tenjin, Main Building 2F Confectionery Exhibition Hall

Official Site: https://www.daimaru.co.jp/fukuoka/ 

Hard Rock Cafe at Ueno Station to Sell Goods Commemorating Birth of Twin Pandas at Ueno Zoo

American music-themed restaurant Hard Rock Cafe has locations across Japan, and the Ueno location is now selling some very cute black-and-white goods. At the nearby Ueno Zoo, the oldest in Japan, two giant pandas were recently born, and that's cause for celebration! Limited quantities of these goods will be on sale at the physical location and online starting September 18, 2021!

Twin Pandas Pin #1

Twin Pandas Pin #2 (Only available at Online Shop.) 

These two original pins depicting the two newly-born pandas with the Hard Rock's signature guitar are available in gold (online only) and silver. 

Panda T-shirt

Grab one of these before they sell out–they're going quick! This cute original design will look perfect as you walk through the zoo gates, ready to show your love for pandas and rock music. 

Guests presenting an Ueno Zoo ticket stub or annual pass at the Ueno Hard Rock Cafe location will receive 10% off. (Full details available on the Hard Rock Cafe website.)

Congrats to the happy family!

Information

Hard Rock Cafe Ueno Station Tokyo – Twin Giant Panda Commemorative Goods

On Sale: 

Ueno Station Tokyo Location: September 18, 2021 

Address: atré Ueno 1F (7-1-1 Ueno, Taito-ku, Tokyo)

Official Online Shop: Preorders begin September 17, 2021 10:00AM

Official Online Shop: https://hrcjapan.official.ec/

Healing 'Panda' Sweets Available at Gelato Pique Café for a Limited Time

A selection of healing monotone panda sweets will be available at the Gelato Pique Café between September 6 and September 25. The collection is titled "everyday PANDA! ~Sweets Time with Pandas~."

Menu


Panda Crepe

Panda Gelato

Panda Float

Goods

Gelato Pique Café Original Panda Glass/Mug
Available from September 6


Gelato Pique Panda Motif Eco Bag / Panda Motif Hand Towel
Online reservations open September 2, available instore from September 8


In 2021, the Gelato Pique Café announced two rounds of animal themed sweets, proving hugely popular on social media. For Easter they released "Bunny Sweets" with rabbit ears motifs, while a series of "Polar Bear Sweets" was released during the Summer. Now, a selection of "Panda Sweets" is the latest to join the animal collection. 

 

The chocolate and banana Panda Crepe is filled with a healing ganache and banana,  while the Panda Gelato has cocoa biscuits studded around the pandas neck, along with rounded eyes and ears. The "healing monotone" Panda Float combines the Gelato Pique Café's original Guatemalan coffee blend with Royal Blue Bourbon.

 

Along with this "everyday PANDA!" Fair, we have a large lineup of panda goods that will make you happy just by having them.  Goods that are perfect for presents, souvenirs, and rewards for yourself can be purchased at each gelato pique cafe store and EC site, so please look forward to that too!

There is a huge lineup of panda goods that will brighten your day releasing alongside the "everyday PANDA" fair, which make perfect gifts for friends – or yourself! You can view the goods lineup in store and on the Gelato Pique website.

Wakayama Culture Festival 2021 Coming to Shibuya

ASOBISYSTEM, in cooperation with the Agency for Cultural Affairs, will hold the Kinokuni Wakayama Culture Festival 2021 in Shibuya on October 3, 2021. The event will be free to attend, and will take place at Shibuya CAST, a modern commercial facility located between Shibuya and Harajuku.

The Kinokuni Wakayama Culture Festival 2021, taking place in Wakayama Prefecture from October 30 to November 21, is the one of the largest cultural festival in Japan. This event will bring many popular presentations and goods from Wakayama to Shibuya, allowing Tokyo residents to experience some of the beauty and traditions of this area of the Kansai region. A number of celebrity guests will be in attendance, and local Wakayama goods will be on sale. Measures will be taken during the event to prevent the spread of COVID-19.

Promoting the Wakayama Culture Festival Throughout Shibuya!

In a special collaboration with SHIBUYA TELEVISION, the largest media outlet in the Shibuya area, a promotional video produced in Wakayama Prefecture will be aired on eight large screens in the Shibuya area from September 27 to October 3. Select restaurants in Shibuya will also serve dishes featuring ingredients from Wakayama for a limited time.

Get the Wakayama Panda Mask Cover for Attending!

An original Wakayama Panda Mask Cover, produced by ASOBISYSTEM, will be given to visitors on the day of the event. *Quantity limited.

If you're in the Tokyo area, be sure to come out to this special event where you can experience the charm of Wakayama!

Information

Kinokuni Wakayama Culture Festival 2021 in Shibuya

When: October 3, 11:00-17:00

Where: Shibuya CAST. (1-23-21, Shibuya, Shibuya-ku, Tokyo)

Entry: Free

Content: Wakayama Product Market / Stage Show, etc.

Guests: To Be Announced

Organized by: Agency for Cultural Affairs
Planning: ASOBISYSTEM / Channel 47

Twitter: https://twitter.com/wkym2021_sby

* In order to prevent the spread of COVID-19, the event may be subject to admission restrictions, changes in content, or performance cancellations.

Baumkuchen Specialty Shop Katanukiya Offers Limited-Edition Panda Cake at New Location

On September 1, Baumkuchen specialty shop Katanukia opened its second location on the second floor of Tokyo Solamachi, beneath Tokyo Skytree. These traditionally German cakes are extremely popular in Japan, and using a cookie cutter can transform them into works of art! To commemorate the new shop, the Tokyo Solamachi location will sell a limited-edition Panda Baumkuchen that is almost too cute to eat.

Panda Baumkuchen

Starry Sky Panda Baumkuchen: ¥594 (Tax Included)


 

Starry Sky Panda Baumkuchen & Drawstring Bag Set: ¥1,815 (Tax Included)

The special Starry Sky Panda Baumkuchen is made from soft, moist cake, and depicts an adorable panda character ready to gaze at the night sky from Tokyo Skytree, the tallest tower in the world. Children and adults alike will enjoy its gentle milk flavoring.

The Starry Sky Panda Baumkuchen & Drawstring Bag Set includes the signature Baumkuchen, the Starry Sky Panda Baumkuchen, Panda shortbread, and an adorable bag. There will only be 100 of these sets available, so grab one before they're gone!

Is Baumkuchen popular in your country? How would you like to try these cute sweets in Tokyo?

Shiraraso Grand Hotel Announces Traditional Japanese Candle-Making Experience For Guests

As part of the global Sustainable Development Goals (SDGs) project, Shiraraso Grand Hotel is offering a new experience for guests to create shades for warosoku traditional Japanese candles from July 7 to August 31.

Warosoku aren't made with ordinary wax, they're produced from plant-derived Japanese wax. Wakayama was once the biggest producer of this wax. Guests at the hotel will ghet to make their own shade decorations for these candles using decorations like the sea, food, hot springs, and panda.

The hotel is also offering free panda bookmarks to those who post a photo of their shade on Instagram, Twitter, or Instagram with the Japanese hashtag #白良荘グランドホテル.

Hard Rock Cafe Releases Limited-Edition Pins of Ueno Zoo's Panda Xiang Xiang

Hard Rock Cafe Ueno is celebrating the 4th birthday of Ueno Zoo's giant panda Xiang Xiang with a collection of birthday pins. The limited-edition line-up was released on Thursday.

4th Birthday Pin | 300 Available | ¥2,200

4th Birthday Pin 2 | 500 Available | ¥2,200

The two pin designs are limited in stock, the first featuring Xiang Xiang with her mother and father has 300 available, and the second one has the cute giant panda on an aeroplane branded with her birthday date with 500 available.

Both pins capture Xiang Xiang's energetic personality and are cute souvenirs to take home after meeting her at Ueno Zoo.

Information

Hard Rock Cafe x Ueno Zoo Pims
Released: June 10, 2021 at Hard Rock Cafe Ueno Station Tokyo

Address: Atre Ueno Floor 1F, 7-1-1 Ueno, Taito-ku, Tokyo

TEL: 03-5826-5821
Also available online: https://hrcjapan.official.ec/

Hard Rock Japan Official Website: http://hardrockjapan.com/

Ueno's Real-Life Panda Idol Xiang Xiang's 4th Birthday Celebrated With Merchandise Release

Ueno Information Center is celebrating the 4th birthday of Xiang Xiang, the giant panda who was born at Ueno Zoo back in 2017, with the release of a merchandise collection. The line-up arrived on Wednesday and is available both at the information center and via their online store.

Although strict measures are in place at the center to reduce the risk of COVID-19 spreading, celebrations for Xiang Xiang aren't completely cancelled, as fans of the adorable panda, who has become something of an idol in Ueno, can get their hands on some fun goodies.

Ueno Panda Family Memorial Pins 2021 | ¥2,530 (Tax Included)

Ueno Panda Family Clear Pouch YE | ¥2,200 (Tax Included)

Ueno Panda Family Cooling Lunch Tote Bag | ¥1,650 (Tax Included)

The collection features motifs of Xiang Xiang, her mother Shin Shin, and her father Ri Ri. The pin collection, which comes in a gold leaf-laced box, includes Shin Shin in a tree peony, Xiang Xiang amongst the cherry blossoms, and Ri Ri with lotus flowers.

The pouch sees Xiang Xiang happy and energetic with her parents. It comes in a summery yellow and is made from semi-transparent matted vinyl. Perfect for storing away makeup, stationery, and any other bits and bobs.

The cooling bag is made from aluminium on the inside for keeping your food fresh. It's big enough for fitting a bento and 500ml bottle, making it handy for taking your lunch out with you.

Happy 4th Birthday, Xiang Xiang!

Information

Ueno Information Center Xiang Xiang's 4th Birthday Collection

Released: June 9, 2021

Where: Ueno Information Center

Ueno Information Center Official Website: https://uenoinfo.jp/

Ueno Information Center Online Shop: https://edotokyo1.com

Summer Time Rendering Manga Series Themed Escape Game Announced

Japanese escape game creative company SCRAP has announced a brand new game in collaboration with Summer Time Rendering, a manga series written and illustrated by Yasuki Tanaka which concluded in February this year. An anime adaptation for the series has been green-lit.

Shueisha describes the manga's story: "Upon hearing of Ushio's death, Shinpei returns to his hometown of Wakayama City on Hitogashima and reunites with his childhood friend's family. The funeral goes smoothly, but under the surface something strange is brewing on the island. What mysteries await him on this secluded summer island?"

SCRAP's escape game will take place on Tomogashima, an island located in Wakayama which inspired the setting of Summer Time Rendering. Taking place for one day only on July 22, the game will have players solving puzzles and mysterious around the real-life island in order to escape. The game is limited to just 50 groups and a maximum of 100 people. Applications are open now until April 26 and players will be selected randomly.

©田中靖規/集英社

Information

Escape From the Isolated Shadow-Cast Island

Japanese Game Name: 影潜む離島からの脱出

Application Window: April 2, 2021 – April 26, 2021 at 23:59

Date: July 22, 2021

Location: Tomogashima, Wakayama-shi, Wakayama Prefecture

Event Details: https://www.shonenjump.com/p/sp/2021/summer_reald/

New Desserts Arrive at Tokyo's Panda Themed Cafe Mainichi Panda CAFE by Saryo Ginza Seigetsudo

Saryo Ginza Seigetsudo, a cafe located on the 2nd floor of Matsuzakaya Ueno in Tokyo, has been holding its "Mainichi Panda CAFE" event since October last year where it is serving up panda themed food and drink, selling panda plush toys and books, and the cafe itself is decorated with all things pandas.

Mainichi Panda CAFE by Saryo Ginza Seigetsudo is now introducing four new panda desserts, and its exhibition theme is celebrating the birthdays of Ueno Zoo's giant pandas Xiang Xiang and Lili.

Adzuki Bean & Warabimochi Panda Parfait | ¥1,100

Japanese style parfait topped with panda-shaped ice cream.

Panda Jonamagashi & Matcha Set | ¥1,100 *Only 4 served per day

A Japanese 'jonamagashi' confection made to look like a panda wearing a straw hat.

Panda Pancake-Style Dorayaki w/Orange Peel | ¥1,100 (With Coffee ¥1,430)

Saryo Ginza Seigetsudo's signature dorayaki served pancake style and branded with a cute panda face.

Lemon Yogurt Cake Set | ¥1,210

A slice of refreshing lemon and yogurt cake.

Mainichi Panda Exhibition (Excerpt)

The cafe has a special photo exhibition on display of the cute giant panda family that is housed in Ueno Zoo.

Postcards


Postcard image

The first 100 customers who dine at the cafe each day will receive a free postcard of Ueno Zoo's pandas.

If you love pandas, and have visited Ueno Zoo before, then you won't want to miss a visit to Saryo Ginza Seigetsudo.

Information

Mainichi Panda CAFE by Saryo Ginza Seigetsudo
Address: Matsuzakaya Ueno 2F, 3-29-5 Ueno, Taito Ward, Tokyo
Opening Hours: 10:00-20:00 (Last Orders 19:30) *Opening hours subject to change
TEL: 03-3832-1111

Sanrio Gift's New Shop in Ueno Welcomes Hello Kitty Panda Merchandise & More

Sanrio opened a new gift shop called Sanrio Gift Gate in Ueno on January 24, 2020. This is the 107th branch of the gift shop to open in Japan, following the openning of the Asakusa branch which opened in Asakusa last year. Aimed at tourists both Japanese and foreign, it sells merchandise of Sanrio's popular cast of characters.

You can't miss the shop as a giant Pompompurin embracing a panda suit-clad Hello Kitty are waiting to greet you at the entrance. The panda is a symbol of Ueno due to Ueno Zoo housing giant pandas.

The souvenir shop features a range of Ueno exclusives, including a line-up of six popular Sanrio characters wearing panda outfits.

Plush Toys (6 Designs) – ¥2,200 Each / Small Plush Toys (6 Designs) – ¥1,760 Each

Who could resist one of these cute toys? The bigger ones at 16cm tall and the small ones 11cm. The line-up includes fan favourites Hello Kitty, Pompompurin, Cinnamoroll, My Melody, Kuromi, and Pochacco.

There's also pop-up cards with a variety of designs, including one that opens up into Ameya-Yokochō open-air market, another that turns into Hello Kitty and a panda sat down, and more.

Edo-Tamagawaya x Hello Kitty Pink Tonkotsu Ramen – ¥390

Budoonoki Sanrio Character Baumkuchen – ¥594 Each (Hello Kitty/My Melody/Pompompurin/Cinnamoroll)

The Salt Industry Center of Japan x Hello Kitty Table Salt – ¥248

There's also food and snacks amongst a whole range of other goodies, all perfect as gifts and souvenirs.

Be sure to stop by Sanrio Gift Plaza the next time you're in Ueno.

ⓒ 1976, 1996, 2020 SANRIO CO.,LTD. TOKYO, JAPAN  Original Text: SANRIO CO.,LTD.

*All listed prices include tax. Sold items receive stock turnovers.

Information

Sanrio Gift Gate Ueno
Address: Plaza U Bldg. 1F, 4-8-6 Ueno, Taito Ward, Tokyo

Business Hours: 11:00-20:00 (subject to change – please check website for latest info))

Other: Duty-Free/Payment possible with Alipay and WechatPay.
Shop Information: https://www.sanrio.co.jp/shop/sh8122100/