Umeshu Plum Wine KitKat Released at CRAFT SAKE WEEK@KITKAT BAR
KitKat Umeshu is a new product produced by Hidetoshi Nakata specifically aimed at foreign tourists coming to Japan. It was first made available at CRAFT SAKE WEEK@KITKAT BAR, a Japanese sake bar for those coming from overseas, on September 13. The bar will run until September 24 at CITAN, a hostel, cafe and bar in Higashi-Nihombashi. The KitKat was also released for general sale on the Japanese market on September 18.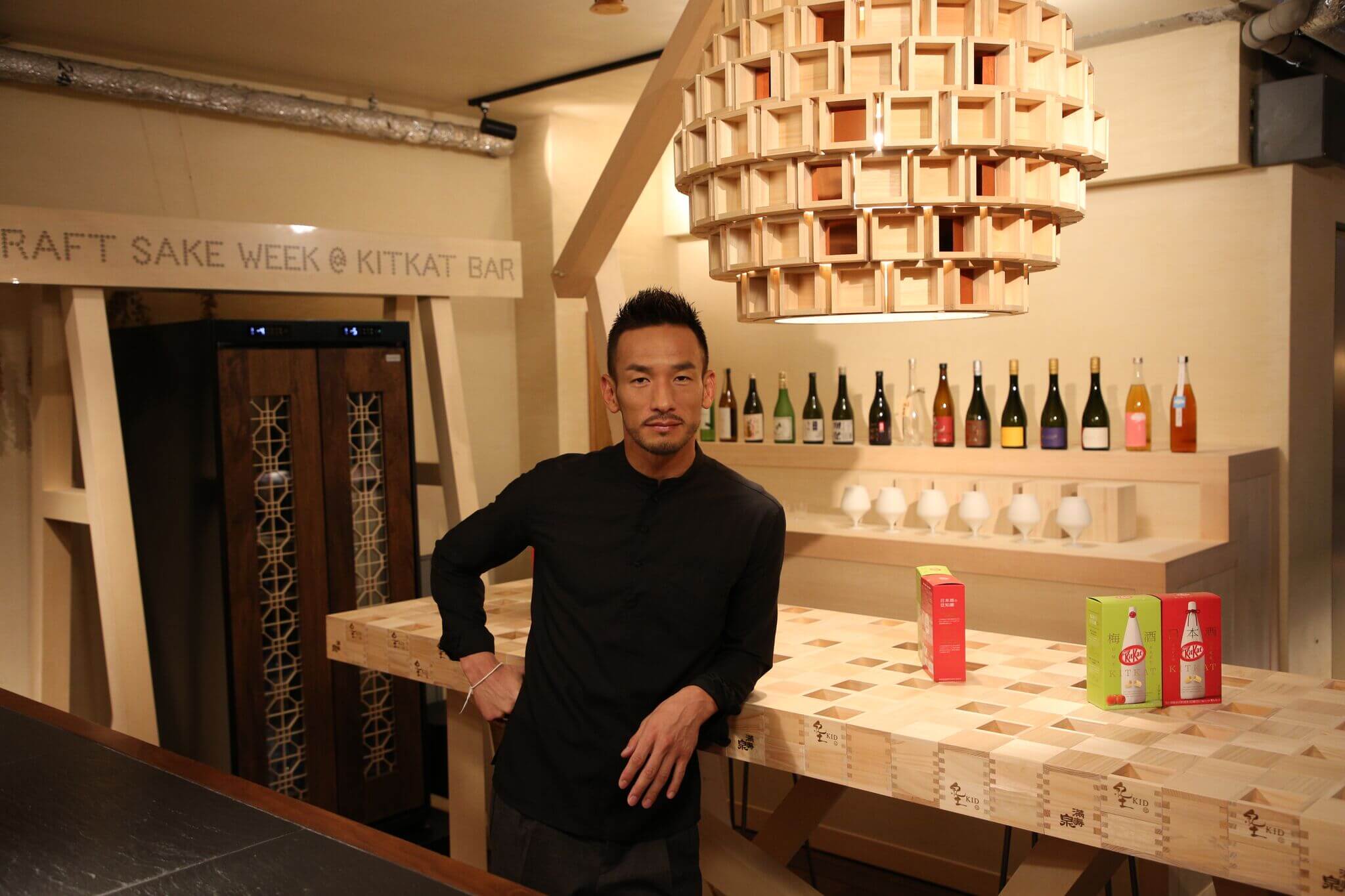 Hidetoshi Nakata toured over 350 sake brewers and with his expertise launched the first Craft Sake Week in 2016, a huge coming together of sake artisans in Japan. The KITKAT BAR is part of that experience which has opened for inbound foreigners to try Japanese sake.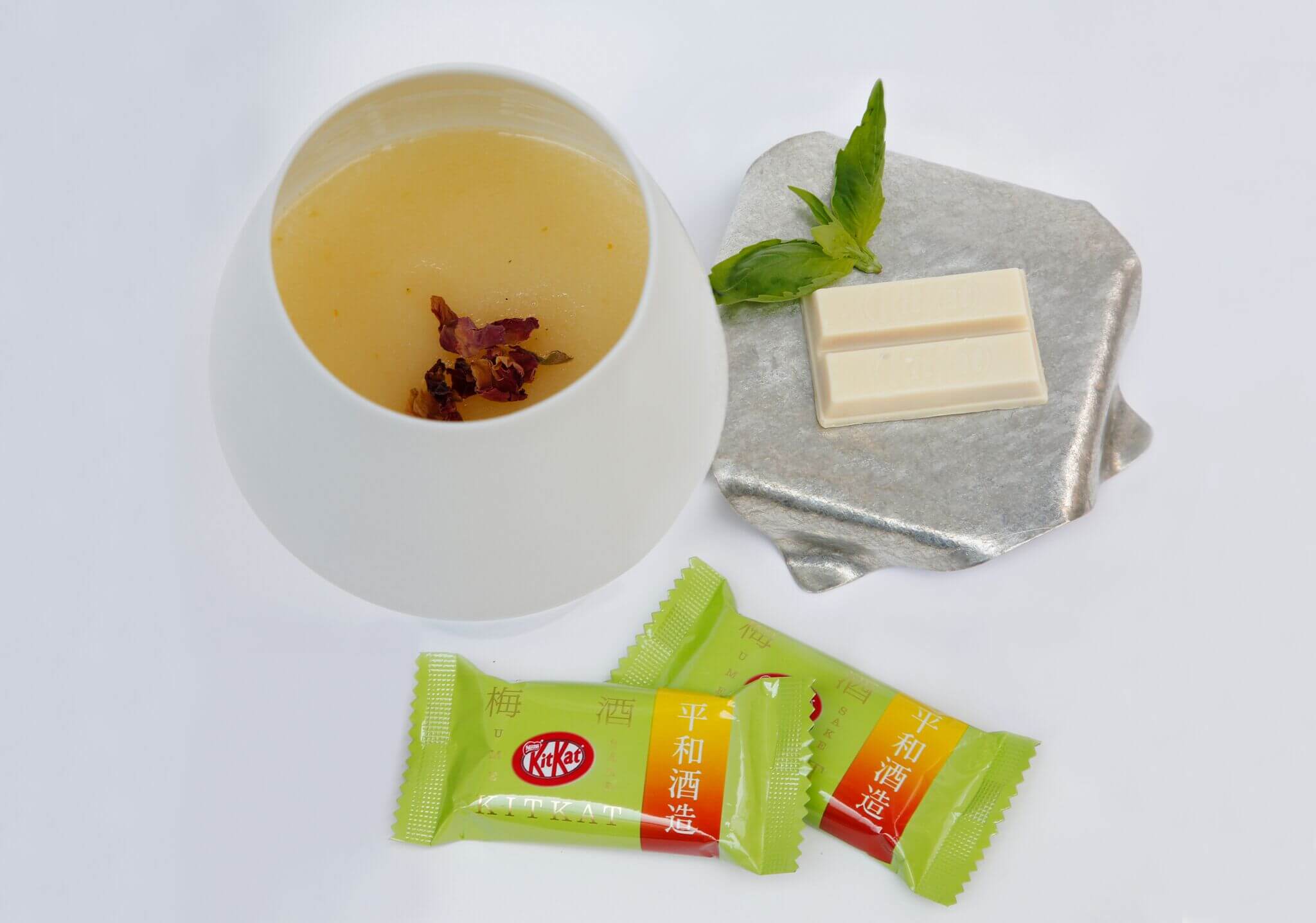 The bar offers a special and exclusive menu featuring a careful selection of premium Japanese alcohol by Nakata as well as an original menu developed by chefs of well-known restaurants. They also offer a range of cocktails including  one that's made with umeshu tsuruume suppai, an ingredient used in the new plum wine KitKat.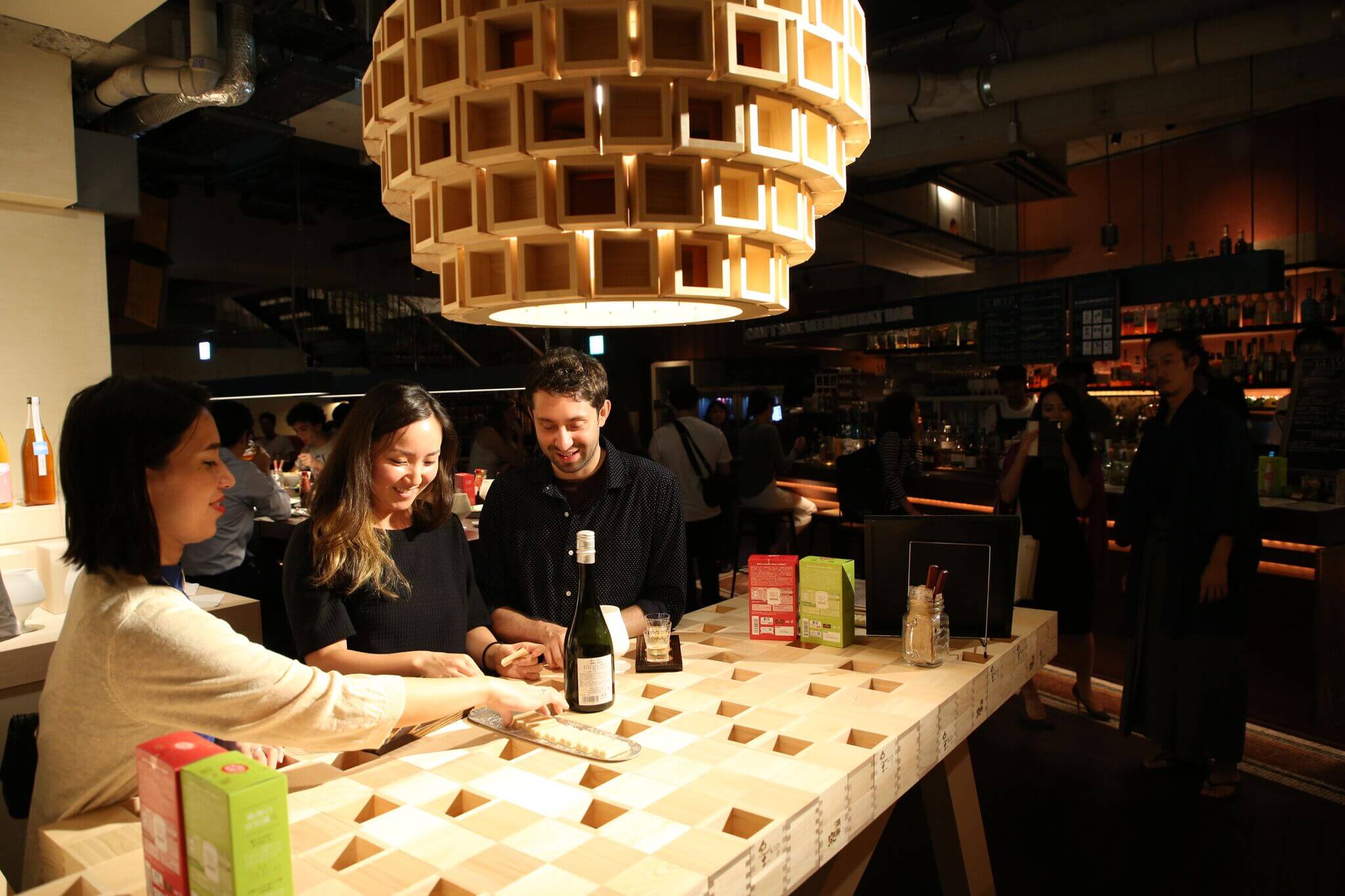 The bar counter is crowned with a chandelier made from masu boxes which were created for measuring rice. This offers a new and unique way of experiencing the charm of Japanese culture. Since the bar has opened it's been packed with foreigner customers.
A female Asian customer who tasted the plum wine KitKat paired with the bar's original 'Kishuu Tonic' cocktail expressed her surprise at how well they went together: "The sweetness of the KitKat and freshness of the cocktail matched exquisitely together. Despite the cocktail using sake as the base it was really easy to drink and delicious. Sake and chocolate go well together, don't they."
A male American customer compared the taste of the KitKat with the Umeshu Tsuruume Suppai wine used in the KitKat: "The combination of the sour plum wine with the sweet chocolate was delicious beyond my expectations. There's a lot of flavours in Japan we can't get overseas, so I want to buy things and take them back as souvenirs."
Speaking about Craft Sake Week, producer of the bar Hidetoshi Nakata commented the following: "I want lots of people to get to know about the enjoyment and appeal of Japanese sake and plum wine through this event and KitKat Umeshu Umetsuri to further expand the reach of them overseas."
Experience the KitKat and Japanese sake for yourself at CRAFT SAKE WEEK @ KITKAT BAR.
■Information
CRAFT SAKE WEEK @ KITKAT BAR
Location: CITAN (15-2 Nihonbashiodenmacho, Chuo Ward, Tokyo)
Running: September 13, 2018 – September 24, 2018
Opening Hours
[Monday-Thursday, Sunday] 6:00pm-12:00am (Last Orders 11:30pm)
[Friday-Saturday] 6:00pm-1:00am (Last Orders 12:30am)
Website: https://nestle.jp/brand/kit/tsuruume/
KitKat Mini Umeshu Tsuriume
Location: Souvenir shops, KitKat Gift Shop (at Rinku Premium Outlet), KitKat Chocolatory (select branches)
RRP Price: ¥700 (Pre-Tax)
On Sale: From September 18, 2018
Quantity: 9 bars
RECOMMENDED ENTRIES
Kit Kat Chocolatory to celebrate opening of Ginza store with sushi Kit Kats!

Good news for Kit Kat fans! Not only is a new Kit Kat specialty store set to open, it'll be giving away sushi Kit Kats!

That's right, we're happy to report that Nestlé Japan will be opening its first stand-alone Kit Kat Chocolatory store in Tokyo's Ginza district on Februray 2, and what's more, they'll be commemorating the event with gifts of special sushi Kit Kats!

Since the first Kit Kat Chocolatory opened in January of 2014 as a specialty store offering premium and exclusive Kit Kats, the franchise has expanded to eight stores across Japan, but so far they have all been in-store establishments located within major department stores.

A Made-in-Japan KitKat called "KitKat Nihonshu Masuizumi" will be released!

 "KitKat Nihonsyu Masuizumi" produced by Hidetoshi Nakata who is actively working to let the world know about great Japanese traditional industries including the nihonshu (Japanese sake) industry, is now on sale.

The "KitKat" series consists of more than 30 kinds of items centering around the "Maccha" flavor and these sweets are gathering much attention from foreign tourists.

This time, the brand collaborated with Hidetoshi Nakata and renewed the "nihonsyu" flavor. A new "KitKat Nihonshu" flavor was born using "Masuizumi" from Tomiyama which was chosen out of 100 sake brands based on the votes from nihonsyu lovers.

 "KitKat Nihonsyu" which took about a year to develop was created to present the sharp taste of "Masuizumi." You can enjoy the rich flavor and delicate aftertaste of the soft sweetness of the white chocolate and sake.

In order to let many people know about nishonshu, they printed a short article on the package so that so that the purchasers of this product can learn about nihonshu briefly.

▼Hidetoshi Nakata's comment

I recommended "Masuda Shuzo" (Masuda brewery) which has been working to diffuse the nihonshu industry. This sake brewery is one of my favorite and they create high-quality sake.

You can enjoy the unique aroma and flavor of "Masuizumi" right after you put the sake in your mouth. I am sure that people from foreign countries who love chocolate can enjoy this product, not just Japanese people.

Why don't you purchase "KitKat Nihonshu" as a souvenir?

Kit Kat's gift kit will be sold until the last train time. Ginza "Kit Kat Chocolatory food stall"

A premium chocolate store where souvenirs can be bought until the last train time "Kit Kat Chocolatory Yatai" will be opened from the 11th of December 2017 to the 17th (Sun.) at Ginza's "Corridor Town."

 "Kit Kat Chocolatory" is a specialized store of "Premium Kit Kat" made with special ingredients using a manufacturing process directed by one of Japan's top patissiers, Yasumasa Takagi. The product has been gaining popularity among many people as a small gift for family members, friends and colleagues.

This time, they opened "Kit Kat Chocolatory Yatai" for persons who go home late because they are very busy working or participating in year-end dinner parties in December! To support busy people giving special gifts to their family or partners, the premium chocolate yatai will be opened until the last train time.

The yatai is a road-side store which has a red lantern as a signboard and anybody can visit a yatai in a casual manner. Also, they will sell a packaged product called "Sushiorifu Kit Kat" which looks like "sushiori" (a gift box filled with sushi). They will sell products such as a product using special couverture chocolate and chocolates with several flavors including "bitter," "milk" and "white." The message sticker placed on top of the box has three designs.

They are also planning to sell limited products and the standard products of "Kit Kat Chocolatory" in addition to the products noted above. Why not give one of these gifts to person who are precious to you and express your appreciation?

■Information

Kit Kat Chocolatory Yatai

Venue: Ginza "Corridor Town" 6th avenue, Ginza, Chuoku, Tokyo

Date: 2017,12,11 (Mon.) to 17 (Sun.)

Kit Kat official site: https://nestle.jp/brand/kit/
RELATED ENTRIES
Make Your Own Original KitKat at Tokyo's KitKat Chocolatory Miyashita Park Shibuya

Nestlé Japan is opening a new branch of KitKat Chocolatory inside Shibuya's new shopping mall Miyashita Park on August 4, 2020.


KitKat Chocolatory is a direct-to-consumer chain, serving premium, handcrafted KitKats made with top quality ingredients and production methods under full direction by Takagi Yasumasa―the owner and chef of LE PATISSIER TAKAGI. Its product line-up features a range perfect as gifts to friends, family and co-workers, or as a treat to yourself.

Japan is home to eight KitKat Chocolatory branches. The new Miyashita Park Shibuya branch will open as the fourth in Tokyo, as well as the first where you can create your own KitKat products.

My KITKAT: ¥2,000 (Before Tax)

"My KITKAT" comes as the world's first KitKat service where consumers can create their own original chocolate bars.

KitKat Waffle: ¥1,000 (Before Tax)

KitKat Chocolatory Sublime Soft Cream: ¥630 (Before Tax)

KitKat Chocolatory Miyashita Park Shibuya will also sell a variety of unique and exclusive KitKat desserts, like luxurious soft serve ice cream topped with couverture chocolate. It will also offer a cafe menu created by Nespresso, where customers can pair Chocolatory desserts with seasonal coffee menus, and more.

Shibuya-esque wall art will decorate the interior of the shop, making for plenty of photo opportunities.

Information

KitKat Chocolatory Miyashita Park Shibuya

Grand Opening: August 4, 2020

Address: Miyashita Park South 2F, 6-20-10 Jingumae, Shibuya, Tokyo

Opening Hours: 11:00-21:00 (Last Orders 20:00)

TEL: 03-6427-6811

Official Website: https://nestle.jp/brand/kit/chocolatory/

KitKat Chocolatory to Release Beautiful New Packaging Illustrated by Misaki Tanaka

Nestlé Japan is collaborating with popular Japanese illustrator Misaki Tanaka to release a new series of chocolate packaging on April 15 at KitKat Chocolatory. The concept behind the packaging is to have people choose the chocolate they want based on the words and pictures branded on the single chocolate boxes.

The KitKat Chocolatory is a direct-to-consumer chain, serving premium, handcrafted KitKats made with top quality ingredients and production methods under full direction by Takagi Yasumasa―the owner and chef of LE PATISSIER TAKAGI. Its luxurious line is endless, with products ranging from the elusive ruby chocolate, whose cocoa beans give the finish product its pink colour, to volcanic chocolate made from rare cocoa beans sourced from volcanic islands.

KitKat Mekakushi Chocolatory – ¥300~¥400 (Before Tax)

There are 15 different package designs in total which will be sold for a limited time. None of the boxes have information of the flavour or name of the chocolates; instead you pick which you want based on how the packaging looks. They make for a great gift to yourself and others.

The words chosen on the packaging reflect the feelings one goes through in love or everyday life. Misaki Tanaka has provided the perfect illustrations to better picture those times.

KitKat Mekakushi Chocolatory Full Box (15 Included) – ¥5,100 (Before Tax)

Those who want all of the flavours can purchase the assorted box of 15. The box lid features another original illustration by Miskai Tanaka. And if you roll up to KitKat Chocolatory Ginza between April 15 and May 17, they will have a special exhibition of the illustrations on show.

Information

KitKat Mekakushi Chocolatory

Available: 7 branches of KitKat Chocolatory (3 in Tokyo/2 in Osaka/1 in Kawasai/1 in Hiroshima) & Nestlé Japan Website (*Only 15 sets will be sold online)

Official Website: https://nestle.jp/brand/kit/chocolatory/mekakushi/

New Japanese KitKat Commercial Sees Shingo Katori Show Off His Art Skills

Shingo Katori is an official ambassador of KitKat Japan, and he appeared in the latest television commercial for the chocolate brand which began broadcasting on March 27. The commercial was also posted on the KitKat Japan website.

 

Japan has the biggest KitKat market in the world. In September 2019, in an effort to reduce the amount of plastic waste, Nestlé made the decision to alter the packaging of five types of its large size KitKat chocolate bars from plastic to paper. The paper can then be used to make paper cranesーa symbol of hopes and prayers in traditional Japanese cultureーor for writing messages on to give to people.

In KitKat's latest commercial, Shingo Katori comes together with young people to create an art piece from the paper packaging which reads, "Let's all work hard together!" in Japanese.

See the commercial here on the Nestlé website or here on their official YouTube channel.

New KitKat Mini Yogurt Flavour Uses Famous Sake From Miyagi Prefecture

The new "KitKat Mini Yogurt Sake" will be released on March 16, 2020. It is made with a famous brand of sake known as "Chonoko Jersey Yogurt Sake," which is made by Niizawa Sake Brewery, a company in Miyagi Prefecture produced by Hidetoshi Nakata.

Japan's KitKat product line-up is popular around the world, so much so that they are often recognised as "KitKats made in Japan." Hidetoshi Nakata is known for pouring his strength into spreading the word of Japan's traditional industry around the world. He has also visited around 400 sake breweries across Japan. To date, he has collaborate with KitKat on around 20 chocolate bars, all made with local sake, and all of which have been top sellers. These products are helping to promote the prefectures of Toyama, Wakayama, and Kochi.

Niizawa's Sake Brewery's "Chonoko Jersey Yogurt Sake" was released to help in the recovery efforts of the Tohoku Earthquake. "Yogurt Sake" has a short shelf life, and so it is a necessary requirement that it is shipped in refrigeration under 5℃ to preserve it. Because of this, the number of places it is sold at in Japan is limited, and it is also difficult to export overseas, making it a very rare type of sake. The milk comes from Jersey cattle which is used to make the milk. It's combined with alcohol powder of the yogurt sake for the KitKat Mini. The chocolate bar has a refreshing sourness and rich flavour.

KitKat is sold in over 100 countries worldwide. This new flavour creates the opportunity for more people around the world to try yogurt sake when they are buying KitKats in Japan.

Speaking about the collaboration, Hidetoshi Nakata said: "I began with nihonshu, then went onto umeshu, then yuzushu. For the fourth one, I wanted to get people knowing about new possibilities when it comes to a Japanese sake that is not yet known around the world. So I chose Chonoko Jersey Yogurt Sake which is made by Niizawa Sake Brewery in Miyagi Prefecture. The yogurt in the sake has a bitterness and sweetness, which balances perfectly with the refreshing taste of the nihonshu. It's a delicious sake that Japan can boast about, one which can be enjoyed whenever and by anyone. The sweetness of the chocolate comes together with the bitterness of the yogurt sake. We have created something that doesn't taste just like yogurt, but yogurt sake."

He continues: "Because there is a possibility the Chonoko Jersey Yogurt Sake will ferment and the bottles break during transportation, it can only be distributed to places within Japan where it can be shipped below 5 degrees at this moment in time. It's this very reason that its delicious taste cannot be enjoyed around the world that I want people to know about Chonoko Jersey Yogurt Sake through KitKat, and also get people knowing about new possibilities of Japanese sake."

Information

KitKat Mini Yogurt Sake

Release Date: March 16, 2020

Contains: 9 bars

Price: ¥700

Available: At souvenir shops and KitKat gift shops in Japan

McFlurry and KitKat Come Together in Long-Awaited Collaboration at McDonald's Japan

McDonald's Japan has teamed up with Nestlé Japan to release a KitKat® McFlurry®. It was released on Wednesday at all McDonald's branches in Japan.

It has been seven years since McFlurry® and KitKat® came together in their delicious chocolatey ice cream combination. It was such a hit back in 2007 that it has finally made its fabled return to the delight of sweet-tooth McDonald's customers.

The KitKat® McFlurry® is a simple combination of smooth soft serve ice cream and crushed KitKat®. It's also drizzled in a special sauce made from rich couverture chocolate.

The mix of the wafer-like chocolate KitKat® with the soft serve ice cream is a combination to die for, and the sauce only adds to the mouth-watering flavour.

The dessert will be served in limited-edition cups as pictured above. These cups are limited in stock and will discontinue once all are sold.

Information

McFlurry® KitKat®

Running: February 12, 2020 – Early March 2020 (subject to change)

Available: McDonald's in Japan (Select branches not participating)

Serving: All Day

Price: ¥290 (Tax Included)

*KITKAT and キットカット are registered trademarks of Nestlé Group.

McDonald's Japan Official Website: http://www.mcdonalds.co.jp/ 

Valentine's Day 2020 in Japan: Must-Buy Chocolate & Sweet Gifts

Christmas is over, and Easter is still on the horizon, but if you love chocolate as much as we do, never fearーas our sweet tooth cravings will soon be satisfied with the season of love.

In Japan, shop's and restaurant's are already carving their Cupid arrows to fire at customers for Valentine's Day to tempt them into one of their many tantalising treats. If you're in Japan this year, we've whipped up a list just for you of five must-buy gifts for Valentine's Day 2020.

Garrett Popcorn

Almond Chocolate Truffle | Garrett Valentine's Tin | Valentine's Mix

Garrett Popcorn is an American brand of popcorn that boasts a myriad of gourmet handcrafted popcorn flavours. You may not know that it's also a household name in Japan, where they also make the popcorn fresh every day for snack-hungry customers. For Valentine's, they serving up an exclusive series full of love which consists of the "Almond Chocolate Truffle," "Garrett Valentine's Tin," and "Valentine's Mix."

Almond Chocolate Truffle in Garrett Valentine's Tin – From ¥1,130

First up, the Almond Chocolate Truffle. If you're not already drooling at that name, let the description begin: this popcorn takes Garrett's crushed almond CaramelCrisp™️, coats it in chocolate, and sprinkles it generously with a dust storm of cocoa powder. The fragrant scent and texture of the almonds adds an incredible touch to the combination of the sweet, velvety milk chocolate and the slightly-bitter bite of the cocoa powder. Get in the Valentine's mood even more by purchasing one of the Garrett Valentine's Tin – the perfect accompaniment to your movie night in with your loved one.

Valentine's Mix (Chocolate Cocoa & Strawberry) – ¥1,200

Valentine's Mix (Chocolate Cocoa & White Chocolate Bark) – ¥1,200

Last year, Garrett Popcorn release a cute heart-shaped tin big enough to fit in the palm of your hands. 2020 will see the return of the tin, this time with two different designs: one with kissing lips and the other with hearts.

Inside the first tin is a mix of sweet chocolate cocoa flavoured CaramelCrisp™️ and sour freeze-dried strawberries. The other tin, which has a more sophisticated chocolate brown and salmon pink design, contains the same cocoa flavoured CaramelCrisp™️ but combines it with "white chocolate bark" – a white chocolate made with almonds and dried cranberries.

▶︎Garrett Popcorn Valentine's Day Products

Running: January 10, 2020 – February 14, 2020 (Mix available from January 17, 2020) *While supplies last

Prices:
・Almond Chocolate Truffle: Small ¥620/Medium ¥1,100/Large ¥1,720/Jumbo ¥3,450/Quart Tin ¥1,750/1 Gallon ¥4,400/2 Gallons ¥8,400
・Garrett Valentine's Tin/Quart Tin: From ¥1,130
・Valentine's Mix: ¥1,200
Available: Garrett Popcorn Shops®︎ branches in Japan
Official Website: http://jpgarrettpopcorn.com/

KitKat Chocolatory

Ruby 2020 Assortment

KitKat Chocolatory is releasing a new assortment of KitKat treats for the Valentine's season in Japan made with ruby chocolateーthe fourth type of chocolate alongside milk, white, and darkーwhich was developed by Belgian-Swiss chocolate makers Barry Callebaut.

KitKat Chocolatory Ruby 2020 Assortment – ¥1,200

Ruby chocolate gets its striking pink colour from the original bean and has a distinct fruity sourness to it. This is the perfect Valentine's Day giftーor even just as a treat to yourself!

▶︎KitKat Chocolatory Ruby 2020 Assortment

Price: ¥1,200
Running: from January 15, 2020
Available: KitKat Chocolatory store/Online
Official Website: https://nestle.jp/brand/kit/chocolatory/

GODIVA

Valentine's Collection

GODIVA, one of the main players in the Japanese chocolate game, has developed the "Chocolate Chronicle Sweet Collection"ーan assortment of individually unique chocolates. The "chronicle" refers to the many places the chocolates have encountered since being created, both in the past and present.

Chocolate Chronicle Sweetheart (Contains 6) – ¥3,240

Chocolate Chronicle Chic Assortment (Contains 15) – ¥6,264

The "Original Maya" considers the civilisation and mysteries of Mesoamerica. The "Cocoa Honey Delight" uses honey to sweeten the chocolate like they did in the latter half of the Middle Ages when there was no sugar. The "Modern Love"burns into your mind the image of its vivid red heart lovingly made with sweet and sour strawberries, ganache, and milk chocolate.

▶︎GODIVA Valentine's Collection 2020

Running: from January 10, 2020 (Limited Time)
Prices:
Chocolate Chronicle Sweetheart: 6 Set ¥3,240/12 Set ¥5,400
Chocolate Chronicle Chic Assortment: 4 Set ¥1,296/6 Set ¥2,160/10 Set ¥3,240/16 Set ¥5,400
Chocolate Chronicle Sweet Kare Assortment: 6 Set ¥1,080
Chocolate Chronicle Chic Collection: 4 Set ¥1,836/6 Set ¥2,700/9 Set ¥3,888/12 Set ¥5,076/15 Set ¥6,264/20 Set ¥8,208
Official Website: https://www.godiva.co.jp/

Koi Suru Chocolate

Valentine's Collection 2020

The base of these treats is chocolate by Shiroi Koibito. The collection was first released in January 2018 and is very reminiscent of Hokkaido chocolate. There are lots of chocolates in the collection made with cute pink ruby chocolate too.

Mille-feuille (Contains 3) – ¥520

These mille-feuille are layered with milk and white chocolate and coated in things like couverture chocolate and ruby chocolate.

The Heart (Contains 7) – ¥1,080

Each of these hearts has its own distinct sauce: the ruby chocolate has blackcurrant, the milk chocolate has caramel, and the white chocolate has yuzu.

▶︎Koi Suru Chocolate Valentine's Collection 2020

Release Date: January 17, 2020
Available: ISHIYA store/Online
Prices:
Mille-feuille: 3 Set ¥540/6 Set ¥1,080/12 Set ¥2,160
The Heart: 7 Set ¥1,080/14 Set ¥2,160
Official Website: http://www.ishiya.co.jp/koi_choco/

Morozoff

Valentine's Dessert Plate

Morozoff specialises in western-style sweets, and at Cafe Morozoff, they're serving up a Valentine's-only dessert.

Valentine's Dessert Plate – ¥1,200

The beautiful dessert plate is an assortment of cute heart-shaped treats. The rich chocolate mousse has an orange scent, and the fluffy chocolate sponge combines sweet and sour strawberries with smooth whipped cream which elevate the flavour of the chocolate.

▶︎Morozoff Valentine's Dessert Plate

Running: January 15, 2020 – February 14, 2020

Available: select Cafe Morozoff branches in Japan
Price: ¥1,200 (comes with tea or coffee)
Official Website: http://www.morozoff.co.jp/

Did you enjoy this list? There's plenty of Valentine's Day delights to be enjoyed while in Japan. Which on this list has you drooling the most?

BALCÓN TOKYO: Roppongi's Sophisticated New Bar and Restaurant Offers Luxurious Food & Drinks

BALCÓN TOKYO is the newest luxury bar and restaurant to hit Tokyo's Roppongi district. Set to open on the 14th floor of Mitsui Garden Hotel Roppongi Tokyo Premier on January 24, BALCÓN TOKYO offers opulent lounge and balcony spaces for fine wine and dining.

Located away from the hustle and bustle of busy Roppongi, the establishment offers a breathtaking view of Tokyo's city nightscape in both the eastern and western directions.

When customers pass through the beautiful bar and lounge they are met with the spacious museum-like balcony area where they can enjoy a dining experience wrapped in soft warm lights. For those looking for a more private meal, they can reserve one of the individual private rooms, each of which has its own distinct touch and flavour. Whether you're looking for a quiet drink or dinner, or even midnight teatime, BALCÓN TOKYO caters to customers' needs.

The interior design is the brainchild of none other than Yasumichi Morita of GLAMOROUS co.,ltd., and company that specialises not only on interior and exterior building and establishment designs, but graphic visuals, products, and more.

​Taking the spotlight at dinnertime is the restaurant's incredible and mouthwatering roast beef which is aged at ice temperature and cooked carefully with time and care. The gravy sauce drizzled over the meat takes three days to make and only adds to the delicious offering of the beef.

The restaurant also offers plenty of seasonal foods and ingredients that go perfect with a glass of champagne. Whether you're celebrating something special or just out for a casual meal, the restaurant caters to all.

For breakfast, a half-buffet of western-style food is prepared where you can pick one main. And so that foreign guests can get a taste of the quality of Japanese food, all ingredients used at the restaurant are domestic to Japan. The restaurant also uses organic vegetables shipped directly from growers and producers.

To celebrate the grand opening of BALCÓN TOKYO, customers who reserve a table online or via telephone between January 24 and February 29 this year will receive a 30% discount on meal courses.

Information

BALCÓN TOKYO
Address: Mitsui Garden Hotel Roppongi Tokyo Premier (Floor 14F), 3-15-17 Roppongi, Minato War, Tokyo
Opening Hours:
・Morning 6:30-10:30 (Last Orders 10:00) *Please note that there may be waiting times due to priority going to hotel guests
・Dinner 17:00-02:00 (Food Last Orders 01:00 / Drinks Last Orders 01:30)

Enquiries: 03-6441-3231
Official Website:  http://balcon-tokyo.jp/

Reservation Page: https://www.tablecheck.com/shops/balcon-tokyo/reserve

Relaxing Café by Day, Neon-Lit Bar by Night: Enjoy a Drink at Jinbōchō CAMPUS in Tokyo

Hello everyone, this is MOSHI MOSHI friend Banako.

Today I'll be introducing you to an interesting place in Jinbōchō, Tokyo that is a café by day and a café & bar at night.

From 9:00 to 17:00 it's known as COFFEE CAMPUS  and from 18:15 to 22:00 it runs as CAMPUS TOY cafe&bar. It first opened its doors approximately 48 years ago, solely operating as a café. Its current owner is an avid American toy and pop culture-lover who started running the café & bar seven years ago.

To get here, it's just a five-minute walk from exit A2 of Jinbōchō Station. The café is located in a quiet place just one turn off Odori Street.

Check out the menu:

The toast here is really good, so I ordered the Egg on Toast. (¥500)

To my surprise, an exceptionally large and thick slice of toast arrived at my table. The egg was evenly cooked and spread on top. I curiously sunk my knife into the toast to reveal the inside.

The egg dripped beautifully like melted cheese. It tasted wonderful with the freshly toasted slice of bread and was very filling. I was in a good mood after my very first bite.

Once the clock strikes 18:15, the café completely transforms into CAMPUS TOY cafe&bar which has a completely different atmosphere. 

One step into the newly-transformed café & bar and…

The calm undertones of the café were replaced with a cute pop-themed atmosphere illuminated by colourful neon lights. Rather than preparing a drinks menu, owner matz takes orders directly from customers, creating drinks catered to each individual customer based on what flavours and colours they like. 

Waiting to see what kind of drink is going to be brought to you is very exciting. Ordering drinks with friends and taking photos of the outcome is the best way to enjoy your time here. 

There are also lots of good spots to take photos for your Instagram so don't hold back! From time to time, there is a small market here where the owner sells small fantasy-themed items.

 Make sure to check out CAMPUSTOY cafe&bar on Instagram for their latest updates and information on opening hours. Whether you want to enjoy a pop-themed American atmosphere or are simply looking for a relaxing spot to chat, this café is for you. Matz the owner is very friendly and is full of interesting stories that you just got to hear.

Information

COFFEE CAMPUS /CAMPUS TOY cafe&bar

Address: Jinbōchō Mansion Floor 1, 2-10, Jinbōchō, Kanda Ward, Chiyoda, Tokyo

Opening Hours

COFFEE CAMPUS: 9:00 ー 17:00

CAMPUSTOY cafe&bar: 18:15 ー 22:00

* Please be careful to not mix up the opening hours of the café and café and bar.

Closed: Saturdays, Sundays and National Holidays

Access: Approx. 5-minute walk from Jimbocho Subway Station exit A2

CAMPUS TOY cafe&bar Instagram:https://instagram.com/campustoy_matz?igshid=2nblcij8r4b7

World's First Cacao Fruit Kit Kat Reduces Waste and Replaces Sugar with Cacao Pulp

Nestlé has unveiled a new chocolate recipe that replaces added sugar with cacao pulp. Japan, famous for its exciting range of Kit Kat flavours, adopted the new recipe to create the first cacao fruit chocolate Kit Kat. The Kit Kat was released for sale at the Kit Kat Chocolatory and online on November 29, 2019.

The Kit Kat Chocolatory sells premium-quality Kit Kats made and from a careful selection of ingredients and by a special production method. The process is overlooked by Yasumasa Takagi, the chocolatier who owns LE PATISSIER TAKAGI.

Whether your're looking for a unique Japanese souvenir for your friends and family, something small yet luxurious for your work colleagues or even just a petite treat for yourself, the Kit Kat Chocolatory's popular range caters for every souvenir situation.

The new Cacao Fruit Chocolate Kit Kat uses Nestlé's new cacao pulp recipe. Cacao pulp is the white substance surrounding the cacao beans inside the fruit. It is dried and pulverised into a fine powder to be used as a replacement for sugar. By infusing cacao pulp into the chocolate, the chocolate flavour can be tasted more fully, making for a new and exciting flavour experience.

Many people are unaware of the unique sweet and tangy flavour of the cacao fruit's soft and fleshy insides. Part of the cacao pulp is normally used as a sugar to ferment cacao beans in a normal chocolate-making process. However, it is still not widely sold as a flavour.

Brazil and many other cacao-producing Latin American countries use cacao pulp to make drinks and smoothies that are easy to produce. It is also seen as an ingredient in ice creams. Some businesses have jumped on the appeal of cacao as a rarely used ingredient to make and export cacao juice. Other than this, usage of cacao pulp has remained low for a long time.

Under Takagi's guidance, a new Kit Kat has arrived at the chocolatory which spreads not only the appeal of cacao as a natural sugar and flavouring, but also encourages sustainable living through reduced food waste.

Come try a Kit Kat made with cacao pulp for yourself.

Information

Kit Kat Chocolatory Cacao Fruit Chocolate

Contains: 1 Bar

Price: ¥400

Sold At:

7 KitKat Chocolatory shops (3 in Tokyo, 2 in Osaka, 1 in Kawasaki and 1 in Hiroshima)

Online including the Kit Kat Chocolatory Online Shop and Nestlé Online Shop

Kit Kat Gift Shops (Located in Rinku Premium Outlets)

Kit Kat Chocolatory Cacao Fruit Chocolate Assortment

(Sold online including the Kit Kat Chocolatory Online Shop and Nestlé Online Shop)

Assortment of 5

Price: ¥1,900 (Before Tax)

Assortment of 7

Price: ¥2,500 (Before Tax)

Kit Kat Chocolatory Online Shop: https://nestle.jp/brand/kit/chocolatory/

Enjoy the Flavours of Sendai with the Zunda Shake Kit Kat

Sendai is famous for zunda mochi: a traditional dessert that fuses boiled mochi (rice cakes) and zunda (sweet edamame bean paste). The zunda mochi shop Zunda Saryo is collaborating with Nestlé to create a Kit Kat Mini with the regional flavour "Zunda Saryo Shake", which will be released on December 1 at a number of shops including souvenir shops around Sendai Station and Sendai Airport, and selected KASHO SANZEN shops*

*(Omachi  Hirose-dōri, Koji Matsushima and Monzen Matsushima) 

Zunda Saryo spreads the delicious flavour of zunda across Japan through their variety of zunda-flavoured desserts and drinks. The Zunda Shake is an original drink made by fusing carefully selected milk with vanilla and then blending it with zunda to create an original sweet shake to represent Sendai. Kit Kat's crispy wafers add texture to the layers of smooth chocolate, producing a divine flavour. Japan is home to more than 40 different Kit Kat flavours which are popular within Japan and overseas. 20 of those are from Japan's regional flavour series, which is a collaboration with a regional specialty. 

Foreigners and even Japanese visitors from other parts of the country will have never seen this new flavour before. The new Kit Kat Mini Zunda Shake flavour is sure to be the best way to experience the flavours of the region. 

The cream filling is kneaded with edamame powder and sandwiched between crispy wafers. The Kit Kat is coated in Zunda shake-flavoured chocolate, creating the perfect Kit Kat flavour.  

Whether you're looking for a small snack or a souvenir, the Zunda Shake Kit Kat is perfect for you.

Information

Kit Kat Mini Zunda Shake Flavour

Contains: 9

Price: ¥800 (Before Tax)

Purchase from: Souvenir shops around Sendai Station and Sendai Airport, KASHO SANZEN (Omachi  Hirose-dōri, Koji Matsushima and Monzen Matsushima) 

Release Date: December 1, 2019

The Luxurious KitKat Chocolatory is Revamping Its Chocolate Line-Up

Nestlé has announced that it is revamping its 16 products* at the KitKat Chocolatory which will be released on October 11, 2019.

*One of these products will be released in late November

The KitKat Chocolatory is a direct-to-consumer chain, serving premium, handcrafted KitKats made with top quality ingredients and production methods under full direction by Takagi Yasumasa―the owner and chef of LE PATISSIER TAKAGI. Its luxurious line is endless, with products ranging from the elusive ruby chocolate, whose cocoa beans give the finish product its pink colour, to volcanic chocolate made from rare cocoa beans sourced from volcanic islands, and beyond.

The Chocolatory takes regular KitKats and the brand to a whole new level while still having that sense of familiarity, making their products great gifts and personal treats.

The new line-up of 16 products is considered by four categories: 1) the chocolate type, 2) where the cocoa beans are produced, 3) the production process from bean to bar, and 4) the combination between chocolate and other ingredients. Each and every bar has been given equal attention to create chocolates with different flavours, enabling consumers to discover not only which tickle their taste buds, but the story behind each unique bar.

There is a rapidly growing interest amongst consumers who want to know where their food comes from and how it's made. When it comes to specialist chocolate products, a lot of information isn't widely known. That's the reason behind KitKat Chocolatory's revamp, as well as to create chocolate that nobody has experience before.

Let's take a look at four of the new KitKats you can get your fingers on.

Enjoy the Chocolate Varieties

KitKat Chocolatory Sublime Bitter – ¥300 Each (Before Tax)

A hallmark product since KitKat Chocolatory opened, the Sublime Bitter is couverture chocolate made with 66% cocoa. The bar is a blend of three different cocoa beans from Ghana, Madagascar, and the Dominican Republic. This addictive delight reserves the original bitterness of the cocoa while having a fruity tinge to it.

Enjoy the Difference Between Cocoa Production Areas

KitKat Chocolatory Sublime Volcanic Malakula Island – ¥400 Each (Before Tax)

This mysterious 'volcanic chocolate' is made from extremely rare cocoa beans sourced from the volcanic Malakula Island which was voted one of the happiest places on earth. It has a distinct bitterness and very fragrant scent reminiscent of the ground.

Enjoy the Chocolate Making Process

KitKat Chocolatory Sublime Raw – ¥300 Each (Before Tax)

The cocoa beans of this "raw" chocolate are cooked at a lower temperature than usual to draw out a more natural flavour of the original bean, like it's been plucked right out of a cocoa bean farm and placed into your hands.

Enjoy the Combination Of Ingredients

KitKat Chocolatory Moleson – ¥500 Each (Before Tax)

Finally, here is the world's first ingredient-topped KitKat. It uses the smooth, melt-in-the-mouth KitKat Chocolatory Sublime Milk bar as the base, and is topped with sweet and sour dried cranberries and fragrant crushed almonds, creating a flavourful and textural ensemble.

Discover a whole new world of KitKat and chocolate when the new products drop at KitKat Chocolatory on October 11.

Kit Kat To Release Two Autumn Kit Kat Flavours

Indulge in the flavours of a Japanese autumn with the two new Kit Kat flavours of Kit Kat Chestnut and Kit Kat Sweet Potato. These will be released on August 19.

Thin wafers sandwich layers of the delicious autumn fillings. Even the white chocolate that wraps these wafers is infused with the flavour of sweet potato or chestnut respectively. The biggest appeal of these Kit Kat flavours is their mild sweetness.

The crispy texture of the wafers combined with the rich aroma and crumbly texture of the sweet fillings creates a whole new flavour to associate with a Japanese autumn. 

Kit Kat knows just how celebrate the coming of a new season!

Information

Kit Kat Mini Sweet Potato

Release: August 19

Pack size: 11

RRP: ¥500 (before tax) 

Purchase from: Supermarkets and drugstores across the country 

Kit Kat Mini Chestnut 

Release: August 19

Pack sizes: 12 or 3

RRP: pack of 12:¥500 (before tax) pack of 3: ¥120 (before tax)

Purchase from: Supermarkets and drugstores across the country. (Packs of 3 available at convenience stores).

Kit Kat Official Website: https://nestle.jp/brand/kit/