Tokyo Ghoul:re Season 2 OP Theme 'katharsis' by TK from Ling Tosite Sigure to be Released on CD
The opening theme song of season two of Tokyo Ghoul:re―which began airing today (October 9)―titled katharsis is performed by TK from Ling Tosite Sigure and will be released as a single on November 21. The song also received an early digital release following the anime's initial broadcast.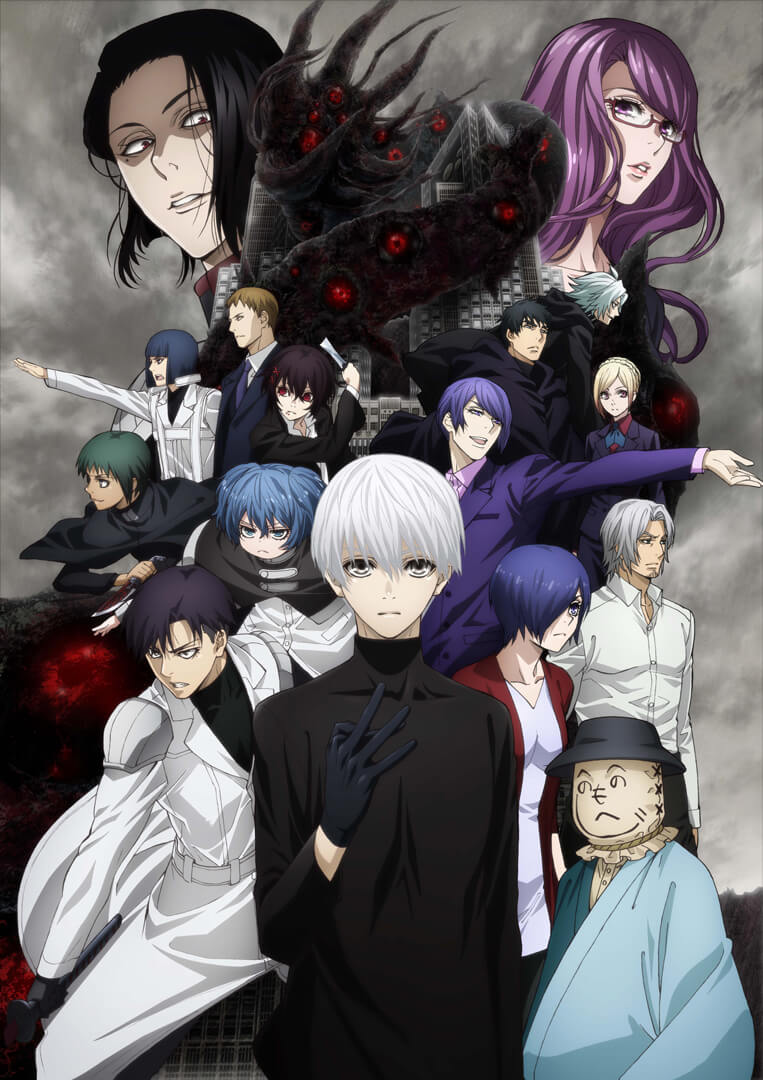 The CD will be released in two types. The Regular Edition will include the lead track katharsis as well as a new song titled memento while the first press versions of the Regular Edition will include a sleeve featuring Tokyo Ghoul artwork drawn by the manga's author and illustrator Sui Ishida.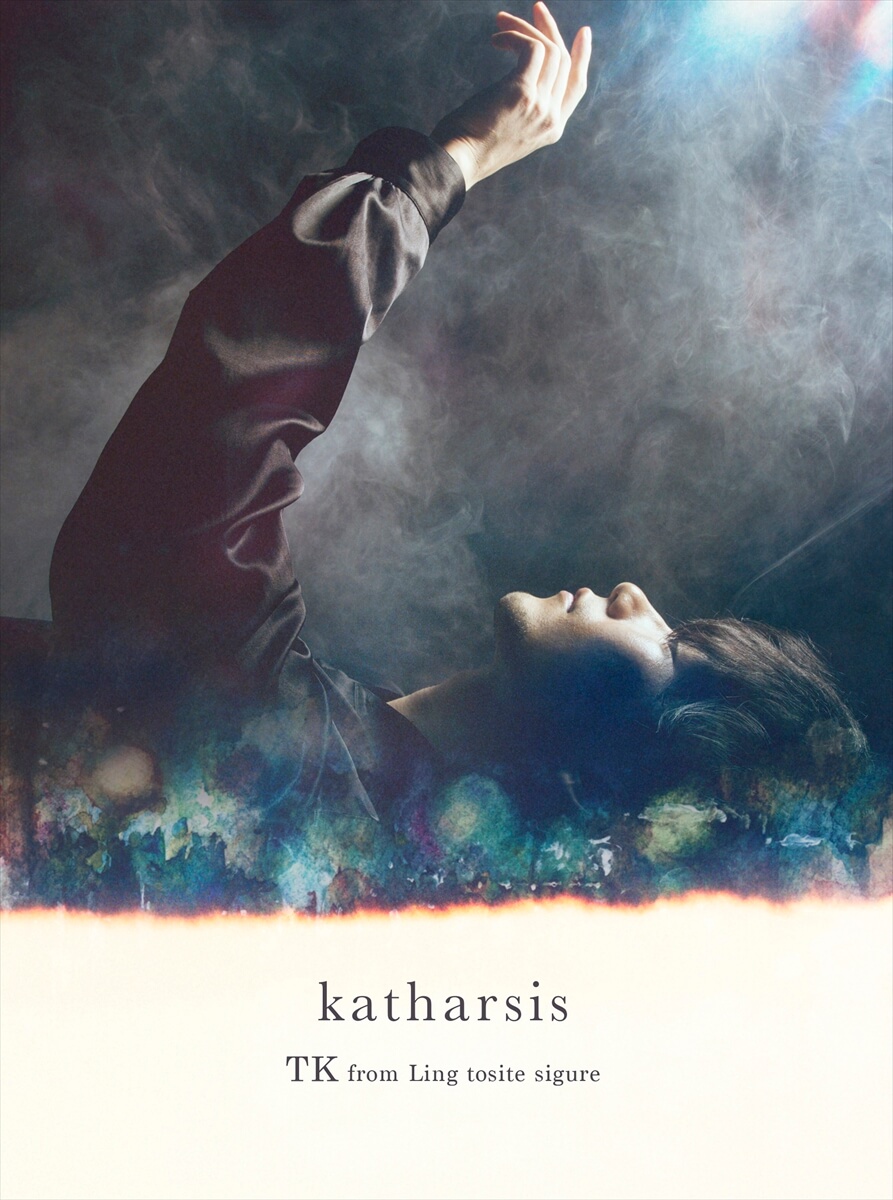 First Press Limited Edition
The First Press Limited Edition will include an additional 9-track CD featuring TK's "Acoustique Electrick Session" live performance at Billboard Live Tokyo last year. It also includes a cover of last eye written by TK for Japanese singer-songwriter Yuko Ando.
Regular Edition
A teaser for katharsis also dropped on YouTube today. The full version of the song is also now available to download ahead of the CD's release while the TV edit version is available on streaming services.
The singer will head on nationwide tour in Japan starting at DRUM LOGOS in Fukuoka on February 9, 2019. The tour will wrap up at Tokyo Dome City Hall on March 9. Tickets are now available on TK's official website.
Information
TK from Ling tosite sigure – "katharsis"
On Sale: November 21, 2018
First Press Limited Edition (2 CDs): ¥3,200 (Pre-Tax)
*Tall size packaging. Includes original postcard set and additional CD featuring 9 live tracks taken from the artist's performance at Tokyo Billboard Live last year.
Regular Edition (1 CD): ¥1,400 (Pre-Tax)
*First press versions of the Regular Edition include Tokyo Ghoul sleeve illustrated by Sui Ishida.
Digital Download: https://smar.lnk.to/_wkgYWN
TK from Ling tosite sigure Official Website: http://tkofficial.jp/
©Sui Ishida / Shueisha・Tokyo Ghoul:re Production Committee
RELATED ENTRIES
Tokyo Ghoul Creator Sui Ishida Reveals Drawing of Marvel's Moon Knight

The latest live-action series from Marvel Studios, Moon Knight, premiered on March 30, and is airing every Wednesday at 16:00 on the Disney+ streaming service. The main character, portrayed by Oscar Isaac, is one of the darkest and most mysterious heroes in the history of the MCU, suffering from dissociative identity disorder. Tokyo Ghoul creator Sui Ishida decided to surprise fans by releasing a crossover image to celebrate the start of the series and highlight the similarities between the two main characters, Moon Knight and Ken Kaneki.

The tagline of the illustration translates to "Clad in white madness," and shows Kaneki with his pale white hair and a red background beside Moon Knight in pure white with a dark black background.

Moon Knight protagonist Steven Grant is a kindhearted man who works in the gift store of the National Museum in London. He constantly suffers from blackouts and only remembers terrifying snippets of a former life. Eventually, he becomes the avatar for the Egyptian moon god Khonshu. 

Tokyo Ghoul has become one of the most popular manga series in Japan, with over 47 million copies in print as of January 2021. The series takes place in an alternate reality where ghouls, creatures who seem like humans but feed on human flesh, live among the general population in secret. After the main character Ken Kaneki receives an organ transplant from a ghoul, he becomes half-ghoul himself and must learn how to survive. Ishida highlighted the similarities between Moon Knight's Steven and Tokyo Ghoul's Ken, saying that they both have a lot of knowledge of what they're interested in and have their own dreams, but feel hopeless. Both are also mild-mannered, introverted, and invested in not becoming complete monsters.

 

Ishida commented that Moon Knight might be his favorite Marvel superhero of all time. The manga artist praised the new show's fast-paced action, the gray morality in its violence, and the comical sadness of its protagonist. "I saw Oscar Isaac in Star Wars, and I'm wondering what kind of hero he'll become in Moon Knight," Ishida said. "I'm really looking forward to it!"


Are you tuning into Moon Knight on Disney+? Tokyo Ghoul fans might want to give it a shot!

© 2022 Marvel/ ©石田スイ/集英社

Tokyo Ghoul Opens Online Raffle for Exclusive Original Goods

Kujibikido, a website offering a variety of different raffles, is offering a chance to win some exclusive Tokyo Ghoul merch! The Tokyo Ghoul ~Relax at Anteiku~ Online Raffle is open until November 4, and you can't get these items anywhere else. The theme of these original illustrations is 'Relaxing at Anteiku,' the small neighborhood cafe in the Tokyo Ghoul series. Popular characters enjoy a moment of rest and relaxation with a cup of coffee–a welcome departure from the drama and horror in the series!

Prize Lineup

S Prize: Winner can Choose! Extra-large Tapestry (5 varieties) 

A Prize: Winner can Choose! Mug (5 varieties) 

B Prize: Acrylic Stand (10 varieties)

C Prize: 76mm Pin (10 varieties) 

*One prize is guaranteed. 

The S Prize is a massive, life-sized tapestry, and the winner can choose which they'd like to receive. During the event, those who follow the official Kujibikido Twitter account and retweet a specific tweet will be entered into a lottery to win all 10 pins from the C Prize set along with a special bromide! Three winners will be announced, so don't miss out!

Information

Tokyo Ghoul ~Relax at Anteiku~ Online Raffle

Running until November 4 at 16:59

Price: ¥715 per entry (*Shipping Fees will be separate.) 

Official Site: https://kujibikido.com/lp/tokyoghou/

Tokyo Ghoul Author Sui Ishida's Tokyo Exhibition Reveals Key Visual

Sui Ishida, the author of the internationally celebrated manga series Tokyo Ghoul which has shipped over 44 million copies worldwide, is getting his first ever large-scale exhibition next year. Titled "Sui Ishida Exhibition [Tokyo Ghoul JACK JEANNE]," the event is set to take place at Sunshine City in Ikebukuro, Tokyo from February 6, 2021 to March 7, 2021 before moving to Fukuoka Asian Art Museum on April 10 where it will run until May 16.

The first key visual for the event has been unveiled which Ishida drew himself for the exhibition. It features the protagonist of his Tokyo Ghoul series Ken Kaneki as well as Kisa Tachibana from his upcoming game JACK JEANNE.

The exhibition is a place to discover all things Sui Ishida and will focus on his career from zero to the spawn Tokyo Ghoul and his upcoming game Nintendo Switch title JACK JEANNE which he designed the characters, created the storyline, illustrations and scenarios for. There will be a range of exhibits, illustrations, and more to see.

Pre-sale tickets to the exhibition were released on Thursday (December 10) via the official websitw. The exhibition will be carrying out capacity restrictions each day in response to the COVID-19 pandemic.

The exhibition is a must-see for fans of the author's work.

©Sui Ishida/SHUEISHA ©Sui Ishida/BROCCOLI
*Nintendo Switch is a trademark of Nintendo.

Information

Sui Ishida Exhibition [Tokyo Ghoul JACK JEANNE]

Tokyo

Venue: Sunshine City Exhibition Hall A
Running: February 6, 2021 to March 7, 2021

Times: [Weekdays] 13:00-20:00 / [Weekends & Holidays] 10:00-20:00

Fukuoka

Venue: Fukuoka Asian Art Museum
Running: April 10, 2021 – May 16, 2021

Exhibition Official Website: https://www.ishidasui-ten.com

Exhibition of Tokyo Ghoul Author Sui Ishida's Work to Take Place in Japan

Sui Ishida, the author of the internationally celebrated manga series Tokyo Ghoul which has shipped over 44 million copies worldwide, is getting his first ever large-scale exhibition.

The famed manga author made his debut with Tokyo Ghoul, which was serialised in Weekly Young Jump from 2011 to 2018. The dark fantasy, which questioned the notions of right and wrong, seduced the globe with its characters and world, eventually becoming published in 37 countries. The manga series went on to spawn anime and live-action adaptations, games, and more.

Ishida is now working on a new game entitled Jack Jeanne for which he is creating the script, scenario, and character designs. The highly-anticipated game is set for released on Nintendo Switch sometime this year.


The exhibition is a place to discover all things Sui Ishida and will focus on his career from zero to the spawn Tokyo Ghoul and the upcoming Jack Jeanne. There will be displays, illustrations, and more to see. It's a must-see for fans of the author.

©Sui Ishida/SHUEISHA ©Sui Ishida/BROCCOLI

TK from Ling Tosite Sigure Writes Song For Argonavis Anime's Band εpsilonΦ

It has been announced that TK from Ling Tosite Sigure has written a song for the fictional alternative rock band εpsilonΦ who appear in the upcoming anime series Argonavis from BanG Dream! which is set to begin airing tomorrow on May 2, 2020.

Argonavis from BanG Dream! is a boy band multi-media project that is part of the BanG Dream! music media franchise.

The title of the song is Hikari no Akuma (Light of the Devil). TK wrote, composed, and arranged the check entirely himself. A short music video was released for the track which you can watch below.

Argonavis from BanG Dream! | εpsilonΦ – "Hikari no Akuma" Music Video

The song was announced as a surprise on the second day of ARGONAVIS 3rd LIVE CROSSING Sound Only Live which was a 'live' performance from the characters with just their voices that took place on April 28 and 29. The two-day concert took place as a result of the postponement of ARGONAVIS 3rd LIVE and featured the same scheduled playlist. The concert received much attention and trended high on Twitter Japan.

To promote the upcoming anime series, the first four episodes of Argonavis from BanG Dream! will be streamed for free on YouTube.

©ARGONAVIS project. ©DeNA Co., Ltd. All rights reserved. ©bushiroad All Rights Reserved.

Kyary Pamyu Pamyu, ONE OK ROCK & Other Japanese Artists to Watch Live On YouTube During the Lockdown

With the world on lockdown as a result of the COVID-19 pandemic outbreak, everybody is cooped up indoors and spending time at home. If you're looking for something new to watch or listen to, then we've got you covered. MOSHI MOSHI NIPPON has compiled a list of 11 Japanese artists who have or are planning to post live footage of their full concerts and performances on YouTube.

The future looks uncertain as it is right now, so in the meantime let's find time to do the things we enjoy and stay positive as we get through this together.

ONE OK ROCK

ONE OK ROCK are set to premiere 6 of their past concerts on YouTube from 2014-2018. They will be the full performances with no cuts and will not be archived, so mark your calendars and be sure to tune in when they drop.

Full Details: https://www.moshimoshi-nippon.jp/313887

ONE OK ROCK's YouTube Channel: https://www.youtube.com/user/ONEOKROCKchannel

ARASHI

ARASHI has posted a full concert taken from his "untitled" tour which ran from November 2017 to January 2018. "Untitled" is the theme of the tour which looked towards ARASHI of the future. The stage set up and incredible performance are absolute must-sees.

ARASHI's Youtube Channel: https://www.youtube.com/channel/UCP7Gw_YZAuh4Yg2fcdcuumQ/

Kyary Pamyu Pamyu

Kyary Pamyu Pamyu is in the middle of posting 100 videos of her live performances which will be available to watch for a limited time between April 14 to May 17 this year. The videos are being released as a part of the at-home entertainment #ouchiasobi ("Play At Home") project launched by ASOBISYSTEM, the agency that Kyary is signed to. Now you can have fun too with Kyary by bringing her concerts into your home.

Full Details: https://www.moshimoshi-nippon.jp/313974

Kyary Pamyu Pamyu's Youtube Channel: https://www.youtube.com/kyarypamyupamyutv

AAA

AAA's performance at Saitama Super Arena was a highlight of their 2013 tourーa tour which took them to see 150,000 fans across Japan. The full show is now available to watch on YouTube until April 30, 2020 at 23:59 (JST), so be sure to check it out.

avex's Youtube Channel: https://www.youtube.com/user/avexnetwork/

RADWIMPS

RADWIMPS have posted some content from their recently-released live DVD and Blu-ray ANTI ANTI GENERATION TOUR 2019 onto their YouTube channel. Feel part of the crowd with the following thrilling performance.

Full Details: https://www.moshimoshi-nippon.jp/290378

RADWIMPS's Youtube Channel: https://www.youtube.com/user/radwimpsstaff/

Taichi Mukai

Taichi Mukai recently posted a video of his performance of his popular song Reset. The song was written as the first ending theme for the anime series Run with the Wind.

Taichi Mukai's Youtube Channel: https://www.youtube.com/user/0313taichi/

Official HIGE DANdism

Official HIGE DANdism's performance of I LOVE… at Pacifico Yokohama, which was held on February 10, 2020 as part of their "Travelers" tour, is available to listen to on Apple Music. This is another one that makes you feel part of the experience.

Apple Music "I LOVE…" Pacifico Yokohama (2020.02.10)

TK from Ling Tosite Sigure

TK posted a video on his YouTube channel of footage taken from his live performance at Landmark Studio in Yokohama. His live band line-up includes the familiar faces BOBO (Drums) and Sato Honoka (Violin) as well as Yoshida Ichiro Untouchable World (Bass) who was a support member for TK last year, Hiroko Sebu (Piano) who provided her piano playing on TK's single katharsis from last year, and Masao Watanabe (Cello).

Full Details: https://www.moshimoshi-nippon.jp/178674

Ling Tosite Sigure's YouTube Channel: https://www.youtube.com/user/sigureSMEJ/

amazarashi

amazarashi dropped a trailer last year for his live DVD and Blu-ray release Mirai ni Narenakatta Subete no Yoru ni. His self-cover of Long Hope Philiaーthe theme song of the anime film My Hero Academia: Two Heroes and fifth ending theme of the My Hero Academia anime seriesーis a must-see!

Full Details: https://www.moshimoshi-nippon.jp/270910

amazarashi's Youtube Channel: https://www.youtube.com/user/amazarashiSMEJ/

Suchmos

A live performance of Suchmos's hugely popular Mint. It features footage backstage from the band's tours across three years.

Full Details: https://www.moshimoshi-nippon.jp/207422

Suchmos's Youtube Channel: https://www.youtube.com/channel/UCQ3U5YJLWUr3VmQsO48jcQg/

Superfly

Here's a live music video of Superfly's song Kakusei, the theme for the anime movie Promare. The video uses live footage taken from Superfly's arena tour which incorporates gorgeous CG imagery.

Full Details: https://www.moshimoshi-nippon.jp/288707

Superfly's YouTube Channel:  https://www.youtube.com/user/superfly/

TK from Ling Tosite Sigure Announces New Album 'Sainou' – MOSHI MOSHI NIPPON

TK from Ling Tosite Sigure announced last year the release of a new album. More information has now been released with regards to the albumーhis fourth album in total and the first in three years.

TK's new album is entitled Sainou, and it's releasing on April 15, 2020. It will include such hit tracks as katharsis, which was the opening theme to the popular anime series Tokyo:re; P.S. RED I which was used as the main theme for the Japanese release of Spiderman: Into the Spider-Verse; the opening theme Chou no Tobu Suisou forthe ongoing anime series pet; and his digital single melt which featured suis of rock duo Yorushika on guest vocals. First Press Edition copies of the album include a bonus CD featuring the audio taken from TK's acoustic live show Bi-Phase Brain "R side" which was held at Bunkamura Orchard Hall in Tokyo in December 2019.

Fans who purchase the new album together with TK's single Chou no Tobu Suisou, which was released on January 22, 2020, have the chance to be invited to rehearsals for the singer's upcoming tour which will promote the new record. Full details can be found on his website.

 

The 11-date tour is entitled "TK from Ling Tosite Sigure Sainou TOUR 2020" and will kick off at Ebisu LIQUIDROOM in Tokyo on April 22, 2020.

Supporting TK on tour is BOBO on drums, who has supported TK since his early days, Honoka Sato on violin, and Ichiro Yoshida on bass. MARI (Gesu no Kiwami Otome) and Kie Katagi (jizue) will also join as support members.

Information

Sainou

Release Date: April 15, 2020

First Press Limited Edition (2 Discs): ¥4,545 (Before Tax) [AICL-3886~7]

Regular Edition (1 Disc): ¥3,000 (Before Tax) [AICL-3888]

Official Website: http://tkofficial.jp/

TK from Ling Tosite Sigure Releases Music Video For 'pet' Anime Opening Theme

The anime adaptation of Ranjou Miyake's sci-fi human drama series pet began airing on January 6. TK from Ling Tosite Sigure's newest single Chō no Tobu Suisō is the opening theme for the series, and his music video for it just dropped on YouTube.

TK from Ling Tosite Sigure – "Chō no Tobu Suisō" Music Video / TV Anime "pet" Opening Theme

The video was created by maxilla who also worked on TK's music video for katharsis. He took an artistic approach for this video, which was shot in the snow. We see a man and woman performing contemporary dance across the snowy landscape and on the icy shallow waters.

TK from Ling Tosite Sigure will promote his new album with a tour starting in April. The second wave of pre-sale tickets went on sale today, you can find the link below.

TK's longest tour to date, it will kick off at Ebisu LIQUIDROOM in Tokyo. He will be supported by a live band made up of BOBO on drums, who has supported TK and his beautiful, aggressive sound since his early days; Honoka Sato on violin; Ichiro Yoshida on bass, who first joined TK on tour last year; and on piano, MARI from Gesu no Kiwami Otome and Kie Katagi from jizue.

©Ranjou Miyake・KADOKAWA/Twin Engine Inc.

Information

Information

4th Album (Name to be announced)

To be released in Spring 2020 (Subject to change)

TK from Ling Tosite Sigure – "Chō no Tobu Suisō"

Release Date: January 22, 2020

Limited Pressing Edition A (CD): ¥1,500 (Before Tax) [AICL-3800]

Limited Pressing Edition B (CD+DVD): ¥2,200 (Before Tax) [AICL 3801-3802]

TK from Ling Tosite Sigure 2020 Album Release Tour 

April 22: LIQUIDROOM, Tokyo

April 25: DRUM LOGOS, Fukuoka

April 26: CLUB QUATTRO, Hiroshima

April 26 (National Holiday): KT Zepp Yokohama, Kanagawa

May 9: EIGHT HALL, Kanazawa, Ishikawa

May 17: PENNY LANE24, Sapporo, Hokkaido

May 23: Namba Hatch, Osaka

May 24: Takamatsu MONSTER, Kagawa

May 29: Nagoya DIAMOND HALL, Aichi

May 31: Sendai Rensa, Miyagi

June 4: Nakano Sun Plaza Hall, Tokyo

Tickets

Standing – ¥5,200 (Tax Included/Separate Mandatory Drink Fee Charged Upon Entry)

2nd Floor Reserved Seating – ¥6,000 (Tax Included/Separate Mandatory Drink Fee Charged Upon Entry)

*Venues with 2nd floor reserved seating include KT Zepp Yokohama and Namba Hatch. Nakano Sunplaza also has reserved seating.

General Sale: February 29, 2020 at 10:00 (JST)

Standing/Reserved Seating Pre-Sales: January 22, 2020 at 00:00 (JST) – January 29, 2020 at 23:00 (JST) – Buy Here

2nd Floor Reserved Seating Pre-Sales: January 28, 2020 at 15:00 (JST) – January 31, 2020 at 23:00 (JST) – Buy Here

*Up to 4 tickets per person for pre-sales

TK from Ling Tosite Sigure Official Website: http://tkofficial.jp/

"Pet" Anime

Initial Broadcast: January 6, 2020

Official Website: http://pet-anime.com

TK from Ling Tosite Sigure Announces 4th Album and Unveils New Visuals

TK from Ling Tosite Sigure is set to release his new single Chō no Tobu Suisō (The Water Tank the Butterfly Flies in). The single serves as the opening for the upcoming anime adaptation of the Remaster Edition of Ranjō Miyake's Pet manga seriesー a Sci-Fi drama which is set to premiere in January 2020.

TK from Ling Tosite Sigure also announced that he will release a new album next spring. The album will be the fourth full album to be released in the last 3.5 years of his project. The new album's visuals were simultaneously unveiled, revealing a design that is completely different from his usual style, adding to the excitement and anticipation. 

To celebrate the album release, TK will be embarking on a Japan tour of 11 performances which will kick off at Ebisu Liquid Room on April 22, 2020. TK will be accompanied by drummer BOBO, who has been performing with TK since the early days of his solo project, violinist Honoka Sato, bassist Ichiro Yoshida who has been working with TK for a year, Gesu no Kiwami Otome's keyboardist Chan Mari on piano, and Kie Katagi (jizue). Each new support member will contribute with an exciting new sound that fans can't wait to hear.

Advanced orders are currently being accepted so don't miss out if you're interested. 

Information

4th Album (Name to be announced)

To be released in Spring 2020 (Subject to change)

 

TK from Ling Tosite Sigure – "Chō no Tobu Suisō"

Release Date: January 22, 2020

Limited Pressing Edition A (CD): ¥1,500 (Before Tax) [AICL-3800]

Limited Pressing Edition B (CD+DVD): ¥2,200 (Before Tax) [AICL 3801-3802]

TK from Ling Tosite Sigure 2020 Album Release Tour 

April 22: LIQUIDROOM, Tokyo

April 25: DRUM LOGOS, Fukuoka

April 26: CLUB QUATTRO, Hiroshima

April 26 (National Holiday): KT Zepp Yokohama, Kanagawa

May 9: EIGHT HALL, Kanazawa, Ishikawa

May 17: PENNY LANE24, Sapporo, Hokkaido

May 23: Namba Hatch, Osaka

May 24: Takamatsu MONSTER, Kagawa 

May 29: Nagoya DIAMOND HALL, Aichi

May 31: Sendai Rensa, Miyagi

June 4: Nakano Sun Plaza Hall, Tokyo

Tickets and additional information can be found on TK from Ling Tosite Sigure's Official Website: http://tkofficial.jp/

Memai Siren's 'pet' Anime Ending Theme Produced by TK from Ling Tosite Sigure Releases Next Year

It has been announced that Memai Siren's new song image _____, which is produced and arranged by TK (Ling Tosite Sigure), will be released on January 22 next year.

The song will be used as the ending theme for the upcoming TV anime series pet. The opening theme is entitled Chō no Tobu Suisō (The Water Tank the Butterfly Flies in) and sees TK from Ling Tosite Sigure taking the helm to perform the song.

Both the anime edit version and full version of image _____ will be made available for digital download on January 6.

Memai Siren said: "There's a lot of things in pet we can relate to. It looks at the mountains and valleys of people's hearts, and questions if what we're looking at really is reality. We set out to create a song from the perspective of the storyーone that can support people. And with TK kindly on board to produce for us, we believe we have been able to elevate our expressive power like we never have. However, the reality in which I am writing this right now: is it just a memory? Or am I just rewriting something? Does this song even exist in the first place? I entrust the answers [to these questions] to you, the listeners."

Information

Memai Siren – "image _____"

Release Date: January 22, 2020

Limited Pressing Edition (CD+DVD): ¥2,200 (Tax Included) [SRCL-11401~02]

Regular Edition (CD): ¥1,320 (Tax Included) [SRCL-11400]

*CD cover illustrated by Ranjo Miyake and more details TBA

Memai Siren Official Website: http://www.memaisiren.com/

"Pet" Anime

Initial Broadcast: January 6, 2020

Official Website: http://pet-anime.com

'Pet' Anime Opening Theme to be Performed by TK from Ling Tosite Sigure

It has been announced that TK from Ling Tosite Sigure will perform the opening theme song for the upcoming anime adaptation of the Remaster Edition of Ranjō Miyake's Pet manga series. The song is titled Chō no Tobu Suisō (The Water Tank the Butterfly Flies in).

A new promotional video for the anime was also released which features the song.


Pet will premiere on TOKYO MX on January 6, 2020. Amazon will exclusively stream the series on Amazon Prime Video in Japan and overseas, with the first two episodes hitting the service on January 5, 2020 at 24:00 (January 6, 2020 at 12:00am).

Speaking about being involved with the series, TK commented: "I have read [the manga] countless times. The story takes me somewhere else. It makes me feel like I'm in a dream. If you asked me how this song came about, it seems like my memory of it has been plucked from me."

©Ranjō Miyake・KADOKAWA/ Twin Engine Inc.

Information

TK from Ling Tosite Sigure – "Chō no Tobu Suisō"

Release Date: January 22, 2020

Limited Pressing Edition A (CD): ¥1,500 (Before Tax) [AICL-3800]

Limited Pressing Edition B (CD+DVD): ¥2,200 (Before Tax) [AICL 3801-3802]

*Includes illustration by Ranjō Miyake and tall-size packaging

TK from Ling Tosite Sigure Official Website: http://tkofficial.jp/

"Pet" Anime

Initial Broadcast: January 6, 2020

Official Website: http://pet-anime.com

Giant 1/6 Scale Tokyo Ghoul Figure to be Sold at Tokyo Otaku Mode TOKYO in Shibuya PARCO

Tokyo Otaku Mode Inc. is set to display and start taking orders for a new 1/6 scale figure by Figurama from Sui Ishida's hit manga and anime series Tokyo Ghoul. Available in Japan only, it will be sold at the new Tokyo Otaku Mode TOKYO store from November 22 at 10:00am at the new Shibuya PARCO shopping complex.

Figurama is a Hong Kong-based figurine maker which has crafted many figures from popular titles such as Attack on Titan, Hellsing, Devilman, and Trigun, to name a few. The standout characteristic of their work is the size of their figures, the composition, and how detailed the figures are despite being so large.

The Tokyo Ghoul figure set to appear at Tokyo Otaku Mode TOKYO stands 63cm high, 44cm wide, and 35cm deep. It features series protagonist Ken Kaneki versus Yamori, who made Kaneki's hair turn white.

Only 800 of these figures have been made, of which Tokyo Otaku Mode TOKYO will sell 40, making them an extremely rare and limited edition collectors items. Perfect for any fan of the hit series!

©Sui Ishida/Shueisha・Tokyo Ghoul Production Committee

Information

TOKYO GHOUL: KANEKI VS YAMORI 

Maker: Figurama
Series: Elite Fandom
Scale: 1/6 

Materials: Ecofriendly Polystone, Translucent Resin, PU, LED 

Size: 63cm x 44cm x 35cm
Price: ¥100,000 (Tax excluded, shipping charge included)

Figurama Official Website: https://figurama-collectors.com/