These 8-Layered Mille-Feuille Pancakes Sold at Belle-Ville in Are Super Popular!
The fluffy and wobbly pancake extraordinaires at Belle-Ville opened a new branch in Okamoto, Kobe on October 10. This is their fourth branch in total and second in Japan, following on from Osaka, Thailand and Singapore.
Pancakes are made fresh to order at Belle-Ville. Not only do they taste good, they look incredible too and make for a perfect addition to Instagram pages. As well as their popular 8-stacked mille-feuille style pancakes, they are introducing some brand new options to the menu.
Kamadashi Pancake
There's been a calling for something that's milky, not too sweet and has lots of fresh cream. Belle-Ville have heard the demand and have responded with the new fresh cream-packed Kamadashi Pancake served in a hot skillet. These are also available for takeout.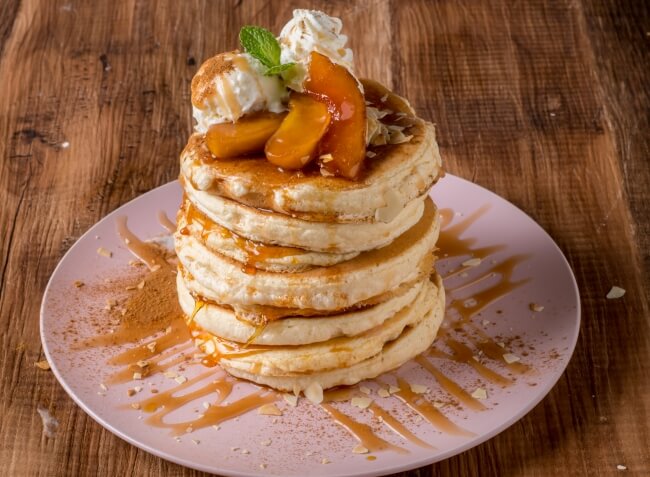 Chocolate & Fried Banana Pancakes
There's lots and lots of popular regulars too like the chocolate and fried banana pancakes. Belle-Ville is hugely popular in Thailand and Singapore too, so head there yourself to experience just how good they really are!
Information
Belle-Ville – Hankyu Okamoto Station Branch
Address: Umeda Chikagai North Mall 1, Kita Ward, Osaka, Osaka Prefecture
Opening Hours: Weekdays 10:00-20:00 (Last Orders 19:00) / Weekends 8:00-20:00 (Last Orders 19:00)
TEL: 078-412-7373
Official Website: http://belle-ville.net
RELATED ENTRIES
Kaori's Easy Recipe: Learn to Make Mickey Mouse Pancakes

With just a small bit of ingenuity, turn everyday food into something cute using Kaori's easy recipe! With a few simple ideas, an ordinary recipe magically transforms into a cute dish.

In this recipe, I made Mickey Mouse pancakes from the Face Art ga Kawaii Pancake Pan Mickey Mouse set you can buy on Belle Maison. You hear a lot of different tips and tricks on how to make the perfect pancake with your batter, so I'll show you a combined recipe to make yours as beautiful as possible♡

1. Ingredients (Makes 7-8 pancakes)

400g hot cake mix

300ml milk

1 large egg (approx. 52g)

15g honey

2. Mix the egg and milk together well. Add the hot cake mix slowly to ensure it does not become lumpy. Next, add the honey and mix. If you have time, leave to stand for 30 minutes on the side.

3. For the next step, please see the video I made below.

Heat the pan well without any oil.

Once heated, place the pan on a wet cloth once to remove the residual heat, turn the flame down to a medium, and pour in your mix.

Once your mix is in the pan, reduce to a low heat, put the lid on and leave to cook.

Once the surface is dry, cook the back side of the mix in another pan which you have already heated.

Done!

Belle Maison sells Minnie Mouse and Winnie the Pooh versions too. Try making your own Disney pancakes!

Kaori invites you into her world of character-themed food dishes in her recipe series. Be sure to check out her Instagram where she has uploaded many pictures of her character dishes!

Profile

Kaori Kubota (@kaopan27)
I live in Hokkaido and I love to make character themed foods, desserts and pastries♡

I want to see my family smile, so I enjoy putting in a bit of effort to make character foods and changing food into something cute♡

You can see more of my character foods and character bento boxes on my Instagram page→@kaopan27

©️Disney

Ginza's Gorgeous Ice Cream Shop coisof Releases Halloween Parfait

Ginza's luxury ice cream shop has released a new parfait flavour for the Halloween and autumn season.

They have called it the "Akiiro Murasaki coi Parfait" (Autumn Colour Purple coi Parfait). Coloured like the vivid sumire plant―a species of violet―this mouth-watering parfait contains a jam made in-house with whole natsuhaze, a wild type of blueberry that has been used in Japan since ancient times. It's topped with a dollop of rich and milky ice cream, a puree made from in-season purple sweet potatoes, and assorted nuts for added crunch.

Natsuhaze blueberries contain a lot of polyphenols, giving them an elegant sour flavour which goes unbelievably well with the taste of the milky ice cream and sweet potato. The parfait is served with a liqueur made from sumire extract.

For the Halloween period between October 16 to 31, the parfait can also be topped with various spooky decorations at no extra cost, like chocolate ghosts, spiders and cobwebs.

If you're celebrating Halloween in Japan this year, or want to treat your date to a Halloween treat, then take them to Tokyo's high-class shopping district Ginza for a luxurious parfait.

Information

Akiiro Murasaki coi Parfait

Price: With Liqueur ¥1,200 (Before Tax) / Without Liqueur ¥1,000 (Before Tax)

Running: October 16, 2019 – November 30, 2019

*Free Halloween parfait toppings available October 16, 2019 – October 31, 2019

Coisof

Grand Opening: January 17, 2019

Address: re:Dine GINZA Floor 9F, 4-3-1 Ginza, Chuo Ward, Tokyo

Opening Hours: 11:00-22:00

TEL: 050-3628-5009

Website: coisof.favy.jp/

This Week's Dessert: Savouring Autumntime Matcha Sweets at ATELIER de GODIVA in Ikebukuro

One thing I do at least once a week without fail is treat myself out to some delicious food or dessert. It's very important time well spent to ensure happiness.

I've been working relatively hard as of late. I had some spare time before a business meeting, so I took advantage of the occasion to treat myself to some desserts. My destination: ATELIER de GODIVA located inside Seibu Ikebukuro.

GODIVA has numerous stores throughout Tokyo, but Ikebukuro's concept store branch has an eat-in space that's perfect for that tea or coffee break.

ATELIER de GODIVA boasts that same level of quality when it comes to their desserts, some of which are exclusive to this branch. There are only three branches: this one in Seibu Ikebukuro (Tokyo), another in Daimaru Kyoto (Kyoto), and the last in Hakata Hankyu (Fukuoka). The cake I am showing you today is a special dessert sold only in these three branches (and is takeout only at Hakata Hankyu).

The first delight I ordered was the Mousse Matcha Cherry.

Mousse Matcha Cherry: Eat in ¥980 / Takeout ¥780 (*Matcha Ice Cream is eat-in only)

Available: Until November 26, 2019 while supplies last

The shiny cake is served on a round white plate with a dollop of matcha ice cream. The pink berry sauce is drizzled around the plate to make the plating even cuter.

Time to tuck in. This extravagant cake is supported by a fluffy matcha mousse topped with a crunchy chocolate sable. On top of that still are juicy cherries, adding a hint of freshness to the cake. The matcha glaze on the mousse has just the right amount of bitterness, which when coupled with the subtly sweet matcha mousse makes for a heavenly balance of flavours. Lined around the base of the mousse are sweet and sour dried raspberries which elevated the matcha-ness of the matcha mousse.

The matcha ice cream which it comes with when you order to eat in is rich and creamy.

I was full up after my dessert, but since I'd taken the time to come here I wanted to order a drink too… so I got a takeout Chocolixir Uji Matcha Kiwami from a shop adjoining ATELIER de GODIVA.

Chocolixir Uji Matcha Kiwami – ¥602 (*Takeout only at the GODIVA Seibu Ikebukuro branch)

This new drink is part of GODIVA's chocolate and tea pairing series. The chefs at GODIVA have carefully selected the best varieties of tea to combine with chocolate. This one is an iced drink made with white chocolate and matcha.

It's a mix of GODIVA's popular smooth and sweet white chocolate and rich Uji matcha. It's crowned with a sprinkling of bitter Uji matcha powder. All of the flavours are highlighted in this sweet drink. The crunchy white chocolate pieces you sip up as you drink are delicious. It's the kind of drink where you're sure to find something new each time you take a drink.

My 30-minute tea break is my little self-indulgence for the day. Spare minutes in my daily schedule affords me the chance to go and enjoy some delicious desserts. You should treat yourself to some special autumntime sweets too.

Today's Presents

Matcha Adzuki ATELIER Tablet – ¥800

It's important to share the happiness between family and colleagues on when you get the chance to enjoy something tasty. The present I bought today was a tablet chocolate handmade in the shop. The matcha white chocolate has almonds in it as well as Japanese-style chocolate mixed with adzuki. It has a strong matcha flavour and isn't overly-sweet. You can also request for a ribbon to be tied around it for gift-giving. It's a chocolate that's sure to bring anyone joy.

Writer:Sayuri Mizuno(MOSHI MOSHI NIPPON)

Translator: Joshua Kitosi-Isanga

Information

ATELIER de GODIVA Seibu Ikebukuro

Address: Seibu Ikebukuro B1F, 1-28-1 Minami-Ikebukuro, Toshima Ward, Tokyo

Opening Hours: [Mon-Sat] 10:00-21:00 / [Sun & Holidays] 10:00-20:00

ATELIER de GODIVA Daimaru Kyoto

Address: Daimaru Kyoto B1F, 79 Tachiuri Nishimachi, Shimogyo Ward, Kyoto, Kyoto Prefecture

Opening Hours: [Mon-Sun] 10:00-20:00

ATELIER de GODIVA Hakata Hankyu

Address: Hakata Hankyu B1F, 1-1 Hakataekichūōgai, Hakata Ward, Fukuoka, Fukuoka Prefecture

Opening Hours: [Sun-Thurs] 10:00-20:00 / [Fri-Sat] 10:00-21:00

Chocolixir Uji Matcha Kiwami

Running: October 1, 2019 – November 30, 2019

Available: GODIVA

https://www.godiva.co.jp/boutique/?view=map&store_list_id=50

GODIVA Official Website: https://www.godiva.co.jp/

Full Moon Salted Caramel & Paradigm Shift Pudding Cooked Up By firando

Mirai Image and firand have teamed up to create a new dessert brand named "firando." Their website launched just recently, and their first products, "MANGETSU" and "PURIORI," were shown for the first time at the 9th Tsuhan Expo which took place on September 26-27. Sales of these two confections went live on their official website on Tuesday (October 15).

During the Edo portion of Sakoku, when Japan closed its doors to most foreign trade and foreign nationals, Hirado was called "firando" and thrived as a port for international trade. During this time, caramel, then a western-style confection, found its way to Hirado, and has since resurfaced in Hirado, Nagasaki.

"MANGETSU" is the Japanese term for full moon. This salted caramel treat is made with a very special salt: it's taken from the sea of the beautiful Hirado Island only when the tide is high during an evening full moon. It's also made with freshly-squeezed raw milk shipped directly from the only dairy farmer in Hirado that has been passed down the generations. The dessert is completely additive-free, using no preservatives or artificial colouring. It uses the highest quality unrefined sugar from Kagoshima Prefecture that is easy on the body, with each and every grain being accounted for in the 10-second cooking progress. The milk has a rich flavour, and the full moon salt adds a pleasant accent, resulting in a refreshing aftertaste.

The "PURIORI" is a Japanese-style pudding whose concept is "going back in time." The concept asks, "What if you went back in time to the end of the Edo period and presented nanbangashi* to the Matsuura feudal lord?" The pudding piles together the layers of Japan's confection culture. It's made with rare eggs from Nagasaki Prefecture that you can't get on the marketplace.

*Nanbangashi are a variety of Japanese sweets derived from Portugal and Spain

firanodo has whipped up some seriously special and luxurious desserts here. If you find yourself in Nagano, be sure to visit their store, and don't forget to check out their website below.

Information

firando

Address: 310-2 Tsuyoshichō, Hirado, Nagasaki
Products: MANGETSU / PURIORI」
Official Website:  https://firando-caramel.com/

Royal Park Hotel Tokyo Transforms For Halloween 2019

Royal Park Hotel Tokyo in Nihonbashi has begun its Halloween festivities for 2019, including a bone-chilling black and orange food and dessert menu, spooky decorations, a photo spot in the first floor main lobby, and more.

Check out their mouth-watering sweets assortment! Their Halloween Afternoon Tea set is packed full of autumntime flavours, from the glass desserts, to the apple chiboust, chocolate pocket watches with bats on them, adorable monster burgers, and more.

The hotel is also offering a Halloween Dinner Buffet on weekends and holidays decorated in Halloween colours. Pile your tray with figs and blackcurrants, chestnut mousse, pumpkin tarts, and plenty of other tasty treats, all prepared fresh in the kitchen.

This is just a peek into the hair-raising fun happening right now at Royal Park Hotel Tokyo. There's also the Halloween Cocktail Fair, Halloween Sweets & Bread event, and much more.

Spend your Halloween here, or even use it as an opportunity to try wearing your Halloween costume out so you're ready for October 31!

Information

Halloween Afternoon Tea

Running: October 1, 2019 – October 31, 2019

Location: Fontaine (Floor 1F Lobby Lounge)

Price: ¥4,840 Per Person (Tax Included)

Halloween Dinner Buffet (Weekends & Holidays Only)

Running: October 5, 2019 – October 27, 2019

Location: Symphony (Floor 1F Lobby Lounge)

Price: ¥7,260 Per Person (Tax Included) / Seniors ¥6,050 Per Person (Tax Included)

*¥4,235 Per Person (Tax Included) for those aged 4-12 years and 65+

Halloween Cocktail Fair

Running: October 1, 2019 – October 31, 2019

Location: Fontaine (Floor 1F Lobby Lounge) / Royal Scots (Floor B1F Main Bar)

Price: ¥1,936 Per Person (Tax Included)

Halloween Sweets & Bread

Running: October 1, 2019 – October 31, 2019

Location IKI (Floor 1F Sweets & Bakery)

Royal Park Hotel Tokyo

Address: 2-1-1 Nihonbashikakigarachō, Chuo Ward, Tokyo

Official Website: https://www.rph.co.jp/

See the Ten Million Dollar Night View of Rokko Arima While Staying at Hot Spring Town

The Mt.ROKKO CABLE CAR & TOURISM COMPANY has announced a 25-day bus tour which will run on weekends and holidays only from October 12 to December 22 offering a bus tour to see the amazing nightscape of Rokko Arima in Kobe.

Arima Onsen is known as one of Japan's leading hot spring locations. In order for more people to catch a glimpse of Rokko Arima's incredible nighttime scenery, a new tour service has been created in collaboration with hotels and accommodation services throughout Arima for guests staying in the town to see what has been dubbed the "ten million dollar night view" from Mount Rokko.

The tour will last two hours and will take guests on an enchanting journey to several locations. They will get to see the night view from Rokko Garden Terrace, gain entry to Rokko Shidare Observatory, and visit the East Rokko Observatory which is only accessible by car. The entire thing costs just ¥2,800 per person.

Schedule

20:00 Depart Arima Onsen

20:30 Nighttime view from Rokko Garden Terrace and Rokko Shidare Observatory with tour guide

21:30 Nighttime view from East Rokko Observatory

22:00 Arrive back at Arima Onsen

Discover the tranquillity of Japan's winter nights and gaze up at the starry sky using the Rokko Arima Night View Bus Tour.

Information

Rokko Arima Night View Bus Tour

Running: Weekends & Holidays from October 12, 2019 – December 22, 2019

Price: ¥2,800 (Tax Included)

Capacity: 22 (Will set off with 1+ people)

Website: https://www.rokkosan.com/tabi/

2019 Kobe Luminarie Winter Illuminations to Light Up Kobe This December

The 25th Kobe Luminarie light festival will take place from December 6 to 15. The theme of this year's festival is "25 Years, Guided by the Light of Hope" (Original Italian title: Da 25 anni, guidati dalle luci della speranza).

Kobe Luminarie is an illumination festival that has been held annually since 1995 in commemoration of the Great Hanshin earthquake which hit Kobe that year on January 17. The event has continued as a symbol of hope for Kobe and has also become a festival associated with the winter season. Last year's festival saw around 3.43 million people in attendance.

The "Light Bulbs" make a comeback radiating their warm light

Formerly the doorstep to foreign culture, Nakamachi-dori, lined with countless tasteful stores, will be lined with around 270 meters' worth of decorations. The entrance decoration, named Frontone, stands almost 22 meters tall with three towering gates each connected to each other. The Sparri Ara is a wide wall of lights which runs 50 meters from Frontone all the way to Kyomachisuji Crossing. And as a special instalment to the 25th run of the festival, the light bulbs used at the first festival will be strung up to create another wall illumination from Itomachi to the East block which will be dubbed the "Memorial Zone."

The event's largest light dome

In the eastern amusement park plaza, Cassa Armonica―an illuminated church structure set up every year―will be enveloped in a large 21 meter high dome featuring an arch for the first time standing 4 meters tall in the memorial area

Over in the floral clock area, the Sparri Ara wall lights twinkle beside the wisteria trees. The lights will change and transform to the sound of the music. Attendees will also be able to pick up small gifts too as well as take pictures at the various photo spots.

Earthquake Talk Booth

Talks will be held discussing the origins of Kobe Luminarie and why it started. Earthquake survivors will also talk about their real experiences.

International Creative Director and Executive Producer Daniel Monteverde, who has been working with Luminaire for 20 years, made the following comment: "The city of Kobe will bustle once again this year, which will mark 25 years. People will fill the streets and look to the sky while they wait for the chime of the bell to signal the illuminations. We hold the memories of the people we lost 25 years ago close to our hearts. I hope we can convey our hopes and dreams and our story to our children and the young people who will bear the next generation. I hope people will be proud of Kobe which has recovered from the earthquake."

He continues: "The Kobe Luminarie lights will shine once more for Hyogo, for Japan, and for the world. These lights are a symbol of each and every person's devotion, their efforts, and their love. I pray that the Luminarie lights will send a message of hope to the world and continue shining in our hearts for the rest of time." * Full comment translated from Japanese

Information

25th Kobe Luminarie

Running: December 6, 2019 – December 15, 2019

Location: Kyu Gaikokujin Kyoryuchi and Kobe East Park (Higashi Yuenchi) (Chuo Ward, Kobe, Hyogo)

Illumination Times

[Mon-Thurs] 18:00-21:30

[Fri] 18:00-22:00

[Sat] 17:00-22:00

[Sun] 17:00-21:30

*Times may be extended depending on the number of people. Event may be postponed in the case of bad weather.

Kobe Luminarie Official Website: http://kobe-luminarie.jp/

Top 6 Desserts Made With Luxurious Pink Ruby Chocolate

Ruby chocolate is a variety of chocolate that was introduced in 2017 as the 4th main type of chocolate alongside milk, white and dark. It didn't hit Japan until October 2018, but since then, the luxury pink delight has been getting much love with the release of many new products. The ruby colour of the cocoa beans is completely natural.

I attended a product conference held by Barry Callebaut, the Belgian-Swiss chocolate company which introduced ruby chocolate to the world. I got to try out various confections made using this chocolate.

When talking about ruby chocolate, you're inclined to highlight its striking pink colour. But the looks are just part of the story. Compared to dark, white and milk chocolate, ruby chocolate is said to have the strongest cacao fruit flavour. Though it's chocolate, it has a sour, fruity kind of taste.

Until last year, I was more about the eye-catching pink colour of the chocolate, so I ended up overlooking that ruby chocolate is often paired with berry-type fruits when it comes to confections. I get it nowーso it has a sour taste? Well then, this year I really want to go all out and appreciate the unique flavour of this ruby chocolate.

Today, I'm going to showcase six new products made with Callebaut® Ruby Chocolate. I've tried them all, so I can properly break down the flavours and how delicious they are for you!

Ruby Chocolate Otabe – ¥660 (Before Tax)

This Japanese confection is a combination of ruby chocolate and "Otabe," which is a confection known as "yatsuhashi," a popular souvenir sweet from Kyoto. Much time is put into making the ganache to ensure the fruitiness of the ruby chocolate remains intact. The ganache is wrapped in chewy yatsuhashi which is made with domestic koshihikari, which is a type of rice, and carefully selected water. There's no way this could be anything short of delicious!

At the taste-testing session, I got to see the ruby chocolate Otabe being made right in front of me. It was done by a kimono-clad Nara who normally makes confections in the factory.

The rich and sour ganache combined with the chewy yatsuhashi is a match made in heaven! The pink colour really is cute after all, isn't it? By wrapping the fruity chocolate in mochi, it creates even deeper flavours in your mouth.

This product will be sold at Kyoto Station and various tourist sites around Kyoto, so if you ever visit the city, make sure you're on the lookout.

Ruby Chocolate Otabe

Running: October 11, 2019 – Early May 2020

Available: At Kyoto Station and tourist spots around Kyoto

Official Website: http://www.otabe.kyoto.jp/

 

 

Ruby Mille-feuille – ¥600 (Before Tax)

From Juchheim comes these ruby chocolate-coated mille-feuille fingers, laced with butter from Hokkaido and strawberry and raspberry mixed cream layered into a crunchy sandwich.

The puff pastry is of course tasty, and the sour flavour of the ruby chocolate mixed with the sourness of the berry cream packs a seriously fruity punch. It's an overall crunchy and rich dessert, but it also has a refreshing taste to it, so one person is sure to be tempted by more than one.

Ruby Mille-feuille

Released: October 1, 2019 (Online orders from October 8, 2019 )

Available: At all 272 branches of Juchheim in Japan / Juchheim Premium Online Shop

Online Shop: https://e-shop.juchheim.co.jp/

Pretzel Cookie – ¥480 Each (Before Tax)

Food company Rosenheim have taken their crunchy butter pretzel cookies and coated them in various chocolate flavours, including ruby, sweet, milk, and white.

The ruby pretzels have that distinct vivid pink colour and of course taste fruity. There's six in a pack, so you can share them with friends.

Pretzel Cookie

Released: September 20, 2019

Available: At mass retailers across Japan

Christmas Wreath Ruby Framboise – ¥5,000 (Before Tax)

Callebaut's new ruby chocolate iced cake will be released from Maison Givrée. It's topped with a ruby chocolate and raspberry ice cream and is adorned with cool and refreshing lychee sorbet.

The best way to eat this cake is when the ice cream has melted a little bit. You can enjoy the sweet fragrance of the ruby chocolate and the marriage between its sour flavour and the raspberry. Try savouring the melted sorbet and ruby chocolate ice cream by leaving it in your mouth.

Christmas Wreath Ruby Framboise

Running: October 11, 2019 – December 13, 2019

Delivery Window: December 20, 2019 – December 25, 2019 (subject to change)

Stock: 50

Available: At Maison Givrée and its online store

Official Website: https://givreetokyo.shop-pro.jp/

Ruby Chocolate Corn Puffs – One Box ¥1,450 (Tax Included)

You can pick up a box of these ruby chocolate corn puffs at Pierre Gagnaire Pains et Gateaux on the 2nd floor of InterContinental ANA Hotel Tokyo. They have a shiny pink pearl-like appearance. The crunchy corn puffs are thick-cut which goes well with that fruity ruby chocolate taste.

Ruby Chocolate Pear Tart – ¥650 (Tax Included)

These cocoa-laced and ruby chocolate powdered baked tarts are also sold at Pierre Gagnaire Pains et Gateaux. They're topped with almond cream and a pear compote. They're also topped with a ganache made from ruby chocolate and a redcurrant puree. Their design is made so that it looks like a flower, crowned with extra redcurrants.

Ruby Chocolate Corn Puffs

Running: All year round

Ruby Chocolate Pear Tart

Running: October 1, 2019 – January 14, 2020

Available: Pierre Gagnaire Pains et Gateaux (InterContinental ANA Hotel Tokyo – Floor 2F)

Hotel Official Website: https://anaintercontinental-tokyo.jp/en/

I'm all about ruby chocolate's deep flavour now. If you've yet to try it then you've got to get your hands on some, to enjoy both its striking pink appearance and that sour cacao fruit flavour.

Writer: Sayuri Mizuno (MOSHI MOSHI NIPPON)

Translator: Joshua Kitosi-Isanga

Munch On These Crispy Freshly-Baked Custard Apple Pies Made With Sweet Potato at RINGO

RINGO, a shop which specialised in freshly-baked custard apple pies, has announced that it will release its new Yakitate Custard Oimo Apple Pie on October 17.

RINGO opened its first branch in Ikebukuro, Tokyo back in 2016. Since then, it has expanded and opened 12 branches across Japan, including Osaka and Fukuoka, and 3 stores overseas. They sell over 6 million custard apple pies every year. Since their products are baked fresh in-house, you can watch and see how they are made.

The new Yakitate Custard Oimo Apple Pie is a crunchy 144-layer pie packed full of custard cream and an autumntime sweet potato paste for an added subtle sweetness.

The sweet and sour apple filling is made with a range of domestic apples, including the hatorazu ringo apple from Aomori Prefecture. The pastry is also laced with cocoa powder and topped with roasted white sesame seeds. A deliciously fitting dessert for the autumn season!

Information

Yakitate Custard Oimo Apple Pie

Running: October 17, 2019 – November 10, 2019

Price: ¥465 (Tax Included)

Available: At RINGO branches across Japan (except ekie Hiroshima and Sendai Station)

*There are is a limited number served per day 

Official Website: http://ringo-applepie.com

Top 5 Halloween Treats to Pick Up at Japanese Convenience Stores This Year

October is here, meaning Halloween is right around the corner. If you're not up for dressing up in a costume or going out this year, then you can still get in the Halloween spirit by picking up one of the many Halloween exclusive goodies now being sold at Japanese convenience stores. We've picked out our top 5 favourite for you.

Starbucks® Sweet Caramel Pudding Latte

Starbucks Japan is now stocking its sweet caramel pudding latte across most convenience stores in Japan. The golden-capped cup features a spooky Halloween design, decorated with ghosts, pumpkins and bats. Enjoy Halloween in a cup with the beverage's rich and sweet caramel pudding flavour.

▼Starbucks® Sweet Caramel Pudding Latte

Price: ¥200
Available: Most convenience stores across Japan. Select branches not stocking.

Calbee Jagabee Black Consomme

These crunchy potato sticks are a popular savour snack in Japan. This Halloween, Calbee has coloured their sumptuous sticks black, and made them taste like delicious consomme. This is a 7-Eleven and Ai Group-exclusive. Its cute pot design will have you grabbing one off the shelf without even thinking.

▼Calbee Jagabee Black Consomme

Price: ¥138 (Before Tax)
Available: 7-Eleven and Ai Group

KOIKE-YA Karamucho Hot Chili Flavour

The classic thick-cut Karamucho potato chips have been sprinkled with extra spiciness for that heated kick. The packet features all the familiar faces of Halloween, from a witch to a pumpkin, bats, a graveyard and more. If you're a spice-seeker then this one's for you. Also a 7-Eleven and Ai Group exclusive product.

▼KOIKE-YA Karamucho Hot Chili Flavour

Price: ¥128 (Before Tax)
Available: 7-Eleven and Ai Group

7-Eleven Marshmallow Chocolate Ganache Daifuku

7-Eleven is also releasing a range of its own original Halloween treats, including this sweet white daifuku which looks like a marshmallow and is filled with rich chocolate ganache. A Japanese and Western-combined confection you can enjoy with one hand.

▼7-Eleven Marshmallow Raw Chocolate Daifuku

Price: ¥118 (Before Tax)
Available: 7-Eleven (Except in Okinawa)

7-Eleven Black Cat Sachertorte

Black cats are a popular symbol of Halloween, particularly in Japan. This cake is made with chocolate cream and vanilla cream and is coated in a crunchy chocolate coating for even more tasty texture. This is a seriously cute choice you're sure to love!

▼7-Eleven Black Cat Sachertorte

Price: ¥308 (Before Tax)
Release Date: October 15, 2019
Available: 7-Eleven

Did you enjoy our picks? There are plenty of Halloween-themed foods, confections and sweets to look forward to this year at convenience stores in Japan. Head to your closest one and see what they have in stock.

The Luxurious KitKat Chocolatory is Revamping Its Chocolate Line-Up

Nestlé has announced that it is revamping its 16 products* at the KitKat Chocolatory which will be released on October 11, 2019.

*One of these products will be released in late November

The KitKat Chocolatory is a direct-to-consumer chain, serving premium, handcrafted KitKats made with top quality ingredients and production methods under full direction by Takagi Yasumasa―the owner and chef of LE PATISSIER TAKAGI. Its luxurious line is endless, with products ranging from the elusive ruby chocolate, whose cocoa beans give the finish product its pink colour, to volcanic chocolate made from rare cocoa beans sourced from volcanic islands, and beyond.

The Chocolatory takes regular KitKats and the brand to a whole new level while still having that sense of familiarity, making their products great gifts and personal treats.

The new line-up of 16 products is considered by four categories: 1) the chocolate type, 2) where the cocoa beans are produced, 3) the production process from bean to bar, and 4) the combination between chocolate and other ingredients. Each and every bar has been given equal attention to create chocolates with different flavours, enabling consumers to discover not only which tickle their taste buds, but the story behind each unique bar.

There is a rapidly growing interest amongst consumers who want to know where their food comes from and how it's made. When it comes to specialist chocolate products, a lot of information isn't widely known. That's the reason behind KitKat Chocolatory's revamp, as well as to create chocolate that nobody has experience before.

Let's take a look at four of the new KitKats you can get your fingers on.

Enjoy the Chocolate Varieties

KitKat Chocolatory Sublime Bitter – ¥300 Each (Before Tax)

A hallmark product since KitKat Chocolatory opened, the Sublime Bitter is couverture chocolate made with 66% cocoa. The bar is a blend of three different cocoa beans from Ghana, Madagascar, and the Dominican Republic. This addictive delight reserves the original bitterness of the cocoa while having a fruity tinge to it.

Enjoy the Difference Between Cocoa Production Areas

KitKat Chocolatory Sublime Volcanic Malakula Island – ¥400 Each (Before Tax)

This mysterious 'volcanic chocolate' is made from extremely rare cocoa beans sourced from the volcanic Malakula Island which was voted one of the happiest places on earth. It has a distinct bitterness and very fragrant scent reminiscent of the ground.

Enjoy the Chocolate Making Process

KitKat Chocolatory Sublime Raw – ¥300 Each (Before Tax)

The cocoa beans of this "raw" chocolate are cooked at a lower temperature than usual to draw out a more natural flavour of the original bean, like it's been plucked right out of a cocoa bean farm and placed into your hands.

Enjoy the Combination Of Ingredients

KitKat Chocolatory Moleson – ¥500 Each (Before Tax)

Finally, here is the world's first ingredient-topped KitKat. It uses the smooth, melt-in-the-mouth KitKat Chocolatory Sublime Milk bar as the base, and is topped with sweet and sour dried cranberries and fragrant crushed almonds, creating a flavourful and textural ensemble.

Discover a whole new world of KitKat and chocolate when the new products drop at KitKat Chocolatory on October 11.

GODIVA Releases New Heavenly Chocolixir Tea and Chocolate Pairing Drink

As the almighty creator of the chilled chocolate drink called the Chocolixir, GODIVA has now transcended to a whole new level with its Tea Magic Series which pairs luxurious GODIVA chocolate with a specially made tea. The fourth and final heavenly Chocolixir drink for the Tea Magic Series has now been revealed to be called the Chocolixir Uji Matcha Kiwami. This is a pairing of GODIVA white chocolate and Uji matcha. A limited number of these will be released for sale from October 1, 2019 to November 30, 2019.  

The GODIVA Tea Magic Series is made using the finest GODIVA chocolate. The chocolatier considers the most appropriate tea to enhance the flavour of the chocolate and only uses the finest tea leaves to make the drink. The result is a chilled chocolate tea which is filled with a flavour that will enlighten you. Hojicha Chocolate tea was the first tea of the series and was released on July 1st.

Chocolixir Uji Matcha Kiwami (270ml): ¥602 (before tax)

GODIVA's mildly sweet and velvety white chocolate is blended with rich uji matcha tea and then chilled to a perfectly refreshing temperature. A light cloud of whipped cream floats on the surface and is sprinkled with carefully made uji matcha powder. Matcha chocolate sticks garnishe the drink. 

From your first sip to your last, your mouth will be filled with a rich and luxurious matcha flavour. From time to time, your tongue will discover the exciting texture of small pieces of smashed white chocolate pieces.

This is the perfect opportunity to indulge in the luxurious flavour of mild white chocolate blended with rich uji matcha.