Chibi Maruko-chan Merchandise Shop to Open at Fukuoka PARCO
The new Fukuoka Chibi Maruko-chan Store will open at N-SPOT on the 7th floor of Fukuoka PARCO on October 13 and will run for a limited period until November 30.
Due to the popularity of the Tokyo Chibi Maruko-chan Store (June 2018 – September 2018) and the Osaka Chibi Maruko-chan Store (September 2018 – October 2018), the shop is set to drop on fans in Fukuoka who can look forward to getting their hands on some cute merchandise.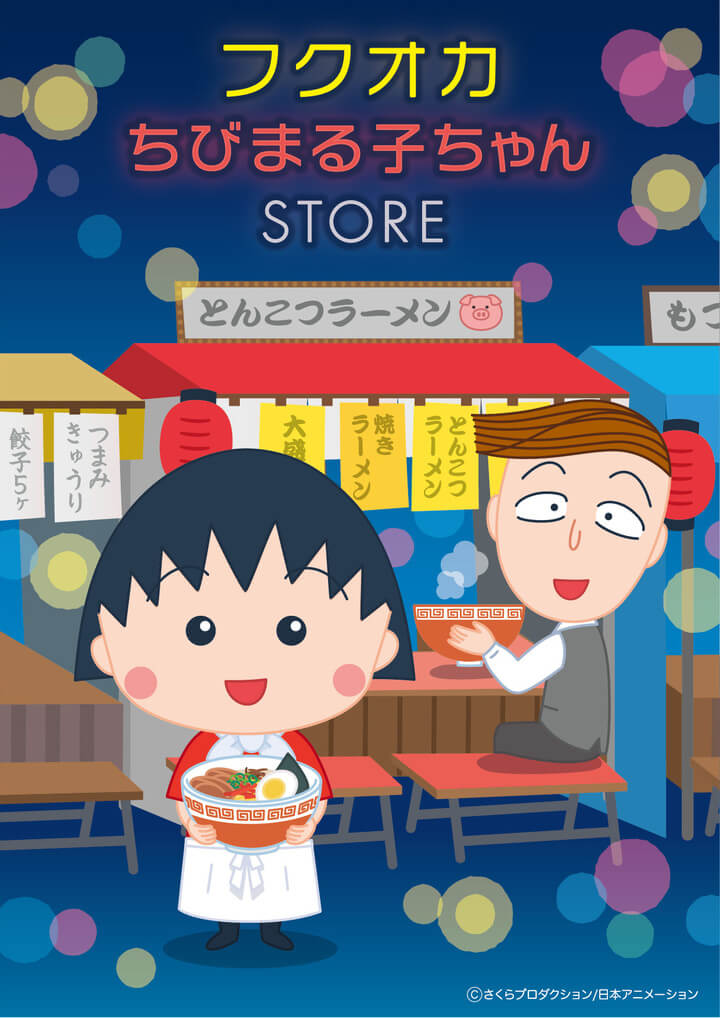 An exclusive illustration for Fukuoka will hit the store featuring Maruko-chan serving tonkotsu ramen at a foot card and Hanawa-kun behind her dressed in a suit. There will be around 300 individual limited edition items at the shop using this design. Also, customers who spend over ¥1,000 including tax will get themselves a special postcard not for sale anywhere else.
Above is just a very small selection of some of the merchandise you can expect to take home. From the left is a box of mints (¥324+tax), a standing clip (¥600+tax), a mirror (¥880+tax), and card cases (¥800+tax).
If you're in Japan then don't miss this special opportunity to purchase a range of Fukuoka-only Chibi Maruko-chan merch!
Information
Fukuoka Chibi Maruko-chan Store
Address: N-SPOT, Fukuoka PARCO Main Building 7F, 2-11-1 Tenjin, Chuo Ward, Fukuoka, Fukuoka Prefecture
Running: October 13, 2018 – November 30, 208
Opening Hours: 10:00-20:30
TEL: 092-235-7430 (available from October 13)
Official Website: http://chibimaru.tv/
RECOMMENDED ENTRIES
Chibi Maruko-chan Store to Open in Abeno, Osaka on September 19

Fans of the popular shojo manga series Chibi Maruko-chan will be delighted to hear that a merchandise store is opening on the first floor of Abeno Q's Mall in Abeno, Osaka on September 19 which will run until October 8.

Acrylic Key Holders: ¥840 / Mint Tablets: ¥350 / Clear Files: ¥400 / Lip Balm: ¥800

This is the first store to open in Osaka that exclusively sells Chibi Maruko-chan merchandise. Get your hands on around 300 different items which feature two different designs illustrated specially for the store – Maruko-chan and Hanawa-kun dressed as a comic duo as a homage to Osaka's owarai comedy scene, and Maruko-chan and Noguchi-san dressed as elderly Osaka women.

You can also meet Maruko-chan and Hanawa-kun in the store on weekends and holidays. Dates on when they will be present will be announced on the store's official website and social media pages.

The comedy duo design of Maruko-chan and Hanawa-kun features the two characters wearing bright yellow suits and red bow ties while stood before a stage mic.

In the other design, a shout-out to the senior citizens of Osaka, Noguchi-san is wearing an outfit with leopard print, a sun visor and is holding a supermarket bag with a spring onion on it. Maruko-chan is holding hard candy in one hand and is wearing a tiger print one piece.

If you spend over ¥2,000 (tax included) in the store you'll get one of the above two badges chosen randomly. These won't be available anywhere else after the store closes.

Head to Osaka later this month to get your hands on a range of cute exclusive Maruko-chan merchandise!

■Information

Osaka Chibi Maruko-chan Store

Address: Abeno Q's Mall, 1-6-1 Abenosuji, Abeno Ward, Osaka, Osaka Prefecture

Opening Hours: September 19, 2018 – October 8, 2018

Time: 10:00am-9:00pm

TEL: 080-6979-4080

Maruko-chan & Hanawa-kun Greeting

Date: September 29, 2018

Time: 13:00 / 15:00

*Maruko-chan and Hanawa-kun will be present at the store for approximately 20 minutes at 13:00 and 15:00. Please take a camera with you.

*Other appearances TBA on the store's official website and social media.

Official Website: http://chibimaru.tv/

Twitter: https://twitter.com/tweet_maruko

Facebook: https://www.facebook.com/chibimaruko.official/

©Sakura Production / Nippon Animation

Collaboration café of manga magazine "Ribbon no Furoku 'Kawaii' no Himitsu" will open in Ichigaya, Tokyo

The hybrid conclusive bookstore "honto" will open a collaboration café named "Ribbon no Furoku 'Kawaii' no Himitsu" with the girl's comic magazine "Ribbon" at "DNP Plaza" located in Ichigaya, Tokyo. The café will be opened from October 3rd 2018 (Wed.) to October 22nd (Mon.).

Latte art using "Ribonchan's" mark specially depicted by Yazawa Ai (manga artist) will be served. Ribonchan is a popular character of "Ribbon Mascot Mix." The latte comes with the special event coaster.

The coaster uses the motifs of the illustrations depicted by popular manga artists including Sakura Momoko.

Also, the magazine/book "Ribbon no Furoku 'Kawaii' no Himitsu" will be sold at the venue and real-sized  appendix and large photos will be exhibited. The whole venue will be filled with the cute atmosphere of Ribbon's appendices.

Plus, the site "honto" has started selling the book that comes with the limited original post card in line with the start of this event, from September 20th (Thurs.).

Moreover, they will offer an original wallpaper for smartphones using the motif of Yazawa Ai's illustration to all members of "honto."

Downloadable period:2018, Semptember, 20 (Thurs.) to October 31st (Wed.)

URL:https://honto.jp/article/hontoplus/kabegami.html

Don't miss this limited event which will for sure be a nostalgic time for all Ribon fans.

Information

"Ribbon no Furoku 'Kawaii' no Himitsu" Collaboration Café with honto

Venue1: DNP Plaza 1F café, 1-14-1, Ichigayatamachi, Shinjuku, Tokyo, DNP, Ichigayatamachi Building

Venue2: 2018,October 3rd (Wed.) to October 22nd (Mon.)

※

holiday – Tuesday

Business hours: 11:00 to 20:00

Entrance fee: free (eating and drinking is not free / reservations must be made)

Amenity (book): "Ribbon no Furoku 'Kawaii' no Himitsu" (Thurs.)

Price: 1,944 yen (tax included)

Amenity: Post card (two kinds)

※

quantity limited

Available page: honto's mail order site

(C)池野恋/集英社 (C)さくらプロダクション (C)水沢めぐみ/集英社 (C)吉住渉/集英社 (C)矢沢漫画制作所/集英社 (C)小花美穂/集英社
RELATED ENTRIES
Win Hello Kitty & Chibi Maruko-chan Prizes With Sanrio's Lottery Draw

To celebrate the 30th anniversary of the Chibi Maruko-chan anime adaptation, the franchise is teaming up with Sanrio's internationally beloved character Hello Kitty.

For the collaboration, cute and original artwork has been created featuring Hello Kitty and Maruko-chan hanging out together in their everyday lives, a scene that's sure to incite a sense of nostalgia to both kid and adult fans of the longtime anime series.

We see Maruko-chan wearing Hello Kitty's iconic red ribbon, as well as Maruko's grandpa Tomozo Sakura donning a hat inspired by Hello Kitty.

There's also an illustration of the two friends drinking milk bottles together which they bought from Mitsuya in the background, a candy shop that appears in the Chibi Maruko-chan seires.  If you look closely you can see Noguchi peeking her head from behind the shop.

A special lottery draw is set to roll out in Japan at Sanrio stores, department stores stocking Sanrio products, Lawson, MiniStop, Daily Yamazaki, bookstores, and elsewhere from early June 2020. Fans are guaranteed to win a prize, which includes a line-up of nine items as well as a special top prize. Merchandise includes a takoyaki machine, hot plate, bath towel, and more.

Following the lottery draw, more exciting things are set to take place as part of the collaboration.

ⓒ Sakura Production / Nippon Animation

ⓒ 1976, 2020 SANRIO CO.,LTD. TOKYO,JAPAN  著作:株式会社サンリオ

Information

Chibi Maruko-chan x Hello Kitty – Sanrio Lottery

Price: ¥700 (Tax Included) per go

Start Date: Rolling out early June 2020 (Start date differs between stores)

Available: Sanrio products, Lawson, MiniStop, Daily Yamazaki, bookstores, and elsewhere (*Select branches not participating)

Food Review | Going On An Adventure With Maruko & Coji-Coji at Ginza's MARUKO & COJICOJI CAFÉ

When I was a kid, I found myself relating to Maruko-chan a lot. I was bad at studying, I loved just kicking back and relaxing, was sly, was always spoiled by my mother. I've always thought I was just like Maruko. I spent my childhood together with her, reading Ribon magazine, reading manga, and watching anime. I love her so much that even to this day, when I'm at home on Sundays, I never fail to watch the show.

Then there was Coji-Coji, who has a mellow and laid-back outlook, whose lines are sharp and quick, and who, if you see him, is sure to get a surprised reaction out of you. I was raised reading Chibi Maruko-chan, meaning I was of course a fan of the author Momoko Sakura, so it was only natural that I loved Coji-Coji which she wrote too.

With that long introduction out of the way, it's time for the main event. Combining the best of both worlds and my two favourites, the new MARUKO & COJICOJI CAFÉ opened at Ginza Marionette Gate 1 on January 31 and it's set to run until July 31.

I form part of the editorial team here at MOSHI MOSHI NIPPON, and loving Maruko-chan as much as I do, I of course had to make a trip to the cafe. I was joined by Chinese model and talent Etsuna.

Artwork from the Markuko-chan and Coji-Coji picture book Ehon Maru Koji. The pictures have a gentle touch to them and are enough to make you feel at ease at the first glance.

You feel warm and fluffy seeing the two of them getting along together like this.

There's huge pieces of artwork too like this one Etsuna is standing next to.

The tables have these lunch mats on them. There's two designs; one of Maruko and Coji-Coji walking across a field of grass and another with them swimming in the ocean amongst the fishes. Both are just too precious♡ I feel happy seeing the two of them having fun together. Boy, am I glad I came here.

The menu line-up is overflowing with originality too, each like its own little art piece. I ordered the baked cheesecake with a drink and Etsuna got the parfait drink.

Coji-Coji Is Here Cheesecake (w/Drink) – ¥1,380 (Before Tax)

The cheesecake is topped with Coji-Coji and Mount Fuji cookies. You can get a Maruko-chan cookie instead of Coji-Coji too, but I went for the Coji-Coji one. The cheesecake has a refreshing taste with cream that's not overly sweet. And when you add the berry sauce, it becomes a completely different delicious flavour.

I ordered a hot black coffee as part of the set, and the mug it was serve in had an original design on it in line with the cafe's theme. You can buy these mugs new there too.

Onigiri Aliens & The Star Festival Parfait – ¥1,700 (Before Tax)

This drink is inspired by the Milky Way of Tanabata. It's topped with Maruko-chan, Coji-Coji, and alien cookies.

Etsuna was spellbound by its gorgeous purple colour too♡

The parfait and drink come in separate vessels、so I recommend enjoying them one at a time. After tucking into the subtly sweet fruits, vanilla ice cream, and cream of your parfait, feel even more refreshed with a sip of your cream cheese-filled drink.

The Three Of Us Get Along – ¥1,880 (Before Tax)

There are plenty of colourful options to choose from the menu, but the one that struck my attention the most was this tomato cream and pumpkin sauce mix which contains seafood.

You get an edible Maruko-chan and Coji-Coji on the side too with tears in their eyes… what a melancholic expression. I feel sad just looking at this one.

The character cookies aren't just printed on – each and every one is hand drawn carefully. Which means the both of them have lots of different expressions! And they seem such a waste to eat (though of course I ate them all…)

If you want to see what else is on the menu, check out our other article here: https://www.moshimoshi-nippon.jp/ja/289822

Mug: ¥1,200 (Before Tax)

The cafe sells its own exclusive merchandise too, like the mug I got when my coffee and cake arrived.

Masking Tapes – ¥350 Each / Ballpoint Pens – ¥600 Each

B6 Notebooks – ¥280 Each

I picked up a notebook, pen and some masking tape. Perfect for when the cherry blossom season starts.

Hand Towel: ¥400 (Before Tax)

Etsuna got her hands on a hand towel. Everything they have in stock is cute, so I urge you to get lost in the wares of the MARUKO & COJICOJI CAFÉ if you visit! It's possible to book a table in advance, but the weekends are particularly busy, so if you have a day in mind don't forget to book.

The MARUKO & COJICOJI CAFÉ is packed full of Momoko Sakura's world. It was a mix of fun, cute, sad, and relaxing.

When I'm looking at Chibi Maruko-chan, I think of Sakura, and my chest feels tight and painful. But coming to this cafe made me think that when I look at Maruko-chan and her radiating personality, not just in the world of anime but in various different places, I feel that even if I've become an adult, I can always live my life together with Maruko-chan and Momoko Sakura, and that makes me happy. If you love Maruko-chan, Coji-Coji, and Momoko Sakura too, then be sure to jump into the picture book world of Ehon Maru Koji at MARUKO & COJICOJI CAFÉ.

©️Momoko Sakura ©️Sakura Production

Information

MARUKO & COJICOJI CAFE

Location: Sunday Brunch, Marronnier Gate Ginza 1 Floor 4F (2-2-14 Ginza, Chuo Ward, Tokyo)

Running: January 31, 2020 – July 31, 2020 (Subject to change)

Opening Hours: 11:00-21:00

Reservations/Official Website: http://www.marucoji-cafe.com

Tokyo's MARUKO & COJICOJI CAFE Food Menu is Just Too Kawaii to Eat

Fans of Japanese mangaka Momoko Sakura won't be able to resist the new MARUKO & COJICOJI CAFE which is set to open at Sunday Brunch in Tokyo on January 31, 2020 for six months. It's collaboration between the manga series Chibi Maruko-chan and Coji-Coji, both by Momoko Sakura.

The cafe is opening to promote the release of the Chibi-Maruko-chan and Coji-Coji picture book. Customers can look forward to joining the two characters on their adventures as they are vividly recreated on their plates, with food and drink inspired by the beautiful scenes seen throughout the four seasons, cherry blossoms, Mount Fuji, and more. The menu line-up is an homage to Momoko Sakura's iconic work.

Today, we finally get to take a peek at what's on the menu at the cafe. Keep in mind this is just a small selection of what will be served.

*Menu item names are translated from Japanese

Homage Menu: Coji-Coji Came To Visit- ¥1,850 (Before Tax)

Both Marko-chan and Coji-Coji are made from cookies and are flying through the air together. Below them is Mount Fuji, made from rice and adorned with cherry blossoms. It's sat in a lake of cod roe cream sauce littered with tea leaves.

Summer Menu: King of Sun Kingdom – ¥2,000 (Before Tax)

Enjoy this healthy keema curry packed full of nutritious vegetables as well as a piece of French toast made from fresh eggs and milk. The individual suns are made from pumpkin flavoured mashed potato, while the two pals have written a letter that says "To the King."

Winter Menu: Three's Company – ¥1,880 (Before Tax)

Delicious butterfly pea and spinach purees sit atop a bed of shrimp tomato cream and pumpkin soup, creating an eye-popping mixture of colours.

Sweets: Coji-Coji Came to Visit Baked Cheese Cake – 1 Slice w/Drink ¥1,380 (Before Tax)

This baked cheese cake celebrates the two's meeting. You get one slice which will contain Mount Fuji and either Maruko-chan or Coji-Coji. Which will you be given?

Sweets: A Chat in the Cold Morning Chocolate Cake – 1 Slice w/Drink ¥1,380 (Before Tax)

Layered with sumptuous mango custard cream, this cute gateaux chocolate cake is moist and delicious.

Parfait Drink: Onigiri People & Star Festival – ¥1,700 (Before Tax)

Inspired by the Milky Way in the Tanabata festival, this parfait drink includes jelly under which hides an assortment of fruits, cream, and vanilla ice cream. The juice itself has a squirt of cheese cream in it too.

Special Drink: What's The Rainbow Invitation? – ¥980 (Before Tax)

A glass of lemonade that comes with a cafe-exclusive charm. There's jelly inside the glass which dances and sparkles as you stir.

The cafe itself will also be decorated in picture book art in the form of tapestries and other things. There will also be a display of Momoko Sakura's work, as well as Maruko-chan and Coji-Coji merchandise up for sale.

©️Momoko Sakura ©️Sakura Production

Information

MARUKO & COJICOJI CAFE

Location: Sunday Brunch, Marronnier Gate Ginza 1 Floor 4F (2-2-14 Ginza, Chuo Ward, Tokyo)

Running: January 31, 2020 – July 31, 2020 (Subject to change)

Opening Hours: 11:00-21:00

Reservations/Official Website: http://www.marucoji-cafe.com

6 Popular Character Collaboration Cafés to Open in January 2020

Every month, Japan sees numerous collaboration cafés opening all over the country featuring the world's most favourite characters, artists and much more. We've summed up the ones to look out for in January 2020.

Cafe de Perochi with Seven Days War, Shinjuku

To celebrate the anime film Seven Days War which premiered on December 13, a themed café opened at EJ Anime Theater in Shinjuku, Tokyo. The café opened in collaboration with popular creator Pantovisco who has over 680,000 followers across his social media.

 The cute menu line-up features Seven Days War-inspired food and desserts with Perochi and his friends joining in with the fun. There's also a drinks menu with a line-up of colourful beverages and lattes which you can get various latte art drawings on.

Cafe de Perochi with Seven Days War

Running: December 13, 2019 – January 12, 2020

Location: EJ Anime Theater Shinjuku Floor 5F (Shinjuku Bunka Bldg., 3-13-3 Shinjuku, Shinjuku Ward, Tokyo)

Official Website: http://7dayswar.jp/

More Information: https://www.moshimoshi-nippon.jp/280643

BT21 Café, Shibuya, Tokyo and Abeno, Osaka

The BT21 collaboration café is currently running for the fifth time. The café opened in Shibuya, Tokyo and Abeno, Osaka on November 21, 2019 and will close on January 13, 2020. This there are more BT21 family members and friends featuring in the foods and drinks as part of the BT21 UNIVERSE series' first-ever menu. There is lots of menu and café-limited merchandise to get your hands on too. 

Korean Burger: ¥1,490

Double Yangnyeom Chicken Rice: ¥1,490


BT21  Café, Shibuya, Tokyo Abeno, Osaka

Location: Shibuya BOX CAFE&SPACE (Shibuya BOX109)

Running: November 21, 2019 to January 13, 2020
*Closed January 1

BT21  Café, Abeno, Osaka

Location: Abeno, Abeno contact

Running: November 21, 2019 – January 13, 2020
Official Website: https://www.bt21.com/relations

Devil May Cry 5 x Capcom Cafe Ikebukuro

The Capcom Cafe is collaborating with the action-adventure hack and slash video game Devil May Cry 5 once again at the Ikebukuro, Tokyo branch from December 5, 2019 to January 15, 2020.

Devil Breaker "Overture" Potato – ¥880 (Before Tax)


Demon World Mont Blanc – ¥980 (Before Tax)


The cafe will feature various menu items and merchandise that was sold at the Laketown branch of Capcom Cafe, as well as new meals, drinks and even more merchandise.

 Devil May Cry 5 x Capcom Cafe Ikebukuro

Running: December 5, 2019 – January 15, 2020

Address: Capcom Cafe Ikebukuro, 1-30-3 Higashi-Ikebukuro, Toshima Ward, Tokyo

Opening Hours: 10:00-22:00 (Last Orders: 21:00)

Official Website: http://www.capcom.co.jp/amusement/capcomcafe/ikebukuro/

More Information: https://www.moshimoshi-nippon.jp/276074

Pokémon Sword and Shield: Nihombashi, Tokyo and Shinsaibashi, Osaka

The Tokyo (Nihonbashi) and Osaka (Shinsaibashi) branches of the Pokémon Cafe are releasing their second batch of menu items in collaboration with Pokémon Sword and Shield which will be served between January 18 and March 19 next year.

Weezing's Chemical Change Gas Pancakes – ¥1,628


Morpeko's Hungry W Sauce Omurice – ¥1,628


Pokémon Sword and Shield was released on Nintendo Switch on November 15 so if you're a Pokémon fan in Japan, this is the perfect way to celebrate.

 Pokémon Sword and Shield

 Pokémon Cafe (Nihombashi, Tokyo)

Address: Nihombashi Takashimaya SC East Bldg. 5F, 2-1-2 Nihombashi, Chuo Ward, Tokyo

Business Hours: 10:00-22:00

No Fixed Holidays (Except when Nihombashi Takashimaya SC is closed)

Reservations: https://www.pokemoncenter-online.com/cafe/reservation.html

Pokémon Cafe (Shinsaibashi, Osaka)

Address: Daimaru Shinsaibashi Honkan 9F, 1-7-1 Shinsaibashisuji, Chuo Ward, Osaka, Osaka Prefecture

Business Hours: 10:00-21:30

No Fixed Holidays (Except when Daimaru Shinsaibashi is closed)

Reservations: https://www.pokemoncenter-online.com/cafe/reservation.html

More Information: https://www.moshimoshi-nippon.jp/283263

Korilakkuma Cafe: another me in the mirror, Harajuku

"Korilakkuma Cafe: another me in the mirror" opened in Japan's hub of kawaii culture Harajuku on December 21 and will run until March 22 next year. The cafe is the perfect spot to relax with Korilakkuma and be entertained by projection mapping.

Table Projection Mapping Seats: ¥2,500 per person (Before Tax)


Twin Korilakkuma Strawberry Milk – ¥990


The cafe incorporates "interactive tabletop projection mapping" technology developed by Sony, which allows customers to enjoy their meals while playing together with the characters as they walk around their plates and tables.

Korilakkuma Cafe: another me in the mirror

Running: December 21, 2019 – March 22, 2020 (Not running December 30, 2019 to January 3, 2020)

Location: HARAJUKU AR BOX -table projection mapping cafe- (4-28-28 Jingumae, Shibuya, Tokyo)

Official Website: https://korilakkumacafe.jp/

More Information: https://www.moshimoshi-nippon.jp/284456

MARUKO&COJICOJI CAFE, Ginza

 The MARUKO & COJICOJI CAFE is set to open in Marronnier Gate Ginza, Tokyo on January 31, 2020 where it will run until July 31. It is a collaboration between the manga series Chibi Maruko-chan and Coji-Coji, both by Momoko Sakura. The cafe is opening to promote the release of the Chibi-Maruko-chan and Coji-Coji dream collaboration picture book. Customers can look forward to joining the two characters on their adventures as they are vividly recreated on their plates.

MARUKO & COJICOJI CAFE

Location: Sunday Brunch, Marronnier Gate Ginza 1 Floor 4F (2-2-14 Ginza, Chuo Ward, Tokyo)

Running: January 31, 2020 – July 31, 2020 (Subject to change)

Opening Hours: 11:00-21:00

Reservations: Opening on the official website from mid-January 2020

More Information: https://www.moshimoshi-nippon.jp/284763

How about kicking off New Year in Japan at a cute collaboration café?

Chibi Maruko-chan and Coji-Coji Join Hands at the MARUKO & COJICOJI CAFE in Tokyo

The MARUKO & COJICOJI CAFE is set to open at Sunday Brunch in Tokyo on January 31, 2020 where it will run until July 31. It is a collaboration between the manga series Chibi Maruko-chan and Coji-Coji, both by Momoko Sakura.

Sunday Brunch has collaborated with numerous franchises in the past including Shaun the Sheep and The Very Hungry Caterpillar.

The cafe is opening to promote the release of the Chibi-Maruko-chan and Coji-Coji picture book. Customers can look forward to joining the two characters on their adventures as they are vividly recreated on their plates. From dishes to drinks and desserts, everything on the menu is original and exclusive to Sunday Brunch.

The cafe will be decorated with tapestries featuring artwork in the style of the picture book, and fans can expect to purchase some exclusive merchandise too. More information is TBA, so stay tuned.

©️Momoko Sakura ©️Sakura Production

Information

MARUKO & COJICOJI CAFE

Location: Sunday Brunch, Marronnier Gate Ginza 1 Floor 4F (2-2-14 Ginza, Chuo Ward, Tokyo)

Running: January 31, 2020 – July 31, 2020 (Subject to change)

Opening Hours: 11:00-21:00

Reservations: Opening on the official website from mid-January 2020

6 Must-Visit Character Themed Cafés Running in September 2019

Character cafés are an exciting experience in Japan which sees a café collaborate with well-known anime series, game series or other franchise by decorating the café interior with designs and illustrations based on them and meals and drinks inspired by them.

Before continuing this article be sure to check out our August 2019 list of character cafés as some of them are still running.

Fate/Grand Order Cafe in Omotesando

The third run of the Fate/Grand Order themed cafe, with designs produced by Sanrio, is taking place at OMOTESANDO BOX CAFE&SPACE from September 5 to 29.

When you book a table in advance (¥650 before tax per person) and order from the menu you'll receive one of the above possible 16 lunch mats. And if you order a drink you'll get one of the 16 coasters. You'll get one of either piece of these exclusive items per item you order from the menu.

Master & Mash Snow Field Meatballs – ¥1,490

This dish is piled with filling sauteed meatballs and mushrooms. The cream sauce is made to look like a snowy field. It's served with a side of jam for a succulent sweet and sour kick.

Brynhildr & Sigurd Croquembouche Parfait – ¥1,390

Croquembouche is often served at weddings in Italy at France. Here, it has been turned into an easy-to-eat parfait. It's topped with salt ice cream, yogurt mousse and more, all in refreshing colours.

To find out more details and what else they have on the menu, click here.

© TYPE-MOON / FGO PROJECT

▼Fate/Grand Order Design produced by Sanrio – 3rd Collaborative Cafe

Running: September 5, 2019 – September 29, 2019

Location: OMOTESANDO BOX CAFE&SPACE (Pine Under Flat Floor B1F, 5-13-2 Jingumae, Shibuya, Tokyo)

Official Website: https://fgo-sanrio-cafe.jp/

*Reservations now open via the official website

Love Live! & Sanrio Open Collaborative Cafes in Tokyo and Osaka

Multimedia project Love Live!―which has spawned an anime series, manga, game, movie and more―has teamed up with Sanrio to open themed cafes in Tokyo and Osaka on August 16 and September 27 respectively.

The menu features a bounty of flavourful food and drink which incorporates popular flavours, luscious taste, and hearty servings. You get a special illustration with every meal.

An Unlikely Combination Food Plate – ¥1,390 (Before Tax)

An interesting assortment of a mini omurice, soy sauce ramen, and a fresh tomato caprese salad. It also comes with the pictured postcard which features a blackboard design.

Deliciousness Ensemble! Invigorating Dessert Plate – ¥1,390 (Before Tax)

This dessert set is one fit for the gods, adorned with an apple topped castella, mini pancake laced with salted caramel ice cream, an tea-flavoured jelly. This also comes with the pictured postcard featuring different characters.

Fans of both franchises can pick up plenty of exclusive merchandise too, featuring the characters from Love Live! dressed like the Sanrio cast. There are bonus items for customers who book a table in advance too. Don't miss this first ever collaboration between Love Live! and Sanrio♡

To find out more details and what else they have on the menu, click here.

▼Love Live! Series x Sanrio Characters Cafe

Tokyo Cafe
Running: August 16, 2019 – October 14, 2019
Location: HARAJUKU BOX CAFE&SPACE (Lucessimo Bldg. Floor 2F, 4-28-28 Jingumae, Shibuya, Tokyo)

Osaka Cafe

Running: September 27, 2019 – October 27, 2019
Location: UMEDA BOX CAFE&SPACE( (Umeda LOFT Floor 1F, 16-7 Chayamachi, Kita Ward, Osaka, Osaka Prefecture)

Reservations: ¥500 (Before Tax)
Official Website: https://lovelive-sanrio-cafe.jp/

TV Anime Given Themed Cafe – Listen To The Characters' Voices As You Dine

Six branches of CAFFÈ & BAR PRONTO in Japan are set to collaborate with the ongoing yaoi anime series Given from September 13 to 23.

The theme of the collaboration is "After Band Practice." The cafes will serve up food inspired by the series as well as sell exclusive merchandise. The voice actors for the four main characters also recorded lines for the cafes which will play during your time there.

Bright Red Tomato Pasta – ¥1,296 (Tax Included)

Pancake Of The Day – ¥1,296 (Tax Included)

To find out more details and what else they have on the menu, click here.

©︎Natsuki Kizu・Shinshokan / Given Production Committee

▼TV Anime Given x Enter Bell at PRONT

Running: September 13, 2019 – September 23, 2019

Locations: PRONTO Sapporo Pole Town / PRONTO IL BAR Ochanomizu Sola City / PRONTO Ikebukuro Sunshine-dori / PRONTO Nagoya Marunouchi / PRONTO Meitetsu Gifu Station / BEERTERIA PRONTO Osaka Dojima

General Reservations

・Running: August 21, 2019 at midnight (JST) to September 23, 2019 at 23:59 (JST)

・Price: ¥1,188 (Tax Included) for one person. Includes one seat and drink.

*To make a reservation and receive the voice reminder you must have a Bandai Namco ID (free to register)

Official Website: https://bpnavi.jp/enterbell/given/

Chibi Maruko-chan Themed Menu & Merch Arrives at Tower Records Cafe Omotesando

To celebrate the 30th anniversary of the Chibi Maruko-chan anime series, Tower Records Cafe in Omotesando is collaborating with the franchise to turn its establishment into all things Maruko-chan for a limited time from September 5 to 29. Also, 22 branches of Tower Records as well as the Tower Records online store will sell collaborative merchandise.

Maruko-chan's Hamburger Plate – ¥1,500

The collaboration will be split into two different periods with different food and merchandise line-ups. The Maruko-chan Hamburger Plate, however, will be available for the cafe's entire duration. Hamburgers are Maruko-chan's favourite meal, and this one is served with vegetables and a rice ball with her adorable face on it.

Collaboration Period ①

Nagasawa-kun's Onion Soup Pasta – ¥1,500

Served with a whole onion, this soup seeped vongole pasta is inspired by the onion-head himself Nagasawa-kun.

Noguchi-san's Birthday Cake – ¥1,200

Celebrate Noguchi-san's birthday (September 9) with this very special blueberry and milk crepe birthday cake.

The exclusive merchandise takes on a music theme with original designs. Pick from 7 different items including a towel, tote bag, phone case and more.

To find out more details and what else they have on the menu, click here.

*All prices are tax-inclusive. Photos are for illustrative purposes only.

*Please enquire with shop staff about any food allergies.

ⒸSakura Production/Nippon Animation

▼Chibi Maruko-chan x TOWER RECORDS CAFE

Running: September 5, 2019 – September 29, 2019

Period ①: September 5, 2019 – September 17, 201

Period ②: September 18, 2019 – September 29, 2019

*The menu line-up and free gifts will be different for each period

TOWER RECORDS CAFE Omotesando
Address: Imon Harajuku Bldg. 2F, 6-3-9  Jingumae, Shibuya, Tokyo

Opening Hours: 11:00-21:30 (Last Orders 20:30)
Official Website: http://tower.jp/restaurants/cafe/omotesando

*No reservations, however during busy times numbered tickets will be handed out. Details on numbered tickets will be announced on the cafe's official Twitter page: @TRC_Omotesando

Chibi Maruko-chan x TOWER RECORDS Collaboration Merchandise
Release Date: September 5, 2019 (*Pre-orders now open)
Available: At 22 Tower Records branches and the online store
Tower Records Online: https://tower.jp
Collaboration Page: https://tower.jp/chibimaru

Hatsune Miku Music Cafe Opening in Tokyo & Fukuoka

The Hatsune Miku Music Cafe has returned for the third run and is now open in Akihabara, Tokyo and Hakata, Fukuoka.

The music cafe will be supported by VOCALOID music label KARENT. VOCALOID fans can look forward to dining while listening to music from their favourite characters―Miku, Luka, Rin, Len, MEIKO and KAITO―on high quality speakers and giant monitors.

Miku's Leek Record Curry – ¥1,200 (Tax Included)

Luka's Pink Peach Soda – ¥750 (Tax Included)

There's lots more merchandise, food and drinks as well as this too. You can see the full line-up on the official website. And for more details, click here.

© Crypton Future Media, INC. www.piapro.net

*The rate of consumption tax is set to increase from 8% to 10% in Japan from October 1, 2019 and so the prices listed here will increase
*Photos are for illustrative purposes only

▼Hatsune Miku Music Cafe – 3rd Run

・Ani ON STATION AKIHABARA
Address: Daidoh Limited Bldg. 1F, 3-1-16 Sotokanda, Chiyoda Ward, Tokyo

Running: August 23, 2019 – October 6, 2019
*Closed on September 1, 2019
*Regular hours will not run on October 6, 2019 due to the DJ event

・Ani ON STATION Hakata Bus Terminal
Address: Hakata Bus Terminal 7F, 2-1 Hakataekichuogai, Hakata Ward, Fukuoka, Fukuoka Prefecture
Running: August 28, 2019 – September 29, 2019

Entry Price: ¥500 (Tax Included)

Cafe Website: https://bandainamco-am.co.jp/cafe_and_bar/anionstation/special/miku_cafe3/
Ani ON STATION Official Website: https://bandainamco-am.co.jp/cafe_and_bar/anionstation/

BT21 Cafe Serves World Food in Shibuya, Umeda, Nagoya and Sapporo

LEGS COMPANY has opened four BT21 themed cafe called "BT21 CAFE 2019 WORLD" in Tokyo, Osaka, Nagoya and Sapporo. BT21 are the LINE messenger app characters created by K-pop group BTS. The cafe will serve up many different dishes of food from around the world, all with motifs from the BT21 character line-up.

Japanese Food Plate: Temari Sushi (Salmon, Duck, Minced Tuna, Fried Tofu, Shrimp Avocado) & Meat Udon – ¥1,490

Brazilian Food Plate: Churrasco, Mashed Potato & Feijoada – ¥1,490

Enter the cute world of BT21 and their world food line-up. Click here for more details.

*All listed prices are pre-tax. Photos are for illustrative purposes only.

©BT21

BT21 Cafe 2019 WORLD

Locations/Dates:

SHIBUYA BOX CAFE&SPACE SHIBUYA 109 (August 22, 2019 – September 29, 2019)
UMEDA BOX CAFE&SPACE (August 22, 2019 – September 23, 2019)
NAGOYA BOX CAFE&SPACE (September 4, 2019 – October 6, 2019)
TOWER RECORDS CAFE at Sapporo PIVOT (September 5, 2019 – October 20, 2019)

*Cafes closed on September 30, 2019

Reservations

・Price: ¥650 (Before Tax)

Official Website: http://box-cafe.jp/

The BT21 Cafe is reservation-only

Did you enjoy this list? Be sure to visit all the character cafés you can while in Japan this month! Stay tuned for next month's entry.

Chibi Maruko-chan Themed Cafe Heading to Tower Records Cafe Omotesando

To celebrate the 30th anniversary of the Chibi Maruko-chan anime series, Tower Records Cafe in Omotesando is collaborating with the franchise to turn its establishment into all things Maruko-chan for a limited time from September 5 to 29. Also, 22 branches of Tower Records as well as the Tower Records online store will sell collaborative merchandise.

Maruko-chan's Hamburger Plate – ¥1,500

The hamburger plate will be served throughout the entire collaboration. Hamburgers are Maruko-chan's favourite meal, and this one is served with vegetables and a rice ball with her adorable face on it.

The collaboration will be split into two different periods with different food and merchandise line-ups. The food in the second period has yet to be unveiled, so we will take a look at some of the things for the first period.

Collaboration Period ①

Nagasawa-kun's Onion Soup Pasta – ¥1,500

Served with a whole onion, this soup seeped vongole pasta is inspired by the onion-head himself Nagasawa-kun.

Chi Chicken Sandwich – ¥1,500

This dish is  inspired by the scene in the anime series when Maruko fights with her sister over who gets to have a notebook as there is only one of them. When her sister claims ownership, Maruko proceeds to write "idiot" on the front cover while she's asleep and slips it back onto her bookshelf. This tuna mayo packed sandwich comes with a sandwich bag featuring the design of the notebook.

Noguchi-san's Birthday Cake – ¥1,200

Celebrate Noguchi-san's birthday (September 9) with this very special blueberry and milk crepe birthday cake.

30th Anniversary Melon Soda Float – ¥800

Topped with a dollop of ice cream and a cherry, the melon soda comes with a special 30th anniversary straw tag.

Chibi Maruko-chan Lattes – ¥700

The character lattes will have different character designs for each period as pictured above with the top row being the first collaboration and the bottom the second.

For every menu item ordered, customers will receive a random postcard. The postcards above feature the designs from the first collaboration period.

And the ones above here are those in the second.

And if you order a set of three items (food, drink and dessert), you'll receive an exclusive lunch mat. All of these items are first-come, first-served so you'll want to get to the cafe ASAP when it opens.

The exclusive merchandise takes on a music theme with original designs, from a towel to a tote bag and more.

Three t-shirts and a hoodie will also be sold exclusively at Tower Records Shibuya, Tower Records Shinjuku, Tower Records Cafe Omotesando, and the Tower Records online store.

Full information can be found on the official website below.

*All prices are tax-inclusive. Photos are for illustrative purposes only.

*Please enquire with shop staff about any food allergies.

ⒸSakura Production/Nippon Animation

Information

Chibi Maruko-chan x TOWER RECORDS CAFE

Running: September 5, 2019 – September 29, 2019

Period ①: September 5, 2019 – September 17, 201

Period ②: September 18, 2019 – September 29, 2019

*The menu line-up and free gifts will be different for each period

TOWER RECORDS CAFE Omotesando
Address: Imon Harajuku Bldg. 2F, 6-3-9  Jingumae, Shibuya, Tokyo

Opening Hours: 11:00-21:30 (Last Orders 20:30)
Official Website: http://tower.jp/restaurants/cafe/omotesando

*No reservations, however during busy times numbered tickets will be handed out. Details on numbered tickets will be announced on the cafe's official Twitter page: @TRC_Omotesando

Chibi Maruko-chan x TOWER RECORDS Collaboration Merchandise
Release Date: September 5, 2019 (*Pre-orders now open)
Available: At 22 Tower Records branches and the online store
Tower Records Online: https://tower.jp
Collaboration Page: https://tower.jp/chibimaru

Chibi Maruko-chan's 30th Anniversary Celebrated With Themed Food & Merch

Nippon Animation is the producer and licensee of the Japanese anime Chibi Maruko-chan. To celebrate the series' 30th anniversary, the animation studio has announced six different plans which encompasses collaborations and much more.

The anime adaptation of Chibi Maruko-chan first aired on Japanese television on January 7, 1990 at 6pm. The anime series turned 30 years old in January, and from this April onward for the next year, numerous collaborations are set to take place to commemorate the anniversary. Let's take a look.1

Hobson's x Chibi Maruko-chan Collaborative Menu

The California-style ice cream and crepe chain Hobson's will hold its firth collaboration with Chibi Maruko-chan from April 27 to September 1. They will serve up a special ice cream with a granola base topped with Maruko's favourite Japanese custard pudding and coated in caramel sauce. Customers who order this item will receive the above-pictured limited-edition charm. There are available on a first-come, first-served basis. Additionally, Hobson's branches will be decorated with collaborative Chibi Maruko-chan art.

■Information
Chibi Maruko-chan Ice Cream
Price: ¥490 (Tax Included)
Running: April 27, 2019
Available: Hobson's branches in Japan
Novelty: Free Chibi Maruko-chan charm. Available on a first-come, first-served basis.

Village Vanguard's Chibi Maruko-chan Corner


Ten branches of Village Vanguard will have their very own Chibi Maruko-chan pop-up corner from May 3 to 19. Exclusive merchandise will be sold here featuring the Chibi Maruko-chan's manga author's Nuku Nuku Bed artwork. Pre-sales of select merchandise in the Maruko LINE stamp series will also be available to buy.

■Information
Running: May 3, 2019 – May 19, 2019
Branch Locations: Sendai LOFT / Niigata Billboard Place / Shimokitazawa / Shinjuku Lumine EST / Lake Town plus Yokohama Lumine / Asunal Kanayama / Shizuoka PARCO / Umeda LOFT / Fukuoka PARCO
Novelty: Those who spend more than ¥2,000 (including tax) on Chibi Maruko-chan merchandise will receive a limited edition sticker featuring Nuku Nuku Bed artwork. These are limited in stock.

Chibi Maruko-chan Themed Cafe in Shimokitazawa


The coffee stand ON THE WAY, coffee & cupcake in Shimokitazawa is set to serve up some Chibi Maruko-chan themed drinks and cupcakes. The float drinks contain peach syrup flavoured soda with a dollop of ice cream. The cupcakes are vanilla flavoured and made with an original butter cream and topped with dried lemon and illustrative cookies.

■Information

Shop: ON THE WAY, coffee & cupcake

Address: 2-16-2 Kitazawa, Setagaya Ward, Tokyo, 〒155-0031

Price: Cupcakes – ¥650 (Tax Included) / Drinks – ¥800 (Tax Included)

Running: May 3, 2019 – May 19, 2019

Closed: Tuesdays

Business Hours: Weekdays 11:00-19:00 / Weekends & Holidays 10:00-19:00

Enquiries: 03-6805-5736

Homepage:

https://on-the-way.jp

Chibi Maruko-chan Merchandise at Post Offices


For the first time ever, post offices across Japan will sell an assortment of five different Chibi Maruko-chan merchandise from May 8 to September 30. The illustrations on the items are rough sketches by the manga's author Momoko Sakura finished by the anime series's staff.

*Please note that the items will roll out at different times at post offices. For more details please enquire at your closest post office.

10 Episodes Of Chibi Maruko-Chan To Hit YouTube


The official Chibi Maruko-chan YouTube channel will stream 10 episodes of the series for a limited time from April 25 to May 10. This includes an episode from 1990 that centres on Maruko's birthday, one that aired in 2001 where she went to see a panda, and more.

Chibi Maruko-chan Appears in LINE Game Pokopang Town


Chibi Maruko-chan will appear in the hugely popular town-building puzzle game Pokopang Town from April 26 to May 17. Several events will take place in game with her including her birthday event on May 8. Clear the missions in the game to get some exclusive collaborative LINE stamps.

Chibi Maruko-chan Store to Open at LaLaport TOKYO-BAY in Chiba

A new Chibi Maruko-chan store is opening for a limited time at the LaLaport TOKYO-BAY shopping park from March 15 to May 8.

Around 400 pieces of Maruko-chan merchandise will be sold including pre-sale of 10 new items featuring cute honey designs of Maruko and her friends.

Tin Candy: ¥800 (Before Tax)

A whole bunch of original items will be sold including blueberry honey, tinned candy and more, all with adorable illustrations.

Limited-edition postcards will also be given out for those who spend over ¥1,000 at the shop (tax included). These are available on a first-come, first-served basis, so don't miss out!

Information

TOKYO-BAY Chibi Maruko-chan Store

Location: LaLaport TOKYO-BAY North Building Floor 2F N-SPOT (2-1-1 Hamacho, Funabashi, Chiba Prefecture)

Running: March 15, 2019 – May 8, 2019

Time: 10:00-20:00 (Until 21:00 on Fridays, Weekends and Holidays)

TEL: 047-404-4303 (*Available from March 14)

More information regarding the event will be posted on the official Chibi Maruko-chan website and social media.

Official Website: http://chibimaru.tv/

©Sakura Production / Nippon Animation

Chibi Maruko-chan Author Momoko Sakura Fair to be Held at KIDDY LAND

A thank-you fair is being held for the Japanese manga artist Momoko Sakura who passed away on August 15. She was most famous as the author of the immensely popular manga Chibi Maruko-chan.

The event will be held at eight branches of KIDDY LAND across Japan in the Kanto, Chubu, Kinki and Kyushu regions, including the one in Harajuku, from December 8 to January 11. It aims to bring everyone together to celebrate and give thanks to Momoko Sakura for her work.

KIDDY LAND Harajuku is no stranger to holding fairs themed on anime series and popular characters. The branch has held events for Chibi Maruko-chan in the past as well as Coji-Coji, another series by Momoko Sakura.

Tin Candy (Limited Edition): ¥800

Fans can expect to see reprints of original works and get their hands on a range of exclusive merchandise. They will also be able to write their own personal letters to Momoko Sakura.

Several campaigns will also be held. From December 8, those who spend over ¥3,000 (tax included) will receive the A4 clear file pictured above on the lift. From December 22, if you spend that much, you'll also get the magnet on the right.

If you're a fan of Momoko Sakura and are in Japan then make sure you don't miss out on this special coming-together to express your thanks!

Collaboration café of manga magazine "Ribbon no Furoku 'Kawaii' no Himitsu" will open in Ichigaya, Tokyo

The hybrid conclusive bookstore "honto" will open a collaboration café named "Ribbon no Furoku 'Kawaii' no Himitsu" with the girl's comic magazine "Ribbon" at "DNP Plaza" located in Ichigaya, Tokyo. The café will be opened from October 3rd 2018 (Wed.) to October 22nd (Mon.).

Latte art using "Ribonchan's" mark specially depicted by Yazawa Ai (manga artist) will be served. Ribonchan is a popular character of "Ribbon Mascot Mix." The latte comes with the special event coaster.

The coaster uses the motifs of the illustrations depicted by popular manga artists including Sakura Momoko.

Also, the magazine/book "Ribbon no Furoku 'Kawaii' no Himitsu" will be sold at the venue and real-sized  appendix and large photos will be exhibited. The whole venue will be filled with the cute atmosphere of Ribbon's appendices.

Plus, the site "honto" has started selling the book that comes with the limited original post card in line with the start of this event, from September 20th (Thurs.).

Moreover, they will offer an original wallpaper for smartphones using the motif of Yazawa Ai's illustration to all members of "honto."

Downloadable period:2018, Semptember, 20 (Thurs.) to October 31st (Wed.)

URL:https://honto.jp/article/hontoplus/kabegami.html

Don't miss this limited event which will for sure be a nostalgic time for all Ribon fans.

Information

"Ribbon no Furoku 'Kawaii' no Himitsu" Collaboration Café with honto

Venue1: DNP Plaza 1F café, 1-14-1, Ichigayatamachi, Shinjuku, Tokyo, DNP, Ichigayatamachi Building

Venue2: 2018,October 3rd (Wed.) to October 22nd (Mon.)

※

holiday – Tuesday

Business hours: 11:00 to 20:00

Entrance fee: free (eating and drinking is not free / reservations must be made)

Amenity (book): "Ribbon no Furoku 'Kawaii' no Himitsu" (Thurs.)

Price: 1,944 yen (tax included)

Amenity: Post card (two kinds)

※

quantity limited

Available page: honto's mail order site

(C)池野恋/集英社 (C)さくらプロダクション (C)水沢めぐみ/集英社 (C)吉住渉/集英社 (C)矢沢漫画制作所/集英社 (C)小花美穂/集英社

Chibi Maruko-chan Store to Open in Abeno, Osaka on September 19

Fans of the popular shojo manga series Chibi Maruko-chan will be delighted to hear that a merchandise store is opening on the first floor of Abeno Q's Mall in Abeno, Osaka on September 19 which will run until October 8.

Acrylic Key Holders: ¥840 / Mint Tablets: ¥350 / Clear Files: ¥400 / Lip Balm: ¥800

This is the first store to open in Osaka that exclusively sells Chibi Maruko-chan merchandise. Get your hands on around 300 different items which feature two different designs illustrated specially for the store – Maruko-chan and Hanawa-kun dressed as a comic duo as a homage to Osaka's owarai comedy scene, and Maruko-chan and Noguchi-san dressed as elderly Osaka women.

You can also meet Maruko-chan and Hanawa-kun in the store on weekends and holidays. Dates on when they will be present will be announced on the store's official website and social media pages.

The comedy duo design of Maruko-chan and Hanawa-kun features the two characters wearing bright yellow suits and red bow ties while stood before a stage mic.

In the other design, a shout-out to the senior citizens of Osaka, Noguchi-san is wearing an outfit with leopard print, a sun visor and is holding a supermarket bag with a spring onion on it. Maruko-chan is holding hard candy in one hand and is wearing a tiger print one piece.

If you spend over ¥2,000 (tax included) in the store you'll get one of the above two badges chosen randomly. These won't be available anywhere else after the store closes.

Head to Osaka later this month to get your hands on a range of cute exclusive Maruko-chan merchandise!

■Information

Osaka Chibi Maruko-chan Store

Address: Abeno Q's Mall, 1-6-1 Abenosuji, Abeno Ward, Osaka, Osaka Prefecture

Opening Hours: September 19, 2018 – October 8, 2018

Time: 10:00am-9:00pm

TEL: 080-6979-4080

Maruko-chan & Hanawa-kun Greeting

Date: September 29, 2018

Time: 13:00 / 15:00

*Maruko-chan and Hanawa-kun will be present at the store for approximately 20 minutes at 13:00 and 15:00. Please take a camera with you.

*Other appearances TBA on the store's official website and social media.

Official Website: http://chibimaru.tv/

Twitter: https://twitter.com/tweet_maruko

Facebook: https://www.facebook.com/chibimaruko.official/

©Sakura Production / Nippon Animation