Experience Godzilla in Virtual Reality at VR ZONE Shinjuku and VR ZONE Portal
The new Godzilla VR will officially arrive at VR ZONE Shinjuku as well as VR ZONE Portal branches across Japan on November 3, 2018.
You can get an early look at the new experience at VR ZONE Shinjuku only where a a pre-opening will be held on October 26 before Godzilla VR is put into official operation.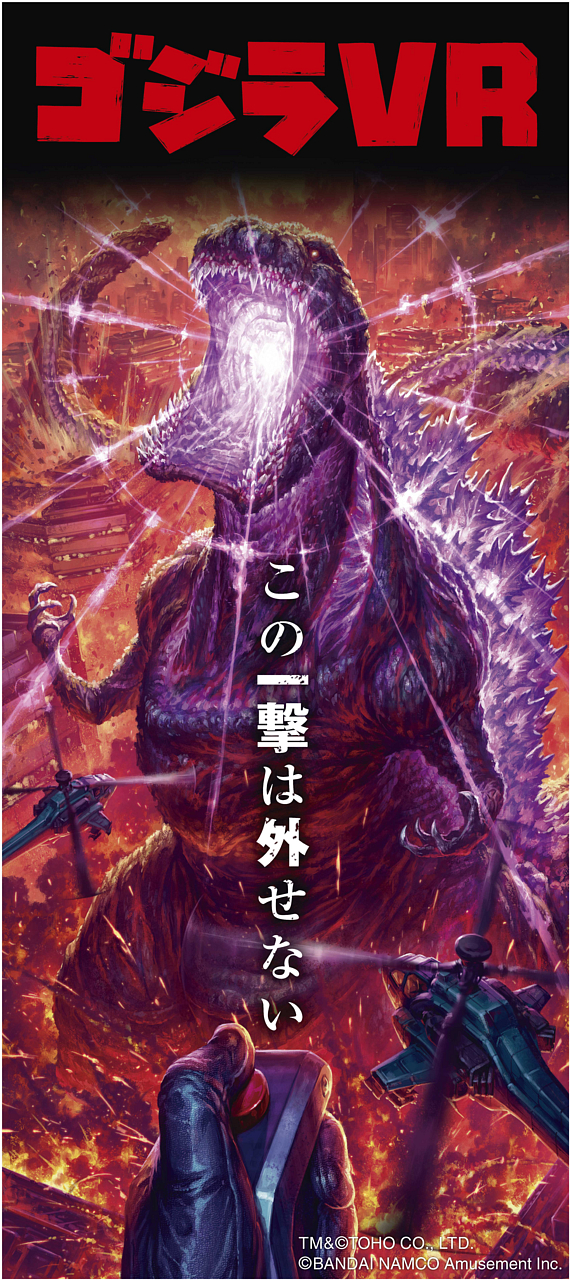 Godzilla VR will have users piloting a helicopter in an effort to take down the behemoth. Godzilla will wreak havoc and destroy the city below as you work with your comrades to stop him in this terrifying virtual reality experience.
November 3 is also "Godzilla Day" in Japan, so get involved and help save the city from annihilation!
Information
Godzilla VR
Locations
VR ZONE Shinjuku (Tokyo)
VR ZONE Osaka (Osaka Prefecture)
namco Aeon Mall Kakamigahara (Gifu Prefecture)
namco Aeon Mall Kyoto (Kyoto Prefecture)
namco Aeon Mall Dainichi (Osaka Prefecture)
*The VR ZONE Portal branch list hosting Godzilla VR will expand in the near future.
For details on the pre-opening, opening hours and everything else, please check the link below.
https://bandainamco-am.co.jp/others/vrzone-portal/
TM&©TOHO CO., LTD.
©BANDAI NAMCO Amusement Inc.
RECOMMENDED ENTRIES
Experience VR Dragon Quest at VR ZONE SHINJUKU

Japan's biggest VR entertainment facility VR ZONE SHINJUKU introduced Dragon Quest VR to its establishment on April 27, 2018. An opening event was held prior to its introduction on April 25 to up the excitement.

Taking to the stage at the opening event was Square Enix producer Ryutaro Ichimura, Takamasa Hamano of Bandai Namco Amusement, and Yuji Horii, the creator of Dragon Quest. Horii spoke joyfully, saying "It's been 30 years since Dragon Quest was born. This world that is laid before me is something out of a dream."

The centre tree in the middle of the venue illuminated with the shout of Lynn. Projection mapping was used to display Yggdrasil, a quintessential sight of the Dragon Quest series.

Guests were able to get involved in VR activities after the stage talks. The moment everyone hooked themselves up to the VR they were blown away by how much it looked like they were in the world of Dragon Quest, and how expansive the green plains were.

If you're a Dragon Quest fan then enter the world yourself with Dragon Quest VR at VE ZONE SHINJUKU!

■Information

Dragon Quest VR

Address: VR ZONE SHINJUKU, 1-29-1 Kabukicho, Shinjuku

TYFFONIUM SHIBUYA: A Mixed Reality Entertainment Facility Combining Virtual Reality & Augmented Reality

Tokyu Recreation are set to open TYFFONIUM in Shibuya on November 23, 2018, a next-gen entertainment facility that makes use of mixed reality (MR) which is a combination of virtual reality and augmented reality. Combining real and virtual worlds, the facility will offer not just games, but a new way to enjoy MR that will have uses experiencing different attractions.

There will be two different MR attractions available when TYFFONIUM opens. Look forward to immersing yourself in "Corridor," an innovative horror experience that will have you walking around a mixed reality world. Or board the ship in "FLUCTUS," a fantasy themed attraction that takes you on a mysterious voyage where the boundaries between life and death touch.=

TYFFONIUM plans to develop even more content for people to enjoy. It's not often you're able to play in a huge party of people in a virtual space like this, so be sure to experience it yourself in Shibuya.

■Information

TYFFONIUM SHIBUYA

Address: 6F-8F Kiyama Bldg, Udagawacho, Shibuya, Tokyo

Grand Opening: November 23 ,2018

Opening Hours: 10:00am-11:00pm

Website: https://www.tyffonium.com

*Facility content subject to change.
RELATED ENTRIES
New Food Truck Taiyaki Tainoya to Open in Shinjuku Serving Fish-Shaped Cakes

Taiyaki Tainoya is a food truck set to open in front of the first floor entrance of Flags on September 20 which is connected directly to Shinjuku Station's south-east exit.

  

Taiyaki – ¥200 (Tax Included)

The truck will sell taiyaki, a classic Japanese confection which comes in the form of a crispy fish-shaped cake filled with bean paste. The cakes sold here will be made using Tokachi beans from Hokkaido which have a distinct luxurious sweetness to them.

The taiyaki here are made with takeout and gift-giving in mind, so they have been made nice and crunchy so they don't fall apart or become mushy.

The bean paste isn't overly sweet so is easy to enjoy. The beans, which have a strong aroma, are cooked in sugar beet from Hokkaido, and contain a hint of moshio, which is salt you get from burning seaweed.

The sweet bean paste has such a smooth texture that you wouldn't believe that's what it is. If you're a lover of adzuki bean paste or aren't good with sweet things, then this is a bean paste you're going to love.

For an extra ¥30, you can have the taiyaki packed in a cute gift box if you're thinking of giving it to someone. There are six colours to choose from for all occasions, be it a home party or for clients. They are also wrapped with noshi paper and contain message cards. There are seven of these to pick, so you can write your own words to the person.

If a simple taiyaki isn't enough for you, you can also top it with a rich soft-serve ice cream. Pick between Hokkaido Vanilla or Uji Matcha flavours.

If you're getting off at Shinjuku Station, be sure to head out the south-east exit of the JR Line section to find Taiyaku Tainoya.

Information

Taiyaku Tainoya

Address: 3-37-1 Shinjuku, Shinjuku Ward, Tokyo (1st floor entrance of Flags at Shinjuku Station's south-east exit)

Grand Opening: September 20, 2019

TEL: 080-4179-2365

Opening Hours: 11:00-3:00

No Fixed Holidays

Escape From Godzilla at TOKYO MYSTERY CIRCUS Escape Game Theme Park

TOKYO MYSTERY CIRCUS's catalogue of games just keeps on growing. The puzzle and escape game theme park has just announced the return of its escape game Escape From Shin Godzilla which is being held in collaboration with the 2016 film Shin Godzilla.

The event was previously held last April where it ran until October, enjoying huge popularity with over 40,000 escape game-goers. Players took the role of a member of the Kyosaitai―the anti-Godzilla task force―based in Kabukicho, Shinjuku where you will be tasked with solving puzzles to defeat the colossal giant.

The thrilling event returns once more with original visuals created to make it look like Godzilla has really invaded Kabukicho. Tickets are now on sale, and you can pick up exclusive merchandise and themed food at the venue too. Can you defeat Godzilla?

TM&©TOHO CO., LTD. ©SCRAP

Information

Escape From Shin Godzilla

Location: Himitsu Kichi Lab, TOKYO MYSTERY CIRCUS (Floor B1F)

Running: October 4, 2019 – November 10, 2019

Times

Weekdays: 13:20 / 16:20 / 19:20
Weekends & Holidays: 10:10 / 12:40 / 15:10 / 17:40 / 20:10
*The event will end 100 minutes after each starting time

Price
Advance: Single ¥3,300 / Group ¥12,000 / Repeater Group Ticket ¥12,000
Same-Day: Single ¥3,800 / Group ¥14,000 / Repeater Group Ticket ¥14,000
*Same-day tickets will not be available if all advance tickets sell out

 

TOKYO MYSTERY CIRCUS

Address: APM Bldg., 1-27-5 Kabukicho, Shinjuku, Tokyo, 160-0021

Opening Hours: Weekdays 11:30-23:00 / Weekends & Holidays 09:30-23:00

No Fixed Holidays.

Price: Free Entry (*Separate tickets required for games)

Official Homepage (English): https://mysterycircus.jp/en/

Event Page (Japanese): https://mysterycircus.jp/shin-godzilla/

Scorch your Senses at the Spicy as Hell and Tasty as Well 2019 Food Festival Round 2 in Shinjuku

Spicy as Hell and Tasty as Well 2019 will be holding round 2 on August 16, 2019 at Okubo Park, Kabukicho in Shinjuku. This will be the event's biggest gekikara gourmet saiten (super spicy festival) Japan has ever seen. 

Food services that represent the spicy foods of the world have all joined forces at Kabukicho in Shinjuku; Asia's largest entertainment district to tinge it with a luminescent spicy red colour. So far, around 0.7 million people with a burning passion for spice have made their way to the spice central to test their tolerance to the range of gourmet spicy dishes. From beginner to mania, the event caters to all levels of spice-lovers. From a tiny touch of spice to spicy as hell, there is a wide range of spice levels to choose from. The dishes served and participating shops are changed each week, so you can enjoy a new spicy experience each week. 

At the 1st Round, spice fans had their fill of Ciao em Cafe's Bún bò Huế. This café, which originates from the outskirts of Tokyo in Hana-Koganei, took part in the event for the first time. One of their signature dishes is the Vietnamese soup, which captured the hearts of many women for its perfectly balanced sweet yet spicy flavour.  Despite being Menya Mazeharu's first time serving at the event, their queues stretched out into the sunset from morning to evening each day .

Round 2 will see Cheese to Gibier Curry Naru Ichizoku and Tokyo spice curry Aka to Kuro spicing up the event for the first time. This is the perfect opportunity to experience Awajishima Curry made with the world's most sense-scorching spices including ghost pepper, trinidad scorpion pepper, and the carolina reaper. Tokyo spice curry serves up red curry dishes made with ingredients traditionally used in natural Chinese food therapy. Their black curries are Kashmiri curries that will leave you feeling satisfied. 

These are just a selection of the vast number of noteworthy spicy dishes. You are bound to find the perfect curry to spice up your life at this event, so please check it out.

Information

Spicy as Hell and Tasty as Well 2019 (激辛グルメ祭り2019)

Venue: Okubo Park, Kabukicho, Shinjuku 

Address: 2-43, Kabukicho, Shinjuku, Tokyo

Access: 3-min walk from Seibu-Shinjuku Station or an 8-min walk from Shinjuku station (JR/ Odakyu/ Keio lines)

Entry: Free to enter, pay for your food and drinks. 

Schedule:

2nd round: Aug 16 ー 21

3rd round:  Aug 23 ー 28

4th round: Aug 30 ー Sept 4 

5th round: Sept 6 ー 11

6th round: Sept 13 ー 18 

* Closed on Aug 15, 22, 29 and Sept 5, 12 to change the shops.

* Open on rainy days (closed during stormy weather).

* Spicy as Hell and Tasty as Well is open for a total of 38 days this year, the longest it has ever run in history.  

Website: https://www.gekikara-gourmet.com/

Pop Team Epic Pop-Up Shop Makes its Way to Shinjuku This Month

The Pop Team Epic pop-up shop is set to take to make a return this month. It will open on the sixth floor of Shinjuku Marui Annex and run from August 23 to September 16.

Themed on the the popular manga and anime series, the pop-up shop first appeared in December 2016 and has since popped up many times around Japan over the years. Having been held in various places around Tokyo as well as Nagoya, Fukuoka, Sapporo and Osaka, it is finally making its way to Shinjuku for the first time.

The shop's main visual was drawn by series creator Bkub Okawa. Its design will feature on many exclusive pieces of merchandise at the shop.

Fans of the series have lots to look forward to at the shop, with plenty of cute and hilarious decorations of Popuko and Pipimi and plenty of photo opportunities. Those who spend over ¥3,000 (tax included) at the shop will even receive an original sticker. Only one will be given per person.

More details about the event can be found over at the official Twitter page.

Information

Pop Team Epic Pop-Up Shop

Running: August 23, 2019 – September 16, 2019

Time: 11:00-21:00 (Until 19:00 on September 16, 2019 *Free entry, no planned holidays

Location: Shinjuku Marui Annex 6F (3-1-26 Shinjuku, Shinjuku Ward, Tokyo)

Event Official Twitter: https://twitter.com/pteppopup

Keio Plaza Hotel Tokyo Offers Luxurious Accommodation Plan & Tea Ceremony Experience For Families

Keio Plaza Hotel Tokyo, a highly prestigious and magnificent 4-star hotel located in Shinjuku, is now serving an all-new "luxurious" family package which includes a tea ceremony experience and much more. It is currently running from July 20 to September 1.

The rooms offered in the accommodation plan are the hotel's popular Wide Twin Rooms located on the Premier Grand club floor. Use of the Club Lounge is included in the package. The Wide Twin Rooms include two roomy queen-size beds which span 1.53 meters wide which allow parents to sleep comfortably with their children. Rooms also feature their own bathroom facilities.

The package also includes a check-in simulation for children aged 6-12 years where they can get a feel for what it's like to check-in. They will fill in their own check-in cards with parents and receive a ticket for the tea ceremony experience. They will be able to take their card home with them and take a commemorative photo.

The tea ceremony experience will be held on the hotel's 10th floor in the "Shofuan," an authentic tearoom that has been in the hotel since it opened in 1971. Parents and children will receive proper instruction from the tea ceremony teacher before pouring their own tea, allowing them to learn about traditional Japanese culture and etiquette. They will receive a special certificate of completion at the end.

If you're travelling to Japan as a family this summer then enjoy it in luxury at Hotel Keio Plaza Tokyo.

Information

Tea Ceremony Experience and Luxurious Accommodations for Families

Running: July 20, 2019 – September 1, 2019
Price: ¥18,450 per person for the Wide Twin Rooms on the Premiere Grand Club Floor *Usage for 2-4 people (Includes use of the Club Lounge, breakfast, and includes service charge and tax)

Package Includes:

①Tea Ceremony experience for overnight guests (1.5 hours required, children of preschool age or younger cannot participate but are welcome to watch)

②Simulated Club Lounge check-in experience for children and special commemorative photographs available between 2:00p.m. to 5:00p.m.

③Amenity items for mother use (skin care products etc.)

④Commemorative certificates of stays and tea ceremony completion, and photographs presented to guests

⑤Complimentary late check-out at 12:00p.m. (Normal check-out time is 11:00a.m.)

⑥Complimentary use of Sky Pool facilities

Enquiries & Reservations: +81-35322-8000

Keio Plaza Official Website: https://www.keioplaza.com/

Experience the Attack on Titan VR Game at the MORI Tower Sky Deck in Roppongi Hills

As part of the ongoing Attack on Titan Exhibition FINAL event that is taking place at MORI Arts Center Gallery until September 8, a new addition has been added to the event that will take place from August 6 to September 8.

Titled "Sky Deck ~The Colossal Titan's Invasion~," the event will take place on the open-top roof of Roppongi Hills MORI Tower that will make use of the surrounding environment and utilise AR technology to project the Colossal Titan before your very eyes, up 270 meters high.

What happens when the Colossal Titan himself appears before you in real life? This virtual experience will give you a peek into the cruel and terrifying world of Attack on Titan.

Information

Attack on Titan Exhibition FINAL x Sky Deck ~The Colossal Titan's Invasion~

Location: Roppongi Hills Tokyo City View Sky Deck (Roppongi Hills MORI Tower Rooftop)

Running: August 6, 2019 – September 8, 2019

Time: 11:00-18:00

*Sky Deck opening hours extended to 22:00 (last entries 21:30) on August 25

*Sky Deck opening hours reduced to 17:00 on August 10 due to the firework festival (August 11 if postponed)

*Last entries are 30 minutes before each respective closing time

Price: Sky Deck fee only (AR is free to experience): General ¥500 / Aged 4-12 Years ¥300

*Separate fees are charged for entry to the exhibition, sky deck, and Mori Art Museum

*The recommended age for the AR experience is 7+ years

Full Details (Japanese): http://tcv.roppongihills.com/jp/news/2019/08/3400/index.html

Attack on Titan Exhibition FINAL (English): https://www.kyojinten.jp/en/

Osamu Watanabe's Mouthwatering Museum of Sweets Showcases Giant Candy Unicorn & More

Have you heard of Osamu Watanabe? You won't forget his name by the end of this article. He is an installation and contemporary artist that draws his inspiration from the world of sweets and confections. He has drawn much attention not just in Japan but overseas too in countries like the US, Italy, Turkey, Indonesia and China with his various exhibitions.

Watanabe is set to take his "Museum of Sweets" exhibition to Shinjuku where it will open at the Odakyu Department Store on July 31.

The candy creations will be split throughout 9 different areas such as the titular room Museum of Sweets as well as the Forest of Sweets, Banquet of Sweets, Sweets Aquarium and more, all of which are sure to tickle the taste buds of sweet tooth visitors.

What's more is that you are permitted to take photos, opening the door for countless photo opportunities for Instagram.

Osamu Watanabe will also be present to host a workshop on 4 separate days so you can craft your own cookie charm using materials Watanabe actually uses in his creations.

Enter a fantastic candy land cooked up by the one and only Osamu Watanabe.

Information

Museum of Sweets

Running: July 31, 2019 – August 14, 2019

Time: 10:00-20:00 (Until 20:30 from August 7-13 / Until 17:00 on August 14)

*Last entries 30 minutes before closing times

Location: Odakyu Department Store Shinjuku Floor 11F

Entry: General ¥600 / High School & Junior High School Students ¥400 / Elementary School Students & Younger – Free

*If you are disabled you and a guardian can get in for free if you take a physical disability certificate

*Those who hold an Odakyu Points Card or Odakyu Ladies Club Card can get ¥100 off entry (applicable only to those who have a card)

Odakyu Department Store Official Website: http://www.odakyu-dept.co.jp/

Workshop: Make a Cookie Charm With Osamu Watanabe!

Running: August 3, 2019 / August 4, 2019 / August 11, 2019 / August 12, 2019

Slots: 13:00 / 13:30 / 14:00 / 14:30 / 15:00 / 15:30 (Each Day)

Participants: 10 per slot

Price: ¥500

Applying: Please apply at the department store from 10:00 on the day

Osamu Watanabe Official Website:  http://watanabeosamu.tokyo/profile_en.html

Play Hide And Seek at After Hours Spooky Japanese Theme Park in Osaka

Hirakata Park in Osaka is set to host its scary nighttime horror event "Hide And Seek at Hiraka Park" again this year from August 26 to September 1. Tickets are now on sale via Lawson Tickets. The event is being held in collaboration with MBS, Yami and ICT of NTT West.

The park will take a turn for the worse as soon as evening settles and night envelops the sky, bringing a spooky shift to the usual mirthful atmosphere during the day. Something terrible will lurk in the dark after the park closes.

Participants of this event will need to use their electronic devices, such as a tablet or smartphone, to help them reach the goal within an hour while keeping hidden from any spirits that may be lying in wait in the shadows. We also recommend taking a spare pair of pants.

But that's not all, as guests at the park can now get involved in another frightening experience using VR technology. This VR game, which is called "The Vengeful Sleep Paralysis Ghost's Mansion," was introduced to the park on July 6 and is available for a limited time only.

If you're down for some hair-raising spooks but can't wait until Halloween, then you know where you need to go this summer.

Information

Hirakata Park x NTT West: "Theme Park Hide and Seek"
Location: The whole of Hirakata Park
*The meeting point is at the park's East Gate
Running: August 26, 2019 – September 1, 2019 & September 7, 2019 – September 8, 2019
Time Slots: ①19:00 / ②19:20 / ③19:40 / ④20:00 / ⑤20:20
*Participants are allocated an hour for each slot
*You must be at the East Game meeting point 5 minutes before your chosen slot

Price: Group Ticket (Up to 4 People)  – ¥14,000 (*comes with free bonus

Tickets: Lawson Ticket (L-Code: 55500)
*Where tickets are available on the day, they will only be sold up until 20:00 that day at Lawson and MINISTOP convenience stores. Please use the Loppi ticket machines in the stores and search for the tickets using the L-Code "55500."
Ticket Enquiries: Lawson Ticket – 0570-000-777 (10:00-20:00)

Homepage: https://www.mbs.jp/obake/

Sanrio Announces Character Themed Cafe at EGG & SPUMA in Shinjuku

Sanrio has announced that it will open its third-ever limited-time cafe themed on their magazine Ichigo Shimbun at EGG & SPUMA located on the 8th floor of Shinjuku Lumine EST from July 11 to September 30.

Ichigo Shimbun is a monthly magazine published by Sanrio which includes information about the latest character merchandise, the Sanrio Character Awards, and more. Many of Sanrio's characters appear in the magazine and are set to appear at the cafe in the form of food. The theme of the cafe will be "Vacation."

The menu special is the special party combo box for two. Served in an original box, it contains Pochacco and Cinnamoroll burgers, fries, cute Kiki & Lala desserts, two drinks, and more.

EGG & SPUMA are known for their pancakes, so for the Sanrio collaboration, they will serve a special plate of pancakes themed on a beach with Pompompurin sunbathing on top. You can also order refreshing summery soda drinks too.

There will be two different menus served at different periods for the duration of the collaboration, meaning a repeat visit is a must. We hope you get to try everything!

Information

Ichigo Shimbun Diner
Location: EGG & SPUMA, Shinjuku Lumine EST Floor 8F, 3-38-1 Shinjuku, Shinjuku Ward, Tokyo
Running: July 11, 2019 – September 30, 2019
Business Hours: Weekdays 11:00-23:00 (Last Orders 22:00) / Weekends & Holidays 11:00-22:30 (Last Orders 21:30)
TEL: 03-6273-0255
Website: http://salt-group.jp/shop/egg-spuma/

Top 5 Tokyo Beer Gardens to Cool You Down This Summer

Hi, readers! It's Midori, from MMN's editorial team.

When thinking about summer, one of the first things that springs to mind are beer gardens! Drinking a cold beer outdoors on a hot summer's day is a special kind of delicious. More and more beer garden events appear in Japan every year, the vibe and atmosphere is different for each depending on where you are.

Today, I've compiled for you 5 must-visit beer gardens in Tokyo for summer 2019.

Heineken Kirin Beer Garden: Enjoy a lamb BBQ at Kichijoji Daiichi Hotel

This beer garden is being hosted in a BBQ style. Enjoy a two-hour all-you-can-drink course with either a Jingisukan BBQ or oil ponzu fondue as well as a selection of à la carte that go perfectly with the beer on offer. Look out for the lamb BBQ as well, a hugely popular choice every year at the hotel.

▼Kichijoji Daiichi Hotel – "Heineken Kirin Beer Garden"

Location: Kichijoji Daiichi Hotel Floor 8F Garden Terrace (Entrance at floor 7F)

Address: 2-4-14 Honcho, Kichijoji, Musashino, Tokyo
Running: May 24, 2019 – September 1, 2019 (*Closed on Mondays between May 24 – June 30)
Time: 17:00-21:30 (Last Orders 21:00)

Website: https://www.hankyu-hotel.com/hotel/dh/kichijojidh/

Honoo Bulgogi vs. Tamashii Hot Pot: Ikebukuro Tobu Beer Garden

The Tobu Department Store in Ikebukuro is set to serve up its popular bulgogi nabe on the building rooftop. This year also sees the introducing of a new hot pot. Women can also enjoy a discount price on the bulgogi nabe even cheaper than previous years. There is also an happy hour service where all customers can enjoy reduced prices. If you're looking for affordable prices then look no further!

▼Honoo Bulgogi vs. Tamashii Hot Pot: Ikebukuro Tobu Beer Garden

Location: Tobu Department Store Ikebukuro Floor 16F Rooftop

Address: 1-1-25 Nishi-Ikebukuro, Toshima Ward, Tokyo
Running: April 24, 2019 – September 1, 2019
Time: 17:00-23:00 (Last orders for à la carte and drinks at 22:00)
Reservations: Via telephone or online. Reservations must be for 2+ people.

Website: http://www.tobu-dept.jp/ikebukuro/

Beer Garden With an Unbroken View Of the Sea at InterContinental Yokohama Grand

InterContinental Yokohama Grand is bringing its hugely popular beer garden Hama Beer back to Yokohama Minato Mirai again this year. Look forward to tucking into some authentic delights at the hotel terrace with a panoramic view of the Yokohama sea. They also serve a variety of non-alcoholic cocktails too. I recommend this one if you're looking for a romantic, slightly more adult beer garden experience.

▼InterContinental Yokohama Grand Beer Garden

Location: InterContinental Yokohama Grand Floor 1F Outdoor Terrace (*Location will change if it rains)

Address: 1-1-1 Minato Mirai, Nishi Ward, Yokohama, Kanagawa Prefecture
Running: June 14, 2019 – September 16, 2019 (*Except on days when there are scheduled events)

Time: [Mon-Thur] 18:00-21:00 / [Fri-Sun & Hols] 17:00-21:30

Website: https://www.interconti.co.jp/yokohama/

Machida MODI at Renewed "Sky Beer Garden" With Projection Show

The Sky Beer Garden atop Machida MODI has reopened after renovations. A projection show is taking place on the building wall as part of the beer garden. On the official homepage, people can also sign up to have a message projected onto the wall. 7 people will be randomly selected per day. This would be perfect as a surprise to that special someone! You can also enjoy the beer garden at a discounted price if you follow them on Instagram.

▼Sky Beer Garden

Location: LUGAR HA AMOR
Address: Machida MODI Rooftop, 6-2-6 Haramachida, Machida, Tokyo
Running: April 27, 2019 – September 29, 2019

TEL: 042-812-2580

Website: https://www.0101.co.jp/723/

SKY PARADISE BEER GARDEN: Delicious steak and more at Isetan Shinjuku

At Isetan Shinjuku's stylish SKY PARADISE BEER GARDEN visitors can enjoy steak from Steak NO.1 STEAK THE FIRST. The drinks menu also includes beverages other than beer, so if you're not a beer person then I definitely recommend this one. It is being held on the rooftop too so you can enjoy dining in the warm late afternoon and evening outdoors in Tokyo.

▼SKY PARADISE BEER GARDEN

Location: Isetan Shinjuku Rooftop

Address: 4-14-1 Shinjuku, Shinjuku Ward, Tokyo
Running: June 12, 2019 – September 16, 2019
Time: [Mon-Thur] 16:00-22:00 / [Fri-Sun & Hols] 11:30-22:00 (Last Orders – Food 21:00/Drink 21:30)
TEL: 03-6890-0199 (11:30-20:00)

Website: https://www.isetan.mistore.jp/shinjuku.html

There are many different unique beer gardens being held this year, so pick the one that suits you most and cool yourself off this summer in Tokyo♡

SK-II: Isetan Shinjuku's New Future Skin Care Store

SK-II continues to revolutionise the way customers experience shopping for skincare productcs as it announces SK-II Future X, an upcoming limited-time event that will run from April 24 to 30 on the first floor of Isetan Shinjuku.

At SK-II Future X, shoppers will be able to remove the stress from looking for skin care products in an environment that combines the physical with the digital―and they are free to come and go as they please. This exciting experience will provide plenty of interactive ways of shopping.

"Magic Scan" is the name of Japan's first piece of AI technology that can measure one's skin, and it will be used at this event. All you have to do is stand in front of a mirror for about 3 minutes. The tech will determine the condition of your skin, its age, and recommend the right skin care products for you. It does this by paying attention to tremors in the skin.

The SK-II Facial Treatment Essence will also be sold at the event with a limited edition design. This beautifying essence contains over 90% Pitera™, a multiple award-winning naturally-derived ingredient. Shoppers can also enjoy pre-sales of their Facial Treatment Essence Spring Red Limited Edition which isn't set to go on sale in Japan until May 10. Purchasing these products gets you a go on the Pitera™ Vending Machine which will change the design of your bottle.

Other services will include a 180° selfie booth, an AR wall where you can learn some of the secrets behind Pitera™, and more. If you're wanting to find out ways to care for your skin then be sure to visit.

Information

SK-II Future X Event

Running: April 24, 2019 – April 30, 2019

Time: 10:00-20:00

Location: The Stage, Isetan Shinjuku Floor 1

Pre-Sales: Facial Treatment Essence Spring Red Limited Edition / Facial Treatment Essence Spring Mint Blue Limited Edition

Official Website: https://meeco.mistore.jp/contents/sk_2/index.html

Snoopy Art Exhibition Scheduled for Shinjuku & Fukuoka Viewing

American artist Tom Everhart is set to hold an exhibition on the internationally-beloved comic series Peanuts™ which features popular characters such as Snoopy and Charlie Brown. This will be his biggest art exhibition in Japan to date.

It will take place in at Hilton Tokyo's Hiltopia Artist Square in Shinjuku from April 26 to 30 and Erugara Hall Tenjin in Fukuoka from May 2 to 6. Select artworks will be available for purchase at both venues.

"Brothers and Sisters Please"

Around 60 pieces by Tom Everhart will be on show including a special Japan-only early preview of his newest work Brothers and Sisters Please.

"My Brothers Please"

Everhart paints Snoopy's face with a calm expression and makes full use of vibrant colours, resulting in a feeling of inner-warmth and comfort when observed. Other pieces will include mixed media works, rare lithographs and more.

Enter a world of Peanuts™ art.

Information

Peanuts™ Exhibition

Tokyo

Location: Hilton Tokyo's Hiltopia Artist Square (Hilton Tokyo Floor B1F, 6-6-2 Nishi-Shinjuku, Shinjuku, Tokyo)

Running: April 26, 2019 – April 30, 2019

Opening Hours: 11:00-19:00 (Until 16:00 on April 30)

Fukuoka

Location:  Erugara Hall Tenjin Floor 7F (1-4-2 Tenjin, Chuo Ward, Fukuoka, Fukuoka Prefecture9

Running: May 2, 2019 – May 6, 2019

Opening Hours: 11:00-18:30 (From 12:00 on May 2 / Until 16:00 on May 6)

Entry to both exhibitions is free.