Experience Godzilla in Virtual Reality at VR ZONE Shinjuku and VR ZONE Portal
The new Godzilla VR will officially arrive at VR ZONE Shinjuku as well as VR ZONE Portal branches across Japan on November 3, 2018.
You can get an early look at the new experience at VR ZONE Shinjuku only where a a pre-opening will be held on October 26 before Godzilla VR is put into official operation.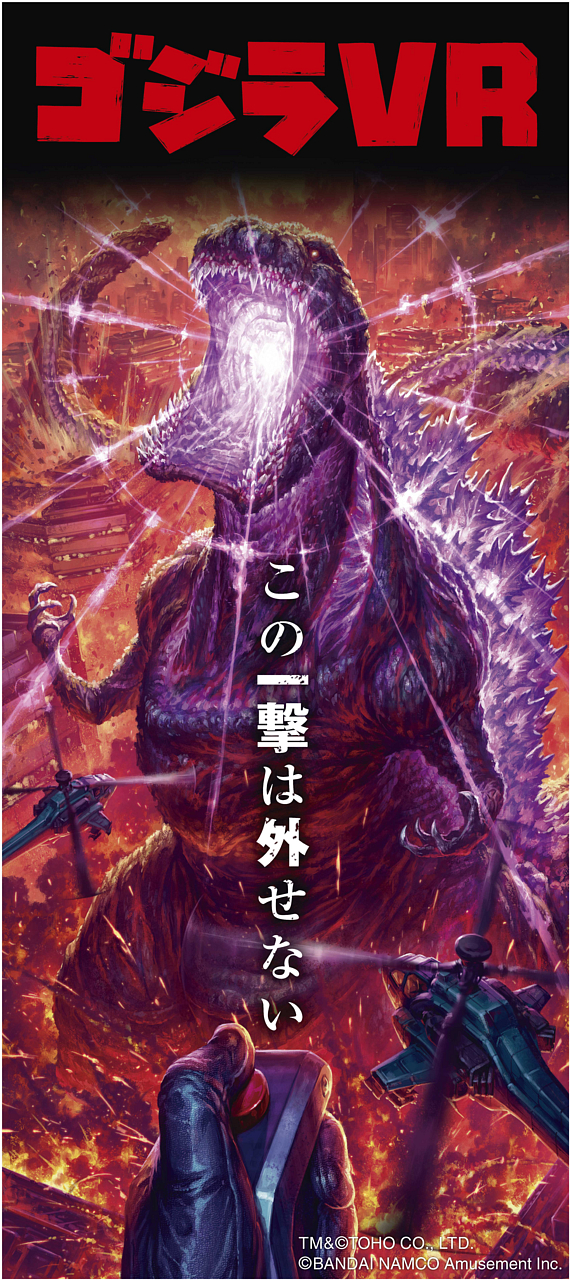 Godzilla VR will have users piloting a helicopter in an effort to take down the behemoth. Godzilla will wreak havoc and destroy the city below as you work with your comrades to stop him in this terrifying virtual reality experience.
November 3 is also "Godzilla Day" in Japan, so get involved and help save the city from annihilation!
Information
Godzilla VR
Locations
VR ZONE Shinjuku (Tokyo)
VR ZONE Osaka (Osaka Prefecture)
namco Aeon Mall Kakamigahara (Gifu Prefecture)
namco Aeon Mall Kyoto (Kyoto Prefecture)
namco Aeon Mall Dainichi (Osaka Prefecture)
*The VR ZONE Portal branch list hosting Godzilla VR will expand in the near future.
For details on the pre-opening, opening hours and everything else, please check the link below.
https://bandainamco-am.co.jp/others/vrzone-portal/
TM&©TOHO CO., LTD.
©BANDAI NAMCO Amusement Inc.
RECOMMENDED ENTRIES
Experience VR Dragon Quest at VR ZONE SHINJUKU

Japan's biggest VR entertainment facility VR ZONE SHINJUKU introduced Dragon Quest VR to its establishment on April 27, 2018. An opening event was held prior to its introduction on April 25 to up the excitement.

Taking to the stage at the opening event was Square Enix producer Ryutaro Ichimura, Takamasa Hamano of Bandai Namco Amusement, and Yuji Horii, the creator of Dragon Quest. Horii spoke joyfully, saying "It's been 30 years since Dragon Quest was born. This world that is laid before me is something out of a dream."

The centre tree in the middle of the venue illuminated with the shout of Lynn. Projection mapping was used to display Yggdrasil, a quintessential sight of the Dragon Quest series.

Guests were able to get involved in VR activities after the stage talks. The moment everyone hooked themselves up to the VR they were blown away by how much it looked like they were in the world of Dragon Quest, and how expansive the green plains were.

If you're a Dragon Quest fan then enter the world yourself with Dragon Quest VR at VE ZONE SHINJUKU!

■Information

Dragon Quest VR

Address: VR ZONE SHINJUKU, 1-29-1 Kabukicho, Shinjuku

TYFFONIUM SHIBUYA: A Mixed Reality Entertainment Facility Combining Virtual Reality & Augmented Reality

Tokyu Recreation are set to open TYFFONIUM in Shibuya on November 23, 2018, a next-gen entertainment facility that makes use of mixed reality (MR) which is a combination of virtual reality and augmented reality. Combining real and virtual worlds, the facility will offer not just games, but a new way to enjoy MR that will have uses experiencing different attractions.

There will be two different MR attractions available when TYFFONIUM opens. Look forward to immersing yourself in "Corridor," an innovative horror experience that will have you walking around a mixed reality world. Or board the ship in "FLUCTUS," a fantasy themed attraction that takes you on a mysterious voyage where the boundaries between life and death touch.=

TYFFONIUM plans to develop even more content for people to enjoy. It's not often you're able to play in a huge party of people in a virtual space like this, so be sure to experience it yourself in Shibuya.

■Information

TYFFONIUM SHIBUYA

Address: 6F-8F Kiyama Bldg, Udagawacho, Shibuya, Tokyo

Grand Opening: November 23 ,2018

Opening Hours: 10:00am-11:00pm

Website: https://www.tyffonium.com

*Facility content subject to change.
RELATED ENTRIES
TOKYO MYSTERY CIRCUS Releases Snoopy Merchandise as Part of SCRAP x SNOOPY Puzzle Game Project

As part of the second SCRAP x SNOOPY Puzzle Game Project taking place at TOKYO MYSTERY CIRCUSーthe world's first puzzle-themed theme parkーthe Shinjuku-based theme indoor theme park has released ten pieces of original and exclusive merchandise.

What is the SCRAP x SNOOPY Puzzle Game Project?

Visitors are joining Snoopy and the Peanuts Gang for a whole bunch of puzzle-solving fun. The project begin in November 2019, and will run through three periods. The first edition has seen over 10,000 people play this first puzzle game, which is titled "Snoopy and the Clue Solving Circus" and has players helping Snoopy to retrieve his Circus Leader badge back. The second game, "Snoopy and the Secret Recipe," will begin on February 26. In the meantime, a selection of 10 pieces of merchandise have dropped.

Mugs (2 Designs) – ¥1,400 Each

Paper Napkins (Set of 10) – ¥600

Art Card Set w/ Puzzle (Set of 5) – ¥1,000

The two mugs see Snoopy wearing his chef's hat and ready to cook up some delicious pastries for the new game. There's also a paper napkin set, items that come with their own unique puzzles, and more. Available at the TOKYO MYSTERY CIRCUS shop, these items can all be purchased by non-participants of the game too.

Information

SCRAP x SNOOPY Puzzle Game Project

Event Page: https://mysterycircus.jp/snoopy/en/

TOKYO MYSTERY CIRCUS

Address: APM Bldg., 1-27-5 Kabukicho, Shinjuku, Tokyo, 160-0021

Opening Hours: Weekdays 11:30-23:00 / Weekends & Holidays 09:30-23:00

No Fixed Holidays.

Price: Free Entry (*Separate tickets required for games)

Official Website: https://mysterycircus.jp/en/

Sanrio to Open Official My Melody Shops in Tokyo, Osaka and Nagoya to Celebrate Character's 45th Anniversary

Sanrio has announced that it is opening an official My Melody store to commemorate the popular character's 45th anniversary this year. It will open for a limited time on the first floor of Takashimaya Shinjuku in Tokyo from February 12 to 25.

The store is a must-visit for fans of Sanrio's kawaii white rabbit where they can get their hands on a huge assortment of merchandise, including exclusives, so adorable you'll want to add everything to your collection.

The line-up looks back at My Melody's 45 years in the business. The first 4,000 people to visit the store will be given a limited-edition shopping back, and the first 1,000 people who spend over ¥2,000 (tax included) will receive a free card.
*One card per person, per transaction

The store will also feature interactive projection mapping showcasing My Melody's 45-year history which when touched reacts. On February 15, the designer for the store will be drawing illustrations as well as doing signings for people.

As well as Takashimaya Shinjuku, the shop is set to hit Nagoya's Takashimaya Gate Tower Mall Nagoya and Osaka Takashiyama. Check the dates below, and help My Melody commemorate her 45th anniversary!

©'76, '20 SANRIO 著作(株)サンリオ

Information

My Melody 45th Anniversary Shop
Location: Takashimaya Shinjuku 1st Floor Main Square
Running: February 12, 2020 – February 25, 2020 (Closed February 19)
Opening Hours: [Mon-Thurs & Sun] 10:00-20:00 / [Fri-Sat] 10:00-20:30

Signings
Date: February 15, 2020 (Two Slots – ①11:30 / ②15:00)
No. of People: 20 per slot
Location: My Melody 45th Anniversary Shop
How to Participate:
・Receive a lottery draw ticket to the signing at the shop on the day (February 15) between 10:00-10:20.

・In the case that there are more people who want to join, one person may not receive two tickets for two signings. Additionally, tickets will not be handed out after 10:20.

・Winners and the order they will enter the signing will be announced at 10:20.

・Those who are chosen will receive a "Buyers Ticket." This must be exchanged for a ticket to attend the signing by spending more than ¥4,000 (tax included) at the My Melody 45th Anniversary Shop and handing over your Buyers Ticket.

*Signings and illustrations will only be done on paper and not merchandise.

*Requests for designs cannot be made

・My Melody 45th Anniversary Shop Nagoya
Running: March 25, 2020 – April 7, 2020
Location: Takashimaya Gate Tower Mall 7th Floor Rose Terrace

・My Melody 45th Anniversary Shop Osaka
Running: April 1, 2020 – April 7, 2020
Location: Takashimaya 1st Floor Good Shock Place

Sanrio Official Website: https://www.sanrio.co.jp/

Bunjee Jump From the Top of Kyoto Tower With Their New VR Experience

Have you ever wondered what the thrill of bungee jumping would be like, but are too afraid of heights to even consider putting it on your bucket list? Have no fear, because Kyoto Tower is bringing a new VR bungee jumping experience to the top of the building which will be available to experience from February 1 for a limited time.

This VR experience was first brought to the tower in the fall of 2018, and this year it is making its grand return. After the event originally ended, there was huge demand for it to be held again.

Those brave enough to have a go at this VR bungee jump (or bungy, depending where you are from), will go above and beyond the 100 meter observation deck to the highest accessible point of Kyoto Towerーup 120.9 metersーwhich is normally closed off to the public, to the special VR deck which has been prepared.

The experience will offer you not only the thrill of jumping from Kyoto's tallest structure, but the chance to gaze upon a panoramic view of the beautiful city too.

Information

Kyoto Tower VR Bungy Jump

Running: February 1, 2020 – March 31, 2020

Time: 12:00-21:00 (Last Entries 20:45)

Location: Kyoto Tower Observation Deck – Floor 1F (the 11th floor of Kyoto Tower)

Price:

・VR Bungy Ticket: ¥800 (Tax Included)

・Observation Deck & Bungy Set Ticket (Tax Included): Adults: ¥1,400 (Individual Purchase: ¥1,600)/High School Students: ¥1,300 (Individual Purchase: ¥1,450)/Elementary & Junior High Students: ¥1,100 (Individual Purchase: ¥1,350)

*Ages 7+ only

*Set tickets are available to purchase on floor 1F of Kyoto Tower

*Run times subject to change

*Ticket charges applied for ages 7+; those aged below 7-years-old are not permitted to use the VR system

*An entry ticket to the Kyoto Tower observation deck is not necessary to experience the VR system

Official Website: https://vr-bungee.com/

Enjoy a Succulent Grilled Lamb Yakiniku Experience in Kabukicho, Shinjuku

On December 18, yakiniku restaurant LAMB ONE, which specialises in succulent matured lamb, opened in Kabukicho, Shinjuku. The restaurant provides the perfect opportunity for guests to grill their own light and healthy meal with friends and family. The high-quality meat is low in calories and high in protein. Each seat is at a counter and there are even single grill seats for the perfect dinner treat alone. 

The restaurant offers Japanese-style set meals which include meat, fried vegetables, rice, soup and kimchi . Some of the more basic set meals include the shio koji marinated lamb shoulder roast and the sesame miso lamb shoulder roast. For customers who are really looking for a luxury treat, there is a set that includes three different kinds of matured lamb and a set that includes Spring Lamb Chop Steak where you can enjoy both the shio koji and sesame miso marinades. You can swap your fried vegetables for caesar salad or your white rice for mixed grain rice. Just seeing this beautiful and balanced meal before your eyes will leave you feeling satisfied. After your meal, enjoy the small warabimochi dessert. 

When most people think of a yakiniku restaurant, the general impression is a large number of friends gathering together, merrily tucking in to meat and sides while the table fills with empty beer glasses. LAMB ONE, however, is the perfect place to enjoy a delicious Japanese-style meal in your own way without being disturbed by others. If you're travelling around Tokyo, this would be the perfect hearty dinner to finish your day. 

Winners Announced For 4th Gemstone Animation Creator Contest

GEMSTONE is an audition project created by TOHO CO., LTD. and ALPHABOAT which seeks to find the best creators. The 4th GEMSTONE project was announced in August and sought submissions of short animations themed on Shinjuku.

The judge line-up for the contest included anime film and television director Kobun Shizuno, who worked on the Detective Conan film series from 2011-17 as well as the Godzilla CG kaiju film series from 2017-18. It also included animator Yasuhiro Kimura who worked on Three Leaves, Three Colors and the Golden Wind arc of JoJo's Bizarre Adventure. After several months of submissions and judging, the winners and their prizes have finally been announced.

"GEMSTONE" refers to the talent selected by TOHO and ALPHABOAT for the audition project, which ranges from animators to illustrators, composers, singers, actors, and so on. The two companies will help open doors to winners' career paths.

The first competition was themed on Godzilla, and asked for video or illustration submissions. The theme of the second was "With Japan!" and requested submissions for an original character, and the third asked for video submissions to promote Nisio Isin's 100th story Veiled Man Kasetsu.

Let's take a look at the winners of Gemstone Creators Audution Vol. 4.

First Place Prize – 1 Million Yen

Title: kaijushojo / Creator: Yosuke Tani

Story: A spirit resides in Shinjuku. A girl in the city challenges herself to battle with the spirit.

Judge Comments

Kobun Shizuno said: "It's visually stunning. For someone like me, who was raised in Shinjuku, I felt I wanted the theme in the much more at points, but when I considered that this had to be made in such a short time frame, it's incredible. If he's making these by himself, he's got a bright future ahead of him. I think all the praise from everyone comes from the overwhelming quality of the visuals."

Yasuhiro Kimura said: "It has the highest level of quality out of all the submissions. I chose this one for both that and how interesting it was to watch. It was so much fun watching the characters' animation. I felt it was a work with a high level of completion and of satisfaction."

Runner-Up Prize – 700,000 Yen

Title: Dramatic / Creator: 作田綾乃

Story: A lone street musician singing in Shinjuku whose voice reaches somebody.

Judge Comments

Kobun Shizuno said: "This wasn't made by just one person, but the overall package is woven together incredibly skilfully. I personally feel this work surpasses all the rest. In terms of the visual quality, there's a lot that could be cleaned up and there are many points still to be learned, but the drama is on point with music as the core focus. The development is solid throughout, and I admire how well put together everything us right to the end."

Yasuhiro Kimura said: "I have to give credit to them having created an animation centred around an original song at just 19 years-old. Amongst all the other many works which all used Shinjuku as the location, it feels like a realistic piece of drama which covers musicians visiting Tokyo. And even though it's 5-minutes long, it by no means felt long; it was a seamless watch."

Runner-Up Prize – 300,000 Yen

Title: tellphone / Creator: 亀井樹

Story: Where's my lost smartphone? "The ending of a story is a beginning."

Judge Comments

Kobun Shizuno said: "I was impressed by the amazing quality of the visuals, but the structure of the story lost me. We see the characters line up, and you think something interesting is about to unfold, but the older brother's cheeks turn red and that's the end. It was a weak conclusion. If they did away with the part in the middle and made the ending stronger, I think it would have been an incredible piece of work worthy of being higher up in the list."

Yasuhiro Kimura said: "I liked the concept of this one the most. The joke about finding a lost smartphone with location information was amusing. It was very relevant of the current times. But the disappointing part was when we meet the shopkeeper at the end, and then it just ends. I wanted to see what unfolded after we met them too. Since they went ahead and included something that can track something's location, it would have been even more interesting if they'd tied in locations in Shinjuku and developed the story more."

Judges' Overall Comments On The Competition

Kobun Shizuno said:

"I was so surprised at the level of quality in the submissions, as people had such a short amount of time to create their works when the submissions opened."

Yasuhiro Kimura said: "It was really refreshing and a lot of fun to get to see the works of such a young generation."

Kazutaka Yamanaka, producer at TOHO, praised the line-up of works as wonderful considering the short time they were given. He felt however that the dramatic elements of most works could have been enrichened had they added a little more references to Shinjuku in them, like including people of different races walking the streets, or the low-lying parts of Shinjuku.

The winning submissions and worthy mentions can all be watched over on the official GEMSTONE YouTube channel here.

© TOHO CO., LTD.

Seven Days War Anime Film Release Promoted With Themed Cafe in Shinjuku

To celebrate the December 13th release of the upcoming anime film Seven Days War, a themed cafe will open at EJ Anime Theater in Shinjuku, Tokyo. The cafe will collaborate with popular creator Pantovisco who has over 680,000 followers across his social media.

The collaboration was born from Pantovisco's being able to relate to the theme of Seven Days War which focuses on the heart of today's youth.

The cute menu line-up features Seven Days War-inspired food and desserts with Perochi and his friends joining in with the fun.

There's also a drinks menu with a line-up of colourful beverages and lattes which you can get various latte art drawings on.

And for every food item ordered on the collaboration menu, you'll receive an original sticker selected randomly from several designs.

And if you order a drink, you'll get a special card introducing various characters from both Seven Days War and the world of Pantovisco.

©2019 Osamu Souda・KADOKAWA / Seven Days War Production Committee

©Pantovisco

Information

Cafe de Perochi with Seven Days War

Running: December 13, 2019 – January 12, 2020

Location: EJ Anime Theater Shinjuku Floor 5F (Shinjuku Bunka Bldg., 3-13-3 Shinjuku, Shinjuku Ward, Tokyo)

*Please check the EJ Anime Theater website for details on the menu items and more

・All customers using the cafe during this collaboration must each order at least one item

・Entry restrictions and time limits may be implemented during very busy hours

・Cash only

・Photography allowed including posting online. Post with the hashtag #EJアニメシアター and let them know how you liked it!

*Photography is prohibited for certain displays which will be marked in Japanese with "撮影禁止"

Seven Days War Official Website: http://7dayswar.jp/

Pantovisco Official Website: http://www.pantovisco.com/
EJ Anime Theater Shinjuku Official Website: https://ej-anime-t.jp/shinjuku/

Cafe Webpage: https://ej-anime-t.jp/cafe_and_gallery/perochi_7dayswar/

Shonen Jump Izakaya: Dine Like a Hero in Shinjuku's Kabukicho District

Otona no Jump Sakaba ("Grown-Up's Jump Bar") is an izakaya-style eatery which opened in the Kabukicho area of Shinjuku to celebrate the 50th anniversary of the beloved manga magazine Weekly Shonen Jump.

Every week, kids and adults alike anticipate the release of their favourite manga series in the serialised magazine. The adults who grew up with the classic series get to eat like a hero at the bar, with meals and decorations inspired by various series including Dragon Ball, Kinnikuman, Fist of the North Star, Saint Seiya: Knights of the Zodiac, Sakigake!! Otokojuku, Rokudenashi Blues, City Hunter, and more.

The bar has now announced its plans for an end-of-year party, with tickets going on sale on December 2, 2019 for the first 1,000 people who sign up.

The New Year party plan comes with a choice of two different small pot meals.

Fans can also get their hands on a 2020 schedule book featuring designs of the series characters for different celebratory days throughout next year. This is the only chance to get this exclusive item.

©Yude Tamago/Shueisha ©Akira Miyashita/Shueisha ©Tsukasa Hojo/NSP 1985 ©Masami Kurumada/Shueisha ©Bird Studio/Shueisha ©Buronson・Tetsuo Hara/NSP 1983 ©Masanori Morita/Shueisha ©Ryūji Tsugihara/NSP 1982 ©Koichi Endo/Shueisha ©Masaya Tokuhiro/Shueisha

Inside the bar you'll find wall posters, giant figurines, treasured items of manga artists, and more. You can even read actual Jump manga from the 80s.

©Bird Studio/Shueisha ©Buronson・Tetsuo Hara/NSP 1983

As well as the above-mentioned New Year meals, there are lots of dishes inspired by various Jump series too. Those who purchase one of these Jump meals will receive a free exclusive sticker.

Information

End Of Year Plan
Includes: 2 hour time slot. Choice of either a seafood salt dish or beef sukiyaki dish. Includes 10 side dishes and all-you-can-drink line-up of 54 beverages
Price: ¥3,500 per person (Tax Included)

Bonus Item: 2020 Schedule Book
Booking: Via the online website
Notes:
・People in groups must order the same course
・Last orders are 30 minutes before your slot ends

Bookings: https://yoyaku.toreta.in/otonano-jumpsakaba/

Otona no Jump Sakaba

Address: WaMall Kabukicho 5F, 1-18-9 Kabukicho, Shinjuku, Tokyo

Opening Hours: Weekdays 17:00-23:00 (Last Orders 22:30) / Weekends & Holidays 14:00-23:00 (Last Orders 22:30)

*Hours change weekend hours from December 28-31, 2019

Official Website: https://otonano-jumpsakaba.com/

Sanrio Characters Get Together for the Last EGG&SPUMA Collaboration Cafe in Tokyo

Sanrio is collaborating with EGG & SPUMA cafe which is located on the 8th floor of the shopping centre Lumine EST Shinjuku. The Sanrio Characters Cafe is set to open on November 15 and will remain open for a limited time only.

This will be the last time that Sanrio will collaborate with EGG & SPUMA and to really make it special, the menu is grander and packed with even more of your favourite Sanrio Characters. If you are a Sanrio fan, you definitely won't be able to resist the adorable atmosphere.

From dinner to dessert to drinks, the menu will leave you spoilt for choice. If you're looking for something to fill you up, then the Pompompurin Cheese Burger is for you. Pompompurin sits on the plate in burger form wearing a cute beret. Kiki and Lala's themed dish is a tower of soufflé pancakes made to resemble a cute tree, and My Melody's dish is a Melty Strawberry Soufflé Pancake garnished with a pink ribbon. 

Of course, EGG & SPUMA Collaboration Cafe will be whisking up their highly popular Tea Party Set again but this time, the Sanrio presence is very intense.

The special Sanrio-style Tea Party Set is a grand three-tier course full of intricate design. The fun feast on the first tier features a colourful jelly treat which takes on the appearance of a capsule toy machine, and playful pup Pochacco in the form of a panna cotta dessert. The second tier serves up EGG&SPUMA's popular soufflé pancakes covered in an irresistible berry sauce. The third tier will treat you to a ribbon-shaped strawberry milk crêpe and mini chocolate cakes with My Melody and Kuromi playing on top.

Order from the collaboration menu to receive a cafe-limited drink coaster. 

*There are eight possible designs. Each customer will receive one coaster upon their order and they are unable to choose the design they receive.

Make sure to stop by for a top up on your kawaii levels!

Information

Sanrio Characters Cafe

Location: EGG&SPUMA, Floor 8 Shinjuku Lumine EST, 3-38-1, Shinjuku, Tokyo

Cafe Running Period: November 15, 2019 – Mid January, 2020

Opening Hours: 11:00 – 22:30 (Last Orders: 21:45)

Website:  http://salt-group.jp/shop/egg-spuma/

Vote at Shinjuku Station For Meiji's Best Chocolate Snack in the 2019 National Election

The 2019 National Election for Meiji's long-selling chocolate brands Kinoko no Yama and Takenoko no Sato is running up until December 2, with Jun Matsumoto and Akihiro Miwa representing each snack respectively, where the people of Japan can vote for their favourite of the two.

The final promotional campaign for the election will take place at Shinjuku Station's Metro Promenade where there will be digital posters of both candidates and a chance for people to cast their votes. It will run for three days from November 8 to 10.

Visitors at the event are able to become part of the digitised poster to help support their favoured snack alongside the leader of the New Kinoko Party Jun Matsumoto, or Akihiro Miwa, the leader of the New Takenoko Party, as well as cast their votes.

Those who participate in the poster voting will receive a box each of the snacks and stickers of the elected leaders. Only 330 will be given out per day. Those who post a picture of themselves at the event on social media will also receive the first-ever Kinoko no Yama and Takenoko no Sato packaging covers. The Kinoko no Yama cover will feature Shinjuku Alta while the Takenoko no Sato cover will feature Mode Gakuen Cocoon Tower.

To celebrate the 40th anniversary of Takenoko no Sato, the all-new Double Nuts Cake flavour will be available for a limited time.

Information

Kinoko no Yama & Takenoko no Sato National Election 2019 – Digital Poster Voting Event

Running: November 8, 2019

Time: 10:00-17:00 (Poster exhibits only from November 4-7 at 6:00-23:00)

Location: Shinjuku Station Metro Promenade, Tokyo Metro Marunouchi Line (3-38 Shinjuku, Shinjuku Ward, Tokyo)

How to Participate:

①Choose your party

②Line up

③Choose your background and frame at the machine

④Complete your election poster photo shoot

⑤Confirm your photo

⑥Scan the QR code

⑦Download the photo

⑧Receive a novelty present – a box each of the snacks and stickers of the elected leaders (330 given per day on a first-come, first-served basis)

⑨Post on social media to receive Kinoko no Yama and Takenoko no Sato packaging covers

*Numbered tickets will be given out during crowded hours

Please check the special site for more details at: http://sousenkyo.kinotake.jp/?link=kie19071102

*In the case that numbered tickets are handed out, participants will need to line up in order. Once 330 people have participated, participating for that day will end.

*Please note that there is a possibility you will not be able to participate in your desired time slot during busy hours.

*Please refrain from asking station staff at the Tokyo Metro Line side of Shinjuku Station about the event.

*Enquiries are to be directed to the event office at the telephone number 080-4771-3588 (Available November 8-10 at 9:00-17:00)

*Anybody can join, however each person can only participate once

BEAMS fennica to Release Gorgeous Collection in Collaboration With Ainu Crafts

fennica is a fashion label associated with BEAMS that combines traditional Japanese handicraft with new and old designs collected from Northern Europe. The label has announced that it will collaborate with the Akan Tourism Association (法人阿寒観光協会まちづくり推進機構) non-profit organisation to release an all-new collection that incorporates traditional Ainu crafts.

Terry Ellisーthe London-based director of fennicaーand Keiko Kitamura observed Ainu culture in the Lake Akan area in Kushiro, Hokkaido, and have used the creative beauty of young craftsmen and craftswomen who are in charge of next-generation Ainu culture. Overtime they have worked together with the artisans to create an original collection entitled "Ainu Crafts from Lake Akan: Tradition and Innovation" which will be sold on the fifth floor of the Shinjuku branch of BEAMS Japan in the fennica studio and B Gallery from October 12.

The collection incorporates silver jewellery with Ainu patterns, wood-carved cutlery, hamper bags made with traditional materials, and many other lifestyle items familiar to Ainu culture. During the showcasing, there will be other exhibitions related to Ainu in the gallery, as well as talks, live performances, and more.

A special webpage went live on October 1 talking about this collaboration.

The collection's director Terry Ellis commented: "When I was walking around Takiguchi's store Ichigen No Mise, my attention focused on this cutlery. I felt the folklore in its simplicity. Though it's an item to be used, the craftsmanship is incredible. You can't just stop at one, you want to collect more and decorate with them." *Translated from Japanese

Keiko Kitamura, also a director for the collection, commented: "Akan is a rare kind of place, with mountains, rivers, lakes and forests. It has its own shapes and colours because of the light, colours and sounds which change intensely with time and soak into your body. And Ainu art is distinct from the traditional craftsmanship of other countries and regions because in almost all categories you can still produce it even today. There are [Ainu] people who are still continuing to make art for their family to this day. Their still being here is something valuable."

She continues: "Japan's handiwork is in danger of vanishing across all areas of the country. Even if there are no successors, there are people who have been beside them watching, and people who were once involved in the past. So we may barely just make it. Because if this handiwork comes to a stop, it will be no more. We feel a sense of duty to protect this wonderful work."

Information

Ainu Crafts from Lake Akan: Tradition and Innovation

Location: BEAMS Japan – Floor 5F (3-32-6 Shinjuku, Shinjuku Ward, Tokyo)

Running:

<fennica Studio> Product Sales: October 12, 2019 – October 20, 2019 (*AINU CRAFTS products, specially-made fennica select Lake Akan items, and more)

<B Gallery> Lake Akan Exhibitions: October 12, 2019 – October 27, 2019

①Live Event: October 13, 2019 @ 18:00-18:30

Guests: Sister music unit "kapiw & apappo" (Fukuko Gōukon/Emi Shimokura)

②Talk Show: October 20, 2019 @ 18:00-19:30

Guests: Kengo Takiguchi, Hiroyuki Shimokura, Erika Katsuya, Keiko Kitamura, Terry Ellis

*The live event and talk shows are booking-only. Please check the B Gallery website for more details and how to book.

Visit the following website for more details on the participating artisans: https://www.akanainu.jp/karpekuru

New York-Style Cafe & Restaurant Sarabeth's Celebrates 7 Years in Japan With Special Event in Shinjuku

It has been seven years since Sarabeth Levine took her New York-based cafe and restaurant Sarabeth's to Japan back in 2012. To celebrate, the establishment will hold a special one-night event with a commemorative menu.

"Fermented Foods" is the theme of the event, which will see an incredible line-up of premium dishes. There will also be a talk by Sarabeth Levine herself who will be in attendance.

The menu line-up features a range of healthy fermented foods, like pancakes and Eggs Benedict, while drinks options include lemonade with fermented syrup, goishicha tea from Aichi Prefecture, and more. There will also be Sarabeth cookies which you can take home with you.

Information

Sarabeth's Japan 7th Anniversary Special Event

Date: November 5, 2019

Time: Reception 18:30 / Open 19:30-20:45 (subject to change)

Price: ¥3,800 (Tax Included)

Capacity: 50 (Reservation-Only)

Location: Sarabeth's Lumine Shinjuku (Lumine 2 Floor 2F, 3-38-2 Shinjuku, Shinjuku Ward, Tokyo)

TEL:03-5357-7535

Reservations:  https://sarabeths7th.peatix.com

New Food Truck Taiyaki Tainoya to Open in Shinjuku Serving Fish-Shaped Cakes

Taiyaki Tainoya is a food truck set to open in front of the first floor entrance of Flags on September 20 which is connected directly to Shinjuku Station's south-east exit.

  

Taiyaki – ¥200 (Tax Included)

The truck will sell taiyaki, a classic Japanese confection which comes in the form of a crispy fish-shaped cake filled with bean paste. The cakes sold here will be made using Tokachi beans from Hokkaido which have a distinct luxurious sweetness to them.

The taiyaki here are made with takeout and gift-giving in mind, so they have been made nice and crunchy so they don't fall apart or become mushy.

The bean paste isn't overly sweet so is easy to enjoy. The beans, which have a strong aroma, are cooked in sugar beet from Hokkaido, and contain a hint of moshio, which is salt you get from burning seaweed.

The sweet bean paste has such a smooth texture that you wouldn't believe that's what it is. If you're a lover of adzuki bean paste or aren't good with sweet things, then this is a bean paste you're going to love.

For an extra ¥30, you can have the taiyaki packed in a cute gift box if you're thinking of giving it to someone. There are six colours to choose from for all occasions, be it a home party or for clients. They are also wrapped with noshi paper and contain message cards. There are seven of these to pick, so you can write your own words to the person.

If a simple taiyaki isn't enough for you, you can also top it with a rich soft-serve ice cream. Pick between Hokkaido Vanilla or Uji Matcha flavours.

If you're getting off at Shinjuku Station, be sure to head out the south-east exit of the JR Line section to find Taiyaku Tainoya.

Information

Taiyaku Tainoya

Address: 3-37-1 Shinjuku, Shinjuku Ward, Tokyo (1st floor entrance of Flags at Shinjuku Station's south-east exit)

Grand Opening: September 20, 2019

TEL: 080-4179-2365

Opening Hours: 11:00-3:00

No Fixed Holidays