Pink Illuminations to Adorn Meguro River's Famous Cherry Blossom Trees
Meguro River is famous for its cherry trees which line stretch 4km along the waters and bring beautiful cherry blossoms in spring. This winter, 'Megurogawa Minna no Illumi 2018' will take place from November 9, 2018 to January 6, 2019. Translating to 'Meguro River: Illuminations for Everyone,' the event will see the path along the river decorated with lights which will reflect off the water's surface.
The event was created out of locals' love for the town of Meguro. It's a time of mutual bonding and a reminder that winter is here. Last year, apartments in the neighbourhood and restaurants collected 5,500 litres of waste cooking oil which powered the generator for the lights. Waste cooking oils will be recycled again this year as biodiesel to power 100% of the illuminations.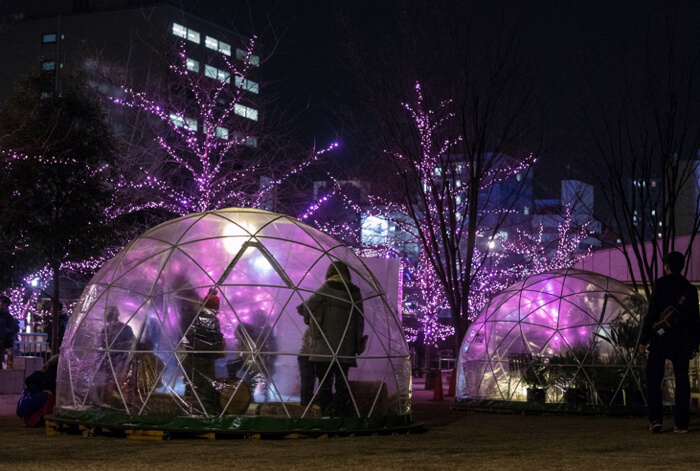 The Fuyu no Sakura® ('Winter Cherry Blossoms') flower viewing spot which was a huge hit last year will make an appearance again this year. People will be able to enjoy the 'winter cherry blossoms'ーthe pink illuminationsーfrom the comfort of one of the three garden igloos which all have different interiors. Sitting in one of these means you don't have to worry about wind, rain or cold weather.
Fuyu no Sakura
Locaion: Gotanda Fureai Waterside Square, Shinagawa
Running: November 22, 2018 – December 26, 2018
This year marks the 9th run of Fuyu no Sakura®. The 100% local energy illuminations were picked up by news media both in Japan and overseas last year. The event also won second-place in the 2017 A' Design Award.
If you missed the spring cherry blossoms in Japan and are travelling there in wintertime then enjoy some 'flower viewing' at Meguro River!
Information
Megurogawa Minna no Illumi 2018
Locations: Meguro River / Gotanda Fureai Waterside Square (2-9 Higashi-Gotanda, Shinagawa, Tokyo)
Illumination Period: November 9, 2018 – January 6, 2019
Illumination Time: 17:00-22:00 (Will go ahead during rain)
*Closed during storms. Additionally, illumination time will begin at 17:30 on November 9 only.
Entry: Free
Access: 6-minutes on foot from Osaki Station and Gotanda Station via JR Lines
TEL: 03-5330-7675
Official Website: http://www.minna-no-illumi.com/
RECOMMENDED ENTRIES
【Tokyo Stroll】Feel the true spirit of Japan during the hanami season! Explore these cherry blossom spots to get some beautiful photos

When you think of springtime in Japan, you immediately think of cherry blossoms. As the hanami season blossoms, there are no doubt lots of people out there who want to experience Japan's 4 distinct seasons. One famous hanami spot in Tokyo is Meguro River. It is a location packed every year with people who walk along the river to see all the beautiful cherry blossoms. In this article, we recommend the ideal photo spots to visit during the cherry blossom season while the flowers are in full bloom!

How to access Meguro River

Meguro River, Tokyo's quintessential hanami spot. The atmosphere changes as you walk along the river – upstream, mid-stream, and downstream – and a place where you are sure to enjoy your hanami.

Upstream: 3-minute walk from "Ikejiri-Ōhashi Station" via the Tokyu Den-en-toshi Line

Mid-stream: 1-minute walk from "Nakameguro Station" via the Tokyu Toyoko Line and Tokyo Metro Line

Downstream: 6-minute walk from "Meguro Station" via the Tokyu Meguro Line / 5-minute walk from "Fudō-mae Station" via the Tokyu Meguro Line

The closest station to Meguro River is Nakameguro Station, but it's a very accessible place via whichever station you alight from when you depart from Shibuya.

"Nakanohashi Bridge" – The symbolic bridge of Meguro River

If you walk along Meguro River in the direction of Nakameguro Station from Ikejiri-Ōhashi Station, you'll come to see a red arched bridge. This is "Nakanohashi," a characteristic bridge that has been used as the location for many TV dramas, and the symbol of Meguro River.

At the entrance of the bridge you will see "Nakanohashi" (in Hiragana) written in cute brick art. It's a recommendation photo spot location and one where anyone can take a cute photo!

Try taking a photo with the bridge and cherry blossoms in the background, alongside the cute owl statue. The hanami season is also a time where vivid pink-coloured paper lanterns are put up to decorate the scenery even more, meaning you can take some really colourful photos.

It's located upstream of Meguro River. Since both the width of the river and the bridge itself are narrow, only people and bicycles can pass through. When the cherry blossoms are in full bloom, the arch seems as if it spans the river surface. As you walk along the bridge, the overhead branches and falling cherry blossom petals are extremely beautiful.

This area isn't too busy so you can enjoy a relaxing stroll around it. And the cherry blossom trees are really close to you, so you can take really nice photos with the gorgeous cherry blossom petals.

 >>next page

See the "Golden Dome" illuminations at Nakameguro that shine like jewels

"NAKAMEGURO JEWEL DOME 2016" will be held from December 16th to December 25th this year where illuminations will be lit along the Meguro River in Nakameguro.

"NAKAMEGURO JEWEL DOME 2016" will be held around the local shopping districts and neighbourhood associations by the local committee to make people want to and continue to live in Nakameguro. So that the town of Nakameguro can continue to shine like a jewel, around 110 cherry blossom trees will be lined with an estimated 30,000 round lights that will glow an orange-gold colour along Meguro River.

It's the perfect place to spend Christmas together with that special someone, so how about heading down to the Meguro River this winter as the illuminations shine and glisten like precious gemstones?

■Information
NAKAMEGURO JEWELDOME 2016

Dates: Friday December 16th, 2016 to Sunday December 25th, 2016

Time: 16:00-21:00 (subject to change)

Location: Illuminations start close to Nakameguro Station and run along the Meguro River for 1km (Horai Bridge to Asahibashi)

ーーー

Related Article: 7 city illuminations to visit in Japan this Christmas

Related Article: Meguro River will be dyed in sakura coloured illuminations this winter for this year's "Meguro River Minna no Illumination 2016″

Omohara Beer Forest Illuminations in Omotesando to Begin on November 15

The Omohara Beer Forest―located on the sixth floor rooftop of Tokyu Plaza Omotesando Harajuku―is hosting an illumination event from November 15 to February 28 next year.

The Omohara illuminations will bring a mix of natural light and gentle fairy lights to central Harajuku. A space surrounded by trees will give rise to 16,000 illuminations with warm light, evoking a sense of nostalgia from somewhere and makes you relax.

The illuminations can be enjoyed through Christmas and the New Year's Holidays. Opening hours will be extended to 11:00pm from the usual 9:00pm for people to gaze at.

Tokyu Plaza will also be decked out with plenty of Christmas gifts up until December 25 including clothes, cosmetics and other miscellaneous items, so head there this holiday season to feel that nostalgia Christmas feeling.

Information

Omohara Illuminations

Running: November 15, 2018 – February 28, 2019

Location: Omohara Beer Forest (Tokyu Plaza Omotesando Harajuku 6F Rooftop, 4-30-3 Jingumae, Shibuya, Tokyo)場

Time: 17:00-23:00 (Last Entries 22:30 – subject to changes during New Year's Holiday)

Website: https://omohara.tokyu-plaza.com/
RELATED ENTRIES
Kyoto's Rokuo-in Temple to be Illuminated in the Autumn Evenings

Keifuku Electric Railroad is lending its strength to Rokuo-in Temple in Kyoto this autumn to light up the ancient site in the evenings from November 14 to December 6.

Shari-den (Photo taken in 2019)


Temple path (Photo taken in 2019)

This year marks the 5th run of the autumn evening light-ups. The temple, just a four minute walk from Rokuoin Station, is known for its beautiful maple trees which blossom breathtaking autumnal colours during the fall season.

Temple reception hall with fusuma images


Fusuma image example

The temple is selling new goshuin temple stamp books this year for the light-up event. Visitors will also be able to see 56 fusuma images drawn by contemporary Japanese artist Takaya Fuji.

Rokuo-in Temple will close early next year for approximately 2 years and 9 months for repairs. The temple is also currently limiting the number of people allowed at once, making this year the best time to see the autumn leaves.

Information

Rokuo-in Temple Evening Light-Up
Running: November 14, 2020 – December 6, 2020
Time: 17:30-19:30 (last Entries 19:00)

Price: ¥2,000 (Comes with matcha and Japanese confections)

Capacity: [Weekdays] 100 People / [Weekends] 150 People

Access: 4 minutes on foot from Rokuoin Station
Apply Here: 嵐電webサイト専用フォーム

Hikari no Sumika Winter Illuminations 2020-2021 to Take Place at Gotemba Kogen Toki no Sumika

Toki no Sumika is set to host its 19th annual winter illumination event "Hikari no Sumika" from September 19, 2020 to March 21, 2021.

Forest of Trees Illuminations


The Forest of Trees was created together with locals and wraps visitors in a magical fantasy land of lights underneath the shimmer of stardust. This trail of trees leads visitors to the next area, the Royal Palace on the Hill.

Royal Palace on the Hill


The "Versailles Lights" water laser show entertains onlookers with a rhythmic show. A new spot has also been developed this year called "It's a colorful world" where cuter balls of light change colour to the sounds that play. There's also one of the world's biggest "Bells of Love" clad in colours galore to radiate the dark night, "Slow House Twinkle," and "Super Searchlight."

Tunnel of Lights


Spanning 370m along, the "Tunnel of Lights" changes colours as time passes, enveloping people in a sparkling galaxy of illuminations. There'll be plenty of photo opportunities.

Twin Trees & First Dream Bridgeツインツリーと初夢の橋

The colour of the 120-year-old fir tree at the site this year will be white. The 20 meter-tall tree will be decorated simply and gently, with more LED lights than ever before, to enhance its beauty. The "First Dream Bridge" will give rise to the "Stardust Road" of countless illuminations that run along it.

Underwater Paradise Aquarium

Around 4,500 goldfish of 200 species, including rare kinds, from all around Japan are collected here. It continues to grow as Japan's only goldfish aquarium both in name and reality. Enjoy seeing them swim while gorgeous lights light up the room.

Information

Hikari no Sumika 2020-2021

Running: September 18, 2020 – March 21, 2021

Address: Gotemba Kogen Toki no Sumika, 719 KōyamaGotemba, Shizuoka

Illumination Times: 17:30-22:00

Car Park Spaces: 2,000
Enquiries: 0550-87-3700 (9:00-20:00)

Official Website: http://www.tokinosumika.com/illuminations2017/renewal/

Anime LED Manhole Covers Light Up Around Tokorozawa in Saitama Prefecture

Japanese manga and light novel publishing company KADOKAWA is promoting titles from its series catalogue in a unique way: by displaying illustrations of the series on manholes around Tokorozawa in Saitama Prefecture. The manholes were laid on August 1, 2020, and are the first manholes in Japan to feature LED lighting.

LED Manholes

In 2003, Tokorozawa City Department of Waterworks and Sewerage became the first company in Japan to use manholes for advertising. The new LED manholes will run along the closest station to Tokorozawa Sakura Town, which was built by and is managed by KADOKAWA. That station is Higashi-Tokorozawa Station, and it will run from there past numerous facilities leading up to Tokorozawa Sakura Town.

Tokorozawa Sakura Town

Tokorozawa Sakura Town is part of the Cool Japan Forest Project, a joint project between KADOKAWA and the city of Tokorozawa. Set to have its grand opening on November 6, 2020, this large-scale facility includes an anime hotel, library museum and bookshelf theatre, restaurants, shops, and more.

LED Manhole Designs

Left: Daytime / Right: Nighttime

The LED manholes will take people right up to Tokorozawa Sakura Town, as well as function as crime prevention tools during nighttime for neighbouring facilities.

There are 28 designs in total from the following series and franchises:

A Certain Magical Index

Re:Zero − Starting Life in Another World

Mobile Suit Gundam: The Origin

The Five Star Stories

Anime Tourism Association Official Character "Junrei-chan"

Bungo Stray Dogs

Uzaki-chan Wants to Hang Out!

Yamato Takeru

The Melancholy of Harumi Suzumiya

Lucky Star

Slayers

Date A Live

Overlord

Sword Art Online

Full Metal Panic!

Rascal Does Not Dream of Bunny Girl Senpai

Neon Genesis Evangelion

Record of Lodoss War

Sgt. Frog

Spice and Wolf

KonoSuba

Kino's Journey

Cautious Hero: The Hero Is Overpowered but Overly Cautious

Kyoto's World Heritage Site Nijo Castle Announces Summer Evening Illumination Event

NAKED, INC. has announced that it is holding a special summertime light-up event at Nijo Castle, a World Heritage Site in Kyoto, from August 8 to August 30. The company has also released its first ever 3DCG VR experience NAKED NINJA -Nijo-jo Castle- on the official NAKED, INC. online store.

Enjoy art entertainment in person or at home

NAKED, INC. has collaborated with many World Heritage Sites, Cultural Properties, tourism centres, leisure spots, and more over the years. Right now, the company is grappling with the question of what the shape of tourism, as well as art and entertainment, looks like during the COVID-19 outbreak—and what shape it will take post-pandemic. Nijo Castle is no exception, a place that enjoys tourism from both Japanese people and people overseas. In considering these issues, NAKED has conceived two different ways Nijo Castle can still entertain tourism now and in the near future.

The first is holding an event in person at Nijo Castle in the form of an outdoor light-up event that will have people wandering around as opposed to being stationary. In spring of 2017, NAKED held "Nijo Castle Cherry Blossom Festival 2017" where they hosted a variety of performances and events in line with the season. In fact, one such event was planned to take place at Nijo Castle this summer, but it had to be reconsidered as a result of COVID-19. Those involved still wanted to come up with a way that people who live close by could still enjoy some leisure time this summer, which is what led to this light-up event from NAKED.

Visitors will be able to enjoy the light-up safely by staying a set distance from one another while walking around Nijo Castle. The number of people inside at once will also be restricted. As well as this, people will need to wear masks, temperature will be regulated, and alcohol gel will be provided—all to ensure that visitors are kept safe.

The second way that NAKED has devised for people to still enjoy Nijo Castle is with the release of NAKED NINJA -Nijo-jo Castle-, the company's first ever full 3DCG VR experience that lets people enjoy Nijo Castle online in a virtual space. This is so that people who cannot visit Nijo Castle can still enjoy its sights. NAKED plans to launch even more real and virtual, offline and online experiences in the future too in order to promote tourism in a new way during COVID-19.

Information

Nijo Castle x NAKED Summer Special Light-Up 2020
Running: August 8, 2020 – August 30, 2020

Time: 19:00-22:00 (Last Entries 21:20)
Location: Nijo Castle

Address: 541 Nijojocho, Nakagyo Ward, Kyoto場

NAKED NINJA-Nijo-jo Castle- VR
Price: ¥880 (Tax Included)

Official Website: https://event.naked.works/nijojo-summer2020/

1→10, Inc. Brings Magical Shores Interactive Land Art to Siloso Beach in Singapore

Japanese creative studio 1→10, Inc. opened up Singapore's first ever permanent interactive land art exhibition "Magical Shores" on January 23 this year together with Lighting Planners Associates (LPA), a lighting company based in both Tokyo and Singapore.

Magical Shores spans 400 meters of Sentosa's Siloso Beach, turning it into an immersive, multi-sensory experience of AI-operated lights and sounds which elevate the beauty of the surrounding natural environment.

Guide To Magical Shores | Siloso Beach, Sentosa:

AI technology responds to visitors on the beach, giving them a breathtaking and unique performance. Sensors are dotted around the area which use sensing data to react based on people's movement around the beach. The AI is constantly developing as it collects big data about the temperature and climate of Siloso Beach as well as that of people's movements.


In two of the interactive areas, people can witness the "Circle of Life" beginning with the big bang. After that there is magma, followed by heavy rainfall and eventually flowing water which gives birth to life. Cells divide as plants begin to sprout, fish swim in the sea, and birds and insects sing in the mountains. At the end, life falls, and the process begins again.


Japanese musician Masakatsu Takagi was put in charge of the music and sound design of the exhibition. Takagi is known for having written the music for Wolf Children and The Boy and the Beast. He took inspiration from his music project "Marginalia," a sound diary where he would record the sounds of birds, insects, the wind, rain, and so on from his studio window. Takagi did field recording on the beach to capture the sounds of nature to use for the art exhibition.

Kuniyuki Takahashi also offered his musicianship to the exhibition. Based in Sapporo, he is an internationally-recognised composer. He also recorded the sounds of Siloso Beach, and together with Takagi, created the perfect soundtrack for Magical Shores.

Magical Shores is currently temporarily closed as a result of the coronavirus but will resume once more as soon as the situation allows it.

Osaka Hirakata Park's 'Time Travel Fantasy' Illumination Event Extended to Spring

Hirakata Park's "Hikari no Yuenchi" illumination event, which has been running for the autumn and winter season and is set to finish on March 1, 2020, is being extended into the spring season due to its huge popularity. The spring period will run from March 20 to April 7.

The theme of this year's Hikari no Yuenchi is "Time Travel Fantasy." Dazzle your eyes with a bright selection of breathtaking illuminations inside the event's four areas, such as the lights along Time Travel Fantasy Street where the symbol of the parkーa 10-meter tall treeーstands gloriously, or the Illumination Flower Garden. The blue and purple winter colours of the lights will change into springtime pinks, greens, and yellows.

Illumination Flower Garden

Flowering illuminations will twinkle atop the hill in spring pastel colours like cherry blossom pinks, fresh verdure green, and rape blossom yellows.

The dazzling delights of the winter season will continue into the spring period, like the 24 different night attractions, and the illumination food too like the "shining bubble tea." We also recommend taking advantage of the "Night Fee," which sees a special entry price open from 16:00.

Enjoy the cool spring breeze and gorgeous Japanese illuminations at Hirakata Park this March.

Starbucks Reserve®︎ Roastery Tokyo to Release Cherry Blossom Spring Drinks and Merchandise

Starbucks Reserve®︎ Roastery Tokyo boasts the most incredible location, sitting by the side of Nakameguro, one of Tokyo's most famous spots for seeing the cherry blossoms in spring.

This year, the coffee roastery's "Sakura Season" is set to begin on February 15, when its cherry blossom-inspired merchandise collection is released, along with a line-up of pink beverages and food.

The official Starbucks sakura merchandise ranges from tumblers and mugs to a key ring, handkerchief, and more, for a total of 10 items.

Strawberry Chia Oolong – ¥900

Poppun Sakura Jasmine Tea – ¥950

Floating Blossom – ¥900

Six beautiful beverages from last year's Sakura Season at Starbucks are also making a return from the Teavana™️ brand, made with delicate and soft cherries, hibiscus, and tea leaves as refreshing as green grass.

Clockwise From Left: Gianchetti & Sakura – ¥880 / Mini Panettone Sakura – ¥680 / Cornetti Sakura – ¥380 / Maritozzo Sakura – ¥540

Italian bakery Princi®︎ is also heading to Japan for the first time to serve up Italian food culture to people at Starbucks Reserve®︎ Roastery Tokyo. Enjoy the floral taste of cherry blossoms done in a Princi®︎ way.

Heading to Tokyo for Hanami and the cherry blossoms? Then make a stop at Starbucks Reserve®︎ Roastery Tokyo for this year's Sakura Season.

Information

Starbucks Reserve®︎ Roastery Tokyo Sakura Season

Release Date: February 15, 2020

Location: Starbucks Reserve®︎ Roastery Tokyo

*The Princi®︎ products will also be served at the Starbucks Reserve®︎ Store at Ginza Maronie-dori

Official Website: https://www.starbucks.co.jp/press_release/pr2020-3360.php

Starbucks Reserve® Roastery Tokyo Releases Merchandise in Collaboration With BEAMS

Starbucks Coffee Japan has collaborated with BEAMS Creative Lab (ビームス創造研究), which is led by Kazuyoshi Minamimagoe, Senior Creative Director at BEAMS, to release a collection of merchandise to celebrate the coming New Year. The items arrived at Starbucks Reserve® Roastery Tokyo on December 17.

Since opening on February 28, 2019, Roastery Tokyo has collaborated with BEAMS Creative Lab on three separate occasions to release collections of merchandise themed on "Play," "Travel," and "Go out!" respectively. They have proven popular with both Japanese and foreign customers. For this fourth collaboration, the theme is "Lucky Charms."

The line-up of items range from classic Japanese New Year's celebratory items like pochibukuro mini envelopes and a towel with a New Year's greeting design on it to Roastery Tokyo-exclusive Kewpie dolls coloured copper and silver like the roasters in the coffee shop.

Look over the past year and beckon the New Year with a cup of coffee at Starbucks and some festive goodies.

Information

Starbucks Reserve® Roastery Tokyo

Address: 2-19-2 Aobadai, Meguro, Tokyo

Business Hours: 7:00-23:00

No Fixed Holidays.

Access: 14-minutes on foot from Naka-Meguro Station / 14-minutes on foot from the East Exit of Ikejiri-Ōhashi Station

Official Website: https://www.starbucks.co.jp/roastery/

Starbucks Reserve® Roastery Tokyo Collaborates With Traditional Kyoto Dollmakers

Starbucks Reserve® Roastery Tokyo released six new products on December 5 in collaboration with Shimada Koen Ningyo Kobo, a long-standing traditional maker of Japanese gosho-ningyo dolls.

Golden Cup, Shimada Koen Ningyo Kobo – ¥50,000 (Before Tax)

The relationship between Starbucks and Shimada Koen Ningyo Kobo began when Starbucks opened its branch at Kyoto Ninenzaka Yasaka Chaya in Kyoto, which is known for having tatami flooring, as the dollmaker's studio is located near it. There is a waving cat wearing a green apron at that Starbucks which was designed by the 5th generation of Shimada Koen.

Waving Cat, Shimada Koen Ningyo Kobo – ¥30,000 (Before Tax)

Shimada Koen specialises in making gosho-ningyo, dolls with distinct features such as stout forms, pure white skin, tiny legs and hands, a big face, and an overall cute appearance reminiscent of a child. In the Edo Period they were developed as gifts associated with the Court.

Bell Rat, Shimada Koen Ningyo Kobo – ¥3,500 (Before Tax)

The line-up of six dolls feature Starbucks Reserve® Roastery Tokyo motifs and are made with considered thought in mind, including the bonds between people and enjoying happiness throughout the yearーdesires upheld by Starbucks.

Information

Starbucks Reserve® Roastery Tokyo x Shimada Koen Ningyo Kobo Collaboration
Running: From December 5, 2019 until stock runs out

Sold At: Starbucks Reserve® Roastery Tokyo

Starbucks Reserve® Roastery Tokyo

Address: 2-19-2 Aobadai, Meguro, Tokyo

Business Hours: 7:00-23:00

No Fixed Holidays.

Access: 14-minutes on foot from Naka-Meguro Station / 14-minutes on foot from the East Exit of Ikejiri-Ōhashi Station

Official Website: https://www.starbucks.co.jp/roastery/

Watch the Stars and Snow Glow at the Shiraito Falls Midwinter Light Up in Karuizawa

Throughout the year, Japanese people escape their busy city life to Karuizawa: a popular resort town hidden in the mountains near Nagano. From December 21, 2019 – February 15, 2020, Shiraito Falls located in Jōshin'etsu-kōgen National Park, Karuizawa will be holding the Shiraito Falls Midwinter Light Up, providing the perfect excuse for a soothing getaway.

The 3-metre-tall and 70-metre-wide Shiraito Falls does not freeze below freezing temperature as the water flows from a subterranean river of Mount Asama. The winter lighting will make the water glisten and the falling snow and starry night sky glow with the charm of winter. 

This light up event is a follow up from last year's illumination event. The Midwinter Light Up aims to make Shiraito Falls a beautiful tourist spot which can be enjoyed even on a winter night.

The Midwinter Light Up is one step ahead of the summer light up event which previously took place. To emphasise the beauty of nature, the illumination this time round will allows visitors to appreciate the starry night sky on a fine day and reveal the stunning natural scenery which is not visible during the daytime. 

As the Shiraito Falls light up event will take place in Jōshin'etsu-kōgen National Park, the event contents were created strictly abiding the guidelines and regulations from the Ministry of the Environment​. The quantity of light produced, its hues and even the way it is produced has been carefully considered, creating a light display that does not disrupt the natural environment. 

This breathtaking light display will give you an entirely new perspective on the breathtaking winter scenery of Shiraito Falls and would be the perfect experience to share with your family or friends. 

Information

Karuizawa Shiraito Falls Midwinter Light Up

Location: Shiraito Falls, Karuizawa

Running on 18 days between December 21, 2019 and February 15, 2020

The running period is split into the following sessions:

・Christmas Session December 21 – 24, 2019

・New Year Session January 4 – 5, 2020

・Spring Festival Session February 1 – 2, 2020, February 7 – 11, 2020, February 14 – 15, 2020

* There will be no light up event on days other than those stated above.

* The light up event on February 15 is a Valentine's Day special. This includes the display of an ice sculpture and the chance to meet Ruiza: Kauizawa's mascot. Visitors will also be given a gift.   

Openining Hours

・Christmas Session    17:00 – 19:00

・New Year Session     17:00 – 19:00

・Spring Festival Session   17:30 – 19:30

Price: There is no entry fee. However, there is a fee to cross the toll road. (The price is subject to change)

Meguro River Winter Sakura to be Illuminated Using 100% Recycled Oil Until January

This winter, MINNA no ILLUMI Executive Committee will be decorating Meguro River with an unmissable illumination display that will warm your heart. 100% of the energy for the illumination will be produced by recycled oil. The display will run from November 8, 2019 to January 5, 2020.

As Shinagawa Ward will also be lit up at the same time, visitors will be able to treat themselves to a glorious view of approximately 410 thousand sakura-coloured lights, creating a unique opportunity to witness Winter Sakura®. The beautiful illumination along the riverbanks of Meguro River will be the largest illumination project within Yamanote Line with a total length of 2.2km of riverbanks covered (counting both sides of the river). Enjoy the beautiful warm light reflecting off the river's surface.

The megurogawa MINNA no ILLUMINATION project was launched in response to the locals' desire, love and praise for riverside illumination displays. The project involves collecting waste oil from restaurants, cafés and households and recycling it as the sole energy source to power the illumination display. This project has become a symbol of winter and plays a significant role in strengthening bonds with the locals. 

Last year, approximately 5,500 litres of oil was collected from 11 places including restaurants, cafés and apartment blocks. This was converted by a power generator which supplied all the electricity necessary to run all the lights. This year, unused oil from local restaurants and apartment blocks will be recycled into biodiesel once again to run another Winter Sakura® light display which tourists flock to see. 

This year will also see the return of German Outdoor Dome Garden Igloos from last year. This creates the perfect spot to watch the Winter Sakura® without getting cold or being affected by rain or the wind. There will be three garden igloos at this year's event and each will have a unique colour theme. Each igloo will be 3.6 metres in diameter, 2.2m high and contain a ground area of 10m², allowing for plenty of space to relax.   

Igloo Availability: December 16 – 25, 2019 *Subject to change

Gotanda Fureai Mizube Hirobamade even made the news in overseas countries as a result of the illumination project. This is the perfect way warm your heart during the cold winter.

Information

meguro MINNA no ILLUMINATION 2019

Locations: Gotanda Fureai Mizube Hiroba (2 Chome-9-11 Higashigotanda, Shinagawa City, Tokyo)

Gotanda Minami Park and Meguro Riverside (2 Chome-8-8 Higashigotanda, Shinagawa City, Tokyo)

Running Dates: November 8, 2019 – January 1, 2020

Running Times: 17:00 – 22:00 

*The illumination project will still run in rainy weather but will be postponed in stormy weather.

Website: http://www.minna-no-illumi.com/ 

Website Opens: 10:00 on October 29, 2019

Roof Star Gardens Illumination Event to Take Place On GINZA SIX's Rooftop Garden

Ginza's biggest shopping centre GINZA SIX has announced that it's set to light up its rooftop garden with an enchanting illumination event titled Rooftop Star Garden which will begin on November 26 and run until February 24 next year.

Standing at 56 meters high, the rooftop garden is the "closest place to the stars" in Ginza. This will be GINZA SIX's first ever illumination event and it will shine a bright spotlight against the nightscape of Ginza's streets.

Rooftop Star Garden will take place in two areas in the garden: the Water Fountain Area and the Forest Area, both of which will welcome star-themed light shows.

The theme of the Water Fountain Area is "Shooting Star," whose LED lights will elicit a sense of profoundness in its observers. 147 LED lights will form the main monument of this area, with bright, sparkling illuminations that will remind one of shooting and twinkling stars.

The Forest Area is made up of two separate areas between the Water Fountain Area. Lasers will shoot through crystals, creating an ocean of countless specks of light that look like little stars that make it feel like you're in space.

This limited-time event is the perfect way to spend this year's Christmas, so don't miss out.

*Photos are for illustrative purposes only

Information

Rooftop Star Garden

Location: GINZA SIX Garden (Building Rooftop)

Address: 6-10-1 Ginza, Chuo Ward, Tokyo

Running: November 26, 2019 – February 24, 2019

*Will close during bad weather or during invitation-only events

Time: Sunset to 23:00

Entry: Free

GINZA SIX Official Website: https://ginza6.tokyo/