Ueno's Historical & Former Hakubutsukan-Dōbutsuen Train Station to Open for Public Viewing
Hakubutsukan-Dōbutsuen Station is a designated historical structure of Tokyo. In line with its opening for public viewing, it has been revealed that new installations will be set up as part of the 'UENOYES' project.
UENOYES was set up to promote the art and culture of Ueno Park and its surrounding areas to the rest of the world. Hakubutsukan-Dōbutsuen Station is next on the list of historical structures in Ueno to be showcased. Part of the station building will be accessible to the public in co-operation with Keisei Electric Railway and Tokyo University of the Arts. It will turn into a cultural platform where people can communicate with one another.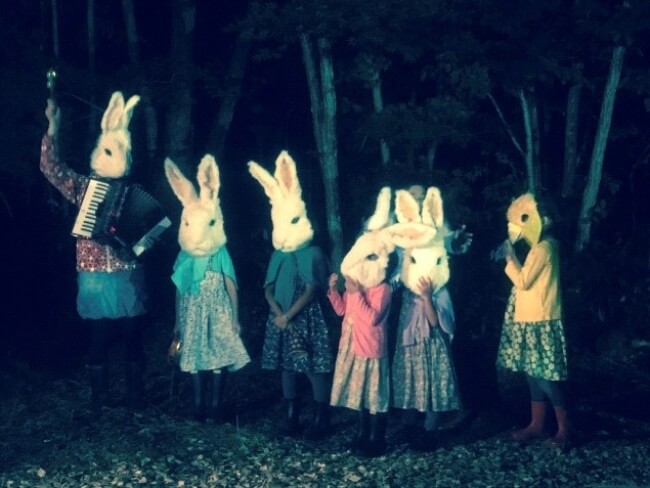 The installations can be enjoyed while reading into stories based on research in Ueno. Original stories have been collected from the voices of many people including director Hitsujiya Shirotama as well as members of staff from the National Museum of Nature and Science in Tokyo, Ueno Zoo, Keisei Electric Railway and elsewhere. The space is also dsigned by Sakata Akiko who works in stage design.
Guests will be led by guides as music plays both above ground and underground in the station building.
3D-printed skeletal replicas of animals can also be found at the exhibition which are printed by Kento Mori of the National Museum of Nature and Science.
Discover a new side of Ueno by following the UENOYES project.
Information
Hakubutsukan-Dōbutsuen Station
Running: Fridays & Weekends from November 23, 2018 – February 24, 2019 (*Closed Dec 28-30)
Tim: 11:00-16:00 (Last Entries 15:30 / Limited access during busy times)
Price: Free
*Please check the official UENOYES website for details on how to attend.
UENOYES Official Website (English): https://uenoyes.ueno-bunka.jp/en/
UENOYES Official Website (Japanese): https://uenoyes.ueno-bunka.jp/
RECOMMENDED ENTRIES
Ride the Xiang Xiang Panda Bus for Free in Ueno

In accordance with Ueno Museum Week which is running from May 5 to May 20, the new Panda Bus is being introduced at Ueno no Renkai, Ueno Marui and Matsuzakaya Ueno and can be ridden for free.

Since the birth of Xiang Xiang, the giant panda living at Ueno Zoo, there has been panda fever in Ueno. Keeping with the excitement, the new panda bus will now ride around the town.

Sitting inside the bus will be plushies of Daimaru and Matsuzakaya's original character Sakura Panda along with black and white panda plushies.

The seat covers also have panda ears on them. If you're a panda lover then be sure to look out for the Panda Bus and climb aboard!

■Information

Panda Bus – Departure Times
9:00-12:00 / 13:00-18:00

*Not running at 12:00-13:00

Departure Points & Timetable
Matsuzakaya Ueno: Every 30 minutes on the hour (xx:00) and half past (xx:30)
Tokyo National Museum: Every 30 minutes at quarter-past (xx:15) and quarter-to (xx:45)
Ueno Marui: Every 30 minutes at twenty-five-past (xx:25) and five-to (xx:55)

*Depending on unpredictable circumstances the bus may arrive late.

*The bus seats 23 passengers, so there may be a chance you cannot board.

Website: http://www.pandabus.net

Art museums and souvenir shops! Six recommended sightseeing spots in Ueno

Ueno has Tokyo's first art museum, museum and zoo and is a suitable place to visit for those of you who are interested in the history of Tokyo's downtown.

The Ueno Royal Museum

"The Ueno Royal Museum" does not have a permanent exhibition but rather holds rotating exhibitions such as the "Ueno no Mori Museum Taishoten (exhibition of award-winning works)" and "Nihon no Shizen wo Egaku Ten (exhibition of paintings of nature)" on a regular basis. An original letter paper with the illustration of the Takamori Saigo's statue is sold at the museum shop since the statue is located near the museum.

■Information

The Ueno Royal Museum

Address: 1-2, Ueno Park, Taitoku, Tokyo

TEL: 03-3833-4191

Business hours: 10:00 to 17:00

※The content of the exhibitions might change

Fixed holiday: not fixed ※differs depending on the exhibition

National Museum of Science and Nature

"National Museum of Science and Nature" is a museum where you can learn about the evolution of human-kind, various animals/plants and the development of science technology. It is the only conclusive science/nature museum in Japan which has more than 4.52 million items. The skeletal preparations of Futabasaurus suzukii and T-Rex and the stuffed specimen of animals including threatened species have a tremendous impact.

■Information

National Museum of Science and Nature

Address: 7-20, Ueno Park, Taitoku, Tokyo

TEL: 03-5777-8600 (hello dial)

Business hours: 9:00~17:00 / Friday, Saturday – until 20:00 (last entrance – 30 minutes before closing time)

Fixed holiday: Monday (Tuesday will become a holiday when Monday is a national holiday)

The closing date might be changed while special exhibitions are held.

 

TOKYO METROPOLITAN MUSEUM

TOKYO METROPOLITAN MUSEUM is the first public museum in Japan which was established on 1926. In addition to large exhibitions where you can observe quality works from both home and abroad, they hold various rotating exhibitions and public invitation exhibitions. You can also enjoy eating/drinking in the restaurants inside the museum. Both western-style restaurants and Japanese-style restaurants where you can eat soba (buckwheat noodles) and donburis are available.

■Information

TOKYO METROPOLITAN MUSEUM

Address: 8-36, Ueno Park, Taitoku, Tokyo

TEL: 03-3823-6921

Business hours: 9:30 to 17:30 (last entrance – 17:00)

Friday of August – 9:30 to 21:00

Fixed holiday: First and third Monday (the museum will be opened if Friday or Monday is a national holiday and will be closed on the next day)

Special exhibitions and rotating exhibitions will be held every Monday (the museum will be opened if Friday or Monday is a national holiday and will be closed on the next day)
Please note that the museum might be closed or opened irregularly during the year's end and New Year's holidays.

>>next page

【Tokyo Stroll】The cafe you that you want to visit to see someone #3 "Galant" —a retro café in Ueno

"It's a mysterious café vacuum sealed with an energy that feels like it's the time of the Japanese economic miracle"

We're at the third installment of this series where we take a stroll to old-fashioned cafes filled with a sense of nostalgia.

I, Ema Tanioka, will be introducing to you another retro café that I am in love with. Today, we go to "Galant" in Ueno, a town where the Showa mood still lingers.

Galant has continued to be loved by many people since it opened its doors back in 1977. This year marks the 40th anniversary of the popular café. "Galant" sounds a little space-y, don't you think? It's a little different from the norm. When I enquired to the staff about the origin of the café's name, they told me that it comes from the Mitsubishi Galant as the owner is a fan of cars. To think that a car's name became the name of a café! But it has a ring to it and is easy to remember, so it might actually be a huge success.

Anyway, without further ado, let's make our way there!

Galant is on the 2nd floor of this building. As you head up the stairs, it no longer felt like I was in the real world. A completely different world opened before me. Because of the entrance's chic brickwork, I was surprised by the dazzling lights floating inside.

And here!

Here too! There was so much sparkle.

The first thing to peak my interest was the uniform the staff were wearing. So cute… You don't see that red & yellow combination much these days. It helped amplify that retro mood of the café even more.

The male staff wore red & black! Black was the base colour and had that well defined, guy-like feel to it. Together with the checkered vests, it completed that retro look. It was wonderful. The café was also playing popular Showa era songs. I really felt like I had stepped back in time.

And then… and then! The menu arrived!

The most popular item on the menu is the chocolate parfait (¥900 tax incl.). It was absolutely stuffed with cream all the way to the middle. For people who love sweet things this is an irresistible delight. By the way, I must ask, what do you do when it comes to the cherry on top of the parfait? The truth is, I absolutely love parfaits, but I'm really not into the cherry – I usually leave it until the end. Even though it looks so cute on the parfait…

Another item is the cream soda (¥750 tax incl.). When going to a café, you just have to get a cream soda!! It's because you don't see them around much besides at cafes and family restaurants, so I'm the person that ends up ordering one unintentionally when if I see it on the menu.

There's a nice fat serving of ice cream in there. It's a drink you can enjoy that has the aesthetic of a dessert. The melon soda is crystal clear like a precious gem. The best part about cream soda is how the ice cream slowly melts into the drink. It's pretty fun to watch!

Galant is the kind of café where the more you get to know it, the more you start to love it. Its fans have been supporting it for many years, and even when I become a grandma in the future, I reckon it'll still be bustling all the same.

■Information

Galant (ギャラン)

Address: 6-14-4 Ueno, Taitō, Tokyo

Open: 8:00-23:00

Open all week.

Access: 2-minutes' walk from Ueno Station via the Tokyo Metro Ginza Line / 1-minutes' walk from Exit 5b at Ueno Station via the Hibiya Line

Model&Writer:Ema Tanioku

Profile:Ema and Eri Tanioku are well-known Aomoji-kei twin models that go by their duo name "EmaEri." Their twin-like fashion co-ordination and cute looks have earned them a fast growing fan base. They are officially appointed tourism ambassadors and work both in Japan and overseas to promote Harajuku culture. They work as fashion models in a wide range of areas and have appeared in fashion magazines as well as on TV, in dramas, movies and more.  Instagram:@ematanioku

Photograph:Haruka Yamamoto

Editor:Ryoichi Komaba

Design:Yuko Abe(ASOBISYSTEM)

Translation:Joshua Kitosi-Isanga
RELATED ENTRIES
Keith Haring: 360° Exhibition in Yamanashi to Explore Pop Artist's Lifework

The Nakamura Keith Haring Museum in Yamanashi is set to welcome the Keith Haring: 360° exhibition which will explore the diverse works of American pop artist Keith Haring. The exhibition will run from May 15, 2021 to May 8, 2022.

Keith Haring was an American pop artist whose work began in the 1980's when he would create spontaneous drawings in the subways of New York City. Haring participated not only in solo exhibitions, but national and international shows too, such as documenta 7 in 1982 and Venice Biennale in 1984. His later works took on more political and societal themes such as drugs, racism, sexuality, and AIDS. Haring died of AIDS-related complications in 1990 at the young age of 31.

Photo by ©︎Makoto Murata

Untitled (Figure Balancing on Dog), 1989

Untitled (KH.200), 1982, The Museum of Art, Kochi

My Town, Peace I–IV, 1987, Tama City Cultural Foundation

Nakamura Keith Haring Collection

One of the most noteworthy appearances at the exhibition is Haring's Figure Balancing on Dog (1989), a rare sculpture made of raw aluminium. As the title suggests, the piece features a person riding atop a dog, which may be a depiction of balance. It brings to mind the relationship between humans and animals and the anxiety towards a strange society that cannot be measured. Other works will also Untitled (KH.200) (1982), My Town which was drawn by 500 children from Tama, Tokyo, My Town, Peace I–IV (1987), and a series of six drawings entitled Bad Boys (1986) which Haring produced in Amsterdam.

For the first time ever, visitors will be able to see photos taken by Japanese art journalist Makoto Murata who interviewed Haring when visiting New York from December 1982 to January the following year.

The exhibition will look at Keith Haring, his diverse work, and deep messages of society from all angles – a 360° view.

Information

Keith Haring: 360°
Running: May 15, 2021 – May 8, 2022

No Fixed Holidays

Opening Hours: 09:00-17:00

Official Website: https://www.nakamura-haring.com/

GALLERY COLLAGE: Stay at the New Contemporary Art Gallery in Gifu

GALLERY COLLAGE is the name of the new contemporary art gallery that recently opened at NIPPONIA Mino Shokamachi, an accommodation housed in a remodelled townhouse that's situated in a place famous for its mino variant of Japanese washi paper.

1. Raising local value with contemporary art

The world of local culture, such as local business and customs, has been abandoned in favour of rapid economic growth and globalisation. But those halcyon days and their background, which are rooted in their respective local history, culture, and nature, have once again come to be of huge importance to many people. It's in these times that things like the sounds of insects in the evening that are local to the area should serve as the direction that people move forward in. The artwork showcased at GALLERY COLLAGE will depict scenes familiar to locals to show them in a new light. In doing so, NIPPONIA Mino Shokamachi hopes that connecting contemporary art with washi paper will promote and raise the value of the local traditional industry.

2. Season Lao's "Mino – blank-leaving" exhibition on show

Contemporary artist and photographer Season Lao is currently holding his Mino – blank-leaving exhibition at the site. He has used his unique approach to utilise mino paper, a type of Japanese washi paper with a history spanning 1,300 years and is also registered as a UNESCO Intangible Cultural Property. An online talk will take place on May 22 hosted by participants of Lao's photography workshop that was held for the event's opening. It focuses on photos taken by locals, including pictures from their high school days.

3. Season Lao's Accommodation Plan

With support from NIPPONIA Mino Shokamachi, the Season Lao Accommodation Plan will see guest rooms decorated in numerous artworks by the artist, and guests will be given a tour of the mino paper factory amongst other exciting things.

Yusuke Nakamura Exhibition Opens at the 21st Century Museum of Contemporary Art, Kanazawa

The Yusuke Nakamura Exhibition opened at 21st Century Museum of Contemporary Art, Kanazawa, on April 29. It was also announced that the Japanese illustrator is releasing the first artbook to compile all of his CD cover art on May 28, but the book can be bought early at the exhibition.

Yusuke Nakamura Exhibition

Yusuke Nakamura Exhibition CD Artworks

Yusuke Nakamura has designed covers forASIAN KUNG-FU GENERATION, Masashi Sada, Spitz, and more

Commentary on the CD covers written by the Yusuke Nakamura himself

Rough sketches are featured in the book

A talk between Yusuke Nakamura and Masafumi Gotoh (ASIAN KUNG-FU GENERATION)

It wouldn't be an exaggeration to call Yusuke Nakamura one of Japan's most prolific artists, having worked with some of the country's biggest names such as ASIAN KUNG-FU GENERATION, Gentouki, Masashi Sada, and more. His new artbook, entitled PLAY, compiles all of his CD covers from 2002-2020, commentary, rough sketches, talks, and more. While many things from the book are explored at the exhibition, there's plenty of content exclusive to the book too, so it's a must-grab for fans.

Information

Yusuke Nakamura Exhibition

Running: April 29, 2021 – May 29, 2021

Location: 21st Century Museum of Contemporary Art, Kanazawa

Official Website: https://www.kanazawa21.jp/

PLAY
Release Date: May 28, 2021

Price: ¥2,273 (Tax Included)

Stay in Harajuku's Yados Jingumae Hotel if You Love Art

Japanese company Rokuyon, which is responsible for creating a variety of hotel plans in Shibuya including at our own MOSHI MOSHI ROOMS, has launched a new project for guests of various hotels who are fans of brands and artists.

For their first endeavour, Rokuyon has teamed up with Yados Jingumae which has undergone major renovations. Guests staying in Room 202 this spring can enjoy a range of artworks as part of the room's exclusive Harajuku Night Owl Art Exhibition, while in summertime Room 301 will incorporate furniture by Sekai Class.

Yados Jingumae Room 202: Harajuku Night Owl Art Exhibition

Living room

Bedroom

Artist room

Participating Artists

CHiNPAN | April 23, 2021 – May 30, 2021

CHiNPAN began their career as an oil painter after getting selected at the 2008 Asia Creative Art Exhibition at The National Art Center in Tokyo. They explore the possibilities of oil painting by not limiting themselves to just paper. "Fusion" is the theme of their work which has taken them to creating visuals for shops, fashion, music, and more.

BANBU | June 10, 2021 – July 19, 2021

BANBU is a 24-y-ear-old artist who studied art abroad in Canada and New York after graduating at a vocational school in Japan. Currently based in Tokyo, they create colourful and eye-catching graphics with their three-eyed character.

Hotel Stay x Artists Come Together

"Harajuku Night Owl Art Exhibition" is the theme of Room 202 which will collaborate with different illustrators, video makers, photographers, and other artists every 1-2 months, shining the spotlight on each of their unique visions.

Yados Jingumae Room 301: Sekai Class

Hotel Stay x Furniture

Vintage furniture and artwork from around the world will be brought together in Room 301 so guests can experience a 'world living' experience. What's more is that all of the furniture, art, and items on display will be purchasable, and will change on a fixed schedule.

Nail Decals Inspired by Vincent van Gogh's Paintings Release in Japan

Felissimo's vintage daily wear fashion brand MEDE19F released the sixth installment of its art decal series designed by Japanese nail designer Risa Omori on April 19.

The nails are inspired by three paintings of Dutch post-impressionist painter Vincent van Gogh including Sunflowers, Starry Night Over the Rhône, and Almond Blossoms. The line-up includes gold leaf-tipped designs perfect for the vibrant summer season.

Cow Brand Soap x BEAMS Japan Take Over Kotobukiyu Bath House in Tokyo

BEAMS Japan and Cow Brand Soap have teamed up to an event titled Sento no Susume 2021 which began on April 23. As part of the event, the two brands have come together at the popular Tokyo-based bath house Kotobukiyu where illustrations for the collaboration drawn by manga artist Mari Yamazaki (Thermae Romae, Olympia Kyklos) has been put up on the outside, inside, and along the walls.

See the illustrations being plastered in the video below.

At the bath house entrance, along the walls, and everywhere else

Fashion shoots are being held at the bath house

Limited-edition merchandise for Sento no Susume 2021

For many years, sento public bath houses have been big part of Japanese culture and are located up and down the country. They are places people go to unwind, relax, and destress. However, with times changing, they are because less part of people's lives, and the facilities themselves are seeing significant wear and tear as well as not having successors to take over the businesses. Sento no Susume aims to revitalise sento and raise their cultural value once again by showing how they can be enjoyed. The first event was held in January and February in 2019.



This year will be the second hosting of the event and invites manga artist Mari Yamazaki on board who has given Kotobukiyu a makeover with her iconic artwork themed on exercise and bathing. Six sports are featured in her drawings for the bath house including basketball, climbing, javelin, surfing, judo, and volleyball.

Have you experienced a Japanese sento before?

niko and … Collaborates With Kumamoto Painter to Promote New Store Opening

Style editorial brand "niko and …" opened pre-orders for a new collection with Kumamoto resident oil painter Takeshi Matsunaga at its new AMU PLAZA KUMAMOTO branch on April 23. The line-up is set to be subsequently released via the online webstore "st." as well as five branches of niko and … on April 29, including their Tokyo store.

MATSUNAGA TAKESHI MEETS niko and … KUMAMOTO

The line-up is a collection of everyday items from tote bags and mugs to key rings, pencil cases, iPhone cases, t-shirts, caps, and more. Each item features a design inspired by Rakunou Gyunyu, a brand of milk that's hugely popular in Kumamoto. Matsunaga adds his delicate touch to the oil-painted series. Part of the proceeds generated from the sales of these items will be donated to the city of Kumamoto in support of restoration efforts from the 2016 Kumamoto earthquakes.

niko and's new Kumamoto store also has a cafe attached to it, "niko and … COFFEE," where a milk smoothie will be sold for a limited time until September 30. Each will come with a milk-flavoured wafer featuring Matsunaga Takeshi's art on it.

Information

niko and … x Matsunaga Takeshi

Pre-Sales: April 23, 2021

Where: niko and … AMU PLAZA KUMAMOTO

General Sales: April 29, 2021

Where: .st / niko and … TOKYO/ Five branches of AMU PLAZA in Kyushu (Oita, Kokura, Hakata, Kagoshima, Nagasaki)

Buy on .st: http://www.dot-st.com/nikoand
Buy on niko and…: https://www.nikoand.jp

Japanese Artist Hideyuki Tanaka Holds Exhibition at Marc Jacobs Bookstore BOOKMARC

Japanese artist Hideyuki Tanaka, who has penned work for street fashion, video games, the music scene and more since the late 90's, has announced his own exhibition which will take place at New York-based fashion brand Marc Jacobs' bookstore BOOKMARC in Shibuya from April 30 to May 12.

The exhibition is centred on the work Tanaka did for Marc Jacobs' new line Heaven. There will also be a special limited-edition artbook on sale of the anime character Super Milk-chan designed by Tanaka.

Information

Hideyuki Tanaka Exhibition 21 @heaven
Running: April 30, 2021 – May 12, 2021

Times: 12:00-19:30

Where: BOOKMARC (4-26-14 Jingumae, Shibuya, Tokyo)

Opening Celebration/Signing: April 30, 2021 from 19:00

Hideyuki Tanaka Gallery Talk: May 4, 2021 from 19:30

Guest: Mero Yamashita (Researcher on the Heisei retro movement)
Watch on Instagram Live: https://www.instagram.com/marcjacobsjapan/(@marcjacobsjapan)

Hideyuki Tanaka Signing @ MARC JACOBS Parco Shibuya: May 7, 2021 from 19:00 (Shibuya PARCO Floor 2F)

Hideyuki Tanaka's SUPER MILKCHAN FOREVER❤︎

Price: ¥5,500 (Tax Included)

Available: Exclusive to BOOKMARC

Details: https://www.marcjacobs.jp/world-of-marc-jacobs/detail/004000370

KOGEI Art Fair Kanazawa 2021 to Showcase the Craftsmanship of Kanazawa

KOGEI Art Fair Kanazawa 2021 is set to be held at Hyatt Centric Kanazawa from November 26 to November 28. The event is also taking submissions for the exhibition gallery.

Scenes from KOGEI Art Fair Kanazawa 2019

KOGEI Art Fair Kanazawa is an annual art fair that has been held in Kanazawa, Ishikawa, since 2017, showcasing the best of the region's craftsmanship. The event is taking submissions from both young up-and-coming artisans to seasoned craftsmen. Kogei is a branch of fine art unique to Japan that promotes traditional Japanese culture such as the tea ceremony, the essence of zen, Noh theatre, and more.

This year marks the 5th run of the art fair and will be its first collaboration with Hyatt Centric Kanazawa which opened in August of last year. The hotel will display many works from local artists and act as a hub for the promotion of Ishikawa's culture.

Information

KOGEI Art Fair Kanazawa 2021
2021/11/26 @ 13:00-19:00 (First View)
2021/11/27 @ 11:00-19:00 (General Opening)
2021/11/28 @11:00-18:00 (General Opening)


Location: Hyatt Centric Kanazawa (Floors 5F & 6F)

Address: 1-5 Hirooka, Kanazawa, Ishikawa 920-0031, Japan

Price: ¥2,000 (for two days)

Exhibits: 30-40 exhibits to be displayed from both Japan and overseas


Tickets

Sign-up window: April 19, 2021 – June 25, 2021 at 18:00 (JST)

Sign up here: https://kogei-artfair.jp/ 

teamLab Joins Saudi Arabia's Light Upon Light: Light Art Since the 1960s Exhibition

Japanese art collective teamLab have joined Light Upon Light: Light Art Since the 1960s, an art exhibition curated by former curator of the Guggenheim Museum Susan Davidson, and Raneem Zaki Farsi, expert in Saudi Arabia's contemporary art scene, which is now taking place at the King Abdullah Financial District (KAFD) Exhibition Hall in Saudi Arabia until June 12.

© Noor Riyadh

Flowers and People − A Whole Year per Hour by teamLab, 2020.

teamLab are showcasing their immersive art piece Flowers and People − A Whole Year per Hour. The work captures a year's worth of seasonal flowers blooming over the course of an hour, continuously scattering and changing. The piece is not a pre-recorded image that is played back: it is created by a computer program that continuously renders the work in real time. The interaction between people and the installation causes continuous change in the artwork: previous visual states can never be replicated, and will never reoccur. The picture at this moment can never be seen again.


Noor Riyadh is a new citywide annual festival of light and art organized by Riyadh Art, the first national public art initiative in the Kingdom of Saudi Arabia, which transforms the city of Riyadh into a gallery without walls, and a creative powerhouse for the digital age. The Noor Riyadh festival consists of numerous public art installations across the city; "Light Upon Light: Light Art since the 1960s," a landmark exhibition of light art; and a diverse program of talks, workshops and events.

Tokyo's Sensorial Experience Cafe INTERSECT BY LEXUS Welcomes The Path of Color Installation

The ground-floor Garage space at INTERSECT BY LEXUS – TOKYO is welcoming the The Path of Color installation in collaboration with the creative unit SPREAD starting on April 28.

Past installation collaborations

Anti-Splash Flag Partitions

After Image installation recreates afterimages seen from the car window

The Path of Color is a kaleidoscopic sensory experience that hangs freely overhead as a 'path' and expresses the energy to make it unto the morrow. This colourful installation features a scarlet net with motifs of life and which is filled with colourful fragments torn by hand. Colours have an influence on the memories and feelings of people, and so by gazing at the rainbow hues of this overhanging fragmented path, visitors' imaginations will be stirred, resulting in recollection and emotional experience. The installation hopes to give people the positivity to make it through to tomorrow during the difficult COVID era.



Each colourful paper fragment was printed using an old-time printer which has created a unique gradation that can only be recreated by such a machine from that time. Together with the relaxing lights of LEXUS, customers are sure to sink into their chairs as they kick back and recall old times. LEXUS is a place that treasures moments of beauty, such as falling cherry blossom petals and the arrival of autumn. This richness will serve as a kick-starter to customers finding their own colourful paths.

SPREAD and INTERSECT have come together on numerous occasions, such as for the bistro/cafe's current flag partitions for creating a safe environment during the pandemic, and for 2019's After-Image installation.

Stay in Harajuku's New Hotel Produced by Rolling Roster of Artists

India-ink painter CHiNPAN is collaborating with Rokuyon, who is known for helping to create a range of unique accommodations such as MOSHI MOSHI ROOMS, to launch a new kind of hotel experience in Harajuku beginning on April 23, 2021.

The project's name is Harajuku Yofukashi Art Exhibition, with yofukashi being Japanese for 'staying up late.' It will invite a new artist or creator on board every one or two months as an opportunity for them to showcase their works.

One of the art pieces

Wall art

Works displayed in the living space

The bedroom with art pieces against the walls and on the ceiling

Private area

MOSHI MOSHI ROOMS Series

MOSHI MOSHI ROOMS is our own hotel site located in the heart of Harajuku's tourism: it is within walking distance of Takeshita-dori (Takeshita Street), Meiji-dori, the Ura-Harajuku area, and Omotesando. This makes it the ideal place to stay for travellers visiting Harajuku.

SAKURA | More details here

ORIGAMI | More details here

DOSUKOI | More details here

With art events and exhibitions cancelled or severely restricted due to the pandemic, this project serves as a get promotional opportunity for artists to display their works and for art lovers to appreciate them. It aims to grow and become a new way to enjoy art.

Information

Harajuku Yorufukashi Art Exhibition

Japanese Name: 原宿夜ふかしアート展

Start Date: April 23, 2021

Where: Yados Jingumae (Formerly Wind Jingumae)

Address: 2-26-10 Jingumae, Shibuya, Tokyo

Official Website: https://www.chillnn.com/1773daedf52237