Anime Theme Park 'Nijigen no Mori' Announces New Naruto & Boruto Attraction for Spring 2019
Nijigen no Mori is an anime themed theme park that opened on Awaji Island in Hyogo Prefecture last summer.
The park has just announced a new attraction called Naruto & Boruto Shinobi-Zato based on the internationally beloved anime series Naruto and its spin-off and sequel series Boruto: Naruto Next Generations which follows the story of Naruto Uzumaki's son Boruto. The attraction is scheduled to open next spring.
Additionally, a booth in promotion of the attraction will be set up at Jump Festa 2019 which is running on December 22 and 23. The booth will provide details on the new attraction and early-bird tickets to experience it will be sold. Free flyers will also be handed out showcasing new and original merchandise.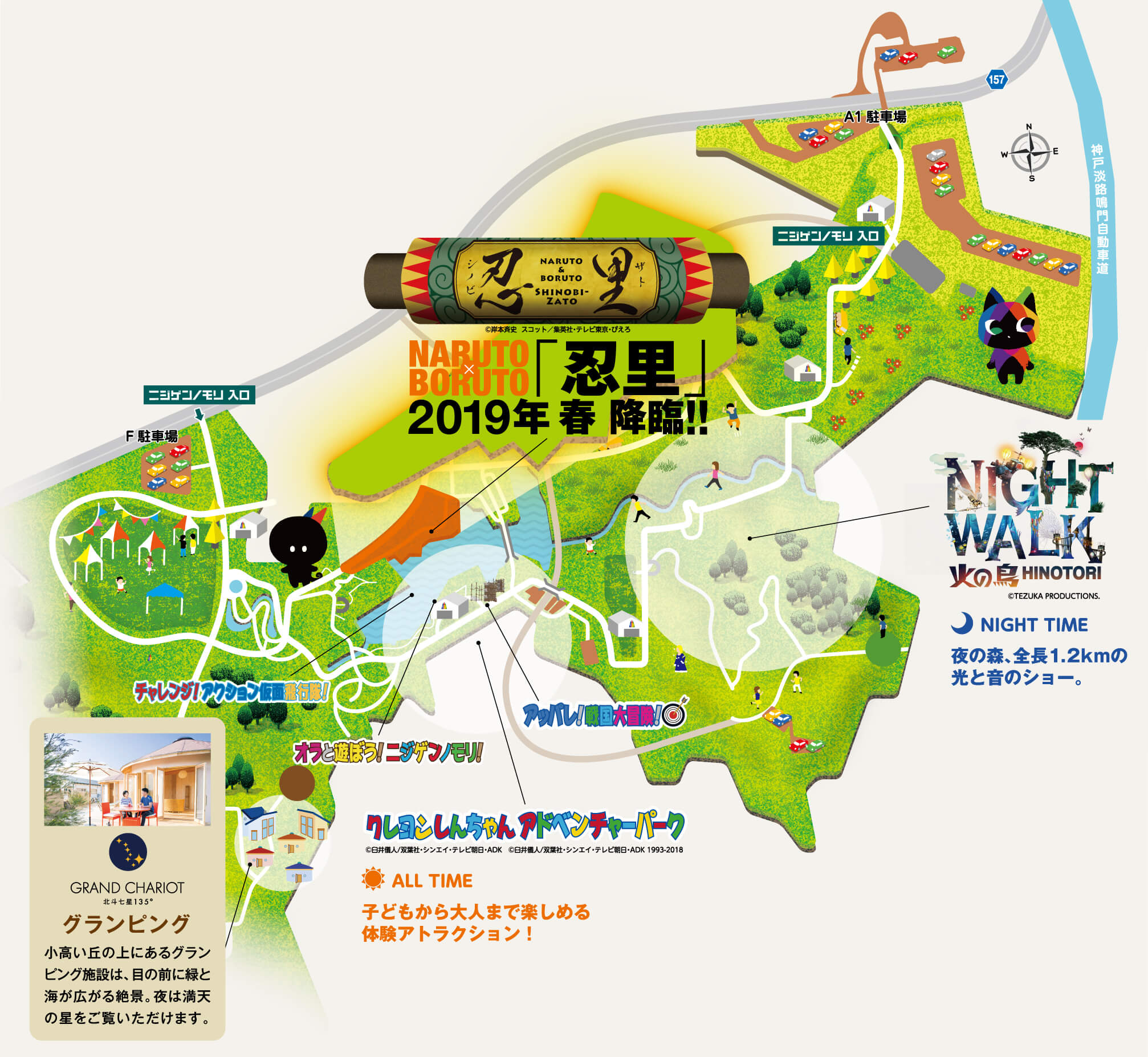 At Shinobi-Zato you can expect to see a whole range of Naruto and Boruto themed references. This includes Hokage Rock which overlooks the Hidden Leaf Village in the series and has the faces of all the Hokage carved into it. There will even be full-size statues of characters from the series. Those who roll up to the attraction can look forward to enjoying a range of athletic activities as well as a maze and more while experiencing the recreated worlds of Naruto and Boruto surrounded amongst Awaji Island's lush greenery. There will of course be a shop selling exclusive merchandise too. After all that, you can enjoy a bowl of ramen at series' iconic ramen bar Ramen Ichiraku.
Naruto Athletic "Chi no Maki": This attraction will let you experience the world of Naruto. Participants will have to overcome a string or trials and clear a range of activities in order to collect the missing seals – those seen in the series that are used for Sealing Jutsu.
Boruto Maze: "Ten no Maki": This attraction will let you experience the world of Boruto: Naruto Next Generations. Participants will get involved with courses at the Ninja Academy that Boruto graduated from. They must use their mind and body to escape the maze.
RECOMMENDED ENTRIES
Naruto Kabuki Play to Feature Song by Wagakki Band

A kabuki adaptation of Naruto is slated for August later this year at the Shinbashi Enbujō theatre in Ginza.

It has been unveiled that Wagakki Band will provide a song for the production.

Naruto was first serialised in Weekly Shonen Jump in 1999 and tells the story of Naruto Uzumaki, a young ninja who trains in the art of ninjitsu, who must take out his enemies, and who ultimately aspires to be Hokage, the leader of the village. The series has brought in fans across the globe, with well over 220 million copies sold in over 40 countries outside Japan. Kabuki actors Bandou Minosuke and Hayato Nakamura will appear in the new kabuki adaptation where they will play the roles of Naruto Uzumaki and Sasuke Uchiha respectively.9

Comment by Bandou Minosuke (Naruto Uzumaki):
"On this occasion we will be borrowing the power of Wagakki Band. It's very encouraging! No other music is better to combine the unique perspective of the original Naruto work which has spanned all ages and nationalities, and the purely Japanese image of kabuki!"

Comment by Hayato Nakamura (Sasuke Uchiha):
"I am so happy for Wagakki Band to be kindly providing a song for the new Naruto kabuki play. Wagakki Band's sound, which combines traditional Japanese instruments and Western instruments, though new, has a sense of nostalgia within it, so I'm very much looking forward to seeing how that ties in with the kabuki."

Comment by Yuko Suzuhana (Wagakki Band):
"I really wanted to do a kabuki collaboration, so I am humbly honoured for my voice to have been heard. That Wagakki Band's sound was said to be a necessary element has realised our mutual love. We have felt the overwhelming popularity of Naruto when we have been overseas, so to be associated with such a representative piece of work from Japan through music has all of us, who have been fans of Naruto since long ago, very excited."


The chemistry between the world created by the new Naruto kabuki play and Wagakki Band is something to very much look forward to.

■Information
Naruto Kabuki

Location: Shinbashi Enbujō, Tokyo

Running: August 4, 2018―August 27, 2018
Official Homepage: http://naruto-kabuki.com/

FLOW's New Song 'Break it down' to Feature as Theme Song for New Naruto Game

 FLOW will release their new double A-side single Neiro / Break it down on August 29. It has been announced that Break it down will be used as the theme song for the PC browser game Naruto x Boruto Borutical Generations.

The song is described as the biggest hard rock song the band has produced to date. It marks the seventh track they have provided for the Naruto franchise, the previous of which have been cemented as classic in the minds of anime fans and are known for their music quality.

Full details regarding the game have yet to be announced, but it is described as a large-scale shinobi battle RPG. It will be free to play and accessible through Yahoo! Game.

Additionally, the other song on the single Neiro is being used as the main theme song for the ongoing Japanese drama series Sachiiro no One Room which began airing in July.

FLOW will hold a mini live show on the Laqua Garden Stage at Tokyo Dome City on September 1 to promote the new single. Those who purchase the CD will get to high-five the band and they will receive a signed sticker.

■Information

"Neiro / Break it down"

On Sale: August 29, 2018

First Press Limited Edition – ¥1,500 (Pre-Tax) [KSCL-3082~3083]

Regular Edition – ¥1,500 (Pre-Tax) [KSCL-3084]

Limited Pressing Edition – ¥1,500 (Pre-Tax) [KSCL-3085〜3086]

FLOW Double A-Side Single "Neiro / Break it down" Release Event

Date: September 1, 2018

Time: 2:30pm

Venue: Tokyo Dome City, Laqua Garden Stage

Priority Area Entry Time: 2:00pm

Attendance

Those who purchase any of the three editions of of Neiro / Break it down at the venue on the day of the release event will receive two tickets: 1) A numbered ticket to enter the priority area and 2) A ticket to high-five the band and received a signed sticker after the show. These two tickets are available on a first-come, first-served basis.

Purchasing the CD at the event

On Sale: From 11:00am

Location: Next to the Laqua Garden Stage at Tokyo Dome City

FLOW Official Website: http://www.flow.mu

Dragon Ball, Naruto & One Piece Feature in Jump x UT's Last T-Shirt Collection

UNIQLO has been developing a spring and summer collection this year under its illustrative t-shirt brand UT themed on 'wearing the things you love.' The collection is being made in collaboration with Shonen Jump which is celebrating its 50th anniversary this year. The collection is gaining much attention, featuring some of the most memorable characters from Jump franchises.

©BIRD STUDIO / SHUEISHA

©Masashi Kishimoto Scott / SHUEISHA 

©Eiichiro Oda / SHUEISHA

This last collection will hit UNIQLO stores and online on July 27, with t-shirts from Dragon Ball, Naruto and One Piece.

©BIRD STUDIO / SHUEISHA

©Masashi Kishimoto Scott / SHUEISHA 

©Eiichiro Oda / SHUEISHA

The collection features a range of different illustrations, including Jump magazine front covers in the early days of series' serialisations, as well as Goku vs. Cell, Sasuke and Naruto vs. Madara, the scene where Luffy and Ace part ways, and more.

If you're a fan of any of the series, these t-shirts are sure to strike a chord with you! Don't miss out on this final collection.

■Information

Weekly Shonen Jump 50th Anniversary UT Collection
RELATED ENTRIES
Celebrate Naruto's Birthday at Fuji-Q Highland's Hidden Leaf Village Theme Park Area

Naruto Uzumaki's birthday falls on October 10, so to celebrate, Fuji-Q Highland, an amusement park in Yamanashi, Japan, is holding a birthday festival for the titular character of the popular anime series. The event will be held at the park's Naruto x Boruto Fuji Hidden Leaf Village area.

Naruto Ramen | ¥1,280 | Available: October 10, 2020 and October 11, 2020

Customers who order the special ramen dish from the ramen bar at the park, which is called Ramen Ichiraku after Naruto's favourite eatery in the series, will get a huge topping of naruto, a type of Japanese steamed fish-paste cake. Only 100 of these hearty dishes will be served a day.

The park is also holding a social media campaign. If they can reach 7,610 followers—a number which can be read as "na-ru-to" in Japanese—this year, then they'll hold a lottery for fans to win a special prize.

Naruto Print Cake / Naruto Team 7 Print Cake

Fuji-Q Highland will also serve up two cakes, one with just Naruto and the other with Naruto and the rest of Team 7 including Sasuke, Sakura, and Kakashi.


Jiraiya / Tsunade / Gaara / Itachi

Lastly, from the end of November, life-sized portraits of Jiraiya, Tsunade, Gaara, and Itachi will be set up at the park for fans to take photos with.

ⓒMasashi Kishimoto Scott / Shueisha・TV Tokyo・Pierrot

Information

Naruto Uzumaki Birthday Festival 2020 – Naruto x Boruto Fuji Hidden Leaf Village
Fuji-Q Highland Official Website (English): https://www.fujiq.jp/en/

Godzilla Interception Operation Awaji: The World's First Large-Scale Godzilla Attraction Opens at Nijigen no Mori

Nijigen no Mori, an anime theme park located on Awaji Island in Hyogo, Japan, is now home to a towering 120m tall Godzilla statue. The park's new Godzilla area, which features a host of attractions from zip-lining to shooting, will open on October 10, 2020.

In line with the opening of the new area, Nijigen no Mori is now offering free Godzilla postcards with tickets when bought online. Check out the official promotional video for the area below.

The new attraction imagines Godzilla landing on Awaji Island, ready to display his immense size and power to the people living there. Those brave enough to go head-to-head with the giant monster can look forward to a variety of missions, including zooming along a zipline straight through a detailed recreation of Godzilla's insides, a shooting game, and more.

Theatre

Guests who participate in the attraction become a member of the National Awaji Island Institute of Godzilla Disaster. They will watch a video created by Toho which explains the attraction.

Zipline

Guests will be strapped into a harness and zipline on one of two courses: a 162cm course which goes straight through Godzilla's insides, and a 152m one which lets you zoom past Godzilla to see him from the outside.

Shooting

After getting up close and personal with Godzilla, guests can have a hand at shooting down the monster.

Godzilla Museum

The park will also be home to the world's first permanent Godzilla Museum which will showcase dioramas of scenes from the films, over 100 figures, and lots of other material related to the franchise that fans won't want to miss.

Museum Shop / Mori no Terrace

The museum will also have its own shop selling exclusive Godzilla merchandise you can't find anywhere else. There will even be a restaurant called Mori no Terrace serving 14 different dishes themed on Godzilla, like the black and red Godzilla Curry.

Information

Godzilla Interception Operation Awaji ~National Awaji-Island Institute of Godzilla Disaster~
Grand Opening: October 10, 2020

Location: Nijigen no Mori, 2425-1 Kusumoto, Awaji, Hyogo

Official Website: https://nijigennomori.com/godzilla_awaji

See Japan's Autumn Colours on a Bus Tour to the Chapel of the Wind and Rokko Alpine Botanical Garden

The Mount Rokko Cable Car & Tourism Company has announced a special bus tour which will take passengers to the Chapel of the Wind and Rokko Alpine Botanical Garden. Running on weekends and public holidays between October 24 and November 15, the bus will depart from Kobe Sannomiya, and will also include a special lunch at the Rokko View Palace inside Rokko Garden Terrace.

What to look forward to

Chapel of the Wind, known as Kaze no Kyokai in Japanese, was built by internationally-renowned Japanese architect Tadao Ando. It's open for the autumn season only, and the bus tour will give you a chance to go inside and take in one of Ando's early works.

The lunch offered on the tour will be served at Rokko View Palace inside Rokko Garden Terrace, a staggering 880m above sea level. The menu includes roast chicken and beef, salad, bread, and dessert.

Rokko Alpine Botanical Garden will be in full autumn bloom during the bus tour, with reds, yellows, and oranges presented by the beeches and maples. There's also an exhibition taking place at the garden centred on Persian cyclamens and diamond lilies. You will stroll leisurely through the garden as the garden staff take you on a tour to see the beautiful autumnal sights.

Anime Theme Park Nijigen no Mori Announces New Naruto & Boruto Event

NARUTO & BORUTO SHINOBIZATO is an area of Nijigen no Mori—an anime theme park located on Awaji Island in Hyogo Prefecture—with attractions and more based on Naruto and his son Boruto. The park has released information on an upcoming new event in the Naruto and Boruto themed area.

The event in question will celebrate the character Kakashi Hatake's birthday with a special Kakashi and Obito themed escape game. The game will have park guests running around the park looking for panels with hints on how to progress through the game. Just 30 minutes are needed to complete it, and it's not too difficult, so anyone can join in.

Guests who buy a ticket will receive one of four limited-edition mini acrylic stands (pictured above) chosen randomly. Exclusive merchandise will also be sold for the event, and there will be photo spots where Naruto and Boruto fans can take a photo next to Kakashi and Obito panels.

Information

Naruto Shippuden x Escape Game: #004 Kakashi & Obito
Running: August 29, 2020 – October 4, 2020
Opening Hours: 10:00-22:00 (Last Entries 20:00)
Price: ¥1,500 (Tax Included)
*Separate fee to enter Nijigen no Mori charged

Nijigen no Mori
Address: 2425-2 Kusumoto, Awaji, Hyogo

Official Website: https://nijigennomori.com/

Awaji Island's Anime Theme Park Nijigen no Mori Announces NARUTO & BORUTO SHINOBIZATO Summer Events

NARUTO & BORUTO SHINOBIZATO is an area of Nijigen no Mori—an anime theme park located on Awaji Island in Hyogo Prefecture—with attractions and more based on Naruto and his son Boruto. The park's website has posted information about the ninja themed arena's summer events.

Naruto Shippuden Puzzle Solving Game

To celebrate the birthdays of Sasuke Uchiha and Itachi Uchiha, which fall on July 23 and June 9 respectively, a Sasuke and Itachi themed puzzle solving game will be held at NARUTO & BORUTO SHINOBIZATO.


The 30-minute game has guests running around the area to find hints written on panels. There are lots of words and illustrations related to Sasuke and Itachi for the game, so it's a must-experience for fans. Additionally, fans who purchase a ticket will receive one of four possible mini acrylic stands. These are available while supplies last.

Running: July 4, 2020 – August 31, 2020
Opening Hours: 10:00-22:00 (Reception closes 20:00)
Price: ¥1,500 (Tax Included)
*Separate ticket to enter the park required

Boruto's Ennichi

An Ennichi festival will be held themed on Boruto: Naruto Next Generations. There will be six Japanese festival-style yatai carts, traditional Japanese festival games like hitting the target and fishing for water balloons, a workshop to make your own Boruto uchiwa fan, lots of booths for friends and families to have fun, and more. Each booth also is giving out its own unique character stick to visitors. Those who buy a ticket to the event will also receive a Boruto sun visor.

Running: July 23, 2020 – September 30, 2020

Business Hours: 10:00-20:00 (Reception closes 20:00)

Price: ¥500 for 1 turn / ¥1,200 for 3 turns / ¥1,800 for 6 turns (Tax Included)

*Separate ticket to enter the park required

If you're in Japan this summer, why not spend your time together with the characters from Naruto and Boruto at Nijigen no Mori?

©Masashi Kishimoto Scott / Shueisha・TV Tokyo・Pierrot

Jump Force Deluxe Edition Arrives On Nintendo Switch This August

The Deluxe Edition of Spike Chunsoft's fighting game Jump Force published by Bandai Namco Entertainment is set to hit Nintendo Switch on August 27, 2020.

Jump Force is a fighting game that brings together a roster of over 50 characters from popular series the manga magazine Weekly Shonen Jump such as One Piece, Naruto, Dragon Ball, and many more. The game pits the characters in real world locations like New York and Matterhorn and has players battle it out.

The new trailer showcases some of the unique gameplay features which Nintendo Switch players will be able to enjoy, such as being able to play six-player local multiplayer games. The Nintendo Switch edition is packaged with the full game plus Character Pass 1 which introduces nine new characters into the long roster.

Those who pre-order the physical edition of the game will receive three One Piece, Dragon Ball, and Naruto avatar costumes and Frieza's pod as pictured below.

©JUMP 50th Anniversary
©BANDAI NAMCO Entertainment Inc. ©2017 Nintendo

Information

JUMP FORCE DELUXE EDITION Nintendo Switch™
Release Date: August 27, 2020
Platform: Nintendo Switch™
Official Website: https://www.bandainamcoent.com/games/jump-force

*Nintendo Switch and the Nintendo Switch logo are trademarks of Nintendo.

*YouTube is a trademark Google LLC.

Japan's Anime Theme Park Nijigen no Mori Has Naruto, Boruto & Other Exciting Events This June

Nijigen no Mori is an anime theme park located on Awaji Island in Hyogo Prefecture. Here's a list of the latest events running at the park in June.

NARUTO & BORUTO SHINOBIZATO

NARUTO & BORUTO SHINOBIZATO is an area of Nijigen no Mori with attractions and more based on Naruto and his son Boruto. The area celebrated its 1st anniversary on April 20, 2020. The park is currently selling anniversary merchandise as well as other exclusive items. Guests who buy a ticket to the park online will receive a free 1st anniversary postcard.

Opening Hours: 10:00-22:00 (Reception Closes 20:00)

Price: Adults ¥1,800 / High & Junior High School Students ¥1,800 / Children (Elementary School Students & Younger) ¥500
*Free entry for those aged 3 and below

Price: ¥1,280 Each (Before Tax) *6 flavours

There are also beverages inspired by characters from the series.

Price: ¥1,050 (Before Tax)

There is also a special ramen dish you can order inspired by the Akatsuki, the biggest threat to the Hidden Leaf Village.

GRAND CHARIOT Hokutoshichisei 135°, a hotel and glamping facility located in the area, also opened its new Naruto-themed room on June 1, 2020.

The room, called "Hokage no Bessou" (Hokage's Villa), is renovated from one of the resort's buildings, and aims to plunge guests into the world of ninjas. The room takes inspiration from the Hidden Leaf Village and its characters, with references to the series and recreated scenes littered throughout. It also offers exclusive amenities for guests to enjoy.

Guests who stay in the Naruto room receive a free ticket to NARUTO & BORUTO SHINOBIZATO at Nijigen no Mori.

ⒸMasashi Kishimoto Scott / Shuiehsa・TV Tokyo・Pierrot

Crayon Shin-chan Adventure Park

Over at the Crayon Shin-chan shop in Nijigen no Mori, they're selling limited quantities of a "Happy Bag" full of Shin-chan merchandise, from picnic cushions to towels and more for a total of six items.


And for the summer season, the last entries to all attractions at Crayon Shin-chan Adventure Park have been extended. It's a chance to work your body while enjoying the green outdoors.

Opening Hours: 10:00-20:00 (Last Entries 19:30)
Price: Adults ¥4,480 / High & Junior High School Students ¥2,880 / Children (Elementary School Students & Younger) ¥1,180 / Seniors ¥1,440
*Free entry for those aged 4 and below. Please check the official website for weekend and national holiday prices.

Phoenix Night Walk

June 21 is Father's Day, and to celebrate Nijigen no Mori is holding an event on the day based on Osamu Tezuka's manga Phoenix. Dads can attend the event for free. The park is holding a birthday campaign for June for those whose birthdays were in March, April, and May since they were unable to go out due to isolation, as well as for those whose birthdays are in June.

Date: June 21, 2020

Time: 19:30-20:30

Price: General ¥3,300 (Junior High School Students & Older) / Children ¥1,200 (Aged 5-12)2020年6月21日(日)
営業時間:19:30~20:30(季節により異なる)
*Free entry for those aged 3 and below.

Naruto Themed Hotel Room Opens at GRAND CHARIOT Hokutoshichisei 135° in Japan

GRAND CHARIOT Hokutoshichisei 135°, a hotel and glamping facility located in Awaji, Hyogo, opened its new Naruto-themed room on June 1, 2020.

The room, called "Hokage no Bessou" (Hokage's Villa), is renovated from one of the resort's buildings, and aims to plunge guests into the world of ninjas.

The room takes inspiration from the Hidden Leaf Village and its characters, with references to the series and recreated scenes littered throughout. It also offers exclusive amenities for guests to enjoy.

Guests who stay in the Naruto room will receive a free ticket to the popular "Naruto & Boruto Shinobi Zato" attraction at the anime theme park Nijigen no Mori on Awaji Island where the hotel is located.

ⒸMasashi Kishimoto Scott / Shuiehsa・TV Tokyo・Pierrot

Information

Naruto Collaboration Room "Hokage no Bessou"

Grand Opening: June 1, 2020

Time: Check In 15:00-18:30 / Check Out 11:00

Capacity: 5 people

Price: From ¥93,000 (Before Tax/Service Charge Charged Separately)

Official Website: https://awaji-grandchariot.com/

New Boruto Poster Teases Kara Arc & Kenjiro Tsuda Confirmed to Voice Jigen

A new poster has been released teasing the upcoming Kara arc for Boruto: Naruto Next Generations. The manga began in May 2016, written by Ukyō Kodachi and illustrated by Mikio Ikemoto and currently serialised in V Jump. The anime series began airing in April 2017.

The new poster teases the main characters facing off against the villainous group Kara which is led by its mysterious leader Jigen. Japanese voice actor Kenjiro Tsuda (Attack on Titan, My Hero Academia, One Punch Man) has been confirmed for the voice of Jigen. Tsuda commented the following.

Kenjiro Tsuda (Voicing: Jigen) | Comment

"I am very happy to get the chance to be involved with Boruto. I want to put my all into this role to elevate what's I felt was great about Jigen in the manga. I hope you will continue to support the series, and Jigen too. I'm really looking forward to the voice recording sessions."

Masayuki Kouda (Director) | Comment

After discussions with the supervisor Abe and the sound director Nakura over the period of one or two months, we decided to request Kenjiro Tsuda for the role of Jigen. The biggest deciding factor was how awesome his voice is. He can get across a really scary tone, the kind that if you hear it you freeze and can't do anything, and you're defeated."

© Masashi Kishimoto Scott / Shueisha・TV Tokyo・Pierrot

Information

Boruto: Naruto Next Generations
Official Website: http://ani.tv/boruto/
*New episodes will be postponed following the the premiere of Episode 154 on April 26, 2020 due to the ongoing situation surrounding the COVID-19 pandemic.

FlowBack Release Boruto Ending Theme 'Fireworks' Music Video

FlowBack have dropped the music video for their new song Fireworks which serves as the current ending theme for the ongoing anime series Boruto: Naruto Next Generations.

Fireworks is the latest single from five-member boy band FlowBack, which will be released on March 11, 2020.

The music video was directed by Masatoshi Takizawa, who has worked with such names as Hey! Say! JUMP, MAN WITH A MISSION, The Dance for Philosophy, and MAP6.

The video comes following the hype created from the performance video of the song which sees the members dancing to the track in a single cut. In the music video, we see the five of them dancing in a forest where coloured smoke is used, and trees are lit up in different colours using CG.

FlowBack – "Fireworks" Music Video (Boruto: Naruto Next Generations Ending Theme)

  

FlowBack will hold two "live signing" sessions on YouTube on February 27 and March 5 in promotion of the new single. Those who have purchased the CD on the official Limited Stand website will receive a postcard signed by the members. More details can be found on the band's official website.

 

FlowBack will host a series of release events from February 22 until the weekend of the release where they will perform a free mini concert.

Information

Fireworks

Release Date: March 11, 2020

Digital Download/Stream: https://kmu.lnk.to/fireworks

Regular Edition: ¥1,000 (Before Tax) [KSCL-3248]

Limited Pressing Edition (Anime Edition): ¥1,182 (Before Tax) [KSCL-3249] *Includes anime design digipak

Official Website: http://www.flowback05.com

FlowBack Announce BORUTO Anime Ending Single Release and Unveil Dance Video

FlowBack is all set to release their new single Fireworks on March 11. Fireworks is the current anime ending theme song for the TV Tokyo anime BORUTO: NARUTO NEXT GENERATIONS. The single will be sold in two formats – regular edition and limited pressing edition. More details on the tracklist and additional features is to be announced. 

FlowBack ' Fireworks' Performance Video (BORUTO: NARUTO NEXT GENERATIONS Ending Theme Song)

The official dance performance video featuring the five band members has been unveiled on YouTube. The entire video was filmed in one take and the choreography was handled by Sakura Inoue – the leader of Team "S" who has previously worked on the choreography for many famous artists worldwide including Britney Spears, modern South Korean artists and groups such as BTS, WANNA ONE, SEVENTEEN, PENTAGON and Jang Keun-suk, and even Japanese music groups such as NGT48 and DISH//. The concept of fireworks can be clearly seen in the choreography. 

Although we have to wait a while for the CD release, Fireworks is currently available on a number of digital music services for downloading and streaming.

Information

New Single 'Fireworks'

Release Date: March 11, 2020

★ Music Downloading/Subscription Services:

■ Regular Edition

KSCL-3248 ¥1,000 + Tax

■ Limited Pressing Edition (Anime Version)

KSCL-3249 ¥1,182 + Tax

FlowBack Official Website: http://www.flowback05.com

BORUTO: NARUTO NEXT GENERATIONS

Official Website: https://www.tv-tokyo.co.jp/anime/boruto/

FlowBack Drops BORUTO Ending Theme Song Video On YouTube Ahead of Digital Release

Today, FlowBack's new song Fireworks is on air as the new ending theme song for the anime BORUTO – NARUTO NEXT GENERATIONS. FlowBack has also just dropped the anime version of the song on YouTube, allowing fans to hear the song before its release. 

FlowBack: 'Fireworks' -Anime Ver.

The anime version is a short version of the full song. You just can't miss it if you're a BORUTO fan. Fireworks will be released on a number of digital downloading and music subscription services from January 26. 

FlowBack is currently preparing for their tour Connect where they will perform alongside other artists in 8 venues across Japan. The tour will take them to Sendai Rensa on January 18, 2020, where they will perform on the same stage as sanari and THREE1989. The tour finale will take place on February 2, 2020, at Showa Women's University Hitomi Memorial Hall and will also see performances from claquepot, FIVE NEW OLD and SPiCYSOL. Tickets for both performances are currently selling so if you want to go, make sure to purchase tickets before they are all sold out. 

Information

FlowBack LIVE TOUR 2019-2020"Connect"

January 18, 2020: Sendai Rensa, Miyagi 

Performers:FlowBack, THREE1989 and sanari

 February 2, 2020: Showa Women's University Hitomi Memorial Hall, Tokyo

Performers:FlowBack, claquepot, FIVE NEW OLD and SPiCYSOL

Ticket Prices

Miyagi Performance (Standing): ¥4,500

Tokyo Performance (Designated Seating Only): ¥5,000

FlowBack Official Website: http://www.flowback05.com

BORUTO – NARUTO Official Website: https://www.tv-tokyo.co.jp/anime/boruto/