Be Spirited Away at Nagoya Castle's Night Walk Event 'NIGHT CASTLE OWARI EDO FANTASIA'
To celebrate the restoration of Nagoya Castle's Hommaru Palace and its opening to the public, an event titled NIGHT CASTLE OWARI EDO FANTASIA is set to run from December 1 to 16, an immersive night walk that will have people strolling around the castle grounds when the sun goes down. The planning, production and performances are all developed by NAKED.
NAKED are a creative company who use projection mapping and installations to further draw out the historical and architectural beauty of certain locations. This has included the UNESCO-recognised World Heritage Site Nijō Castle, Hirado Castle in Nagasaki Prefecture and more.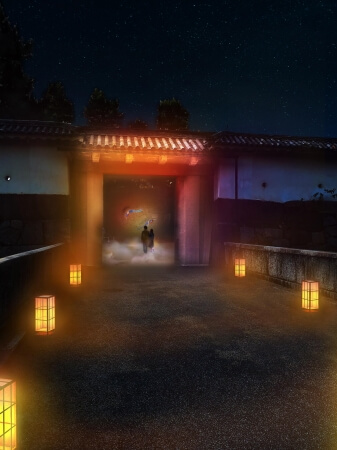 NAKED are set to attach new value to Nagoya Castle with their immersive night walk which will showcase the phantasmagorical beauty that falls on the castle when the sun goes down.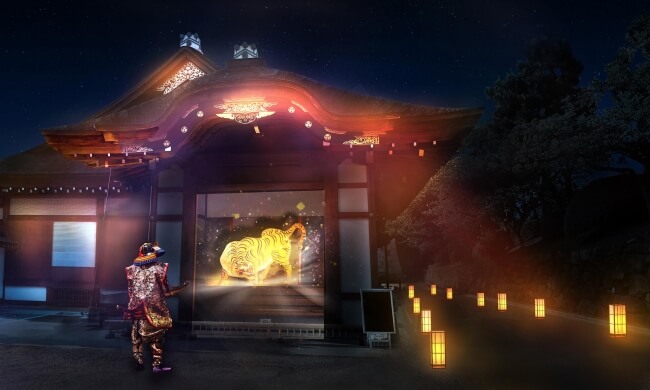 The whole of the castle grounds will be met with lights and music. Dazzling images will be shone onto the outside wall of the eastern side of Hommaru Palace, and fantastic projection mapping will recreate the sights of Owari Province.
Information
Nagoya Castle x NAKED – "NIGHT CASTLE OWARI EDO FANTASIA"
Location: Nagoya Castle (1-1 Honmaru, Naka Ward, Nagoya)
*Entry from the East Gate only
Running: December 1, 2018 – December 16, 2018
Time: 18:00-20:30 (gate closes at 21:00) *Will still run even during irain
Price (Tax Included)
High School Students and Older: Advance – ¥1,000 / Same Day: ¥1,200
Senior Nagoya Citizens: Advance – ¥680 / Same Day: ¥880 (*Must provide proof of age and address)
*Includes fee for entry to Nagoya Castle (Entry not permitted to Honmaru Palace or Tenshukaku)
Ticket Sale Period
Advance: October 22, 2018 at 10:00m – November 30, 2018 at 23:59 (JST)
Same-Day: December 1, 2018 at 00:00 – December 16, 2018 at 20:00 (JST)
Ticket Vendors
Lawson Ticket (L-Code: 43193 / Purchasable at Lawson and MINISTOP), Ticket Pia (P-Code: Regular Ticket: 991-982 / With Food & Drink Ticket: 991-983), 7-Eleven, Family Mart, e+, Chunichi Shimbun+
Event Website: http://nagoya-nightcastle.com
NAKED Inc. Website: http://naked-inc.com
RECOMMENDED ENTRIES
Art Event FLOWERS BY NAKED to Take Place at World Heritage Site Nijo Castle

FLOWERS BY NAKED, an immersive art event that fuses flowers and tradition, will take place at Nijo Castle from November 3 to December 9.

The exhibition has pulled in 300,000 spectators to date into a colourful and immersive world of art. Over 50,000 posts with the hashtag #flowersbynaked have been recorded with plenty of photogenic pictures.

This new holding of the exhibition marks its first appearance in the Kansai region of Japan. Designated as an official World Heritage Site by UNESCO, Nijo Castle will receive a special autumn themed light-up with many of the site's historical architecture used for the exhibition. Visitors will be able to enjoy autumn-time Kyoto to the fullest.

Another event titled Nijo Castle Festival also began on September 28 in the run up to the event which consists of a performance of original sounds and illuminations of the castle buildings and rooms as well as a night tour by an official Nijo Castle guide and more.

FLOWERS BY NAKED will make its way to Nihonbashi Mitsui Hall in Tokyo on January 29, 2019 where it will run until March 3. This will be the 4th time the event has been held in Nihonbashi. Merging together flowers and tradition, it will give way to a string of traditional Japanese motifs like tearooms, classic poetry and more. Leading artists in a range of traditional Japanese fields will be in attendance too, coming from the worlds of flower arrangement and the traditional incense-smelling ceremony. Collaborative artwork as well as lots of new elements are planned for next year too.

Experience the beauty and creativity of art first-hand at FLOWERS BY NAKED – and at a World Heritage Site.

Information

Special Autumn Light-Up: FLOWERS BY NAKED 2018 at Nijo Castle, Kyoto

Running: November 3, 2018 – December 9, 2018
Time: 17:30-22:00 (Last Entries 21:00)
Location: Nijo Castle

Entry Prices
Advance Ticket: Adults ¥1,000 / Children ¥600 (Available October 13 – November 2)
Same-Day: Adults ¥1,200 / Children ¥800 (Available November 3 – December 9)
Official Website: https://flowers.naked.works/

FLOWERS BY NAKED 2019 at Nihonbashi, Tokyo

Running: January 29, 2019 – March 3, 2018
Time: 10:00-20:00 (Last Entries 19:30) *Subject to change
Location: Nihonbashi Mitsui Hall Coredo Muromachi 1 – 5F (Entrance is on 4F)

Entry Prices
Early Booking Discount: Adults ¥1200 (Weekdays), ¥1,600 (Weekends & Holidays) / Children ¥600 (All Week) – Available October 2nd-14th

Advance: Adults ¥1400 (Weekdays), ¥1,800 (Weekends & Holidays) / Children ¥800 (All Week) – Available October 15th-January 28th

Same-Day: Adults ¥1600 (Weekdays), ¥2,000 (Weekends & Holidays) / Children ¥1,000 (All Week) – Available January 19th-March 3rd

Purchase: http://w.pia.jp/t/flowers-naked/ (P Code: 991-966)

Official Website: https://flowers.naked.works/

teamLab and MORI Building Digital Art Museum Opens on June 21

MORI Building DIGITAL ART MUSEUM: EPSON teamLab Borderless will open on June 21 and is co-managed by Mori Building Co., Ltd. and teamLab.

teamLab Borderless is a collection of artworks that 'form one borderless world.' The art encompasses the entire room from the ceiling to the floor, and each piece connects seamlessly to the other, creating an immersive world where time blurs.

You'll be able to create new experiences with other people by submerging yourself into world of this borderless art and exploring it with your body.

This never-before-seen new world is created in an expansive and complex three-dimensional 10,000 square meter space by 520 computers and 470 projectors.

EPSON teamLab Borderless have created 5 worlds each with their own distinct artwork. Early bird tickets are now on sale at a discounted price. Sales end on July 31. Additionally, the opening hours will be extended by one hour from June 21 to August 31.

Dive into a mesmerising 3D world and get lost amongst the borderless art.

■Information

MORI Building DIGITAL ART MUSEUM: EPSON teamLab Borderless

Address: 1-3-8 Aomi, Koto, Tokyo

Opening: June 21, 2018

Opening Hours

Monday-Thursday 11:00-19:00 (20:00)

Friday 11:00-21:00 (22:00)

Saturday 10:00-21:00 (22:00)

Sunday & National Holidays 10:00-19:00 (20:00)

*Last entries are 1 hour before closing time.

*Times listed in brackets refer to extended opening times running from June 21 to August 31.

*Business hours will defer from season to season. Check the official website for full details.

Closed: 2nd and 4th Tuesday of every month.

Early Bird Tickets (Discounted)

Sales Period: June 7, 2018-July 31, 2018

Price:

Adults, High School & College Student – ¥2,400 (*Normal price ¥3,200)

Children up to Middle School Student – ¥1,000 (*Same as normal price)

*Prices listed include tax.

*Early bird tickets admitted during the period June 21 to July 31 only.

Ticket Purchasing: https://borderless.teamlab.art/jp/

teamLab Borderless: https://www.baitoru.com/cp/teamlab-borderless/

Official Website: http://borderless.teamlab.art/jp

Teaser Trailer: https://youtu.be/y3quanO4bKw

TREE by NAKED: An Interactive Dining Experience in Yoyogi Park with Projection Mapping, Lighting & Music

NAKED Inc. is a company that creates interactive and immersive art events. They have dazzled many at their showcases including with their projection mapping at Tokyo Station and their interactive art exhibition FLOWERS by NAKED which brought the cherry blossom season to people early. They have even taken their work overseas in Taiwan and Beijing.

Did you know the company also has their very own restaurant in Yoyogi Park called TREE by NAKED?

You must book seats to dine there which offers a very special 2-hour course. It's a fantastical marriage of art and dining woven through projection mapping, virtual reality, lighting, aromas, music and of course, delicious food made using seasonal ingredients.

If you're looking to see some art while in Japan and enjoy great food then you can kill two birds with one stone at TREE by NAKED in Yoyogi Park. We visited the restaurant to witness and report back this new kind of interactive dining experience.

The restaurant is just a 2-minute walk from Yoyogi Station. When you arrive, you wait at the entrance to be seated. Once 8 people had gathered for the evening dinner we were led by the guide to dim private rooms in a Japanese rock garden with tables.

The course consists of six meals which each represent different stages in the life of a tree. We begin in the first room which uses projection mapping on the table and walls and are given an explanation of the courses.

A table made in the form of a Japanese rock garden

The table and room look like you've walked into an art exhibition. The guide who brought us to the other room took on the role of storyteller and led explained the story which would be linked by the sights and smells. They also this explanation in English.

An entire room uses project mapping to look otherworldly

After becoming completely immersed in the story we moved into the main room. This room uses virtual reality, project mapping and a dining experience to portray the story, exploring themes like the life of a tree, Japan's four seasons and the blessing of life.

(There were many other fun and interesting elements too but writing everything would spoil the experience for anyone thinking of going so we're only showing a snippet.)

The story begins by planting a seed in the soil. The soil is delicious! (Don't worry, it's not real soil)

The fish swim away when you touch this projection mapping. There's much fun to be had while waiting for food.

The plates change colours to showcase Japan's vivid seasons

But it's not just the technological performances that are striking – the food and drinks are also out of this world. The food on the menu was created by executive chef Nagatomo of restaurant and café Hoff which is located in Hatsudai, Tokyo. He designed 8 Japanese-style dishes inspired by the seasons that are made using seasonal ingredients. Drinks come with meals and you can choose from alcohol or tea. You often see alcohol paired with meals so it's interesting to see tea paired too. You can even drink tea made by a tea expert.

The restaurant at lunchtime. In the evening, the lights come on and the tables use project mapping.

After eating the main dish we moved to the second floor. This was home to the dessert room, the final part of the story, which represented a paradise on top of the tree where you can eat the forbidden fruit.

With our bellies, heads and hearts full, our first ever 'art gastronomy' came to a close. We got a fill of both art and food.

It's a little expensive to go, coming in at ¥23,000 (tax and service charge included) which includes the full course and drinks, but there is no other place like it where you can be immersed in such an experience that combines performance and cuisine.

If you want to go eat somewhere for a special day or would like to try something you then this is somewhere you're sure to enjoy. It's something you have to experience at least once.
RELATED ENTRIES
4 Must-Try Kawaii Aesthetic Tapioca Drinks in Aichi Prefecture

Japan is a haven for bubble tea and tapioca-based beverages. Here on MOSHI MOSHI NIPPON we have covered many stores selling these tasty drinks in Harajuku―the town which started the tapioca boom in Japan―but today we will be heading southwest of Tokyo to Aichi Prefecture, located in central Honshu Island, to look at 4 must-drink tapioca drinks.

We are joined by meme whose Instagram page is packed full of drinks and desserts from cafes across Japan.

The Flower Table in Sakae

Located inside the MITSUKOSHI shopping complex in Nagoya's retail and entertainment district Sakae is The Flower Table. I absolutely recommend this store for those who aren't good with sweet drinks as you can choose between having sugar or no sugar.

Your taste buds are hit by the flavour of the milk tea on the first sip which has a bite to it. The tea leaves used by the shop in this drink are from Kusumi Tea, a Paris-based premium tea brand.

If you're someone who likes chai then this taste is sure to tempt your palate. Not only does the milk tea taste exquisite, the tapioca pearls are sweet and satisfyingly chewy too. And let's not forget to mention their adorable takeout cup designs!

▼The Flower Table

Address: MITSUKOSHI Nagoya Sakae Store Floor 3F, 3-5-1 Sakae, Naka Ward, Nagoya, Aichi Prefecture

Opening Hours: 10:00-19:30 (Food Last Orders 19:30)
*Food not served until 11am, only drinks between 10-11am
*Afternoon tea sets, parfaits and other teatime menu options served from 2pm

Official Website: https://theflowertable.owst.jp/en/

BON CAFÉ in Sakae

BON CAFÉ can also be found in Sakae. I had heard lots of praise about this place before my first visit so I was eager to get in there. I ordered two drinks: the mango cream cheese tea (with cream and tapioca pearls) and the brown sugar milk tea (with tapioca pearls). It's hard to tell by the photos but both drinks are packed with tapioca pearls aplenty.

I'd heard before that the mango cream cheese tea was like a "dessert that you can drink," and I can confirm that it's true. It's topped with fresh cream and pearls so it's just as satisfying as a mango parfait.

▼BON CAFÉ

Address: Apa Hotel Nagoya Nishiki Floor 2F, Nishiki 3-15-30, Naka Ward, Nagoya, Aichi Prefecture

Opening Hours: 11:00-23:00 (Last Orders 22:00)

No Fixed Holidays

Official Website: https://bon-cafe.jp/tapioca/

Peripatos in Kita-Okazaki

Drinks at Peripatos are takeout-only. Their bottle designs are cute and simple with just a kitty illustration on them. The three drinks in the photo are Very Berry, Tropical, and Hazelnut & Caramel Sauce with coffee jelly.

The tropical drink has pieces of fresh mango in it while the Very Berry has fresh strawberry and chewy strawberry flavoured tapioca pearls in it. My friend ordered the Hazelnut & Caramel one which has coffee flavoured jelly in it instead of tapioca pearls. You sip it while crushing the jelly.

The shop interior is really cute too!

▼Peripatos

Address: 4-4 Ida Nishimachi, Okazaki, Aichi Prefecture

Opening Hours: [Mon-Tues & Fri-Sat] 11:00-21:30 / [Thurs & Sun] 11:00-18:00

Closed: Wednesdays

Official Instagram Page: https://www.instagram.com/c.peripatos/

Watashi to Cafe in Kariya

At Watashi to Cafe I ordered the strawberry milk tapioca drink. The pearls in this drink are strawberry flavoured too, and there's a lot of them making is super tasty. The glasses they come in are cute too.

They also sell beautiful herbarium-like drinks. These don't have tapioca pearls in them but I recommend these too!

▼Watashi to Cafe

Address: 2-20 Minamisakuramachi, Kariya, Aichi Prefecture

Opening Hours: Lunch 11:00-15:00 / Dinner 15:00-Midnight

Closed: Tuesdays

Official Website: https://watashitocafe.gorp.jp/

Did you enjoy this list? meme has lots of other tempting recommendations of drinks and desserts on their Instagram page too, so if you're looking for something to try while in the Tokai region of Japan be sure to give them a follow.

Translation: Joshua Kitosi-Isanga

Witness Beautiful Japanese Art at Hotel Gajoen Tokyo's 100 Step Staircase

Those interested in Japanese art should most definitely visit the hotel and museum Hotel Gajoen Tokyo which is now holding the 5th Wa no Akari x Hyakudan Kaidan art exhibition until September 1.

It is taking place at its Hyakudan Kaidan, or '100 Steps Staircase'―which was registered by Tokyo Prefecture as a Tangible Cultural Property in 2009 for its exceptional architecture and artistic beauty. This year's event has been made bigger and better with brand new exhibits.

Visitors will ride the exquisitely decorated elevator and first come to an Aomori Nebuta Festival-style float as pictured above with its bright colours and angry gaze. This piece was created specially for the event. It also gives off an original summery smell too.

As you follow the path deeper into the exhibition―having first taken off your shoes―you will come a line of cloth crafts. You can switch on the lights inside to light up each piece which radiate the natural colours of the material. There are many cloth work pieces on display to enjoy.

This is what it looks like when looking up the 100 Step Staircase from the bottom. You will come to several rooms when ascending the stairs with light displays in them.

This is the first room inside which is a display created by bamboo lighting artist NITTAKE from Nichinan, Miyazaki. The bamboo is beautiful on its own but even more so when the lights are turned on in a dark room as the entire room is turned into artwork itself.

Continuing on you come to the "Nagasaki Lantern Festival." You can see the lights before you even enter the room and they plunge you into that Japanese festival atmosphere. It's truly spectacular inside. It's different from the previous room which was dark with lights hanging from it. It's even more bright and colourful. It made me want to visit the real Nagasaki Lantern Festival which boasts 1 million visitors every year.

This room contains umbrella art using Japanese umbrellas from Yamaga, Kumamoto. The colours of the umbrellas turn the room into something magical. The room has a relaxing, soothing vibe to it that makes you want to gaze in silence.

Dangling further up the stairs are wind chimes which continue the summer vibes.

There are many unique art pieces too such as these goldfish from Yanai, Yamaguchi. There is artwork from around 40 individuals and groups so there is lots to be discovered. Take your time to admire each and every thing in there.

The stairs actually go up to 99. Once you have seen the final exhibition on the top floor it's time to return to the bottom where you take your shoes off.

Whether you're interested in art or Japanese culture, this exciting event is one not to be missed this summer.

Information

Wa no Akari x Hyakudan Kaidan 2019 ~Kokoro no Shikisai~

Location: Hotel Gajoen Tokyo (1-8-1 Shitameguro, Meguro Ward, Tokyo)

Running: July 6, 2019 – September 1, 2019

Opening Hours: [Mon-Thurs] 10:00-17:00 (Last Entries 16:30) / [Fri-Sat & August 11-18] 10:00-20:00 (Last Entries 19:30)

*Photography allowed (Tripods, flash and photography for business purposes forbidden)

Price: Same-Day ¥1,600 / Advanced ¥1,300 (Special Advanced Price of ¥1,100 Until July 5) / University & High School Students ¥1,200 / Elementary & Junior High School Students ¥600

*Student ID required. Preschoolers permitted free entry.

TEL: 03-5434-3140

Online Tickets: https://www.e-tix.jp/100event/#akari

Official Website: https://www.hotelgajoen-tokyo.com/100event/wanoakari2019

Sebastian Masuda And Other Phenomenal Artists Create Outstanding Doraemon Exhibition

28 artist groups and individuals have created artistic pieces to represent Japan's favourite animated character Doraemon. From July 12 to September 23, 2019, you can see these magnificent creations at the Doraemon Exhibition Osaka 2019 which will take place at Osaka Culturarium at Tempozan.

The Doraemon Exhibition Osaka 2019 features a range of artists who exhibit their works in Japan and even in foreign countries. This is a fantastic chance to meet a range of new Doraemon that the world has never seen. This event covers a range of genres through modern art that is overflowing with creativity and dedication for the anime character that has grasped the nation. 

On July 11, the day before the opening of the exhibition, there was a special opening ceremony and private viewing event held exclusively for staff and the press, which was a massive success. 

Press releases of the event reveal that artists Yasumasa Morimura and Sebastian Masuda were present at the ceremony for photos and greetings. 

Yasumasa Morimura commented with deep emotion: "I am so happy to have finally taken part in the Doraemon Exhibition. For this creation, I used lots of paper to make the costumes. I collaborated with Junko Koike, collecting lots of Doraemon manga as raw materials for the dress. As Doraemon has the power to manipulate time and space, and has the ability to create a door that leads to anywhere he desires, I thought a grey dress would be appropriate. In fact, the entire exhibition venue is just like the inside of Doraemon's pocket ー it is packed with the work of 28 solo artists and groups. What a fun experience it is. I hope that many people in the Kansai region come see this," he explained.

Sebastian Masuda commented: "I'm actually the same age as Doraemon and I share the same birthday as Noby; the main character from the series. I was born with a love for Doraemon."

He then commented on his art piece: "I actually wanted to make it as big as the Budha statue at Todaiji Temple in Nara, but we wouldn't be able to fit it in the venue so I made it two metres tall instead", he laughed. "I collected materials from markets from all around the world, so the final piece is literally made up of the colours of the world," he continued. 

His message to the people of Osaka is: "I would love it if lots of children came to see this. It would really make my day to hear reactions from them like "whoa, it's huge" or "that's so cool!""

Please come stop by to visit your favourite Doraemon!

Information

The Doraemon Exhibition Osaka 2019

Running: July 12, 2019  ー September 23, 2019 (74 days) 

※ No closed days.

Venue:  Osaka Culturarium at Tempozan (next to the Osaka Aquarium Kaiyukan) 

Address: 1-5-10, Kaigandori, Minato Ward, Osaka

Open: 10:00 ー 17:00 ※ Last entries: 30 mins before closing time 

Entry prices

General:¥1,500

Middle/High School: ¥1,200

4 y/o ー Elementary School: ¥800

Enquiries: (Hello Dial)  TEL: 050-5542-8600 (8:00 ー 22:00, no holidays)

Bring Back Childhood Memories At The Lisa and Gaspard Afternoon Tea Collaboration Café

From July 25 to August 28, four Afternoon Tea shops will be collaborating with the French picture book Gaspard and Lisa to celebrate the book's 20th anniversary. The collaboration will only be running at the following branches: AEON Lake Town kaze, Koshigaya, LaLaport Yokohama, Terrace Mall Shonan and Nagoya LACHIC.

Tomboy Lisa Katsu Curry Plate (Drink included): ¥1,491 (after tax)  

Lisa's Tomato Chicken Curry (Kids Drink included) : ¥1,005 (after tax) 

The Tomboy Lisa Katsu Curry Plate consists of a European-style curry with a crispy chicken cutlet and carrot marinade. There is also a sweet apple and honey tomato chicken curry which is limited to kids only.

Peach Peach Clown Parfait Straight Out of the Picture Book: ¥1,404 (after tax)


Lisa and Gaspard Strawberry/ Melon Sundae Sodas: ¥864 (after tax)

The menu also includes desserts and drinks from the picture book. For example, the peach peach clown parfait and two flavours of Lisa and Gaspard Sundae Soda. Make sure you order one of these drinks to go with one of the five delicious collaboration meals. 

During the collaboration period, the tea shop will be decorated with a special Lisa and Gaspard theme. There will be photo spots and even a book corner with 20 Lisa and Gaspard books (limited to Nagoya LACHIC only).

This is the perfect place to enjoy a special summer meal with your family so please check it out!

©2019 Anne Gutman & Georg Hallensleben / Hachette Livre

Toy Story 4 Themed Cafe Opens in Tokyo, Osaka, Sapporo& Nagoya

Did you catch Toy Story 4 at the cinema yet? If you're in Japan this summer then you won't want to miss the official Toy Story 4-themed cafes opening in Tokyo, Osaka and Nagoya on July 20 and in Hokkaido on July 21 for a limited time.

The film was released just last month but is only set to hit Japanese theatres on July 12. It serves as the fourth and final film in the Toy Story series, wrapping up the story that first warmed the hearts of the public when the first movie dropped back in 1995.

The cafe will be a toy box of fun for all fans of the films, featuring a Toy Story inspired menu and decorations laced with trivia.

It costs ¥500 (before tax) per person to book a seat at the cafe. Customers who order from the menu will receive one of 13 possible stickers pictured above in the style of theatre tickets.

Everyone who enters the cafe will also receive one of these 13 possible entry bands.

<Woody & Bo Peep> Fateful Reunion Plate (¥1,890)

Fans of Woody and Bo Peep should look at ordering the Fateful Reunion Plate, a chicken sandwich and vichyssoise set based on both characters' outfits. Find the sheep hidden amongst the dish!

<Duke Caboom> High in the Sky! Stunt Burger (¥1,890)

Duke Caboom's chicken burger is served with mint sauce and a heap of assorted vegetables. Fly high in the sky with the dish's delicious combination of flavours.

<Buzz, Ducky & Bunny> Night Carnival Pasta (¥1,790)

This meat pasta dish is topped with colourful vegetables. Keep the fun going at the moving carnival at night!

<Gabby Gabby & The Bensons> Afternoon Tea Set (¥1,790)

Paying tribute to Gabby Gabby and the dummies, the afternoon tea set comes with a tuna sandwich and a fruit and yogurt sandwich. To drink you can enjoy a decaff Earl Grey tea.

<Jessie> Pomegranate Water (¥890 or w/coaster ¥1,790)

Feel refreshed with Jessie's satisfyingly sour pomegranate water.

<Slinky> Orange Yogurt Smoothie (¥890 or w/coaster ¥1,790)

Or order Slinky's orange flavoured yogurt smoothie with kiwi sauce.

Ordering from the food menu will also get each person a specially-made paper apron.

There are lots of other items on the menu to look forward to as well. And don't miss out on the range of exclusive merchandise they have either.

Acrylic Key Ring (13 Designs): ¥500 Each

A5 Folder (10 Designs): ¥350 Each

Mini Duralex Glass (5 Designs): ¥800 Each

The Toy Story hype doesn't seem to show any signs of stopping just yet. Be sure to visit the official Toy Story 4 cafe in Japan.

©Disney/Pixar

© POOF-Slinky, LLC

*All prices include tax. Photos are for illustrative purposes only and so designs are subject to change.

Information

Toy Story 4 OH MY CAFÉ

Locations/Dates

Tokyo: OH MY CAFÉ TOKYO (Tokyu Plaza Omotesando Harajuku) / July 20 – September 16, 2019

Osaka: kawara CAFE&DINING Shinsaibashi / July 20 – September 16, 2019

Nagoya: kawara CAFE&KITCHEN Nagoya PARCO / July 20 – August 25, 2019

Hokkaido: Interlude Cafe / July 21 – September 16, 2019

Toy Story OH MY CAFE Official Website: https://toy.ohmycafe.jp/

Toy Story Official Website: https://toystory.disney.com/

Teasing Master Takagi-san Season 2 Celebrated With Exhibition at Shibuya PARCO

An exhibition will be held at the Shibuya branch of shopping complex PARCO to celebrate the forthcoming second season of the popular anime adaptation of Teasing Master Takagi-san which will begin airing on July 7.

Teasing Master Takagi-san is an ongoing romantic comedy and slice of life manga series by Sōichirō Yamamoto serialised in Monthly Shōnen Sunday. The manga has sold over 7 million copies. The first season of the anime series aired from January to March last with an OVA in July.

The exhibition will plunge fans of the series into its world with original illustrations for the anime and manga and more on display. Fans can also get their hands on exclusive merchandise including capsule toys and canvas art.

A3 Poster – ¥1,000 (Tax Included)

Acrylic Key Rings (7 Designs) – ¥500 (Tax Included) *Capsule toy; design given is random

Folder Set: ¥1,200 (Tax Included)

Canvas Art: ¥2,500 (Tax Included)

Fans of Takagi and her antics with Nishikata won't want to miss out on this special limited-run exhibition.

©2019 Sōichirō Yamamoto・Shogakukan/Teasing Master Takagi-san Season 2 Production Committee

Information

Teasing Master Takagi-san Exhibition

Location: GALLERY X BY PARCO (13-17 Udagawacho, Shibuya, Tokyo)

Running: July 11 – 22, 2019

Opening Hours: 11:00-20:00

Entry: Free

Event Page: https://art.parco.jp/galleryx/detail/?id=254

LEGOLAND Japan Celebrates The Grand Opening of LEGO NINJAGO World

Looking for a fun day out with kids in Japan? LEGOLAND Japan is the perfect family day outing destination. At 1pm on July 1, the park celebrated the grand opening of the brand new area LEGO NINJAGO World. This is the first time this park has ever been expanded since opening in April 2017.

The opening ceremony featured special guests, including pop singer and actress Miki Shoji and approximately 70 students from Nagoya Shiritsu Inaei Elementary School. Miki Shoji, who also enjoys a trip to LEGOLAND from time to time, made the following comment at the ceremony:

"Whether you are a child or adult, the new LEGO NINJAGO World has many attractions such as the Flying NINJAGO that everyone can enjoy. This is the perfect place to have fun with your family this summer!"

There were many other special events held on the day of the grand opening, such as a countdown. At one point, Miki Shoji and the children even took part in a shuriken-throwing event with seven NINJAGO characters. What a spectacular day it was! After the ceremony had finished, some of the students who were selected as representatives of their school were given the opportunity to be the first to ride the Flying NINJAGO. 

LEGO NINJAGO World is the eighth area of LEGOLAND Japan and is a popular area in all Legolands across the world. From the moment the children step into the NINJAGO area, they will be immersed in an entirely new world. From the surroundings to the attractions and Ninja activities, they will learn a variety of essential ninja skills.

Whether you are a child or an adult, LEGOLAND Japan invites you to enjoy a ninja experience. ♪

Information

LEGOLAND Japan

Address: Kinjoufutou, LEGOLAND Japan Limited, 2 Chome-2-1, Minato Ward, Nagoya, Aichi

Website: https://www.legoland.jp/

The Entire World Is Curious About PAPABUBBLE's Candy Art Museum To Open In Ginza

Described as the "most interesting sweets shop in the world", PAPABUBBLE sells a range of cute and fun confections. On July 1, PAPABUBBLE will open a Candy Art Museum on basement floor 2 of GINZA SIX.

PAPABUBBLE has set up shop in over 30 cities worldwide. The main shop will contain art pieces made from candy. Considering all the candy shops that are currently out there in the world, nobody has ever seen anything quite like this before. 

The museum contains around 20 different ornaments that are edible sweets. Visitors who wish to purchase the ornaments can do so. Besides the standard sweets, the display items and range of sweets for sale will be changed every day. 

When the museum opens in July, visitors will be able to enjoy the wonderful texture and flavour of candy lampshades, enjoy the artistic and charming glow of candy mushrooms, and gaze in bewilderment at an antique vase baumkuchen cake. 

To commemorate its grand opening, customers who spend more than ¥5,000 (after tax) on display items or on the sweets shop range will receive either a soft gummy brain or soft gummy dentures. This campaign will be running throughout July. 

Along with the grand opening of the art museum, there will also be Ginza-limited products on sale that are completely unique to the Ginza branch. The lineup includes sweets made from ingredients that are rarely seen in Japan. This includes colourful and fruity chocolate such as rocky roads and soft candy sweets made from snow sugar. PAPABUBBLE will also sell souvenirs that represent Ginza such as Kirihako boxes which are beautiful boxes made from wood. 

If you are in Tokyo, you just cannot miss this museum that is overflowing with originality.

Information

Candy Art Museum by PAPABUBBLE (Gallery of Sweets Art by PAPABUBBLE)

Address: B2F, 6-10-1, Ginza, Chuo Ward, Tokyo 

Opens: July 1, 2019 

Opening Hours: Mondays ー Sundays (10:30 ー 20:30)

TEL: 03-6228-5535

PAPABUBBLE JAPAN Official Website: http://www.papabubble.jp

KAWS' HOLIDAY Scultupure Makes its Way to Mount Fuji With Merchandise Collection

The next stop for New York-based contemporary artist KAWS' HOLIDAY sculpture known as COMPANION is Mount Fuji. The 40-meter long art piece will arrive near the mountain on July 18 as teased in a sketch drawn by KAWS.

The HOLIDAY project is a collaboration between KAWS and Hong Kong-based creative studio AllRightsReserved. The COMPANION has made his way around Seoul, Taipei and Hong Kong, with his fourth stop set for the land of the rising sun's World Heritage Site and symbol Mount Fuji.

KAWS:HOLIDAY JAPAN is a camping experience sponsored by Herschel Supply where visitors can admire the sculpture with Mount Fuji in the background at the Fumotoppara campsite in Shizuoka Prefecture. It will take place from July 19 to 24.

KAWS will travel to Japan to kick off the experience with the "Ceremonial Camp Day" event on July 18. Tickets will go on sale worldwide for just 24 hours via the official website from June 28 at 10:00am (JST). The tickets will roll through a lottery system with 400 randomly selected winners.

Exclusive merchandise will also be available to purchase worldwide over on DING DON Takuhaibin's online store from July 18.

Items include various plush toys, 9.5″ vinyl figures, a set of three kokeshi dolls, a set of four ceramic plates, t-shirts, cushions and more. They are all limited in stock so be sure to get your hands on them quick. There will also be Japan-exclusive colours for the t-shirts and plush toys too.

Information

KAWS: HOLIDAY JAPAN
Running: July 18, 2019 – July 24, 2019
Location: Fumotoppara Campsite
Address: 156 Fumoto, Fujinomiya, Shizuoka Prefecture

KAWS: HOLIDAY JAPAN Ceremonial Camp Day
Date: July 18, 201
Ticket Window: June 28, 2019 at 10:00 (JST) – June 29, 2019 at 10:00 (JST)
Event Details: https://kawsholidayjp.dingdongtakuhaibin.com/en

KAWS:HOLIDAY Merchandise Collection

On Sale: July 18, 2019 at 10:00 (JST)

DING DONG Takuhaibin: http://www.dingdongtakuhaibin.com/

Payment Methods: PayPal, Visa, MasterCard, American Express and Discover

*Limited supplies

K-Pop Group BTS's BT21 Cafe to Open in Tokyo, Osaka and Nagoya

The BT21 Cafe is set to open on floor BF2 of SHIBUYA109 in Tokyo for a limited time from June 28 to August 19. The cafe will subsequently open in Abeno (Osaka) from July 20 to August 25 and Nagoya from July 25 to September 1.

The concept of the cafe is "a resort in the southern countries." An original summertime menu inspired by the blue sky, beach and sand will be whipped up and based on each of the characters: KOYA, RJ, SHOOKY, MANG, CHIMMY, TATA, COOKY, and VAN. A line-up of original merchandise will also be sold.

The menu is serve as a meal and dessert set with seven of each to choose from.

MANG Garlic Shrimp: ¥1,990 (Before Tax)

BYTATA Loco Moco Don: ¥1,990 (Before Tax)

With your set you will also receive a character card depending on the meal you choose.

Drinks (8 Options): ¥890 Each (Before Tax)

Clear Coasters (12 Designs)

If you order one of the eight Instagram-worthy drinks at the cafe you'll also get one of 12 possible clear coasters chosen randomly.

Those who book a table in advance will receive one of seven possible mini fans too.

Dine with a refreshing menu on the first summer of the Reiwa period and enjoy a resort vibe at the BT21 Cafe.

©BT21

Information

BT21 Cafe

Locations/Running Periods
Shibuya: SHIBUYA BOX CAFE & SPACE (Shibuya BOX 109) / June 28, 2019 – August 19, 2019
Nagoya: NAGOYA BOX CAFE & SPACE (Nagoya BOX) / July 25, 2019 – September 1, 2019
Abeno (Osaka): Abeno contact / July 20, 2019 – August 25, 2019

Reservations
・Reservation Price: ¥650
・June 17 at 18:00 – Cafe website opens
・June 18 at 17:00 – Tokyo reservations open
・June 21 at 17:00 – Osaka and Nagoya reservations open

BT21 Cafe Official Website: http://box-cafe.jp/

Hotel Gajoen Tokyo to Hold Japanese Art Exhibition at Hyakudan Kaidan

Hotel Gajoen Tokyo is both a museum and a hotel which celebrated its 90th anniversary in December 2018. The establishment is set to hold its 5th Wa no Akari x Hyakudan Kaidan art exhibition at its Hyakudan Kaidan, or '100 Steps Staircase'―which was registered by Tokyo Prefecture as a Tangible Cultural Property in 2009 for its exceptional architecture and artistic beauty.

The event will run from July 6 to September 1 and will feature all-new exhibits from 40 independent artists and groups from around Japan: from Aomori in the north to Kagoshima in the south.

Bamboo Artwork by NIITAKE

Participating in the exhibition for the first time is bamboo artist NIITAKE from Nichinan, Miyazaki. His pieces will include entrancing room installations as well as a colourful collaboration with the Nagasaki Lantern Festival which enjoys an incredible one million visitors.

emullenuett: The Sand Art Duo

emullenuet are an up-and-coming duo who create artwork out of sand. The two of them have created some pieces just for this exhibition such as Japanese ranma transoms.

Edo Furin Wind Chimes

This dramatic exhibit will include lacquer work, glass work, metal carving and more by Tokyo Teshigoto―a group backed by the city of Tokyo which is a collaboration between contemporary designers and traditional Edo techniques which aims to pass down theses kills to the next generation. Summertime furin which chimes will also line the showcase with their delicate designs and sounds. Other contemporary artists will also display their work with Japanese-style paper, allowing for visitors to see cultural assets established during the early Showa period.

Aomori Nebuta

This year's exhibition will also see the return of some legends who have enjoyed popularity at previous runs of the event. As you descend the huge mother-of-pearl raden elevator you will be welcomed by an overwhelming assortment of standout pieces.

Ishimaki Kokeshi

Other popular names include Tadaharu Kawamura, a sculptor who works with natural materials such as leaves, shells and Japanese lantern cherries, and Takatoshi Hayashi who is known for their kokeshi dolls.

Information

Wa no Akari x Hyakudan Kaidan 2019 ~Kokoro no Shikisai~

Location: Hotel Gajoen Tokyo (1-8-1 Shitameguro, Meguro Ward, Tokyo)

Running: July 6, 2019 – September 1, 2019

Opening Hours: [Sun-Thurs] 10:00-17:00 (Last Entries 16:30) / [Fri-Sat & August 11-18] 10:00-20:00 (Last Entries 19:30)

*Photography allowed (Tripods, flash and photography for business purposes forbidden)

Price: Same-Day ¥1,600 / Advanced ¥1,300 (Special Advanced Price of ¥1,100 Until July 5) / University & High School Students ¥1,200 / Elementary & Junior High School Students ¥600

*Student ID required. Preschoolers permitted free entry.

TEL: 03-5434-3140

Online Tickets: https://www.e-tix.jp/100event/#akari

Krispy Kreme Japan Releases 2 New Premium Doughnuts in Nagoya

Two new doughnuts in the Krispy Kreme Premium series were released at the JR Nagoya Takashimiya branch of Krispy Kreme Doughnuts on June 5. Available for a limited time only, the new release includes the White Bear and Peach doughnuts.

The Krispy Kreme Premium series is sold only at this branch of Krispy Kreme. Made with much time and effort, they are cake-like in their form and texture and are filled lavishly with delicious ingredients such as whipped cream.

The Krispy Kreme Premium Shirokuma white bear doughnut is an image of summertime fun. This cute delight is a ring doughnut coated with white chocolate and glazed with sweet and sour lemon sauce. It's also filled with whipped cream and pineapple jam for a super rich and tropical combination.


The Krispy Kreme Premium Peach doughnut is a coating of refreshing peach nappage and white chocolate. This doughnut is unique however as it's cut like a sandwich and filled with fluffy whipped cream. It's topped with gold leaf and star-shaped chocolate for a glittery summer night sky look.

Those passing through Nagoya this summer won't want to miss out on these limited-time special doughnuts.

Information

Krispy Kreme Premium Shirokuma / Peach
Selling: June 5, 2019 – Mid September 2019
Price: ¥300 (Before Tax)

Location: Krispy Kreme Doughnuts JR Nagoya Takashimiya

Address: JR Nagoya Takashimaya – North Block, Floor 1F (1-1-4 Meieki, Nakamura Ward, Nagoya, Aichi Prefecture)

Business Hours: 10:00-20:00

TEL: 052-589-2655 

Branch Website: https://krispykreme.jp/store/aichi/nagoyatakashimaya.html